Get More Sales With Optimized Woocommerce Checkout

Aero Checkout gives you ready-to-use checkout templates, embed forms, one-page checkouts, and more.
Get FunnelKit Now
Enhance User Experience With
On-Brand Checkouts

Professional-looking checkouts don't just build trust, they also convince prospects better, adding more to your revenue.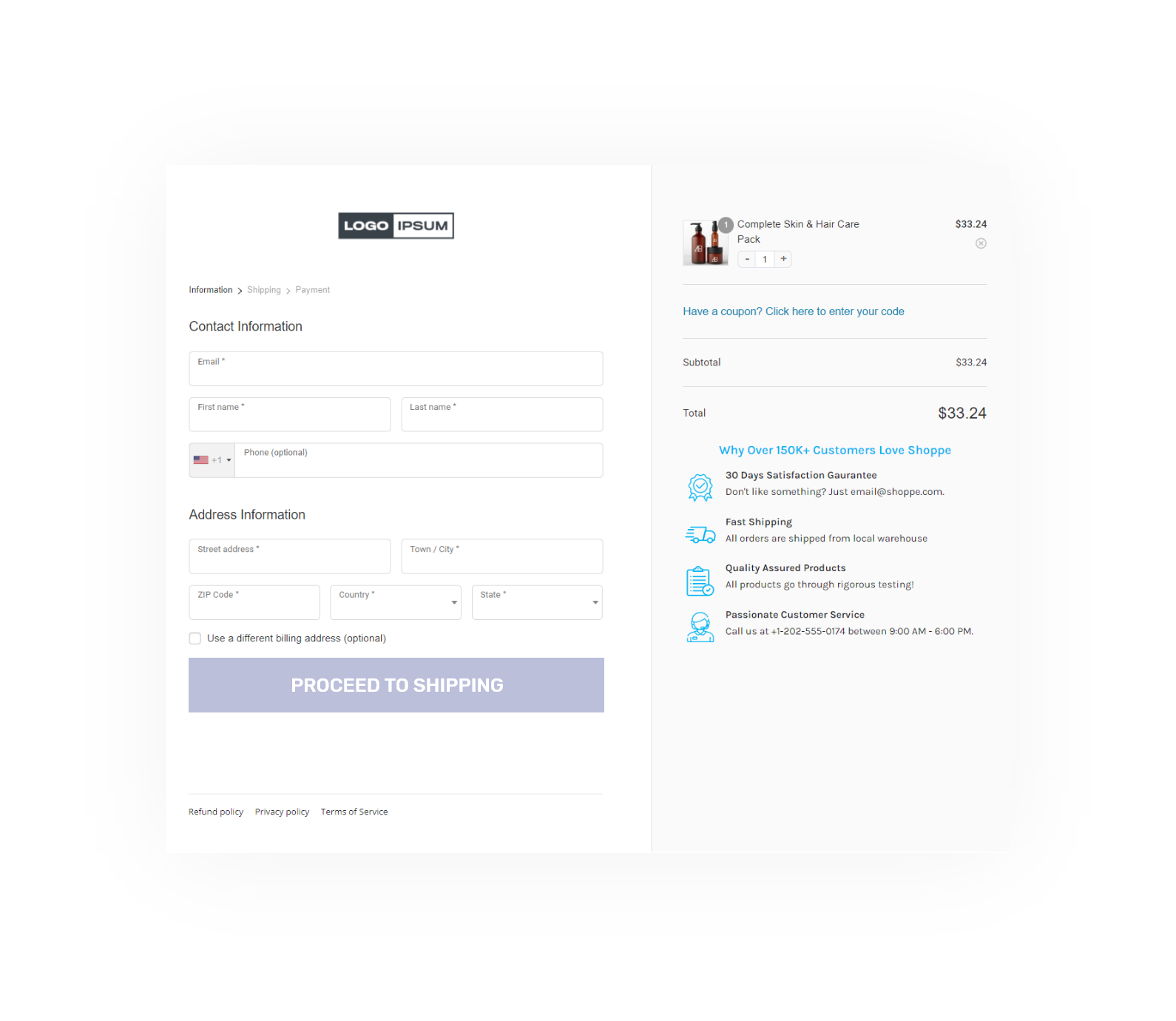 One-Click Import Templates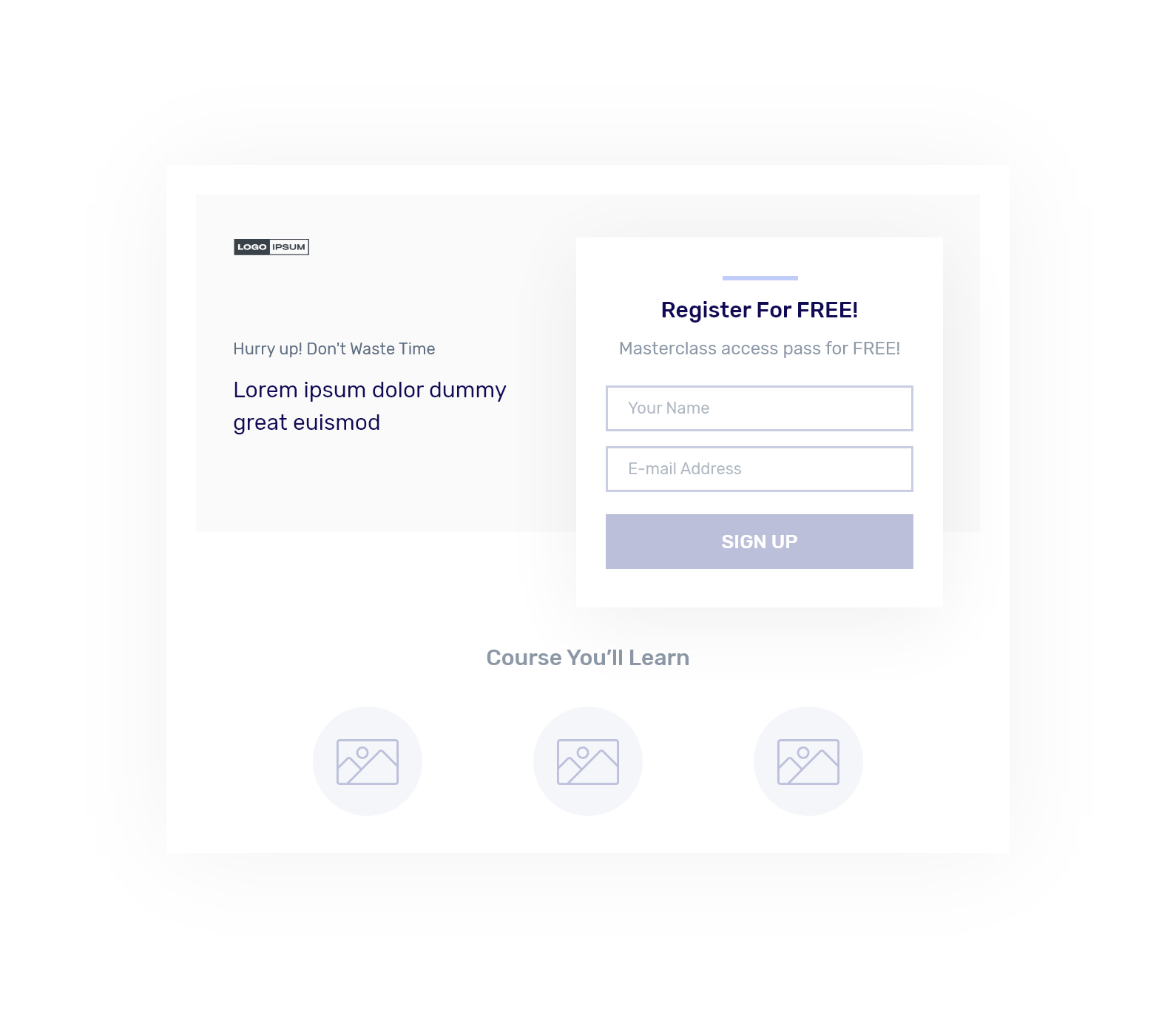 No need to design checkout pages from scratch when you have beautiful and professionally-designed checkout templates on taps.

Single And Multi-Step Checkouts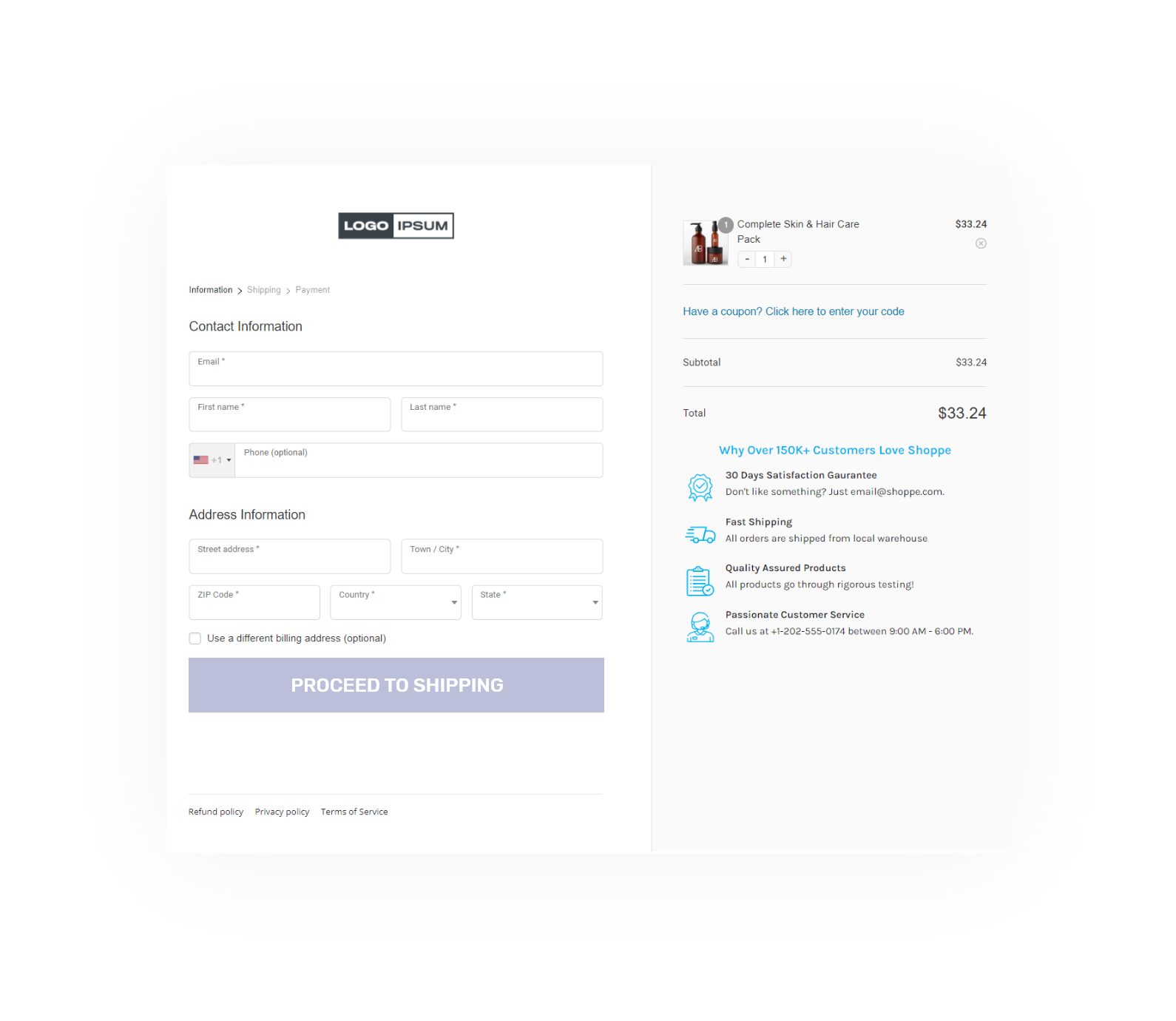 On single-step checkouts, users see all the fields at once. In multi-step, you can split the fields into two or more steps with smooth navigation.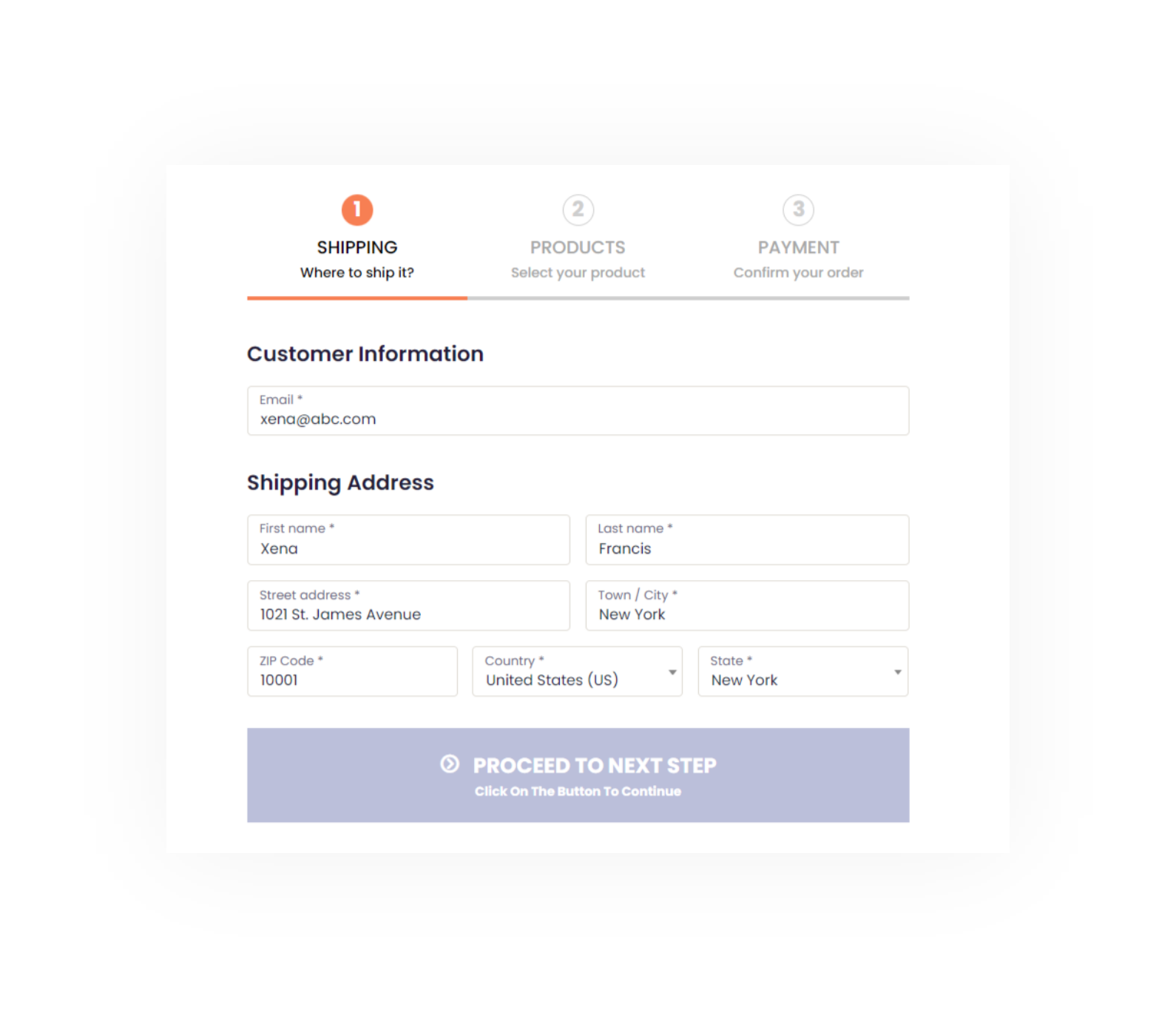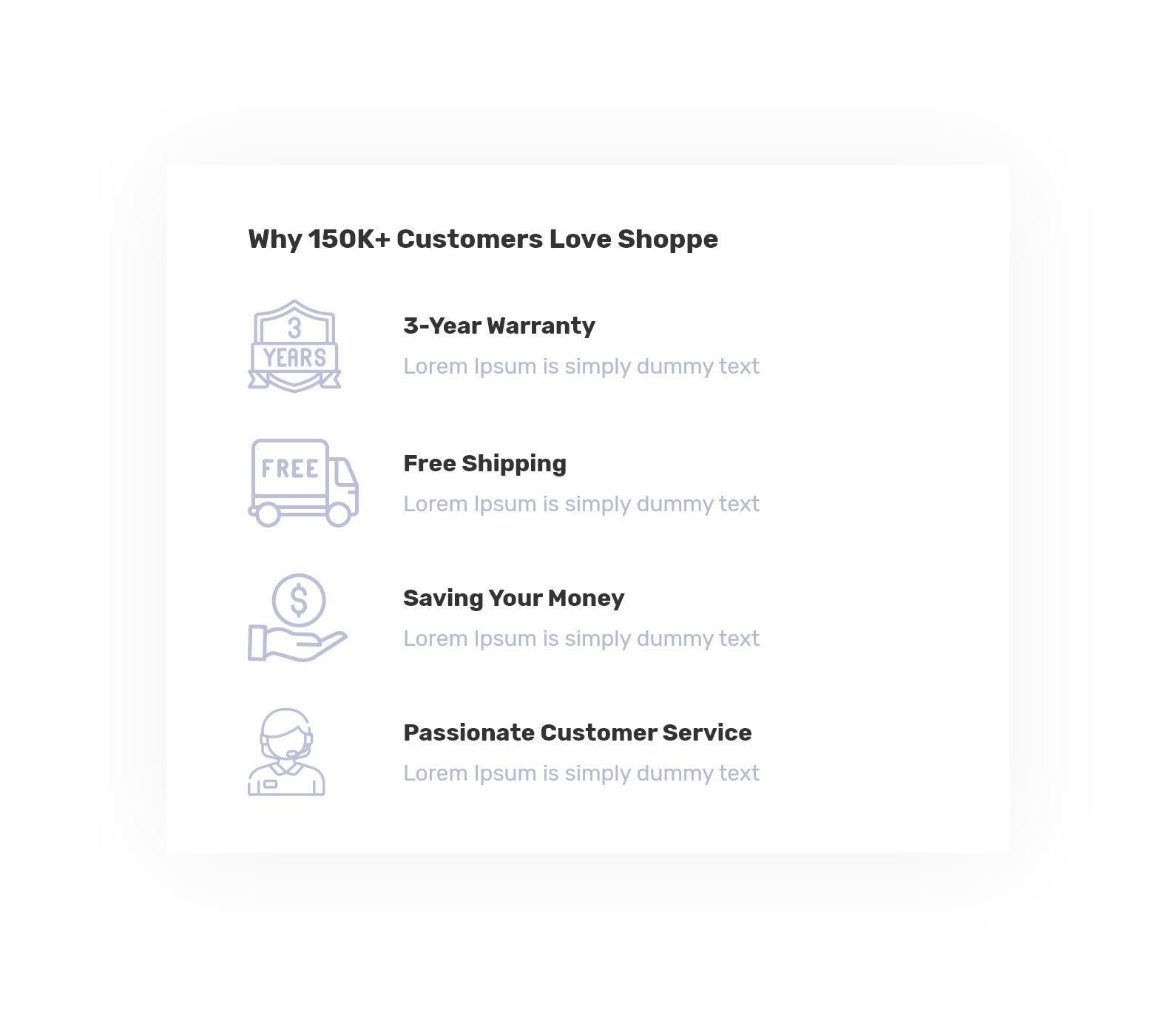 Customisable Checkout Sections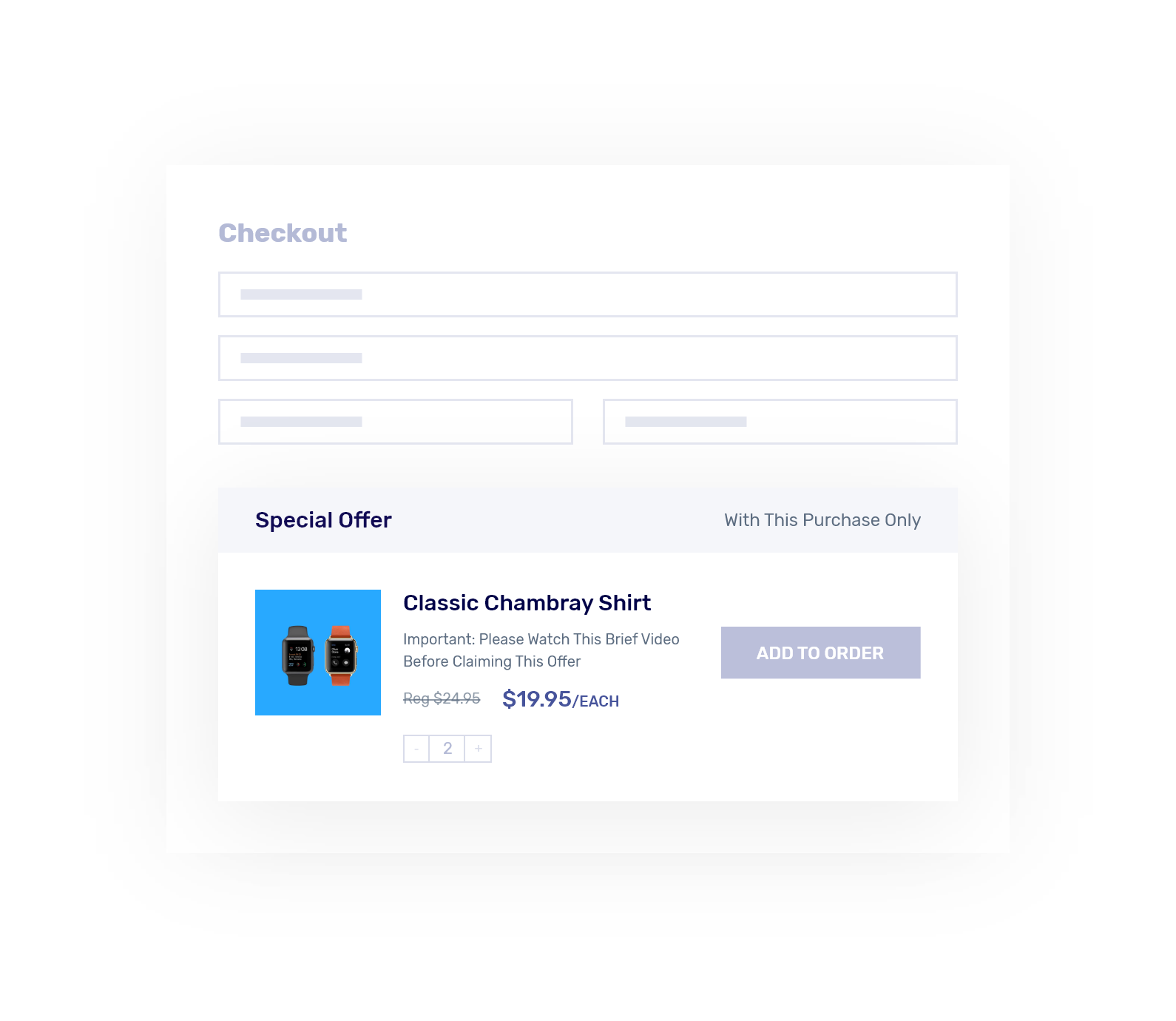 Customize sections for guarantee, social proof & more. You can even change font type, style, background colour for each section.

Easy-To-Modify Mini Cart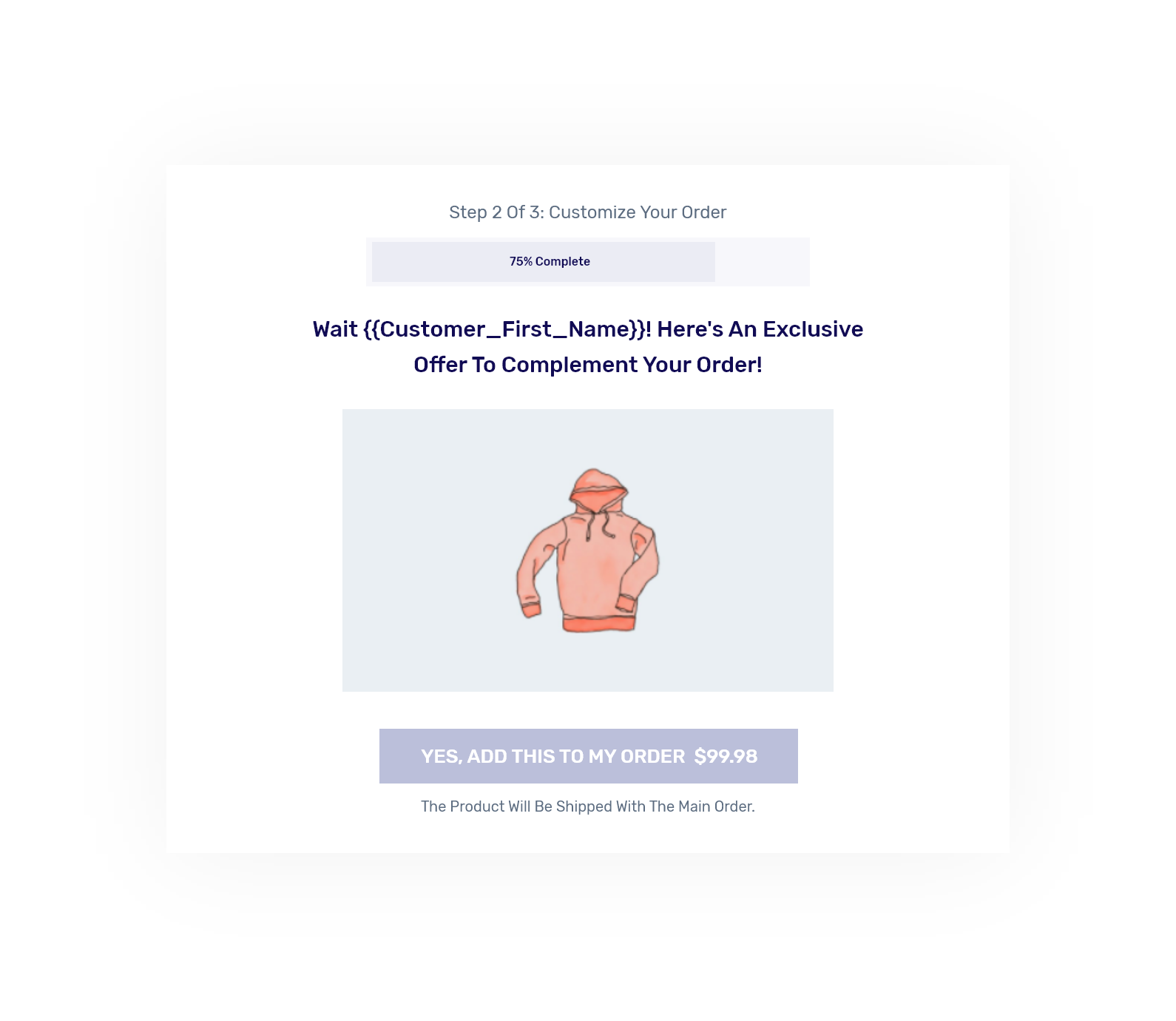 Allow users to adjust quantity, delete item(s), undo delete and more on the checkout with the mini cart. Its content, style, layout are all fully customizable.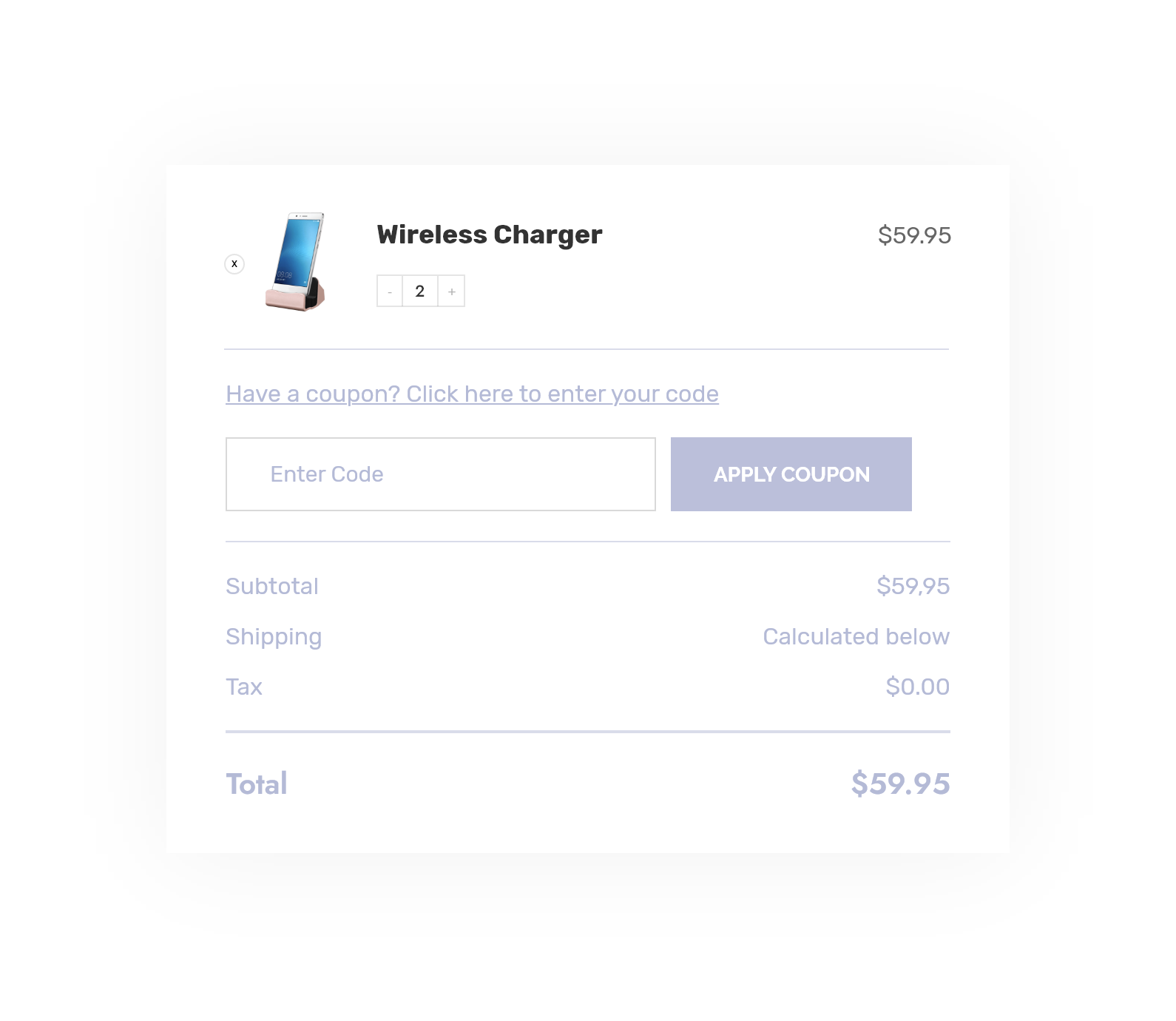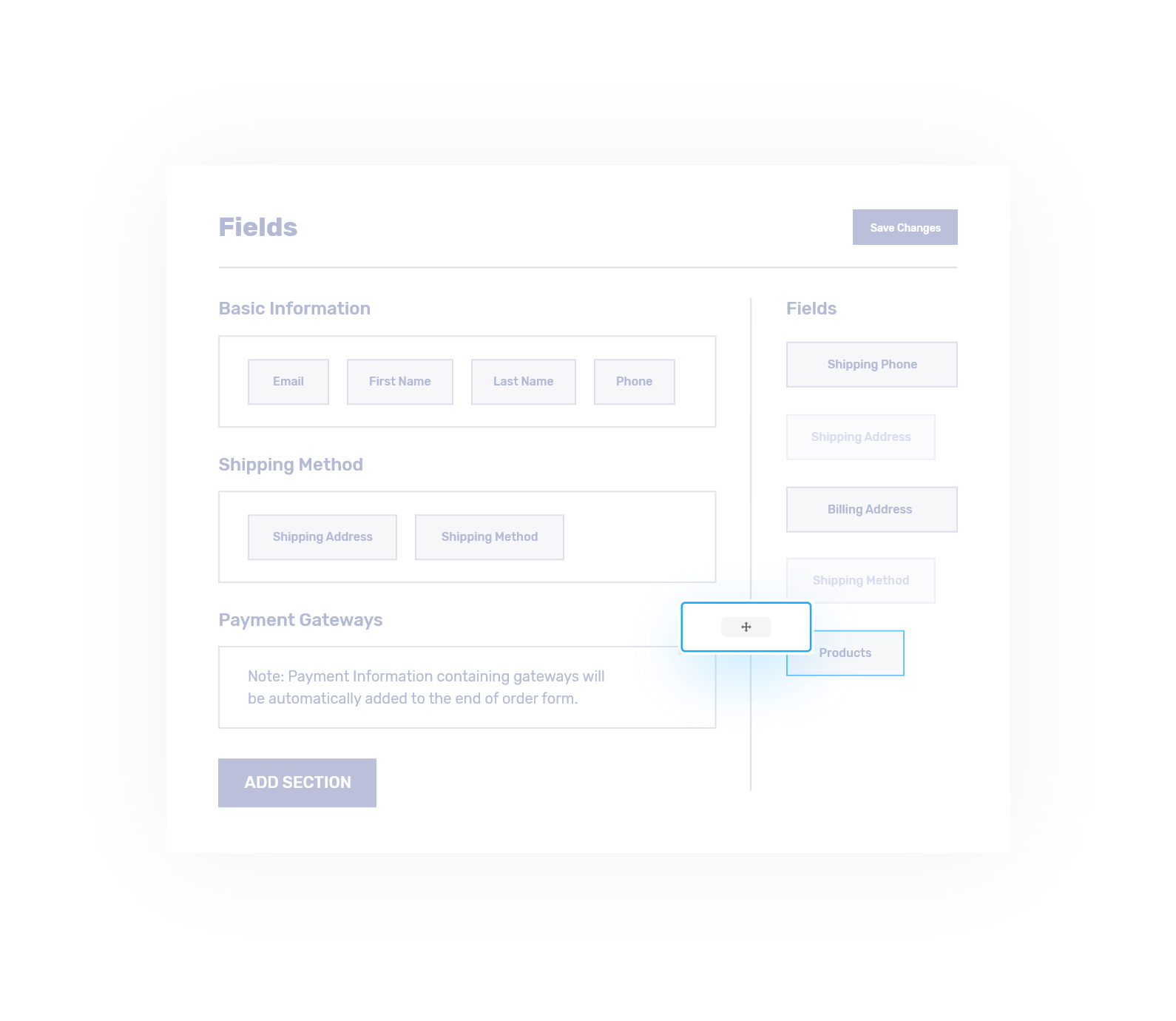 Drag & Drop Based Field Editor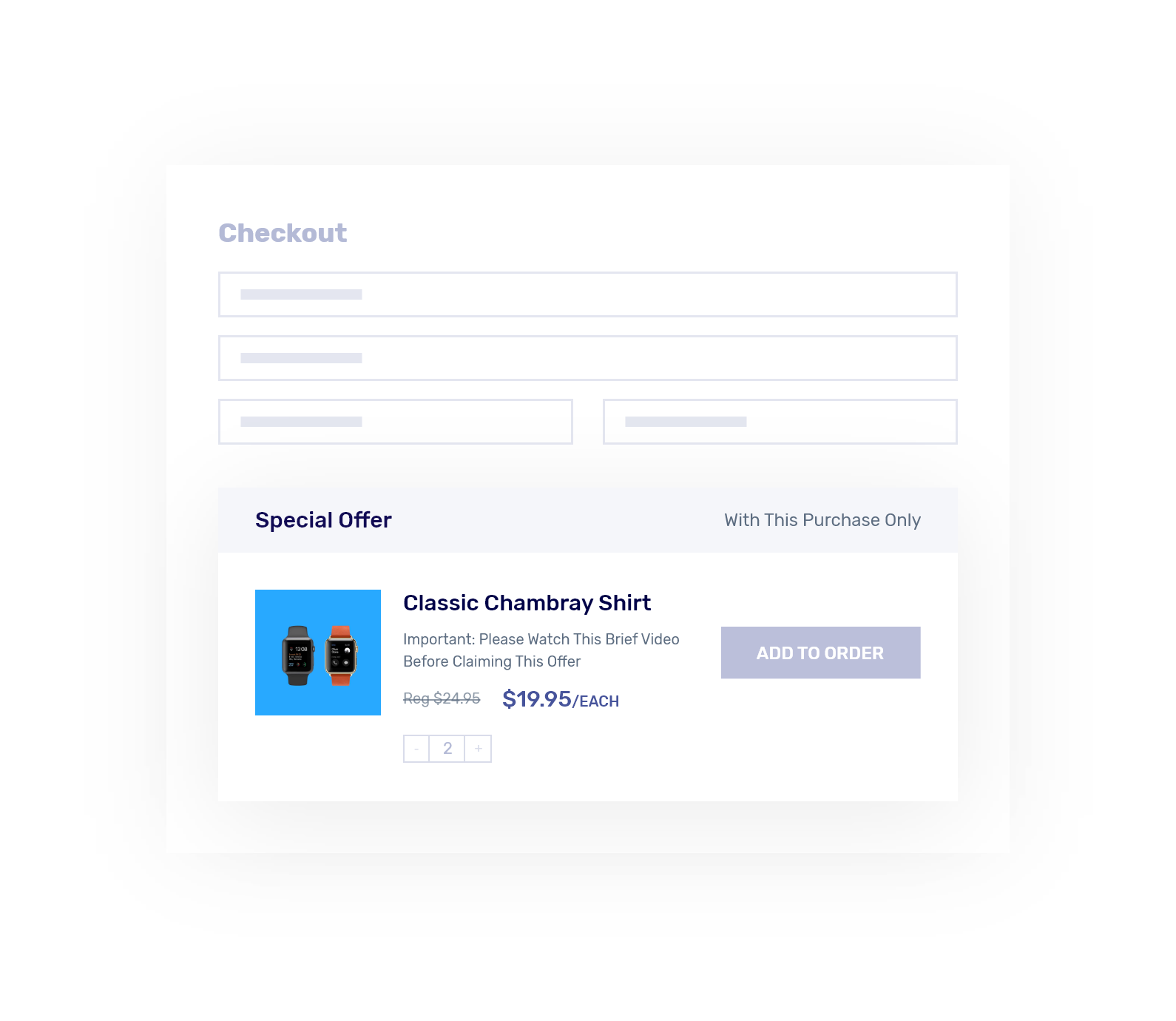 Unlike the default, using sections and drag & drop fields, you can fully customise your checkout page. Add a new field, change order, delete & more.

Express Payment Options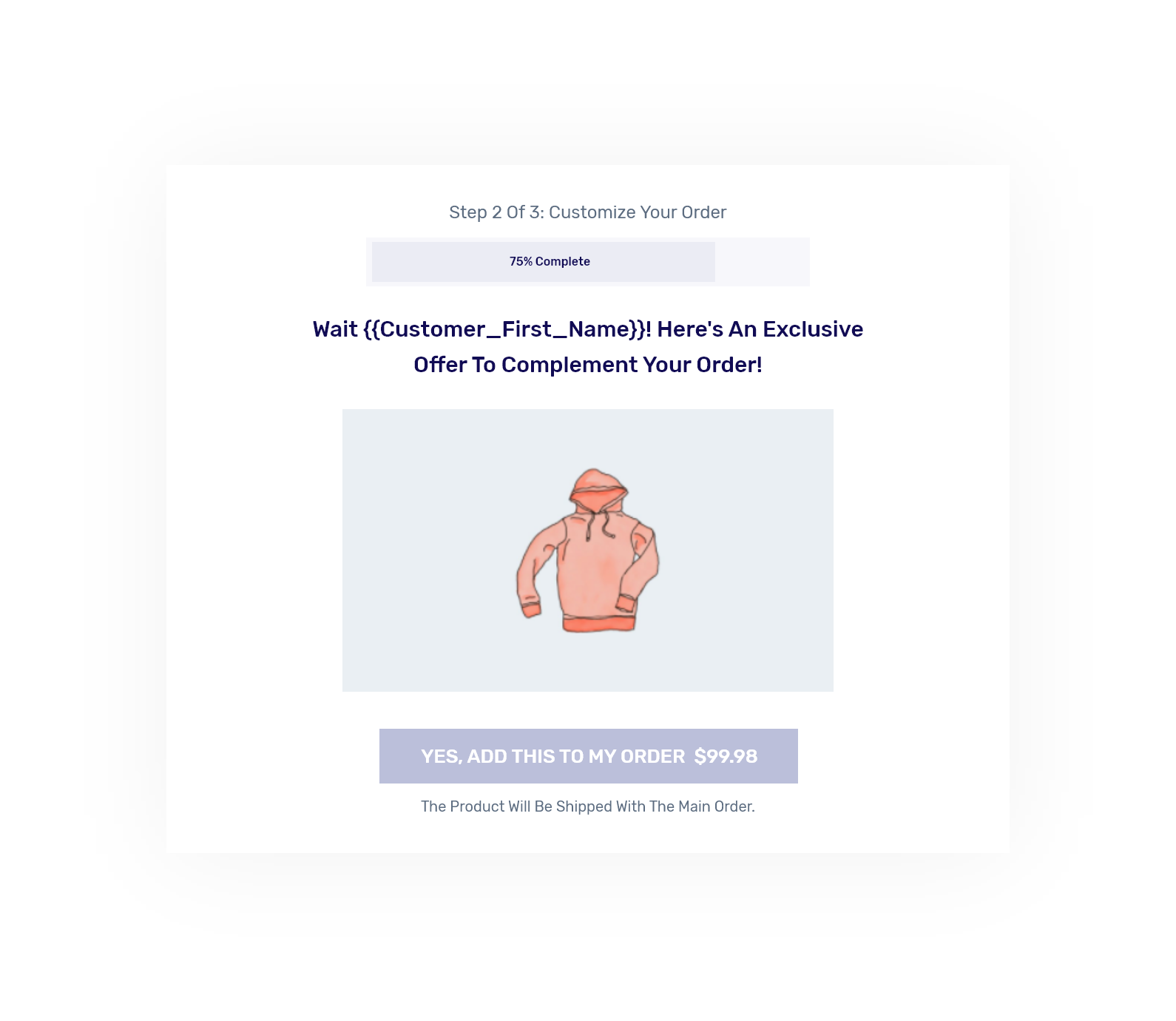 FunnelKit checkouts are fully compatible with express pay options like Apple Pay, Google Pay, PayPal Express etc. for faster purchases. Sweet!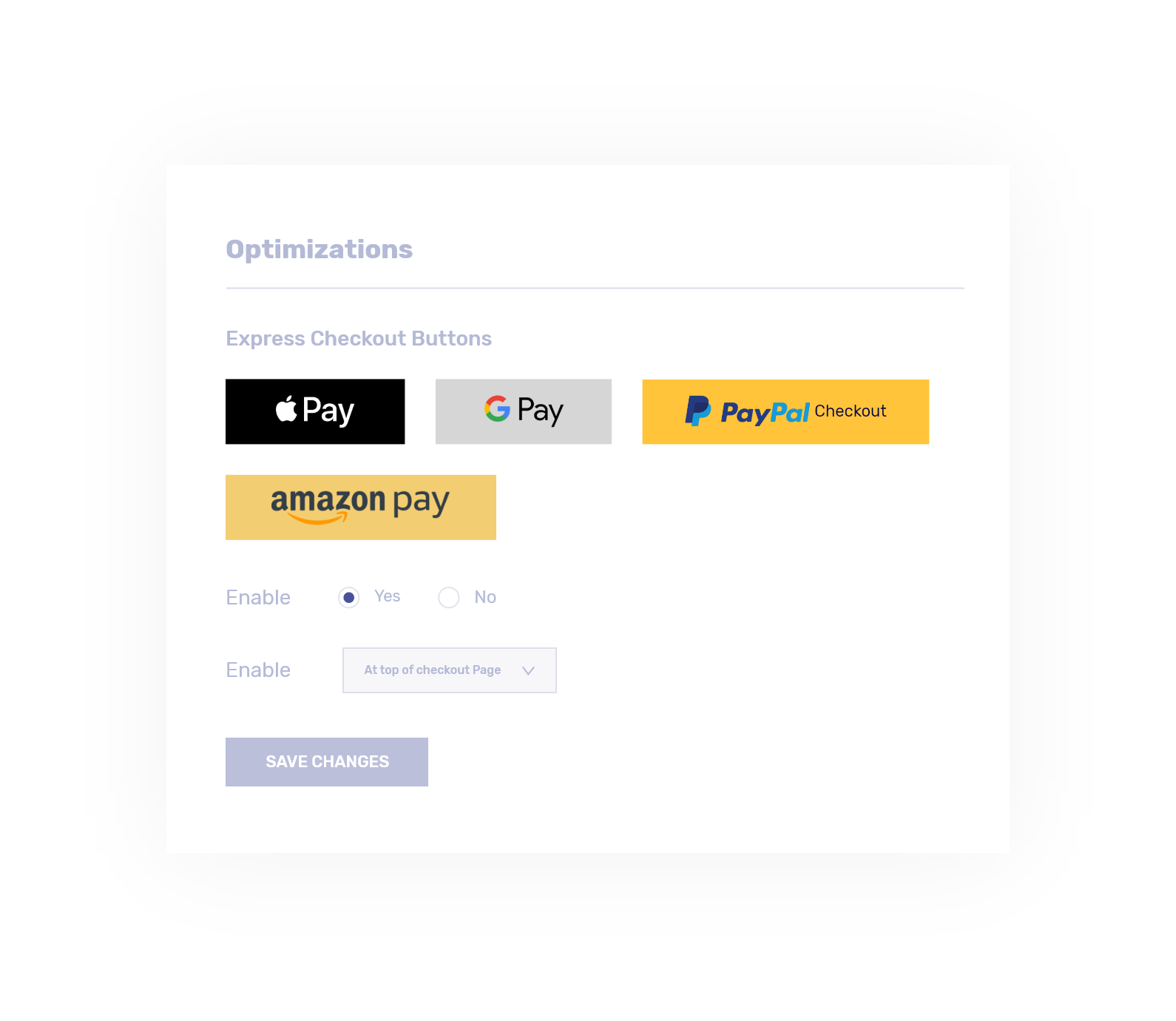 Create Rule-Based Offers

Deploy conditions to make your offers more relevant and increase acceptance.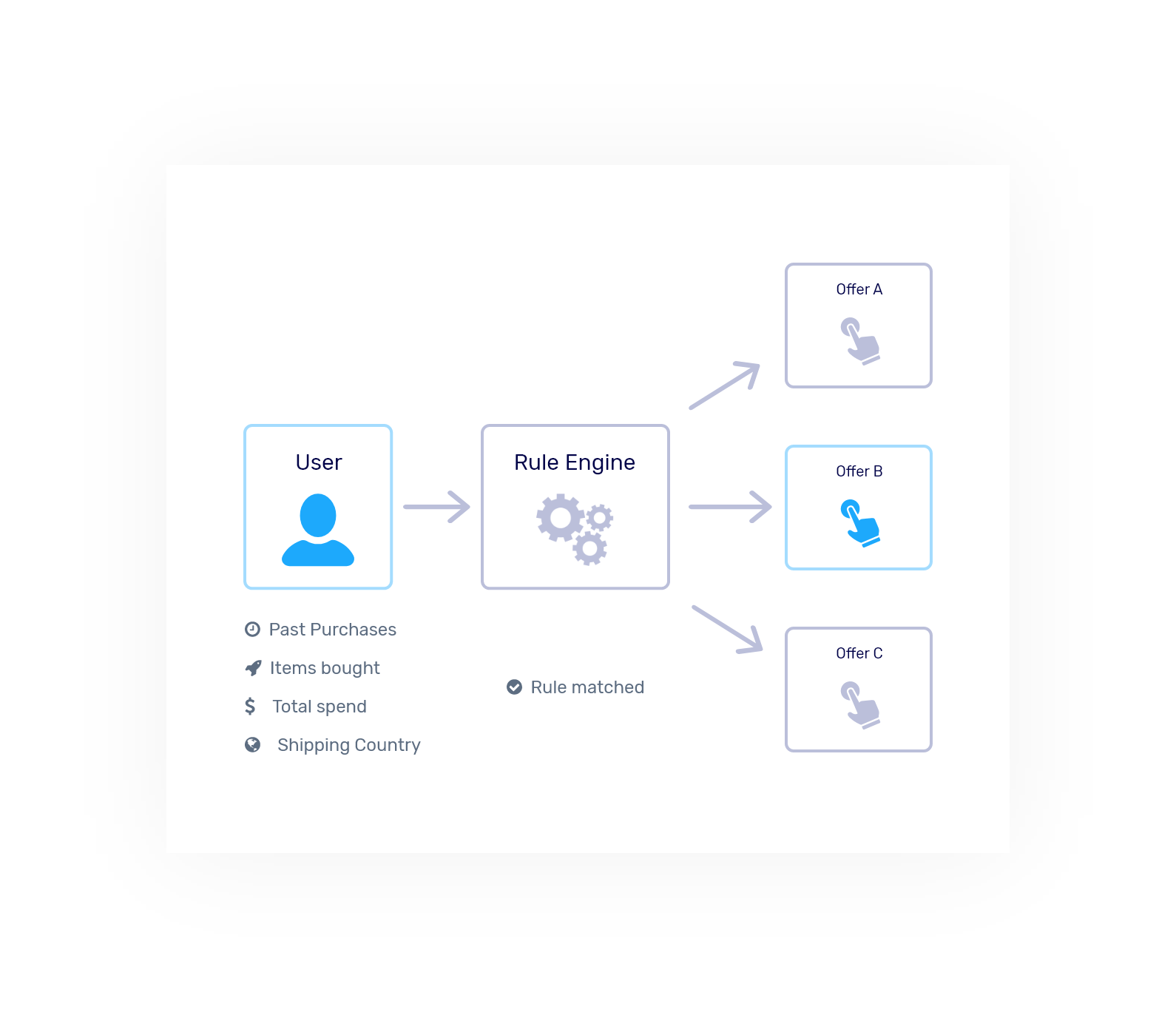 Robust Rule-Engine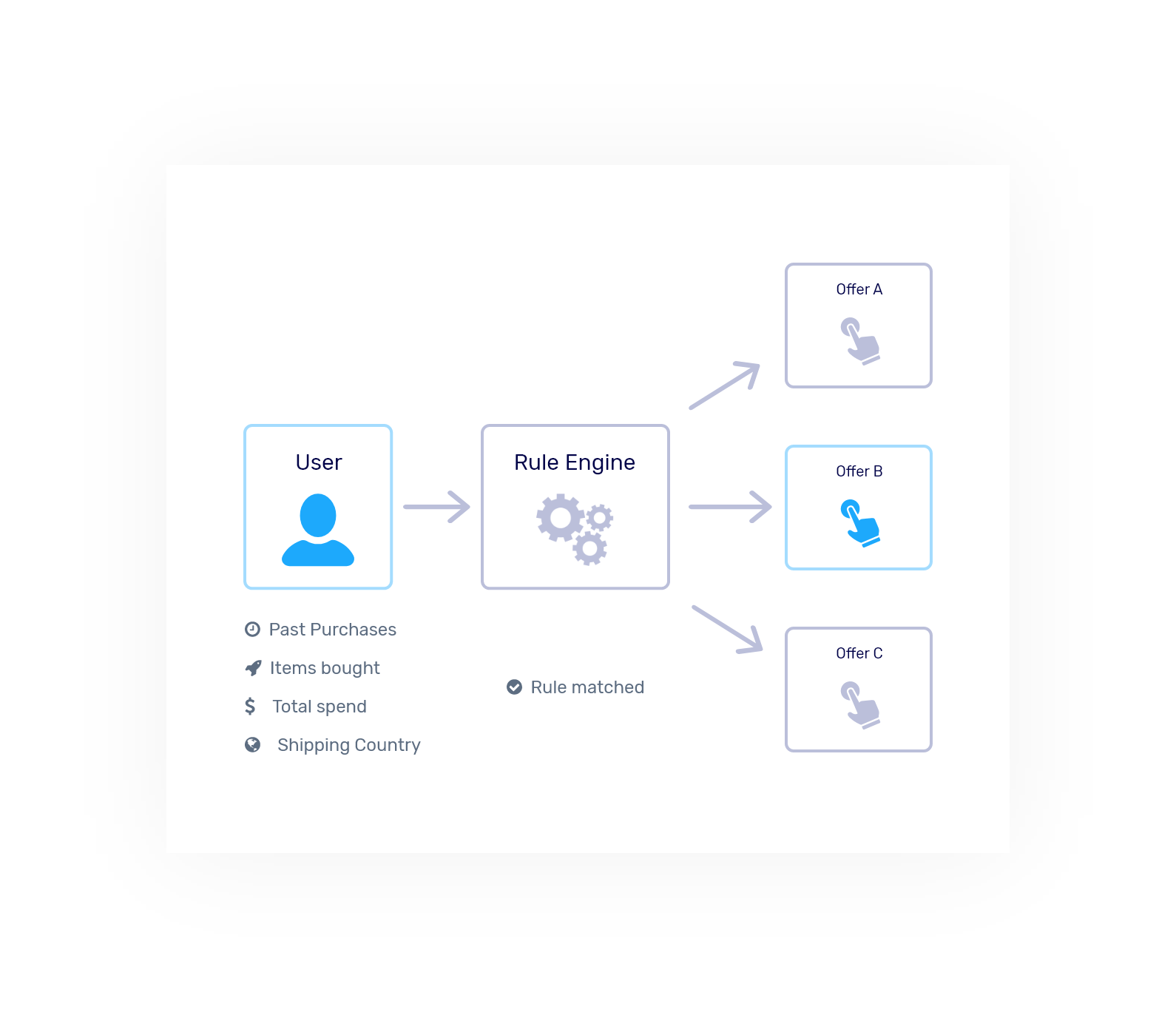 Make your offers more targeted. With the rule engine, show checkouts, order bumps, upsells based on defined rules.

Product-based: Items, product tags, category.

Order-specific: Total, item count, coupon & more.

Customer-centred: First order, guest user, etc.

Location & Time: Address, date of purchase & more.

Rule combinations: Set multiple rules using 'and/or'.

Extend The Capability Of Your
Checkout Pages

From desktop to mobile, have complete control over users' shopping experience.
Great experience equals more transactions.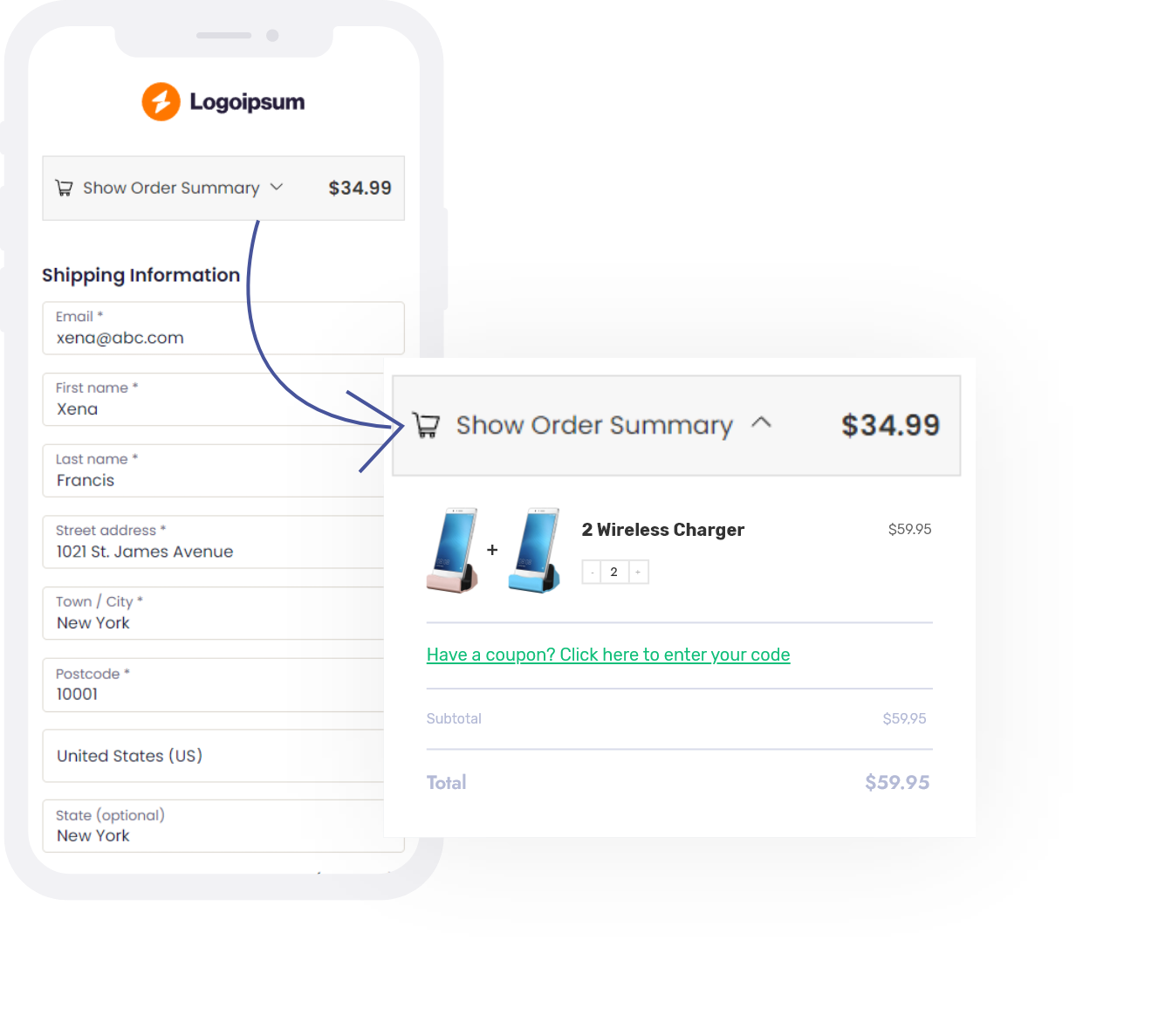 Mobile-Responsive Checkouts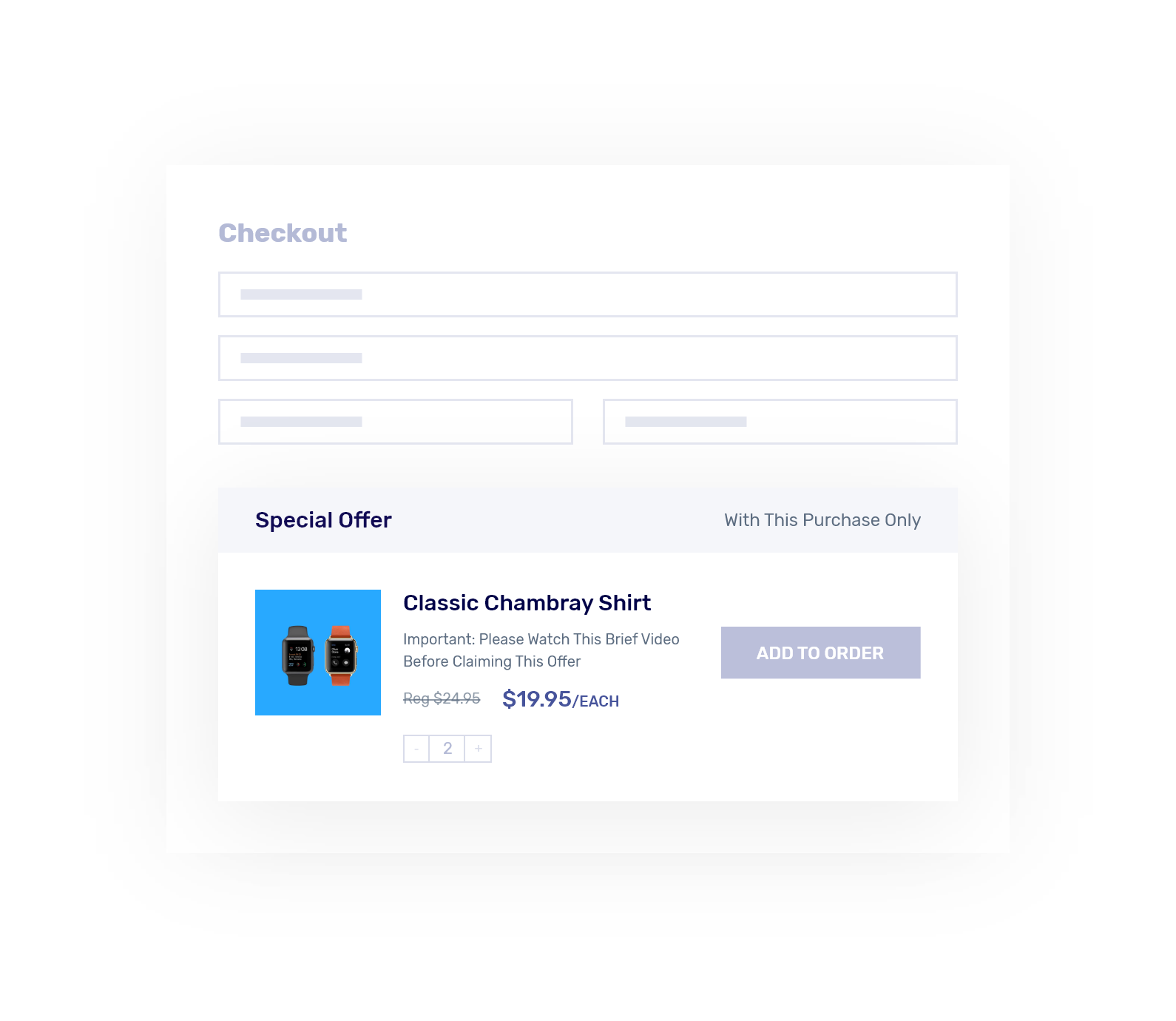 72.9% of all e-commerce sales are on mobile. You can't be ignoring the device! With FunnelKit checkout, be in complete control of the mobile experience.

Reward-Based Side Cart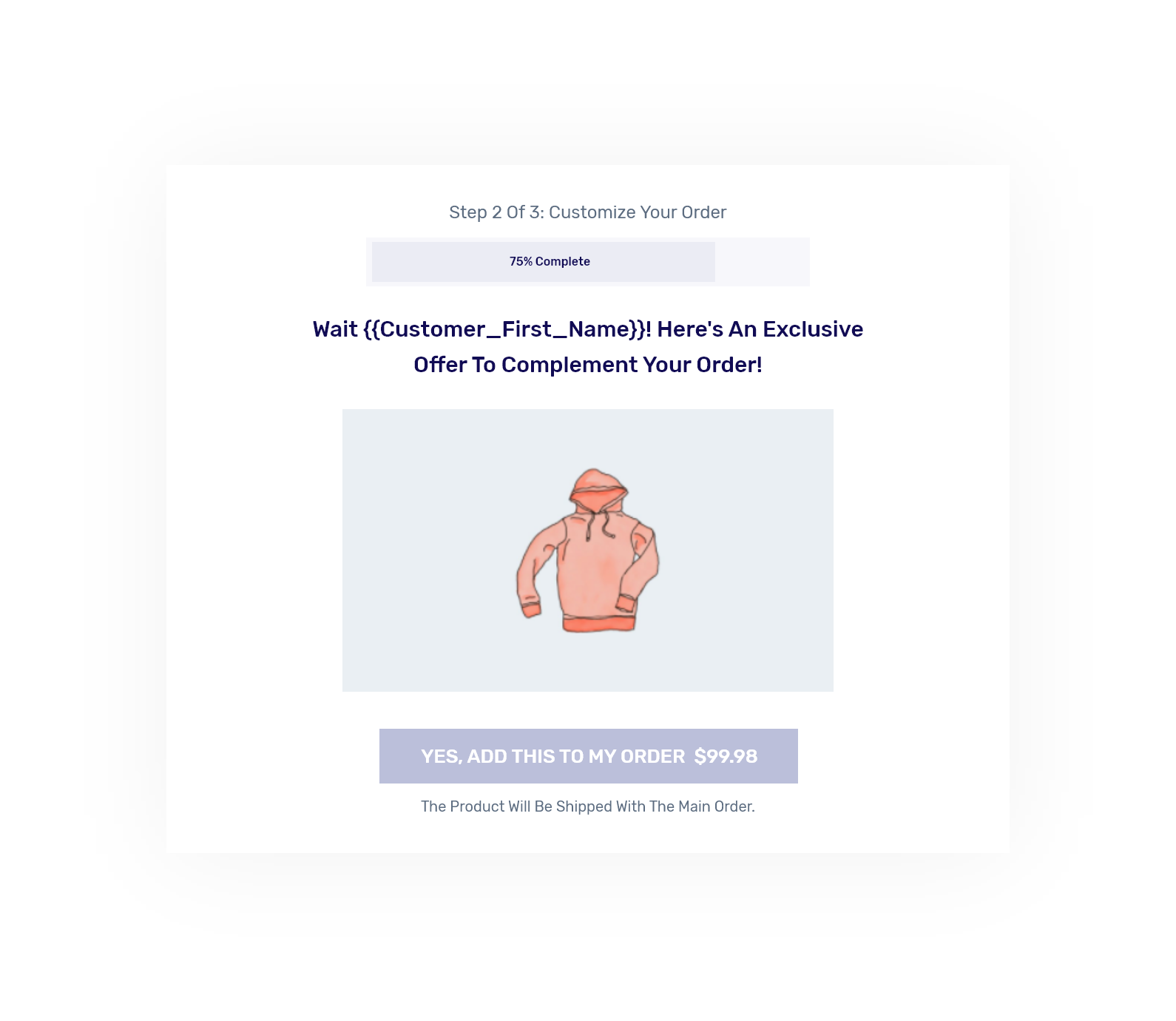 Make the cart always-accessible through a cart icon. The side cart appears with options to modify cart, add coupon, accept upsells, get rewards & go straight to checkout.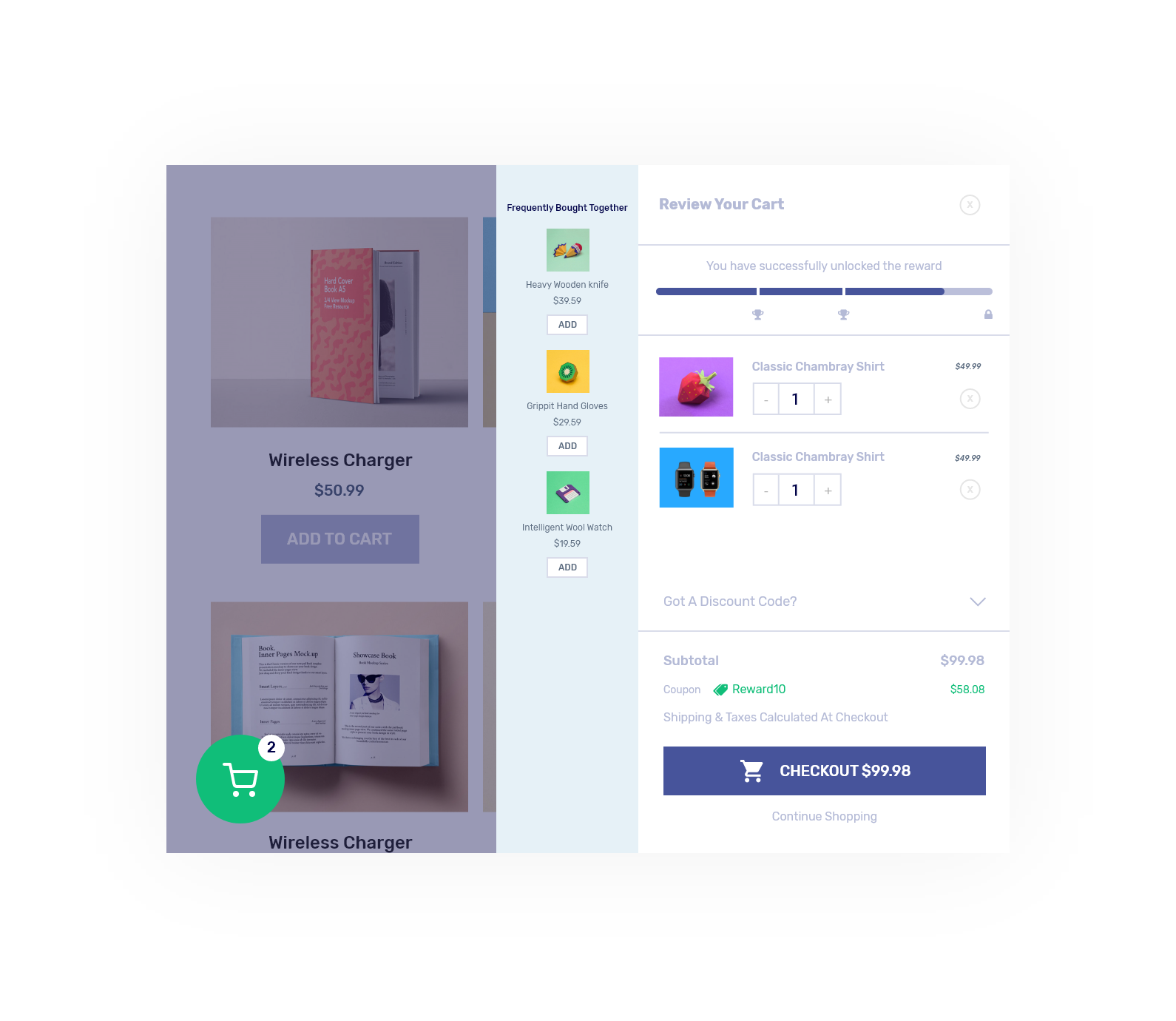 Checkout Optimisations to Maximise Sales

Here are some other impressive features that make it fully worth it.

Google Autocomplete
Connect with Twilio or BulkGate to reach out to your customers, no matter where they are.
Express Payment Options

From geographical to demographics to behaviour based! Create rich segments.

Dedicated Store Checkout

Test a small sample. Deploy smart sending to send the winning variant out to everyone else.
Phone Field Validation
Personalize your emails by using dynamic merge tags. Get higher click through rates.
Checkout Expiry

Initiate actions on link clicks. Add a tag, subscribe the contact to a list, end automation, & more.
Multi-Step Field Preview
Design emails with header, footer, custom components & more. Save them for future use.
Email Validation

Don't want to send a campaign right away? Schedule it for later, choose the date and time.
Auto-Apply Coupon Code
Automatically append UTM parameters by generating it from the same interface.
Here's What Our Users Love About FunnelKit

Marketing copy can be slick, but when real users say something, they mean it.

"Definitely worth a 10-star!"
I'm really happy with the Funnel Builder. It has helped me to create a solid funnel in combination with Divi without the inconvenience of WooCommerce settings.
The support team is amazing! They always respond very quickly and help me solve all issues. It means a lot that the support team is so amazing!! Definitely worth a 10 star!
"If you're searching for a Funnel Builder, you can stop searching!"
If you're searching for a Funnel builder, or want to build a fully customizable checkout page - you can stop searching. FunnelKit is the best solution you can find on the NET.

One of the greatest features is that you can set a lot of rules to your checkout, for example, show different thank you pages depending on what product is on the checkout or what payment method your client use.

They have very helpful support too, one of the most professional you can find. I am a very demanding client...

"Holy, you know what! This system is absolutely amazing!"

We've been using Automatewoo for a few years and the whole UI was really drab. I couldn't find anything else with the same capabilities through….until FunnelKit Automations. Holy, you know what! This system is absolutely amazing in what it can do. We are using it to send follow-up emails, track links by text and email, order links on abandonment; the list goes on.

This product floors me daily in how we can use it to communicate and automate the process with our customers! Do not miss out on this one. This is a true winner all the way around. And the UI is GREAT!! Same with the UX part, the team has really paid attention to detail in everything. Very happy with my purchase.

"Zero Overwhelm!"

I'm extremely impressed. A full-fledged WooCommerce CRM in my WP dashboard! That's a game-changer. A joy to look at and use. Easy to set up – zero overwhelm and very clear step-by-step documentation.

What can I say? Thank you FunnelKit team, two enthusiastic thumbs up!

"No more CF for me, 100% FunnelKit now!!"

This plugin has been a life saver! They have thought of everything…and then they come out with more. I wish I could show 10 Stars!!! Their support is beyond expectations, Tutorial Blog is easy to understand, and our funnels work and we are making money!!! No more CF for me! 100% FunnelKit now.

"Has become a game-changer in a brief period of time!"

I was previously using another WordPress CRM, but I was intrigued when I found out about FunnelKit & Automations. I decided to try it out, and I was highly impressed. I love that cart abandonment is built-in and linking automations to form builders is easy. I also appreciate that you can input data into FunnelKit Automations via webhooks. I love the rule-based automations and audiences to segment my lists. It has indeed become a game-changer in a brief period of time.

Now what blows me away is the support team! For me, how fast a company responds and addresses issues wins the prize in my book.

"FunnelKit is one of BEST designed plugins!"
I have been building and selling brands online for over 10 years. I have used dozens of different software services and plugins for creating sales pages, funnels, automation marketing sequences, follow-up sales funnels...
FunnelKit BY FAR is one of the BEST designed and developed plugins for WP and their support is 100% every time I send in a request.

"We looked into Shopify but it doesn't allow conditional upsells as FunnelKit does!"

We run a limited-time bundle business that does 15,000+ sales in 5 days with more than 7,000 sales in the last 36-48 hours and has hours where we are having more than 500 sales in an hour.

WooCommerce + FunnelKit is solid and handles this with no issues. We looked into Shopify, but it does not allow multiple conditional upsells as FunnelKit does.

30-40% of our gross revenue comes from bump offers and upsells.

"...ClickFunnels, at a fraction of the cost!"
Yesssss! The power of ClickFunnels, at a fraction of the cost, with WordPress flexibility. Love it!

"A complete solution, totally worth it!"
Installed FunnelKit on my E-learning Course and I couldn't be any happier! I love my new checkout pages and especially love the bumps! Amazing tool :relaxed: And support were also great, had a country-specific doubt, and they were great helping me.

I'm also handling my Learndash enrollment with FunnelKit Automations. I'm doing it by combining FunnelKit Bumps with Automations. A complete solution, totally worth it! ❤️

"Opens up so many possibilities normally reserved for high cost systems!"
Once in a while you come across a product that really changes everything. FunnelKit Automations is that type of product. It opens up so many possibilities normally only reserved for high cost systems. The automations are clean and easy to set up with different conditions triggering different workflows.

Really the opportunities are endless. Couple that with Abandoned cart features, integration with form plugins and more – this is an amazing product.

Plus support is friendly and goes out of there way to make sure your issues are resolved. I have spoken with the CEO personally and customer satisfaction is incredibly important to him. You can see there is an amazing culture that flows through the company and I am one happy customer!

"Very active & useful Facebook group!"

We've been using FunnelKit for about two years, and let me tell you — being able to create checkout pages in Elementor (and other builders) is a game-changer.

The plugin is rock solid, and if you do have a question, support is fast, knowledgeable, and comprehensive. They have a very active and useful Facebook group as well.

FunnelKit have served us well for thousands of orders. Highly recommended!


Got Questions? We've Got Answers

Here are some of our most frequently asked questions. If your question is not listed here, then please
contact us
.
Q1. Why do I need a sales funnel?

With ad costs soaring, SEO becoming challenging and competition increasing by the day, you need a sales funnel or marketing funnel to maximize average order value.

Q2. What do I need to make FunnelKit work?

FunnelKit is a sales funnel plugin for WooCommerce. You will need a hosting account on WordPress with WooCommerce installed and activated.

Q3. I have a WooCommerce store selling multiple products, is FunnelKit for me?

Definitely yes! You just need to shortlist a few products in your store that have some traction. Our solution is designed for even multi-products store.

Q4. I am a course creator, is FunnelKit for me?

FunnelKit integrates via WooCommerce with popular LMS plugins like LearnDash, LifterLMS, TutorLMS allowing you to create a streamlined course selling process. You can further use our opt-in pages and pop-ups to capture leads and nurture them for more sales.

Q5. What payment gateways does FunnelKit support?

FunnelKit Checkouts and Order Bumps supports all the gateways that WooCommerce supports. One Click Upsells is supported by over 15 payment gateways. The list includes PayPal, Stripe, Mollie, Authorize.net, Braintree, SagePay, and many more.

Q6. Is FunnelKit compatible with subscription-based products?

Yes, FunnelKit is fully compatible with the official WooCommerce Subscriptions plugin. You can add subscription-based products to the checkout, order bump, and even for one-click upsells.