A bridge funnel is an affiliate marketer's best friend.
As an affiliate, you may not have control over the offer pages of the products you're promoting.
That's where bridge pages or bridge funnels play a significant role.
It helps you in bridging the gap by turning cold prospects into interested buyers before redirecting them to the affiliate product.
The funnel has a bridge page between your ad and affiliate offer page that hooks the prospects before referring them to the product they're interested in. It's where you introduce your product to people, write persuasive copy to lead them to the offer page, and more.
In this post, you'll learn what a bridge funnel is, why you should use it and the step-by-step process of creating one in WordPress.
Let's begin.
What is a Bridge Funnel?
A bridge funnel is a funnel marketing strategy that helps you bridge the gap between your funnel and the website whose products you're promoting.
It's usually used in affiliate marketing to attract visitors and make them interested in your affiliate offer.
A bridge funnel is always better than any other form of promotional content because you can instantly drive relevant traffic to it.
The funnel has a bridge page that lets you write persuasive copy and convince your prospects to take the desired action.
From there, you can use the bridge funnel to connect to an actual affiliate product placed on a website for making a purchase.
Here is a complete overview of the funnel: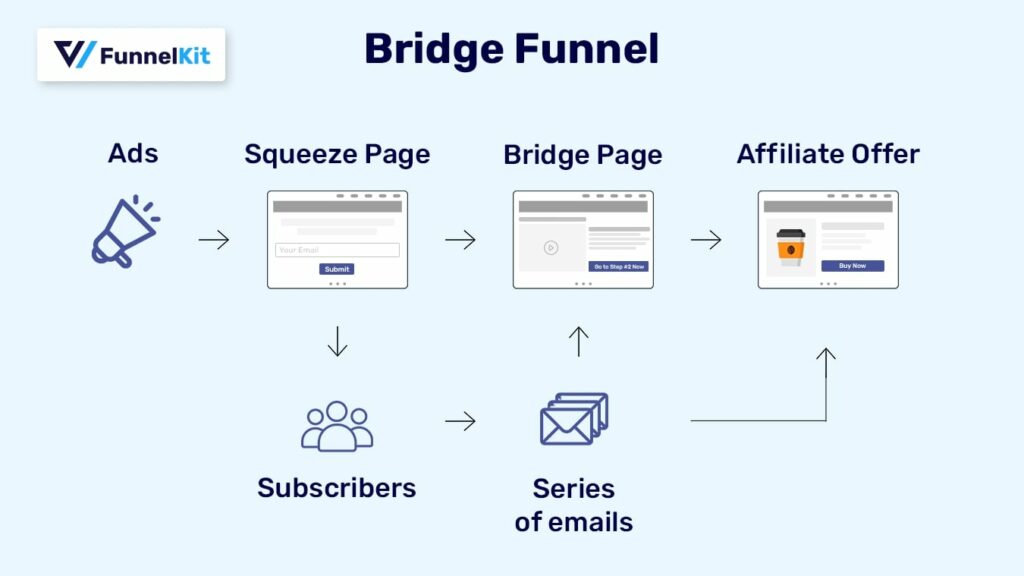 If your prospects deny your offer, that's alright! You can reach out to them with automated follow-up emails.
Isn't it a powerhouse?
How Do Bridge Funnels Works?
A bridge funnel works on a psychological technique called priming.
Priming refers to the cognitive process that occurs when you expose a person to one thing, and it can later affect their behavior or thoughts.
For example, whenever you hear the word "green", you automatically start thinking about nature or money.
In 1996, a study published by John Bargh stated, "What you read controls the way you act."
It refers to the multiple priming influences, including reading, that get distilled into non-conscious social actions to happen serially.
A similar case happens in bridge funnels. Through priming, you can seamlessly move your prospects down the funnel in a way that doesn't seem intrusive to them.
As you bring cold prospects into your bridge funnel, they instantly start connecting with the goal they want to achieve that is offered by the product you're offering. This product can be anything like a coffee machine or an online course.
It later starts a chain of reaction down to your funnel, ultimately going to your affiliate offer and making the purchase.
The bridge page in the funnel plays an important role in answering the question of your prospects. It stands up to its role in hooking them in and convincing them about your offer.
The main offer page can get a conversion boost just because there is a pre-sell or bridge page doing its job.
Bridge Funnel Applications in Different Domains
Bridge funnels suit perfectly for affiliate promotions to generate high revenue. But it isn't its only use case!
Let's look at how you can use the bridge funnel strategy in different domains:
E-commerce: Bridge funnels let you take advantage of FOMO by creating a lucrative deal. This can be done for physical products, limited stock deals, BOGO offers, a new launch, tech innovation, etc.

Business to Business (B2B): Identify potential businesses needing your product or service to streamline their operations. Laying out the benefits and effectiveness of your product on a bridge page will do wonders.

Author / Speaker / Coach / Consultant: If you're a creator, coach, or consultant, a bridge funnel helps you provide your prospects with a product that can change their lives. You can use the bridge funnel landing page to build hype about the program and boost the credibility of the creator.

Network or Affiliate Marketing: A bridge funnel lets you highlight key benefits and features of the product you're promoting. Once they're convinced, you can send them to the respective checkout to complete their purchase.

Professional services: For prospects who don't know anything about you or your business, bridge funnels can be used to educate and send them to the funnel that provides a desired solution.

Now that you know about the bridge funnel applications, let's look at the key elements of an effective bridge funnel.
5 Key Elements to Building a Successful Bridge Funnel
A typical bridge funnel consists of five key elements:
1. A compelling offer
Your top priority should be to create a compelling offer for the product you're promoting.
You can emphasize the discount if the affiliate website is running any sales. Or, you can write down the benefits by stating the value you're getting from this product at a low price.
Obviously, these offers have to be put on a bridge page (which we discussed later).
Determining your offer is a crucial part of helping you generate big revenue.
2. Your Squeeze page
This is the first step of your bridge funnel. The primary goal of your squeeze or opt-in page is to collect the email information of the visitor and send them further down the funnel.
You can even offer lead magnets to encourage users to opt in for it with their email addresses.
This lead magnet could be an ebook, pdf, video training, etc., related to your primary affiliate offer.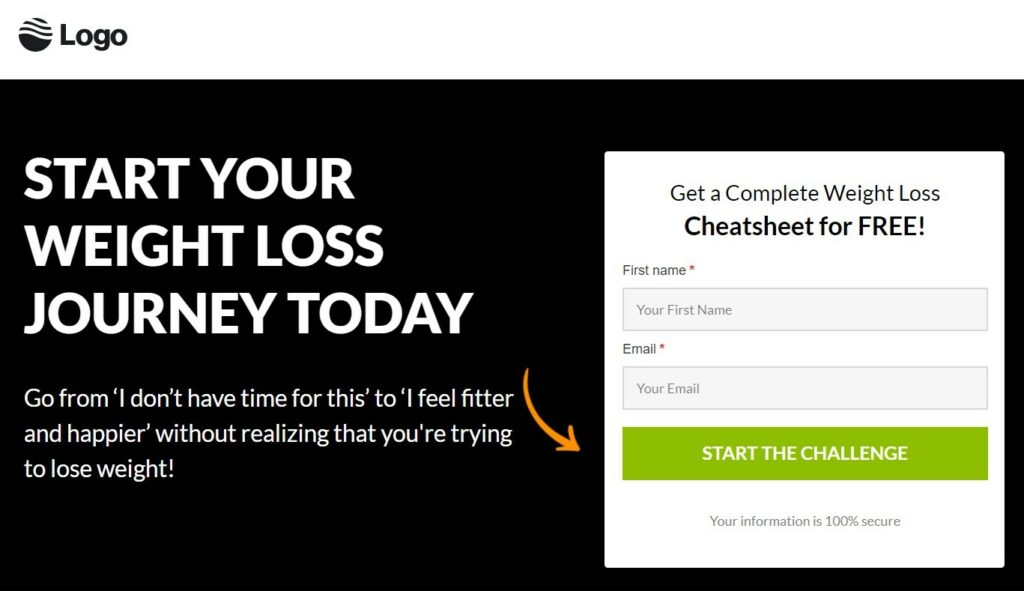 The squeeze page results in building your email list while you earn your affiliate commissions.
Once you have their information, you can send them to the bridge page.
3. The Bridge page
The bridge page is the most crucial step of your bridge funnel.
Its primary goal is to make your prospects get interested in your offer. It could be done through a persuasive copy that presells and closes the gap between them and the product offer you're selling or promoting.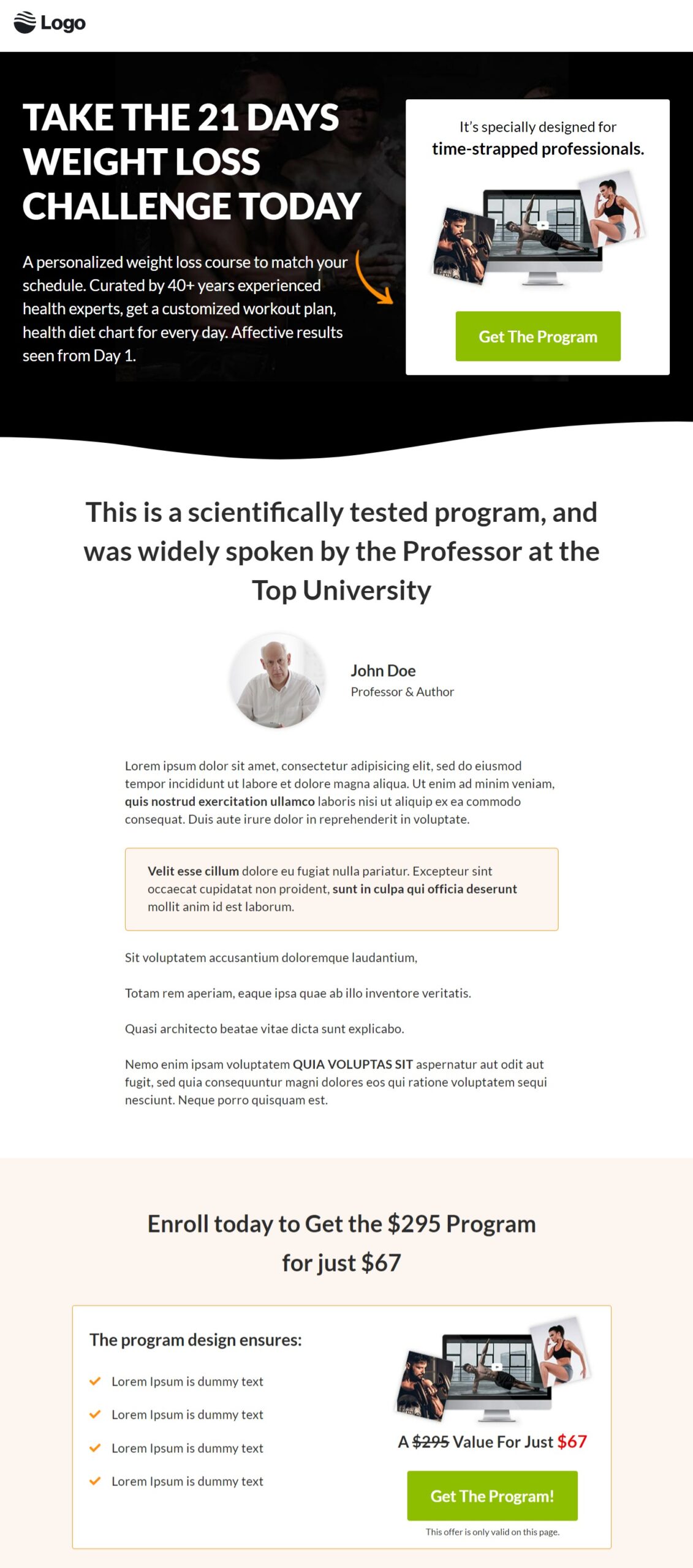 Since your visitors have signed up for your offer, it's clear that they're interested in your product.
A bridge page will make this offer far more interesting if you include the following elements:
Attractive headline - An eye-catching headline that makes the user stick to your page and wants to know more about your offer.

Graphics or video representation - Visual graphics always convert better than text. That's why you should clearly explain how the product is a solution to their problem through a visual representation in the form of a graphical image or video.

Compelling copy - Write a creative copy about the product you're offering and the solution it brings to solve your user's problem. Make sure to answer the right questions and your copy will surely help enhance the conversions.

The value proposition - Highlight the key benefits that your product brings and the value it offers to the users in helping them achieve their goals. Don't forget to include what your users will get once they have their hands on the product.

Social proof - Testimonials can help increase your sales page conversions by 34%. Social proof has an enormous impact on users' buying decisions. That's why you should always give user reviews on your bridge page.

Call to action (CTA) - Having multiple CTA on long layout pages generates up to 220% more conversions than landing pages with CTA placed only in the above-the-fold section. That's why marketers prefer using multiple CTAs on their landing and bridge pages. Make sure to keep the text of your CTAs short and actionable.
4. Affiliate Offer Sales Page
The affiliate offer sales page has all the descriptions of a product you're promoting. It's the central offer page where the payment process and purchase finally happen.
The key difference between a bridge page and a main page is that the bridge page helps with priming and stating the benefits and highlights of the affiliate offer.
Whereas a sales page goes into detail and connects to checkout for completing the purchase.
5. Automated emails
Around 80% of generated leads actually never convert.
That's why setting up automated follow-up lead-nurturing emails is important to increase conversions.
Not just that, if your prospects don't buy your affiliate product after the bridge page, you have the opportunity to interact with them via emails on autopilot.
This way, you can generate revenue while you sleep.
How to Create a High-Converting Bridge Funnel?
To create our bridge funnel, we'll use FunnelKit's Funnel Builder.
The Funnel Builder by FunnelKit is the most powerful sales funnel builder plugin created for WordPress. It lets you set up your opt-in pages, sales pages, checkouts, order bumps, one-click upsells and downsells, thank-you pages, and more.
Here are some effective reasons why FunnelKit is perfect for setting up your bridge funnel:
Optimized templates - FunnelKit has a wide array library of pre-designed templates for all your use cases. These templates are highly customizable and optimized for all types of devices.

Works with all page builders - FunnelKit is deeply compatible with popular page builders such as Elementor, Divi, Oxygen and Gutenberg. Thus, you can design your bridge page funnel with these page-building tools. If you want to use any other page builder, you can create your pages using shortcodes.

Built-in A/B testing - A/B test all the elements of your bridge page and boost your sale conversions. You can test multiple variants of each page in your funnel and find out which one converts better.

Detailed Analytics - Measure how each page in your funnel is performing by getting your hands on FunnelKit's detailed analytics. See the orders placed, generated revenue, details about your leads, and more.
Plus, it's available in free and premium versions. But we'll use and recommend you use its Pro version to harness the power of premium templates and unmatched capabilities to build your bridge funnels.
Once you have the plugin, refer to our installation guide on setting up Funnel Builder on your WordPress website.
Follow the step-by-step instructions to create your high-converting bridge funnel:
Step 1: Add a new funnel
Go to FunnelKit ⇨ Funnels from your WordPress menu and click on 'Add New Funnel'.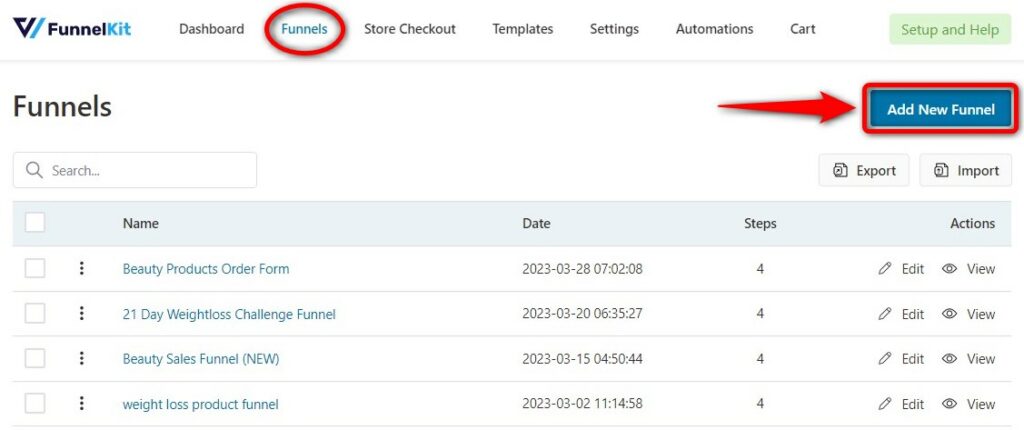 It'll take you to the templates screen. Here you'll be able to see all the available FunnelKit templates.
First, we'll be choosing the squeeze page. For that, hit 'Lead Funnels' and choose the template you like. Don't forget to select your favorite page builder.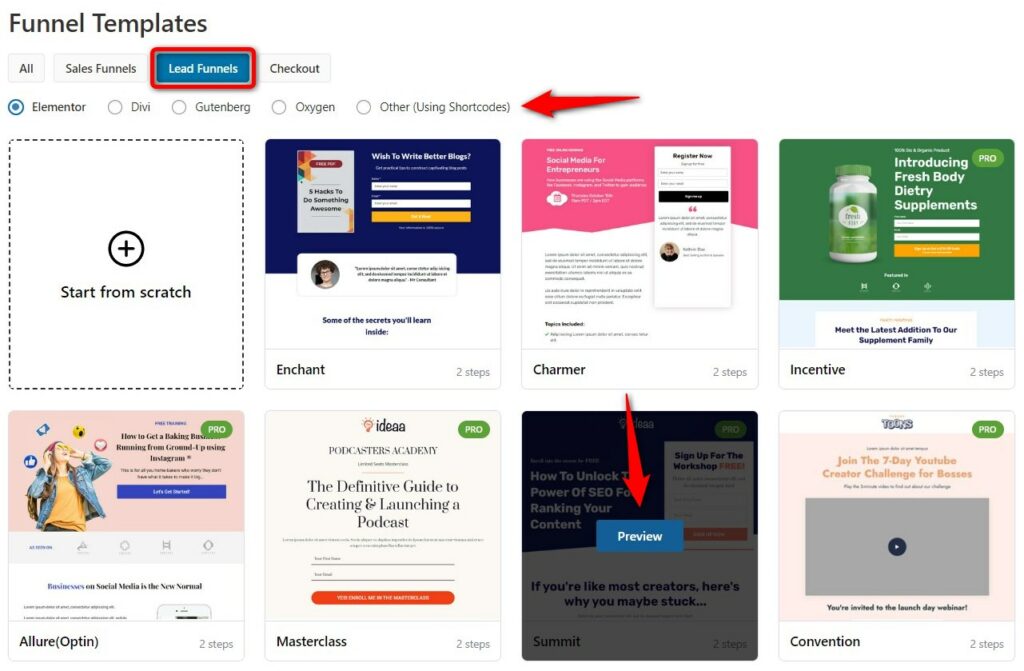 The next screen will help you see a full preview of the pages in this template. Select the form type and hit the 'Import This Funnel' button.
Name your funnel - Bridge Funnel.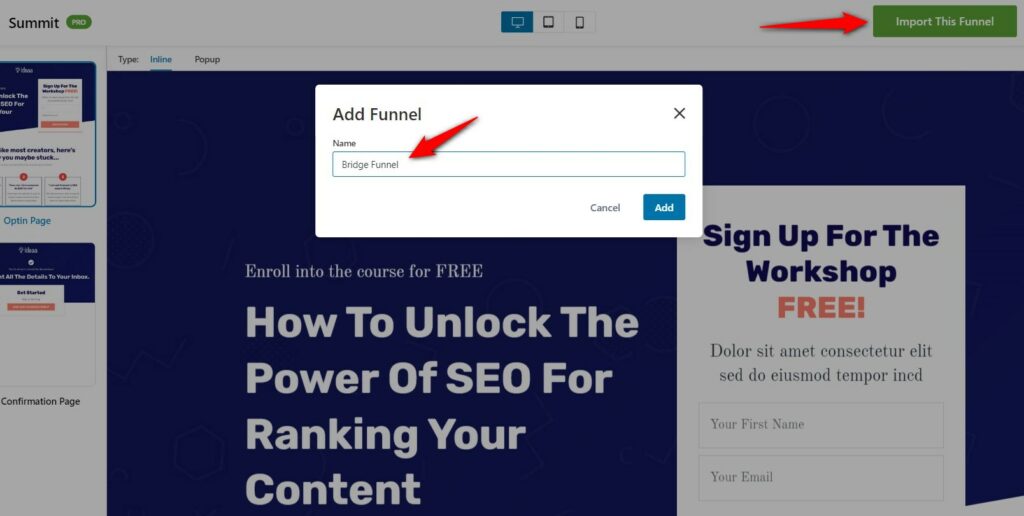 Clicking on 'Add' will import this funnel.
Step 2: Customize your opt-in page
Next, hit the 'Edit' button to customize your squeeze or opt-in page.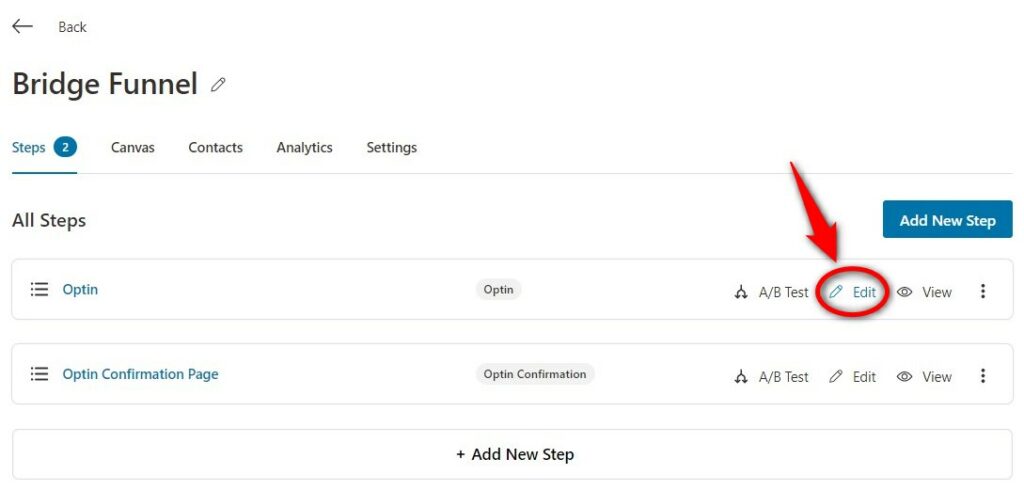 It'll take you to the 'Design' tab. From here, you'll be able to customize your opt-in page template as per your requirements.
It lets you customize your opt-in page's headings, images, text, form, etc. Click on the post below to learn about customizing your opt-in page.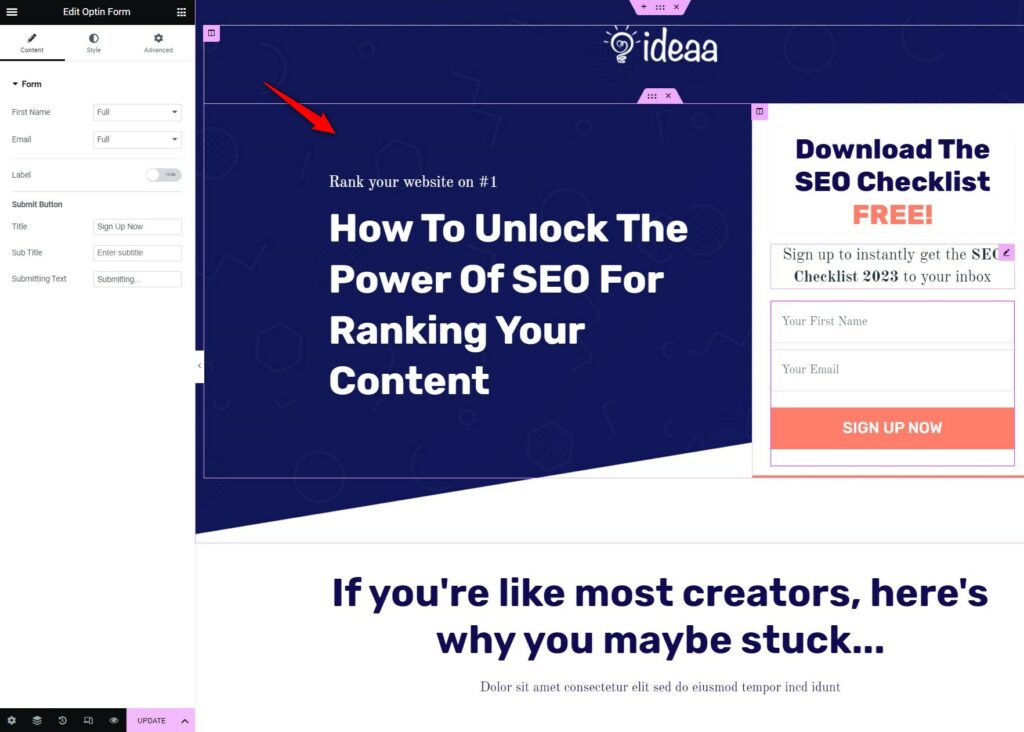 Further, you can even send a lead notification to your subscribers with an attached lead magnet from the Actions tab.
For example, we have set up an email to welcome our subscribers and send them the SEO Checklist 2023.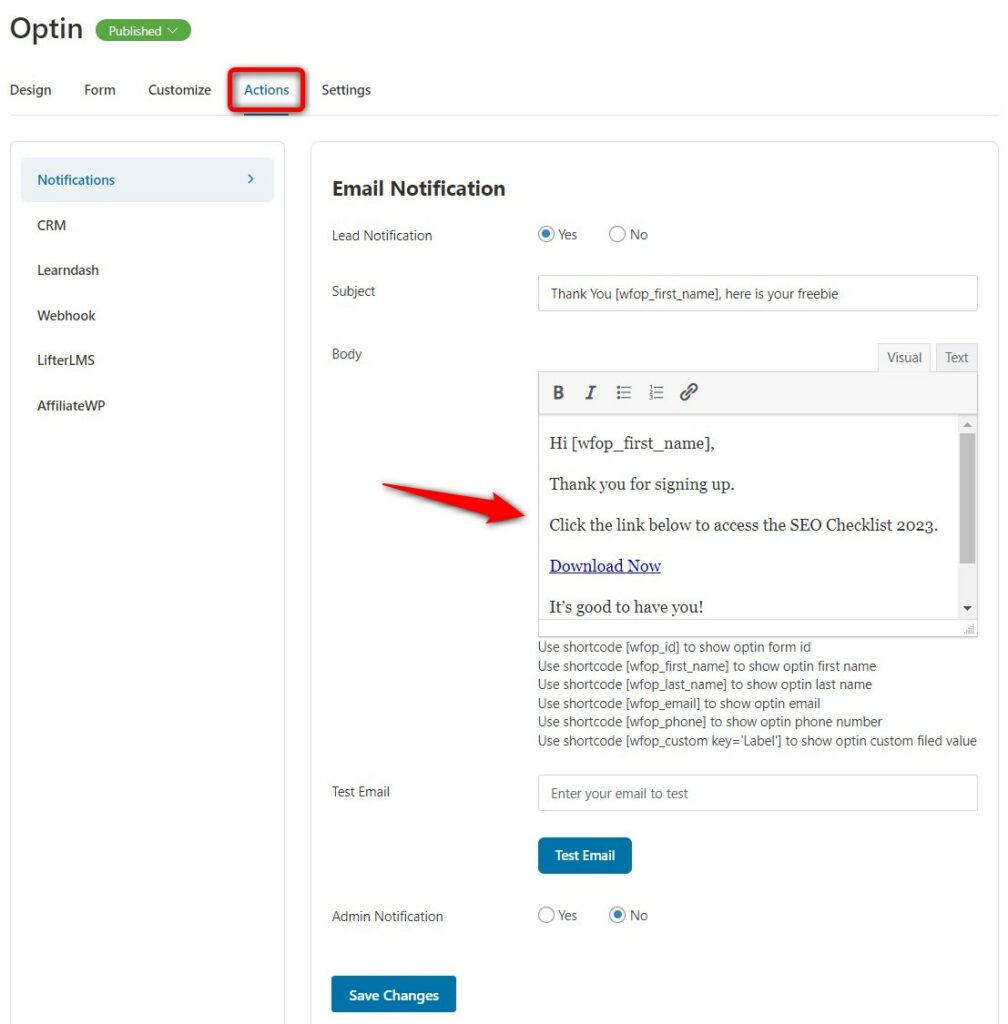 Once done, click on 'Save Changes' to lock all the modifications made.
Step 3: Add the bridge page
The second step in our funnel is to add the bridge page. Thus, we'll be removing the Opt-in confirmation page from the funnel.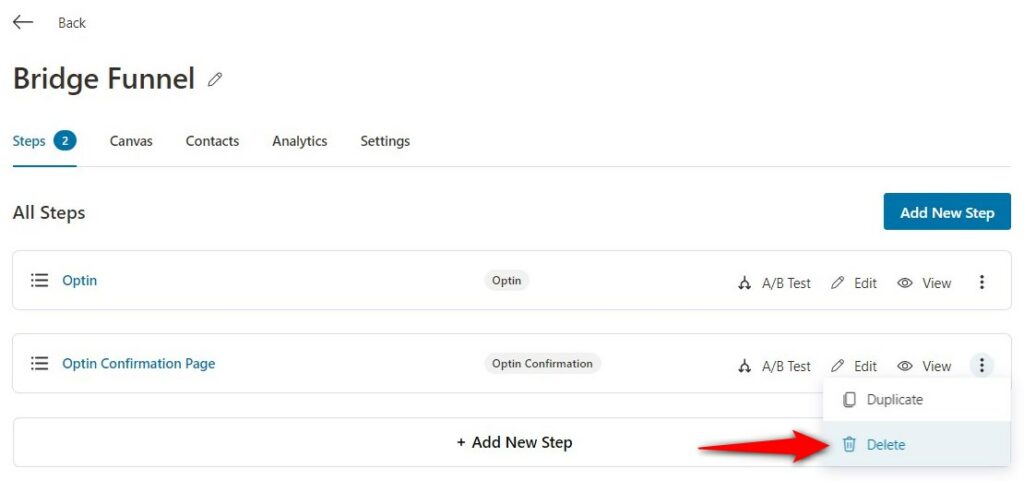 To add the bridge page, click on 'Add New Step'.

Click on the 'Sales Page' and you'll see all the landing page templates.
Now follow the same process in step-1, i.e., choose a template, name the bridge page, and import it.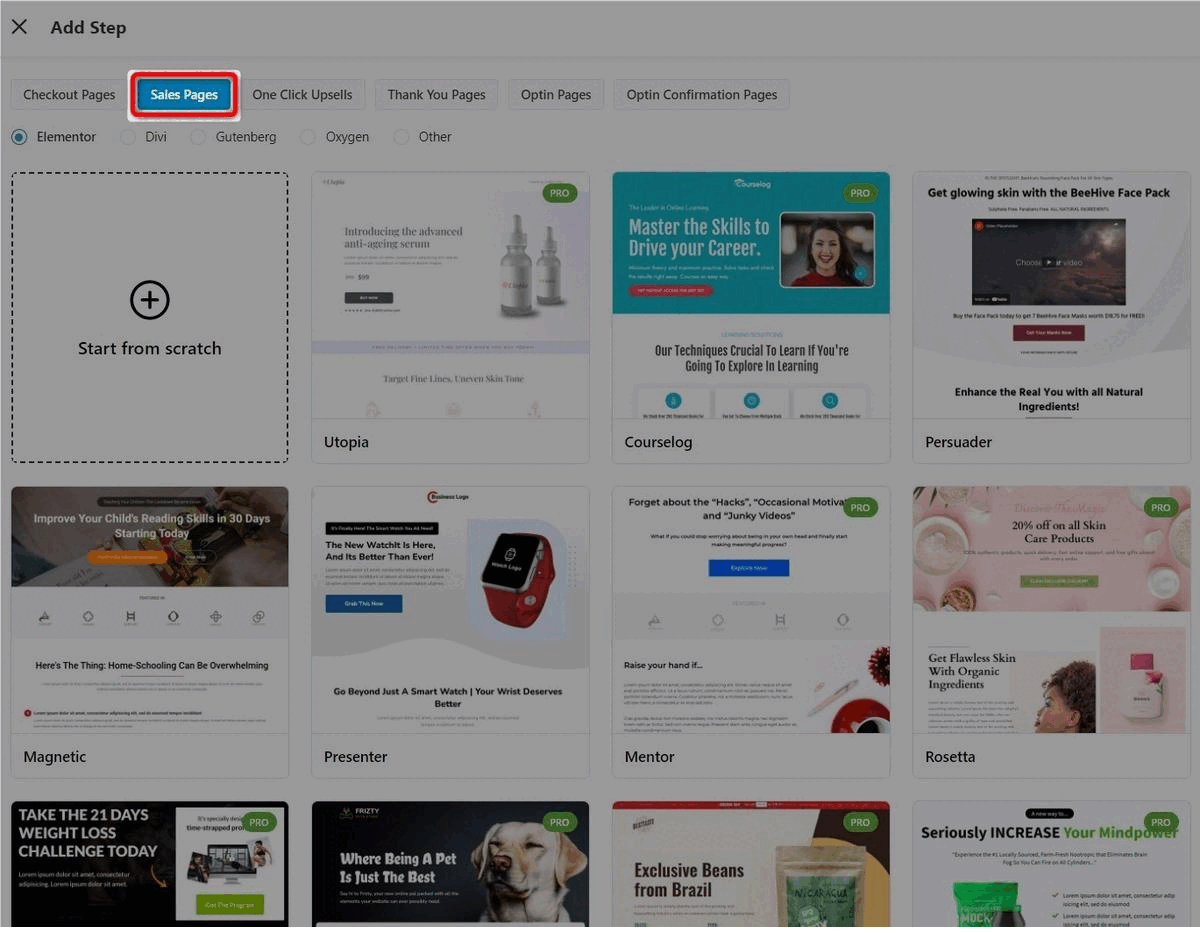 Once done, you'll have the bridge page added to your funnel.
Step 4: Customize your bridge page
Hit 'Edit' to start customizing your bridge page.
On the Design tab, click on 'Edit Template' to customize the bridge page design.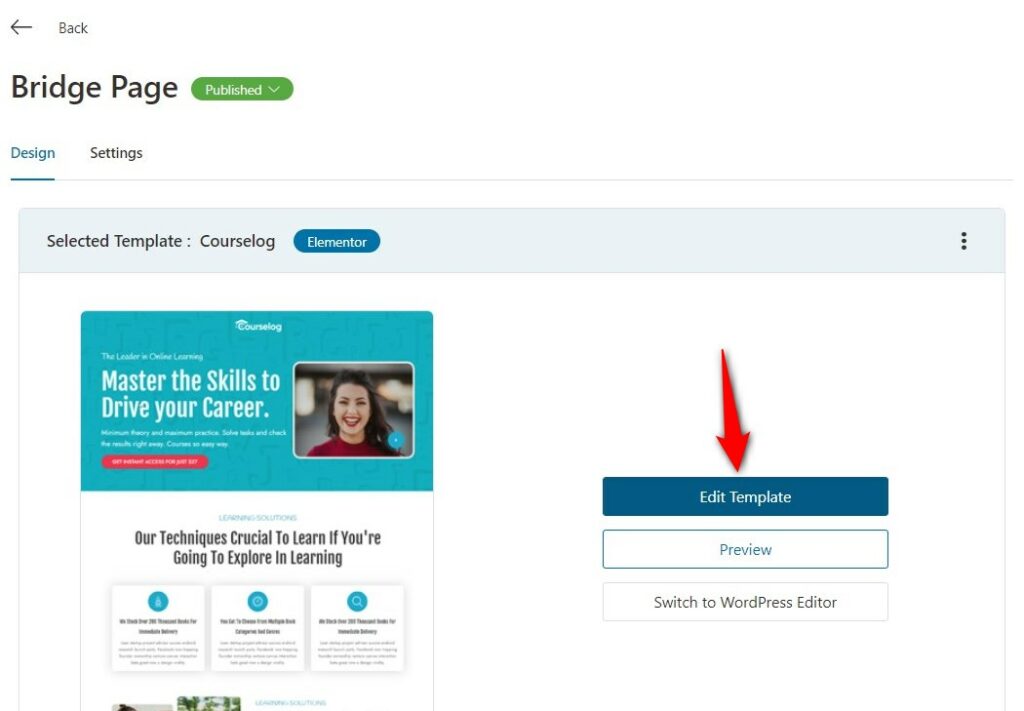 This will load your page in the page builder you've selected.
* Attractive header *
Start by customizing the heading of your bridge page. Just click on the pencil icon and edit the title as per your needs.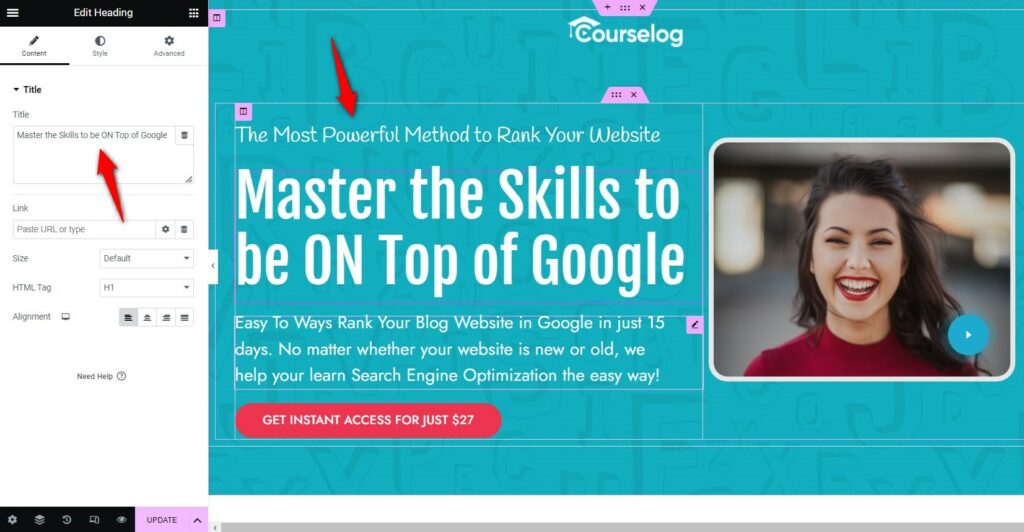 * Engaging video or graphical image *
Next, choose an engaging video or graphics that guides users on how to use this product to overcome their problems.
Select the graphics on your header section and embed an image or video there.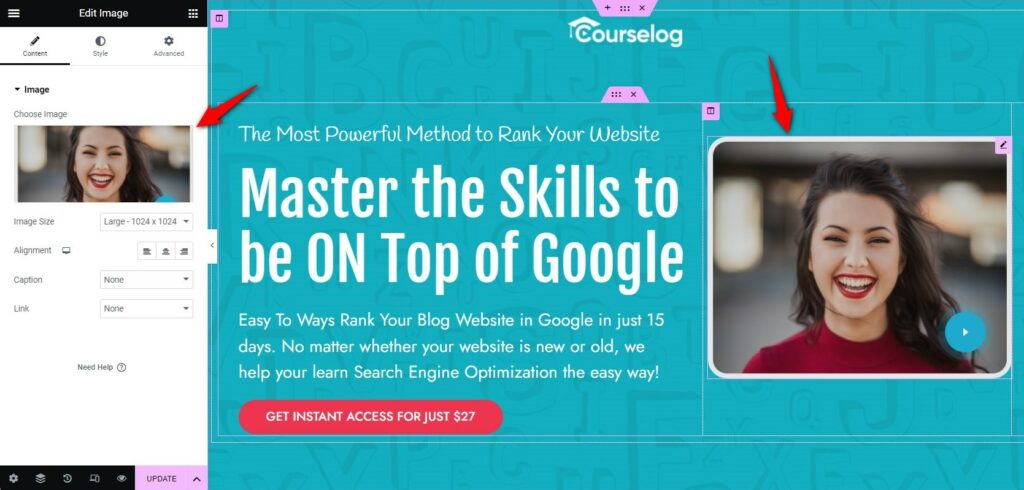 * Compelling copy *
Make sure to put the unique selling proposition (USP) that signifies how the product you're promoting is able to help other customers.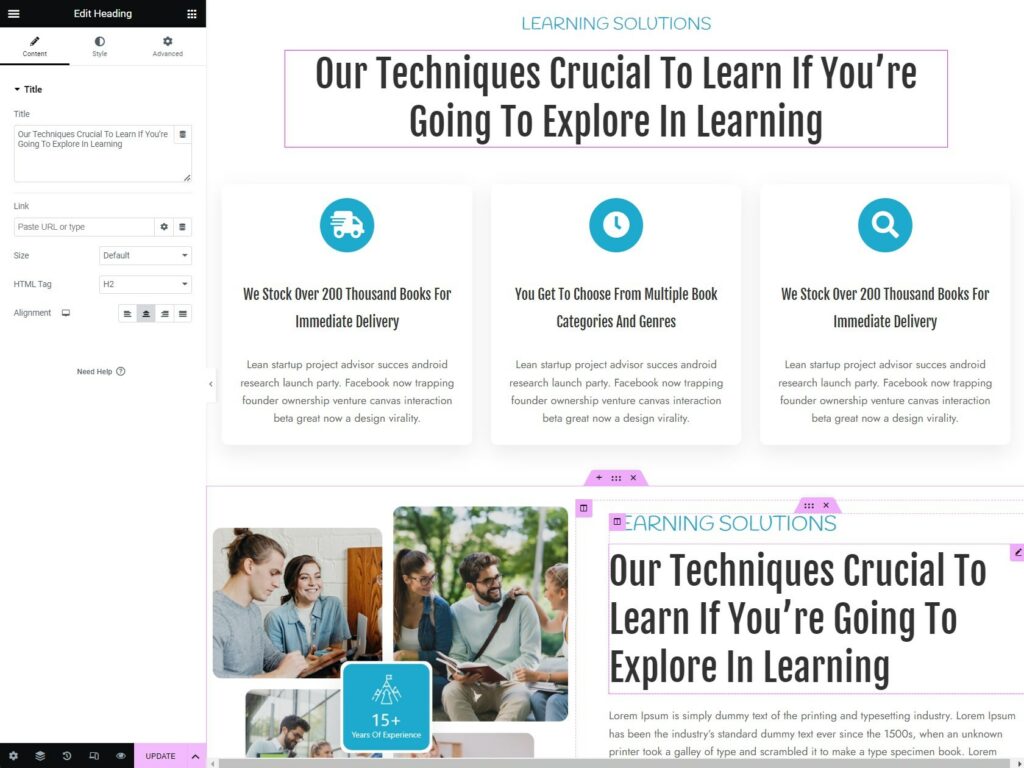 Make sure to highlight the benefits and what your users will get once they purchase the product.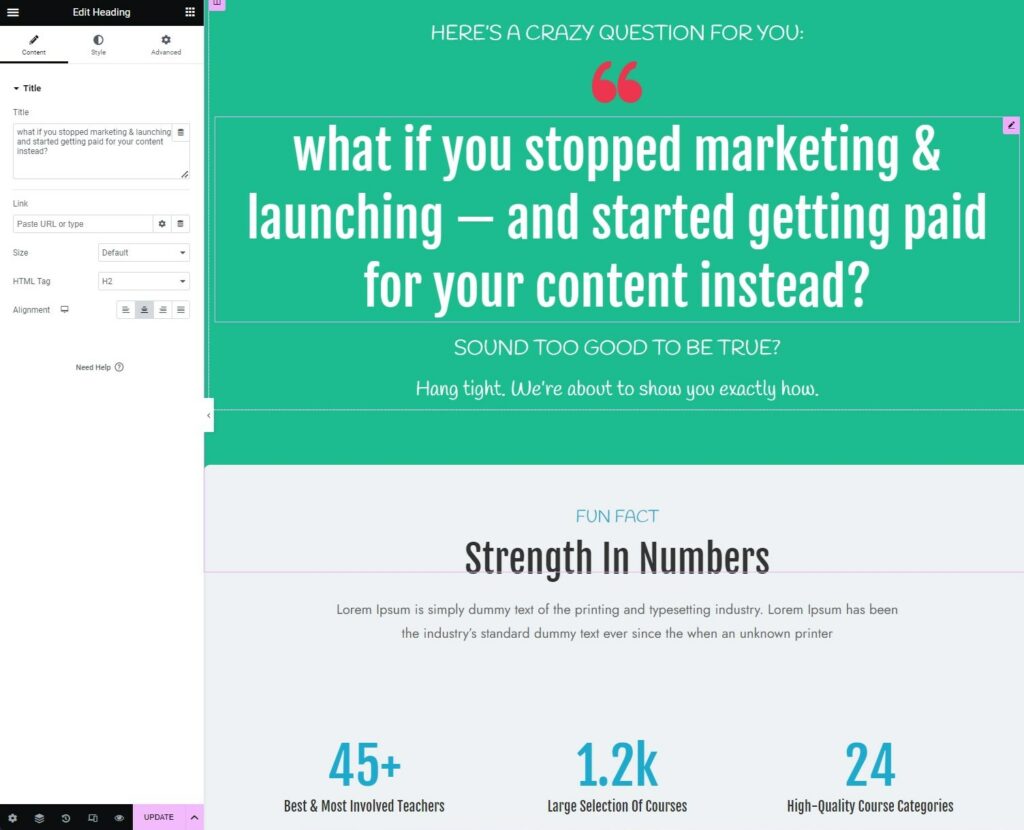 * Social proof *
Give testimonials from real users to help seal the deal. Customize the social proof section with a review title, description, and star rating.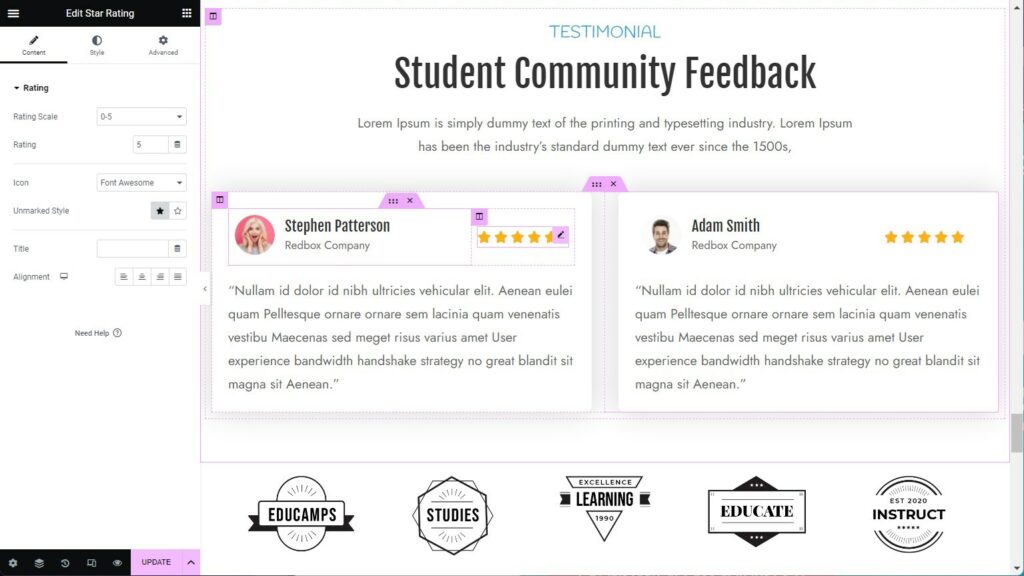 Make sure to hit the 'Update' button to save your changes.
Step 5: Link the CTA to the affiliate product
Since this template already has multiple CTA buttons, you just need to make its text short and link it to the affiliate product you're promoting.
Simply click on the button and give the link to the affiliate product along with your affiliate URL: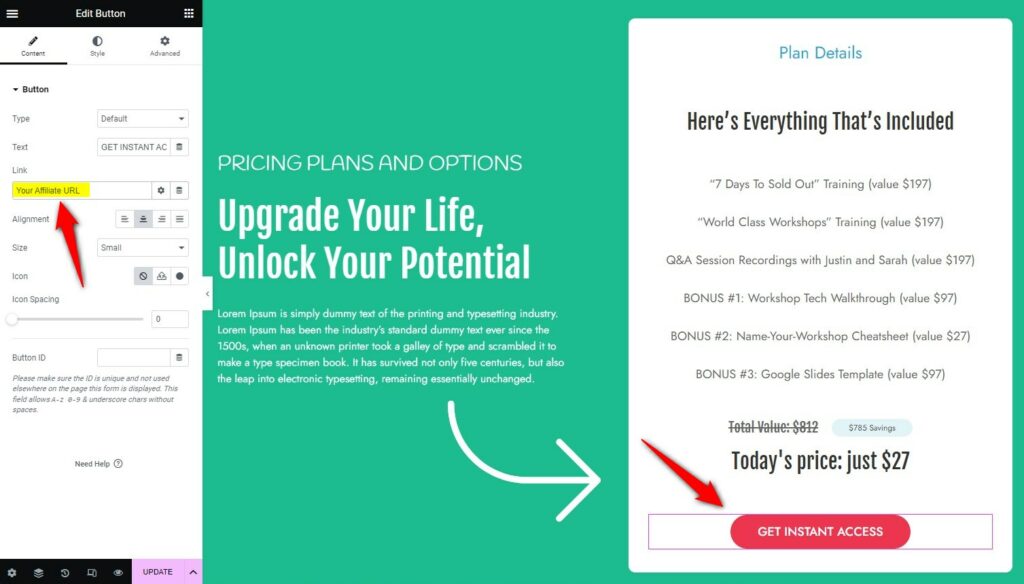 Make sure to put all the affiliate links in all your CTA buttons. Once everything is done, hit the 'Update' button.
That's it! This is how you can create your own affiliate bridge funnel in WordPress.
For users who skipped the purchase, you can reach out to them via automated follow-up emails (explained in the next section).
Use Automated Follow-Up Sequences to Boost Conversions
Your bridge funnel still gives you an opportunity to close the sales even if your visitors don't hit the purchase from your funnel. How?
By using automated emails and nurturing them to explore and buy the product.
With FunnelKit Automations, you can set up this sequence with well-timed delays, actions and incentives.
It offers you pre-built automated recipes that can be customized and ready to be launched within a few minutes.
Go to the Automations section and install the FunnelKit Automations plugin.
Once done, you'll be able to see these pre-designed automated workflows, including opt-in follow-up sequences, first-order workflows, abandoned cart reminders, and more.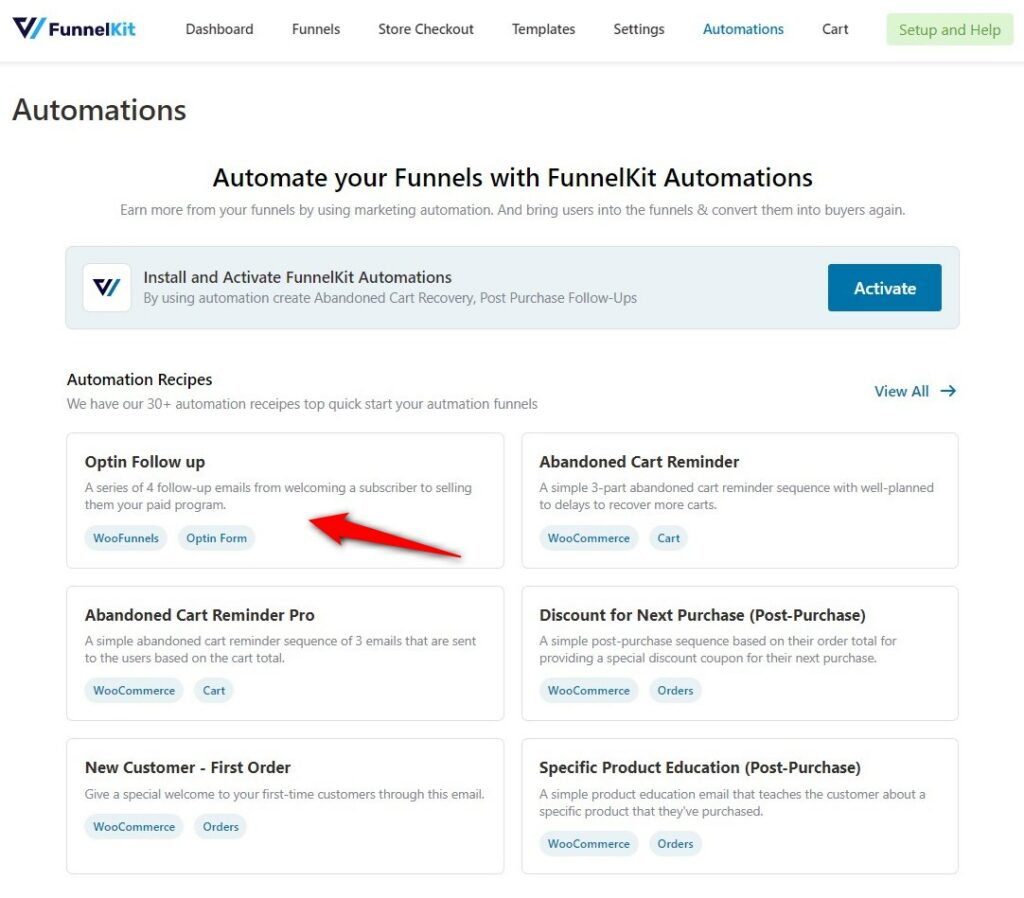 Based on your strategy, you can create a perfect follow-up sequence that turns your leads into customers.
Here are some of our most-read guides on FunnelKit Automations:
Frequently Asked Questions (FAQs) on Bridge Funnels
Here, we have answered some of the most common questions asked by users on bridge page funnels:
Why are bridge funnels called affiliate marketing funnels?
Bridge funnels are often called affiliate marketing funnels because they fit perfectly in a strategy to target the right people to purchase products they are looking for. It bridges the gaps between a prospect and the product, further leading affiliates to increase their conversion rates.
What is the purpose of a bridge page?
A bridge page is one of the additional steps in the bridge funnel strategy. The main purpose of a bridge page is to pre-sell your audience before sending them to the main product page. It gives you the perfect space to convince users about a product or service you're promoting.
How do you drive traffic to your funnel?
There are plenty of ways to drive traffic to a funnel:
Promote a free lead magnet
Create social media groups
Promote your product or service via social media ads, and more.
If you think your question has been missed, we encourage you to ask our Support Team, who will surely help you.
You're One Step Away from Boosting Conversions through Bridge Funnels!
Bridge funnels are a great way to drive targeted traffic to the main product.
As an affiliate, you don't have much control over the offer pages, that's why creating a bridge funnel is the real deal.
For that, you need a squeeze page to get potential customers and send them further down to the bridge page. A bridge page is another step where you pre-sell the product before sending them to the relevant website.
To set up your bridge funnels, you need a potent sales funnel builder like FunnelKit.
With its conversion-optimized templates, funnel customization and optimizations, built-in A/B testing, etc., you can set up perfect sales funnels as per your needs.
You can even set up unlimited bridge funnels for each of your affiliate offers and generate massive revenues as affiliate commissions.
The best part? All of these features come at an affordable price that you can't say no to!
So what are you waiting for?
Get Funnel Builder and boost your conversions with bridge funnels.