Want to create an Opt-in page that converts more visitors into leads?
FunnelKit (formerly WooFunnels) allows you to create conversion-optimized Optin Pages in WordPress with complete ease!
One of the first pages of any sales funnel is an Opt-in page. It's where a user's journey begins.
Once a user signs up, you can leverage contact information's power to reach out with the right message at the right time to convert them into customers.
In this post, we'll cover some effective opt-in page offer ideas, transformative list-building strategies, and look at how to create an opt-in page using WordPress.
Let's get started!
What is an Opt-in Page?
An Optin page, or a Squeeze page, collects the user's email address in exchange for a free product.
It is the first step of a funnel and allows you to generate leads for email marketing.
Take a look at this opt in page built using one of FunnelKit (formerly WooFunnels) Opt-in page templates: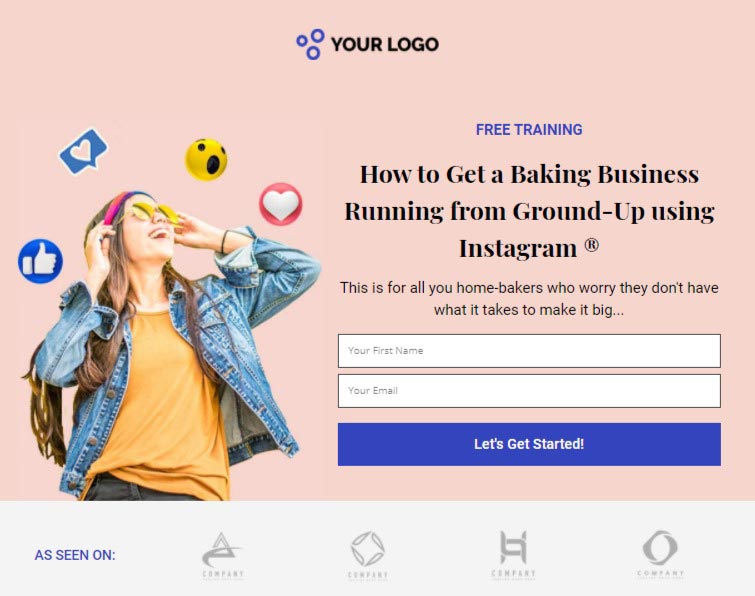 About 73% of site visitors are not sales-ready, so directing them to a sales page will be ineffective.
Adding them to your email list and nurturing them with your product information is more likely to get them to make a purchase decision.
An opt-in page consists of persuasive copy, an opt-in form, a CTA button, clicking which they get added to your email list, and some credible social proofs.
How to Choose the Right Opt-in Offer?
Your opt-in offer or lead magnet must grab attention, reel in the users, and get them to share their email addresses so you can market them.
Let's look at the important things you must keep in mind when thinking of an offer for your opt in page:
Most marketers over-complicate things and try to overdeliver. The key is not to go overboard with it.
For example, if you are a coach who helps grow Instagram followers, don't offer the whole course as a lead magnet on their opt-in page.
Offer a free cheat sheet on the "Best times to publish a post" or "Tips for creating emotionally engaging Instagram stories" to users.
The idea is to give them a head start on a path that leads toward your paid offering.
As humans, we love to assign meaning to things around us, making them all relatable or personal.
A story influences how a person thinks, so presenting your opt in copy in a manner that makes it interactive surely helps!
Induce the fear of missing out
One thing people absolutely hate is being left out of the loop. Not knowing is a great evil that your users would want to avoid.
One way to push the FOMO level high is by providing some compelling testimonials on your opt-in page. This will get you a lot of conversions.
For instance - On another Mindvalley opt-in page, Dr. Srikumar Rao offers his masterclass to battle stress and anxiety.
One of the attendees used these words to describe the masterclass:
"The retreat was an experience like no other and a permanent mental screensaver for me."
You can imagine how these lines create a powerful sense of FOMO in the audience.
You should include such powerful themes on your opt in page.
5 Opt-in Offers/Lead Magnets That Work Wonders
Coming up with an opt-in offer idea that appeals to your audience can seem a bit challenging.
You don't want to spend all your time and effort creating something that people don't want to download.
While messaging plays an important role, the actual offer is just as important.
Let's look at some products that can be pretty impressive lead magnets or opt in offers:
#1: Digital Books
eBooks make for great lead magnets. Easy to access, no shipping required, and hard to misplace.
Digital books encourage instant gratification as they are sent to the user when they sign up.
Here's an example from SmartBlogger: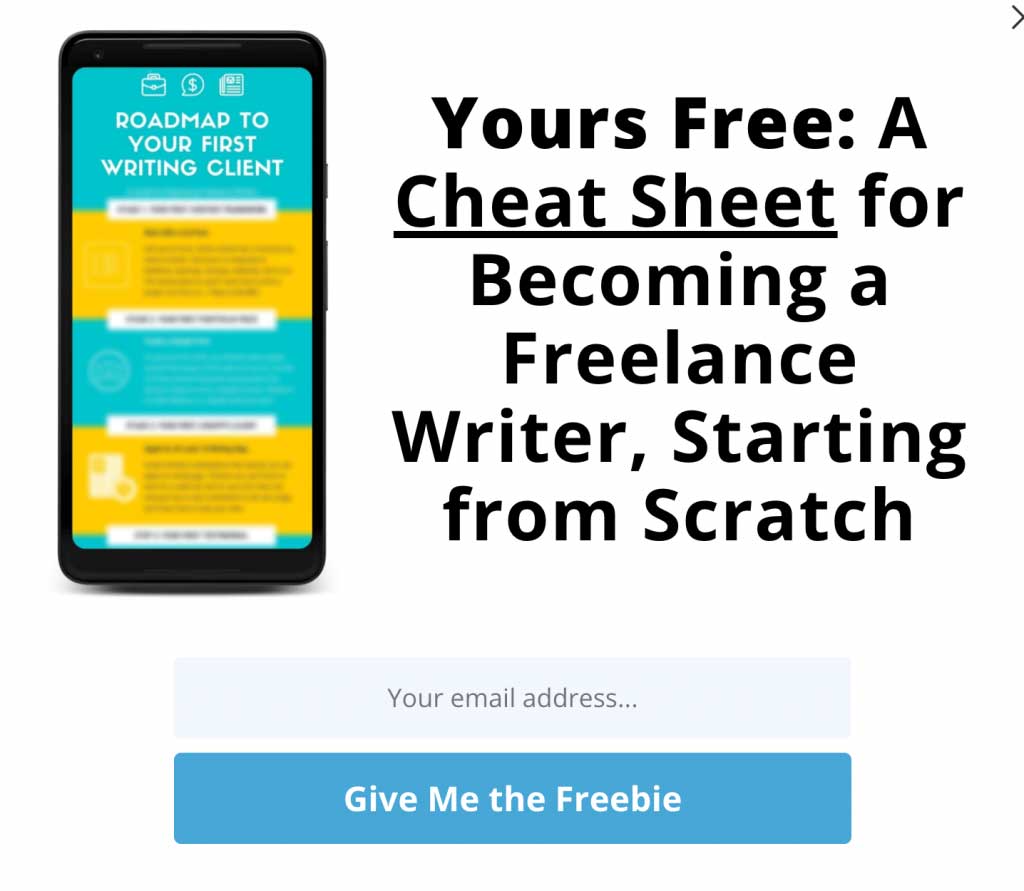 So, eBooks, cheat sheets, and swipe files are some great opt in offers to consider!
#2: Workshops / Webinars
Offering a workshop or replaying a webinar for free is sure to get some heads turned.
List out the merits of your offer along with all they'll learn by the end of the event on your opt in page.
Including a preview of the workshop will work like a charm and help boost conversions.
Here's an example from Mindvalley, where they offer a short 1-minute preview of the workshop:
This would immediately get people hooked, and they'll also get a sense of how you would be teaching them after they sign up.
Again, a great opt in offer idea!
#3: Drip Training
Providing all the content at once can often overwhelm people. Dripping content allows you to break your training into shorter, more manageable chunks.
Watching hours-long content in one sitting is a big commitment. But, 10 minutes a day for a week sounds more doable.
You have to convince people that you're not asking too much of them, and they don't need to make extraordinary efforts to consume your material.
Take a look at a marketing coach's opt-in offer: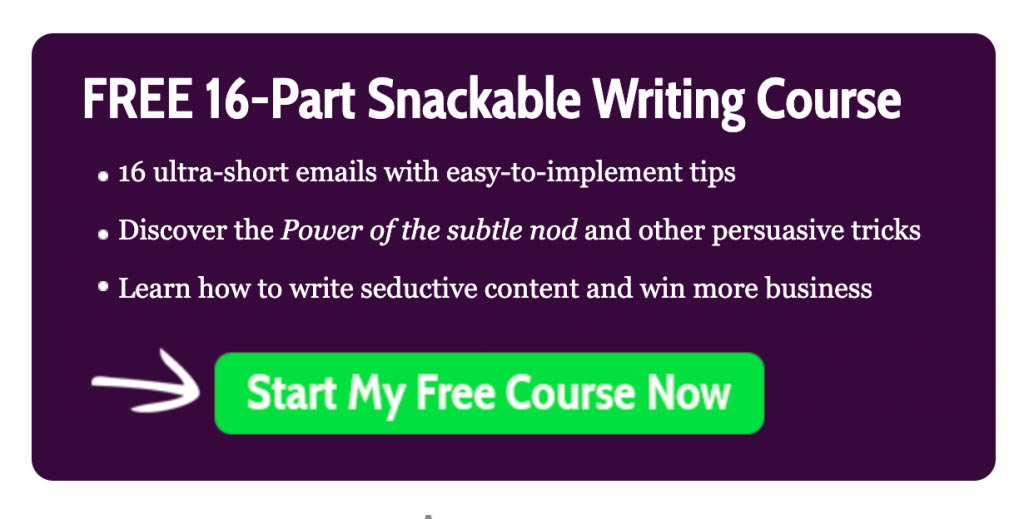 We love how she says 16 ultra-short emails to lure people. Also, notice how she calls it a snackable course, letting people know that they're not signing up for something which requires a lot of their time.
You can use such offers on your opt in page.
#4: Free Trial Offer
Allowing your users to test-run the products or services you're trying to sell is a genius marketing technique.
Giving them a taste of your main products would tell you about the genuinely interested audience.
Take a look at this offer on Traditional Cooking School; it's perfectly aligned with the paid offering: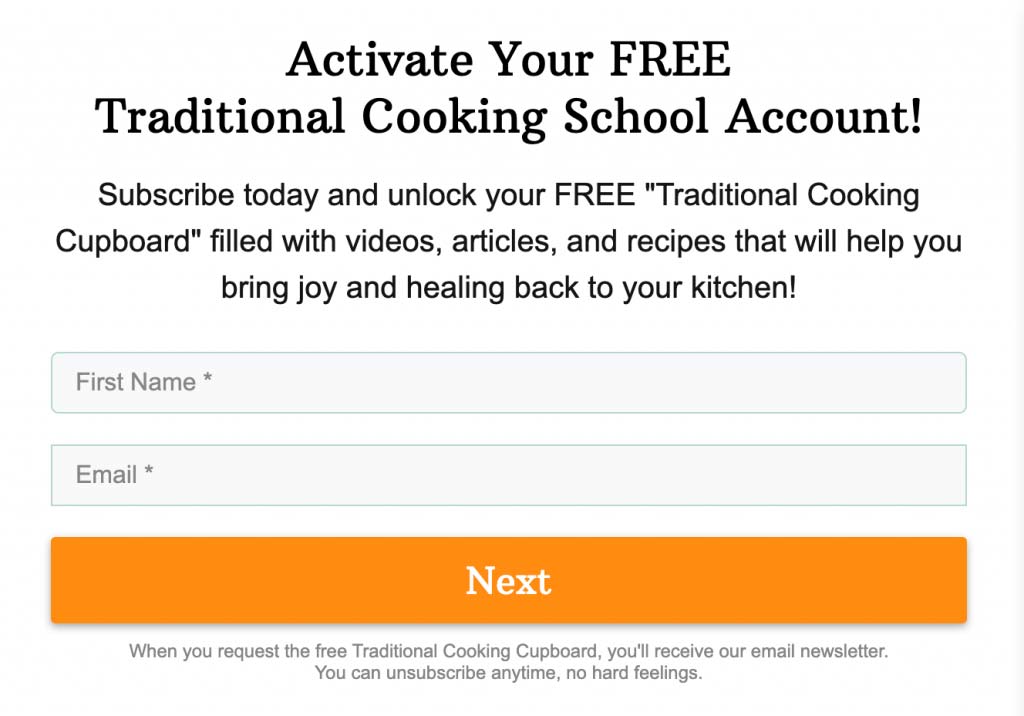 If you put an expiry on the free trial, it is likely to get more people to act on the offer to avoid losses.
Brands like Netflix and Spotify also work on this model, making it a brilliant lead magnet.
#5: Challenges
People love challenges, and these days challenges are in trend anyway.
Offer your prospects fixed duration challenges with actual results to look forward to, like - "Grow your Instagram profile by 1000 followers in 10 days".
What particularly makes a challenge interesting is the specificity of the result promised at the end of the engagement.
Here's an opt-in page example of a haircare challenge: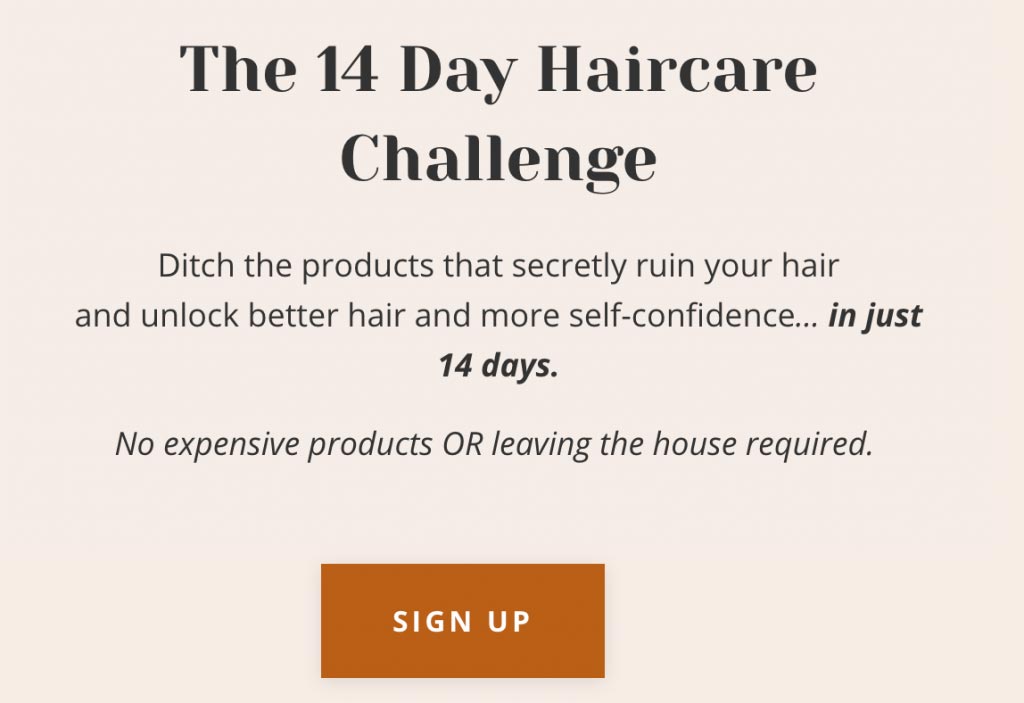 Your challenge should be aligned with your audience's goal, a goal they've been struggling to smash on their own.
This gives the users some excitement and builds a sense of connection with the others aiming for the same goal!
Core Elements of the Opt-in Page
Certain aspects of an Opt-in landing page make it a success among users and generate leads for you.
The structure and the components of your opt in page make the difference in the number of leads a page generates.
Some of these are:
Clear Heading
On average, 8 out of 20 people would only read the heading, while only two would read the copy as well. So the headline should clearly state the promise made on the page.
Also, make sure to give out bullet points on your opt in page.
For example - "A better social media profile" tells you that the offer is about social media profiles but is not clear and doesn't make any definitive promise.
On the other hand, "Create a social media profile that generates leads for your biz" clearly tells you what you will get from the opt in offer, leaving no questions unanswered.
Hero Image
Images speak louder than words, which can be verified by the hero image you choose for your opt-in page.
The hero image should be either product-focused or outcome-focused.
Avoid using stock images because they don't capture attention.
Pro Tip: If there is an image of a person on the page, and that person in the photo is looking towards the copy on the page, the users will follow their line of sight.
Copy Length
The text on your opt in page should have value added to it and shouldn't just be written to increase word count.
The copy should be scannable for the readers' convenience.
You can either use bullet key points or bold sentences that are important. Writing quick, incomplete sentences can also help shorten the length.
Here's how Henneke from Enchanting Marketing uses bullets and snappy sentences for marketing her lead magnet, which is a free course:
FREE 16-Part Snackable Writing Course
- 16 ultra-short emails with easy-to-implement tips
- Discover the power of the subtle nod and other persuasive tricks
- Learn how to write seductive content and win more business
Opt in Form
The fewer the form fields, the higher the conversion rates.
Hubspot's study showed that as the number of form fields increased, the conversion rate went down by about 50%.
The ideal number of fields for opt in forms is 2 (name and email), but these days even one is enough as on most opt in pages, you may only ask for the email addresses and not anything else.
CTA Button
This 'Call to Action' button would direct your users to the next step, so this button needs to stand out from the rest of the page.
No one likes to click on the generic 'Sign up' or 'Submit' or 'Click here' buttons. Your audience has matured beyond that.
Also, a CTA button with a first-person copy is more likely to bring in conversions than the third person, like - "Sign Me Up," "Show Me What's Inside," "Send Me the PDF," and more.
Trust Builders
Every opt in page of the funnel needs to have some trust-building elements that reassure the product and the seller.
These elements can be social proof like - testimonials, past results, media coverage, your story, and more.
On the waitlist page of "I Will Teach You to be Rich," Ramit shares a 1-minute video talking about the product.
Plus, he shares various media coverage and user testimonials to strengthen confidence on your opt in page.
The Bad and Good Opt-in Page Examples
Let's now look at some examples of opt-in pages. We'll assess these examples based on the design, i.e., the overall look and feel, the clarity of the messaging, and the conversion strategies used.
Let's begin.
The Bad Examples
Example #1: A verbose headline that misses the mark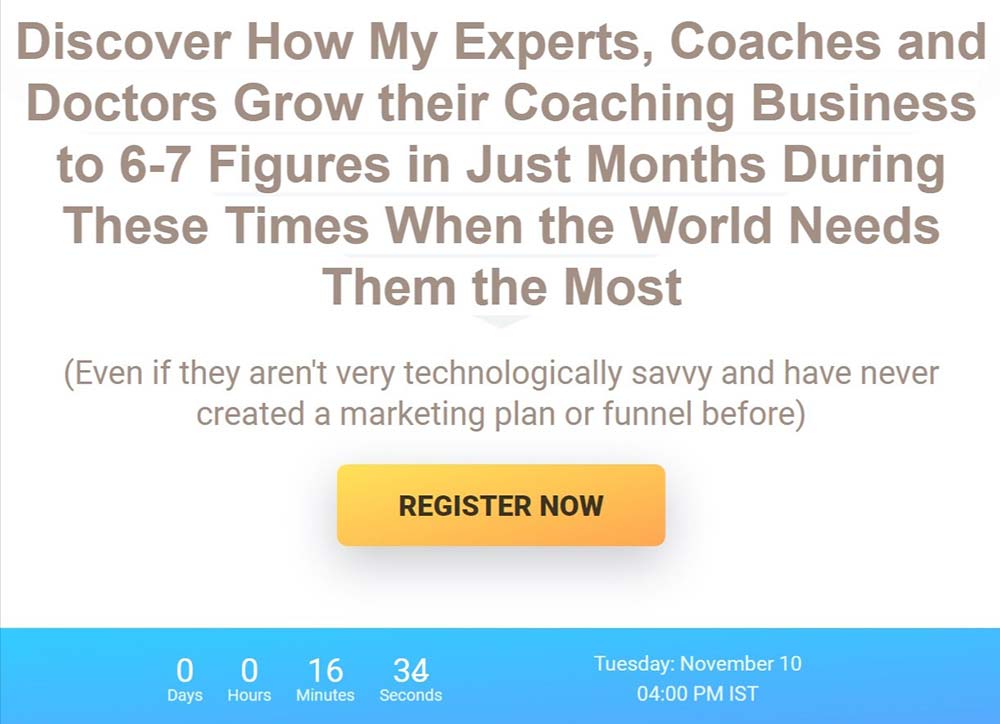 The page lacks a hero image and does not show people precisely what the offer is.
The headline is too long, making it confusing, and the promise is too big even to believe.
The sticky countdown timer is useless addition to the page because the urgency is not conveyed through the offer.
Example #2: A stock image is all you see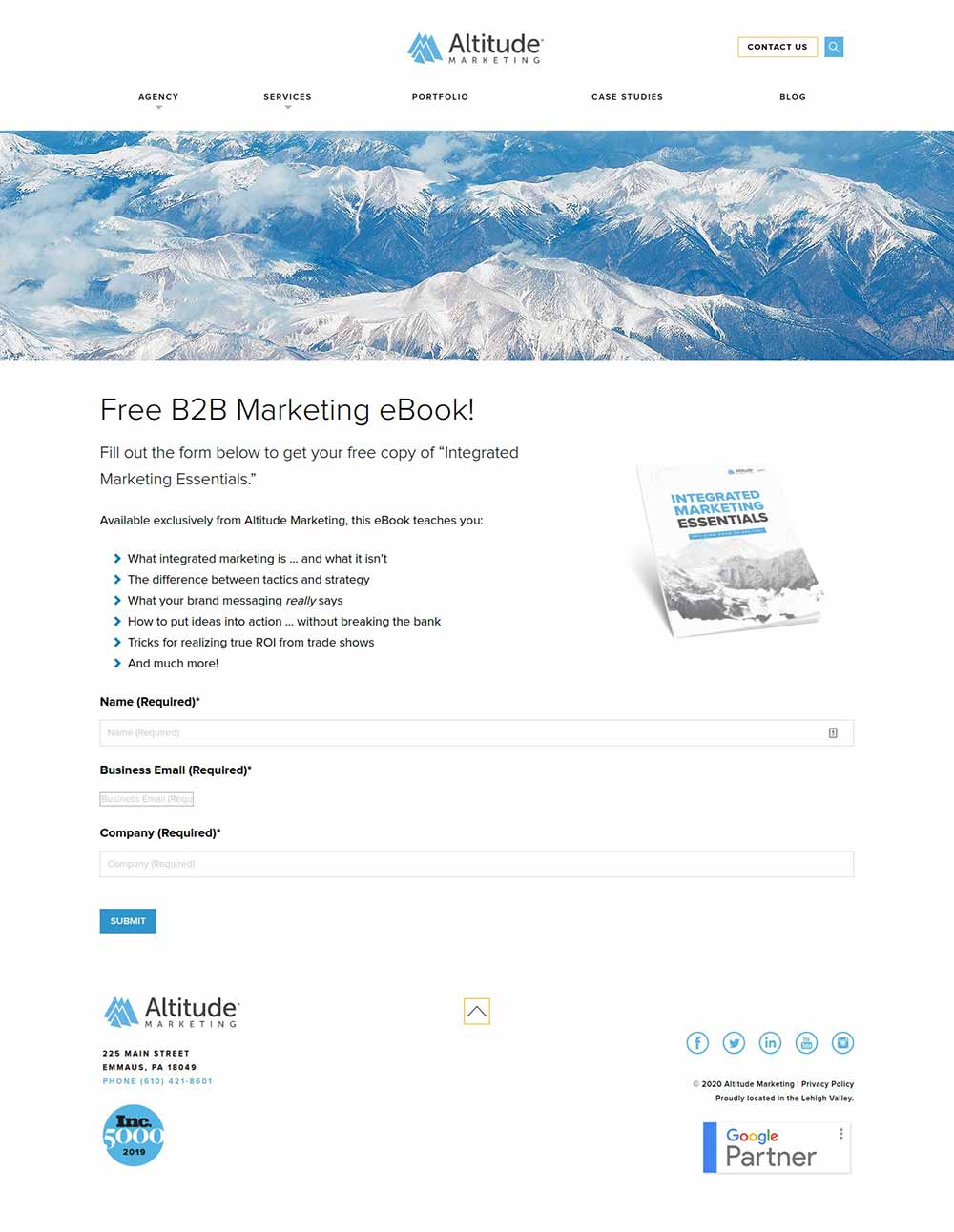 The stock image doesn't represent the product being offered and thus is of no use here.
The navigation bar on the top provides the site visitors with excuses to leave the page. The heading of the opt in page is very monotonous that would hardly catch any reader's interest.
With the page's form barely visible testimonials to support the claims made, this page fails to persuade a prospective lead into signing up.
Best Opt-in Page Examples
Example #1: Everything an Optin page needs to convert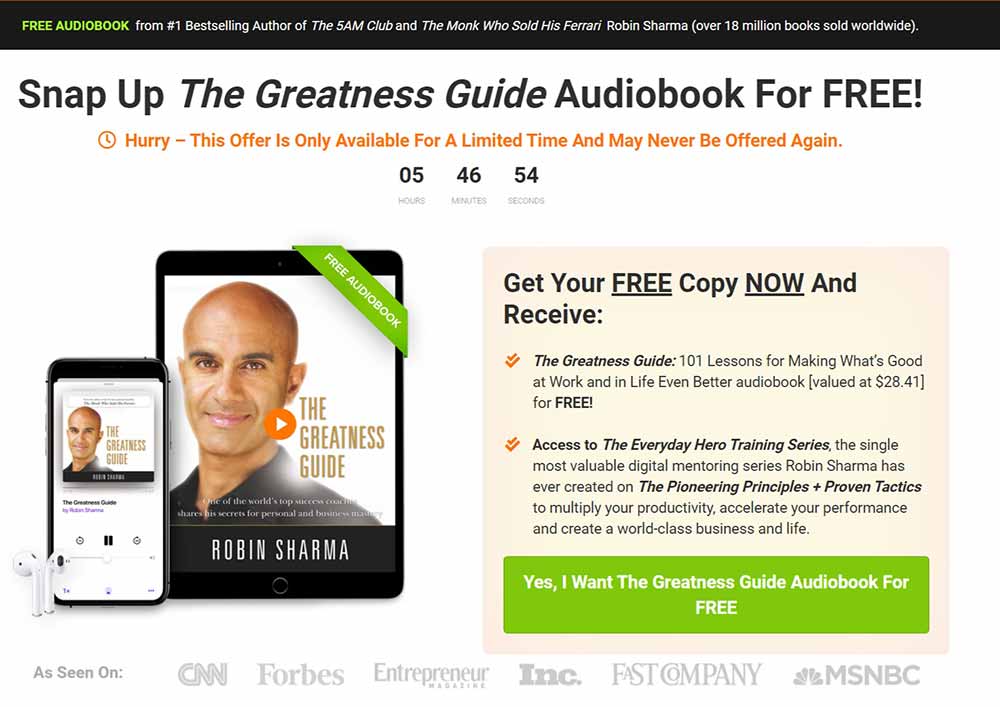 The whole page is clean with a good color selection, and all the sections stand out well.
The hero image shows you what you're getting, and the bullets clearly state what to expect once you sign up. This leaves nothing for speculations.
The CTA button copy is in the first person, and the use of the magic word "free" even on the CTA button is commendable.
This opt in page makes you feel that you're getting something of value at no cost!
Example #2: A well-executed strategy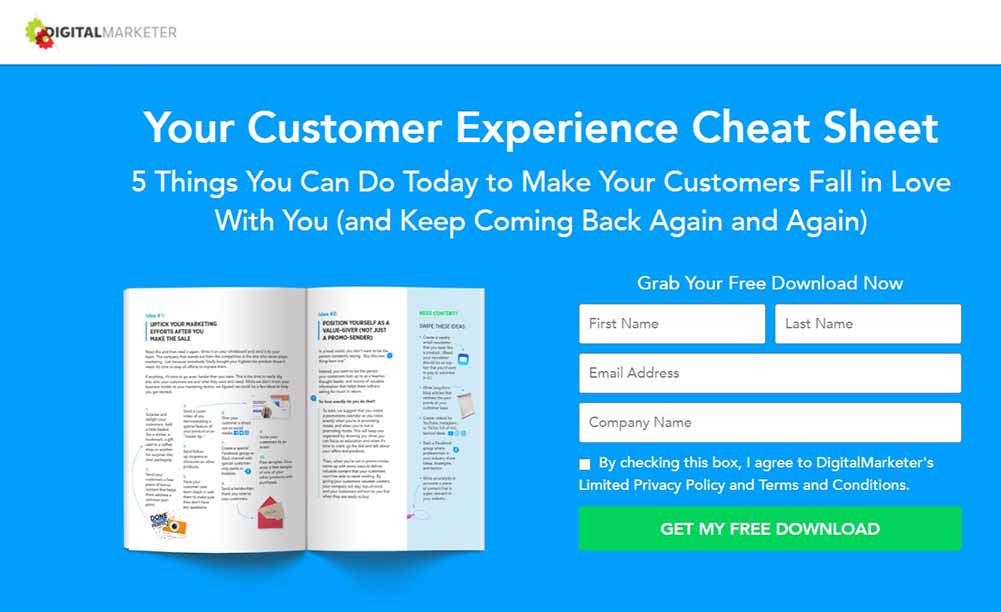 The bright blue and white colors keep the eyes captivated, and the hero image increases the pitch's attractive quotient.
The headline starts with the word 'your,' leveraging the endowment effect's power.
We also loved the specificity of the claim and the smartly weaved-in urgency. Notice how the sub-headline says, "5 things you can do today to..."
You can steal these lines and make them yours, irrespective of your offer. People love to know the small steps they can take at this very moment, to get the results they crave!
It just whips them into action mode.
How to Create an Opt-In Page in WordPress?
FunnelKit (formerly WooFunnels) is the ultimate place for you to build your high-quality sales funnels in WordPress.
It helps you design extremely attractive, high converting pages for your business such as Optins, Optin Confirmation, Landing pages, Checkouts, Upsell offers, and Thank you pages.
Let's see how you can do just that in no more than 6 Steps!
Step #1: Install and Activate the Funnel Builder
Get a copy of the FunnelKit (formerly WooFunnels) Funnel Builder here.
Please note that the Funnel Builder also comes in the Lite (free) version but we'll be using the Pro version to take advantage of its premium features.
Once you're done with the purchase, go to your FunnelKit (formerly WooFunnels) account and download all the zip files of the plugin.
Funnel Builder
Funnel Builder Pro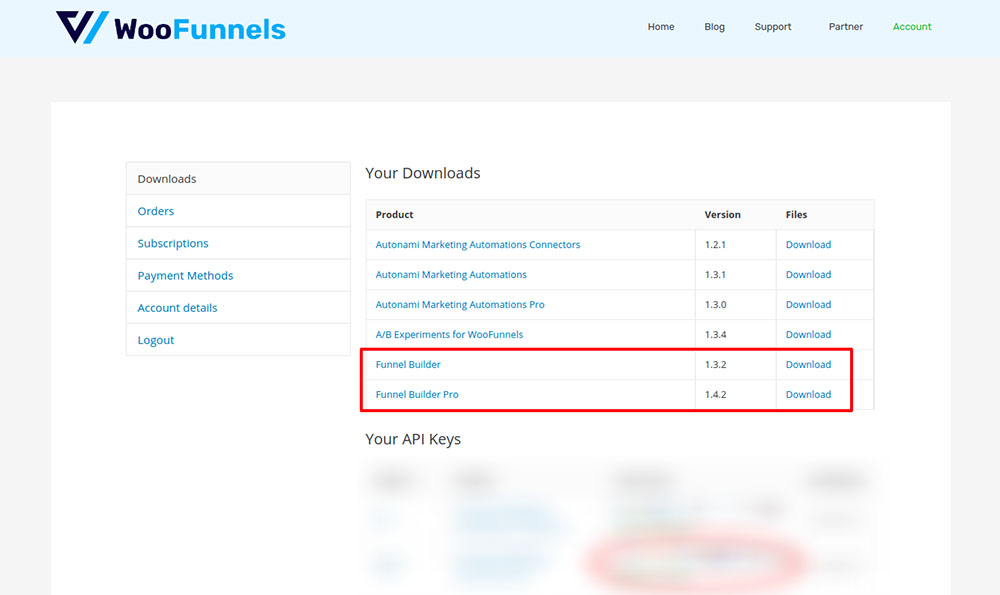 Install and activate both the plugins on your WordPress website.
Now, go to your account and copy the activation code.
Paste the code in the settings to activate the Funnel Builder.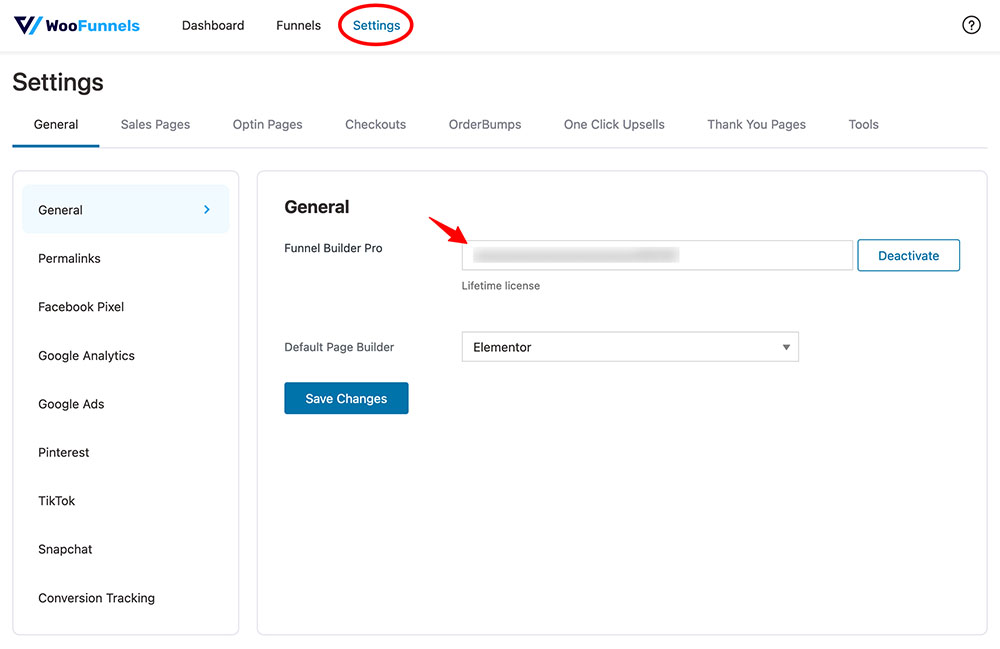 Step #2: Add a New Funnel
You need to add a new funnel first and begin building the Optin funnel.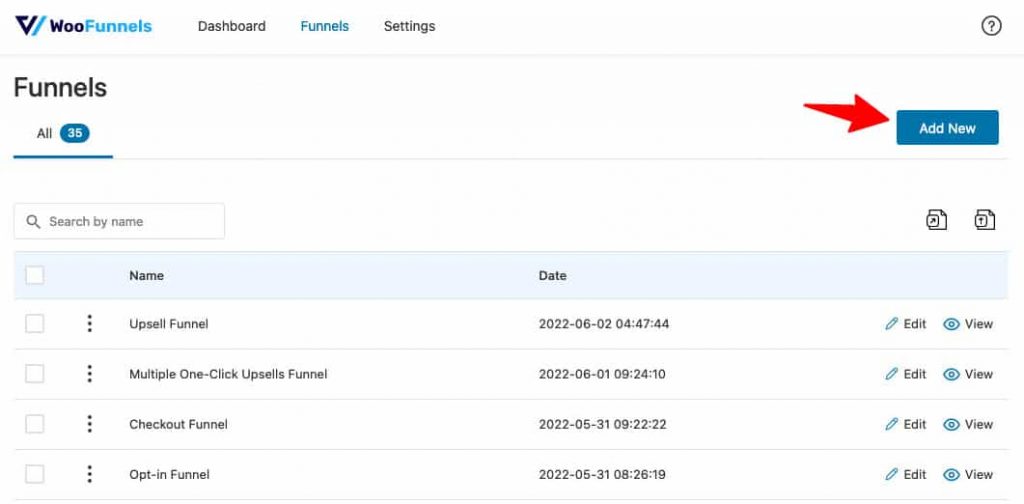 Enter the name of your opt-in page sales funnel.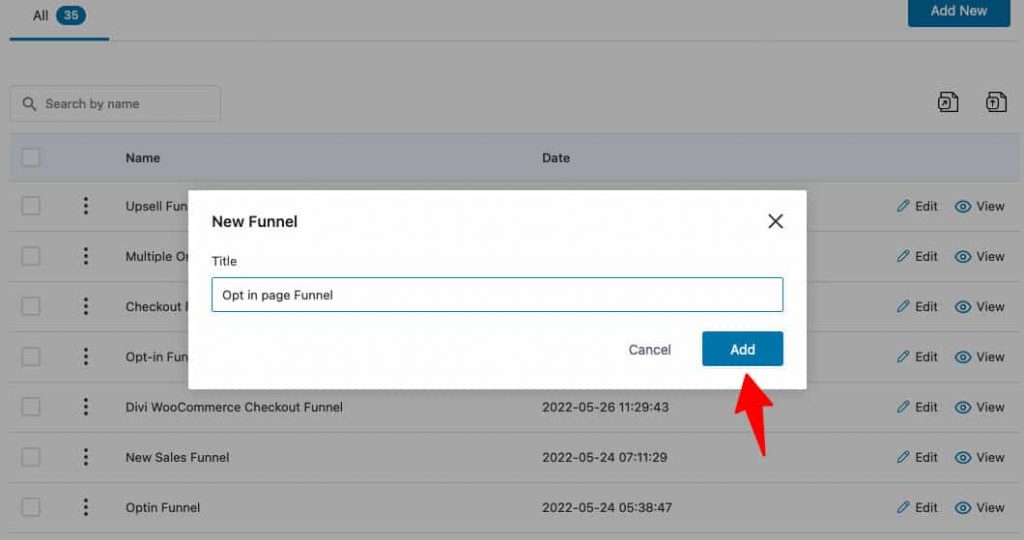 There are two ways you can go about creating the funnel for opt in page:
Pre-Made Templates: We have some beautifully designed Optin page templates for you to choose from. Just choose the Optin option from the top and import the template you like with one click.
Start From Scratch: In case you wish to have a custom flow and build the page from scratch, click on the 'Start from scratch' template.
Here we will select 'Start from scratch'.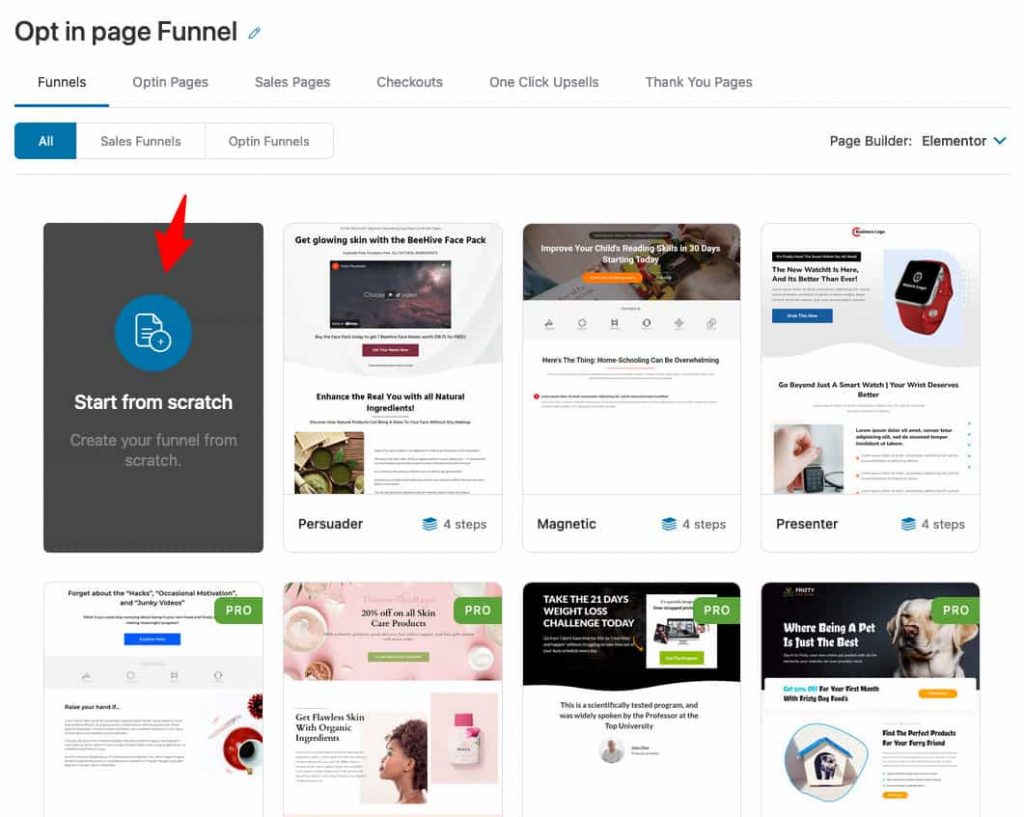 Step #3: Add a New Step
If you import a pre-built Optin template, you'd already have an Optin Page and an Optin Thank You, Page, in the funnel.
But, if you decided to go the custom way and imported the blank template, you'd first be asked to add a step to the funnel.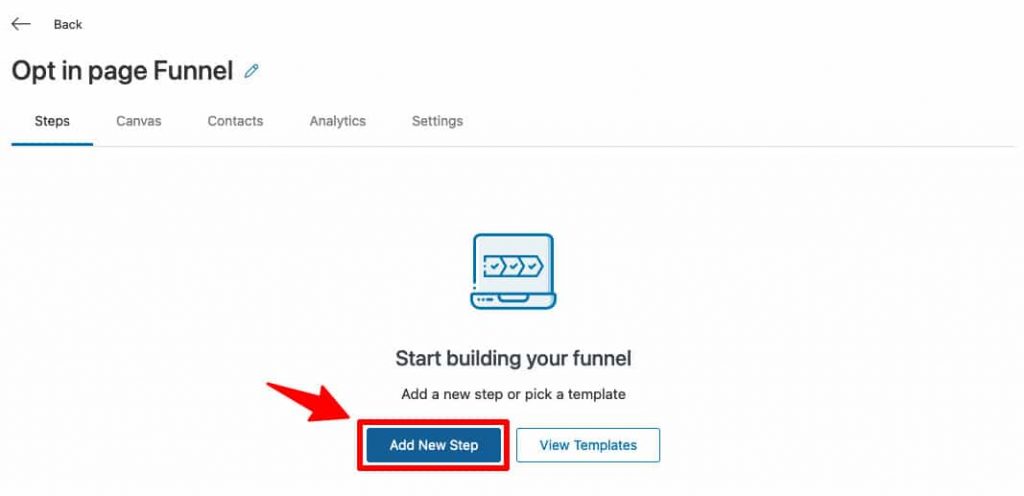 Choose the Opt in Step, and name the page when prompted.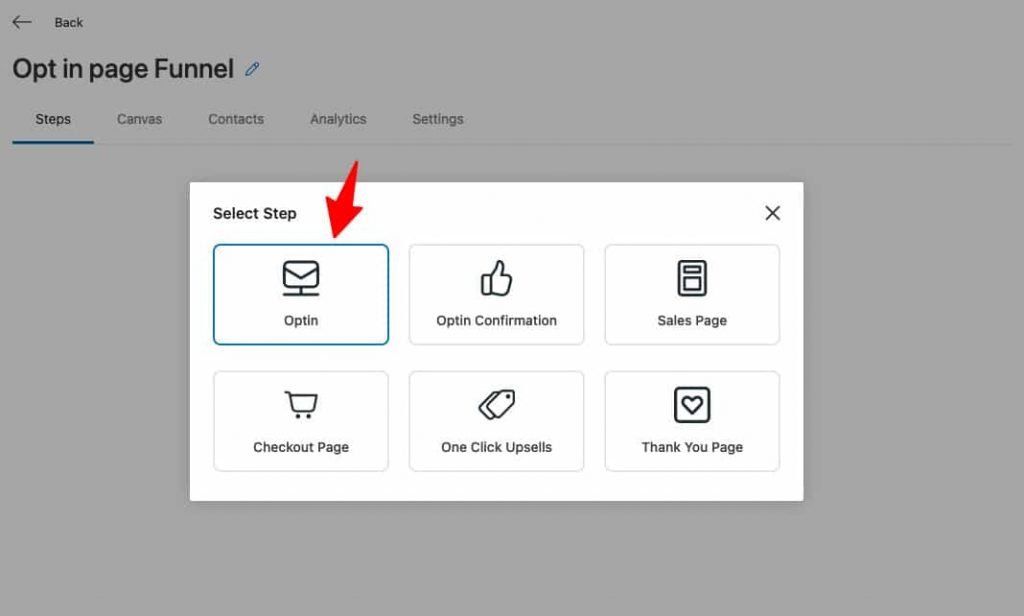 Enter the name of your opt-in page.
That's it! Similarly, you can add an Optin Thank You page to the funnel as well.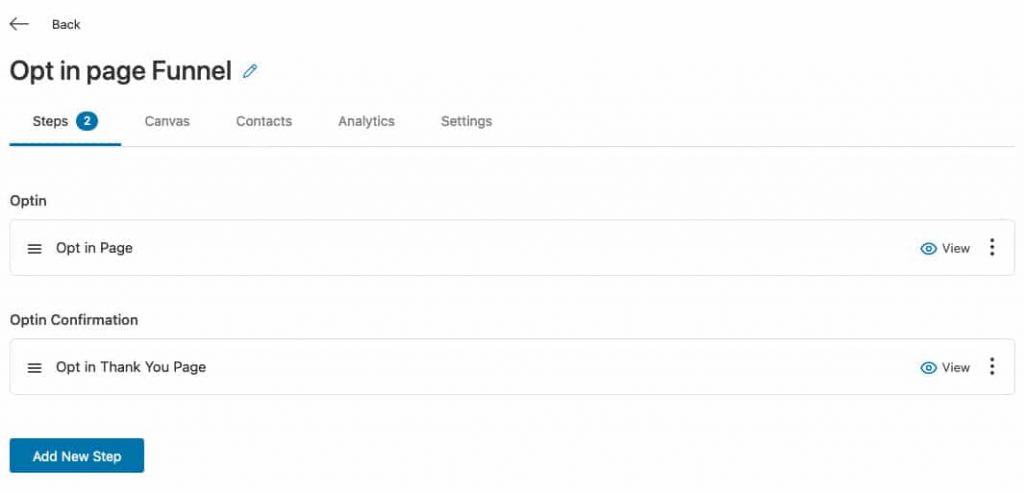 Step #4: Import your Opt-in Page Template
Click on the opt in page to begin editing.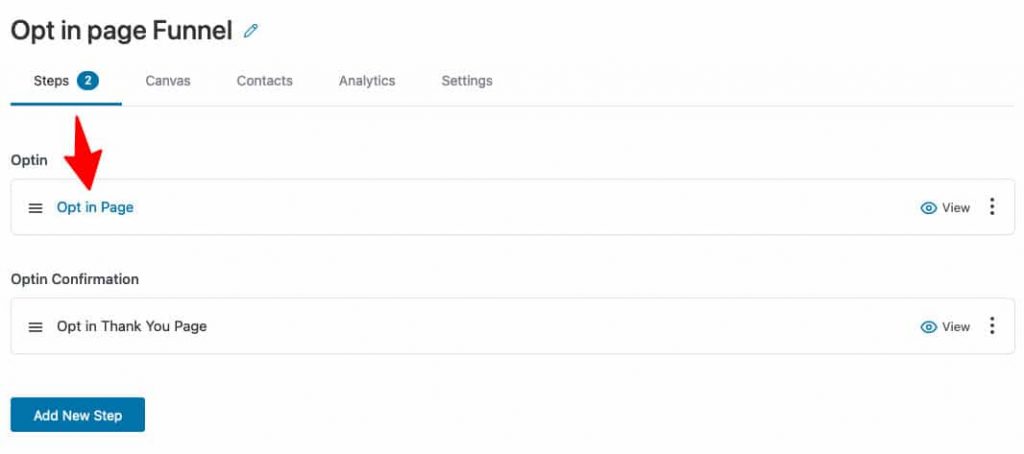 Again you'd be offered two options: pre-built templates, or designing the page from scratch.
You can choose from popup or inline Optin form templates.
Popup: Popup templates only have a CTA button on the page, which, when clicked opens the Optin form in a popup window.
Inline: On the other hand, Inline templates have the Optin form built into the Optin Page itself.
Choose the template and the page builder that you like to set up your opt-in page.
FunnelKit (formerly WooFunnels) integrates with your favorite page builder tools like Elementor, Divi, Gutenberg, Oxygen, and others.
Here we have selected Elementor and imported the Charmer template.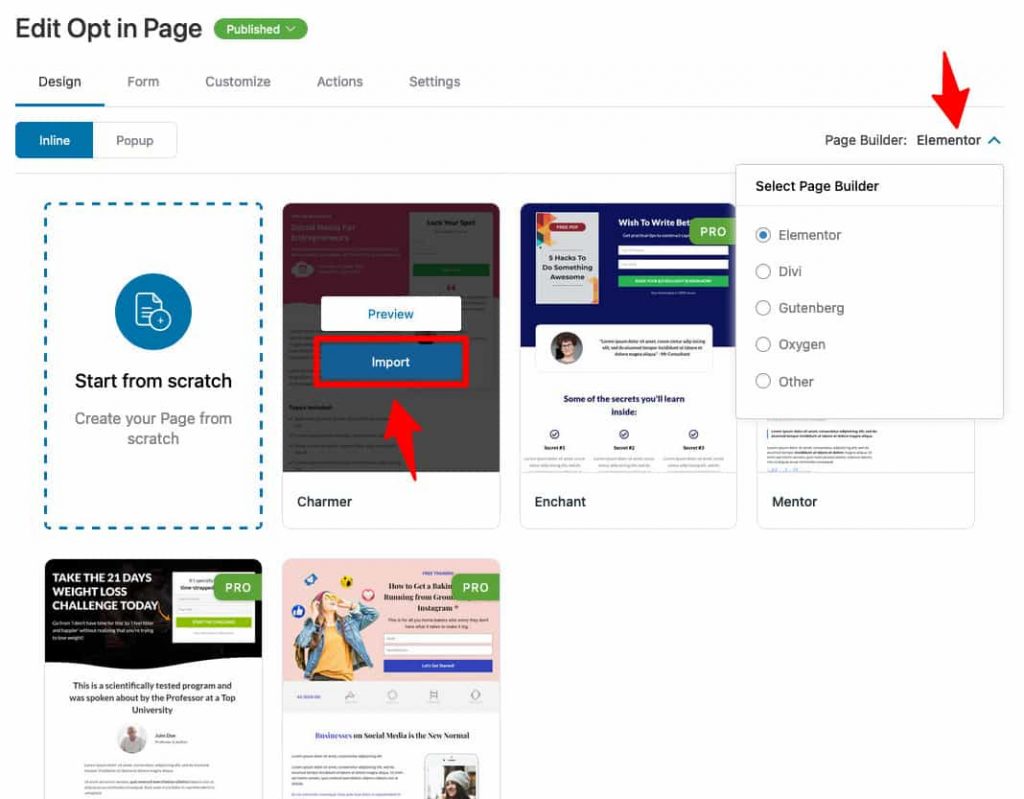 Step #4: Customize the Opt in Page Template
Click on Edit Template to start customizing your opt-in page template.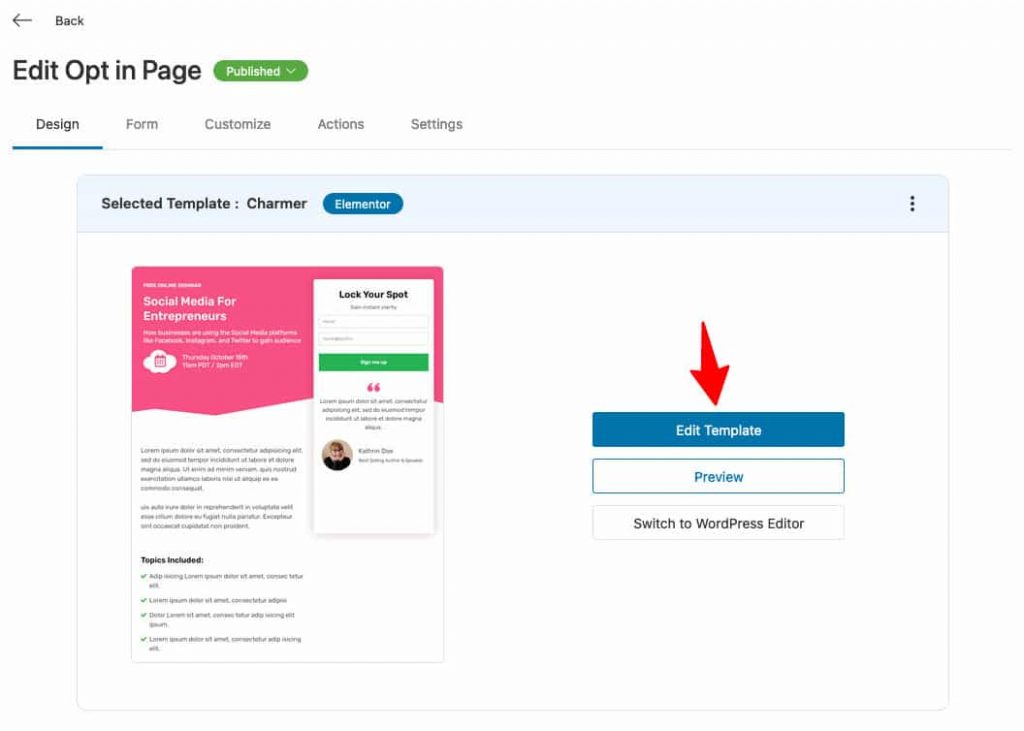 FunnelKit (formerly WooFunnels) has some custom widgets built for your Optin pages - Optin Form and Optin Popup.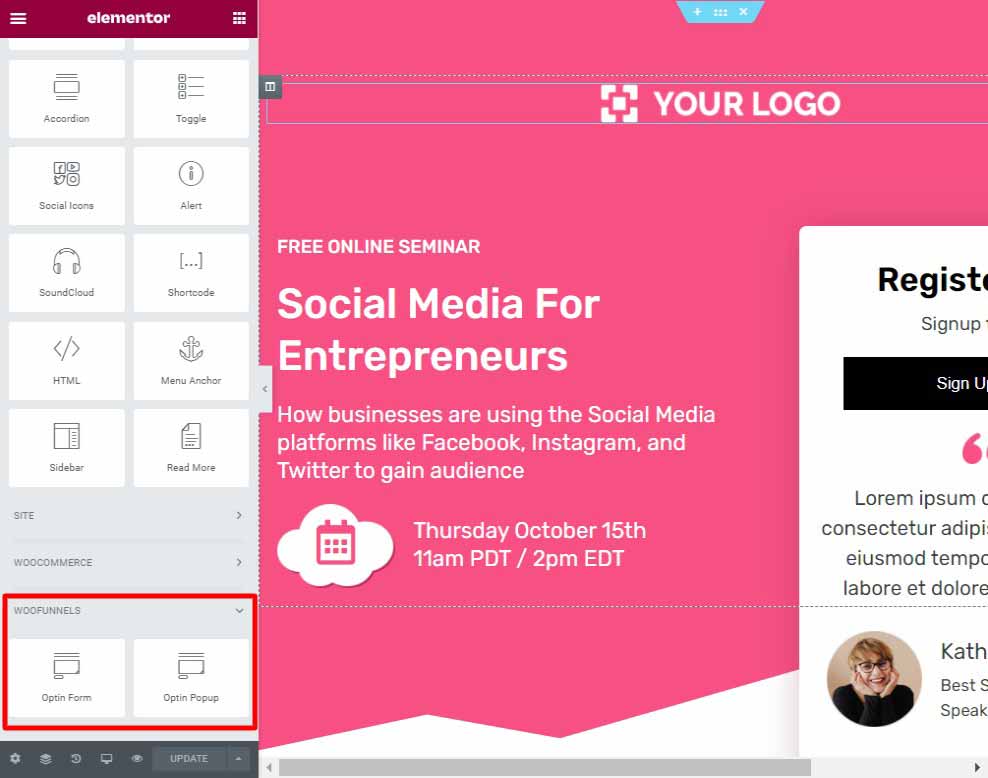 You can customize the progress bar, heading, CTA button, and more for your popup form.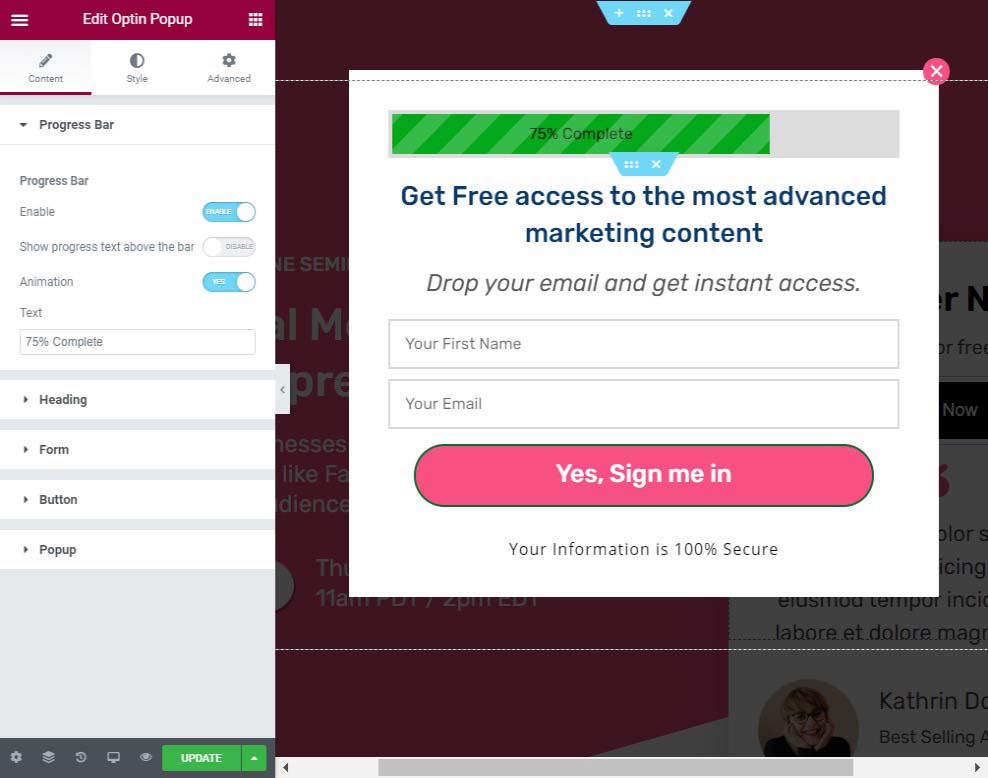 Customizing the text, typography, color, and alignment among many other features is possible with Elementor.
There is also an option for you to determine how you wish the popup window to appear on the screen.
Do you want it to slide down, slide up, or fade in? You can choose it here.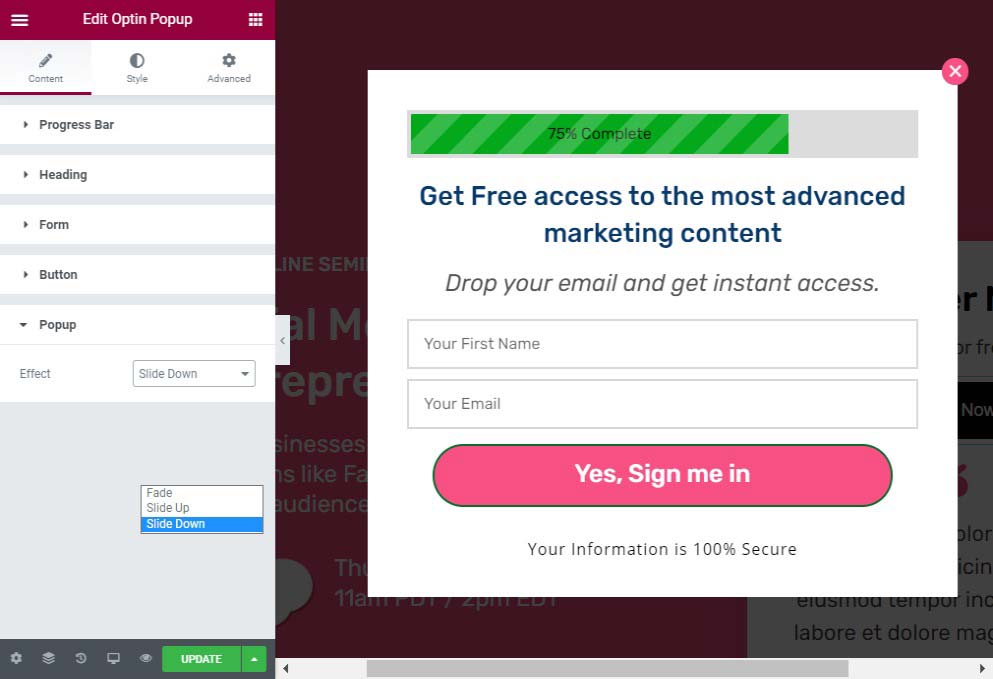 Just click on the green Update button once you're happy with the design of your opt in page.
You can customize the Optin Thank You page in the very same manner in Elementor. Design it such that it matches the Optin Page and is on-brand for your business.
Step #6: Customize your Opt-in form
Go back to the opt-in page on to the 'Form' tab.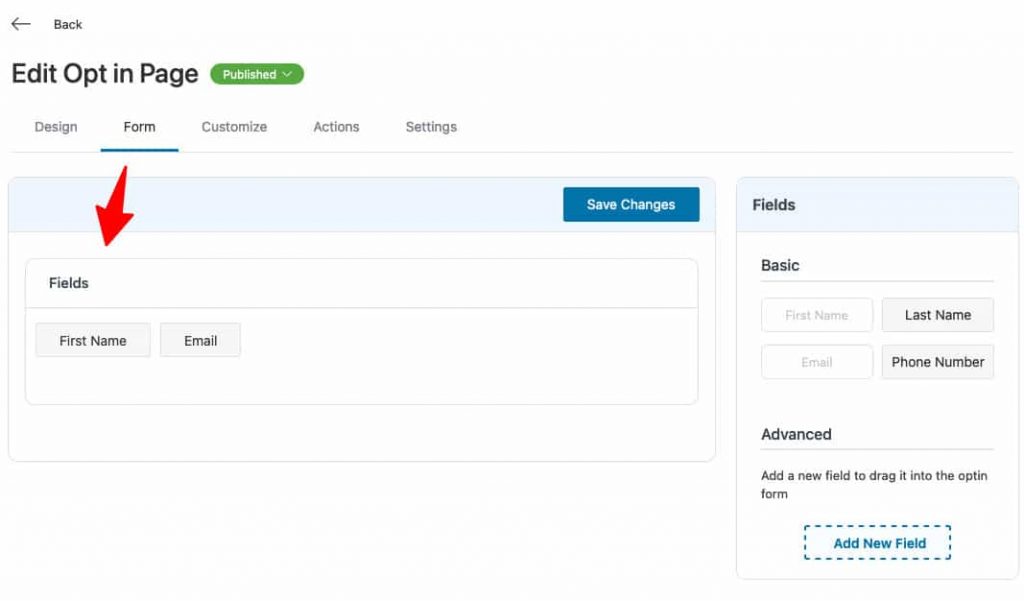 You can add, remove and rearrange the fields you want on your opt-in form.
Click on 'Save Changes' when done.
Step #7: Test Your Opt in Page and Watch Contacts Activity
Before you publish the Opt in page for the users to engage in, try it out for yourself to confirm if it is working seamlessly.
Click on the Preview button (eye icon) to see the funnel that would be seen by the users.
Click on the CTA button to view the Optin form, and then sign in on the page - Just as your prospective leads would.
Go back to your funnel to the 'Canvas' tab to see the conversions on each step of your funnel.
You can also view all the people who enter the funnel in the Contacts section. You can see if they accepted your offer or not, and their contact details.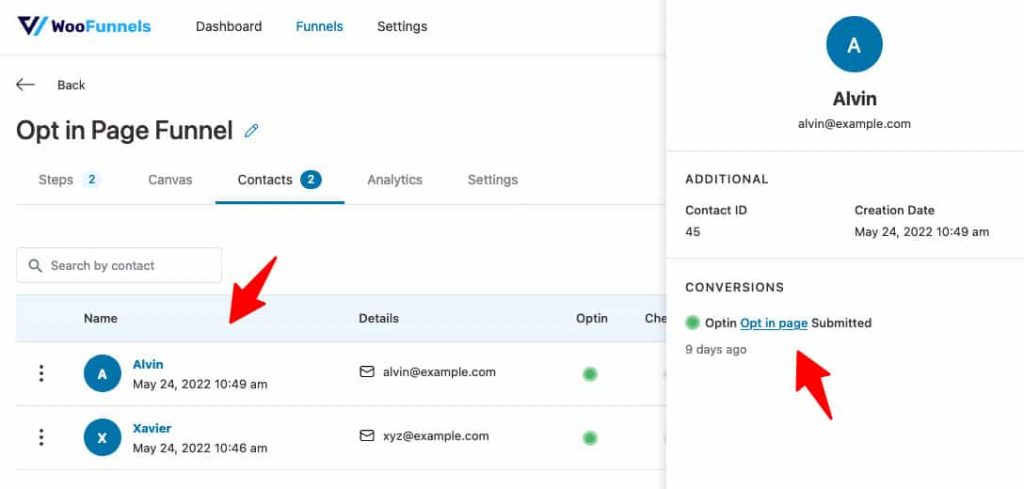 Learn how to integrate signup forms with FunnelKit Automations to nurture your leads
Ready to Create Your First Opt in Page?
We looked at everything you might need to create a converting Optin Page in WooCommerce. From different opt-in ideas to good and bad examples.
FunnelKit (formerly WooFunnels) is a one-stop solution for all your funnel needs. You get everything you need to create a high converting Optin page for your business.
Apart from utility-based templates and contacts, another powerful feature of FunnelKit (formerly WooFunnels) is the A/B Testing.
When it comes to the Opt in pages, changing even headings can make a world of a difference. Our A/B testing lets you test out two variants of an Optin page against one another to see which converts better.
Test the hero image, button copy, design, and more. Imagine the wealth of insights this exercise would help you get about their audience.
It would eliminate a lot of the guesswork, and allow you to come up with ideas that are sure to work with your audience.
So, with access to pre-built templates, amazing features, insights, and analytics, you have everything you need to build an Optin page of your own.
All you need to do now is - pick an idea from the ones listed above, craft a compelling message, and get building your opt in page!
And there's nothing better other than FunnelKit (formerly WooFunnels) to create beautiful, high-converting opt in page for your opt in funnels.