With a powerful abandoned cart plugin, it's never been easier to re-connect with potential customers and encourage them to complete a purchase on your WooCommerce store.
Sending timely messages is imperative for scoring those all-important sales that might have otherwise slipped through the net. So, keep reading to find out how to send high-converting WooCommerce abandoned cart emails...
If you've been a WooCommerce store owner for a while, you'll already know that lots of customers fill their shopping carts only to get distracted and click away, abandoning the checkout page.
The stats speak for themselves:
Consumers abandon carts 69% of the time.
Cart abandonment emails boast an average open rate of 45%.
A whopping 50% of users who click-through abandoned cart emails, make a purchase.
The problem: eCommerce store owners don't have the time to write and send personalized notification emails to each and every customer that abandons their cart. So, they're missing out on massive money-making opportunities.
Online store owners can boost their revenue very quickly by launching high-quality abandoned cart email campaigns.
The solution: An automated tool like FunnelKit Automations. This makes creating and sending high-converting abandoned cart emails a breeze.
Take Borja Obseso the Founder of CreativiU Elite, for example. This is what he has to say about FunnelKit Automations:
I've been using FunnelKit Automations for 24 hours and so far recovered 20% of my average daily revenue. I'm using SMS and email for cart abandonment automations, both work flawlessly. I'm also using the 'Send to Zapier' option to collect data on a Google sheet. I compared my website's loading speed with and without FunnelKit Automations, it didn't affect the load time all that much! Very happy with the product so far.
Impressive, right?
That's a lot to cover, so let's dive straight in with WooCommerce abandoned cart emails!
The Benefits of Installing FunnelKit Automations
Installing and using a plugin like FunnelKit Automations on your WooCommerce eCommerce store, comes with loads of perks.
Most notably: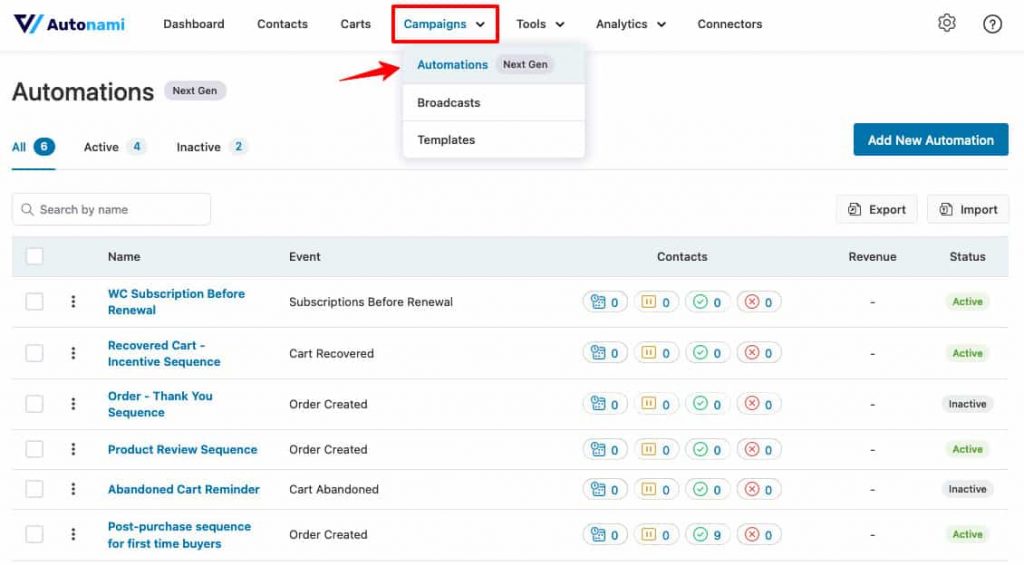 You can set up SMS messaging campaigns using Twilio.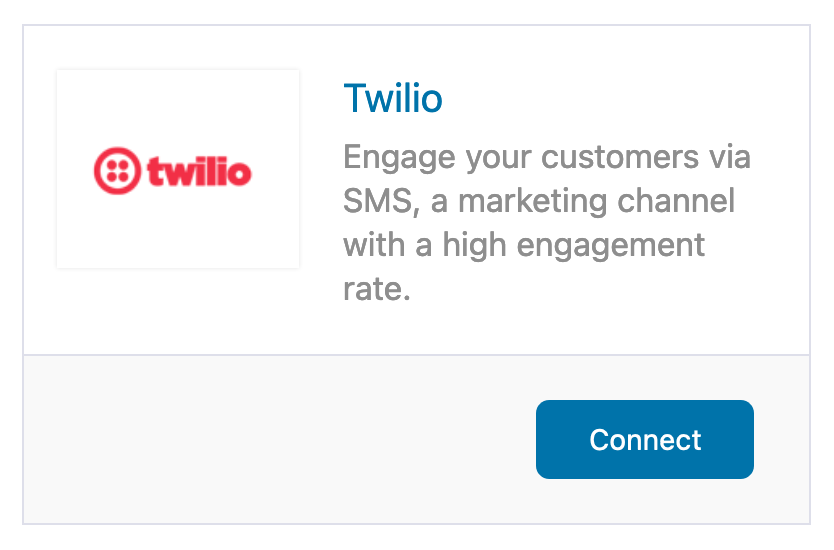 If you're already using a CRM, you can integrate it with FunnelKit Automations. This enables you to tag customers, add them to email lists and/or sequences, update custom fields, etc.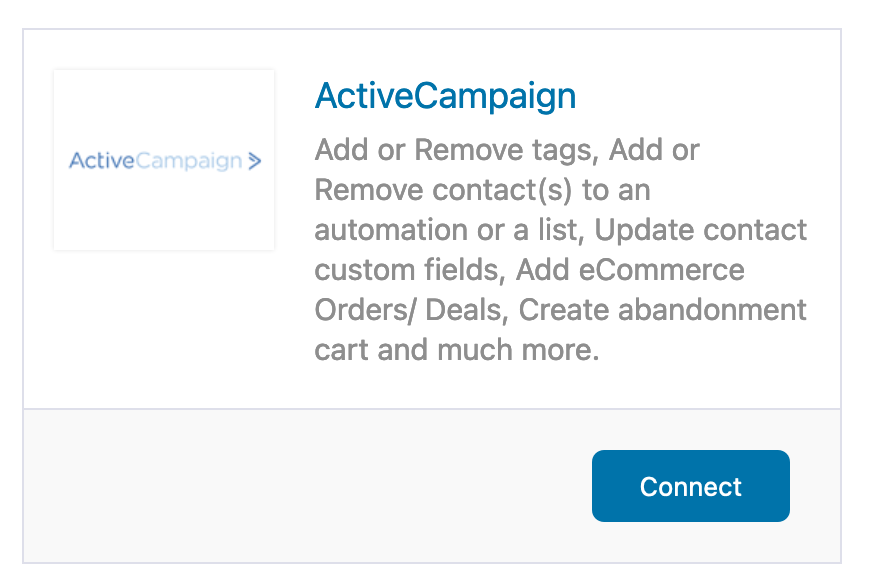 You can use FunnelKit Automations alongside hundreds of other tools with FunnelKit Automations's Zapier integration.
How to Install FunnelKit Automations to Start Sending WooCommerce Abandoned Cart Emails?
Go kickstart the installation of this WooCommerce plugin here. Scroll down until you reach the green button that says 'Get FunnelKit Automations Today.' Go ahead and click that button.
From there, pick the payment plan that suits your needs. We recommend the Pro package, as this unlocks SMS messaging campaigns and CRM integrations.
Now make sure you're logged into your BuildFunnelKit account. From here, you can download the plugin. To get started, download the following Zip files: FunnelKit Automations Marketing Automations and FunnelKit Automations Marketing Automation Pro.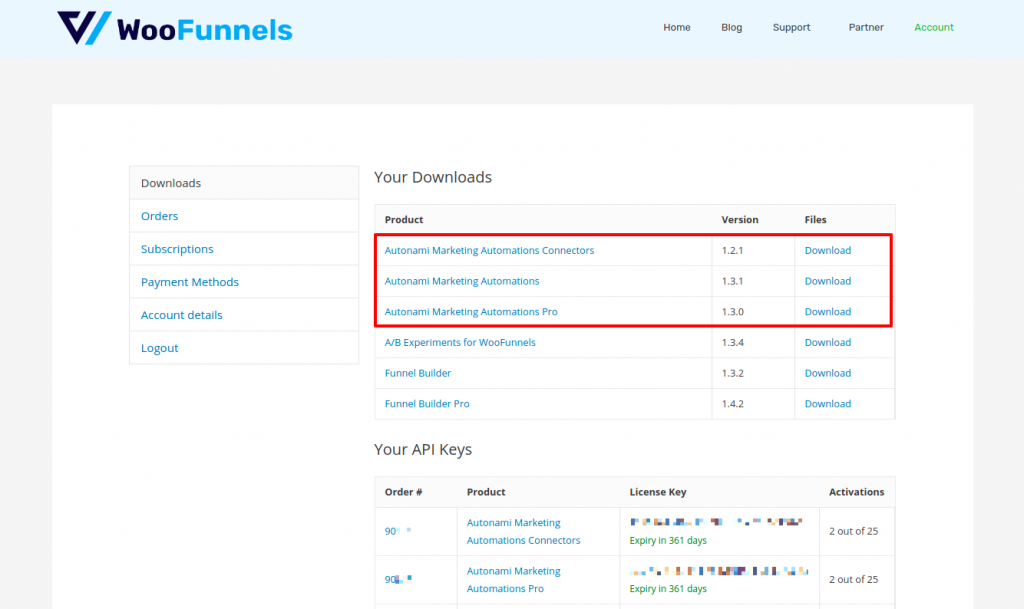 Now, copy the license key.
Next, login into your WordPress Dashboard and head to the 'plugins' tab and select 'add new.' Then, install the FunnelKit Automations Marketing Automations plugins you just downloaded.

Once activated, a welcome message will appear saying 'Thank you for choosing FunnelKit Automations marketing automations.' This is displayed in the bottom right-hand corner. Then, click the button that says 'Allow & Continue.'
Activate the license by pasting the API key and clicking 'Activate'.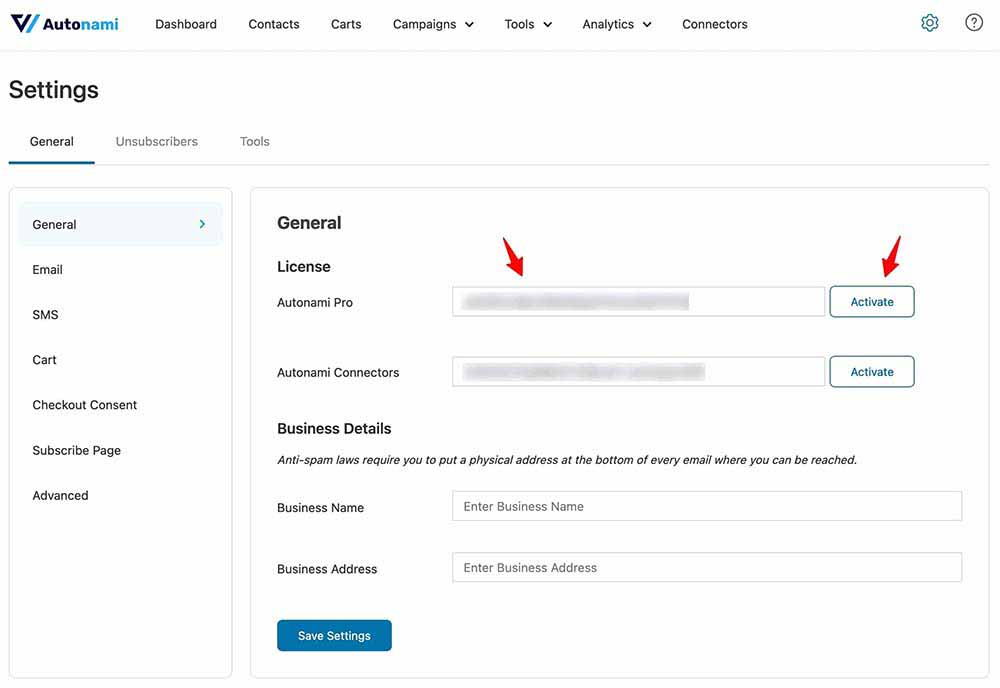 You're now ready to hit the ground running with FunnelKit Automations!
If you're facing any issues, go through this documentation to install and activate FunnelKit Automations on your WordPress website.
FunnelKit Automations's Core WooCommerce Abandoned Cart Email Features
FunnelKit Automations has tons to offer, but for this review, we're focusing on these two abandoned order features:
Automated Email Reminders Sent in Real-Time
As we've already hinted at, with FunnelKit Automations, building and launching automated email campaigns is easy. It provides all the tools you need to create 'smart, automated workflows in just a few clicks.'
How?
FunnelKit Automations enables you to set 'rules' that guide your automation. You can trigger messages (or entire email flows) based on a variety of cart details.
For instance:
Cart total
Item category
Product(s) in the cart
...and much more. These are just a few 'for instances,' but you get the idea.
Best of all, it's not just abandoned cart emails where you can harness the power of 'rules'. You can also set rules to manage your subscriptions, memberships, and affiliates, the list continues...
Time-Bound Coupons
FunnelKit Automations enables you to generate personalized, time-limited coupon codes. These are especially handy if you're trying to recover high-value carts. With the help of AI, FunnelKit Automations enables you to offer discounts more wisely, so that your bottom line really feels the benefit.
You can create dynamic WooCommerce coupon codes using 'merge tags.' This makes customization effortless. For example, you can utilize merge tags to automatically insert the first name of the recipient at the start of your email.
You also have full control over the expiry periods of your coupons. This empowers you to create a sense of urgency that will inevitably boost your sales rate.
How to Set Up WooCommerce Abandoned Cart Emails
As we've spoken so much about shopping cart abandonment in this review, here's how to set up your first campaign inside WooCommerce:
From your FunnelKit Automations Dashboard, head to 'Add New Automation.' Then select your desired event from the drop-down menu (pick WooCommerce). Once you're happy with your choice, click on the workflow to automatically save your automation.

Now you'll need to add a new step among Action, Delay, Condition, Goal, Jump, or Exit.
Here we will add the 'Send Email' action.
In this case, you're setting up an abandoned cart email, so you'll need to select 'Send Email'.
You can then expand the interface to start crafting your email (using one of FunnelKit Automations's email templates). From here, you can fill out the basic details and start using merge tags.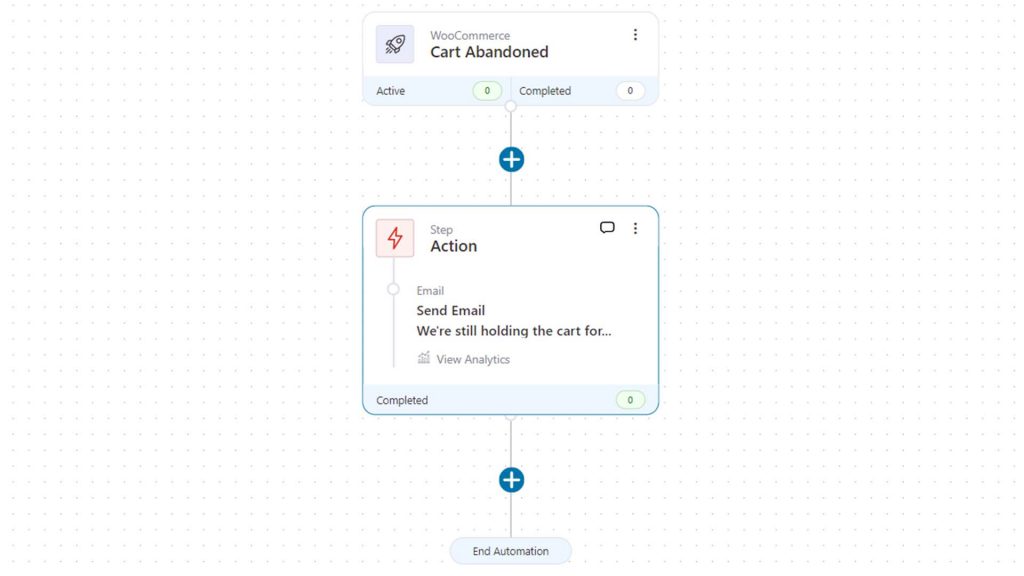 Switch from 'Inactive' to 'Active' using the toggle button. This ensures the automation goes live.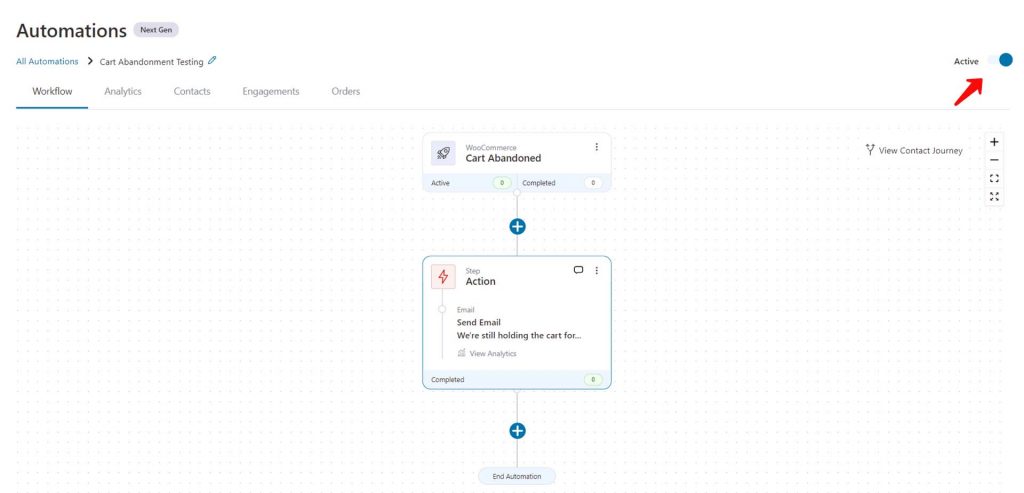 Voila, that's it.
You've now created your first-ever automated WooCommerce abandoned cart emails with FunnelKit Automations.
To take things up a notch, you can:
Create entire email sequences
Set up delays in sending messages
Use other merge tags to create more personalized content
To give you some inspiration, here's an example of abandoned cart email flow:
An Example Abandoned Cart Email Flow
Your first reminder email probably won't contain a discount. In terms of when to send, it's good practice to send within four hours of the customer abandoning their cart.
To create your first reminder email, follow the instructions above. Then scroll down the page until you see the first 'WordPress Send Email' (this should be the first step in the 'Then' flow).
To the right-hand side, you can modify the copy of your first reminder email. Then, when you're happy with the message, don't forget to scroll back up and hit the blue 'Save' button (located at the top right of the page).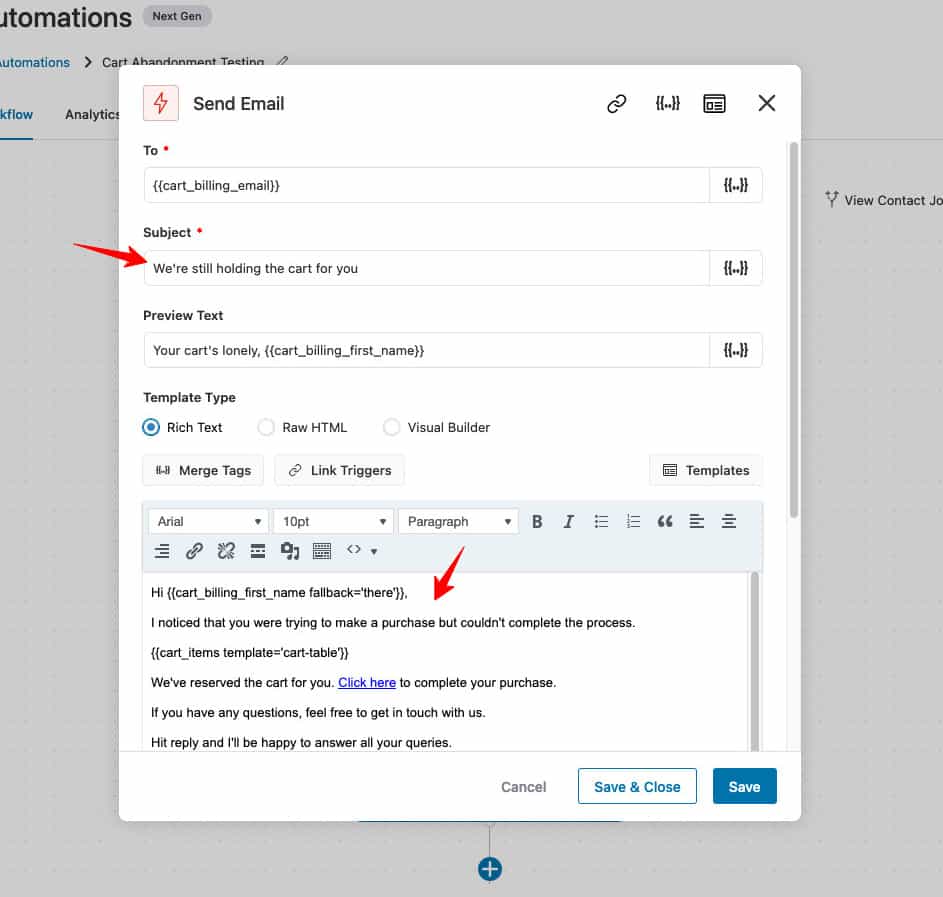 The second email: If the cart value is $100 (or more), consider sending a 20% off coupon that's valid for three days. Whereas, if the cart value is between $50-99, adjust the coupon's value to 15% off.
Before editing the copy of your second email, you'll have to create a coupon (that's if you want to offer one). To do this, hit the 'Create Coupon' stage (this should be the second step of the 'Then' flow').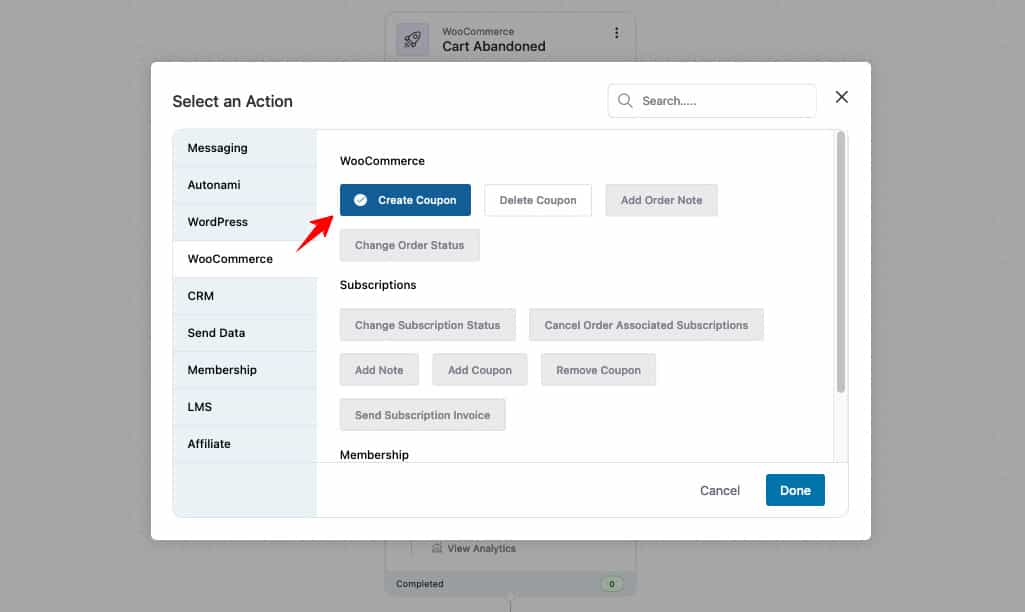 To the right of the page, select the coupon you want to offer and set its expiry date. When you're happy with the settings, click on the workflow.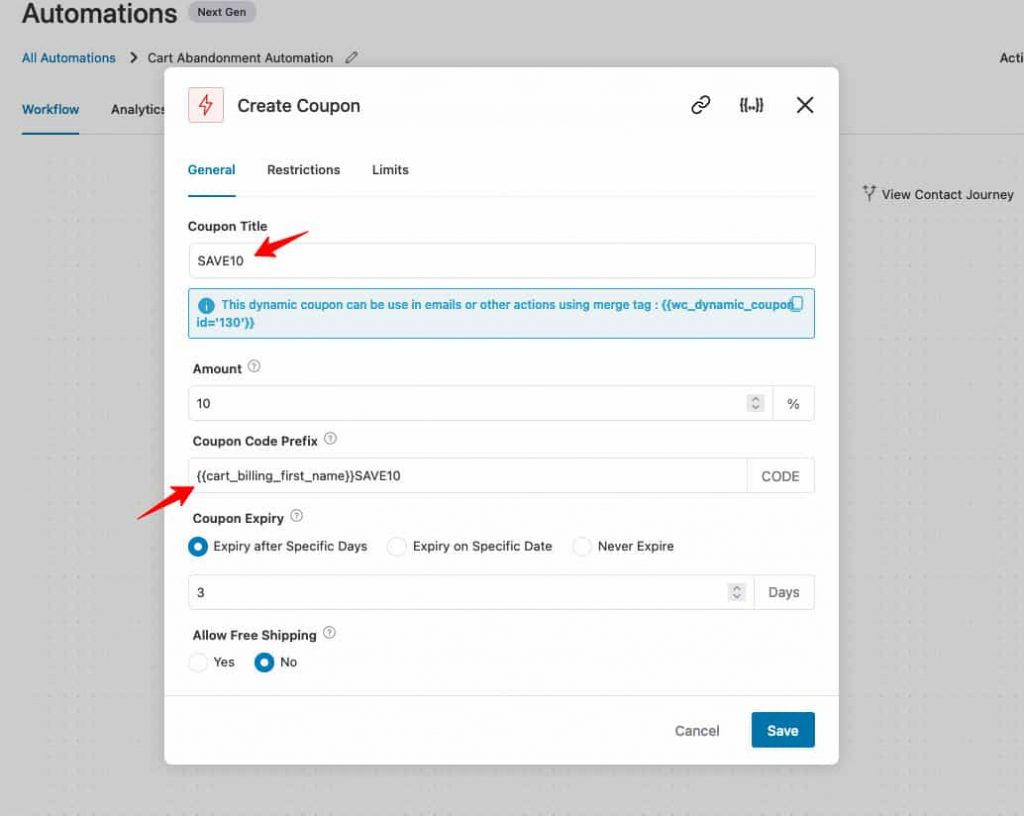 The Third and Final Email
We recommend sending the recipient a final email notification when their coupon is going to expire within 24 hours.
To craft this final message of WooCommerce abandoned cart emails, click on Add Action.
Click on 'Send Email' for the third email message. Then, modify the body of this email.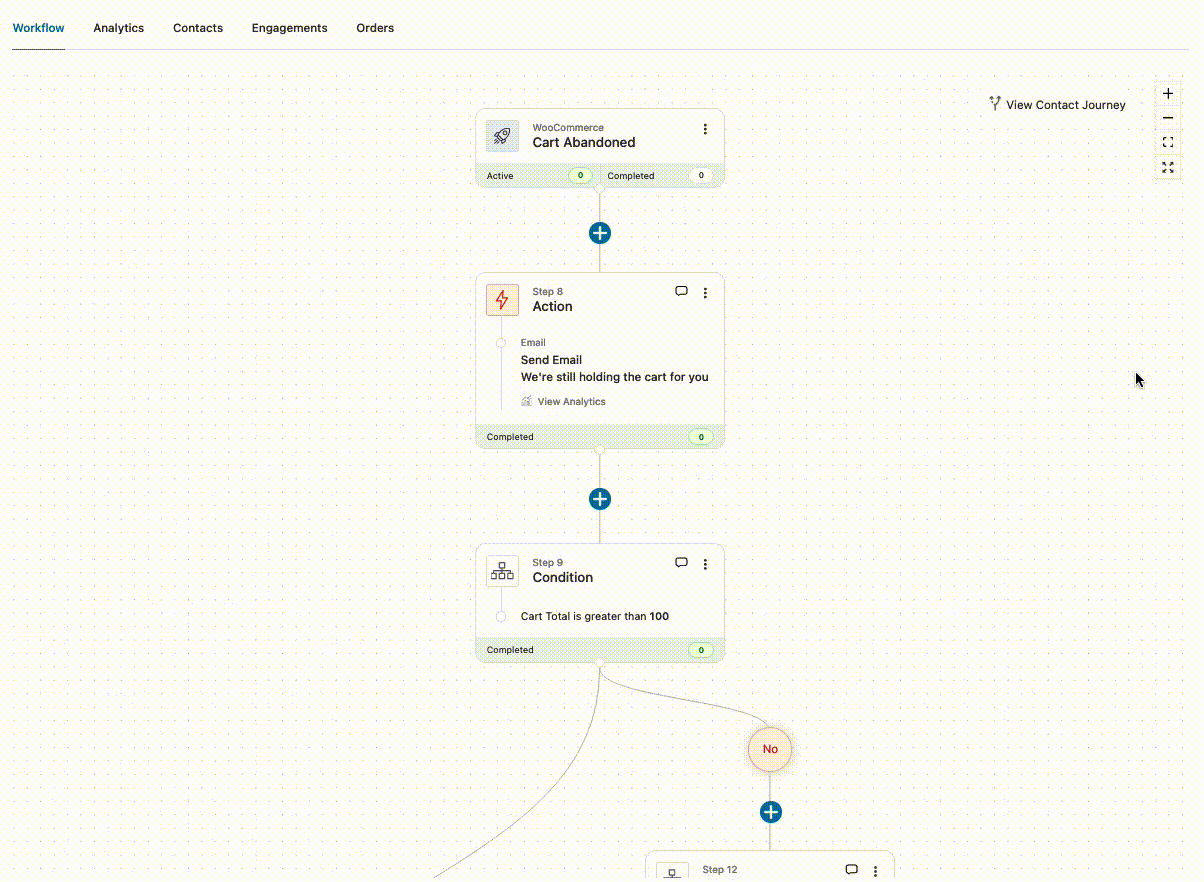 Check our documentation on how to create WooCommerce abandoned cart emails inside of FunnelKit Automations.
How to Monitor and Improve Your WooCommerce Abandoned Cart Emails?
A crucial part of any email marketing campaign (WooCommerce abandoned cart emails included) is tracking your stats. This empowers you to spot where there's room for improvement, so you can take action.
This is why FunnelKit Automations provides a wealth of analytics. This provides all the info you need to figure out what's going well with your WooCommerce abandoned cart emails. And more importantly... what requires improvement.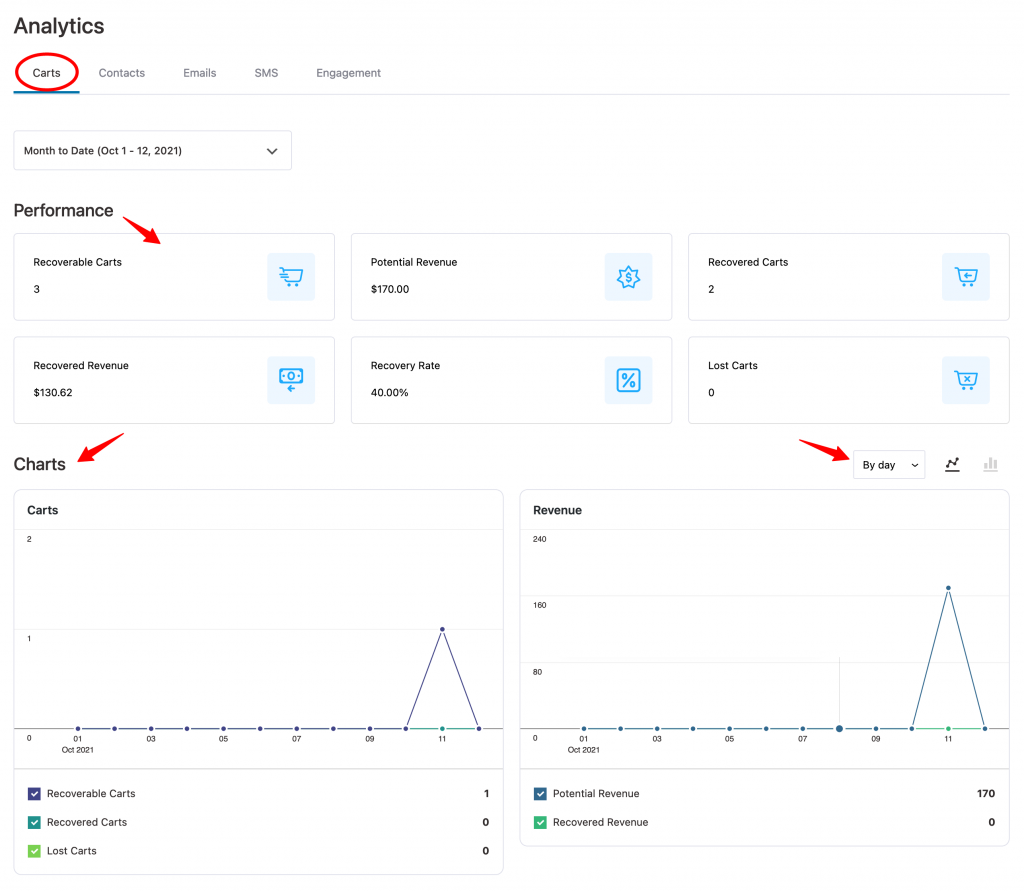 Use These Examples for Inspiration
Let's look at a few high-converting examples to help get your creative juices flowing. Here's a reminder email from Man Crates' online store. It's clear, clean, and straightforward. Take note of their branded banner. More specifically, the fact they've included a customer support telephone number, and that their CTA button provides a direct link to their virtual shopping trolly. These are all things TO consider emulating in your own WooCommerce abandoned cart emails.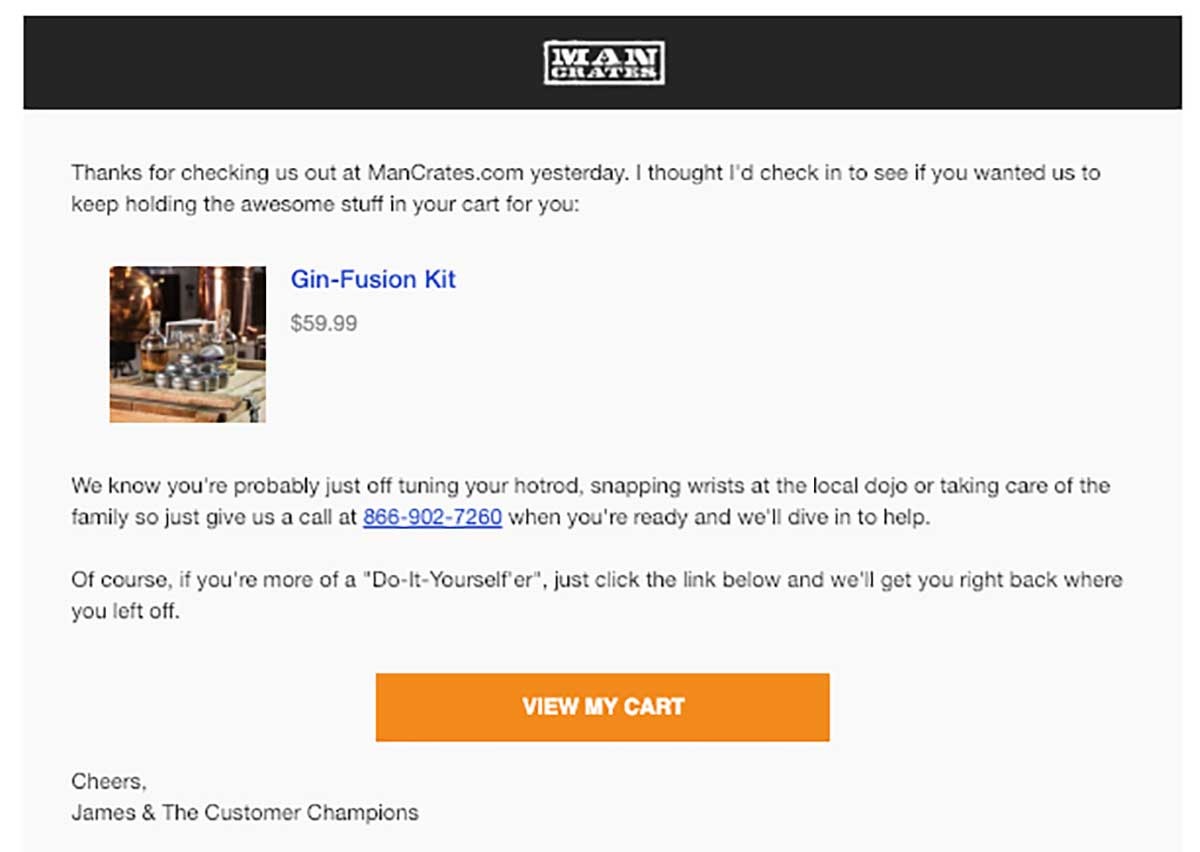 Here's another example of a well-written abandoned cart email (from Beardbrand). The best thing about this message is the PS section. It's quirky, it validates the customer's product choice, and it's great for building rapport with your email list. What's not to love about any of that?!
Ready to Use FunnelKit Automations to Launch Your WooCommerce Abandoned Cart Emails?
We hope having read this review, you now have a better idea of why sending WooCommerce abandoned cart emails is imperative to boosting customer retention and sales rates.
If you're on the hunt for:
An easy-to-use tool that automates the majority of your abandoned cart recovery emails
A solution for creating and sending dynamic coupon codes
Robust analytics