A/B testing is a critical tool in your conversion arsenal. Afterall A/B testing gives you the confidence you need to go live with your offers.
As an online course creator or product seller - you know this. But where do you start?
Well, there are three things you need to know before you start:
#1: Our A/B testing module is designed specifically for one-click upsells and Order Bumps.
#2: You can now test one item against the other, one discount against the other and so much more.
#3: You should only test one element at a time so that you know what to attribute the results to
Keep this in mind and we shall now dive deep.
A/B Testing: A Quick Overview
When you click on 'Experiments' under the FunnelKit (formerly WooFunnels) tab - here's the interface that you'll first see: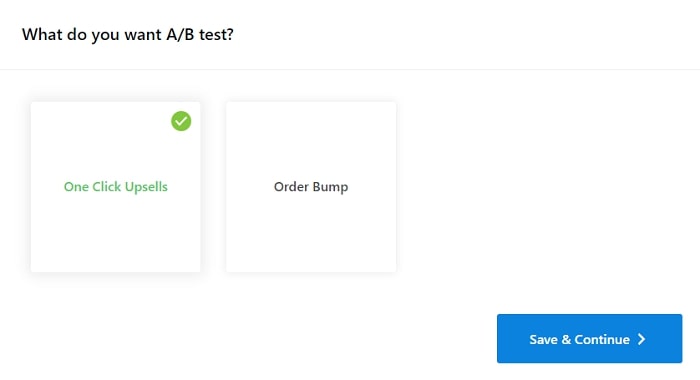 You can select 'one-click upsells' or order bump to build your test case.
Further, add a new variant or duplicate the original variant: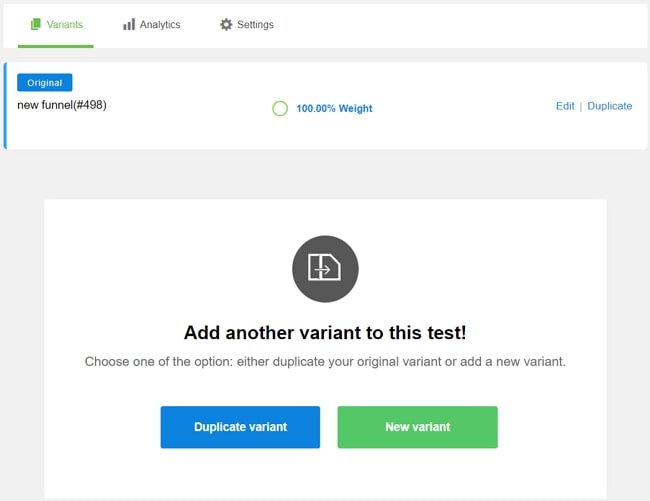 Duplicating a variant is the fastest way to start your journey. All the variables - rules, offers, designs, templates, etc. get duplicated. However when you choose 'new variant' - you can build everything from scratch - only the rules get duplicated.
After you select duplicate, a copy of the original variant will be created. Take a look at it here: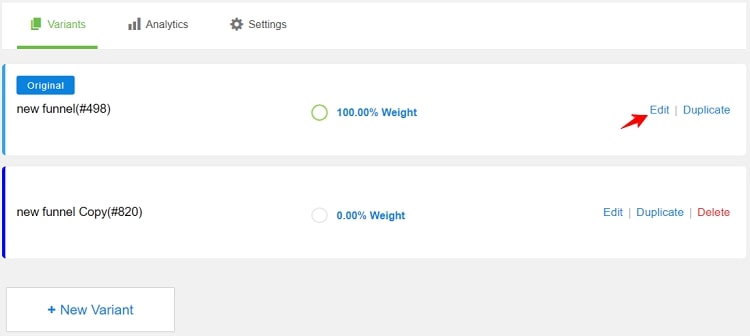 The duplicated variant is an exact copy of the original variant - offers, design template, copy - everything is the same.
After duplicating it - you can assign the traffic weight to the two variants. Like you can see, right now we've assigned 50% weight to each.
Next, perform the edits.
When you edit and go into the offer section for your 'version B', you can delete the product and add a new product as well as change the discount percentage.

Let's now look at the different test cases for one-click upsells and order bumps.
But keep in mind these are our top 5 test cases and you should pick the one that you feel will get you great results.
Now that the basics are covered, let's look at our top 5 test cases.
Test case #1: Video-based page vs text-based page
Video-based pages can convert higher because videos are captivating and conversational.
It also allows people to see the person behind the business and get a better demonstration of the product.
Having said that, not all people like to learn by watching a video and videos seek a higher commitment of time than a text-based page.
So you can put this hypothesis on the test and find out from your buyers which two versions of the page they would like to buy from.
In the design section, select between the VSL-based template and product upsell template.
You can use our in-build Customizer, Elementor, or any third-party page builders to edit your templates.
Test case #2: The Sequence of upsell offers
This A/B testing module helps you find out which sequence converts better.
Simply set up an experiment to find out in which order you should be upselling the items.
Take a look:
Setting up a sequence-based test is as simple as dragging and dropping one offer above/below the other.
Test case #3: The Number of upsell offers
Do you want to present more than one post-purchase upsell offers? But don't know how your audience would respond?
Set up an experiment and find out.
Duplicate the original variant and delete the extra offers.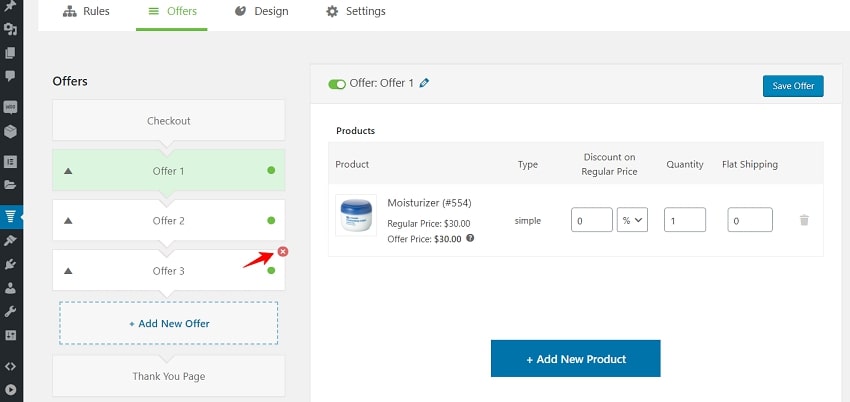 Test case #4: Multiple offers vs single offer on an upsell page
When you offer people a choice between 2 or 3 offers on the same page the probability of your conversion increases.
People are more likely to pick one option laid on the table when they have a choice as compared to when they don't. But let your buyers tell you how true this hypothesis is for them.
So the multi-product add-on of FunnelKit (formerly WooFunnels) one-click upsell allows you to present multiple upsell offers on one page.
You can present two or more offers in grid or list format:
Here's the version of the same page with one single item:
When you start the A/B test - some of your buyers will have the choice, others will not. After the numbers roll in - you'll have a clear winner in your hands.
This will also give a lot of insights about your buyers' psychology.
Test case #5: Multiple order bumps vs single order bump
Order bump users who are getting phenomenal results with the bumps are offering people a choice between 2 or more bumps on the checkout page.
Their buyers can choose one of the given bumps or all of them and add to their order.
The order total gets instantly updated based on what they choose.
So this A/B testing strategy helps you decide whether offering a choice on the checkout page between bumps works out better for you or not.
See this in action-
Here's just one single order bump on the checkout page-
Also, in bumps, you can test different products against each other and discount amounts. Here's how: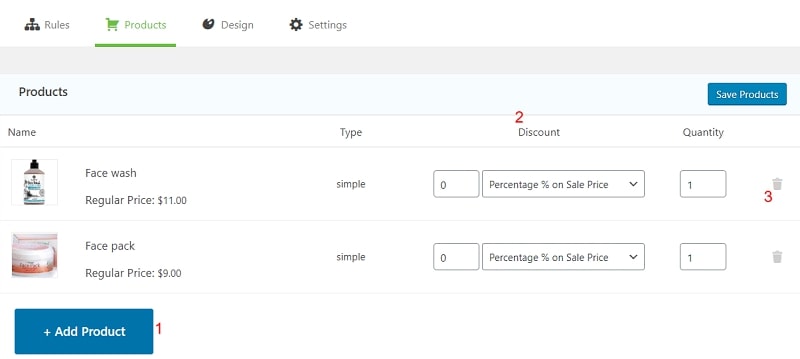 Analyzing Results & Declaring a Winner
After you have set up your test, you can wait for a few days or weeks for the numbers to roll in.
Then, while the test is running - based on the numbers you see in the analytics section, you can declare the winner.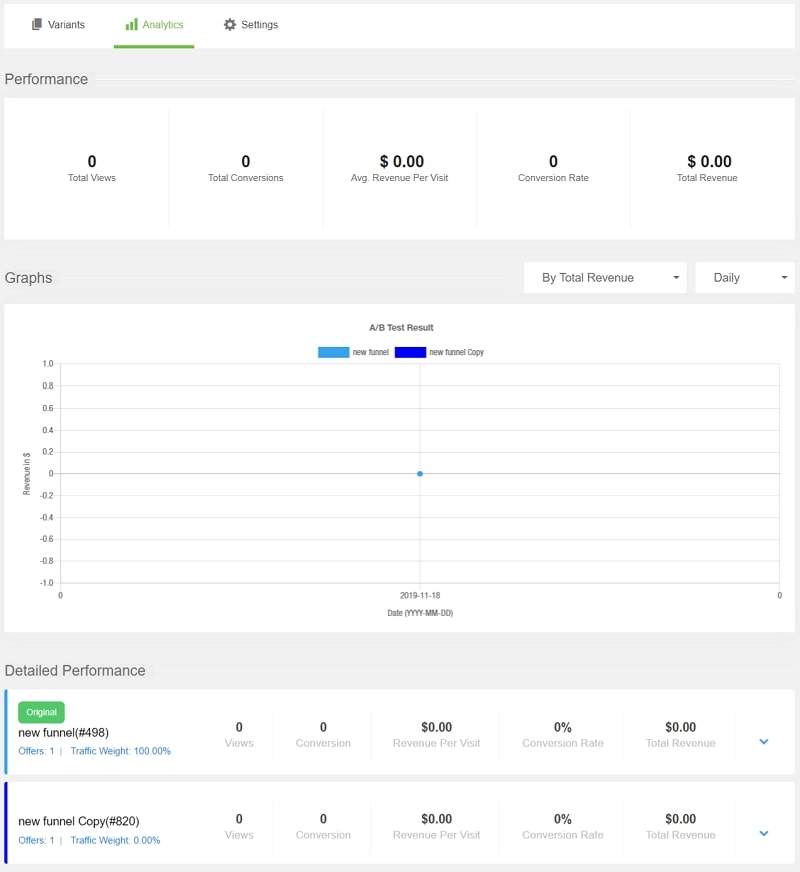 Since this is a demo site and the test just started - there are no stats for you to see.
Next, declare the winner by clicking on the trophy icon: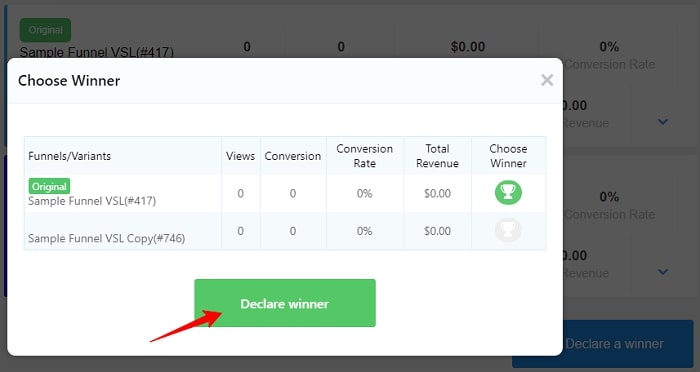 The winning variant will be live on your site for all your visitors and it will replace the losing variant.
The experiment will be marked 'complete', although it will always be available for you to check.
Conclusion
These are just the top 5 experiments that we showed above.
Unlike the A/B testing software out there which can A/B test sales and landing pages pretty effectively, this A/B testing module has been built exclusively for one-click upsells and order bumps.
Therefore, it's quite flexible and allows you to A/B test any element you can think of.
All FunnelKit (formerly WooFunnels) packs have A/B testing module. When you install the builder then A/B testing will show up on your dashboard automatically and if not, then what are you waiting for? Get it here.