Are you looking to use a sales funnel for a physical product to boost sales?
Selling physical products through a typical website format does add to revenue, but it is still a conventional way.
A typical website page doesn't necessarily provide users with the right information they need to purchase. Moreover, information isn't presented in a compact way on one page.
Result?
About 70% of users get distracted and abandon their carts mid-way. As a result, cart abandonment causes over $18 billion loss in sales revenue each year.
A sales funnel can help you to minimize such losses as they provide dedicated and distraction-free paths to making users successfully buy. Moreover, Sales funnels are designed to convince users in a seamless way to buy your products.
Wondering how to implement a sales funnel for physical products in WooCommerce?
Well, look no further.
In this blog, we will show you how to set up a sales funnel for physical products using the proven Tripwire Funnel model.
In addition, we will also share some effective tips to make a sales funnel that converts like crazy.
So, let's begin…
What is a Sales Funnel and Why Should You Use it?
A sales funnel is the marketing term used for the journey a prospective customer takes to purchase a product or service. In short, a sales funnel represents the process that converts a lead into a customer.
Usually a sales funnel consists of 4 stages :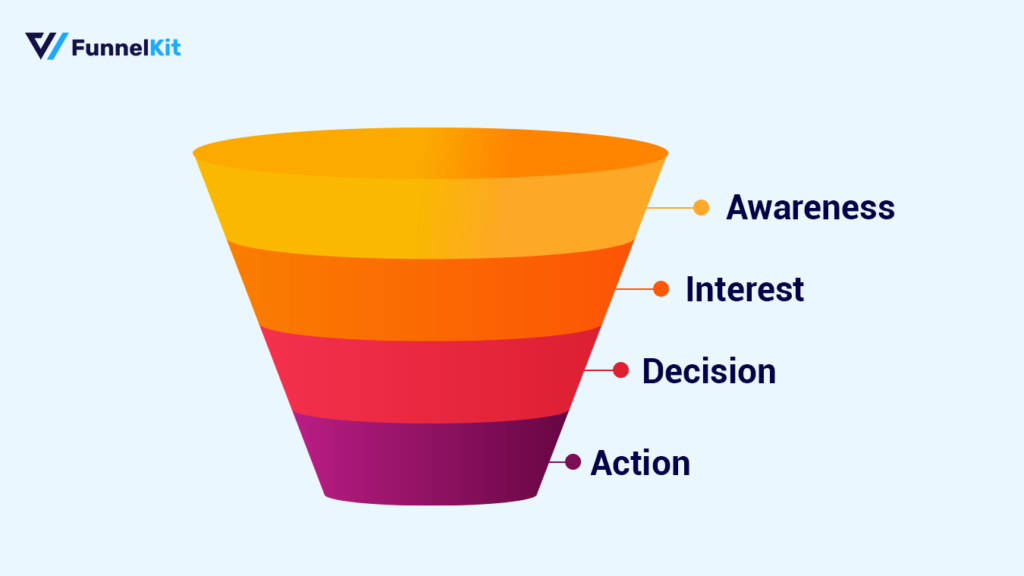 Awareness: This is the stage where shoppers get to know about your product or service.
Interest: In the second stage, users take an interest in your product and want to know how it can help them.
Desire: The third stage is where shoppers develop a desire to try out your products.
Action: At this last stage, users finally take action to purchase the product.
Not everyone would be interested in buying your product from the get go. Thus educating them well would be the key. So instead of directing them to a product description page, you can use a sales page.
As opposed to a product page that only has a small description of the item, you can have a whole page with headline, images, benefit bullets, features, testimonials and more. Take a look at this sales page doing exactly that :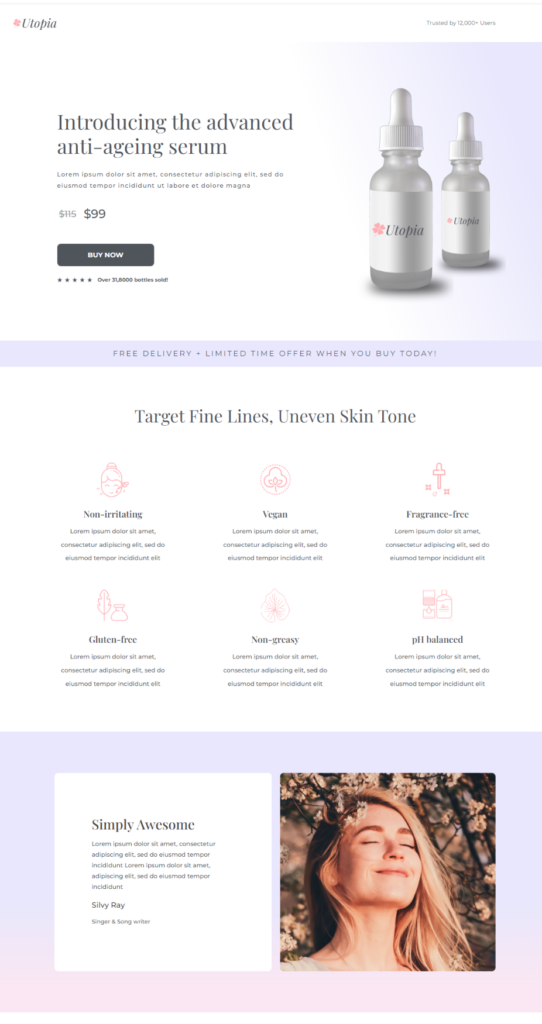 Therefore, you need to nurture them using sales funnel to turn them into paying customers.
For example, someone may get to know about your brand from social media. But that doesn't mean they will decide to buy your product.
At this point you need to educate them about your product so they get interested and form a desire to buy your product. And finally, place an order.
To make sure you pitch the right message to the right audience with the right words and tone you need to use the Sales funnel.
Here are some of the benefits of using a sales funnel:
Improves customer engagement and conversion rates: Sales funnel helps you filter out disinterested audiences. As a result, you only target potential customers. This way you can enjoy much better customer engagement and thus better conversion as a result.
Ensures better user experience: Without a sales funnel, you will be pitching to a scattered audience. This way customers may not receive the message they need or are looking for. Using sales funnel to show shoppers custom message that's intended for them only will ensure a better customer experience.
Reduces cost of marketing : Initially, it may seem like implementing a sales funnel is a lot of work and will require time, effort and money. However, it's totally opposite. Sales funnel will save you a lot of time as you won't be spending to target the wrong audience.
We hope now you understand the importance of using a sales funnel in your marketing strategy.
Sales funnel is important for both physical and digital products. And the best sales funnel for physical products is Tripwire Funnel.
Never heard of it?
No worries, move to the next section to find out more about Tripwire Funnel and why it's the best fit to sell physical products.
The Tripwire Funnel: The Perfect Funnel For Selling Physical Product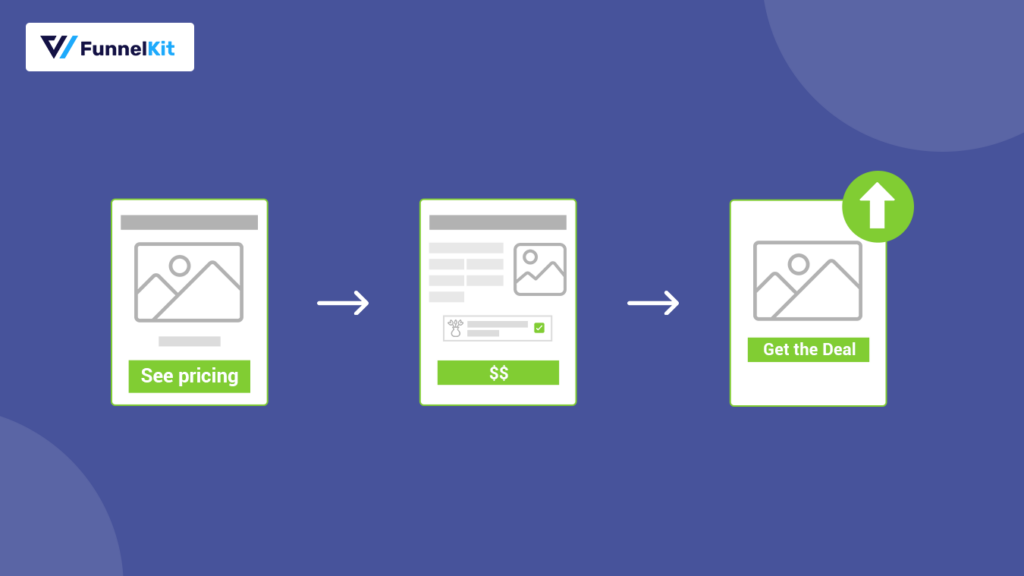 The Tripwire funnel is a marketing strategy that offers customers a smaller purchase with the aim to get them to make bigger purchases in the future.
So, basically you make an irresistible offer with low prices so users opt in to buy the product. After that you offer them other products as product bumps or upsell to increase the order value.
This way even though it seems like you are making a loss by offering users products on a low price, in the long run you are gaining a lot.
Some people can be skeptical about buying physical products. Tripwire Funnel is the perfect way to make such people make a purchase by offering a much lower price.
Typically, the offer price in a Tripwire funnel should be between $5 to $50. This way even the cold shoppers will be tempted to make a purchase.
A real life example of Tripwire funnel is Starbucks 'Picco' size for beverages. It's the smallest size that they offer to attract customers in.
The trick is once they buy a beverage most end up buying sandwiches and brownies to complement their beverage.
Result?
Well, more sales and more revenue.
What seemed like a small purchase offer in the beginning actually ended up getting bigger sales.
We hope now you understand why Tripwire funnel is so popular.
Some of the reasons why you should pick Tripwire Funnel to sell physical products online include:
Target broader audience: As you offer your products at a much lower price than usual, even the cold buyers will be attracted to it. Therefore, if you want to increase the target audience of your brand, then Tripwire Funnel is an excellent choice.
Grow your email list: Suppose someone buys only the low priced product and not the upsell, even then you get to grow your email list. And once you have your email list, you can nurture them to make bigger purchases later.
Boost your sales: Tripwire helps you to target a broader audience. Moreover, they also get users to make expensive purchases. As a result, you enjoy a boost in both sales and revenue
In short, selling physical products using a sales funnel like Tripwire Funnel has both long and short-term benefits. And it's what makes it a perfect funnel for selling physical products.
How to Build Sales Funnel for Physical Product that Converts?
We are going to use a sales funnel builder named FunnelKit Funnel Builder to create a Tripwire sales funnel that will accelerate the sales of physical goods on your site.
FunnelKit Funnel Builder is a plugin that comes with pre pre-built sales funnel to help you enjoy maximum conversion with minimum effort.
With this popular WooCommerce plugin, you can create and customize different sales pages such as landing page, opt-in page, checkout page, thank you page, and so on.
Moreover, FunnelKit FunnelBuilder provides deep integration with page builders such as Elementor, DIVI, Oxygen, etc. Therefore, you can create your pages with drag-and-drop technology without any coding.
In addition, you can also add an order bumps and one-click upsells, which helps you increase your AOV. Furthermore, you can provide lucrative discounts on your offers with just a few clicks.
Step 1: Install and activate FunnelKit
You need to install both FunnelKit Funnel Builder free and FunnelKit Pro.If you need help installing and activating FunnelKit Funnel Builder pro, then check our installation guide.
Step 2: Create a Sales Funnel and pre built template
To create a sales funnel go to FunnelKit Funnel Builder ⇒ Funnels and click on Add New Funnel.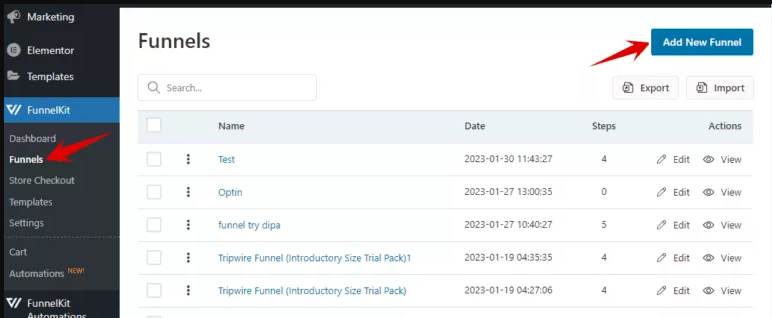 We are going to use the Utopia template for this tutorial. This sales funnel is built specially for those who want to sell physical products using Tripwire marketing funnel.
These sales template has four steps:
Landing page - This is where you offer people a smaller purchase with a discounted price. Also, educate them about your products.
Checkout page - This page consists of a modern multi step checkout process (optional) with express checkout. Also, you can offer them an order bump to increase AOV.
One-click upsell - Here you will offer them upsell products so customers end up making a bigger purchase.
Thank you page - Last is a thank you page to ensure good user experience.
Click on preview to view the pages.
Now click on Import This Funnel to import the sales funnel.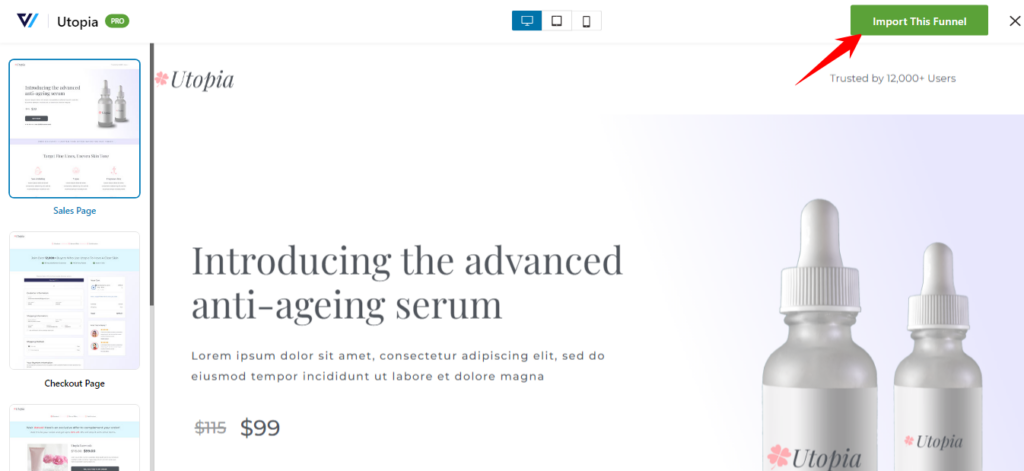 Provide a name and click on Add to import the template.

That's it. Now you can customize the theme according to your preference.
Step 3: Customize template
To edit the landing page, click on the Edit option of the page.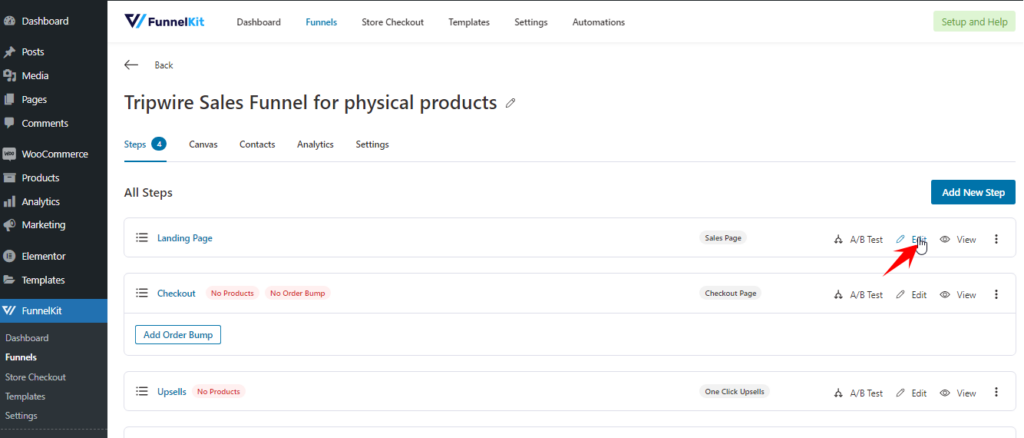 Then click on the Edit Template option.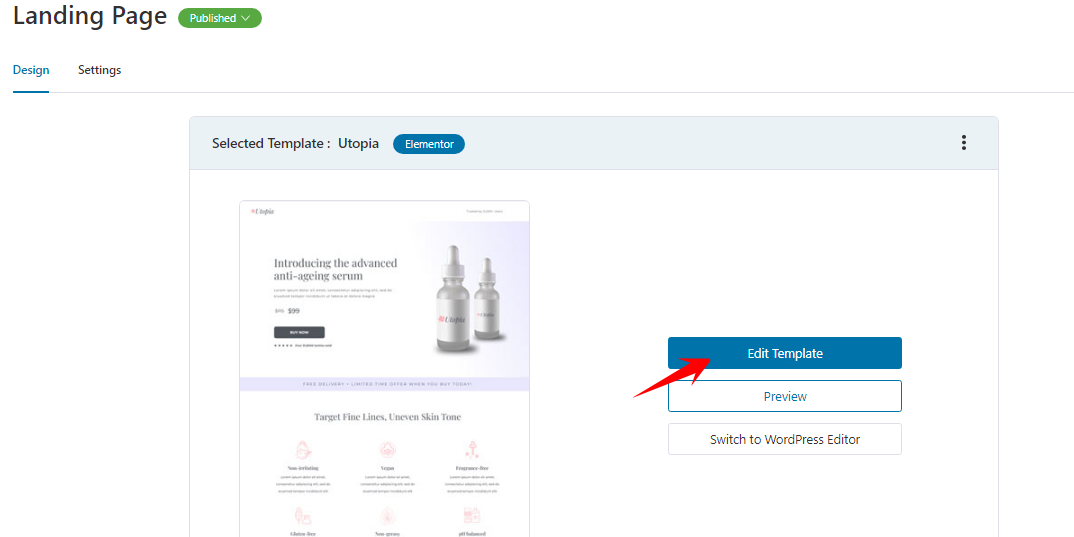 Now you can edit any part of the landing page using the Elementor panel on the left. For example, we are showing how to change the price here.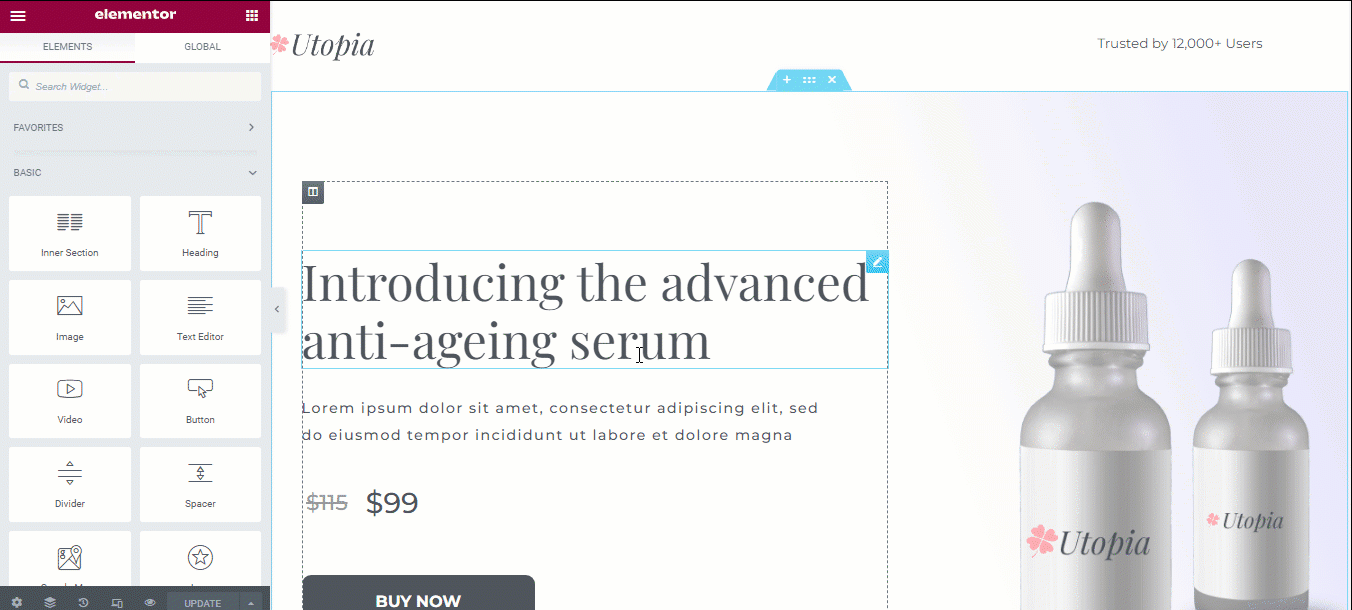 Step 4: Add products to check out page
On the check out you need to add products that will be added to the cart. For that click on the checkout step to edit it.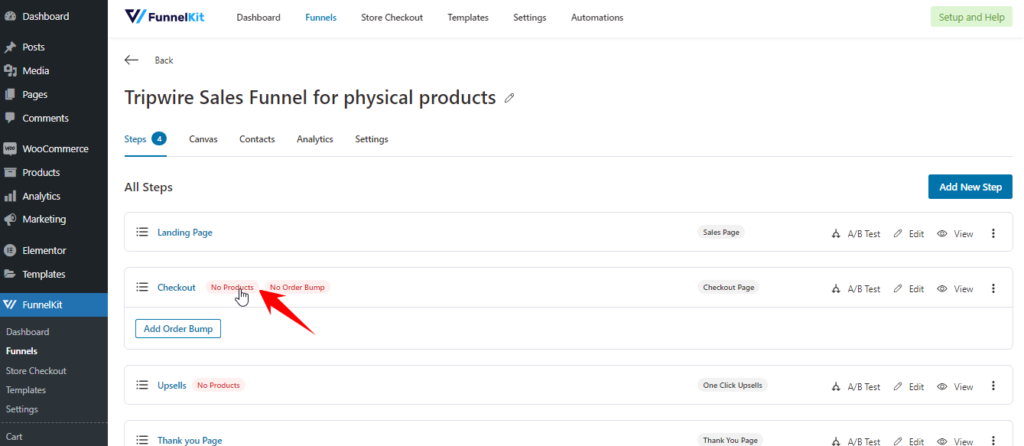 Now move to the products tab and click on Add Products. Then search and add the products and click on Add Products to add the products.

You can add a discount to the products on the checkout page if you want. After adding the discount click on Save changes to update.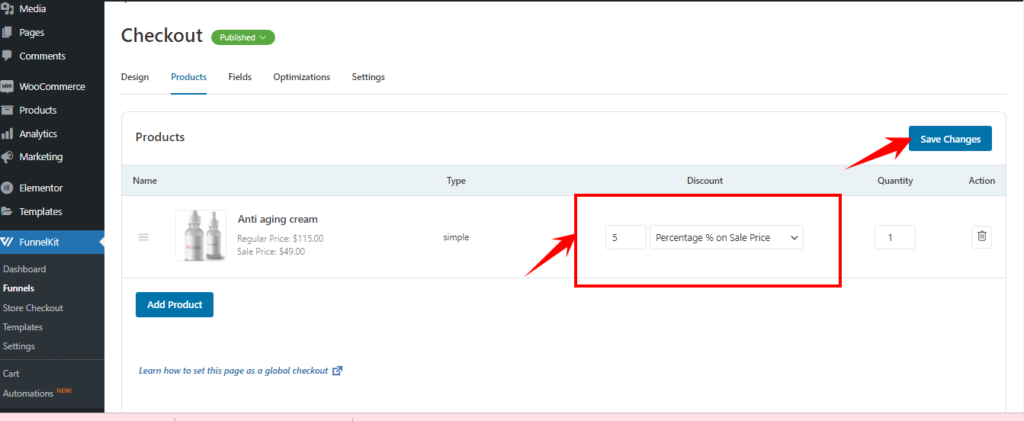 On the Fields Tab, you can edit or delete any field if you want.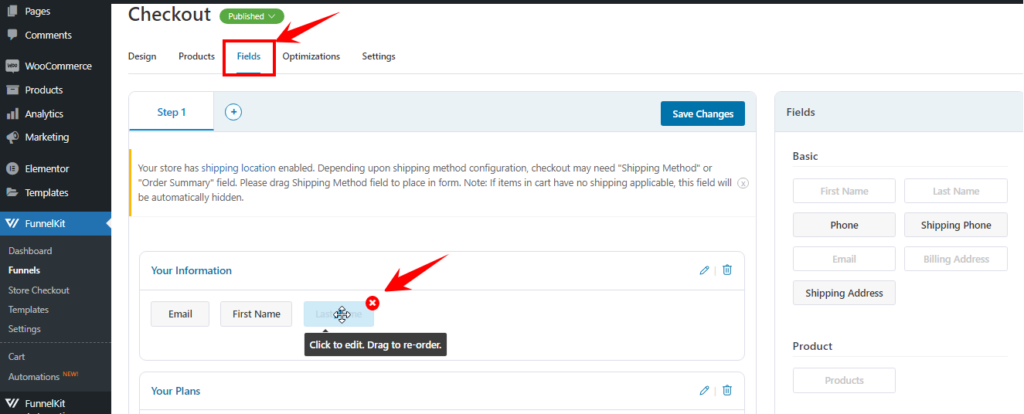 You can also add a new custom field if you need.

If you want you can change the order of different sections just by drag and drop.
On the Optimizations tab, you can enable Express Checkout, Enhanced Phone Field Google, Address Autocompletion, Auto Apply Coupons, Preferred Countries and many other options.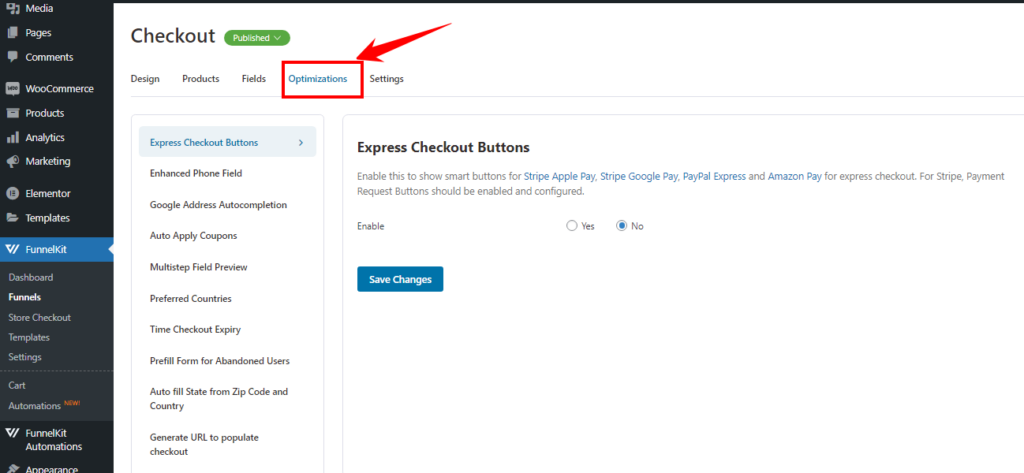 Step 5: Add order bump
Order bump is the practise of offering relevant low priced addons on the checkout page. This can help you to increase average order value in your store. FunnelKit offers options to add order bump to order with just one click.
To add products to order bump click on the order bump you just created. After that, click on Add Product, search the product and add it. Finally click on Add Product.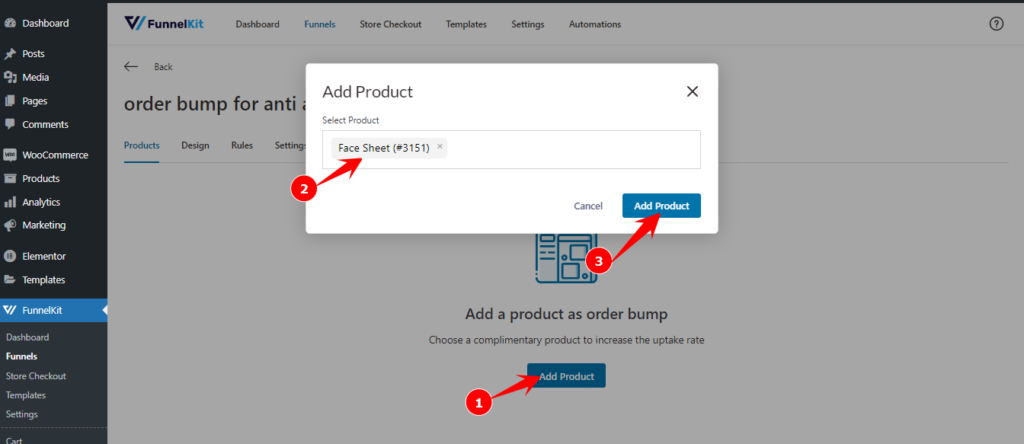 You can add a discount to order bump as well.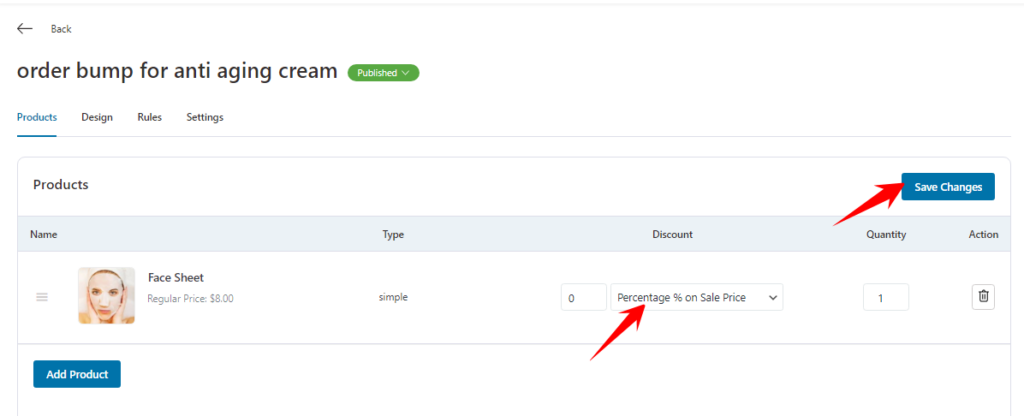 Here is how the checkout page will look like: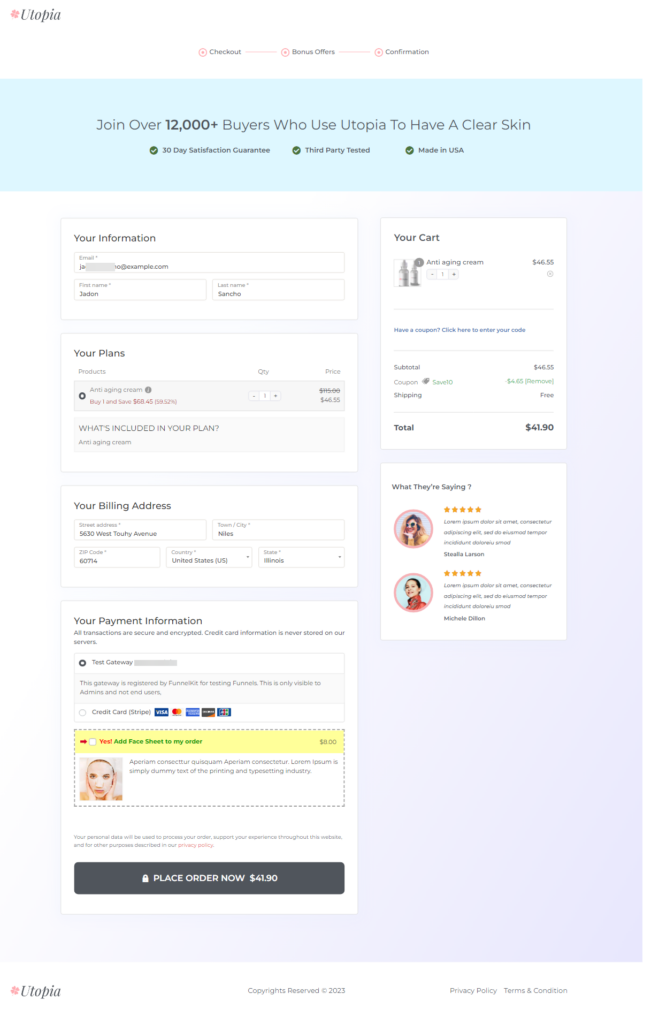 Step 6: Add product upsell
Upsell is the practice of offering products of higher value to the users. To add upsell products using FunnelKit click on the upsell.
Now click on Add Product. Then search the product and add it. Finally click on Add.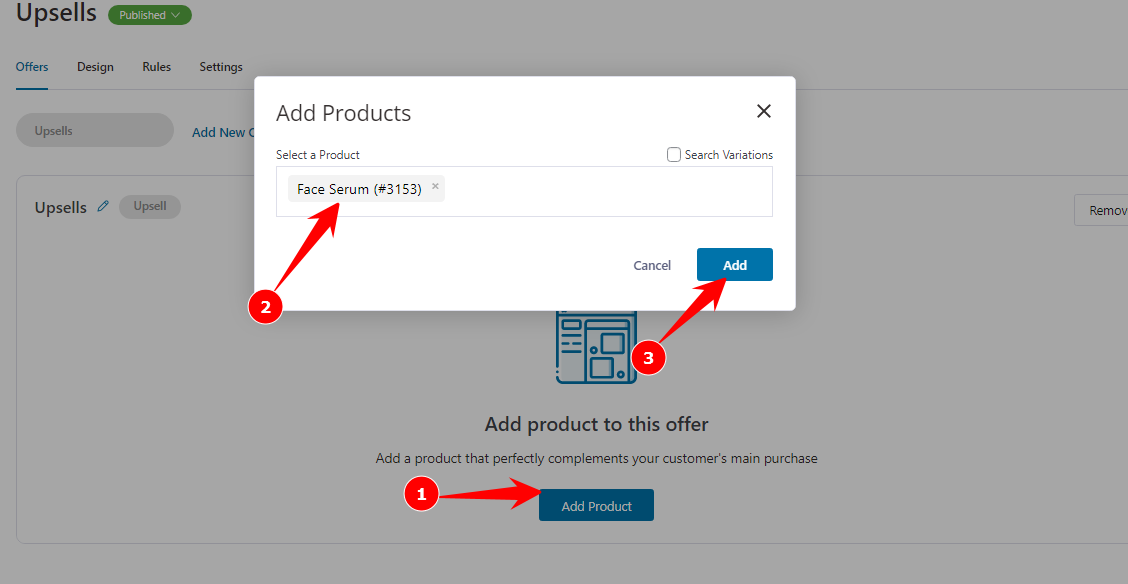 Again, if you want you can add discounts to upsell products as well.
And that's it. Your Tripwire sales funnel to sell physical products is ready. Click on the View option on the Funnels page to get the URL.

Now you can use this URL on social media, paid ads etc and boost physical product's sales using a sales funnel.
In the next step we will talk about some of the useful tips to create an effective sales funnel for physical products.
6 Useful Tips to Creating Effective Physical Products Sales Funnel
Some people take too much stress trying to build a perfect sales funnel. But the thing is, the sales funnel doesn't have to be perfect. However, you must remember certain things while creating a sales funnel. Here are those things:
Include photos and videos
Photos and videos are equally crucial for physical products as digital products. That's because, in both cases, they decide on buying the product before receiving it just based on the photos and videos you provide. So, ensure you provide good-quality photos and videos highlighting your product's features.
Write powerful headline
According to research, 80% of people read the headline only, while only 20% read the copy. So you can understand the importance of powerful headlines. That doesn't mean you shouldn't write good copies. But make sure you come up with attractive headlines that catch the user's attention.
Show that people trust you
Social proof goes a long way in convincing first-time buyers to purchase. Because people value people's opinions about your products, especially from those who used your products before. So, make sure you add authentic social proof to your sales funnel.
Highlight the benefits/features of your product
Never assume people will figure out what your product is all about. Your duty is to educate the audience about your products and tell them why they should buy them. So, make sure to highlight all the quality that makes your products unique and worth buying.
Add order bump and upsell
The whole point of the Tripwire marketing funnel is to make sure once users put inside to buy something from your store, you offer them more products, so they make a bigger purchase. And the best way to do this is to offer order bumps and upsell products. However, make sure you provide the right products in your order bump and upsell, so users are tempted to make a bigger purchase.
Utilize A/B testing
A/B testing is showing a different version of the same web page to people and then figuring out which one works best based on data. You should A/B test your sales funnel pages to find out what brings in the best result for you. FunnelKit offers the option of A/B testing each page of a sales funnel.
Frequently Asked Questions
How do you create a sales funnel for a physical product?
You can easily create a sales funnel for physical products using FunnelKit Funnel builder. This WordPress plugin has many prebuilt sales funnels that you can just import in a few steps to sell physical products. Moreover, you can also customize them according to your needs.
How do you market a physical product?
You can create a sales funnel for your physical products and then market them on social media. You can market organically or using paid ads such as Facebook ads, youtube ads, etc.
What are sales funnels for products?
Sales funnels are a proven way of marketing and selling your products. Usually, a sales funnel takes users through 4 steps; Attention, Interest, Desire, and Action to convince them to buy a product.
Are You Ready to Leverage the Sales Funnel for Physical Products?
A sales funnel gets you the results you dream of because it pitches the right message to the right audience at the right time. Especially if you use a Tripwire sales funnel, you increase the chance of achieving greater revenue as you target a broader audience.
However, you need to create an efficient Tripwire sales funnel to sell your physical product. If you use Funnelkit's Utopia pre-built template, then you can cut down the hard part of creating a sales funnel.
The best part about FunnelKit's sales funnel is they are easy to customize and mobile responsive. In Fact.the pre built templates are optimized for all devices. Moreover, FunnelKit also makes adding order bumps and upsells a piece of cake.
So, are you ready to use FunnelKit's sale funnel for physical products?