Oxygen lovers, we have great news for you today - FunnelKit now deeply integrates with Oxygen.
Our team has been working quietly for the past six months on integrating Oxygen with FunnelKit.
After rolling out deep integrations with Divi and Elementor, Oxygen fans just couldn't stop asking us when they could build funnels using Oxygen.
And the answer to the enquiry is NOW.
So roll up your sleeves Oxygen fans and get ready to build profit-boosting sales funnels using one of the most developer-friendly tools out there!
Why Build Your Sales Funnels Using Oxygen?
Oxygen is not just a page or a theme builder, but due to its great flexibility and control over the output, it is a lot more. Professional website developers, web designers, and top agency owners use Oxygen to build full-fledged websites.
Another thing that really stands out about Oxygen is its high page loading speed.
It's called a 'developer's dream' for a reason and now with the ability to build flexible sales funnels fast, Oxygen's utility has ascended to the next level!
We had conducted a poll in our community to understand the preferred page builder for building funnels. And yes, Elementor topped the charts but Oxygen was a close second.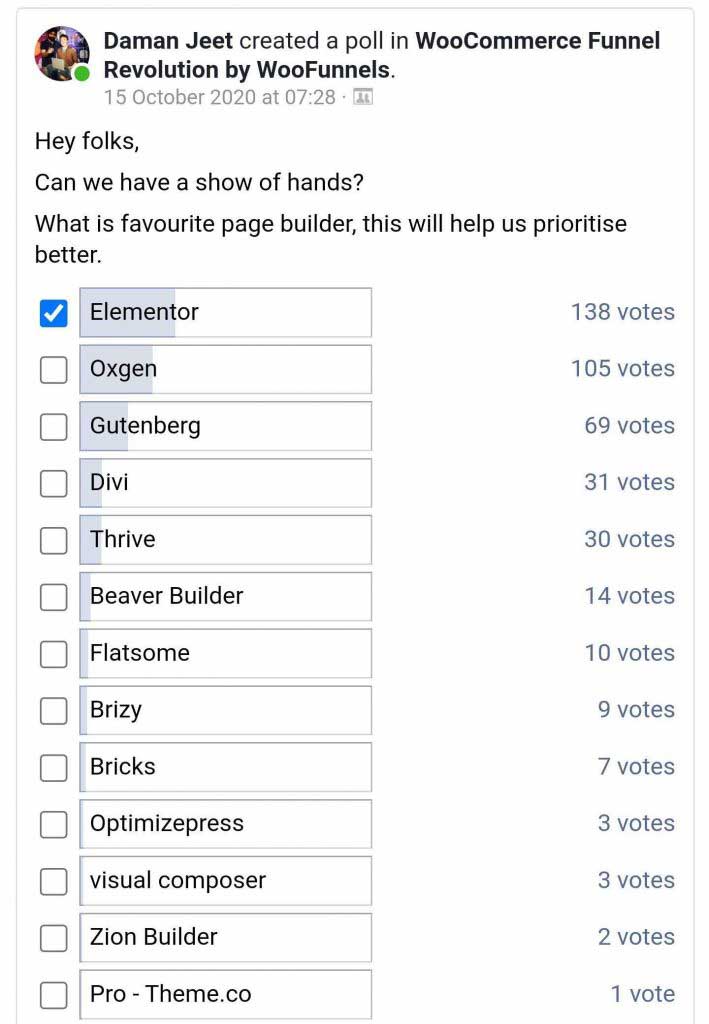 So we deployed our team on the task and here we are six months after extensive research and development, ready to put the Oxygen integration with FunnelKit in your hands!
Now build converting funnels using Oxygen templates and components.
Everything You Need to Build a Sales Funnel Using Oxygen
FunnelKit offers you all the components you need to build an attractive and converting sales funnel - with the least amount of effort involved.
From page templates to custom components, FunnelKit has covered all the bases to ensure you have the smoothest experience while building funnels for your store. You get:
70+ Pre-Built Oxygen Templates
12+ Oxygen components
Each of the custom Oxygen components designed for FunnelKit is discussed in the sections below.
So let's look at the elements of a sales funnel that you have access to with this new integration between Oxygen and FunnelKit.
Lead Capture Pages
You want to be able to get the email addresses of people who are interested in buying your products to be able to connect with them and ensure that a sale is made.
The first step in generating leads is to offer them something for free and, in return, get their emails.
Digital marketers use ebooks, free workshops, live or pre-recorded webinars, cheat sheets, and more to generate leads.
Being able to build beautiful and credible-looking lead capture pages is a necessity in such cases. And having the ability to do so in the very flexible Oxygen builder is a boon.
You get a library of optimized lead capture pages or opt-in page templates in FunnelKit.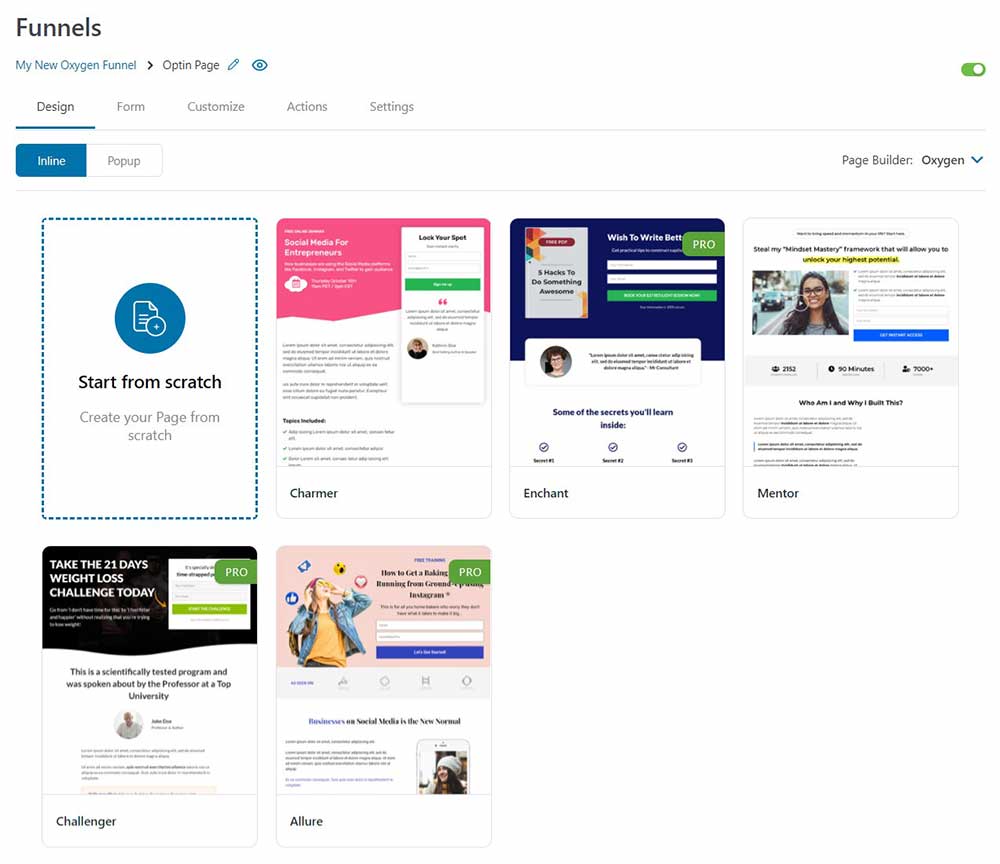 In each of these Oxygen sales funnel templates, there are two ways to capture your leads:
Pop-up Form - The users see the content of the product and a button which, upon clicking, opens the signup form in a pop-up window.
Take a look at FunnelKit's custom component settings to customize this pop-up: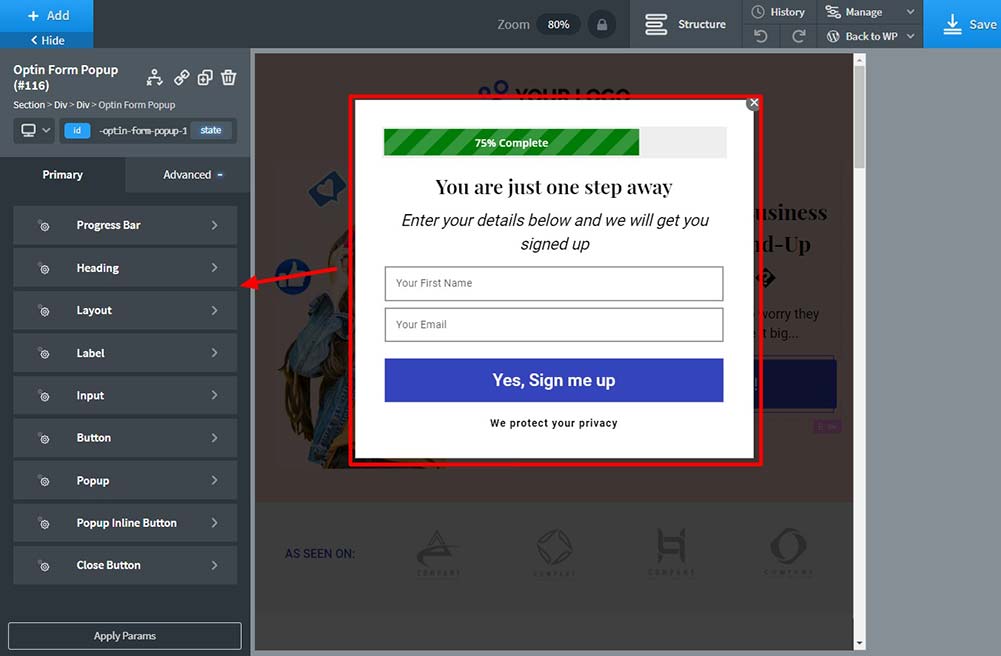 Embedded Form on Page - The signup form is embedded on the opt-in page itself. Users can just fill their details out, hit the submit button, and proceed to the next step - all on the same page.
Take a look at the WooFunnel's custom component to customize the signup form: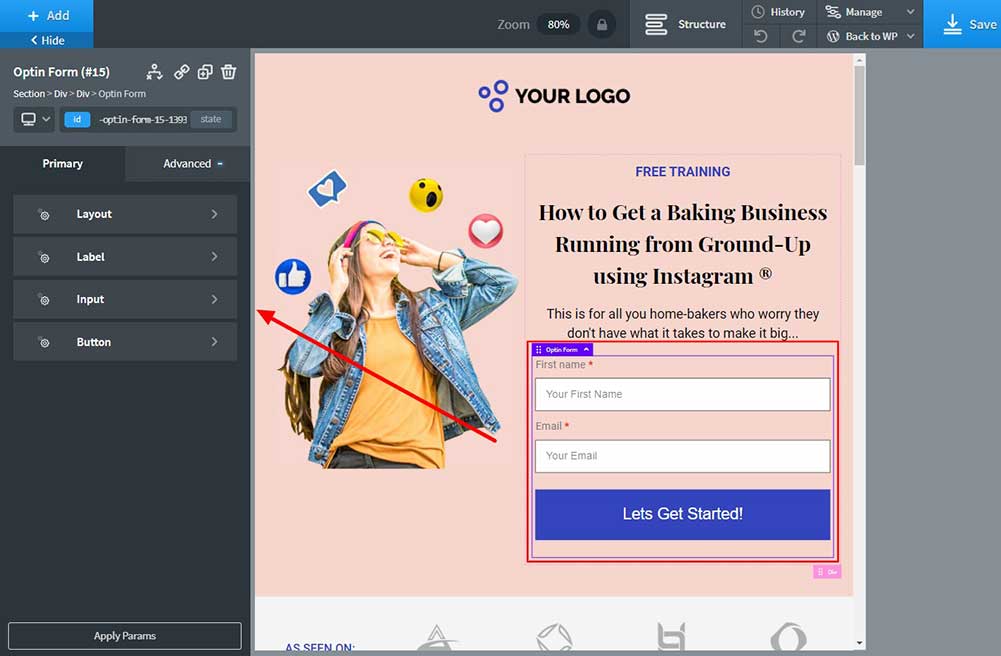 The lead capture page is followed by the confirmation page where you can display the detail of their download and guide users about the steps that follow.
Similar to the Optin Pages, you have the access to a library of opt-in confirmation page templates as well.
Landing Pages
Your landing page helps you showcase your paid offer and display all the details of it.
The above the fold section instantly clarifies the offer to the new user. You can put the juiciest details of your offer right at the top.
Customize the page in your brand colors with apt text, typography, logo, and more to match.
The FunnelKit templates are highly customizable: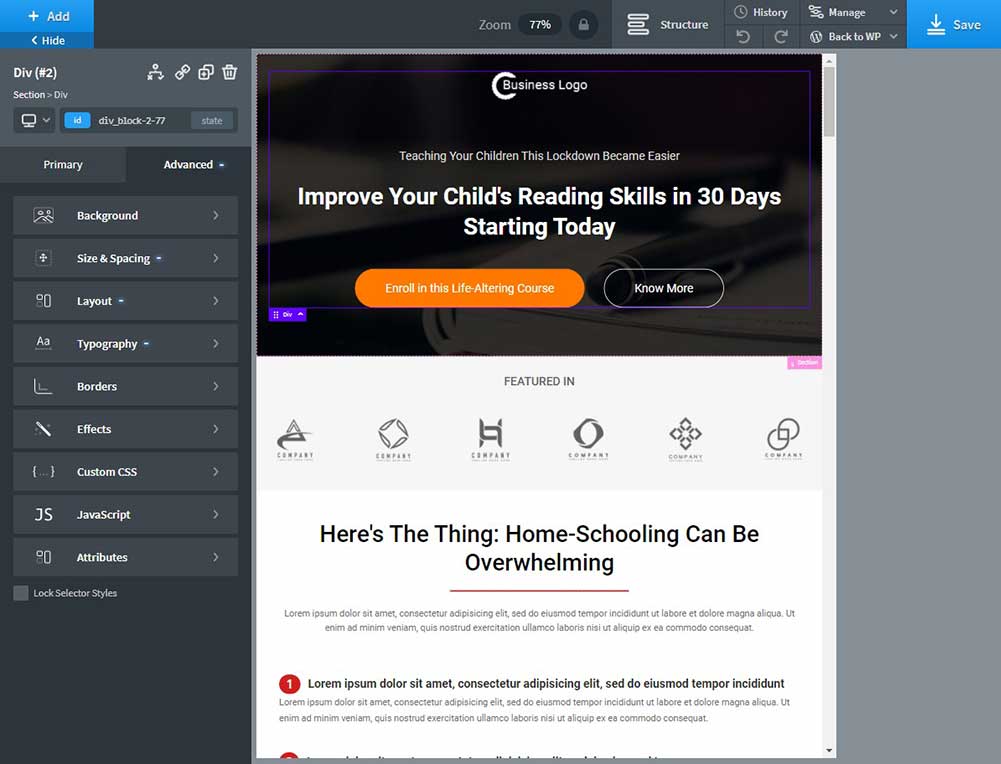 Optimized Checkout Pages
Building checkout pages in Oxygen has always been a dream!
Even expert developers have struggled to create optimized checkouts in WordPress, but with FunnelKit it has all become a fast and easy process.
Just as for every other page in the funnel, you get access to a library of optimized checkout page templates. Each of these templates can be imported with a single click right inside Oxygen.
Let's look at some of the choices you get when setting up the Oxygen sales funnel.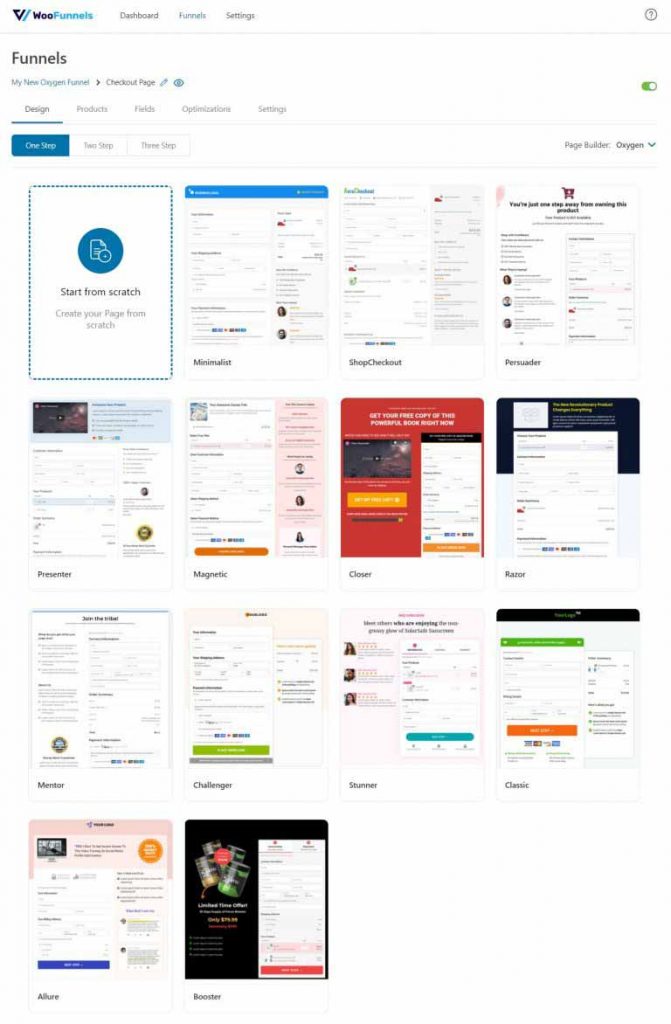 As you can notice you can import any of these templates in one, two, or thee step formats.
Here are the Oxygen Components available:
Checkout Form: This custom component allows you to customize the form fields' width, have a collapsible order summary, display the coupon field, and more
Mini Cart: The items added to the cart are displayed in the mini cart on the checkout page. It shows the quantity, price, shipping charges, and total cost of the products.
Some of our most loved checkout templates are:
Storefront Checkout Page Template: ShopCheckout
You can create a one or multi-step Shopify style checkout page in WordPress using Oxygen within minutes.
Shopify's checkout has a very clean-cut design. Users have been loving it for years, so we decided to bring you the crowd favorite checkout in WordPress with our ShopCheckout Template.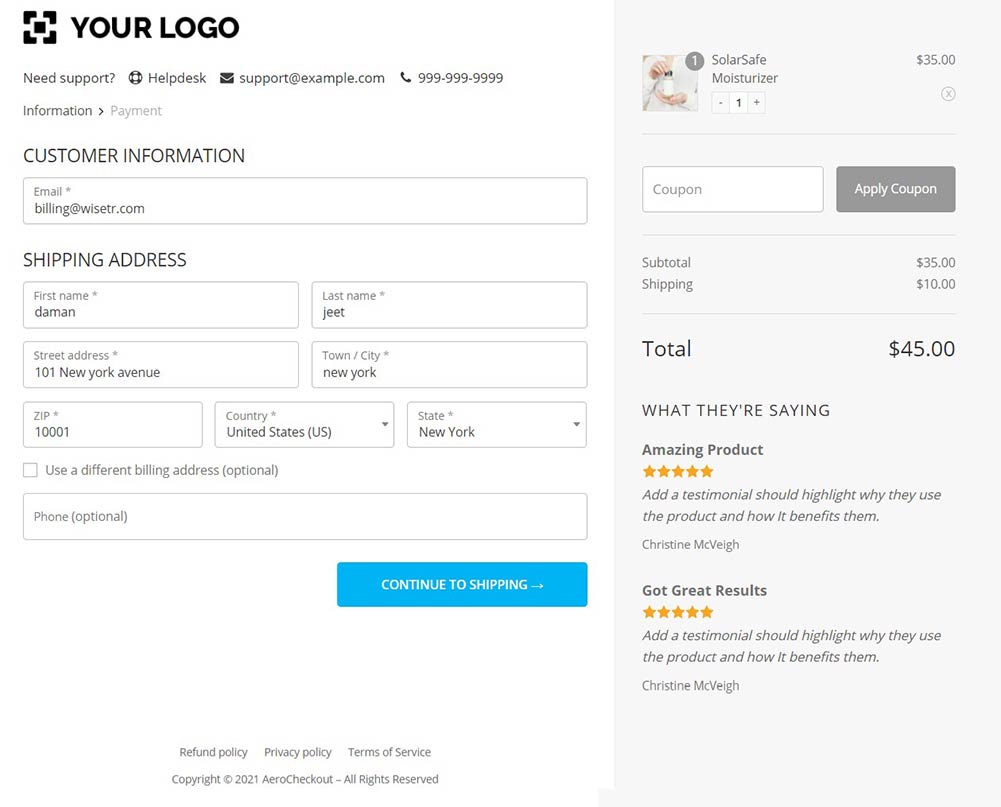 Just customize this simple yet converting ShopCheckout template to better match your brand, and you're all set.
It is a great template to be used as a Global Checkout as well, along with the Minimalist Template.
Best Template for Course Creators: Razor
If you wish to design a product-specific checkout for your store, Razor template is a solid contender.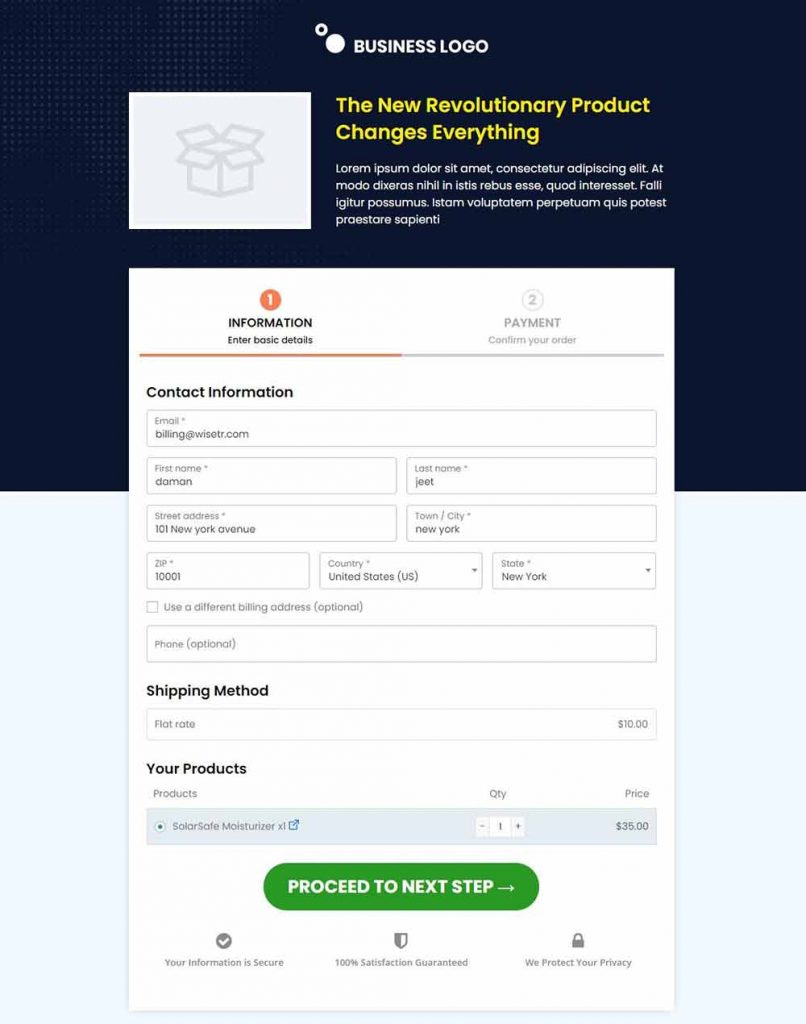 It highlights the product image and its values right at the top of the page. It lets the users know right off the bat that this is the product they'll be paying for.
This template is more colorful as compared to the other two, but also follows the same simplistic approach.
The design keeps the attention focused on the product and the checkout process, and not on any other element on the page.
One-Page Checkout Template: Stunner
In case you do not wish to have a separate sales page and checkout page on your Oxygen sales funnel, FunnelKit has a template for a one-page checkout.
The Stunner template doubles up as a sales page and a checkout page for a specific product and eliminates the need to move from step to step to complete a purchase.
Let's see how the template looks:

It is a great template that reduces cases of cart abandonment.
Each checkout template comes with 2 custom components to help optimize the page for your store.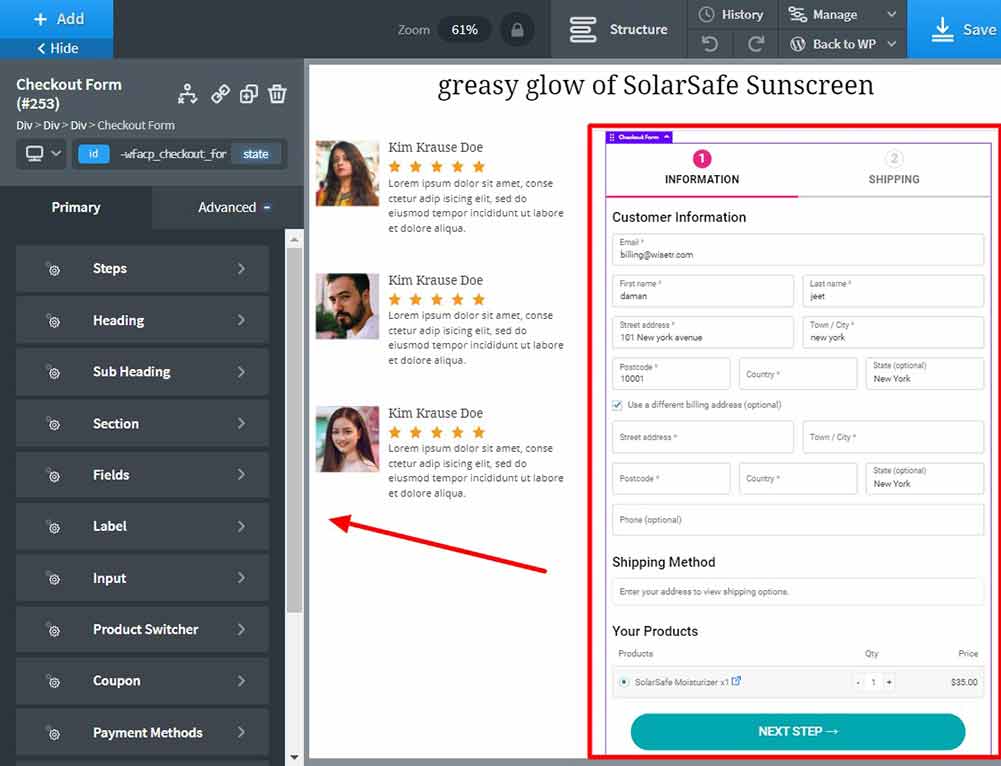 One-Click Upsells
One-click upsells help you introduce more of your product range to the customers without having to leave the funnel.
After the users pay for the primary purchase, they are then led to another page where one or more relevant items are displayed for the customer to choose from.
They can purchase these items with just one click, without any need to fill in their payment details again.
There are a number of upsell page templates available for you in FunnelKit when creating the Oxygen sales funnel.
Here's an example of an upsell page for your reference: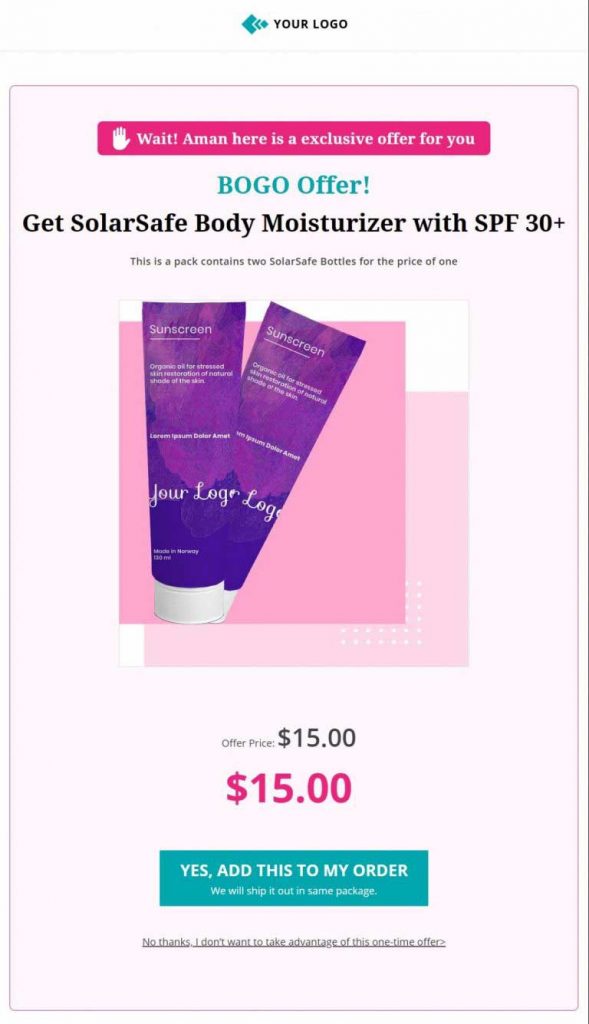 There are 10 custom components that FunnelKit offers you to customize the upsell page and make it convert.
Accept Button: Add a big bright button that users can click to accept the offer
Reject Button: This button takes users to the next step in the funnel
Accept Link: Even links that can be added to the upsell page
Reject Link: Use a link instead of the reject button
Product Title: Add and customize the product title
Product Image: Drag & drop this component to add a product image, you can even enable the product gallery
Short Product Description: This component brings up the product description as added on the product page
Variation Selector: To offer a variation of the product in case of variable products
Quantity Selector: To display the quantity selector on the upset page
Offer Price: To show the original and discounted prices side by side or in a stacked manner
Customize these components like product image, price and buttons to make the page look on-brand.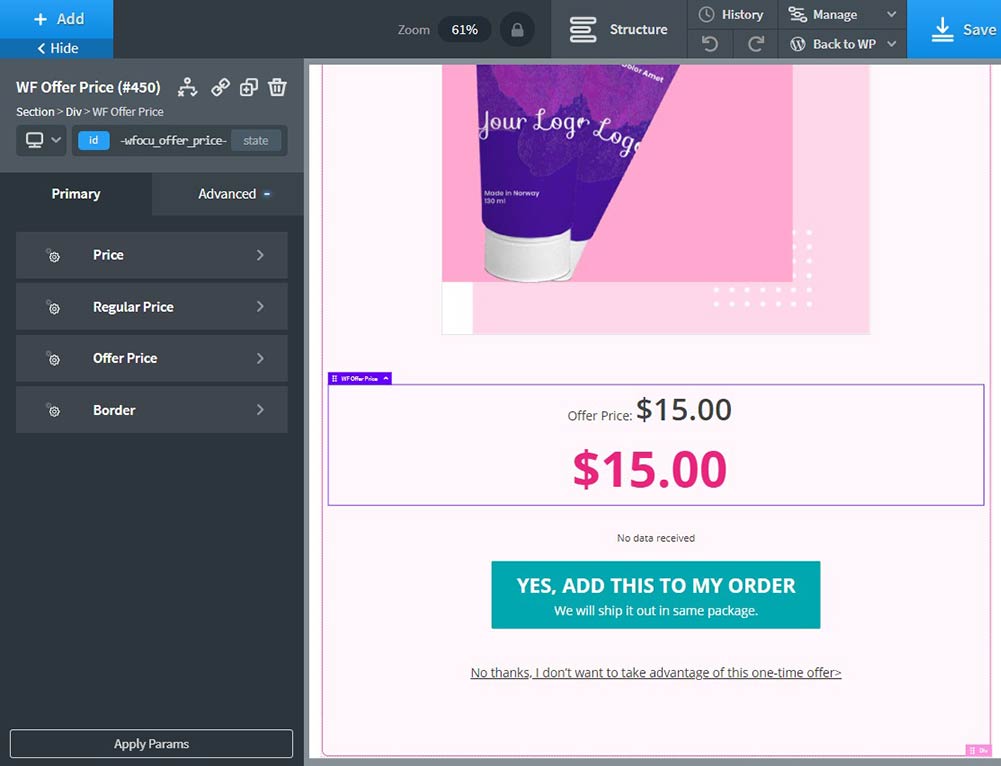 Every component for the one-click upsell page is fully customizable. You can customize the font type, colors, text, add margin, padding, and more.
Thank You Page
To wrap your entire Oxygen sales funnel with a beautiful bow, you need a custom thank you page at the end.
It is a perfect way to inform the customer about their product delivery, boast about your brand, and increase user retention.
With FunnelKit, you get to import impressive thank you page templates with just one click. We have many template designs for you to choose from.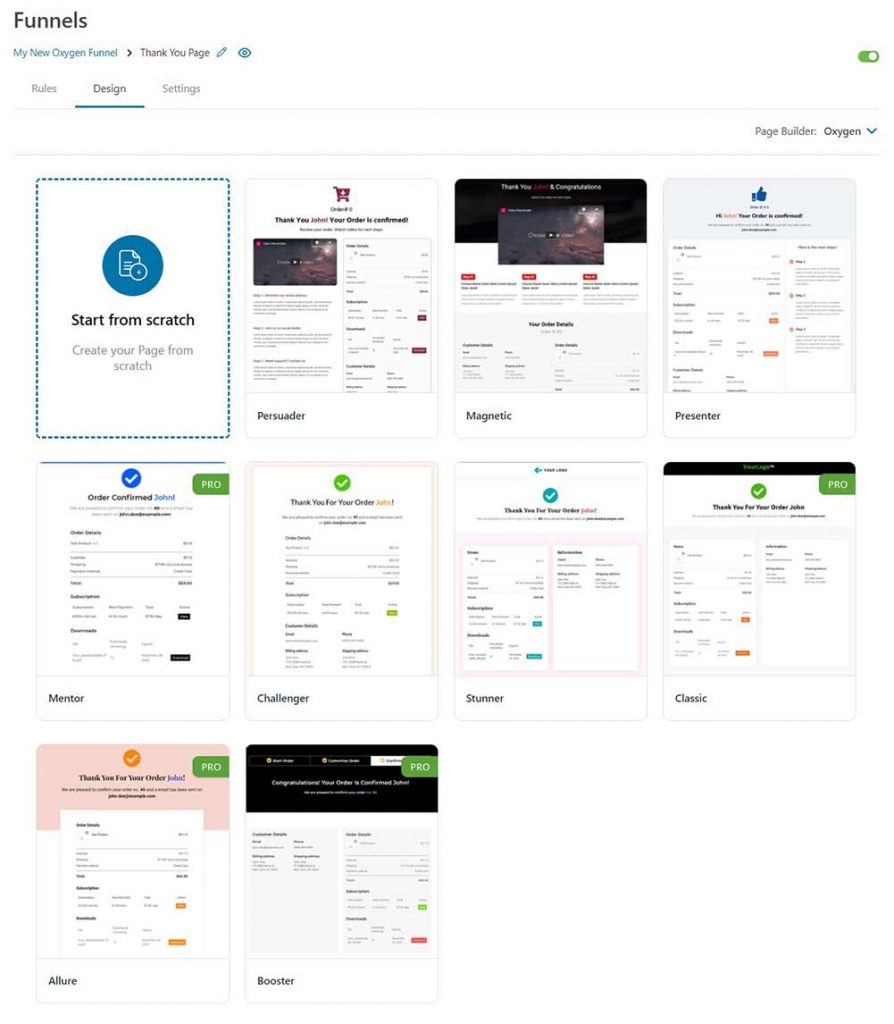 And just like with every other page of the funnel, we have 2 custom components available to help you customize the thank you page as well.
Order Details: This lists our the items bought, total amount charged, subscriptions, and downloads to give a summary of the purchase
Customer Details: Customer details highlight the email, billing, and shipping addresses along with any other customer information needed for the delivery of the product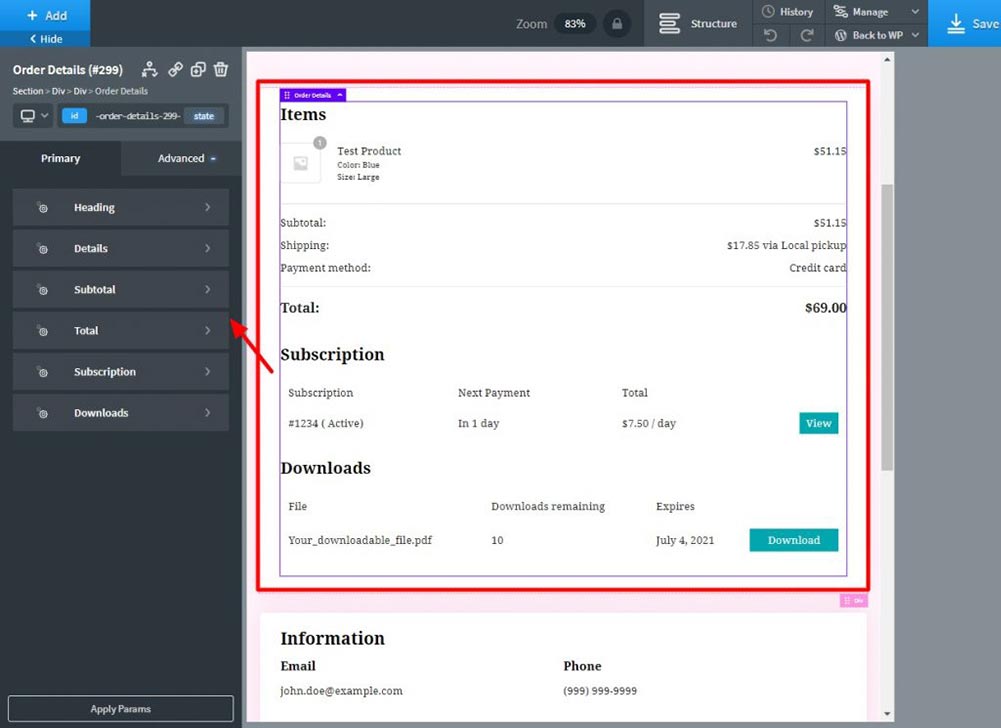 Once done, don't forget to save the changes to your Oxygen sales funnel.
There you go!
With Oxygen's integration with FunnelKit, your dreams of designing attractive yet converting sales funnels with Oxygen page builder will not remain just a dream anymore.
FunnelKit offers you not just visually appealing funnel templates, but also highly optimized designs for maximum conversions.
And if that wasn't enough, you get to play around with so many custom components to design the funnels as you want and make them look on-brand.
I'm sure by now you are already logged into your WordPress accounts, ready to try out the Oxygen-FunnelKit integration for yourself.
So don't let us hold you back anymore and get to designing your funnel pages in FunnelKit Funnel Builder now!