WooCommerce checkout add-ons like order bumps, upsell offers, cross-sell offers are a great way to boost your AOV.
eCommerce giants like Amazon, eBay, Alibaba, and more make complementary offers on the checkout page to boost AOV. And now YOU can too!
In this article, you will learn how to:
Add one-click order bumps
Suggest upsell offers
These powerful add-ons enhance your customer's checkout experience and increase YOUR AOV at the same time.
What are WooCommerce Checkout Add-ons?
WooCommerce checkout add-ons are the additional products/services that you offer to the users on the checkout page.
Examples: extended warranty, handy toolkit, extra batteries, etc.
Here's an example.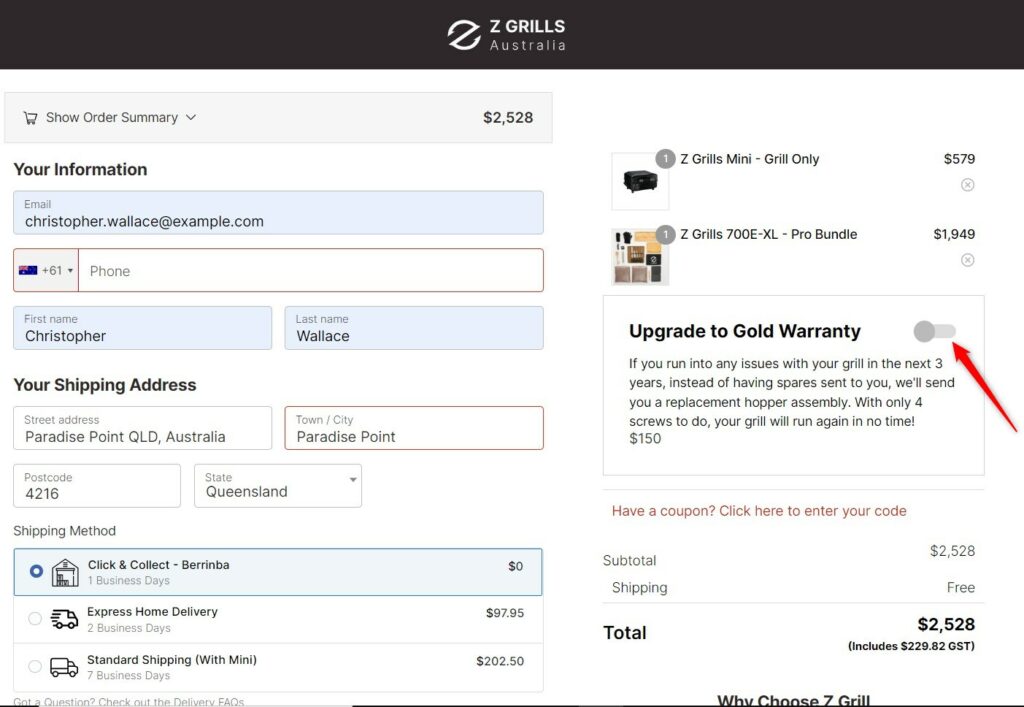 Let's understand this better with a real-life example
Imagine you're buying a camera to create some content.
As you browse the catalog and find the right one, you add it to the cart.
On moving to the checkout, you see a highly relevant offer for a ring light - that too at 50% OFF! That's a deal!
With one click, you add it to your order and checkout with the camera and the ring light.
These product suggestions are called ORDER BUMPS. They boost your customer's AOV with just one click. Order bumps are pre-purchase add-ons.
Then there are UPSELL OFFERS - the offers made after the sale is complete. To increase the order value of a sale, you can make various offers to your customers.
Post-purchase upsell offers should perfectly complement the primary purchase, and that is what would make them hard to reject.
For example, let's say you sell courses, and a customer is on their way to buy your "basics of cooking" course. You can display an upsell offer by nudging them to buy your "masterclass course" which will not only teach them the basics but also how to make a particular cuisine.
Why Do You Need WooCommerce Checkout Add-ons?
As a WooCommerce store owner, you must optimize your WooCommerce checkout page to squeeze more profits from the same sale.
WooCommerce checkout add-ons are tested and proven ways to encourage your customers to spend more at the checkout without being too salesy.
Here are a few reasons why you should add add-ons to your store's checkout page.
Increase AOV by 10%-30%
Average order value (AOV) is the average amount someone spends on your store every time they make a purchase.
AOV can be used to determine how much you can spend to acquire a customer and still make a profit. Also, it dictates which marketing channels to use.
According to WakeUpData, using relevant order bumps can boost your AOV by 10% – 30%!
On the other hand, a study concluded that 3 out of 4 salespeople who did upsell or cross-sell saw a 30% growth in their revenue. (2022 HubSpot Blog survey)
User's Attention Span is the Highest at Checkout
When the user is checking out, their attention span is the highest. So, it makes a lot of sense to present them with order bumps and upsell offers.
If the upsell offer or the order bump is declined, you can even present a cross-sell or a downsell offer.
Since the attention is highest, the user will consider the offers seriously and might even add them to their cart.
Enhance the Checkout Experience
WooCommerce checkout add-ons enhance the customer's checkout experience by suggesting relevant complementary items.
With a camera, it only makes sense to buy ring lights instead of finding out later that your room is dim and even the best of cameras can't cover up for good lights.
So, when you present a solution to the problem that the customer might face when using the primary product - that's where you present your complimentary offers.
You're telling them that you might face this problem, and this item can be your savior.
For example, quantity switcher is another nifty WooCommerce checkout add-on. It allows users to adjust the quantity of a product in their shopping cart.
Isn't this a neat and simple checkout experience?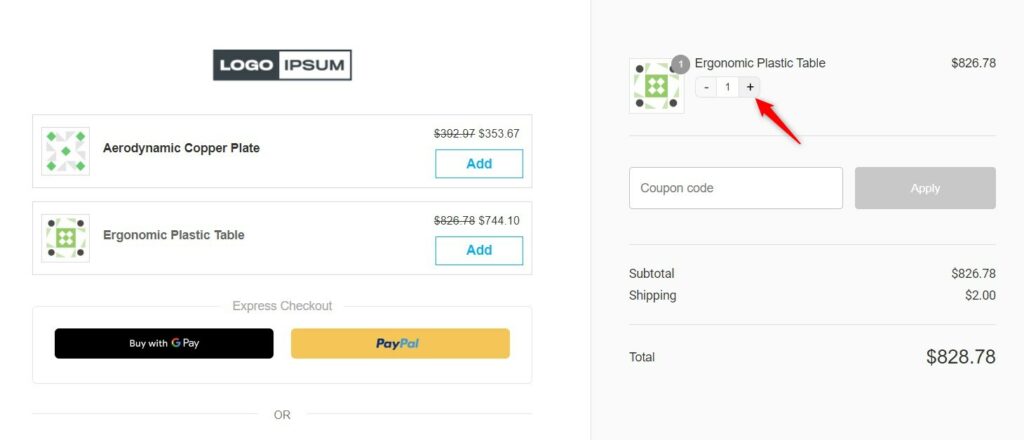 A condition-based, step-by-step checkout process WILL ALWAYS reduce cart abandonment and boost your conversions.
How to Add WooCommerce Checkout Add-ons to Your Store?
Today, we are going to use FunnelKit Pro to add WooCommerce checkout add-ons to our custom checkout page.
FunnelKit Pro is the most powerful funnel builder for WooCommerce. It comes with an ever-growing library of pre-built templates for landing pages, sales pages, optin pages, thank you pages, and more.
FunnelKit integrates with the most popular page builders out there, such as Elementor, Divi, Oxygen, and Gutenberg.
For other page builders, you can use shortcodes and create your sales funnels the way you want.
Today, we are going to import a sales funnel template by FunnelKit and then customize it with the Elementor page builder.
Grab your copy of FunnelKit and install it on your WordPress website.
Done? Let's add your checkout add-ons.
Step 1: Create a New Store Checkout
On the FunnelKit dashboard, go to Store Checkout and click on Create Store Checkout.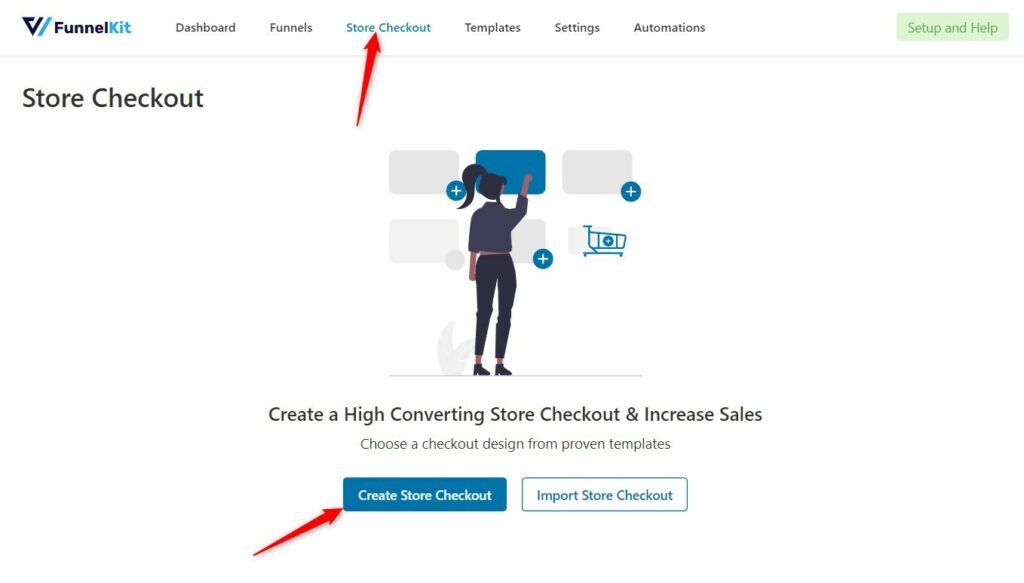 On the next page, you will have premium store checkout templates that you can import with just one click and edit with your favorite page builder.
We are importing Courselog.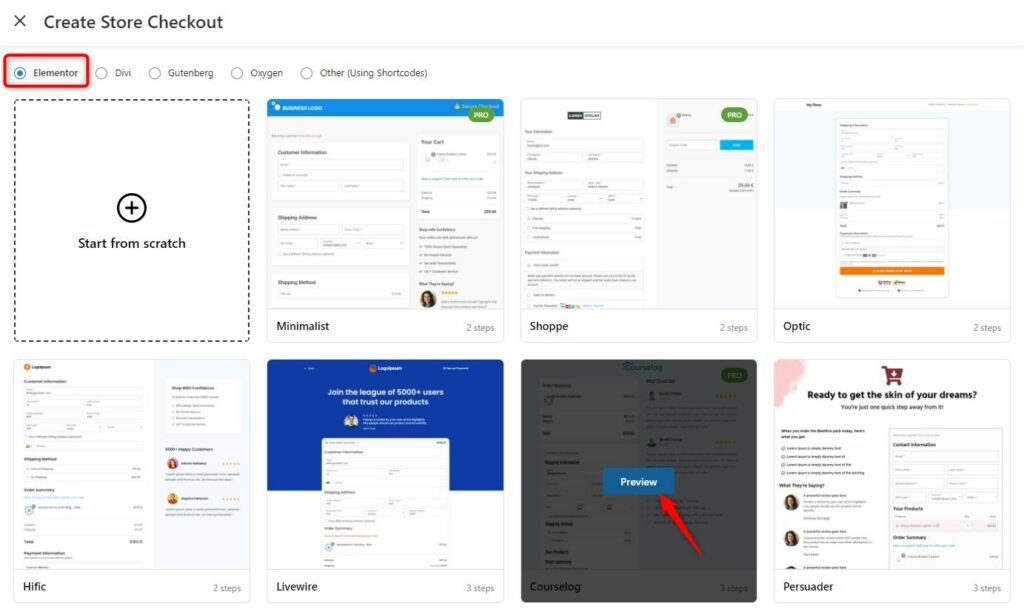 This is a three-page sales funnel - a landing page, upsell page, and a thank you page.
Click on Import and assign a name to your store checkout.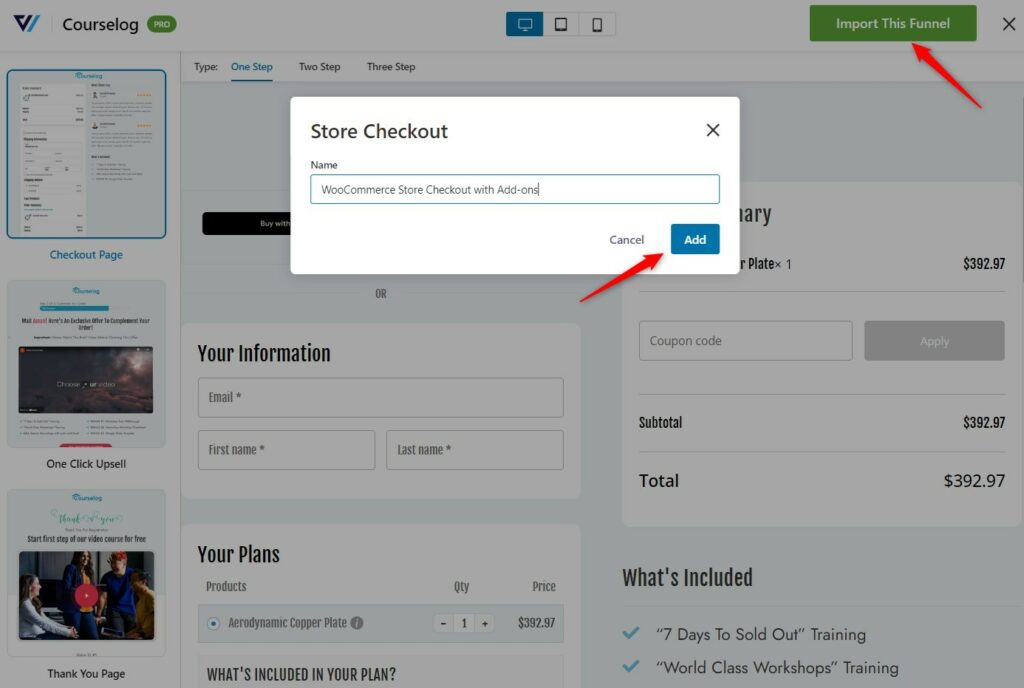 This is how the new imported store checkout will look like.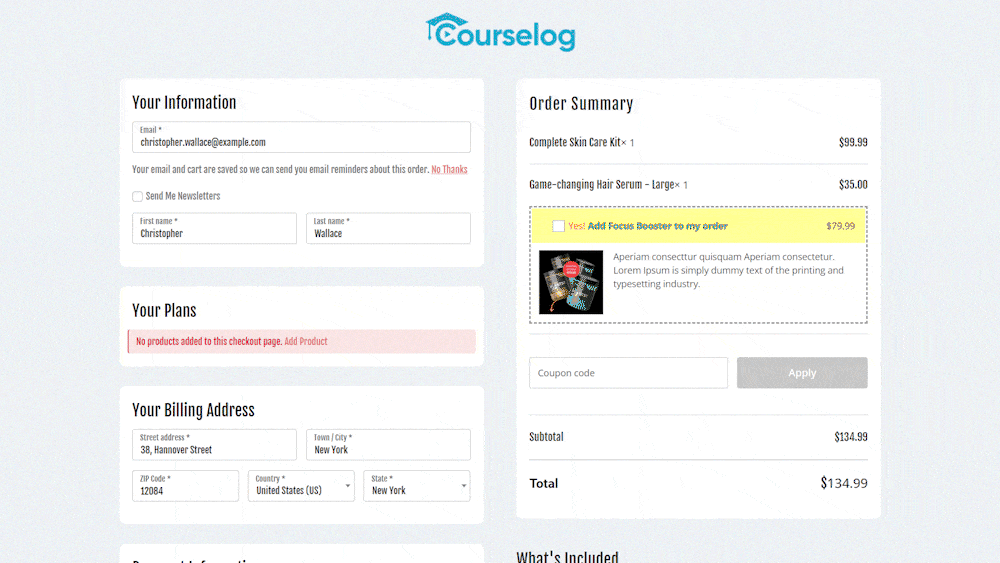 In the store checkout dashboard, you can do all the edits that you want. You can revamp the entire checkout experience or edit a specific page, your choice!
Step 2: Adding an Order Bump
To add an Order Bump, click on Add Order Bump. Assign a name to your order bump.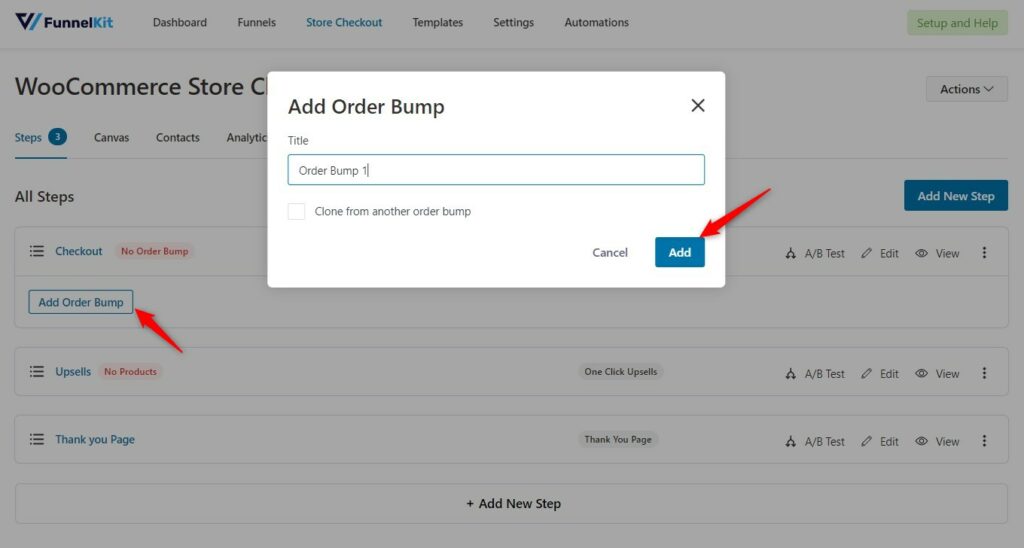 Now click on No Products. You can even add more order bumps if you want.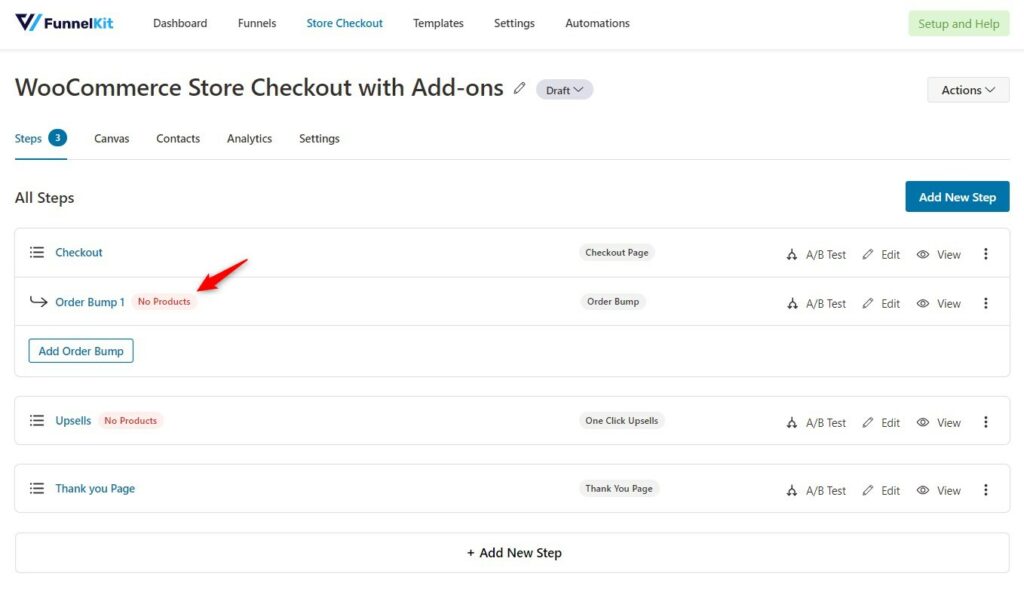 Click on the Add Product button and search for the product that you want to add as an order bump.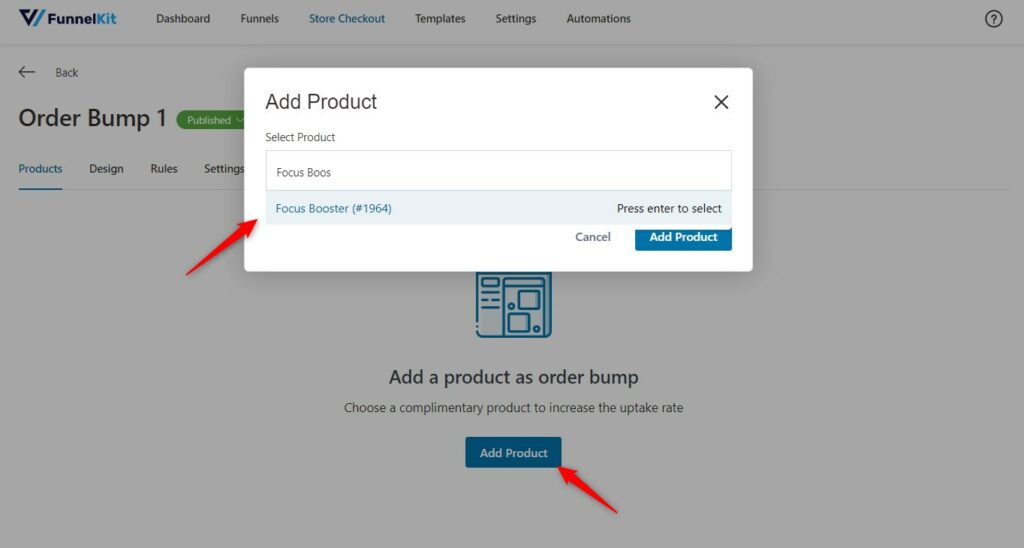 After selecting your order bump, you can decide on the display position too. We are displaying the order bump below the order summary.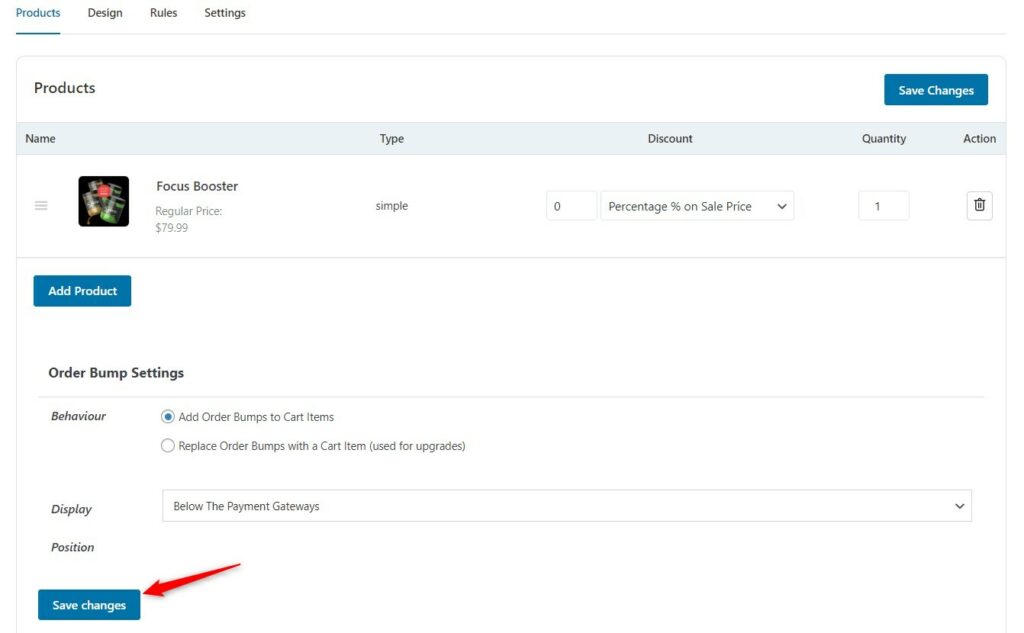 This is how the one-click order bump will be displayed on your checkout page.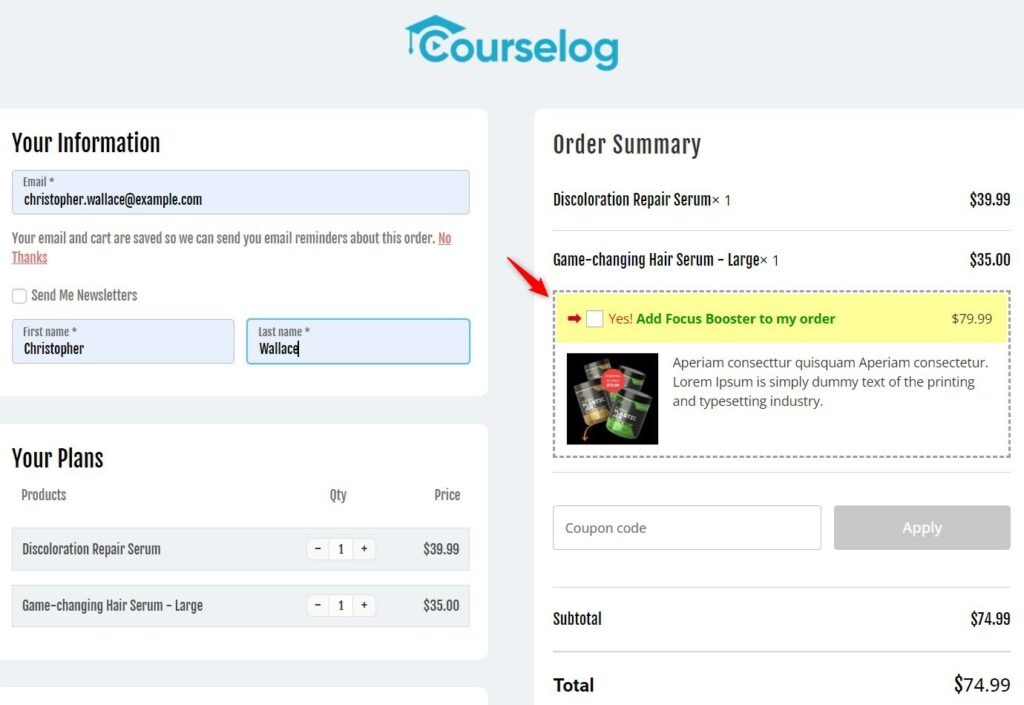 You can even change the skin of the order bump, add a custom description, change the highlight colors, and make it on-brand.
On the store checkout dashboard, click on Edit and then head to the Design tab.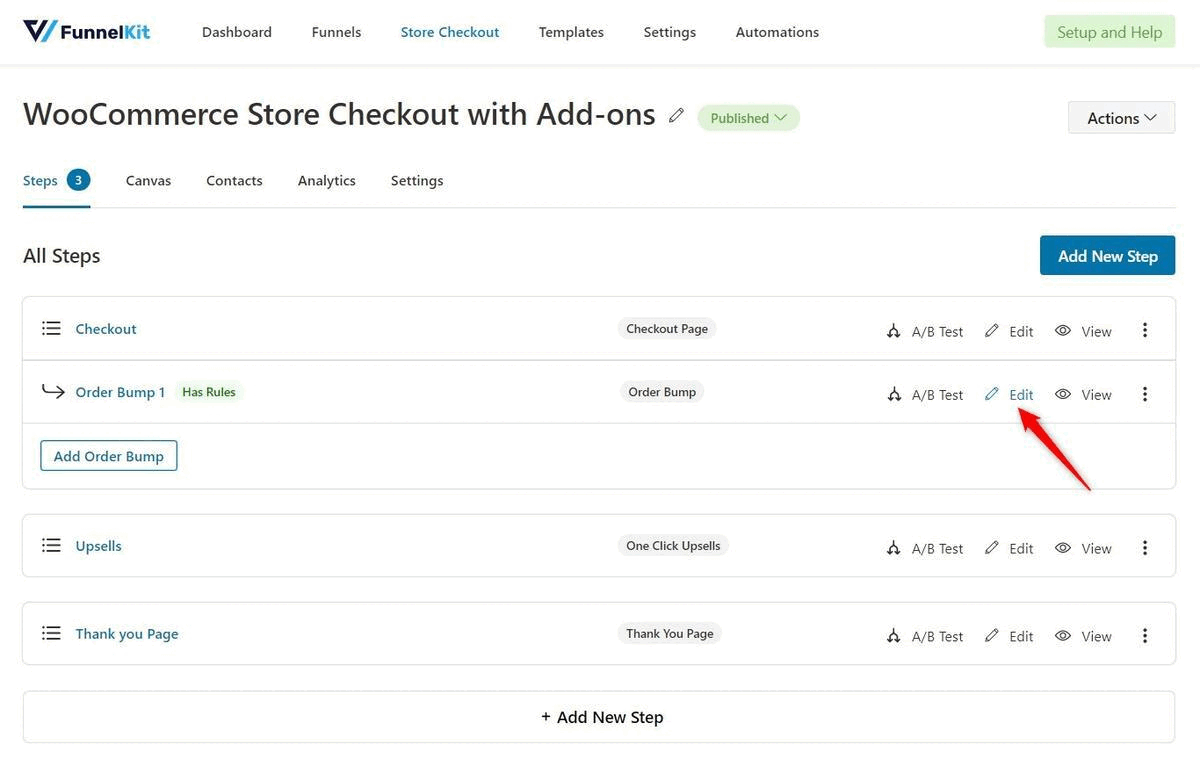 You can import any new skin that you want and customize your order bump to look the way you want.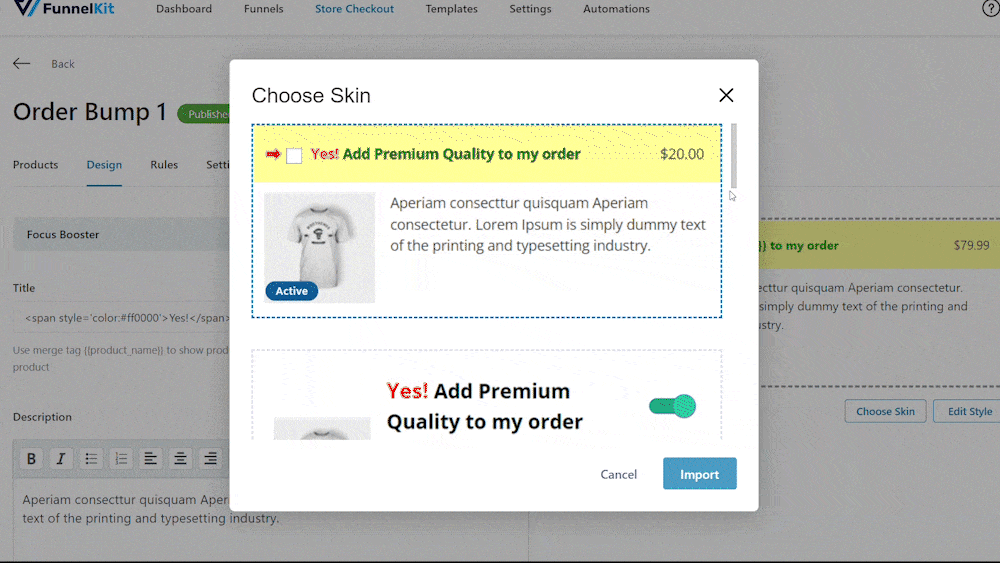 Step 3: Adding an Upsell Offer
Come back to the Store Checkout dashboard and now add an upsell offer.
On the upsell page, click on No Products.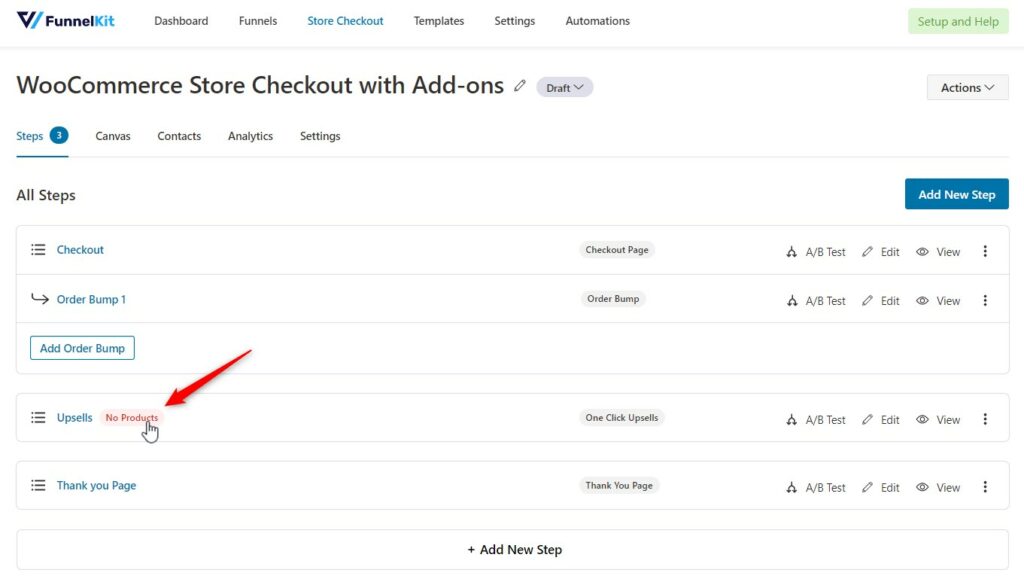 Add your upsell product.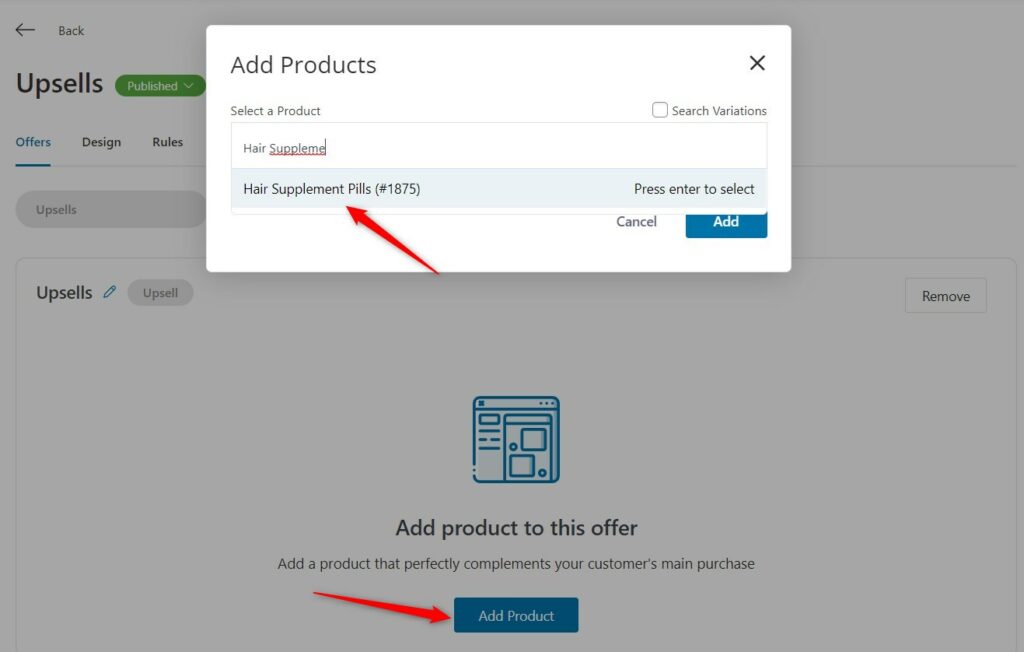 Additionally, you can tick a few advanced settings to make the upsell offer a smooth experience to navigate through.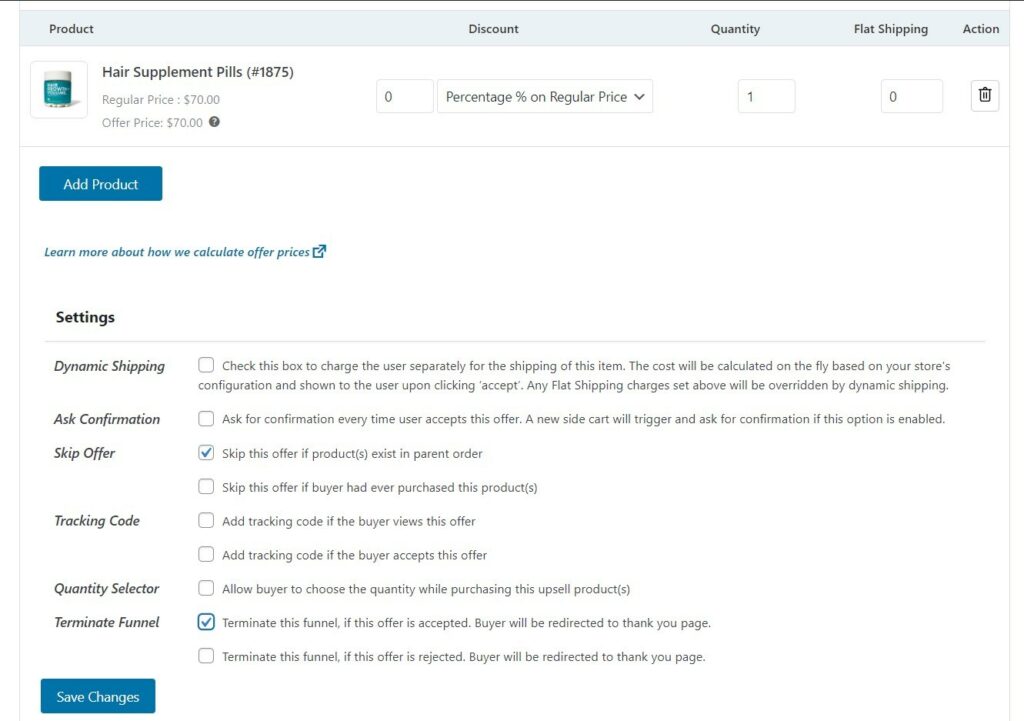 We are ticking two:
Skip offer if the product exists in the parent order
Terminate this funnel if the offer is accepted
Click on Save Changes.
You are all set to take your new and modern WooCommerce store checkout live.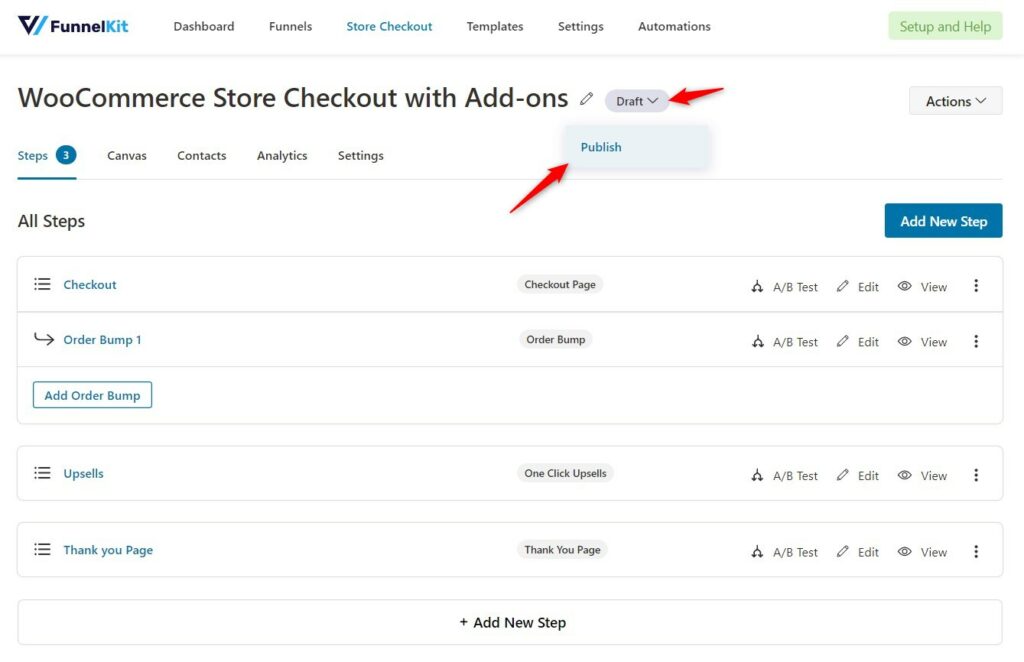 This is how your upsell offer will be displayed.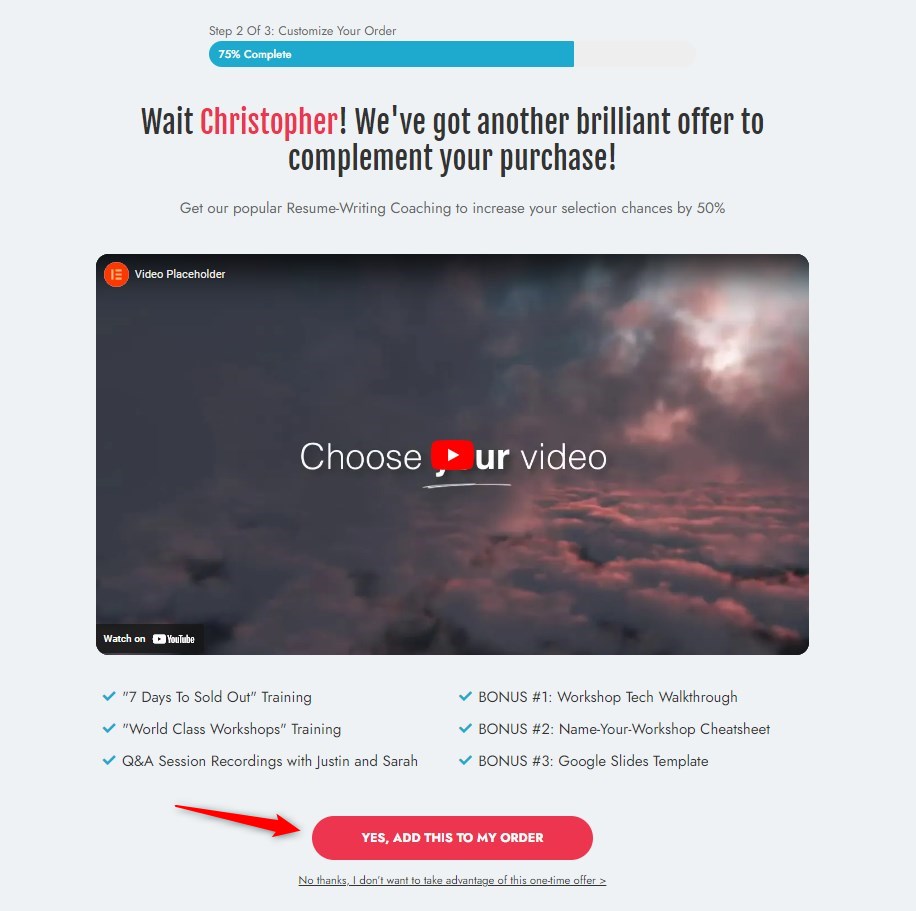 Creating Rule-based Order Bumps and Upsells (Optional)
FunnelKit gives you the freedom to add rules to your order bumps and upsell offers.
This gives you the power to target customers with relevant offers and boost conversions like never before.
You have 3 upsell offers and want to present them on 3 separate products?
Or maybe you want to display a particular upsell offer only to first-time customers?
With FunnelKit, you got it all.
To add rules to the Order Bump, click on Edit.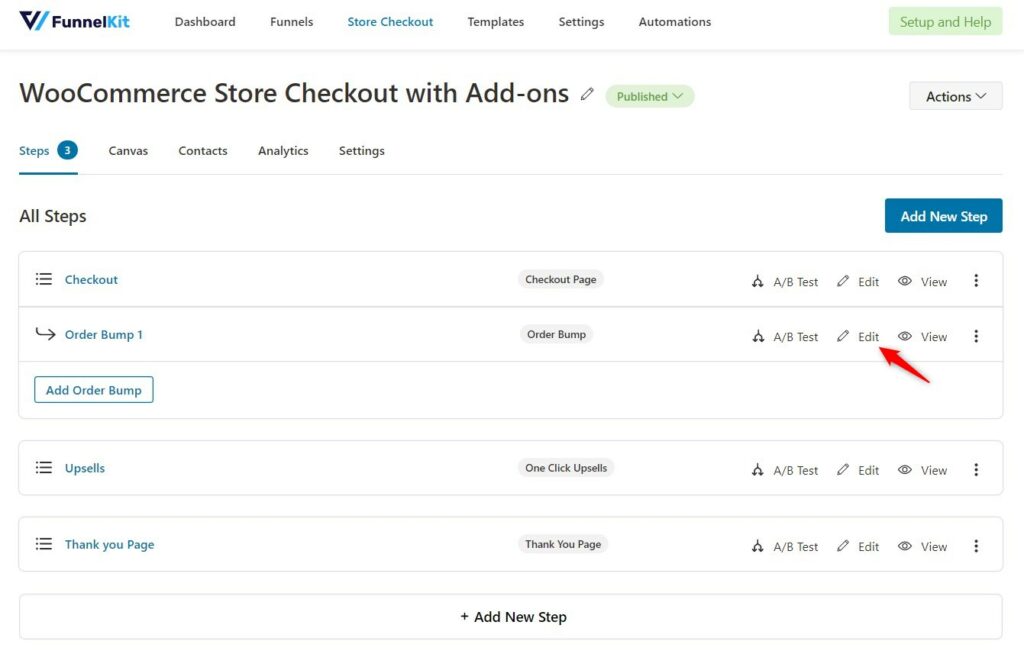 Go to the Rules tab.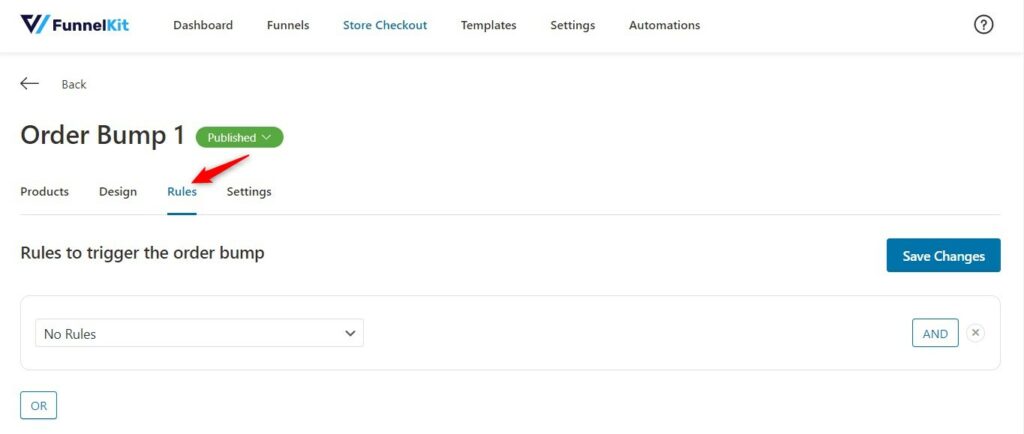 Here, we want to display our order bump only if the cart total is more than $75.
So, we are going to set that.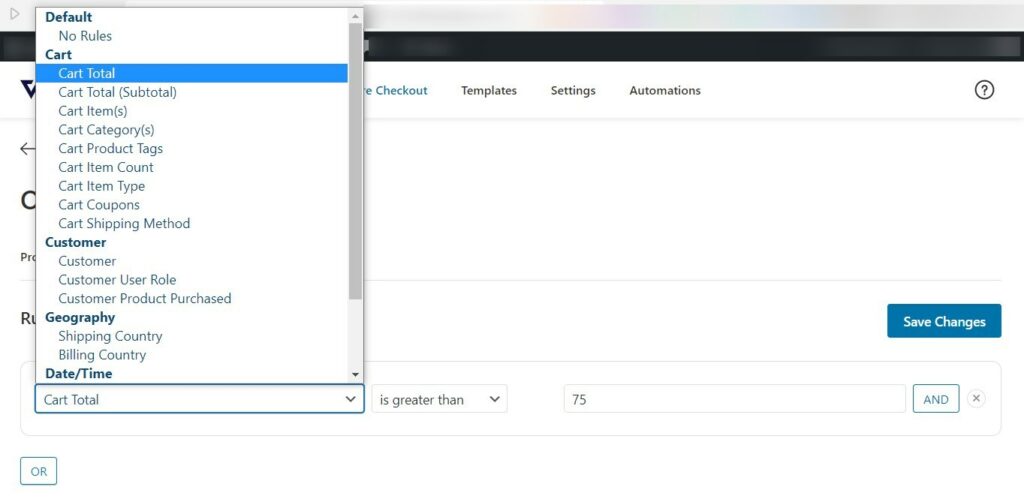 Once done, click on Save Changes.
To add rules to your upsell page - come to your store checkout dashboard, and click on Edit.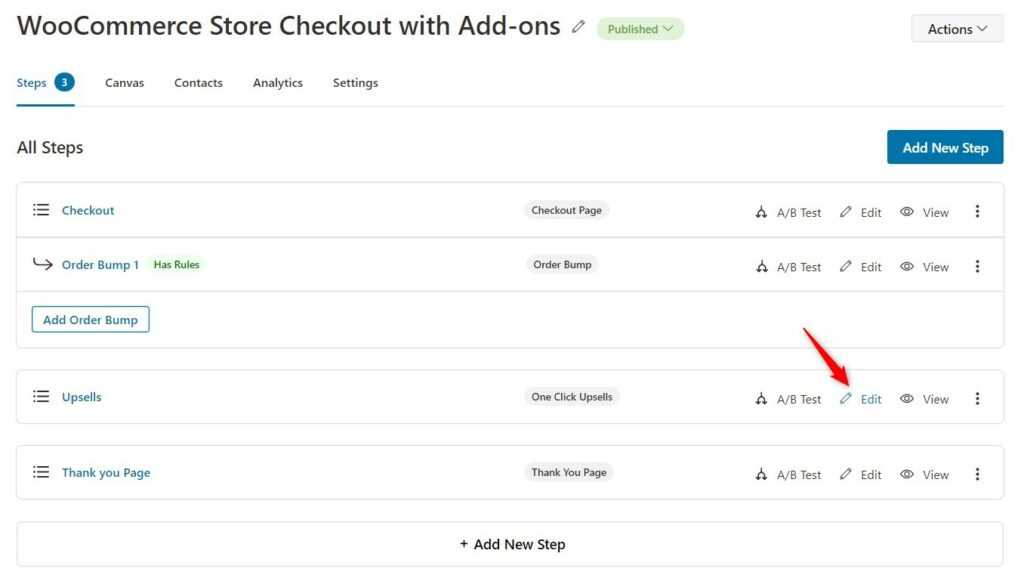 In the Rules tab, you can customize your upsell offers using target products or advanced rules.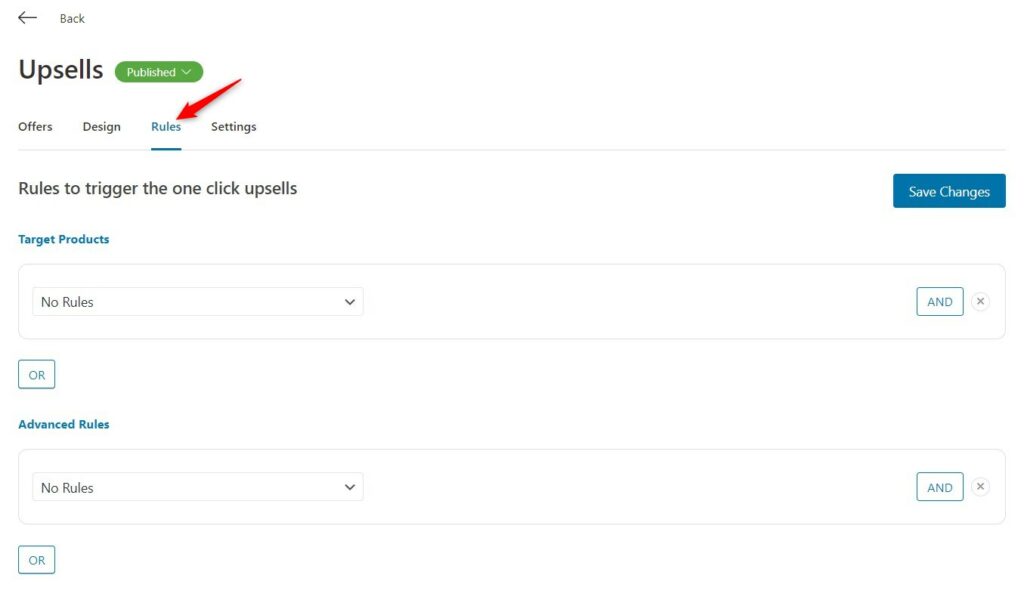 Let's say you want to display a particular upsell offer when the customer buys a particular product.
This is how you can do it.
Click on Target Product and select Products.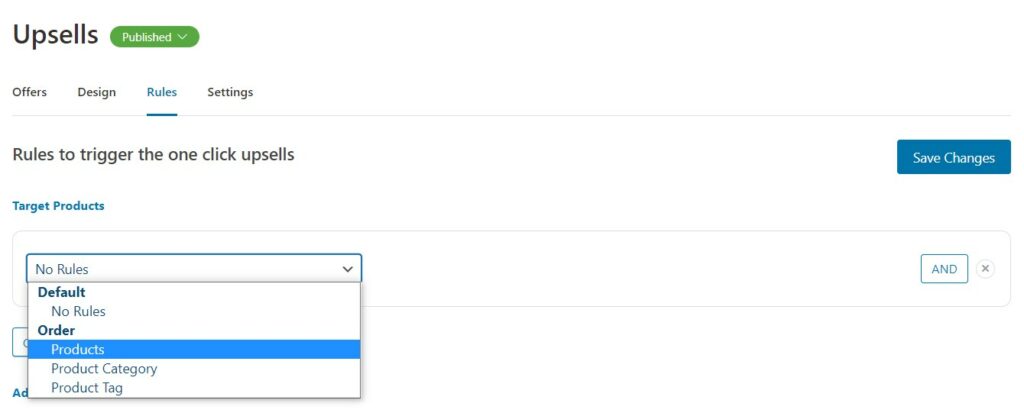 Select the product you want to display the upsell offer on and click on save changes.

You can even set some advanced rules like displaying this upsell offer when it is the customer's first order, or the order total is more than $100.
Whatever condition you want to set, you can set.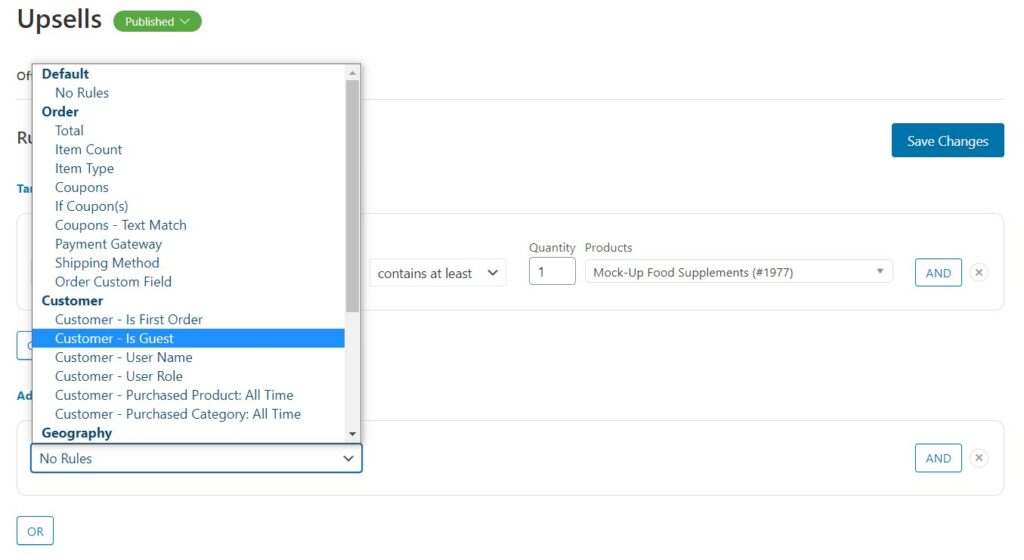 Once done, click on Save Changes.
6 Scenarios Where You Can Use WooCommerce Checkout Add-ons
Physical Order Bumps
The most common order bumps are physical products are digital products.
So, let's say a shopper is buying shoes from your store. You can insert an order bump and ask them if they want to buy a pair of socks or shoe polish with it.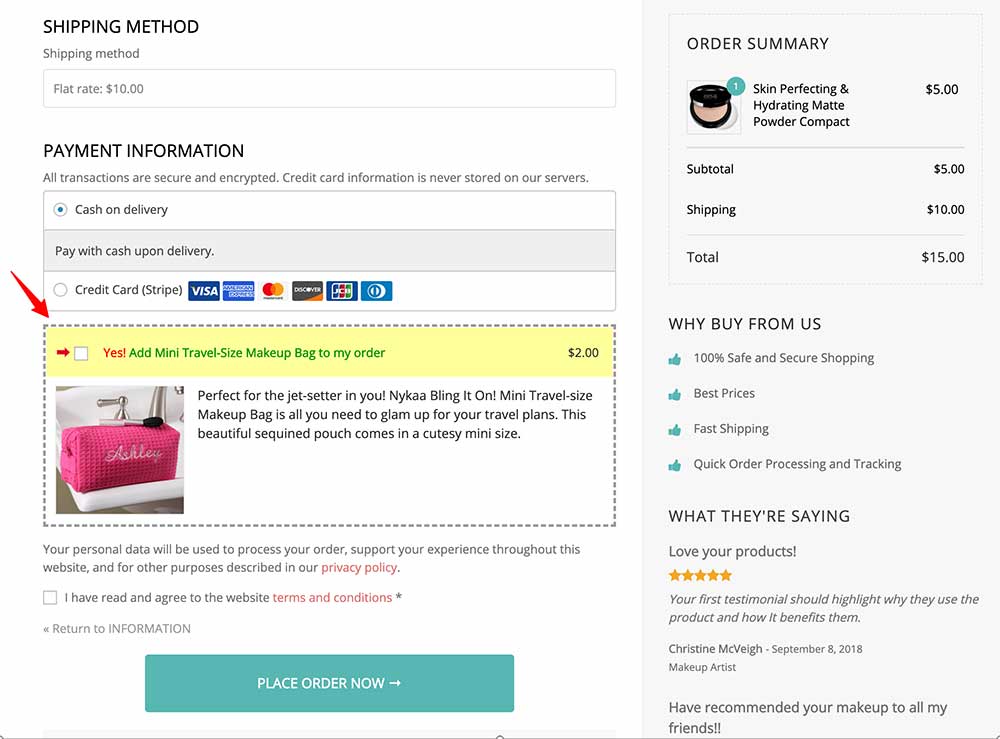 This will give you more sales and more profits, and the customer gets the convenience of adding complementary products to their carts with just one click.
Digital Order Bumps
A lot of eCommerce sellers sell digital products such as eBooks, courses, posters, pre-made social media templates, etc.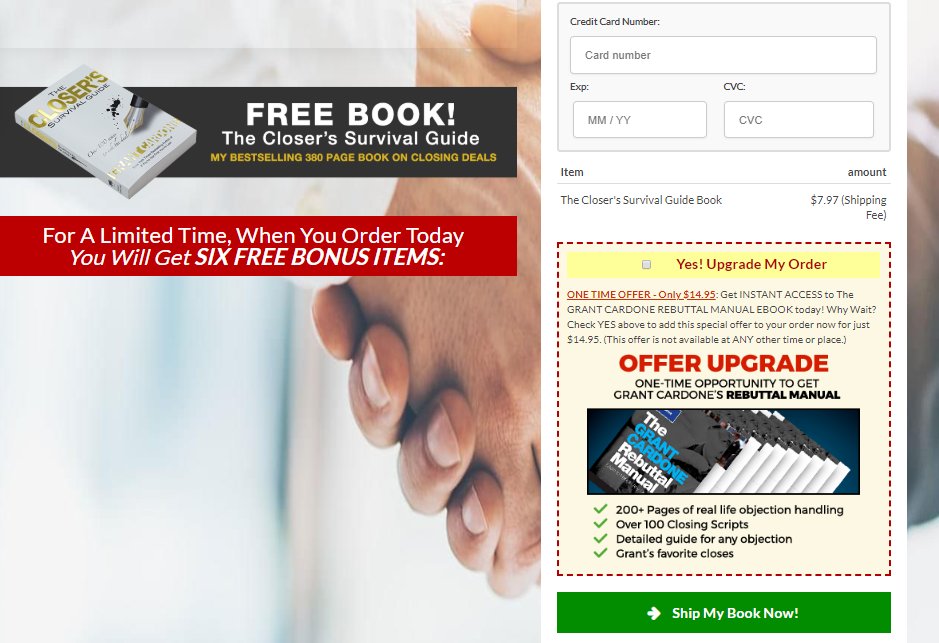 So, you can add an order bump or an upsell offer where you suggest your digital products to the purchasing customers.
Replace the Main Product with a Higher-Value Product
In Order Bumps, you can target a specific product in checkout and replace it with a higher-value add-on.
For instance, you can offer a 12-month membership if a person is buying a monthly membership. When the order bump is clicked, it will replace the original product with a high-value one.
You can easily do this under the Order Bump settings in your FunnelKit dashboard.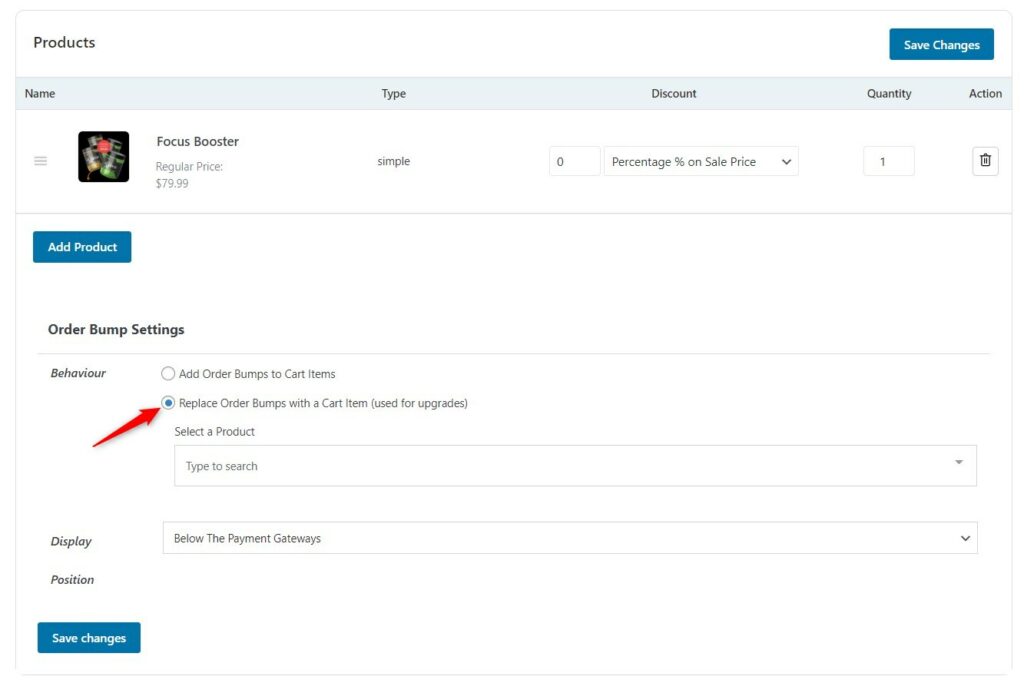 Sell Insurance Services
Did you ever notice when you buy something expensive like a car or a mobile phone, they instantly ask you to get the items insured?
Presenting insurance services at the checkout is a great way - either as an order bump or an upsell offer.
See how Apple sell its AppleCare protection services whenever a customer buys their products.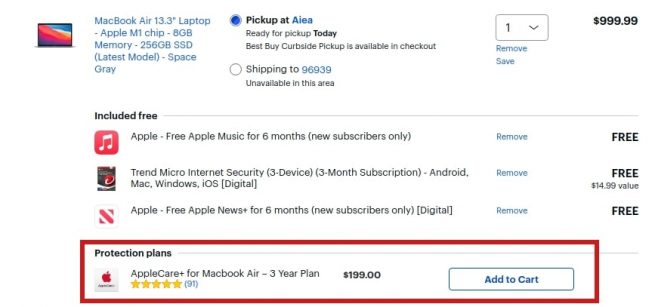 Additional Services (gift wrap, handwritten notes, etc)
If you run a gift shop, then you have a lot of options to add as order bumps, like wrapping the gift, adding a handwritten note, and more.
This is a popular way of increasing the AOV, and many gift shops use it to squeeze more money from the same sale.
Premium Upsell Offers
Just go to Starbucks' website and try to order a Cappuccino.
You will notice how they will encourage you to buy an upsell with it like they will show you which sandwiches taste the best with Cappuccino.
They will show you their popular choices, and chances are that you will end up buying a cappuccino and a double chocolate chip cookie. An successful upsell!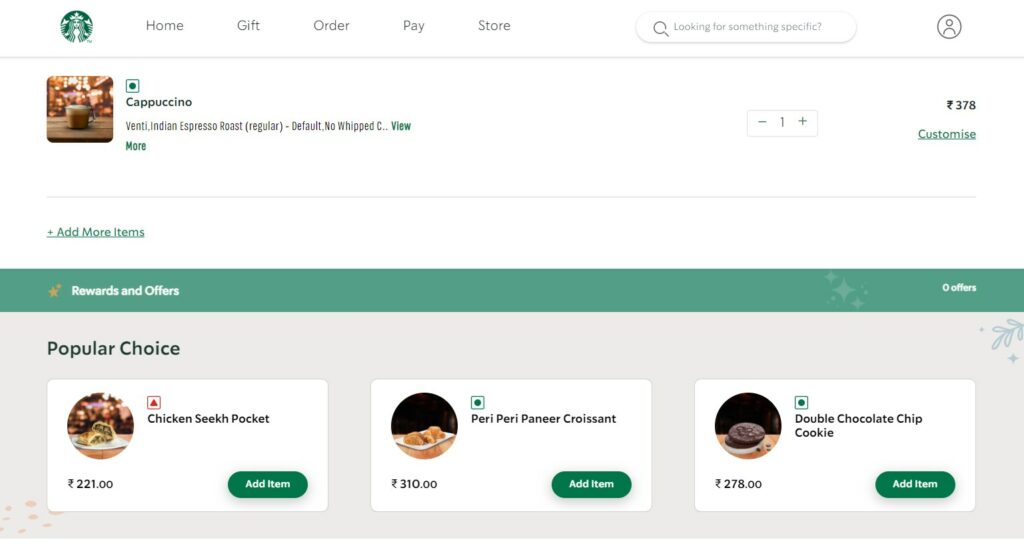 You can even sell BOGO offers - buy one t-shirt, get one free.
Higher AOV, higher profits.
Are You Ready to Add WooCommerce Checkout Add-ons to Your Checkout Page?
WooCommerce checkout add-ons open up a whole new way of squeezing more money from the same sale.
Many eCommerce giants have been doing it for years, and with FunnelKit, you can do it too!
Customize your WooCommerce checkout page with one-click order bumps, and add premium upsell/downsell offers.
Also, allow your shoppers to adjust their shopping cart right on the checkout page.
Install FunnelKit today and boost your AOV now!