Do you want to offer WooCommerce cart discounts in your online store?
Offering cart discounts helps engage your potential customers and boost conversions in your eCommerce shop.
About 78% of consumers are influenced to buy products from a new brand because they find a discount coupon. [Source: Vericast]
That's how brilliant these cart discounts are!
But unfortunately, WooCommerce, by default, doesn't have the option to create cart discounts. However, we've got a solution up our sleeves.
In this blog, we'll demonstrate the complete process of setting up an all-new sliding shopping cart and offering WooCommerce cart discounts on the slide-in cart in the store.
Here's a quick tutorial to help you get started:
What is WooCommerce Cart Discount?
A WooCommerce cart discount is a promotional coupon code that gets applied to the user's order before completing a purchase.
This discount usually presents attractive deals, encouraging customers to purchase the products and save money.
Discounts can be in different forms, such as percentage discounts, fixed amount discounts, BOGO offers, free shipping, etc.
Take a look at this WooCommerce cart discount example:
As you can see, the 15% cart discount coupon is automatically applied when the total reaches a certain value. There is another discount in the form of a gift coming up when the shopper adds items worth $11.01 more here.
A few other examples include:
Offering a fixed cart discount of $15 on the purchase value of $199 or above.
Or offering a percentage discount of 10% off on a minimum value of $99 and above.
Or offering free shipping discounts, too.
Why Should You Offer Cart Discounts in Your Online Store?
70% of online shoppers abandon their carts - leaving the store without making a purchase.
There is a direct correlation between cart abandonment and the user experience on your online store.
The real significance lies in how easy it is to purchase in your store.
WooCommerce offers a default cart page, an additional step in the checkout journey. But you can fix that with a sliding cart (discussed later in the post).
Besides that, one sure-shot way to drive sales and minimize cart abandonment is to offer WooCommerce cart discounts to your shoppers.
Let's look at the benefits of offering WooCommerce cart discounts:
Reduce abandoned carts - Presenting exciting offers and exclusive deals to your shoppers based on their cart items results in a successful purchase. This, in turn, reduces the number of abandoned carts in your store.

Boost sales - Cart discounts encourage users to add more items to their shopping cart, increasing the overall order value. It further helps in increasing sales and conversions in your WooCommerce store.

Attract new customers - Promotional discounts help attract new customers looking to purchase some products online when they see a cost-saving opportunity.

Improve customer satisfaction - Discounts make customers think they got a great deal as they save money. This gives them a feeling of satisfaction and makes them come back to your store for repeat purchases.

Upselling and cross-selling opportunities - Cart-level discounts give an excellent opportunity to promote relevant products to upsell and cross-sell. For example, when a user adds training shoes to their cart, you can offer a discount on training tee, joggers, etc.

Loyal customer base - WooCommerce cart discounts help boost your store's brand value. When the users constantly get great deals on your store, they make repeat purchases and become loyal customers. They are more likely to recommend your store to others, helping you gain new customers through referrals.
Offering cart discounts can be a powerful marketing tool that should be done strategically. However, overusing or giving excessive discounts may hamper your profit margins. That's why it's essential to calculate return on investment effectively and evaluate your profits beforehand.
Top 3 Best WooCommerce Cart Discount Plugins
Let's look at the top 3 best WooCommerce cart discount plugins to help you set up coupons applicable for cart discounts.
We've tried many plugins that cater to dynamic pricing and discounts, coupon management, wholesale-based discounts, gift cards and promotions, customized discount plugins, etc.
Here are the best three WooCommerce cart plugins we've shortlisted that fit our topic's requirements.
1. FunnelKit Cart
FunnelKit Cart brings a modern, stylish side cart to your store and completely replaces the traditional WooCommerce cart page.
With its smart in-cart recommendation system, offering relevant product upsells and cross-sells is quite effortless.
It allows you to set up unique rewards based on the cart value to encourage your users to keep shopping in your store.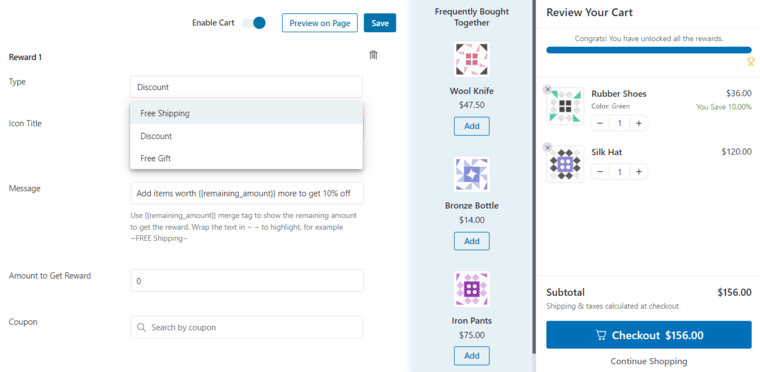 Let's look at its main features:
Complete mini cart functionalities - FunnelKit Cart brings an effortless add-to-cart experience. You can view your cart items, modify them and directly head to checkout by skipping the default cart page in WooCommerce.

Upsells and cross-sells - Offer relevant product recommendations inside the cart for an impeccable user experience. You can add upsells and cross-sells directly from this plugin for all your products in your store catalog.

Smart rewards system - Set up milestone-based WooCommerce cart discounts with this plugin. Offer incentives based on cart total in the form of free shipping, discount coupons and free gift.

Cart and icon customization - FunnelKit Cart brings a myriad of styling options to customize your cart and its icon as per your brand colors and do much more.
FunnelKit Cart comes in both free (lite) and premium versions. Its premium version is available to all users with the FunnelKit Plus plan and above.
2. Advanced Coupons
Advanced Coupons extends the WooCommerce coupon functionality by setting up impressive cart coupon options, store credits, etc.
Based on different cart conditions, it lets you create rule-based BOGO deals, gift cards, shipping discounts, etc.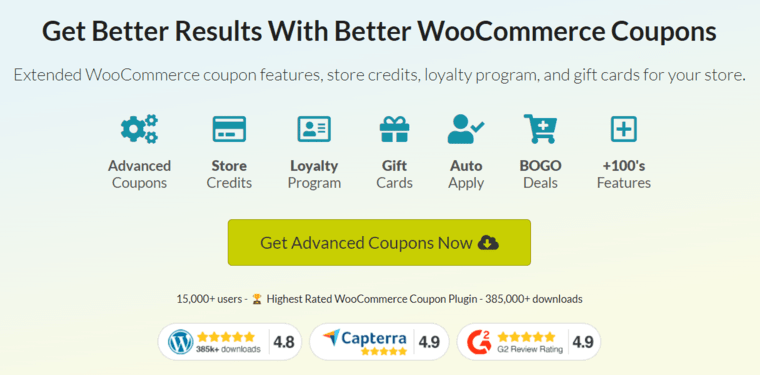 Here are its key features:
Special discounted deals - Create attractive WooCommerce cart discounts such as BOGO offers, loyalty programs, fixed cart/product pricing percentage discounts, etc.

Rule-based triggers - Trigger these special discounted deals with rule-based cart conditions that are easy to set up in WooCommerce.
Advanced Coupons is available in both lite and pro versions. Its premium version starts at $59.50 annually to be used on a single site.
3. Cart Discounts for WooCommerce
The Cart Discounts for WooCommerce plugin helps reduce abandoned carts and increase your store's conversions.
Offer discounts based on cart amount, quantity, product, or weight. You can further offer discounts for specific products, categories, or user roles to help you skyrocket your sales.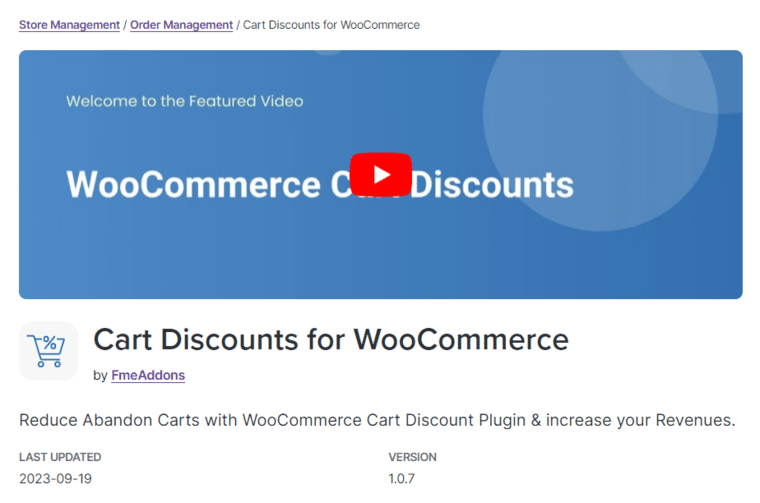 These are its core features:
Conditional cart discounts - Set up cart conditions for your discount offers. You can set these conditions based on total cart, quantity, cart abandonment, selected product, weight, and more.

Personalize the discount criteria - Customize the rules popup to convey the conditions required to receive cart discounts in WooCommerce. You can personalize the popup message, including its text, size, color, and font typography.
This plugin comes only in a premium version and will cost you $49 annually.
These are the best plugins you can find to offer WooCommerce car discounts. Move to the next section to find out how to create a cart discount in WooCommerce.
How to Create WooCommerce Cart Discounts? (Step-by-Step Process)
To set up cart discounts in WooCommerce, we'll use the FunnelKit Cart plugin.
We choose FunnelKit Cart over the other two plugins listed above because it's the best plugin to offer cart discounts. Besides, it is among the most powerful plugins in the FunnelKit ecosystem.
It brings Ajax's add-to-cart feature and complete mini cart functionalities, offers upsells and cross-sells, and sets up smart cart discounts.
FunnelKit Cart offers milestone-based rewards on cart value. You can set up a maximum of three rewards in your store:
Free shipping - Exempts the shipping fee when the cart reaches a certain value.

Coupon discount - Gives a certain discount when the cart total reaches the threshold. It could be based on the coupon you select, be it the percentage discount, fixed cart discount, or fixed product discount.

Free gift - Offer selected products from your store catalog as a gift to your customer when the cart total reaches the pre-set threshold.
Go ahead and get the premium copy of the plugin (available in the FunnelKit Plus plan and above).
Make sure to install and activate FunnelKit Cart on your WordPress website.
Once done, follow the steps to create WooCommerce cart discounts:
Step 1: Enable the FunnelKit side cart in WooCommerce
Go to FunnelKit ⇨ Cart and turn on the toggle to 'Enable Cart' in your WooCommerce store.
This will enable the all-new modern sliding shopping cart in your store.
Now, you can configure and match your sliding cart's important settings to fit your requirements.
👉 Check out our complete WooCommerce side cart post here.
Step 2: Create a discount coupon in WooCommerce
Go to Marketing ⇨ Coupons and click on 'Add coupon'.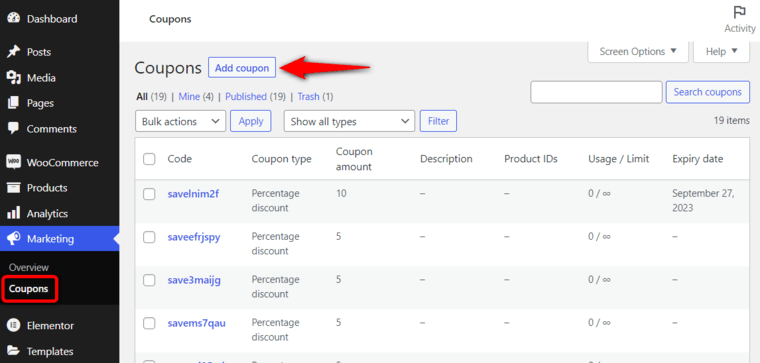 Enter the coupon code and its description.
Please note that coupon description is an optional field.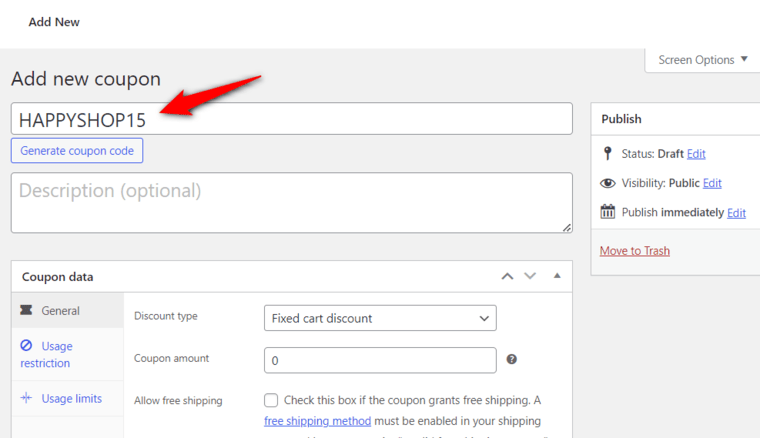 Now, set up your coupon discount rules for WooCommerce here. Select the discount type, coupon amount, expiry date, and free shipping if you want to enable with this coupon code.
Here, we've set up a percentage discount of 15% with no expiration date that doesn't include free shipping.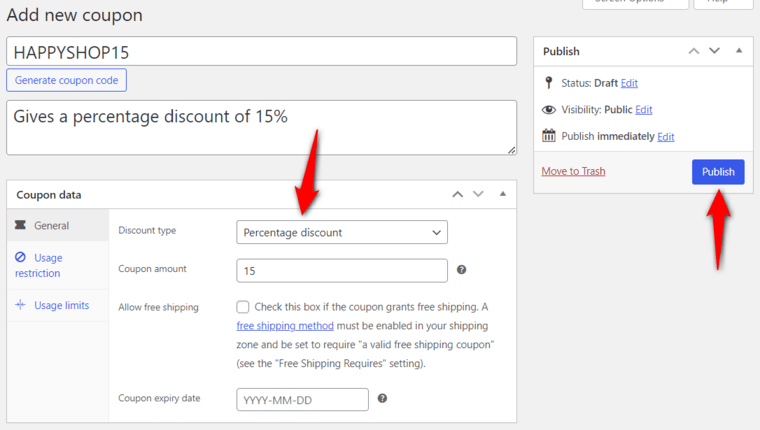 Furthermore, you can even set up usage restrictions and limits from the other coupon tabs.
Once done, hit the 'Publish' button on the right-hand side of your screen. Your discount coupon will become active in your store.
Step 3: Set up your WooCommerce cart discount reward
Next, head to the FunnelKit Cart and go to the Rewards section.
Then, hit the 'Create Reward' button.
Select the Reward Type - Discount from the drop-down.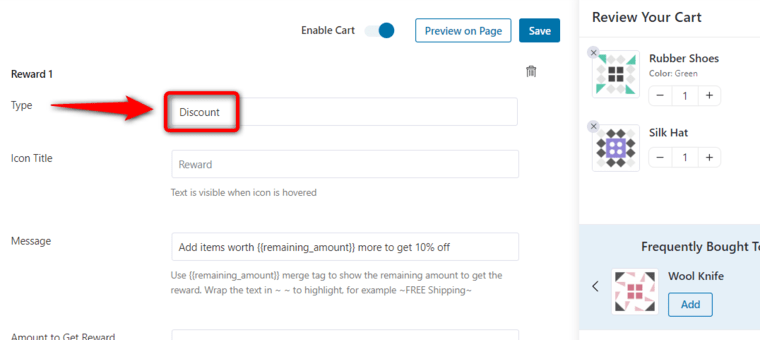 Next, specify the following details:
Icon title - The title of your reward. We'll simply write it as 'Discount Reward' here.

Message - Enter the message that will be displayed to notify users of this reward. By default, the message is already written. We'll edit it to a 15% discount as per our requirement.

Amount to get reward - Set the WooCommerce cart amount to get this discount. Here, we'll set the threshold to 50.

Coupon - Enter the coupon code you've created in the above step.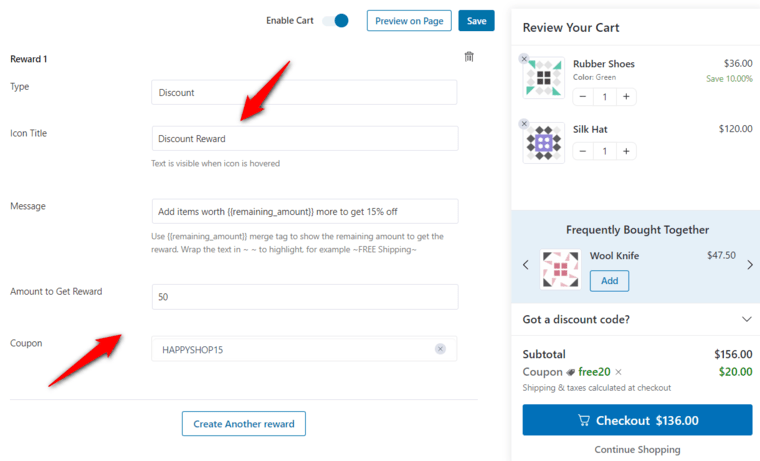 Click on 'Save' when done and it'll set up your WooCommerce cart discount reward!
Now, when the total cart value of a user reaches $50, the WooCommerce add to cart discount code will be applied programmatically.
Step 4: Configure additional WooCommerce cart rewards
FunnelKit Cart lets you set up a maximum of 3 rewards. This means you can set up additional rewards by clicking on the 'Create Another reward' button.
Free Shipping WooCommerce cart discount reward
You can offer your shoppers a free shipping cart discount when the minimum cart price reaches a certain value.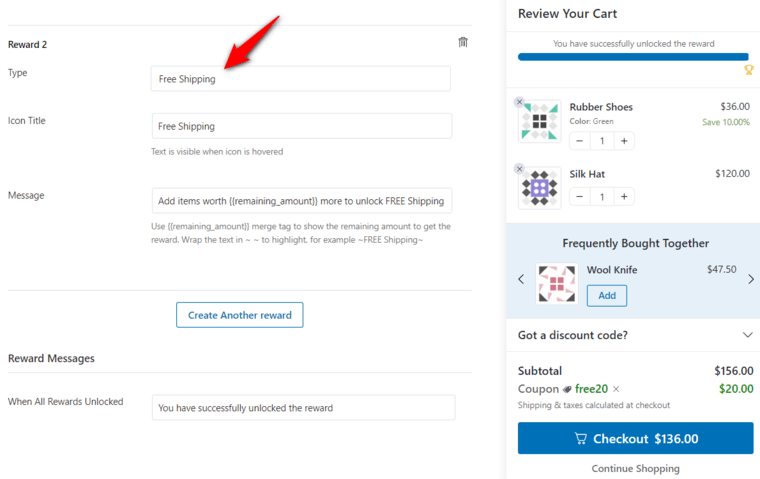 You must configure the shipping method in WooCommerce settings (shipping zones) for the free shipping reward.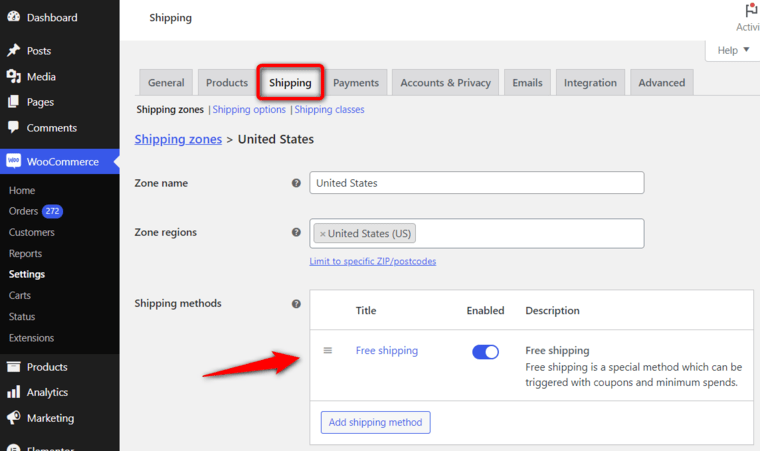 Add the free shipping method to the zone where you serve your customers.
After that, specify the minimum order amount to enable free shipping.
👉 Check out our post to set up the free shipping method in your store.
Free Gift WooCommerce cart discount reward
Offer one of your products in your store as a gift to your customers when the cart value reaches a certain amount.
You can even offer samples or new-arrival products for free! This is the best way to promote and bring your new products to your users.
To set up the free gift reward, you only need to add the threshold cart value and specify the product you want to offer as the gift.
Click on 'Save' when everything is all set!
Well done! This is how you can set up WooCommerce cart discounts in your store.
Here's how WooCommerce will show all three discount rewards in your cart: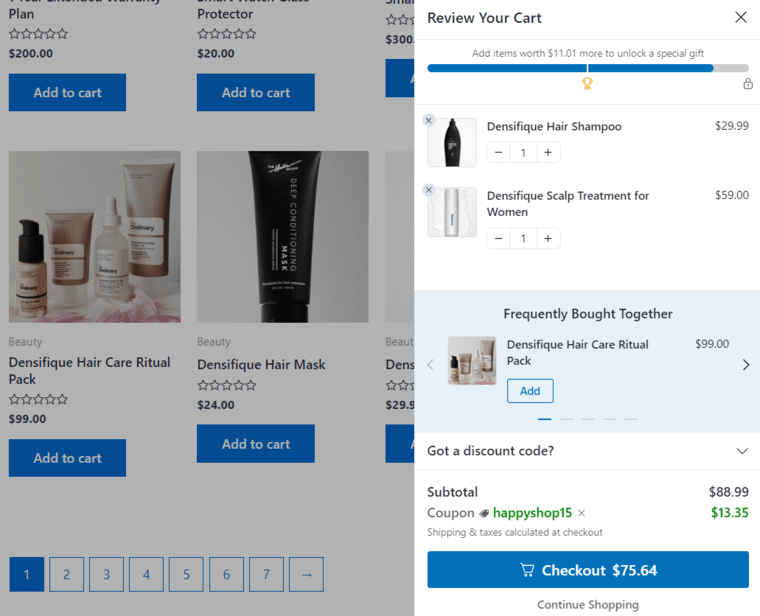 FunnelKit Cart certainly gamifies your shopping cart and lights up the user experience in your WooCommerce store.
The smart in-cart recommendations give a perfect opportunity to display relevant product suggestions in the cart.
👉 Refer to our WooCommerce cart upsell post to configure upsells and cross-sells in your side cart.
All Set to Offer WooCommerce Cart Discounts in Your Store?
With the cart abandonment rate for eCommerce soaring high, it becomes quite important to maximize conversions and offer the best shopping experience.
One of the most effective ways to do that is by introducing WooCommerce cart discounts in your store.
With FunnelKit Cart, you can create attractive shopping cart rewards such as exclusive discounts, free shipping and item gifts.
Not only that, FunnelKit Cart helps you solve the redundancy of default cart pages and lets shoppers take straight to checkout for a quick buying experience.
You can even offer upsells and cross-sells from this sliding cart to help boost your store's average order value.
All in all, it's a perfect plugin made for your WooCommerce store!
You can even use the Cart plugin with FunnelKit Funnel Builder to enhance your checkout pages and maximize your store sales.
So, what are you waiting for?