Do you want a WooCommerce side cart that enhances the shopping experience of your store?
This is an exciting piece of news!
You've been wanting to modify your WooCommerce cart page. Maybe you have even been asking on forums:
"How can I customize the WooCommerce shopping cart?"
"Any CSS tricks?"
You know the conventional cart page doesn't look up to the mark and is definitely not optimized for conversions.
But with the all-new FunnelKit cart, you don't need to worry.
When a user clicks on the cart icon on the website, a cart slides showing them cart items, cart total, rewards available, and more!
The new FunnelKit cart will get more people to complete their purchases and do so at higher order values.
We're beyond excited to launch FunnelKit Cart for people who are looking to get more sales than ever before.
Here's our video tutorial on setting up the WooCommerce side cart in your store:
Why We Built FunnelKit's WooCommerce Side Cart?
In 2018, we launched our checkout page solution. The goal was simple - swap your default checkout page with beautifully designed, trustworthy, and modern checkouts by FunnelKit.
We've been continuously upping the game with our professional templates, such as Minimalist, Classic, and Shoppe.
But a lot of you asked us:
"Hey! You have amazing checkout pages and thank you pages. Is there any solution for WooCommerce cart pages as well?"
The truth is we could have built yet another cart page modification plugin and added one more to the already existing repository of such plugins.
But we decided to go beyond that.
We studied some kickass, high-converting stores to see how they minimized friction and drove more sales.
Finally, we found a seamless add-to-cart experience for users, i.e., the slide-out cart for WooCommerce.
We were fascinated by the idea of having the cart accessible at the shoppers' fingertips at all times.
We knew that you didn't want yet another WooCommerce side cart plugin; you wanted the ultimate add-to-cart experience for your users.
You wanted a smart in-cart recommendation system to offer relevant product suggestions as your users went about their shopping.
You didn't want a run-of-the-mill thoughtless plugin. So didn't we!
That is what the FunnelKit Cart is all about!
How Does the FunnelKit Cart for WooCommerce Work?
FunnelKit Cart is a modern WooCommerce side cart plugin built to provide a seamless user experience.
If a user clicks on add to cart button, the cart will slide in from the side instead of redirecting them to the cart page. Users can modify the cart contents, go directly to the checkout page, and complete their purchase.
You will see five sections when you're on the FunnelKit Cart dashboard.
The Cart Icon Display
Decide where you want the cart icon to show up - on the entire website, WooCommerce pages, or the icon can be hidden.
In case you want to hide the side cart icon for WooCommerce, you can append it to the header or footer menu. The related settings are in the Cart Menu section.

The cart menu section lets you add the cart to a menu or embed it on a page via the WooCommerce Ajax side cart shortcode.
You can configure the icon display settings when adding the WooCommerce Ajax mini cart in header menu or embedding it on a page on your website.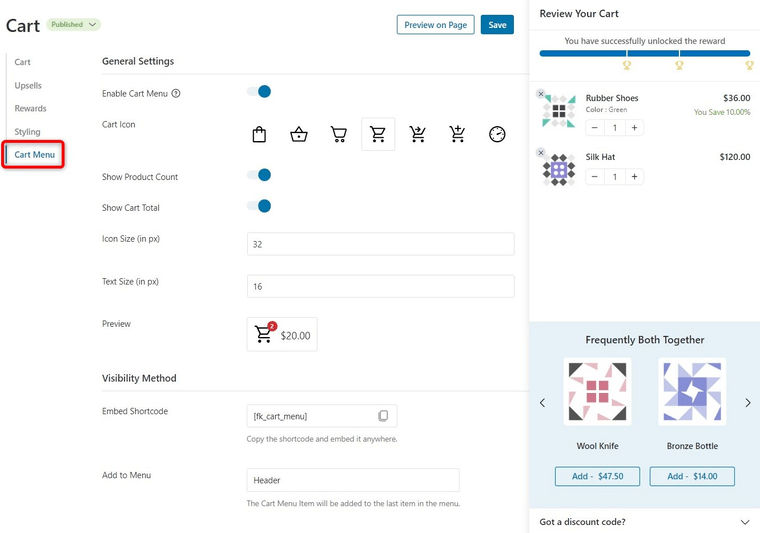 This way, it allows your cart to get the best display position in your store.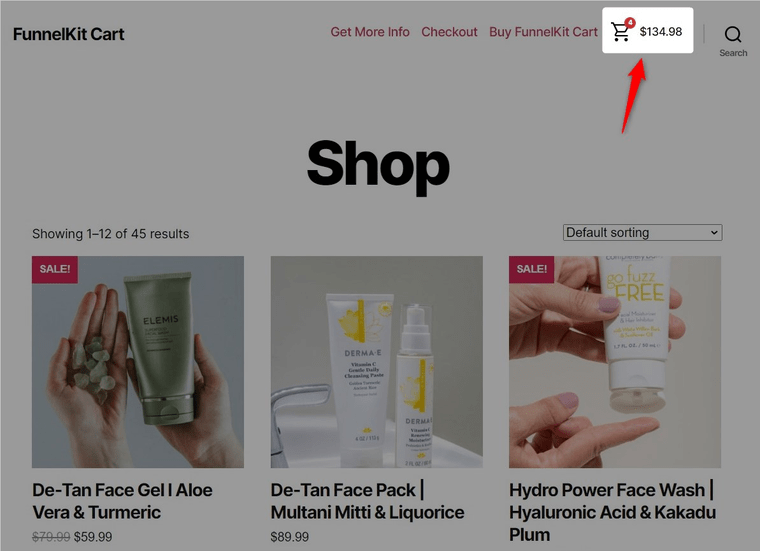 Customizable WooCommerce Side Cart
FunnelKit's smart slide-out cart lets you set up and configure your WooCommerce shopping cart the way you want.
This means you'll be able to customize your floating cart's display, heading, position, coupon section, checkout button, and more - all with a single click.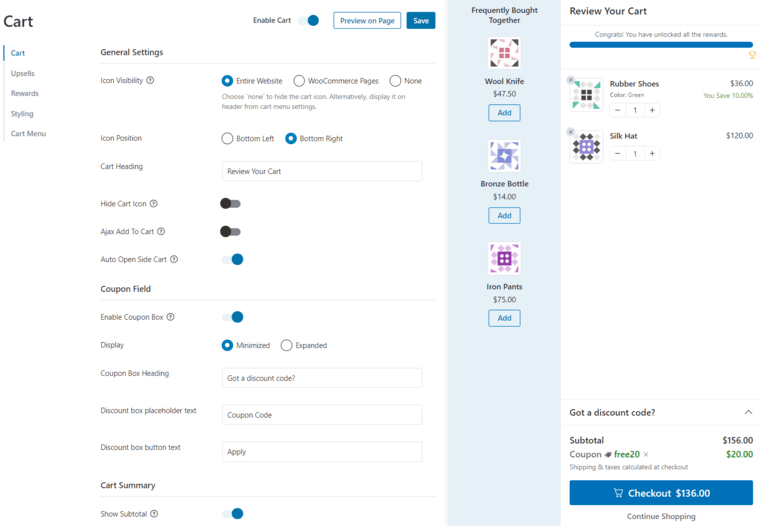 It gives you all the standard functionalities that you want to show in your WooCommerce side cart.
Add Upsells and Cross-sells
Choose what upsells and cross-sells you'd like to display that users can add. Each item can have different recommendations.
Furthermore, if a product doesn't have any associated upsell or cross-sell, FunnelKit Cart provides you with the option of Default Upsells.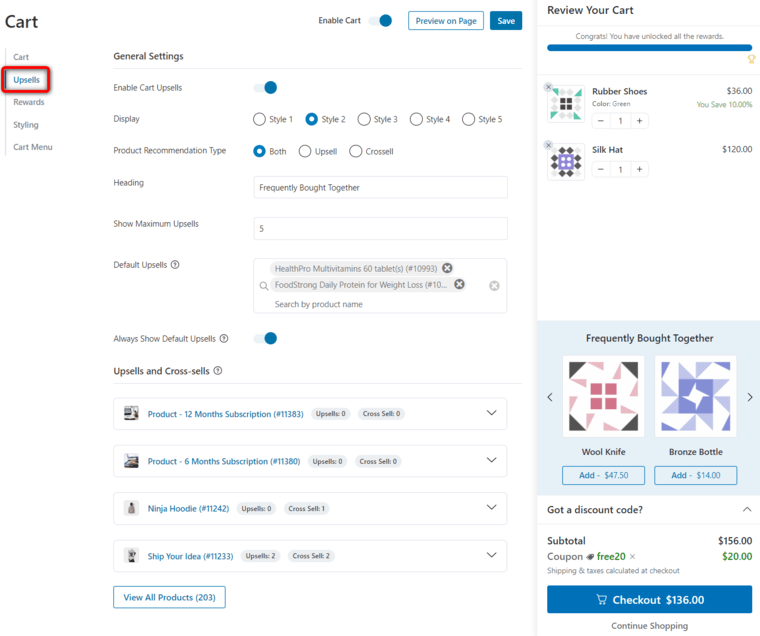 WooCommerce lets you add upsells and cross-sells under the Linked Products section on individual product pages.
You can always add them on individual product pages, in fact, you may already have those defined in your store. If not, you don't have to go to each page separately.
With FunnelKit Cart, you can now easily add them from a single interface.
We have covered it in detail later in this post.
Configure Rewards as Incentives
75% of customers are likely to make another purchase after receiving an incentive or reward. That's why rewards encourage shoppers to buy and even build brand loyalty.
These can be like milestones. For hitting a certain milestone in customer spend, unlock a bonus.
For example - when your shopper spends $50, they get free shipping. But, if they spend $25 more, they will receive a free gift.
FunnelKit lets you set up a total of 3 different rewards:
Free shipping
Discount coupon
Free gift
It gamifies your users' shopping experience and nudges them to continue shopping. Here's how to set it up here: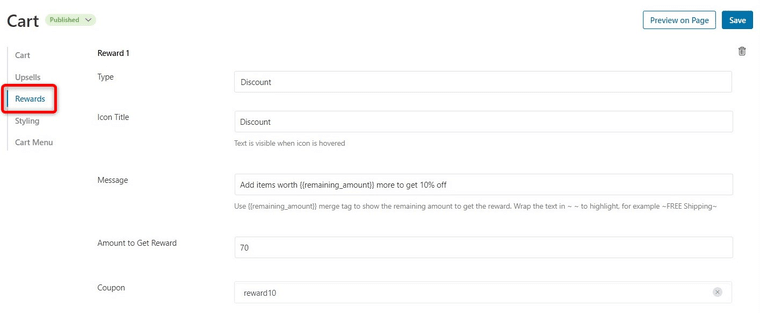 This is how it looks on the front end: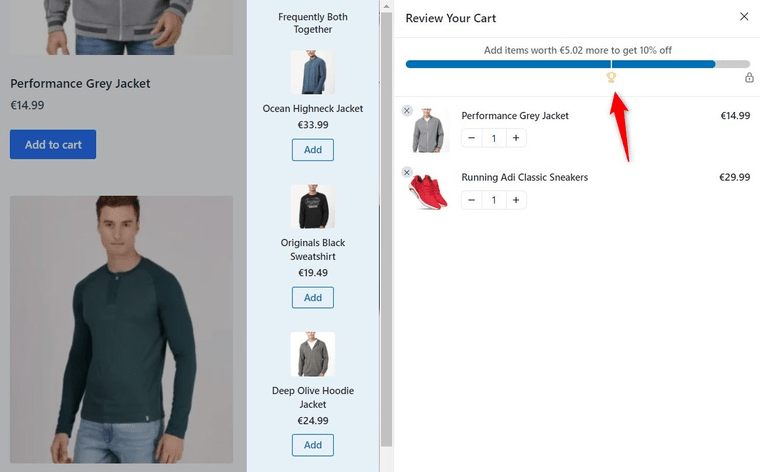 These kinds of rewards encourage shoppers to buy more than ever.
Cart Section Styling
Make your WooCommerce side cart and icon on-brand with FunnelKit's myriad of styling options.
Use your brand colors to blend the cart and icon with your WooCommerce store. You can change the color of the text, the button, the upsell background, and more.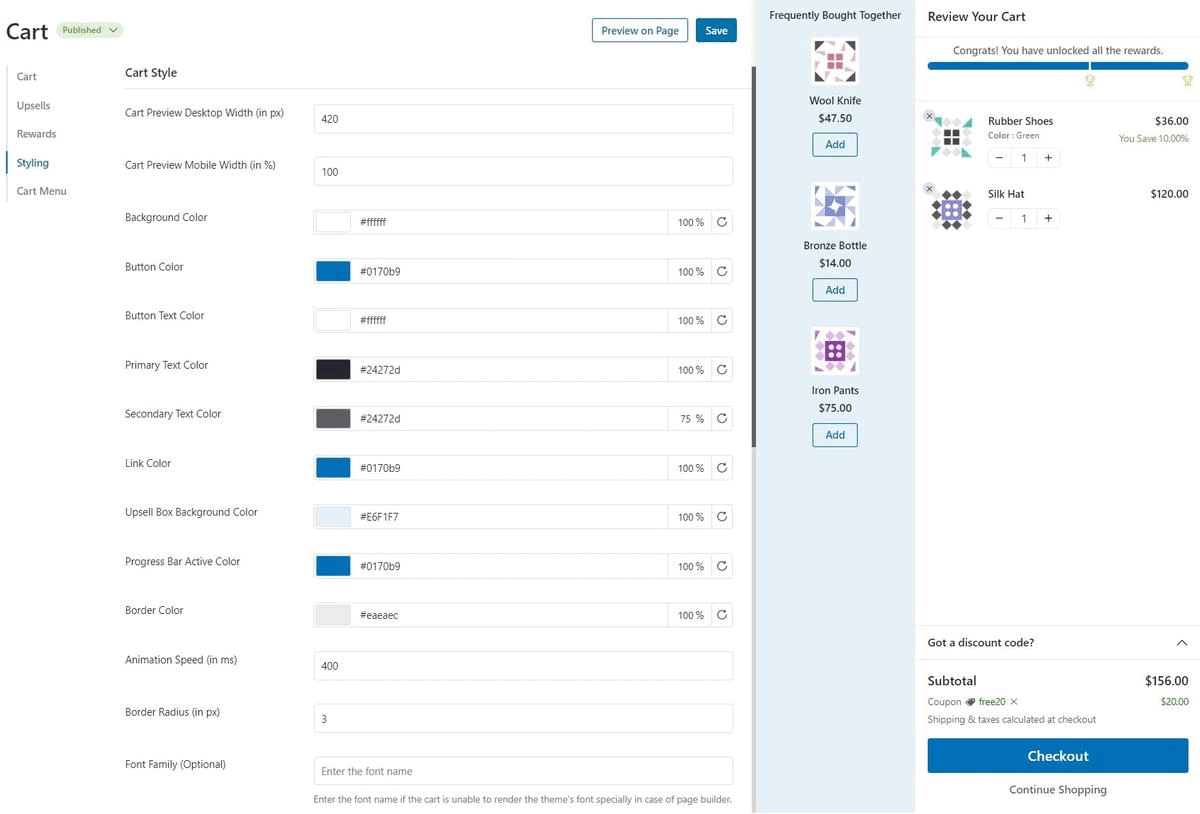 Multilingual Compatibility
Having a multilingual store and serving people across nations is quite common. Therefore, FunnelKit Cart is compatible with multilingual plugins such as WPML, Polylang, TranslatePress and Weglot.
You'll see an additional Language section here if your store has multi-languages.

Here you can write the translation text for different languages you have in your store.
Just select the additional language in your store and write translations for different fields.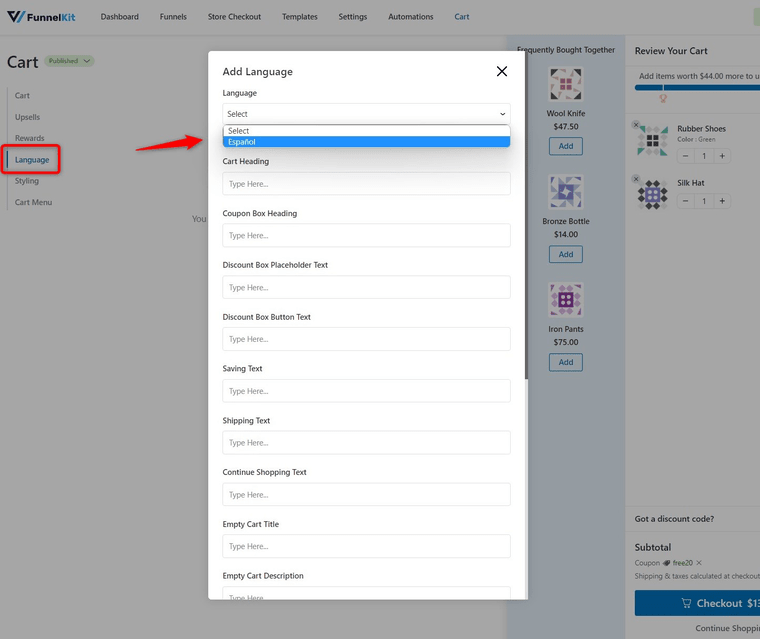 The user from the respective region will see their WooCommerce side cart in the translated text.
6 Ways to Boost Your Average Order Value (AOV) with WooCommerce Side Cart by FunnelKit
We at FunnelKit always stay true to our core values - help WooCommerce entrepreneurs to run their businesses profitably.
And with FunnelKit Cart, we want to help you boost the average order value in your store.
FunnelKit Cart is a smart WooCommerce side cart and a powerful addition to your eCommerce marketing arsenal that lets you make more money from each sale.
1. Faster Route to Checkout
According to Baynard's survey, 26% of shoppers abandon their carts due to the long and complex checkout process.
This is 2023, and convenience is everything.
You WIN if you provide your customers with a convenient and easy checkout process!
FunnelKit Cart shortens the user's path from the product page to the checkout page. Our WooCommerce side cart just slides in coolly whenever the user hits 'add to cart'. Thus, preventing cart abandonment.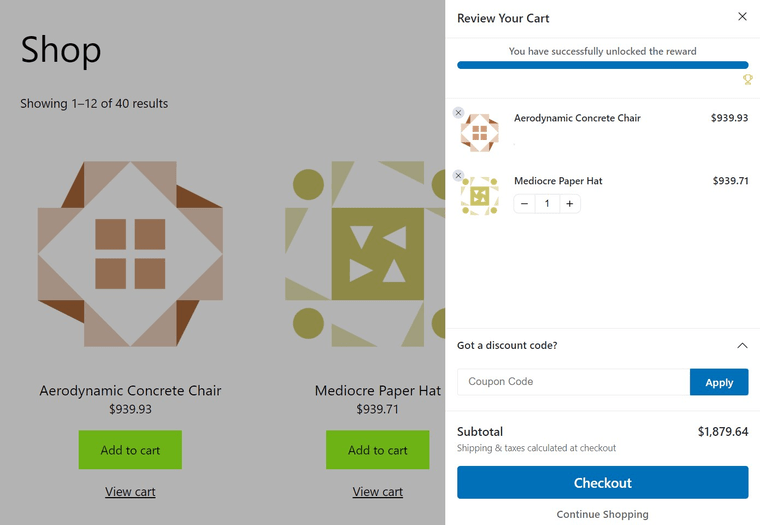 This prevents the user from leaving their shopping abruptly and suddenly landing on one page that again says - 'add to checkout'.
Your user can also input their discount code there and then make a buying decision quickly.
2. Seamless User Experience While Boosting AOV
One of the biggest drawbacks of the default WooCommerce cart page is that it does not allow you to make upsell offers.
FunnelKit Cart lets you display your premium products right on the slide-in checkout. This shortens the user's shopping journey; you don't have to point them to a dedicated upsell/cross-sell page.
You can display multiple upsells in different styles and even customize their background inside this WooCommerce side cart.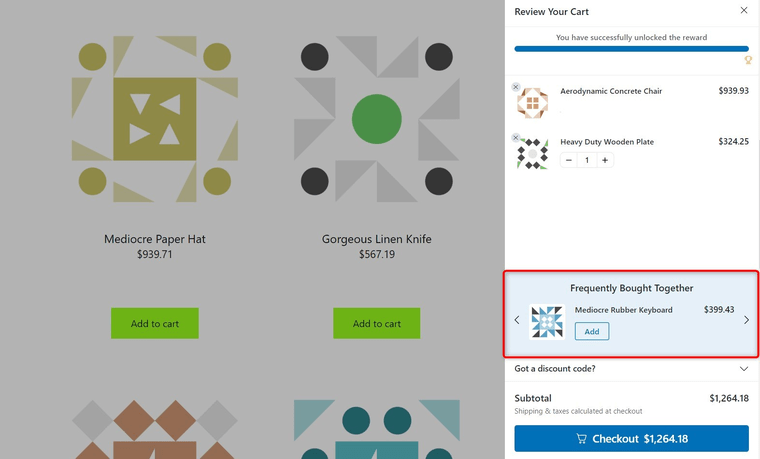 3. One Place to Manage All Upsell and Cross-Sell Offers
Under the Products and Upsells section, you can add upsell and cross-sell offers for individual products.
Now, of course, WooCommerce gives you the option to add upsells/cross-sells under linked products. But for that, you have to visit every single product page and link the upsell and cross-sell items.
You can do that by clicking on the product name and associating the related items.
Add Upsell Offers
An upsell is a sales strategy that encourages customers to purchase a more expensive, upgraded, or premium version of the selected item.
The idea is to get them to increase their spending. FunnelKit Cart lets you make those premium upsell offers when the user adds an item to their cart.
Add Cross-Sell Offers
Cross-selling encourages the purchase of anything in conjunction with the primary product.
For example, if a customer has added sneakers to their cart, you can pitch durable extra soles or a cleaning kit.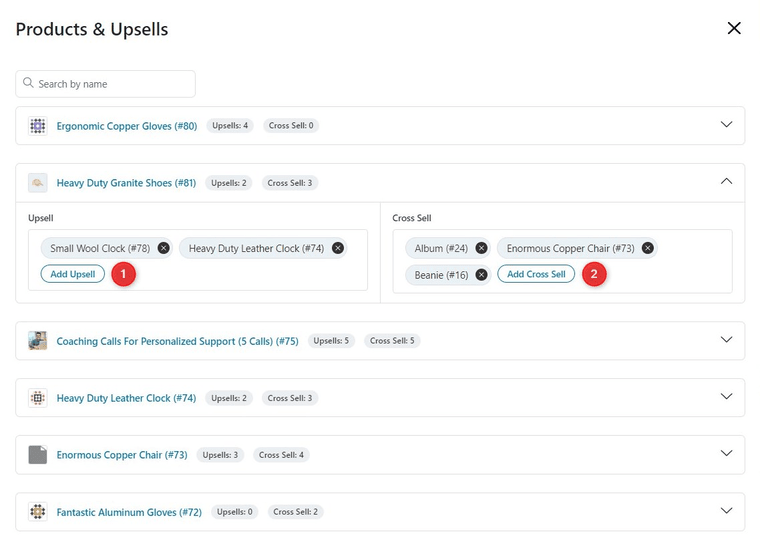 4. Add Product Variations from the Cart Itself
Imagine how convenient it would be to let shoppers add a specific product variant to their cart from the recommended items — for example, a 100mg ointment or an orange mug.
Well, you got it!
FunnelKit Cart lets you present your variable products right inside the floating cart. The shopper can change the variety in the cart itself — no need to visit the cart page or the product page.
The UI is user-friendly and makes it easy to pick variants and add them to the cart.
You can even add variable products as an upsell/cross-sell offer and let your users choose from available varieties - right inside your WooCommerce side cart.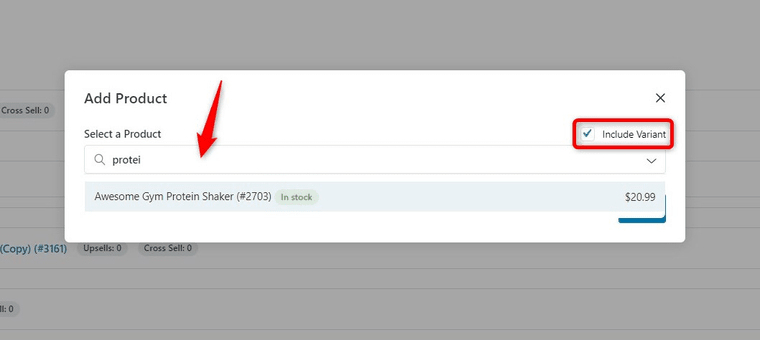 The main goal here is to simplify the adding-to-cart experience and reduce the clicks it takes for the shopper to go to the checkout page.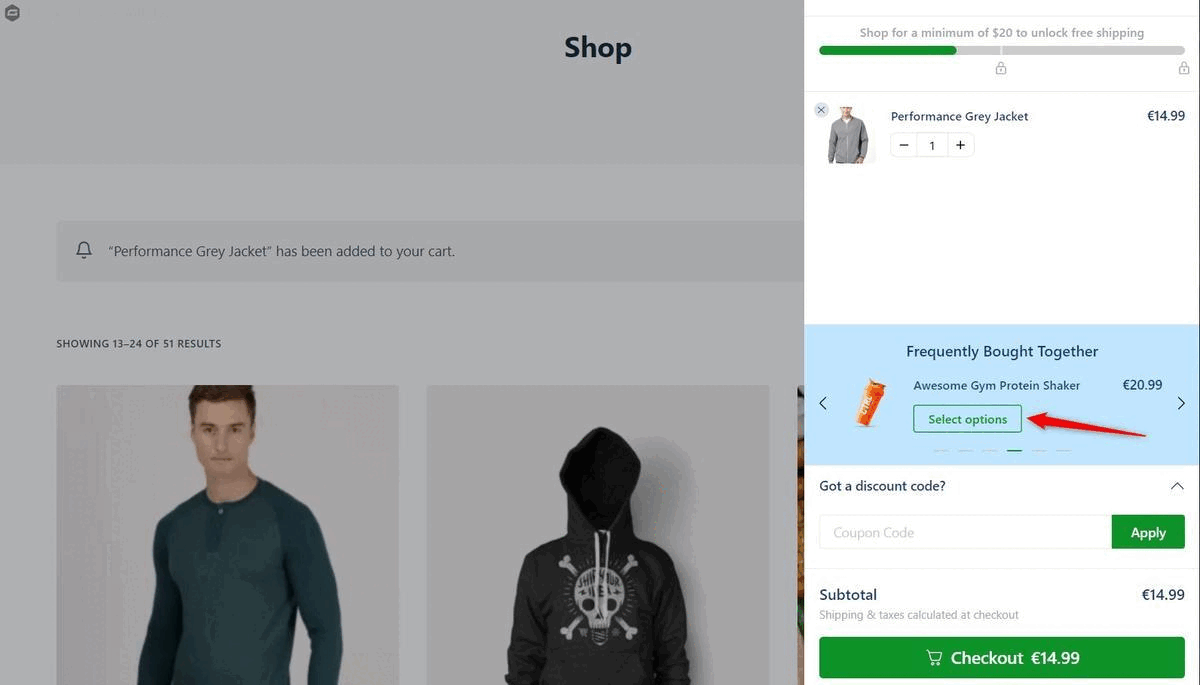 Now, your buyers can choose variants right from their WooCommerce cart.
5. Gamify the Shopping Experience with Rewards
Gamification refers to the use of elements, mechanics, and design from games in non-game settings. The main goal is to make the user experience more exciting and rewarding.
Retailers use gamification for a variety of reasons. Gamification typically increases engagement, paving the way for other goals.
With FunnelKit Cart, you can gamify your user's shopping experience by adding a reward system.
So there are three types of rewards that you can offer through your WooCommerce side cart:
Free Shipping: Encourage buyers to add more items to their cart to enable free shipping. To enable the free shipping reward, you need to set it from the WooCommerce shipping backend. Add the free shipping method to the zone you serve. Then, specify the minimum amount to set the value threshold for free shipping. Refer to this guide to set up free shipping.

Discounts: Who doesn't love discounts? Set discounts that auto-apply when the customer spends a certain amount

Free Gifts: One of the most popular rewards customers love is a free gift with their purchase. Please note that you can offer a product in your store as a gift. Thus, it must be added to the product catalog.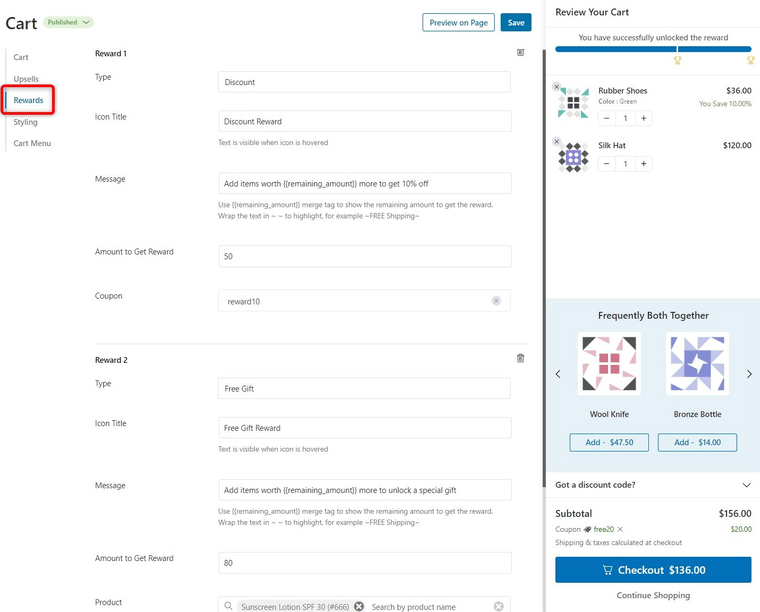 We recommend you create an arcade-like shopping experience for your buyers using all three rewards.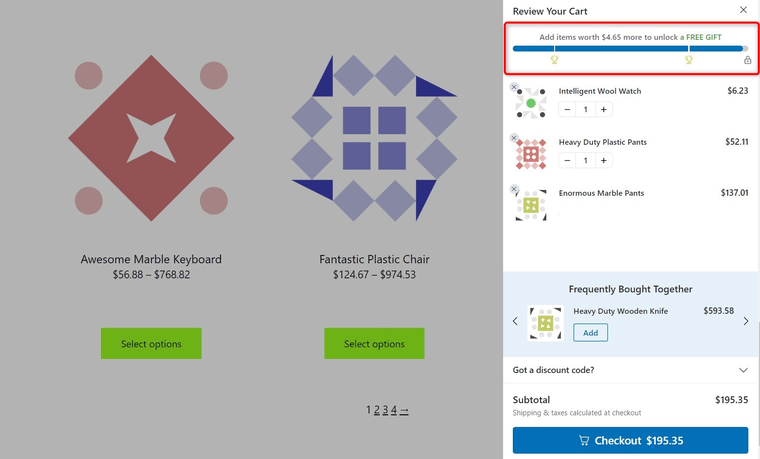 These milestones will encourage the buyers to purchase more to unlock more rewards - eventually giving you higher profits.
6. Give Quick Access to the Checkout
The ultimate goal of your store is to drive shoppers to the checkout and encourage them to complete their purchases. With the checkout button on the slide-out cart, you can make the page a click away!
That's why FunnelKit Cart lets you add a cart icon at the bottom of your store. This side cart icon for WooCommerce stands out and features a count box showing how many items are in the cart.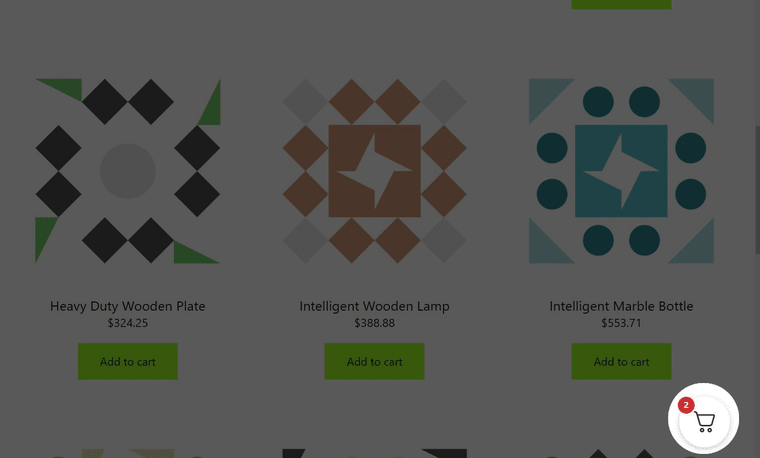 When somebody clicks on the cart icon, the WooCommerce side cart slides in from the right, and the buyer can easily head to the checkout page and complete the purchase.
Get Started with WooCommerce Side Cart by FunnelKit!
FunnelKit Cart is a smart cart page solution for your WooCommerce store that lets you provide a frictionless user experience to your shoppers and cut down the number of clicks to go from product page to cart page.
With our advanced WooCommerce side cart, you can:
Provide a seamless checkout experience with a slide-in cart
Reward your customers for their purchases and motivate them to add more to their cart
Direct your buyers to the checkout page right from the product page
Add upsell and cross-sell offers to all of your WooCommerce products - right from one place
Make your WooCommerce side cart on-brand with a myriad of styling options
So, what are you waiting for?
Get the complete funnel building and store checkout solution for WooCommerce 👇