Looking for beautiful Divi templates to create sales funnels in WordPress?
After the huge success of Divi's deep integration with our checkout pages, we are proud to announce that FunnelKit now offers you Divi templates to build every page in your sales funnel.
From opt-in page to one-click upsell and thank you page, you get them all!
All of these templates are highly customizable, even more so with our custom Divi modules at your disposal. Just drag and drop them on the page and get styling.
In this blog post, we wish to show you how you can do just that.
Build Your Sales Funnels with Beautiful Divi Templates
Your lead generation pages need to look good, sound clear, and win trust, especially of the people who are new to your brand.
Having a dedicated page with the correct product information displayed is more likely to bring in conversions, be it on a landing or an opt-in page.
Also, having a beautiful page with bold colors and a clear copy can convince the users to stay on the site longer.
A page that is colorful yet minimalist attracts attention and looks authoritative, as compared to a dull-looking page.
That's where FunnelKit comes into play!
FunnelKit offers you a template for all your use cases. Let's look at some examples of our Divi templates to get a clearer picture.
Opt-in Page Divi Templates
An opt-in page is where a user provides you with their personal information in exchange for a free product, also called a lead magnet.
Your lead magnet could be a free worksheet, a swipe file, a training video, or even a live webinar.
Opt-in pages come in two designs - inline and popup, and FunnelKit offers you templates for both inline and popup opt-in form formats.

Inline: The inline templates have the opt-in form embedded on the page itself.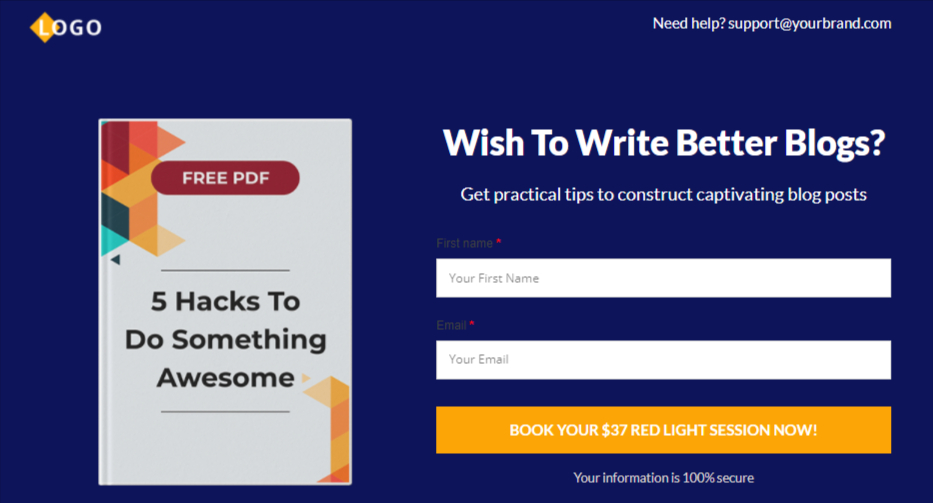 Popup: These templates have a CTA button on the page, which when clicked on, opens the form in a pop-up window.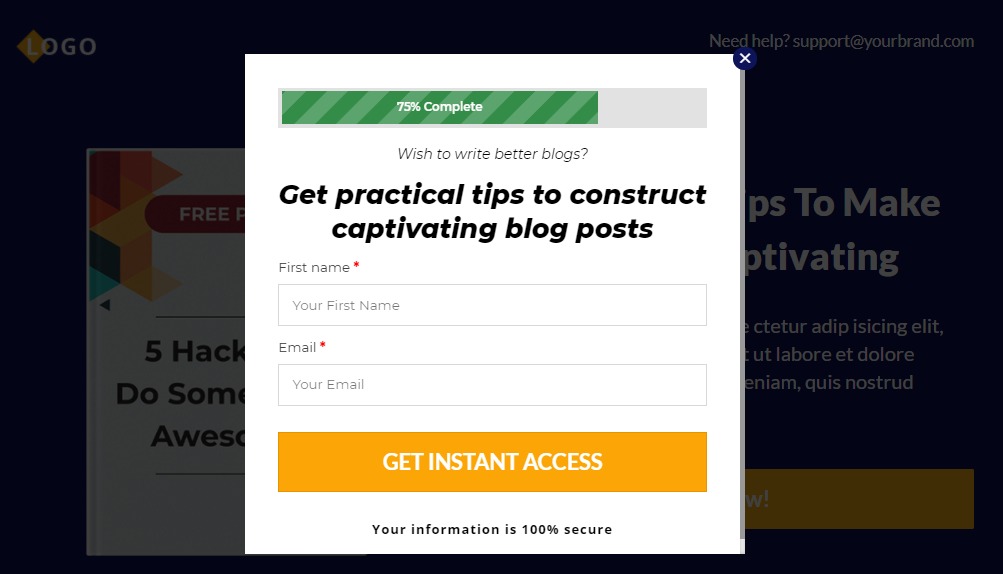 Each of our Opt-in Divi templates has a space for adding:
A bold headline that grabs the attention
Testimonials that build trust
A bio section where you talk about yourself and your brand
An embedded form or a form on a pop-up
Import the template you like from the Divi layouts with just one click.
Here we are importing the Divi Charmer template.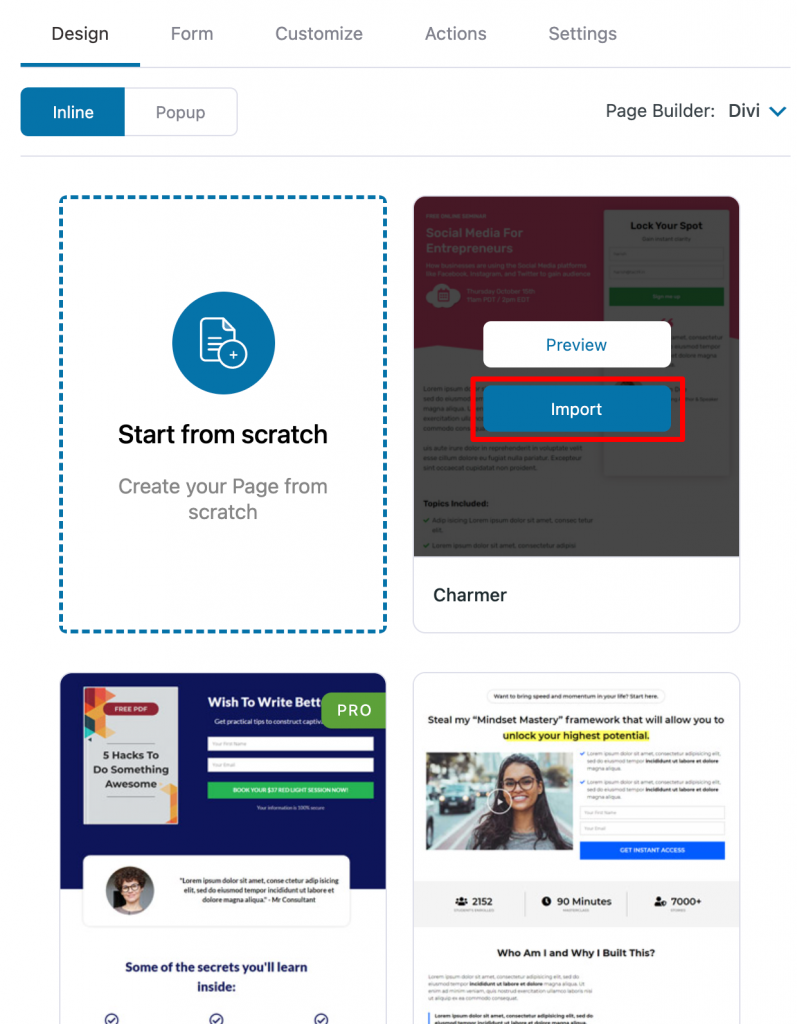 This Charmer template has a bold headline and subheadline that explains the product right next to the form, so the user gets a clear message.
This page also shows a convincing testimonial right below the form to further encourage the prospects to sign up.
Not only this, but we have lots of high-converting Divi templates to build your opt-in pages.
Click on the Edit button to begin editing the page in Divi.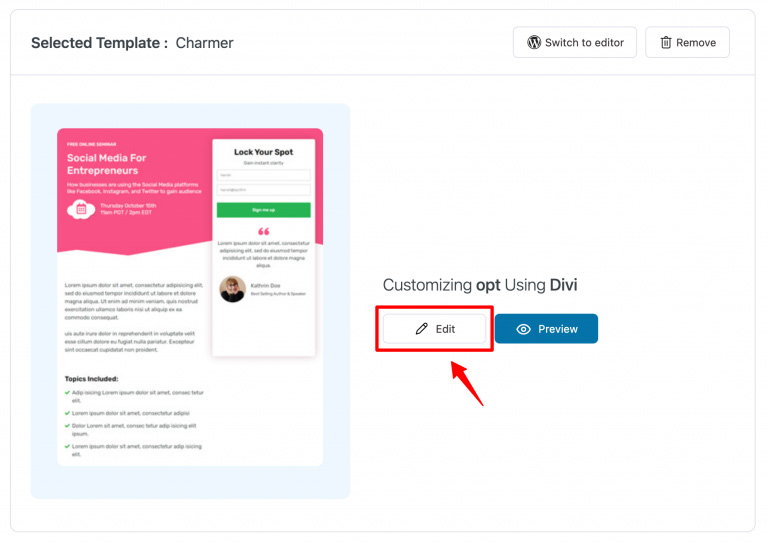 Click on the module you wish to edit, and the gear icon to open the customization options available.
You can easily edit the modules on the Divi templates.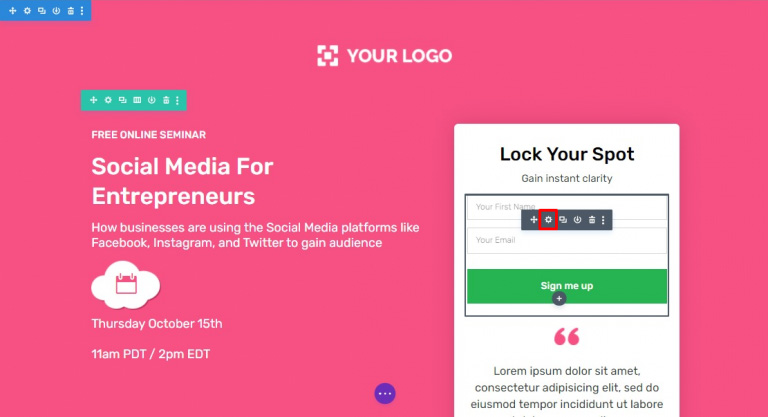 In the Content section, you can customize the form width and choose the CTA button text.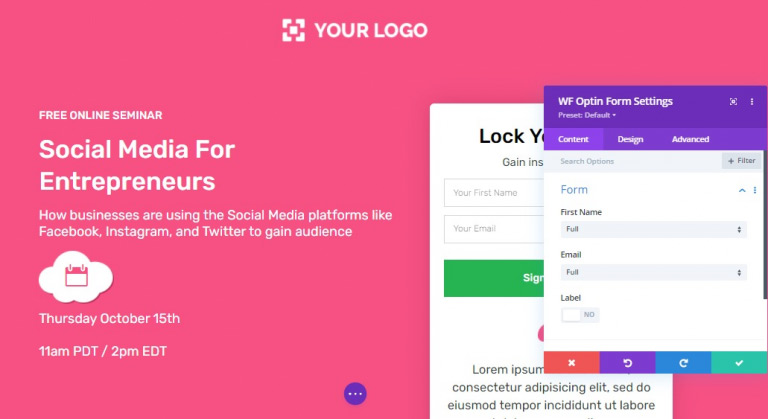 In the Design tab, you can personalize the form's typography, text color, border, and so much more.
You can customize the appearance of your Divi templates from here.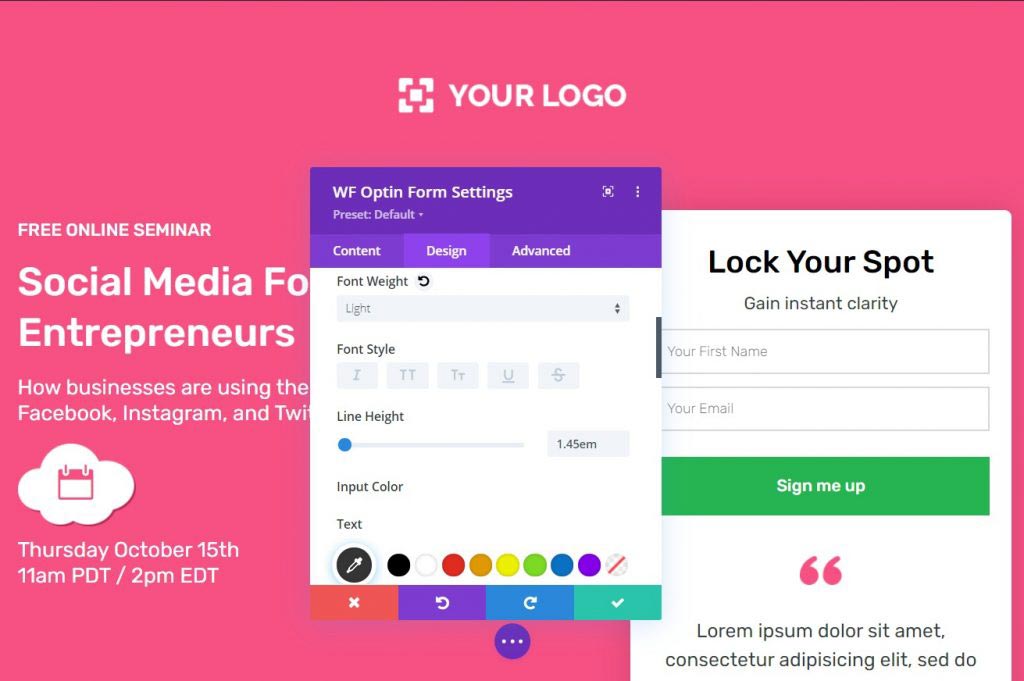 Once you're happy with how the page looks, click on the purple button at the bottom of the page, and click on Save.
That's it! Customizing all the Divi templates in FunnelKit is pretty easy.
Pre-Built Sales Page Divi Templates
Similar to the Opt-in page, you have a number of Divi layouts options available for sales pages as well.
The sales page Divi templates allow you to:
Write a clear heading and subheadings
Add videos and images to help users visualize the product
Insert sections with bullets to explain the product and its use cases
Mention testimonials and media presence to make your brand appear trustworthy
Import the template you like. We have many Divi templates based on the products (Digital, e-learning, shippable products, etc.) you're selling.
Here we will import the Presenter template.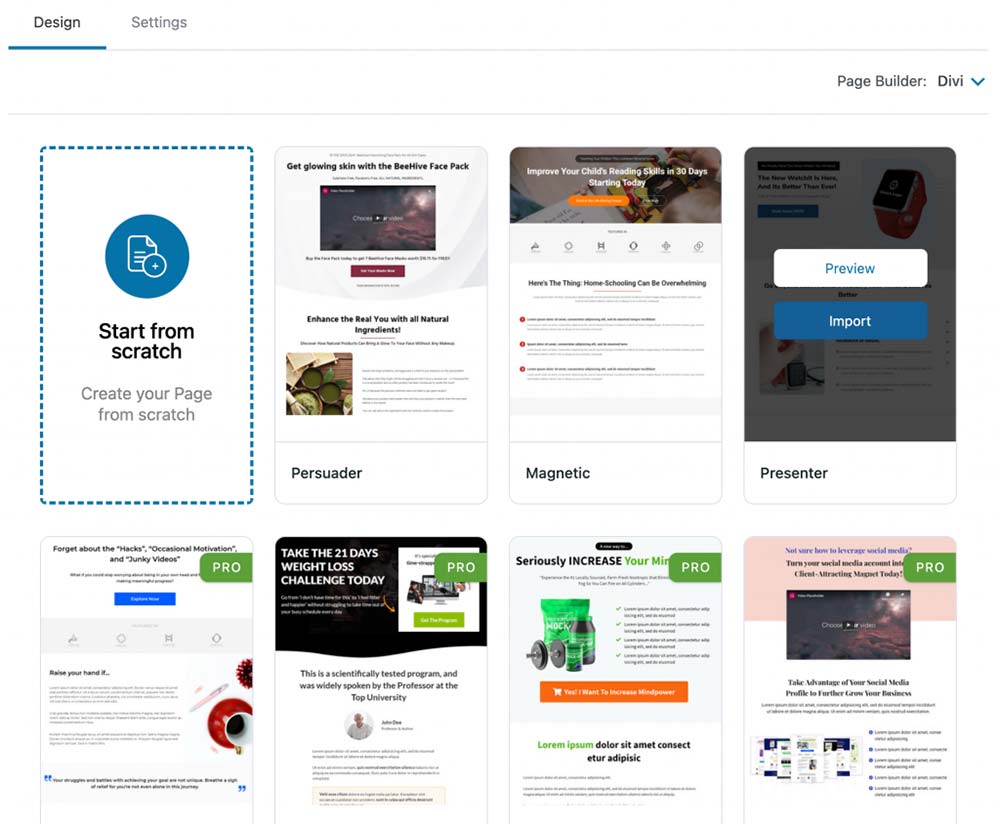 This Divi template has the title of the page and the image of the product aligned side by side for a better correlation, as well as a number of bullets that explain the product in depth.
These Divi templates also have options to add images and videos to keep the reader engaged and to drive conversions.
To start customizing the page, click on the gear icon next to the module.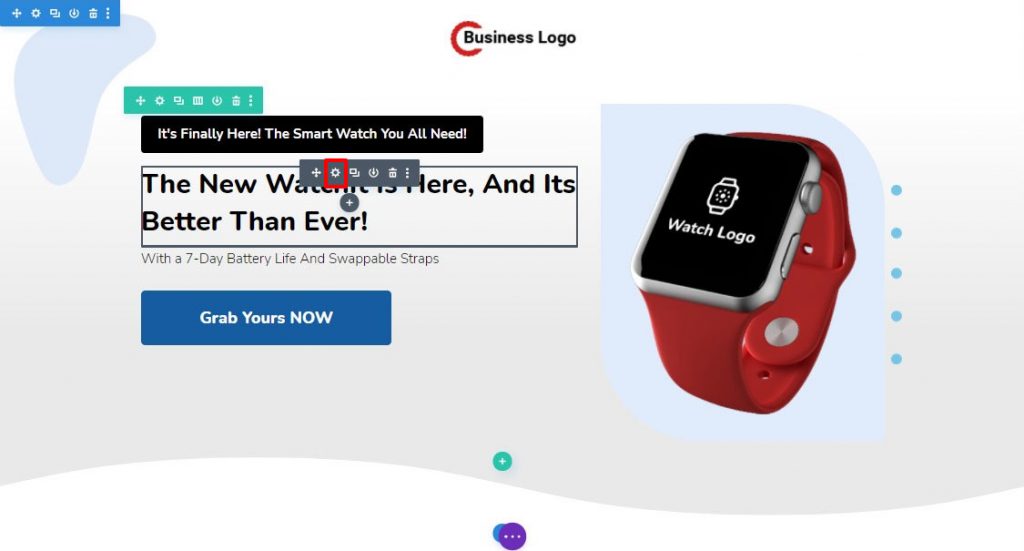 Remember to save all the changes made before moving ahead to the Divi checkout templates.
Streamlined Divi Checkout Page Templates
The Divi templates for the checkout pages have been designed such that they look beautiful and run smoothly on your WooCommerce website.
All of the checkout page Divi layouts are available in one-step, two-step, and three-step format.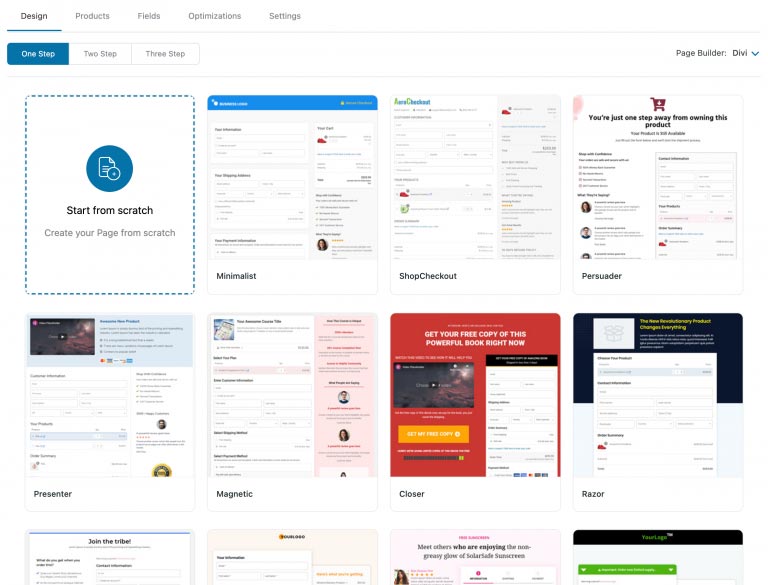 FunnelKit offers you Divi templates that can help you create a global checkout or a product-specific checkout for your storefront.
For example, the Minimalist template has a clean and clutter-free design - perfect for a global checkout, while the Razor template highlights the product.
You can even create one-page checkout pages using the Divi templates.
Isn't it neat?
With two special modules - checkout form and mini cart - to elevate the page design even further, the checkout pages can be customized as you want.
For the Checkout Form, you can customize the following modules on your Divi templates: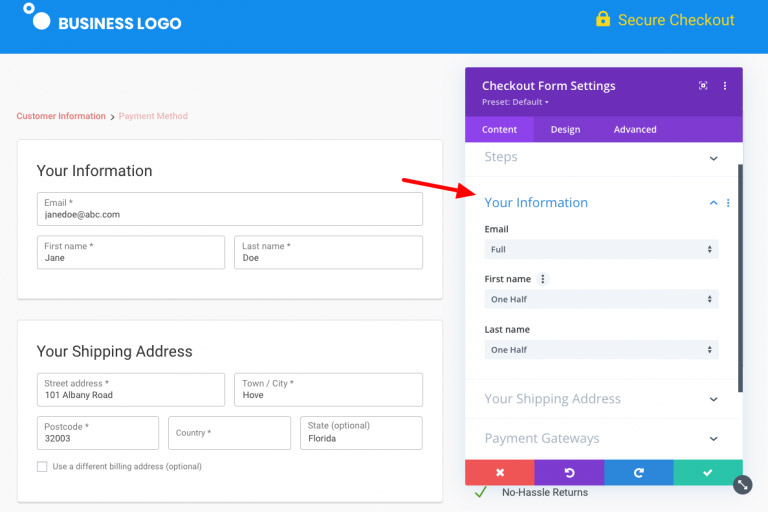 Steps: Choose the progress steps of a multi-step checkout page from breadcrumbs or tabs format.
Form Fields: Change the field widths of the checkout form fields.
CTA Button: Customize the button text, typography, color, and more.
Collapsible Order Summary: Make the order summary collapsible for mobile viewing.
In the same manner, for the Mini Cart module, you can customize: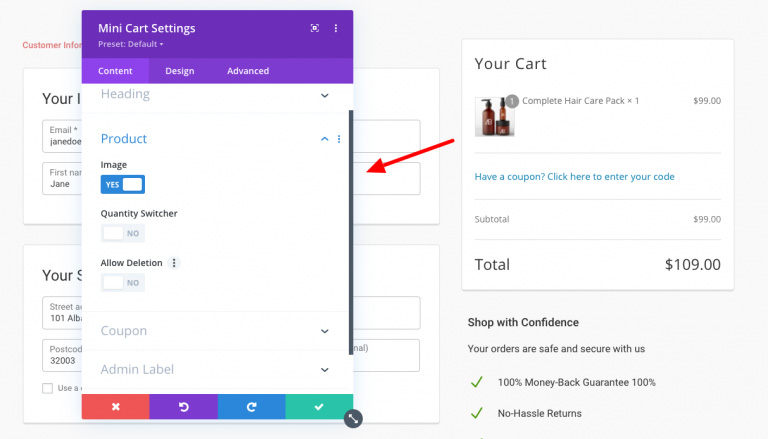 Heading: Personalize the heading of the mini cart displayed on the page.
Product: Choose if you want to allow guests to alter the product quantity or delete a product from the cart entirely.
Coupon: Allow users to add a coupon code before paying for their orders.
Each of these Divi templates comes with a clean design, a dedicated testimonial section, and an image module to show the buyers what they would be paying for.
These elements reassure the shoppers of their buy and convince them to make the payment.
Create a Global Checkout for Your WooCommerce Storefront
A global checkout is applied to your entire store, so no matter what product a customer purchases, they are directed to this global checkout page only.
FunnelKit has Divi templates that would be perfect to use as a global checkout.
You can use the Divi Minimalist template or Shopify style checkout or pick from some other options.
Once you're happy with the way the page looks, head to the global funnel settings from the WordPress menu.
In the Checkout settings, choose the name of checkout you customized to use as a global checkout.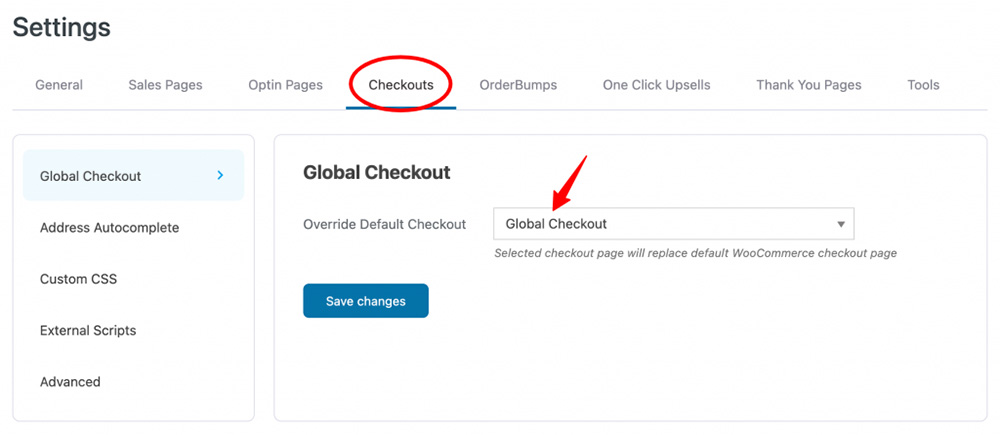 Click on Save Changes to lock in the changes made.
Let's now head over to Divi templates for one-click upsell offer pages.
Increase AOV with Divi Templates for One-Click Upsell Offers
One-click upsells are a great way to boost the user's average order value.
Pitch the relevant products using the conversion-optimized Divi templates that will make your products shine and convince buyers into accepting these post-purchase offers.
A Divi template for one-click upsells in FunnelKit offers:
Single or multi-product upsell offer page template
The pricing module allows you to display both regular and discounted price
A dedicated section to explain the product and another for testimonials
Distinct CTA button for different products and offers to avoid any confusion
Import the template you like with one click. Here we are importing the Persuader template to show you how a great upsell template looks.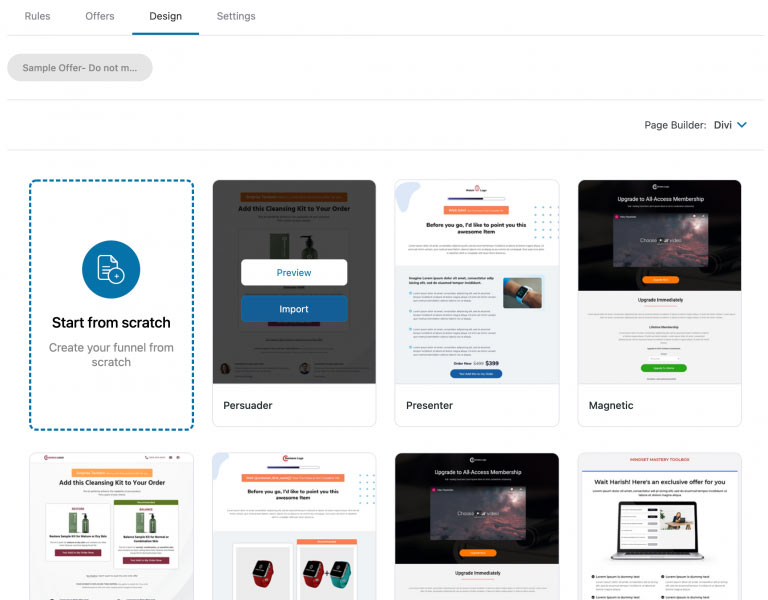 This template mentions the customer's name up top to grab their attention, followed by a bold headline to convey the offer.
It highlights the key points of the product below the product image and also the discount price stacked together to further convince the buyers of the offer made.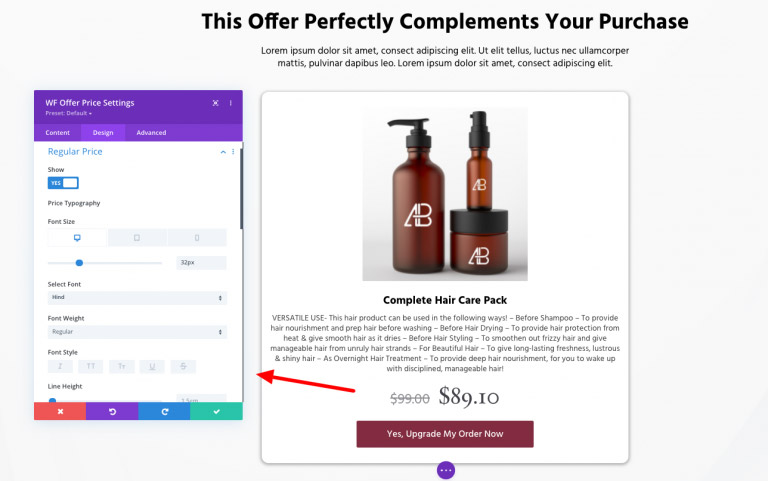 An upsell page introduces customers to products that they might not have been aware of before.
So presenting them in an eye-catching yet classy manner is very important. And these Divi templates help to fulfill this objective.
Create an Order Confirmation Page Using Divi Templates
A custom thank you page helps boost a brand's image and increase retention while expanding reach with good word of mouth.
With Divi templates, creating an alluring thank you page for your business is nothing short of a breeze.
A thank you page displays:
The order and customer details
A section that highlights all the things that are included in your purchase
Video placeholder to add videos regarding the product, or just thanking the customer for their purchase.
Import the template you want to use to add the finishing touches to your funnel.
Here we are using the Presenter template to complete the funnel with a beautiful page.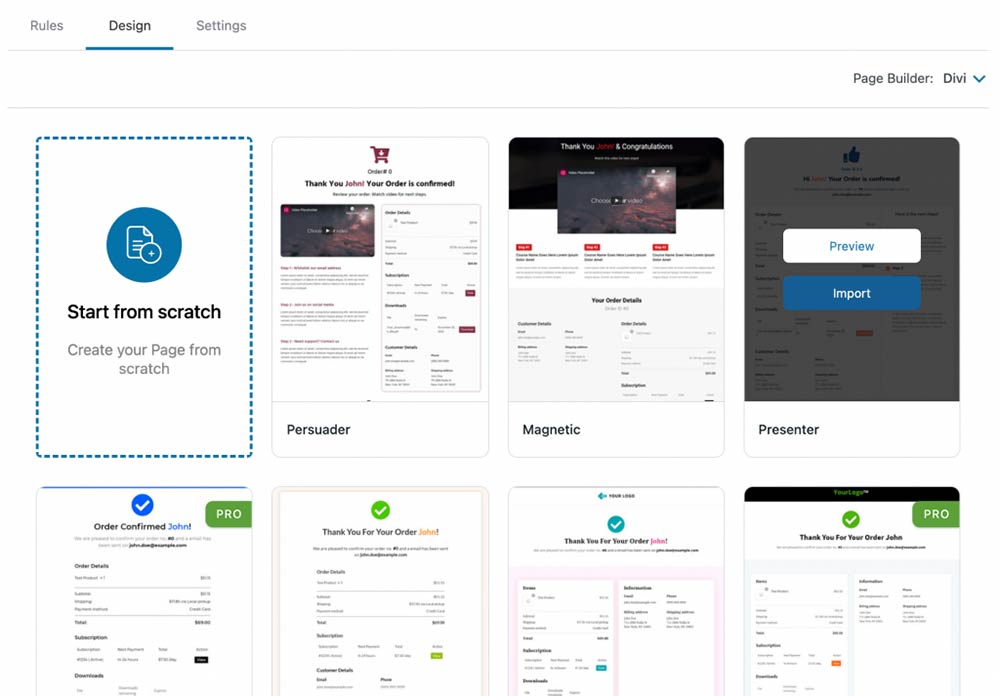 You can customize the special Divi modules - order details and customer details, making the page look even more attractive.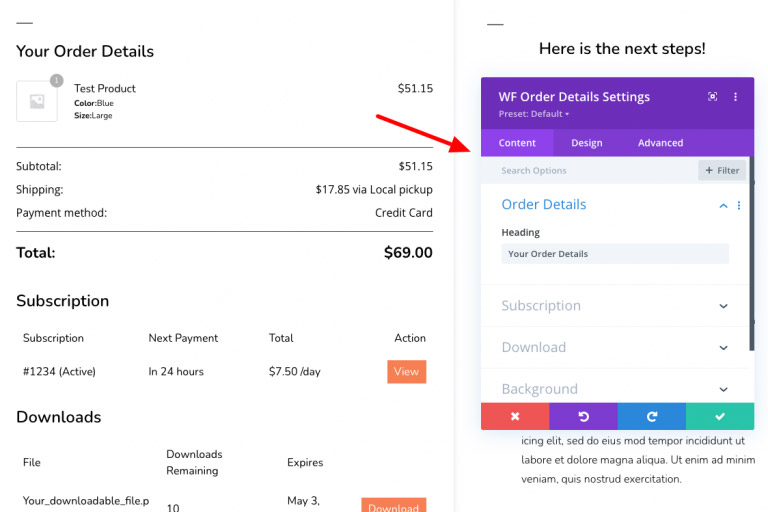 Furthermore, you can make changes to the appearance of your order confirmation page.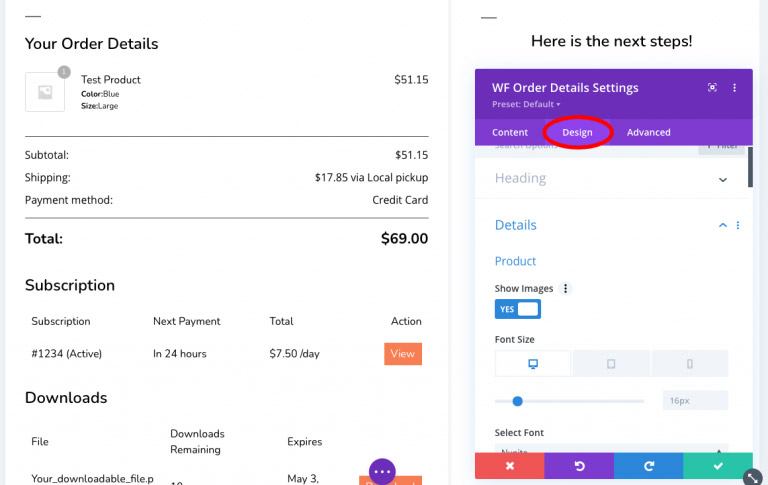 Once you're done making the changes to your Divi templates, make sure to click on Save to lock in all the changes.
There You Have It!
By now you must be very eager to get on FunnelKit and try out the Divi templates for your stores.
FunnelKit offers you visually impressive templates that are designed to give your brand an edge.
Each template in our Divi library for sales funnels is built thoughtfully with a lot of consideration, keeping the modern marketer's need in mind.
With Divi templates & modules, we have actively ensured that you have what you need to focus on selling your products and not on the basics of web page designing.
So Divi community - Get ready to build your own sales funnel using the Divi page builder and templates in the FunnelKit Funnel Builder and increase your sales TODAY!