Looking to generate leads using WordPress? Or maybe a WordPress lead generation plugin? You're at the right place.
Generating a consistent stream of qualified leads is the most effective way to drive sales and revenue.
But coming up with the right idea and executing it to get leads on autopilot requires solid planning.
Well, worry not!
Regardless of at which point you are now in your marketing journey, we'll help you set up a perfect lead generation system for your business.
In this post, we'll look at some of the most important aspects of how you can master this lead generation process using the WordPress plugin.
Why Capture Leads Instead of Asking for a Sale?
Only 3% of your prospects are ready to convert into customers right off the bat. For the other 97%, you need a system to capture their emails and take them on a journey towards a sale.
Therefore, building a targeted lead generation system holds the key to overall better conversion.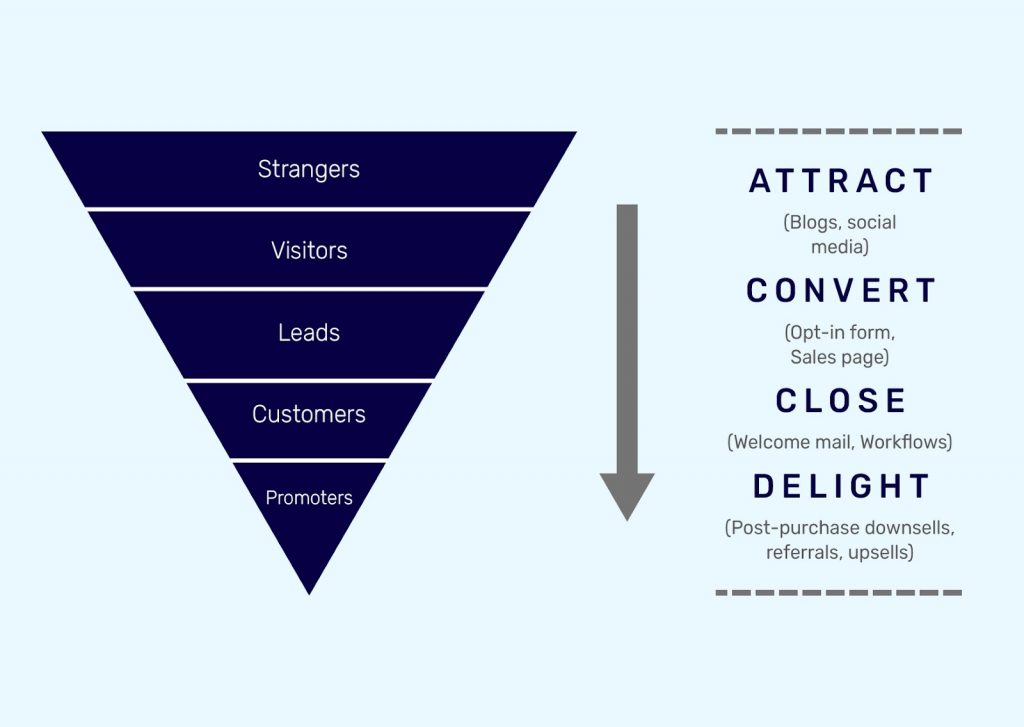 Lead generation is when you attract a significant audience and collect their contact details, in exchange for a free product or lead magnet.
Once the leads are added to your email list, the aim is to nurture them and convert them into paying customers.
According to Forrester Research, companies that nurture their leads see 50% more sales-ready leads than their non-nurturing counterparts at a 33% lower cost.
You can take a stranger on a journey to becoming your customer and a loyalist by offering a freebie.
That's where opt-in pages come into the picture. Opt-in pages help you collect leads in exchange for a free offer.
Luring prospects with a free offer, sample, or guide works perfectly in your favor. These free guides or samples do not take much time to make and attract many visitors.
In return, you get valuable subscribers whom you can convince to purchase from you. You can then provide them with post-purchase offers to increase their average order value - but this all comes at a later stage.
But the question is, how to implement the opt-in page ideas into generating quality leads?
Well, we have covered some perfect lead generation ideas for you in our next section.
Three Impressive Lead Generation Ideas
Here are three effective lead generation ideas you can implement right now:
Lead Generation Idea #1 - Content Upgrade
Traditional luring methods such as offering free reports or guides have become so common. It doesn't have the same juice anymore.
Instead, you can use content upgrades. Weaving lead generation into your content marketing strategy is an effective idea to build leads.
A content upgrade is a simple additional content that you offer for free at the end of your blog posts. Make sure that these upgrades are specific to the blog posts you are creating them for.
Take a look at the content update given below: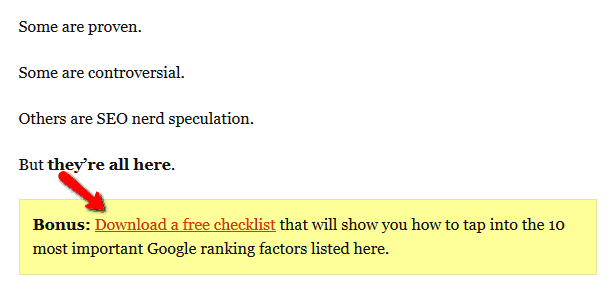 This was the strategy used by Backlinko - Adding a simple opt-in link to the top and bottom of their blogs helped increase their conversions from 0.54% to 4.82%.
Content upgrades are perfectly aligned with the post that your reader is reading. With this lead generation method, you can literally double the size of your email list.
Here is another example of content upgrade: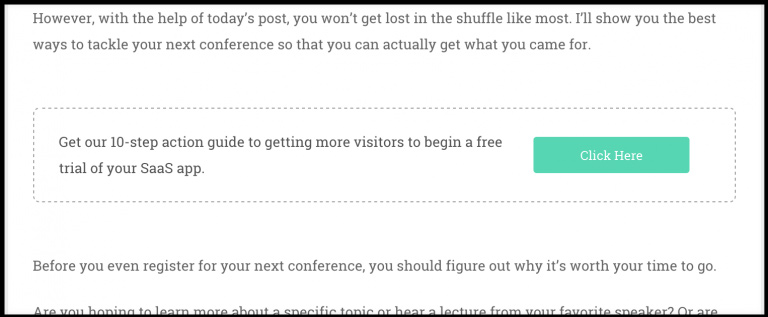 Creating the perfect content upgrades for your blogs can work brilliantly in generating leads.
Lead Generation Idea #2 - Quick to consume guides
Businesses treat their guides and books differently when it comes to generating leads. While books or courses can tackle a broader topic, releasing short or one-page guides is a way to capture leads.
Providing 100% free one-page guides is the best technique that a lot of businesses follow these days.
The reason is that people can consume the whole thing easily and the fact they are being offered for free.
Here is the opt-in page used by Messenger Marketing to give a free case study to their subscribers. This is one of their lead generation tactic: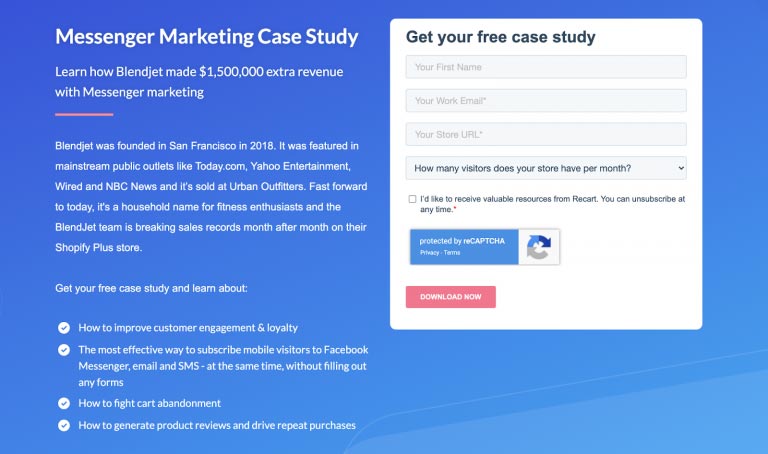 You can even combine the idea of downloadable one-page guides with blog posts. Just ensure your posts are targeting the same subject from different angles.
Once done, you are ready to generate leads using free downloadable guides.
Lead Generation Idea #3 - Automated webinars
Hosting webinars with brands sharing a similar audience is a great way to generate leads. But it's not easy to create live webinars every time.
In such situations, you can make the most of evergreen webinars to capture more leads.
Through automated webinars, you can schedule sessions as per the timezone of your audience, effectively manage the registrations, and stay consistent with a popular method of lead generation.
Some popular tools for creating webinars are Demio, Live Webinar, Jetwebinar, etc.
Make sure to tell the world that you're hosting a webinar and write about its objective in order to target the right audience.
There are many successful businesses that carry out free automated webinars to build trust and accelerate their lead generation process.
For example, Amy Porterfield offers a free masterclass webinar to help you add the first 1000 subscribers to your email list. This is an opt-in page linked to her website that captures leads.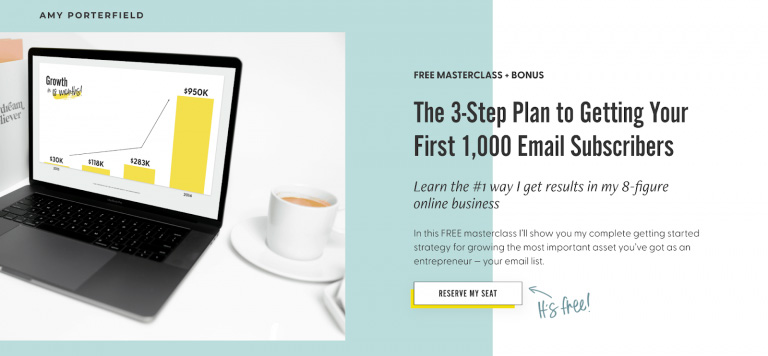 By holding a live webinar, your subscribers will get to know you.
Therefore, it is an excellent way to develop a relationship with them.
The Popular Challenge Funnel: A Well-Known Lead Generation Method
Although there are hundreds of lead generation methods, an effective way is to put a challenge as your lead magnet. Through channel funnels, you're challenging your audience to accomplish something or reach a goal by the end of a specified period of time.
A challenge funnel can turn out to be the game-changer because of these reasons:
It offers valuable information about the subject you're interested in.
Fulfills an actual outcome that encourages users to share it with others.
For example, Recurring Revenue Engine has used the following challenge funnel to generate leads.
It uses a three-day challenge to attend a free workshop. By the end of this workshop, you'll be able to generate recurring revenue from a membership site.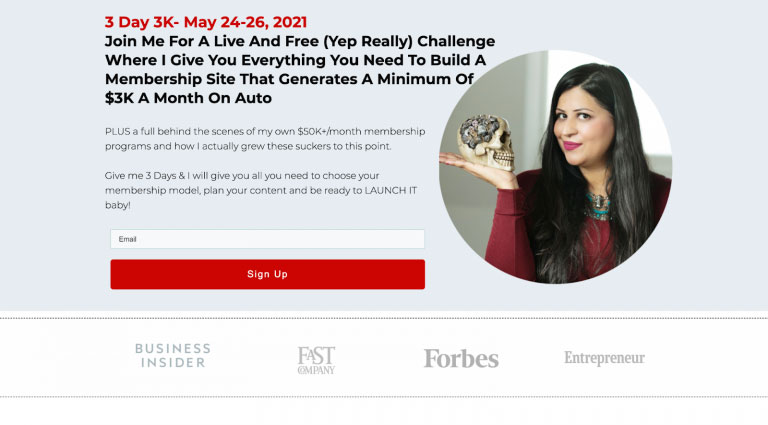 Challenge funnels encourage your audience to participate in a challenge and then help accomplish the desired result with it.
A successful challenge funnel has these following qualities:
Has an outcome/action/transformation that you promised
Comes with a deadline (number of challenge days)
An enticing title for your challenge funnel
Has daily tasks that would help the challengers achieve the outcome
Having these qualities within your challenge funnel would allow you to target more audiences and give you a perfect opportunity to convert in the future.
So, how to create such funnels?
In the next section, we'll be creating a sales funnel using the FunnelKit (formerly WooFunnels) Funnel Builder plugin for WordPress and will tell you more about the lead generation process.
Lead Generation: How to generate leads in WordPress?
Here's how you can generate leads in WordPress. We'll be using the Funnel Builder to do that.

Make sure you have it installed on your WordPress website, then follow the steps detailed below.
On your left, click on "Add New" under Plugins.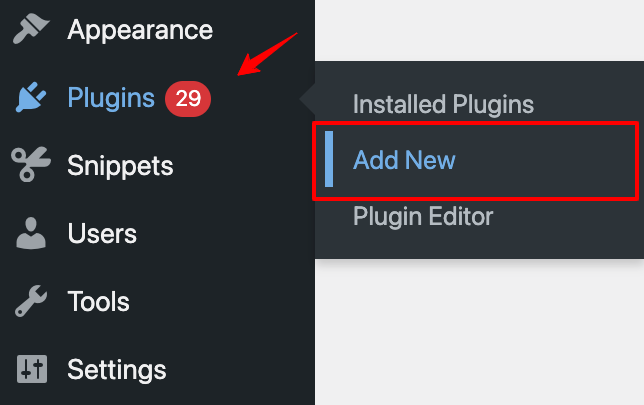 Step-2: Install the FunnelKit (formerly WooFunnels) Funnel Builder plugin
Search for 'Woofunnels' and you will see the Funnel Builder for WordPress by BuildFunnelKit (formerly WooFunnels). Click on "Install Now".

Once it gets installed, click on "Activate".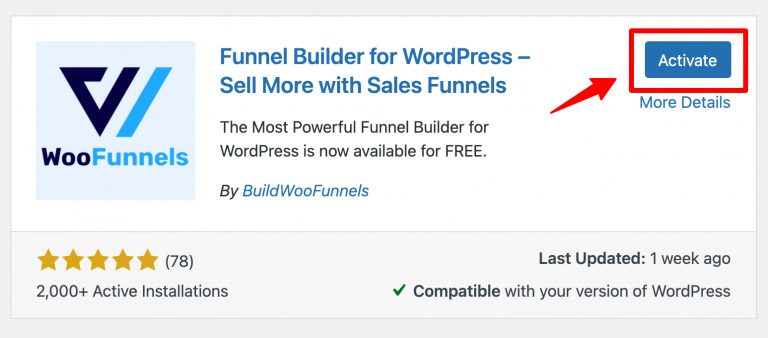 Step-3: Add a new funnel
Go to your WordPress menu and click on FunnelKit (formerly WooFunnels) ⇨ Funnels.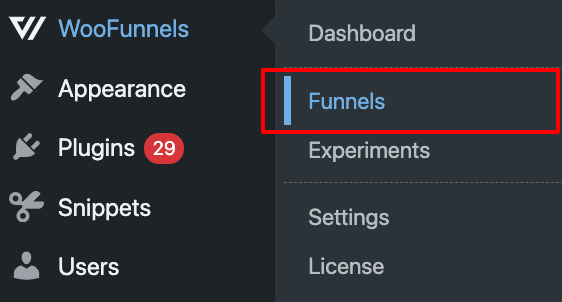 Here we will be creating a new funnel to demonstrate the lead generation process.
Now, you'll land on your Funnels dashboard. Click on "Add New".

Enter the name of your funnel and click on Add.
Step-4: Choose your opt-in template
Select "Opt-in" and choose the built-in templates in Elementor, Divi, Gutenberg, Oxygen, or any other page builder using the Custom tab.
Here we are going to import the Enchant template under Elementor.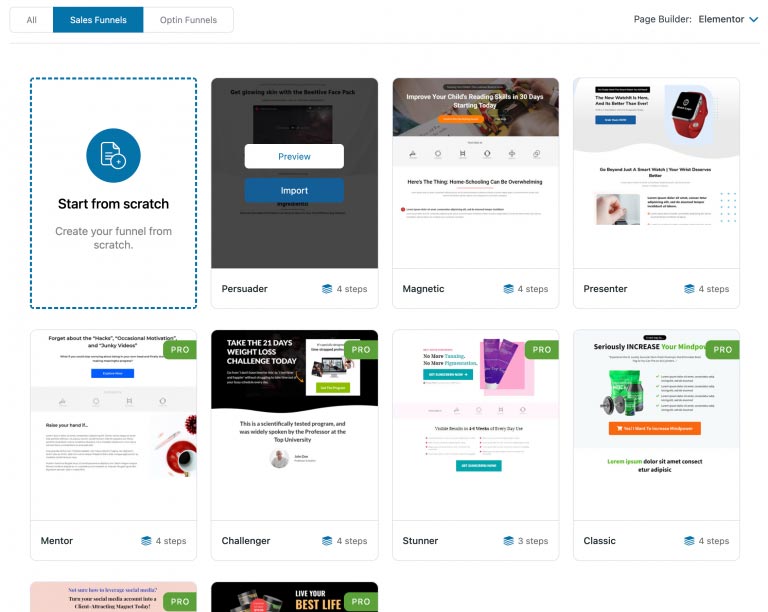 It'll automatically create two steps when you import this template. One is the Optin page and the other is the Optin thank you page.
Step-5: Customize your Optin page
Click on "Edit" to start editing your opt-in page.

Now, click on "Edit" to start editing your lead generation page in Elementor.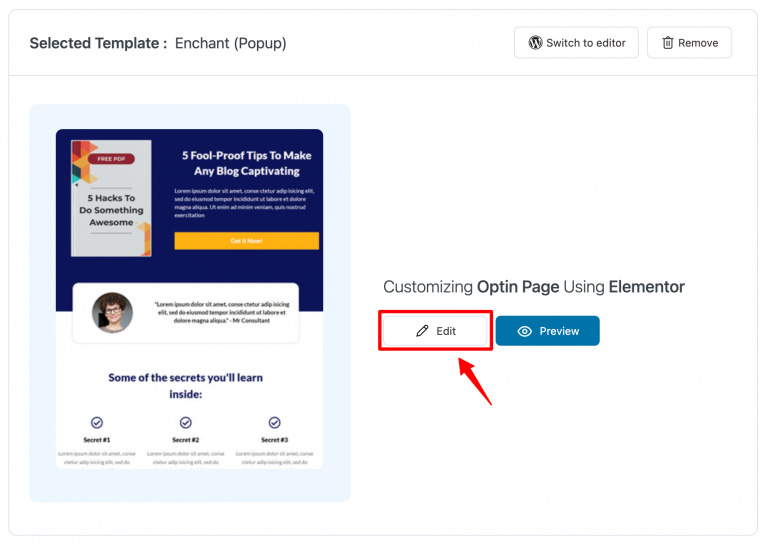 Start customizing your opt-in page and create a compelling lead magnet offer for lead generation.
You can make changes to your logo, image of your guide, headings/subheadings, button, and more.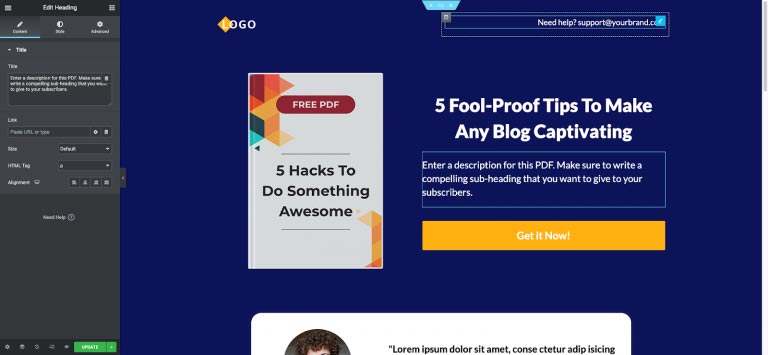 As you can see, it is a popup opt-in page.
If you want to use a page-embedded opt-in form, select the 'Optin Form' elementor widget from the menu.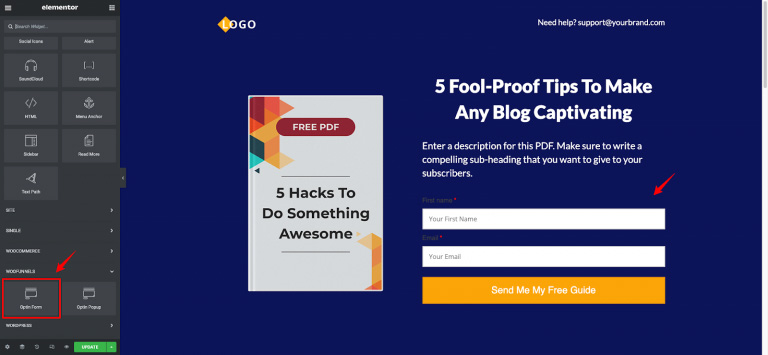 But, here we are continuing with the popup opt-in page. Once you've made the changes, click on "Update".
Step-6: Edit fields on your form
Now, if you want to make changes to the opt-in form, go back to your funnel and click on the "Form" tab.
Customize your form fields the way you'll be using them as lead generation via the drag and drop feature.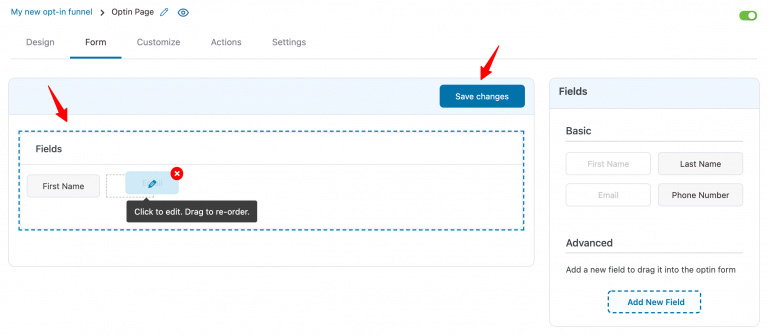 Make sure to click on "Save changes" when done.
You can even configure additional settings to show validation messages, point towards custom redirection, or add custom CSS codes and external scripts.

Make sure to save all the settings. That's done! You've successfully created your opt-in page.
In the next section, you'll learn how to send these leads to your CRM to complete this process of lead generation.
How to send leads to your CRM?
Follow these steps to send your leads to your CRM.
Step-1: Go to the funnel you just created

Step-2: Go to Actions
Click on "Edit" next to the Optin page.

Go to the Actions tab.
Step-3: Configure your CRM action
Click on CRM.

This option is all about sending your leads to your CRM. Once the process is done, you'll be able to complete the lead generation and collection (within a CRM) process.
Click on Yes to enable integrations with your existing CRM. Then, select your CRM.
Here, we are selecting ActiveCampaign.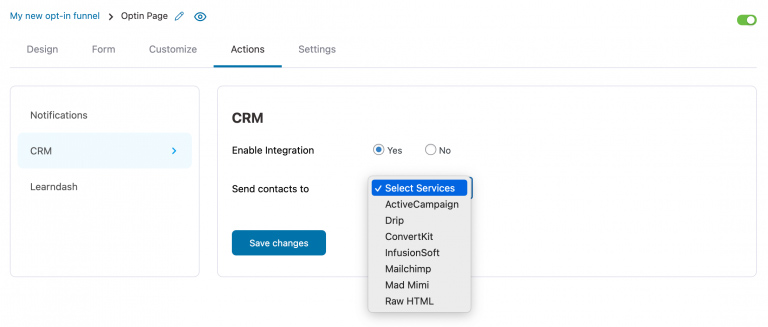 Step-4: Enter the form embed code
Enter the embedded code of the form here.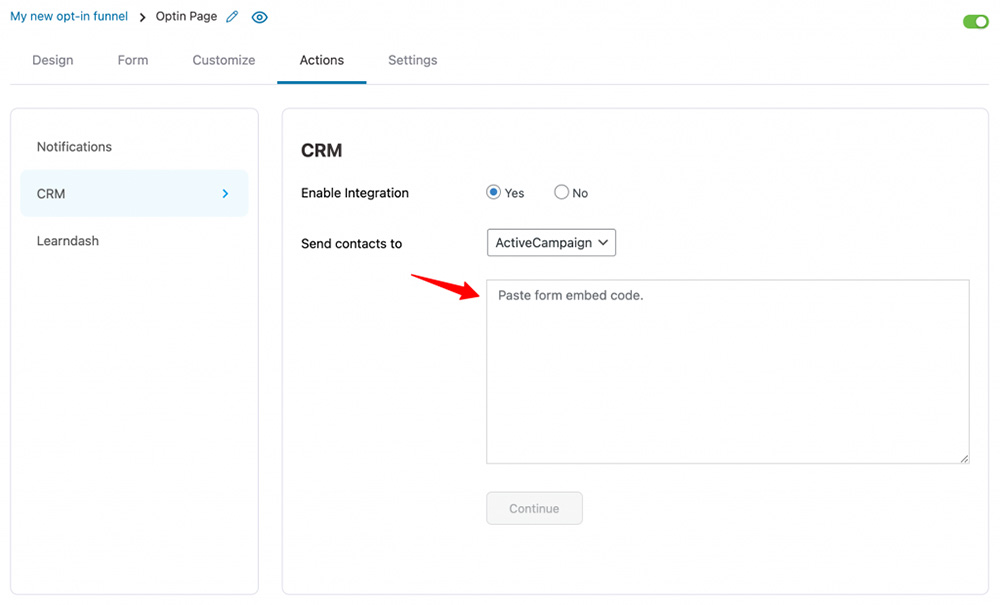 Step-5: Map the fields
Map your fields against your first name and email.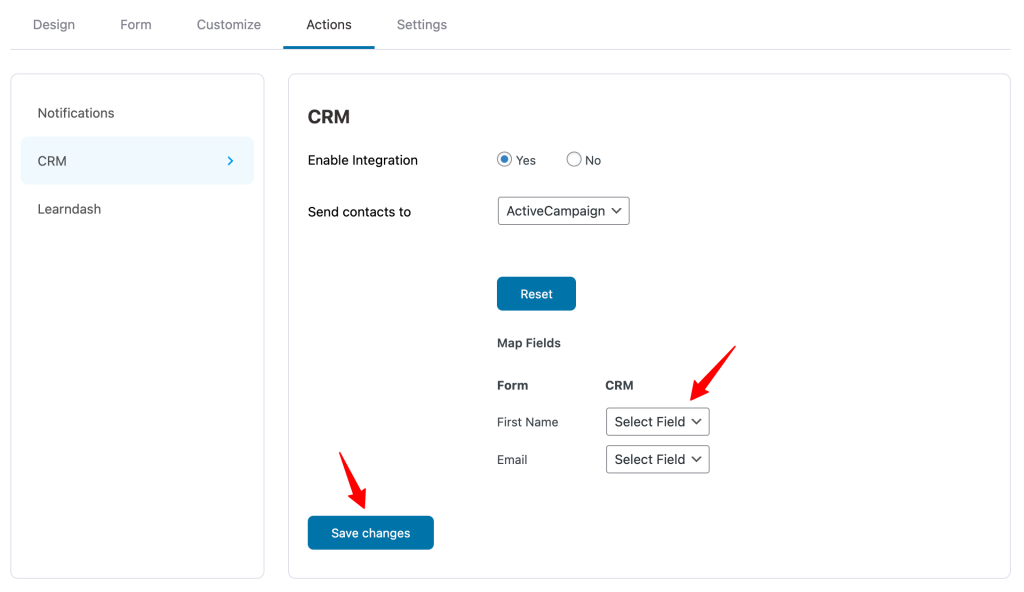 Once done, click on Save Settings.
Well done! You've successfully configured your CRM to receive leads from your WordPress funnel.
This is how you can set up your lead generation process using FunnelKit (formerly WooFunnels).
Sending the first welcome email
Remember the phrase "first impression is the last impression"?
Well, sending your first welcome email is your first chance to interact with your subscribers. So, you've to do it smartly.
In our situation, we've to send them the free PDF, which they have asked for.
Being a part of the lead generation process, here's how you can send your welcome email from WordPress itself.
Step-1: Go to Actions under the optin page you just created
Step-2: Enable the lead notification
By enabling this, you can set a welcome email that'll be sent to your new subscribers.

As soon as the visitors opt-in through your lead generation page, it'll send them a welcome email.
Step-3: Write content for your first welcome email
Enable the Lead Notification and write the email body.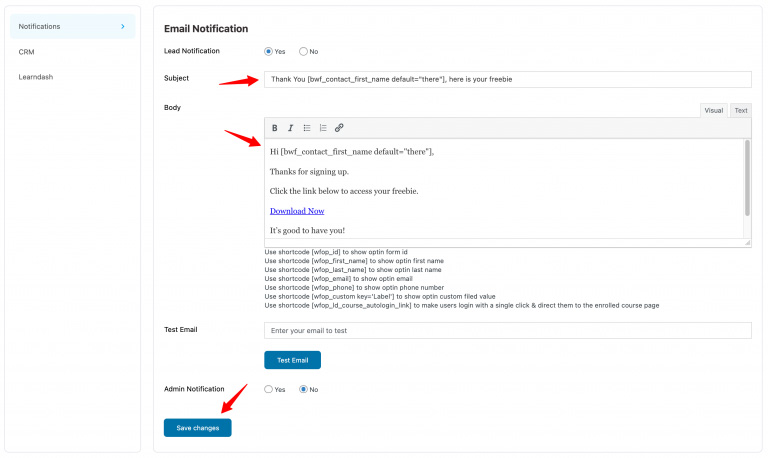 Once done, click on Save changes.
Congratulations! You've successfully created your first welcome email. Whenever anyone subscribes to your opt-in form, they will receive this welcome email in their inbox.
This way you can interact with your subscribers and send them their freebie automatically.
We have now demonstrated the complete lead generation process on WordPress using the FunnelKit (formerly WooFunnels) Funnel Builder.
Ready to Generate Leads on WordPress?
Now you know how easy it is to create custom opt-in pages and send leads to your CRM.
Successful businesses think of lead generation as a long-term strategy. That's why they create an efficient system of capturing their sales leads.
By using the FunnelKit (formerly WooFunnels) Funnel Builder, you can easily streamline your lead generation process within your organization. This will help increase opportunities for your business growth.
All this is possible right from your WordPress account.
Try the Funnel Builder for yourself and in case you face any issue, we are always here to help.