Are you looking to create an effective WordPress lead generation system that generates highly qualified leads?
Generating a consistent stream of qualified leads is the most effective way to drive sales and revenue.
With the right WordPress lead generation plugin, you can effortlessly transform visitors into leads and leads into loyal customers.
In this blog, we will unveil the secrets of WordPress lead generation and how you can generate leads like a pro.
Let's get started!
What is Lead Generation?
A lead is any person who expresses interest in a product or service. Lead generation is the process of attracting and capturing the interest of potential customers with the goal of turning them into paying customers.
Usually, lead generation involves various strategies and techniques aimed at capturing the attention of potential leads and convincing them to provide their contact information in exchange for something valuable.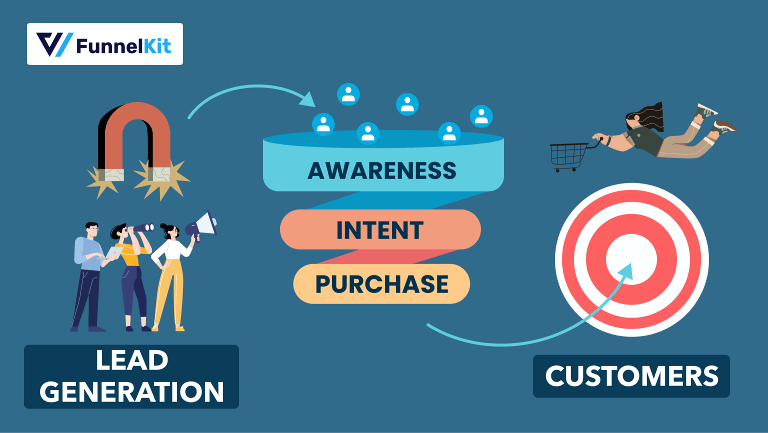 If we break down the process of lead generation, then it starts when a visitor gets to know about your product or service through marketing channels, such as your website, blog, social media, etc.
After that, the user lands on a landing page and provides their contact information in exchange for something the website offers. A website can offer a discount, free how-to guide, email course, etc, as an email opt-in.
The main goal of lead generation is to nurture relationships once they are added to the email list and guide them through the sales funnel until they are ready to make a purchasing decision.
Why is Lead Generation Important?
As indicated by HubSpot, businesses that engage in lead nurturing achieve a 50% higher sales volume while reducing costs by 33% compared to leads that are not nurtured.
That's why lead generation is such a popular email marketing technique. Here are some of the reasons why you should incorporate a lead generation strategy in your business:
Customer Acquisition: Lead generation makes customer acquisition easy by helping you discover potential customers interested in your offer.
Higher Conversion Rates: As leads are the people who actively have shown an interest in your product/service, they are more likely to convert, resulting in higher conversion rates.
Cost Efficiency: Targeted lead generation is more cost-effective than traditional marketing as you spend on people interested in your product rather than a broad audience.
Personalization: Based on the data you gather, you can tailor your marketing efforts to address individual needs and preferences. This will also boost your chance of getting more sales.
Now you know how important lead generation is. But to do lead generation, you will need a plugin. In the next section, we will talk about some of the best WordPress lead-generation plugins.
Top 5 WordPress Lead Generation Plugins
Here are the 5 most popular WordPress lead generation plugins as per their features and value for money.
1. FunnelKit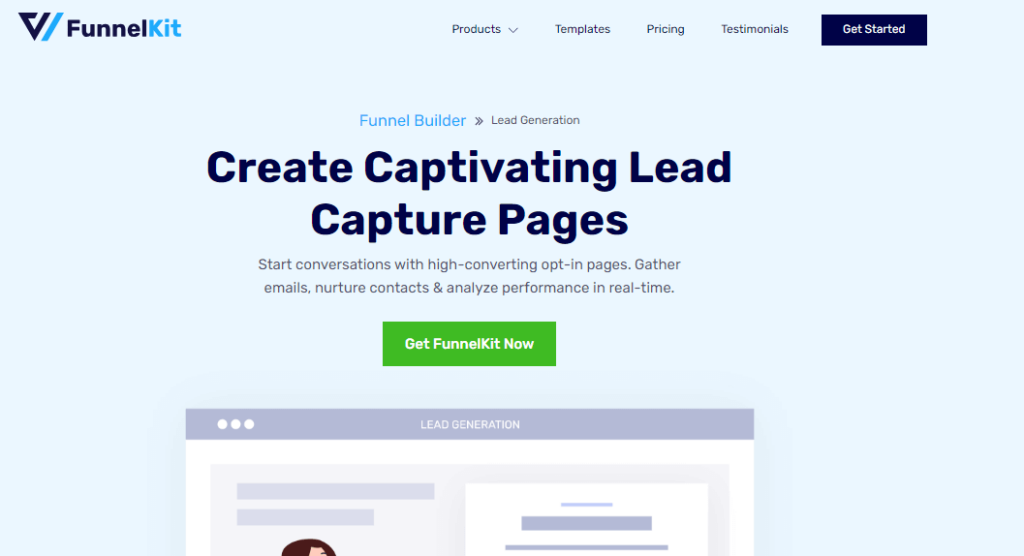 FunnelKit is the best-rated WordPress lead generation plugin with multiple prebuilt templates to make the lead generation process super easy. This is WordPress's ultimate sales funnel builder that lets you generate leads and turn them into customers using a sales funnel.
Here are the key features of FunnelKit:
Prebuilt lead generation template: FunnelKit has multiple ready-to-use templates that you can import and use in a few clicks. You can even build your lead generation funnel from scratch.
Two types of opt-in forms: FunnelKit gives you types of opt-in forms - an inline and a popup form. All you need to do is just drag and drop. You can add custom fields to your opt-in form as well.
Customer insights: Get customer insights in real-time with information related to their names, details, total spends, orders placed, etc.
Analytics: The analytics dashboard provides important data, such as the number of visits, contacts, revenue, conversion rate, etc.
A/B testing: With FunnelKit, you can A/B test different pages of your lead generation funnel to find out what works for your audience.
CRM integration: FunnelKit integrates with popular CRM such as ActiveCampaign, Drip, ConvertKit, InfusionSoft, MailChimp, etc.
Price: FunnelKit has a free version available. The pro version starts from $99.5/year.
2. OptinMonster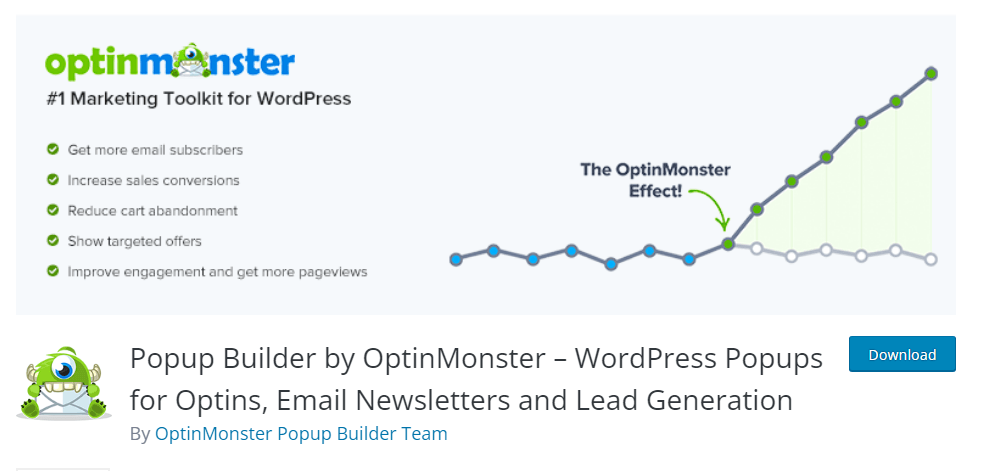 OptinMonster is a powerful lead generation plugin for WordPress. With this tool, you can create beautiful pop-up forms just by drag and drop. Here are the key features of the plugin for WordPress lead generation:
Popup maker: With this tool, you can create beautiful popup campaigns, email subscription forms, sticky announcement bars, opt-in forms, countdown timers, etc, without knowing any coding.
Exit Intent popup: This tool uses an exit intent technology and can show a popup at the exact moment when someone is about to leave your site to collect leads.
Page-level targeting: You can show your customers different opt-in forms based on the page they are on. This customization option helps you collect leads more effectively.
Prebuilt popup templates: Along with giving you the option to create pop up from scratch, this tool also provides you with prebuilt popup templates.
A/B testing: OptinMonster comes with a reliable A/B split testing feature. After A/B testing, it provides accurate analytics so you know what resonates with your customer.
Price: The WordPress lead generation plugin has a free version. The pro version starts at $9/month when billed annually.
3. WPForms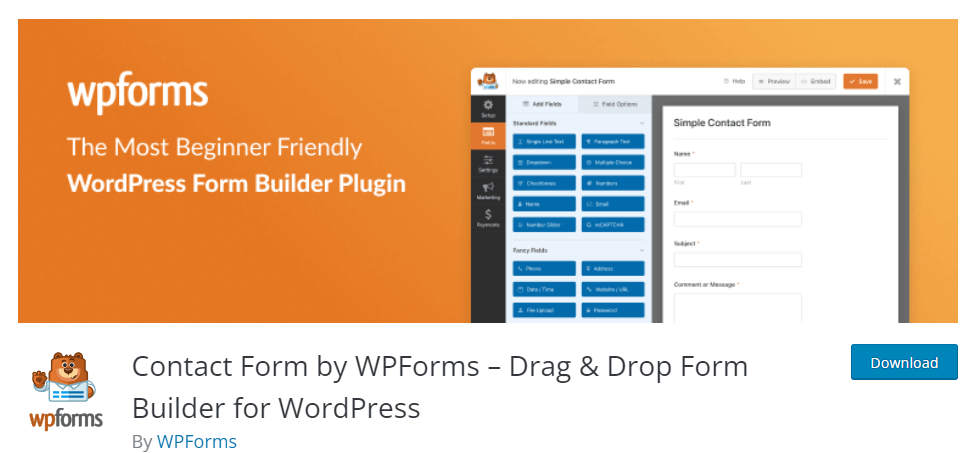 WPForms is one of the most popular form builders for WordPress that allows you to create beautiful contact forms, subscription forms, feedback forms, and many other types of forms. Here are some of the key features:
Prebuilt works: This beginner-friendly pop-up builder comes with many pre-built templates and workflow to make users' life super easy.
Drag and drop form builder: This WordPress plugin offers a smooth drag-and-drop form builder that you can use to build your forms from scratch.
Range of form fields: WPForms offer a variety of form fields, such as star ratings, file upload, multi-page form, etc., so you can create the form you want to make.
Spam Protection: WPForms comes equipped with effective built-in safeguards against spam. It also offers seamless connections to Google reCAPTCHA and Cloudflare Turnstile.
3rd party integrations: WpForms integrates with Hubspot, MailerLite, Drip, ActiveCampaign, Zapier, etc.
Price: You can find the free version on WordPress.org. The pro version starts at $49.50/Yearly.
4. MonsterInsights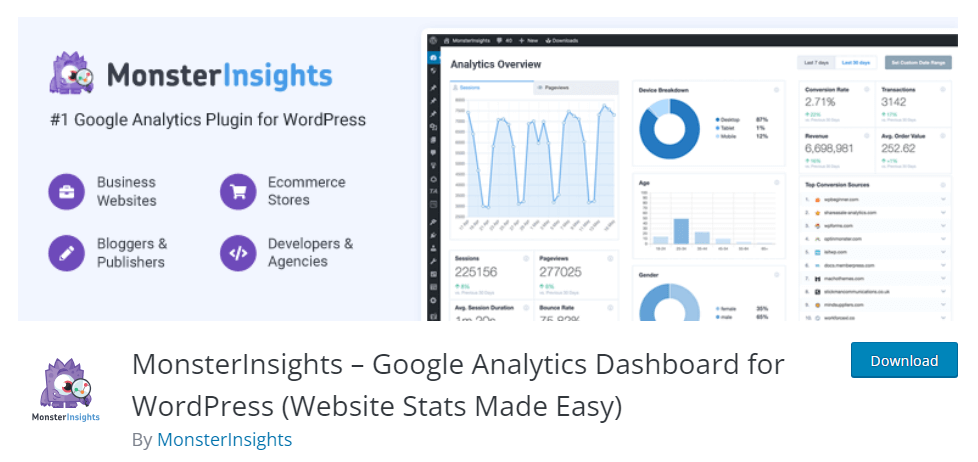 MonsterInsights is the most popular Google Analytics plugin for WordPress that lets you keep track of how your lead generation campaign is performing. Here are the key features of this plugin
Track file download: A useful feature MonsterInsights is the report for tracking file downloads. This functionality enables effortless monitoring of how lead magnets, such as ebooks, are performing.
Analytics: Using this WordPress lead generation plugin, you can readily identify which assets are most downloaded and which require further attention to enhance their performance.
WooCommerce stores and ensuring GDPR compliance: MonsterInsights offers modules designed for tracking WooCommerce stores and ensuring GDPR compliance.
Forms report: The Forms Report provides you with conversion statistics for different contact forms and lead forms on your website. This data enables you to enhance your conversion rates and drive business growth.
Price: Free version is available. The pro version starts at $99.50/year.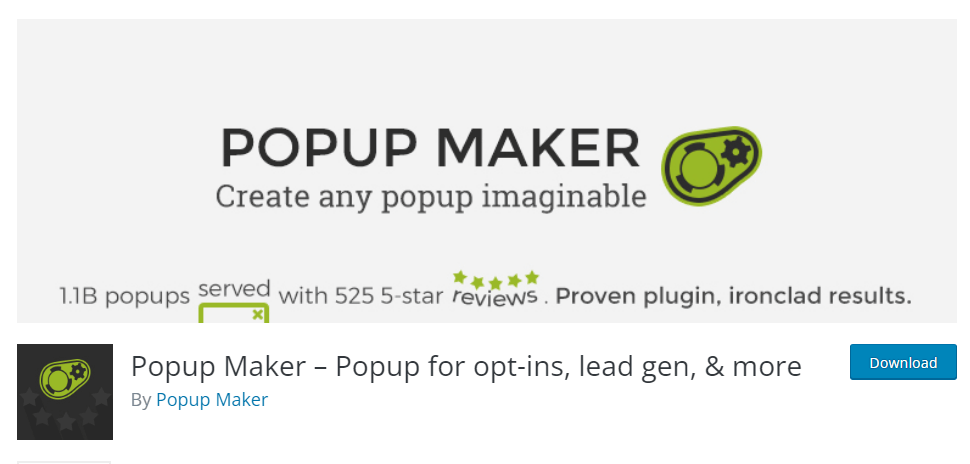 Popup Maker is another great plugin for creating popups in order to collect leads on your WordPress site. You can create conversion-focused campaigns to grow your revenue and email list. Here are the key features:
Popup forms: You can create different types of pop-up forms using this plugin, such as Email opt-in popups, Content upgrade popups, Lead generation popups, Contact form popups, etc.
Multiple Popup Triggers: A popup can trigger automatically when a user clicks on a button, submits a form, etc.
Exit intent popup: You can show your user a pop-up form right before they are about to leave your website.
Integration with popular form plugins: Popup maker integrated with popular form plugins such as Ninja Forms, Gravity Forms, Contact Form 7, Caldera Forms
WPForms, and many more.
Price: Free version available. The premium version starts at $87/year
How to Collect Quality Leads in WordPress like a Pro?
Here we will show how you can create a lead generation funnel from the WordPress dashboard to collect leads easily.
To create an opt-in funnel, we will use FunnelKit Funnel Builder. This is the ultimate sales Funnel plugin for WordPress that lets you create high-converting sales funnels with opt-in pages, sales pages, custom checkouts, order bumps, one-click upsells, and thank you pages.
Let's install and activate FunnelKit Funnel Builder before we start the main process. 
Step 1: Add a new opt-in funnel
Firstly, you need to create an opt-in funnel. For that, Go to FunnelKit ⇒ Funnels and click on "Add New Funnel".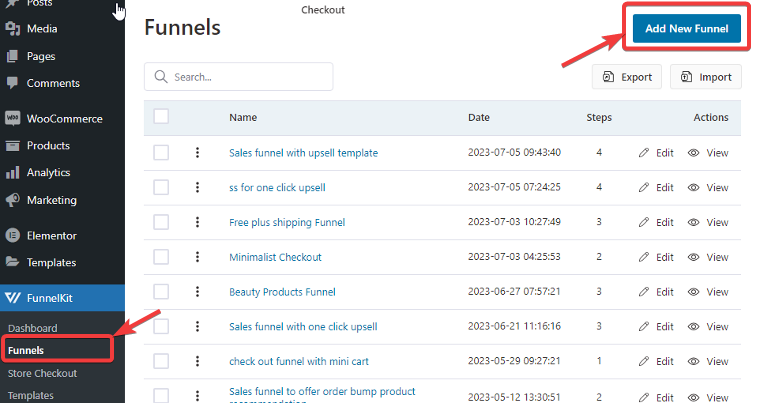 Now choose "Lead Funnels" as type and then your favorite page builder. We are going with Elementor here. After that, hover over the template you like and click on the "Preview" button.
Here we are choosing FunnelKit's "Charmer" lead generation template. This template offers an online seminar in exchange for the contact name and email address.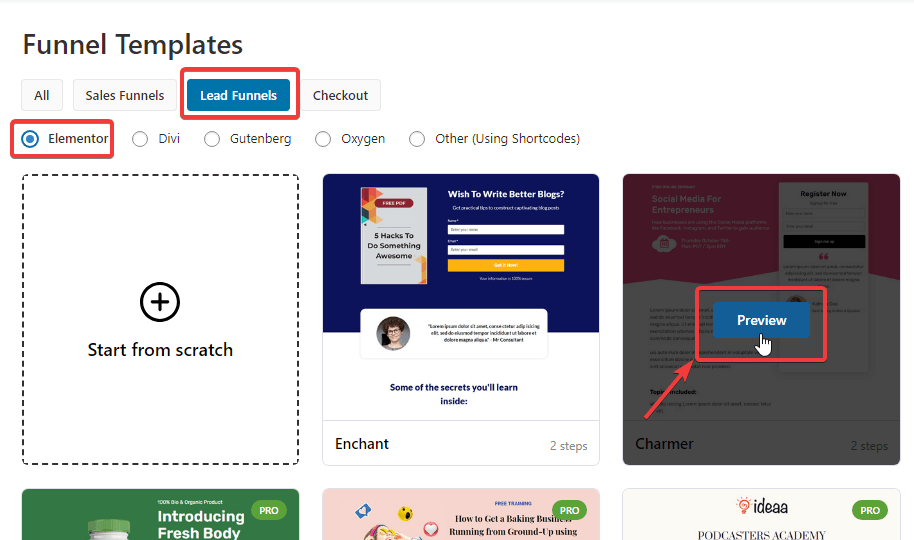 With every template, FunnelKit offers two types of opt-in forms: Inline and Popup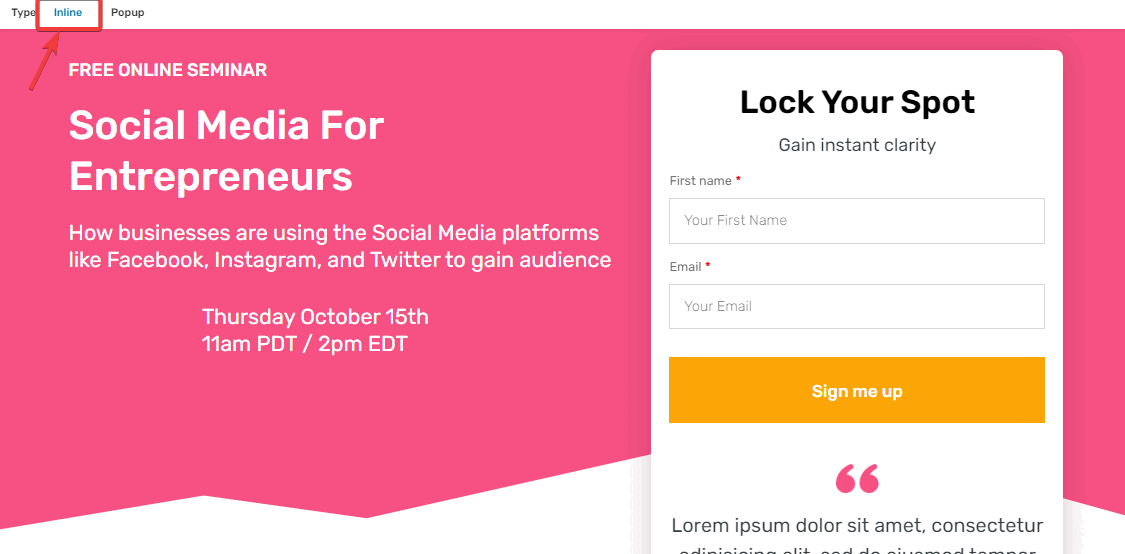 We will choose the inline option. Now to import this funnel click on "Import This Funnel," provide a name, and click on "Add".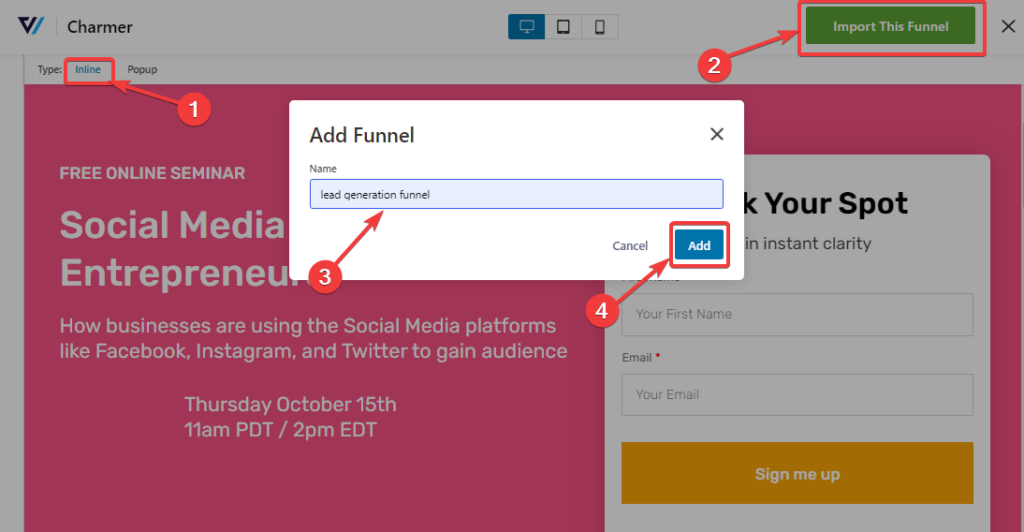 This will import the opt-in funnel with two steps: opt-in landing page and confirmation page.
Step 2: Customize the lead generation landing page
Now it's time to customize the opt-in page to reflect the offer you want to make. For that, click on the "Edit" icon next to the opt-in page. After that, click on the "Edit Template option".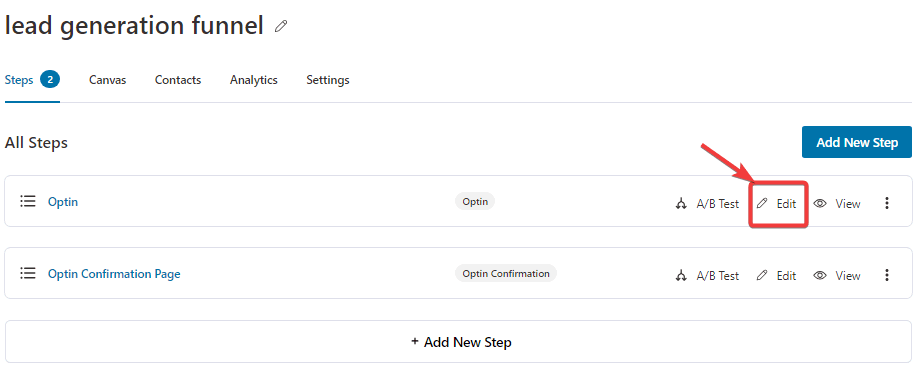 Now you can customize the content according to your needs. To customize any content, click on that element, and on the left-hand side menu; you will find customization options.
For example, you can update the logo.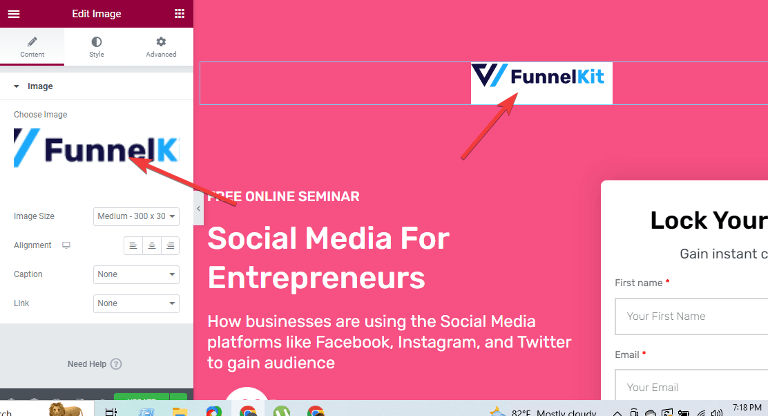 You can also change the form field width. Moreover, you can alter the CTA text, subtext, and submitting text.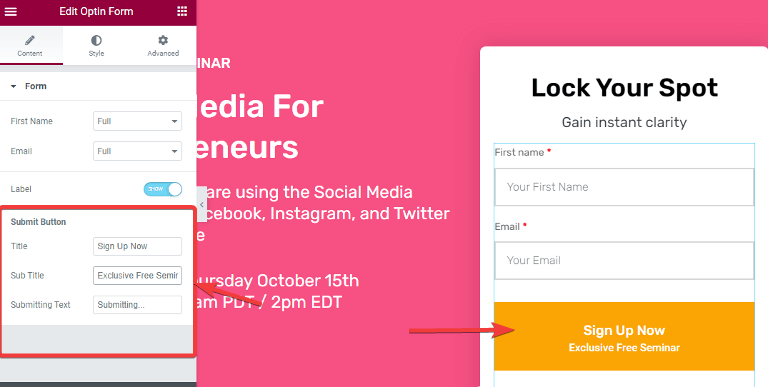 Update the content of all the sections to match your offer and brand.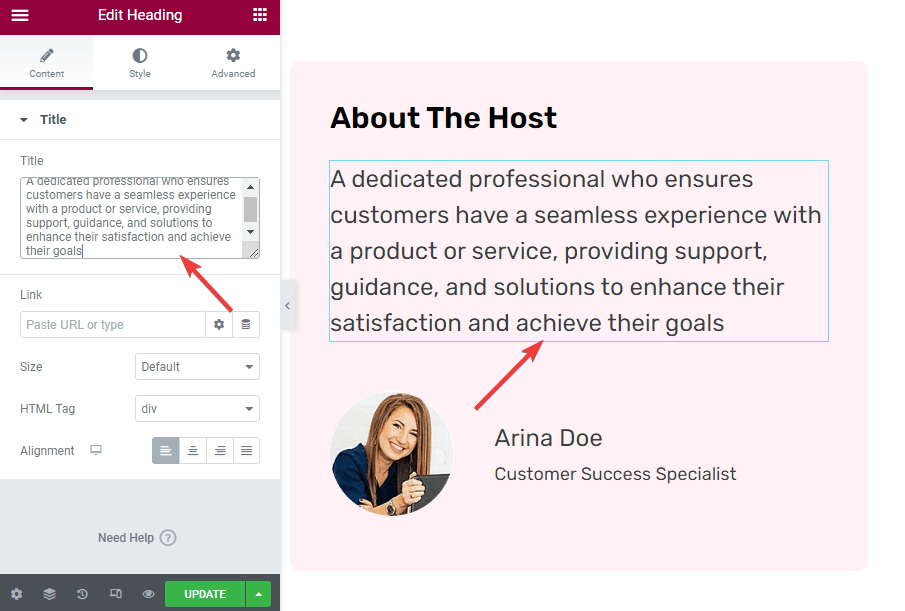 After making the changes, make sure to click on "Update" to save all the changes.
Here is what the opt-in page looks like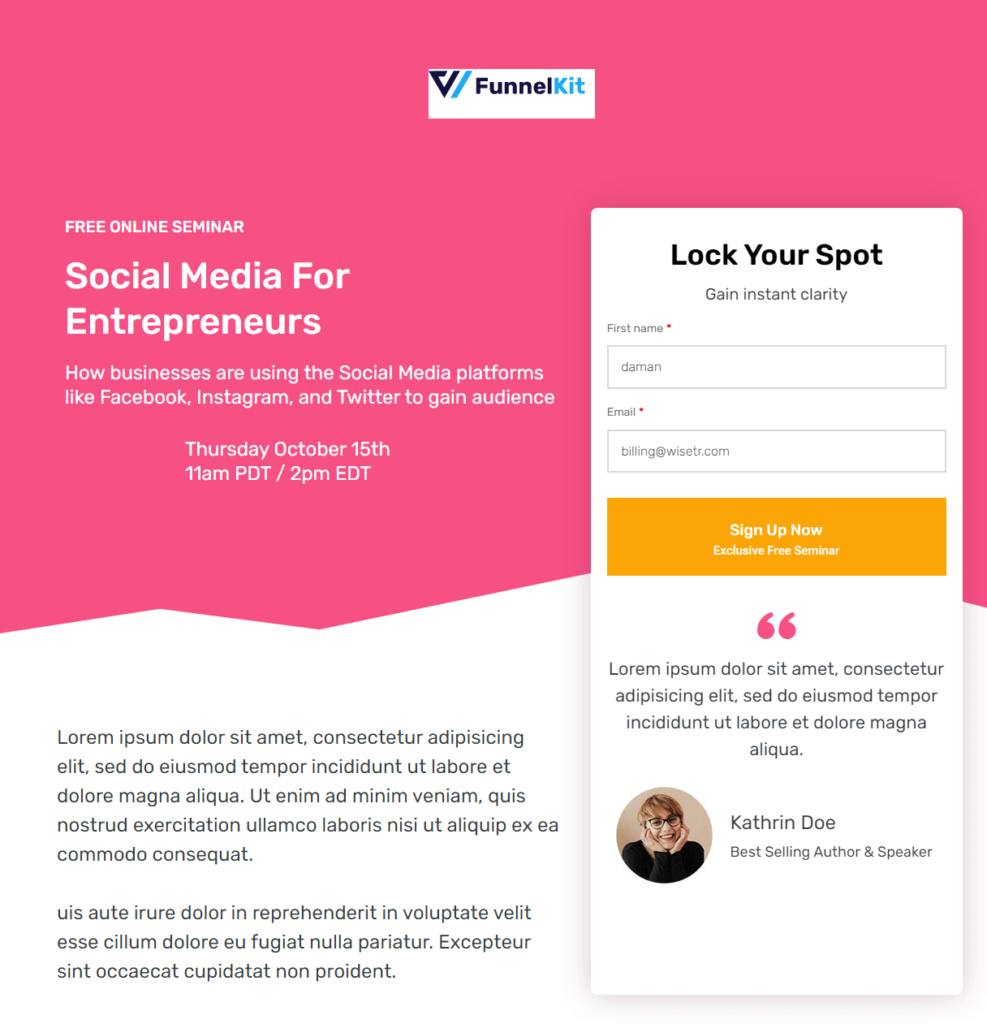 Step 3: Manage the opt in form fields
With FunnelKit, you can easily manage how many fields you want your opt in form to have. The template we choose currently has two form fields: first name and email.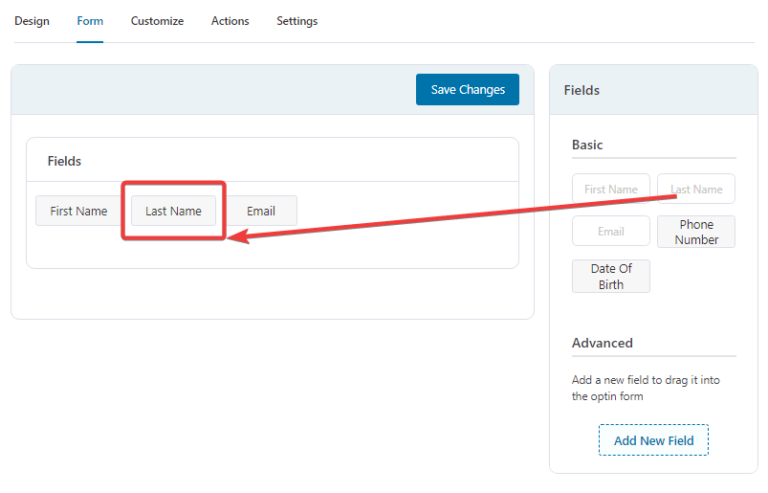 This step is optional, we are showing it so you can add more fields according to your needs.
Step 4: Enable email notification with confirmation
You can send a confirmation email to your subscriber with FunnelKit every time a user fills up and submits the form.
For that, move to the Actions Tab. Here Select "Yes" for the Lead Notification option. After that, you can customize the email subject and body. To personalize the email body content, you can use different shortcodes given below the "Body" option.
You can also enable Admin notification if you want.
After making the changes, make sure to hit "Save Changes" to update.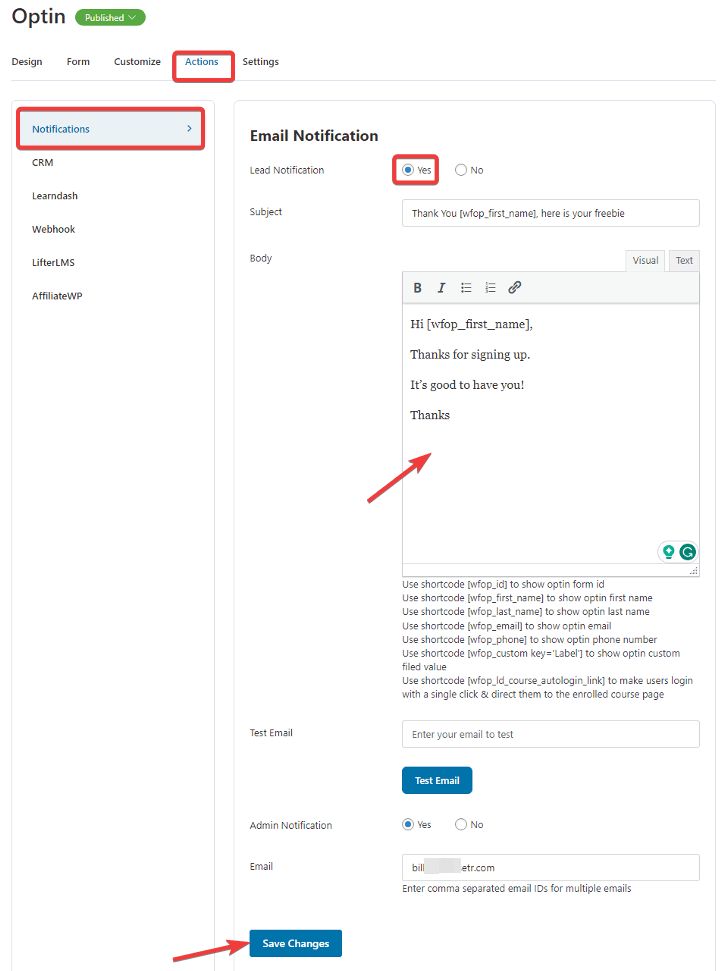 Step 5: Customize the opt-in confirmation page
Like you have customized the opt-in page, you can also customize the opt-in confirmation page.
For that, again, go to the "Edit Template" option to edit the page with your favorite page builder.
And that's it. Your WordPress lead generation funnel is ready!
How to Send leads to your CRM from WordPress Dashboard?
Once you collect your leads, you may want to send those leads to your favorite CRM. FunnelKit covers that as well for you.
Step 1: Enable CRM Integration
To do the necessary settings, edit the opt-in page and go to the Actions tab.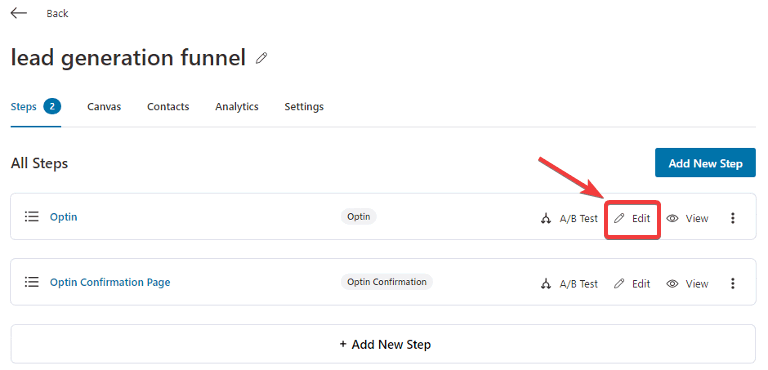 After that, move to the CRM tab and choose "yes" for the CRM Integration option.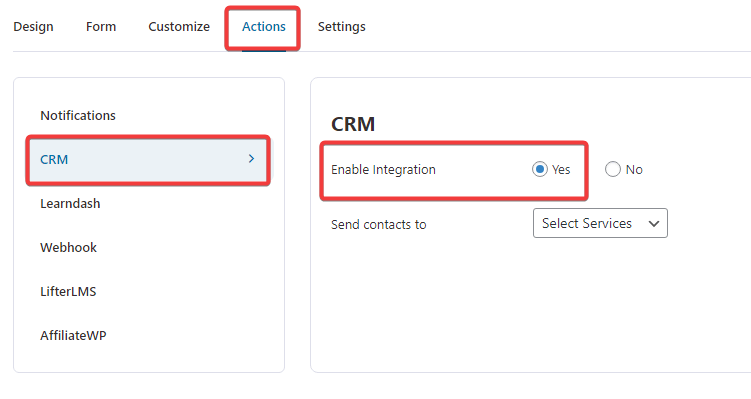 Step 2: Choose the CRM for integration
Now, choose the CRM you want to send contact to from the dropdown. We are choosing ActiveCampaign here.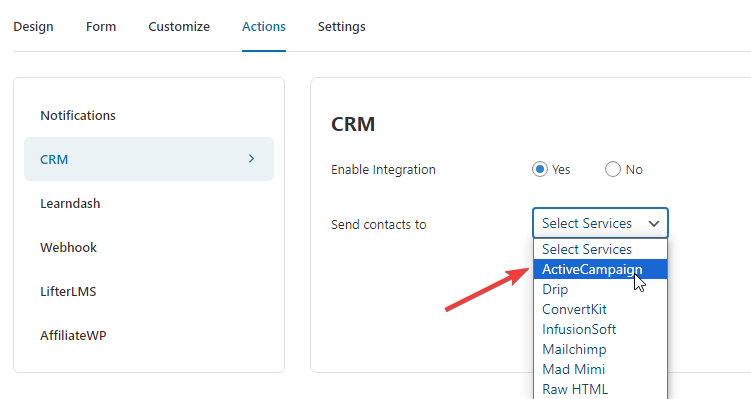 Step 3: Enter the form code
Now, you need to create a form in your CRM with the same fields you used in your opt-in form. Then copy the form code and paste it here. After that, click on "Continue."
Step 4: Map the form fields
Map your fields against your opt-in form fields. Here both our forms have two fields - first name and email.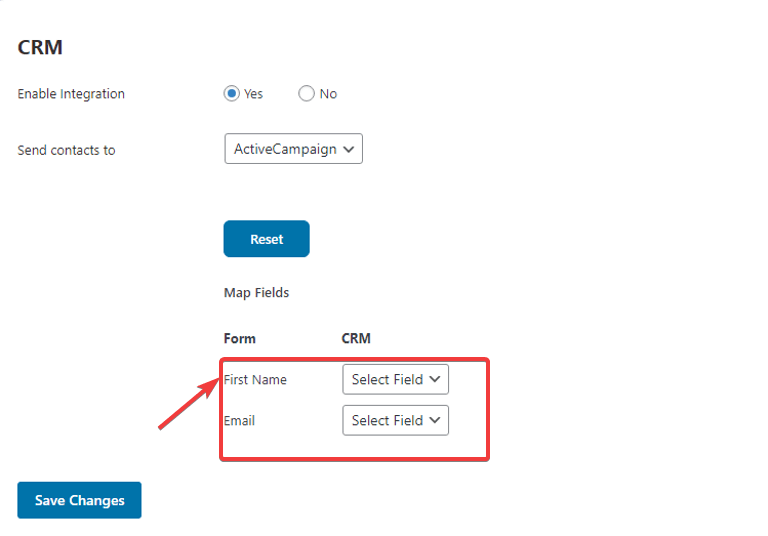 Once done, click on Save Changes.
Well done! You've successfully configured your CRM to receive leads from your WordPress funnel.
Use Marketing Automation to Nurture Your Leads and Maximize Your Conversions
The main aim of collecting leads is to nurture them to become paying customers. It involves building and maintaining relationships with your leads over time, with the aim of guiding them through the buyer's process, cultivating trust, and boosting the chances of conversions.
You can send them a series of email drip campaigns to interact and engage with them.
Here are some of the ways you can nurture your leads:
Welcome emails: You can send them a series of welcome emails introducing your brand, products, and values.
Educational content: Share educational content that will address your leads' pain points. You can share blog posts, video tutorials, etc.
Case studies: You can also share successful case studies and testimonials that will develop a lead's trust in your brand.
Offer discounts: Offer them special limited-time discounts to encourage them to make a purchase.
You can use all these types of emails using FunnelKit Automations. This tool lets you send automated emails to your leads so you can nurture them without much manual work.
Ready to Start WordPress Lead Generation Process with FunnelKit?
Lead generation can help you gain maximum conversions while giving minimum effort as you get quality leads. Nurturing leads that have actively demonstrated an interest in your product or service is more likely to result in conversions compared to leads that have not shown any interest.
And to help you get the best result when it comes to generating and capturing leads, you need an advanced WordPress lead generation plugin like FunnelKit. This versatile tool empowers you to create effective opt-in funnels with captivating landing pages and custom forms.
Moreover, FunnelKit offers the advantage of A/B testing your Opt-in funnel pages, providing concise analytics to streamline the process.
Are you prepared to kickstart your WordPress lead generation journey with the capabilities of FunnelKit?