If you own an online shop, chances are your opt-in box still says - "Subscribe now".
The problem is no one's willing to give their email away for something as bland as that.
But let's be honest - you don't have all the time in the world to optimize your opt-in offer. There are unfinished tasks, pending shipments, support and so much more.
Who's got the time to build the email list? I hear ya! But the fact you're reading this post- tells me that you're willing to start from somewhere and you know that a message received by email is 5x more likely to be seen and acted upon than one received by Facebook or Twitter.
So kudos to you for you're here to learn about the process - in this post I'll share with you email opt-in ideas to grow your list.
First, let's read about the different types of pop-ups to display your offer!
By the way, did you read our last post on Wardee's money-making checkout page strategies? Our readers loved it!
Types of Pop-Ups To Implement Your Email Opt-In Offer Idea
Sometimes you may have an excellent copy and a good offer but the way your offer is displayed on the pop-up - it could lead people to move on.
The pop-up may be distracting or interfering with the user experience - and hence, may cause people to avoid signing up. For these reasons, we'll first look at the different types of pop-ups.
Click To Open Pop-up:
A popup that appears only when your users click on the hyperlink or button. It's a 2-step process for signing up-like asking the user for a micro commitment before their name and email.
See it in action: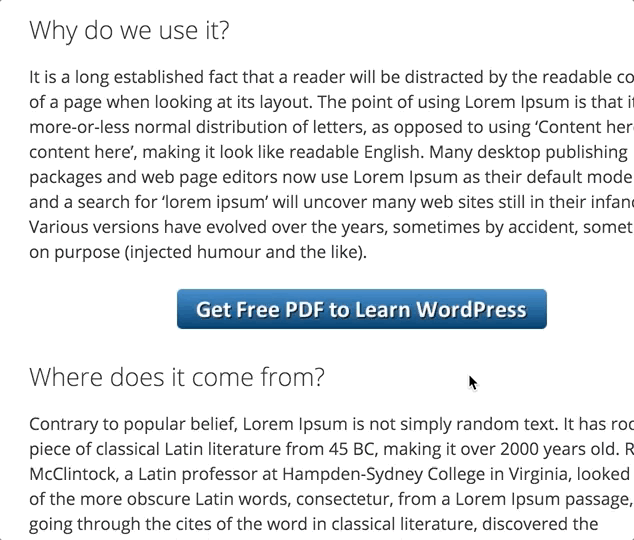 This pop-up appears when your user shows a tendency to leave a page. These types of pop-ups are powerful because they stop people from leaving your website. The use of an attention-grabbing headline is a must here.
Here's how it works:
This type of pop-up appears when the user has scrolled to a certain point on the page. Maybe he's 50% or 60% down - depending on how you have configured it.
Take a look at how it pops up: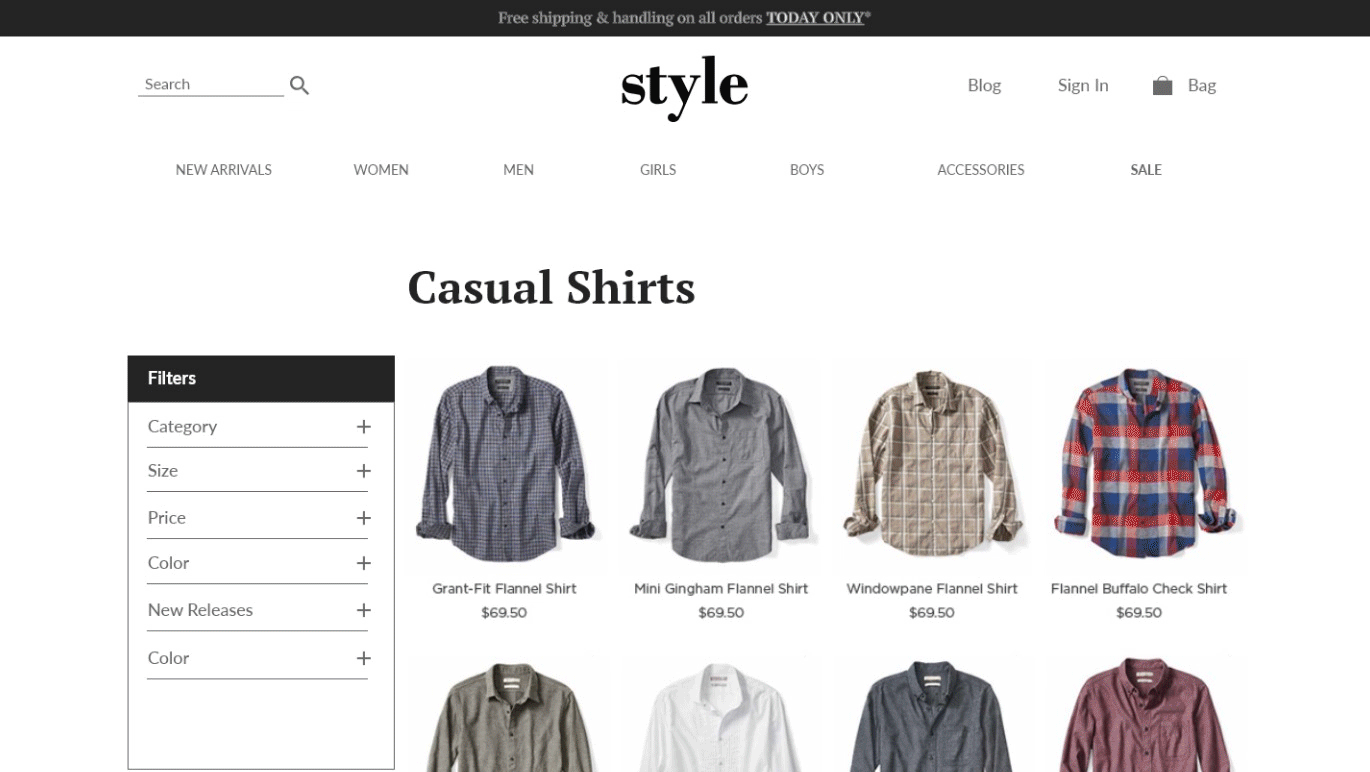 If you don't want to annoy your visitors, use this pop-up type. Show the popup to your prospects only when they have shown genuine interest in your business.
For example, set your timed popup to display after your users have spent, say about 30 secs or so on your store.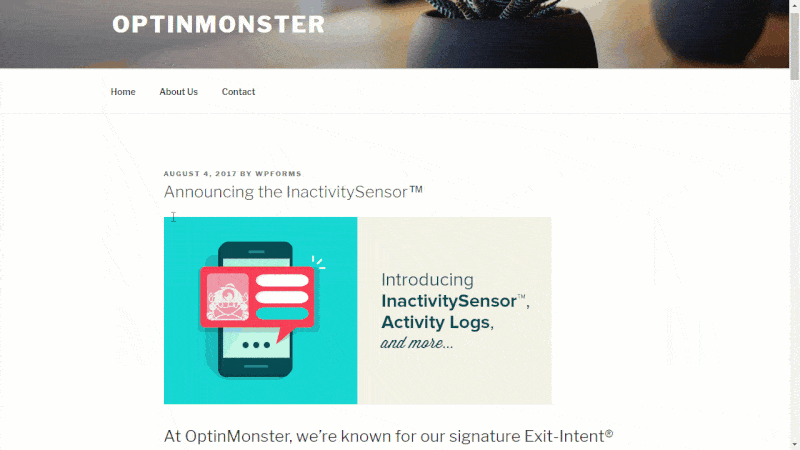 This popup shows up just when your visitor enters the website. It takes up the whole screen so that their attention goes to the text written on the screen.
The advantage of having a welcome mat on your store is that people will never miss out on what you've got! Here's how it appears to the users: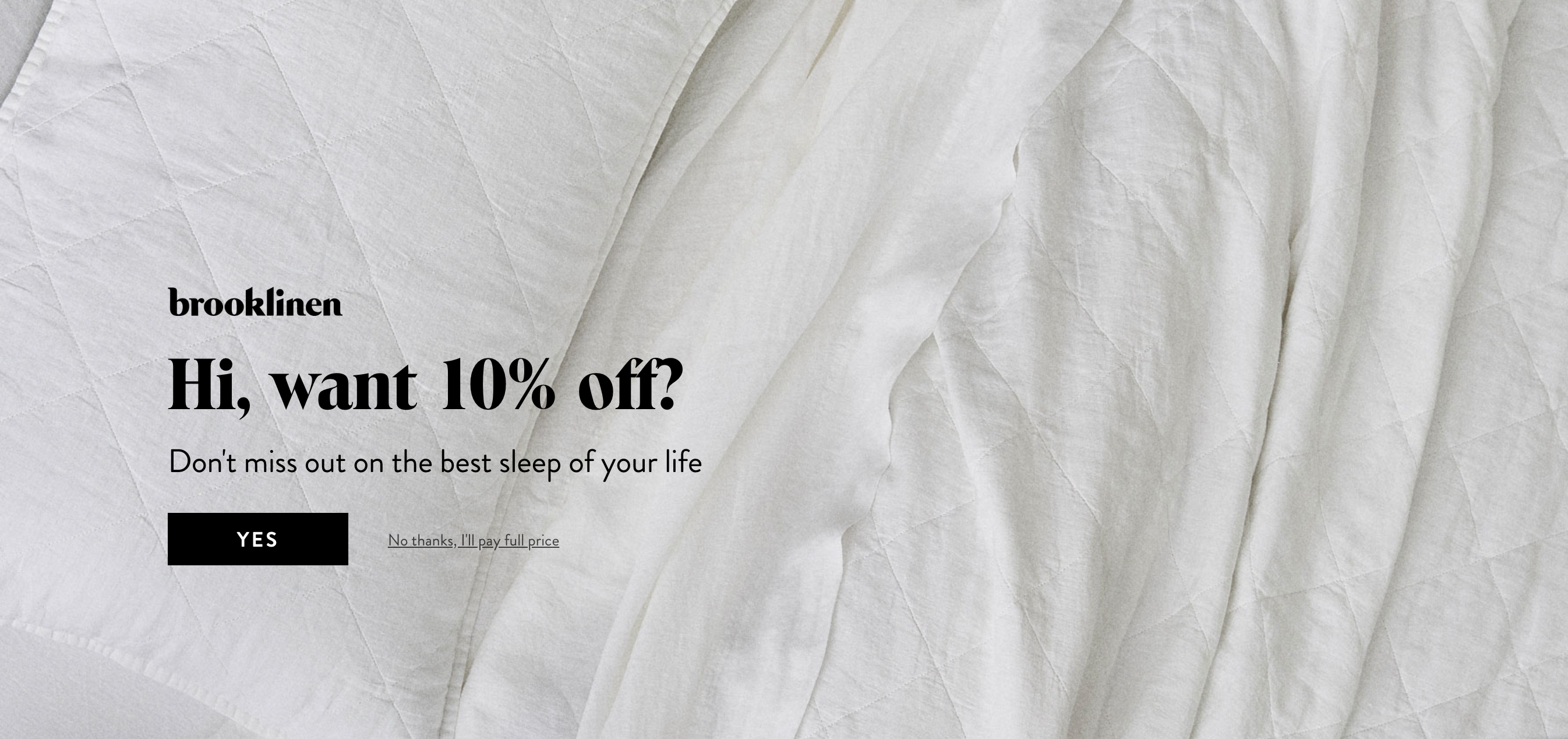 Opt-in Bar:
This is a bar that remains visible as long as your users are navigating on your site. It enables your offers like - contests, discounts, seasonal promotions, to be visible to your prospects at all times.
It's the least annoying type because it doesn't interfere with what the visitors are doing and only attracts their attention because of its distinct colors.
This is how it looks:
Ideally, the colors on the bar should not be used in the background of the pop-up.
Email Opt-In Offer Ideas
Now let's look at some opt-in offer ideas or lead magnet ideas that you can use for your physical products store.
Let's dive in.
#1: Entice With Handsome Discounts & Coupon Codes
Coupon codes pave the shortest path to the sale because people can encash them almost instantly.
Here's an example where the subscriber gets a discount of 15% on signing up to the list: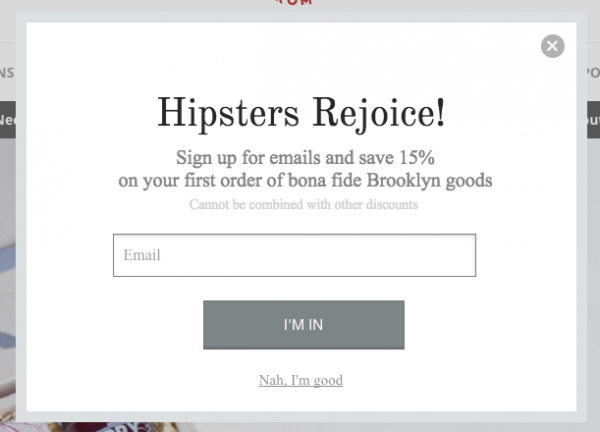 Notice the headline - it's short, crisp and attention-grabbing.
Also, the store has something great to offer here - it's not a 5% or 10% but a 15% discount.
In fact, the call to action button doesn't feature a bland and robotic language like - 'Sign up'. Instead, they've used 'Sign up to get the Discount' which is specific.
Another way to entice people to sign up is through gamification. Take a look at this wheel of fortune pop-up on Bumbebeelinenes.com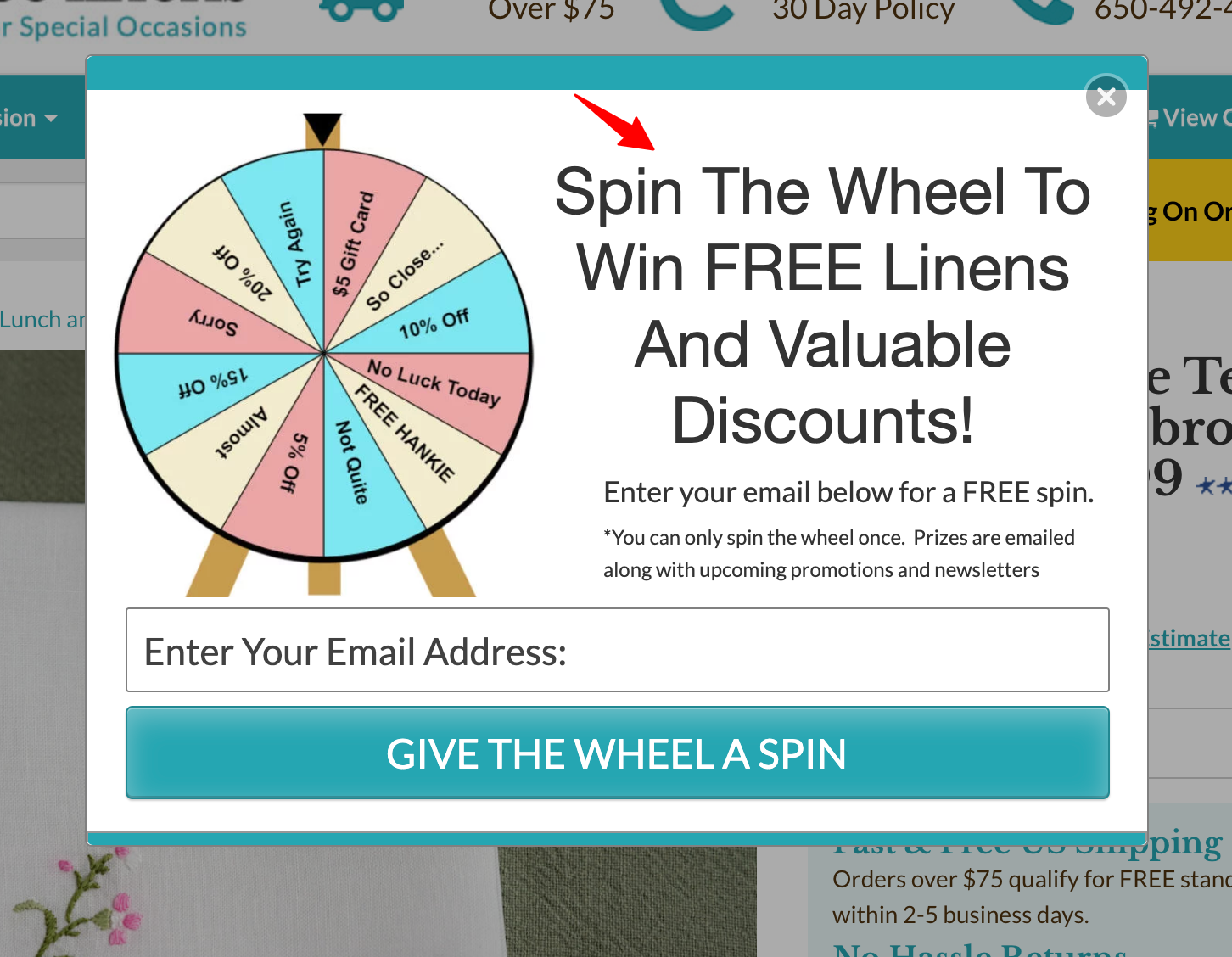 It's an interactive way to sign up for your prospects. Here's what Steve Chou, owner of this website said after he deployed the spin a wheel pop-up:
"Everyone loves to gamble and the best part is that this popup applies to ALL of my customers!...And the upshot was that my email signup rate shot up to 3.7% which was a 131% increase!"
Steal these scripts:
Heads up! Take your 15% off buttercup!

Just tell us where to send it:

Email Me The Coupon Now/Get $15 Off Code >>
It only takes a click on unsubscribe even though we know you wouldn't want to. 😉
Your Key Takeaways
Tailor your language according to your buyer persona. Think of how they talk with their friends and how they expect your business to talk to them. Sprinkle that language in your copy and the CTA button
Make your coupon code valid for a specified duration. The urgency drives people to make the purchase decision faster.
Choose gamification to offer discounts to make the process of signing up feel interactive and fun!
#2: Offer a Free Gift With Purchase When They Sign Up
Who doesn't like free gifts?
Lure your visitors with a free gift. Take a look at an example of this:
The colors are quite vivid and the offer is crystal clear. A study published by Sumo.com in which they analyzed over 2 Billion pop-ups revealed that being unclear with your headline - significantly lowers the conversion rate.
Notice, the language is warm and conversational. It's like how a real store owner would talk to a visitor.
Here's another example: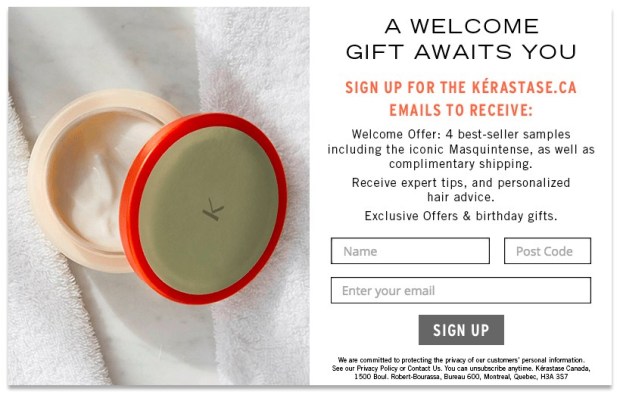 Although the headline is welcoming, the image could have been more appealing as it does not capture the essence of the offer. It feels bland and quite generic.
Here's an alternate way to write this:
We don't do free stuff - this is rare!
We'll send you our 4 of our hand-picked samples for FREE. Just tell us where to send them...
This would help the store owner to get more people on his mailing list.
You can even offer a credit for their first purchase as an opt-in offer:
Notice how they offer two distinct options to sign up - either via email or phone number. A choice between two options will always convert better than having just one single option on the pop-up.
#3: Promise a Birthday Gift
This type of pop-up is a time-bound one, nonetheless, it's quite effective. You can use it when you have your store's birthday/anniversary is coming up.
Let users sign up so that you can send them a special gift during your birthday sale. It also helps generate hype.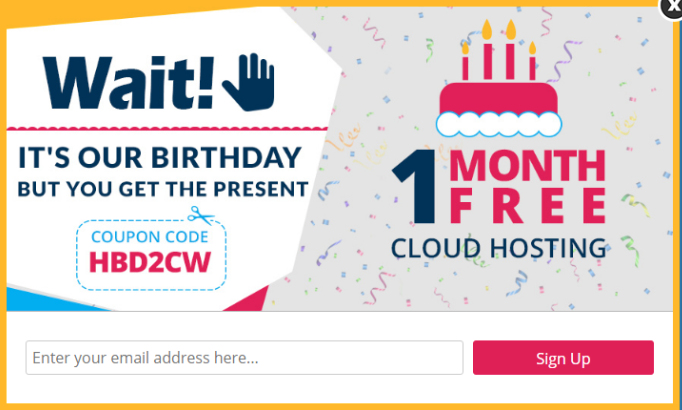 They've created a unique offer which is a one-month free cloud hosting service.
Steal this script:
Birthdays are NOT meant for throwing parties!

Yes! Birthdays are meant to shower discounts on our tribe - those who love our product & those who're yet to try us out….

OR

Sometimes life calls for a special celebration!

This is one such time and we invite you to be a part: Join our list and get offers for our Birthday Sale.
#4: Offer Early Access To Store Promotions
A good way to collect emails for your store is by offering them early access to your upcoming promotions. You can ask users to get on the list to receive early access to your new arrivals, festive discounts, sales.
Let's look at an example.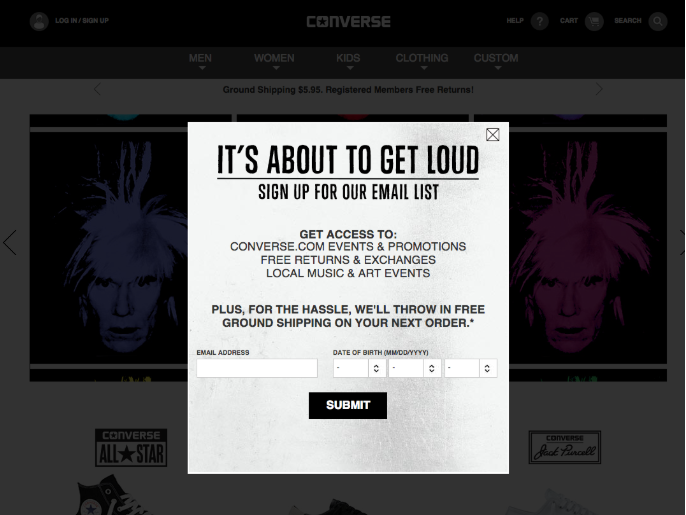 This is an email opt-in offered by Converse and it comes with early access to their events and promotions and even free returns and exchanges. Notice how they've highlighted free ground shipping which they're offering as a bonus for signing up! Quite a genius technique there.
However, the CTA could be more desirable, something like - "Tell me about your promos please", or "Yes! I wanna save some moolah"
Here's another one.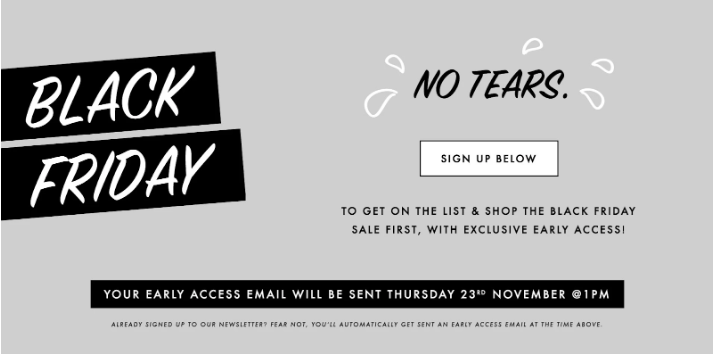 It's quite specific and will not stay on the site throughout the year but it warms up people to the upcoming Black Friday Sale. A very effective way to capture more emails is to make people raise their hand ahead of your sale.
Particularly notice the heading - "No Tears", which is very different from the conventional - Sign up or subscribe. They're able to do this because they've nailed the context.
Alternatively, you can offer instant access to the promo as Chubbies does: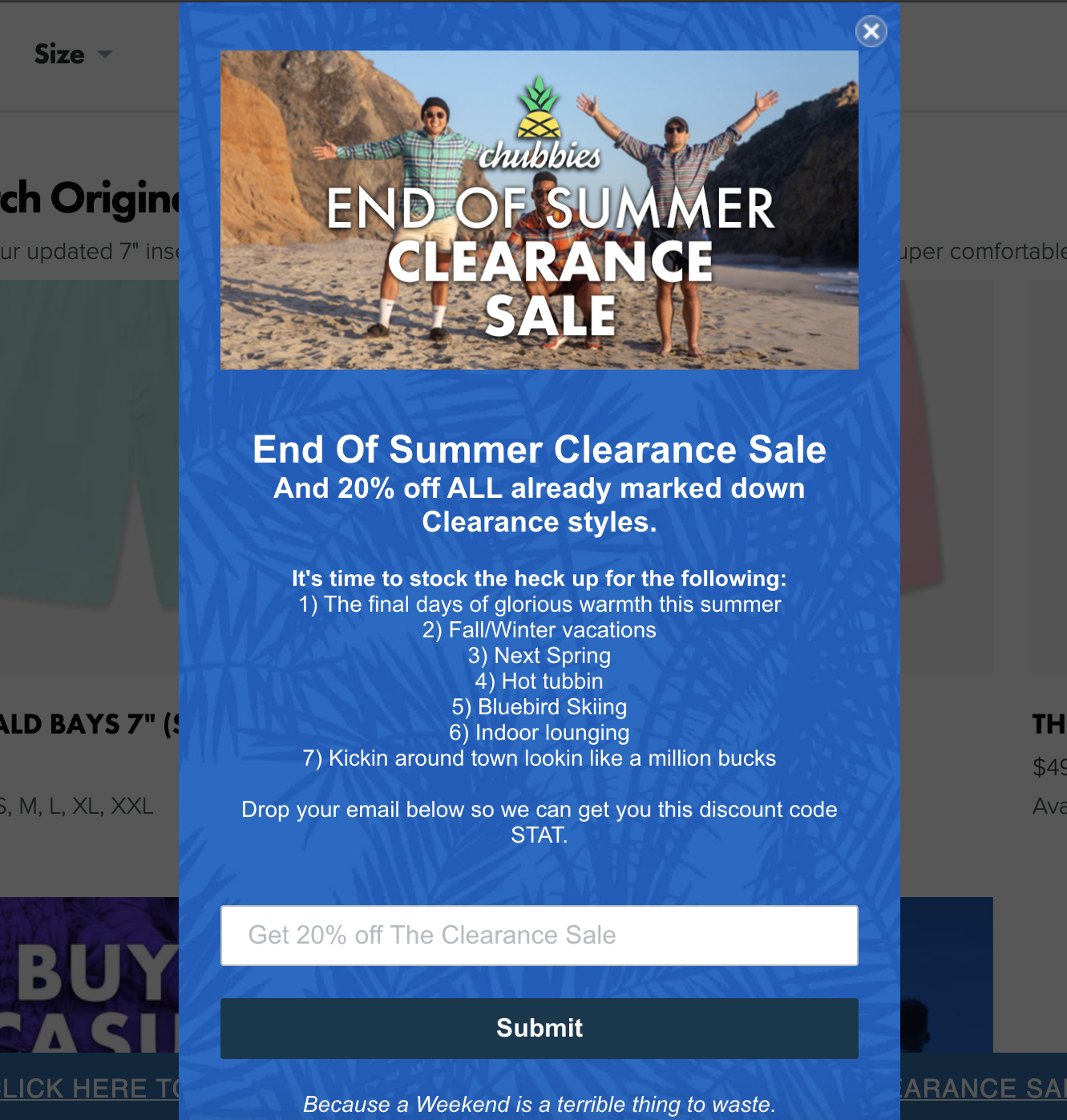 Notice the use of beautiful blue color with white text that definitely stands out. Though the CTA could be in a better color and more effective, nonetheless they've emphasized a whole lot on the benefits of signing up.
Use these wordings if you wanna use this opt-in idea in your store:
Stay in the loop! We're prepping up our store for our Black Friday Sales. If you're part of the list, you'll get the information first + access chunkier discounts!

OR

Want to know about our BFCM deals ahead of others? Jump in with your best email.
#5: Lure Visitors With An Early Access To Limited Edition Items & Deals
People love to feel exclusive so offer them a chance to join your special club or tribe.
Take a look at this pop-up, it stands out not just because of the content but also because of vivid colors and eye-catching design: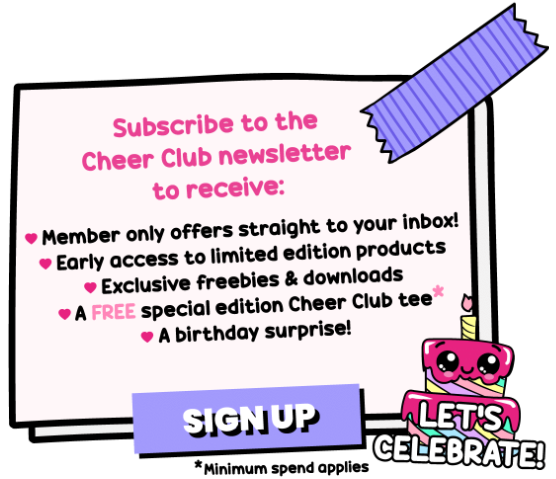 There's so much they're offering prospects in return for signing up to their exclusive club - it's a good idea to call your email list by a name like "Cheer Club" in this case.
However there's one catch here with the FREE limited edition tee - minimum spend applies, so you can decide what works best in your case.
Here are some scripts you can use for this type of opt-in offer:
Who wants to miss out on limited edition deals?
No one ever. But only those who're a part of our fam actually find out about them in time. Get on board now.
OR

Wanna keep up with the Joneses?
In this case, they're the members of our 'Cheer Club' who get news about your limited edition launches and exclusive deals way ahead of others!
OR

Don't miss out!
How will we get in touch when we launch something internet-shattering? Leave your email with us. We don't do spams or silly stuff.
#6: How-to Guides or Ebooks to users
Who doesn't want some useful tips and knowledge related to a product? Everyone does! You can design a short ebook that they can refer to.
Here are the top benefits of this email opt-in offer:
Easy-peasy to create- You don't need to write scores of pages in a free ebook. 5-10 pages are good enough. Think of how you can value you can offer to your customers.
It can be distributed easily - You can simply upload these on your WordPress site or put it in Google Drive and send a private link via email.
They're easy to consume: Ebooks can be downloaded and viewed on most devices, quickly and painlessly.
Take a look at an example of an ebook as an opt-in offer: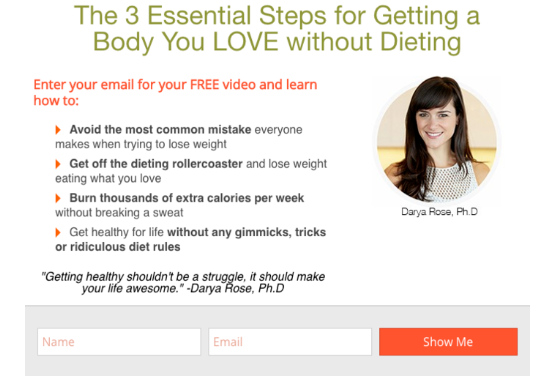 In the research, Sumo.com found that the use of personality increases pop-up conversion - so if you represent your business - it may actually be a good idea to use your picture.
Another interesting fact they found was that the more the content on your pop-up, the better it will convert.
In this case, Darya lists the benefits of downloading the guide and focusses on what people will learn.
Here's another brilliant example:
It goes really well even if you're selling physical products. The Call to action is in the first person and quite persuasive.
Use these wordings for your opt-ins:
The No B.S Guide To...

The Common Sense Guide To...

The Rookie's Guide To...
#7: Free Printables or Downloadables
The best part about printables is - people can print, personalize them and use them the way they want. This offer works better than ebook where the interaction is only one way and there's nothing that you can do to personalize them except print and scribble.
You can offer stickers, notecards, planners, worksheets, print art, etc.
Let's look at an example: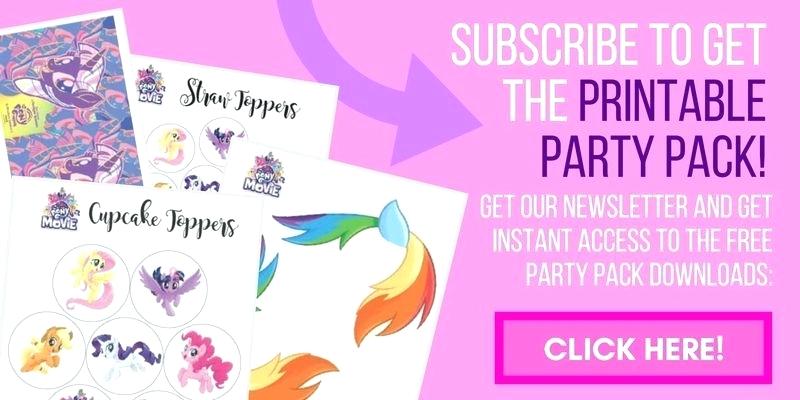 The visuals are vivid and the colors are popping-out- they stand apart and capture attention. Here's another example: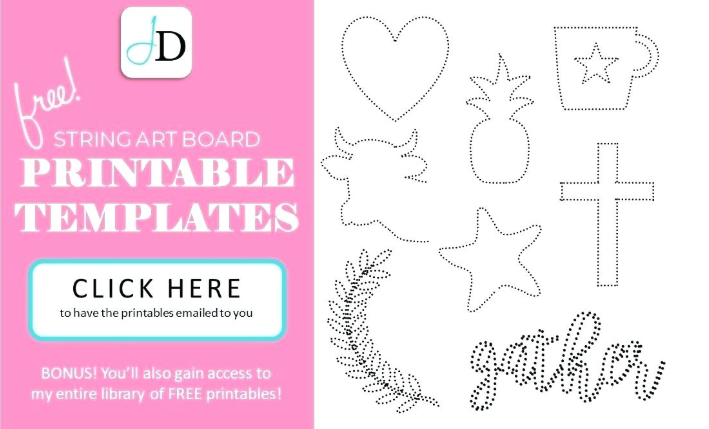 Here's how people can print, stick on the wall and personalize printables: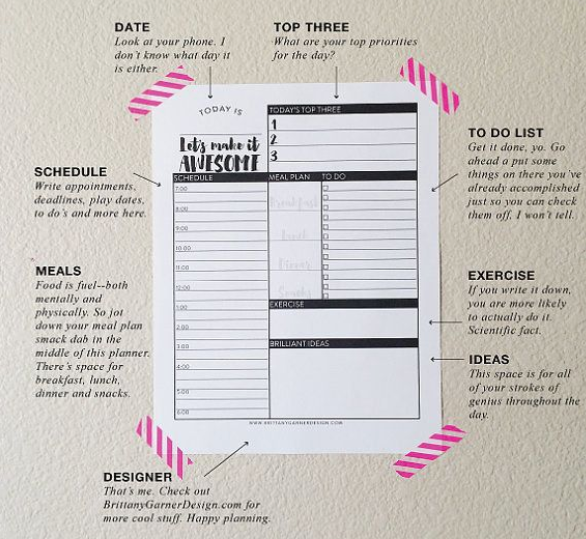 So if writing an ebook is not your cup of tea - consider printables.
Conclusion
There you go!
Always remember that a desirable offer + persuasive microcopy + the right pop-up = high-converting opt-in offer.
You cannot miss any of these critical ingredients and hope to cook something that converts!
I hope this guide will help you take a headstart and especially the word-for-word scripts will be useful to craft enticing copy. Let us know your thoughts in the comment box below.
Don't forget to read about how Marvin Coffman makes $2k/month EXTRA with FunnelKit (formerly WooFunnels) >>