Utilizing the power of the WooCommerce sales funnel can boost your online sales and revenue.
According to stat, 96% of visitors are not ready to buy. As a result, while many online stores receive a fair amount of traffic, but conversions and sales remain disappointingly low.
The reason most people don't convert is that they are not greeted with a clear path to purchase. A sales funnel can guide your website and visitors from getting to know about a product to completing a purchase.
And if your online store is built with WooCommerce, you can easily introduce a sales funnel to provide your users with a defined shopping experience.
In this blog, we will share how you can build a WooCommerce sales funnel that will boost your sales and simultaneously increase average order value.
So, let's begin.
What is a WooCommerce Sales Funnel?
A WooCommerce sales funnel refers to the step-by-step process that a potential customer goes through when making a purchase on a WooCommerce store.
This funnel is designed to guide visitors from the initial awareness of a product or service to the final conversion, where they make a purchase.
After the purchase, users are offered additional offers for retention and additional sales.
The stages of a sales funnel in WooCommerce typically include: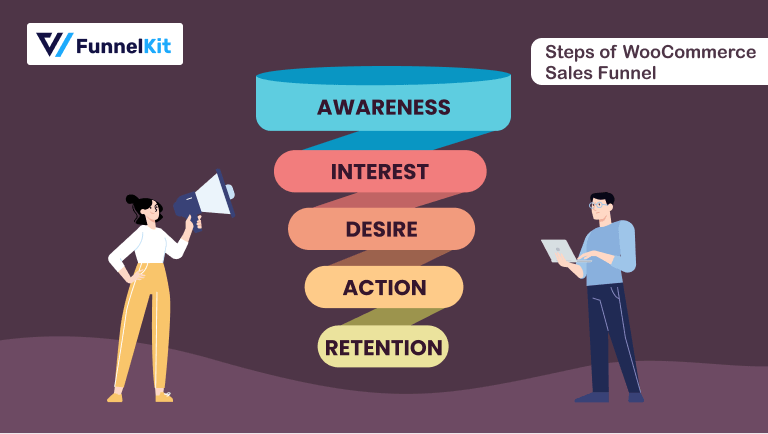 Awareness: In this stage, potential customers become aware of your products or services. They may discover your online store through various channels like social media, search engines, or email marketing.
Interest: After capturing their attention, you aim to pique their "Interest". This involves providing compelling content and showcasing product features to keep visitors engaged and interested in your offer. You can do this by directing users to a proper landing page.
Desire: Once you have their interest, the next step is to create "Desire". You do this by demonstrating the value and benefits of your products, emphasizing their uniqueness, and addressing potential customers' specific needs and wants with proper copy and media files on your landing page.
Action: The final stage is "Action," where visitors take the desired action, which in WooCommerce is making a purchase. You want to make this step as easy and frictionless as possible by providing a smooth checkout process and various payment options. You may consider offering a discount to incentivize users to complete their purchase.
Retention: After users click the "buy" button to purchase a product, you can take steps to retain the customer by presenting them with carefully selected complementary products. Incorporating order bumps and upsell options not only boosts your sales but also enhances the overall user experience, ultimately increasing the likelihood that they'll return for future purchases.
Now that you know how the WooCommerce sales funnel works, let's look at some reasons why you should leverage this sales technique.
Why Leverage WooCommerce Sales Funnels?
To make the most of your e-commerce business, you need to use a WooCommerce sales funnel. Here are some of the benefits of leveraging a WooCommerce sales funnel:
Reach the right customers: Using a WooCommerce sales funnel, you can offer different products to different people and thus offer people exactly what they want. For example, you can offer a different sales funnel for email marketing and a different one for Facebook ads.
Improve the shopping experience: Since the sales funnel guides users to buy their desired product in a structured way, it improves the overall shopping experience.
Grow sales: A well-done sales funnel doesn't just help you make sales right away. By taking care of your customers and giving them what they want, you can keep them coming back. This means a steady stream of income for your business.
Increase average order value: Offering order bumps, upsells, and cross-sells can optimize the user's shopping experience and effectively increase the average order value in your store.
Hopefully, by now, you can comprehend the importance of using a sales funnel in your WooCommerce store.
5 Best WooCommerce Sales Funnel Plugins
Now let's have a look at 5 of the best WooCommerce sales funnel plugins with their main features and prices:
1. FunnelKit
FunnelKit Funnel Builder is the ultimate solution for creating beautiful sales funnels in WooCommerce.
It's considered one of the best WooCommerce sales funnel plugins because of its intuitive user interface and extensive functionality that helps you boost sales.
Along with a sales funnel, you can also create stunning global checkout and offer a frictionless checkout process to your users. Moreover, you can create opt-in lead generation funnels, too.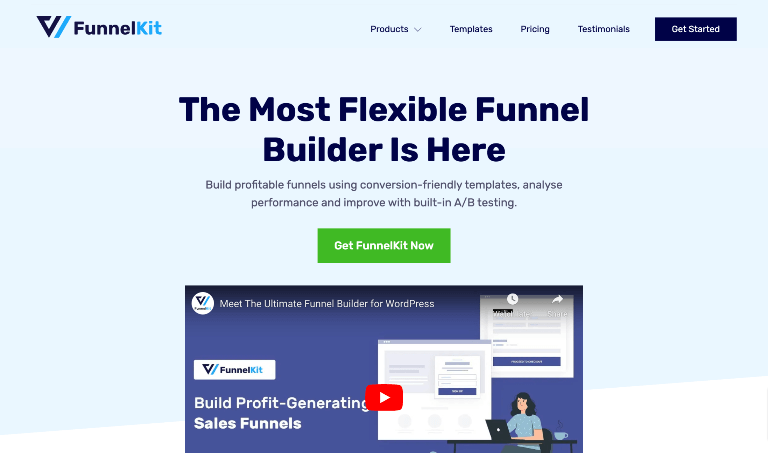 Here are some of the main features:
AOV-boosting feature: To increase the average order value, you can offer an order bump on the checkout page and post-purchase upsells and downsells.
Cart Abandonment Tracking: You can track abandoned carts and use users' emails for email marketing to recover lost carts.
In-depth analysis: You get an in-depth analysis of each funnel built with FunnelKit. You can view the number of visits, total revenue, revenue per visit, and more for each funnel separately.
Price: You can use FunnelKit Funnel Builder for free with limited features. The pro version starts with $99/per year. With a Plus package or above, you get access to the sliding mini cart.
2. FunnelKit Automations
FunnelKit Automations is the best solution for collecting leads and nurturing your audience with pre and post-purchase emails.
Basically, if you want your WooCommerce users to convert through an email marketing funnel, then this plugin should be your number one choice.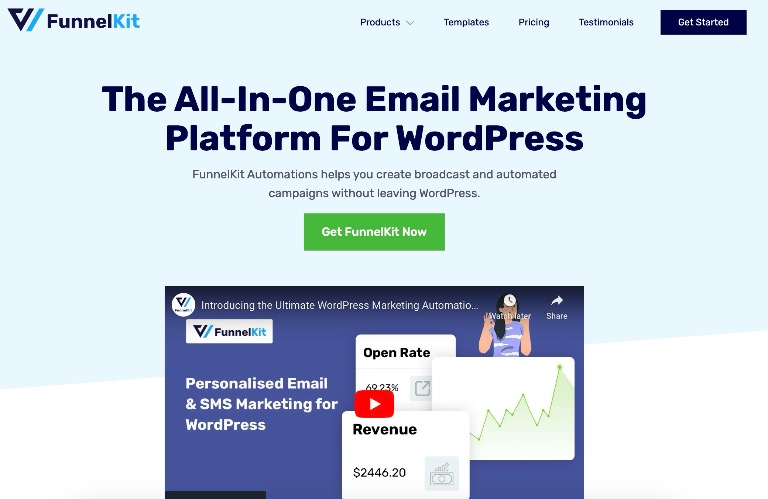 Here are some of the key features:
Automated campaigns: With FunnelKit automations, you can automate your email campaign so it runs even when you are away. So, if someone optin, you can send them a series of email drip campaigns to convince them to make their first purchase on autopilot.

Prebuilt recipes: You get a wide range of email autoresponders that you can import and use in a few clicks. Some prebuilt recipes include abandoned cart campaigns, win-back campaigns, post-purchase sequences, etc.

Visual email builder: Funnelkit Automations has a built-in visual drag-and-drop email builder that you can use to create beautiful customized emails by dragging and dropping elements.

Segmentation: You can segment your email list based on users' demographics or purchase history and send them super-relevant content.

Personalized email: FunnelKit has a merge tag feature that allows you to send personalized emails with dynamic customer information. You can also send personalized discount coupon codes.

In-depth Analytics: You get in-depth analytics from active contacts, completed contacts, orders, revenue, AOV, etc.
Price: You can get started with FunnelKit Automations for free. The pro version starts from $249/Year.
3. Thrive Suite
Thrive suite is an all-in-one solution for creating a website, sales funnel, email list, scarcity campaign, and online course.
It consists of multiple plugins, including Thrive Theme Builder, Thrive Architect, Thrive Leads, Thrive Quiz Builder, and others.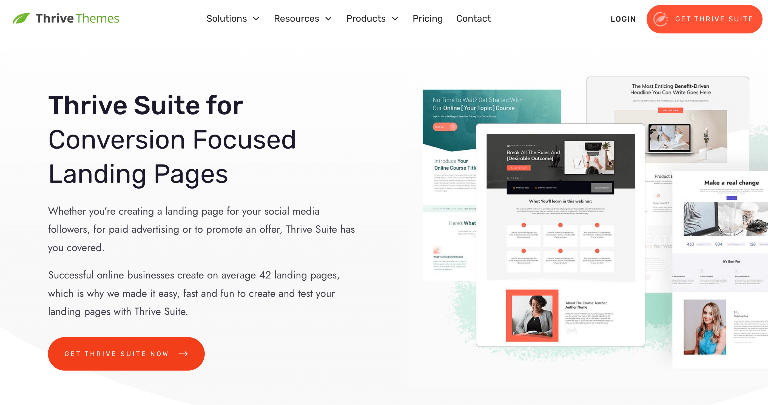 Here are the key features:
Prebuilt landing page templates: With this plugin, you get access to 271+ conversion-focused landing page templates. You will get upsell, confirmation, download, and thank you pages in the landing page templates.

Drag-and-drop builder: Thrive Architect comes with the drag-and-drop landing page builder that's included in the Thrive Suite.

Smart color technology: You get a revolutionary technology that lets you change your landing page's color scheme with a single click, saving you hours of tinkering with settings.

Build funnels from scratch: If you want, you can build sales funnel pages from scratch using blocks if you don't want to use the prebuilt templates.

Mobile optimization: All the templates and blocks available in Thrive Suite are optimized for different devices.

A/B test landing page: You can A/B test your landing pages from the WordPress dashboard.
Price: Thrive Suite costs $299/year.
4. Elementor
Elementor is one of the most popular page builders that you can use to build stunning landing pages.
It also integrates with WooCommerce and allows you to customize its pages, such as the shop, checkout, and thank you pages.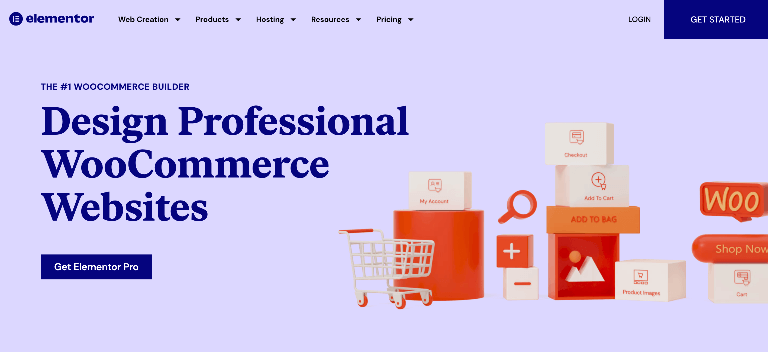 Here are some of the key features:
Drag and drop builder: Elementor is a drag-and-drop page builder with 60+ widgets and 20+ WooCommerce widgets that you can drag and drop to build your sales funnel pages.

Template library: Elementor has a huge range of libraries that you can use to import Single Pages, Blocks, or Popup templates to your website and sales funnel.

Responsive design: This sales funnel builder helps you to create fully device-responsive sales funnel pages.

Fast-loading pages: With this plugin, you can create sales funnel pages that are super lightweight, which helps ensure a good user experience.

Supports multiple languages: As Elementor supports 59+ languages, you can create WooCommerce sales funnels in multiple languages.
Price: You can use Elementor for free. The pro version starts at $59/year for a single site.
5. MonsterInsights
MonsterInsights is the best WordPress analytics plugin that makes it super easy to track the activity of your WooCommerce website.
It gives you more insights you can use to optimize your funnel and make more sales.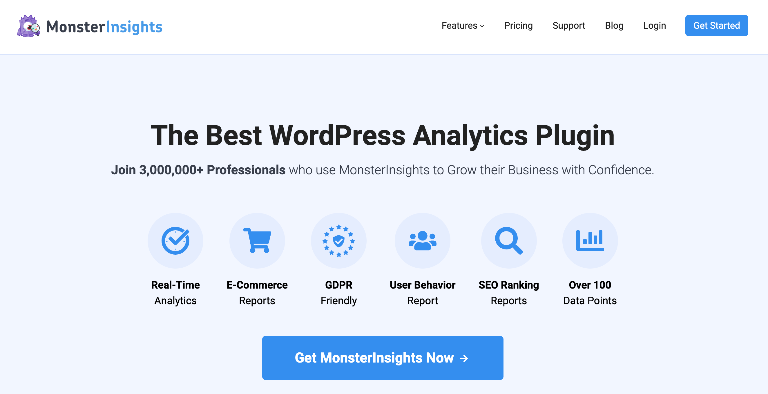 Here are some of the key features:
Real-time analytics: You can set up proper website tracking with just a few clicks. The best part is you get real-time stats from the WordPress dashboard and see who is online, what they are doing, and more.

Google analytics dashboard: You can access website analytics reports right inside your WordPress dashboard with actionable insights.

Form tracking: You can instantly measure the performance of your website forms and then work accordingly to improve the revenue.

Track user journey: Easily track which pages each user visited and how long they spent there before making a purchase in your store. This will give you a clear idea about your target audience's mindset.
Price: A free version of this plugin is available. The pro version starts at $99.50/year.
As you can see, FunnelKit Funnel Builder is the most potent tool. With FunnelKit, you get almost everything you need to create and maintain successful sales funnels.
Now, move to the next section to find out how you can create a WooCommerce Sales funnel using FunnelKit Funnel Builder.
How do You Build a Sales Funnel in WooCommerce Using FunnelKit Funnel Builder?
Here, we will create a WooCommerce sales funnel page with four steps:
Landing page: Here, we will show the product features and benefits to users to convince them to purchase the product.

Checkout page: After a user chooses to purchase, we will offer users a relevant low-dollar offer as an order bump during the checkout process.

Post-purchase upsell: Once users successfully checkout, we will offer a relevant high-dollar product as a purchase one-click upsell.

Thank you: In the final step, we will add a thank you page showing users all the order details.
Before moving on to the main process, you must install and activate FunnelKit Funnel Builder.
After activating the plugin, follow these steps to create a sales funnel in WooCommerce.
Step 1: Create a sales funnel with a prebuilt template
The first step is to create a sales funnel. We will create a sales funnel using FunnelKit's prebuilt templates.
Go to FunnelKit ⇒ Funnels from the WordPress admin panel and click "Add New Funnel".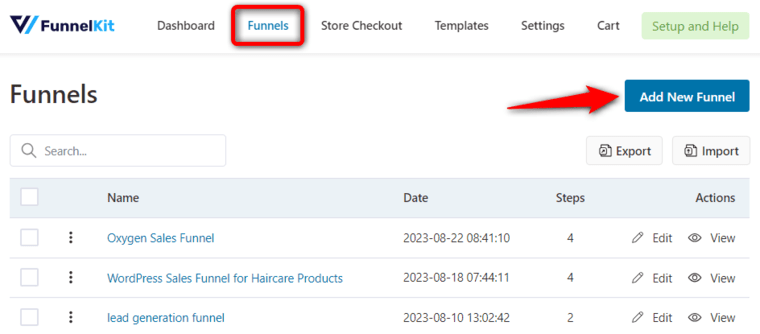 Now, choose 'Sales Funnels' and your favorite page builder. We are going with Elementor here.
After that, hover on the template you like and click on Preview. We are choosing BestTaste here.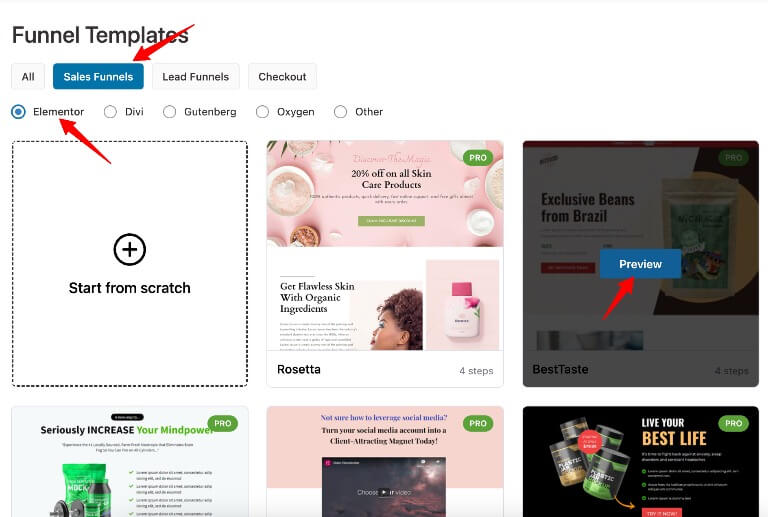 To import the template you choose, click on "Import this funnel", then provide a name and click on 'Add'.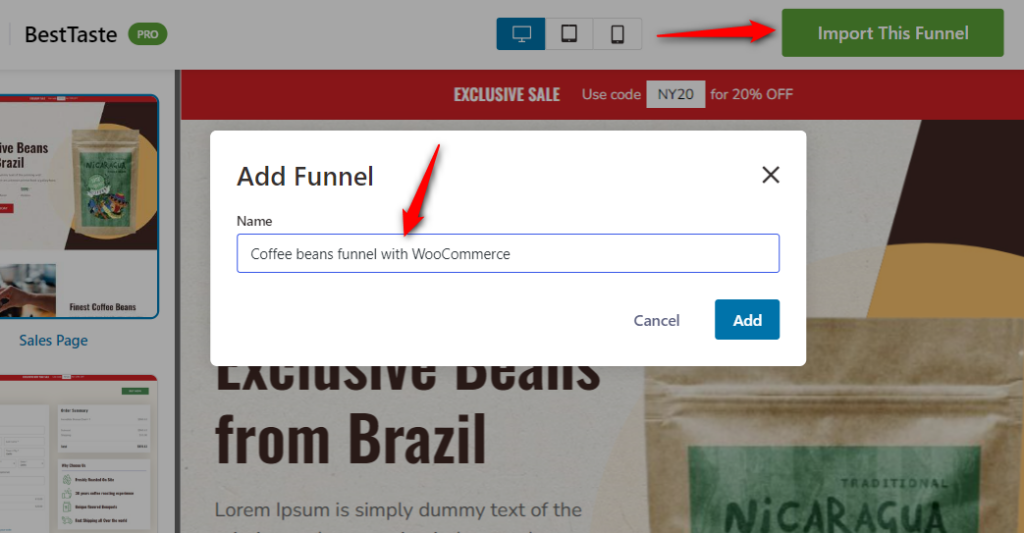 Now, your sales funnel with four steps - landing page, checkout, upsell, and thank you will get imported.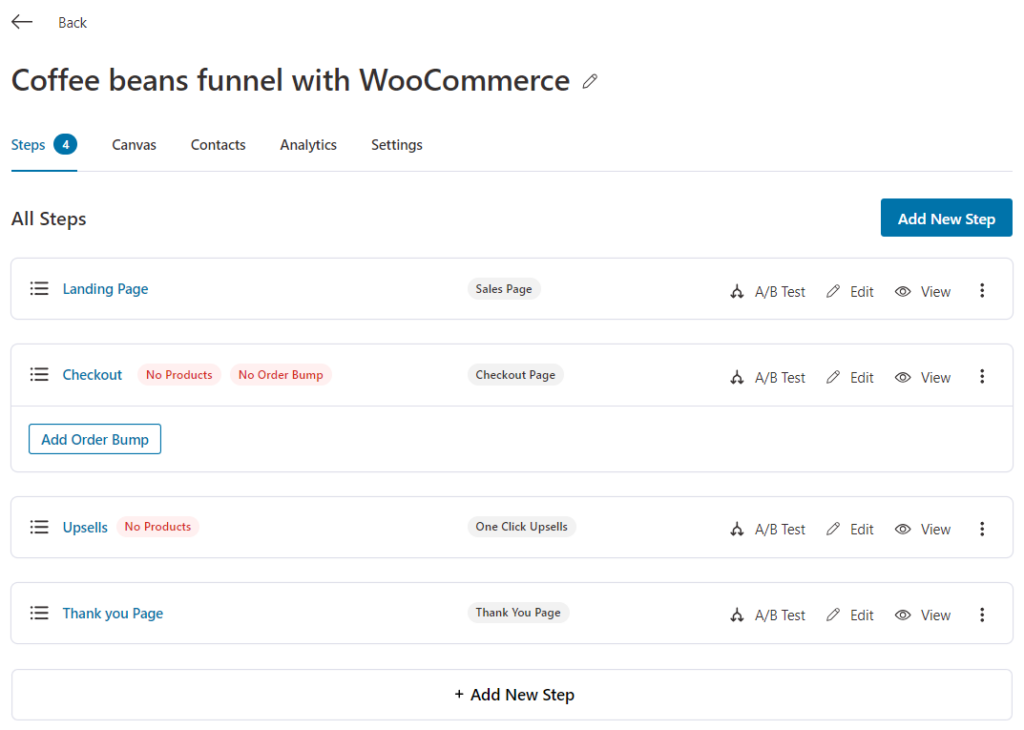 Step 2: Customize the WooCommerce sales funnel landing page
To customize the landing page, click on the 'Edit' option next to the landing page.
After that, click on the "Edit Template" option to edit the sales page with your chosen page builder.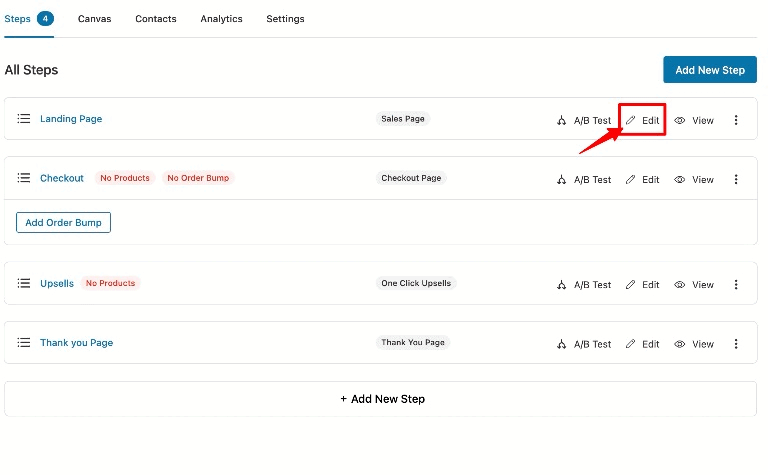 Now click on the section you want to customize. Options to change the content are on the left panel.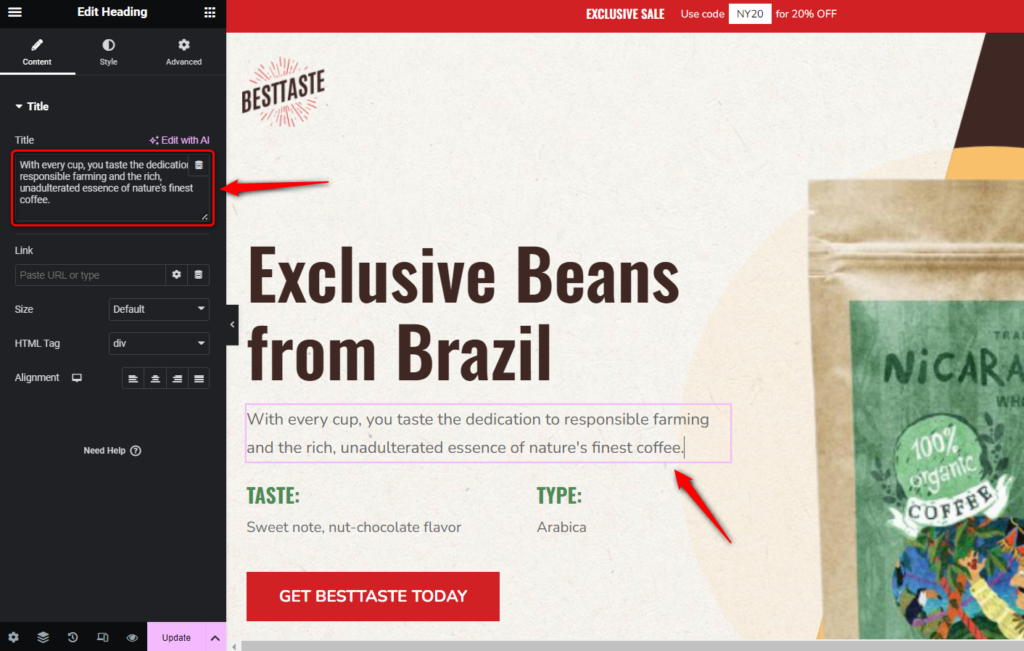 Repeat the same for all the content and click on Update to save.
For more details, you can check the blog "How to Create a High-Converting Product Landing Page."
Step 3: Customize the checkout page and add the main offer
Like the landing page, you can Customize the Checkout Page by clicking on the 'Edit' option.
Note: With FunnelKit, you can create multi step checkout and shopify style checkout.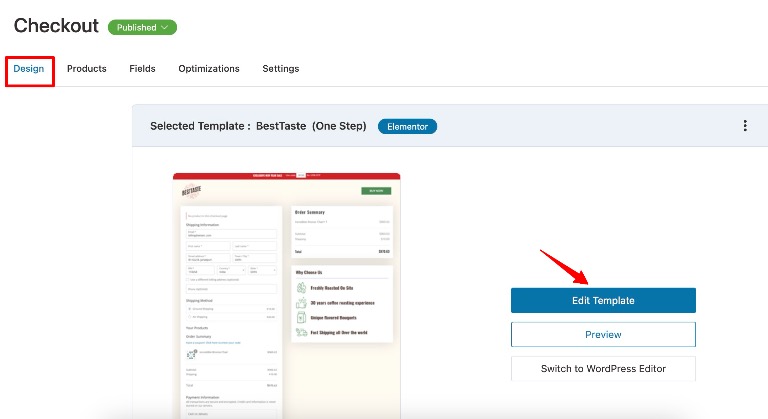 Next, move to the Products tab to add your main offer. Here, click on the "Add Product" button.
Then, search and select the product you want to offer as a main offer from the dropdown.
Finally, click on "Add New" to add the product to the checkout page.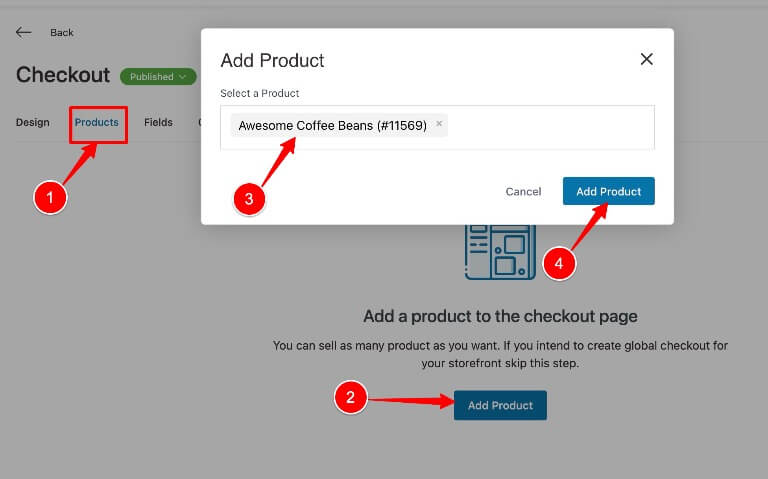 You can offer a discount on the product if you want. After adding the discount, click on "Save Changes" to update.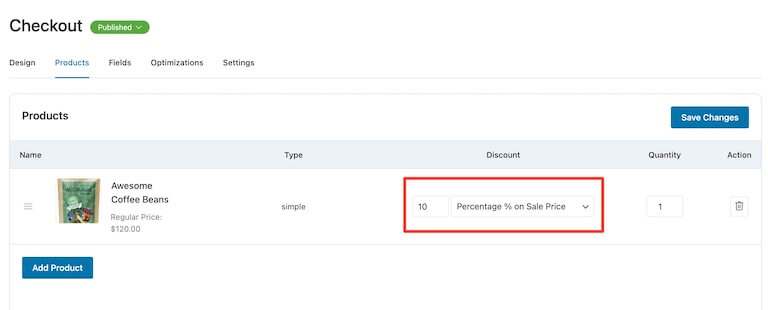 Step 4: Add an order bump to your checkout page
To add an order bump, return to the funnel page and click the 'Add Order Bump' button below your checkout page.
After that, provide a name and click on Add.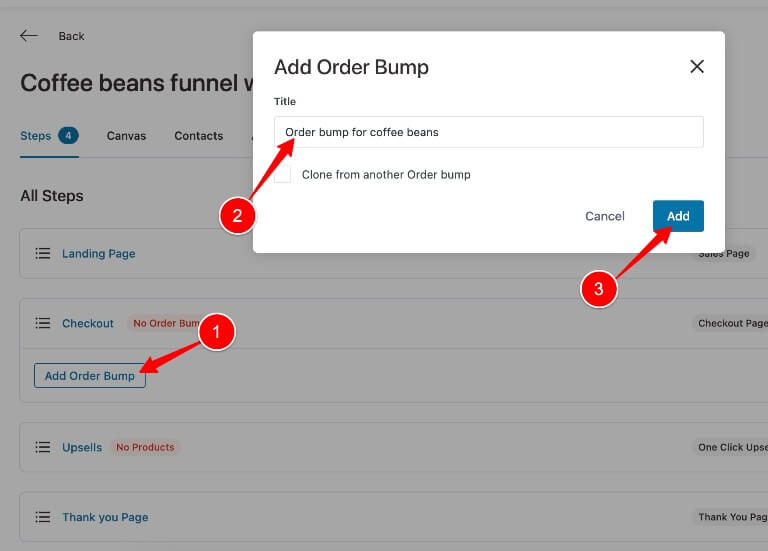 Clicking on 'Add' will add the newly created order bump under your checkout page in your sales funnel.
Click on 'Edit' to start setting up your perfect bump offer.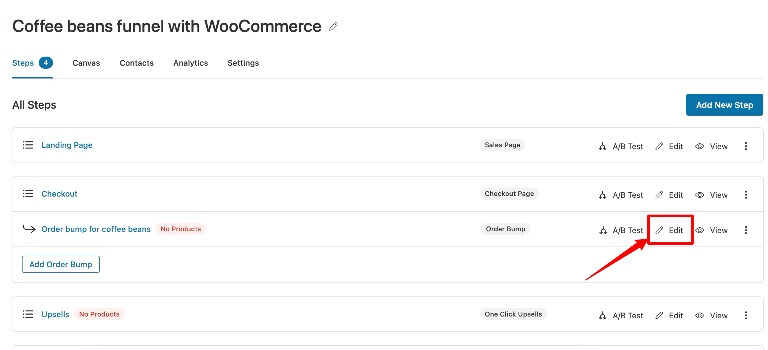 Now click on 'Add Products' and search for the item you want to add.
Then, add the product and click on Add Products to add your order bump.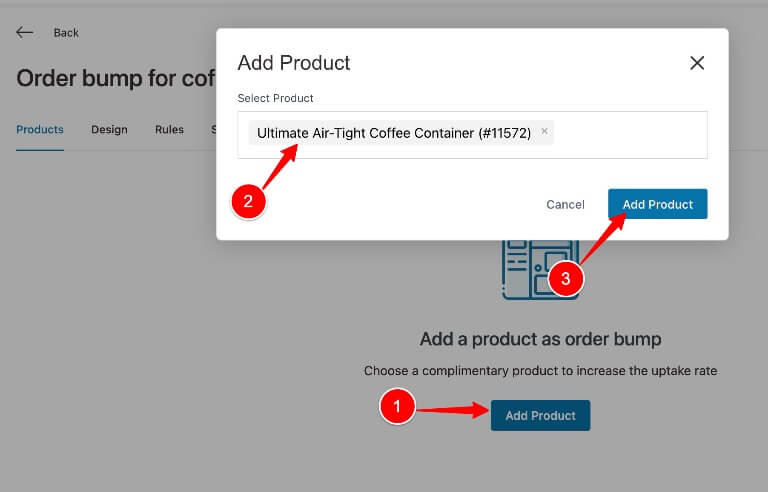 You can offer any discounts or set the quantity of your bump offer.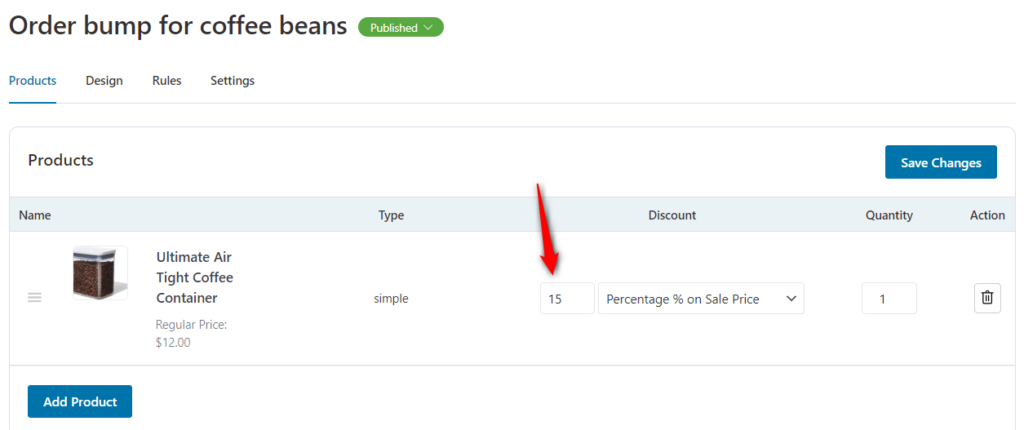 You can also change the title, description, image and how the order bump will look on the checkout page on the design tab.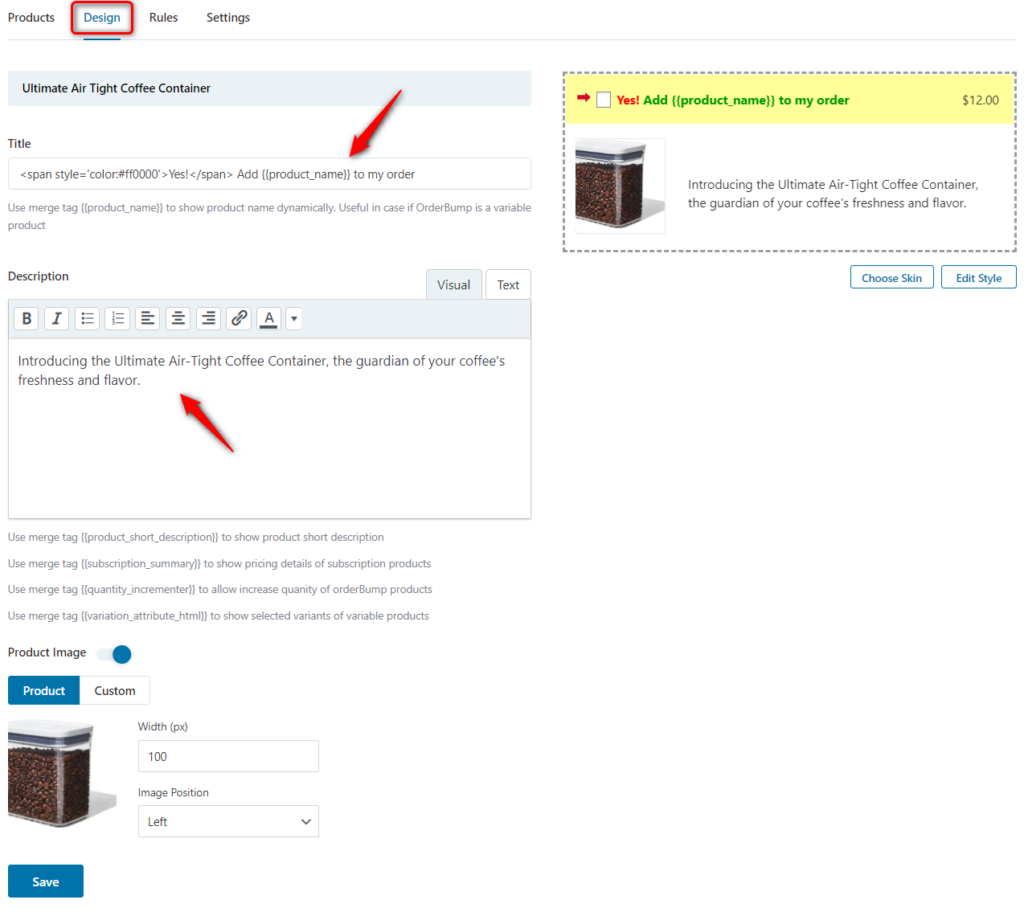 For more detail, read our blog on "How to offer order bump using FunnelKit".
Here is what our checkout page with the order bump looks like:
Step 5: Offer post purchase one click upsell
To offer upsell, click on the Edit option next to your upsell page in the funnel.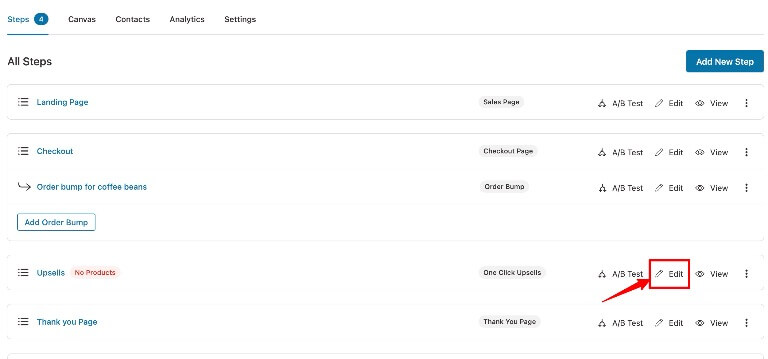 Now click on 'Add Products' and search for the item you want to add. Then add the product and click on Add Products to add one click upsell offer.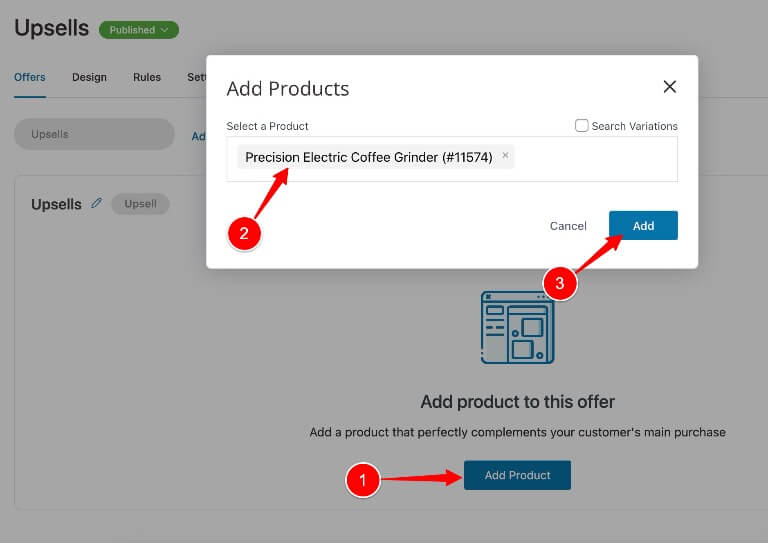 On the upsell products too you can offer a discount like order bump.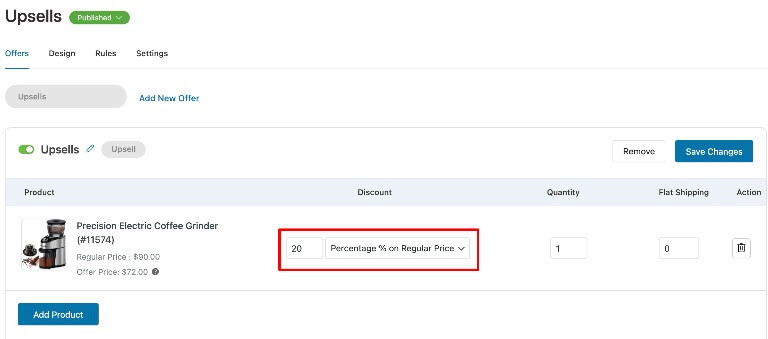 For more details on one-click upsell, read our blog "WooCommerce One Click Upsell"
Here is how our order bump page looks like: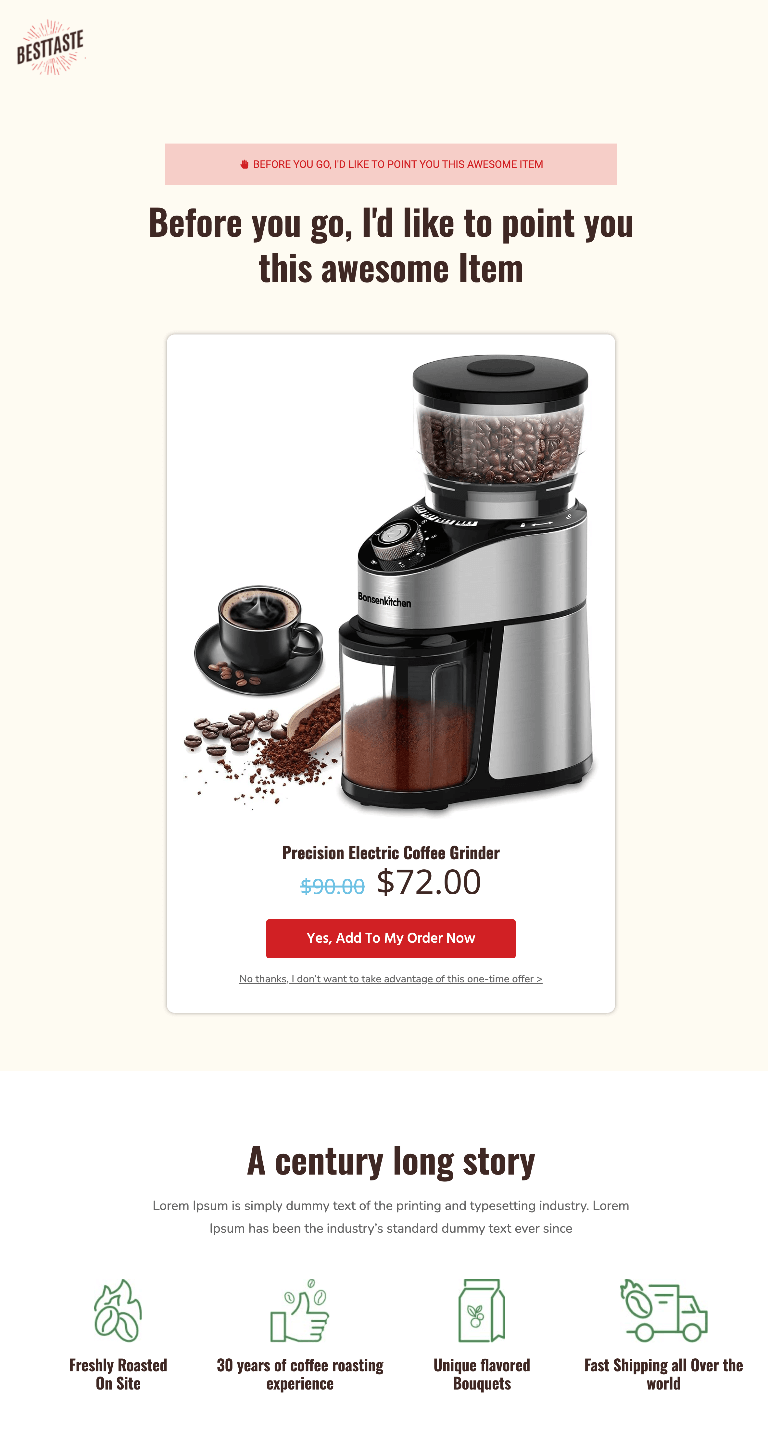 Note: In case users reject your upsell offer, you can offer a downsell. This way, you can sell additional even if the user rejects the upsell offer.
Step 6: Customize the thank you page
Like you customized the rest of the page, you can customize the thank you page by clicking on the Edit option.
Here is what our thank you page looks like: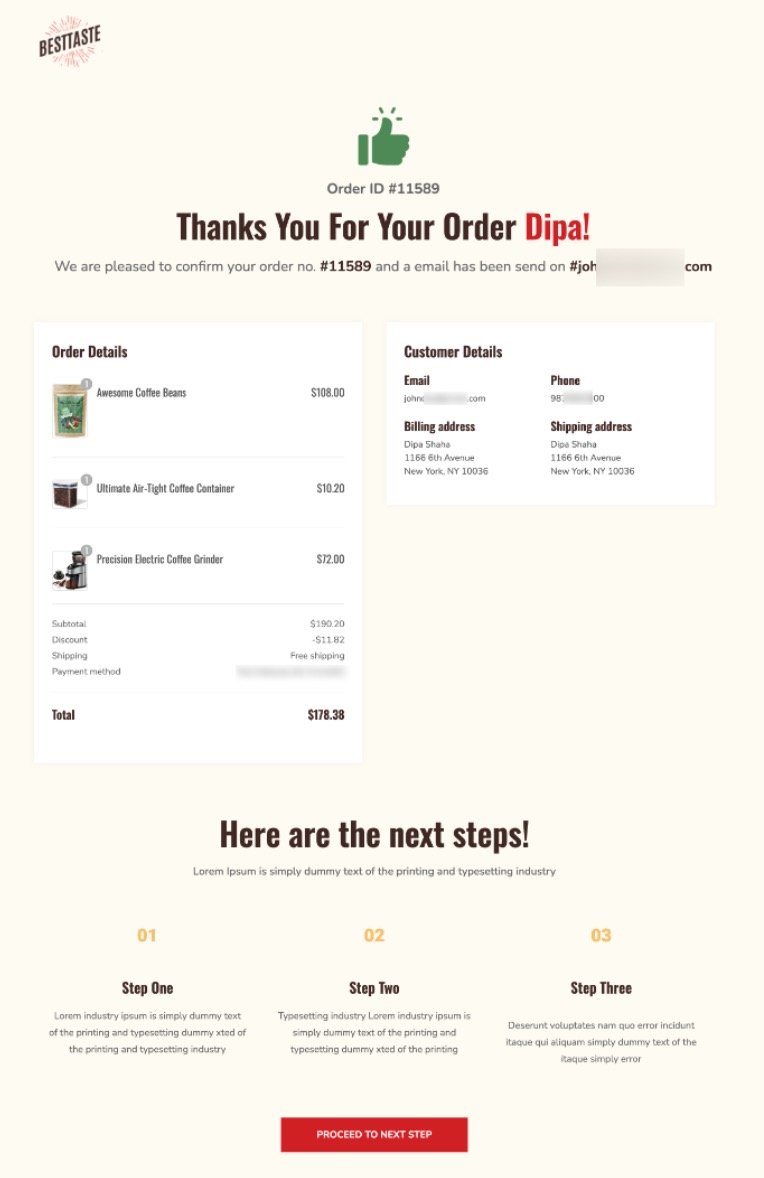 After customizing the thank you page, your WooCommerce sales funnel will be ready to use on different campaigns to spread awareness about your product.
That's it! This is how you can build a high-converting WooCommerce sales funnel.
You can find the sales funnel link by clicking on the view button.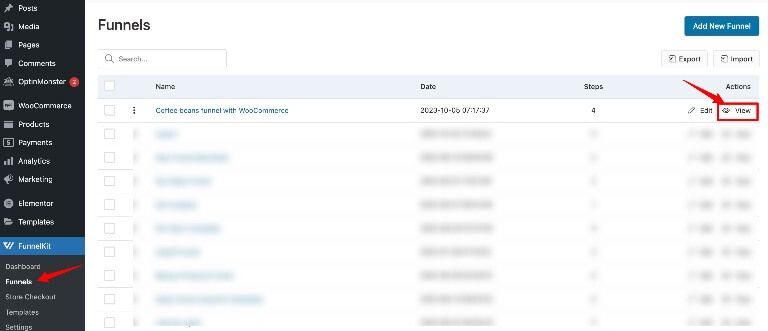 Ready to Build Your WooCommerce Sales Funnel?
WooCommerce sales funnels are a game-changing strategy that can transform your online business.
Sales funnels aren't just about directing people to a landing page; they're about nurturing, providing value, and building trust by offering relevant products and a smooth shopping experience.
As you have seen, with FunnelKit, you can easily create a WooCommerce sales funnel optimized to give your users the best shopping experience and thus boost your sales, increasing the average order value.
However, you need to remember that a sales funnel is not a one-size-fits-all solution. It's a dynamic process that requires continuous monitoring, testing, and refinement.
To know which sales funnel works for your audience, you can A/B test all your funnel pages using FunnelKit.
Overall, we can say FunnelKit is the most potent WooCommerce sales funnel builder that allows you to create, optimize, monitor, and refine your sales funnel effortlessly.
So, start building your sales funnel in WooCommerce using the best WordPress funnel builder today!