Is your lead generation funnel actually pulling in new leads every day?
Is it also converting the leads into paying customers while you're asleep?
If your answer to the above questions is "no," then this post is for you!
We'll first learn about the lead generation funnel and how it converts new leads into near-instant buyers.
Then, we'll go through incredibly well-executed examples of lead generation pages and look at some cash-pumping strategies that you can use!
Finally, you'll learn how to create your lead-generation landing page using FunnelKit. This post is power-packed with insights, so let's not waste any time and get started!
What is a Lead Generation Funnel?
A lead generation funnel starts with a lead magnet or a free offer.
You can use a Facebook ad to send traffic to a dedicated landing page selling the free offer in return for their email.
On this page explain the freebie well, what it offers, and more - to convert visitors into leads.
Once the user signs up, i.e., submits their name & email - direct them to the sales page or checkout page for your paid product.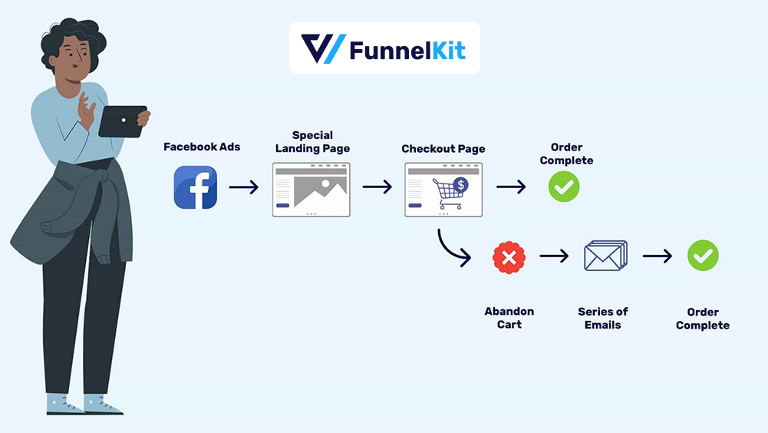 Your free product must be well-aligned with the paid product so that the ascension plan is clear.
If the user does not make the purchase, that's ok too!
You can use emails to pitch them the paid offer and exploit more opportunities to make the sale over email.
What Are The Different Stages of a Lead Generation Funnel?
The lead generation funnel is like a path that potential customers follow before making a purchase. There are five important steps along this path.
Every step corresponds to a section of the lead generation funnel: top of the funnel (TOFU), middle of the funnel (MOFU), or bottom of the funnel (BOFU), as depicted in the diagram below.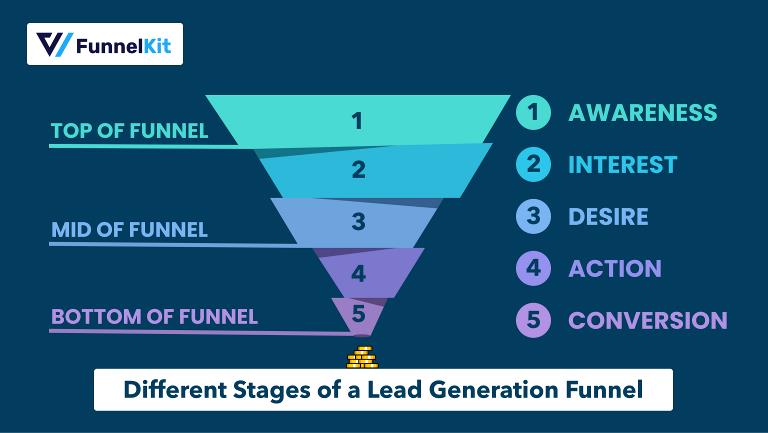 Awareness: The first step is all about getting noticed. In this step, you attract attention with something interesting, like a special offer or free guide
Interest: Once you have their attention, you move to the next step – sparking interest. Now that people look your way, you want to show them why your product/service is awesome.
Desire: As people become more interested, they start to think about what you're offering and a desire to get that. This leads us to help them make a decision about your product or service as a solution to their problem.
Action: Now, they're getting closer to making a decision. In encouraging them to buy step, you give them that extra nudge to actually make the purchase by offering a special discount or a limited-time deal.
Conversion: Once they decide to buy, it's time to seal the deal. This is where you make the sale happen. The customer is happy with their decision, and you've successfully guided them through the funnel from the top to the bottom.
Remember, the funnel's goal is to help potential customers feel comfortable and confident in buying from you. Each step plays a crucial role in building that trust and making the journey from interested observer to satisfied customer.
Why Are Lead Generation Funnels Important?
Lead generation funnels are important because they provide a structured and effective way to guide potential customers from their initial awareness of your products or services to the point of purchasing. Here are some of the ways the lead generation funnel helps business:
Guided Customer Journey: Lead generation funnels provide a clear path for potential customers, guiding them step-by-step from initial awareness to making a purchase.
Enhanced Conversion Rates: By tailoring content and offers to each stage of the funnel, businesses can increase the chances of turning interested prospects into paying customers.
Effective Resource Allocation: Funnels help allocate resources strategically by focusing efforts on the stages that yield the best results, maximizing efficiency and return on investment.
Informed Decision-Making: Data collected throughout the funnel allows businesses to analyze performance and make informed decisions to optimize their marketing strategies.
Relationship Building: Lead generation funnels enable businesses to build and nurture relationships with potential customers over time, fostering trust and loyalty even before a purchase is made.
How to Build Lead Generation Funnel in WordPress?
In this section, we'll demonstrate how you can set up your lead generation funnel that captures your leads with a welcome email.
For this, we will be using the FunnelKit Funnel Builder. This is the ultimate sales funnel builder for WordPress that allows you to create and customize different sales pages, such as landing pages, opt-in page, checkout page, thank you page, and so on, without requiring any coding knowledge.
In addition, you can also add an order bump and one-click upsells, which helps you increase the order value in your business. Furthermore, you can provide lucrative discounts on your offers with just a few clicks.
This sales funnel plugin is compatible with most of the popular page builders such as Elementor, Divi, Gutenberg, Oxygen, etc.Before we start the process, you need to install both FunnelKit Funnel Builder free and FunnelKit Pro. If you need help installing and activating FunnelKit Funnel Builder Pro, then check our installation guide.
Step 1: Add a Lead Generation Funnel
Go to Funnels and click on 'Add New Funnel'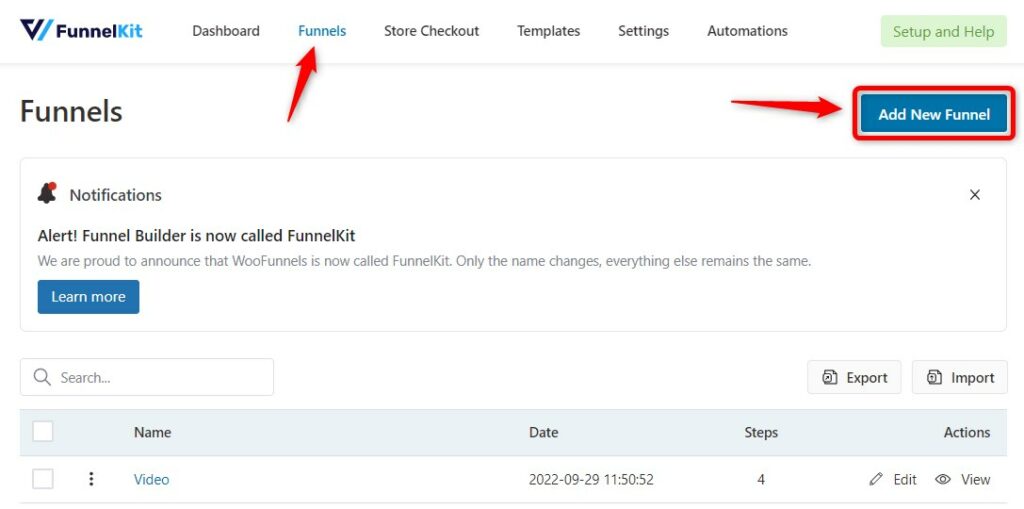 You'll get directed to the templates section.
Select Lead Generation Funnel and you'll be shown all the templates relevant to it.
FunnelKit's deep integration with popular page builders lets you create highly optimized pages in your funnel.
Feel free to choose from Elementor, Divi, Gutenberg, and Oxygen.
If you've got other page builders on your mind, select Others and proceed.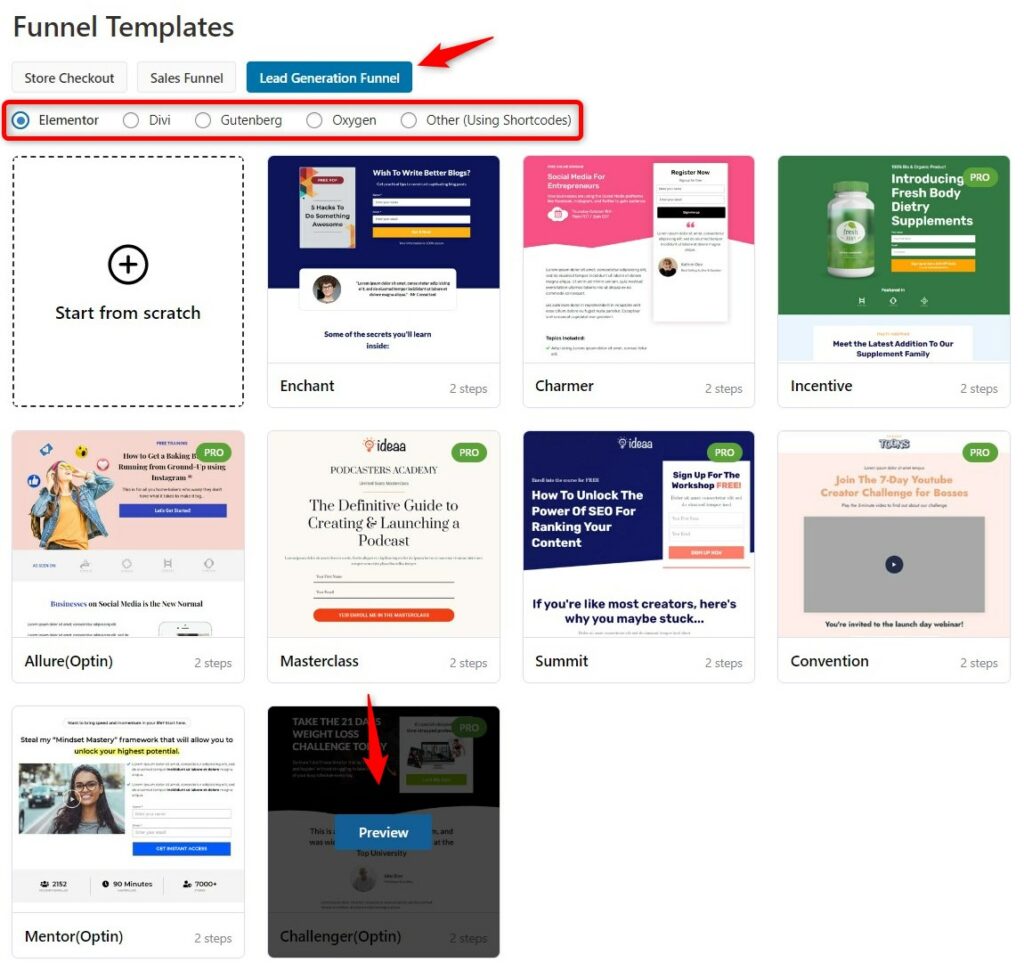 Next, you'll be able to see the preview of the template. This template has two pages:
Optin Page
Optin Confirmation Page
Choose the type of form (inline and popup) you want and click on 'Import This Template'.
Enter the name of your funnel - 'Lead Generation Funnel'.

Your lead generation funnel will get created.
Step 2: Customize the Optin Page
Clicking on edit will load your opt-in page in the page builder you'd chosen.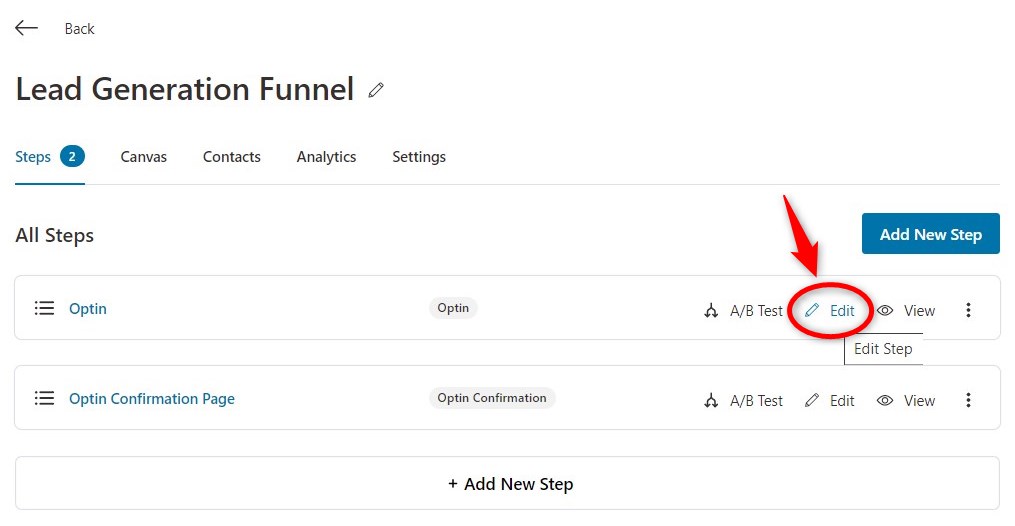 Customize the page the way you want. Make sure to:
Give a concise, clear title to your copy
Insert a perfect hero image on the page
Maintain a proper structure and a sizeable text
Add only the necessary fields on your form
Set a clear action on your CTA button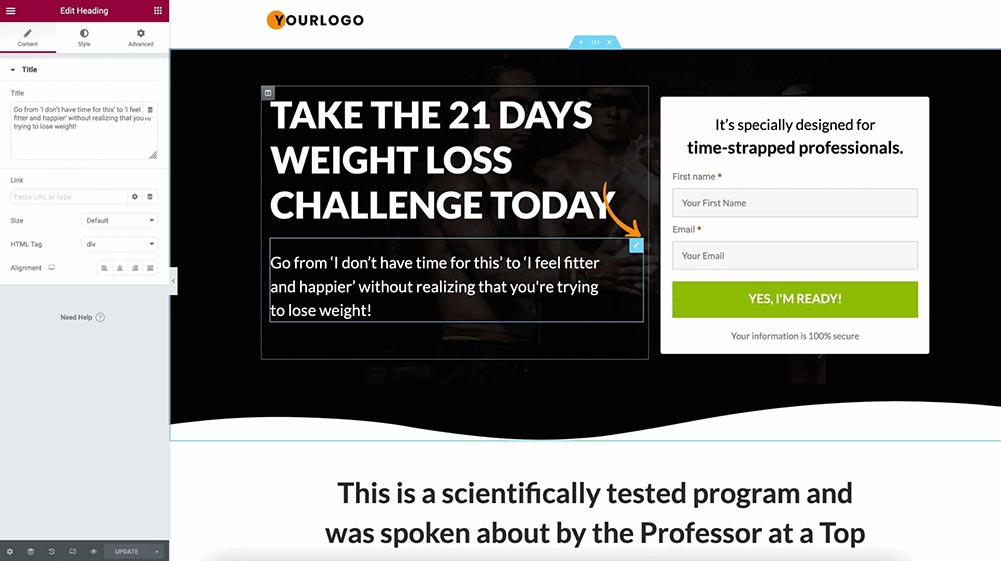 Once you're done, click on Update to save all your changes.
Step 3: Add the Checkout Page to Your Funnel
Now we'll be directing the leads to a sales cum checkout page.
So first delete the Optin Confirmation page.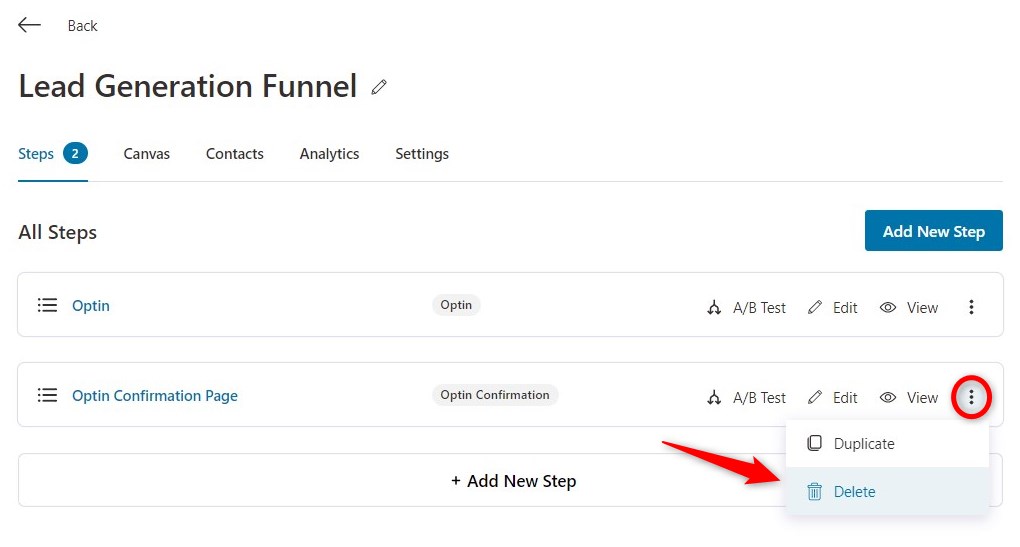 For that, let's add a Checkout page step to our lead generation funnel.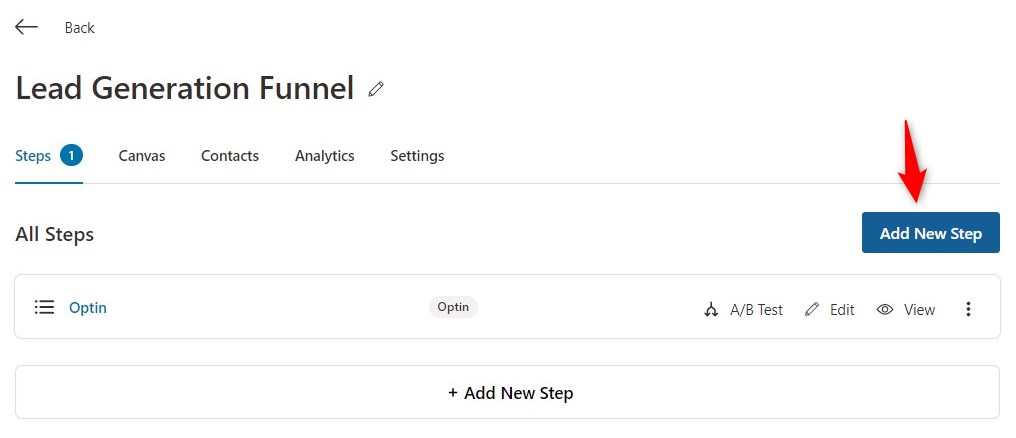 Click on 'Checkout Pages' to choose the template for your checkout page.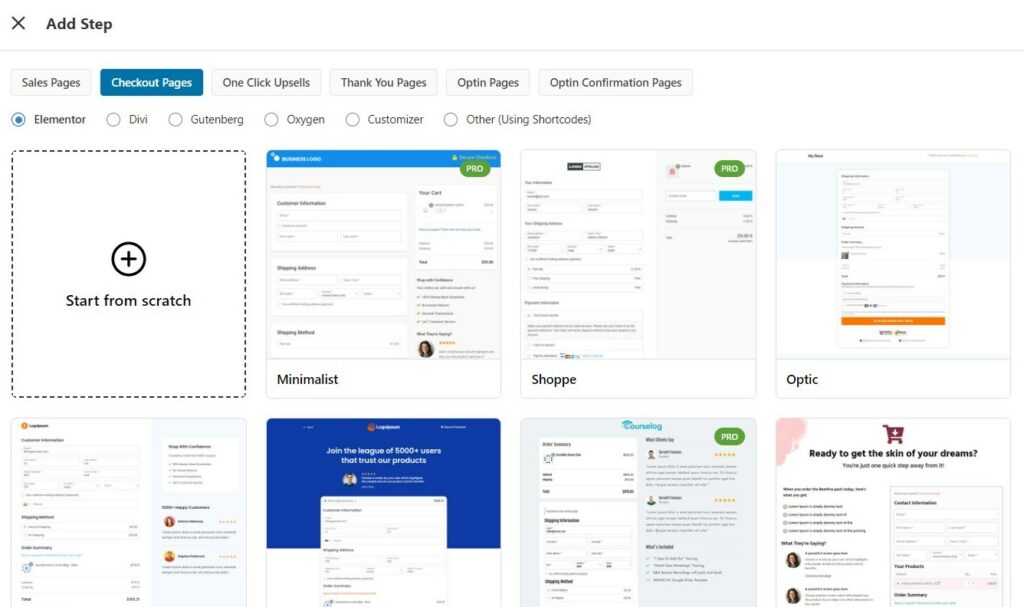 Now, select the number of steps you want on your checkout and click on 'Import this template'.
Name your checkout page and click on 'Add'.

Now, customize your checkout page for your leads.
You can add your paid product by going through the Products tab.

This is how your Checkout page looks:
We've got a brilliant post on how to optimize your Checkout page for higher conversions and less abandonment - Do check it out!
Step 4: Add One-Click Upsell Offer to Increase AOV
You can further add one-click upsell offers to increase the order values.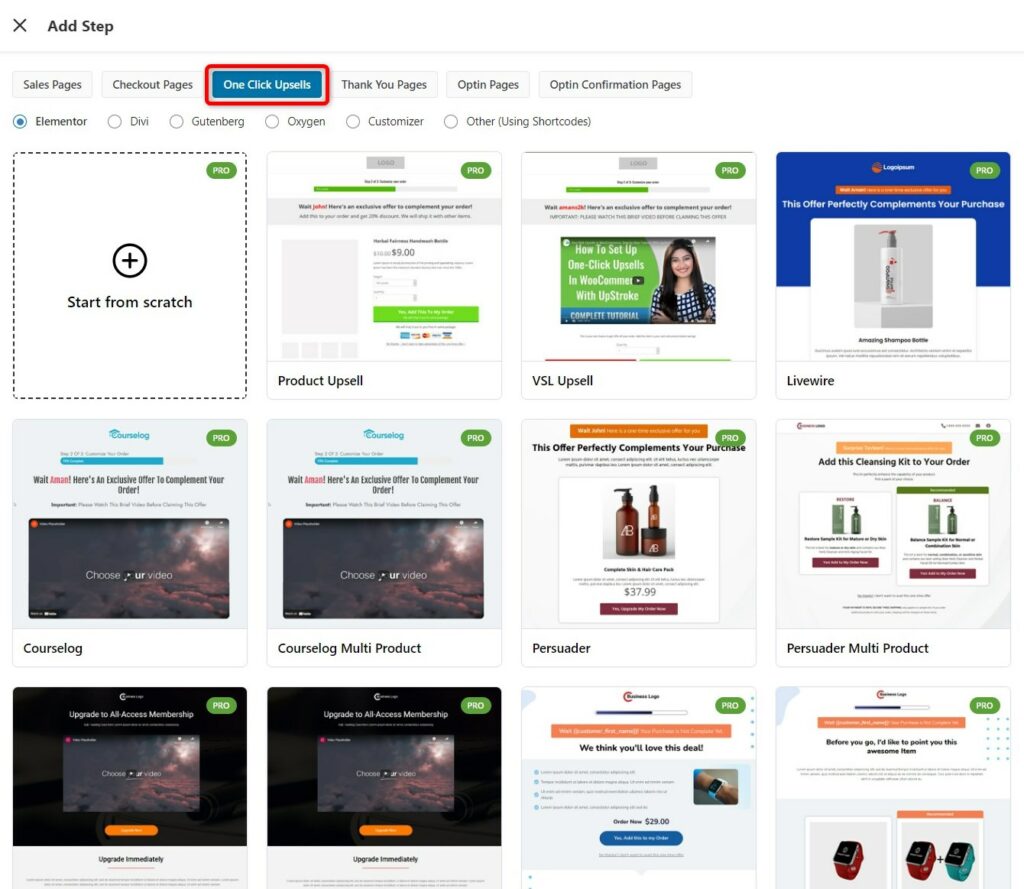 Add the paid product, import the template, set any rules you want, and more.
This is how your Upsell page looks like: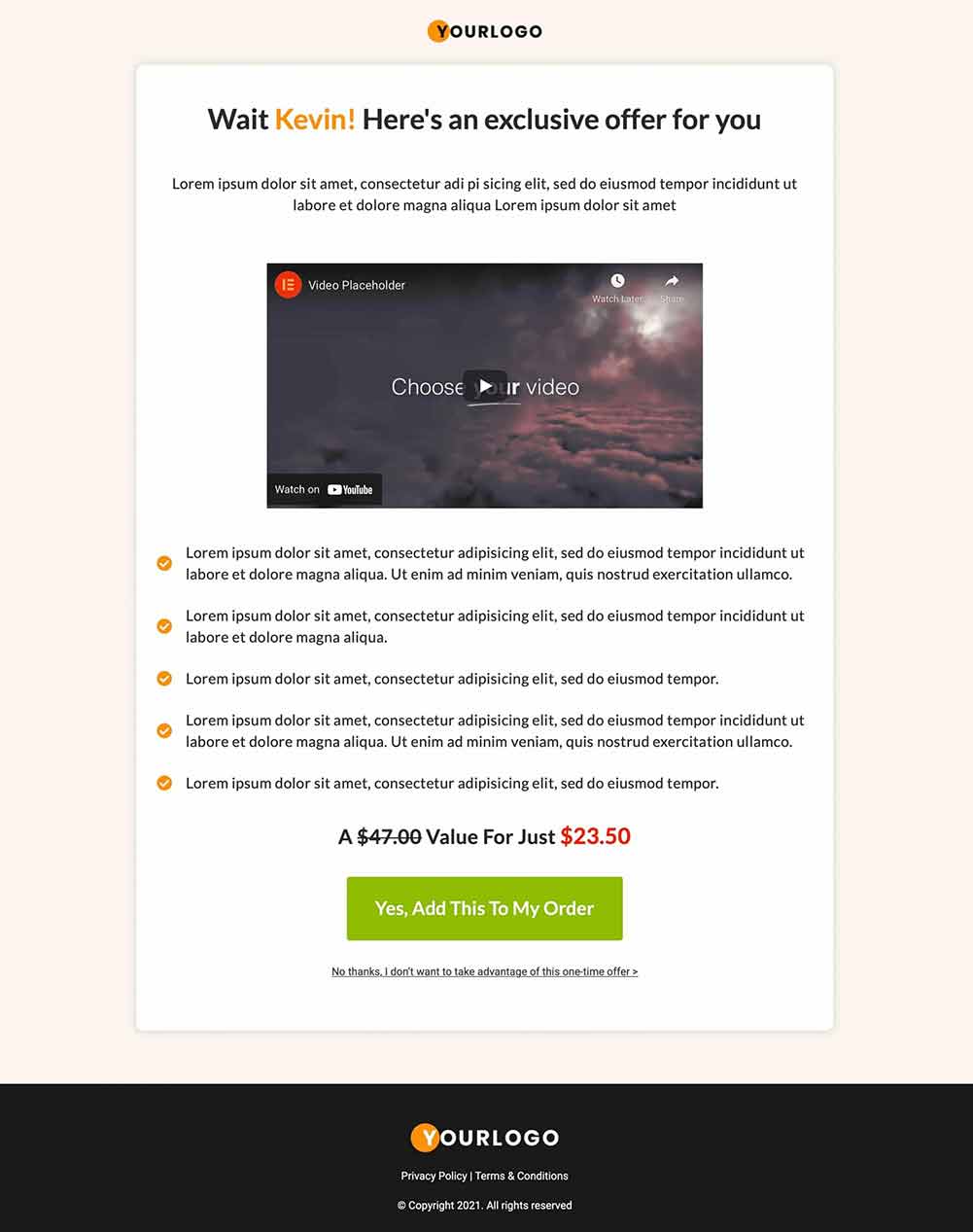 Step 5: Add the Order Confirmation Page
Finally, add the thank you page to your lead generation funnel.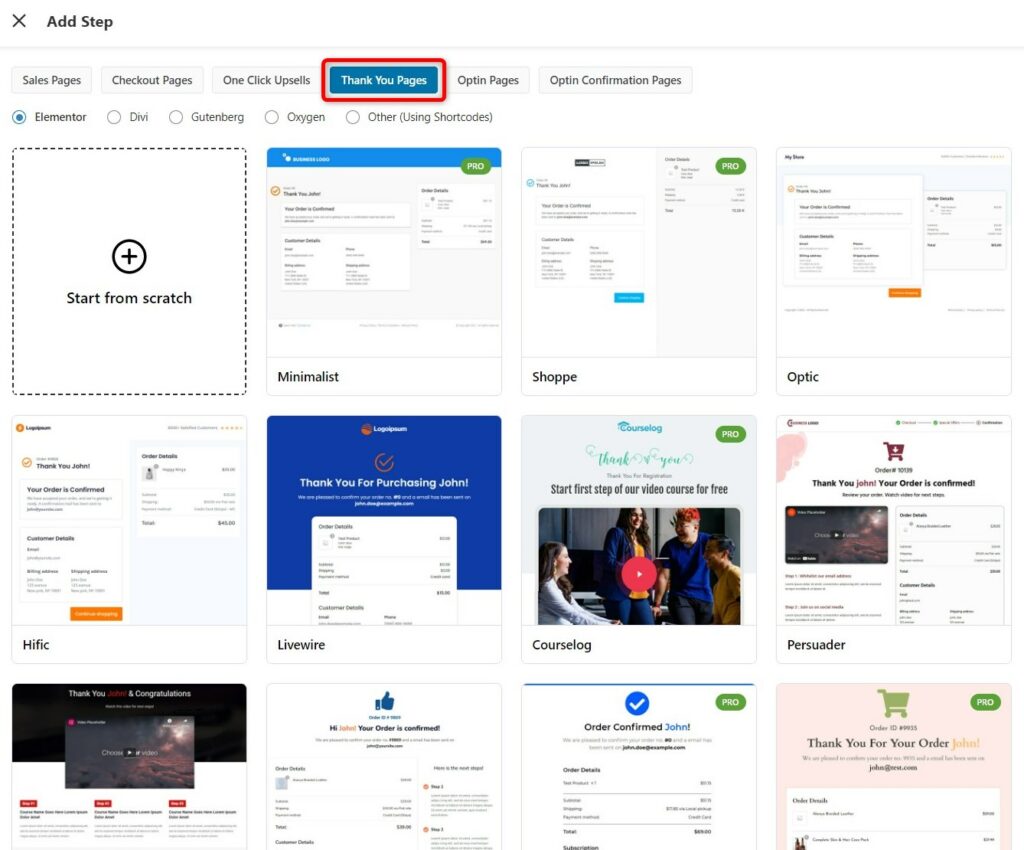 Use this page to talk about your business and build trust.
Direct them to your social media groups, product recommendations, testimonial section on your website, or give them access to their content straight away.
Take a look: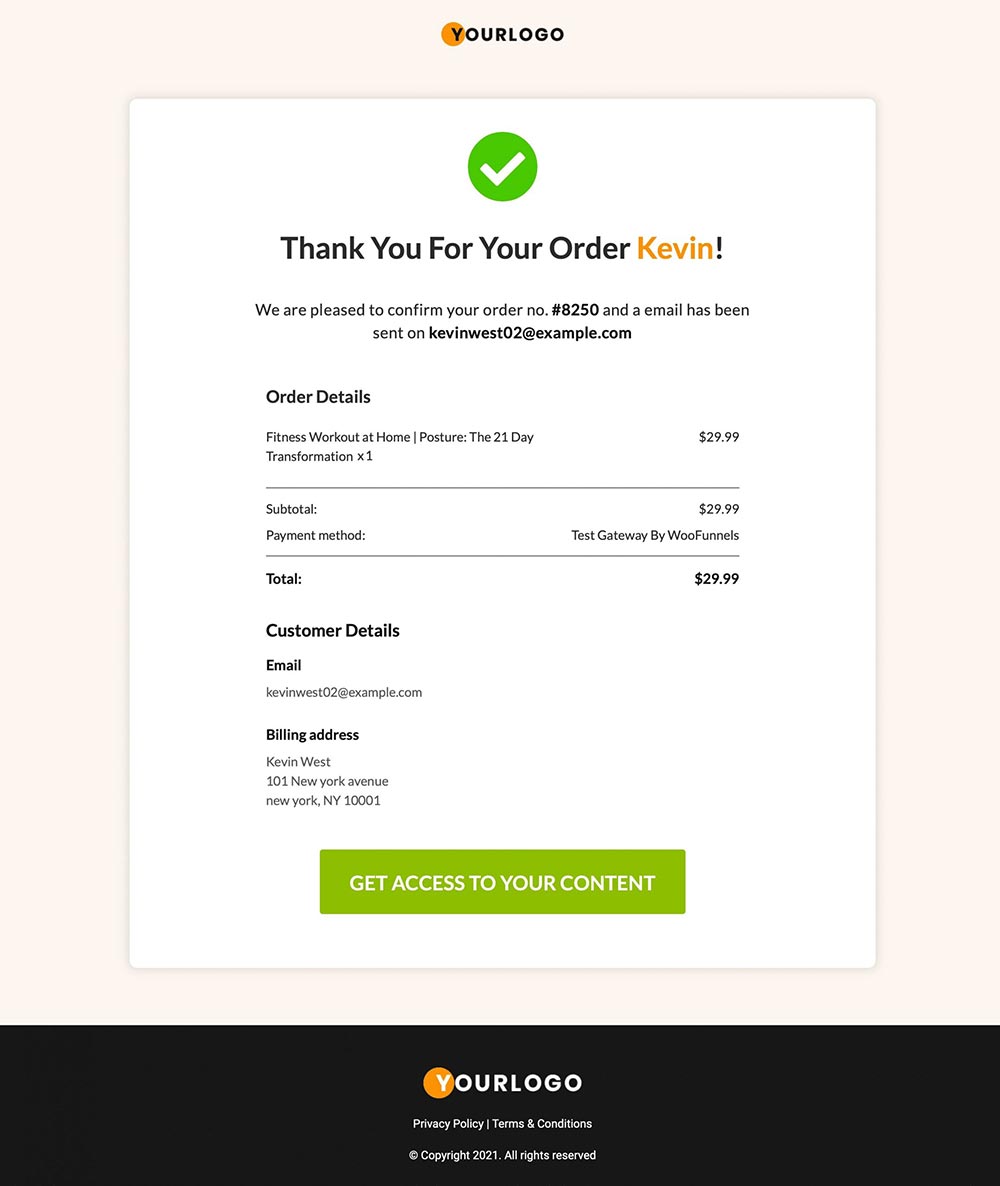 That's it. Your lead generation funnel is ready for marketing. 
3 Outstanding Lead Generation Page Examples
We've put together a list of a few examples from which we think you can learn a lot.
These are some high-converting pages that are designed incredibly well. Not just that, the copy is very convincing too!
Let's take a look at these lead generation funnel examples:
1. Smart Marketer's Video Training Offer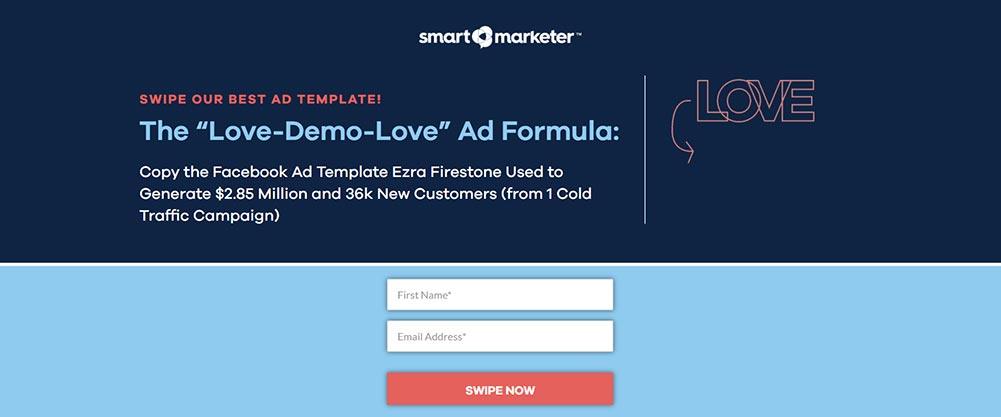 Give away a branded formula: People have stopped downloading run-of-the-mill content. This freebie offers a very specific formula that gets a specific result!

Show you know a secret: We're not talking about using the word 'secret' in your copy! The word is an overkill. But show that you know something more- something that they don't know. For example, here Ezra hints at knowing something more about the Facebook algorithm than his audience.

Give your best stuff away: Love the authoritative voice here that goes - "This isn't my first rodeo, and I don't say this lightly: Love-Demo-Love is my best Facebook ad template ever."
2. Collaborate.work's Free Worksheet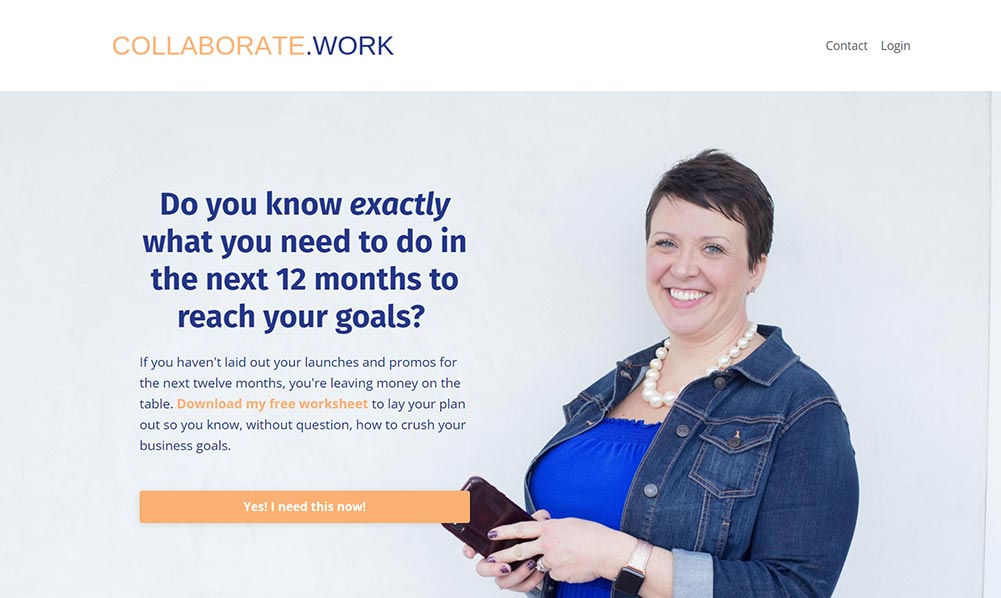 Be very specific with your promise: "Lay out a 12-month plan for all your launches and promotions": The promise is clear, tangible and highly specific.

Address the underlying problem: Highlighting the problem at the superficial level will not help you inspire people to sign up! Bevin goes really deep when she says - "I loved doing yoga but I knew nothing about building a yoga business. So I never had enough students and I didn't make enough money..."

Create a fear of being left behind: Since this is an evergreen lead magnet - which is always available to download from the website. There needs to induce urgency. Therefore, Bevin mentions- "If you don't have a plan for the next 12 months, you are not maximizing your revenue potential."
3. Exceed Nutrition Coaching's Live Webinar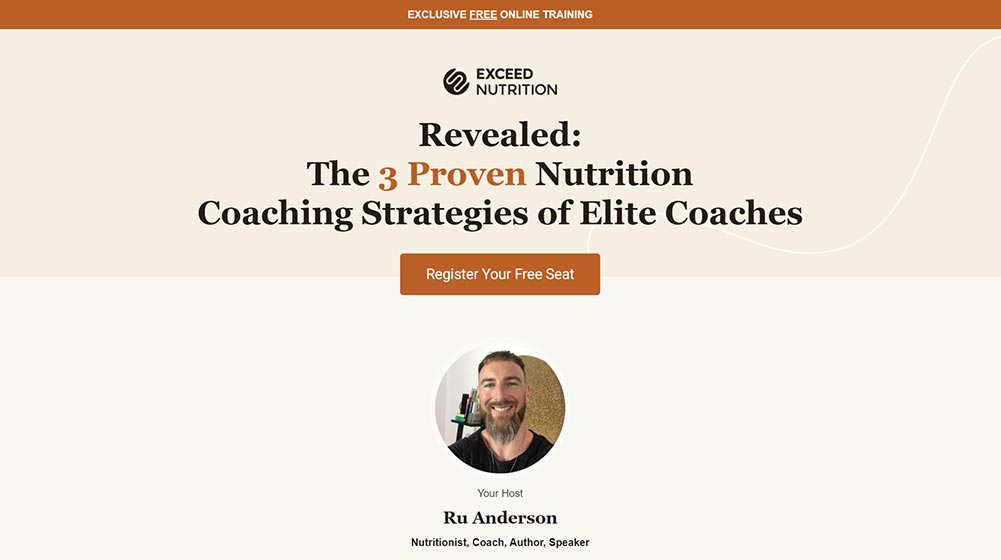 Speak to that one ideal customer: Do you resonate with that copy? We know we don't because it was never written for us. They're speaking to the highly pain aware audience.

Reveal the mystery: Curiosity drives people the fastest to the CTA button. "Why habit loop is the #1 reason people don't stick to your...advice..." Upon reading the bullet, you sure want to know what habit loop really is and how that's an obstacle.

Sell the proven, eliminate guesswork: Notice in one of the bullet Ru Anderson says, "A proven coaching strategy that makes your advice ridiculously easy to follow."
5 Strategies You Can Use Today to Get More Leads Through Your Lead Generation Funnel
Now that we've looked at the psychology behind persuasive pages that convert and some incredible examples to draw inspiration from, it's time to get closer to building your own page.
Here, we'll share some strategies that you can use to get better results with your lead generation funnel.
Let's get started.
1. Power Your Copy with Market Research
Knowing where the market is headed and showing your knowledge off puts you ahead of the curve!
And people will only download your stuff when you show that you're better researched and know some trade secrets.
Nik Sharma does a great job of telling readers that he knows what the Apple update truly means for DTC advertisers!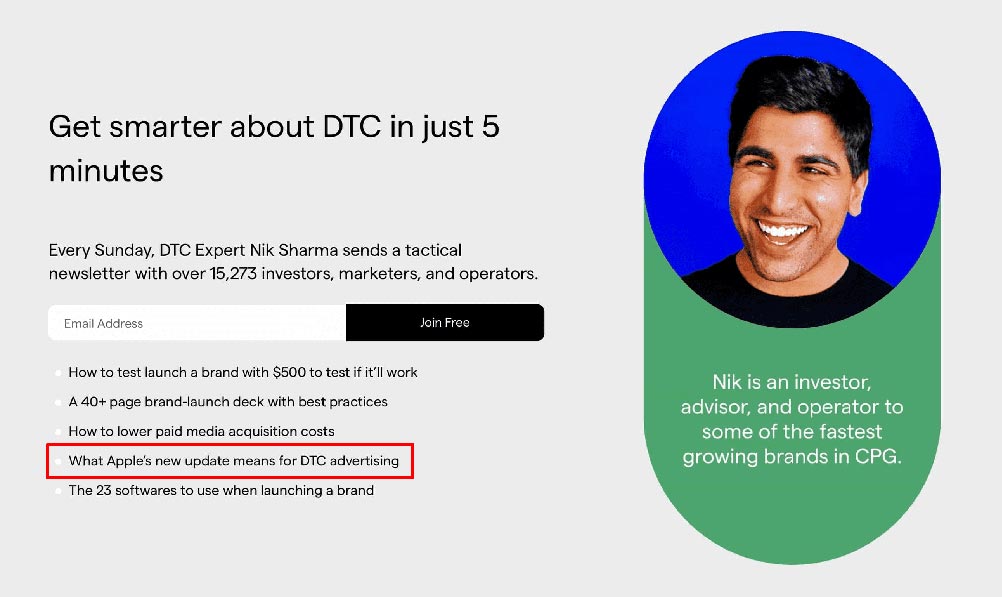 This is not just a call for subscribing to a generic, run-of-the-mill newsletter but a specific promise to deliver content that matters.
Also, notice the headline "Get smarter about DTC in just 5 minutes". It helps them reinforce that he has put in his research to create the newsletter.
So go ahead and put in that little extra research to know the latest trends driving your industry forward.
2. Use Power Words that Stroke Imagination
You're giving away virtual products such as ebooks, worksheets, video training, cheat sheet, and more.
In this scenario, it becomes even more important to help people visualize what they'll actually get with the freebie and what they'll be able to do with it.
Here's a brilliant example from TheOriginCompany: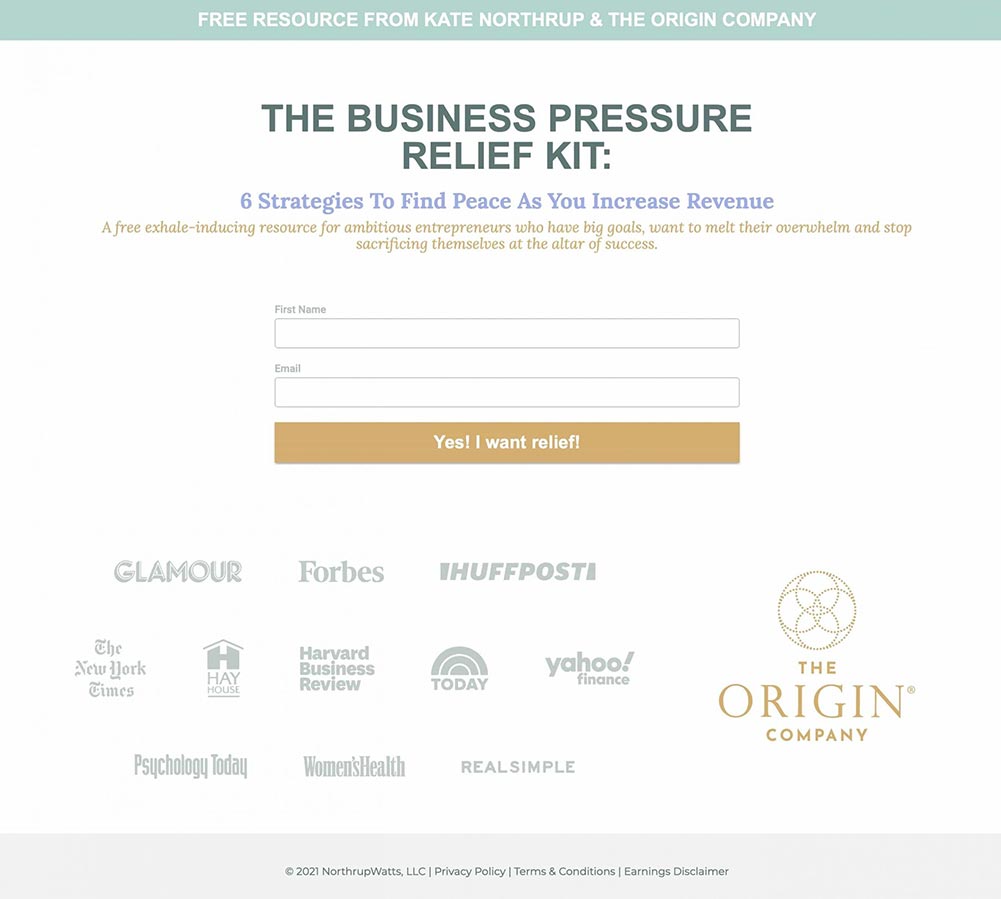 Notices the phrases used in the copy:
Business Pressure-Relief Kit
Exhale-inducing resource
Melt overwhelm
Also, read the CTA button that goes 'Yes! I want relief' - there's no room left for confusion.
Here's another brilliant example from Punchline Copy: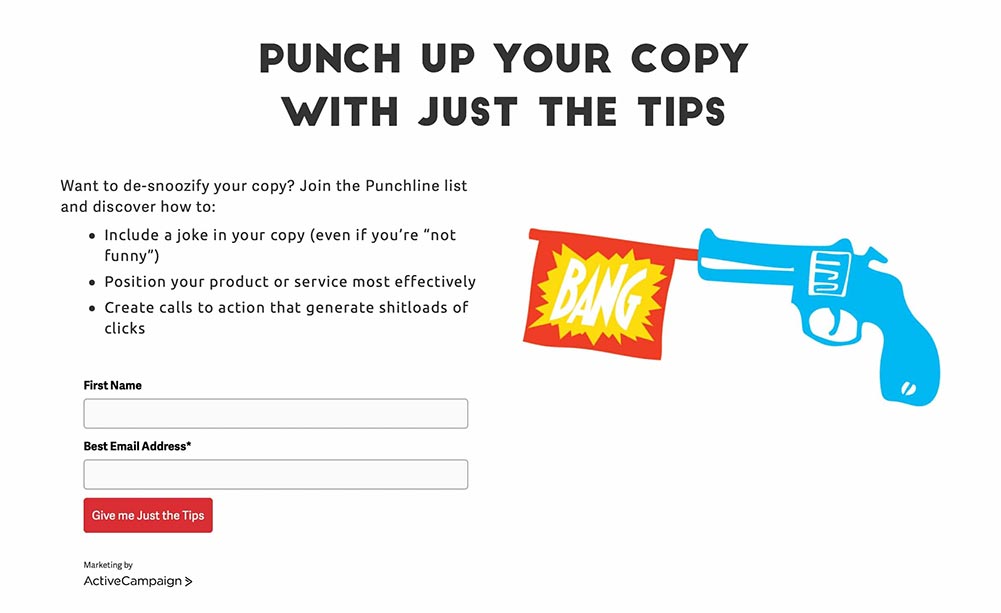 Here are some of the phrases that she uses to power up people's imagination:
Punch up your copy
De-snoozify your copy
Shitloads of clicks
3. Make Your CTA Button Copy Unignorable
No matter how power-packed your copy is, your CTA button needs to drive action too!
It needs to make the offer sound so irresistible that people can't help but sign up.
The best CTA button copy reinforces the promise made in the headline. It reminds people of the value proposition.
Another sign of persuasive CTAs is that they are in the first person. Here's a brilliant example from Copyhackers: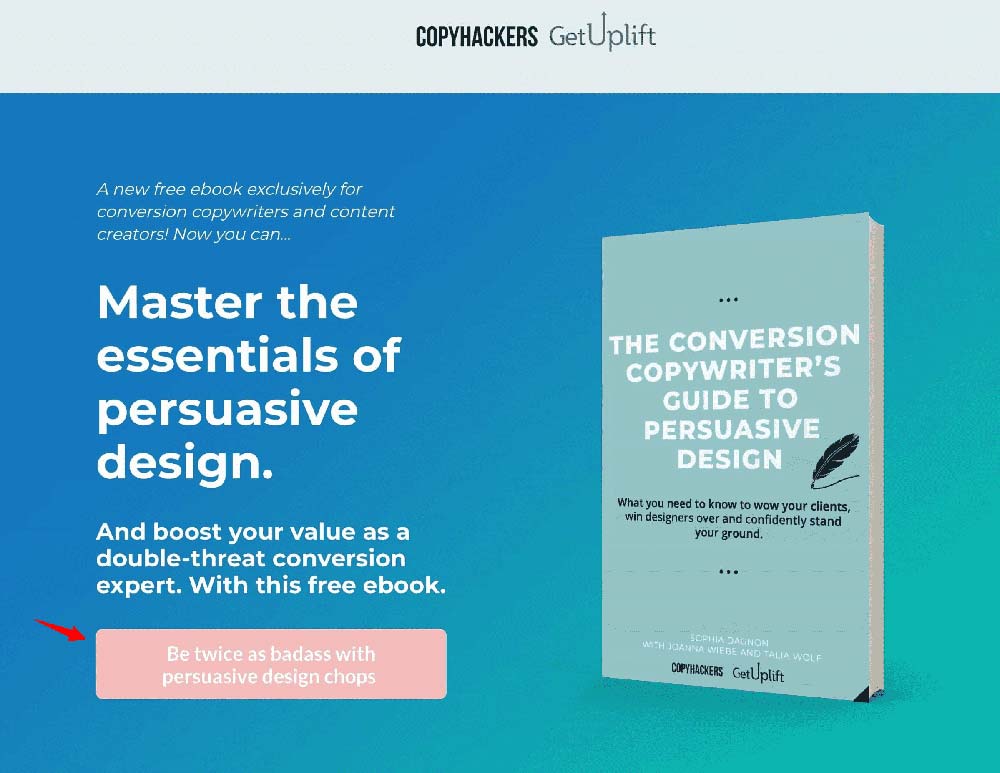 Notice the CTA particularly: "Be Twice As Badass with Persuasive Design Chops".
It complements the heading so well that it also promises to make you a persuasive designer.
The CTA copy sounds desirable.
Another brilliant example is from KimraLuna.com. Here too, the headline and the CTA button are in perfect alignment: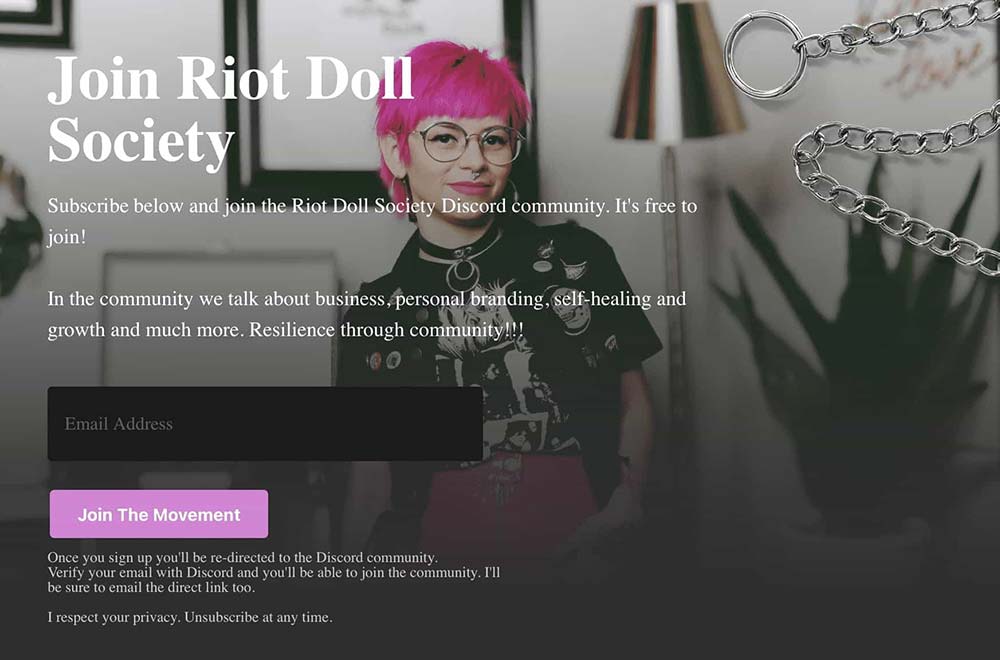 Headline: Join the Riot Doll Society
Button Copy: Join the Movement
It's also reiterating the promise made in the headline!
4. Show a Glimpse of What's Inside
Blind dates are great but when you're asking for people's emails, it will be nice to show them a glimpse of what's inside.
If it's a spreadsheet - add a gif showing a quick scroll from the sheet.
For a PDF - show a page or two.
In the case of a course - Show the video thumbnail with the play button.
You'll love how Nik Sharma showcases an actual email and uses bullets to explain what you're precisely signing up for: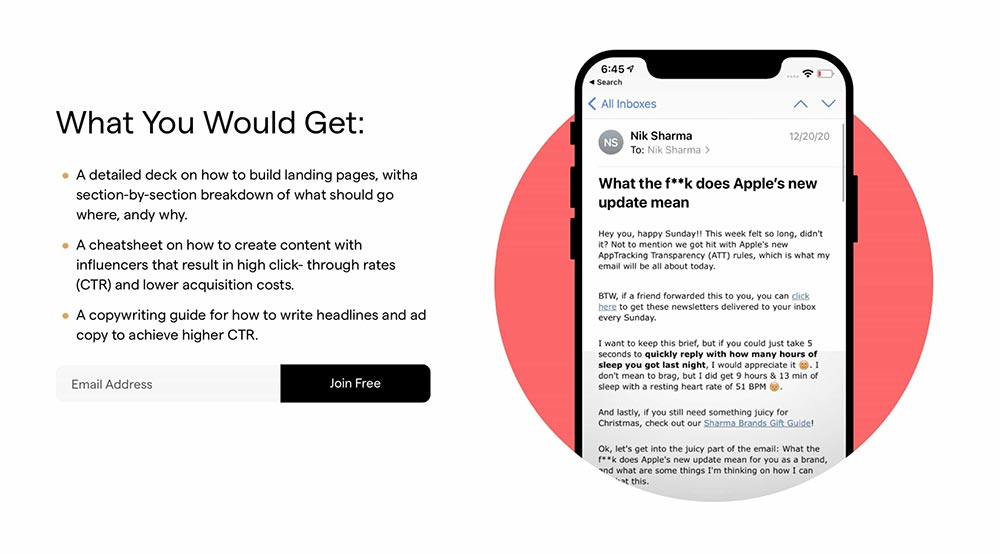 5. Use a Magnetic Facebook Ad to Drive Traffic to Your Page
Using a Facebook ad to drive traffic to your landing page is a great idea! It'll give you a quick headstart and help you test your offer out.
Be sure to keep your ads conversational and speak to a problem-aware audience.
Take a look at this ad from Melyssa: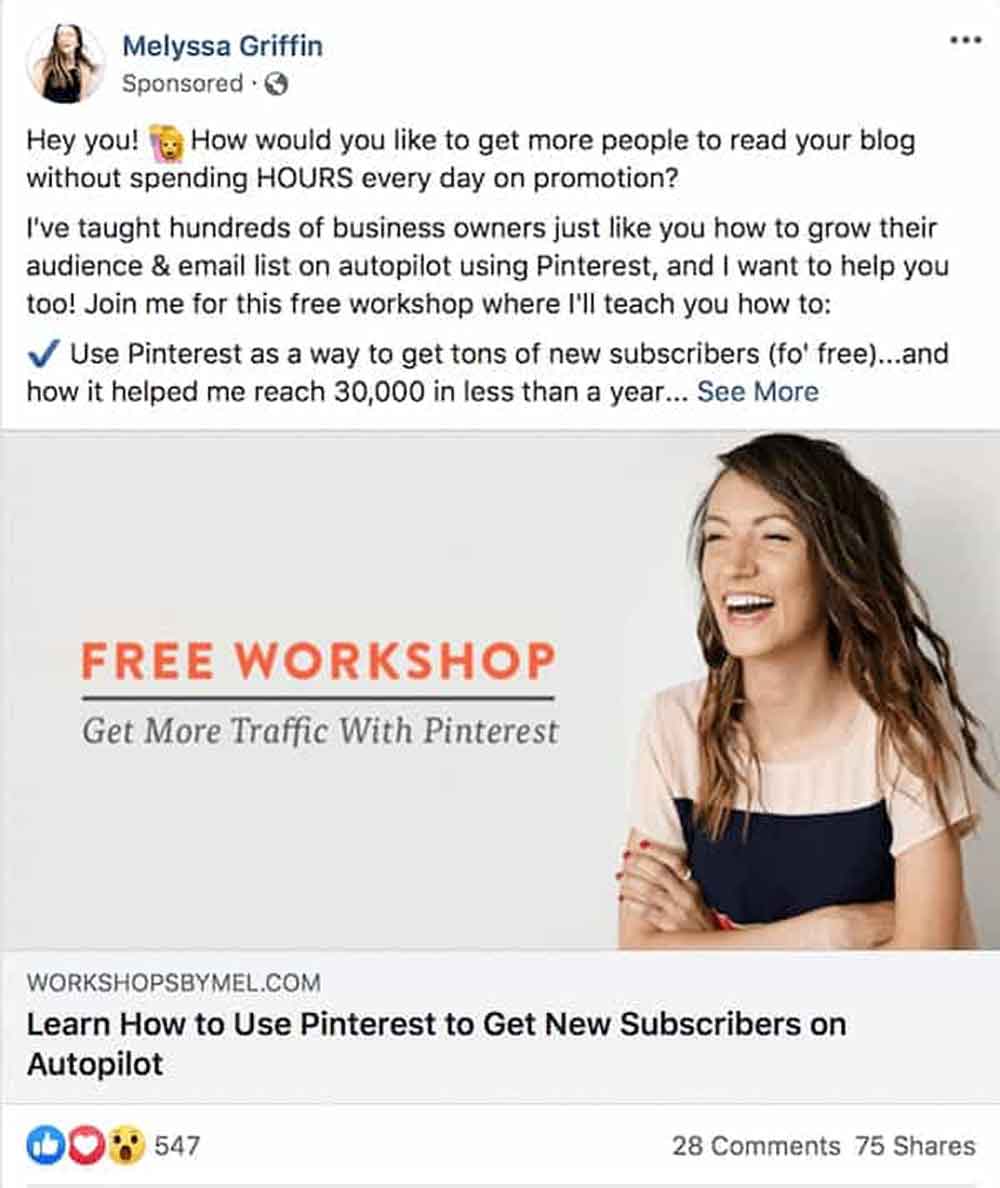 As you can notice, she speaks to an audience that already writes blogs; they know and experience the struggle of not being able to get enough readers.
She clearly states the benefits of signing up for her free workshop and the promise is simple! She ain't promising to teach dime-a-dozen traffic generation strategies but only Pinterest.
Our other example is from Digital Marketer, another well-executed Facebook ad!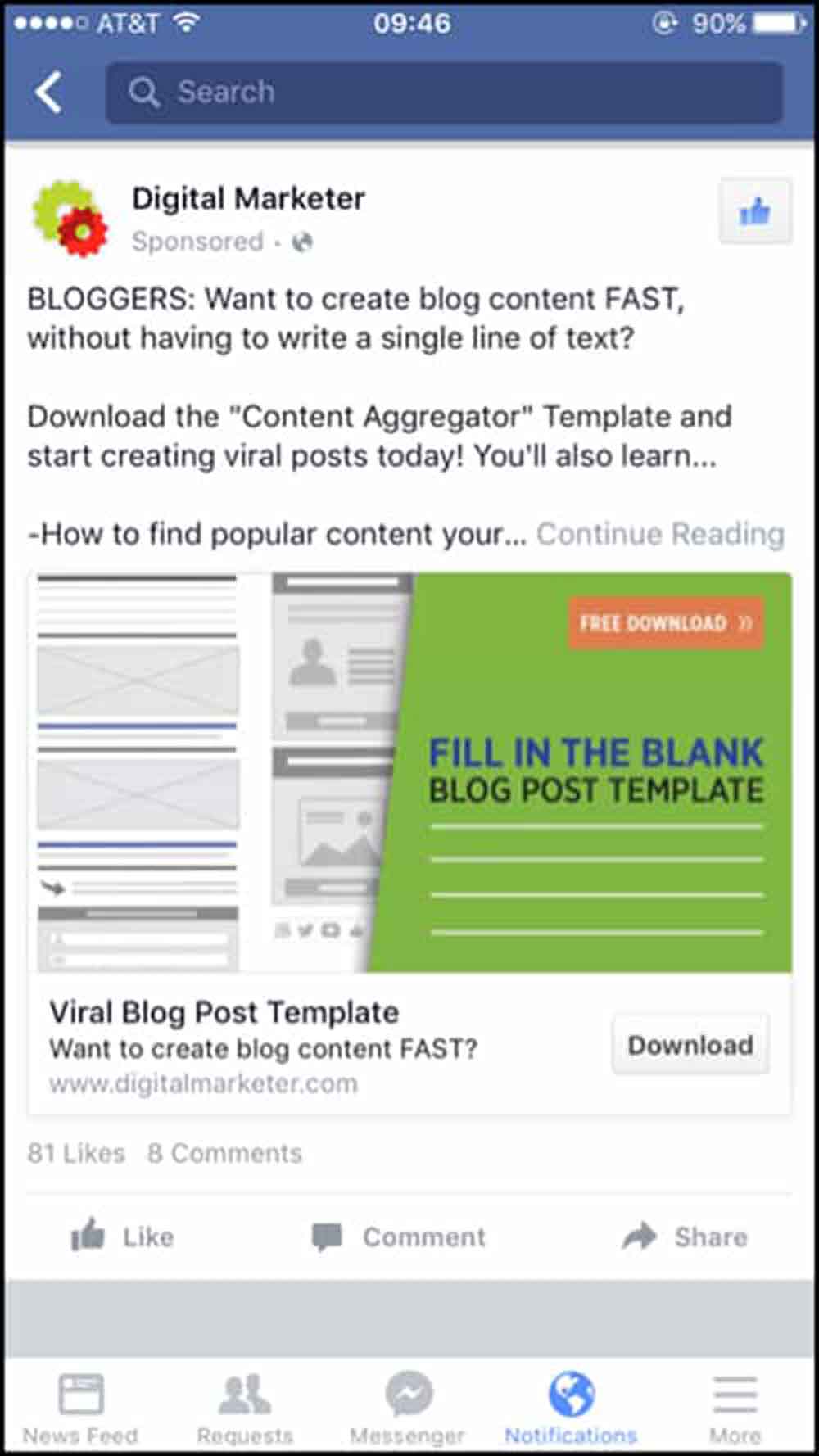 It also speaks to a problem-aware audience that struggles to get new ideas for writing blog posts.
It makes them aware of the solution, i.e., content aggregation as a way to whip up viral posts.
These ads, upon clicking, lead people to dedicated landing pages for capturing leads.
All Set to Create Your Lead Generation Funnel?
We've looked at everything you might need to create a high-converting lead generation funnel in WordPress.
FunnelKit is a one-stop solution for all your funnel requirements. Here, you get everything you need to create a perfect lead gen funnel for your business.
You can even A/B test your funnels with this amazing tool. This way you can find out what works for your audience and what doesn't, then adjust your strategy accordingly.
What are you waiting for? Start creating a lead generation funnel and convert leads into paying customers today!