If you sell products online, you need to build an Elementor sales funnel to maximize sales.
A sales funnel guides helps you convert visitors into buyers through a well-charted course/well-defined path.
You can create a sales funnel using the most popular page builder, Elementor. It's easy to create different pages for your funnel using the drag and drop based builder.
In this article, we'll dig deeper and see exactly how you can design your Elementor sales funnels. We will help you build a sales funnel with Elementor that's designed to convert.
Why Should You Use Elementor to Build a Sales Funnel?
A sales funnel can help you achieve up to 7% conversion rate.
And you, too, can achieve such high conversion rates when you create modern and beautiful pages. One of the ways is to use Elementor plugin for WordPress to build them.
The Elementor page builder is a drag-and-drop page builder that empowers you to build device-responsive sales funnel.
Moreover, pages built with Elementor load super fast. Page speed matters as every one-second improvement in page load time can increase the conversion rate by 2%.
Furthermore, Elementor comes with 40+ widgets that you can use to create all the important sales funnel pages while having a live preview of what it looks like.
If you want to create a sales funnel in any language other than English, then Elementor's got you covered with that too! That's because the page builder supports 59+ languages and is RTL-compatible.
We know this has got you super excited about sales funnels and the idea of building one with Elementor.
To learn more, move to the next section.
How to Create an Elementor Sales Funnel that Converts?
In this section, we'll show you how to create an Elementor sales funnel that helps you increase conversions on your online business site and boost AOV.
For this tutorial, we'll use the FunnelKit Funnel Builder on our WordPress website. We're also using the powerful Elementor page builder to create a high-converting, visually-appealing sales funnel.
If you want advanced editing capabilities, you can even use Elementor Pro to build the sales funnel in FunnelKit.
Now, if you haven't done so already, get FunnelKit and install it on your WordPress website.
Then let's get started!
Step 1: Import a Funnel Template
When you're using a Sales Funnel plugin like FunnelKit, you can quickly import one of the many pre-built templates available for specific sales funnels into WordPress.
For example, you can create an opt-in funnel, free plus shipping sales funnel, or a self-liquidating funnel.
Once that's done, you can customize them to fit your brand's guidelines by editing them using Elementor.
Here's what you need to do to set up a sales funnel in FunnelKit:
Go to FunnelKit ⇒ Funnels from the WordPress admin panel and click the Add New button.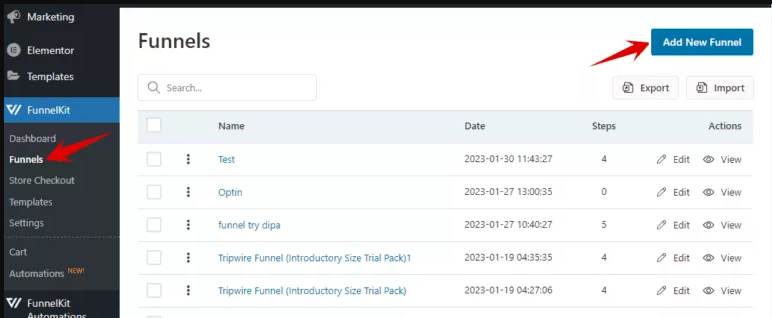 Next, select Elementor to view the pre-designed sales funnel templates that are built with the mentioned page builder.
You can preview the available sales funnel templates and click on the Import This Funnel button to start using the one you like.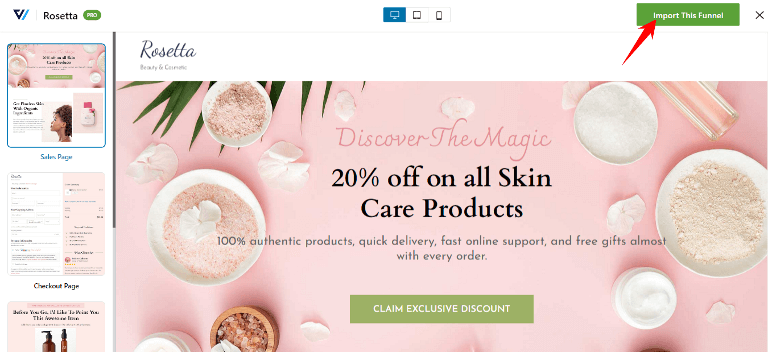 Now provide a name for the sales funnel and click on Add.
You'll notice that a complete sales funnel – with a sales page, checkout page, upsell page, and thank you page – will be imported for you to start working on.
Pre-built templates make it easy to get started quickly. You simply have to modify the template's design to get a unique look and feel that goes well with your brand.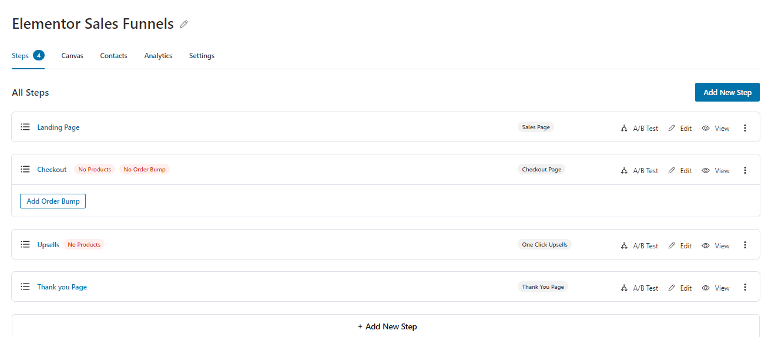 The next step is to start customising the sales funnel pages to match your branding. The best part is that you can do all of this using Elementor.
Click the Edit link (the pencil icon) next to the page you want to start editing.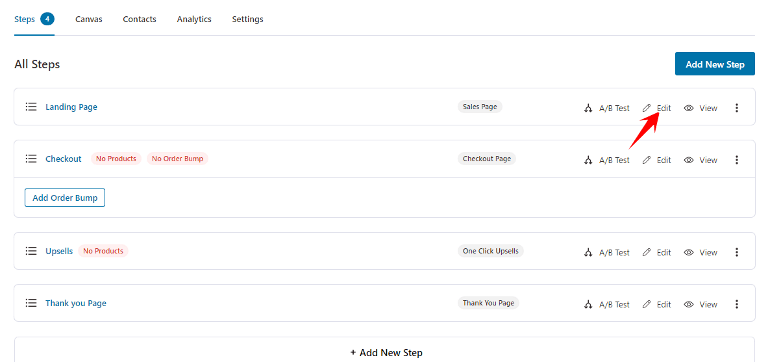 Then, click the Edit Template button to start customizing the sales funnel page in Elementor.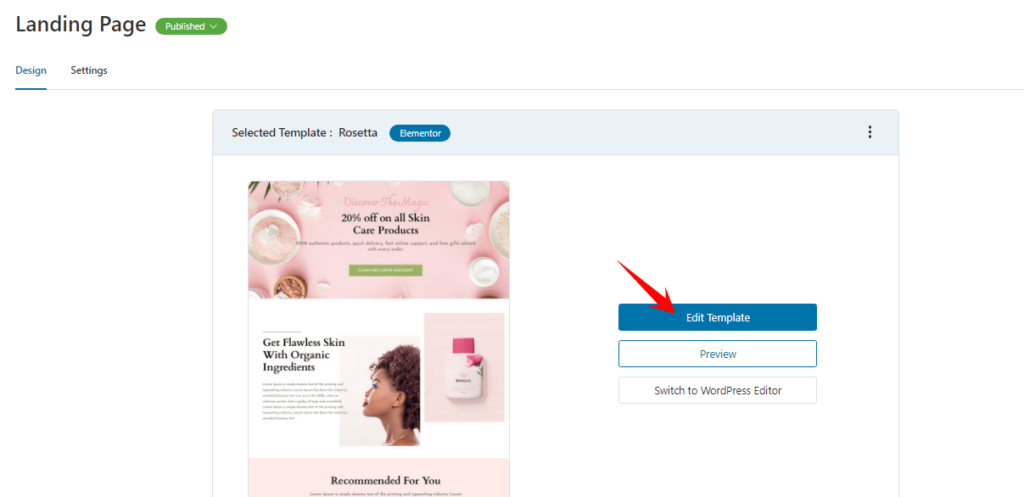 For instance, you can modify buttons, change typography, create dividers, add text, and much more.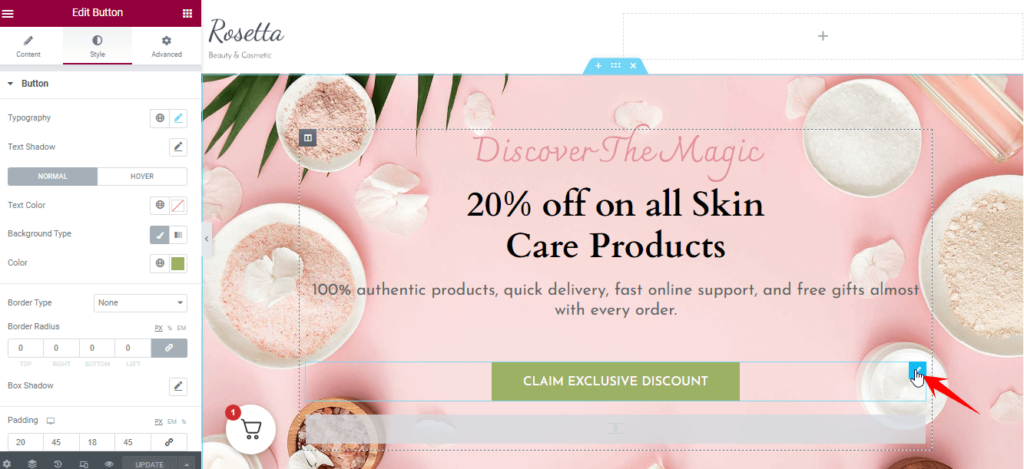 Once you've customized the sales page on your Elementor sales funnel, click the Update button to proceed.
Step 2: Optimize Your Elementor Sales Page
It's important to have the right elements on the landing page or the sales page of your Elementor sales funnel.
Let's take a look at some of the elements of a winning landing page to help inspire you:
Unique Selling Proposition
Why should the customers buy from you? How is your product any different from the other competing products?
Use your landing page to highlight your product's or service's unique selling proposition clearly. You can break it down and showcase the reasons like this on the page: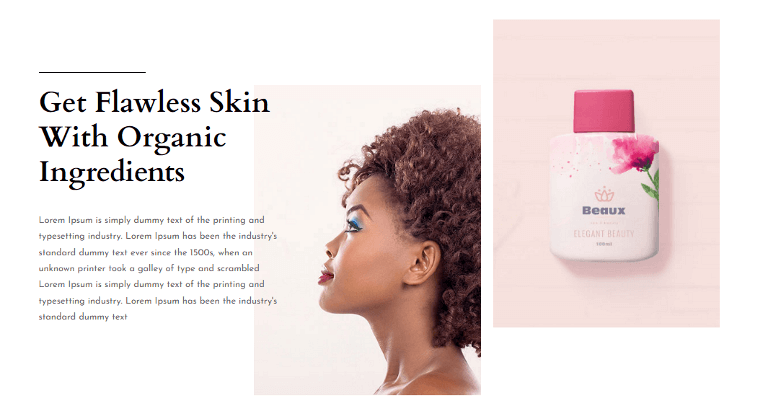 This helps prospects scan through easily and understand your product before make an informed buying decision.
Benefits of Your Offer
List the benefits of your product or service from the customer's point of view.
So, instead of saying "Buy our face mask", you might want to say something like "Get glowing skin with the BeeHive Face Pack".
Such words excite the prospects about the product and its end results.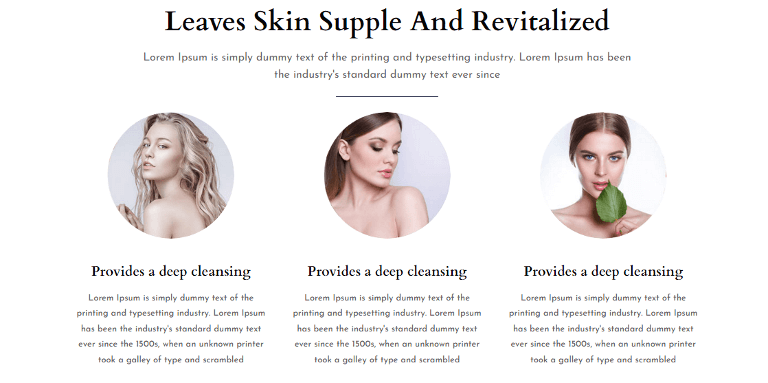 Social Proof
You can add social proof to landing pages on your Elementor sales funnel to build trust among the users.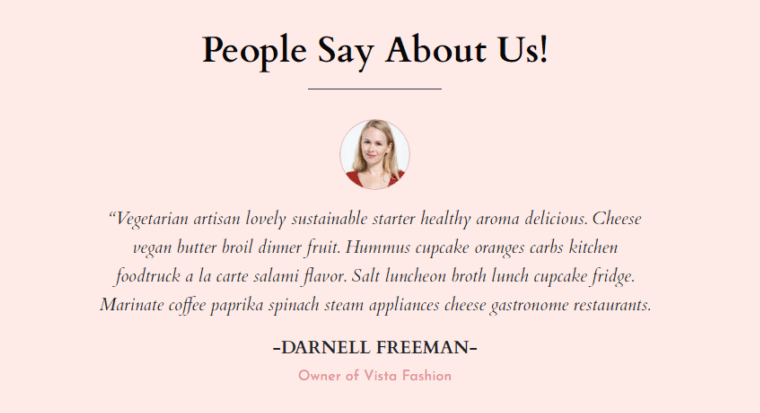 These social proofs can be testimonials, product reviews, or star ratings.
It's also a good idea to display customer photos with their reviews to put a face to the name and make your brand human.
Call to Action
Make sure your landing page has a clear call to action button that tells the visitor exactly what they need to do next.

If you sell products, this button could direct them to the checkout page. And if you sell services, the call to action could lead them to a registration form.
Step 3: Create a One-Page Checkout to Maximize Conversions
The Sales Funnel plugin automatically creates a one-page checkout for you. You can access it by going to FunnelKit ⇒ Funnels from the dashboard and clicking on your sales funnel. It should be called Checkout.
Using FunnelKit, you can customize the checkout page in Elementor by clicking the Edit button and following the steps we outlined in Step #2.
Once that's done, you can add one or more products to the checkout page. Here's how you do it:
Head over to the Products tab and click the Add Product button. Then, select the product you want to sell and click the Add Product button to continue.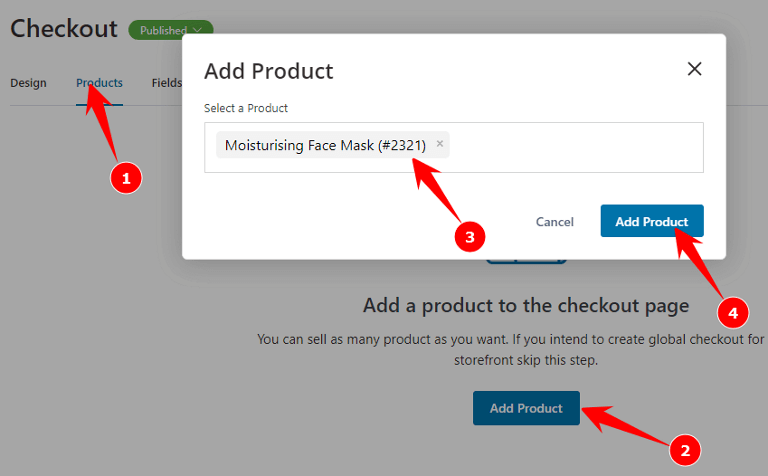 Next, you can enter an amount to offer a fixed amount discount or percentage discount. You can also set the quantity.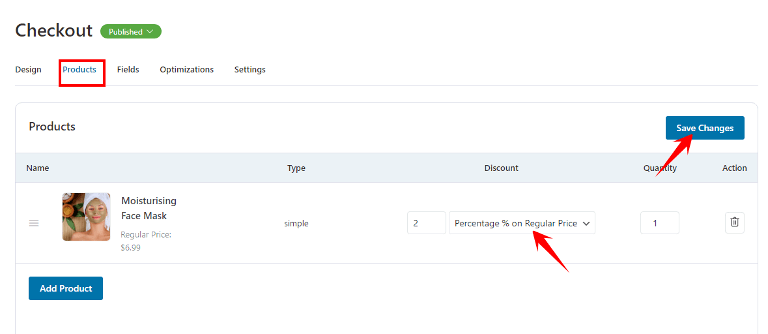 In addition to this, you can click on the Add Product button again to add multiple products to the cart at once.
When you're done, click the Save Changes button to continue.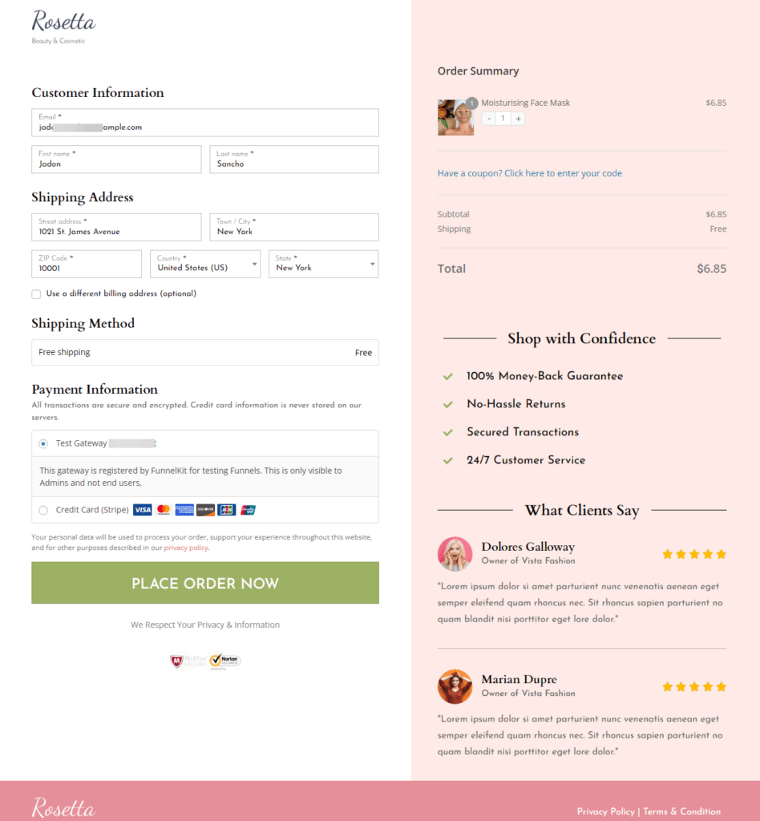 Also, you can always go back and edit your checkout page or sales funnel in Elementor whenever you'd like. You can customize FunnelKit widgets such as Checkout Form and Mini Cart.
For example, you can choose to show or hide the product image on the mini cart. Morever, you can also add a coupon section and change the style of that coupon section.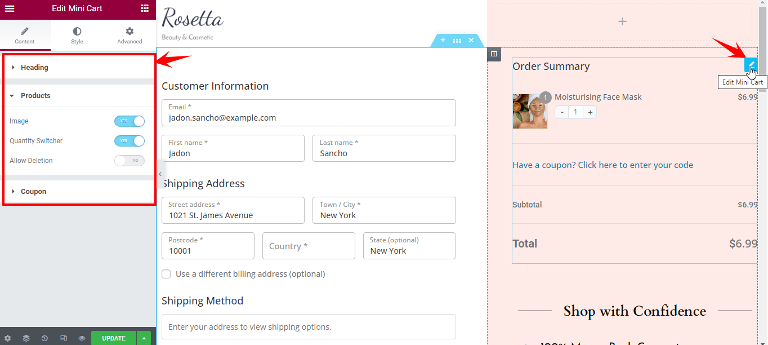 Step 4: Add Order Bumps and One-Click Upsells to Increase AOV
One of the greatest features of an Elementor sales funnel is that you can make offers to your customers at different stages of their purchase journey.
FunnelKit (formerly WooFunnels) lets you do this by adding order bumps and one-click upsells to your sales funnel. This is a great way to increase your AOV.
Order Bumps
Order bumps are perfect when you want to show complementary product offers on the checkout page in your sales funnel.
Customers can add them to their cart with one click. For example, if you sell face masks then under-eye patches make for an excellent order bump offer.
Here's how you can add order bumps to your Elementor sales funnel:
Go to your Elementor sales funnel and click the (+) Order Bump link. Now, give the order bump a name and click the Create button.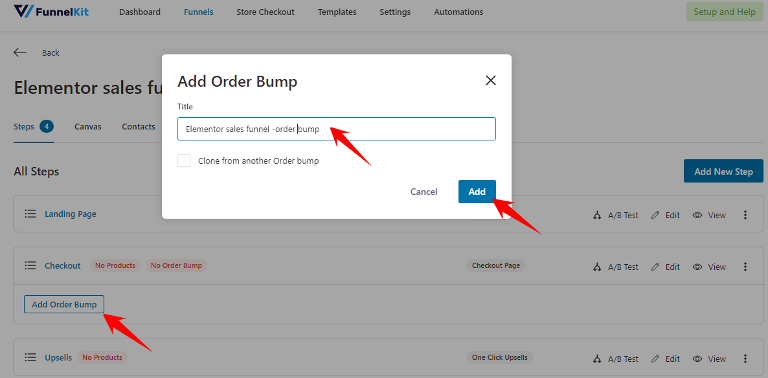 Next, click the Edit button next to the order bump you just created to begin customizing it.
Click the Add Product button and select the product you want to offer as an order bump.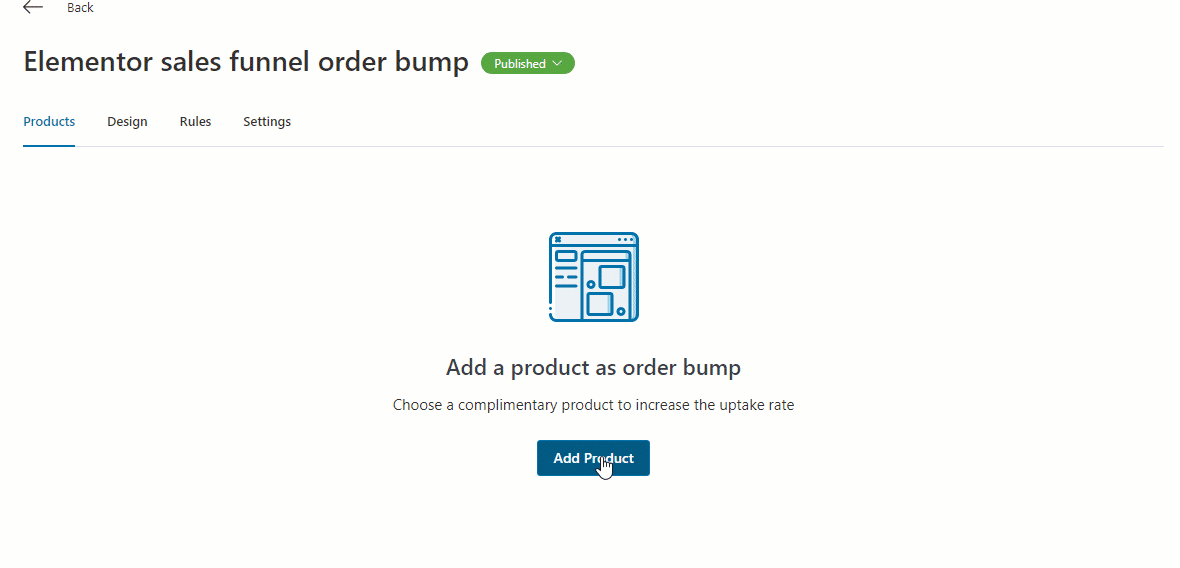 Same as before, you can offer a discount – either a fixed discount or a percentage discount – and enter the quantity.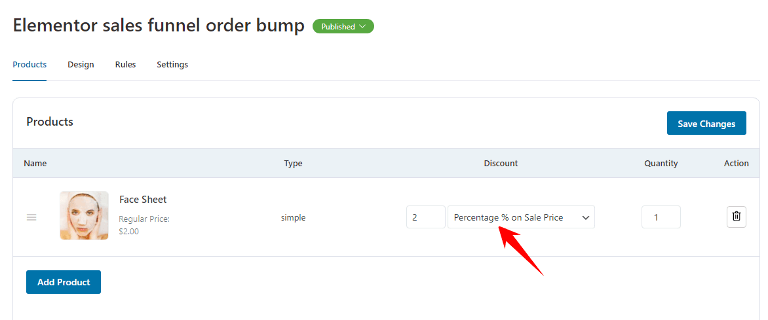 Click the Save changes button to continue.
That's it! The order bump is created. To take things further, you can go to the Design tab to customize how the order bump appears on the front end.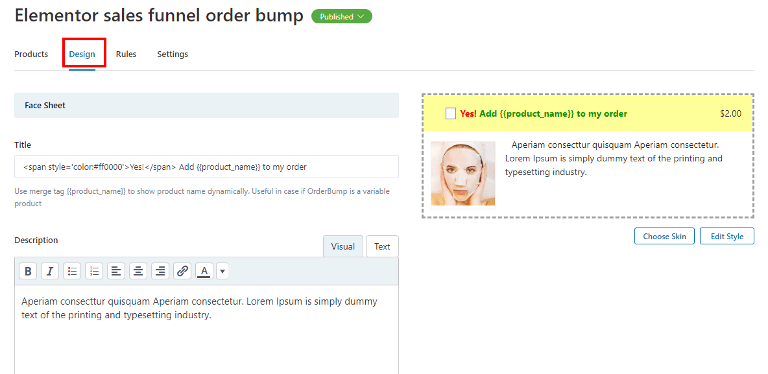 Here is how the order bump looks in the front end: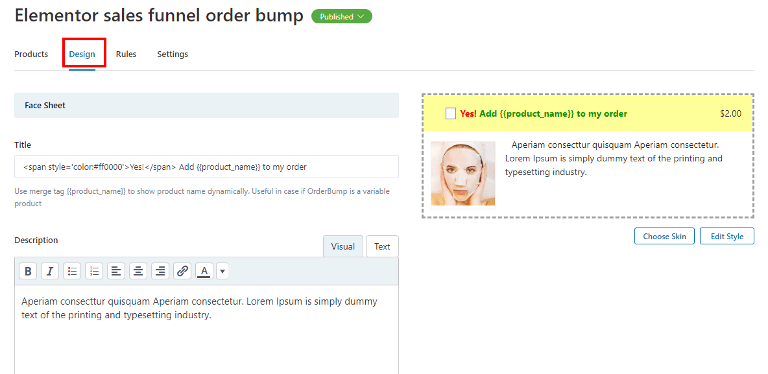 One Click Upsells
WooCommerce Upsells are perfect for when you want the customers to explore and purchase other relevant items you have to offer in your post purchase offers.
For example, if you're selling face masks, you can offer a bundle of three face masks for a special price.
The Elementor sales funnel creates an upsells page for you. Click on the Edit icon to edit the upsell sell page.
Click the Add Product button to add the product you'd like to upsell. You can add as many products as you'd like to each upsell offer you create.
Click the Save changes button to continue. Using FunnelKit, you can create multiple upsell offers for each product you're selling.
Similar to order bumps, you can create rules to decide when to display the upsell offer. To do this, head over to the Rules tab.
Finally, you can go to the Design tab to customize the look and feel of the upsell offer using Elementor.
Once done, your Elementor sales funnel will be ready to go!
Frequently Asked Questions
How do I create a sales funnel in Elementor?
Yes. You can build sales funnel in Elementor. You can easily import sales funnel templates to create a sales funnel in WordPress. All you need to do for this is install FunnelKit Funnel Builder and import the sales funnel.
Can you build funnels with Elementor?
Yes, of course. You can create different sales funnel pages using Elementor to build your sales funnel. If you are looking for a one-click solution, then you can install FunnelKit Funnel Builder. This plugin offers many ready-to-use sales funnel templates.
Can you make a sales funnel with WordPress?
Yes. You can create different sale funnels such as Optin funnel, Tripwire funnel, and so on easily on WordPress using FunnelKit Funnel Builder. This WordPress plugin offers multiple pre-built sales funnels that you can easily import and customize to fit your needs.
How do I create a sales page in Elementor?
Yes. You can create beautiful landing pages in Elementor with drag and drop without coding.
Create Your Elementor Sales Funnel Today!
Using FunnelKit and Elementor, you can create high-converting, visually appealing sales funnels for your WooCommerce store in no time. It's perfect for selling both physical and digital products and services.
The FunnelKit Funnel Builder plugin makes it easy for store owners to increase conversions. In addition, it also helps to boost AOV by creating a one-page checkout experience and setting up one-click order bumps and upsell offers.
Wish to create an Elementor sales funnel for your online store as well? Create one with the FunnelKit Funnel Builder plugin.
Get your hands on FunnelKit today and start designing!