Are you looking to create the perfect product landing page that converts your visitors into customers?
A product landing page is specially designed to convince users to buy a particular product.
An average E-Commerce conversion rate is around 2.5-3%. However, an effective landing page can boost your store's conversion by up to 9.7%.
If you want to convert more visitors into buyers and get higher returns on ad spends, then dedicated landing pages are your best bet.
But how to build a high-converting landing page in WordPress? 
What are the ingredients of a converting product landing page?
This blog will cover answers to all your questions and some exemplary examples of product landing pages.
So, keep reading…
What is a Product Landing Page?
A product landing page is a page designed to convince users to buy a particular product. It demonstrates the product's capabilities in solving the problems of your user, further convincing them to make the purchase.
Such pages feature some effective conversion-friendly elements. These include a powerful headline, compelling description, hero image, and social proof, all designed to convert prospects into paying customers.
Usually, a product landing page is a post-click page where people land after clicking on
Social media posts
Organic search results etc.
Note: Product landing page is different from a product page and landing page.
A product page describes the features of a product. A product landing page on the other hand, focuses on convincing users to take action and purchase the product. It converts your visitors into paying customers.
Why Do You Need a Product Landing Page?
Have a look at some of the reasons why you should use the landing page to sell products:
Landing pages are conversion centric
Product landing pages are part of the sales funnel with a clearly defined strategy to convince customers to buy. Since it focuses on getting a conversion, you will likely get better results.
Arouse users' interest in your products
Since people land on a landing page after clicking on a post or ads, you can be somewhat assured that they are interested in your product. Now you can compactly put all the information to arouse more interest and eventually turn your customer's desire into the action of buying your product.
Streamline the buyer's journey
A well-designed product landing page is built to streamline the buyer journey. Information is put together strategically to convince the customer to purchase the product.
For example, you can highlight the benefits to convince them your product will solve their problems.
Moreover, you can add social proof showing how other people have benefited from your products. You also can draw their attention by mentioning the USP of your products that they can't find in other products.
A product landing page is a perfect tool that you can use to convince your users to buy. Therefore, you should opt for a landing page in your sales funnel.
However, you must ensure your landing page has all the right elements to bring results.
Move on to the next section to find out what those elements are.
Key Elements of a High-Converting Product Landing Page
Captivating headline
According to research, 80% of people read the headline only. Captivating headlines is a must to hook your prospects so they continue to read the rest of the content.
So make sure you put an attractive headline on top of your landing page that is visible to the viewer without scrolling down. If users find the content on the visible part interesting enough, they will scroll down to read more.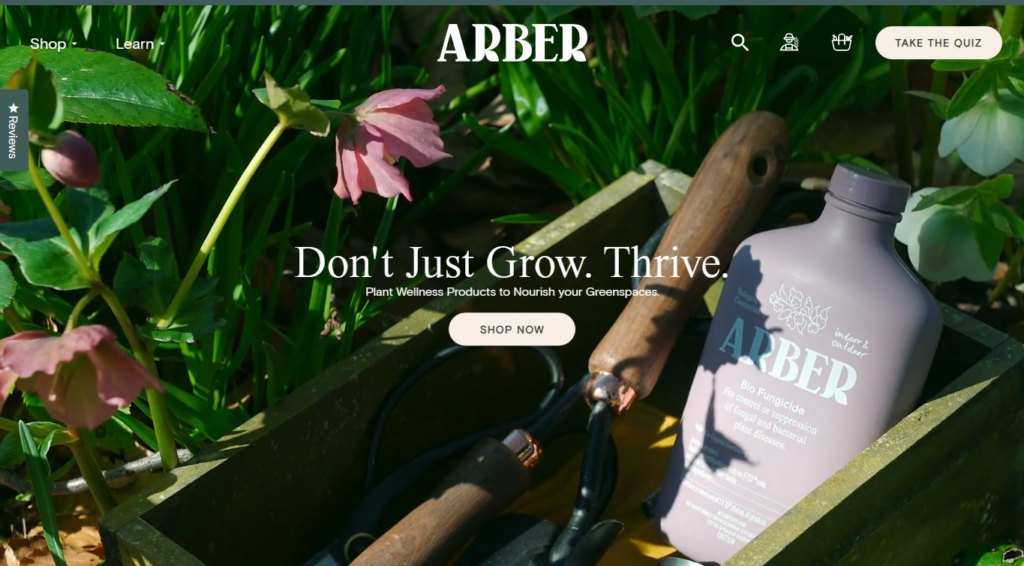 Attractive product benefits section
People are not interested in your products but in how your product will benefit them or solve their issues. Thus, it's important you highlight how your products will solve prospects' problems. Describing features in a way that highlights the benefit is an excellent approach you can follow.

Unique selling proposition
In most businesses, your competitors are likely to offer similar features or benefits that your product does.Thats why you need to give users a reason to choose you by adding a USP section on your landing page. The section should talk about the unique selling points of your product that no one else offers.

Social proof, testimonials, and reviews
Social proof is a powerful tool of persuasion. Almost 70% of online users typically review customer reviews before purchasing. So ensure you include authentic and positive social proof and reviews on your product landing page. This will help you gain user's trust and thus convince them to buy your product.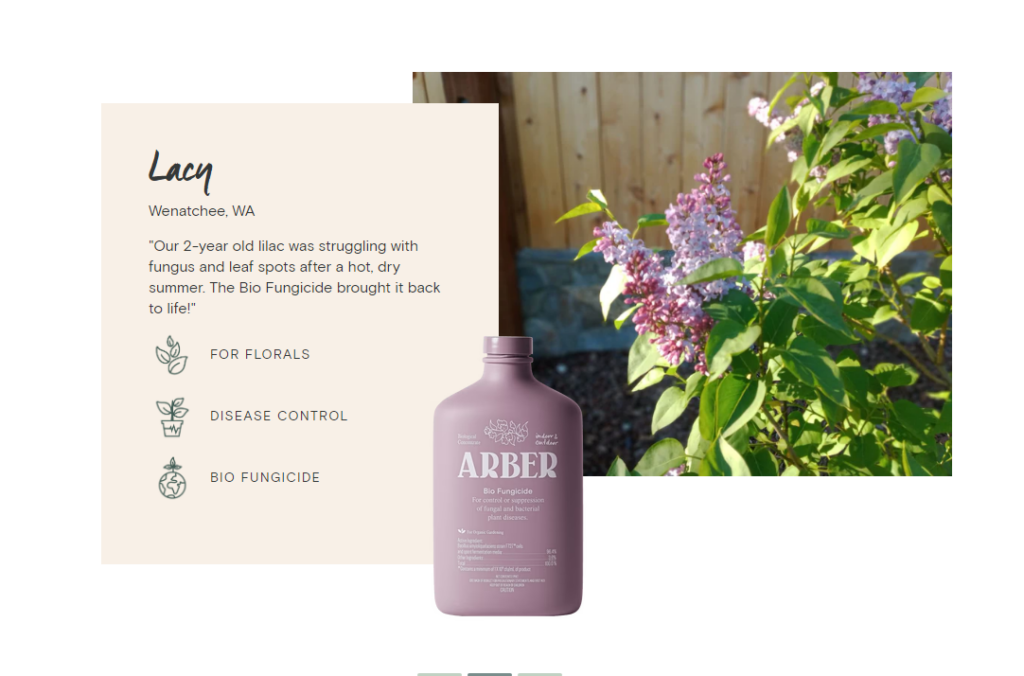 High-quality images, videos, animations
A picture is worth a thousand words". This statement applies to landing pages as well. Not just an image, adding videos and animation can help you communicate with users more effectively.
For example, with an image, you can show the before and after effects of using the product. Again you can show how easy it is to use your product and son.

Compelling CTA
The primary goal of your product landing page is to get conversions and CTA directs users towards that goal.A CTA button should represent the whole landing is designed to achieve. You should avoid using CTAs such as "CLICK HERE" or "SUBMIT.".
While these are widely used CTAs, you should use CTA that indicates the result users will get if they click and purchase the product.In addition, you should repeat CTA on different parts of your landing page, so users don't have to scroll up to find a CTA.

How to Create a Product Landing Page in WordPress
Now we will show you can easily create a product landing page in WordPress using FunnelKit. We are using FunnelKit as it's the highest rated sales builder plugin out there.
The reason why people including us love this WordPress plugin is it's a complete plugin and comes with all the features to build landing pages as well as sales funnel with ease.
Some of the reason why we chose FunnelKit to build landing page for products include:
Pre-built customizable templates - FunnelKit comes with many prebuilt product landing page templates that you can just import and use. You can customize these templates to suit your needs.
AOV-boosting offers - You can also add order bumps and one click upsell on your sales funnel followed by the landing page which will increase the average order value of your site.
Before we start with the process of creating a landing page in WordPress, make sure to install FunnelKit and activate it on your WordPress website.
Step 1: Create a sales funnel and import a pre built template
We are going to use an Elementor based prebuilt template by FunnelKit - Challengers. This is a 4 step sales funnel template that includes landing page, checkout page, upsell page and thank you page.
Before you can import and use the landing page template you need to create a sales funnel. For that, navigate to FunnelKit ⇒ Funnels from the WordPress admin panel and click the "Add New" button.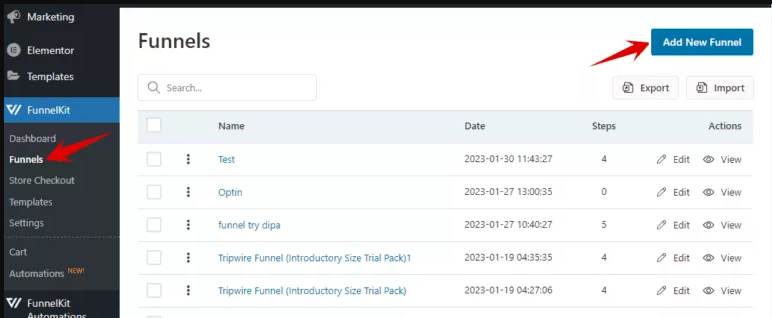 Next look for the Challengers template and click on preview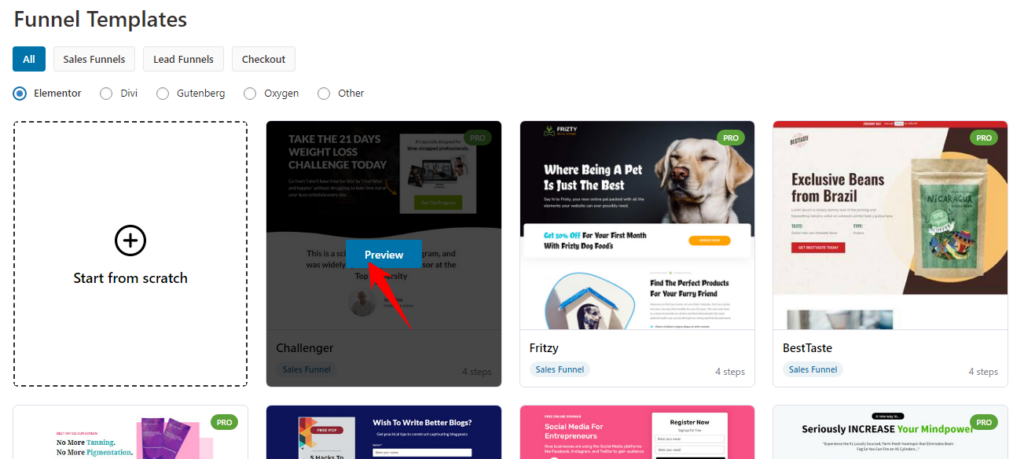 Now click on the "Import This Funnel" button. After that, provide a name and click on "Add".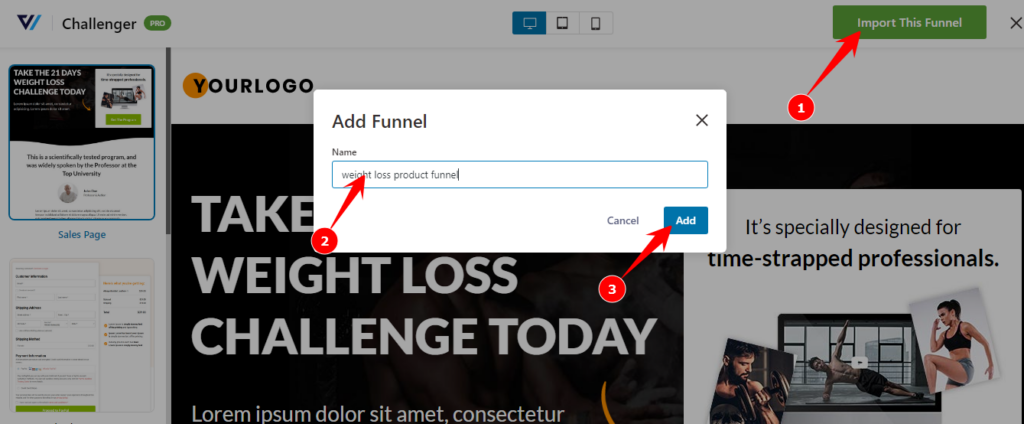 Now you should see all the sales pages have been imported including the landing page.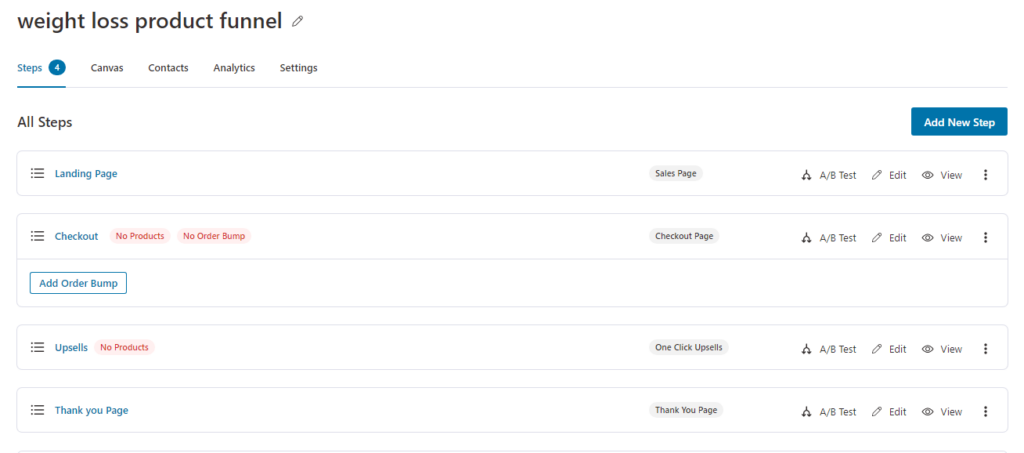 Here is the product landing page that will be imported: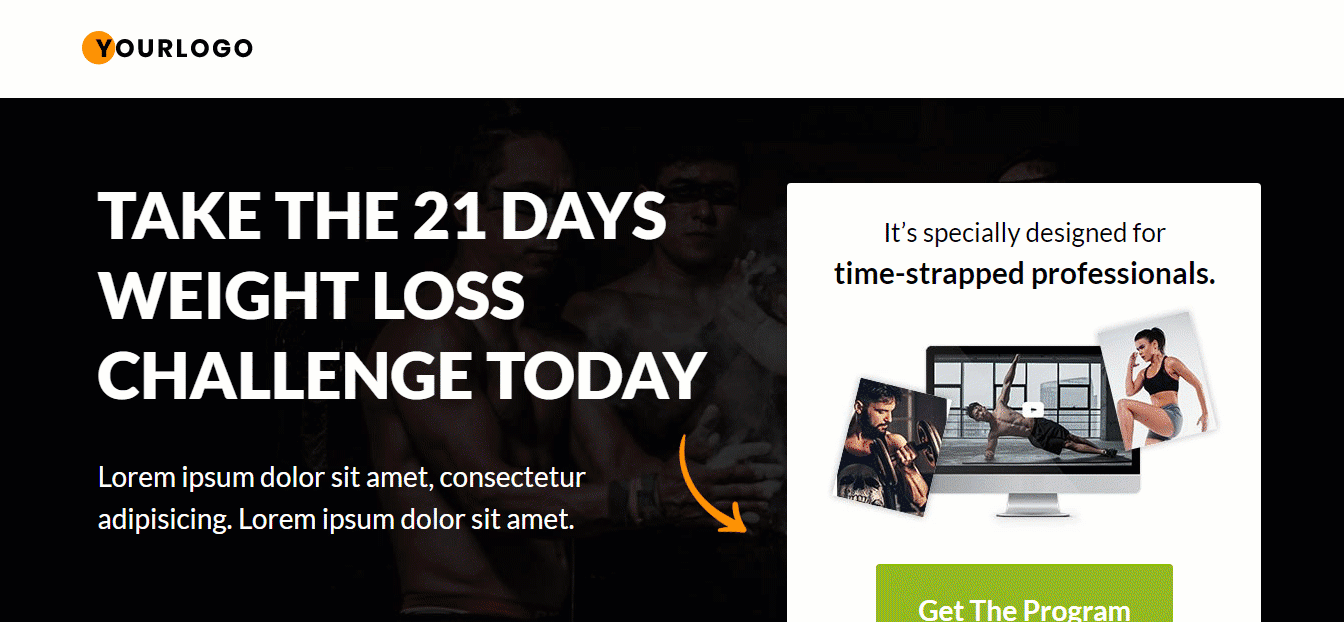 Step 2: Customize the product landing page
Now let's edit the landing page. For that click on the "Edit" option.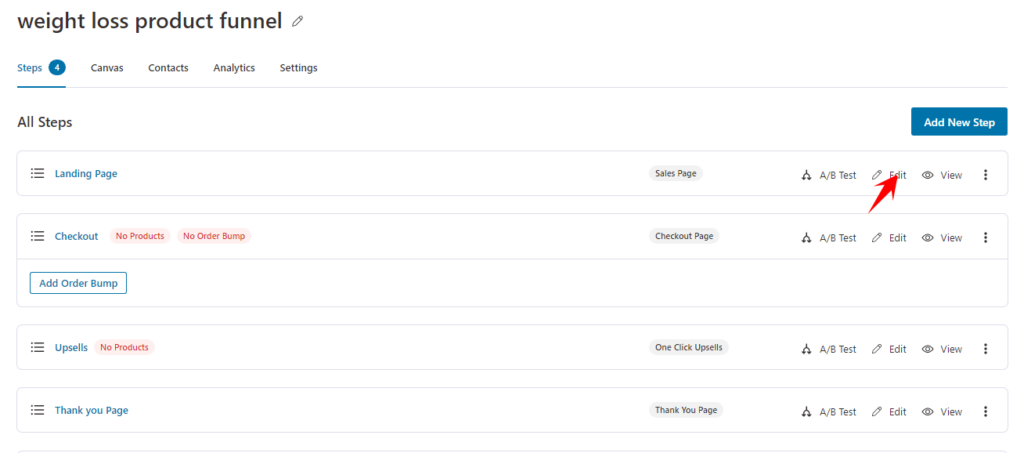 You'll get redirected to the design section. From there, click on the 'Edit Template' option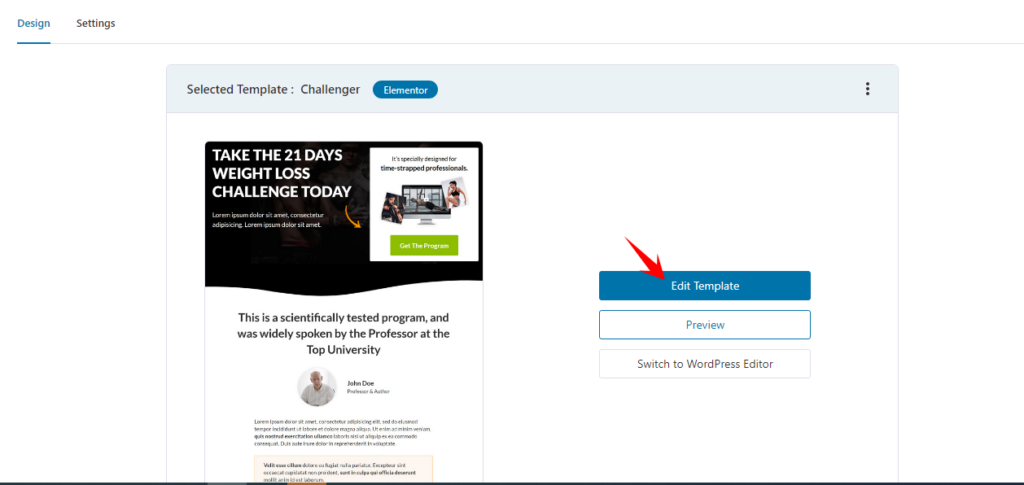 Now you can change any section of this landing page using the Elementor editor panel on the left.
Just choose the section and on the left you will find all the customization options.
For starters you can update the logo and your brand's logo.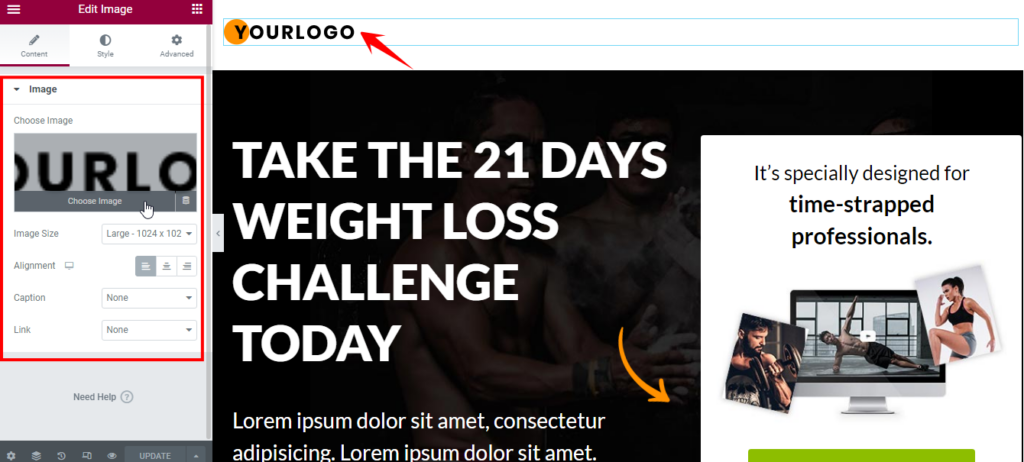 Similarly you can change the headline.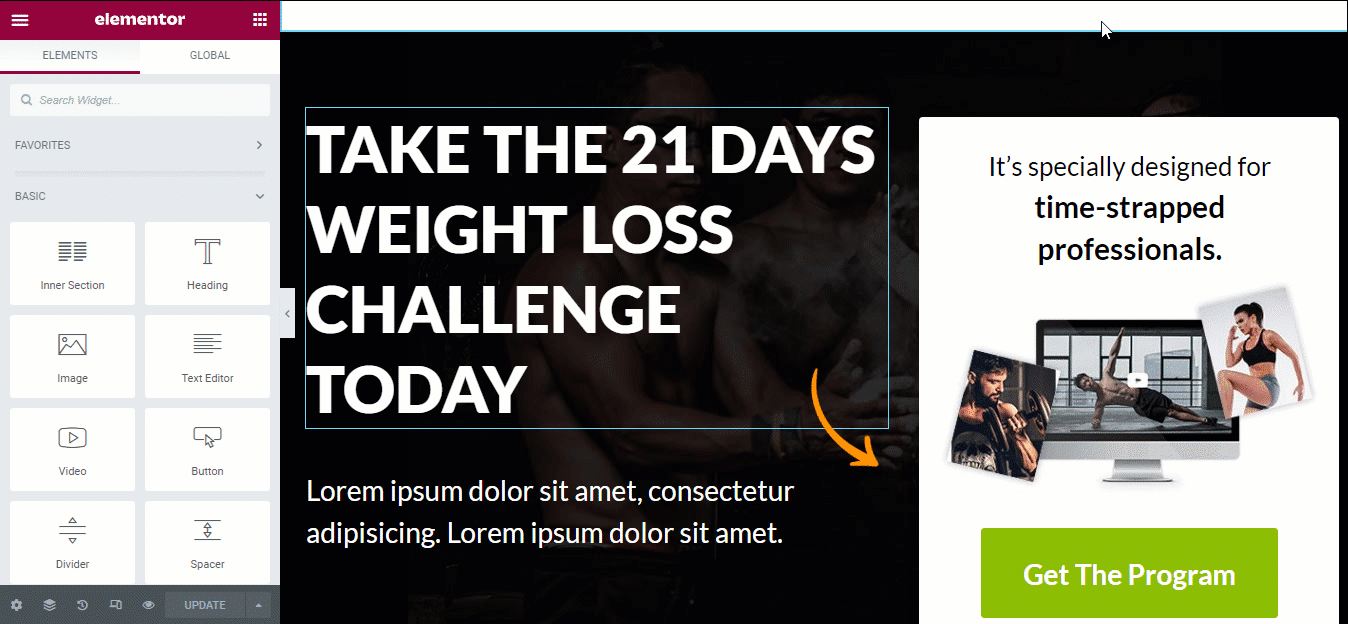 As mentioned before you can customize each and every section of this landing page to fit your brand's voice.
We are showing another example here for the review section. In the review section. You can update the review and author. You can also change the alignment for both review and author along with many other settings.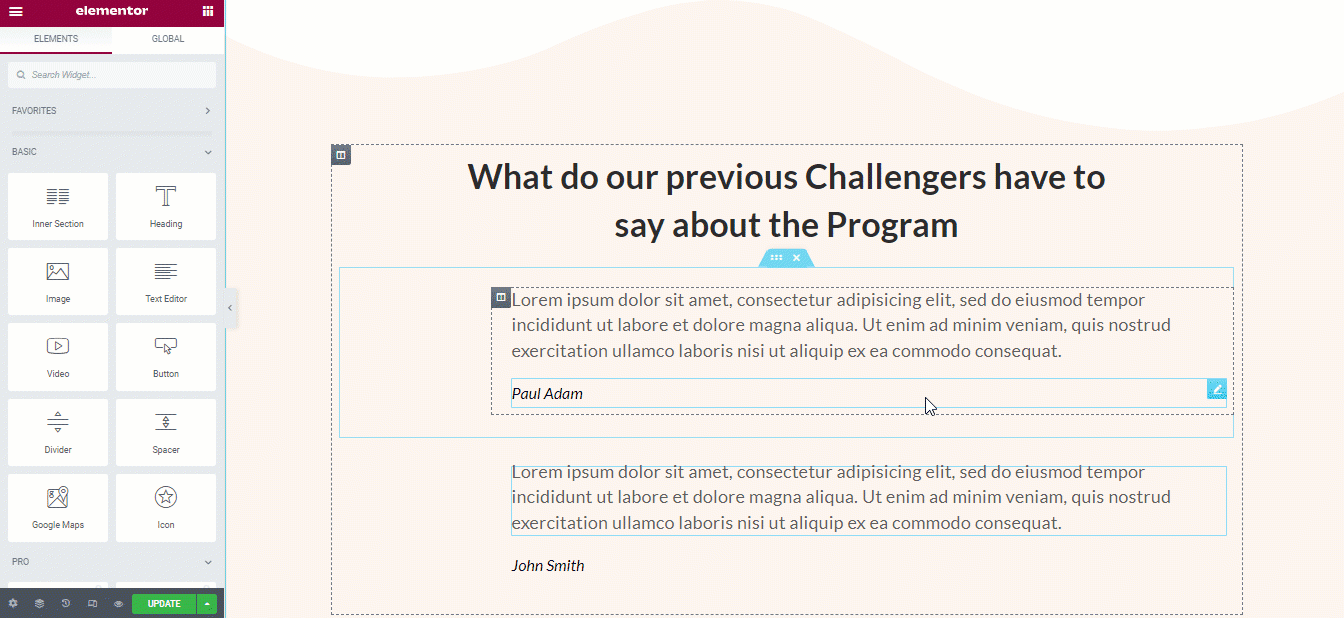 Once done, click on the update button.
Step 3: Add products to check out page
Now it's time to add the products that will be added to the cart once users click on the landing page CTA. For that go to the checkout step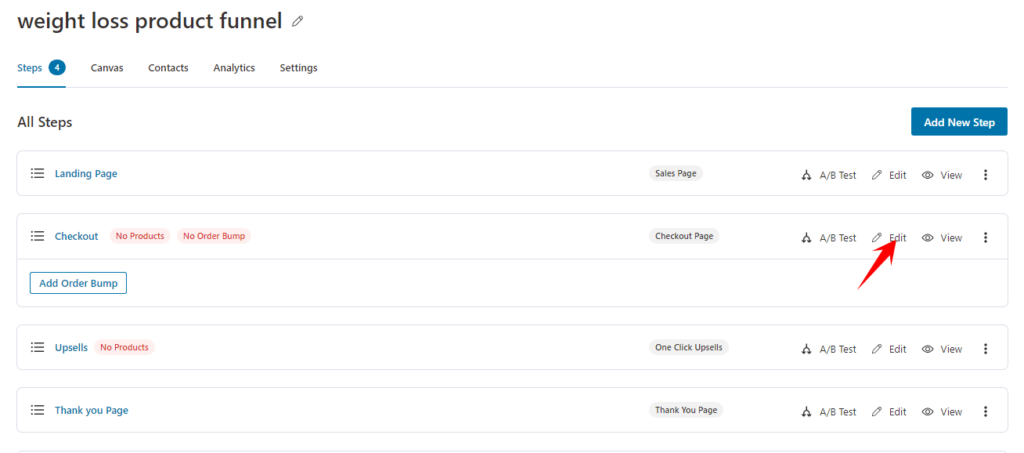 Now go to the products tab and click on Add. Then search the product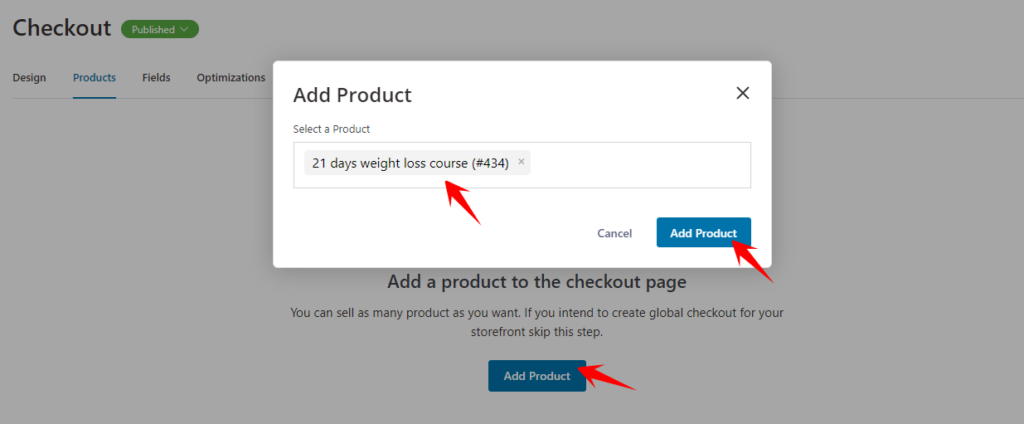 Add a discount to the product if you want then click on Save changes to update.
Step 4: Customize your one click upsell offer
One click upsell products is the practice of offering high value products after the checkout page. To add an upsell product, edit the upsell product step.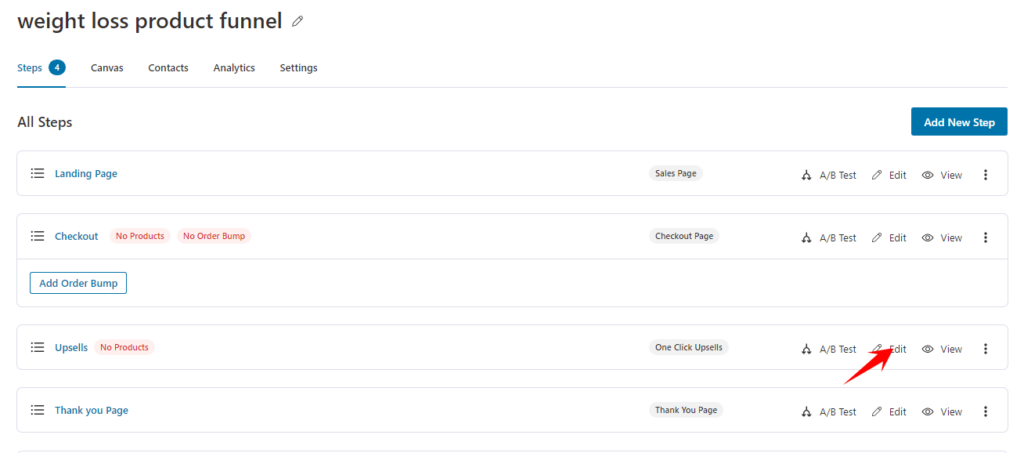 Like you added products to order bump, add products to upsell products.

If you want, you can add discounts to upsell products as well. However this is optional.

Step 5: Customize thank you page to complete
The last step is to customize the thank you page. For this edit the thank you page.
You can customize the different sections of the thank you page. For example, you can change the page title,size, link HTMl tag etc.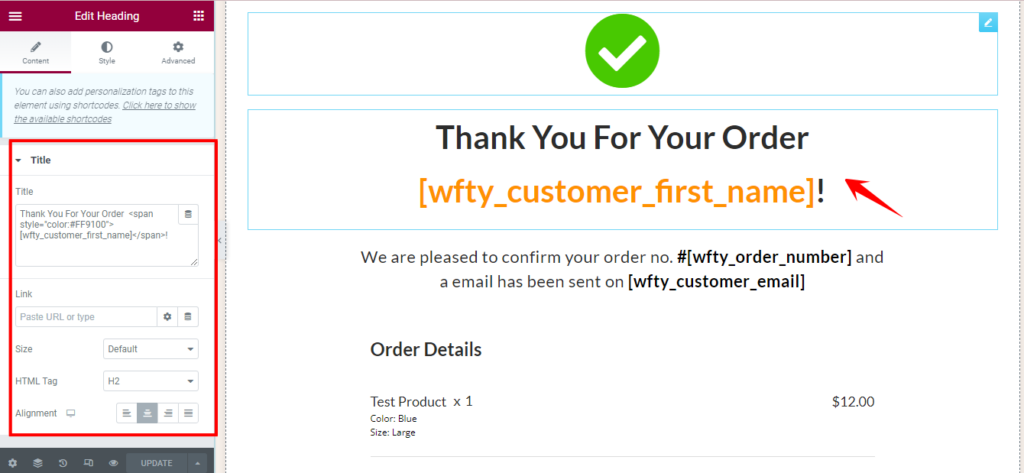 And that's it you landing page is ready with a proper sales funnel to boost sales.
3 Inspiring Landing Page Examples
Now let's have a look at three inspiring landing page examples that got it right. Here we will look at the landing pages for digital products, physical products and subscription products.
This is a landing page by Copyhackers for their product 10x Freelance copywriter which is an online course. This is a great example of how a landing page for a digital product should be.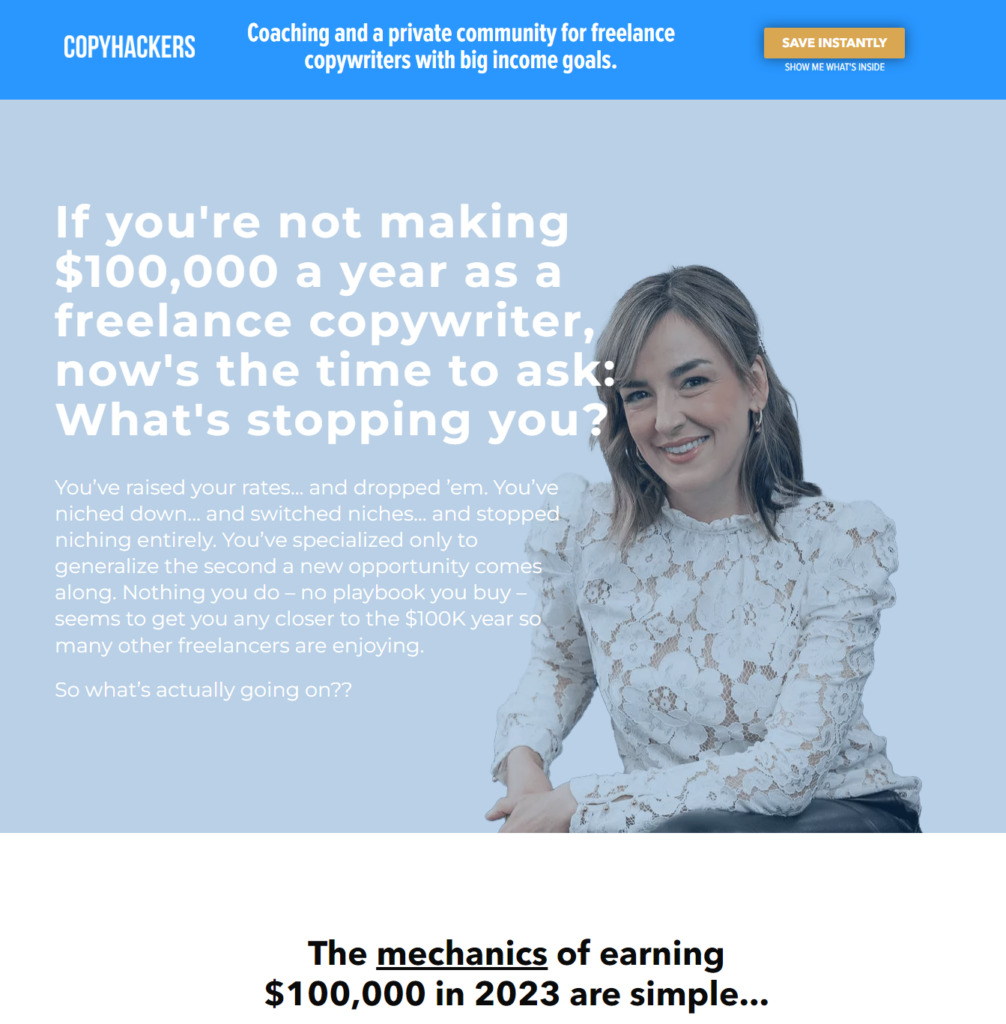 Why we love landing page for physical product :
Captivating headline - If has a captivating headline that hooks the prospect at onset.
Catchy Benefit section- Highlights the benefits so users are tempted to buy the product
Use cases with data: Includes a good amount of testimonials and highlights the user's success story of using the product.
Attractive graphics: The graphics used in this landing page are also of good quality and catches user's attention.
Next, we have an example of a landing page for a physical product named This landing page is designed to sell modular organizers. What makes it an excellent landing is the product. It doesn't only use catchy words but also what they are talking about with images and videos.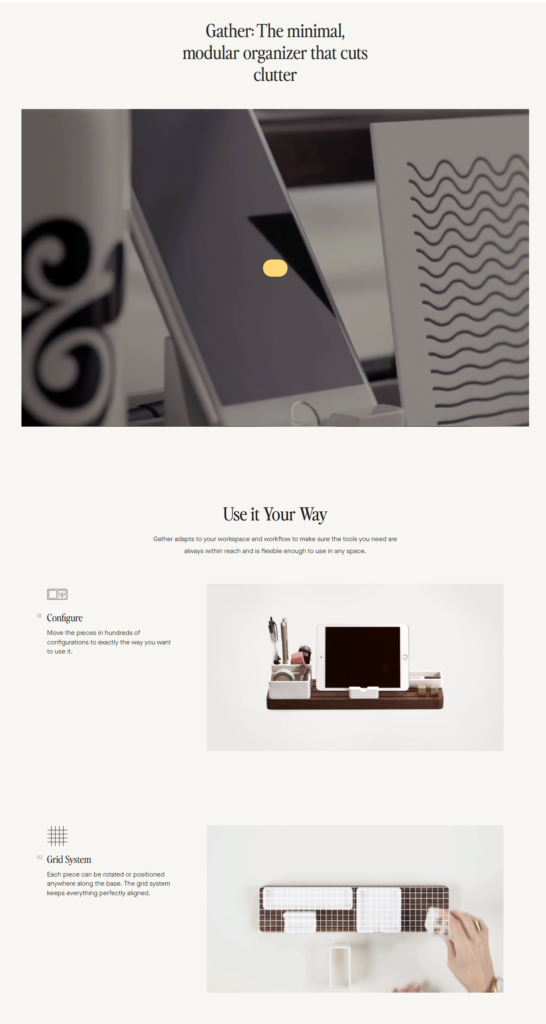 Why we love landing page for digital product:
Attractive hero section- Starts with a catchy headline followed by a video that shows how the product works
Core Features: Mentions its core features of the product which is essential in convincing users to make the decision of buying this product.
Elegant design- The design is simple yet elegant. Adding small videos along with still images really works and helps users picture how they can also use the product.
Last but not least we have a landing page for a subscription product - Pianu. This is a subscription based product that sells piano lessons online.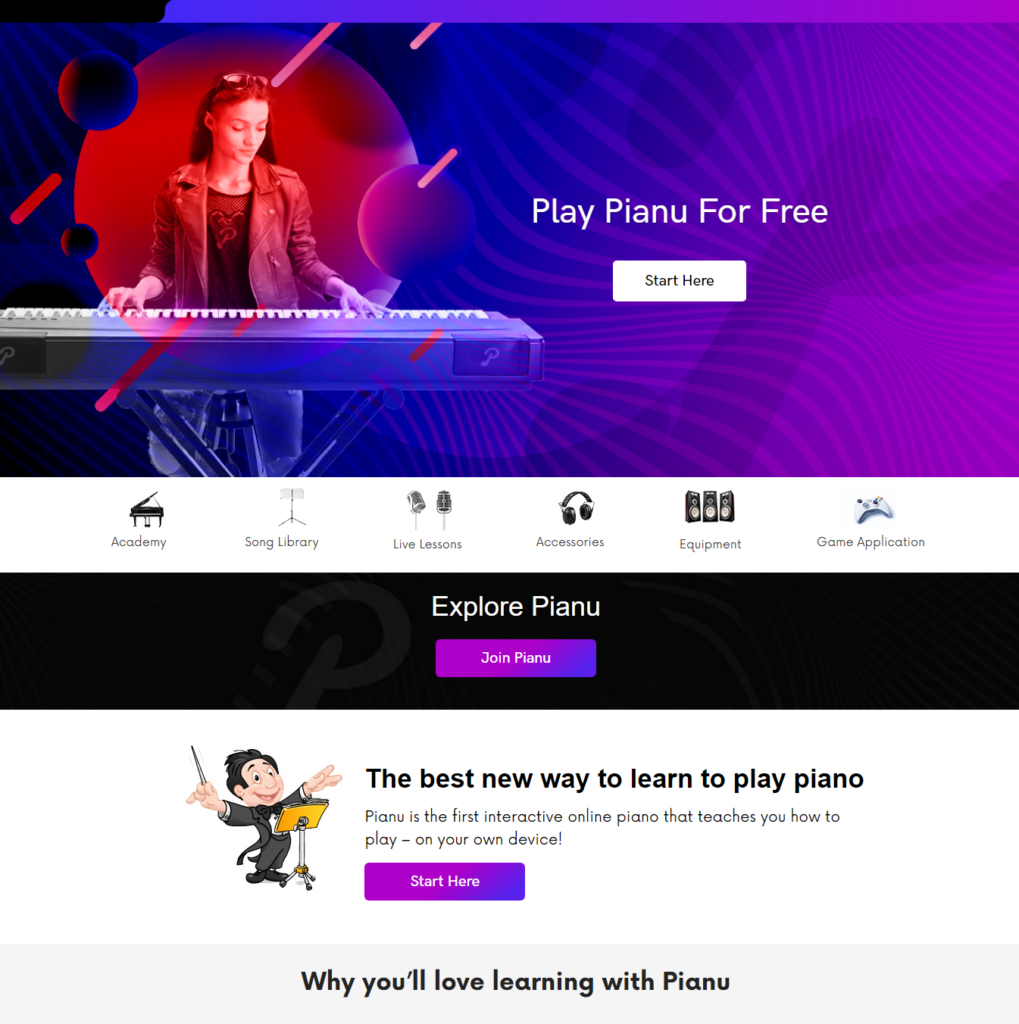 Why we love this landing page for subscription based products.
Appealing hero session- It has an appealing hero section with an enticing CTA that offers a free service.
Convincing feature section- Properly highlights why their online lessons are a good option for users.
Great Review section- Incorporated customer review nicely which inspires users to also try out the lessons.
Frequently Asked Questions
What are product landing page examples?
Some of the product landing page examples include The 10x Freelance Copywriter, Gather, Pianu, Jasper, Asana etc.
What is the difference between product landing page vs product page?
A product page usually consists of the important information about the product. On the other hand, a product landing page includes everything needed to convince a customer to make a purchase.
So the landing page does include the product information but it also highlights the benefits,USP, review and other features that makes the product and company more sellable.
What is a landing page for 1 product?
A landing page for one product focuses on promoting one product only and tries to convince users to buy that product.
How do product landing pages differ from lead generation landing pages?
A lead generation landing page aims to collect user data whereas a product landing page's aim is to convert the prospects into buyers.
Ready to Design Your Product Landing Page?
Now you know how easy it is to create a high-class landing page that tick all the key elements with FunnelKit in WordPress. 
This WordPress plugin was launched with the aim to help online merchants increase their sales through the sales funnel. But at the same time making sure creating sales funnel pages such as landing pages doesn't become too difficult.
Especially for people who are not good with coding.
That's why it offers pre-built templates which makes creating beautiful product landing pages as easy as walking in the park.
However, make sure to incorporate all the key elements we mentioned to get the best result.
So, are you ready to design your first product landing page?