Do you want to build a high-converting WordPress sales funnel?
A sales funnel lets you create a series of steps that guides your visitors through a journey of building trust, addressing their needs, and leading them to take action.
With the help of these sales funnels, you'll be able to convert the visitors on your WordPress website into loyal customers.
In this post, we'll look at what a sales funnel is, its high-converting elements and the types of funnels to incorporate into.
Furthermore, we'll walk you through the step-by-step process of setting up a sales funnel in WordPress.
Let's begin.
What is a Sales Funnel?
In simple terms, a sales funnel is the journey a user takes right from the time they find out about your business to becoming a customer by purchasing an item.
A sales funnel is a multi-step process that takes visitors on a distraction-free, well-planned journey from discovering your brand to making a purchase.
The exact steps in a sales funnel may vary depending on the goal you're aiming for. But here are four basic steps it boils down to:
Awareness - In this stage, a user finds out about your product or business. It could be through organic search, social media ads, or other marketing efforts.

Interest - This stage gives the visitor a good deal of information about your product or service. It arouses their interest and sparks curiosity.

Decision - Users start connecting the product or service to help them solve their specific problems or fulfill their needs. This stage initiates a decision desire to convince your potential customers.
Action - Users finally get convinced and complete the checkout process to place their orders. It successfully closes the sale and turns a visitor into a paying customer. If your goal is lead generation, then you'll get highly qualified leads at the end of the process.
Sales funnels are like fixed roadmaps where each turn is predetermined. They are quite different from global website flow, where the traffic moves anywhere and everywhere.
Plus, a website can be distracting because it promotes several products.
A funnel, on the other hand, is designed to direct traffic through specific steps. It helps pave a guided path for the prospects to follow.
Your store/website can continue to serve as a catalog, while your sales funnel in WordPress focuses on getting more traction for your best-selling products.
You can create as many sales funnels as you like for both physical goods as well as digital products that have some traction and social proof and use targeted ads to send traffic.
Why Do You Need a Sales Funnel?
If you have invested your time and effort in ranking organically on Google, you know how hard it is!
Thanks to competition and an ever-changing algorithm, even quality content struggles to get on the first page.
On the other hand, the competition is raising ad costs, and turning ads into profits is getting harder.
With these competitive forces in place, a business that thrives is one that has a system to generate leads, drive conversions, and maximize its order value.
And a sales funnel helps you do that and more!
Not just maximizing your ROI and optimizing your conversions! Here are a few more reasons why you need to have a sales funnel strategy in your business:
Structured consumer journey - A sales funnel guides potential customers through the shopping journey. It helps you understand their needs, concerns and preferences to tailor your marketing strategy.

Segmentation and personalization - By identifying the sales funnel stages, you can segment your audience on the basis of their interest and engagement. This way, you can deliver more personalized and relevant content, enhancing your conversions.

Highly qualified leads - Sales funnels help you generate high-quality leads by assessing their interest in your product. This way, you can focus on your lead nurturing strategy to effectively convert them into your customers.

Building trust and relationships - Sales funnels help you build trust and establish meaningful relationships with your potential customers. As they interact with your content and brand, you get to know about their interests. This gives you a chance to improve your offerings, which in turn, helps you serve them better.
Long-term business growth - Sales funnels are not just about instantly boosting conversions. It's also about lead generation and nurturing processes that may not be ready to buy right away. You can build a loyal customer base over time by getting in touch and interacting with them.
The best part about having your sales funnel run on WordPress is that you don't have to pay high monthly costs each month to be on a SAAS-based funnel builder.
Core Elements of a High-Converting WordPress Sales Funnel
There are various sales funnel elements.
Your ad grabs their attention, the freebie builds interest, the paid product evokes desire, and the upsells maximize every sale's value.
Let's look at the different sales funnel components and see how they take people from getting interested in your offering to finally buying it.
1. An opt-in page
This page is key to lead generation. You offer free products (lead magnets) in exchange for the customer's contact information, especially their email address.
These lead magnets could be free courses, ebooks, guides, templates, cheatsheets, free slots in your webinar, etc.
This would get them excited and, in turn, give you their email addresses.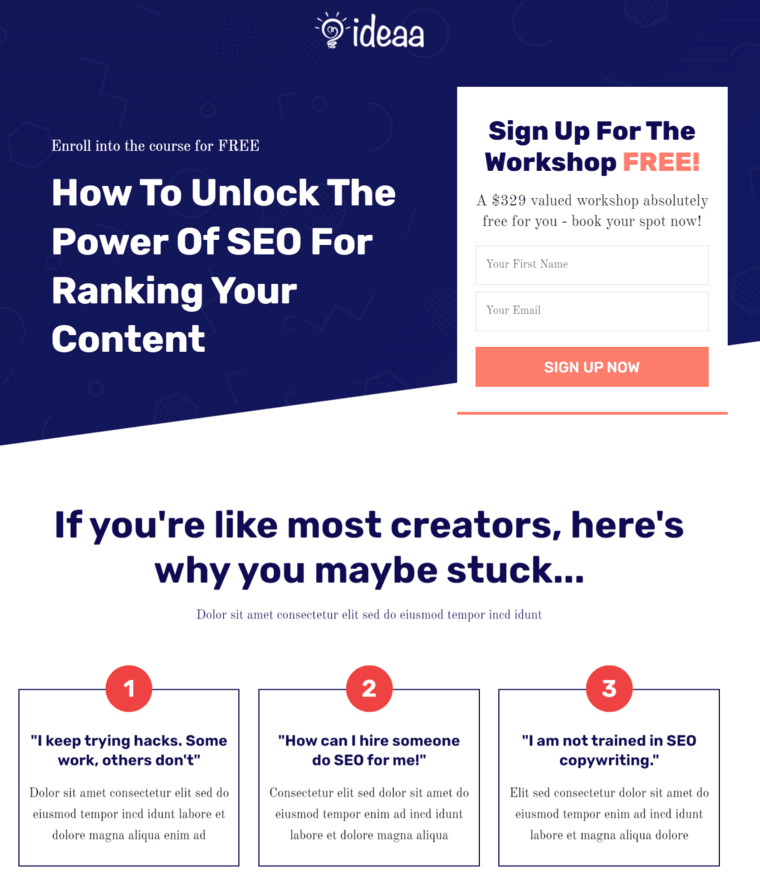 Now that you've aroused their interest, you can develop a series of nurturing emails (like email courses) that deliver value and address their pain points.
You can segment your email list based on the engagements shown by your audience in these emails.
2. Sales or landing page
A sales page is like the face of your brand, your money maker. It is what excites and convinces the customer to buy your product.
This page contains all the required information about the offered product. It further helps the site visitors to make an informed decision.
Include the value proposition of your product, such as benefits, testimonials, product images, assurance, videos, etc., to convince prospects. Take a look at this sales page: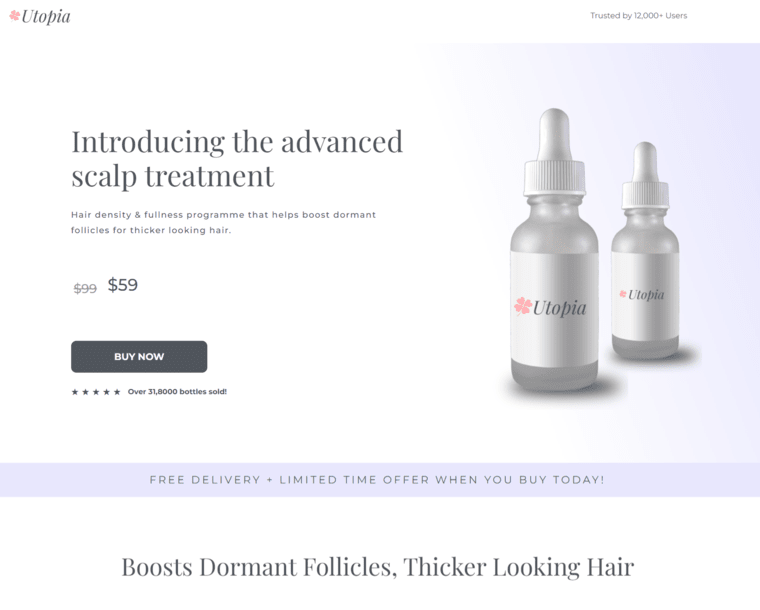 You must have a clean and easy-to-scan sales page in place. A busy page will distract the customers and make them feel overwhelmed.
So keeping it simple but attractive should be your mantra.
3. Checkout page
Some would say that after a sales page, it doesn't really matter how you design the checkout. But that's not true!
The checkout page is your final bid to persuade your visitors to pay for the products they're considering.
Everyone gets anxious before paying. Calming your prospective customers at this point is very crucial.
Take a look at this beautiful checkout page: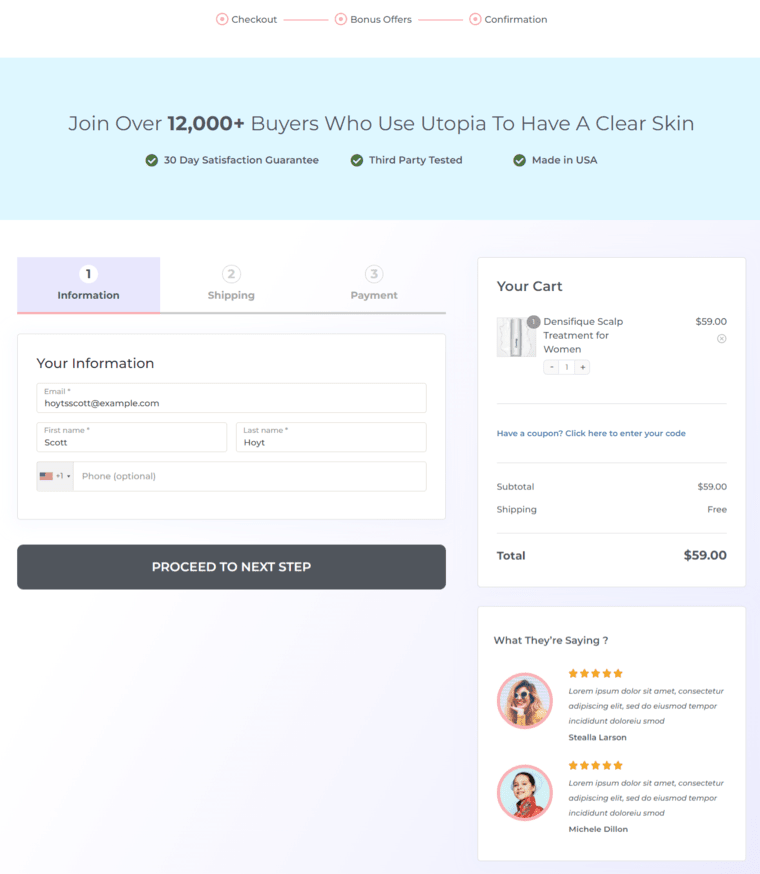 A clean, straightforward page with clear call-to-actions (CTAs) doesn't cause any confusion and reduces the level of anxiety.
Add a few trust-building components, such as testimonials, value-added benefits, and what they get to the checkout page to win brownie points from your prospects before they pay.
You can customize the form fields and add optimizations such as Google address autocomplete, express checkouts, and more.
These elements will surely seal the deal on your checkout page.
4. Order bump
Order bumps are the add-ons one makes before checking out and making a payment. It is a way to advertise another relevant product on the checkout page.
It adds value to your existing product and increases the checkout total as well.
You can create rule-based order bumps so that shoppers see the right offer based on items in the cart, cart total, product category, etc.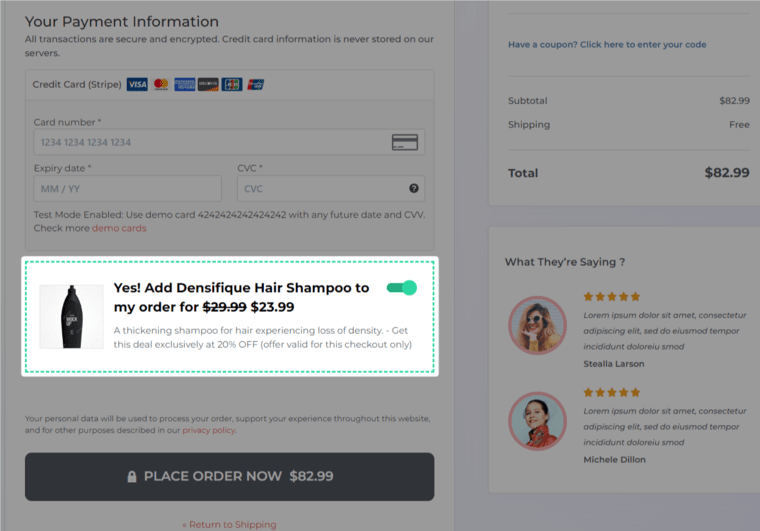 Let the customers choose the variant of the product they wish to get. Or even offer some discount on the order bump offer to make it a more lucrative deal!
5. One-click upsell
After grabbing the initial sale, one-click upsell is the post-purchase offer that boosts your order value.
It's an offer page that comes after the checkout page and before the order confirmation page. This page offers your users relevant products that they can accept or reject with a single click, making the overall process quite convenient.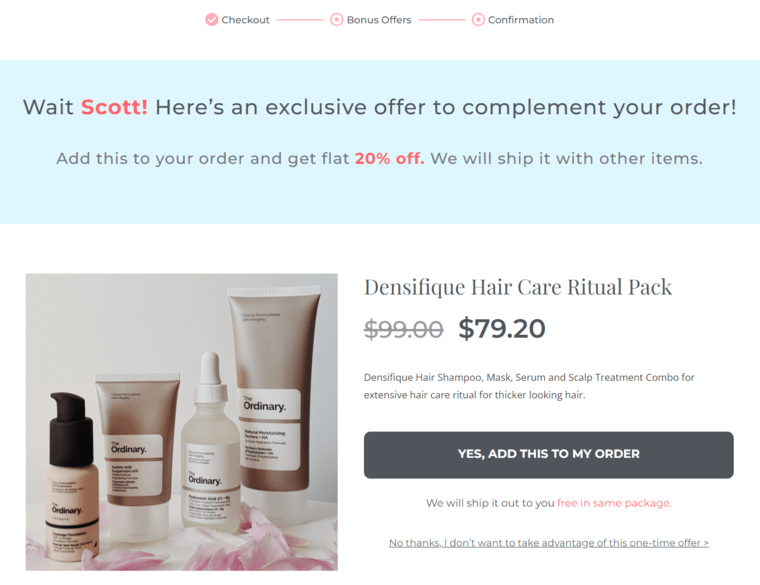 You can offer relevant product recommendations based on the user's order total, item bought, category of purchase, first order, and more.
What's more? You can also have a series of upsell and downsell offers. This way, customers are shown the next offer in the sequence based on whether they have accepted or rejected the previous offer.
Offering related products to the bought item is a clear-cut way to sell more and earn more on the same order.
6. Thank you page
The thank you page gives you the final opportunity to interact with your customer for this transaction. Here, you confirm their purchase and thank them for shopping with you.
In the case of a digital product, you either deliver it on this page or give them step-by-step instructions to access it.
But, in the case of a physical product, tell the customer of the expected delivery date, and provide them with any other information.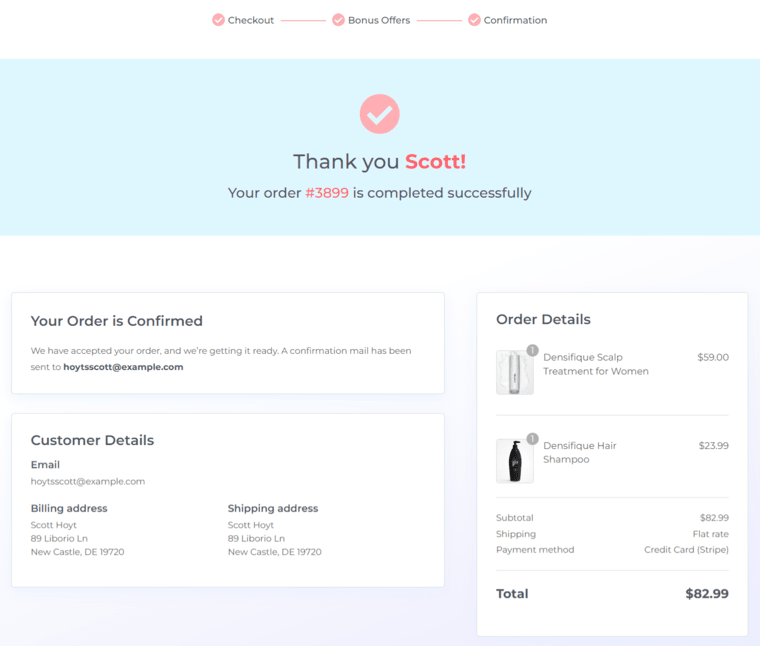 Investing time in designing professional and polished pages will be very rewarding in the long run.
How to Create a High-Converting WordPress Sales Funnel in 6 Easy Steps?
In this section, we'll be answering all your 'How do I create a sales funnel in WordPress?' queries.
To build your sales funnels in WordPress, we'll use the FunnelKit Funnel Builder.
The Funnel Builder from FunnelKit is a powerful sales funnel builder plugin that lets you design high-converting funnels for your business.
You'll be able to create opt-in pages, landing pages, custom checkouts, order bumps, upsells and downsells, and thank you pages.
You get free and premium templates that can be imported and customized quite easily per your needs.
Setting up a WordPress sales funnel with FunnelKit is a walk in the park! Plus, it's available in both free (lite) and premium versions.
Check out our detailed guide to install and activate the FunnelKit Funnel Builder.
Once that's done, follow the steps mentioned below to make your very own sales funnel in 6 simple steps.
Step 1: Add a new sales funnel
Go to FunnelKit ⇨ Funnels from the WordPress dashboard.
Create a WordPress sales funnel by clicking on the 'Add New Funnel' button.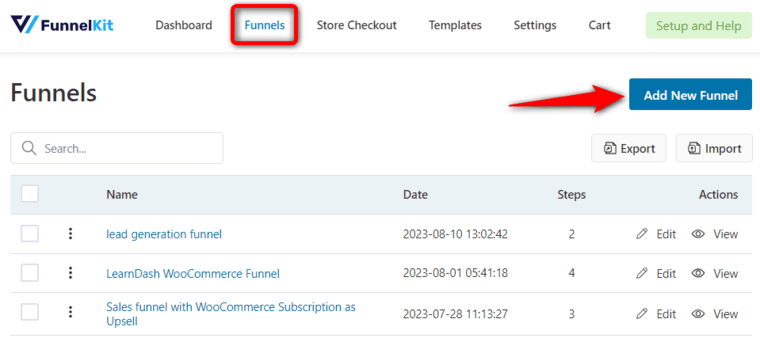 You'll be directed to the templates page.
Select the WordPress sales funnel templates and choose your favorite page builder.
Start from scratch - This is a blank template you can design to create the sales funnel for WordPress that matches your brand. There is no fixed template here; you can choose the steps to build the funnel.

Pre-built templates - FunnelKit provides you with many utility-based templates that can be customized to fit your requirements.
FunnelKit also integrates with and provides pre-built templates for some popular page builders like Elementor, Divi, Oxygen and Gutenberg. But if your preferred builder is not on the list, click on 'Other' to design funnel pages with any page builder using shortcodes.
Click on the template you'd like to import.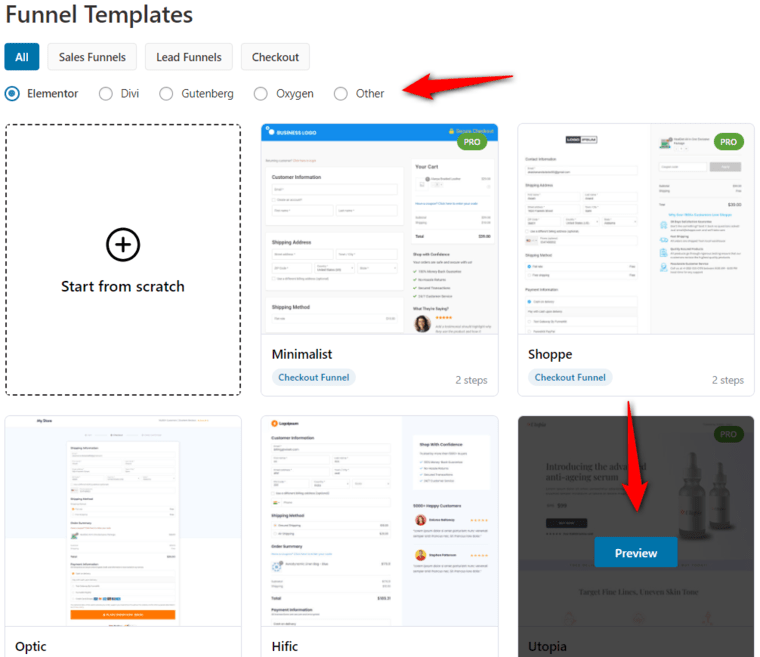 Next, you'll be able to preview the template. This template contains 4 pages:
Landing page
Checkout page
One-click upsell page
Order confirmation page
Click on 'Import This Funnel' and name your new funnel - 'WordPress Sales Funnel for Haircare Products'.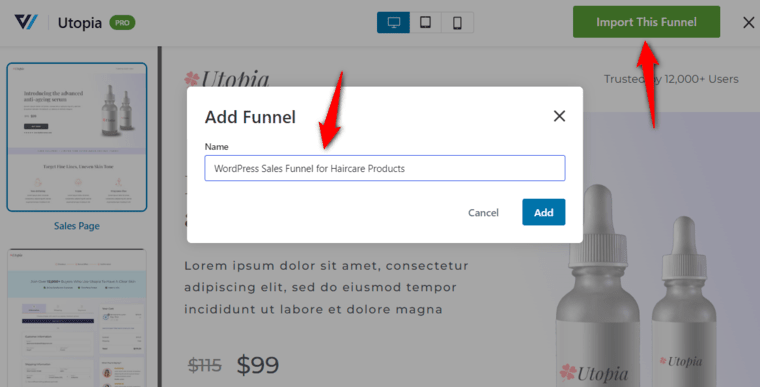 Click on 'Add' will add your sales funnel to your WordPress workspace.
Step 2: Customize your landing page
Now that your funnel and selected template have been imported. You can even add more pages to your default funnel by clicking on 'Add New Step' at the bottom of the funnel builder page.
Next, customize the pages on your WordPress sales funnel.
Click on 'Edit' next to your landing page to start customizing it.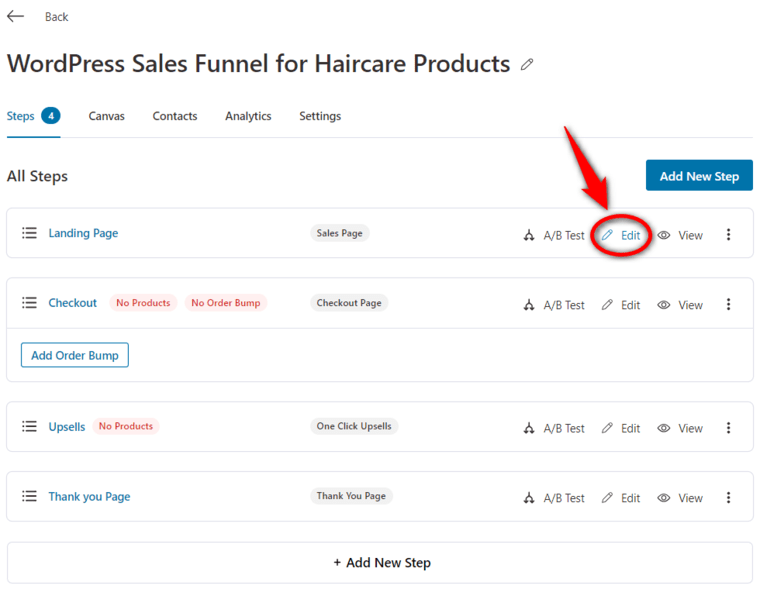 Next, hit the 'Edit Template' button to customize your landing page design template.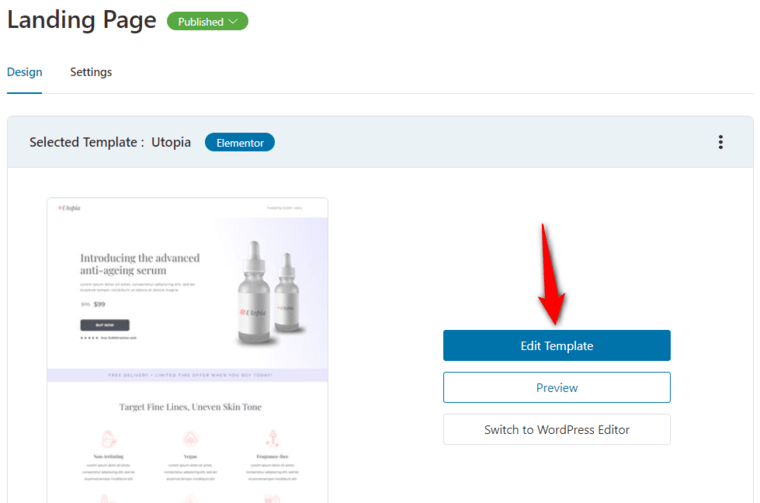 All you need to do is, click on each page of the funnel and customize the content within.
You can change the design and layout of a funnel page in Elementor (that's the page builder we selected at the start).
Start by putting your brand's logo, content, background, images, CTA buttons, and more.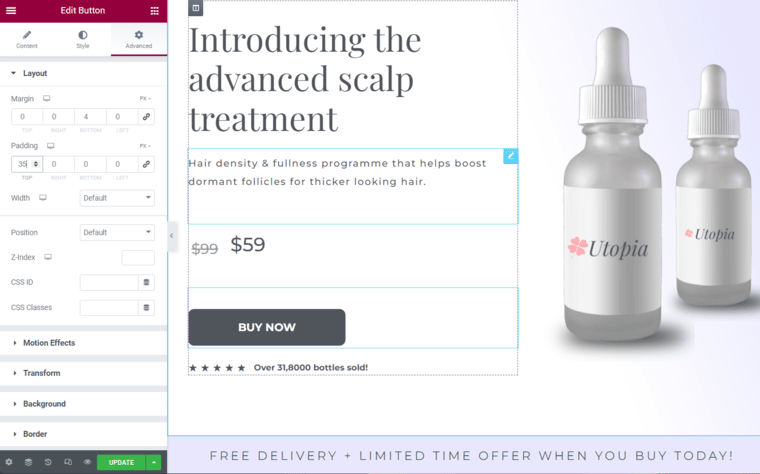 Once you're happy with your design, hit 'Update' to save your changes.
Step 3: Add the product to your checkout page
Similarly, edit the checkout page design of your WordPress sales funnel. You can build global checkouts, one-page checkouts, WooCommerce order forms, multi-step checkouts, Shopify-style checkouts, and more.
Next, go to the Products tab and click on the 'Add Product' button.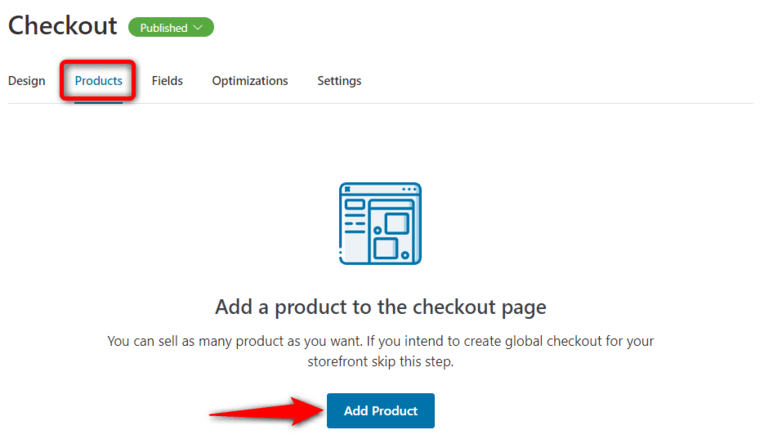 Search and add the product you wish to design the checkout page for.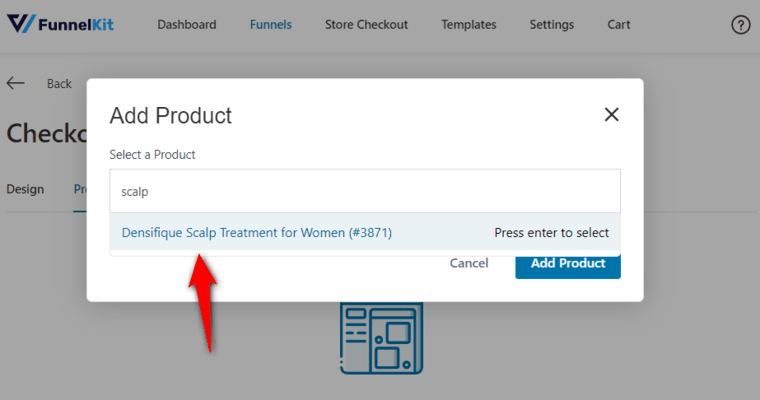 Important Note: Ensure that the products you wish to add to the checkout page are already created in WooCommerce.
Adjust the product quantity and set the discount percentage if you want to offer a discount on your primary product.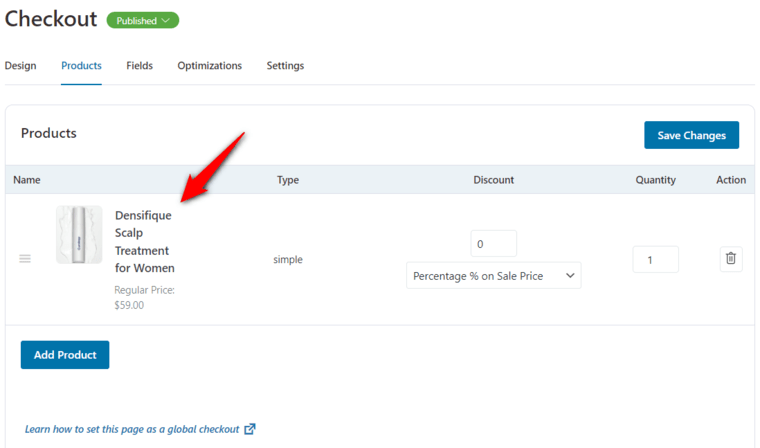 Click on 'Save Changes' when you're done.
You can even add more than one product to your checkout page. Just use the drag & drop feature to decide the order in which they are showcased.
Step 4: Optimize your checkout page
FunnelKit lets you optimize your checkout page for effective conversions.
You can customize the fields on your checkout form as per your needs by going to the Fields tab.
Its built-in checkout form field editor lets you add, edit, rearrange, or delete any fields. And all this is possible with a simple drag and drop - no coding required!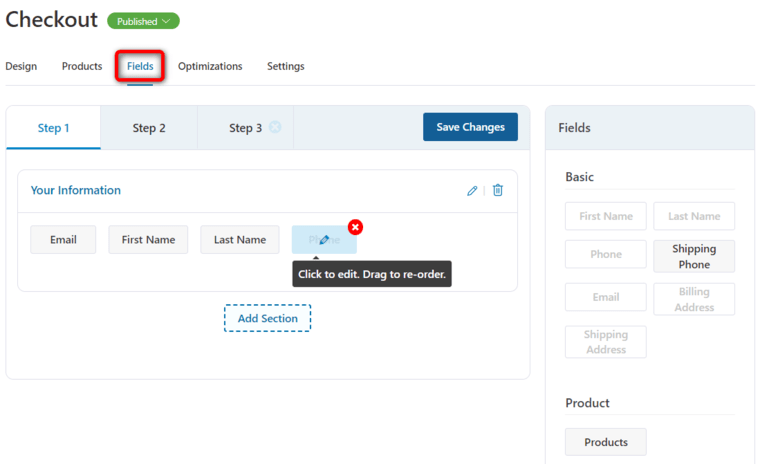 Furthermore, FunnelKit offers several optimizations you can incorporate into your checkout page. These strategies will overall enhance your sales funnel in WordPress.
All you need to do is go to the Optimizations tab and enable the different optimizations available.
You can implement express checkout like Google Pay and Apple Pay, auto-fill address completion, multi-step field preview, mobile-friendly optimization, and more.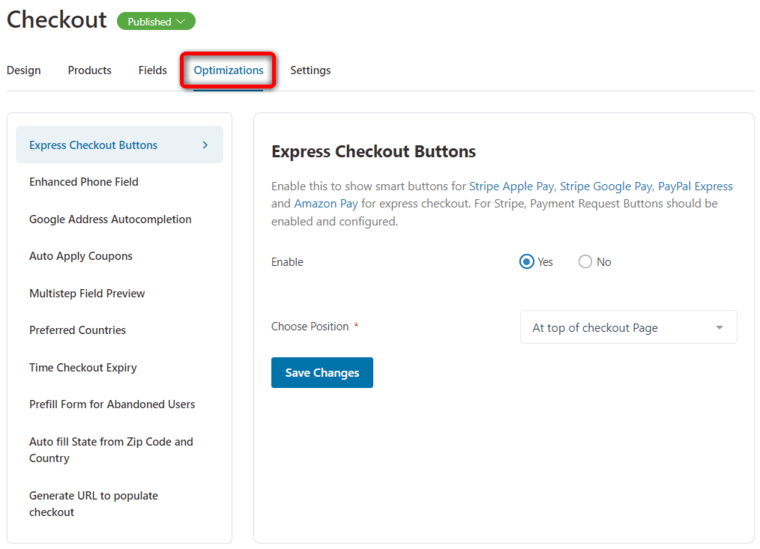 Save the changes when you're done.
Step 5: Add AOV-boosting order bumps and upsell offers
A sales funnel gives you opportunities to offer relevant products to your users at different stages of their purchase.
Adding AOV-boosting offers is easily possible with the FunnelKit Funnel Builder.
Order bump
An order bump shows complementary product offers on the checkout page that can be added to the cart with just one click.
To add an order bump, click on the 'Add Order Bump' button.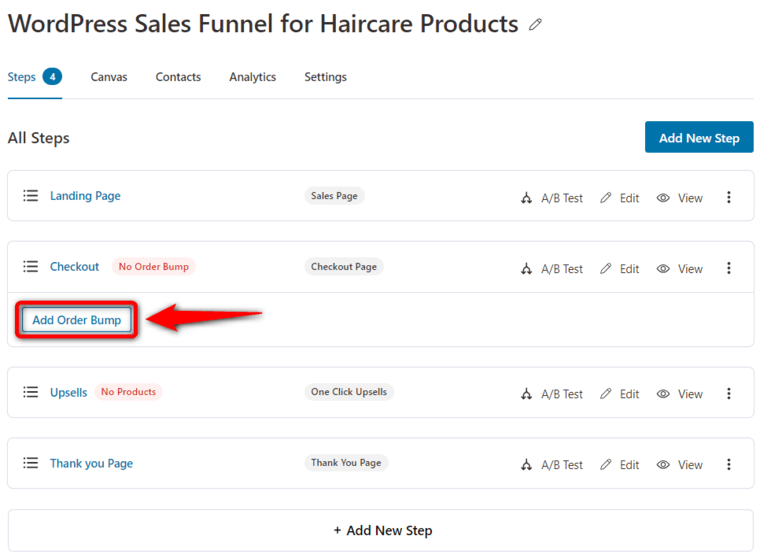 Name your bump offer and then click on it to begin editing.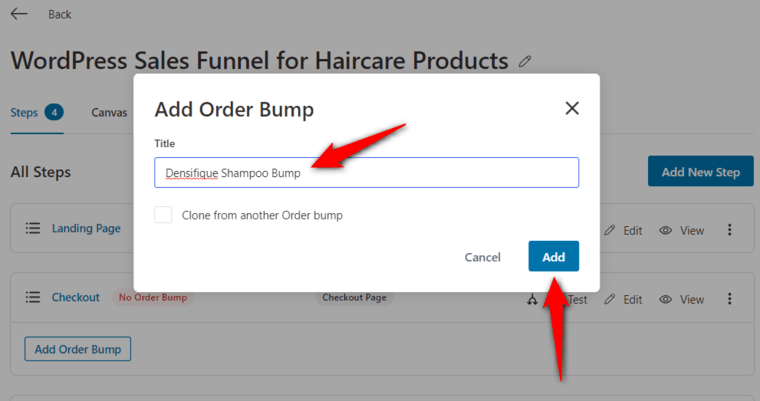 First, you need to search for and add a product to your bump. This product should go well with your main product for better conversions.
You can even set its behavior and set its display position.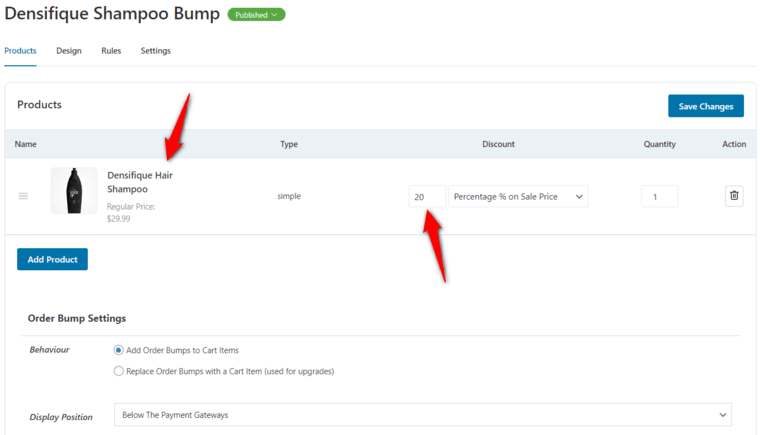 Once you've decided on the product you wish to offer, click on the Design tab to style your Order Bump.
You can change the order bump's skin, content and style to make it on-brand.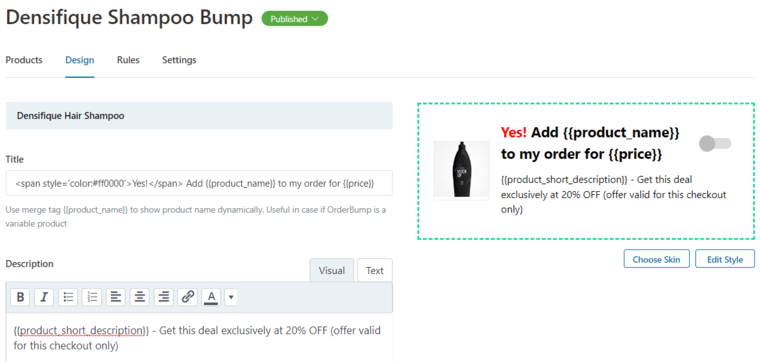 Save the design and you're all set.
You can even set conditions to define when a particular order bump is applied to a checkout page from the Rules tab.
One-click upsell
Like with other pages, click 'Edit' next to your one-click upsell page to start customizing it.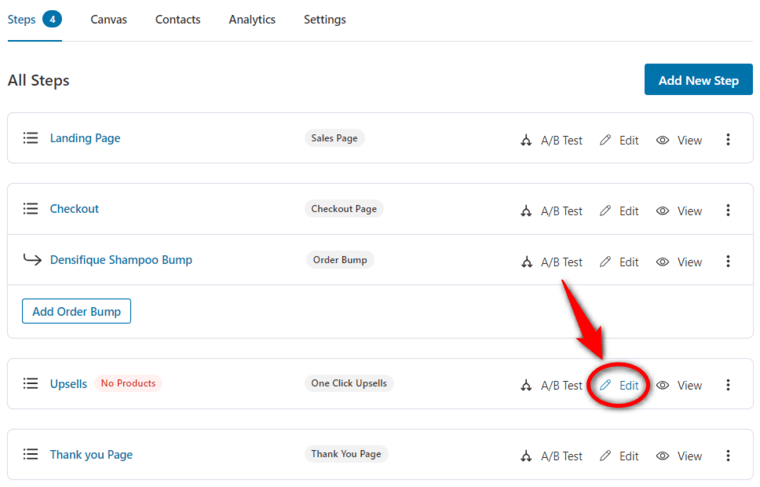 Next, add products to the upsell offer.
Choose the product in the search bar. You can also add variable products that offer variants, such as different colors and sizes.
Modify the quantity and discount details of the added product.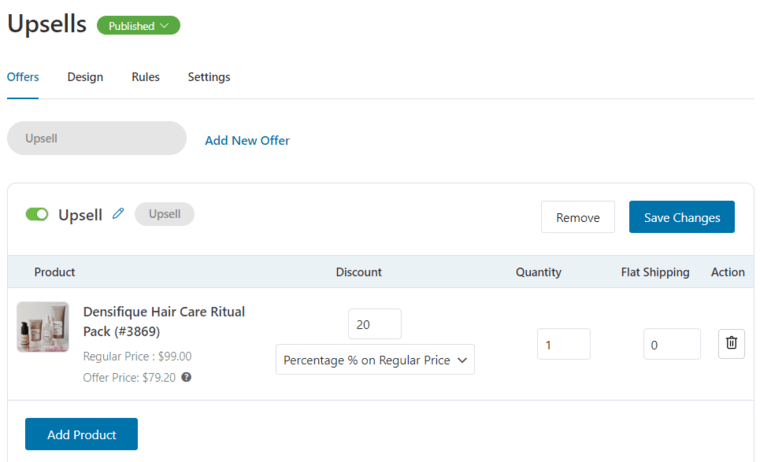 You can add more than one product to an offer and more than one offer to an upsell.
After adding multiple offers, interlink the offers using Dynamic Offer Path.
This allows you to decide which page (a new offer or thank you page) should be showcased next in case your first upsell offer is accepted or rejected.
That's how you can offer a downsell to your shoppers with a WordPress sales funnel.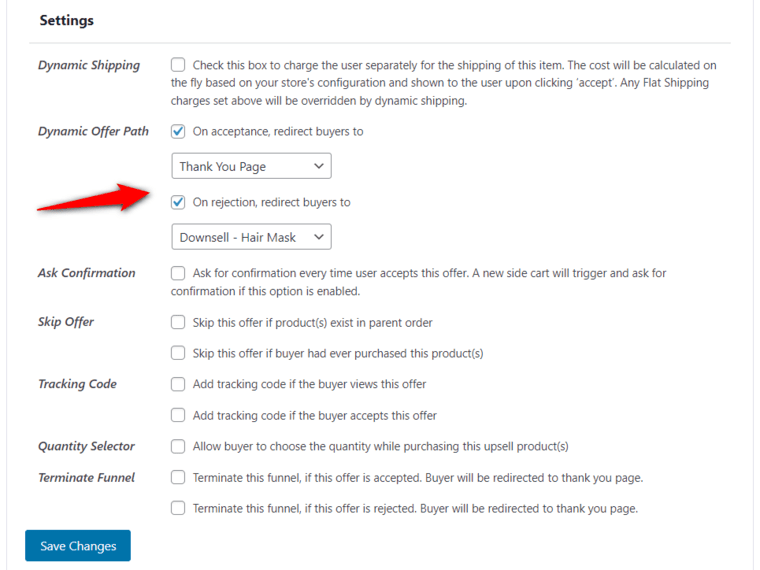 Under the Design tab, click on edit to customize the page in Elementor, just as you customized the sales and the checkout pages.
There are a total of 10 special widgets for you to use and personalize the upsell offer page with your favorite page builder.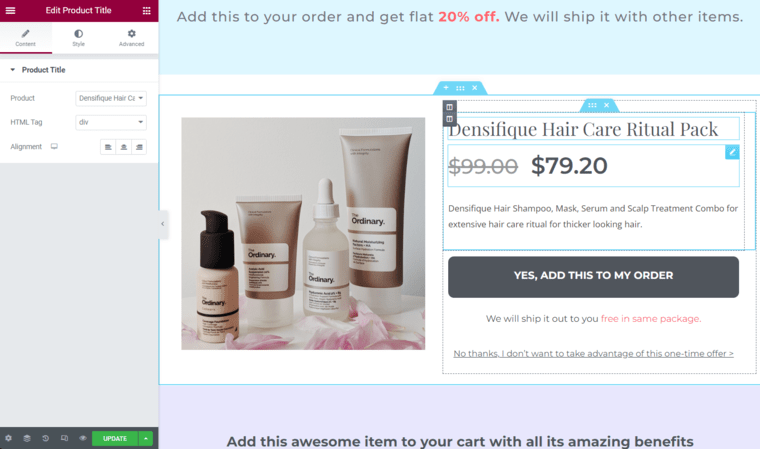 You can also apply rules to these offers to determine when a particular upsell offer is made to a customer and change offer priority, order behavior, and more from settings.
Remember! You can add more than one bump and more than one upsell offer to your sales funnels.
Step 6: Customize your thank you page
A custom thank you page gives you an incredible opportunity to close the sale on a high note.
FunnelKit Funnel Builder lets you create beautiful order confirmation pages that you can customize as per your business needs.
Editing and customizing your thank you page is the same as you did with the other steps in your WordPress sales funnel.
👉 Refer to our complete guide to set up your thank you page in WooCommerce.
Well done! This is how you can create a high-converting sales funnel in WordPress with FunnelKit.
5 Types of Sales Funnels You Should Start Setting Up in WordPress
Sales funnels come in all shapes and forms. There is no one definite way to design a Sales Funnel for your business.
Here we've listed the 5 most converting funnels that you need to know about:
1. Opt-in or lead generation funnel
An Optin Funnel consists of an opt-in page and a thank you page.
On the opt in page, you offer the users a free lead magnet that helps you capture their attention.
They give you their email address, to which you send automated follow-up emails to nurture them into buying your product.
Further, through your pitch emails, you can send them to the sales page to buy the product.
Make sure that the paid offer is a perfect extension of the free offer and builds on it.
2. Free plus shipping sales funnel
We're sure you've seen ads of companies selling free products on Facebook or Instagram.
You don't realize that it is not entirely free, and they charge you for the shipping.
This is the Free Plus Shipping model. Here you offer the customers valued products for free, and they only pay for shipping.
Getting a product that actually costs money for free excites the customers enough not to be bothered about the shipping cost.
It is a great method to bring in customers and have them test your products.
3. Webinar funnel
Webinars are really popular these days. Especially with the pandemic, everything has shifted online, seminars being no exception.
As webinars are informative and of great value, it is a very good incentive to attract traffic to your page.
These can be both pre-recorded or live. You can inform the prospects of the date and time of the webinar on the signup page.
In case of a pre-recorded one, provide them with the replay video right after they sign up and hook them.
Your emails will help you build hype in the days leading up to the actual webinar.
You can use FunnelKit to set up this WordPress sales funnel effortlessly.
4. Challenge funnel
"Lose weight in 10 Days", "5-Day Keto Challenge", "Improve your cooking skills in 15 minutes every day".
Do these sound familiar?
Challenges are designed to rope in interested prospects by enticing them with the promise of a fixed result at the end of an activity.
Here people do not compete against one another but make progress toward a shared goal.
Using challenge funnels to your advantage, you can create a WordPress sales funnel where you ask people to take up the challenge.
This is an easy yet effective way to gain people's attention and trust. It makes them feel you're aligned with their vision.
5. Self-liquidating sales funnel
The self-liquidating funnel is a very popular front-end funnel that generates revenue at the backend funnel.
In this funnel, your main goal is to break even on your ad costs with the initial purchase.
You don't need to match your product cost or even gain profits from this product. That will all be taken up in the backend funnel.
You just need to sweeten your way into your customers' good books by first giving them a heavily discounted product. Then engage them with complementary offers after they've made the purchase.
But make sure that your small offer is beneficial for your customers providing them with a quick win.
After the first sale, you can get the customers to spend more on upsells, downsells, or bundle purchases. Having relevant products that naturally follow suit with the initial offer is best suited for this funnel.
A self-liquidating funnel is a very efficient sales funnel to generate leads and gain profits from the said leads.
Are You Ready to Leverage the Power of WordPress Sales Funnels?
That's it! So we looked at how you can create sales funnels in WordPress easily.
The FunnelKit Funnel Builder gives you every feature, template, and page you need to create a high-converting WordPress sales funnel.
Apart from what we discussed above, you get the contacts activity feature that allows you to view each step of your buyer's journey and how much they spent at each step.
The analytics section to see how your funnels are performing; more specifically, you can see - visits, revenue, and even revenue per visit.
And there's the performance dashboard where you can see your top-performing pages and funnels at one glance.
You can even A/B test the price, messaging, and product for every offer in your sales funnel to ensure that you are not just guessing what your prospects might be interested in.
And there's so much more! Get your hands on FunnelKit, the ultimate funnel builder, and create your own sales funnel in WordPress today!