Are you using post-purchase upsells and downsells in your WooCommerce store?
When your user checks out and makes the payment, the first offer you present is the upsell. A downsell is generally a lower-priced item or a more irresistible deal than an upsell.
A customer may reject the upsell due to many reasons such as the price point of the item, the product itself, or simply because they weren't ready.
The downsell offer can address some of these objections.
Today we'll learn everything about post-purchase downsells in WooCommerce. Let's dive in!
What is a Downsell?
A downsell offer is one that you make to your customer after they've turned down your initial upsell offer.
If users don't accept your upsell offer, you can still increase their AOV by offering a downsell.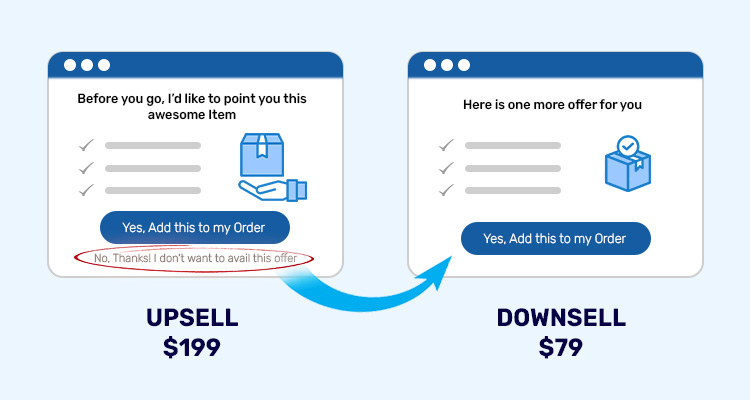 For example, imagine you're at Starbucks and about to order a coffee. That's when the cashier places an offer -
"Would like to order a cake with your coffee? It's $5 only."
Let's say you refuse the offer. The cashier doesn't stop there and asks if you'd instead get a cookie worth only $1.75.
And maybe this time, you think the price is too low to refuse and the cashier is a bit persistent so why not!
Downsell accepted!
The cashier's approach was well-timed, didn't seem pushy, and didn't interfere with the original purchase - coffee.
Why offer a Downsell?
Before we tell you why you should invest some time in creating downsell offers, let's look at the possible reasons why customers reject an upsell.
Price of the item pitched
Relevance of the offer
Customer's readiness to buy
Copy on the page and supporting claims
A missing element like video or social proof that can aid decision making
A downsell offer addresses one or more of these concerns.
People wondering 'what is upselling and downselling' will be able to get their answers from the following representation: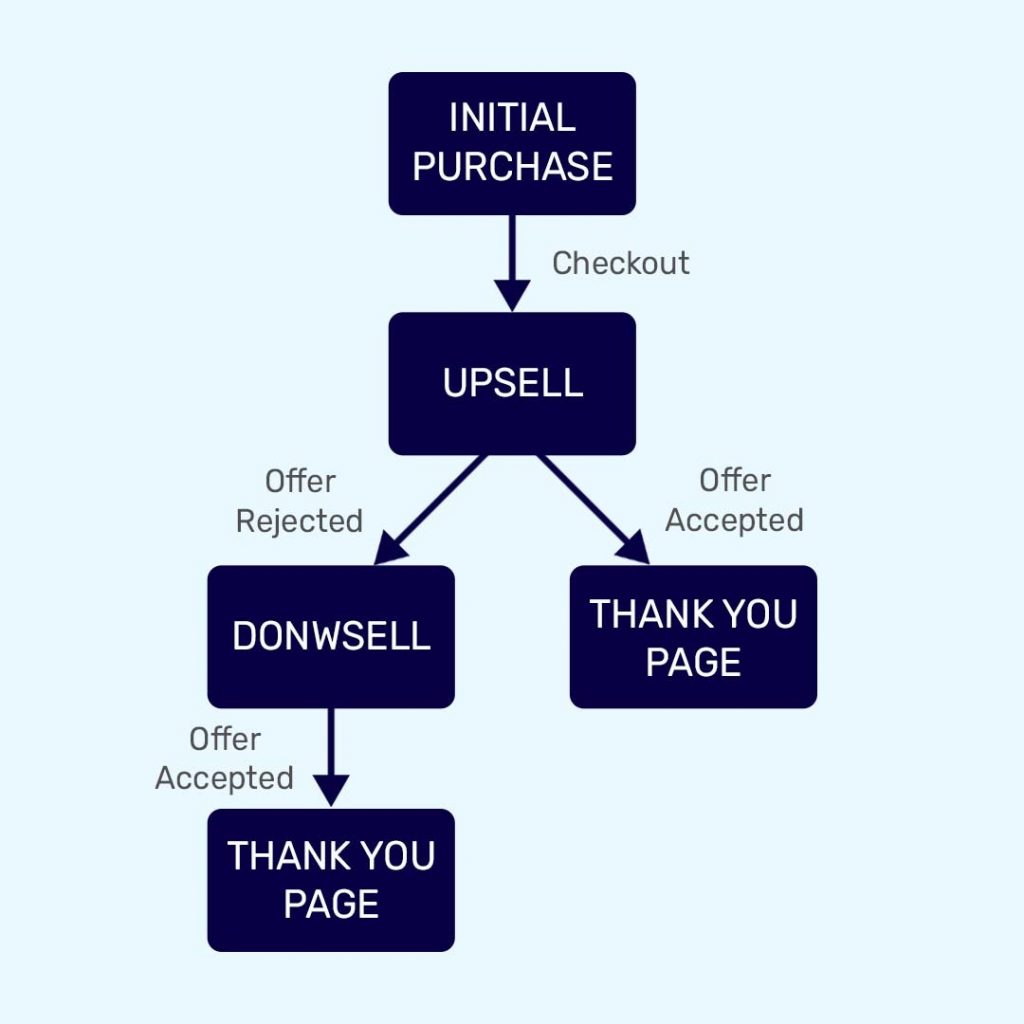 Let's now look at an example of a downsell used by a lot of businesses.
An Example of a Perfect Post-Purchase Downsell
The Webinar Lady uses the downsell strategy in its sales process to pitch its online courses.
After you checkout and make the payment, they present you with a one-click upsell.
The main product: A course that teaches how to create your webinar deck ($47)

One-Click upsell: A course that teaches how to get more traffic and increase webinar signups ($295)
Take a look at the one-click upsell offer page: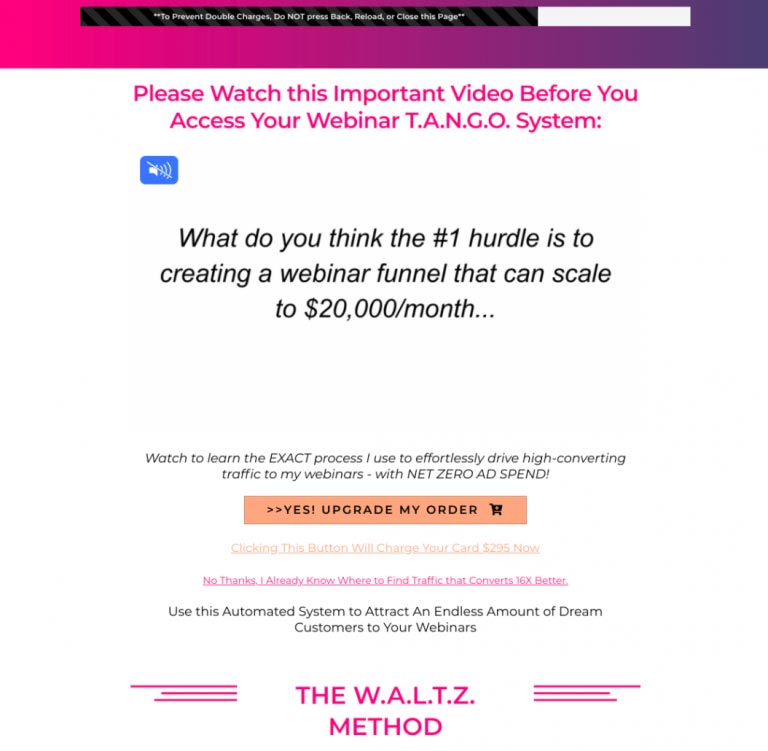 Upon rejecting this offer, there's the downsell which is the same offer but on a payment plan of $79 for five months.
Take a look at this downsell example: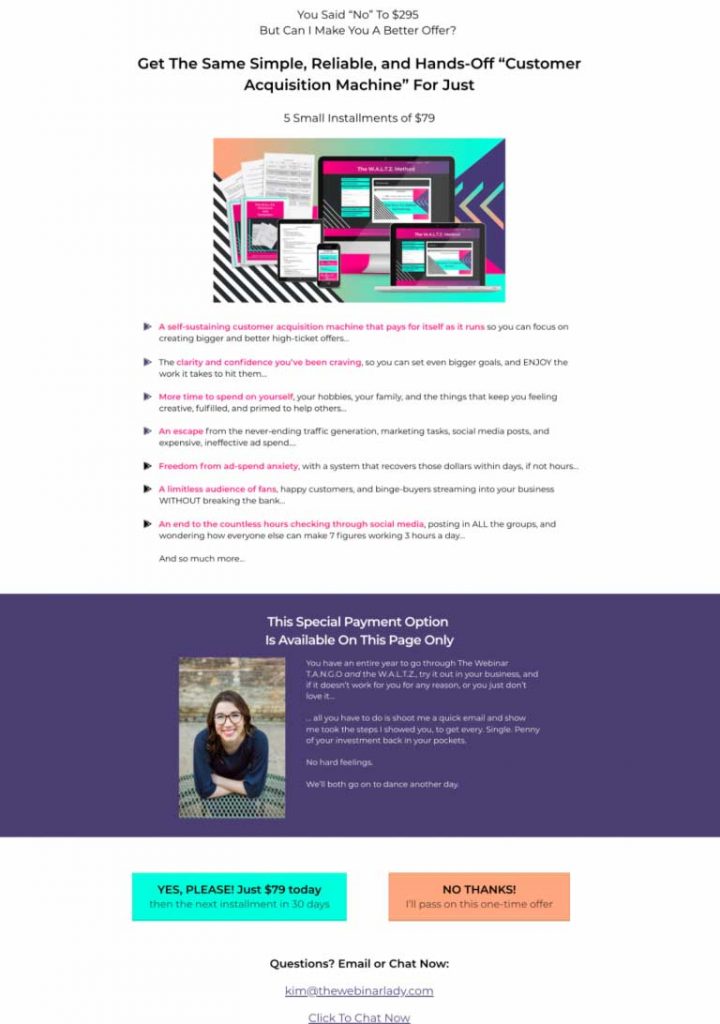 This is indeed a pretty amazing example of a downsell offer.
The objection they recognized here was: "It's too expensive" and "I just bought something and therefore, can't spend the money again".
In the next section, you'll see some impressive downselling ideas to implement in your WooCommerce store.
Four Effective Downselling Ideas to Implement
Take inspiration from these ideas (given below) for your downselling strategy:
Trial offer
Payment plans
Multiple buying options
Value package
Let's discuss these in detail.
Trial Offer
A discounted trial works like a charm for a downsell.
The charm of a discounted trial is that people feel they're getting a discount only on the downsell page, which is not available elsewhere. Exclusivity is what you build on.
So if you already have a membership site, then a low-dollar offer would work very well for you.
And if you sell physical products, you can offer a subscription plan as a downsell.
It's an excellent technique for generating initial interest in your other product/service.
Payment Plans
Offering a payment plan as a part of the downselling strategy is quite popular.
As per Steve Chou, the creator of Create a profitable online store course, his sales went up by 27% on adding payment plans.
Introduce a product as an upsell, and if the user rejects the upsell, offer the same product again, but this time with suitable payment plans. These plans can either be monthly or quarterly.
In a study conducted by Splitit, 35% of consumers are more likely to purchase if a site offers monthly installments as a payment option.
This downsell strategy works like a charm!
Multiple Offers
Highlighting the products that best compliment your customer's initial purchase is a solid downselling technique.
Going for multiple downsells on a single page helps increase the average order value.
You can effortlessly create and present some additional products or services as such offers using our Funnel Builder.
Take a look at the following template in FunnelKit (formerly WooFunnels) that offers a relevant product to customers: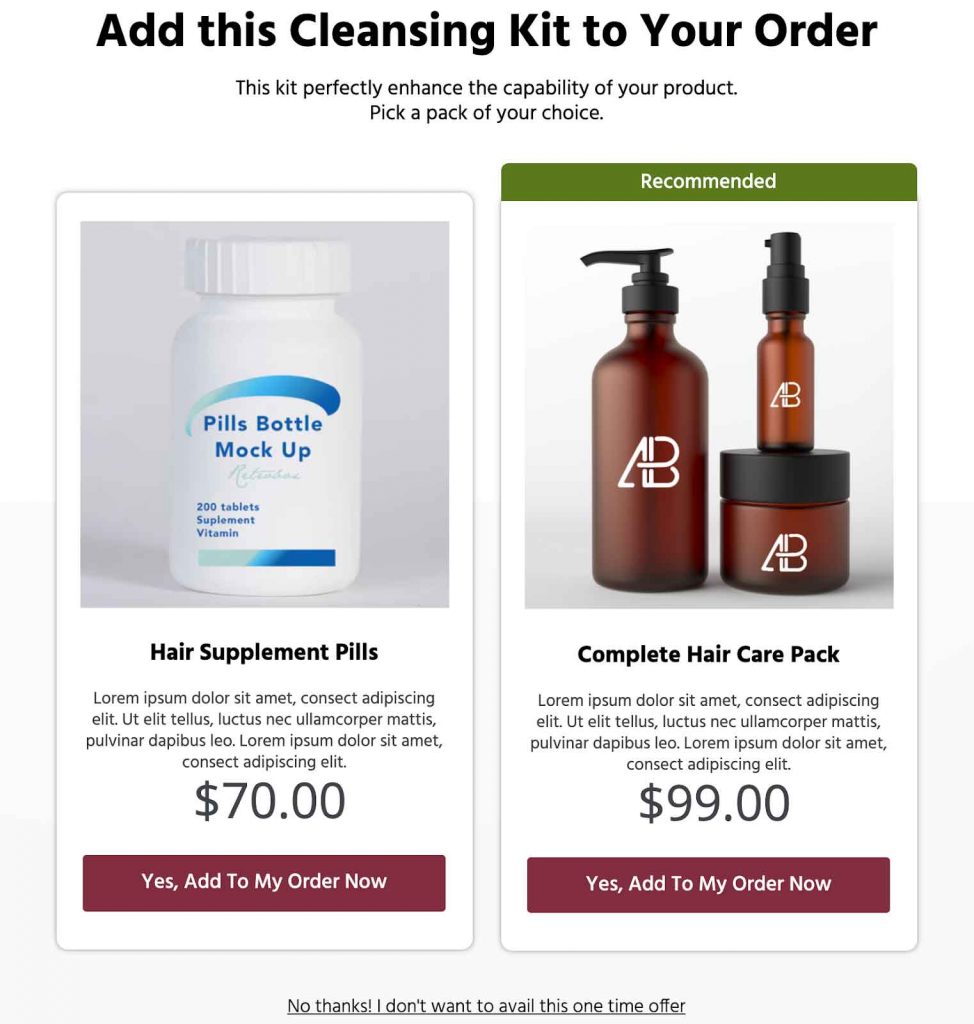 You can refer to this video on our YouTube Channel for some good upsell and downsell examples and learn how to add multiple products to your offer page:
Value Package
You already know how effective 'buy one get one free' deals or 'get three at the cost of one' deals are!
When you tell your customers that they're getting more than what they're paying for, they feel delighted!
The idea is to create a value pack that looks irresistible at a price that sounds unobjectionable.
You can use combos of low-priced items that pair with higher priced items, and so on.
You may not make a great profit when customers accept this offer, but the idea is to increase their order value on their way out!
In the next section, we'll tell you how to set up post-purchase downsell on your WooCommerce store.
You can either implement any of the above examples or find another idea that works for your business.
How to set up Post-purchase Downsell in your Sales Funnel?
Here's how you can set up post-purchase downsells using the Funnel Builder by FunnelKit.
Step-1: Go to Funnels ⇨ Add New
When you go to Funnels, you'll be able to see every sale funnel you've created. Click on Add New.
Name your new funnel as 'Post-purchase Downsell'.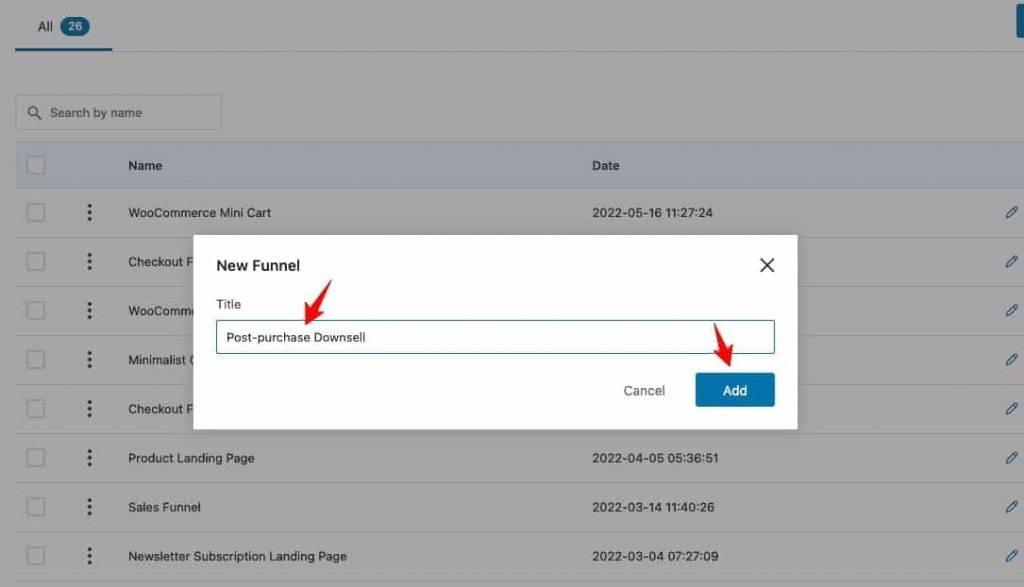 Click on Add.
Step-2: Create your sales funnel
Click on the "Start from Scratch" option.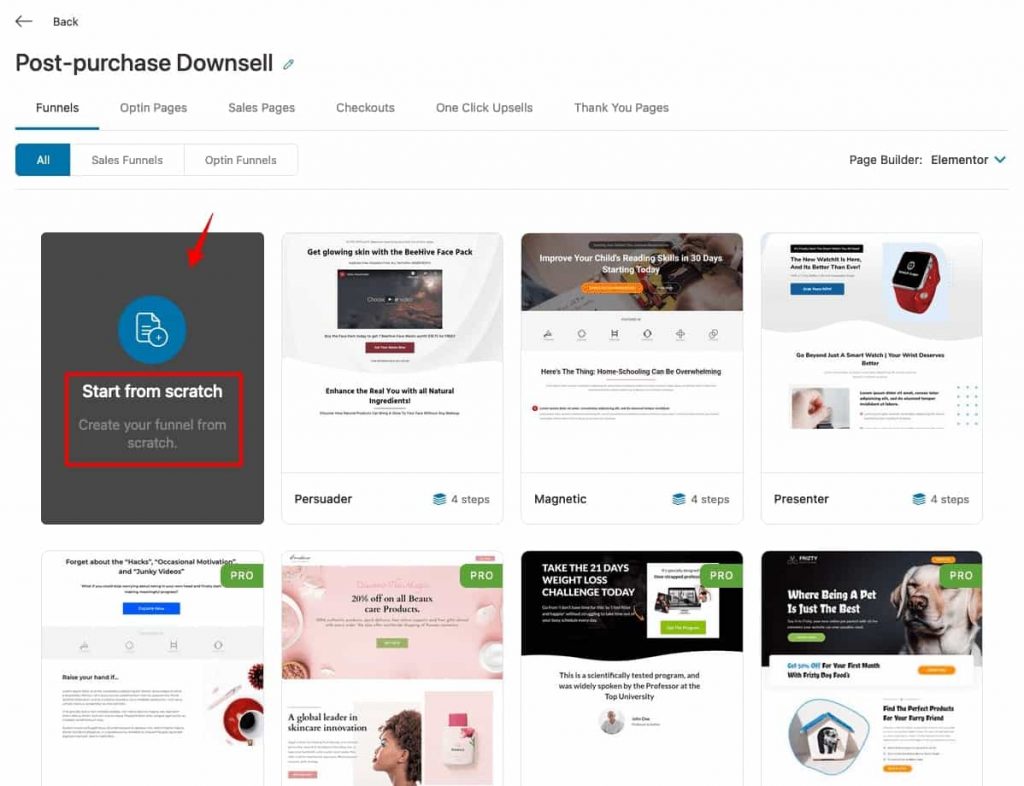 Step-3: Add checkout page as a new step
Your funnel has been created successfully. Start by clicking on "Add New Step".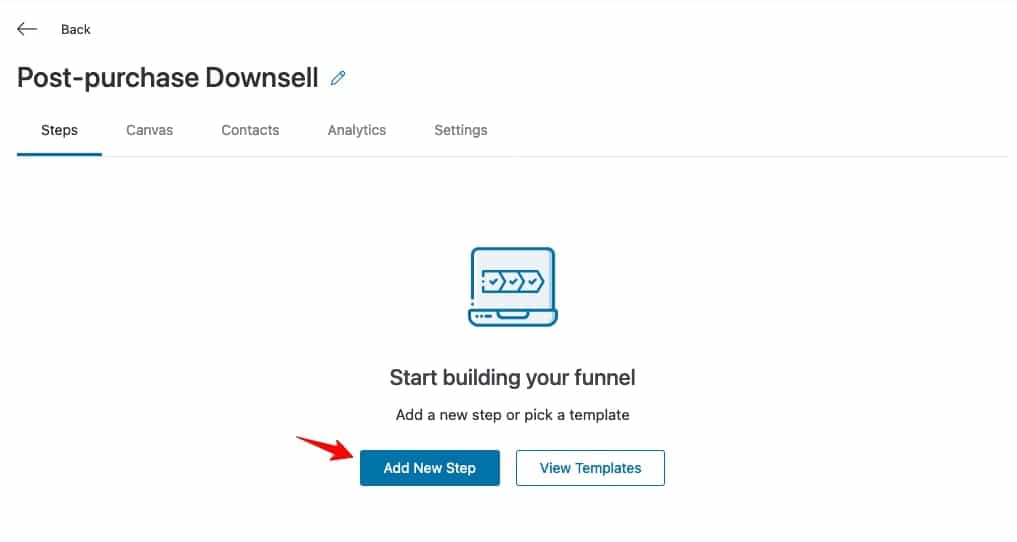 Here we want our checkout to be product-specific so that we can offer upsells and downsells relative to that product.
Therefore, we've selected "Checkout Page" as our first step.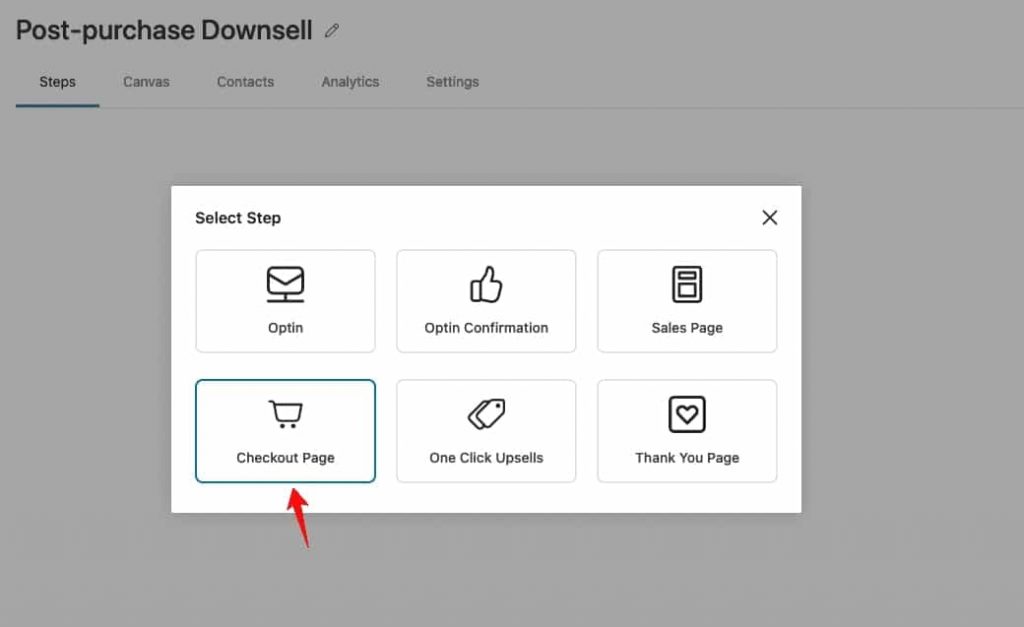 Enter the name of your checkout page and click on 'Add'.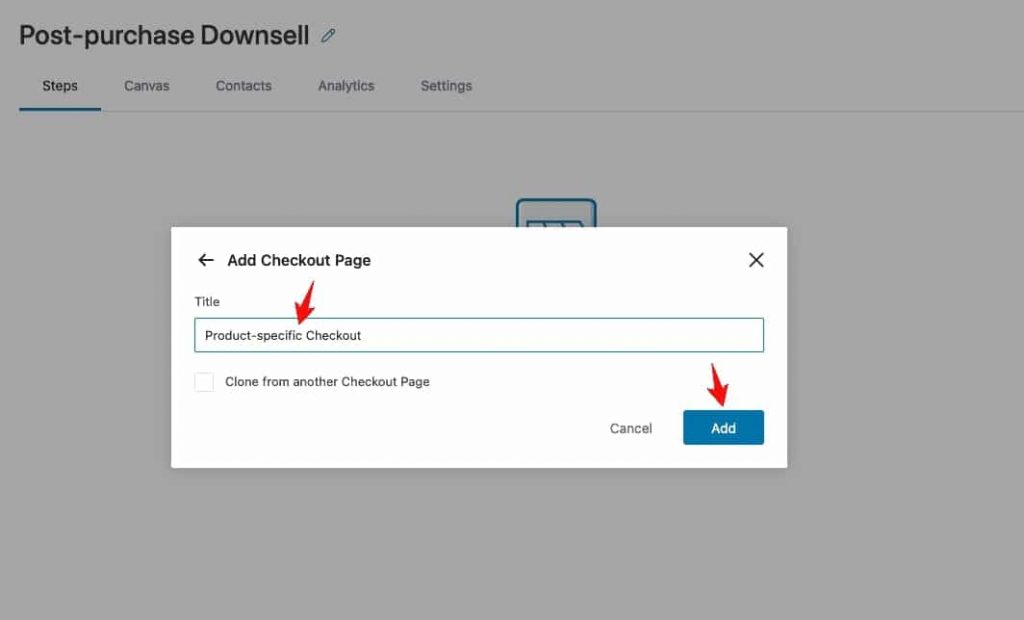 Wonderful! You've successfully added the checkout page as one step in your sales funnel.
Step-4: Customize your checkout page
Click on the name to start editing your checkout page.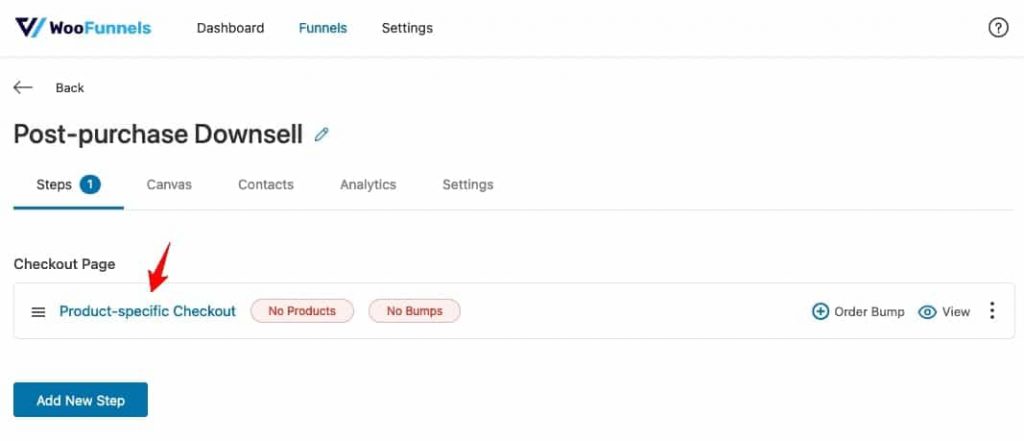 You can choose the built-in Elementor, Divi, Oxygen, Gutenberg, Customizer, or any other page builder through the 'custom' tab.
Also, choose the number of steps you want to have on your checkout page.
Click on "Edit" and start customizing your checkout page the way you want.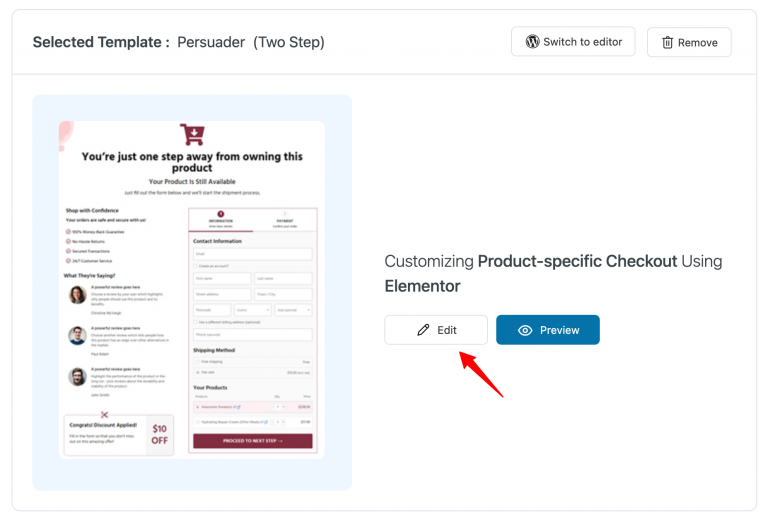 Since we've chosen Elementor, the checkout page will open up in Elementor allowing you to customize the page and make it look the way you want.
We'll be adding our downsell offer once our product-specific checkout page is ready.
Step-5: Add products to your checkout page
Go to the "Products" tab and click on "Add Product".
Then, select your product from the WooCommerce store.
You can even make changes to the product by applying discounts, setting the quantity, or configuring additional product selection settings here.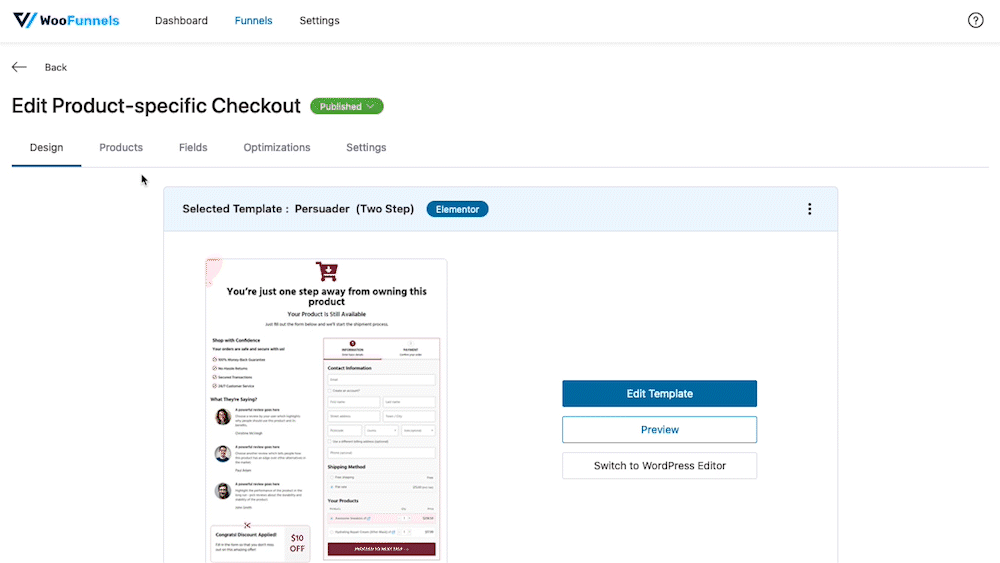 Once done, click on "Save changes" to lock in all the changes.
Step-6: Create one-click upsells as a new step in the funnel
Go back to the funnel and create a new step - One Click Upsells in a similar way you created the checkout step.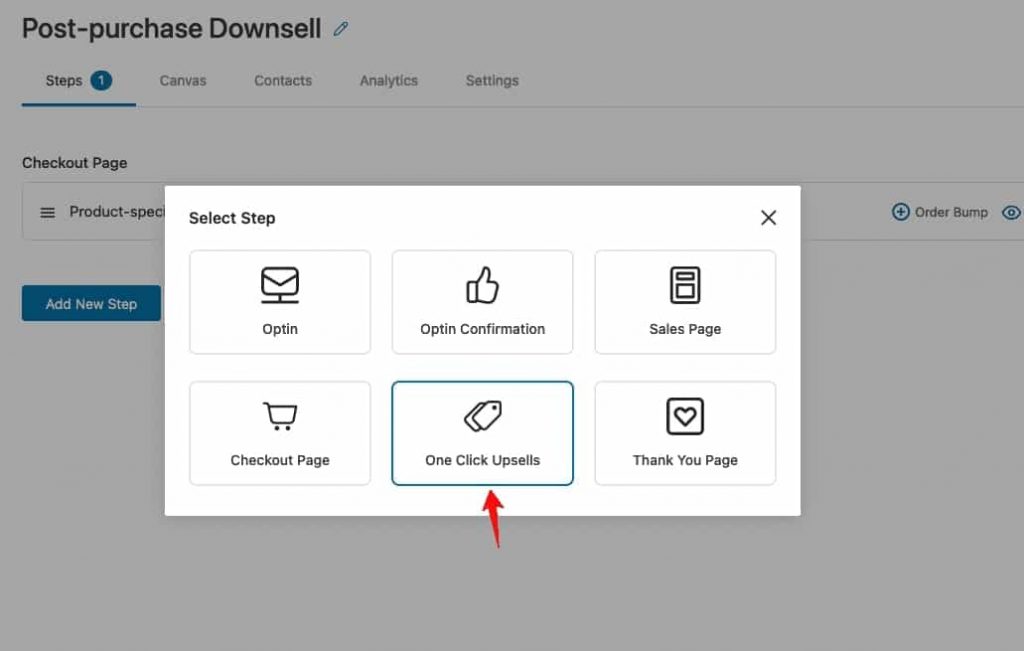 Name the step and continue.
Here, we have named it - Upsell / Downsell Offers.
Step-7: Add products to the one-click upsell
As you've added one-click upsell to your funnel, click on its name to start editing it.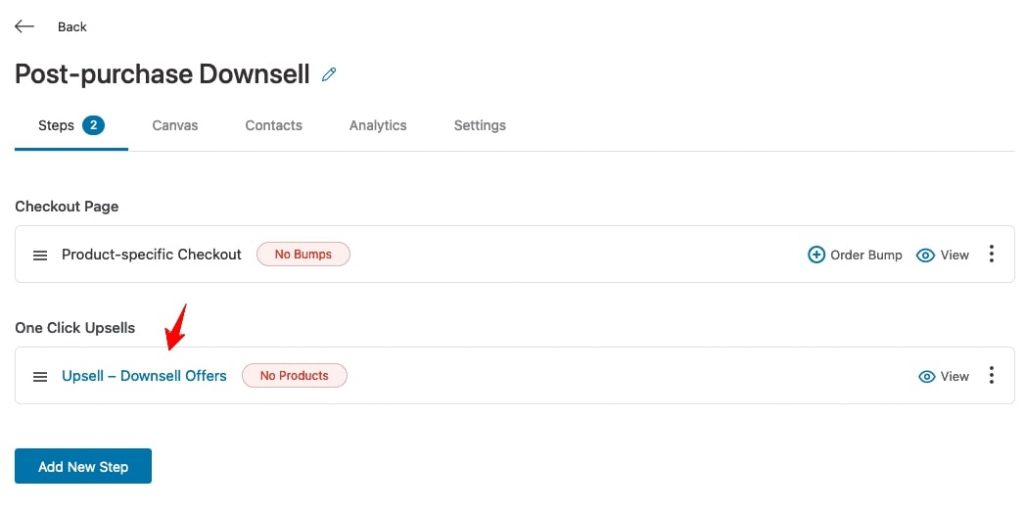 Now, click on + Add Product.
In this case, the original product was hair serum. So, we'll be offering the complete hair care pack as the upsell.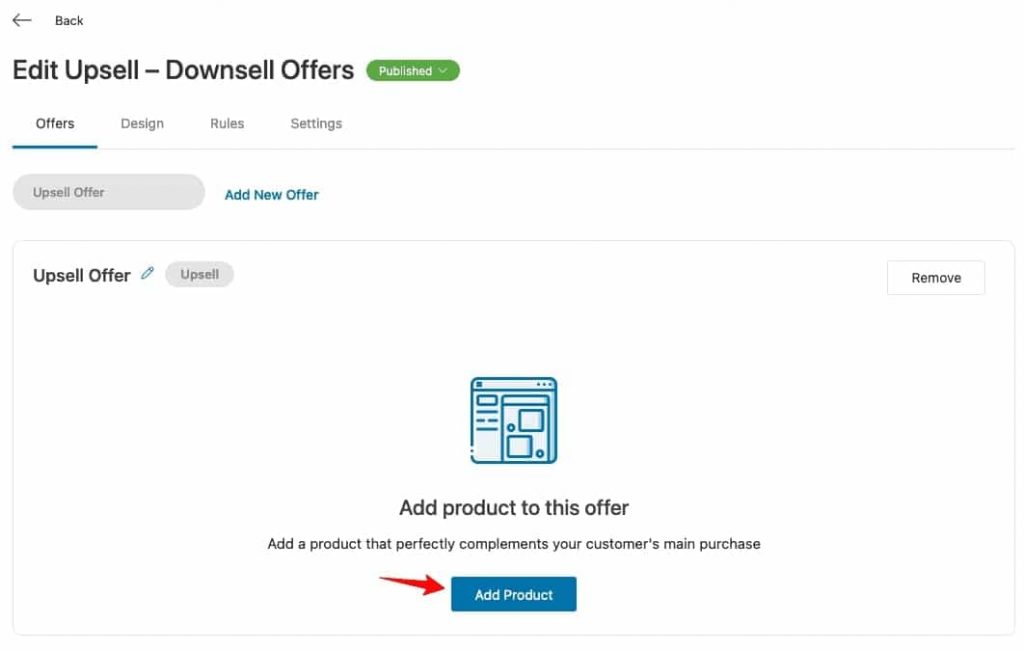 Now, select your product from the list.
You can also add some discounts, increase the quantity and apply flat shipping rates (if applicable).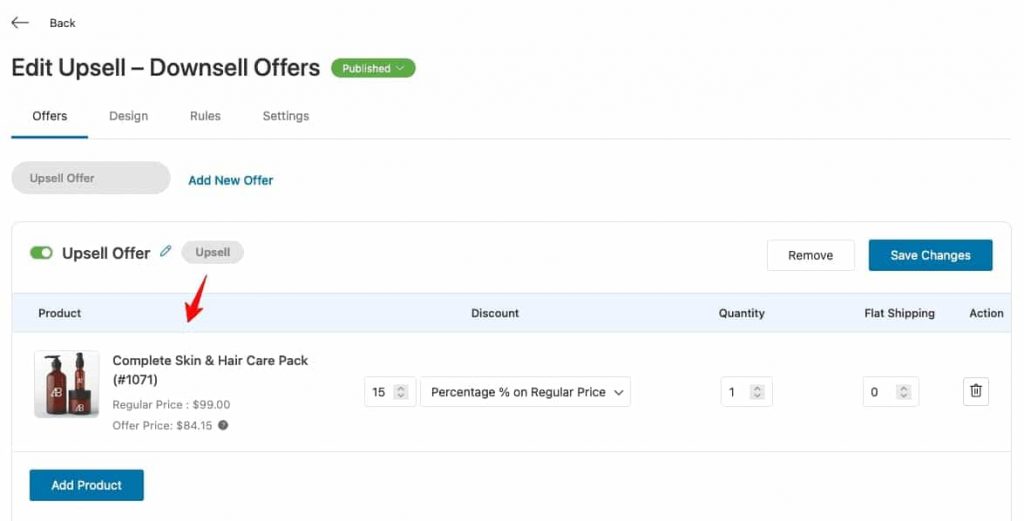 Once done, click on "Save Changes".
Step-8: Add your downsell offer
FunnelKit lets you create dynamic offer paths. This means that you can show the next offer in the funnel whether the initial offer got accepted or rejected.
You can create dynamic paths such that upon acceptance of offer A, offer B can be shown and upon rejection of offer A, the same offer B can be shown or a different one can be presented.
As you're still on the "Offers" tab, click on + Add New Offer.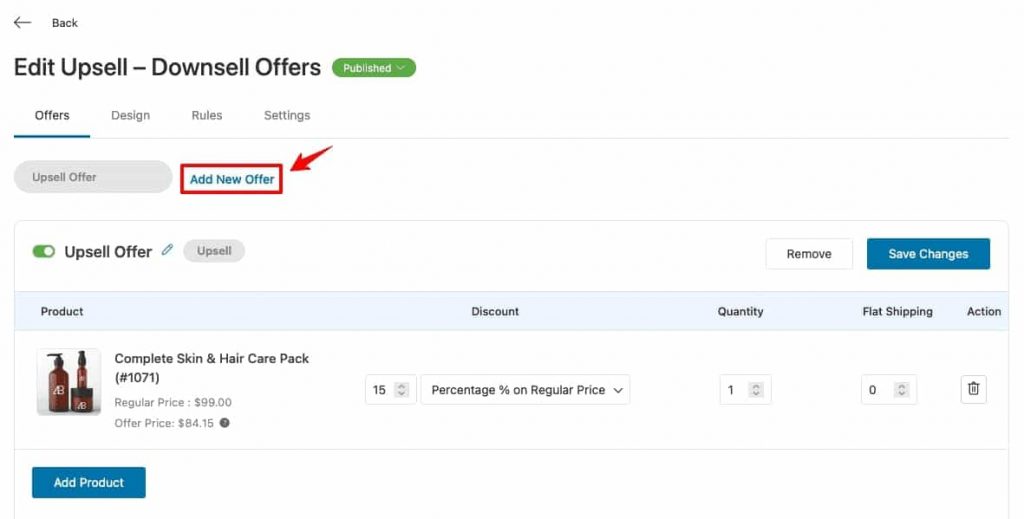 Now, enter the name of your new offer and select "Downsell" as the offer type.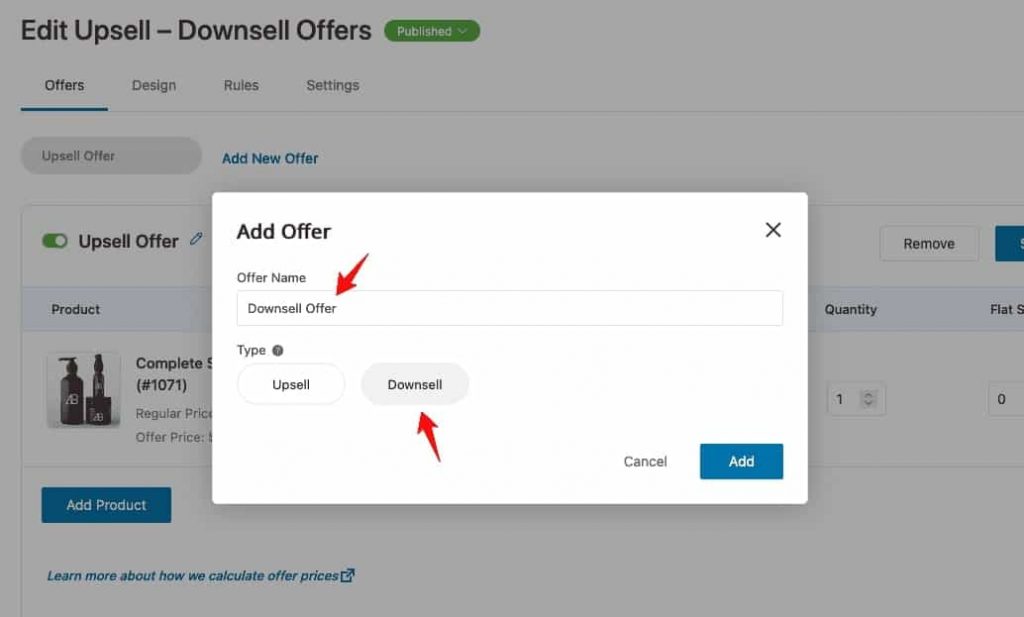 Now, add a product to your downsell offer. Click on "Add Product".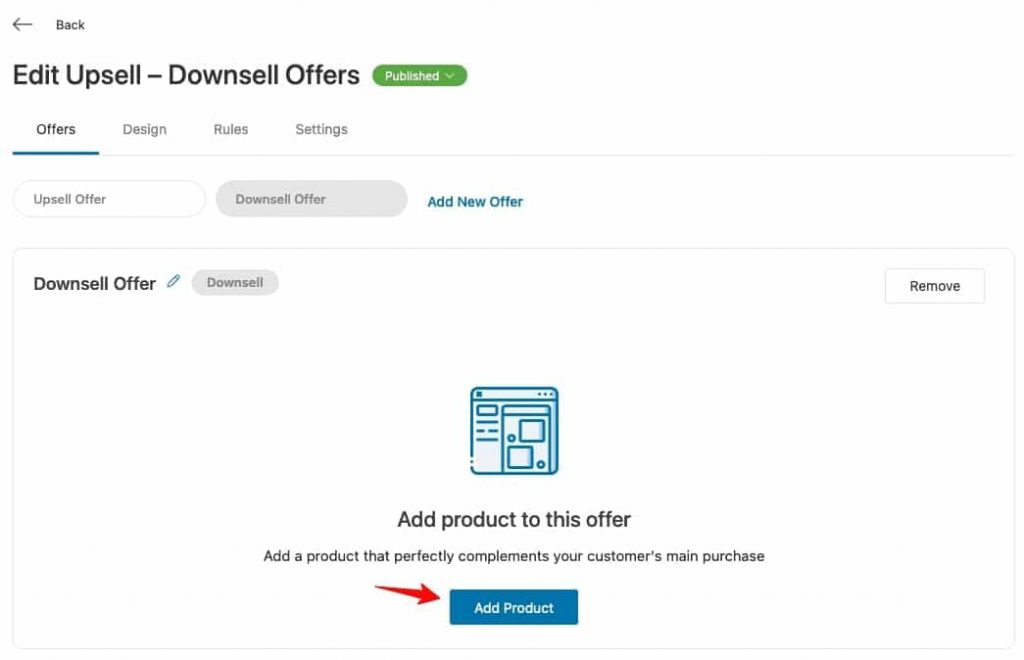 Now, select your product from the WooCommerce store.
Here we have selected Hair supplementary pills as our downsell and offered a discount of 30%.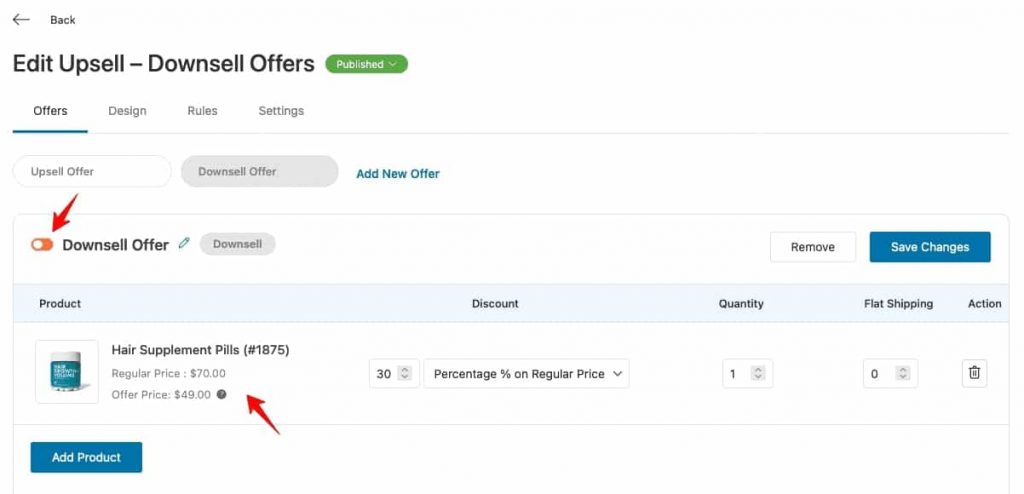 Make sure to turn the toggle on.
Step-9: Set the dynamic offer path
In FunnelKit, you can set the dynamic offer path without creating linear steps of upsells/downsells. Instead, you can control it by setting it dynamically.
Select your initial offer and check the box "On acceptance, redirect buyers to". Now, click on the page/offer you want your buyer to direct when they accept.
Here, we've selected the "Thank You Page".
Now, check the box "On rejection, redirect buyers to" and select your downsell offer.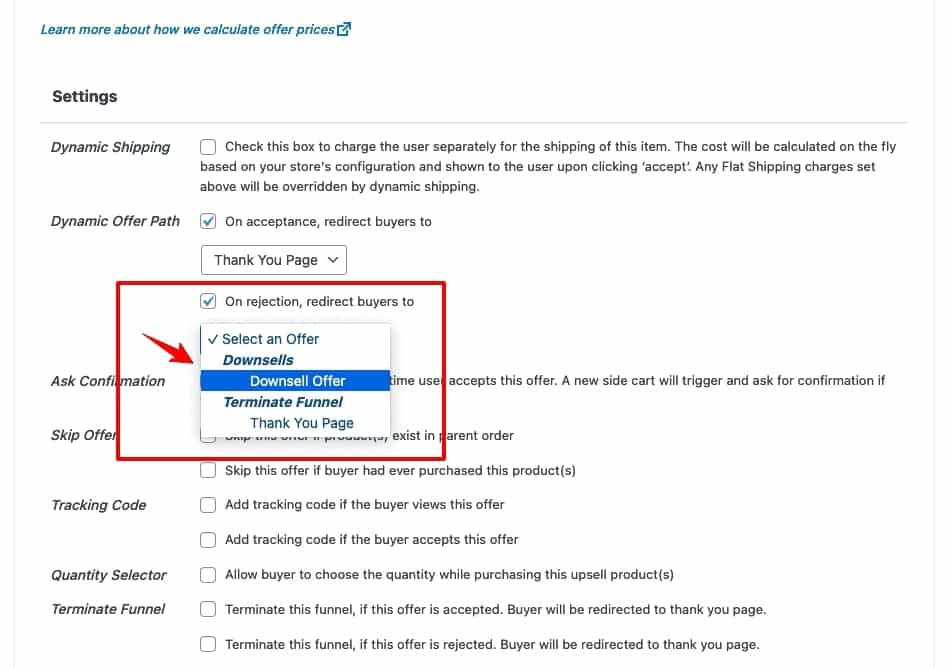 Once you've made these selections, make sure to click on "Save Changes".
Now, when the user adds hair serum to their cart and proceeds towards placing the order, they'll be redirected to your one-click upsell offer page.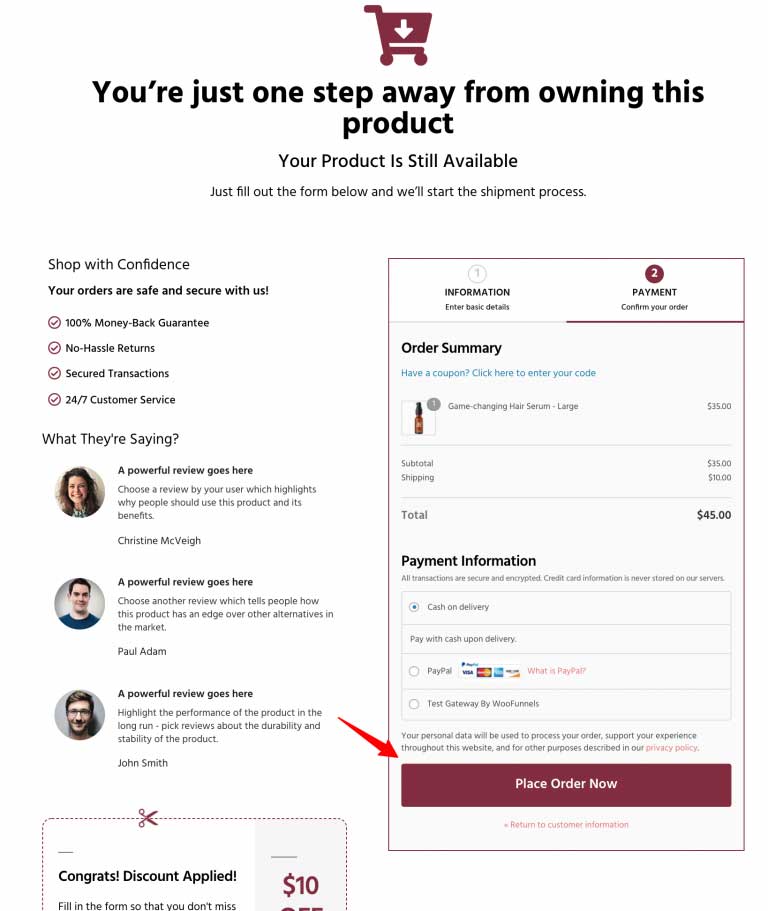 Clicking on the "Place Order Now" button will take them to your upsell.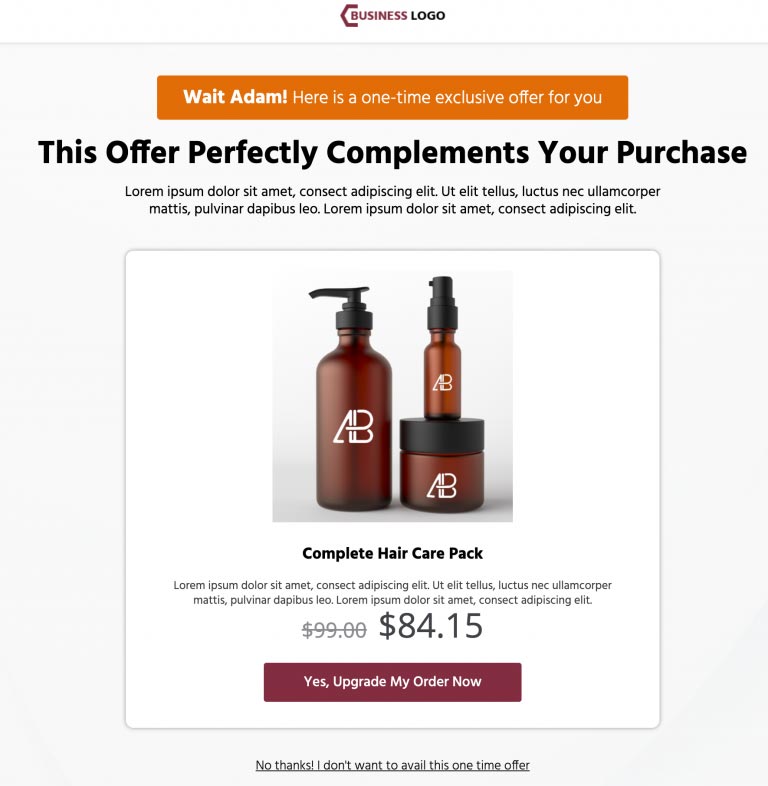 Now, if they reject this offer, they'll be redirected to your downsell.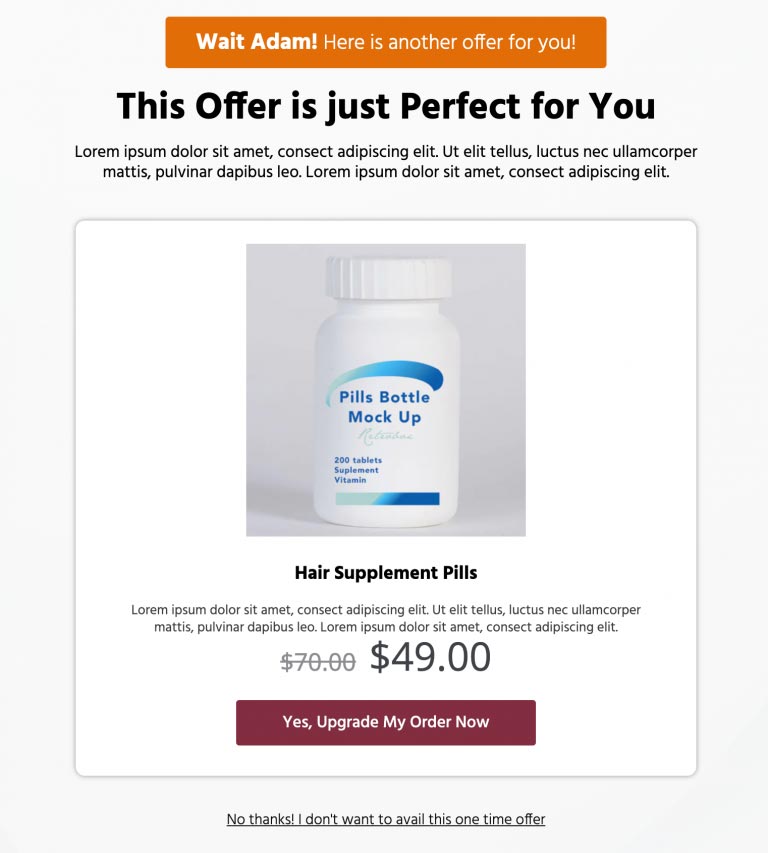 Obviously, you can customize your offer page (text, button, borders, images, etc.) in the Funnel Builder under the "Design" tab.
That's it! You've successfully set up post-purchase downsell in your sales funnel.
Create Profitable Funnels with FunnelKit
Ready to Create a Lucrative Downsell for Your Store?
If a customer goes ahead and accepts an upsell offer, that's great! But if not, then that works too.
With downsell offers, you can still boost your sale's average value.
Offer the upsell product with a different pricing plan, or multiple products for the customer to choose from.
So, next time you want to increase your sales, open the FunnelKit Funnel Builder. Then, create a downsell, add a product and offer it to your customers.
You'll be surprised by implementing this marketing strategy within your WooCommerce store. It'll surely help you boost your sales.
Get the FunnelKit Funnel Builder now >>