Do you want to create a custom WooCommerce checkout page with Elementor?
Customizing your default WooCommerce checkout and replacing it with a high-converting checkout can be a game changer for your online store.
And designing it with Elementor, the most popular WordPress page builder, comes in handy because it makes customizing your checkouts a breeze.
That too without any coding!
By bringing your users to your custom checkout, you'll be able to enhance the user experience and boost conversions in your store.
In this post, we'll demonstrate the entire step-by-step process of creating a stunning WooCommerce checkout page using Elementor.
Let's get started.
Why Should You Customize the WooCommerce Checkout Page?
Customizing your default WooCommerce checkout pages offers various benefits for your store.
The default WooCommerce checkout isn't designed to convert. It has several issues, such as a long checkout form, email field at last, the inability to modify the items on the checkout, and so much more.
Since the checkout page is the most crucial page to score on your store, it's quite important to make adjustments and customize it to encourage quick conversions.
Here are some effective reasons why you should consider customizing your WooCommerce checkout:
1. Streamlined checkout process
Streamlining your checkout page helps speed up the purchase process in your store.
This way, it gets more conversions and lesser abandoned carts.
Implementing one-click express payments such as Google Pay and Apple Pay can significantly boost your conversions.
GPay Official case studies show that brands like LARQ and SpotHero got conversion boosts of 27% and 20x, respectively, by implementing Google Pay.
Furthermore, there are various optimization techniques to customize your WooCommerce checkout page. It includes enabling Google address auto-completion, auto-apply coupon codes, multi-step field preview, and more.
2. Optimized user experience
The native WooCommerce checkout does not cater to the specific requirements of your shoppers.
Thus, by customizing the checkout page, you'll be able to simplify the entire process and enhance the user experience in your store.
You can incorporate one-page or multi-step checkout as per your needs, remove unnecessary fields or logically arrange them on the checkout form, and more.
This will ensure a good user experience. It further helps reduce cart abandonment and boost conversions.
3. Visually-appealing design and identity
Your store's checkout page is an important step of the shopping process.
Therefore, it's crucial that you align it with your brand's visual identity and create a professional look throughout the entire checkout process.
Customizing your WooCommerce checkout with Elementor lets you edit the colors, fonts and add your brand's logo. It helps you reinforce brand recognition and trust.
4. Compelling order bumps
Customizing the checkout page lets you implement pre-checkout offers as order bumps.
You can place product recommendations and offer complementary products or special offers to encourage your shoppers to take advantage of these compelling offers.
This helps further boost the average order value and increase sales in your store.
5. Getting additional information
Checkout page customization allows you to add extra fields or options in case you need additional information from your customers during the process.
This could include options such as personalized gift notes, delivery instructions, gift wrapping, etc.
You can also capture your customer's date of birth and interact with them on their birthdays.
By tailoring your checkout pages, you can gather the necessary information to fulfill orders and provide great customer service efficiently.
WooCommerce & Elementor: The Perfect Duo to Design Your WooCommerce Checkout Pages
WooCommerce has maximum extensibility and Elementor is great with design options and ease of building.
Elementor gives you a whole host of options to customize the WooCommerce pages, such as product page, shop page, cart page, etc.
However, Elementor's checkout widget offers limited functionalities when it comes to designing a high-converting custom checkout page.
We know Elementor is your favorite page builder and we're sure you'd love to have your store's checkout page customized using the tool as well.
But to be able to do it better without any limitations, you'll need the FunnelKit Funnel Builder.
FunnelKit's Funnel Builder is the most powerful funnel builder for WordPress. It lets you build sales funnels, including opt-in pages, sales pages, checkouts, order bumps, upsell offers, and thank you pages.
FunnelKit leverages both WooCommerce and Elementor by featuring checkout widgets that help you create high-converting checkout pages.
Here are a few reasons why FunnelKit should be your first choice when designing your WooCommerce checkout with Elementor:
Highly-customizable checkout templates - FunnelKit has a wide array of checkout templates that responds to high-conversions. These templates are highly customizable and are optimized for different devices.

Built-in checkout editor - FunnelKit has a built-in checkout field editor that lets you add, edit, rearrange, or remove the fields on your checkout form. You only need to drag and drop; no coding is required.

Multi-step checkout order forms - FunnelKit lets you split your checkout page into multiple steps. It makes it easy for your customers to complete their purchases without feeling overwhelmed.

Checkout optimizations - FunnelKit lets you optimize your checkout page with its 11+ different built-in optimizations. It includes Google Address autocomplete, collapsible order summary, express checkout, and more.

Different checkout styles - Create different checkouts as per your needs, including one-page checkouts, Shopify-style store checkouts, order forms embedded on sales pages, and more.

Engaging thank you pages - FunnelKit offers a complete funnel-building solution. Its checkout funnels come with a thank you page that lets you engage with your customers and keep the conversation going even after the purchase.
Let's now introduce you to the different elements that our team at FunnelKit has built to help you create the custom checkouts of your dream.
The Elementor Widgets for Customizing the WooCommerce Checkout
Let's explore the two Elementor checkout widgets:
1. Checkout Form Elementor Widget
FunnelKit's checkout form widget for Elementor allows you to drag and drop the WooCommerce checkout form anywhere you like on the screen.
This form is fully customizable. Take a look: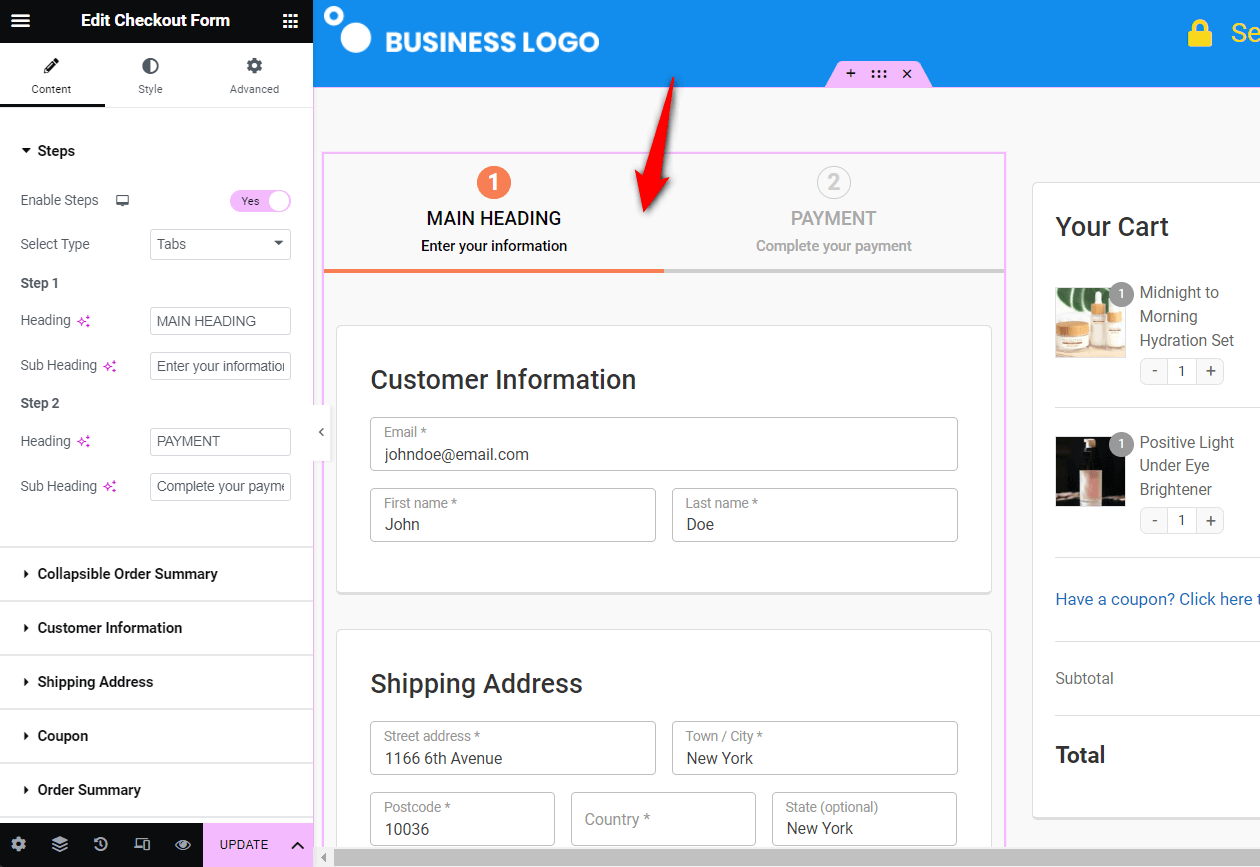 You can change borders, colors, field width, and so much more using the 'Style' section on the left-hand panel.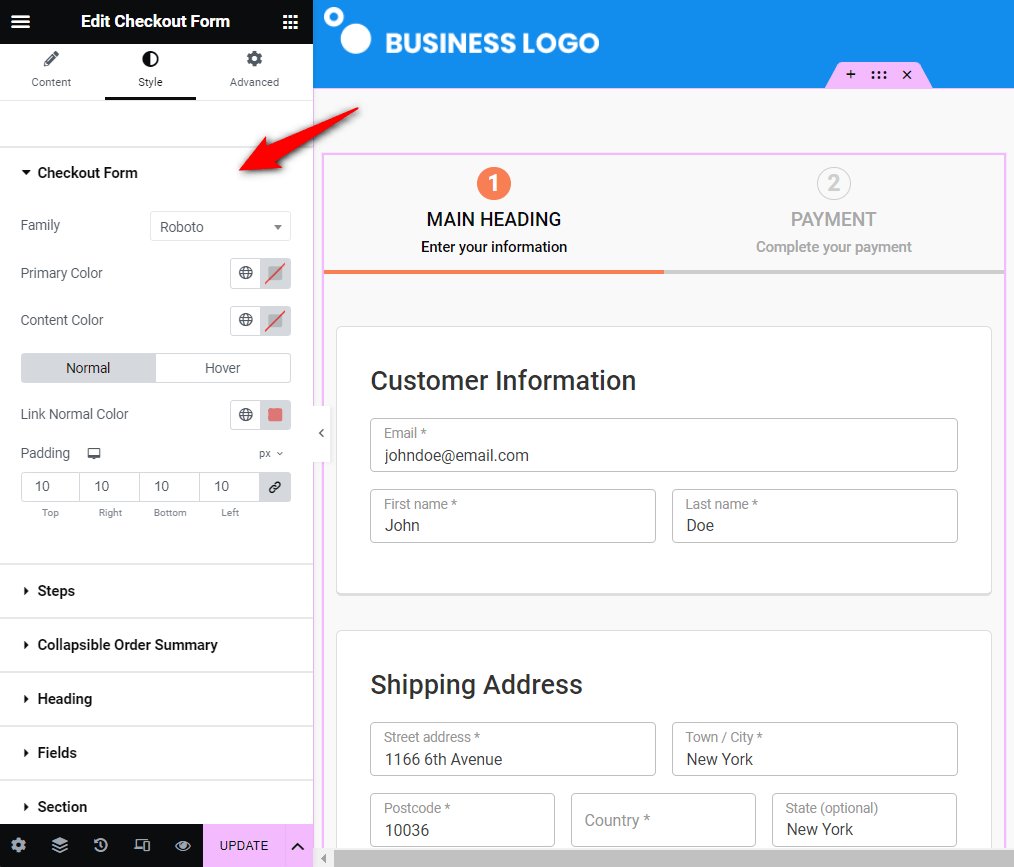 You can even change the text and colors of the checkout CTA button.
Feel free to change the colors of the button along with its text, sub-text, button icon, and a lot more.
There's also the option to make the order summary collapsible for mobile devices. So, it will expand only when the user taps or clicks on it (we'll look at it in detail later in this post).
2. Mini Cart Element Widget
The mini cart widget is another drag-and-drop Elementor widget built to display a mini cart on the checkout page.
You'll be able to customize the mini cart on your WooCommerce Elementor checkout using this widget.
Here, shoppers can see all the items they've added to their carts and their respective quantities.
What's more? The buyer can even adjust the quantity of the product, add or delete an item and even recover accidentally deleted items.
This gives your users complete control over their entire purchase experience on the WooCommerce Elementor checkout page.
Plus, you can make changes to headings, products, coupon code sections, and more.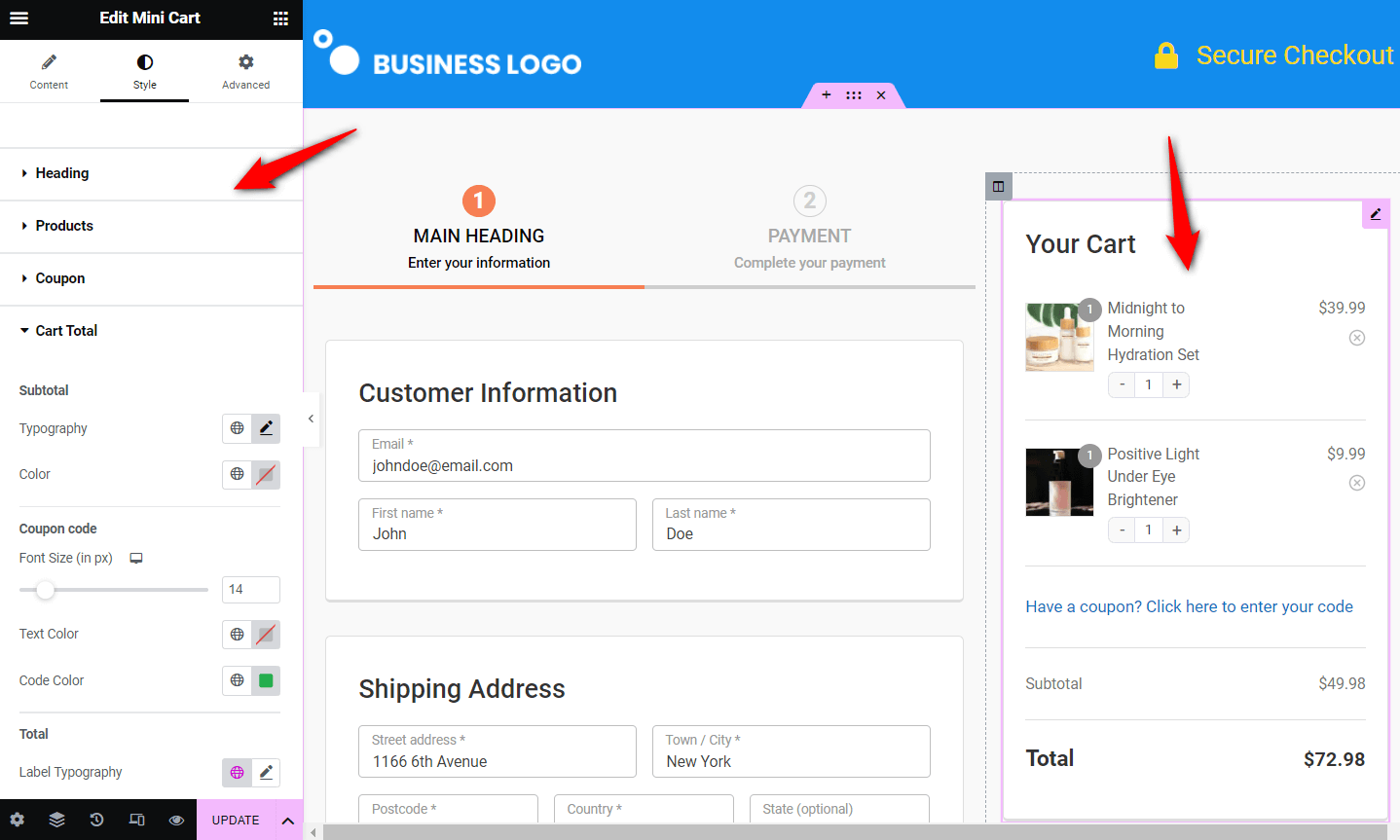 We'll look more at the customization options when we edit our WooCommerce checkout page with Elementor later in this post.
Apart from making all the functional adjustments to the mini cart, you can also change the colors and typography, border type, width, and more from the Style section.
Attractive WooCommerce Elementor Checkout Templates
Apart from the drag & drop widgets, you can create your custom checkout page from the various pre-built Elementor templates.
All of these templates available in FunnelKit are highly customizable as well as optimized for all devices.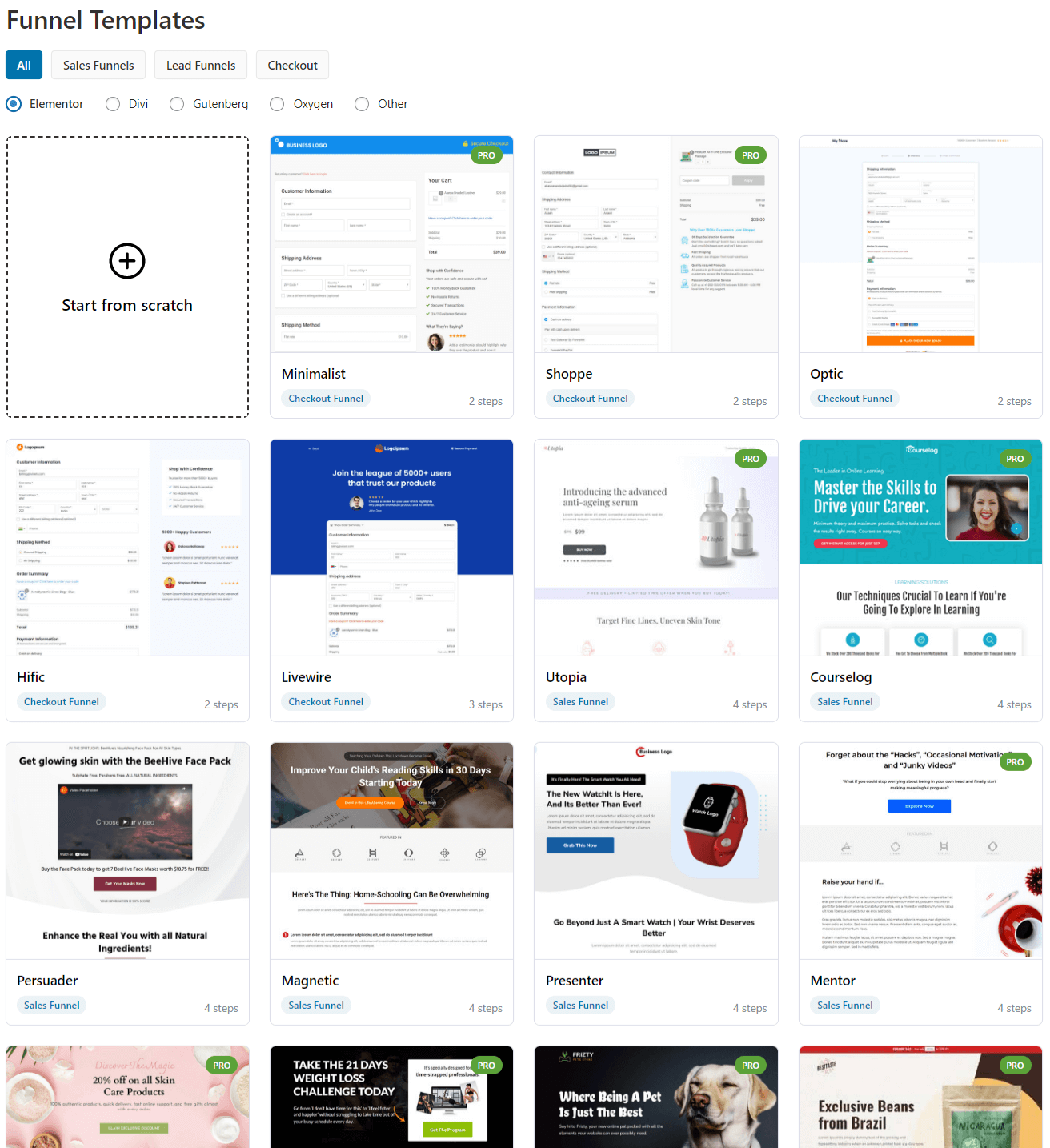 These templates are built using widgets we have explained above and serve different requirements, such as setting up all kinds of checkouts:
Global or store checkout
A global checkout is a standard store checkout page that a shopper visits after adding items to the cart and proceeds to buy them.
Such a type of checkout is crucial for businesses that sell multi-category products.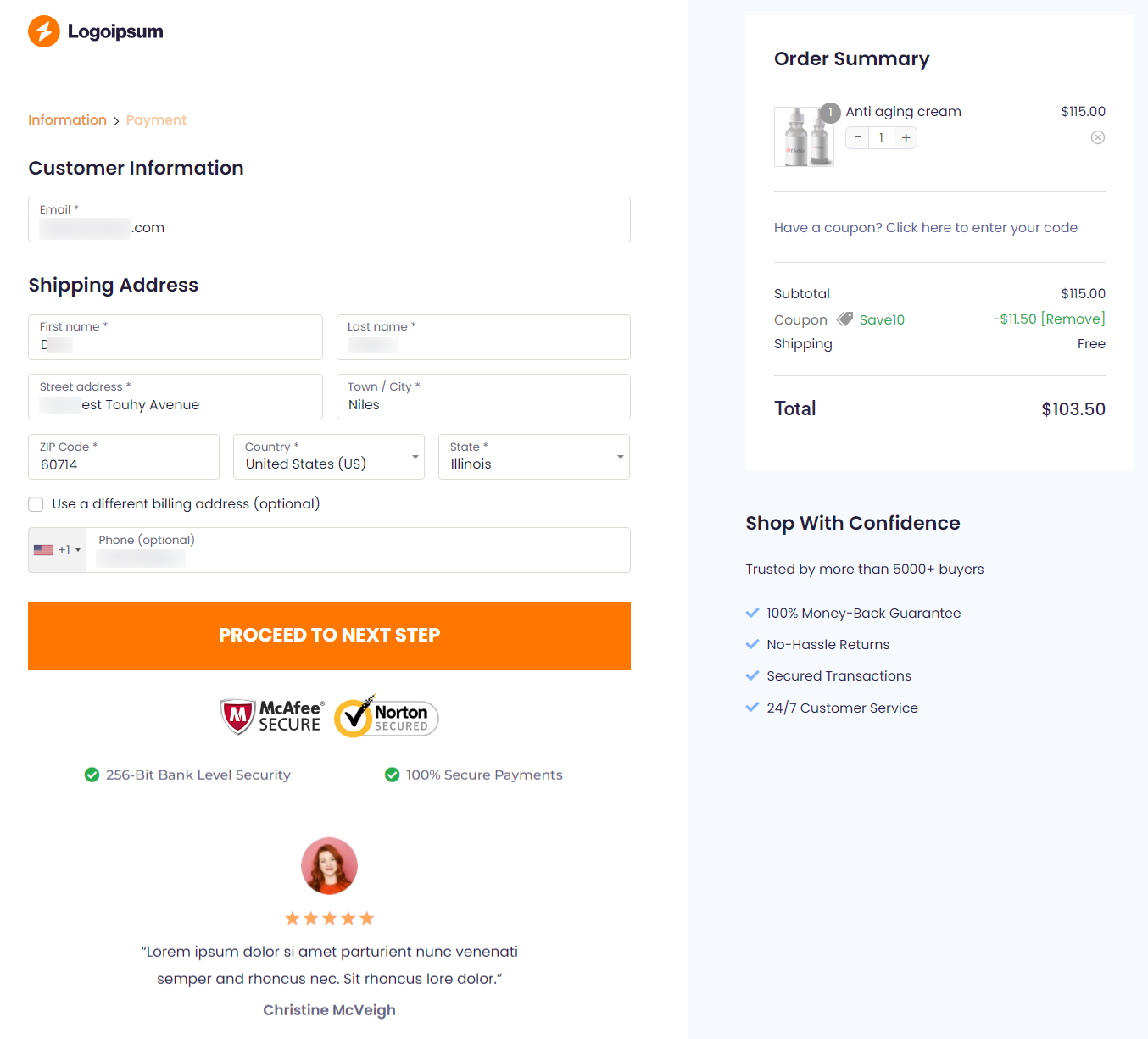 One-step checkout
A one-step checkout page lets shoppers view their product selection, enter their information, and make payments on a single page.
Such types of checkouts are usually popular among digital product sellers because of the lesser form fields.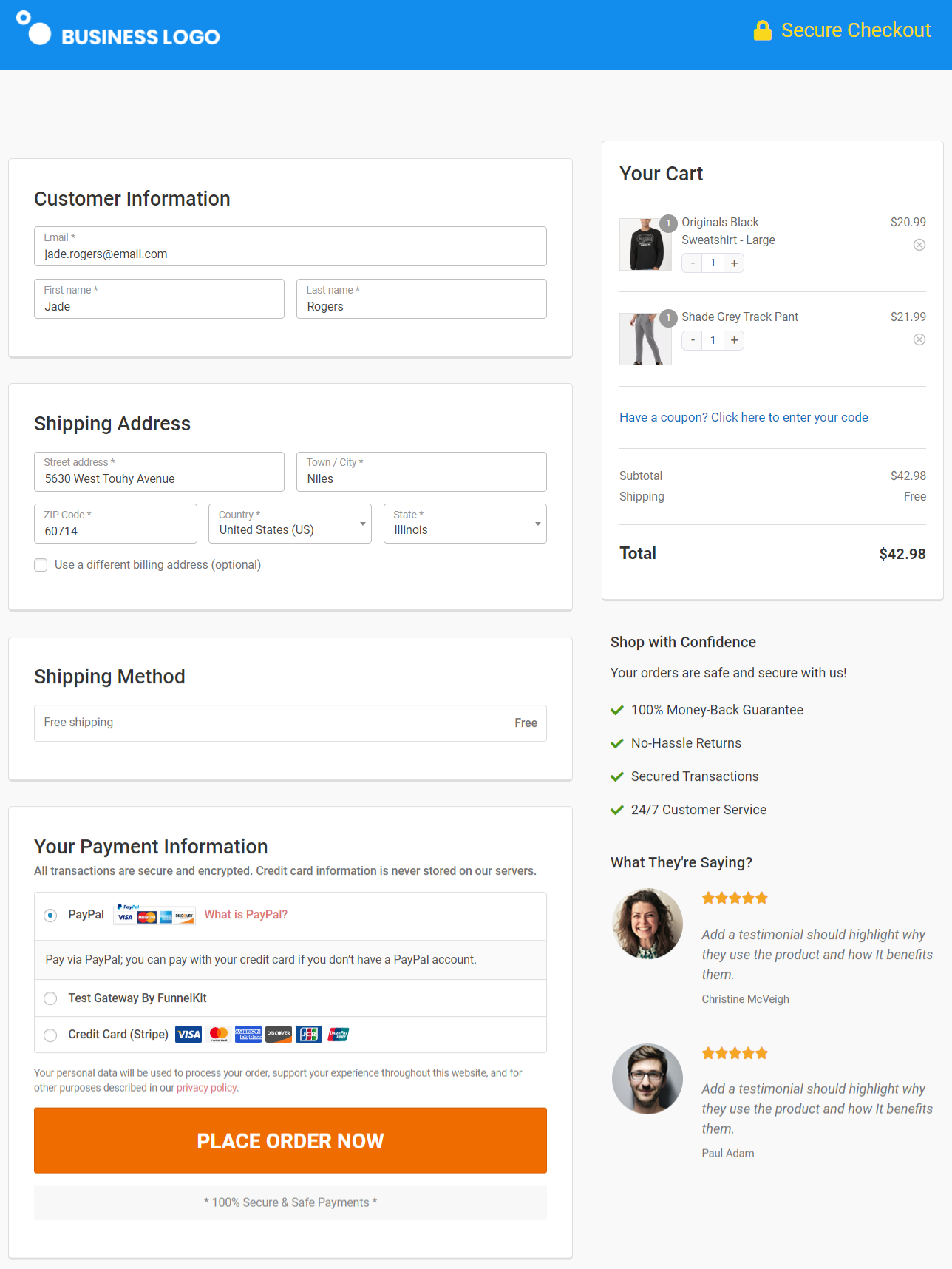 Multi-step checkout
A multi-step checkout splits the checkout page into different steps, allowing users to place their orders without getting overwhelmed.
Such checkouts are quite important for physical product sellers that have multiple fields for customers to fill.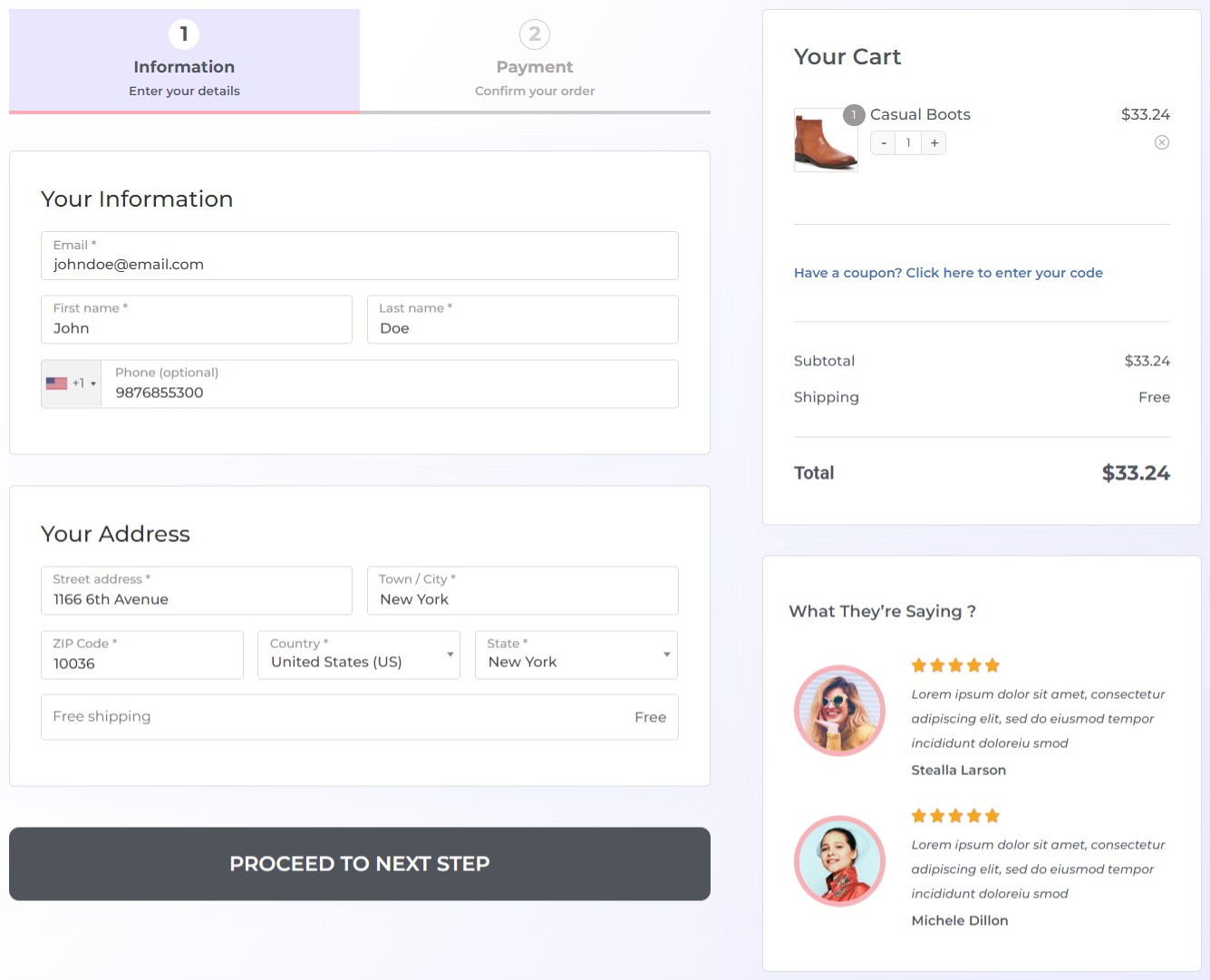 Embedded order forms
An order form is a checkout form layout that lets you select items and make payments to complete the purchase.
Order forms are usually used to display products from a specific category, encouraging shoppers to place orders in bulk.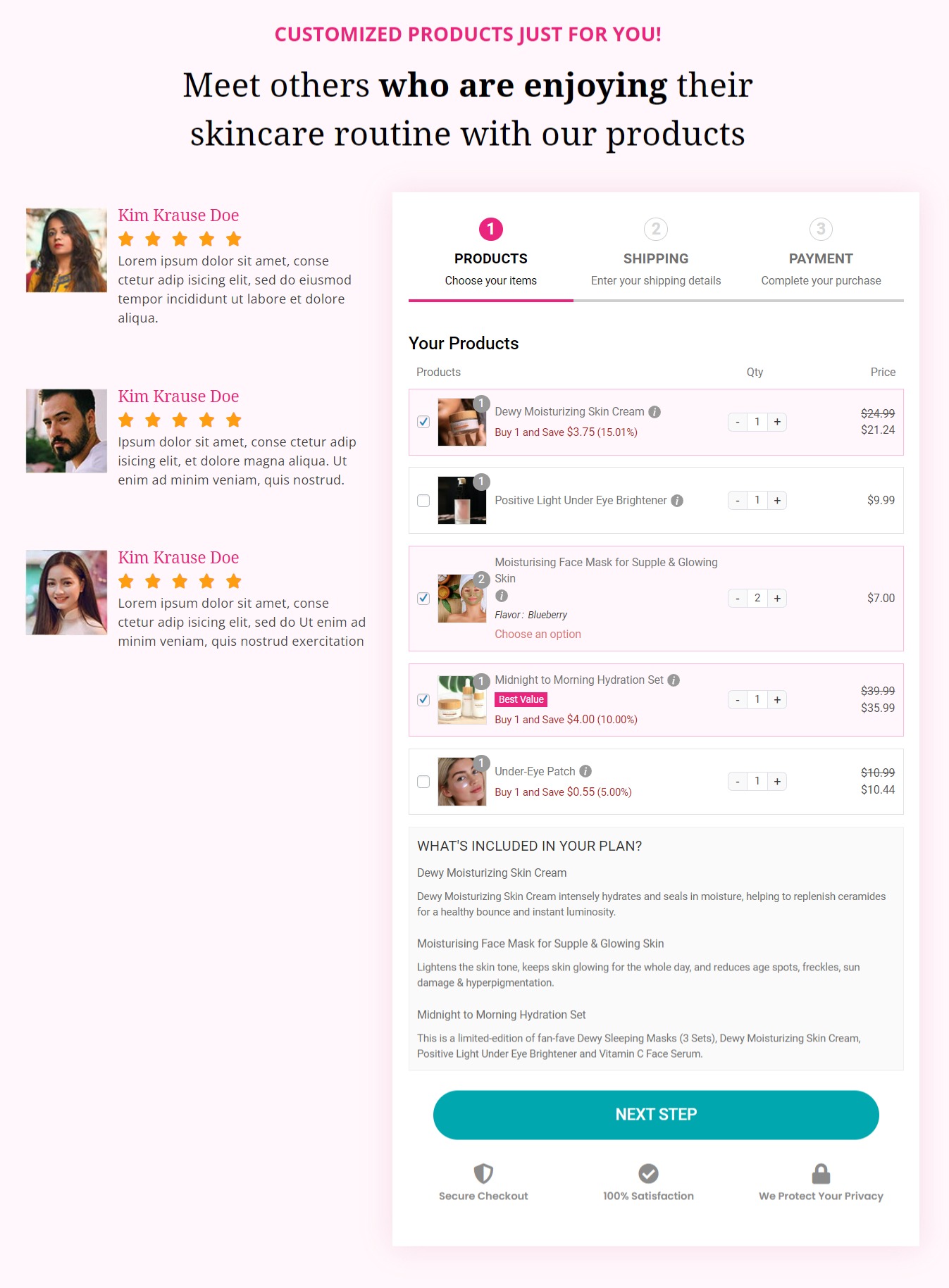 Shopify-style checkout
If you love the charm and usefulness of Shopify checkouts and want them to bring in your WooCommerce store, you can do it with FunnelKit.
Import the Shopify-style checkout template and customize it the way you want.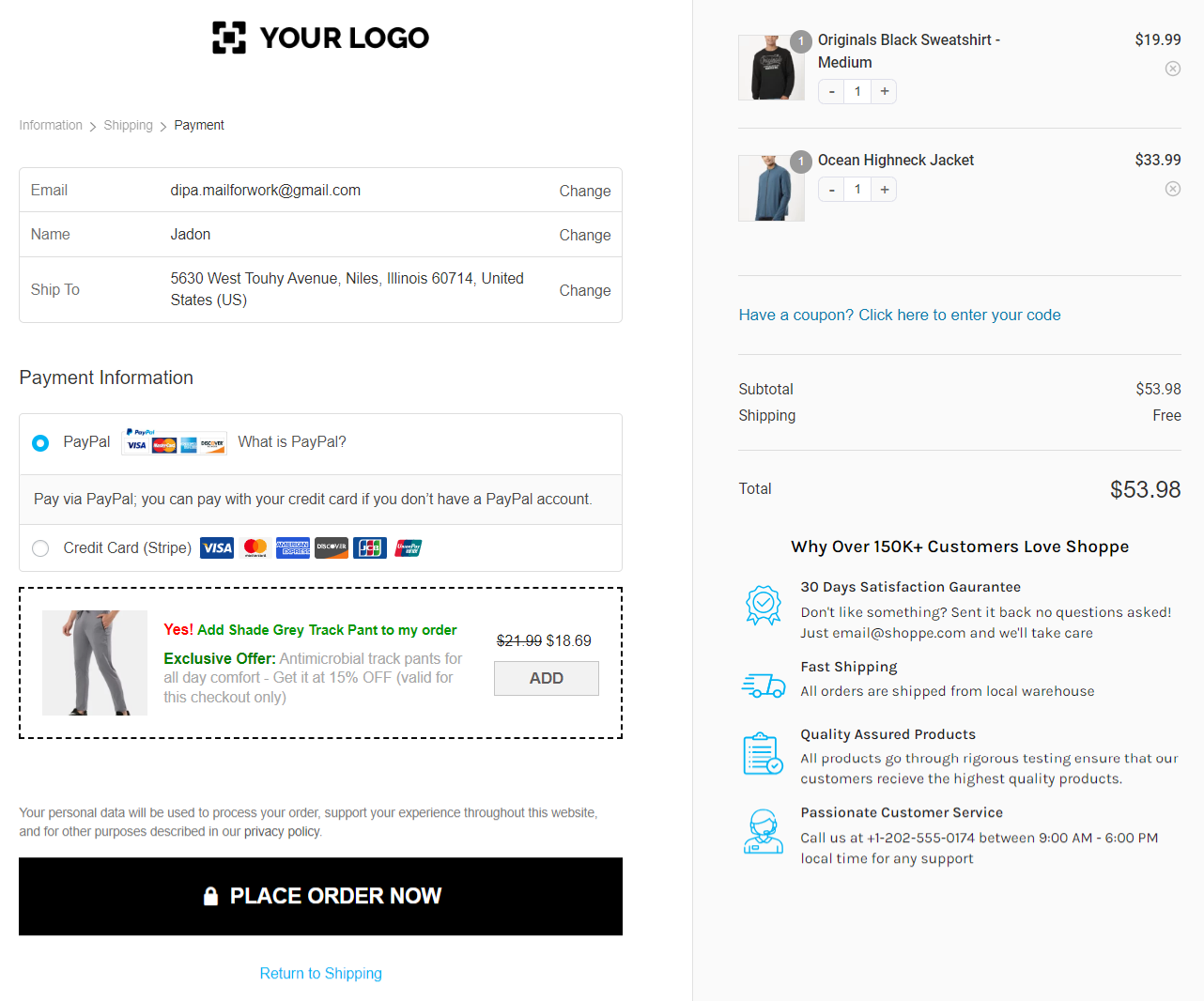 Each one of these Elementor checkout templates is divided into one-step, two-step, and three-step formats.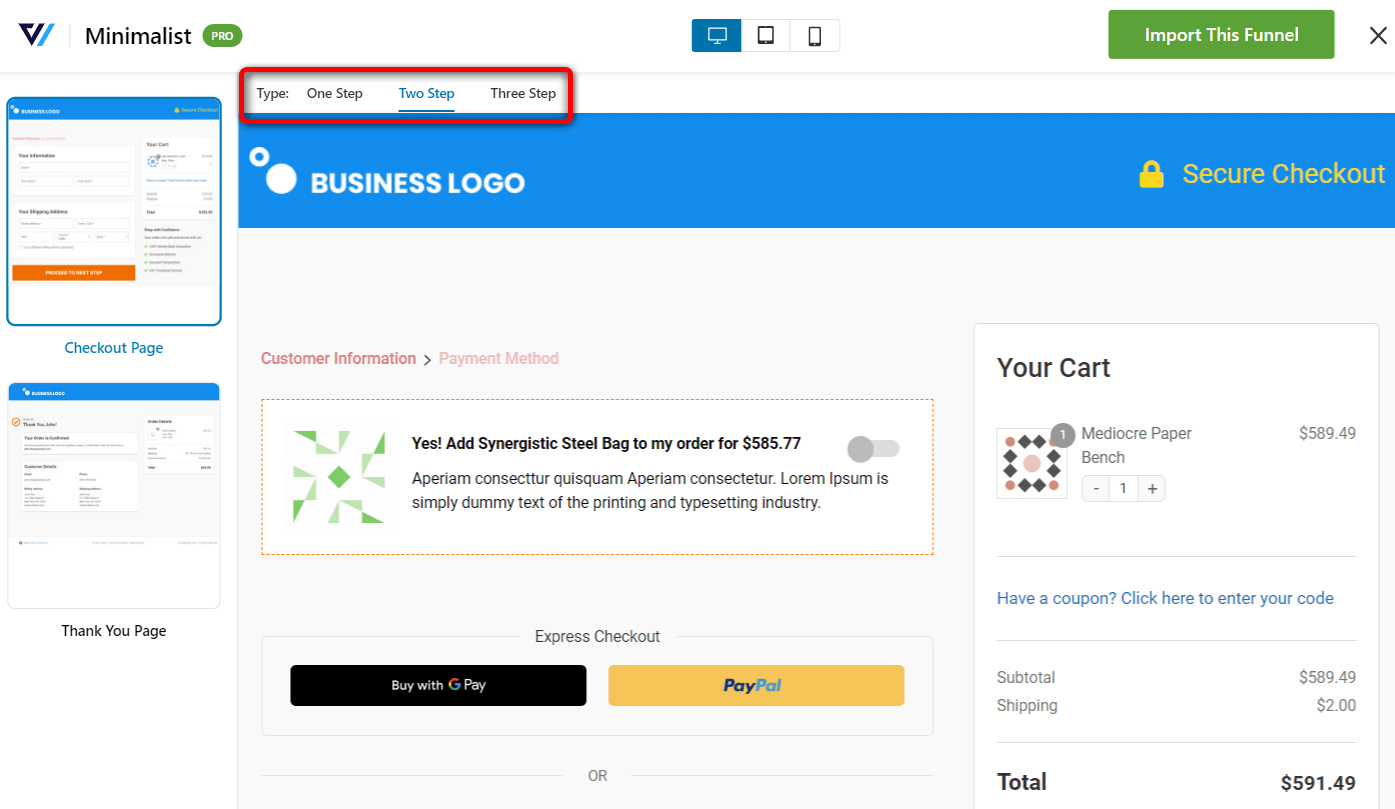 This means you can pick a template that you like, import it with a single click and use it to serve your purpose.
You'll save a lot of time in the process. Not only that, you don't need to learn how to design or hire a designer to help you put together a page that looks slick and converts.
You must be relieved, isn't it?
The best part is that every template is mobile-friendly. For example, here's how the collapsible order summary works on a mobile device: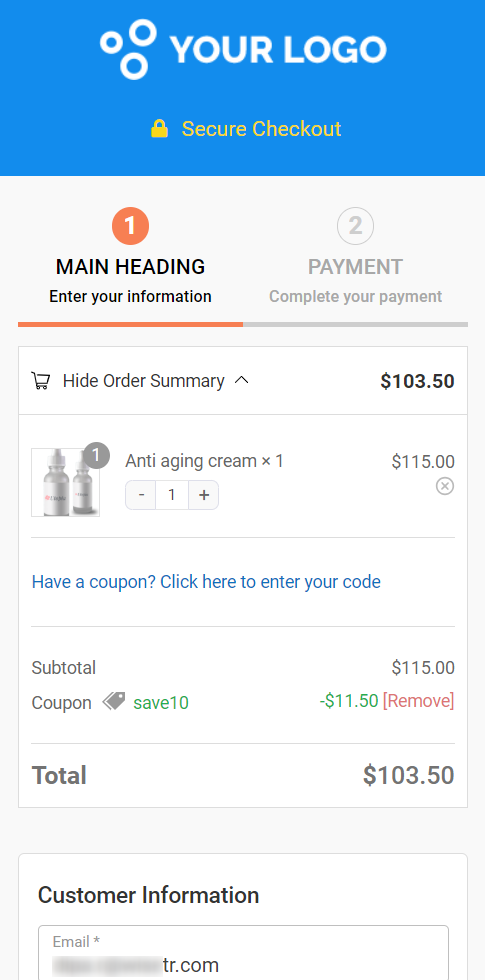 With these new widgets and pre-built checkout templates, FunnelKit makes designing your WooCommerce checkout page with Elementor easy.
Just style your checkout page and make it look the way you want.
How to Create a Custom WooCommerce Checkout Page with Elementor?
In this section, we'll demonstrate how you can use FunnelKit and Elementor to create custom WooCommerce checkout pages.
But you need to install the plugin first.
Get a copy of FunnelKit's Funnel Builder here >>
👉 Refer to our guide on how to install and activate the Funnel Builder plugin on your WordPress website.
Follow the step-by-step instructions to customize the WooCommerce checkout page with Elementor.
Step 1: Add a checkout page
Go to FunnelKit ⇨ Store Checkout and click on the 'Create Store Checkout' button.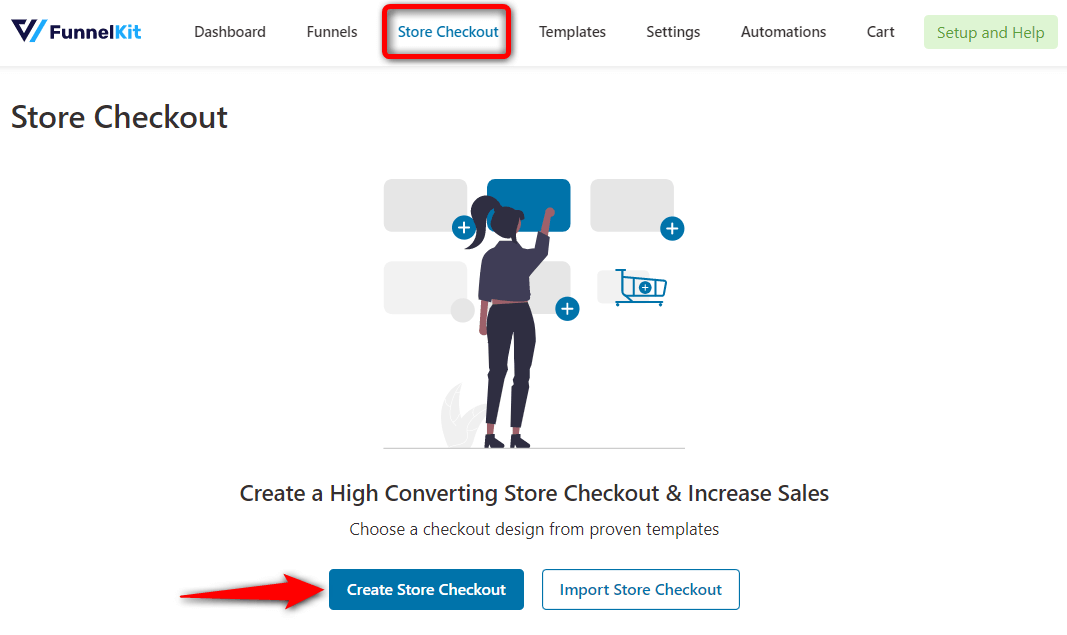 You'll get directed to the templates page.
Please note that apart from Elementor, FunnelKit integrates with various page builders such as Divi, Oxygen, Gutenberg, and others using WooCommerce checkout shortcodes.
If you like any template, click on 'Preview' next to it.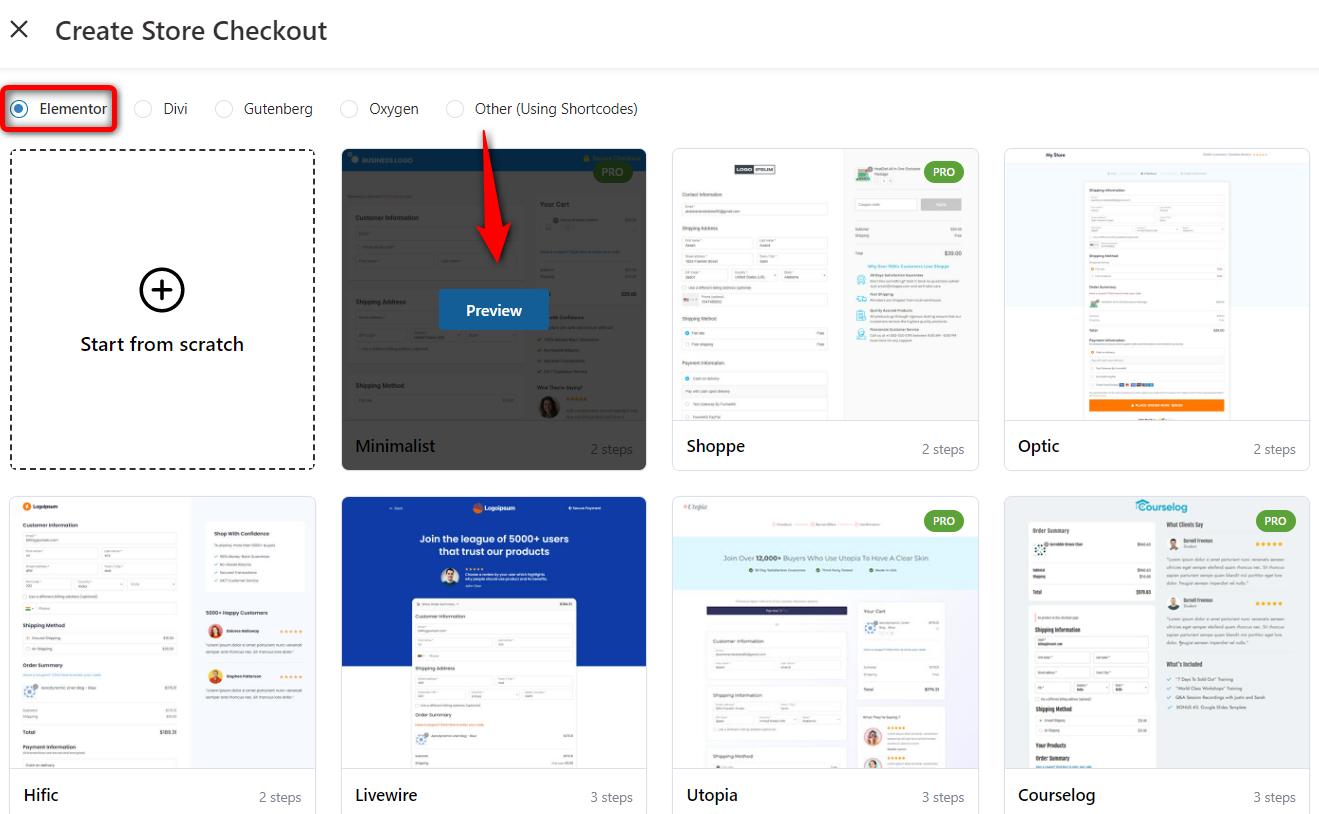 You'll be able to take the full preview of this template here. Choose the number of steps you want on your checkout page, i.e., one-step or multi-steps.
Here we will be importing the two-step Minimalist template for our WooCommerce Elementor checkout page.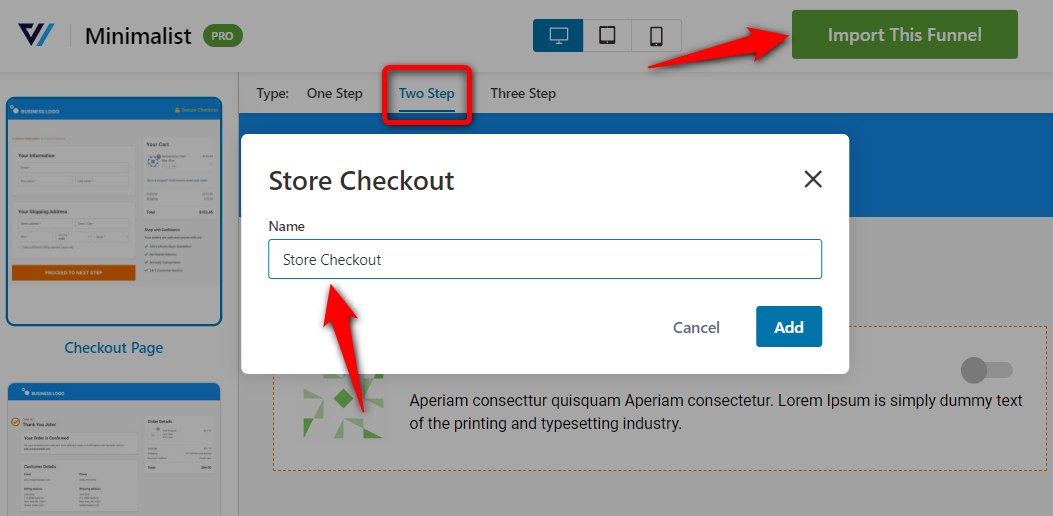 Clicking on 'Add' will import your store checkout.
Step 2: Customize the design of your WooCommerce Elementor checkout page
Click on the page to start editing your WooCommerce checkout with Elementor.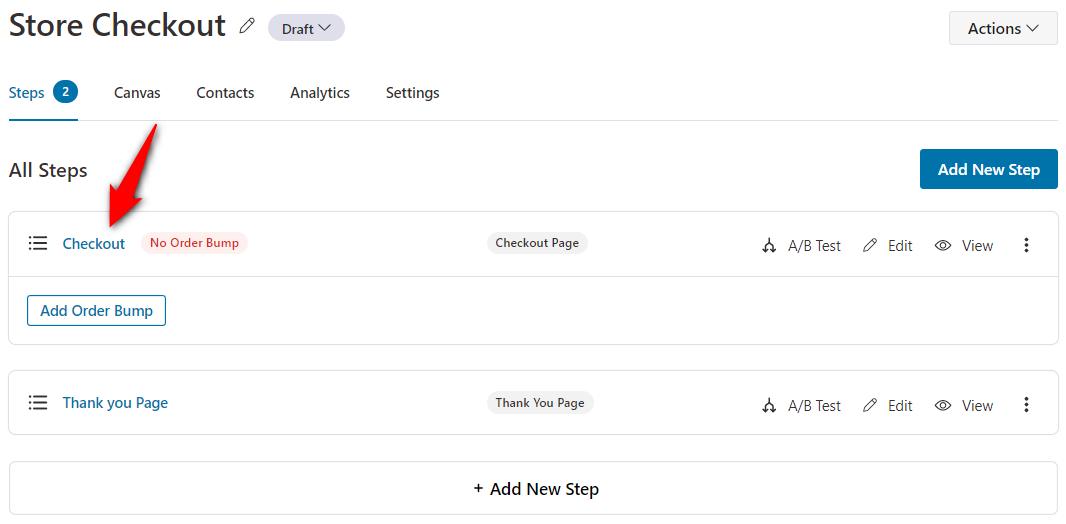 You'll get inside the Checkout customization area.
On the 'Design' tab, click on 'Edit Template' to start customizing your checkout page.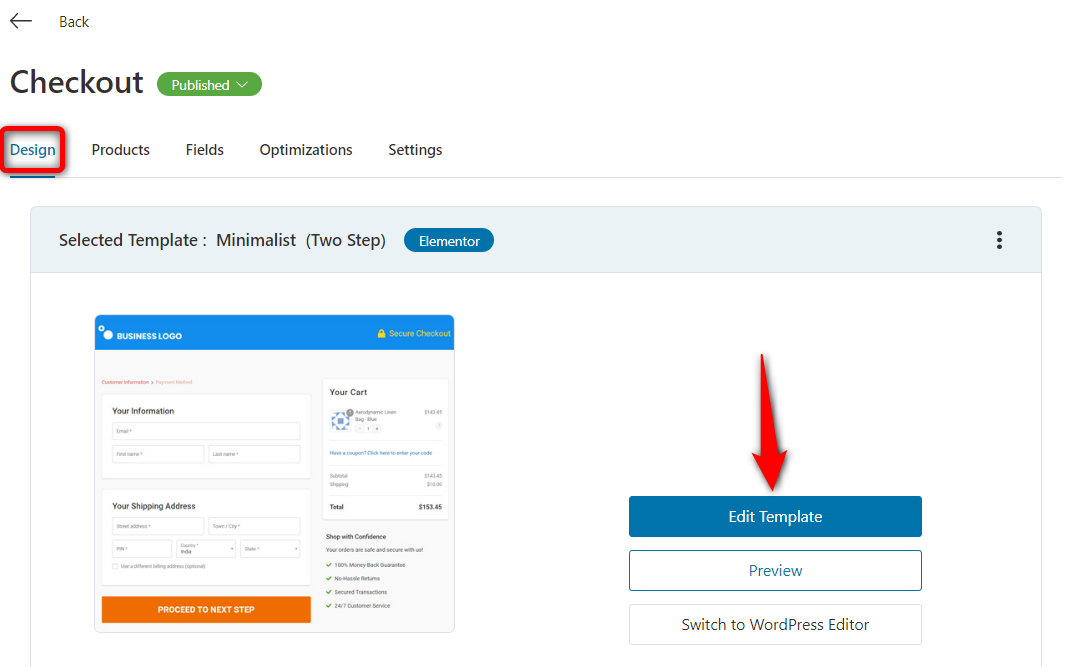 This page will load in Elementor.
You can now start customizing your WooCommerce Elementor checkout page using different widgets.
Business logo
Start by changing the icon on your checkout page. For that, click on the icon and upload a new image either from the URL or media.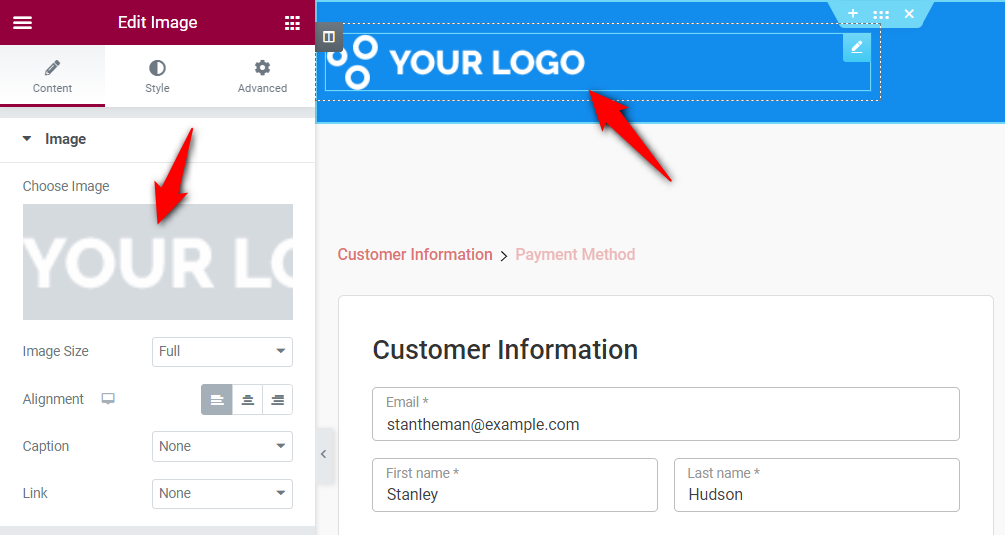 Checkout step headings
You can enable the steps and format them in the breadcrumb or tabs format.
Here you'll also find the option to modify the titles of your checkout step: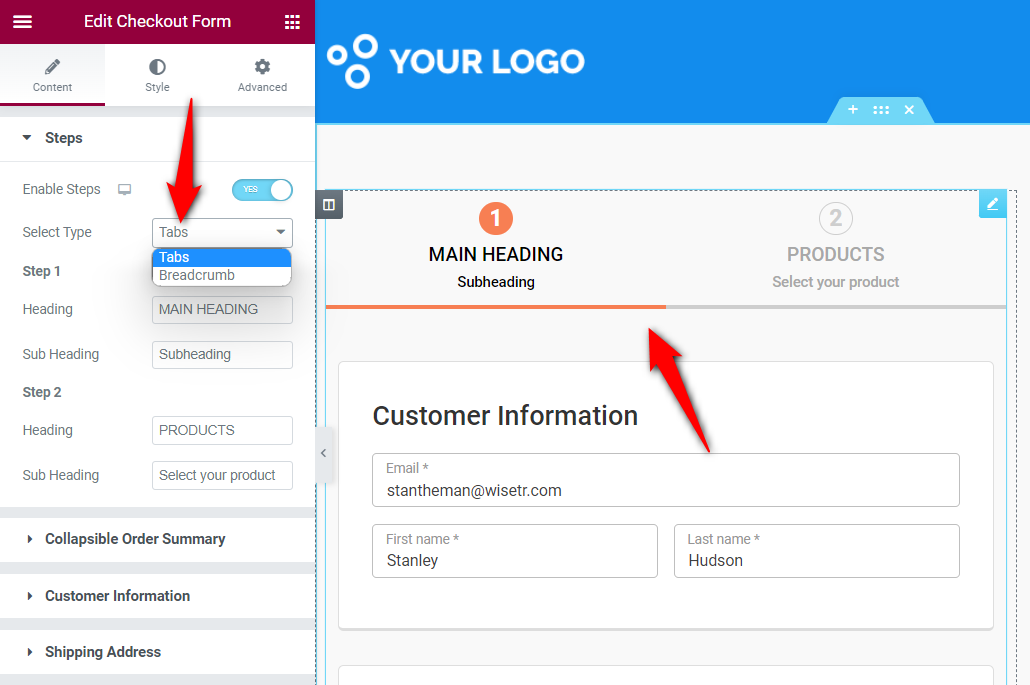 Shipping address field width
Next, adjust the field widths of your checkout form.
Go to the 'Customer Information' or 'Shipping Address' section. You'll find the options to adjust the form field widths of your shipping address and billing address into full, one-half, one-thirds, or two-thirds.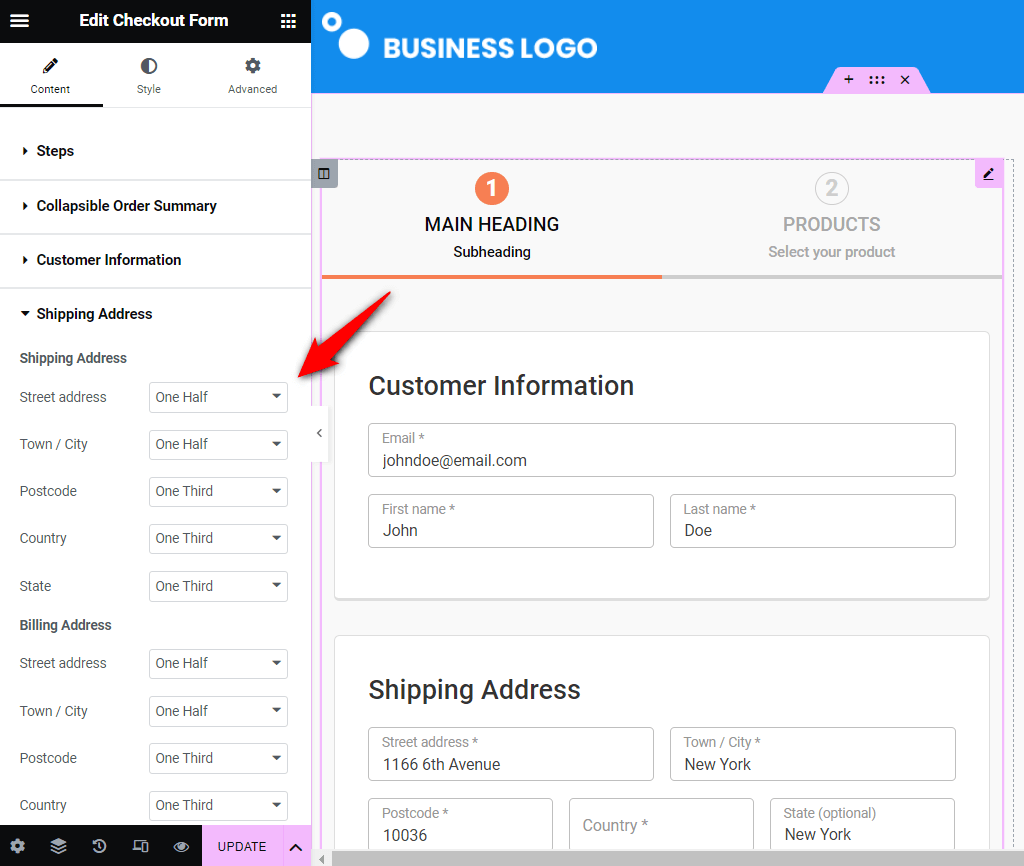 Cart section
Customize the cart section on the WooCommerce Elementor checkout page by clicking on the mini cart widget.
Next, enable the product's images, quantity switcher and allow deletion if you want your shoppers to be able to modify their cart items.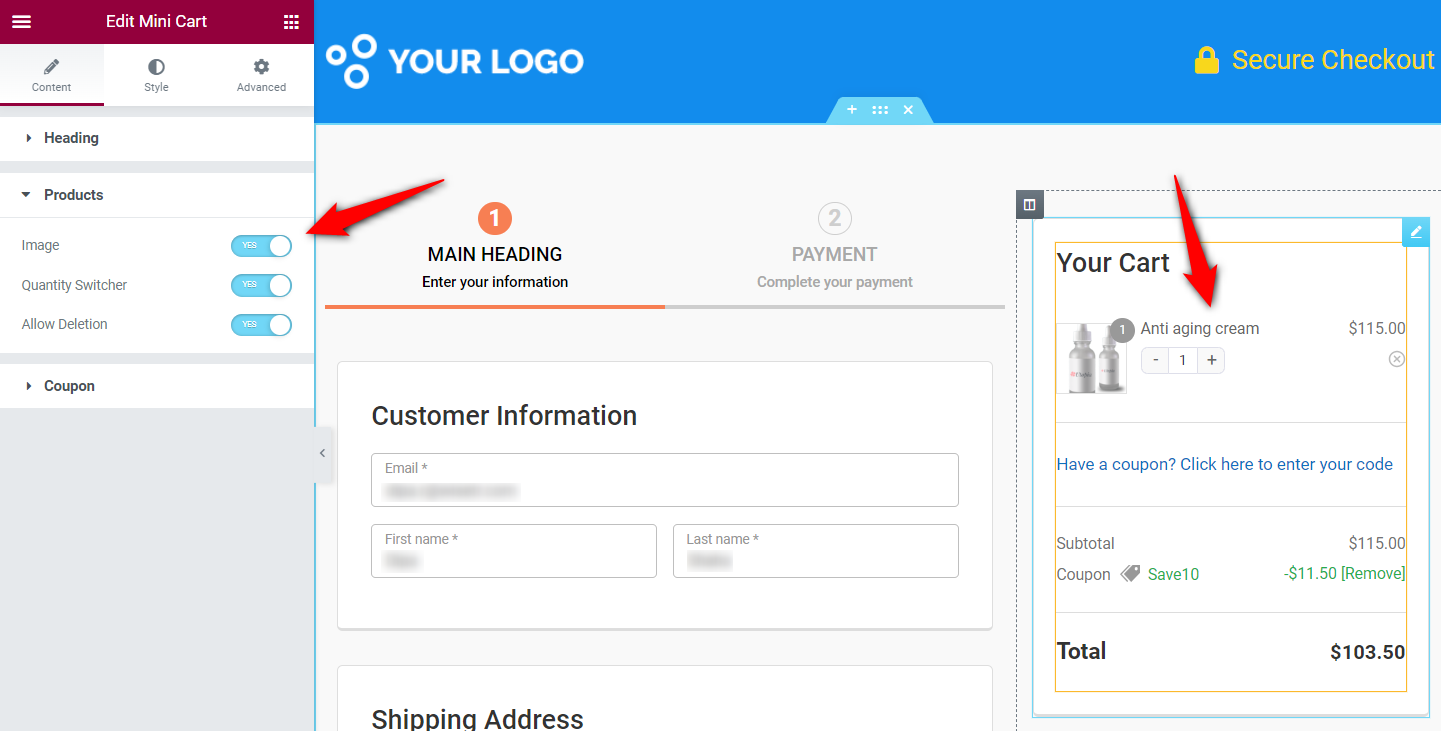 Coupon section
Enable or disable the coupon field on the checkout. Plus, you'll also be able to make the field collapsible.
You can even change the text of the coupon button.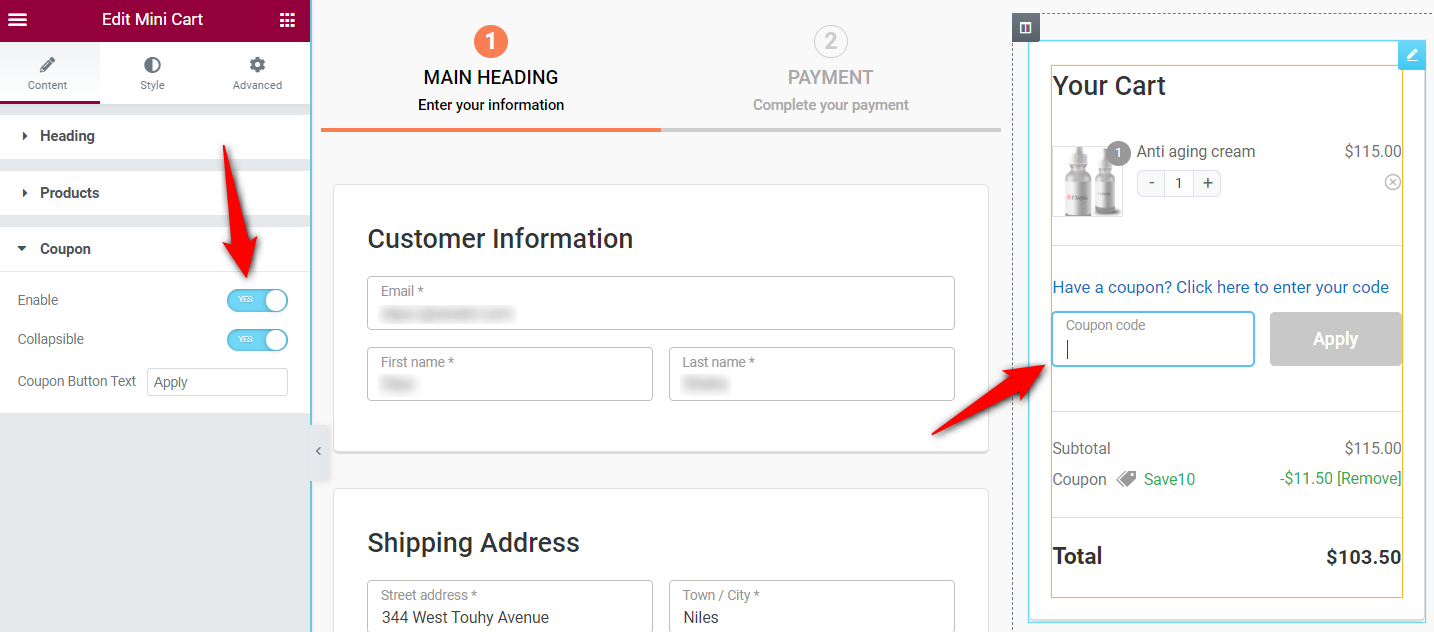 Checkout button
Under the 'Content' tab, change the text and subtext, enable the icon and price of the checkout button.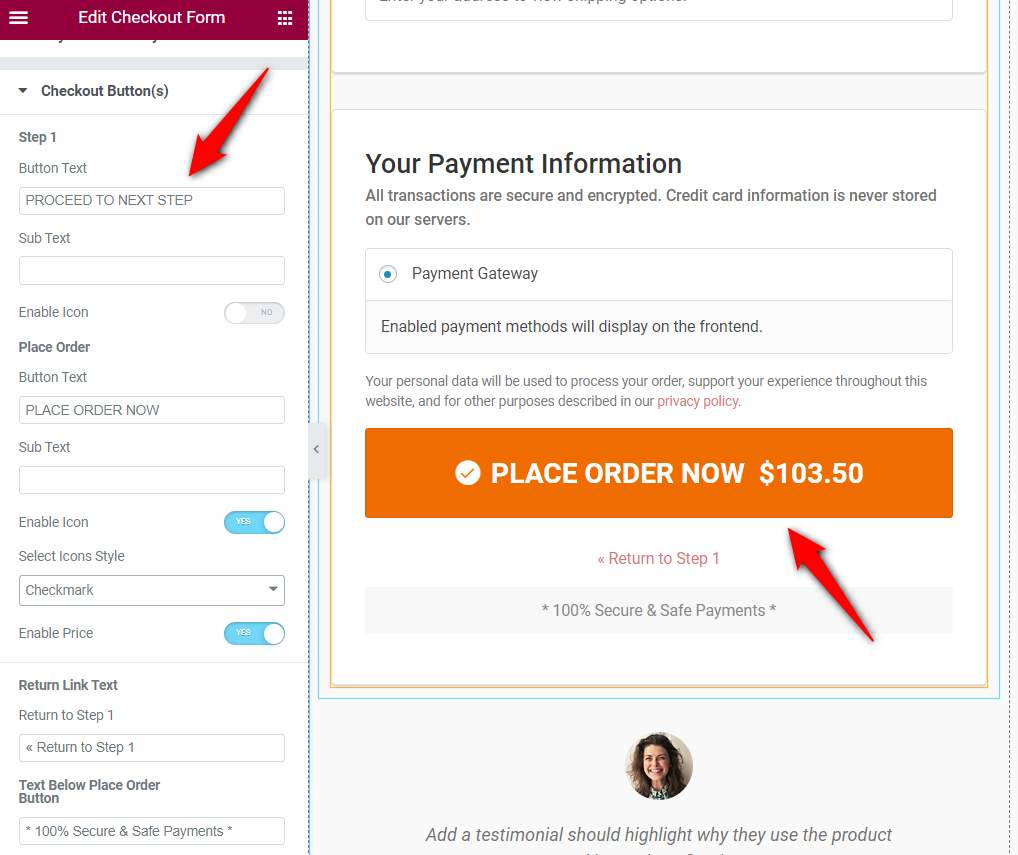 You can even style the button as per your brand colors with the help of Elementor's extensive styling options.
Under the 'Style' tab, customize your checkout button's typography, including font family along with font color, icon color, button color, padding, margin, and so much more.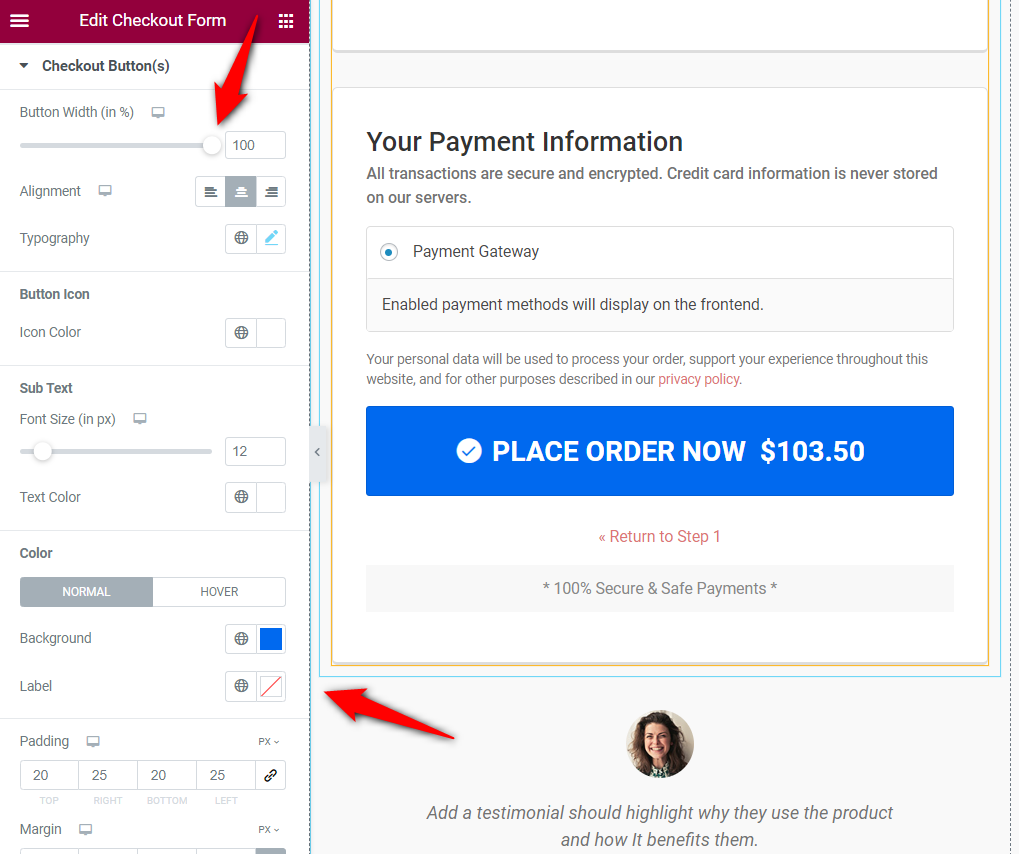 Assurance and testimonials
Change the text on the assurance and testimonials element of your WooCommerce Elementor checkout page.
All you need to do is click on the element and change its text from the left-hand side menu of this Elementor widget.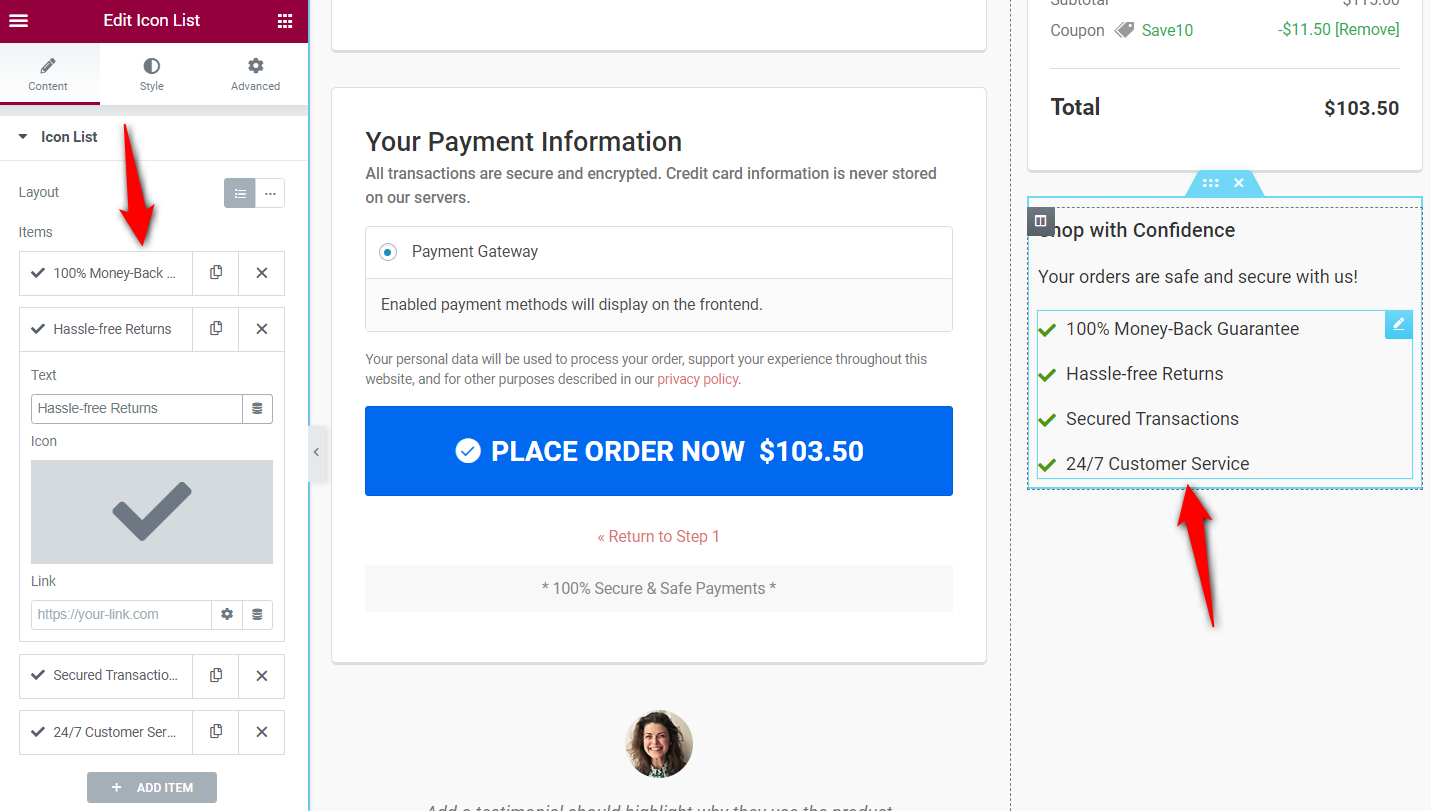 Hit 'UPDATE' once you like the design of your WooCommerce Elementor checkout page.
Step 3: Customize the WooCommerce checkout form
We have shown some of the amazing powers of the Elementor WooCommerce checkout form widget for styling your checkout page.
And while you can customize just about anything from the widget's settings in Elementor, you cannot add, edit, remove, or re-order the form fields.
As an eCommerce store owner, we're pretty sure you also want that ability.
You may want to re-order the form fields within the shipping/billing section or remove them entirely when not needed.
It could be the case if you're selling only digital products. Or, you can even add custom fields to your checkout form.
Here are a few of its highlights:
Add new checkout form fields - Choose from text, checkbox, radio, HTML, and more.
Edit existing fields - Customize the checkout form field's name, label, and placeholder text.
Re-order the form fields - Place the email at the top or re-arrange the checkout form sections and fields within them.
You can all do it from the Fields tab.
You can add new sections and rearrange them. Then, you can add, remove, or edit the fields within these sections.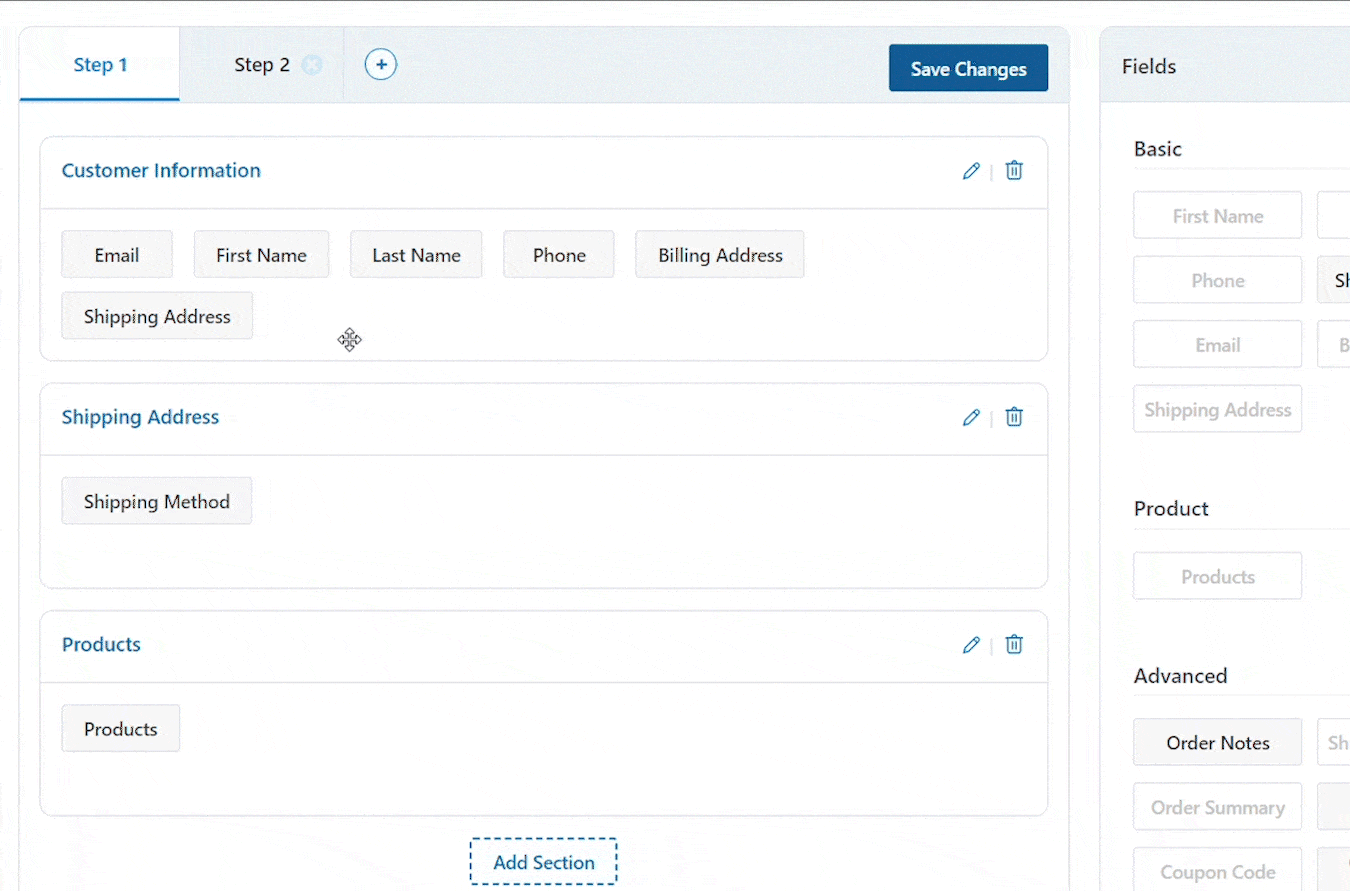 To add a new field, hit the option in the right-hand panel. Here's a list of field types you can choose from: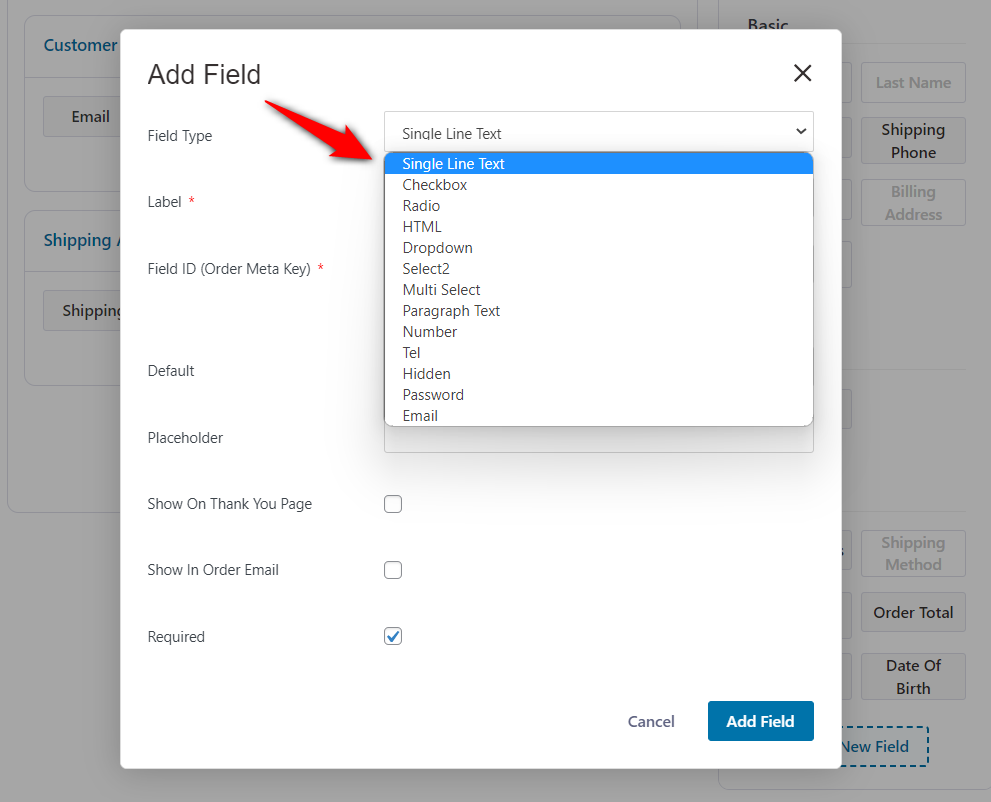 Click on 'Save Changes' to lock in all the changes.
👉 Check out our detailed post on how to customize your checkout form fields.
Step 4: Optimize your WooCommerce checkout page
Streamlining your checkout page to quick conversions should be your number 1 priority.
That's why FunnelKit offers various optimization options on the checkout page.
Some of them include here:
Express payments - Enable one-click express payment options like Google Pay and Apple Pay.
Google address auto-completion - Enable address auto-suggestions when the users start typing their address field.
Auto-apply coupons - Enter the coupon code and auto-apply it to incentivize the purchase for your shoppers.
Multi-step field preview - Skip going back to the previous step and show a preview of fields entered by your users on the next step.
And so many options.
Just go to the Optimizations tab and enable the ones you need on your checkout page.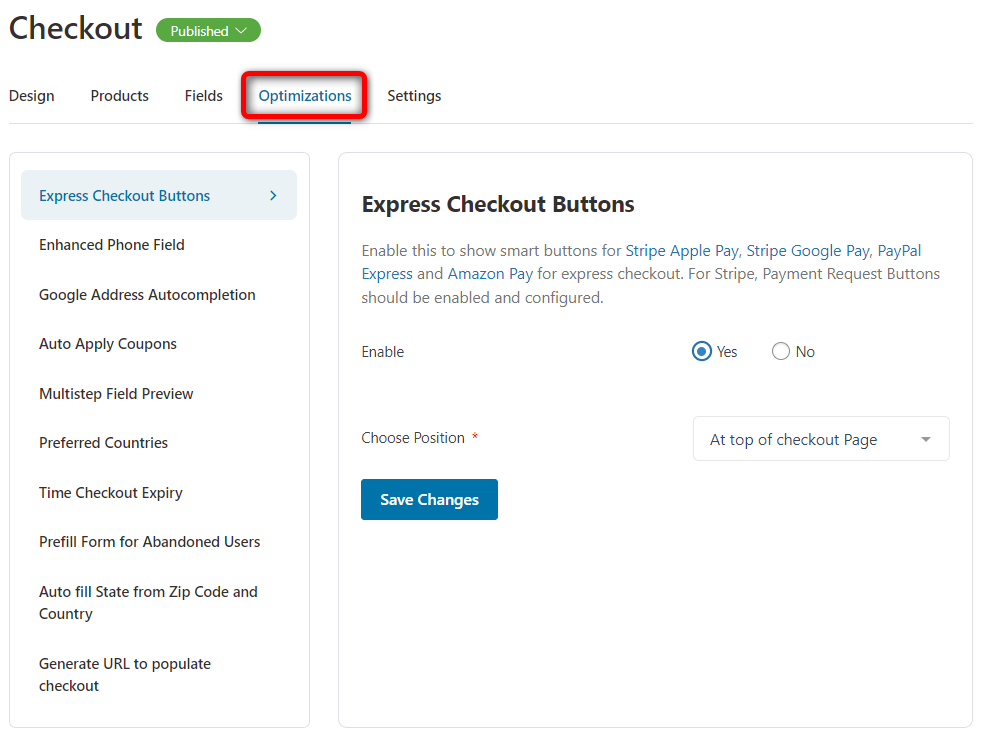 👉 Check out the complete checkout page optimizations here in this post.
Step 5: Add attractive order bump offers to your checkout page
Offering attractive order bumps to your customers on the checkout page surely helps you boost the average order value in your WooCommerce store.
That's why you should always offer complementary items to the shoppers on the checkout page.
Return to your funnel and click 'Add Order Bump' below your checkout page.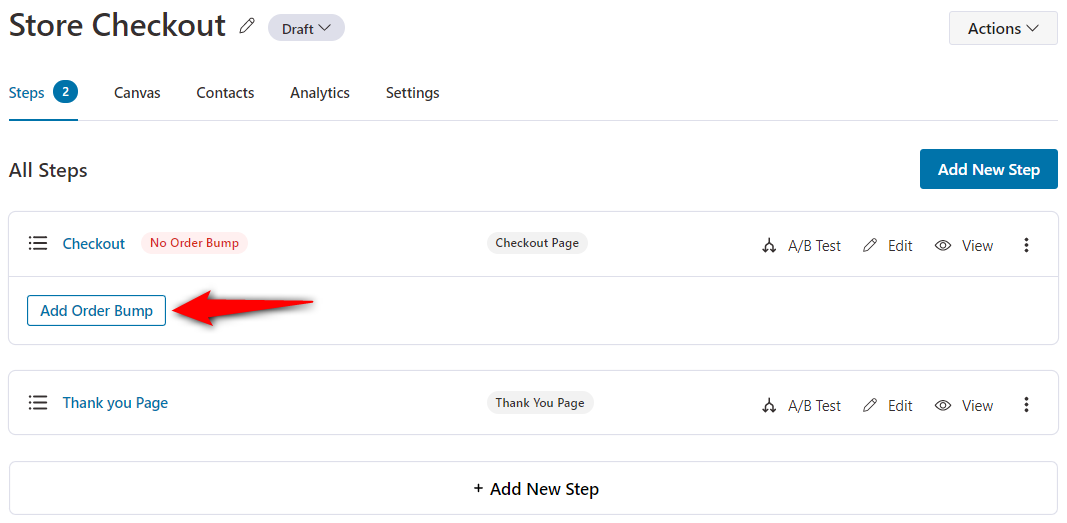 Next, enter the name of your order bump.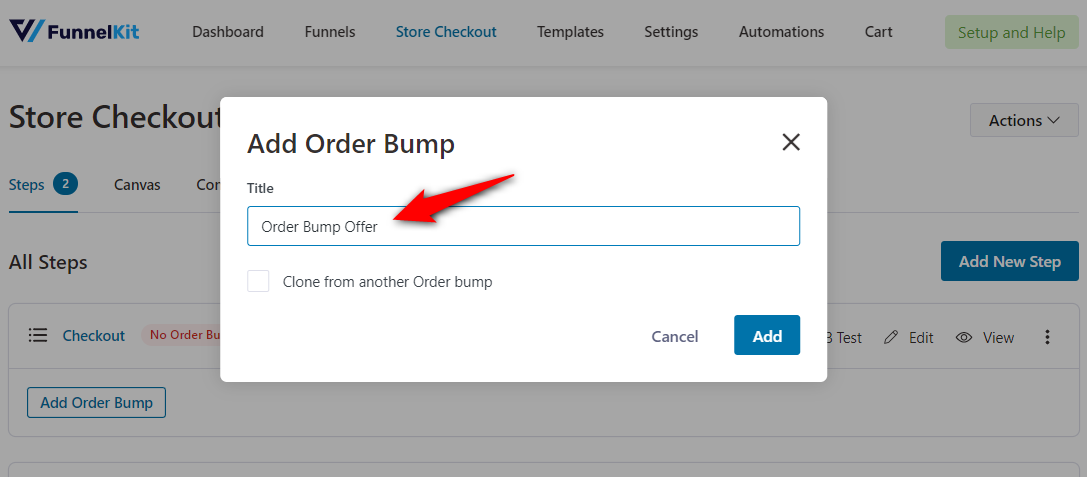 Now, add the items to your order bumps by clicking on 'Add Products' on the Products tab.
Feel free to add multiple items here. Once you've added your order bumps, feel free to offer discounts, change quantities, and more.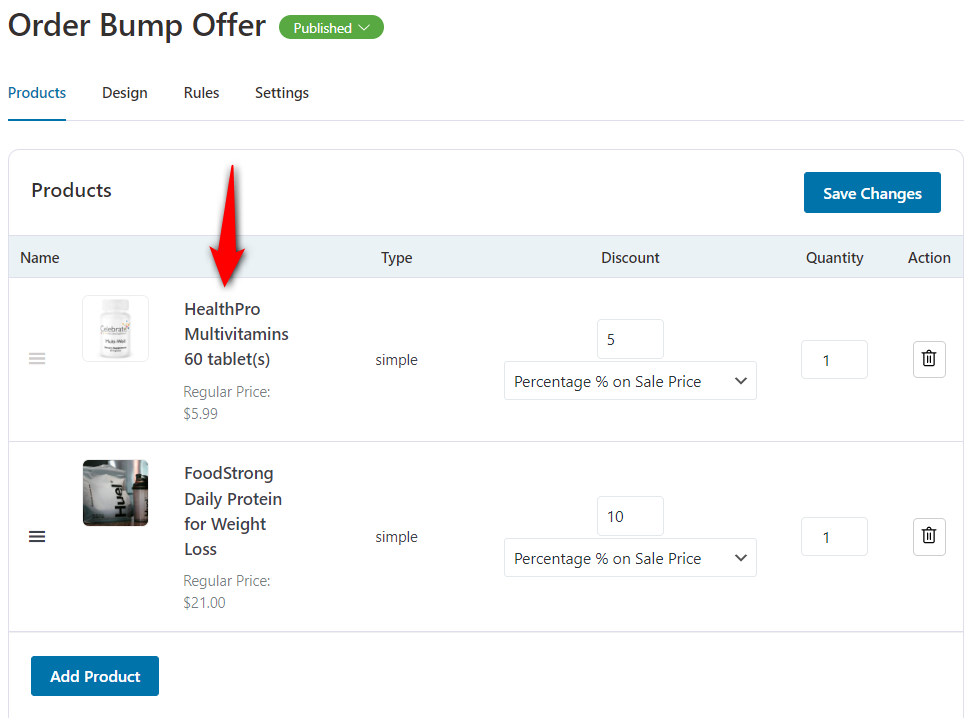 👉 We have a dedicated post to customize the design, copy and style of your order bumps.
You can even add rules on your order bumps to only show up on your store checkout. Thus, offering a relevant and complementary product by setting up rules is quite a smart strategy.
Since you're designing a global checkout, these rules can be used to regulate the bumps that show up on the checkout page.
To do that, go to the Rules tab.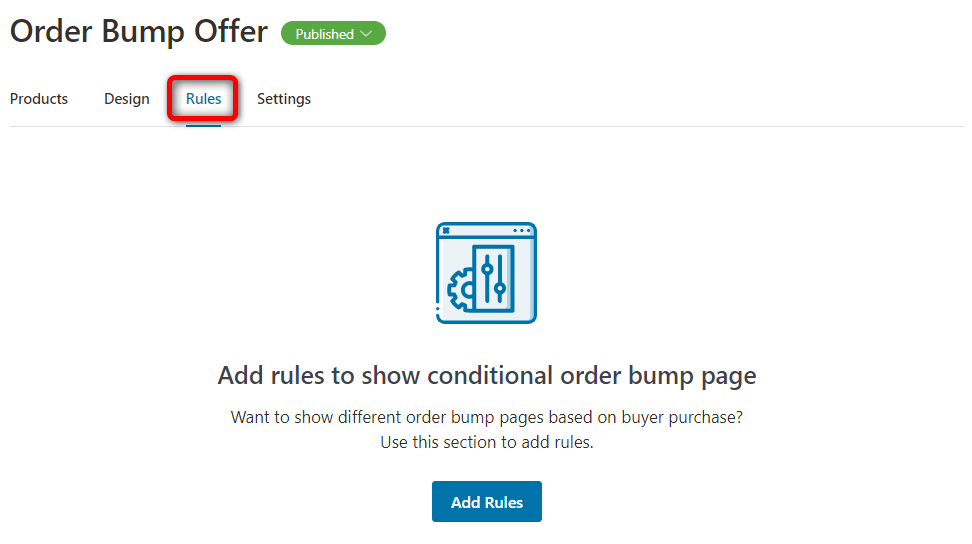 Next, add the rules for your order bumps.
As an example, we've added the 'Health' cart category as a rule to trigger the order bump.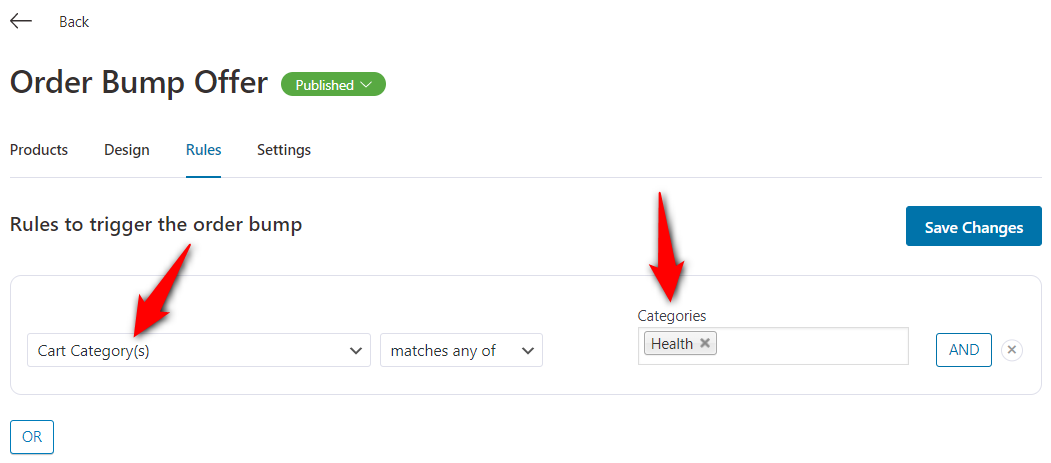 Now, these products will show up as order bumps when a shopper adds the item from the Health category to their WooCommerce cart.
This way, you can add relevant product recommendations on the WooCommerce store checkout page.
Step 6: Publish your store checkout funnel
Once you've saved all your changes, go back to the funnel.
Click on the Draft dropdown option and hit 'Publish'.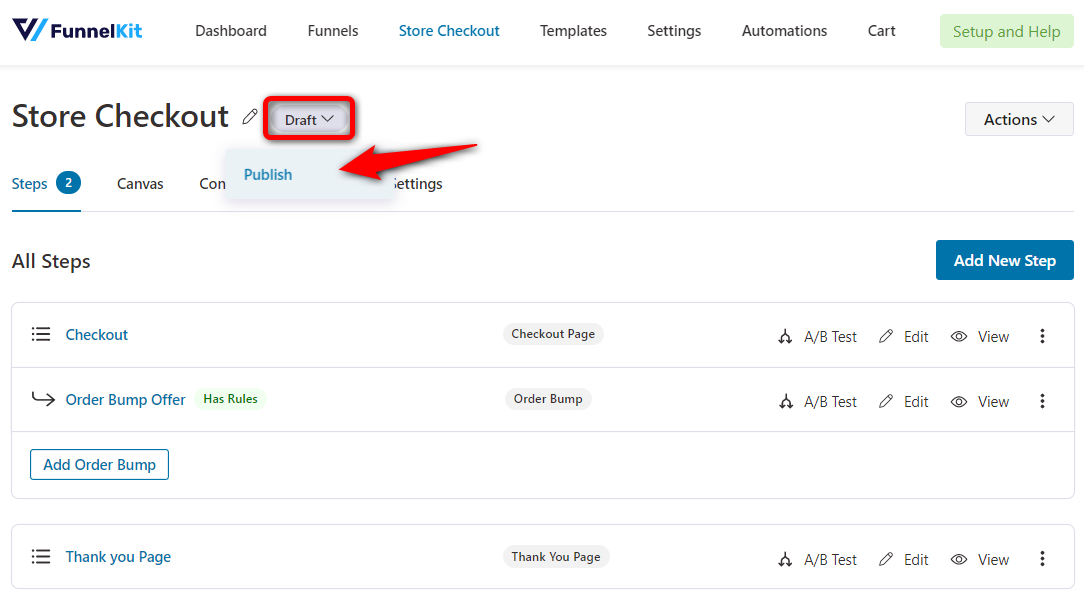 This will activate the store checkout and replace the default WooCommerce checkout page.
Here's how the store checkout page looks like: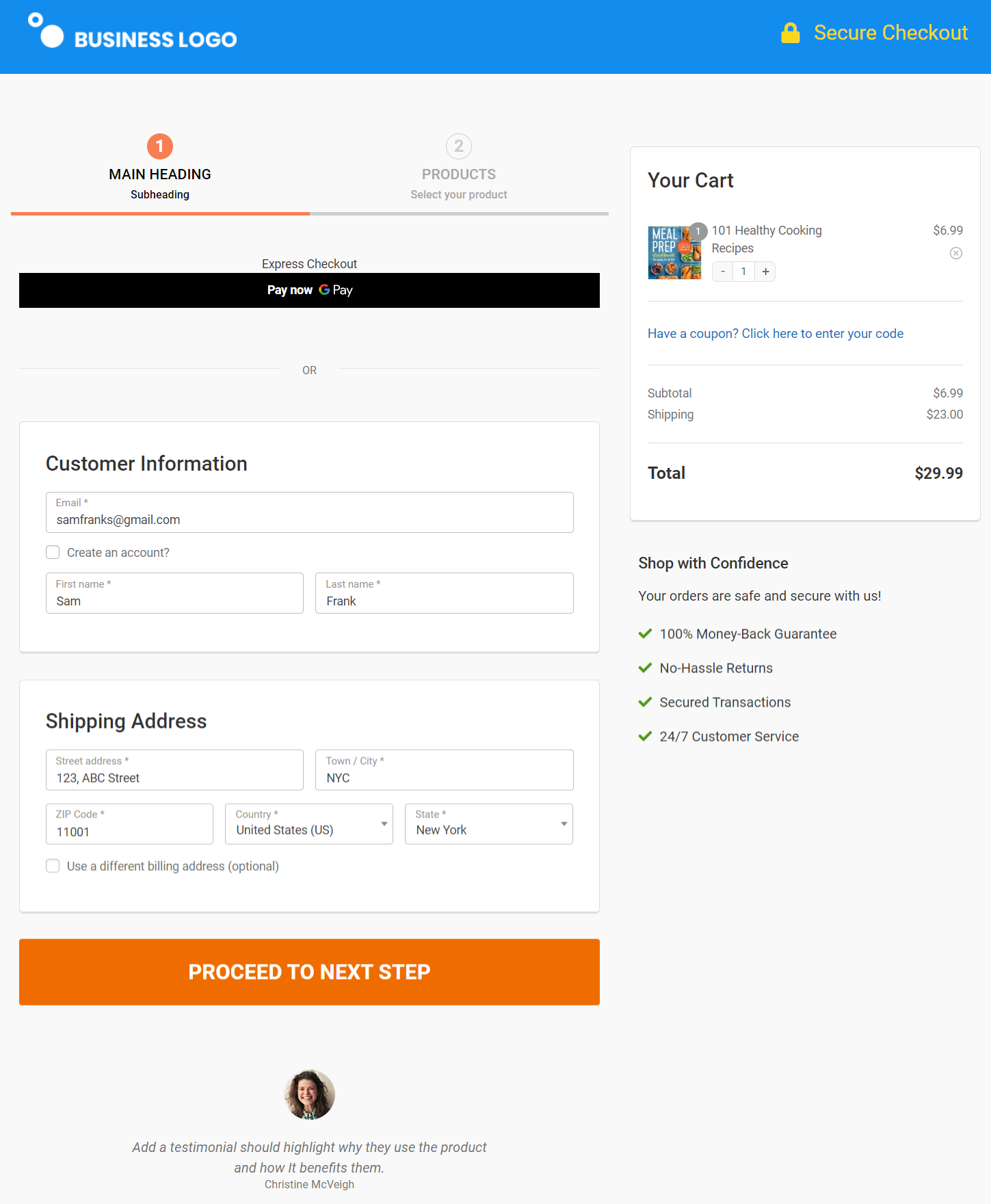 Well done! You have successfully created your WooCommerce checkout with Elementor and FunnelKit.
5 Best Practices to Boost Conversions of WooCommerce Elementor Checkout Pages
Boosting conversions on WooCommerce checkout pages is important to maximizing sales for your online store.
Here are 5 best practices to help enhance your store's conversion rates and streamline its buying process:
1. Simplify the checkout process
Ensure that your checkout process is easy, intuitive and streamlined. Try to minimize any unnecessary steps or fields that could cause confusion or friction in the process.
For that, you can implement guest checkouts, autofill addresses, express payments, etc. The easier and faster the checkout process, the higher the conversions in your WooCommerce store.
2. Display trust and security signals
Build trust with shoppers by displaying trust badges and security seals on the WooCommerce Elementor checkout page.
Include popular trust seals such as SSL certificate, payment security badges and popular payment gateway logos. This way, your store can demonstrate a secure environment where your users can shop.
3. Optimize for mobile devices
Mobile users drive a majority of traffic to eCommerce stores. Therefore, optimizing your WooCommerce store helps deliver a seamless experience across different screen sizes and devices.
Ensure that your checkout is responsive, loads quickly and has a user-friendly interface on mobile devices.
4. Offer multiple payment methods
Your WooCommerce store should cater to the preferences of your diverse customer base using different payment options.
In addition to credit and debit cards, consider integrating with express checkouts as well as local payment methods. For that, you can use a plugin - Stripe payment gateway for WooCommerce to help you set up multiple payment methods.
5. Enable social proof and testimonials
Social proof helps build trust and credibility for your products and WooCommerce business. Encourage customers to leave reviews after purchase and demonstrate positive feedback to reassure potential buyers.
Witnessing such experiences from other customers help boost confidence and lead to more conversions.
👉 Check out our detailed WooCommerce checkout optimization tactics in our post.
Frequently Asked Questions on WooCommerce Elementor Checkout Page
We have answered some of the most commonly asked questions related to customizing the checkout page with Elementor:
1. How do I create a WooCommerce checkout page with Elementor?
With Elementor's WooCommerce Checkout Widget, you'll be able to create a checkout page. However, the widget has some limitations. That's why we recommend you to use FunnelKit. It has pre-built checkout templates, a built-in form field editor, optimization options, single and multi-steps checkout, and many more.
2. Can I use WooCommerce with Elementor?
Yes, you can use WooCommerce with Elementor to customize your shop page, product page and checkout page of your online store.
3. How do I customize WooCommerce checkout?
You can customize your WooCommerce checkout with FunnelKit's Funnel Builder. It's compatible with Elementor, Divi, Oxygen, Gutenberg, and many more page builder plugins. You'll be able to customize the design, form fields, incorporate checkout optimizations, and more. Here is a dedicated in-depth post on customizing your WooCommerce checkout with Elementor.
4. How can I test my checkout page and shopping process in WooCommerce?
You can enable the test gateway and test your store checkout view and purchase transactions in your WooCommerce store.
To enable test payments, go to FunnelKit Settings ⇨ One Click Upsells. Enable the Test Gateway By FunnelKit from there.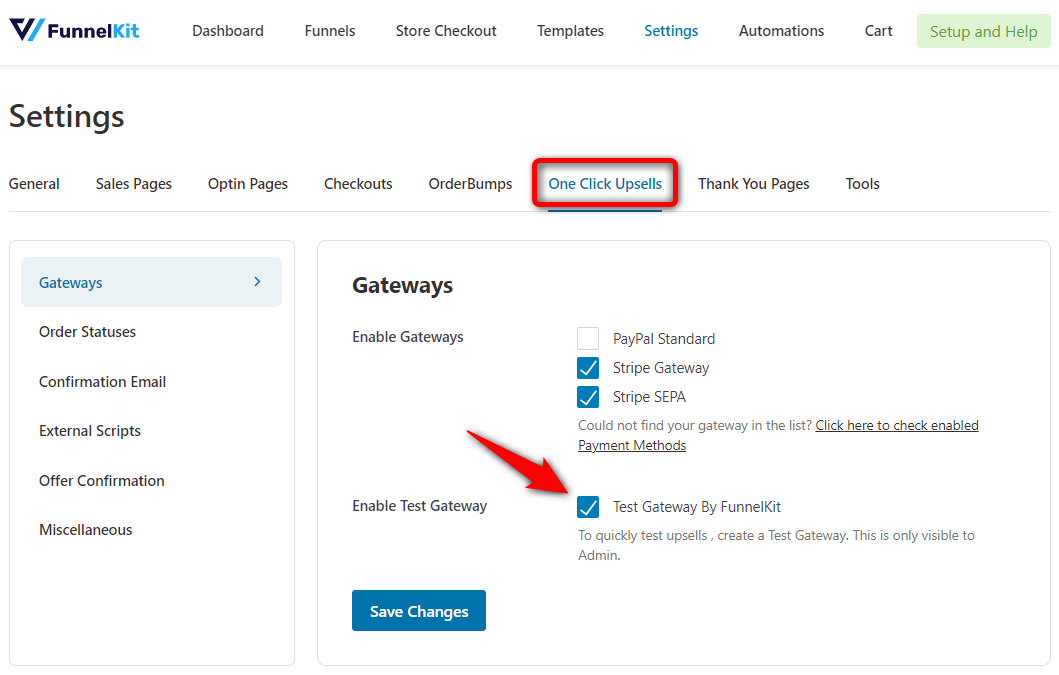 Then test purchase an item from your store by going to the checkout flow and selecting Test Gateway by FunnelKit on the checkout page.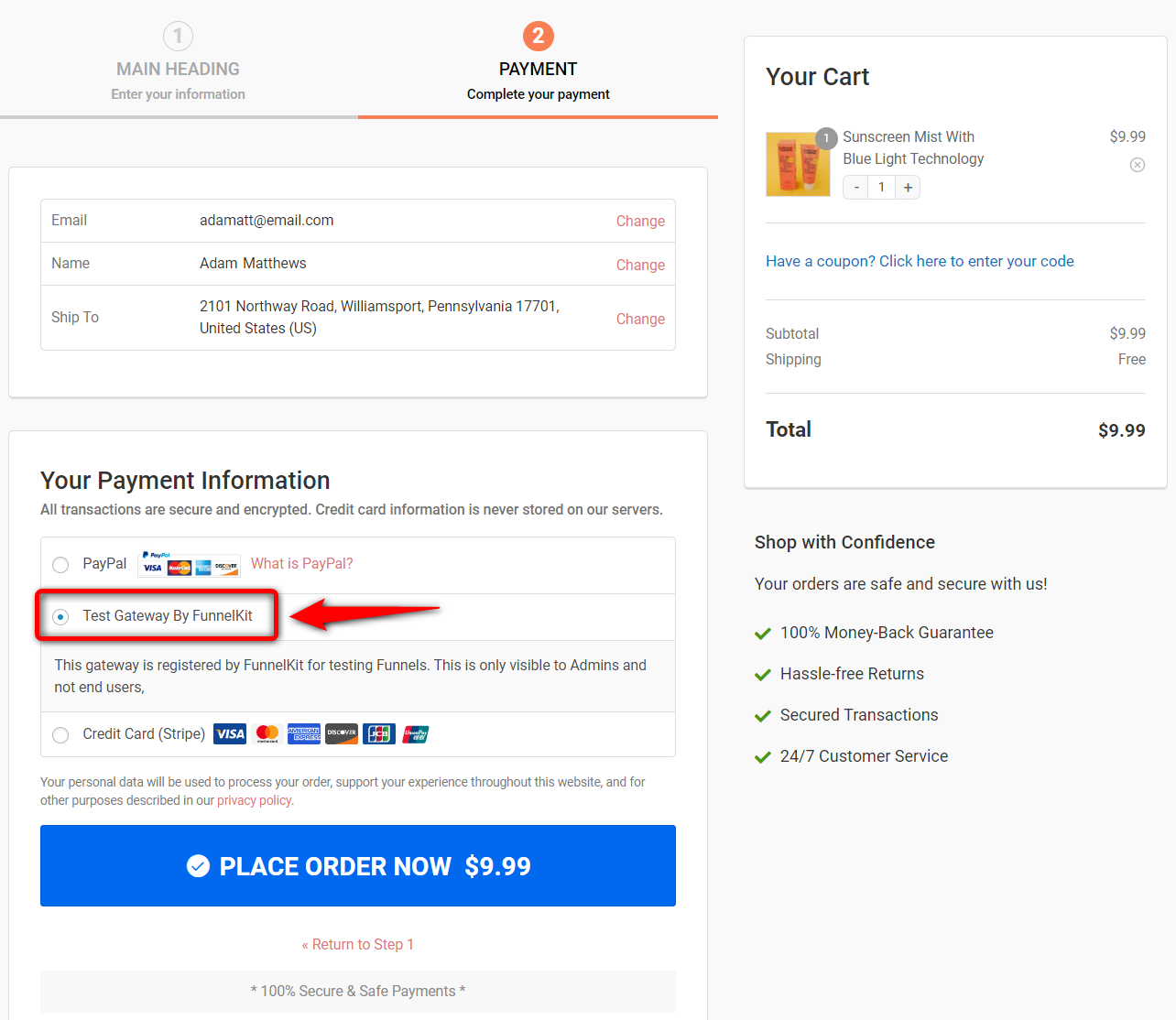 This allows you to test your checkout process by completing a test transaction in your WooCommerce store.
Ready to Create Your WooCommerce Checkout Page with Elementor?
Customizing your WooCommerce checkout page is crucial to ensure a seamless user experience for your shoppers.
Since this is the most important page in your store, you can't rely on the default WooCommerce checkout, which isn't designed to convert.
In this post, we looked at what customizations you can do on a WooCommerce checkout page using Elementor.
We went over the amazing widgets you need to make your checkout page look exactly how you want. And, of course, the pre-built Elementor checkout templates within FunnelKit to complete a powerful duo!
You can even go beyond the design and configure seamless optimizations for high checkout conversions.
We're sure you're excited about implementing FunnelKit Checkout and seeing all the amazing results a compelling Elementor WooCommerce checkout page can bring for you!
So what are you waiting for?