Do you want to offer a frictionless buying experience to your customers and ultimately make more sales? Well, a WooCommerce order form can be your best bet.
Presently WooCommerce doesn't provide a smooth checkout process.
If you want to purchase a product, you've to add it to your cart from the individual product pages. Further, proceed to the checkout to complete your purchase. A bit sluggish for your shoppers, right?
However, you can speed up this process by enabling a checkout form embedded on the product page for a faster checkout process.
Sounds interesting?
In this post, you'll learn what a WooCommerce order form is and the best plugins to help you create one.
Further, we'll demonstrate the step-by-step process of creating a one-page order form in WooCommerce.
What is a WooCommerce Order Form?
A WooCommerce order form is a form layout that combines the product selection and checkout process into one page.
Order forms are typically used to display items from a specific product category, allowing users to order bulk items. They'll be able to increase the quantity of the carted items and even order variable products.
For example, a beach care pack (sunscreen, anti-sunburn lotion, kids sunblock, and after-beach soothing cream) - all kept in a single one-page order form one after the other.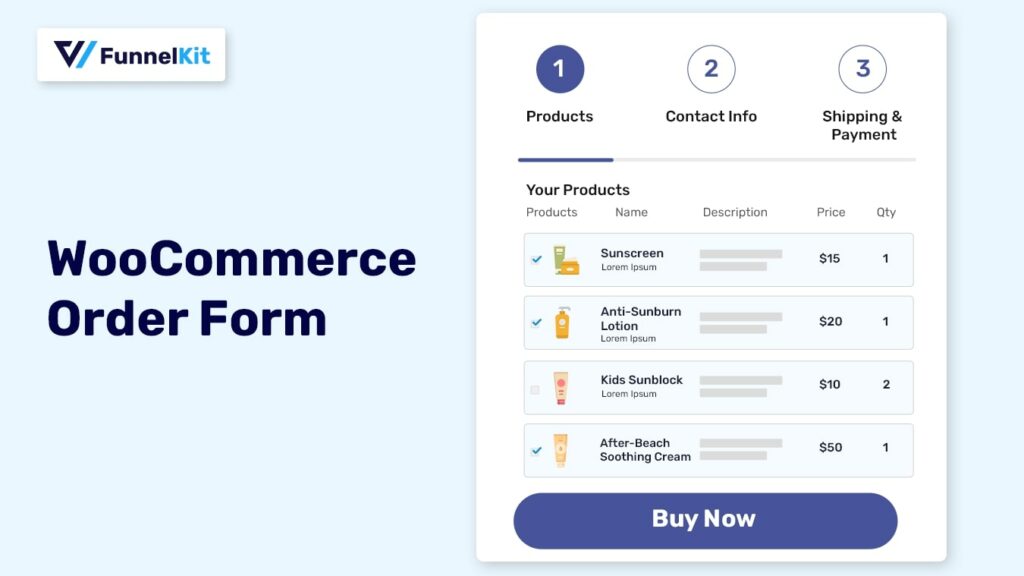 This way, a user just has to check all the items they wish to buy and fill in the payment information to complete their purchase.
Result? An order effortlessly gets placed!
It's like going to a shopping mall and picking items from a single section that together helps solve one's needs.
This is a proven way for certain types of products to minimize friction in the order process and boost conversions.
Why Do You Need an Order Form in WooCommerce?
Normally WooCommerce has a product catalog. You have your products listed there.
If a user wants to check the details of an item, they have to go to their product's page. They click on the "add to cart button" to add that item to their shopping cart if it interests them.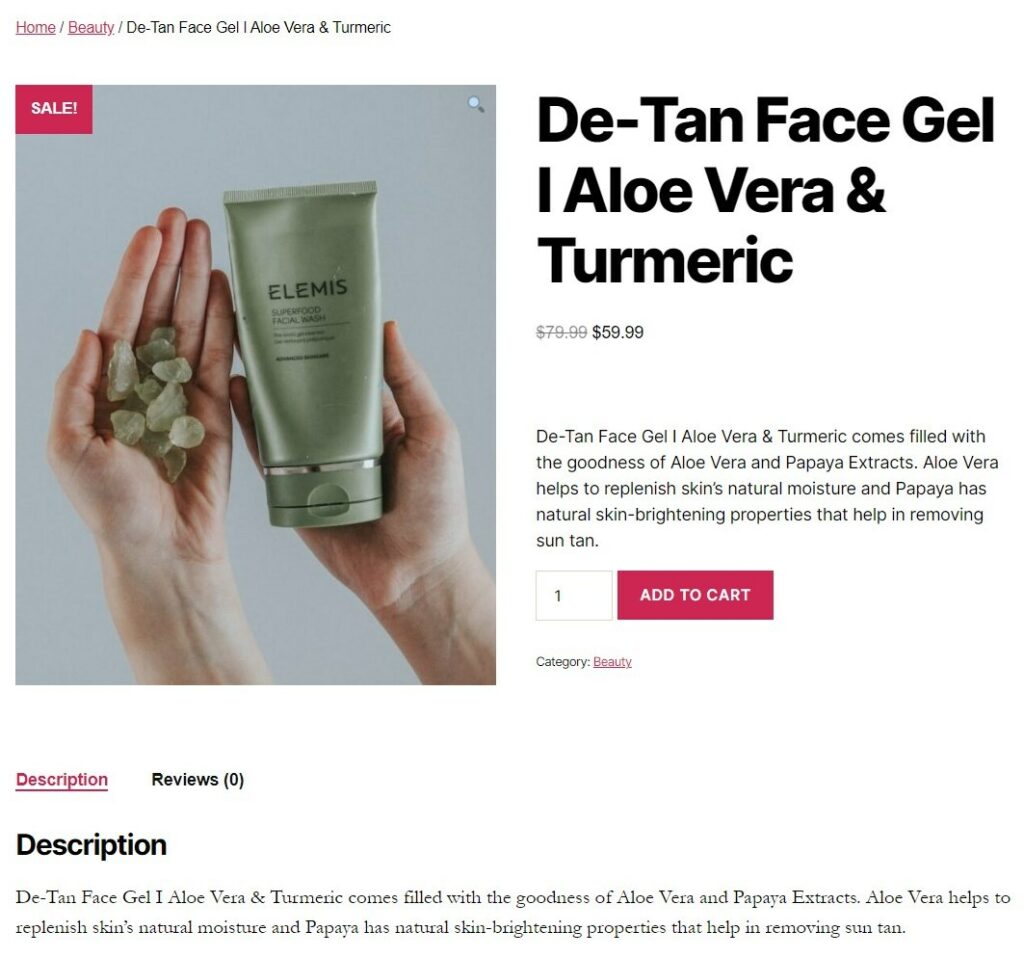 If looking to buy more products, shoppers have to repeat this process for each item, adding delay to the buying process.
Now if a user wants to make a purchase, they will have to proceed to the checkout from the cart's page. Then finally, enter their information and complete the checkout to place their order.
This is the traditional WooCommerce checkout flow.
On the other hand, a WooCommerce order form makes things easier by placing the items of a category one after the other. It has all the essential information for shoppers to check and verify, such as the product's name, description, quantity, etc.
It allows users to change the quantities of an item, select or unselect the items or even choose sizes and variations of a specific item.
This order form layout allows shoppers to select the items, fill out the checkout form, and hit the buy button.
Let's take a look at the following one page order form created with FunnelKit (we've demonstrated the step-by-step process later in this post):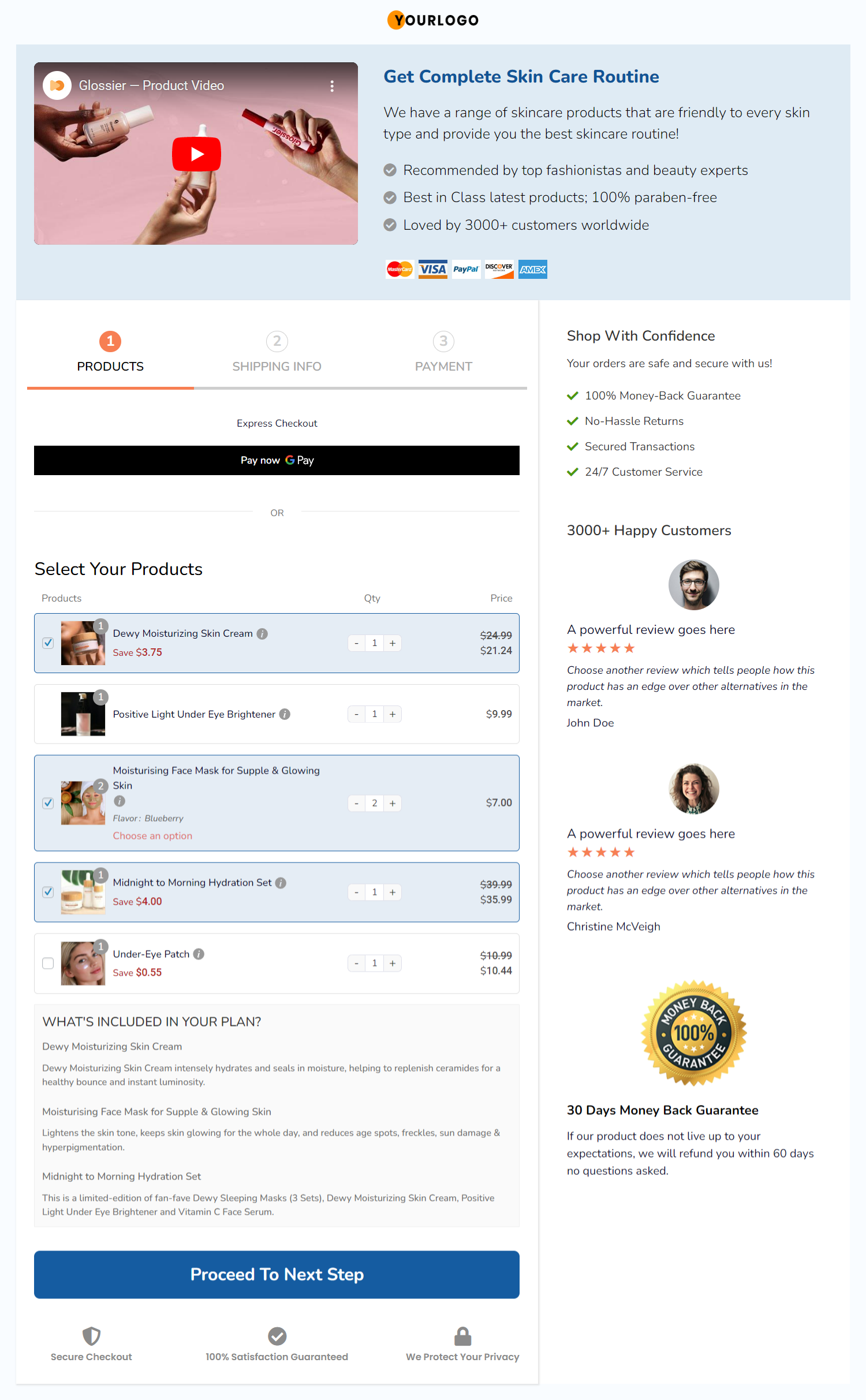 That's why WooCommerce order forms are quite convenient for shoppers to buy in bulk and save time.
Top 3 WooCommerce Order Form Plugins
In this section, we'll be talking about WooCommerce bulk order form plugins.
We have presented these plugins after carefully trying and testing them in our WooCommerce store. That's why we're able to rank them on the basis of their ease of use, functionality and value for money.
Let's discuss each of these order form plugins for WooCommerce now.
1. FunnelKit's Funnel Builder
FunnelKit has a wide array of plugins that help you optimize your WooCommerce store and its processes to boost sales conversions.
Its Funnel Builder is one of the most powerful sales funnel builder plugins for setting up high-converting funnels. This includes your opt-in pages, checkouts, landing pages, one-click upsells/downsells, thank you pages, etc.
FunnelKit's checkout lets you customize your checkout pages and use them the way you want. It includes your order forms, store checkouts, one-page checkouts, multi-step checkouts, and more.
You can add different products to your checkouts and structure them into an order form layout.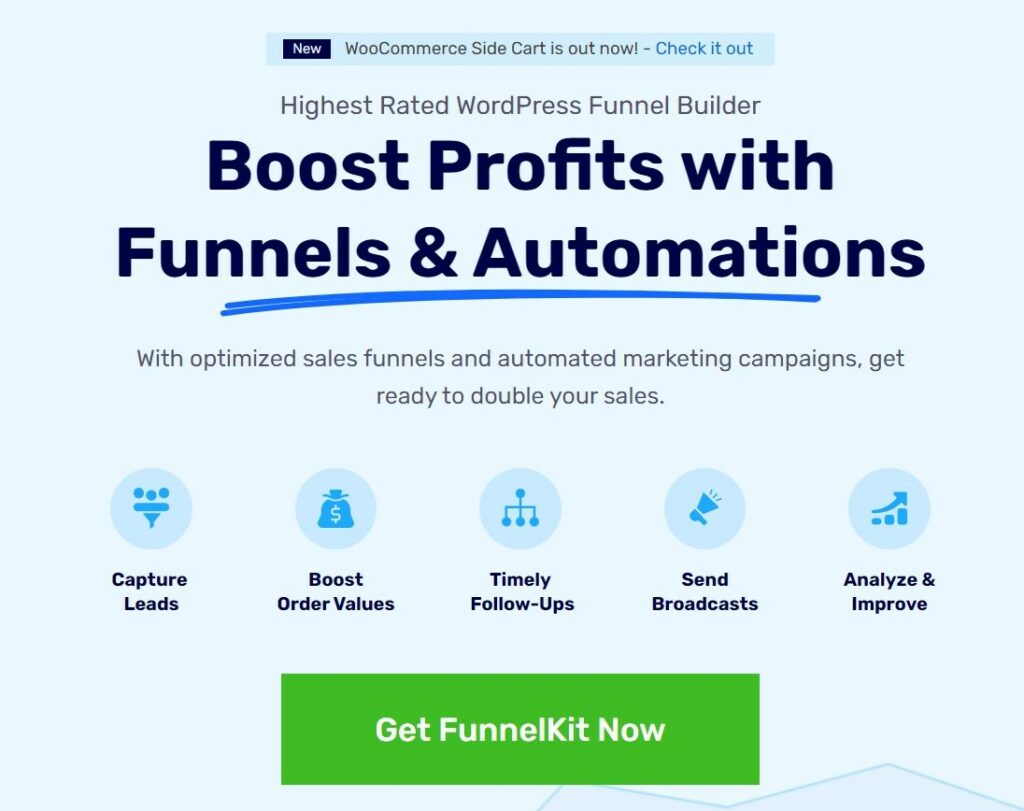 Here are a few essential features that make it the best WooCommerce order form plugin:
Customizable checkout templates - FunnelKit has a template library that lets you import your checkout templates as per your requirements. You can further customize them with your favorite page-building tools.
Bulk product addition - Add multiple products to your checkout page from your WooCommerce store. It allows your shoppers to explore your product catalog and gives you a high chance of conversions.
Quick checkout optimizations - Optimize your order forms further for faster checkouts by enabling express payment buttons, Google address autocomplete, multi-step field preview, auto-apply coupons, etc.
Checkout form field editor - Simplify your checkout form with FunnelKit's field editor. It lets you modify your checkout fields by adding, editing and deleting the fields and sections within your checkout form.
Despite its high price, FunnelKit's Funnel Builder offers plenty of features to enhance your WooCommerce store's conversions. Its pricing plans start at $99.5 a year with lucrative freebies and discounts.
2. Bulk Order Form For WooCommerce
The plugin comes with a simple and intuitive interface that you can use to create customizable WooCommerce product tables that are also device-responsible.
On top of that you can add useful options such as search fields, sorting, pagination, filters, and more.
You can showcase orders in many ways such as list view, order forms, product catalog, and more.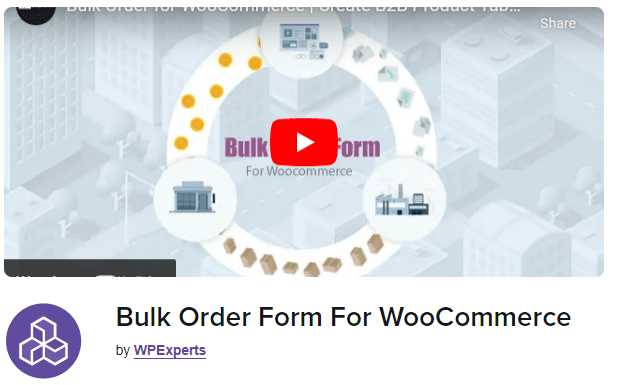 Here are some of its essential features:
Drag and drop builder –  You don't need to do any coding to create an order form here. You can build a product table just with drag and drop technology.
Fully responsive design – Product tables created with this WooCommerce plugin is device responsive and look great on all devices irrespective of size and shape. 
Sorting and search options –  You can add advanced search options with a dropdown filter bar. This way customers can filter by product categories, tag, color, or product size, etc. They can also search for products based on title, and SKU.
Bulk Order Form For WooCommerce will cost you $6.59/per month for the first year and will cost you $79 if you buy the annual package. 1-year support is also included in this package.
3. Quick Order for WooCommerce
This plugin from WooCommerce lets you add a bulk order form to your store.
It's a simple plugin that lets shoppers search for an item they want to purchase, enter the desired quantity, and complete the checkout.
With this plugin, you don't need to browse through the bulky store catalogs and visit individual pages to place a bulk order. Instead, shoppers can now hit purchase from the orders page search bar.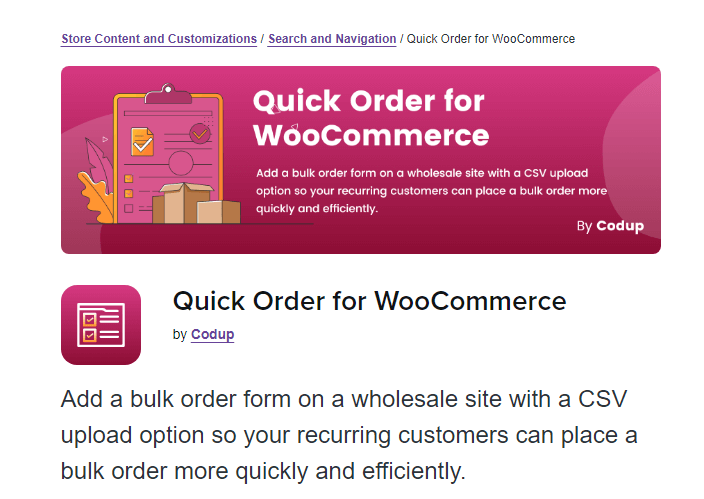 Here are some of its exclusive features:
Powerful search functionality - Shoppers can search for the items they want to buy with the product's name, SKUs, etc. The search result displays thumbnails to make identifying and placing the order easier.
Automated ordering process - Shoppers can upload their order list in a CSV format and automate their entire ordering process. They don't have to manually search for the products again.
Multiple quick order forms - Quick Order for WooCommerce lets you create multiple bulk order forms and embed them into different pages via shortcodes.
This plugin lays out its order form in a traditional style as its checkout page. It doesn't give you any customization options to style your forms into modernized ones.
Quick Order for WooCommerce will cost you $49 a year. However, paying this amount just to create a bulk order form isn't quite worth it.
How to Create an Order Form in WooCommerce? (Easy, step by step guide)
To create our WooCommerce order form, we'll be using FunnelKit's Funnel Builder.
The Funnel Builder by FunnelKit is the most powerful sales funnel builder designed for WordPress. It lets you create opt-in pages, single page and multi-page checkouts, one-click upsells, thank-you pages, and more.
You can design single page order forms with pre-designed templates by using page builders of your choice.
Furthermore, it's available in both the free and premium versions. However, we'll be using Funnel Builder Pro to take advantage of its premium templates, AOV-boosting order bumps and upsell offers.
Feel free to visit this guide for installing and activating the Funnel Builder.
Let's get started.
Step 1: Add a new funnel
Go to FunnelKit ⇨ Funnels from the menu and hit the 'Add New Funnel' button.

It'll take you to the templates page. Select the 'Sales Funnel' and you'll be shown all the WordPress sales funnel templates.
FunnelKit is compatible with different page builders such as Elementor, Divi, Oxygen and Gutenberg. If you want to use other page builders, you can create your funnels using shortcodes.
Here, we'll select Elementor and click on the 'Stunner' template.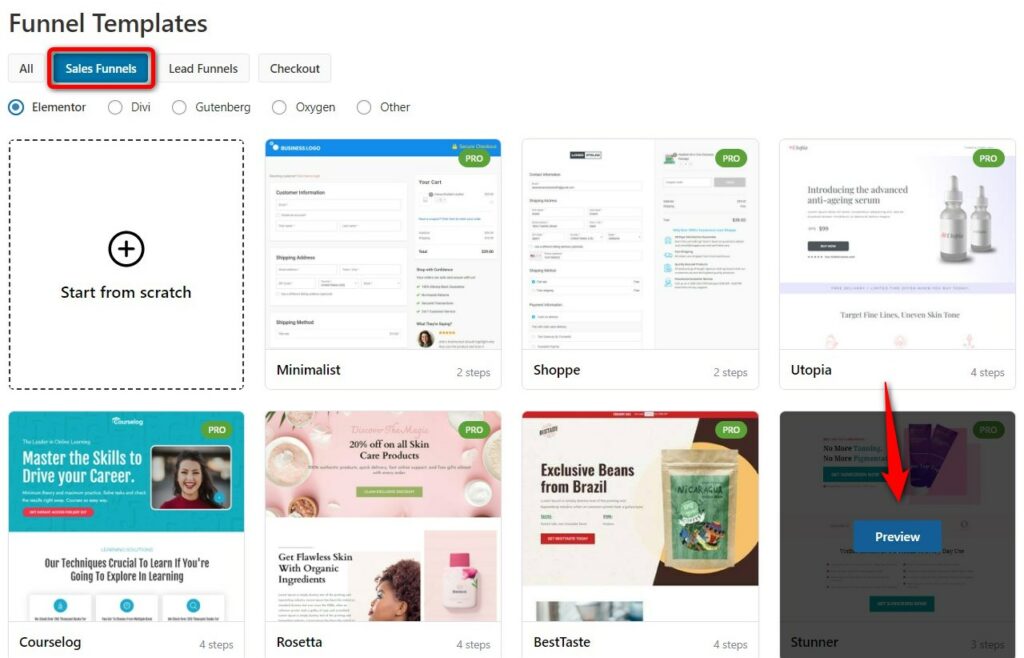 You'll be able to preview the pages in this funnel template.
Choose the number of steps you want on your checkout and hit 'Import This Funnel'.
Name your sales funnel template.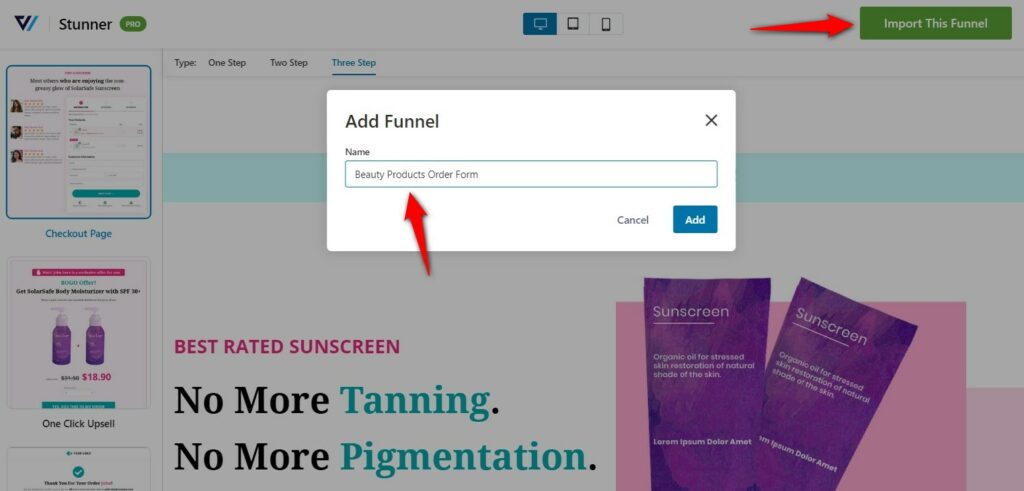 Clicking on 'Create' will add a new funnel to your FunnelKit's workspace.
Step 2: Edit the WooCommerce order form
Hit 'Edit' next to your checkout page to start customizing it.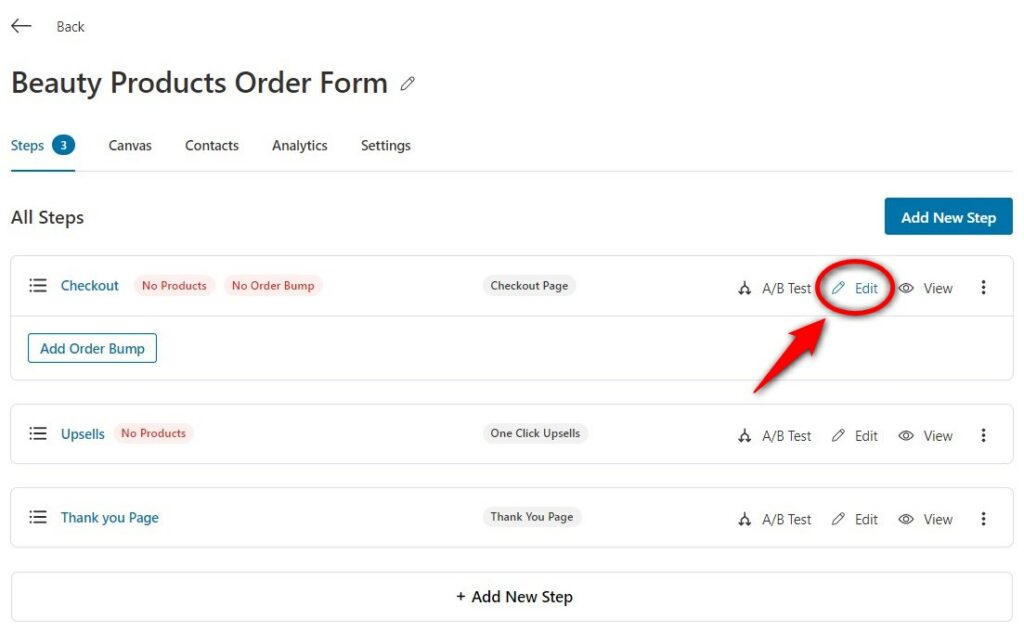 From the Design tab, click on 'Edit Template'.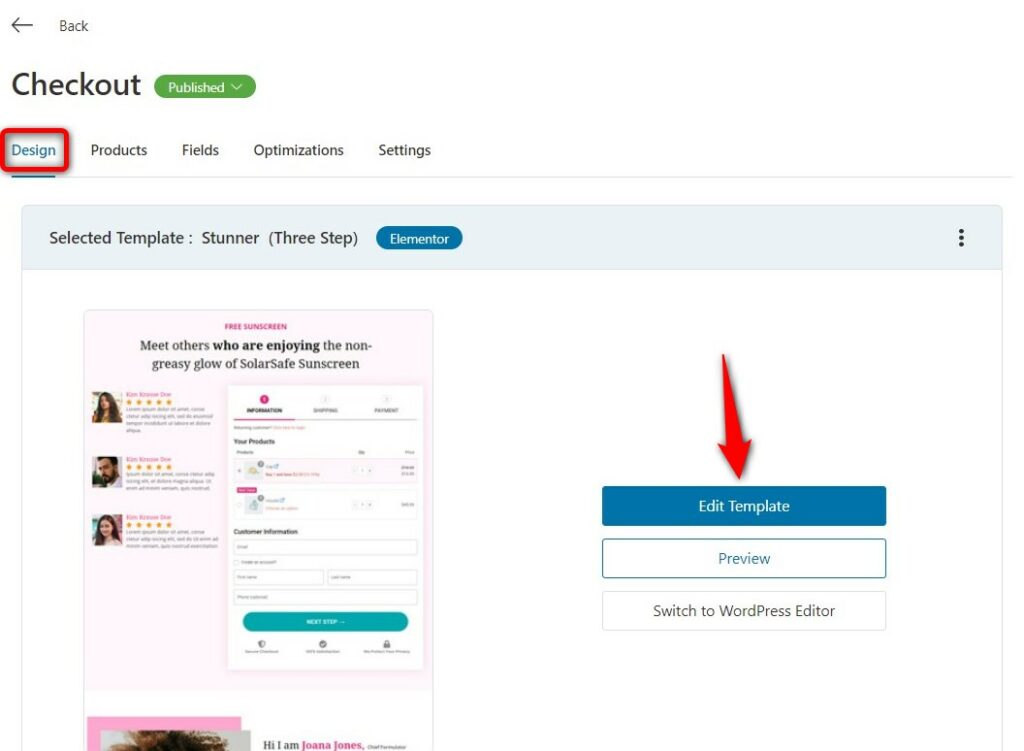 This page will load up in the page builder you previously selected. Since we chose Elementor, it'll load in it.
The templates are fully customizable. Edit and customize the elements on your order form, including the logo, heading, image, text, and more.
MUST READ: Customize the Design of Your WooCommerce Checkout Page
Make sure to hit 'Update' when you're done.
Step 3: Add products to your order form
Go to the Products tab.
Here, you'll be able to add your products. To do that, click on the 'Add Products' button.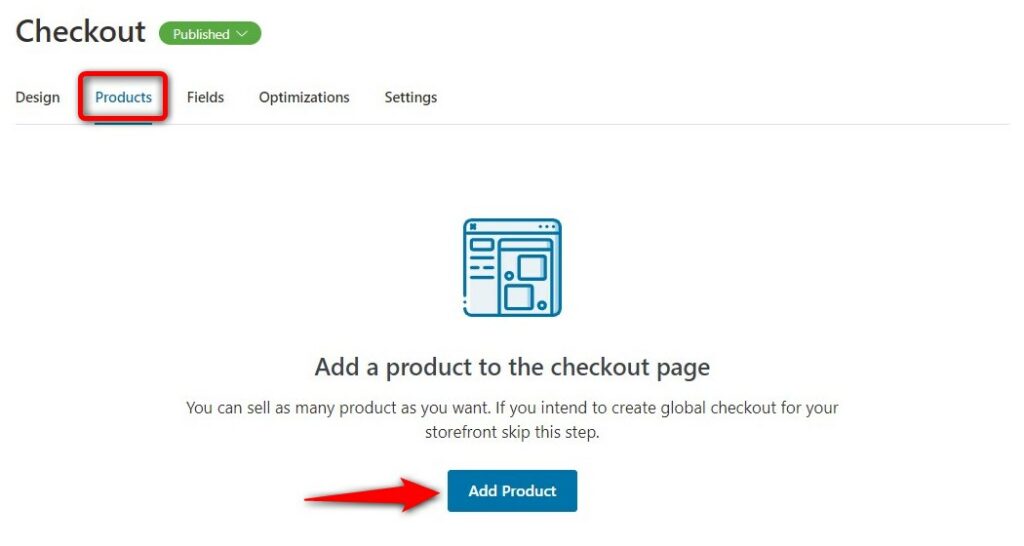 Simply search for the items you want to add. Then, select the item and hit 'Add'.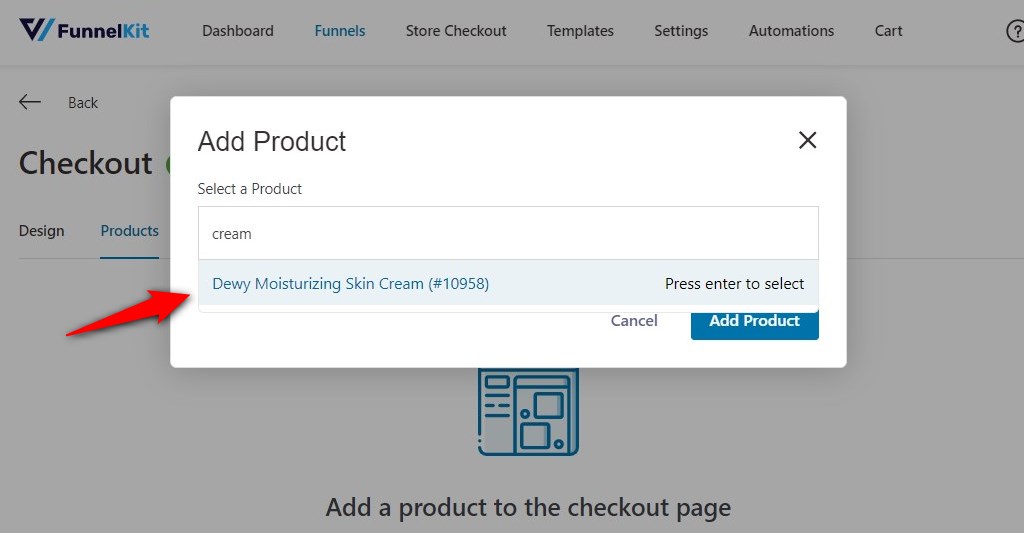 Repeat the same process and add multiple items. Please note that you can add simple as well as variable products here.
As you can see, we have added 5 products from the same category to our WooCommerce order form: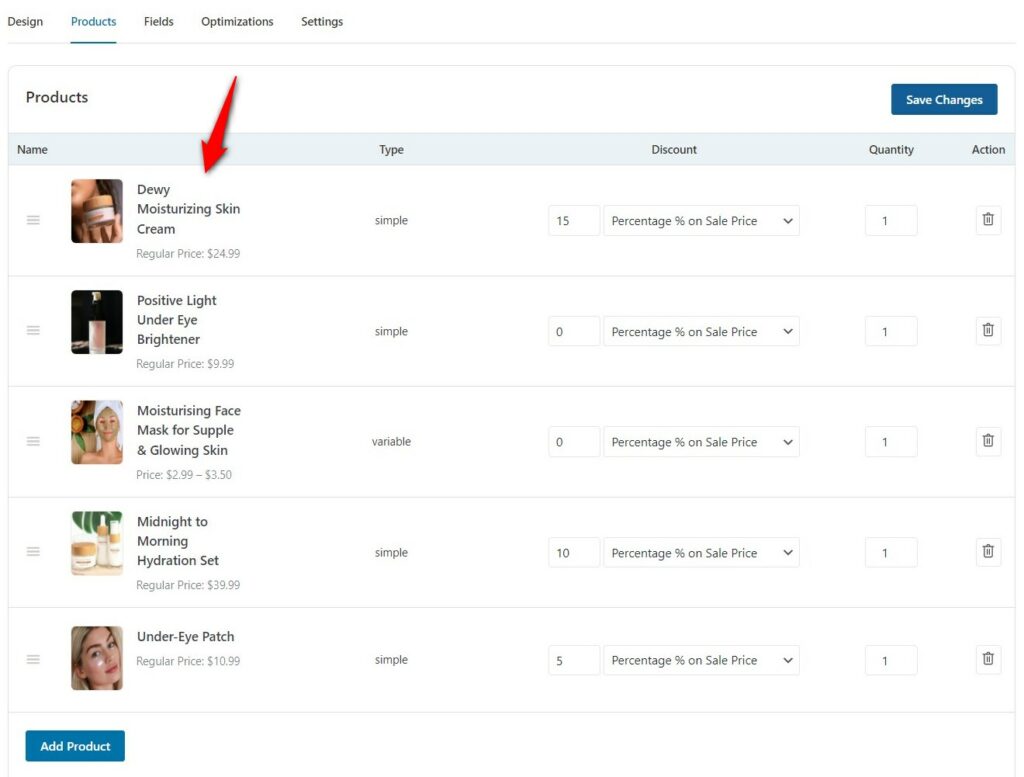 Scroll down and enable the product selection settings to allow buyers to select any of the above products.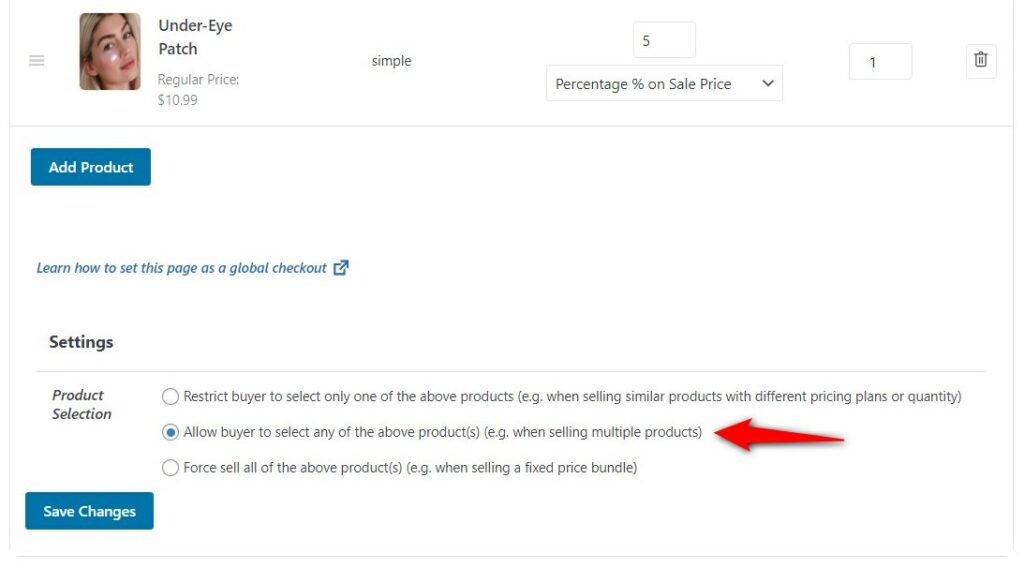 Click on 'Save Changes' when done.
Step 4: Add the products field to your WooCommerce order form
Next, go to the Fields tab.
Drag and drop the products field to your order form under a section. You can even add a new dedicated section by clicking on the 'Add New Section' button.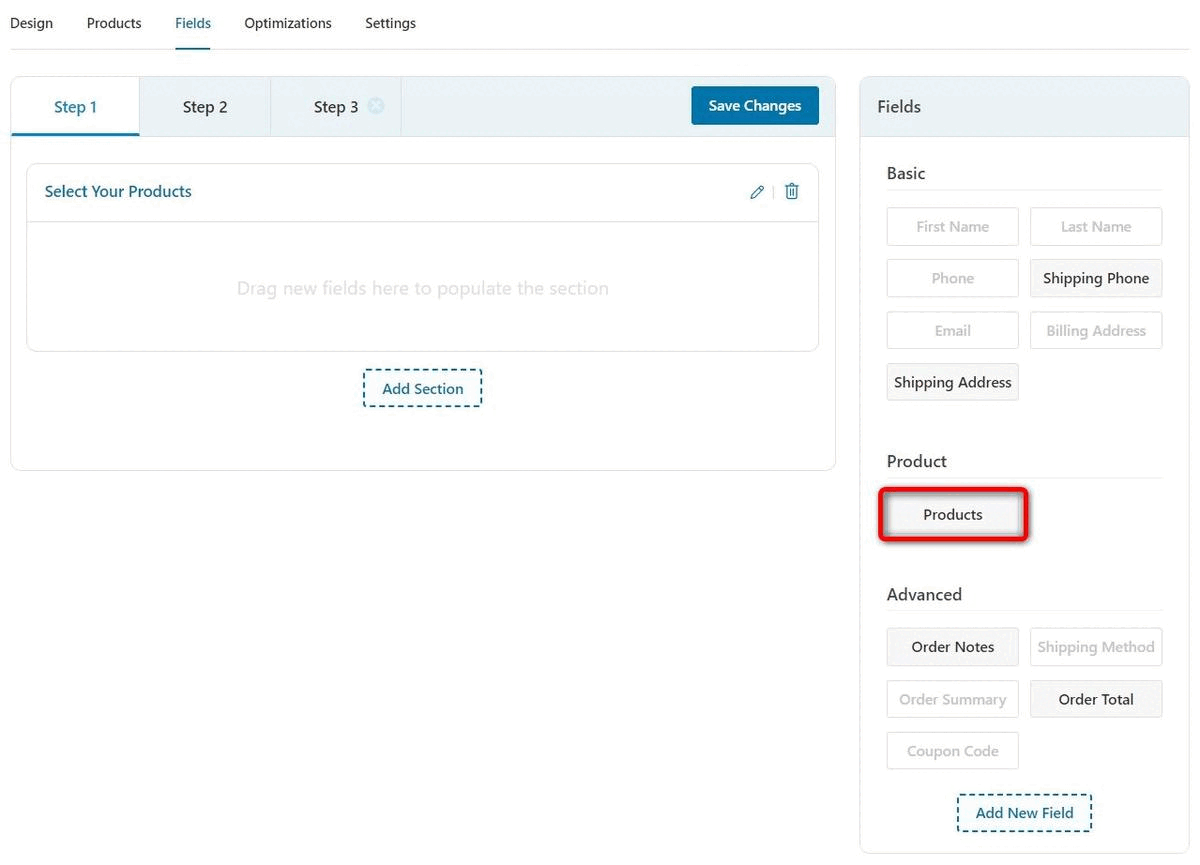 Now, the products that you've added in the previous step will be shown on the order form.
You can further modify the title and description of your products to be displayed in your WooCommerce order form.
All you have to do is click on the 'Products' field.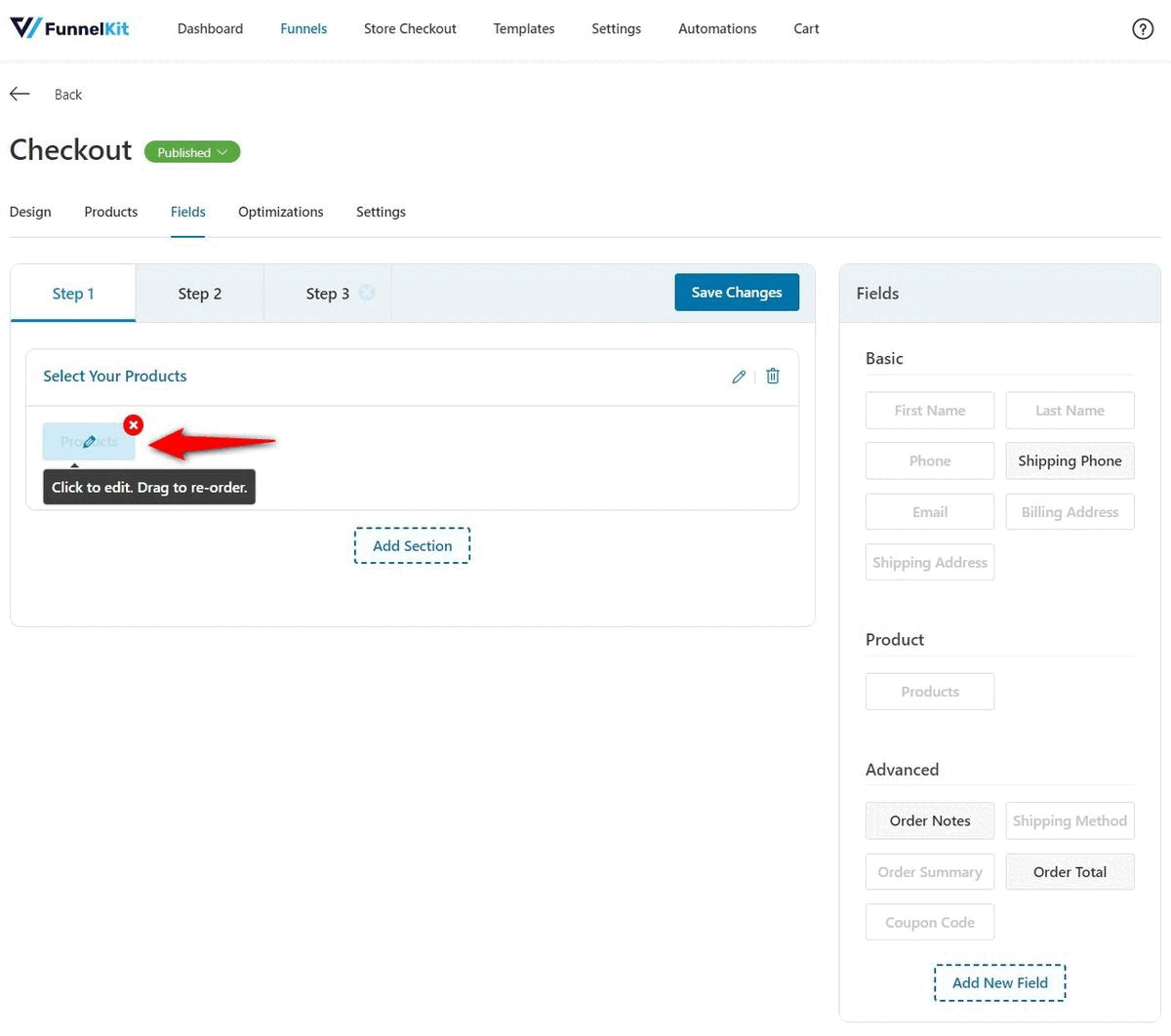 Make your adjustments and click on 'Save' when you're done.
This is what our WooCommerce order form looks like:
Step 5: Customize your order confirmation page
Underestimating the potential of your thank you page is the biggest mistake you can't afford to make.
This is a perfect page to keep your conversation going forward. You can show your appreciation with a video or give some more products to explore.
To customize your order confirmation page, go back to the funnel. Click on 'Edit' to customize your thank you page.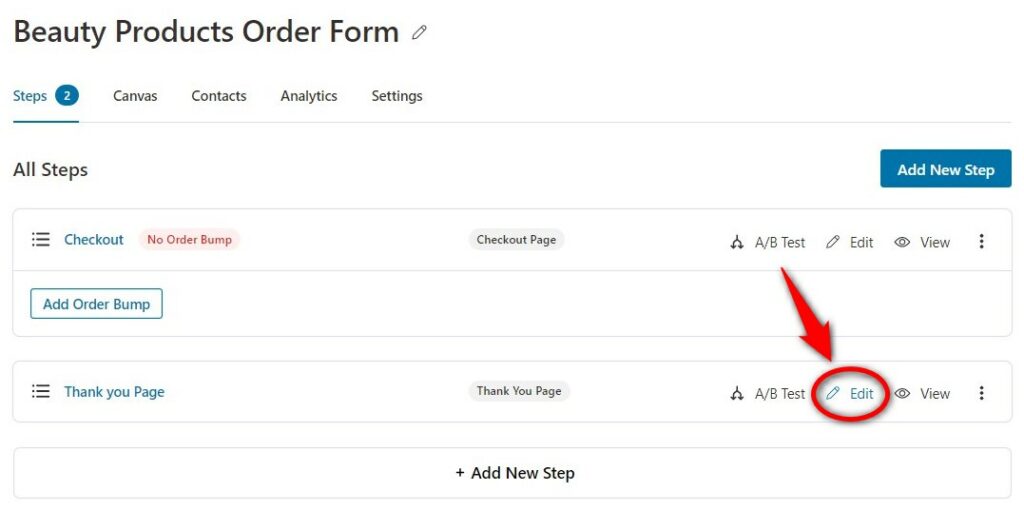 Feel free to modify the text, insert images or videos, add some sections, and more. All FunnelKit's templates can be customized the way you want.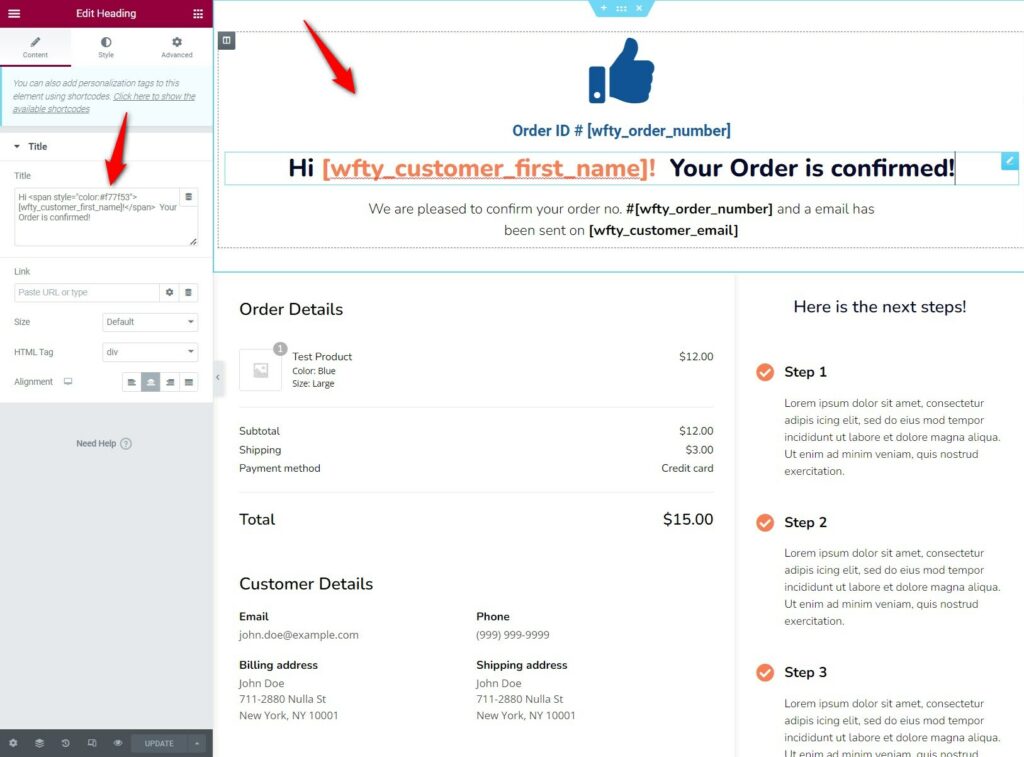 Refer to our thank you page guide to set up custom order confirmation pages and add significant value to your buyer's journey.
That's it! This is how you can create your WooCommerce order form
3 Tips to Optimize WooCommerce Order Forms for High Conversions
Now that you're ready to set up order forms in WooCommerce, here are some effective strategies to level it up.
Add order bumps and post-purchase upsells/downsells
An order bump is a complementary offer presented on the checkout page to boost the average order value.
Its clean UI and compelling copy act as a subtle reminder for shoppers to add these items before hitting purchase.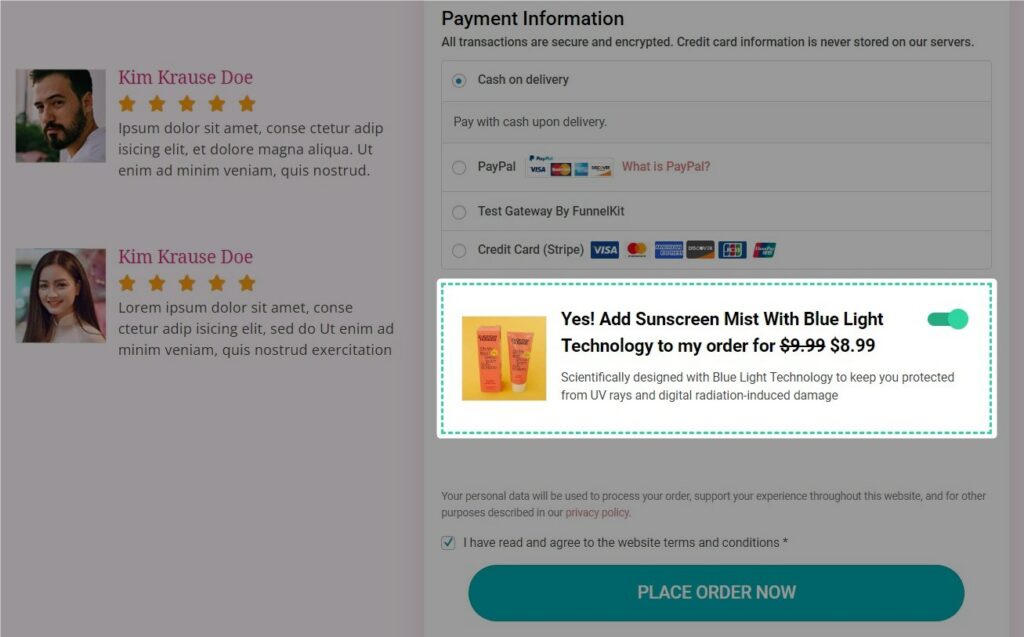 One-click upsells are the post-purchase offers shown to customers when they have secured the initial purchase.
Setting up these offers from pre-built templates takes less than 5 minutes.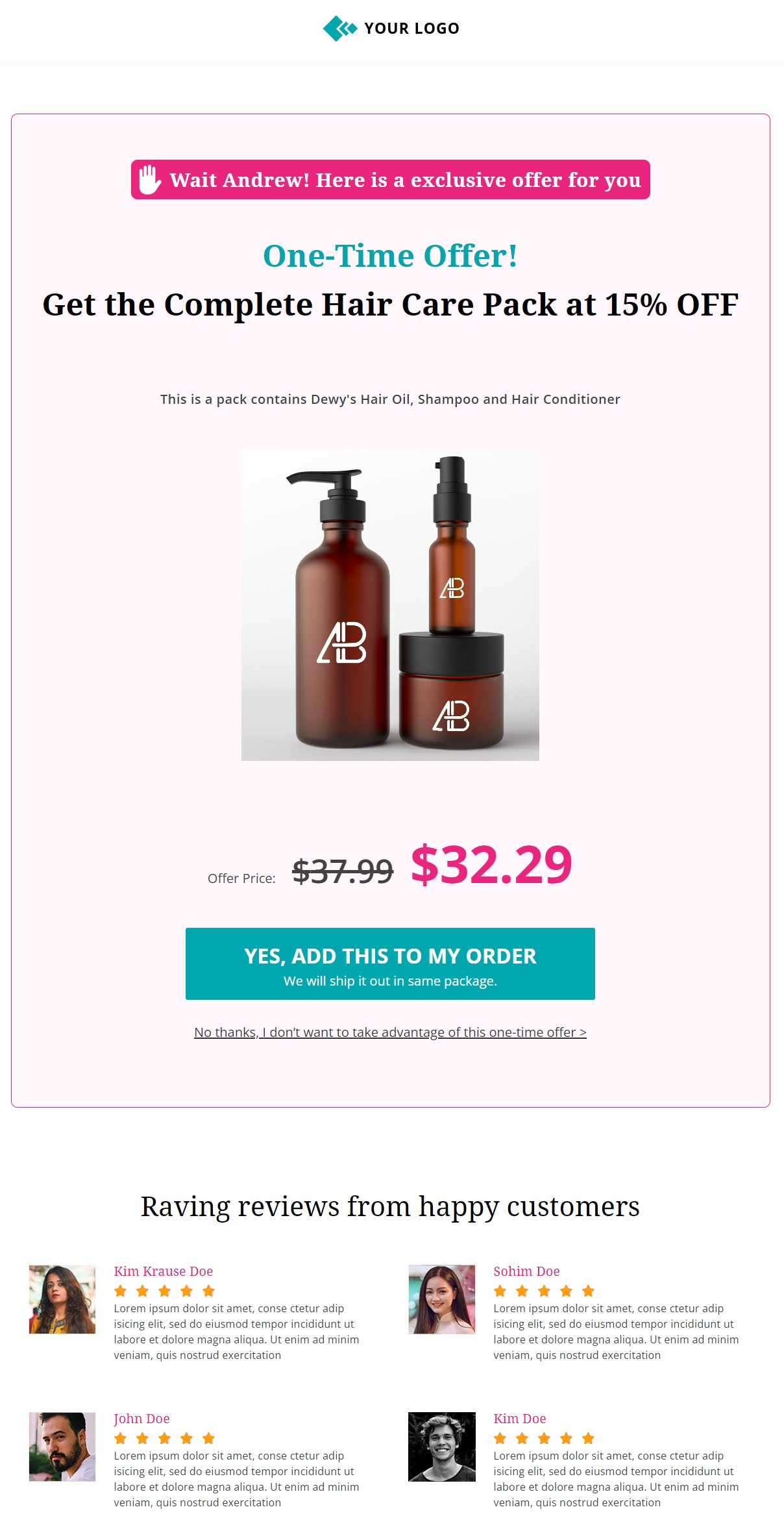 Putting up different choices of items as your order bumps and upsell offers have a high chance of conversions.
Add express checkout options and facilitate the instant purchase
Optimize your checkout process for quick purchases by enabling express payment options in your WooCommerce order page.
FunnelKit's Funnel Builder lets you present express payment options such as Apple Pay and Google Pay.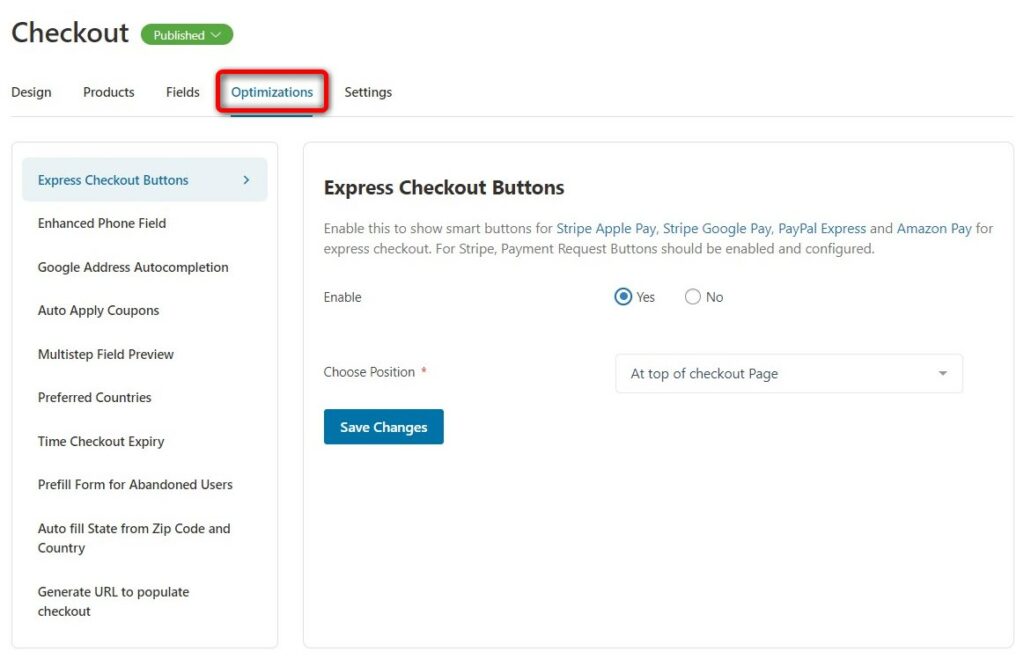 You can allow your shoppers to pay in installment plans. This way, users can afford to pay in bulk.
Also, encourage faster checkouts with Google Address autocomplete. It suggests your users select the exact address when they begin typing in, minimizing delivery issues.
Set up abandoned cart automation to convert your users
About 7 out of 10 shoppers abandon the cart without completing their purchase. Imagine the revenue you're losing!
That's why automated sequences are the way to go. You can set up abandoned cart sequences to bring your shoppers back to your store and encourage them to complete their purchases.
Setting up cart abandonment workflows is a priority for every marketer and you should not miss it too.
All you need to do is go to the Automations section.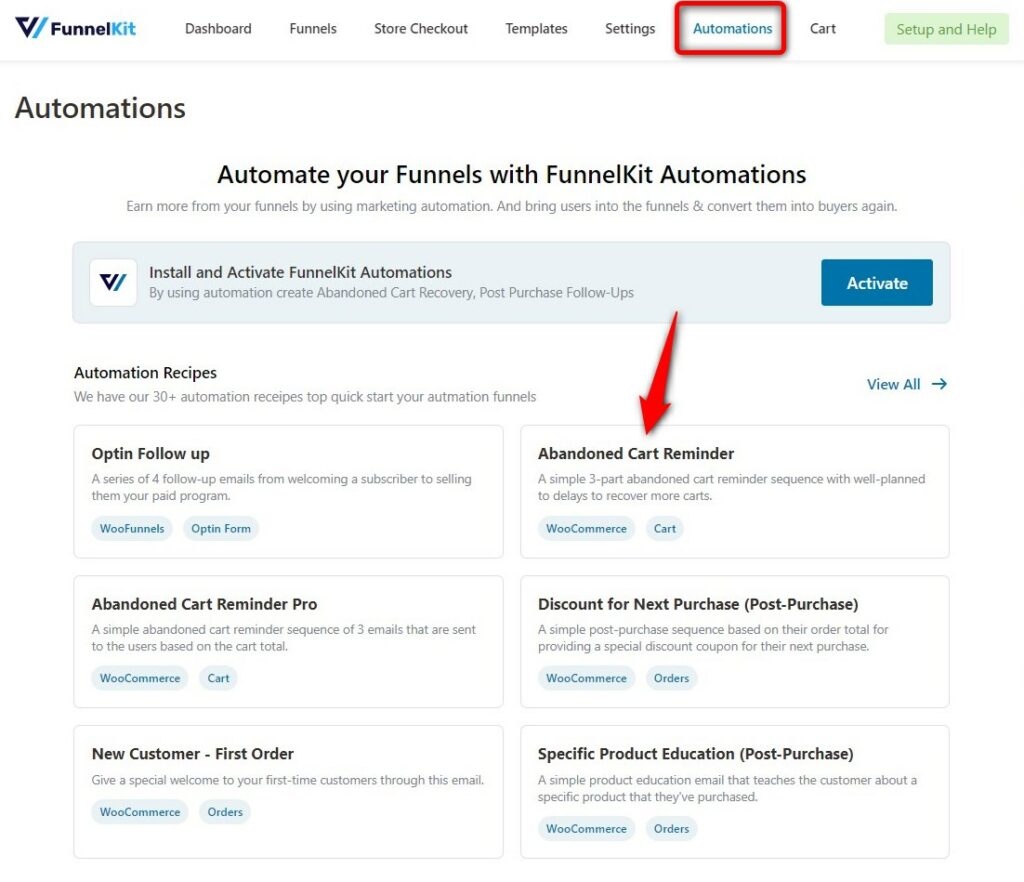 FunnelKit Automations has free and premium pre-built automated recipes ready to be used to enhance your sale conversions.
Frequently Asked Questions (FAQs)
Here, we have answered some of the common questions related to the order forms in WooCommerce:
What is an order form template?
An order form template is a pre-built layout that is designed to help you set up order forms in your online store.
If you're looking for these templates, FunnelKit has a full library of them. All the order form templates available there are customizable and optimized for all devices.
What should I do if I want to change the quantity of any item in my WooCommerce order form?
Your order form in WooCommerce acts like a mini cart for the items you're interested in buying. You'll be able to change the item quantity, modify the products you wish to purchase, and more.
All you need to do is look for a plugin like FunnelKit that helps you create order forms because WooCommerce doesn't have this feature natively.
What products can I present to my shoppers in order forms?
There can be various types of products that you can offer to your shoppers in your order forms.
It's recommended that you offer items from a specific category. If your store deals in more than one category of products, it's recommended to set up multiple order forms.
You can present products related to beauty treatment, health and fitness, clothing and apparel, and more.
Are You Ready to Create Your Own WooCommerce Purchase Order Form?
Congratulations! Now you know how to create a WooCommerce order form.
That's all for this post! We looked at the complete guide on WooCommerce bulk order forms and effective strategies to take it one step further in boosting your store's revenue.
FunnelKit's Funnel Builder has made it easy for you to create these forms for quick purchase.
Custom pre-built templates to checkout optimizations - you have everything at your disposal!
Now, it depends on your product selection and revenue-boosting offers to make your WooCommerce order forms interesting.
Don't forget to try out the strategies to make your store generate money while you sleep!
Let's start your journey to set up a high-converting WooCommerce order form today.