In 2022, a high-converting sales funnel is vital to any business strategy.
But let's face the truth - most of the funnel builders out there are either too complicated to use or ridiculously EXPENSIVE!
Most of the time, it's the latter.
Maybe you are just starting out and want to test sales funnels for your business, or you are looking for an affordable ClickFunnels alternative.
Your quest for the Holy Grail ends here.
FunnelKit (formerly WooFunnels) - the ultimate FREE sales funnel builder - lets you easily create high-converting sales funnels.
With a collection of pre-built funnel page templates for every niche, a host of customization options, and other incredible features - you have a powerhouse in your hand at no cost!
In this article, we will show you how FunnelKit Lite gives you a headstart in your funnel-building journey. (And save hundreds of dollars on expensive funnel builders as well!)
Why Do You Need a Sales Funnel?
A sales funnel is the journey of turning a prospect into a customer. Each stage of the funnel takes the prospect one step closer to completing their purchase.
A sales funnel, also commonly known as a revenue funnel or purchase funnel, supplements the idea that a large number of people begin their purchase journey, but only a small portion of them actually complete the purchase.
Many modern marketers build advanced sales funnels to maximize the buyer's AOV and generate repeat sales as well.
Here's how you can scale your business with sales funnels:
1. Minimize Drop-offs and Boost Conversion: steer your leads with a step-by-step journey so they don't get lost and leave. Eliminating the exit points minimizes drop-offs significantly and boosts conversion rates.
2. Provide Exact Solution: Enhances your buyer's experience by directing your leads to the exact product or service that solves their problem.
3. After-sale Interaction: Engage with your customers after the sale and nurture them for their next sale.
According to the State of Marketing Trends Report 2022, nearly 61% of businesses claim that lead generation is their biggest challenge.
An optimized sales funnel can help you generate more leads and skyrocket your sales.
Do not miss out on the word - OPTIMIZED.
FunnelKit lets you execute your bold marketing strategies and facilitates your funnel building as no other free sales funnel builder does.
How to Install FunnelKit Lite and Build Your Free Sales Funnel?
FunnelKit (formerly WooFunnels) is a WordPress plugin.
Just install FunnelKit from the WordPress plugins repository, activate it, and you are ready to build your first funnel.
Yes, it's that simple!
1. Install FunnelKit from the WordPress Plugins Repository
In your WordPress dashboard, go to Plugins >> Add New. Once you are on the plugins repository, search for FunnelKit.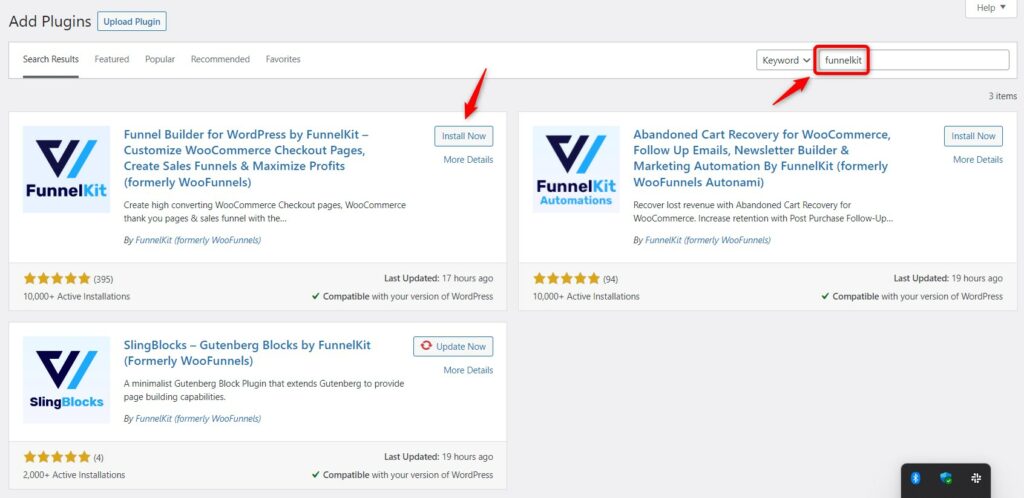 2. Activate the FunnelKit Lite Plugin
Once installed, you need to activate the FunnelKit Lite plugin.
3. Your Free Sales Funnel Builder is Ready to Use
Access FunnelKit from the WordPress sidebar and head to the dashboard.
You are all set to build your first sales funnel with FunnelKit. Import the pre-built templates or build your own sales funnel from the scratch.
Under the FunnelKit header menu, click on Funnels and click on Add New Funnel.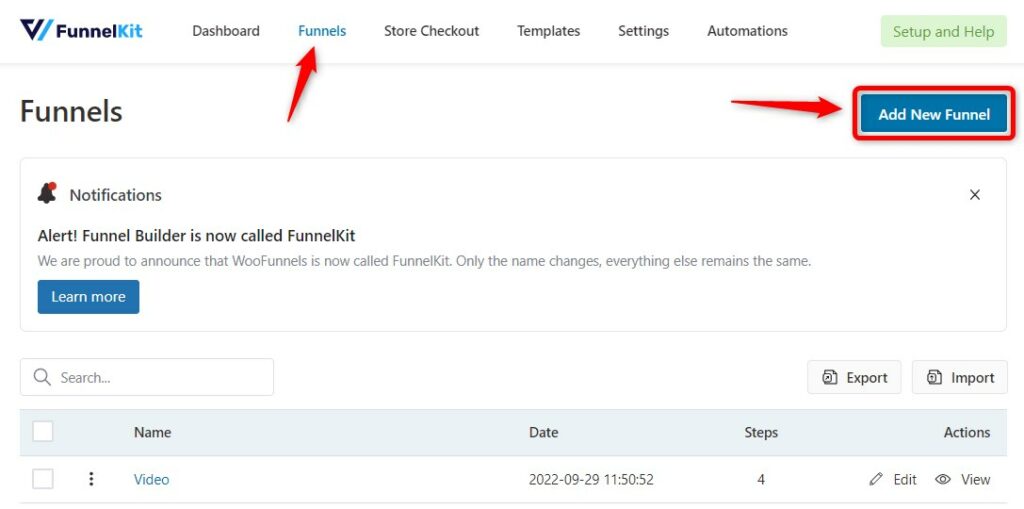 Now, you will see various pre-built templates; choose the one that suits your use case.
With FunnelKit Lite, you get free COMPLETE sales funnel templates, as well as templates for the lead generation funnel.
On the top-left side, choose the page builder you want to build your funnels with and click on the template you want to import.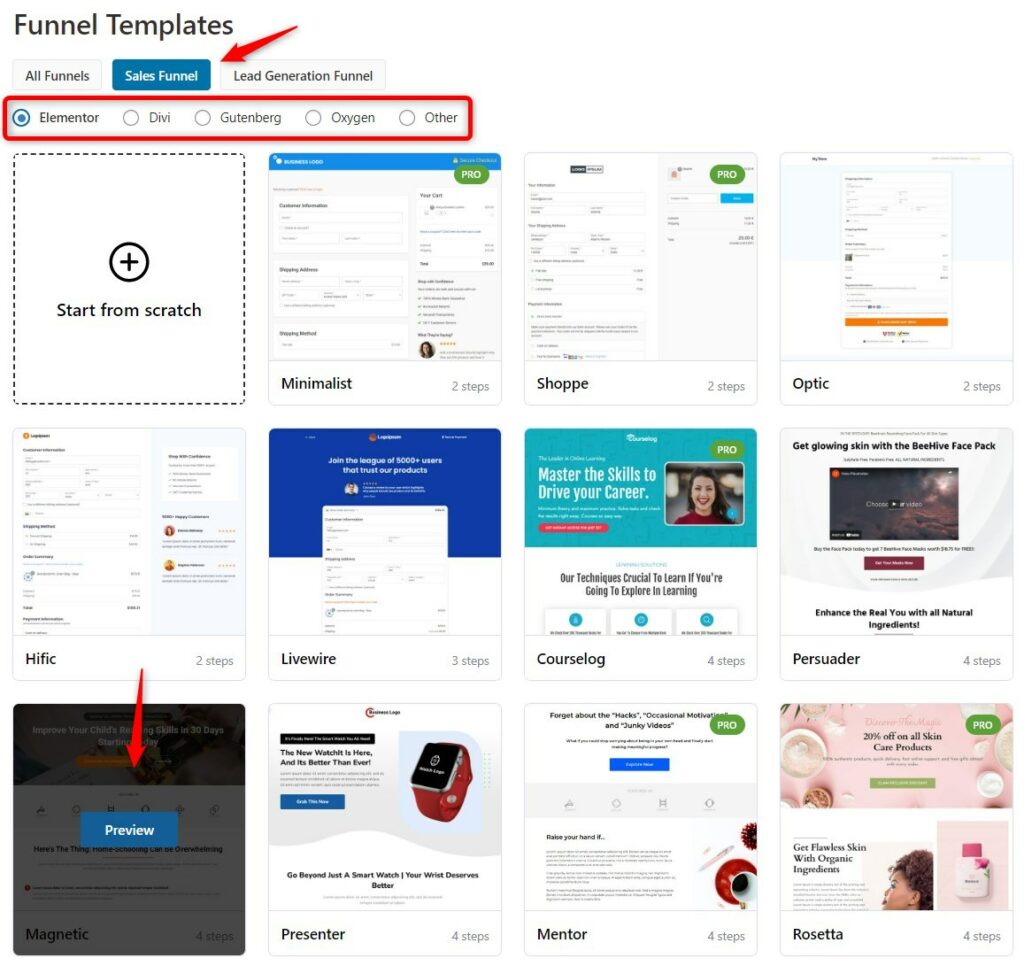 Next, the template preview will open up.
Click on 'Import This Funnel' and enter the name of your funnel.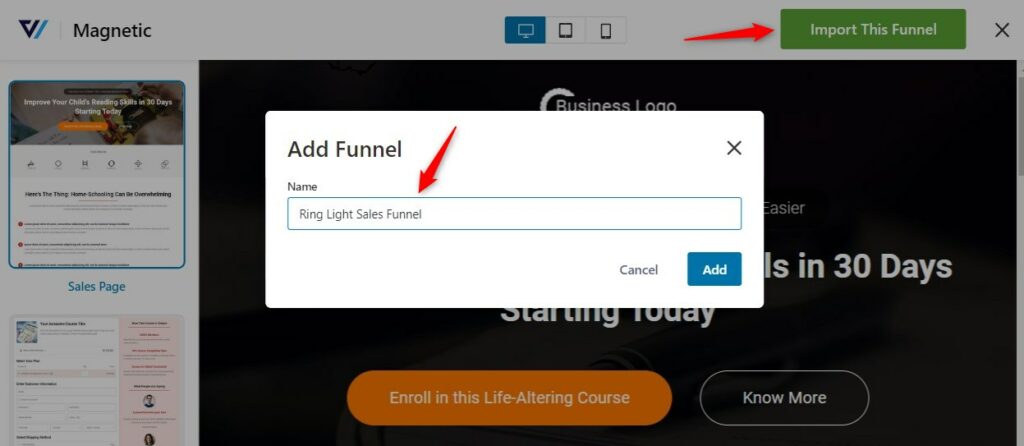 Clicking on 'Add' will create a new sales funnel.
The imported funnel has multiple pages, arranged for the best results, that can be edited with your favorite page builder with ease.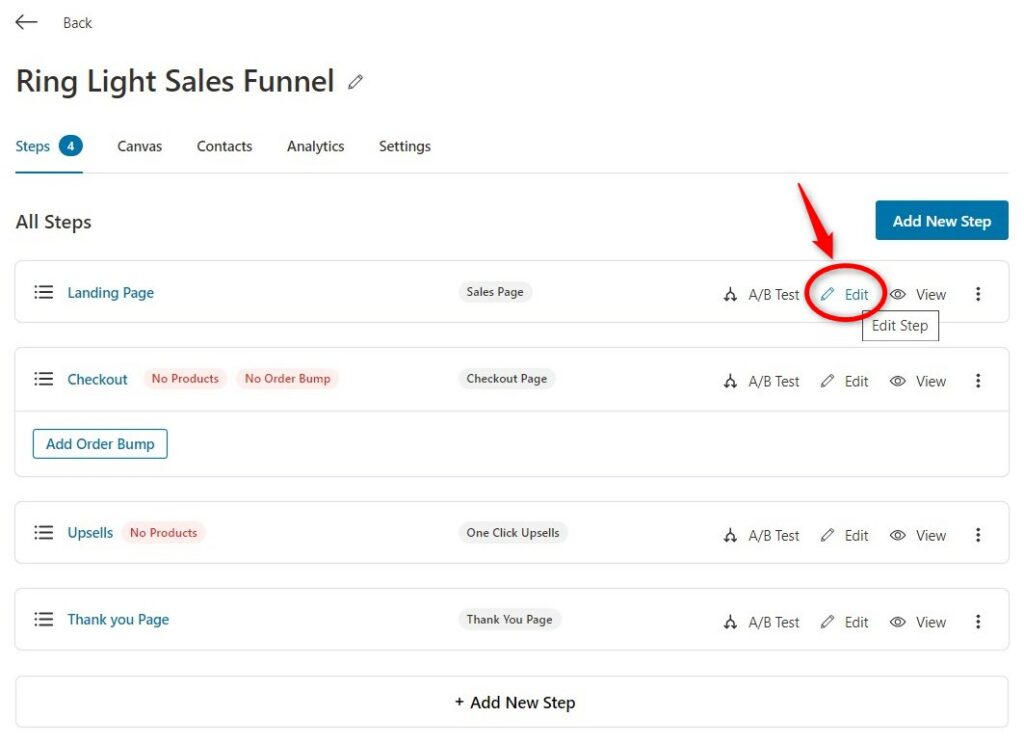 With the simple drag-and-drop interface, you can edit the text, add images, change colors, insert sections, rearrange headings, add/remove widgets, and so much more.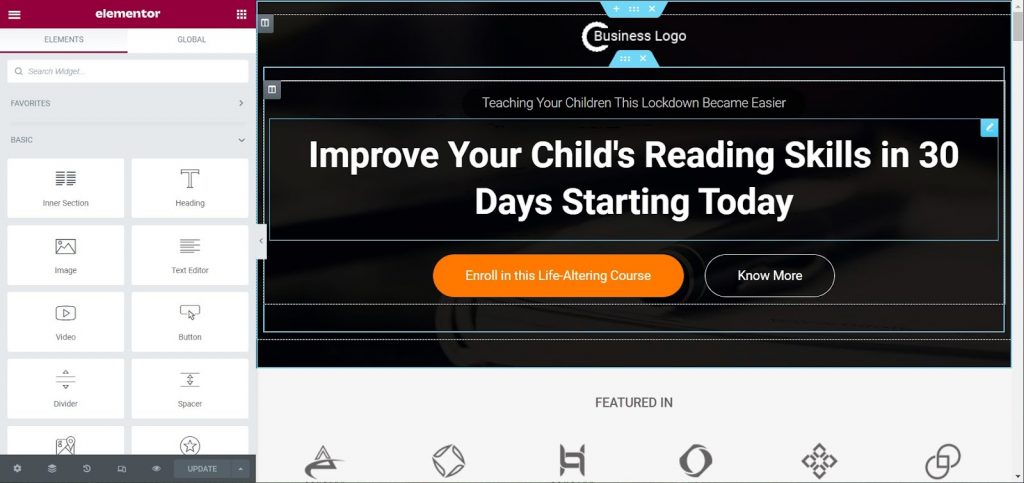 You can edit the optin pages, sales pages, checkouts, and thank you pages similarly.
Edit. Tweak. Go Live!
8 Awesome Features of the Free Sales Funnel Builder that Turn Leads into Customers
So, we thought just being FREE isn't convincing enough, so here are 8 powerful features of the ULTIMATE sales funnel builder for WooCommerce today!
Before we dive deep into the details, let us tell you that FunnelKit is specifically built for WooCommerce stores only.
So, if you are a WooCommerce store owner, you are in for a treat!
1. Pre-Built Templates Optimized for Various Use-Cases
FunnelKit Lite comes with an evergrowing library of pre-built templates that serve various use cases and are compatible with various niches.
Whether you sell a 21-day weight loss course, an academic seminar, or a pet product, you will surely find the template that suits your use case.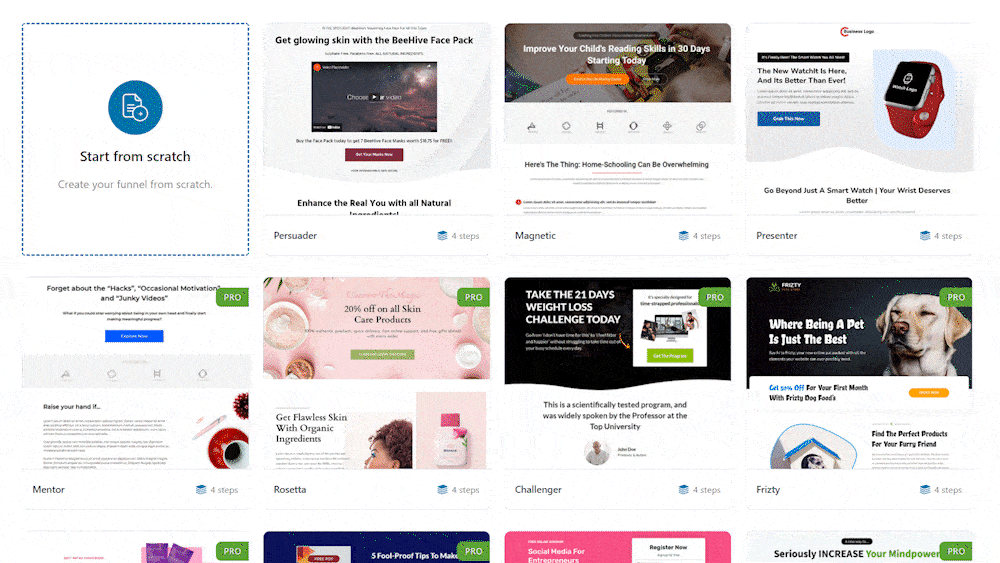 Import these pre-built templates with one click and tweak them as per your requirements - headlines, slogans, brand colors, and more.
These templates are tested for conversion and cover various niches like skincare, pet, fitness, academic, digital marketing, and more.
These templates are conversion-optimized and include:
We constantly add more templates to our library and let you experiment with your funnel building.
2. Deep Integration with Popular Page Builders (No Code Editing!)
FunnelKit deeply integrates with popular page builders like
Elementor
Divi
Oxygen
Gutenberg
This powerful integration allows you to edit your entire sales funnel with a drag-and-drop interface.
Nifty, ain't it?
With Elementor page builder, you get widgets that can be used to customize your funnel pages.
With other page builders such as Gutenberg, Divi, and Oxygen, you get modules that you can just drag and drop on your page and design the funnel the way you want.
We integrate with other page builders as well, you can use them with shortcodes. FunnelKit works well with Beaver Builder, Brizy Builder, Thrive Architect, Spectra Website Builder, Bricks Builder, and others.
Now designing sales funnels with FunnelKit is a breeze.
3. Powerful Widgets to Customize Your Sales Funnel the Way You Want
For the Optin Page, you get an Optin Form widget that lets you edit your Optin Forms and collect lead information quickly.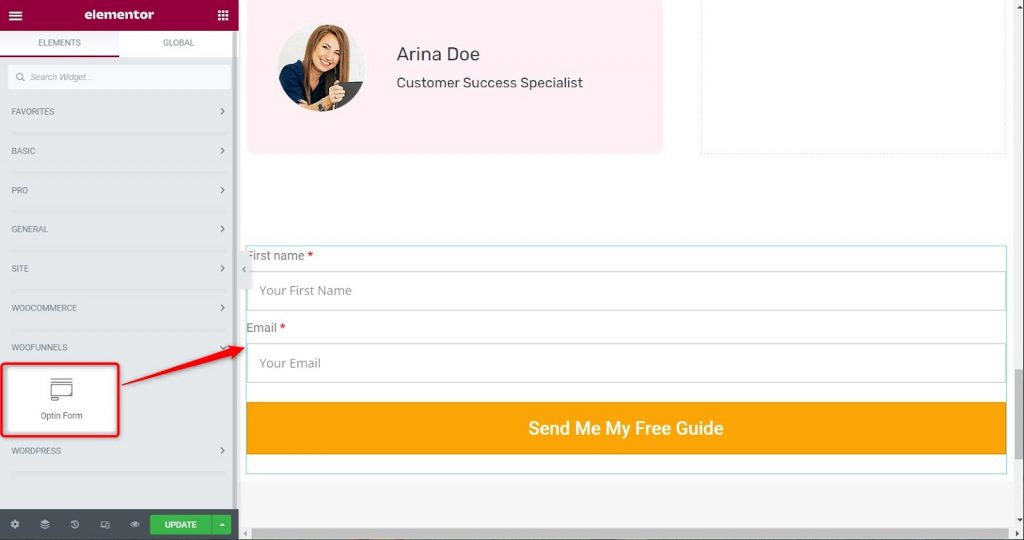 For the Checkout page, if you're using the Elementor page builder, you get a powerful Checkout Form widget to dynamize your WooCommerce checkout page layout.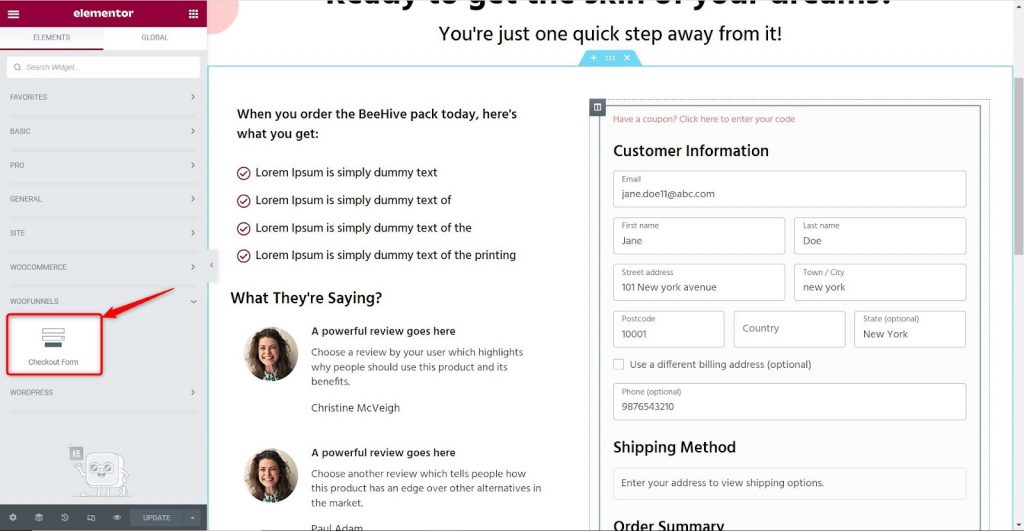 You can create a one-page checkout using Elementor.
For Thank You pages, you get two powerful widgets - Order Details and Customer Details.
Displaying order details and customer information on the Thank You page reassures the customer about their order.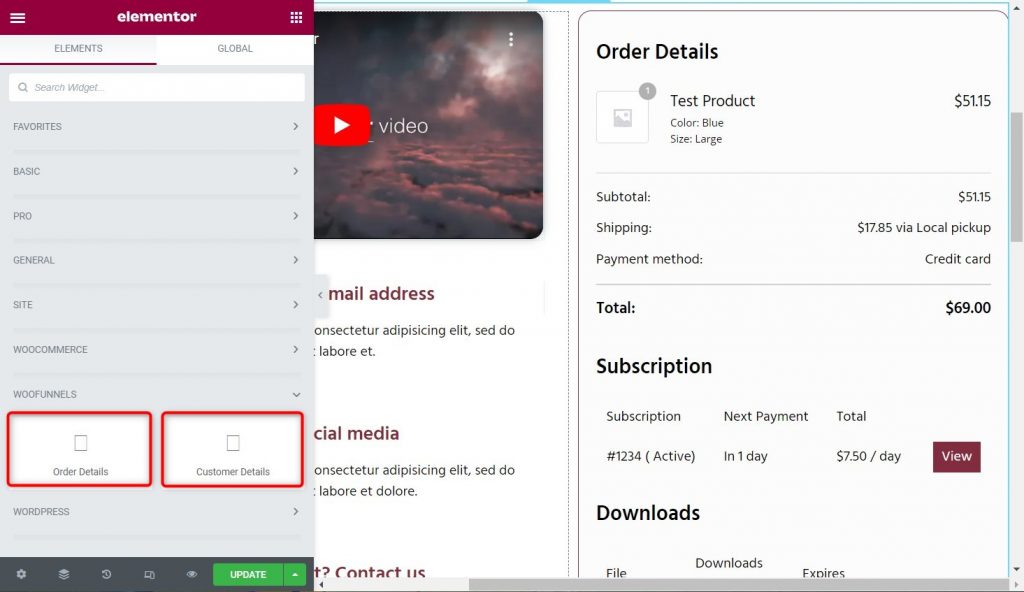 4. Advanced Checkout Form Fields Editor To Customise the Form
The default WooCommerce checkout form is too traditional and focuses more on making just one sale.
In 2022, you need to treat your visitors with a modern checkout page with optimally placed fields so that you not only make the sale but also collect relevant information first.
The default checkout form is too rigid, and the most important form fields - email and phone number - are not placed optimally.
With FunnelKit's advanced checkout form fields editor, you can edit the form the way you want.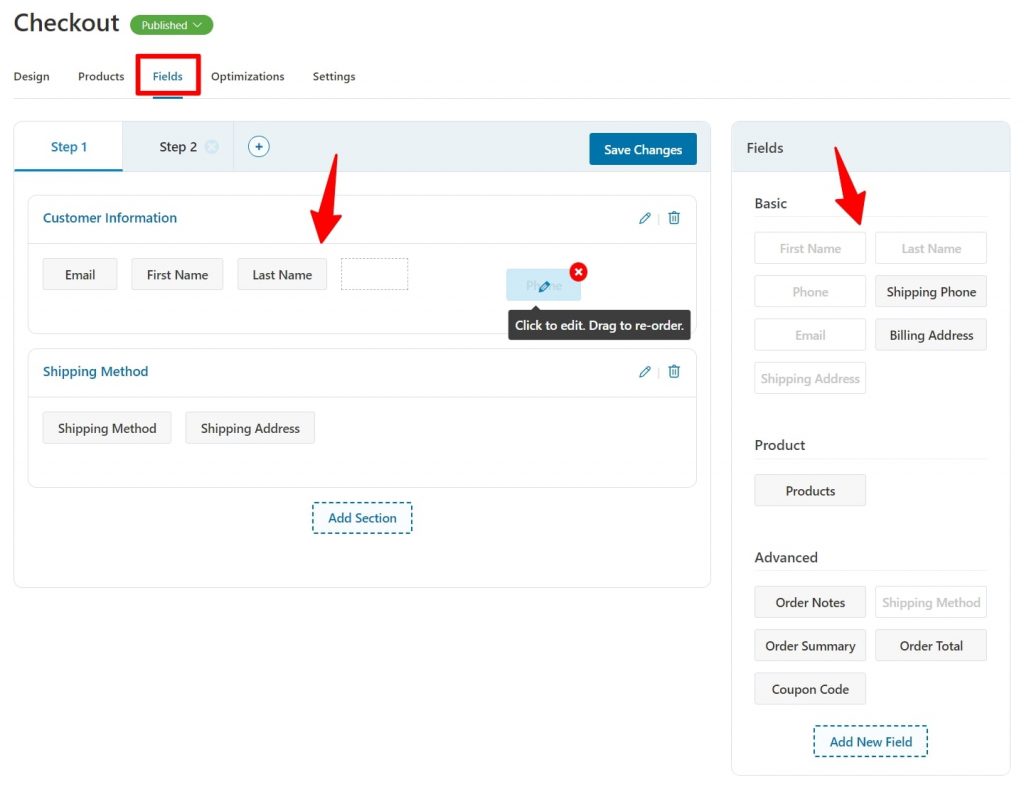 With the advanced form editor, you can add/remove/rearrange fields easily. No coding, just drag and drop.
What more can you do with it?
Rearrange sections or create your own
Drag and drop fields within sections
Re-order or remove fields you don't need
Create new custom fields
Add new sections
Edit the form fields right on the checkout form
5. Money-back Guarantee, Testimonials, & More for Your Checkout Pages
One of the most effective ways to generate repeat sales is to build trust with your customers.
Assure buyers that they are buying from a trustworthy website. Show them testimonials from other buyers. Display the "100% safe payments" badge right on the checkout page.
These elements act as Trust Seals and secure your buyers' trust in your business.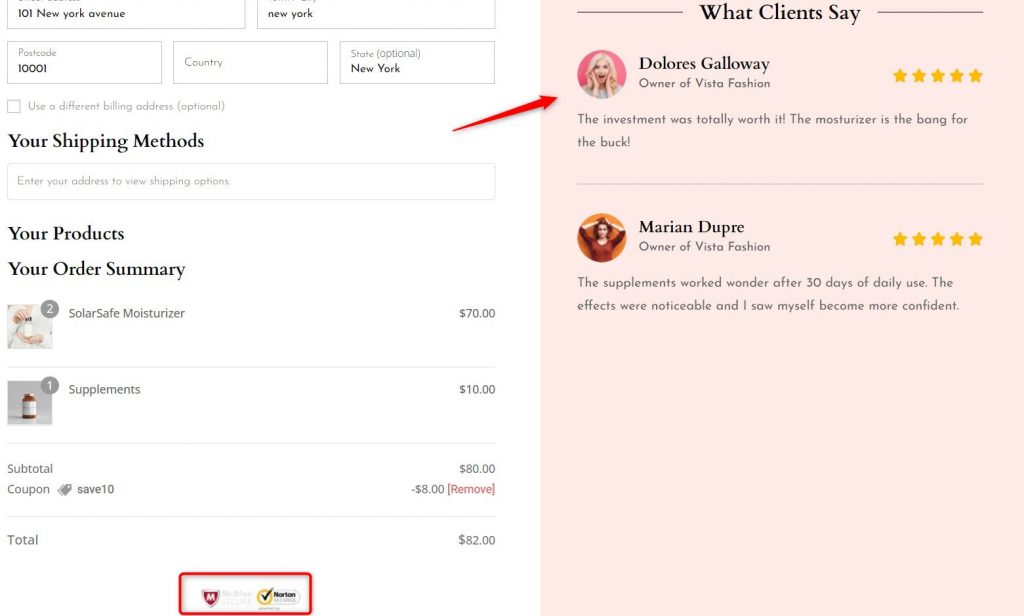 With FunnelKit, you can display the following trust seals on your checkout page:
Testimonials from previous customers - reviews, stars, etc.
Assurity of after-sale service - 24/7 customer service
Safe and secure payments - Your payments are 100% safe
Social media handles - Facebook, Twitter, Instagram, and more
6. Conversion & ROI Tracking with Pixel Events
With pixels, you can monitor sales, track user activity and further optimize your social media ads to find the right audience.
FunnelKit lets you integrate your sales funnel for pixel-tracking with various social media platforms like - Facebook, Snapchat, Pinterest, TikTok, and more.
If you publish content or run business ads on these platforms, with pixel integration, you can track different events such as purchases completed, abandoned carts, product page visits, new signups, and more.
The FunnelKit Funnel Builder also tracks site-wide events on your website, which eliminates the use of having extra plugins that take up unnecessary space on WordPress.
Furthermore, it lets you integrate your sales funnel with Google Analytics, this allows you to track your funnel's performance on your Google Analytics dashboard.
7. Compatibility with All Native WooCommerce Payment Gateways
WooCommerce is compatible with many payment gateways. You can use any of them to collect payments. Some of the most popular ones are:
Stripe
Paypal
Authorize.net
Braintree
Square
Mollie
WooCommerce Payments, and many more.
Most of the WooCommerce-supported payment gateways lets you collect payments through credit cards, debit cards, bank transfer, PayPal payments, and many more.
Users don't have to worry about payments and supported modes anymore.
This frictionless checkout enables your buyers to complete their purchases with their preferred payment method.
8. Powerful, Actionable Insights Available at Your Fingertips
FunnelKit Lite comes with a powerful dashboard that gives you actionable insights at a glance.
You can see important data such as - total contacts, total orders, total revenue, AOV, revenue per contact, and more.
The performance dashboard also shows leaderboards highlighting your top-performing funnels, top opt-ins, top checkouts, and more.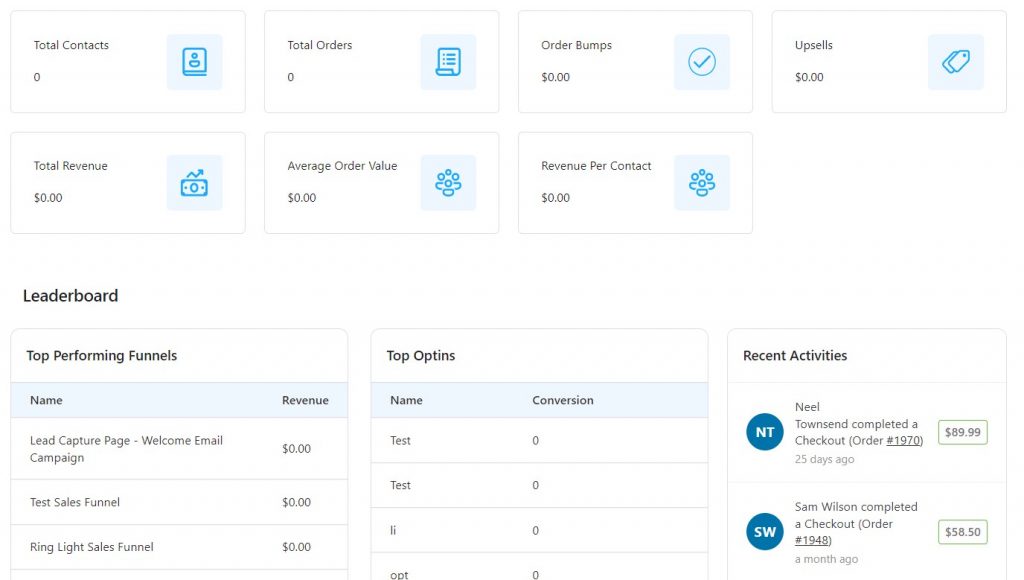 These leaderboards allow you to study your funnels and replicate the formula of the successful ones for your future sales funnels.
On the right-hand side, you can also see recent activities; this way, you get a quick overview of your recent sales.
Why Stop Here? Go Further: Integrate with FunnelKit Automations Lite to Recover Abandoned Carts
According to Baymard Institute, 7 out of 10 customers abandon their carts.
If you are not re-targeting these abandoned users, then you are probably losing out on 70% of your profits.
So, there must be some way to capitalize on these users and bring them back to complete their purchase and reclaim your hidden profits.
Well, there is - ECOMMERCE MARKETING AUTOMATION!
FunnelKit Automations - the most powerful WordPress marketing engine that lets you target abandoned cart users with timely emails.
We recommend you integrate FunnelKit Lite with FunnelKit Automations's free version to amplify your sales funnels results and after-sale marketing.
With FunnelKit Automations, you get:
Abandoned Carts Data: You can view abandoned users and other cart-related information such as recoverable, recovered and lost.

Pre-built Recipes: Just like FunnelKit has free sales funnel templates, FunnelKit Automations has pre-built automated recipes that can be imported with a single click. You get useful automations like abandoned cart recovery, first purchase anniversary, review collection, and more.

Canvas Interface: Visualize your workflows as you build them. Get in-line analytics right in the workflow, view individual contact journeys, and so much more.

Actionable Insights: Assess your campaign's performance with data such as Contacts, Emails Sent, SMSs Sent, Total Orders, and Total Revenue. You can also view crucial cart-related information at a glance.

Rich Customer Details: FunnelKit Automations has no cap on contacts - store as many contacts as you want. Get information about their latest interactions, total spend, AOV, AOV in comparison to the store AOV, and more.
If FunnelKit lets you generate sales with hyper-focused sales funnels, then FunnelKit Automations lets you nurture these customers and encourage repeat sales.
All Set to Start with FunnelKit - The Ultimate FREE Sales Funnel Builder?
If you're looking to experiment with funnel building and see if it actually works for your business, then a free sales funnel builder is the perfect solution to go with.
FunnelKit is a complete sales funnel builder that can help you build high-converting funnels and maximize your sales.
But why stop at funnel building when you can nurture your leads with marketing automation and generate repeat sales?
Recover abandoned carts with timely emails. Engage with your new customers after their purchase.
Execute this with the most powerful WordPress marketing engine - FunnelKit Automations.