WooCommerce subscriptions upsell can help boost your revenue through subscription-based sales.
Moreover, subscription-based products allow you to add predictability to your revenue.
You can sell physical and digital products and services to your buyers at a recurring fee. There's no need to chase more and more traffic constantly; instead, you can maximize the value of each customer you acquire.
Implementing a WooCommerce subscription as an upsell in your sales strategy ensures increased order value and customer lifetime value through recurring payments.
In this post, we'll share with you the best strategy to sell WooCommerce subscription-based products using one-click upsells. And without even forcing your customers.
Let's start.
Note: We will use WooCommerce Subscriptions to create and manage subscription-based products. 
4 Reasons Why Subscriptions Are Good For Your Business
Subscription products are the products that are billed on a recurring schedule like a weekly, monthly or yearly cycle. If you haven't implemented subscriptions as upsell or cross sell and are wondering whether they can help your business or not, here are 4 reasons why they are powerful:
1. Subscriptions are more profitable compared to one-time sales
As per the Marketing Landscape, a report published by Adweek, it is five times more expensive to acquire a new customer than to sell to the same one.
Subscriptions generate more revenue from the same customer acquisition efforts with recurring payments. But you even make that money back with a one-time purchase from the customer.
2. Paid subscribers add predictability to your revenue
If you have subscribers paying you each month or even annually, you can count on them. And the best part is that you don't have to make extra effort for this money.
You only have to ship the goods on time every time.
This predictability means that you can plan your marketing activities and upcoming expenses more accurately.
3. Your subscribers are your shield against growing competition
Let's say a customer has subscribed to you for a pack of supplements that they need every month.
It's obvious that as long as they're subscribed and happy with your on-time delivery, they will not even consider going to your competition.
But a one-time buyer has no reason to be loyal to you. He's open to exploring other choices for his next purchase.
There are no strings attached here.
4. Increase customer lifetime value and revenue 
Subscriptions increase customer lifetime value by ensuring regular revenue through recurring payments.
Moreover, you can upsell and cross-sell to subscribed customers by offering them special deals and discounts that suit their interests and needs.
By implementing upselling and cross-selling strategies for subscription customers and recurring payments, you can boost their lifetime value, increasing revenue for your online store.
Subscriptions Are Great, But Here's Why You May Not Be Offering Them
Subscription is a great source of consistent and predictable revenue.
But here are a few reasons you still don't have them:
1. Don't know what to sell as a subscription
You may think it is hard to turn prospects into subscribers, but it's not.  You can actually mine for profitable subscription ideas by doing a bit of research. Take a look at Cratejoy - it's a marketplace for subscription-based products.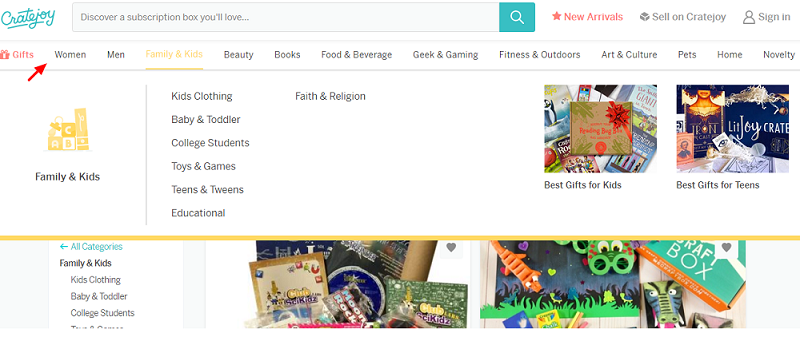 You'll be surprised to see what all is possible. From flowers to razors to beauty products and more!
For example, if you're a parent, you'd love to subscribe to this box of educational toys and games.
Each month, you'll have something amazing coming home and won't have to crack your brains over the next engaging game.
Dollar Shave Club grew to challenge the monopoly of Gillette by creating a subscription-based grooming brand. They offered low-dollar trials and a no-hassle cancellation policy to strengthen their case for subscriptions.
2. You're single-mindedly focused on one-time sales
Nobody starts off by thinking about sustainability and profitability.
The impetus is always on more sales. And that's not your fault:
Look at the number of blog posts teaching how to offer products to increase sales, but there's not so much discussion over retention.
Thanks to soaring acquisition costs, retention now makes for a smart investment.
3. You feel it's hard to convince people to sign up as subscribers
While you may believe that it's hard to convince people to sign up for subscriptions, think from the buyers' perspective. They're time-strapped and forgetful.
It's hard for them to remember to reorder on time. It's harder to find time on a busy day to go through the entire purchase process.
And if that product is a necessity, it's actually hard to stay without it till the new one is ordered.
4. The real estate to convince them about the benefits
This is a biggie! Your entire WooCommerce store is focused on one-time purchases. The job of the home page is to direct them to the product catalog.
And the call to action on the product pages is "Add to Cart". You don't have the real estate to convince them about the benefits of subscribing.
And that's okay!
The goal of your website is not supposed to be to sell subscriptions. The goal is to get them to make a small commitment by making a one-time purchase.
And once they've done that, sell a subscription.
How to Create a WooCommerce Subscription Product You Want to Upsell?
As mentioned earlier, we will use WooCommerce Subscriptions to create the subscription product. So, make you install and activate it.
After activating WooCommerce Subscriptions Plugin, we will create the subscription product. We will create a monthly subscription to organic coffee beans.
For that, navigate to Product ⇒ Add New. Here provide the product title, description, image, category, and all the necessary information.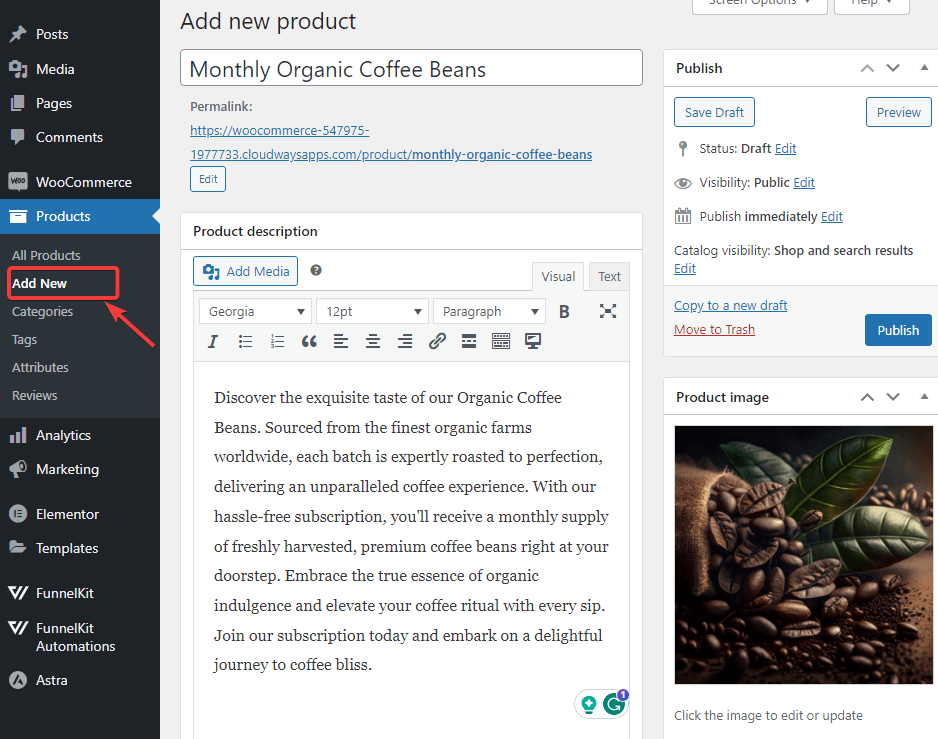 After that, scroll down a little bit to the "Product Data" section and choose "Simple Subscription." Now provide the following information:
Subscription price ($): Provide the price and select the recurring duration.
Expire after: Here, you need to provide an expiry date. We are going for six months.
Sign-up fee ($): You can also set up a one-time sign-up fee, which will be charged immediately
Free trial: You can also provide a free trial. The system will ask customers to pay after the trial period is over.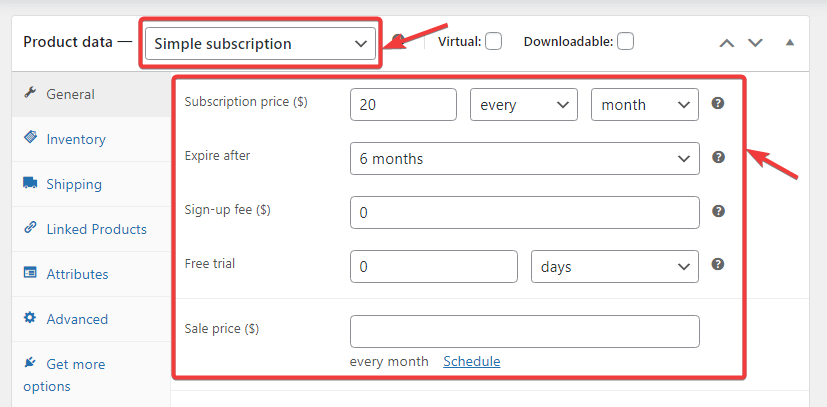 Once done, click on 'Publish'. This will publish the subscription product that we will use as WooCommercer upsell.
🔔 With a WooCommerce subscription, you can sell products in installments. To learn more details, read the blog "How to Set Up WooCommerce Payment Plans ".
How to Sell WooCommerce Subscriptions to Boost Revenue?
If you use a sales funnel, then you can successfully sell a subscription product and also increase average order value by utilizing WooCommerce subscriptions upsell.
And for the sales funnel, we will use FunnelKit Funnel Builder.
With this popular WooCommerce plugin, you can create and customize different sales pages such as landing pages, opt-in pages, checkout pages, thank you pages, and so much more.
In addition, FunnelKit also offers order bumps and one-click upsell. This makes the process of building funnels in WooCommerce a breeze -users can chalk out a path in a way that increases the AOV.
Step 1: Install FunnelKit Funnel Builder
First, you need to install and activate both FunnelKit Funnel Builder Free and the Pro versions. Check the installation guide if you need help installing and activating FunnelKit Funnel Builder.
Step 2: Create a sales funnel
From the WordPress dashboard, navigate to FunnelKit ⇒ Funnels from the WordPress admin panel, and click the 'Add New Funnel' button.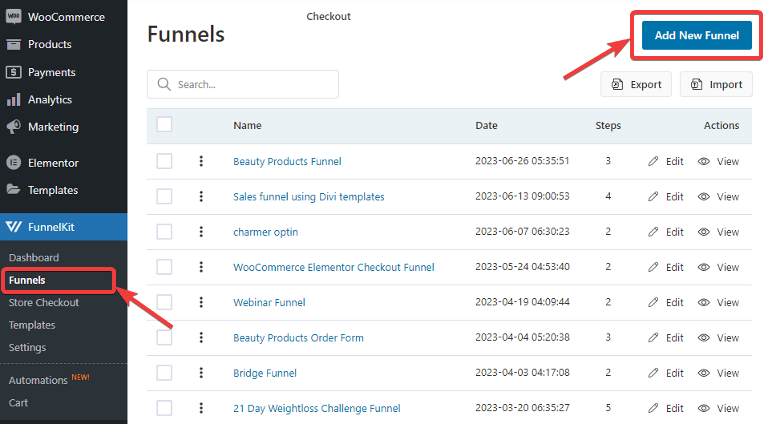 Now choose "Sales Funnels" as the type and your favorite page builder. From the list of funnels, hover on the one you like and click on Preview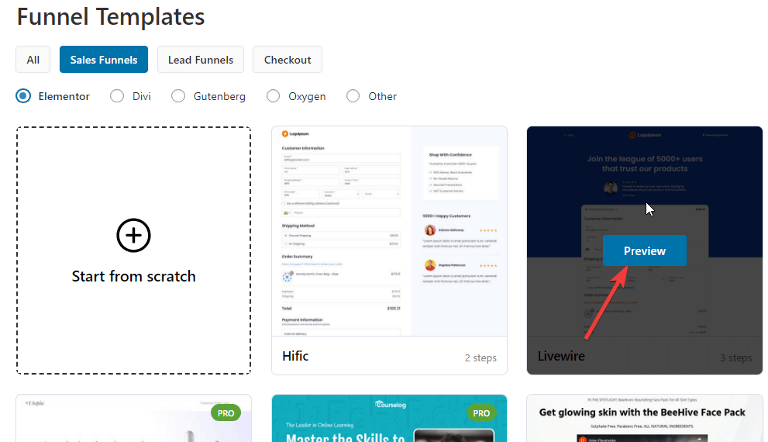 We are going with "Livewire" here.
To import the funnel, click on the "Import This Funnel" button and provide a name.
Finally, clicking on 'Add' will import your sales funnel with the upsell template.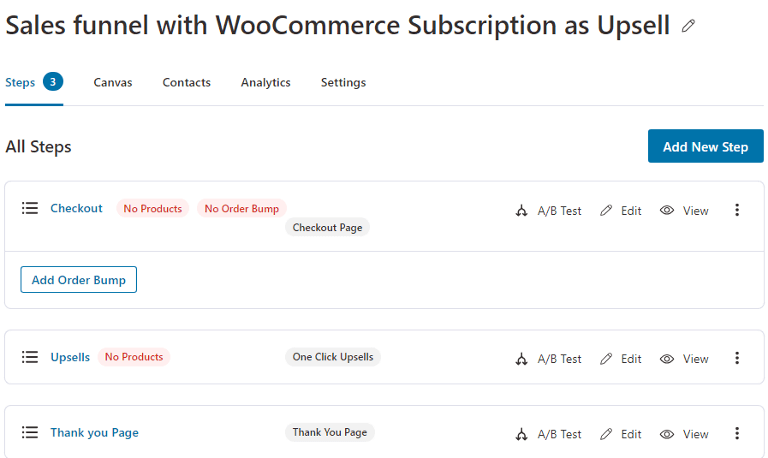 Step 3: Customize the checkout template
Now it's time to customize the checkout template. For that, first, click on the Edit icon.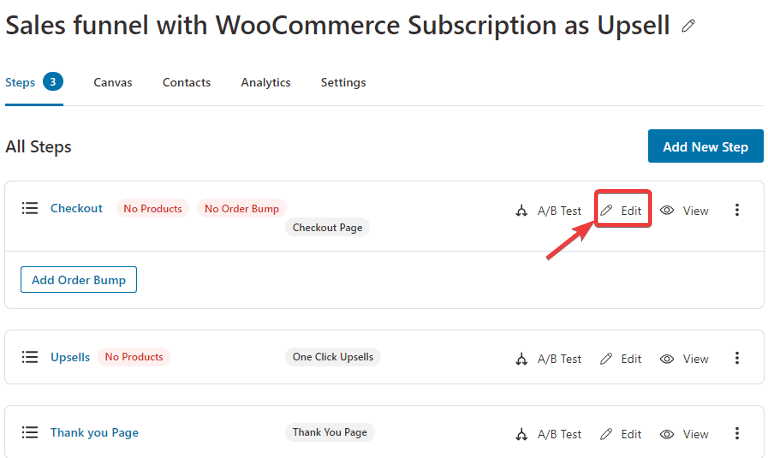 Now ensure you are on the design tab and click the "Edit" template option.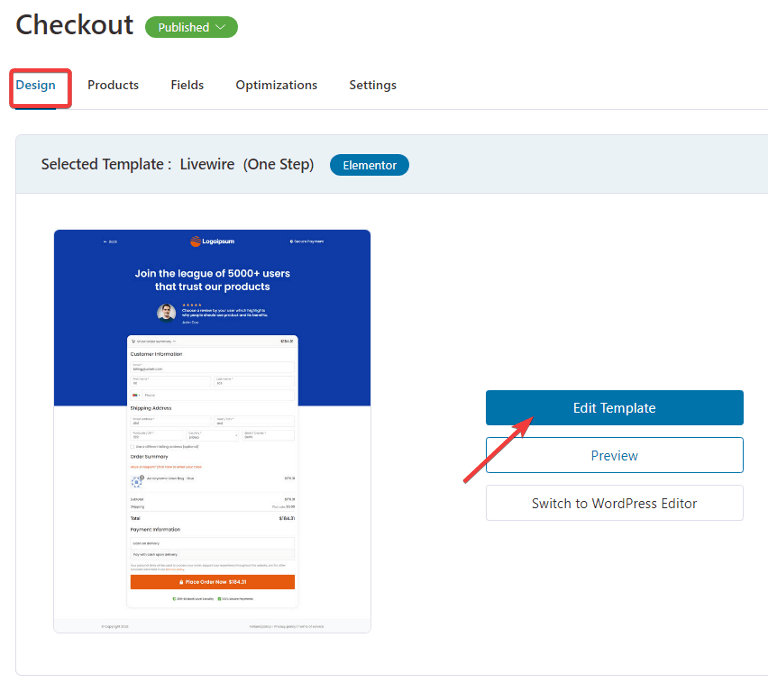 Here you can update content on your checkout page.
To update any section, click on that section, and on the left panel, you can update the content as we have shown below: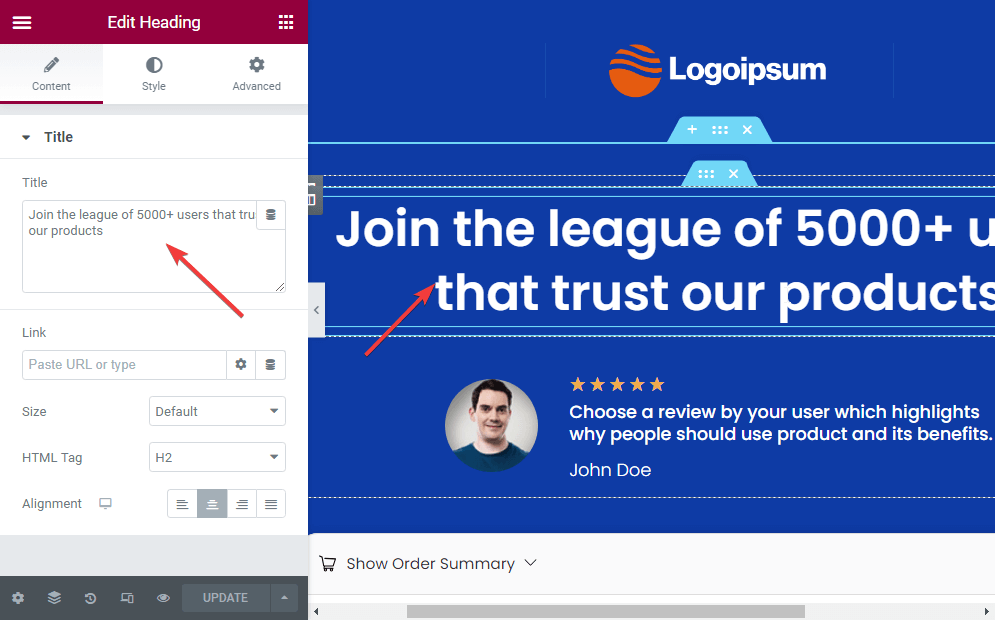 Step 4: Add a product to the checkout page
To add the main offer, move to the Products tab. Click on "Add Product," search for the product, and add it. Finally, click on "Add Product" to add the main offer to your sales funnel.
We are here adding "Coffee Maker" as the base product, and later we will offer the product " monthly subscription to coffee beans," which was created as a WooCommerce subscription upsell.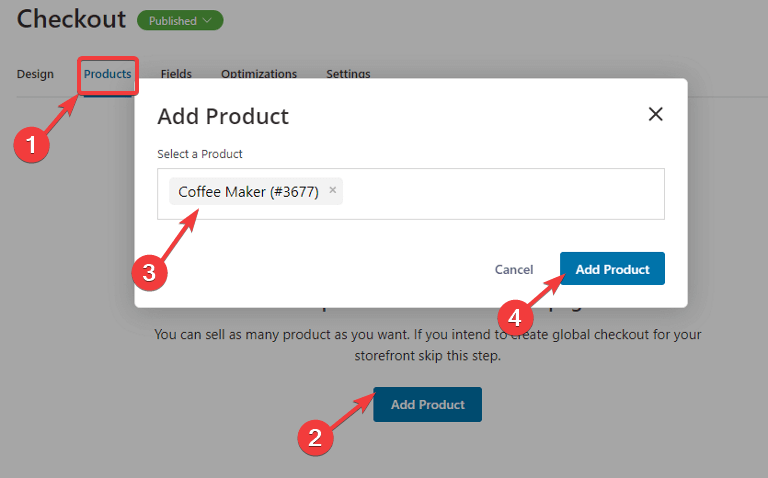 Offering discounts can be highly lucrative to the customers and convince them to purchase the product. With FunnelKit, you can offer discounts if you want.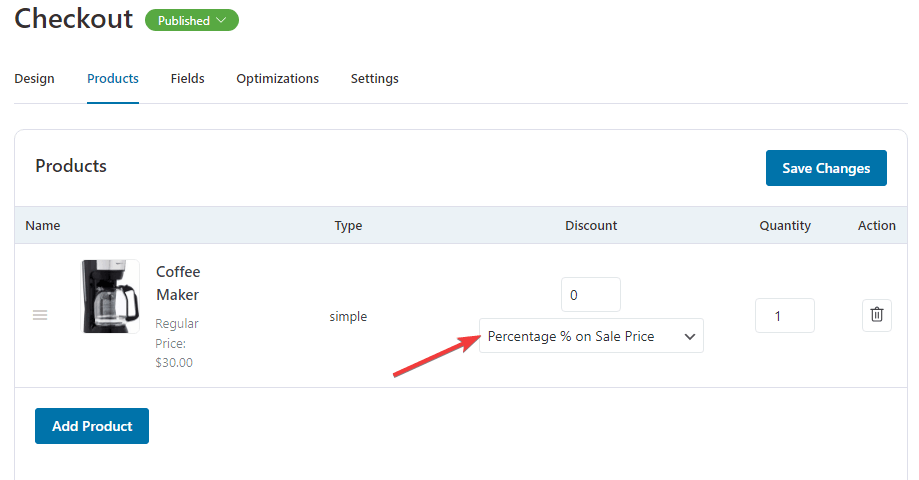 Don't forget to click on "Save Changes."
With FunnelKit, you can offer an order bump with your main offer as well. For more details, read our blog "How to Offer Order Bump on Checkout."
Step 5: Add a WooCommerce subscription upsell
To add an upsell offer, come back to the sales funnel page and click on the "Edit" icon next to the upsell step.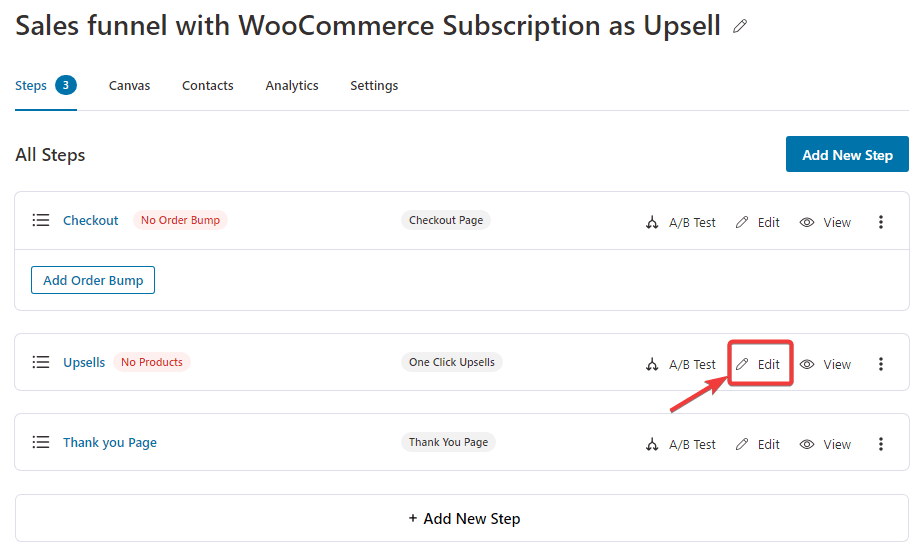 Now make sure you are on the "Offers" tab, then click on "Add" product, and like you added products to the checkout page, add the product as an upsell.
We are going to add the WooCommerce subscription product we created earlier.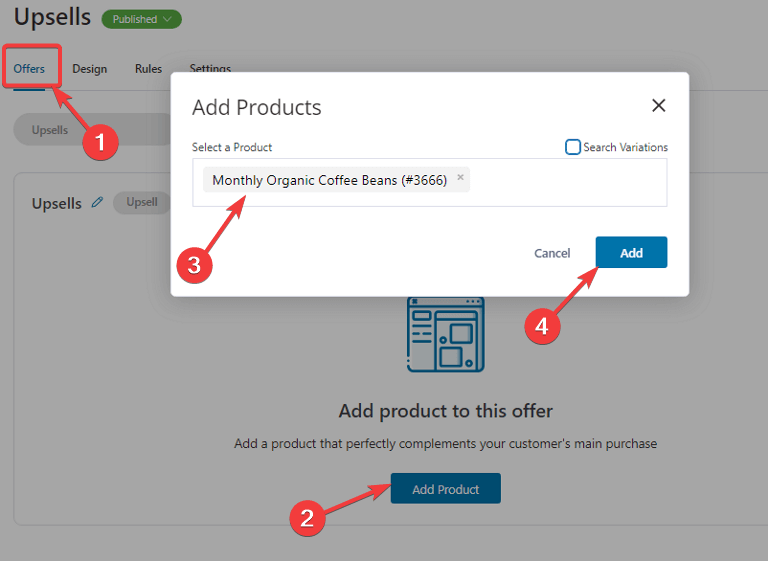 You can offer discounts on the WooCommerce subscription upsell as well.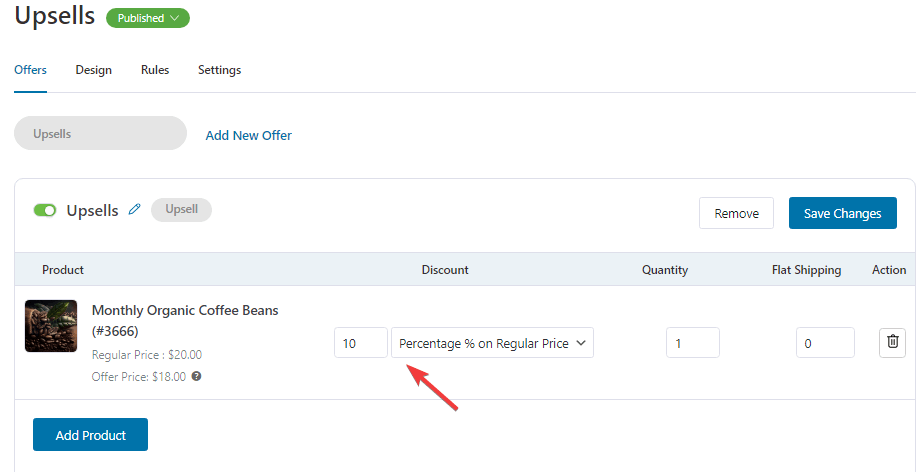 After adding the discount amount, click on "Save Changes."
Step 4: Customize the upsell template
Now to customize the content of the one-click upsell template, move to the design tab and click on "Edit Template."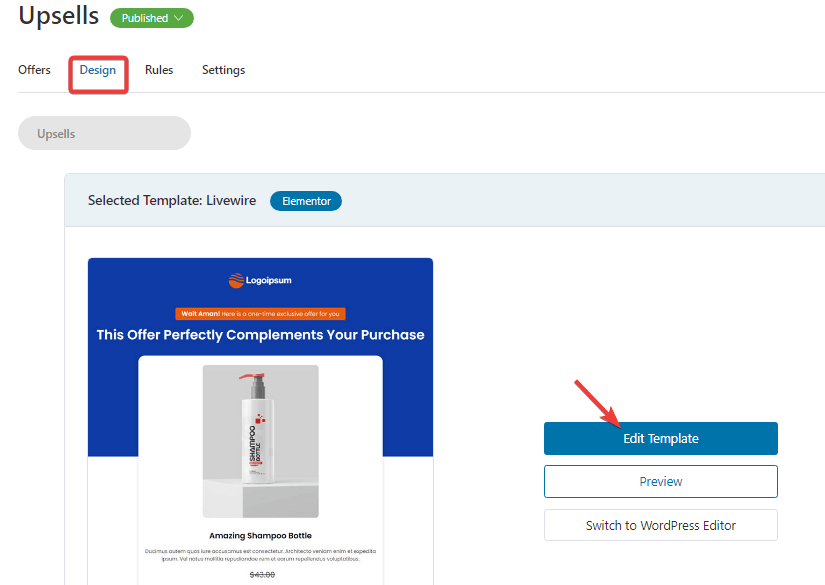 Now you can customize the content like you did with the checkout page.
In case you want to add new section, FunnelKit offers 10 upsell widgets that you can simply drag and drop to customize your upsell page. The widgets include Accept button, Reject button, Accept Link, Reject Link, Offer Price, Product Image, and so on.
For more details, check the blog on Upsell funnel for WooCommerce "How to customize One Click Upsell template using FunnelKit"
Here is a preview of the template:
Step 5: Customize the thank you page
The last step is to customize the thank you page. You can customize this page the same way you customize the checkout and upsell templates. For more details, check this blog, "How to customize WooCommerce thank you page."
And that's it your sales funnel with WooCommerce subscription upsell is ready to earn you your desired revenue.
Ready to Utilize WooCommerce Subscriptions Upsell?
Leveraging WooCommerce Subscriptions upsell funnels can be a game-changer for businesses seeking to average order value.
Upselling delivers personalized products for a good user experience, and WooCommerce subscriptions secure long-term benefits with recurrent payments.
The combination of WooCommerce subscription upsell, and sales funnel by FunnelKit is an effective way of ensuring you move towards sustainable growth in revenue.
FunnelKit offers pre-built templates, which do the job of creating a sales funnel for WooCommerce Subscription products super easy. Moreover, this one-click upsell plugin ensures a smooth user experience by incorporating Google Address Autocomplete, Google and Apple Pay, enhanced phone field, etc.
So, are you ready to utilize the power of WooCommerce subscription upsell and boost sales?