Are you looking to add WooCommerce payment plans to your store?
Offering payment plans i.e. allowing users to pay in installments is a tried and tested way of increasing sales.
35% of shoppers are more likely to buy if offered installments. [Splitit]
This blog will show how you can increase sales with WooCommerce payment plans.
We will share a step-by-step guide on how to set up WooCommerce payment plans. In addition, we will also show you how you can maximize sales of your WooCommerce subscriptions.
So, let's start!
What are Subscription Products in WooCommerce?
Subscription products are products that are billed on a recurring schedule. Using the recurrent billing system, you can sell any physical, virtual, or downloadable product.
You can choose to charge users on the:
Daily
Weekly
Monthly
Or Yearly Basis.
What's fantastic is that you can sell both Subscriptions and fixed-priced products using WooCommerce payment plans.
Use this feature to sell subscription-based products. Also, you can sell products at a fixed price and ask customers to pay in installments.
🔔 Note:
The difference between a standard order and a subscription is, in the former customer pays in full, and in the subscription, they pay in parts.
Why Should You Sell Products in Installments?
Convenient payment for customer
Installment enables users to buy high-priced products which they can't afford otherwise. Therefore, Installments make it convenient for users to buy expensive products and thus ensure a better customer experience.
Boost conversion rates
As installments ease the burden of paying a huge amount at once, it encourages more users to purchase a pricey product. This results in a higher conversion rate.
Increase AOV (Average Order Value)
When customers have the luxury of paying in installments, they can buy more products. Therefore, offering installment payment plans can increase your WooCommerce store's average order value.
Attract low-cost buyers
You can attract budget buyers with installments as it makes the out-of-budget product affordable. People with tight budgets can afford to pay installments to buy the product, which otherwise seems unaffordable.
How to Set Up a Payment Plan with WooCommerce Subscriptions?
As mentioned before, we will use the WooCommerce Subscription plugin. This is an official plugin of WooCommerce.
Using this WooCommerce plugin, you can create and manage products with recurring payments. Moreover, it also supports 25+ payment gateway.
Furthermore, it allows users to manage their own subscription accounts. It also provides detailed reports to track recurring revenue, the number of active subscribers, and more.
Here we will show you how to create a simple subscription product using this WooCommerce deposits plugin.
1. Install WooCommerce Subscriptions
First, you need to install and activate WooCommerce subscriptions. This is a premium plugin that comes with one year of support. You can buy this plugin from WooCommerce.
2. Create a simple subscription product
Now it's time to create a subscription product. For that, navigate to All products ⇒ New product. Now provide the product title and description.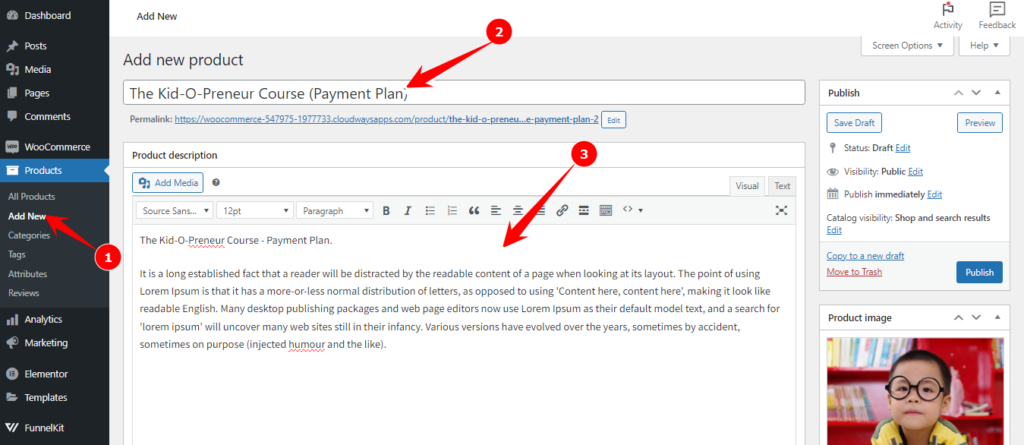 Scroll down to the product data section. Here you would find two new options:
Simple subscription: Using this option, you can provide one subscription option.
Variable subscription: With this option, you can create multiple subscription options based on different attributes.
Since we are creating a simple subscription product, choose Simple subscription.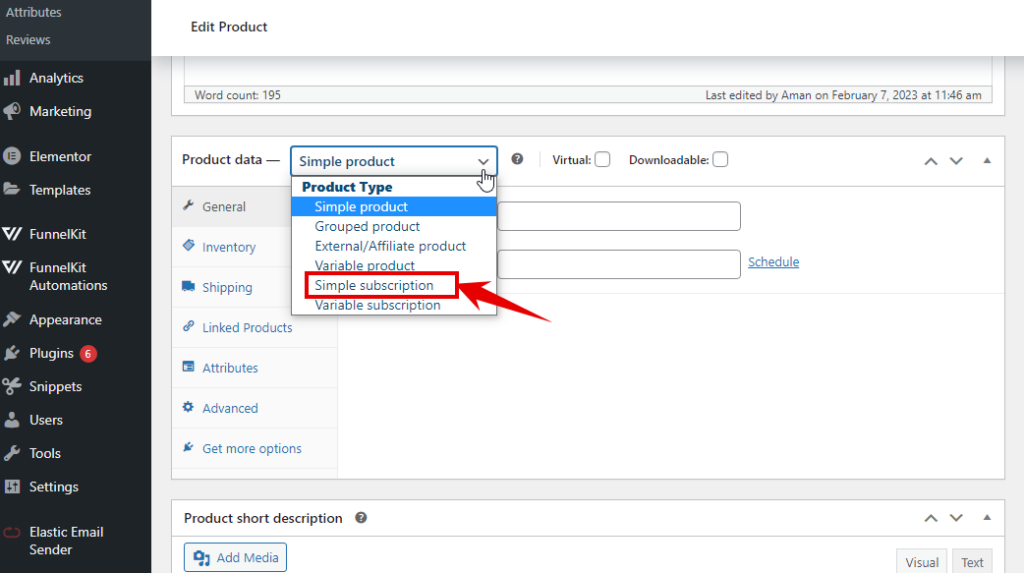 After you choose the product type, you need to check the virtual or downloadable field or both depending on the product you are creating.
We are creating a simple virtual product that users can pay in 4 monthly installments.
Now you need to fill up (out) the following options:
Subscription price ($): Here, you need to provide three values. From the right, first, you must choose the installment type as day, week, month, or year.

Then you need to choose an installment type. For example, if you select a month, then you can set an installment on every 2nd month,3rd month, 4th month, 5th month, or 6th month.
Expire after: Here, provide the expiry date of the installment. For example, if your product costs $150 and you want to offer a monthly installment of $50, then the installment should expire after three months.
Sign-up fee ($): You can also set up a sign-up fee, which will be charged immediately.
You can set up a sign-up fee and adjust the subscription amount accordingly. However, the sign-up fee is optional; you don't need to use this option.
Free trial: You can also provide a free trial. The system will ask customers to pay after the trial period is over.

These are subscription-specific settings. Like any simple product, you can set the rest of the settings, such as product description, category, image, etc.
Once you are done with the settings, click on publish.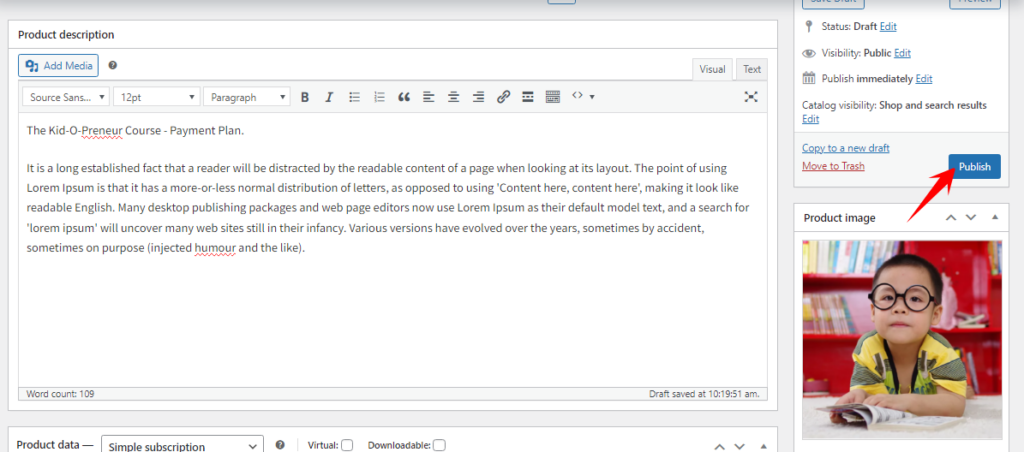 That's it! That's how you can offer installment payments using WooCommerce Subscriptions.
But, you need to do little more than offer WooCommerce payment plans to maximize your sales.
To find out more about the process, move to the next section.
How to Use Sales Funnels to Sell Products with Payment Plans?
Using a sales funnel can boost the conversion rate of subscription products. This is because a sales funnel personalizes the whole process and ensures a better user experience.
Without a sales funnel, you can't provide personalized product recommendations to users. Moreover, you can't offer them order bumps and product upsell which can help you to increase AOV.
You can incorporate sales funnels into subscription products as well.
And the good part is the process is extremely simple.
What makes incorporating this process into WooCommerce so simple is a sales funnel plugin called FunnelKit Funnel Builder. With this popular WooCommerce plugin, you can create and customize different sales pages such as landing page, opt-in page, checkout page, thank you page, and so on.
In addition, FunnelKit also offers order bumps and one-click upsell. These makes the process of building funnels in WooCommmerce a breeze -users can chalk out a path in a way that it increases the AOV.
So, let's start the process.
Step 1: Install and activate FunnelKit
First, you need to install and activate both FunnelKit Funnel Builder free and the pro versions. Check the installation guide if you need help installing and activating FunnelKit Funnel Builder.
Step 2: Create a sales funnel and import a pre-built template
Now, we are going to create a sales funnel from Funnelkit ⇒ Funnels. Click on the Add New button.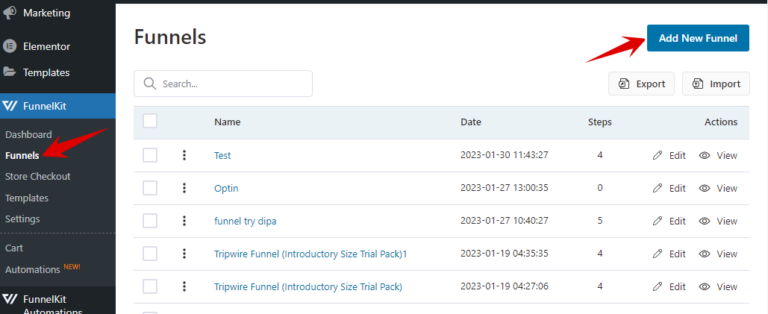 After that, you will see lots of pre-built sales funnel templates. You can filter the templates by choosing the page builders on top.
Once you hover over any of the templates, you should see a preview button. If you want to see the complete sales funnel with all the pages, click on it.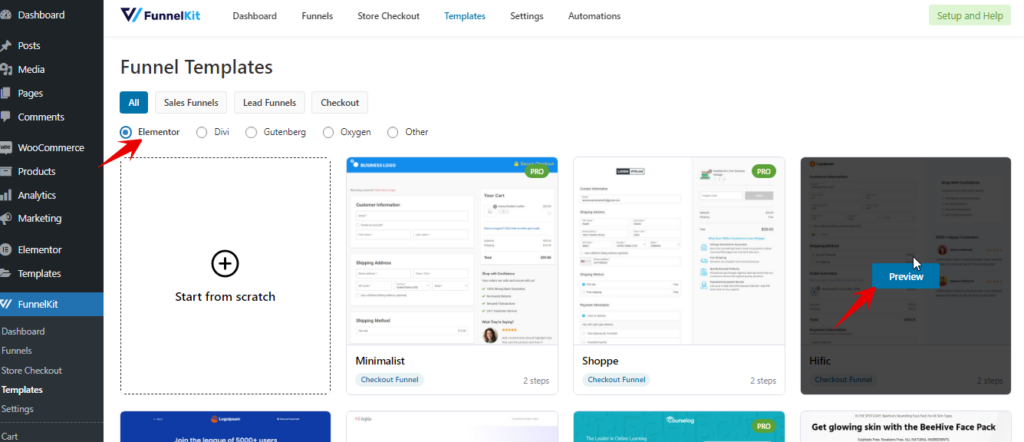 If you like the preview and want to import it, then click on the Import This Funnel button.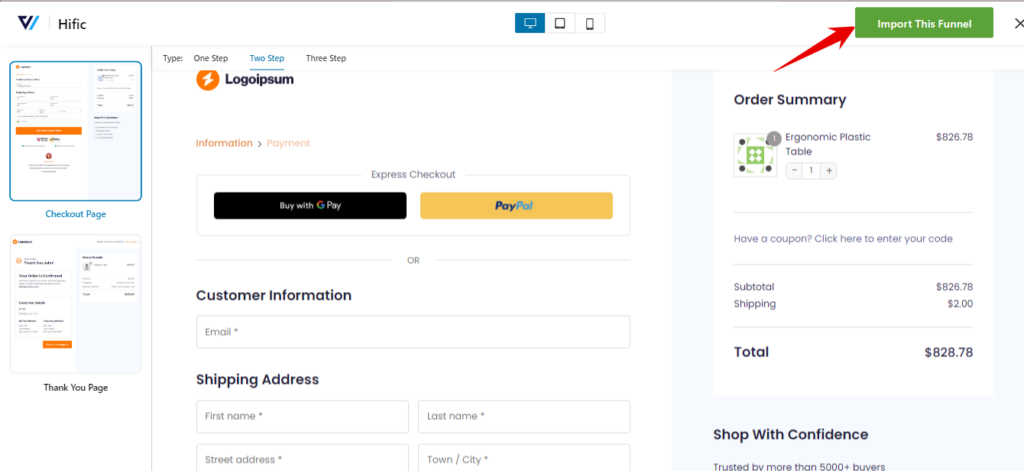 🔔 Note: We are choosing the Hific template as it's free.
Provide a title and click on Add to import the checkout funnel.

Step 3: Add products
Now, it's time to add products to the checkout template for which this sales funnel will be invoked. For that, click on the checkout step.

To do so, navigate to the Product tab and click Add Product. After that, search for the products you want to add and click on the Add Product button to add the product to this sales funnel.
🔔 Note: Here, you will add the same product with two versions: one-time payment and payment plan (installments).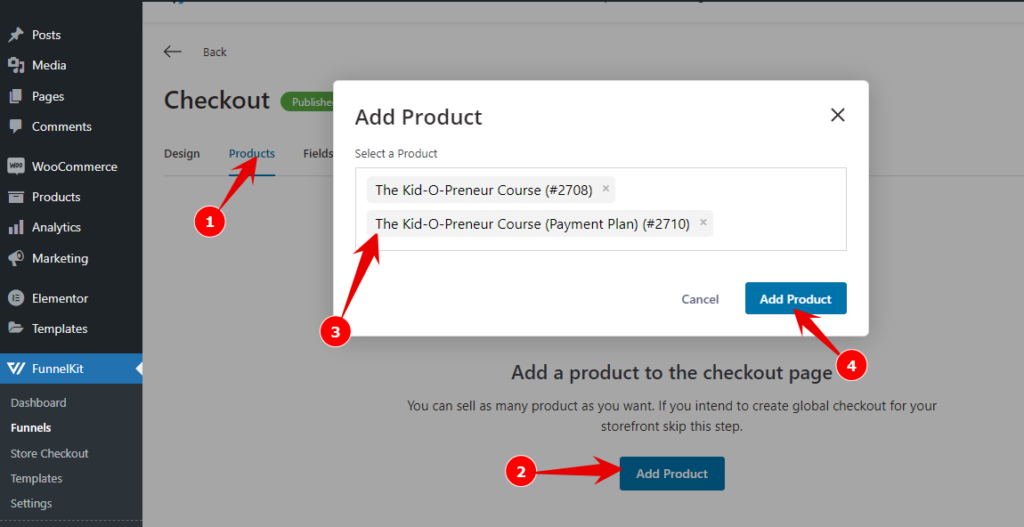 You can also offer a discount on the product on the Checkout page. To provide a discount, you need to choose the amount, discount type, and quantity of product on which you want to offer a discount.
After that, click on Save Changes.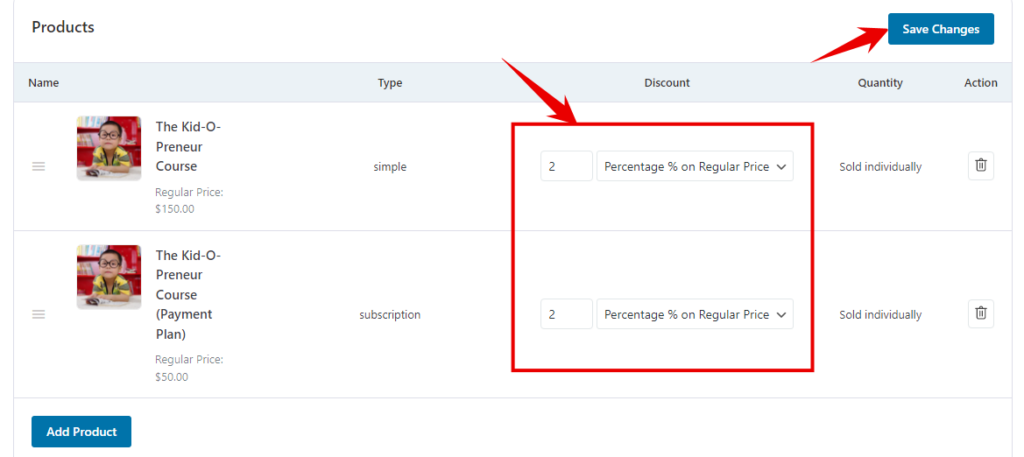 Since you want customers to choose only one option, scroll down a little, and under settings choose the "Restrict buyer to select only one of the above products" option. Finally, click on save changes.

Step 4: Customize the checkout template
Now, we need to customize the template so we can add both products to the checkout page and give users the option to choose one.
For that, move to the Fields tab and click on Add Section.
Provide a section name, subheading, and class, and click on Add.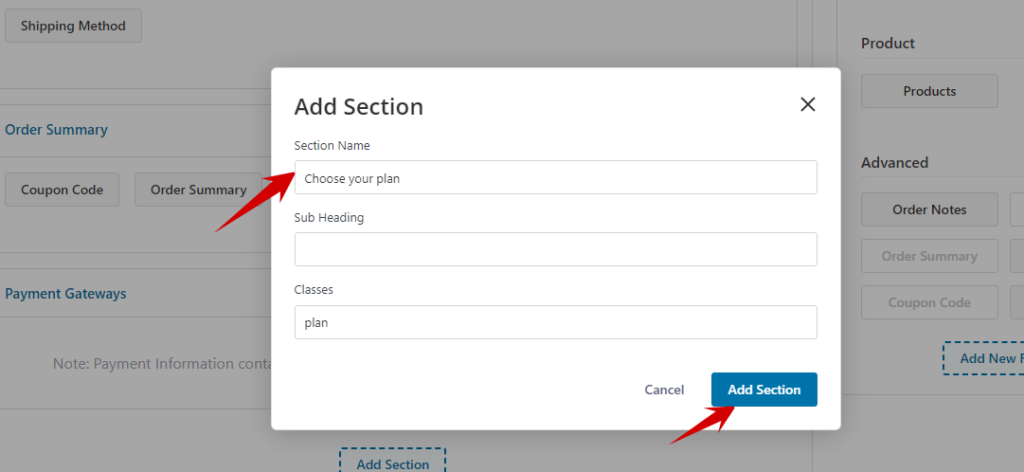 Now drag and drop the new section on the top and drag the product widget to the new section.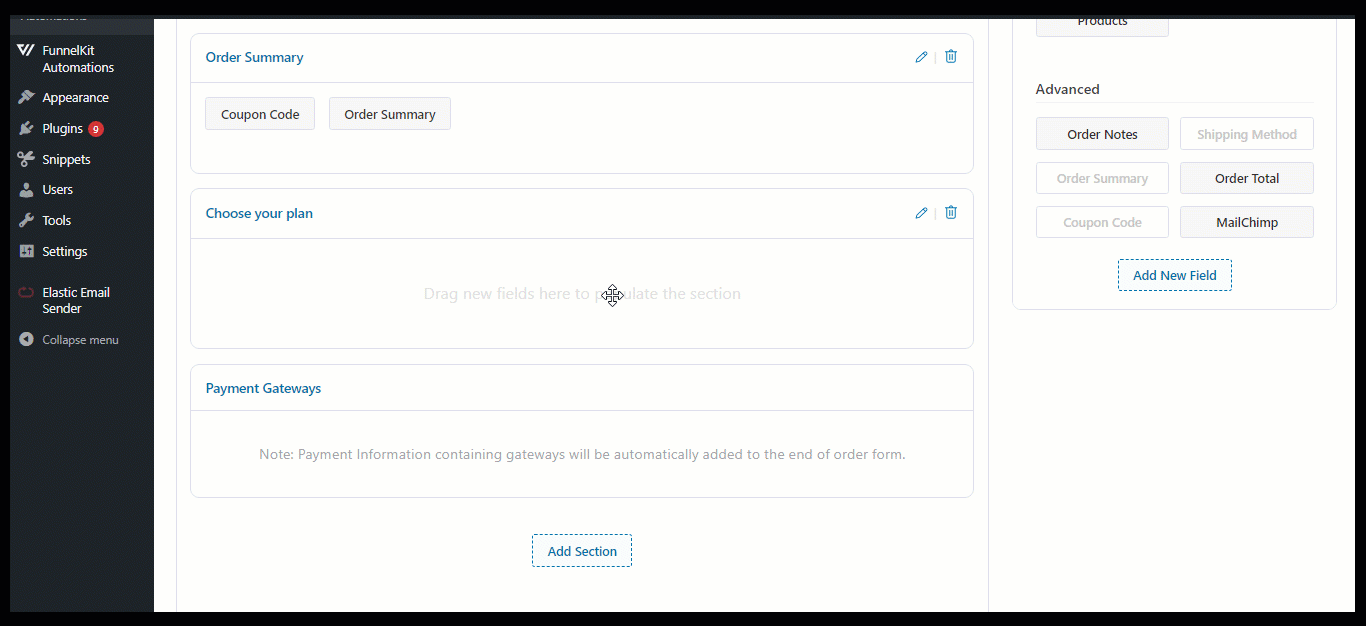 Now click on the Products button to add a level and choose the default product.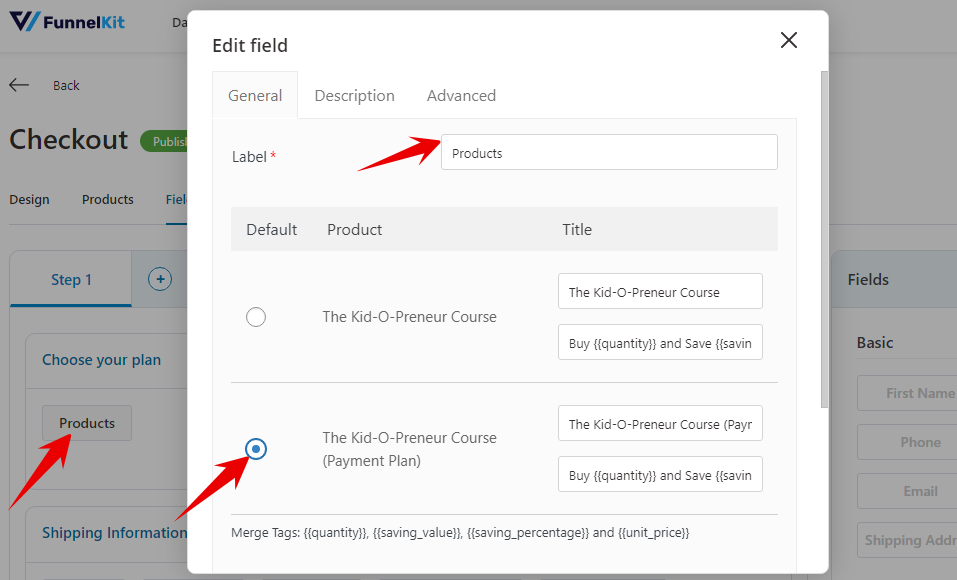 On the description tab, you can add descriptions for both products. On the Advanced tab, you can choose to add the Best Value tag to any of the products. You can add the Label and Position of the best value tag.
You can also hide the product image if you want.
After making the changes, click on Update to save.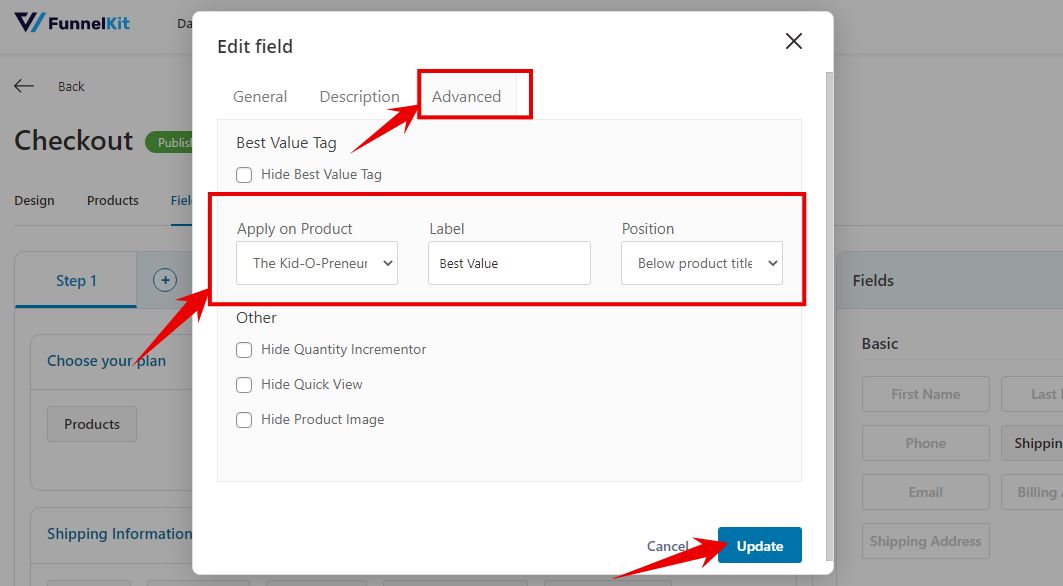 After that click on Save changes to update the new section.
Here is how the new section looks on the front end :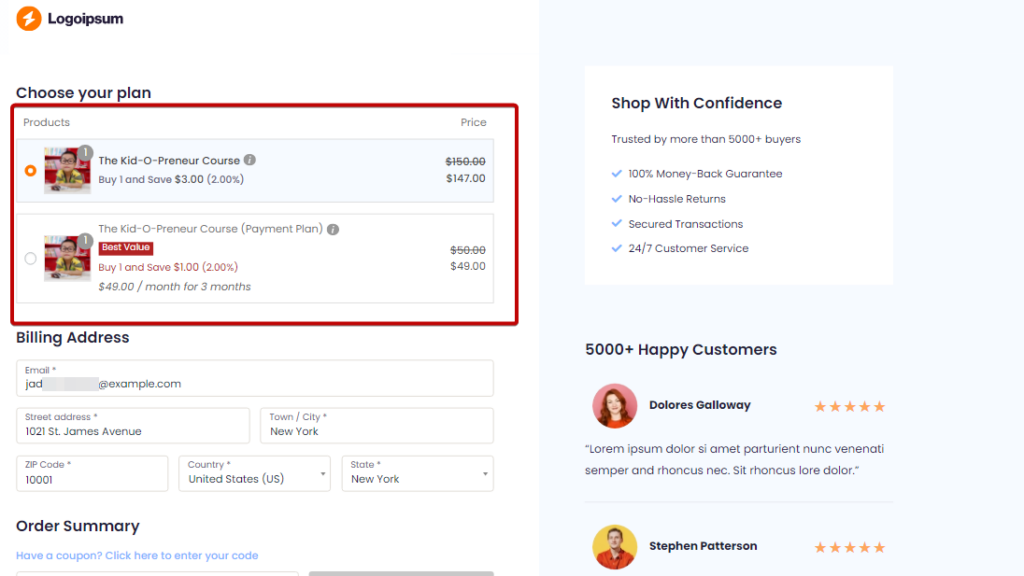 Now to check and test the sales funnel click on the view icon.

Bonus Tip: Add order bump to increase average order value (optional)
You can also offer an order bump with your WooCommerce payment plan to increase the average order value.
To add an order bump, click on Add Order Bump, provide a title, and click on Add.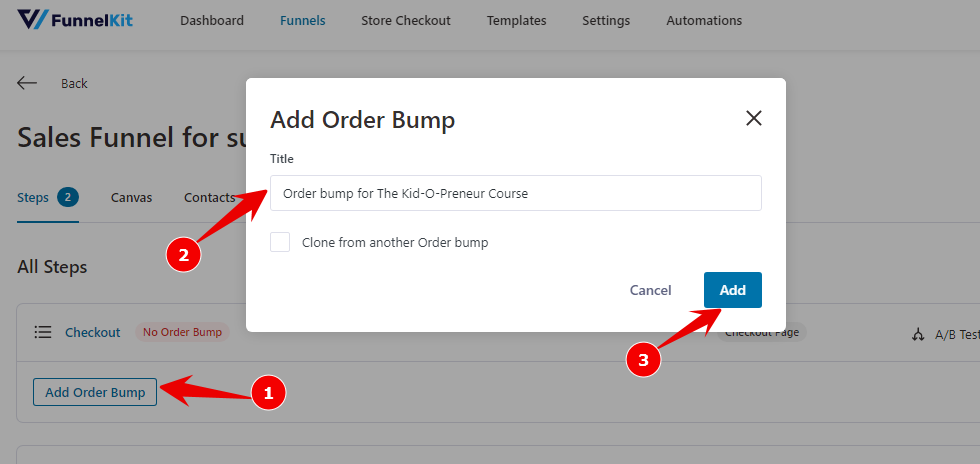 After that, click on the Order Bump to add products.
Once you are on the Products tab, click Add Product, then search for products and add them. Finally, click on Add Product to add the products as an order bump.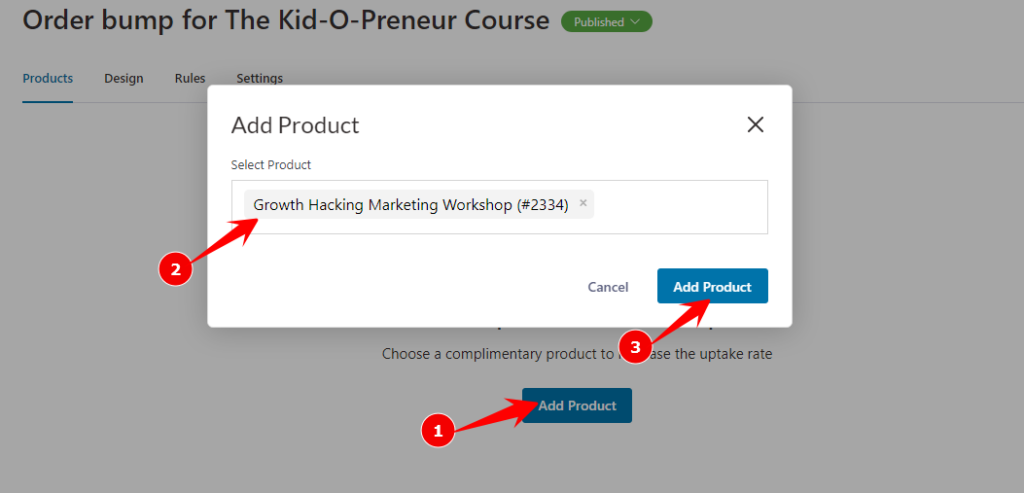 Here also, you can offer a discount on products as you did previously with the checkout products.

And of course, don't forget to click on Save Changes to update.
Here is how the order bump will look on the checkout page: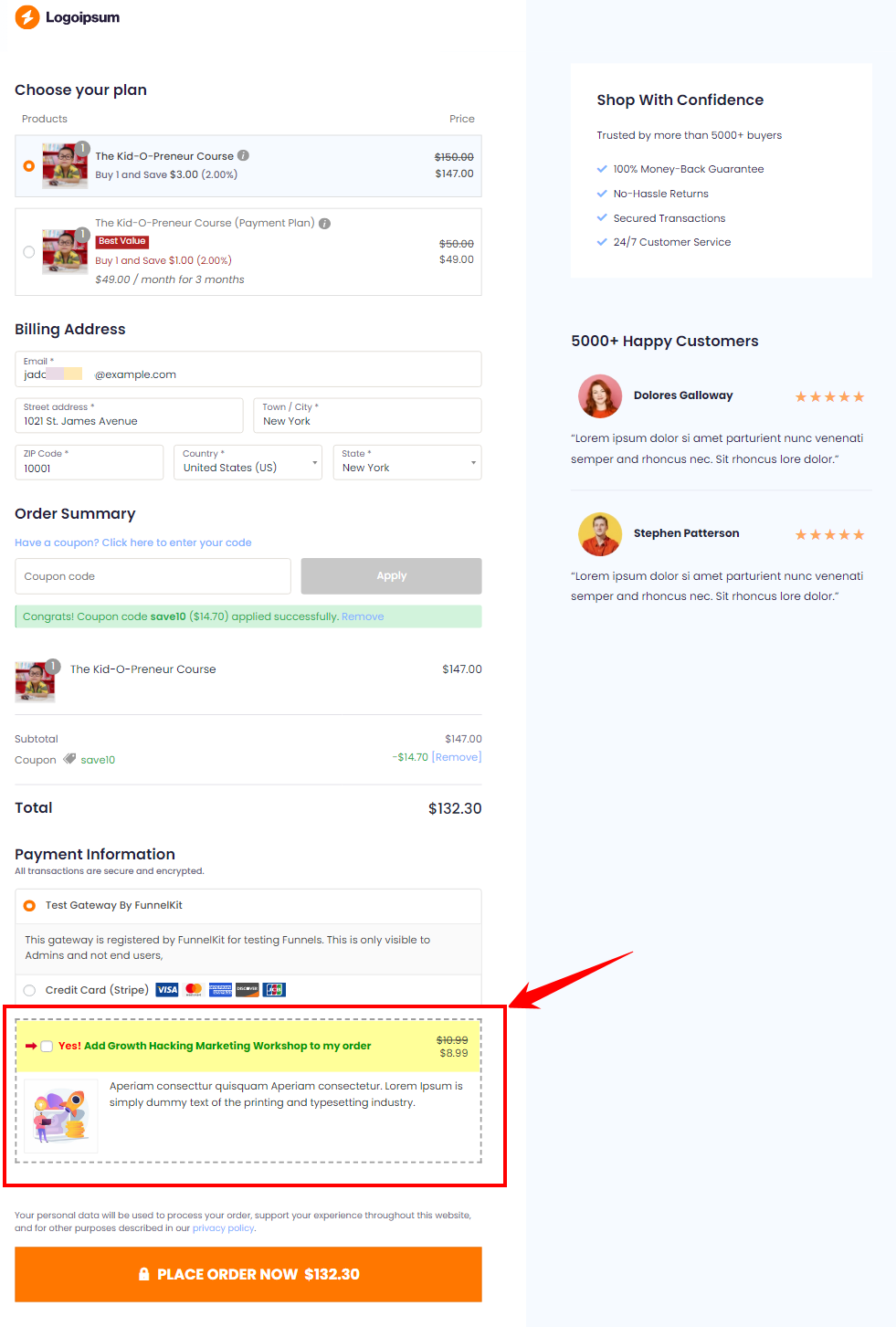 Ready to Set Up WooCommerce Payment Plans?
Setting up WooCommerce payment plans to offer your customers the luxury of paying in installments is an effective strategy to boost sales. That's because installment helps you to expand your audience by targeting budget-friendly customers.
The good news is now you know how to offer installment plans using the reliable WooCommerce Subscription.
However, to maximize your chance of getting conversion and increasing average order value, you should utilize a sales funnel and offer different payment plans.
Using the Sales funnel by FunnelKit Funnel Builder, you can offer discounts on the fly and also offer order bumps.
With the pro version of FunnelKit Funnel Builder, you will get access to multistep templates and offer one-click upsell as well. One-click upsell also helps to increase the average order value.
Don't just offer one payment option! Offer multiple payment plans, order bumps, and discounts to ensure a better user experience.
So, are you ready to set up WooCommerce payment plans and skyrocket your sales?