Do you want to know how to send a broadcast email?
Broadcast emails are the emails you send out to your entire audience or specific audience segments in real time.
Let's say that you're all set to launch a new product or an exclusive feature of your product and want to inform your audience about that.
Now you can send a broadcast campaign to your audience giving them a sneak peek. This way, broadcast emails can help generate hype, boost sales, earn repeat sales and more!
If you are a WordPress user, then the job of sending such is not hard at all. With the right broadcasting tool, you can now send email broadcasts to your target audience from your WordPress dashboard.
In this blog, we will talk about what is a broadcast email and how you can send one from WordPress.
What is a broadcast email?
A broadcast email is an email sent to a large group of recipients all at once. Using broadcast emails to send mass messaging saves the time and effort of contacting each contact individually.
In most cases, broadcast emails are sent to inform and excite your audience about news and updates related to your brand. Usually, broadcast emails are sent to share
Promotional campaigns
Special offers
Product launch
Newsletter etc.
Broadcast emails are different from triggered emails or autoresponders. Triggered emails are sent automatically based on certain user behavior or predefined conditions. One example of triggered emails would be sending welcome emails to users every time they register on your site.
On the other hand, broadcast emails don't get triggered based on any action or predefined conditions.
For example, if you're running a sale on US independence day (4th July), you'll only inform your US audience about the sale.
Moreover, you can schedule broadcast emails to be sent at a specific time and date based on your announcement.
Email broadcast examples
Inform about product launch/update
Sending broadcast emails to announce a new product launch or the addition of a new feature is a common practice. Most brands send emails to users before product update or launch to create a buzz before the release.
Have a look at this product launch email by Salt&pepper.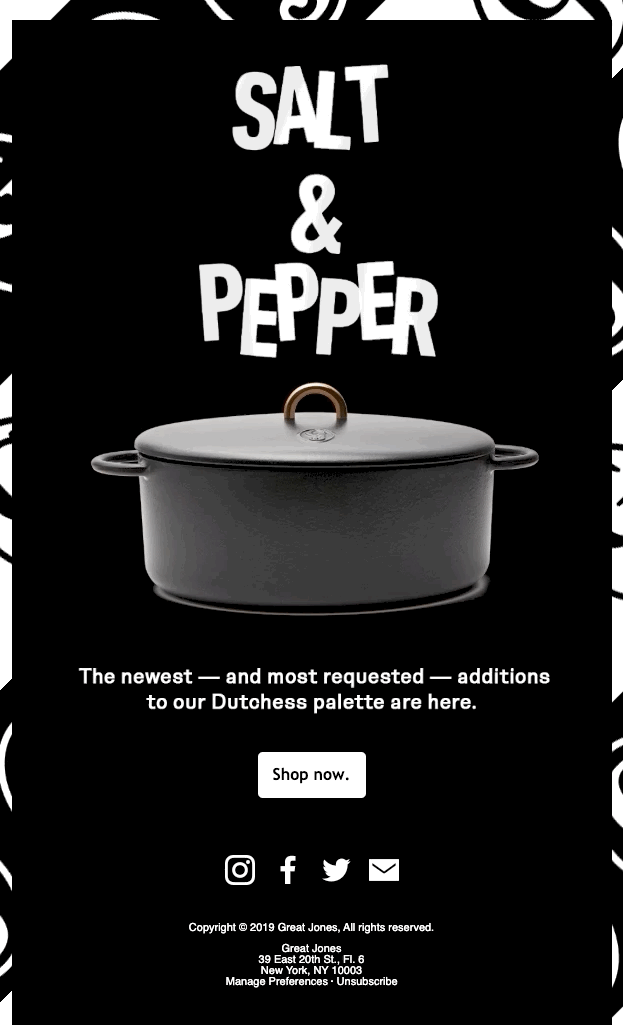 We like this email because while the copy is simple and minimalist, the design is on point with the brand. The peppy design is eye-catching and matches their brand.
Using broadcast emails, you can send newsletters mentioning recent events. In addition it's also a common practice to add some of your recently published blogs. Adding recent events and blogs keeps readers updated and keeps them more engaged with your brand.
Have a look at the newsletter Penguin Random House sends to its subscribers.

This newsletter divides content into different sections, which makes it easier for readers to read. It highlights the recent best sellers and provides reading material so users can engage more. Moreover, we also like that each section follows with a read more link, which will take users to their site.
Come up with holiday special offers
Every business owner wants to cash in on the holiday seasons. Offering minimal discounts during holidays can skyrocket your sales. You can send holiday offer emails to both subscribers and non-subscribers.
Have a look at the holiday offer email by Crello.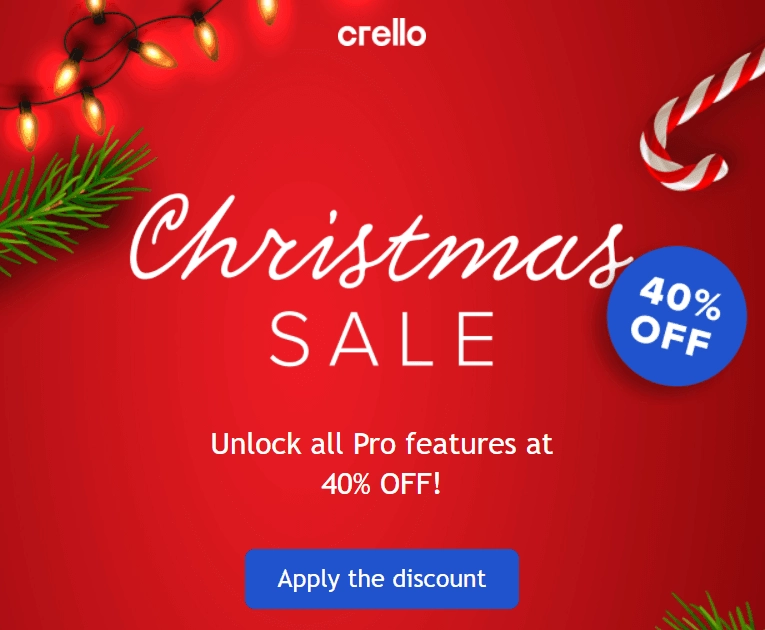 We like this design,especially the vibrant colors they used. This email gives us a festive vibe and highlights the discount with plain yet effective copywriting.
Promote an upcoming event
An event invitation email can perfectly let employees know about the "what," "why," "when," and "where" of your event. While calling each of your subscribers or staff members is possible, sending them a well written broadcast email is the better choice.
Have a look at the email by Hubspot that sends user invitations for a virtual event.
We like this email because this email is neat and clean.It perfectly adds all the necessary information one needs to know about the virtual event along with a CTA that directs users to more detailed information.
Convey an important message
Sometimes you may want to inform your audience about an important update about your business. For example, you may need to inform customers that your site will be down for 2 hours due to maintenance work. Another example can be to inform customers about new policies and so on.
Have a look at the email Microsoft sent to its users informing them about the security breach they had with Outlook.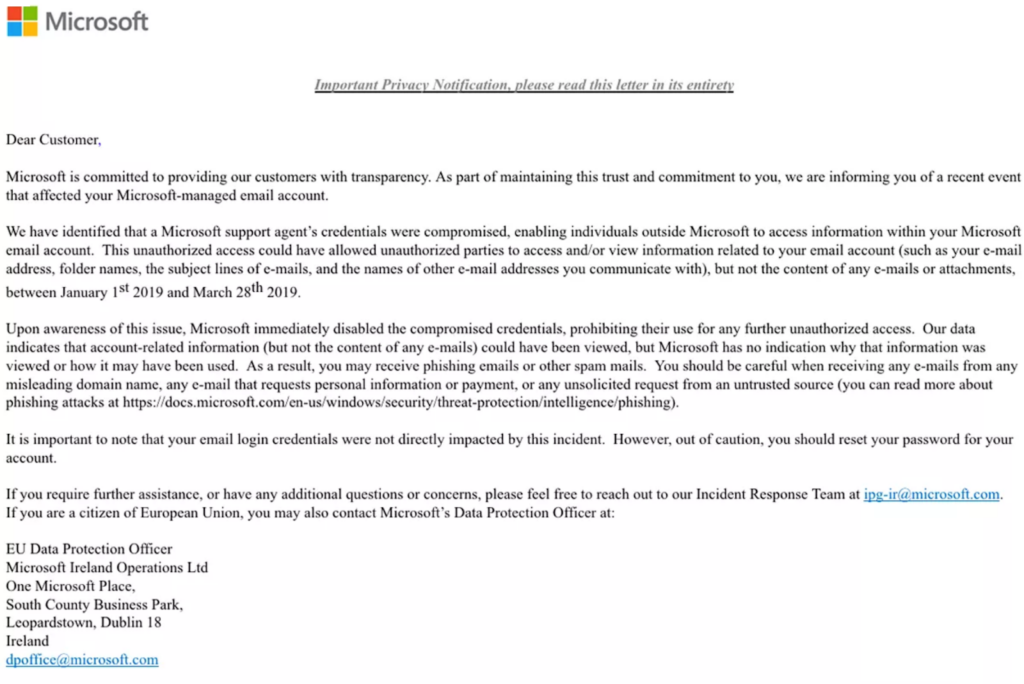 This email is straightforward and addresses the topic at hand. It doesn't have any fancy design as it addresses a serious issue.
How to Send a Broadcast email from WordPress?
To send broadcast email, we are going to use FunnelKit Automations today.
FunnelKit Automationsis an all-in-one email marketing platform for WordPress users. Some of the reasons to choose this WordPress plugin include :
Unlimited emails and contacts: With FunnelKit Automations, you can create unlimited contact lists. Moreover, there is no restriction on the number of emails. There you can broadcast unlimited emails.
Segmented broadcast campaigns: You can easily create your audience list or segment existing audiences based on their purchase history, average order value, location, gender etc.
Drag and drop email builder: FunnelKit comes with an advanced level drag and drop email builder that allows you to design beautiful email just by dragging and dropping different elements. You don't need to know any coding.
A/B testing : You can A/B test your broadcast email without much work using this useful plugin. With the smart sending option of FunnelKit, you can send the winning variant to the rest of the contacts.
In-depth Analytics: You can keep track of open rate, click rate, conversion, revenue, unsubscribed numbers and much such information.
We hope now you understand why we decided to go with FunnelKit Automations. Now let's start the main process.
Step 1: Install and activate FunnelKit Automations
First step is to install and activate FunnelKit Automations. FunnelKit Automations is available in both the free and premium versions. But we'll be using the Pro version to set up our email broadcasts.
If you need help activating FunnelKit Pro, then you can check out the installation guide.
Step 2: Add a new broadcast
Hover on the FunnelKit Automations from the WordPress dashboard and click on Broadcast.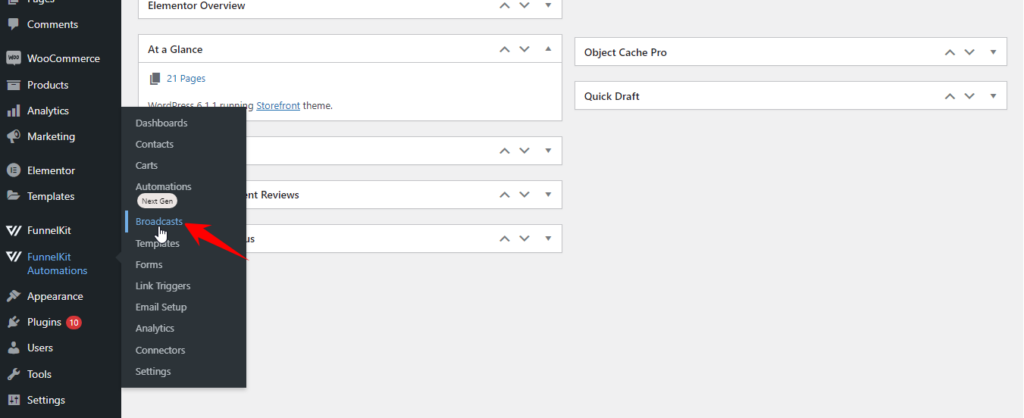 Click on "Add New Broadcast" to create an email broadcast.

Provide a name and click on Add.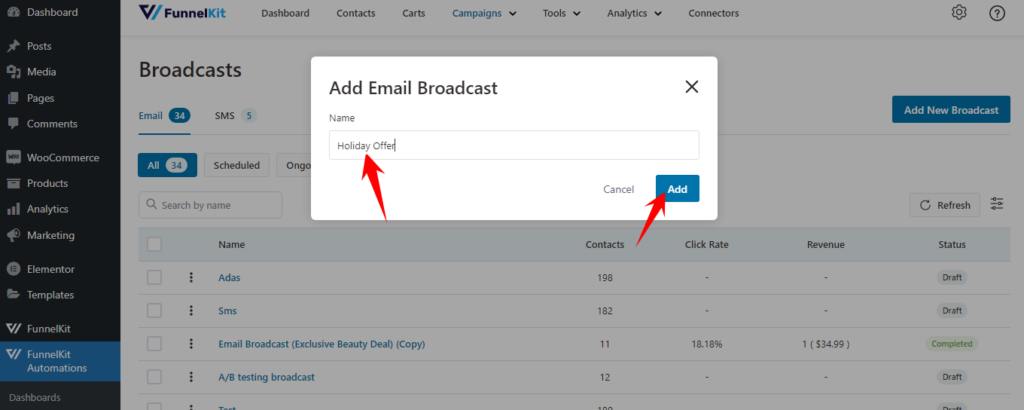 Clicking on Add will create a new email broadcast.
Step 3: Provide broadcast information
You can change the broadcast email at this step as well. After that you need to choose the email type. You can choose email type as
Standard: This is the default option that will send a single email to all the selected contacts.
A/BTest: With this option, you can split-test your broadcast email and create more than one variant of the same. This way you can find out which works better.
For this one we are going with the Standard option. If you want to send the emails to unsubscribers as well.
After choosing the option, click on Next to go to the next step.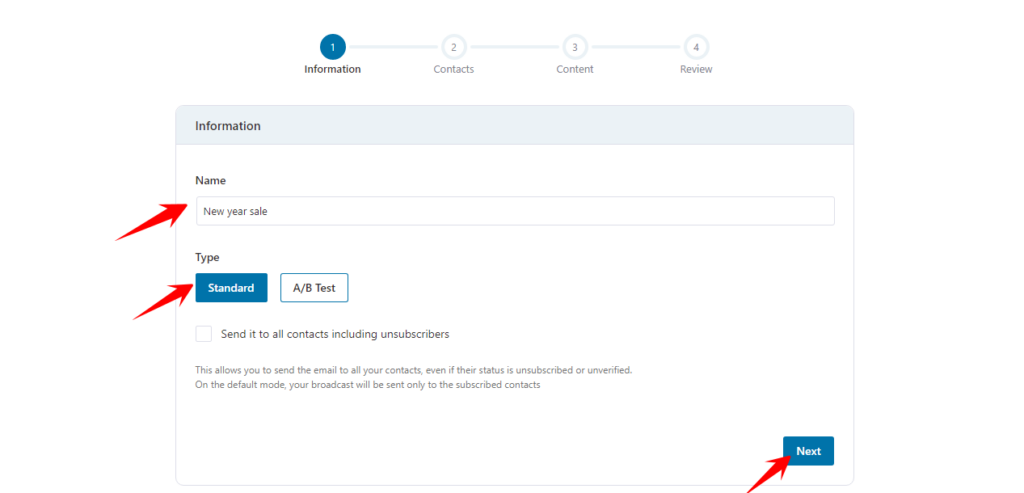 Step 4: Select your audience
You can send your email to all your audience. If you want to segment your audience, you can do that as well with Funnelkit Automations. To segment your audience, you need to create filters.
Click on the + icon to add a filter.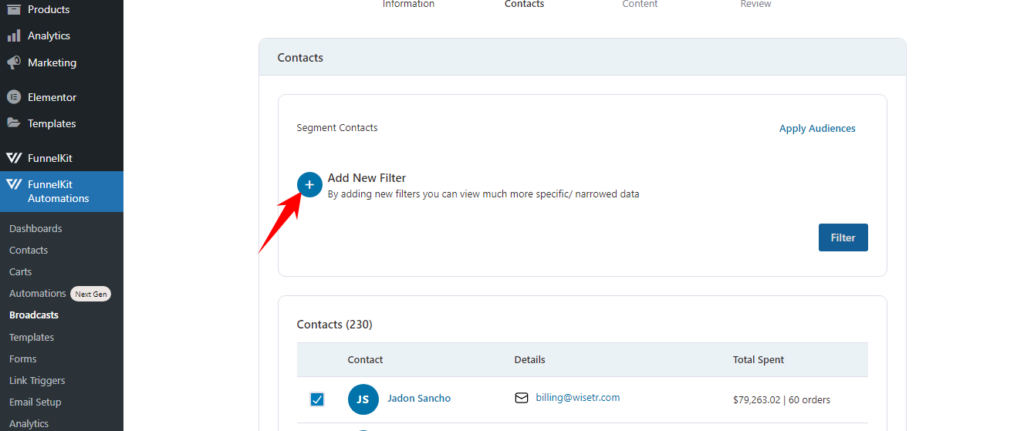 You can segment based on Segments, Contact Details, Users, Custom Field, WooCommerce etc.
We are going to send emails to only the audience that made a purchase within the last one year.
For that choose WooCommerce.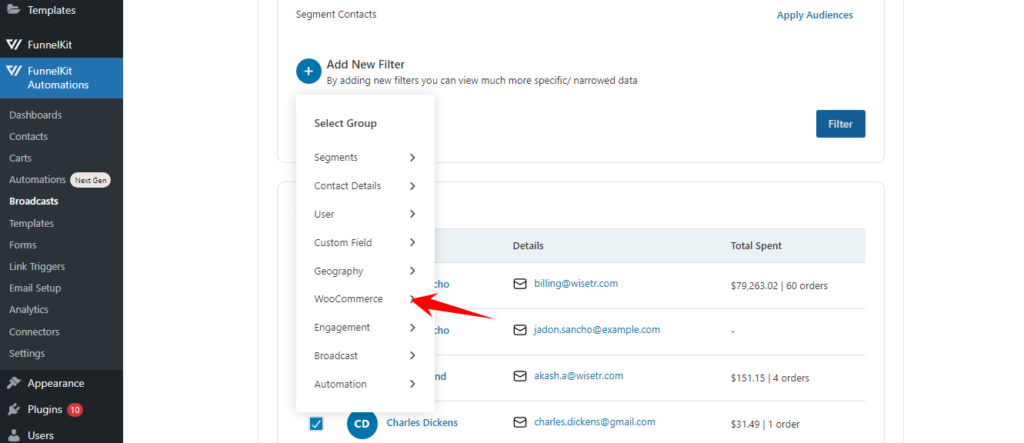 Now choose the option last order days.
You can filter last order days with three options: Over, in the past and in the period. We are choosing the "in the past" option. Now choose 365 days. Finally, click on Filter to filter the audience.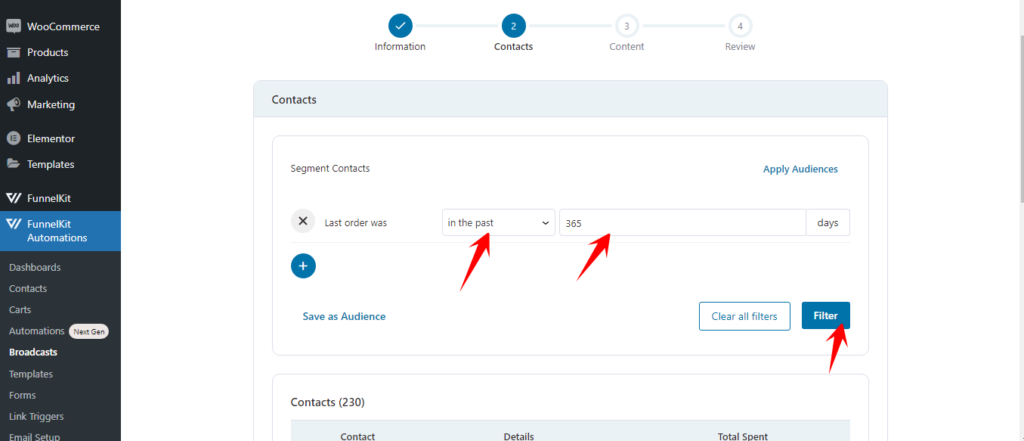 Now you should see a list of audiences that fulfills the filter you set. Once you have the audience you want to target with your broadcast emails. Then, click on Next to go to the next step.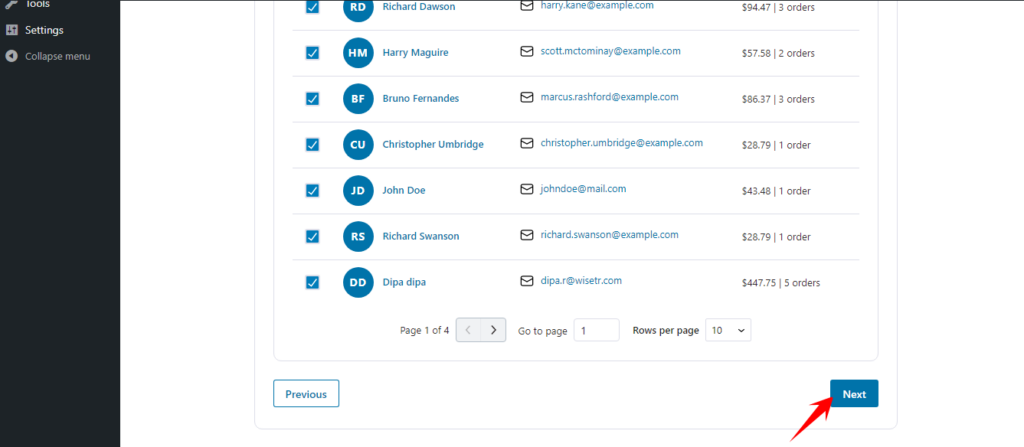 Now you should see a list of audiences that fulfills the filter you set. Once you have the audience you want to target with your broadcast emails. Then, click on Next to go to the next step.
In this step you can change
From Name: This will be displayed as the sender name.
From Email : Provide the email from which the broadcast will be sent.
Reply-To Email: Give the email address to which audience can reply.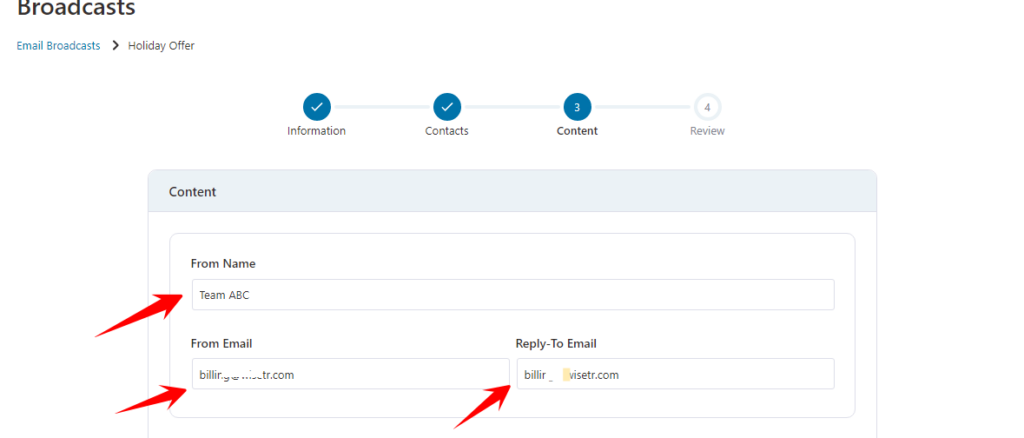 Step 6: Design the broadcast email
First write an email subject line and preview text for your email. Make sure your subject line is clear and catchy.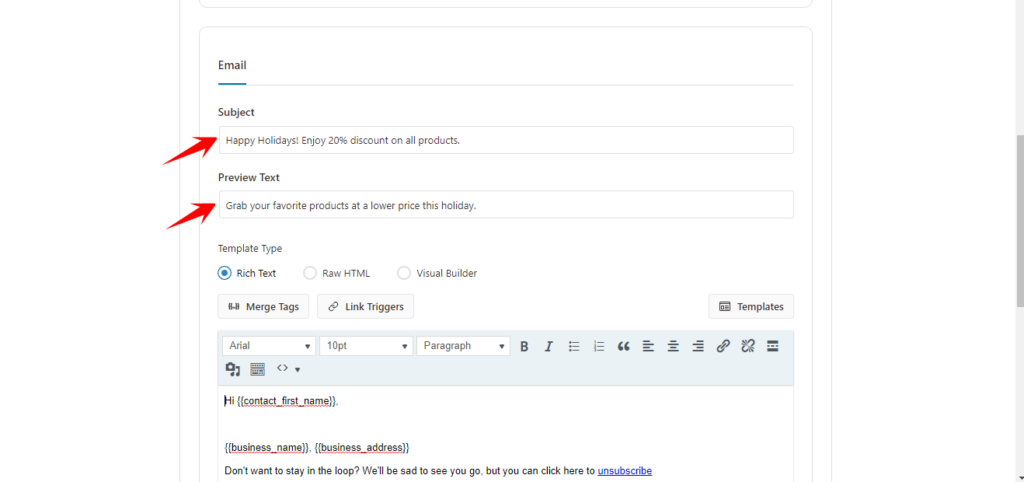 To design a email, FunnelKit Automations provide you 3 options:
Rich Text : You can write emails like you would do with any rich text editor. You can add links, images and format your text however you like.
Raw HTML: With this option you can design your broadcast email using HTML. You need to be a HTML expert to use this option.
Visual Builder: You can simply drag and drop elements to create your email using this option.
Here is a holiday email created using Rich Text.
You can use merge tag to personalize your email content. Like the email above it addresses users by their first name. To learn more about merge tags, check our documentation.
With visual builder, you get more flexibility to design your emails. To design an email with visual builder, choose Visual Builder and click on Start.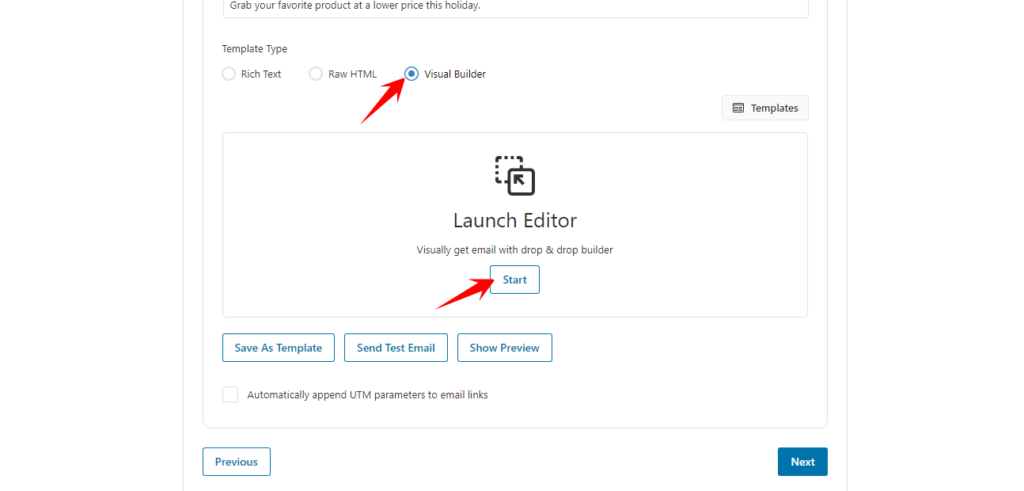 After you need to drag and drop elements such as email, text, button etc to design your email.
To design the email shown below we have added an image, text and button.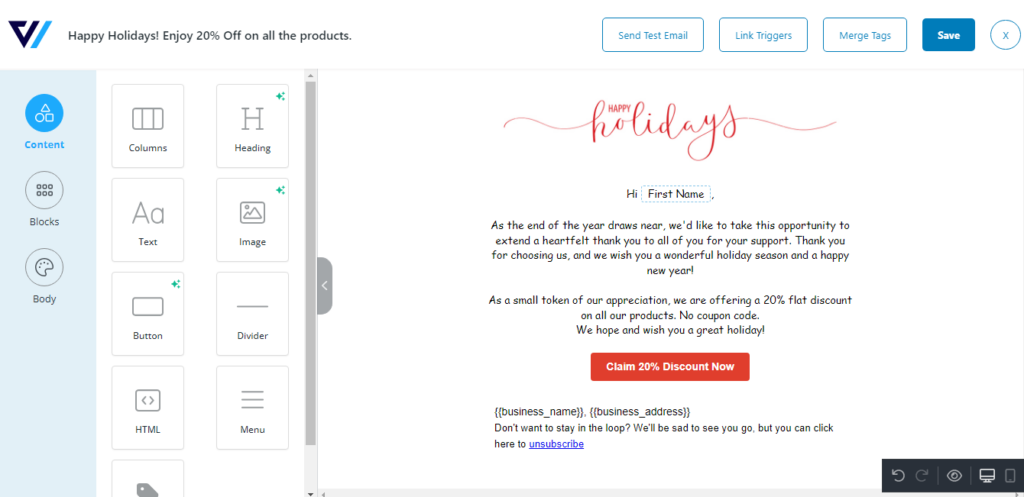 Once you complete designing your email, click on Save to update.
You can also send a test email to any email address to check how the email looks like. For more details check our blog.
Click on Next to move to the next step.
Step 7: Review and send broadcast email
In the last step you can review your broadcast campaign. If you want you can go back to the previous step and alter anything you want.
FunneKit Automations provide two options, you can send your broadcast emails right away or schedule for later.
If you want to send right now, choose click on Broadcast Now and hit Send Now.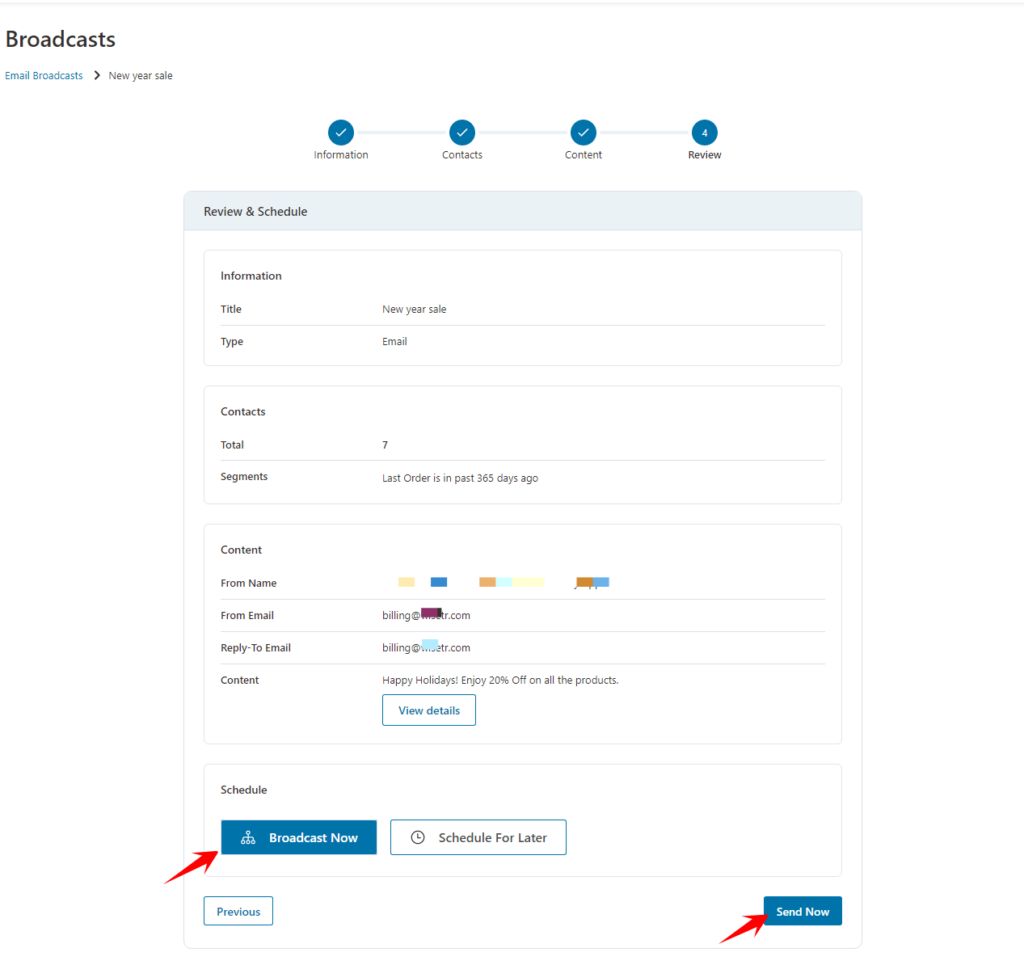 In case you want to send an email at a later time, click on Schedule For Later, then pick a time and date and after that hit Send Now.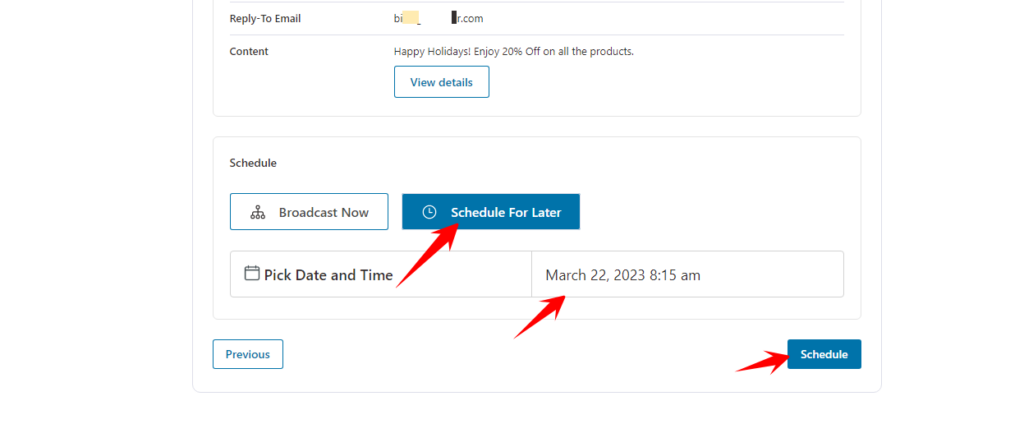 And that's it. Your broad emails will be sent to the chosen audience on time. 
Frequently Asked Questions
Let's have a look at some of the frequently asked questions with answers about broadcast emails:
What is the Difference Between an Email Broadcast and an Email Autoresponder (Triggered Emails)?
An email broadcast is the process of sending emails to a predefined audience. You need to send or schedule the broadcast email manually. For example, you can send out a message to all your subscribers about a new product launch event.
On the other hand, autoresponders or triggered emails get sent to users based on their behavior or interaction with a website. An example would be customers receiving welcome emails when they subscribe to your newsletter.
What is an example of broadcast email?
Examples of broadcast emails include monthly newsletter, weekly update, announcement of upcoming product launch or event, emails informing audience about emergency situations etc.
Are You Ready to Send Broadcast Emails?
We hope now you know how to send a broadcast email with minimal efforts. Broadcast emails makes the job of sending an email to a group of people super easy.
And FunnelKit makes this job even more efficient. That's because with this plugin, you can segment your audience, design email using visual builder and A/B test your emails.
On top of that, you get a 360 degree contacts overview where you can check contact information, purchase history and their engagement with your website. Moreover, with FunnelKit Automations, you can do sms marketing as well.
So, are you ready to utilize the amazing FunnelKit Automations to send out beautiful broadcast emails without any hassle?