Enabling direct checkout in WooCommerce helps you increase your store's conversion rate.
70% of customers agree that a quick checkout process in an online store encourages them to complete their purchase.
And the more steps you put your shoppers through during checkout, the less likely they are to complete the process.
Solution?
Enable direct checkout by skipping the default WooCommerce cart page.
WooCommerce direct checkout redirects users directly to the checkout page skipping the cart page, making the process faster and easier.
No, you don't need to know any coding for this to make it a reality.
In this blog, we will show you three processes for adding a WooCommerce direct checkout:
So, without further ado, let's get started!
Why Leverage WooCommerce Direct Checkout?
Do you know that 70% of users abandon their cart in the middle without completing the purchase?
While there are many reasons behind it, one of them is users get distracted during the checkout process. Especially on mobile devices, it's so easy to get distracted by notifications from different apps and other things.
If you don't want to lose out 70% of your potential customers, then you should leverage WooCommerce's direct checkout process, as it will make the process simpler, thus making users less likely to get distracted.
Here are some of the benefits of using WooCommerce direct checkout:
Increase sales by removing obstacles that could hinder the buying process.
Build customer loyalty and a positive reputation by satisfying their needs and ensuring an effortless buying experience.
Encourage repeat purchases by providing a seamless and hassle-free experience that leaves customers with a positive impression of your brand.
You don't necessarily have to enable a direct checkout in your online store only; you can use the WooCommerce direct checkout link on your different marketing platforms, such as social media ads, email marketing, etc. as well.
We hope you have now understood the importance of leveraging direct checkout on your WooCommerce store.
Method 1: How to Create a WooCommerce direct checkout link manually without a plugin
Adding WooCommerce direct checkout link to different types of products is super easy. All you need to do is collect the product id.
After that, you need to append the following to your WooCommerce store's url:
checkout/?add-to-cart=ID
And of course before you do that, you need to replace the "ID" with the actual ID of your product.
https://www.yourdomain.com/checkout/?add-to-cart=ID


Here is an example. You can find the product ID from Product⇒ All products. Just hover on any of the products and copy the ID.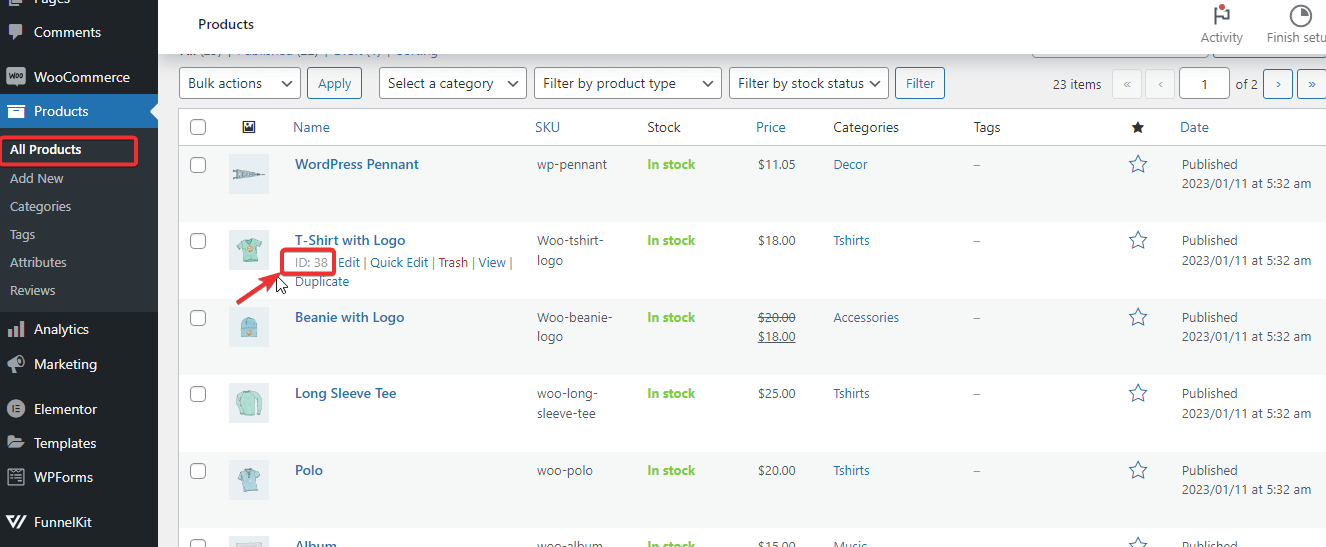 Then paste the Id in the URL like the one shown below:
http://funnelkit.local//checkout/?add-to-cart=3271

Now if you hit this URL, you will be redirected to the checkout page directly skipping the Cart page.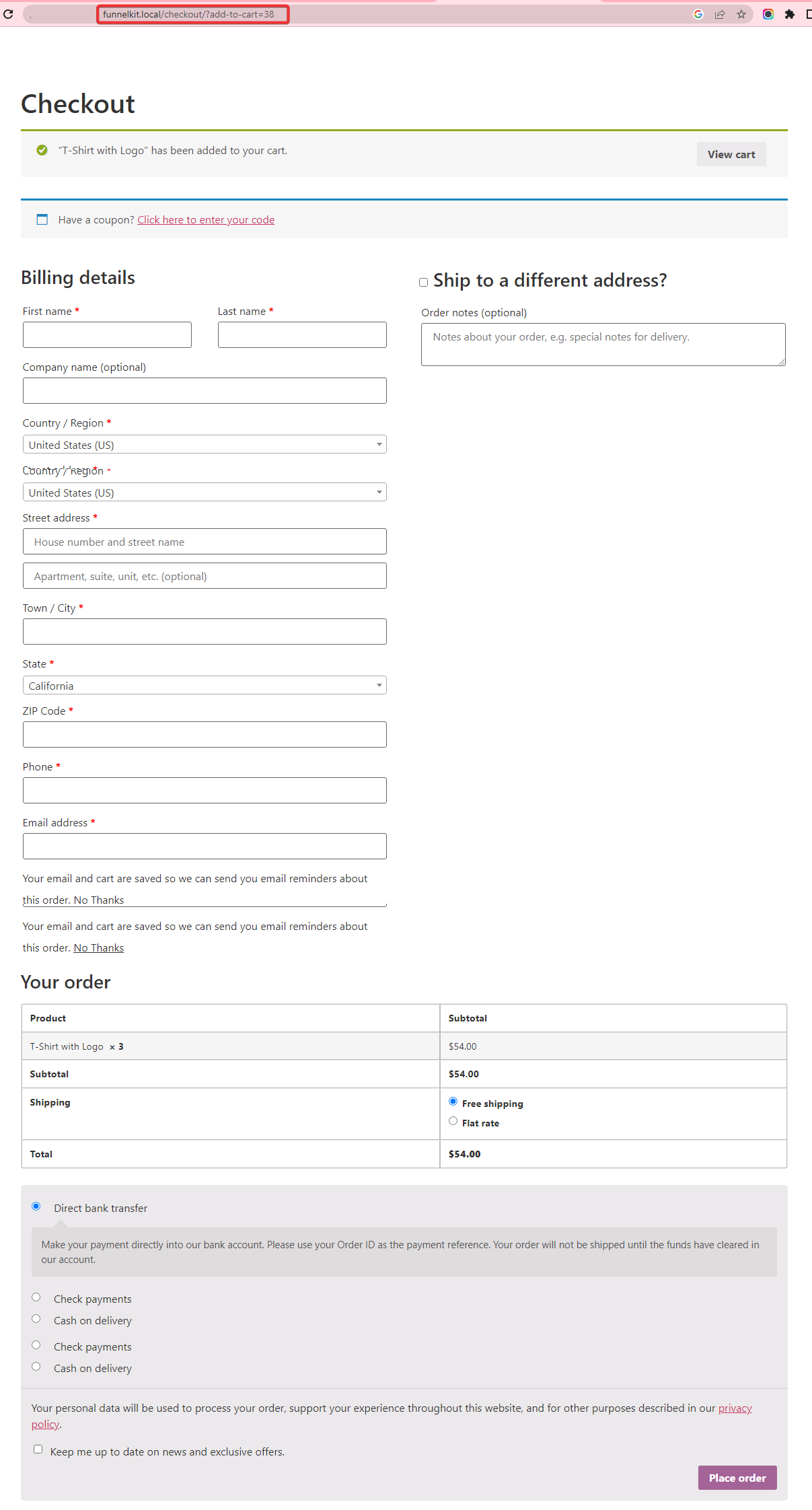 This was easy, wasn't it?
But this way you can add a direct checkout link to only one product at a time. Plus, there is no way to enhance the average order value of your store.
Let's move to the next section to find out how you can take users directly to the WooCommerce checkout page using a sales funnel and also improve your AOV.
Method 2: How to Offer Dedicated WooCommerce Direct Checkout Using a Sales Funnel for FREE
We are going to use a sales funnel builder named FunnelKit Funnel Builder to create a dedicated direct WooCommerce checkout here.
This plugin empowers you to streamline the direct checkout process with a custom checkout page. You can create a custom checkout page for each product separately or for a group of products.
Moreover, you can keep track of how your sales funnels are performing in real-time with metrics such as order placed, total revenue generated, average order value, number of views and conversions, etc.
In addition, with the pro version of FunnelKit, you can also add order bumps and one-click upsells, which helps you boost your AOV. Furthermore, you can provide lucrative discounts on your offers with just a few clicks to motivate the users to buy more products.
Furthermore, you can run A/B tests while you're building your funnels. A/B testing helps you to test different variations of your checkout page to determine which one works best for your audience.
Let's get to the main process now.
Step 1: Install and activate FunnelKit
You need to install FunnelKit Funnel Builder free. You can find the free version at WordPress.org.
Step 2: Create a checkout funnel with a free prebuilt template
To create a sales funnel, go to FunnelKit Funnel Builder ⇒ Funnels and click on 'Add New Funnel'.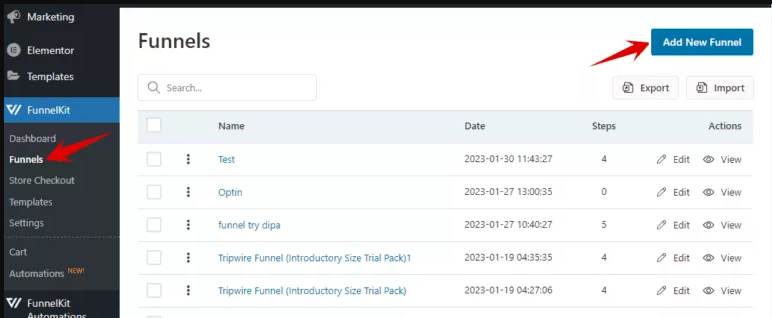 Now choose the "Checkout" option to see all the prebuilt checkout funnels . To view any of the funnels and select, just hover on it and click on Preview.
Here we are using a free template named Optic.
To view this free checkout template, hover on it and click on preview.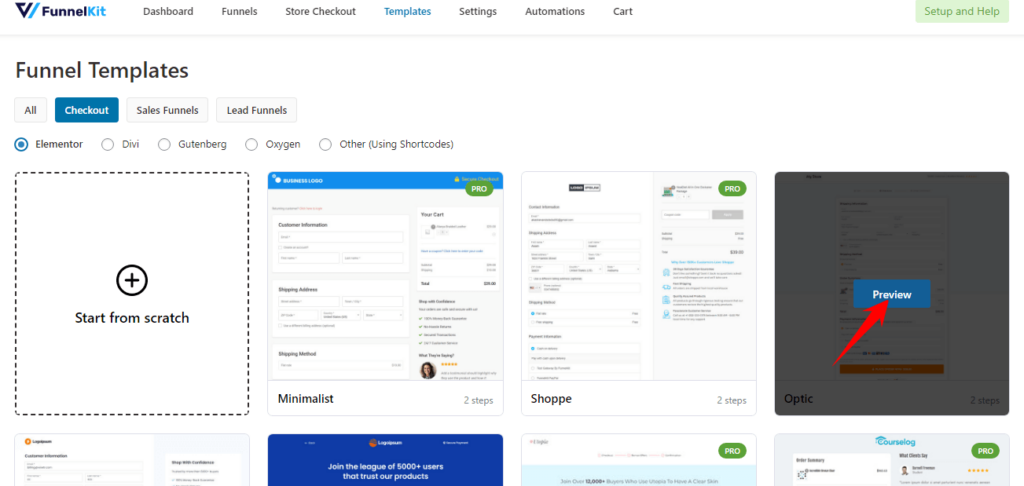 After that click on "Import This Funnel", provide a name and click on Add.

This will import the funnel with two pages: checkout and thank you.

Step 3: Customize checkout page
To customize the checkout page, click on the Edit icon of the checkout page.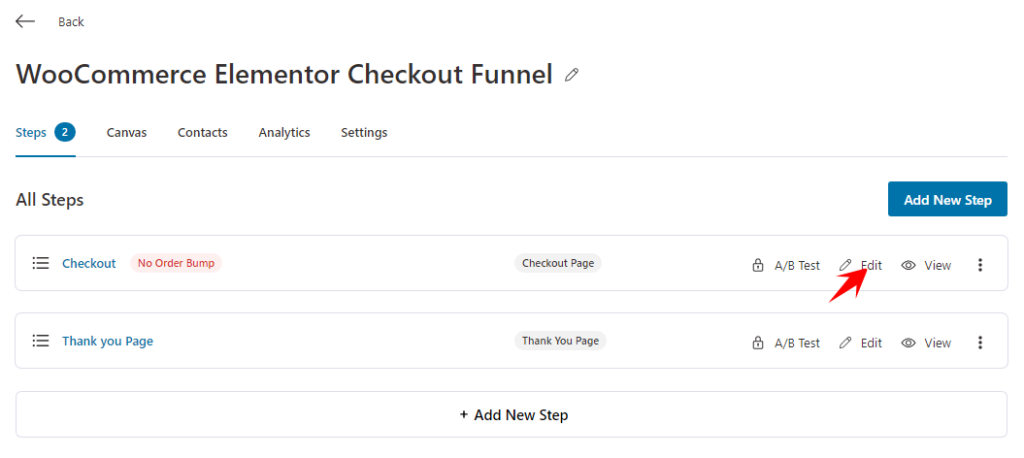 Next, click on the 'Edit Template' option to edit the template with Elementor page builder.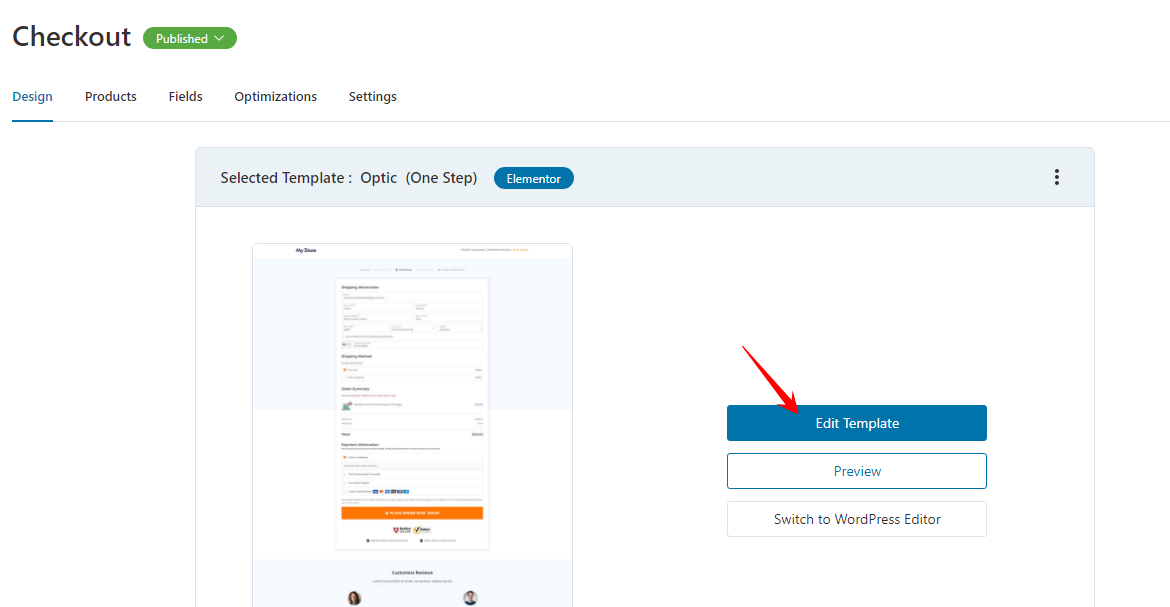 Here you can customize the checkout page according to your preference. For example, you can turn on the collapsible order summary which is of great help for the mobile users.
You can customize all the sections and change the content. For that just click on the section and you will find all the options to customize the content on the left side.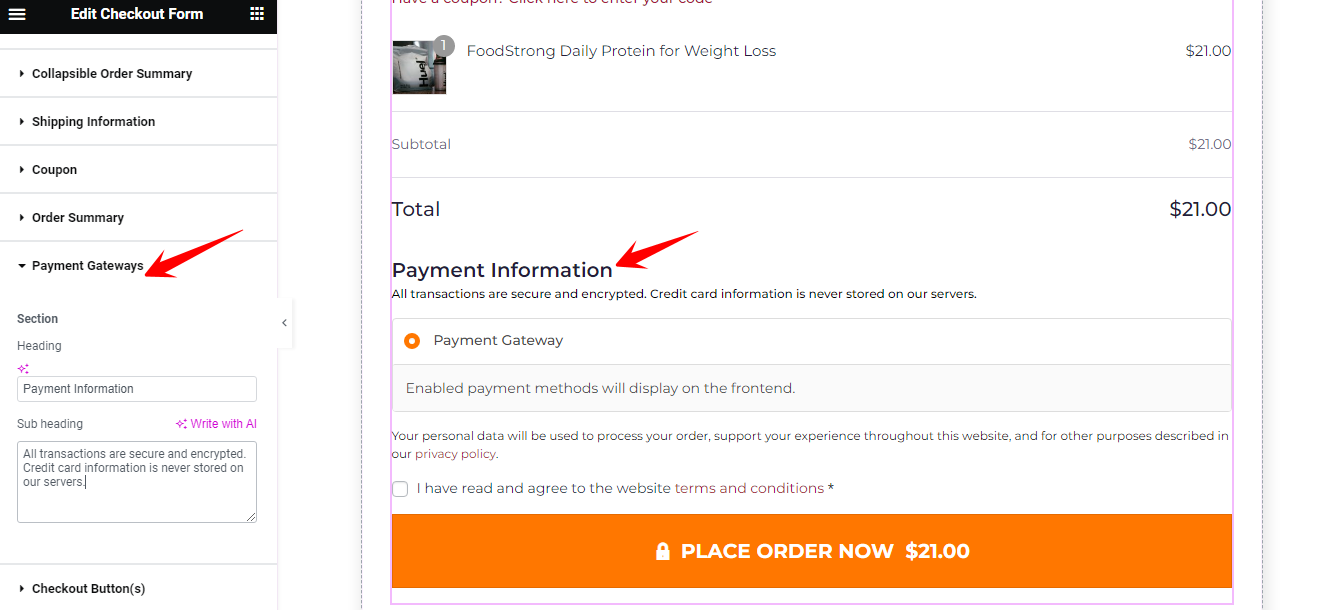 After you are done making the changes click on the update button below to save.
Step 4: Add products to checkout page
For that come back to the checkout page and move to the products tab. After that click on "Add Product", search for a product, then select a product and finally click on "Add Product" to add the product to the checkout page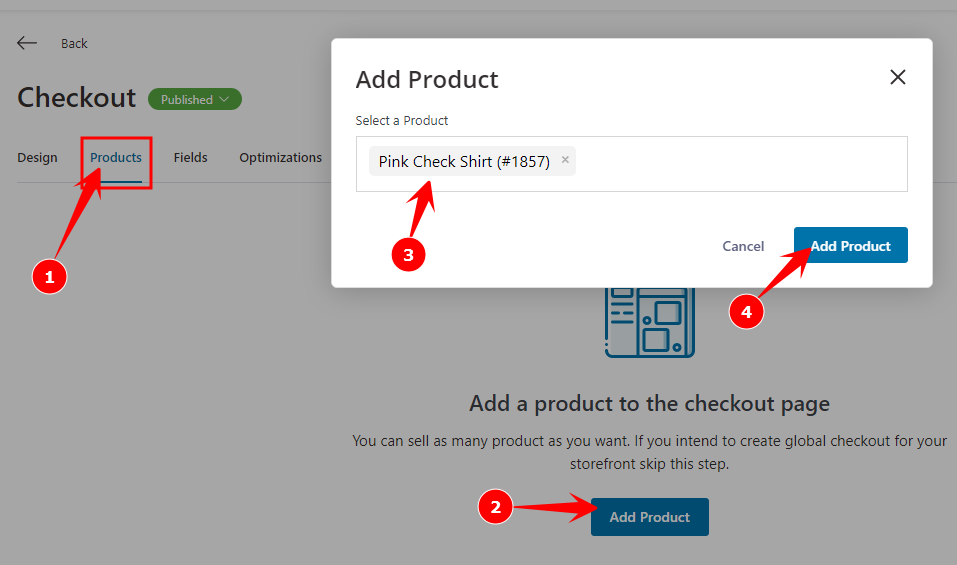 You can add multiple products if you want. You can offer discounts to the products as well. This will increase your chances of getting more sales. After adding the discounts, click on Save Changes.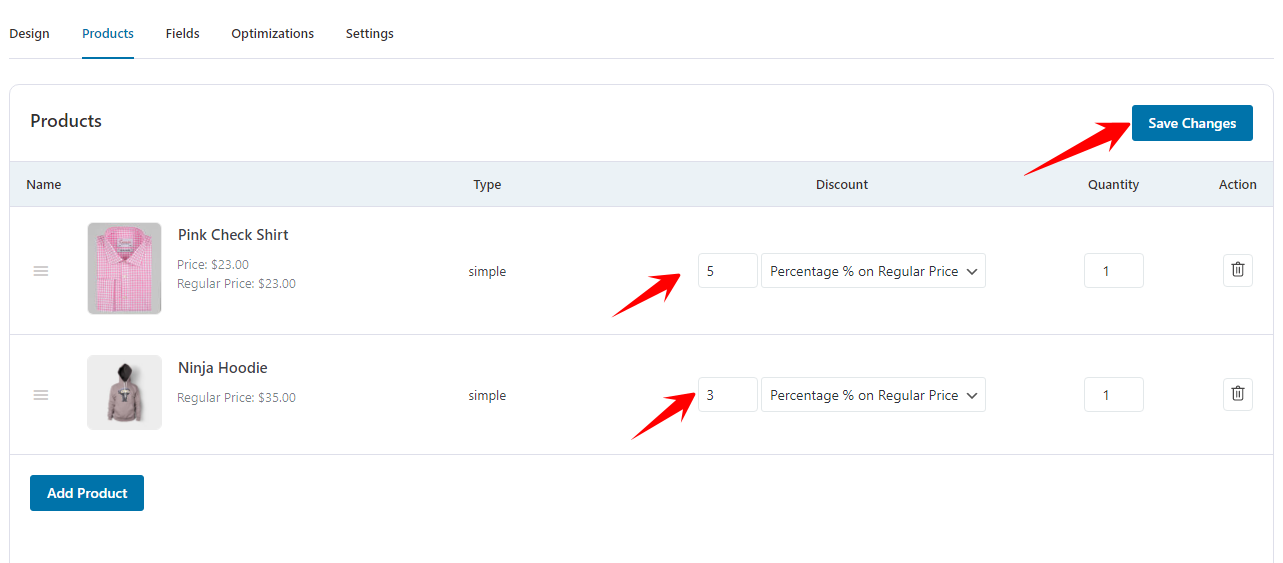 You can select the products that will be added to the cart from the settings. You can set it to:
Restrict buyer to select only one of the above products
Allow buyer to select any of the above product
Force sell all of the above product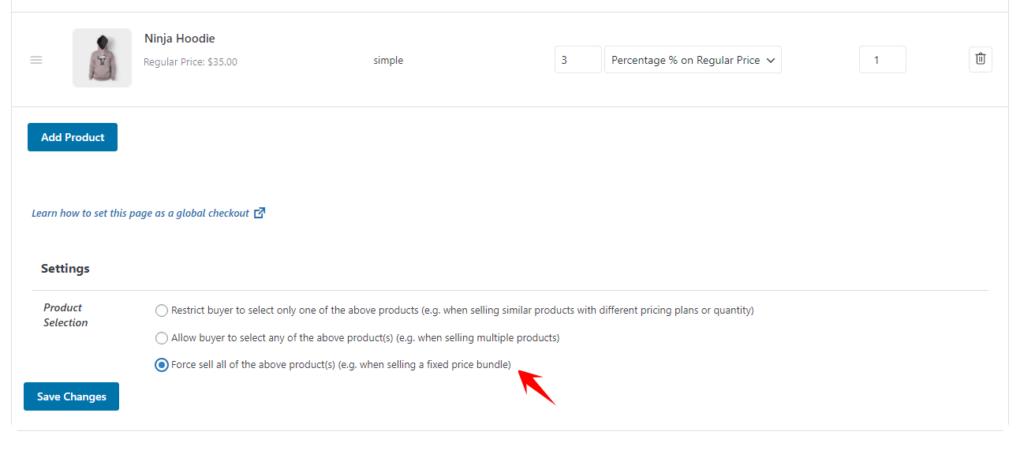 We are choosing the third option, all the products will be added to the cart.
Order bump feature is available in FunnelKit Pro. To learn more about order bump read our blog "WooCommerce Order Bump: Ideas, Examples, Scripts & Step-by-Step Tutoria".
Step 5: Customize Thank you page to complete
Thank you pages show up the order details of the order the user just places along with a thank you message.To customize the thank you page, you can refer to our blog "How to customize thank you page ".
After editing the thank you page, your checkout funnel will be ready.
So far, we have shown you how to offer WooCommerce direct checkout links, which you can promote on various marketing platforms using.
But how about skipping the cart page when users add products to the cart from the product page or archive page?
We will cover these in the next section.
Method 3: How to offer WooCommerce direct checkout by Skipping the Cart page using a plugin
Just follow the steps shown below to allow users to skip the cart page while shopping on your WooCommerce store. To follow along with this section, you will need to upgrade to FunnelKit Pro.
Step 1: Install and activate the CartHopper
First step is to install and activate the CartHopper plugin by FunnelKit. This WordPress plugin is an addon of FunnelKit which is available with the FunnelKit pro version. You can download this plugin from your FunnelKit Account, under the Downloads tab.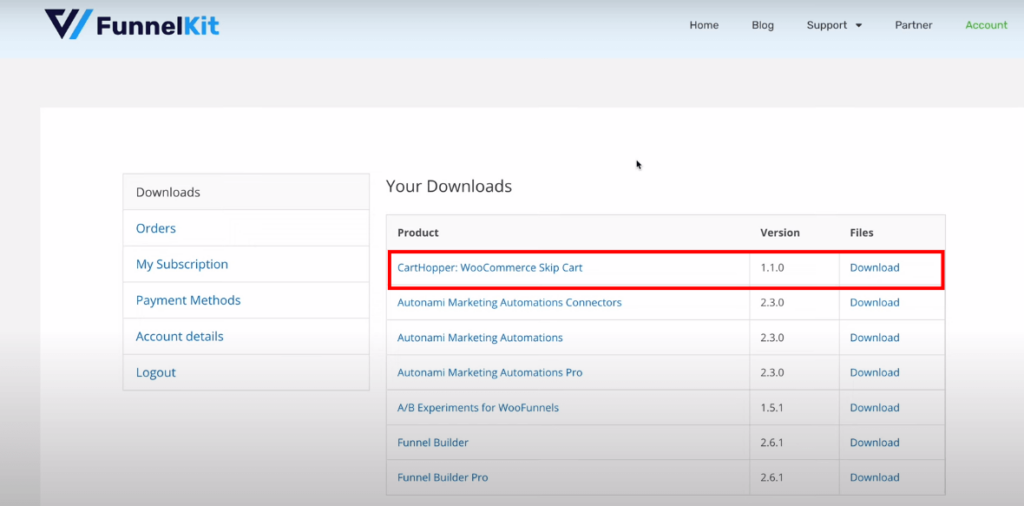 Step 2: Enable Skip cart for products pages
Now navigate to FunnelKit ⇒ CartHopper. Here you first need to set up the following options:
SkipCart: check the "Enable SkipCart For All Products" option so users can go to the checkout page directly after clicking on the "Add to Cart" button.
Exclude Product Category (Optional): You can use any category here on which you don't want to implement the direct checkout option.
Exclude Products (Optional) : Similarly,you can exclude any products from this direct checkout process.
Add To Cart Button Text (Optional): Since this feature will take the users directly to the checkout page, you can change the text of the "Add to Cart" button to "Buy Now" or anything you prefer.
After all is set up, click on Save Changes to update.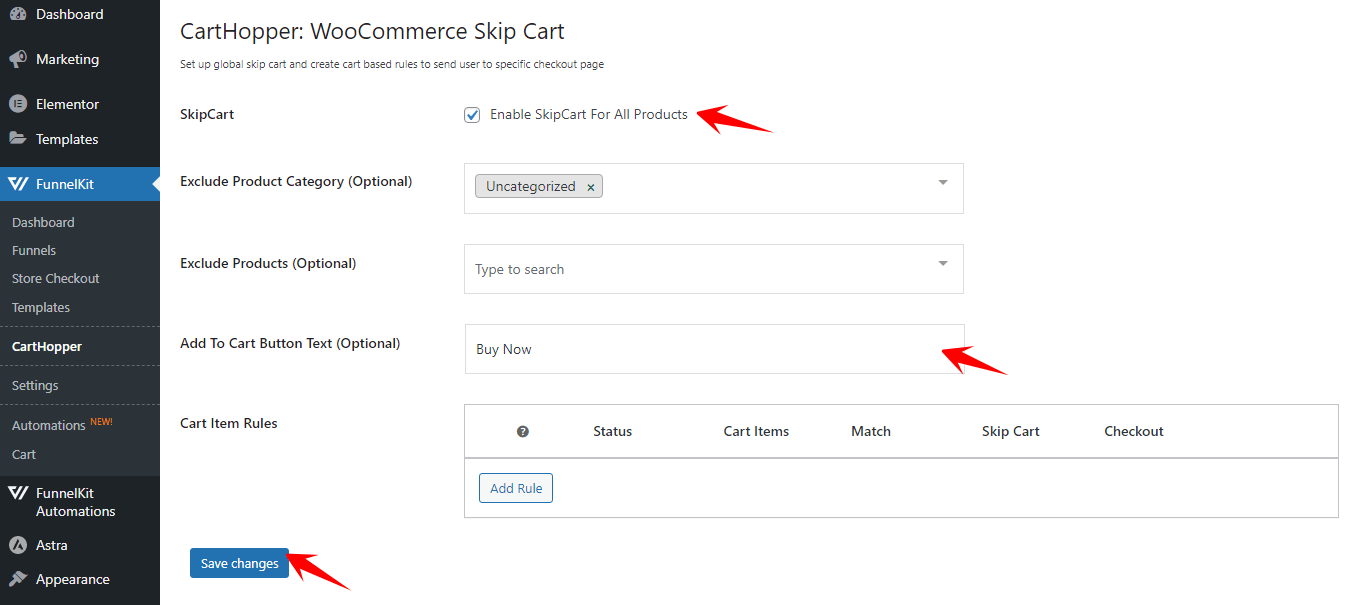 After setting up these features,the Skip Cart Page option will be implemented on your WooCommerce product page like shown in the below:
Note: The text of the Add to Cart button will be one you set. In our case it's "Buy Now".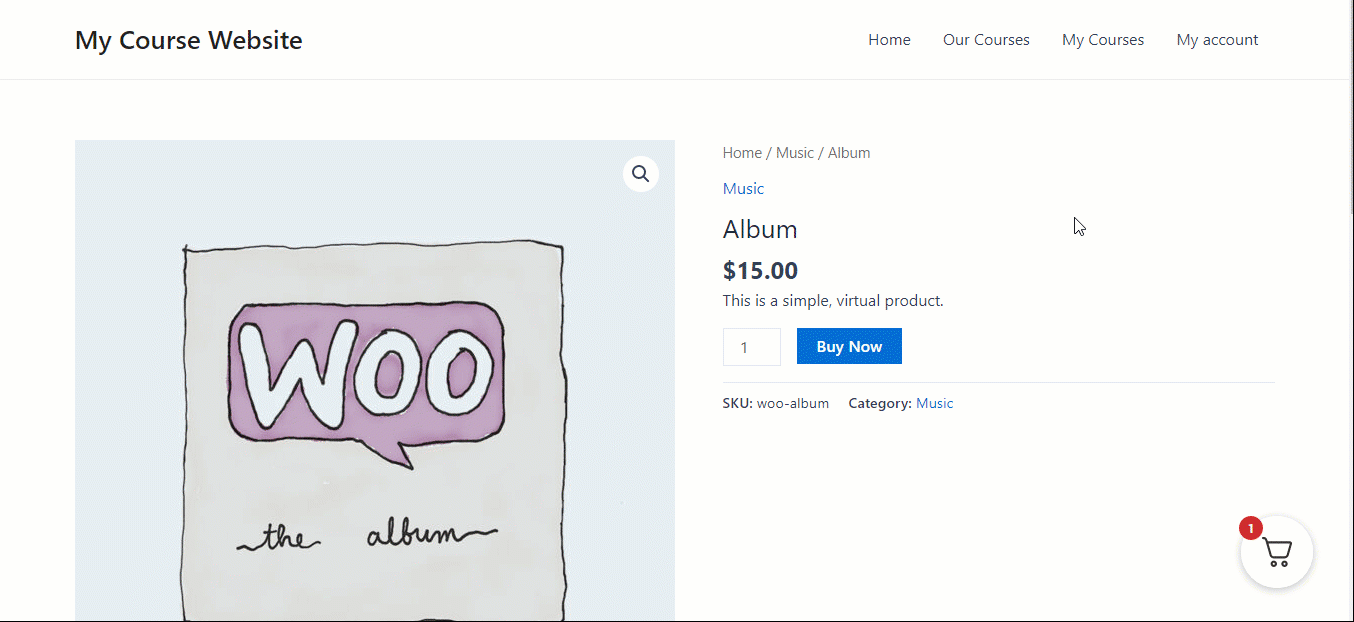 Step 3: Enable the skip cart option for archive pages
While the skip page option should be working fine on the product page, to activate this option on the WooCommerce archive pages, you need to do little more.
Note: The archive pages of WooCommerce uses Ajax to load products to cart, that's why the direct option of Cart Hopper won't work on these pages. For this to work, you need to turn off the Ajax option from WooCommerce settings.
To disable the Ajax settings, navigate to WooCommerce ⇒ Settings and move to the Product tab. Now under Add to Cart Behavior disable the both "Redirect to the cart page after successful addition" and "Enable AJAX add to cart buttons on archives" options.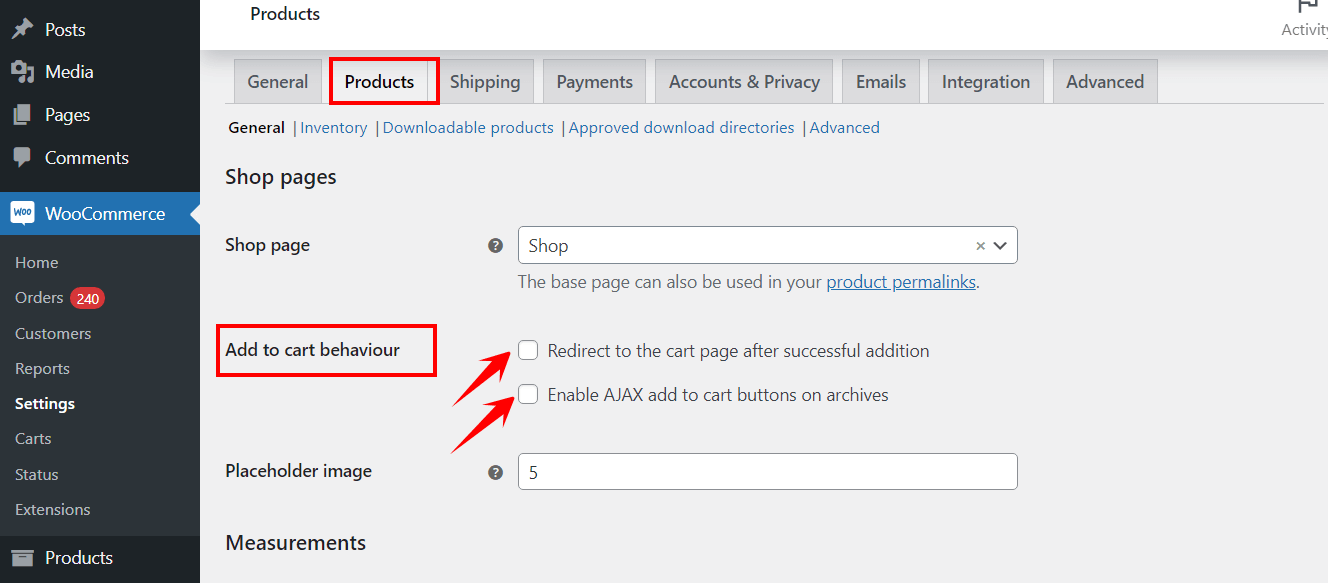 After that save the changes. Now if you go to the Archive page and click on Add to Cart for any product, it will take you directly to the WooCommerce checkout page skipping the cart page.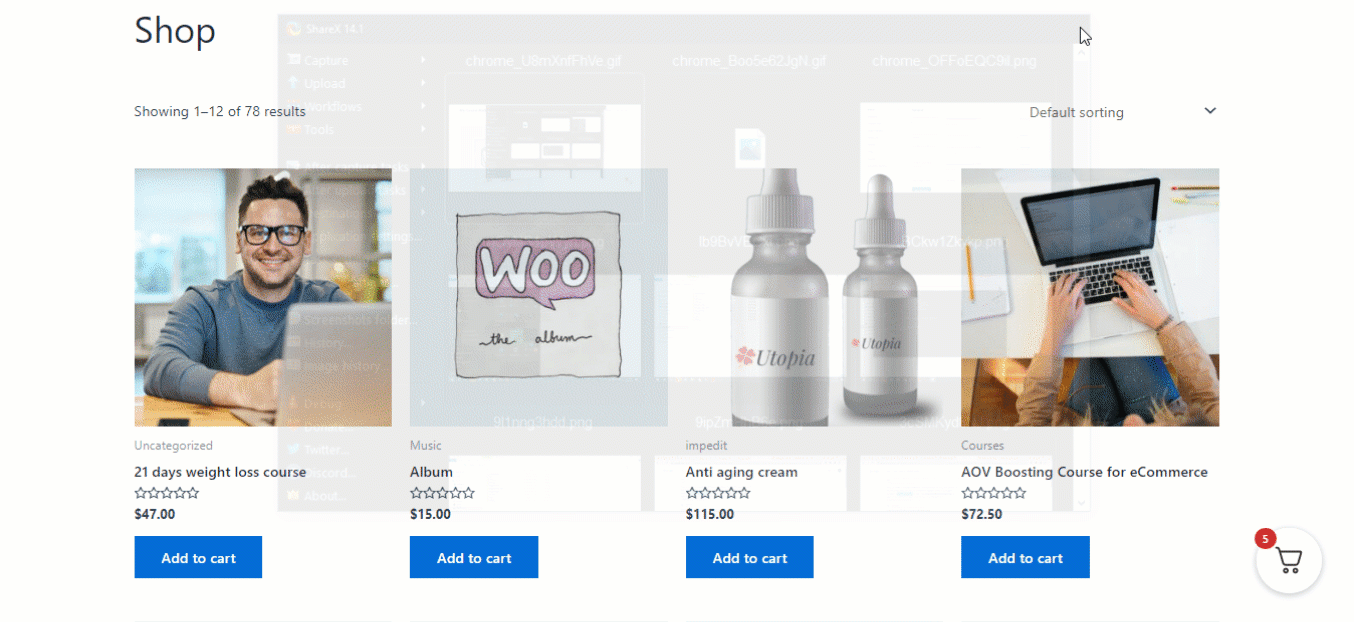 That is how you can use FunnelKit's Cart Hopper plugin to skip the cart page and take users directly to the checkout page.
Start using WooCommerce Direct Checkout today!
Congratulations! Now you know three different methods of using WooCommerce direct checkout.
Let us know which method you liked the most.
We recommend you to choose FunnelKit with CartHopper. It allows the users to skip the cart page but, at the same time, increase the average order value with FunneKit's order bump and upsell feature.
This is the best combination, as skipping the cart page at times can result in low order values as users are deprived of the opportunity to update their product quantity and add upsell products on the cart page.
With FunnelKit, you can allow users to skip the cart, ensuring a smooth, frictionless checkout process but also boosting your average order value.
Moreover, this WooCommerce plugin also offers various features such as Google Address Autocomplete, express payment buttons such as Google and Apple Pay, etc., to further optimize your checkout process.
So, what are you waiting for? Get FunnelKit as your WooCommerce direct checkout plugin today!