Today we share 9 WooCommerce checkout page plugins that can help you optimize your checkout process and make more sales.
As a WooCommerce user, you know that the default checkout page lacks conversion-boosting elements and looks too generic.
Not just that, it is difficult to customize the default WooCommerce checkout page if you do not know how to code.
Hence, you will need a plugin to change and customize the checkout page in WooCommerce.
We have done all the legwork for you; just choose the one checkout page plugin that fits your needs.
All 9 WooCommerce Checkout Plugins at a Glance
9 Best WooCommerce Checkout Page Plugins
A Checkout plugin is like a toolkit that lets you customize your default WooCommerce checkout page and enhance your users' checkout experience, all while boosting conversions.
If you have a thank you page, your WooCommerce checkout page is the penultimate page that your user interacts with, and perhaps it's the most important one - as it brings in money.
Now, WooCommerce does provide a native checkout page, but if you want to get ahead of your competitors and boost your profits, then you must invest in a good checkout page WordPress plugin.
The best WooCommerce checkout plugins let you:
Customize it to boost conversions
Add/remove/modify checkout fields to collect information
Make on-brand personalizations and more.
Some of these plugins are free, some are paid, and some have both versions available.
"A good checkout will probably go unnoticed by most customers, and they just want to complete their purchase with the minimum of fuss, but a badly designed and confusing checkout can be infuriating for customers and will cost sales," says Graham Charlton, a content specialist.
We recommend you choose a WooCommerce checkout page plugin that can eliminate your reliance on multiple plugins.
"But wait, is there a WooCommcerce checkout page plugin that can let you change your ENTIRE default checkout page?"
Yes, there is!
1. FunnelKit (formerly WooFunnels)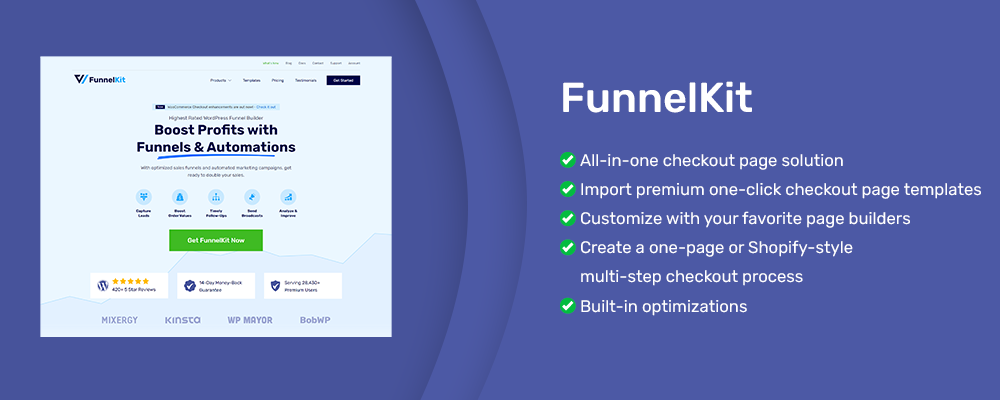 Price: Basic - $64.50 (1 website), Plus - $149.50 (2 websites), Professional - $199.50 (2 websites), Elite - $269.50 (30 websites) - Annual Subscriptions
FunnelKit is the ultimate all-in-one checkout page solution for your WooCommerce store.
FunnelKit comes with premium WooCommerce checkout page templates that you can import with just one click and customize with your favorite drag-and-drop page builders, such as:
For other popular page builders like Beaver Builder, Brizy Builder, Thrive Architect, Spectra Website Builder, and Bricks Builder - you can use shortcodes.
Studies show a whopping 69% drop from the "add-to-cart" to the "checkout" page.
11% leave due to the complex checkout process, and 12% leave because the seller asks for too much information. (source: Invespcro)
Create one-page checkout and enable a quick checkout experience to reduce cart abandonments or provide an elegant checkout process with Shopify-style multi-page checkout.
With FunnelKit, you can do it all!
Allow users to review items before making payment. They can delete item(s), adjust the quantity & see item images. Enhance user experience with mini-cart modifications.
Wrong addresses can lead to failed deliveries. FunnelKit's built-in checkout page optimizations like Google Address Autocomplete, your user can type in their address with just a few keystrokes.
Create different checkout pages for different products to suggest complementary order bumps and make relevant upsell offers that the users are more likely to buy.
With the flexible checkout form builder, add sections, and additional fields, and re-arrange them all right within WordPress.
FunnelKit's checkout page templates are mobile-optimized. Increase conversions and lower abandonment with a frictionless mobile checkout experience.
FunnelKit eliminates your reliance on ten different WooCommerce plugins and brings everything under one roof, and enables you to take your WooCommerce store to the next level!
2. WooCommerce One Page Checkout
Price: $79.99 (single site); $129.00 (5 sites); $179.00 (25 sites) annual subscription
Any page can be turned into a checkout page with WooCommerce One Page Checkout. These custom checkout pages also simplify the buying process for your customers since both the product selection and checkout forms are displayed together.
Adding or removing products from the cart and paying can be completed without leaving the page.
In addition to displaying checkout fields on product pages, you can also add them to custom landing pages to create unique promotions. Once you have created a single-page checkout, your customers will have an even easier time purchasing the items.
Pros
✅ Native WooCommerce Product
✅ Create seamless one-page checkouts
✅ Customizable mini-cart
Cons
❌ Cannot create Shopify-style multi-step checkout
❌ No order bumps or upsells
3. WooCommerce Checkout Add-Ons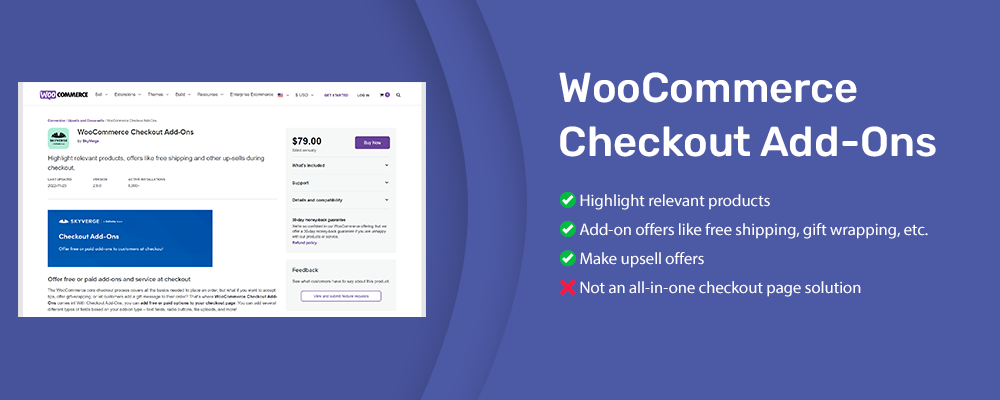 Price: $79.00 (1 site); $129.00 (5 sites); $179.00 (25 sites) annual subscriptions
You can add additional services at checkouts, such as rush fulfillment and gift wrapping. You can also add fields for processing payments.
With WooCommerce Checkout Add-Ons, you can add additional features to the core checkout experience of WooCommerce.
This plugin works with the core WooCommerce checkout and only adds additional services and upsells. So, if you want a WooCommerce checkout page plugin to customize your entire checkout - this one won't do it.
Pros
✅ Highlight relevant products
✅ Add-on offers like free shipping, gift wrapping, etc.
✅ Make upsell offers
Cons
❌ Not an all-in-one checkout page solution
4. Bolt Checkout for WooCommerce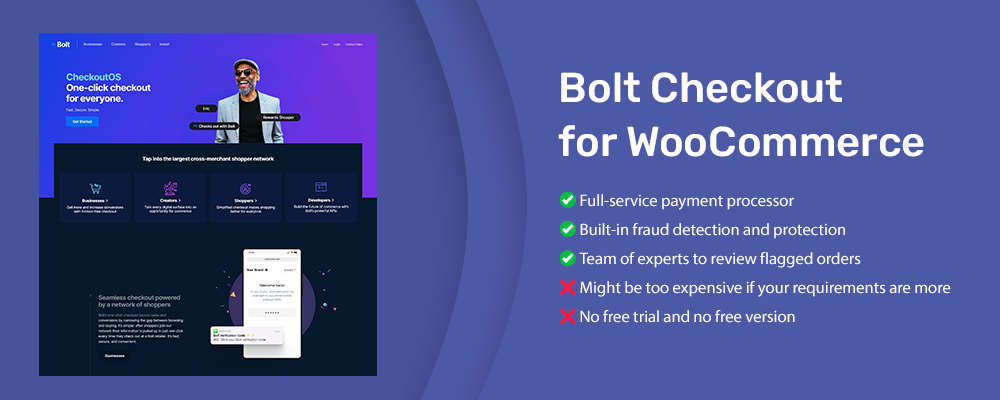 Price: Based on requirements
With Bolt, your customers can complete their transactions quickly and securely. You can boost your repeat sales with Bolt's seamless checkout.
Bolt claims that due to its built-in payment processing infrastructure, its customers drive 10%–20% more orders for their online stores. So, you no longer need Paypal or Stripe to process payments if you have Bolt.
Bolt comes with built-in fraud detection software to set up order-blocking rules. Their team of risk experts reviews each flagged order so that you can focus on your business. They also provide international coverage of fraudulent chargebacks.
Pros
✅ Full-service payment processor
✅ Built-in fraud detection and protection
✅ Team of experts to review flagged orders
Cons
❌ Might be too expensive if your requirements are high
❌ No free trial and no free version
5. YITH WooCommerce One-Click Checkout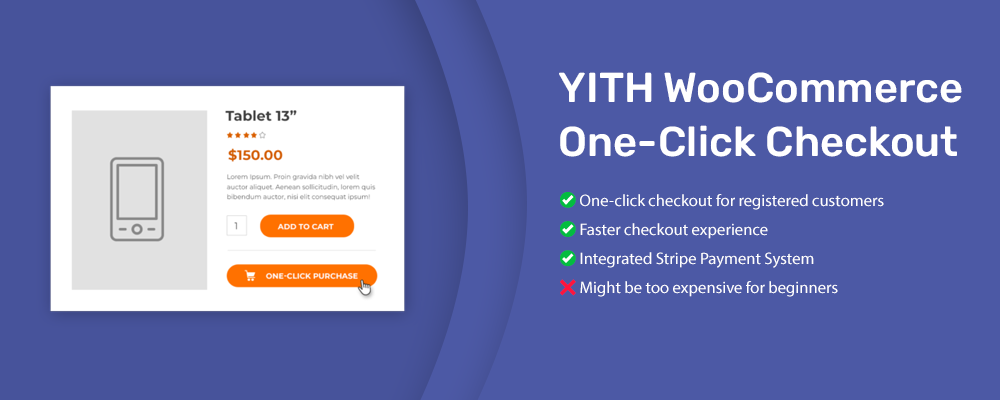 Price: $79.99 (single site); $129.99 (6 sites); $189.99 (30 sites) annual subscription
With YITH WooCommerce one-click checkout; you can enable a truly one-click checkout experience to your registered customers.
This lowers the cart abandonment rate and boosts sales.
After their first registration, customers' billing details will be saved, and on all subsequent purchases, the shoppers can click one button to complete their purchase immediately.
You can show or hide the checkout button on every product page or select product pages - your choice.
Pros
✅ One-click checkout for registered customers
✅ Faster checkout experience
✅ Integrated Stripe Payment System
Cons
❌ Might be too expensive for beginners
6. Flux Checkout for WooCommerce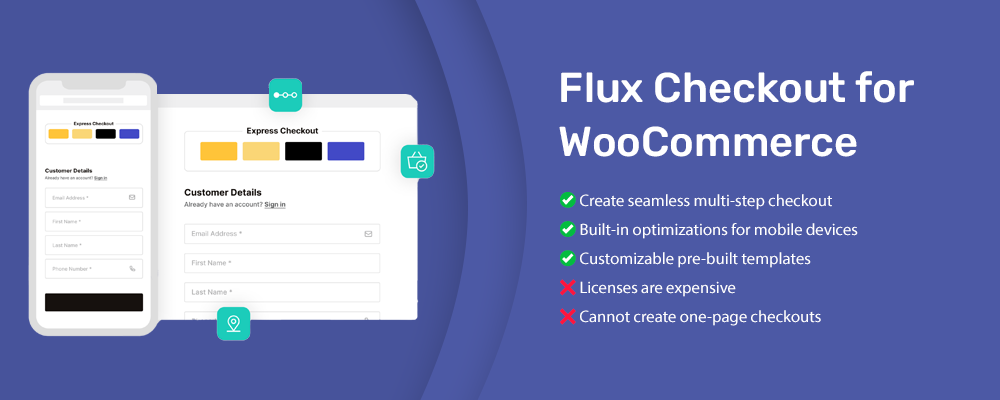 Price: $99 (single site); $199 (3 sites); $619 (30 sites) annual subscription
Flux is a good WooCommerce checkout page plugin if you're looking ONLY to have a multi-step checkout process.
The multi-step checkout process is smooth and frictionless, but it involves multiple steps and thus might put off some customers and lead to cart abandonments.
With FunnelKit, you get the option to import from premium WooCommerce checkout page templates that are one-step, two-step, and even three-step.
Flux does come with built-in conversion-boosting elements such as Google Address Autocomplete, checkout fields editor, and more; but whether it integrates with popular page builders or not, is unclear.
Pros
✅ Create seamless multi-step checkout
✅ Built-in optimizations for mobile devices
✅ Customizable pre-built templates
Cons
❌ Licenses are expensive
❌ Cannot create one-page checkouts
7. WooCommerce Cart All-in-One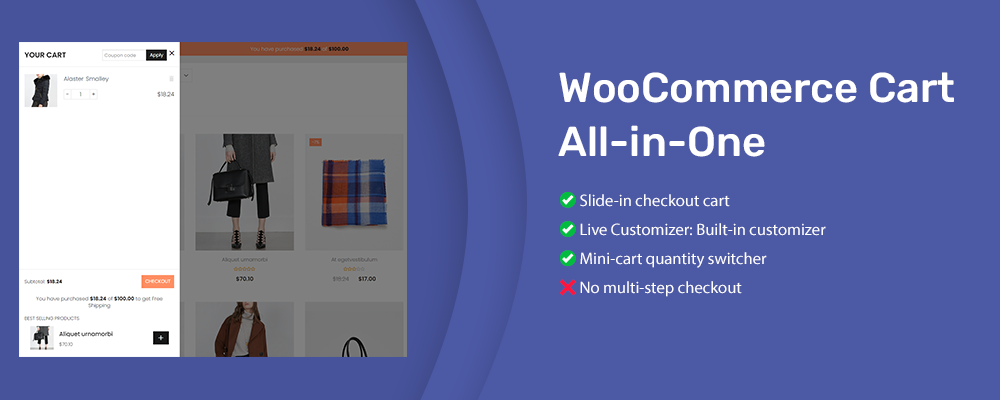 Price: $30 (regular license); $150 (extended license)
Create a one-page checkout process with WooCommerce Cart All-in-One. The most standout feature of this plugin is the side cart that's accessible all over the website.
In the side cart, the user can view their added items, item information, subtotal, and more. The checkout page loads in the sidebar allowing them to submit an order from any page.
This plugin comes with a built-in cart customizer called Live Customizer. You can easily change the cart icon, the colors, and the positioning of the cart.
Since this plugin has a built-in customizer, it is unclear whether WooCommerce Cart All-in-One integrates with popular page builders or not.
In addition to the sidebar menu, this plugin also includes a few variations such as the mini cart and a narrow bar that displays along the bottom of the screen.
Overall, WooCommerce Cart All in One is a good choice if you want to let customers checkout on the product page without having to visit another page.
FunnelKit takes this side cart for WooCommerce one step further!
With FunnelKit Cart, you can gamify your user's shopping experience with a milestone-based reward system. Also, you can add hyper-relevant upsell offers to each product right under your cart settings.
Pros
✅ Slide-in checkout cart
✅ Live Customizer: Built-in customizer
✅ Mini-cart quantity switcher
Cons
❌ No multi-step checkout
8. PeachPay for WooCommerce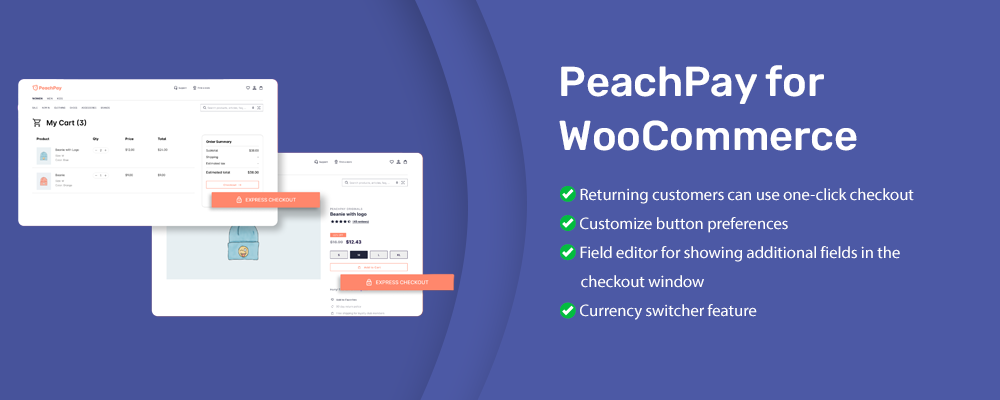 Price: Growth Plan - Free Forever; Deluxe Plan Customized
It's important to note that PeachPay is completely free, as its pricing is built into the payment processor, like PayPal or Stripe's standard transaction fee, so you can try it out without charge. 
You can then decide if it is worth adding to your online store. This pricing method does not affect the transaction charges, and your customers won't need to pay anything more than their cart price.
PeachPay remembers its customers, which is one of its strongest features. The information will be saved if a customer visits a store and decides to pay with PeachPay.
When a customer returns to your store, information from all of their previous purchases is automatically recognized and used to provide a one-click checkout experience.
Pros
✅ Returning customers can use one-click checkout
✅ Customize button preferences
✅ Field editor for showing additional fields in the checkout window
✅ Currency switcher feature
Cons
❌ If your store makes more than $1M GMV then you have to pay more
9. Direct Checkout for WooCommerce
Price: $0 (Free); $49 - Personal (one site); $99 - Agency (five sites); $149 - Developer (unlimited sites) - One-Time Payments
Boost conversion rates by simplifying your checkout process with WooCommerce Direct Checkout. Boost your sales by reducing cart abandonment and speeding up checkout.
With this WooCommerce checkout page plugin, you get features such as:
One-Page Checkout
Checkout Field Customization
Quick Purchase Button
Ajax Add To Cart
Quick View Option
Checkout Redirects
The lite version is free and comes with basic features. But, if you want to unlock advanced features, you can go for one of the premium plans of WooCommerce Direct Checkout starting at just $49 (one-time payment).
Pros
✅ Skip cart pages and proceed directly to checkout
✅ Advanced checkout field editor
✅ Mini-cart quantity switcher
Cons
❌ No upsells or order bumps
❌ Cannot build multi-step checkout process
So, Which WooCommerce Checkout Page Plugin Do You Need?
We have done all the legwork and brought to you a compiled list of 9 best WooCommerce checkout page plugins that can help you make more sales starting today!
Choose the one that suits your needs. If you only want to try multi-step checkout on your store, Flux can be a good plugin. If you want to try only one-page checkouts, then the native WooCommerce One Page Checkout is the one to go with.
Some of you might be happy with the conversions you're getting with your current checkout page, that's awesome, and want to try a few add-ons like order bumps and upsells - the native WooCommerce checkout add-ons is a good place to start.
So, it's up to you to decide which WooCommerce checkout page design you need - according to your store's requirements.
But if you want one plugin that does it all - the FunnelKit is the best WooCommerce checkout plugin out there.
Create a one-page or multi-step global checkout page or a rule-based checkout page. Add upsells and order bumps to boost your AOV. Enable a mini cart to customize the order right on the checkout page.
Provide a seamless shopping experience with FunnelKit Cart. Get access to conversion-proven premium checkout page templates.
Transform your WooCommerce checkout experience with Funnelkit today!