Are you looking for a WooCommerce upsell plugin that maximizes your store's revenue with every order?
Upselling is one of the most effective strategies to enhance the order value in your store.
It further enhances the shopping experience of users visiting your online store.
How?
By improving the visibility of your products and suggesting the right item to them at the right time.
In this post, we'll list the best WooCommerce upsell plugins for each stage of the shopping journey that will help boost the average order value in your store.
What is an Upsell Plugin?
An upsell plugin allows you to display relevant products based on the items the user is about to purchase.
These product recommendations (or upsells) urge your shoppers to add more value to their shopping cart.
Its beauty lies in how you present your offer to the user - it can be a bundled product at a lower price or an item upgrade with a 15% extra discount.
As per the Hawk Incentives Research, 92% of consumers always look for lucrative offers and deals to make online purchases.
That's where the strategy of upselling and cross-selling comes into the picture!
A lot of users often ask, 'How do I upsell with WooCommerce?' or 'How do I add recommended products in WooCommerce?'
The answer is right here!
With the right WooCommerce upsell plugin, you can create compelling offers and nudge your shoppers to spend more on their purchases.
6 Major Upselling Techniques in the Shopping Process
Offering the right products at the right stage in your user's shopping process surely holds the key to a perfect upselling strategy.
These are the six major upselling techniques in the buying process:
Frequently Bought Together/Product Recommendation - Offering upsells through product recommendations right on your product's catalog page just like Amazon.
Cart Upsells - Presenting upsells right on the shopping cart when the shoppers are mindful of reviewing their cart contents before the purchase.

Checkout Upsells or Order Bumps - Displaying recommended items on the checkout page just when the user is one step away from making a purchase.

Post Purchase One Click Upsells - Offering irresistible post-purchase upsells with a one-click buy option right after the checkout page.
Product Upsells in Emails - Delivering product upsells in your order confirmation and post-purchase emails that always get to your customer's eye.

Site-wide Popups - Showing lucrative offers in the form of upsells through targeted popups, floating bars, scrolling boxes, and more.
All these upselling techniques are brilliant and let you effortlessly boost the order value of your online store.
However, these techniques are dependent on your store's requirements and customer behavior.
Therefore, you have to analyze the opportunities in your store and then set up relevant upsells for your shoppers.
Based on the above upselling techniques, we have identified the best upsell plugins for the WooCommerce store to achieve all your use cases.
11 Best WooCommerce Upsell Plugins - The Ultimate List
Here are the 11 best upsell plugins for WooCommerce that let you offer upsells on your online store:
1. FunnelKit Order Bumps
Type: Upsells on the checkout
FunnelKit is one of the most powerful sales funnel builders made for WordPress.
Order bumps are one of the components of FunnelKit's ever-growing ecosystem.
It lets you create compelling pre-checkout offers that can be added to the cart with a single click right on the checkout page.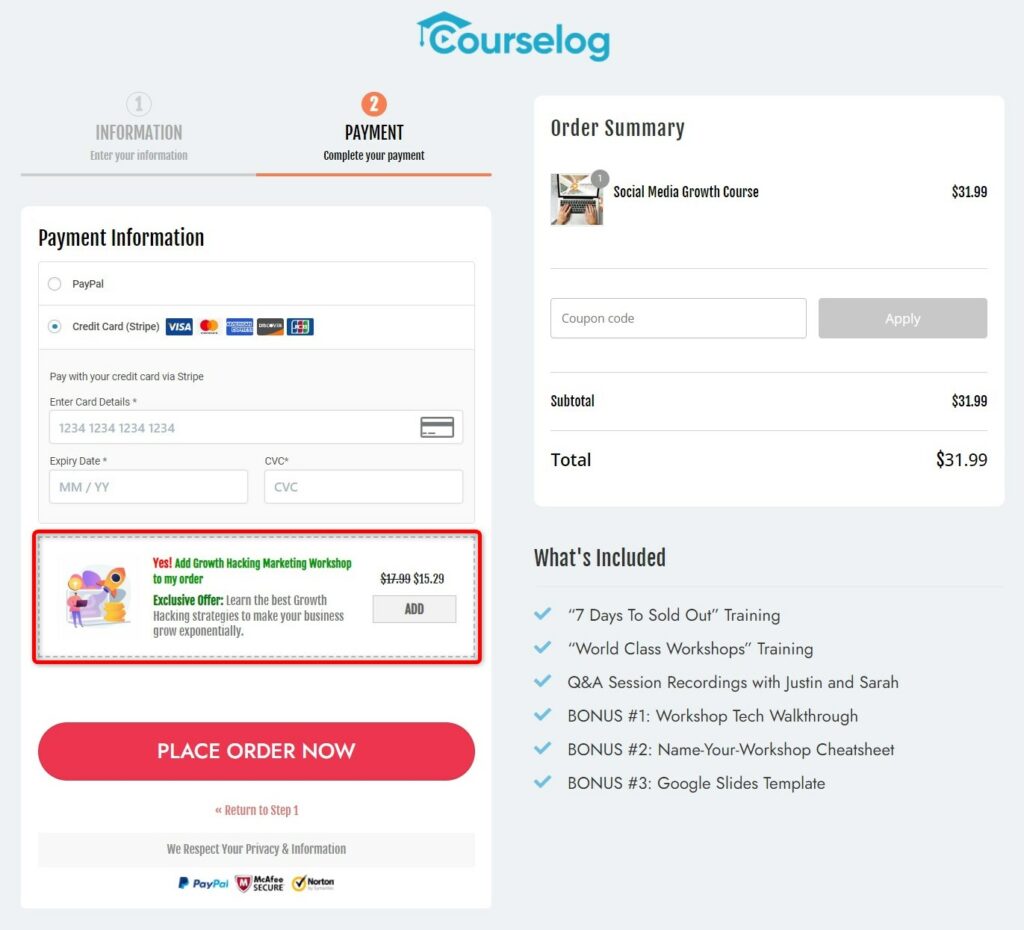 Features of FunnelKit's order bumps:
Skins and style - Design and customize different skins and styling options
Discounts - Offer compelling discounts to your bump offers
Rule-based bumps - Create rule-based offers to display the perfect offer at the right time
Multiple offers - Display multiple order bumps on the checkout page - even set the display location of your bump offers
Order bumps are included in FunnelKit's Plus subscription plan.
2. Order Bump for WooCommerce
Type: Upsells on the checkout
Order Bump for WooCommerce aims to increase your store's AOV by providing last-minute offers to your shoppers on the checkout page.
This plugin lets you offer multiple products as upsells, set up discounts, customize the design, and more.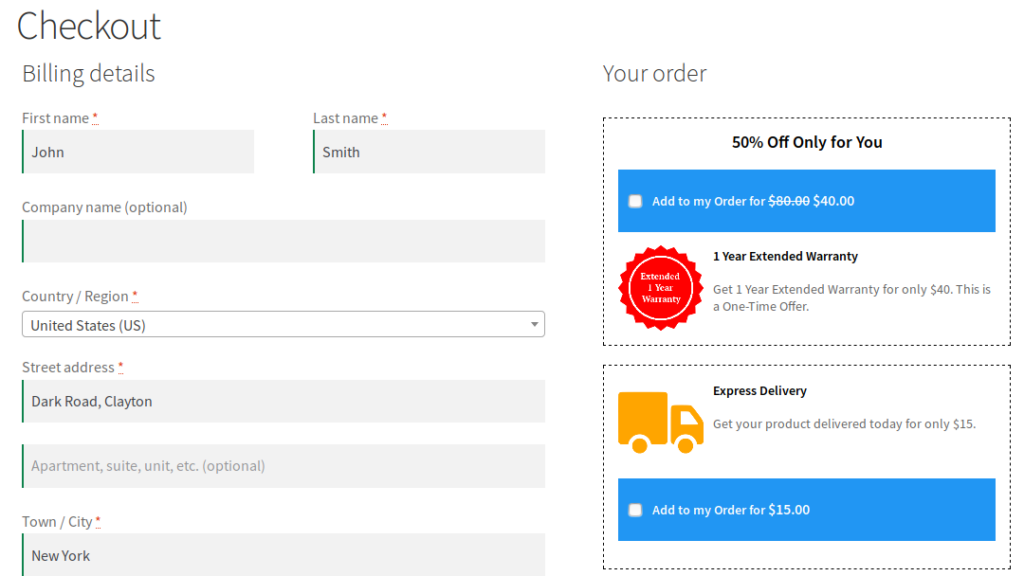 Here are the features of Order Bump for WooCommerce:
Attractive discounts - Create compelling deals by offering percentage discounts, fixed discounts and fixed prices
Customizable templates - Customize your offers with 20 available templates and make them look appealing
Detailed reports - See the performance of your offers including the visitor count, revenue generated, conversions and order count
Order Bump for WooCommerce costs $79 every year.
3. FunnelKit One-Click Upsells
Type: Upsells after the checkout
FunnelKit's One-Click Upsells is the best WooCommerce one click upsell plugin out there that lets you set up post-purchase upsell offers.
These offers can be purchased with a single click without going through the whole checkout process again.

As per Accessally, one-click post-purchase upsells increase your store's revenue by 35%.
This plugin lets you create and customize the upsells using its template library or design it from scratch using your favorite page builders.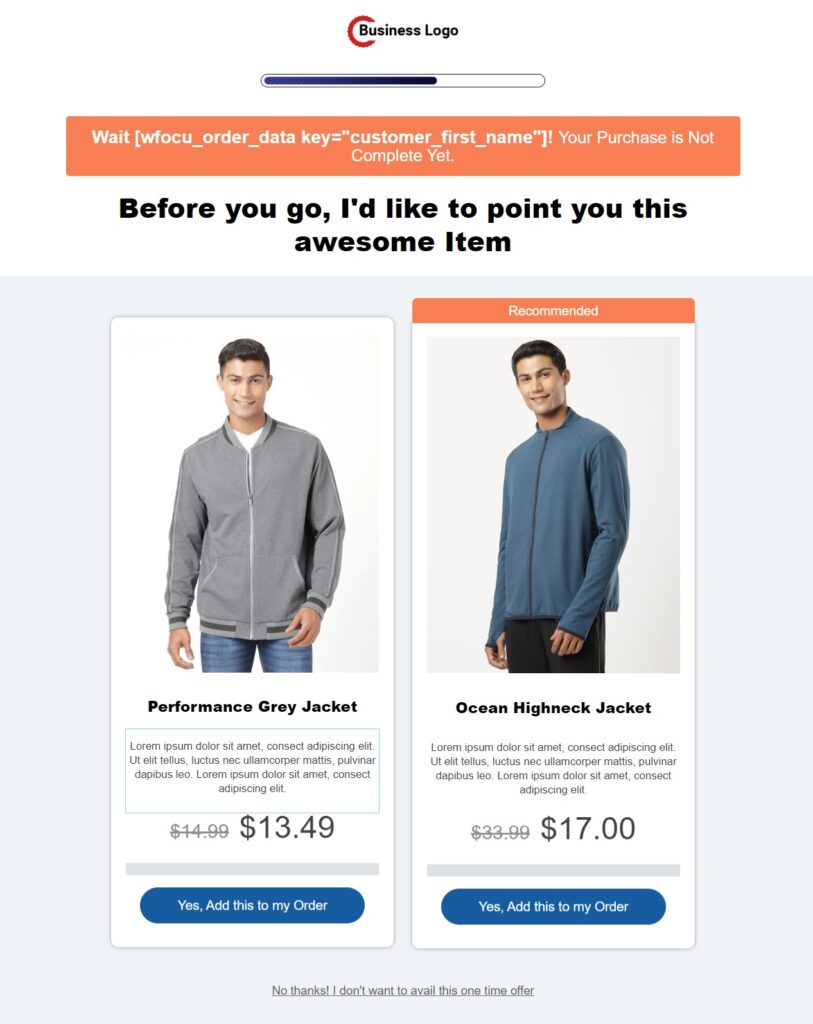 Features of FunnelKit's One-Click Upsells:
Rule-based offers - Show relevant upsells based on its smart rule engine
Templates - Design attractive upsell pages from scratch or customize the pre-built templates
Analytics and monitoring - Measure the performance of your upsells with the help of detailed analytics
Dynamic offer path - Configure the dynamic offer path to show subsequent offers based on the acceptance or rejection of the previous offer by the user
One-click upsells are available in FunnelKit's Plus subscription plan.
4. FunnelKit Automations
Type: Upsells in emails
FunnelKit Automations is the most powerful automation and marketing broadcast engine for WordPress.
It's an all-in-one plugin that lets you create automations, send email/SMS broadcasts, track carts, segment your contacts, etc.
You can send your upsell emails and SMS along with dynamic coupons within your transactional emails, post-purchase sequences, abandoned cart automations, and more.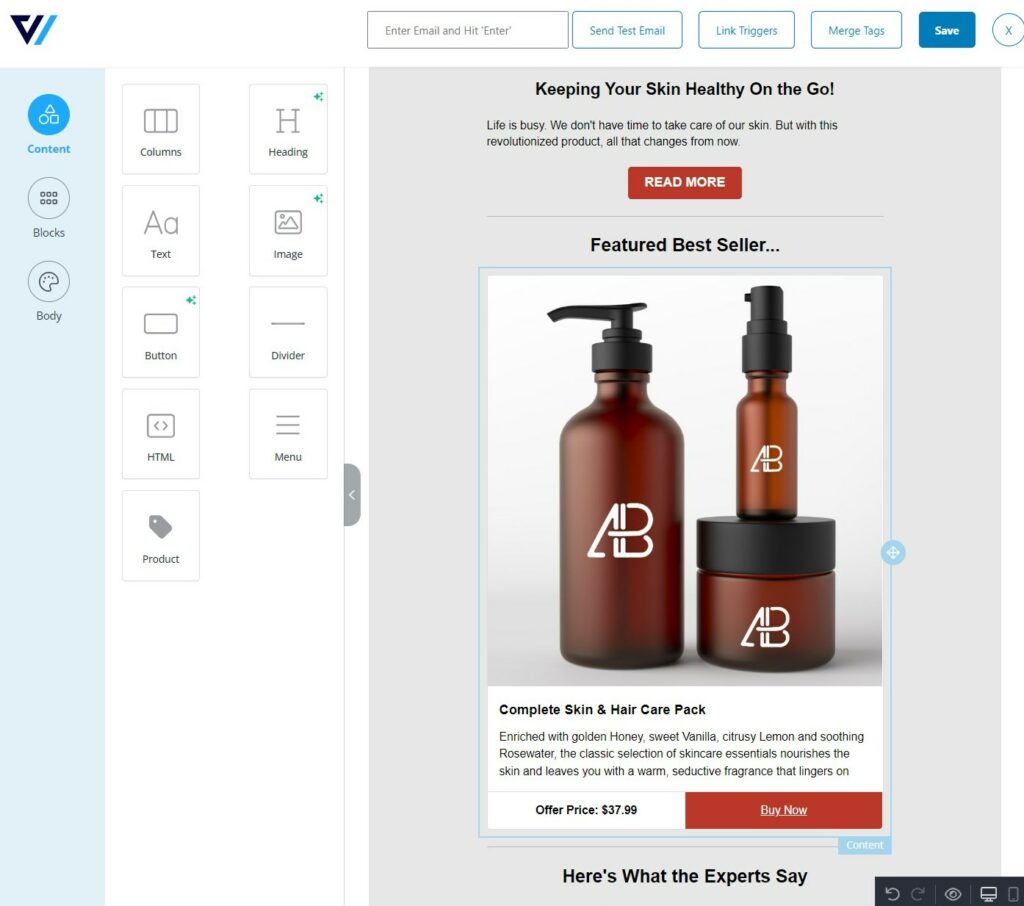 These are the features of FunnelKit Automations:
Pre-built recipes and automated workflows - Import and customize the pre-built automated recipes or set them up from scratch as per your needs
Dynamic coupon creation - Create personalized, dynamic, deadline-bound coupon codes that arouse urgency and drive sales
Beautiful emails - Design your emails and give them a professional feel with its built-in visual email builder
Reporting and analytics - Measure the performance of your campaigns such as orders placed from a specific campaign, revenue generated, conversions, etc.
FunnelKit Automations has both lite (free) and premium versions available.
5. AutomateWoo
Type: Upsells in emails
AutomateWoo has all the tools for creating powerful marketing automations for your WooCommerce store.
It allows you to offer upsells through automated sequences including follow-up, abandoned cart, winback campaigns, SMS notifications, and more.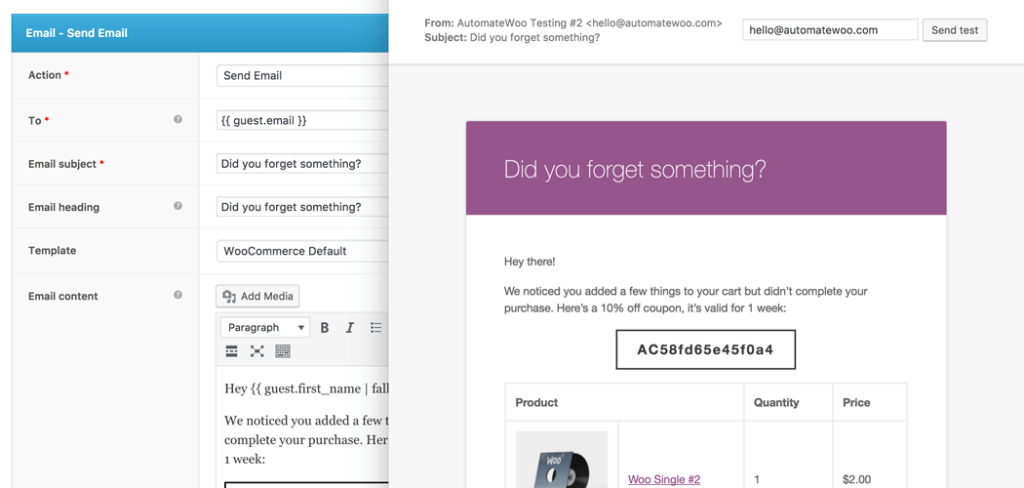 Features of AutomateWoo:
Automated sequences - Create powerful, feature-rich automations that help boost conversions and take your business to the next level
Personalized coupons - Generate dynamic, personalized coupons that act as incentives for your users to hit the purchase button
Plugin integrations - AutomateWoo integrates with popular WooCommerce plugins to help you set up automated email campaigns for your users
You can subscribe to AutomateWoo for $99 per year.
6. FunnelKit Cart for WooCommerce 
Type: Upsells on the cart
FunnelKit Cart lets you enable a dynamic slide-out cart in your WooCommerce store that lets your shoppers display all the cart contents along with upsells and cross-sells.
Not just that, it allows your users to modify their cart content, including adjusting the quantity, removing items, applying a discount code, and heading to checkout.
FunnelKit Cart lets you configure upsells based on the cart contents, which the user can add with a single click.
Here are some features of FunnelKit Cart:
Slide-out cart - The cart comes sliding out when clicked on the cart icon and is fully functional to modify the cart contents
In-cart upselling and cross-selling - Offer product recommendations based on the items users have added to their shopping cart
Full customization - Customize and style the slide-out cart along with its icon including the color, background, animation, and more
Rewards system - Gamify the shopping experience by setting up lucrative rewards and encouraging higher spending
FunnelKit Cart comes in both lite (free) and paid versions. The premium version is available to all FunnelKit users of the Plus plan and above.
7. Cart Upsell for WooCommerce
Type: Upsells on the cart
Cart Upsell for WooCommerce lets you increase the average order value in your store by upselling different products right on the cart page.
You can set up multiple rule-based upsells related to cart items, product categories and cart total.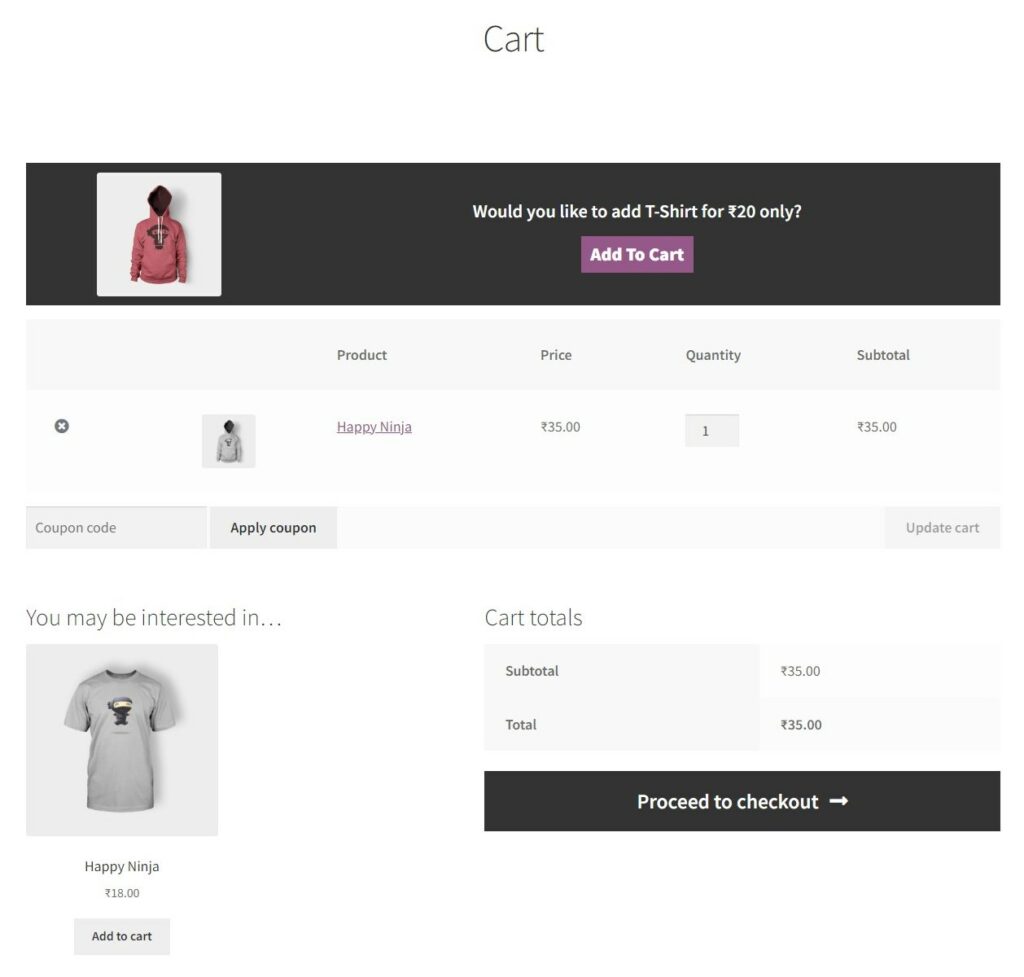 Here are some of its features:
Rule-based upsells - Set up upsells based on multiple rules such as products, categories and cart total
Fully customizable - Customize the upsell title, image and colors for each product
Responsive - Upsells are optimized for each device including desktop and mobile devices
This WooCommerce upsell plugin doesn't have a free version and costs $29 annually.
8. Product Recommendations by WooCommerce
Type: WooCommerce upsell on product's page
WooCommerce Product Recommendations lets you deploy relevant item recommendations in your store.
It lets you effortlessly place upsells in the form of a "frequently bought together" section across your store's catalog.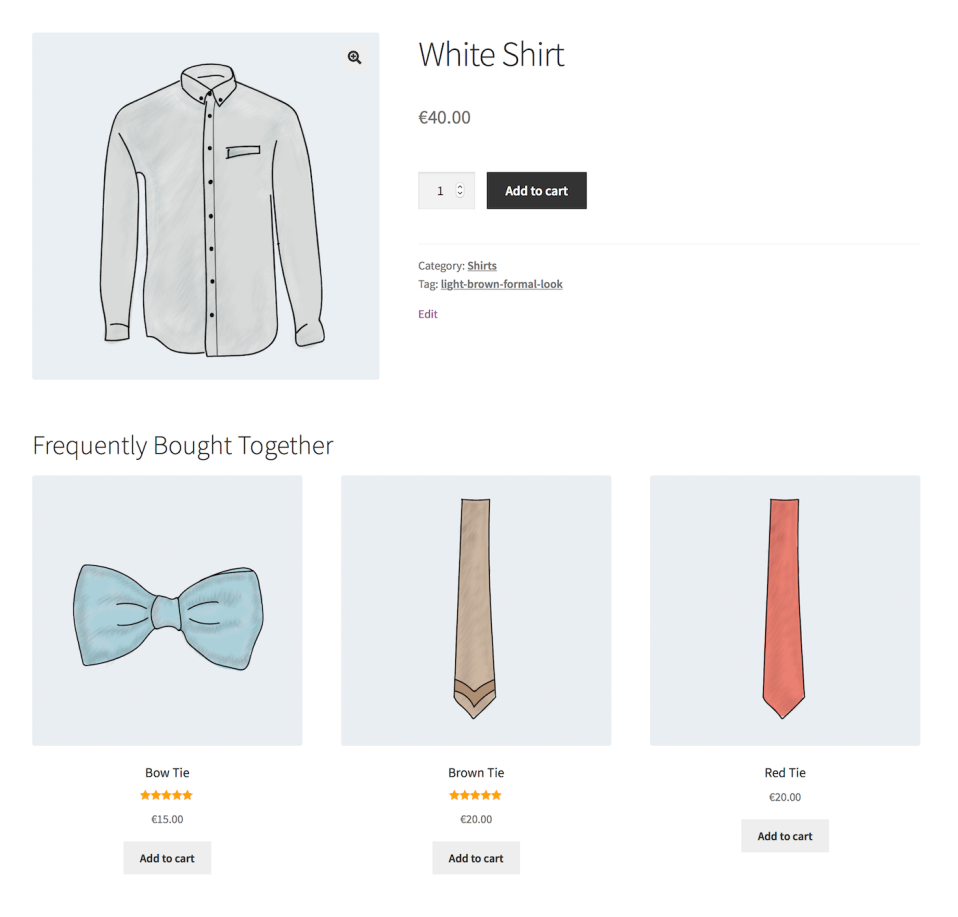 Here are some features of this plugin:
Product recommendations - Add product recommendations anywhere in your store
Rule-based recommendations - Use visibility, filters and amplifiers to set up custom rule-based recommendations
Analytics - Get insights related to conversions and orders with its in-depth analytics
This plugin doesn't have a free version. Its premium version costs $79 annually.
9. Frequently Bought Together
Type: WooCommerce upsell plugin for product's page
WooCommerce Frequently Bought Together lets you add recommendations by displaying a separate section on the product's page.
You can use this plugin to suggest relevant products based on multiple factors, such as products based on tags, categories, cross-sell and upsell items, custom items, and more.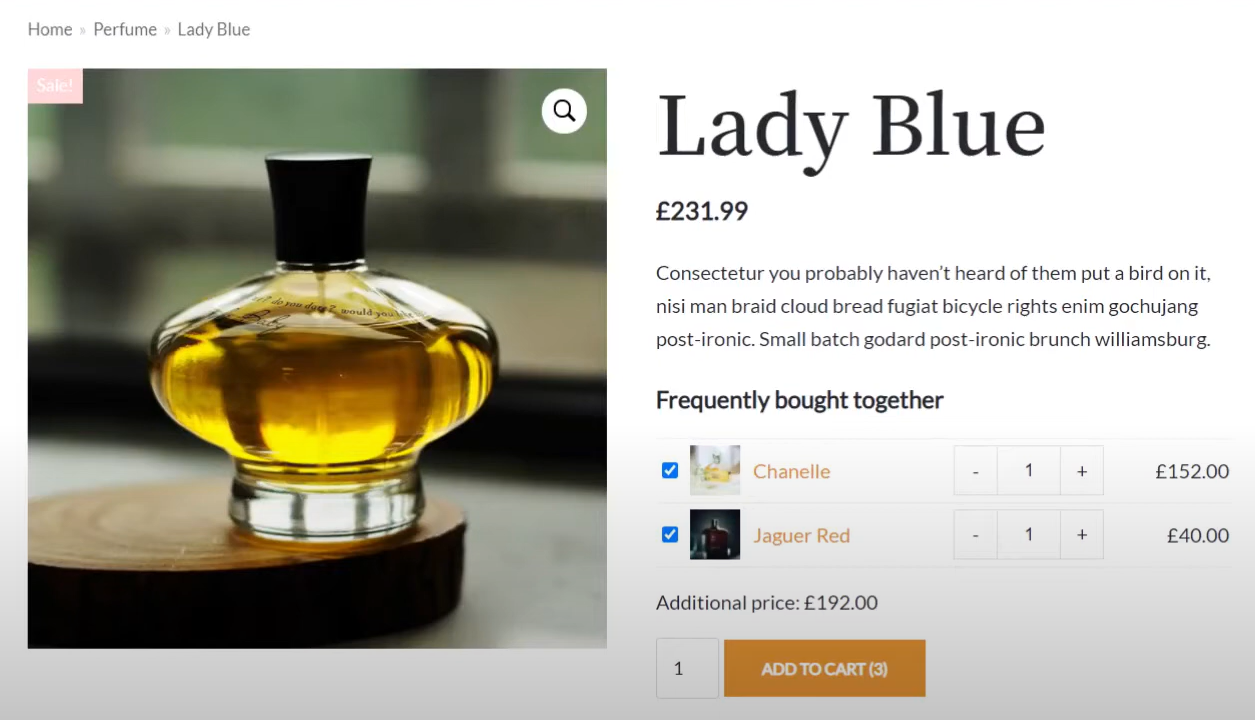 These are the features of WooCommerce Frequently Bought Together:
Products display - Offer products as upsells based on relevancy, categories, tags, cross-sells, upsells, custom items, etc.
Customization options - Customize the labels, text, product image size and other style options to match your brand
Upsell and discount configuration - Choose the number of upsells you want to be displayed as well as offer discounts to push sales
This plugin will cost you $49 annually.
10. Advanced Coupons
Type: Upsells through BOGO deals and coupons
Advanced Coupons is one of the best coupon plugins that bring more customers to your WooCommerce store.
This WooCommerce upsell plugin lets you create lucrative offers such as BOGO deals, coupon-specific product offers, and more.
You can create compelling upsells by combining multiple products with special BOGO deals, Buy 3 Get 1, Buy 3 Get 50% Off, and more.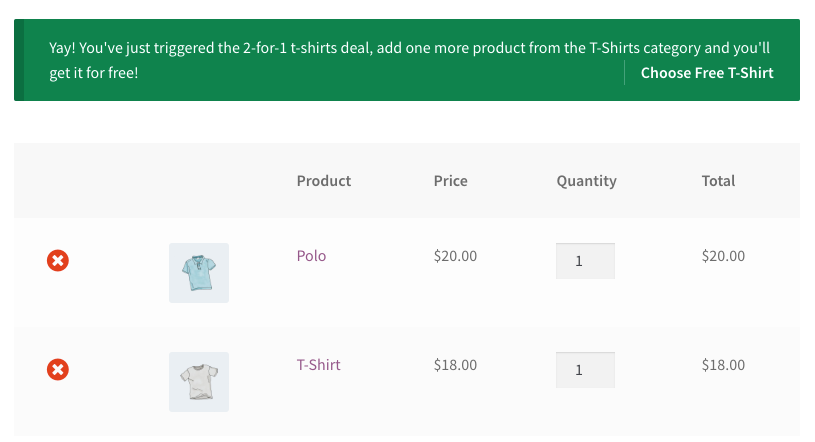 Features of Advanced Coupons:
Special deals - Create special promotional deals such as BOGO offers, loyalty programs, gift cards, and more
Easy to use - Set up attractive upsell offers that are easy to create and can be controlled from the interface
Rule-based triggers - Trigger these special upsell deals with the help of different product-based rules
Advanced Coupons is available in both free and premium versions.
11. OptinMonster
Type: Upsells through popups
OptinMonster is one of the most powerful conversion optimization tools to get more leads and boost conversions in your WooCommerce store.
This plugin lets you offer upsells with the help of lightbox popups, floating bars, scroll boxes, exit-intent popups, and more.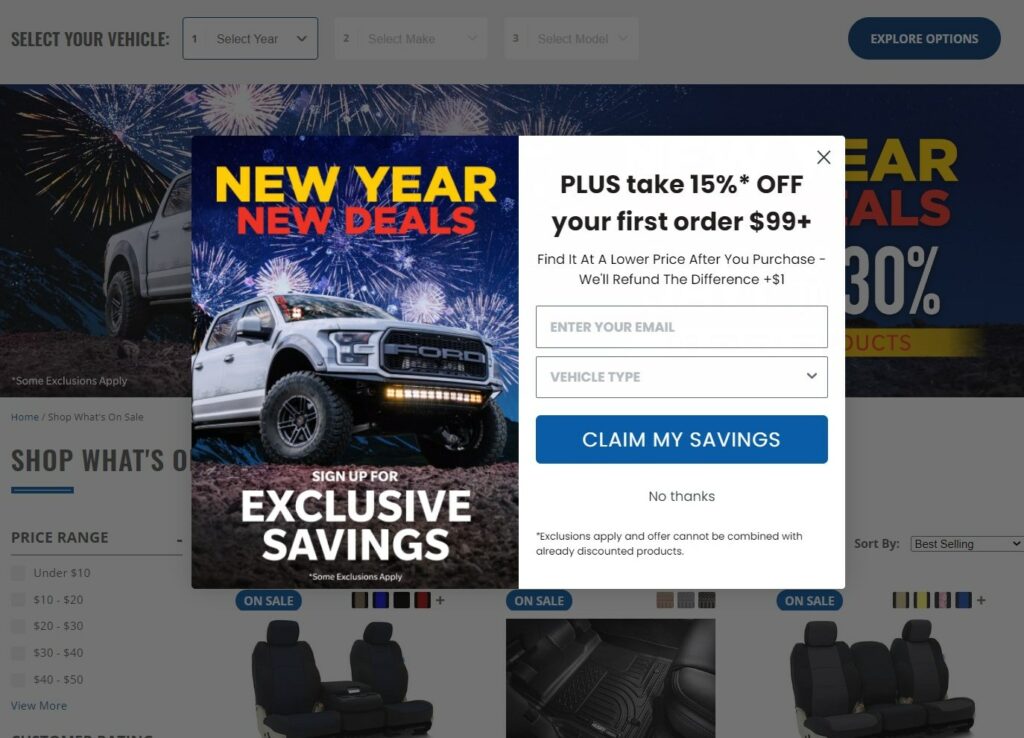 Here are some of the features of OptinMonster:
Conversion-rich tools - Offer WooCommerce upsell popups along with floating bars, scroll boxes, gamified wheels, and more
Offer customization - Create a visually appealing offer using OptinMonster's built-in block editor with easy drag-and-drop elements
Target and personalize - Show your personalized offers to the right people at the right moment with its targeting and segmentation engine
Its pricing plan is dependent on the page views and site usage which starts from $108 annually.
The Best WooCommerce Upsell Plugin - Our Verdict
It's important to identify the upselling opportunities in your shopper's buying process.
Based on that, you can offer upsells to your shoppers on the shopping cart, product catalog page, checkout, after the checkout, emails, and more.
Out of all plugins, FunnelKit covers a majority of these use cases in the shopping lifecycle.
Therefore, our verdict is to give FunnelKit a try and run it in your WooCommerce store.
FunnelKit's ecosystem covers an ever-growing list of plugins that help you grow your business online.
Plus, all the FunnelKit plugins come with a 14-day money-back guarantee.
It's certainly a win-win situation if you're looking for the best WooCommerce upsell plugin.