Looking for a funnel builder?

It's no secret that the average order values are consistently going down and the competition is driving ad costs up.
That's why you need a system that attracts a stream of traffic and takes it on a journey that maximizes the average order value.
Introducing FunnelKit: The ultimate funnel builder for WordPress that gives you conversion-optimized templates, customer insights, actionable reports, and automations.
All of this put together is an automated selling machine that works literally while you sleep.
Take a quick tour of the Funnel Builder through this video:
Let's begin.
The Components of a Sales Funnel
A sales funnel has a series of pages that take users on a distraction-free path and bumps up the order value at each step.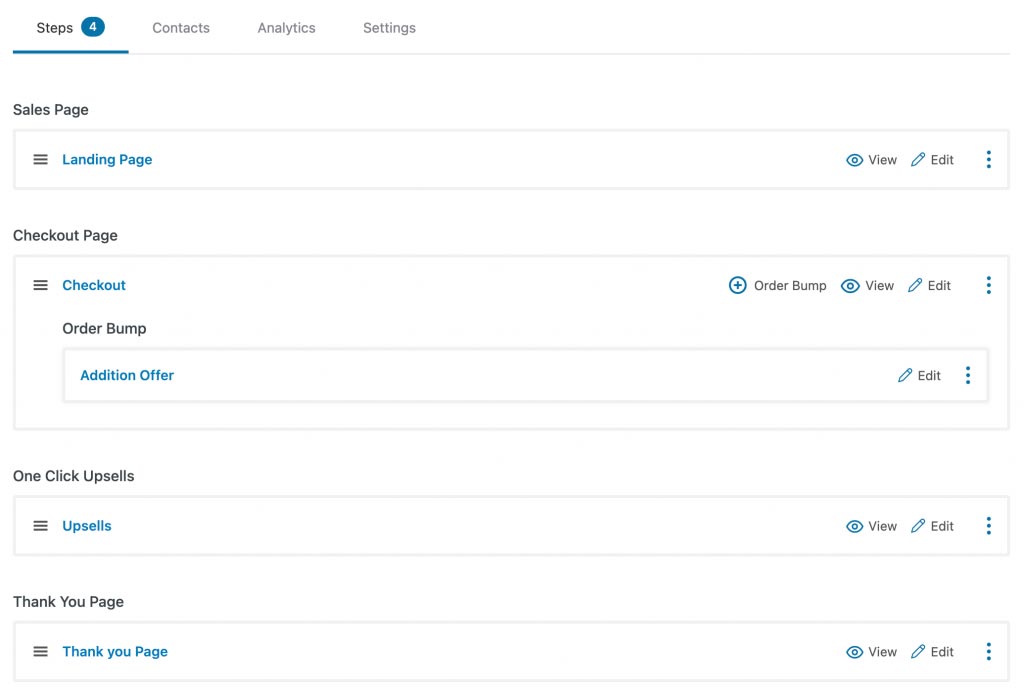 Let's look at its components:
Opt-in Page: The first page in the sales funnel that captures leads for your business. You can offer them a freebie in exchange for their email.
Sales Page: Use the sales page to explain your paid product in detail. You can use images, videos, testimonials, and more to convince people to buy.
Checkout Page: The checkout page calms the buyer's anxiety and encourages them to pay. Offer a friction-free, streamlined, and mobile-optimized checkout experience with our builder.
Order Bump - It's the complimentary offer for the checkout page that users can add to their order with just one click.
One-Click Upsell Page: The post-purchase upsells is where you generate the most profits. One-Click Upsell is a smart way for you to increase the total revenue generated on one sale.
Thank You Page: This is the final page for a funnel. Display the information related to the item bought on this page, i.e., the order summary. In the case of a digital product, provide access right off the bat.

Automations: Follow up with users who abandon the checkout, build relationships with the new buyers, and win back lapsed customers. Automations help you maximize the impact of your funnels.
That's not all...

A sales funnel should also let you see:
The contacts entering your funnel
Users' activity to know what's working
Revenue generated by your funnels
Conversion rates of every step
Top-performing funnels & pages
The

Serious Limitations

of Existing Funnel Builders
The software-as-a-service based funnel builders come with serious limitations.
You don't own the hosting and get locked into their system. Add to that the high monthly costs despite the rigidity.

That is utterly frustrating.
"WooCommerce doesn't provide funnels, so I had to build my own pages. Some companies charge $300 a month for this, & it is a lot if you just started out & are making $2K a month - that's 15% of profits. Then I found out about FunnelKit & it was phenomenal! You guys have a great price point."
- Blake Rudis, Course Seller, F64 Academy
Despite the high pricing of the funnel builder, you don't get the option to create flexible automation for your sales funnels.
You can't send out personalized coupon codes to your abandoned users or win back customers.
Neither can you follow up with subscription users who canceled subscriptions or whose cards expired.
These tools are rigid and don't solve the use cases of a modern marketer.
Why Have a Funnel Builder for WordPress?
WordPress is an open-source platform that empowers 37% of the web. It's obvious that the most flexible funnel builder has to be built on top of WordPress.
In the case of SaaS-based tools, their marketing is slick but their solution isn't robust.

They can't ship frequent updates or offer integrations as WordPress can.
It's like living in a hotel where you can't drill even a small hole to put up a photo frame.

But having a WordPress website with a funnel builder plugin is like owning your own house with infinite customization possibilities.
On top of it, to write search engine-optimized blogs that bring the lion's share of traffic to a website, you still need WordPress.
For all these reasons and more, we created FunnelKit - the Ultimate Funnel Builder for WordPress.
Let's take a look.
Utility-Based Templates
We studied different niches and their specific needs.

From there, we got some great ideas for building templates for funnels.

For example - the challenge funnel, workshop funnel, course funnel, free plus shipping funnel, and more!
We've created one-click import templates for your use.
It will save you hours spent starting from a blank page and not knowing where to put the heading and how to insert images.
So you now have access to an assortment of beautiful, conversion-optimized templates at your fingertips.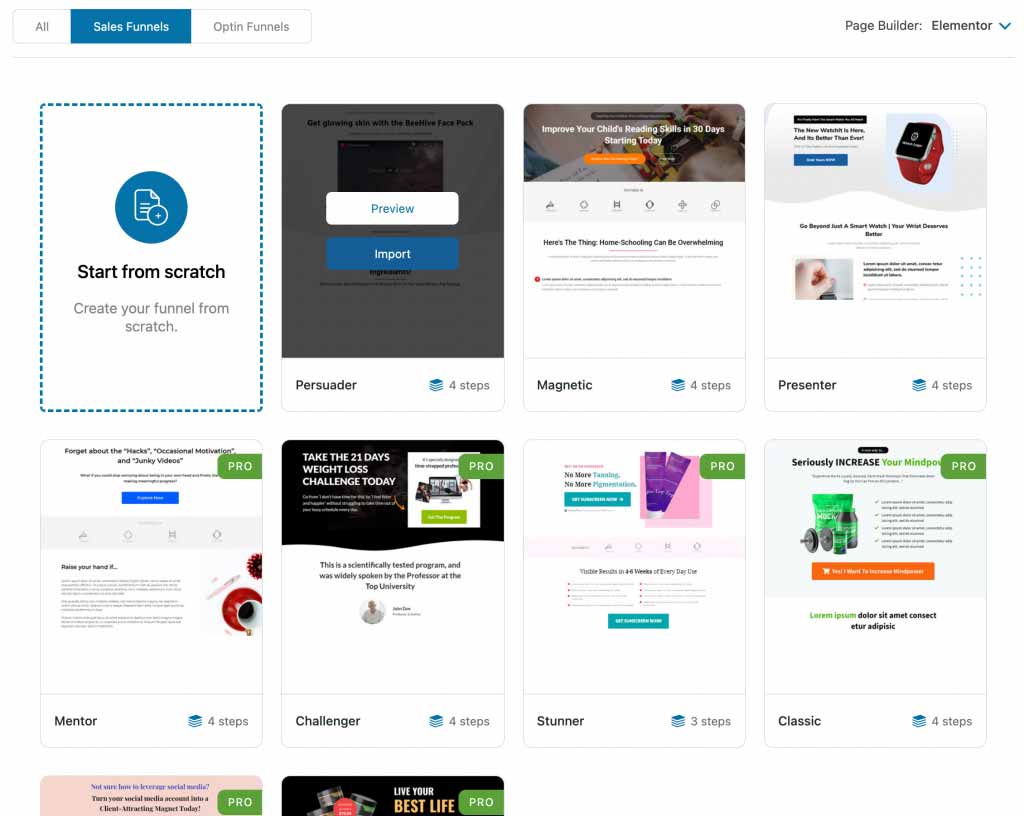 From the opt-in to the thank you pages, customize each page to fit your brand. All of the templates within our Funnel Builder are also mobile responsive.
Some of the sales page templates also have a checkout form embedded in them. The page wouldn't require the user to click on the button to go to a separate checkout in such cases.
True Opt-In Pages
Many funnel builders don't offer true opt-in pages.

They ask users to convert a sales page into an opt-in by embedding a form on it.

Some other solutions need users to add a $0 product to the checkout to capture leads.
Seriously! That's a sheer waste of time.

FunnelKit, on the other hand, offers true opt-in pages. There's a wide assortment of templates for creating opt-in pages.
You can create opt-in funnels with just the opt-in page and thank you page. And get your foot in the user's door.
What's more? You can even create opt-in pop-ups such that when a user clicks on the button, the signup form opens up in a separate dialogue box using our funnel builder.
Watch this quick video to learn more about this.
And there are templates for everything - even the pop-ups.
Optimized Checkout Pages
FunnelKit gives you the most flexible checkout page builder to maximize your conversions.

You can design mobile-optimized one-step, two-step, and even three-step checkout pages in a few clicks and capture email early.
Our funnel builder's compatibility with Elementor goes deep.
The form editor lets you add new fields, edit or remove existing fields, and display them in the order you want using the drag & drop feature!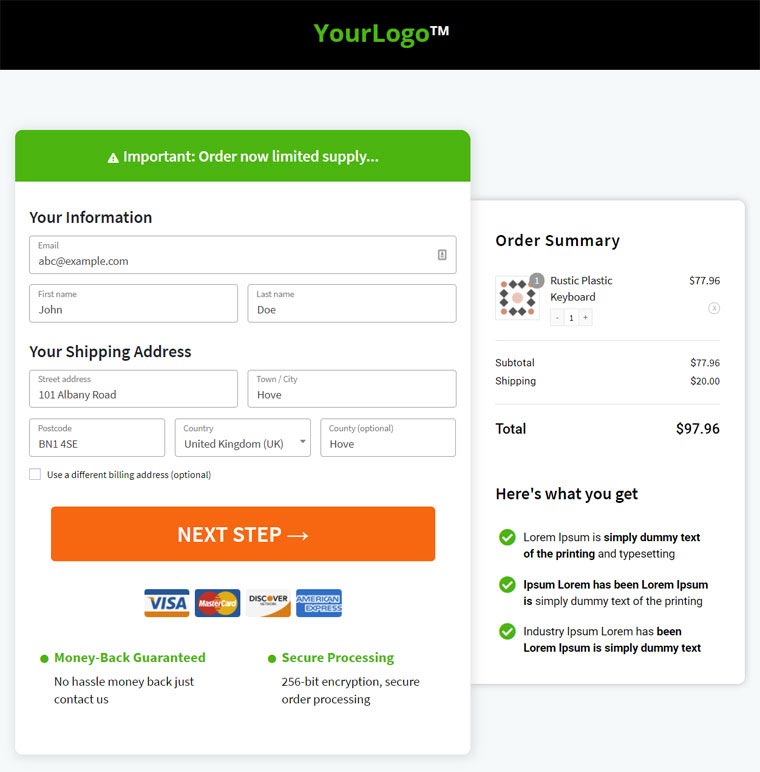 You can enable Google Address Autocomplete to prevent typing errors and costly delivery failures.

Also, enable Express Payment buttons by Google Pay, Apple Pay, Amazon Pay, PayPal Express, and others enable faster checkout within the optimizations tab of the FunnelKit Funnel Builder.
There are more than 21 built-in checkout optimizations to get you more sales.
Order Value Maximizing Bumps
FunnelKit lets you show targeted bumps to your users on the checkout page.

The extensive rule builder lets you set conditions for your bump.

For example, these conditions can be based on the item they're buying, total cart value, coupon code used.
The other solutions lock the order bump with the checkout page. But order bumps by the FunnelKit Funnel Builder are 100% dynamic and rule-based.
What's more! Why show a single order bump on the checkout when you can offer a choice?
It's an insanely value-adding strategy.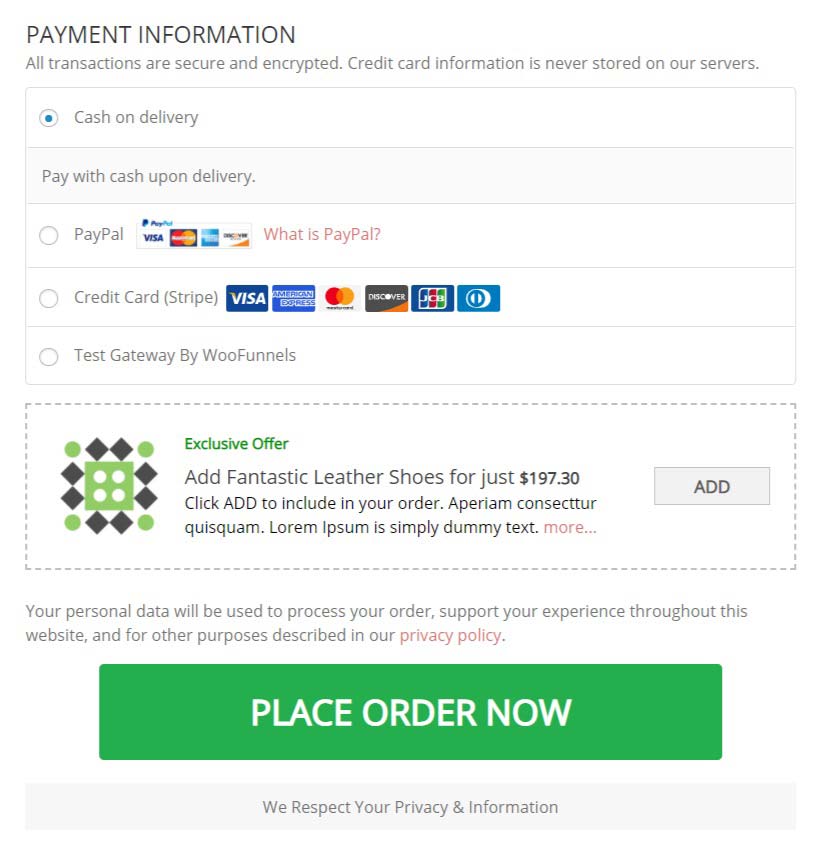 So if you're selling a course on increasing Facebook reach, you could offer order bumps on Instagram growth guide or explode your LinkedIn Network.

A user can add one or both offers, depending on what better aligns with their goal.
There is a range of order bump skins and styles available at your disposal.

Customize them to make them look on-brand.
This is exactly the kind of thing people look at when choosing the perfect funnel builder for their website.
ROI-Generating One-Click Upsells
The FunnelKit Funnel Builder lets you create compelling offers.
One-click upsells are the offer you make to your customers after securing the main purchase.
These offers can be bought with just one click, and don't require the customer to re-enter their payment details.

Isn't that exciting?!

Just like in order bumps, you can set conditions here to trigger relevant upsells.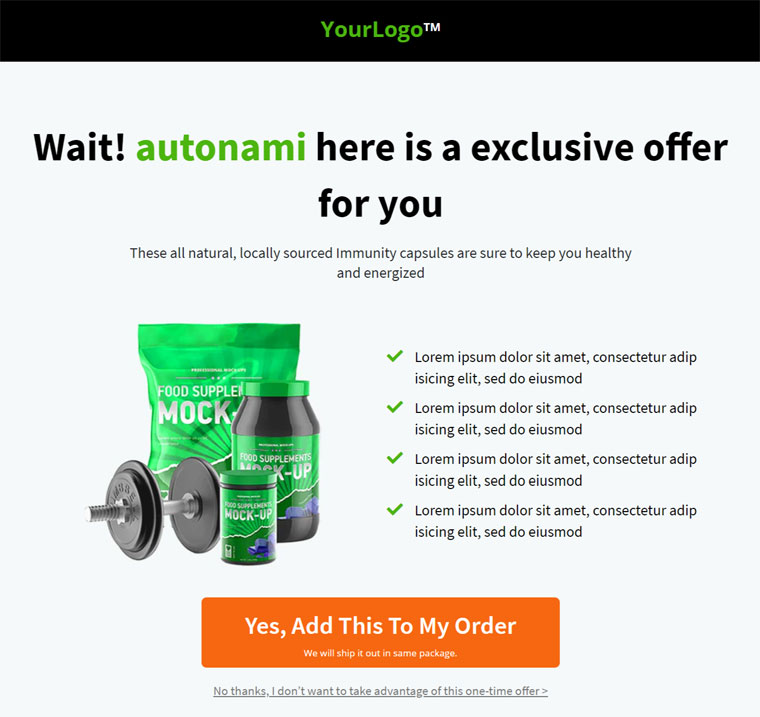 Professional, mobile-optimized upsell templates: With the Funnel Builder, you can create beautiful upsell pages using our pre-built templates even if you're not a designer.
Smart Rule Engine: Make relevant offers based on conditions such as items bought, first time buyers, past purchases, and more to trigger your upsells.
Multiple upsells on one page: Why make just one upsell offer when you can give a choice between multiple to increase your conversion rate?
Smart Offer Trees: Create connections between different upsell offers. Decide what offer you want to show when the previous offer gets accepted or rejected.
Compatible with 15+ payment gateways: FunnelKit Funnel Builder is compatible with 15+ payment gateways.
Adding smart, relevant one-click upsell funnels can explode your profits and get you insane ROI on your ads.
"One-click upsells account for more than 15% of our annual revenue now and 40% of those up-sells are a direct result of FunnelKit. This has allowed us to make more revenue from fewer customers as the years have gone on and has also allowed us to hire more full and part-time team members.
Funnel Builder transforms and breathes new life and revenue into new and existing businesses! Get it Today!"
Griffin Stewart
CEO & Co-Founder | 5DayDeal.com
Conversation-Starting Thank You Pages
Your thank-you pages are not dead-ends.

Add a welcoming video asking them to interact more with you, whitelist your email, and more.
The FunnelKit Funnel Builder gives you ready-to-use thank you page templates. All of them are thoughtfully created.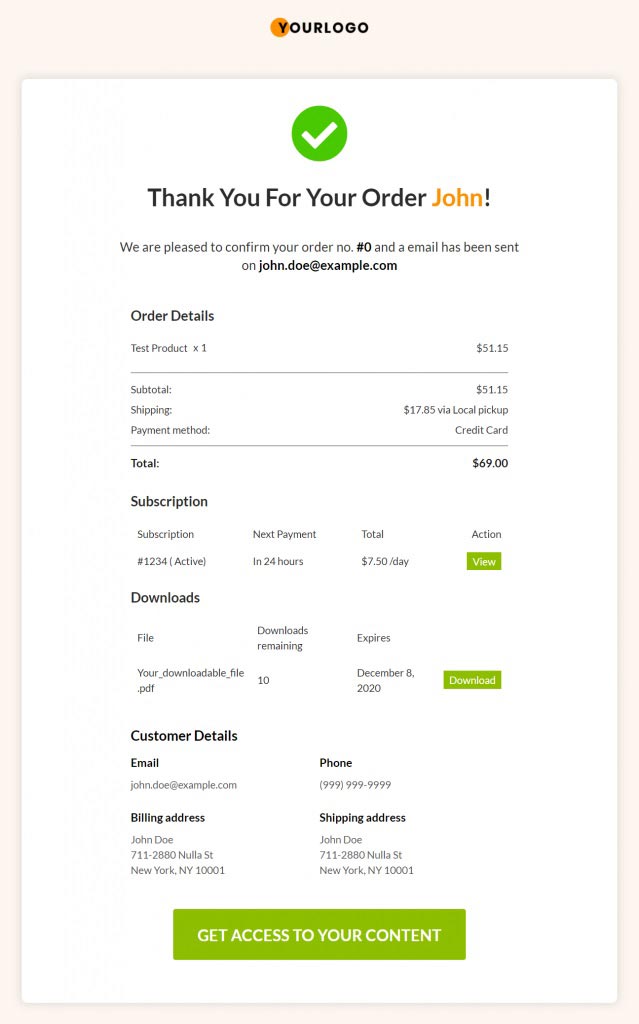 You can put the user's next steps on the page, drop a link to your Facebook group, and more.
Go beyond by asking users to stay connected.
Contacts and Insights
We know the pain of scattered data and not making informed decisions. But not anymore.

With Funnel Builder, you'll have it all in one place.

View the contacts entering your funnel in real time.

And also, view the contact's activity, i.e., which offers they accepted and how much they spent at each step in your funnel.

Being able to see this data in one place will give you a deep understanding of what's working and what's not.
Analytics
You invested precious time in creating a funnel, and there's no reason why you shouldn't know how it's doing.

See the revenue generated by every funnel, revenue per visit, and even revenue per step.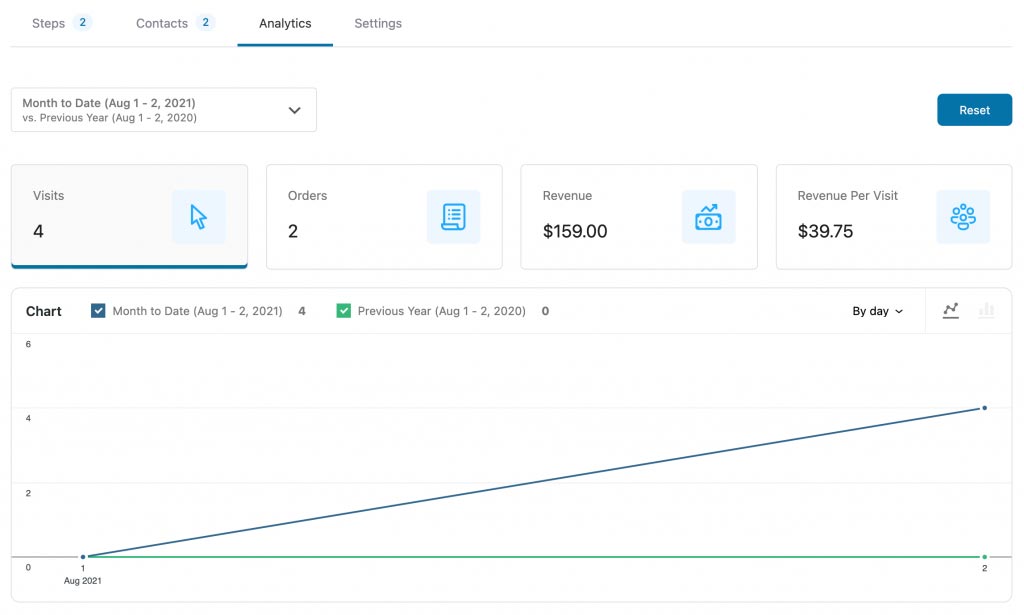 As the sales are taking place, you can monitor the views that each page got and their respective conversion rates.

Insights like these would help you make changes on the fly and increase overall sales.
A/B Testing
Nailing the right message, price, and offer requires experimentation. A/B testing ensures that you test every hypothesis.
You can A/B test every single page in your funnel and maximize its conversion rate using the FunnelKit Funnel Builder.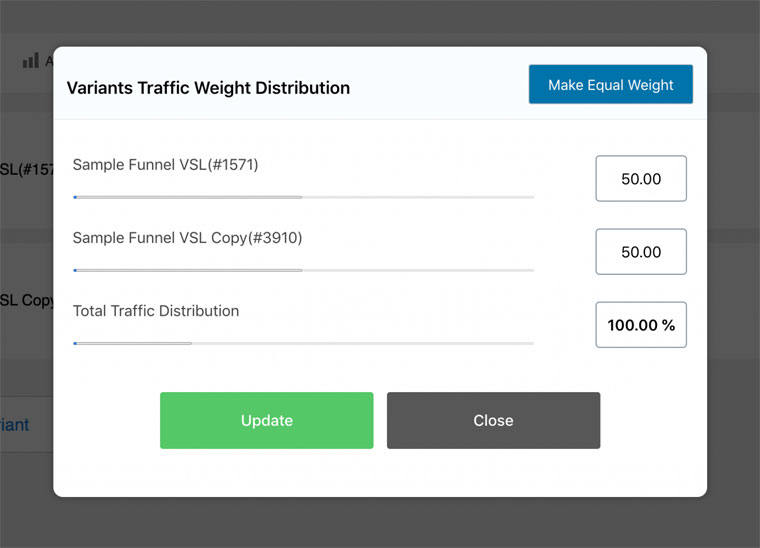 Whatever idea you have, bring it on:
Which headline will bring more leads?
Will a higher discount make your page convert higher?
Will offering a different product increase upsell conversions?
The list is endless. From colors to text to page layout, everything can be tested and optimized. It will make your funnel builder a lot more powerful than you can imagine!
Automated Follow-Ups
Don't just stop at putting a sales funnel together. Create automated sequences to recover abandoned carts, get repeat sales, and build stronger relationships.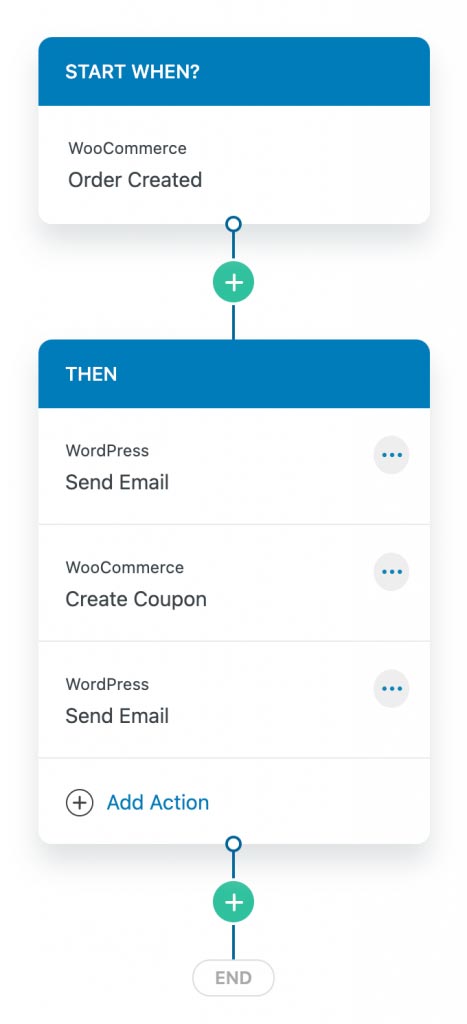 Here are just a few things that you can do with automation in FunnelKit:

Abandoned Cart Recovery- Recover abandoned carts by creating well-timed email sequences and time-bound coupon codes to incentivize the purchase. Along with emails, send SMSs using the Twilio SMS service with FunnelKit Automations.

Post-Purchase Education- Benefit from the high open and click-through rates of post-purchase emails by creating educational emails for your products. Not all products require extra information, so set up smart rules to define when the email is sent.
Next Purchase Coupon - Having just purchased from your store, the customer already trusts you. You can build brand loyalty by offering them coupons for their next purchase. Encourage them to redeem it or share it with a friend and help you spread the word.
Did you like what all possibilities you can uncover with the FunnelKit Funnel Builder? Let's now look at what we have in store for you with our WordPress CRM.
Go Beyond with our Built-for-WordPress CRM
Even though we've created the most powerful funnel builder for WordPress yet, we still haven't told you about our lightweight CRM - FunnelKit Automations.
Although you can integrate automation with your existing CRM, we also have our lightweight CRM launching in December for you all to explore!
This CRM is so much better because:
The CRM would run on WordPress, and thus you'd be able to see the data, automation, and more, all in one place.

In other CRMs you need to pay as you add more contacts to your list. With this CRM there is a flat rate, no matter the number of contacts in your list.
Also, with the CRM, you could:

Track key metrics: For every contact, view their lifetime spend, items purchased, number of orders, average order value, coupons used, and more.

Gain customer insights: Get deep insights into a user's interaction with your sales funnel, i.e., their spending at each step, offers accepted, and more.

Automation(s) tracking: In one glance, get an overview of all the automation(s) run on a particular contact - from abandonment to win-back and more.

Send highly relevant messages: Sort your contacts into lists to send relevant messages for higher than usual open and click rates.

Easily manage contact(s): Engage with customers at a level you had never thought of before. Store unique details about them using custom fields.

Engage using custom fields: Do more granular targeting with custom fields. Collect and store data in the form of text, drop-down, radio button, checkbox, and more.
So much more!
Ready to deploy the ultimate funnel builder in your business?
As we discussed - sales funnels help you take your visitors on a distraction-free path toward a high-value purchase.
They're designed to get you the most out of every transaction.
A thoughtfully-built funnel builder goes beyond just a series of pages.

It lets you analyze the performance, get an overview of your top-performing pages - basically puts all the data at your fingertips so that you can make informed decisions.
So what are you waiting for, check out Funnel Builder for WordPress and WooCommerce now!
Explore more about FunnelKit here and get started!