Have you been looking for a WordPress CRM that truly understands eCommerce and your use cases?
Use cases as simple as adding a contact to automation when they complete a purchase or triggering an abandoned cart sequence are impossible with most SAAS-based CRMs.
You can't accomplish these use cases easily and need connecting apps to bring them to life.
However, being WooCommerce users ourselves, we seek more efficient ways to streamline business operations and optimize customer interactions.
And with the right WordPress CRM - it's possible!
In this post, we'll explore WordPress CRM, its benefits and the 5 best CRM plugins.
Furthermore, we'll also look at the most genuine WordPress and WooCommerce friendly CRM that can help propel your business to new heights.
What is a WordPress CRM?
A WordPress CRM is a powerful customer relationship management tool that seamlessly integrates with the WordPress platform.
It's designed to help businesses manage their customer interactions and enhance overall productivity.
It features WordPress as a centralized database to store valuable customer information such as contact details and engagement metrics.
Not just that, it integrates with WordPress-powered eCommerce platforms such as WooCommerce to help streamline sales processes and automate business processes.
Why Do You Need a WordPress CRM?
Here are some benefits associated with the WordPress CRM tool:
Personalized communication - A WordPress-focussed CRM tool allows you to interact with your customers. You have all the data in one place and can tailor your messages the way you want.

Efficient lead management - Managing leads can be quite challenging without the right set of tools. However, a WordPress CRM tool can simplify the lead management process by monitoring every interaction with your lead.

Enhanced customer insights - WordPress CRM integrates with WooCommerce, which helps you get access to valuable customer insights. These can be orders placed, customer details, items ordered, etc., that help you plan your next profitable campaigns smartly.

Streamlined sales process - With top WordPress CRM plugins, you'll be able to get real-time data about your customers, orders and inventory. This streamlined access to in-depth information allows you to improve your store's checkout process and enhance conversions.
Data-driven decision-making - With the detailed data available in one place, you can understand customer trends and sales patterns to formulate better strategies for optimum results.
Top 5 Best CRM Plugins for WordPress
Here are the 5 most popular WordPress CRM plugins as per their usability, features and value for money.
1. FunnelKit Automations (formerly Autonami)
FunnelKit Automations is a CRM plugin built for WordPress and WooCommerce. It's an all-in-one multi-channel broadcast and marketing automation engine.
You can set up automated campaigns, send targeted email/SMS broadcasts, track shopping carts, view in-depth contact profiles, and more.
Plus, you get unlimited contacts and unlimited emails at no extra cost!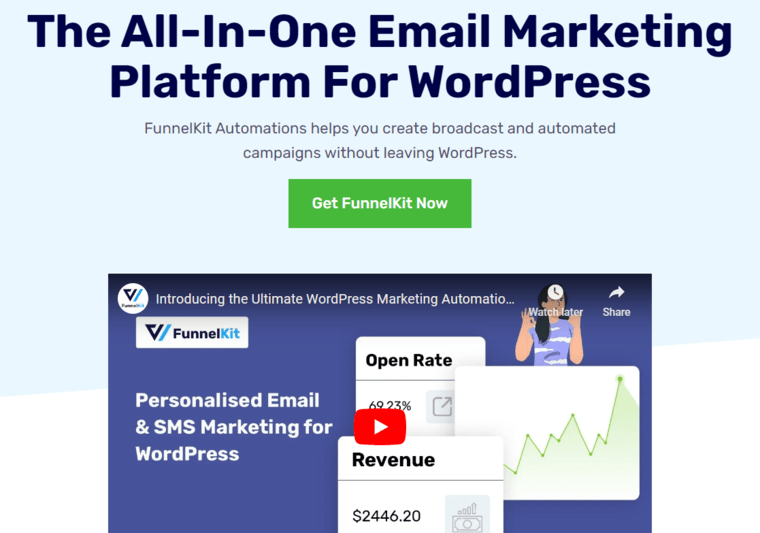 Here are some brilliant features of FunnelKit Automations:
Pre-built recipes and automated sequences - Import and customize the pre-built automation recipes or set up your sequences from scratch. You can choose from a variety of events and actions available in FunnelKit Automations.

Drag and drop visual email builder - With this WordPress CRM, you can create irresistible emails by designing them using drag-and-drop blocks with the visual email builder.

Dynamic coupon creation - Create and personalize dynamic, deadline-induced coupons that create a sense of urgency and encourage your shoppers to buy from your store.

Targeted email and SMS broadcasts - Send specific audience-targeted announcement emails and SMS campaigns that allow shoppers to engage with your brand.

Reporting and analytics - Track how your campaigns are performing in real-time. Go beyond the usual open and click rate metrics to something more such as orders placed, revenue generated, conversions, etc.
FunnelKit Automations offers you both the free (lite) version and premium version. Its standalone version starts at $129.50 a year. If you want a Funnel Builder and Automations bundle, the Professional plan starts at $249.50 annually.
Its lite version is the best free CRM plugin for WordPress that allows you to set up cart abandonment and post-purchase email campaigns.
2. Jetpack CRM
Jetpack CRM helps you improve your customer interactions and grow your business.
It's a WordPress client management plugin that allows businesses to keep track of their sales and revenue.
This plugin helps you keep track of business information. You can make proposals, send them to your contacts and get paid through the client portal.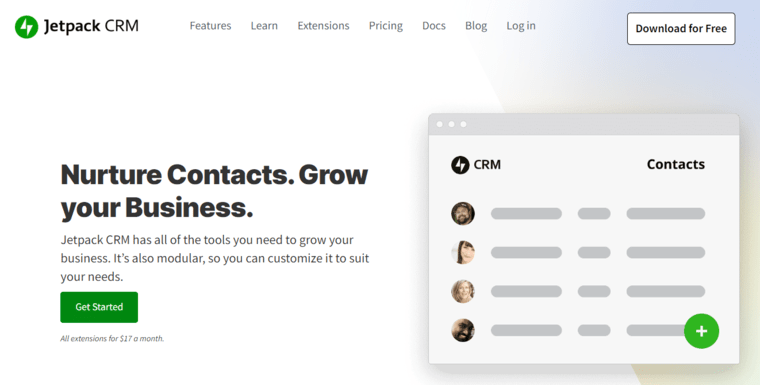 Here are some of its features:
Keep track of information in one place - Jetpack CRM gives you all the information about your business on the go. Get on top of your leads, manage your sales funnels and view all your sales/revenue in one place.

Nurture contacts and grow your business - Get a detailed view of your contacts' profiles and leverage the data to nurture them. This helps you to serve your existing customers better and find new customers.

Track quotes, invoices and transactions - It lets you write and send proposals to users and generate invoices to get paid directly. It lets you track transactions per user contact or companies to make the process super easy.
Jetpack CRM comes in both free and premium versions. Its basic plan (Freelancer) starts at $11 per month, billed annually.
However, it lacks integration features with apps like LearnDash LMS and other CRMs, the ability to design emails and extensive events/action triggers for your automations.
3. WordPress CRM Plugin
The WordPress CRM Plugin is designed for small businesses that allow your team to manage different projects, track marketing campaigns and convert prospects into customers.
This plugin offers free basic functionality and premium add-ons to add extra features and integrations.

Here are some of its key features:
Contact management - Manage the information of your contacts easily. Create custom fields to track additional data important for your business.

Simplified project management - The project dashboard allows you to keep track of all your projects with a list of all your tasks and opportunities there.

Integration with other apps - Integrate with different apps like MailChimp, Gravity Forms, Slack, etc., to set up automated workflows for your business.
WordPress CRM Plugin comes in three plans and its Plus plan starts at $99 per year, but you only get access to 3 extensions.
4. WP Fusion
WP Fusion is a CRM solution specially designed for WordPress. It allows you to manage contacts with in-depth profiles as well as integrate with different plugins and third-party applications.
It lets you integrate and synchronize data between your website and external tools, allowing you to create a personalized user experience.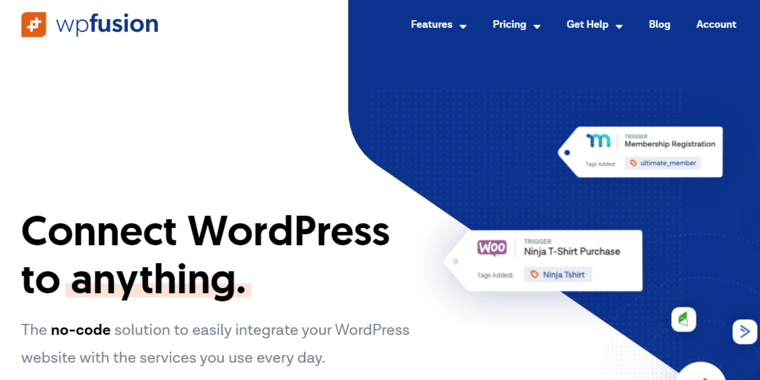 Find out some key features of WP Fusion:
Automated campaigns - WP Fusion allows you to track engagement and perform complex automations. You'll be able to track the last logins and stale accounts, send emails to customers based on their profiles, and more.

Synchronize WordPress user data - This WordPress CRM lets you seamlessly integrate your user data with WordPress. You can sync your extended user profile data, order numbers and their details, etc.

Integration with different plugins and apps - You can set up automated sequences by integrating with different plugins and apps such as WooCommerce Memberships, LearnDash, WPForms, Elementor, WooCommerce Bookings, and more.
WP Fusion comes in both the free (lite) version and the premium version, which starts at $247 annually. There is also an option to get WP Fusion for lifetime value at $999 for one site and $1999 for three sites.
5. Groundhogg CRM
Groundhogg is a comprehensive WordPress marketing automation and CRM plugin.
This plugin lets you automate your marketing campaigns, boost engagement and interact with your customers.
You get a variety of features to help your business optimize your marketing campaigns and grow customers.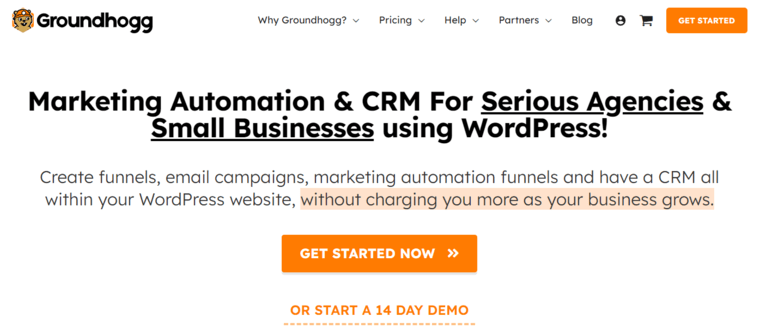 Let's look at some of its features:
Tags and segmentation - Segment your contacts with tags or search filters to get a better overview of your users. Then leverage this data to boost engagement and sales with Groundhogg WordPress CRM.

Marketing automation - Create funnels and set up automated campaigns using 30+ integrations available to create highly effective customer journeys.

Activity tracking and reporting - Track your users on how they are interacting with your WordPress website and measure the stats of your conversions.
Groundhogg charges traditional pricing of $50 per every 500 contacts getting added to your list. On top of that, its premium plugin starts at $20 per month.
What to Look for in the Best WordPress CRM Plugin?
Here we've compiled a list of pointers you need to identify the best WordPress CRM plugin for your business.
This plugin should work with eCommerce platforms like WooCommerce, which powers over 6.3 million+ websites globally.
A WordPress plugin that is WooCommerce-focussed CRM enables you to interact with your customers, nurture them and close the sale.
Let's look at these pointers below:
Deeper Segmentation
Meaningful Customer Insights
No Contact Limits
SMS and Email Campaigns
In-depth Analytics
Everything in One Place
Deeper Segmentation
Every CRM across the board offers tagging and listing options. But managing those tags and lists becomes too tiresome and confusing in the longer run.
As the business progresses and your contacts grow, so do the tags and lists.
You need a WordPress CRM that allows you to create dynamic segments like - items purchased, AOV, etc., without having to manage the cumbersome tags and lists.
This would further enable you to send relevant emails to your contacts.
Meaningful Customer Insights
Instead of switching between interfaces to gather customer insights, having all the purchase details of a user in one place makes things easier.
Thus, a good CRM should provide all your customer's information in one place.
If you have a deep insight into your customer's behavior, you can tailor the automations and make relevant offers to them.
It would also help the support staff in providing up-to-date and valid solutions to their queries and troubles, building a stronger customer relationship.
No Contact Limits
Paying more or shifting to a higher payment plan when the number of contacts increases is truly a hassle.
We need a solution that doesn't restrict the contacts or the emails we send out and allows an unrestricted flow of subscribers.
Doing all this while being easy on the pocket is the goal.
Many of your contacts may not even be marketing contacts or inactive subscribers - so having to pay for them makes the whole thing all the more pricey.
This would support you, the business owners, to provide a better customer experience.
SMS and Email Campaigns
Emails are the classic way to get in touch with leads and customers, whether it is to send out an announcement or a newsletter.
But as it has been observed, the open rate of an SMS is around 98%, while most emails sent on a daily basis remain unopened.
SMSs also offer 25X higher ROI compared to emails, further strengthening the case and making it a far more effective mode of communication.
Thus, CRMs should also allow you to run campaigns on multiple channels to reach a wider audience.
In-Depth Analytics
Most CRMs only give you the open rates and click-through rates of your broadcasts and automations, but they do not go beyond.
Also, they do not account for abandoned or recovered cart statistics that can totally change the game.
What if your WordPress CRM gave you all this information and even told you how much revenue you made with each campaign?
The information on the total orders and revenue generated through specific campaigns makes the data more meaningful.
Everything in One Place
Jumping from platform to platform can be both confusing and time-consuming.
Putting everything on one interface eliminates the need to switch out of WordPress to manage contacts and send emails.
You get all the data points in one place, which empowers your support staff to offer relevant and personalized solutions.
So, the best lightweight WordPress CRM should fulfill all these requirements.
Thus, out of the top 5 best CRM plugins for WordPress, here's our pick.
Meet FunnelKit Automations: The Most Powerful WooCommerce-Centric CRM for WordPress
You can finally go beyond lists, tags, and fields to segment your customers.
What's more?
With no limit on contacts, you can finally stop worrying about upgrading to a higher payment plan when your contact list grows.
After loads of research and development done by our team, FunnelKit Automations has grown from just an automation tool to a powerful WordPress CRM for WooCommerce.
With FunnelKit Automations CRM, you get all the features we talked about earlier in this post. And it is all inside WordPress!
Let's now look at all its features.
Unparalleled CRM Features Built Right Inside WordPress
FunnelKit Automations offers some really useful features that assist you in listening, understanding, and acting on your customer data.
Let's take a closer look at some features of this WooCommerce CRM based on WordPress.
Performance Dashboard that Gives Unmatched Insights
Here's the cold truth: SAAS-based CRMs do not communicate with your WooCommerce store as well as they should.
This means all you can see on the dashboard are top campaigns based on open and clickthrough rates and not on the orders placed or revenue generated. This incomplete information leaves you guessing.
Well, not anymore!
Our performance dashboard gives you a bird's eye view of your top-ranking broadcasts, automation, and the revenue generated from them at a glance, among other details.
See a little preview of the dashboard of our WordPress CRM below.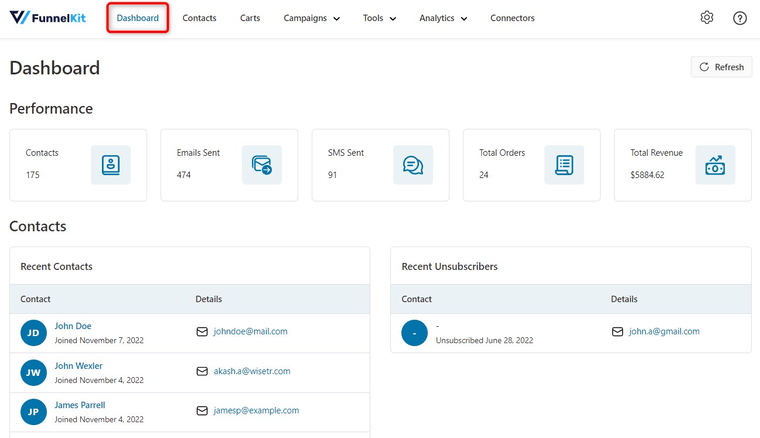 Check the performance
The very first section on the page gives you the rundown of your total number of contacts, emails & SMSs sent, total orders, and the revenue generated.

This highlights how many orders your messages are bringing in and if you need to make any changes to improve the number of orders from future campaigns.
View subscribed and unsubscribed contacts in the WordPress CRM
The next section shows you the recently added contacts and your recently unsubscribed contacts.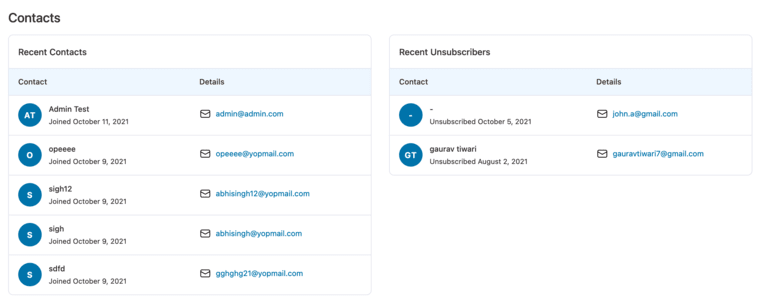 Cart tracking status for abandoned and recovered carts
Carts show you the list of recently abandoned and recovered carts.
This would enlighten you if the cart abandonment recovery sequences put in place are effective or not. Based on this data, tweak the automation and get higher cart conversions.
Top-performing campaigns at a glance
This section of our WordPress CRM highlights the top-performing automations and broadcasts you've set up and the revenue they are drawing.

Having this data at your fingertips allows you to create messages for future campaigns that genuinely resonate with the audience.
You want to build better bonds with the users, so giving them the information they would be interested in rather than just advertising random products would result in more conversions.
Popular emails sent
Here, you can view your most popular emails against their open and click rates each.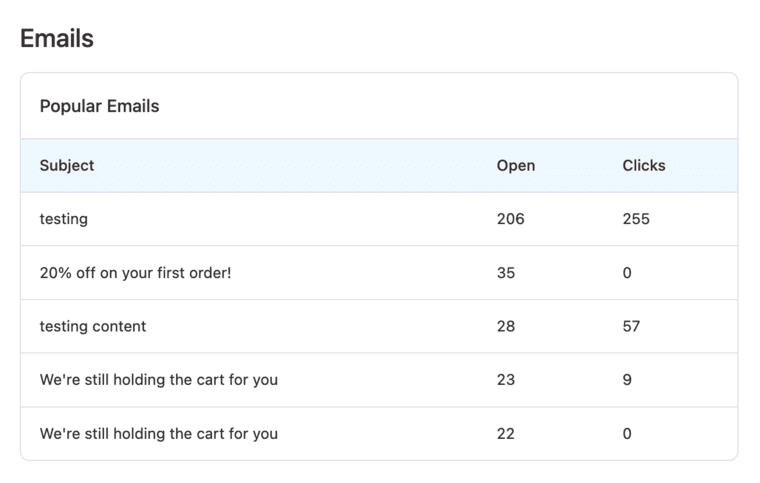 Use this information to judge what sort of email subjects get you higher open rates and conversions.
A catchy subject line is more likely to get the users to open an email than the product being marketed. So lay out the bait with a grabbing subject title.
Limitless Segmentation Possibilities With Our WordPress CRM
We spent many, many months studying and analyzing some of the most popular CRMs out there - ActiveCampaign, MailChimp, Drip, ConvertKit, and even some of the WordPress CRM plugins.
After all the research, we realized that none of these CRMs let you segment users based on the items purchased, order total, first order date, and more.
Noting all this, we decided to go above and beyond to offer you a robust tool to send marketing messages to the people you want to target.
You can filter users based on their order history, contact details, location, order total, category shopped, and so many more.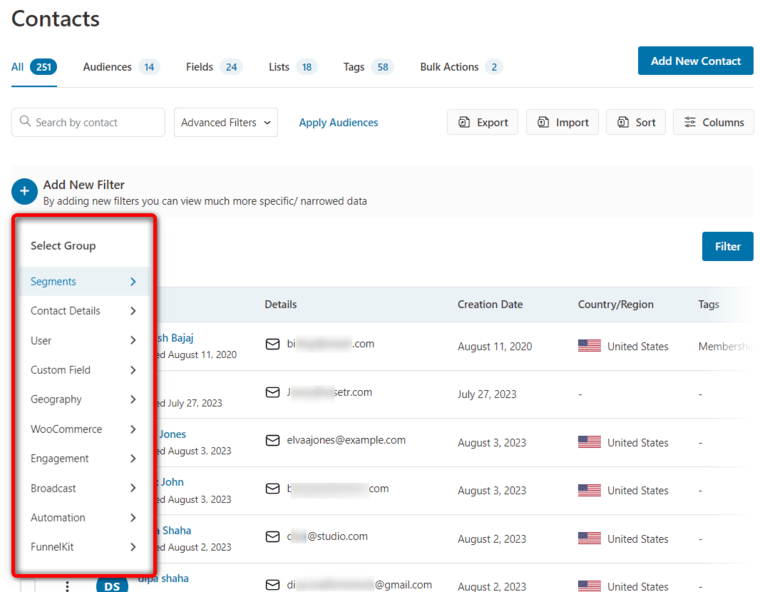 Segmenting users in such a manner removes the task of pilling on tags against a particular contact or manually managing the lists.
You can even create and save these segments as audiences to send future marketing broadcasts directly to a list of people without the need to filter contacts every time.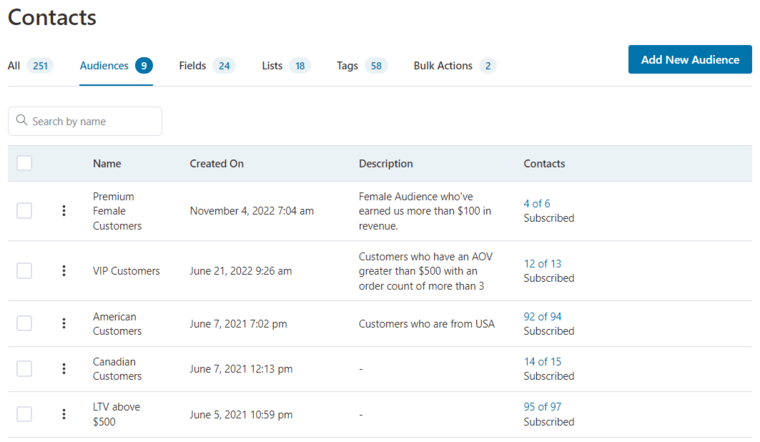 So, contacts in FunnelKit Automations allow you to narrow down your contacts based on a number of useful parameters and reach out to them with ease.
In-Depth Customer Profiles
While studying various CRMs, we couldn't find one that provided such detailed insights about every customer and subscriber.
FunnelKit Automations - The Ultimate WordPress CRM, on the other hand, tells you if a contact is a repeat buyer, if their AOV is higher/lower than that of the store when they placed their last order, their complete order history, and much more.
Just click on a particular contact's name to open up their whole profile for your reference.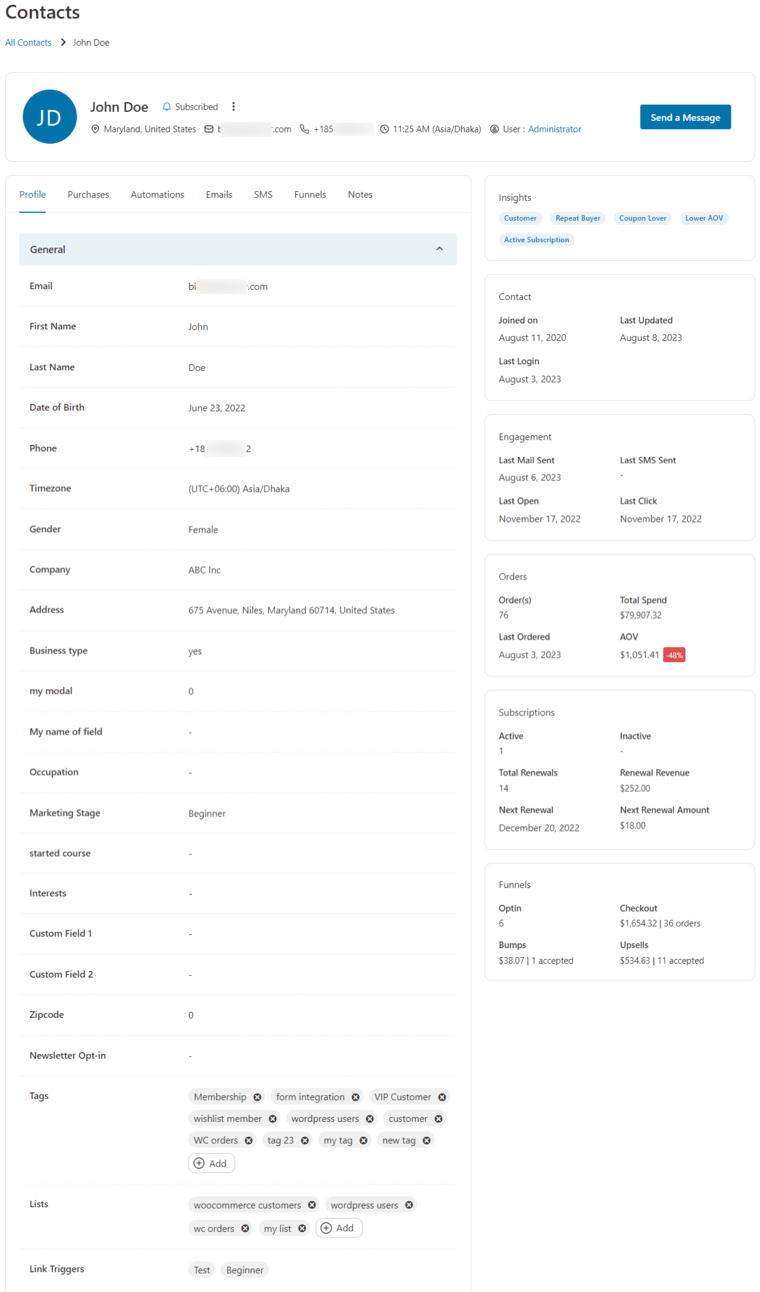 Having such meaningful data readily available can elevate the customer experience many folds.
Also, WooCommerce standardly creates separate orders for each purchase.
So if you wish to view someone's buying history, you'd have to go through every order they placed to see what they bought and how much they spent.
But that's not the case when using FunnelKit Automations. You can review all the orders placed by that contact at a glance in one place.
That's not all!
Any plan you opt for - from our basic to pro plans - gives you the liberty of adding as many contacts to the tool as you want. There are no boundaries set for you to pay and cross.
Enjoy all the features available on your chosen plan for your existing as well as new contacts with our WordPress CRM.
Triggered Automation Sequences
Triggered emails are opened 70.5% more, clicked 152% more, and generate 60% more revenue compared to regular email marketing campaigns.
FunnelKit Automations provides you with a number of events to choose from to trigger the pre-defined automation sequence.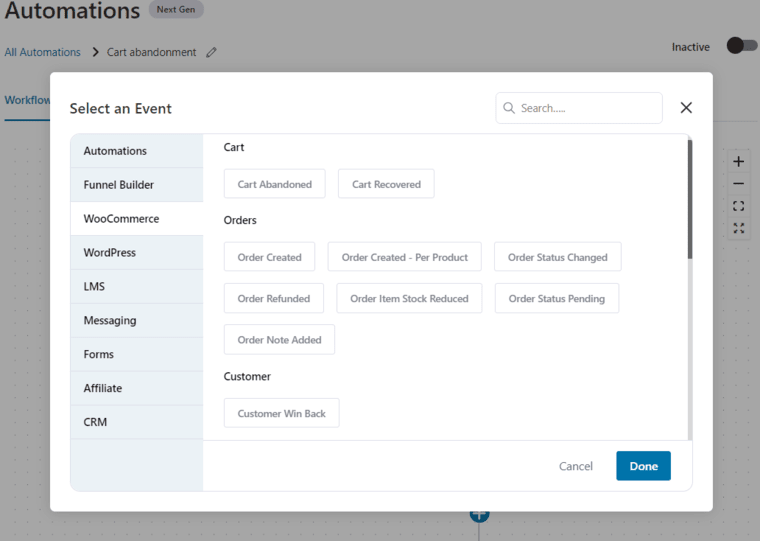 Not only that, but you can also choose the type of action that follows the triggered event:
Action - Direct Action entails that this action takes place as soon as the event is triggered.

Delay - Add a delay in minutes/hours/days/weeks/months, delay until a specific date or day, or until a custom field to your automated sequence.

Condition - Conditional Action is added when you want a particular condition to be met before the action follows. For example, perform an action only if the cart total is more than $500.

Goal - Set the end objective of your sequence, such as product purchased, tag added, contact subscribes, etc.

Jump - Skip the automation to a particular step.

Exit - This step ends the automation.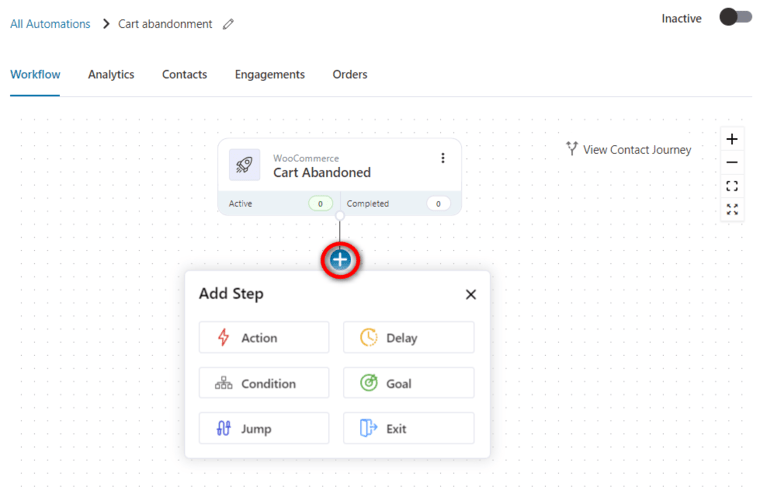 Design automation to welcome leads after they sign up on a form or after a cart is abandoned. Send follow-up learning material related to a particular product, or offer a special discount code to some selected customers.
The automation tab gives you the option to track the scheduled and completed automation.
You can also import pre-built automation recipes with a single click and customize them the way you want within a few minutes.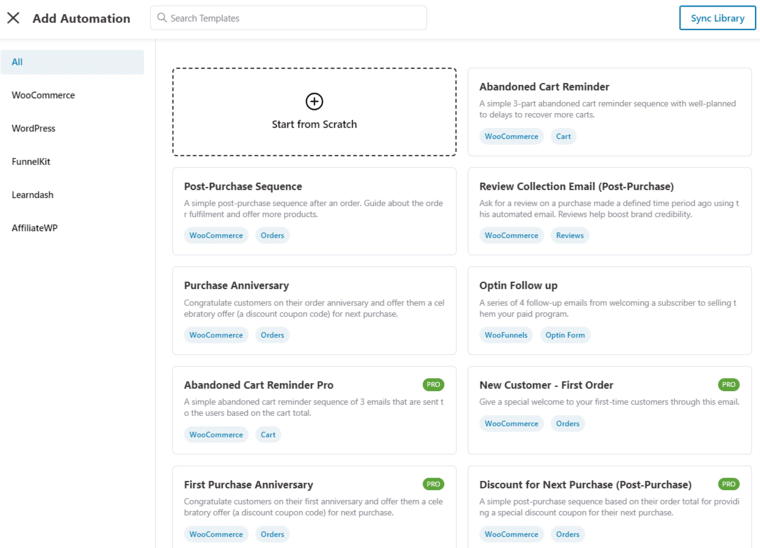 This way, you can save a lot of time and automate your business processes in no time!
Far-Reaching Broadcasts
Send both SMS and Email notifications to your customers and expand your reach. SMSs with a higher open rate ensure that the recipients deliver and read your messages.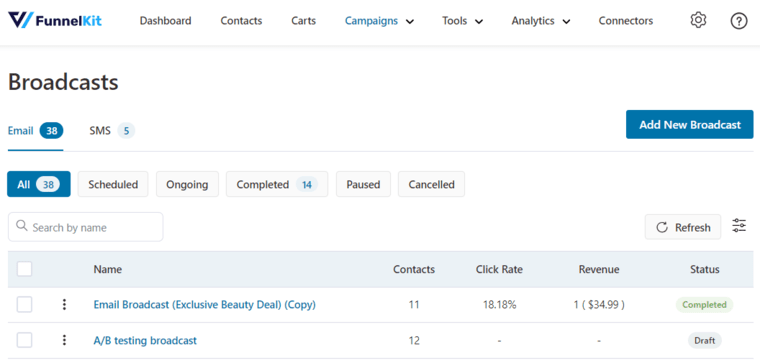 Using our WordPress CRM, you can easily track the messages sent and their open and clickthrough rates.
These would help you determine which emails and messages resonate well with the customers and leads.
Then carrying that tone, design the other messages too.
You can even create dynamic segments based on items bought, date of the first order, order total, and more to send announcement emails/SMSs to selected contacts.
Confused about which marketing automation to use? A/B Test your campaigns and let the numbers decide a winner for you.
Not just that, but you can also custom design your emails with FunnelKit Automations' Visual Drag & Drop Email Editor at your fingertips.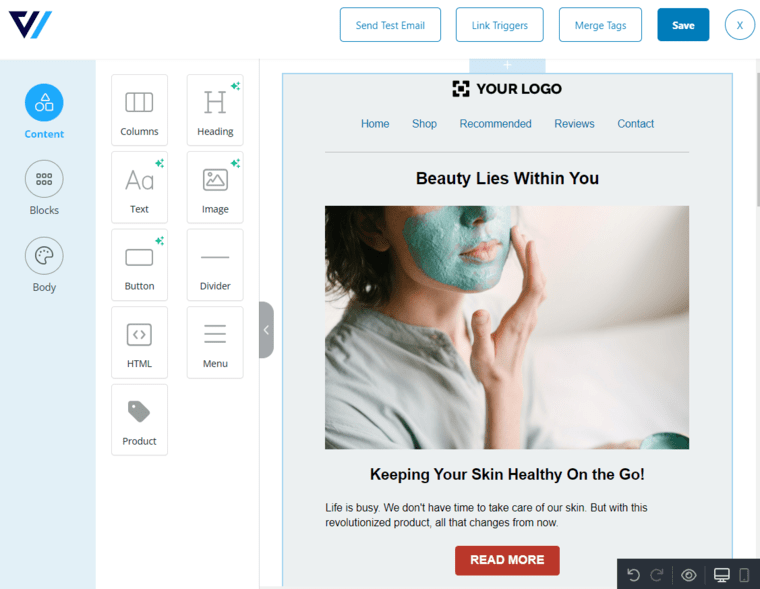 You can even design your emails when setting up your automations with FunnelKit Automations.
Broadcast campaigns with our WordPress CRM - FunnelKit Automations, will definitely elevate your store's image and conversion rates.
Build Your Own Forms
If you wish to create and embed a form of your own, that is possible now with FunnelKit Automations.
Use these forms to gather users' names and email addresses to further help you send them follow-up emails.
FunnelKit Automations offers you a range of form builders to choose from and get designing. These plugins are - Elementor, Gravity Forms, WPForms, Fluent Forms, FunnelKit Optin, Thrive Leads Form, Ninja Forms, Divi Forms, Formidable Forms, and more.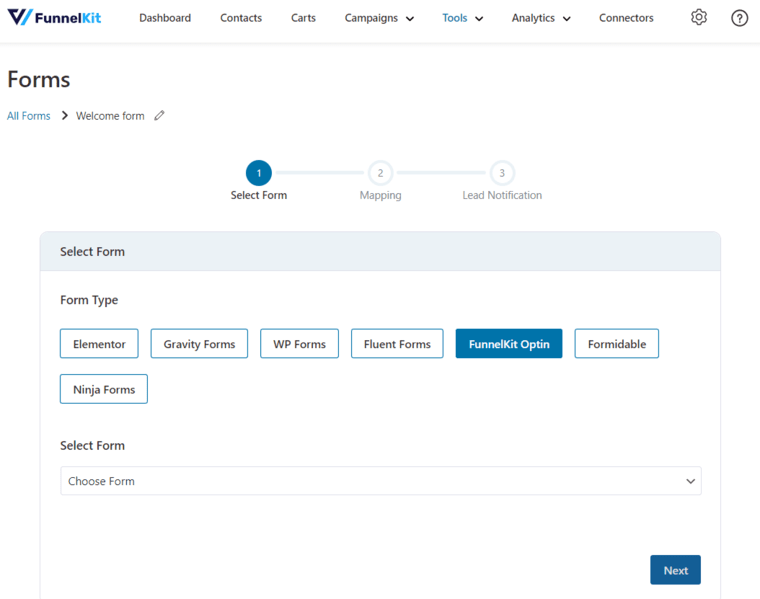 Inside our WordPress CRM, you can even choose if your form would be embedded on the page or if you want them as a pop-up.
Map the form fields to ensure correct information is being recorded and displayed to the users.
With FunnelKit Automations, you can even choose to send a double opt-in or a confirmation email to the users, and only when they click on a particular link sent in the email are they tagged as a Subscriber in your contacts.
Also, check your forms' status and the contacts they have helped generate at a glance in the Forms section of FunnelKit Automations.
Real-Time Analytics
Not sure how your store is performing? If your cart were recovered, or if your broadcasts were read?
Well, we have the answer to that.
FunnelKit Automations' in-depth analytics allows you to study the real-time performance of your contacts, carts, and campaigns.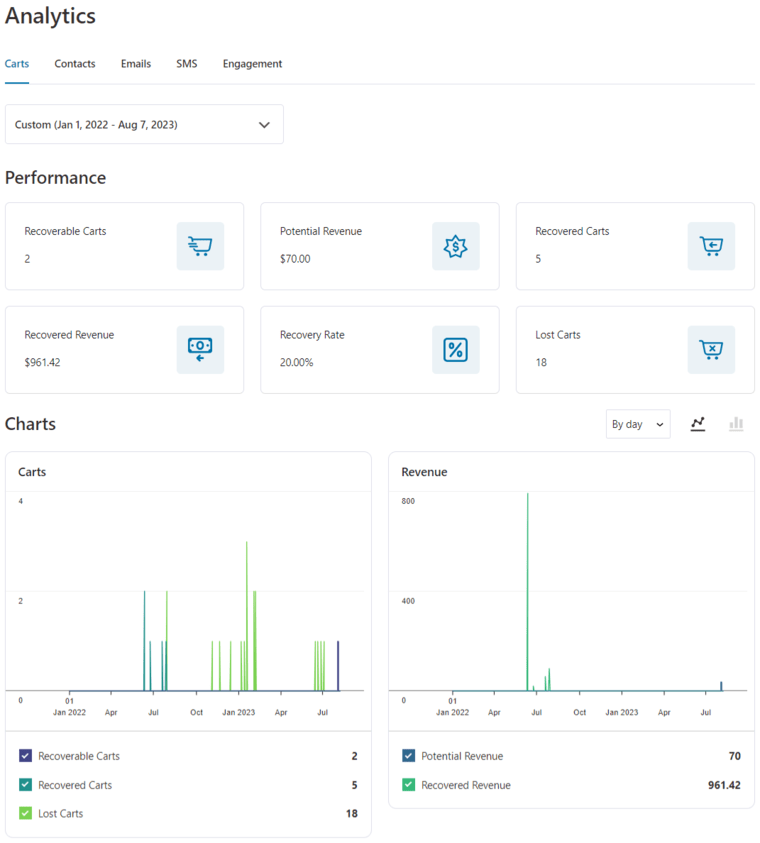 You can see your total number of carts, contacts, emails, and SMSs, as well as recoverable carts, potential revenue amount, email click-through rates, SMS open rates, and so much more.
Analytics even shows you the engagement your campaigns received by the day of the week and hour of the day so that you can schedule your future campaigns accordingly.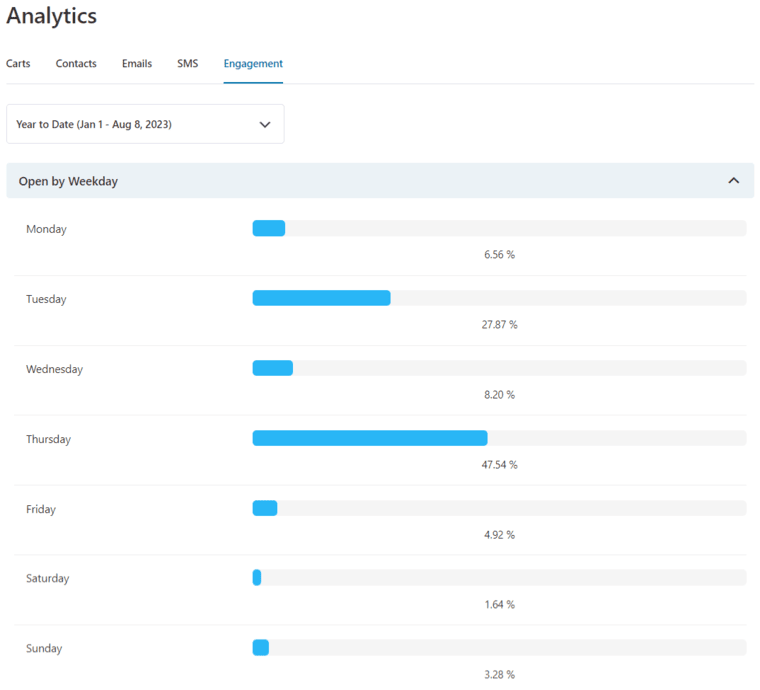 Integration with WordPress Plugins, CRMs and Applications
FunnelKit Automations integrates with various WordPress plugins such as WooCommerce Subscriptions and Memberships, Wishlist Member, Advanced Coupons, WPForms, AffiliateWP, LearnDash LMS, Elementor Forms, and so many more.
With these plugins, you can easily achieve your automated use cases by using FunnelKit Automations' extended capabilities.
Not just that, FunnelKit Automations lets you connect with different CRMs like ActiveCampaign, ConvertKit, MailChimp, Hubspot CRM, Drip, Keap, Mailerlite, Mautic, and others.
Furthermore, you can connect with third-party applications like Google Sheets, Twilio, ConvertBox, Zapier, Bulkgate, Integrately, Make, Slack, Pabbly, etc.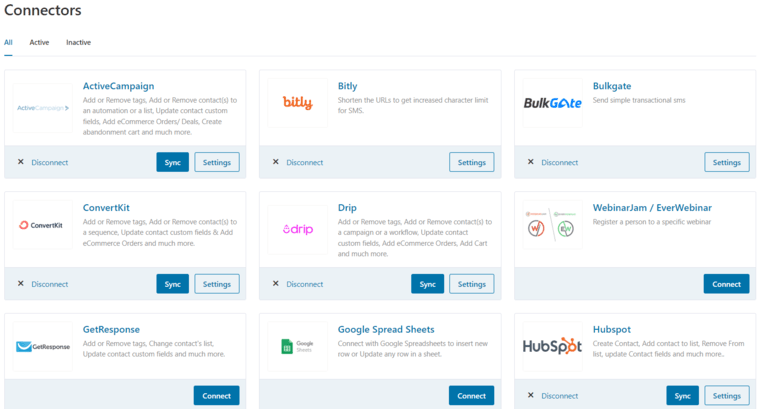 FunnelKit Automations is designed to be flexible that allows you to connect with different tools to build a cohesive and efficient CRM within your WordPress environment.
That's the power of our WordPress CRM - FunnelKit Automations!
Frequently Asked Questions (FAQs)
In this section, we'll answer the most commonly asked questions regarding WordPress CRM solutions.
1. Does WordPress have a CRM system?
WordPress offers a functional CRM feature that is in your dashboard. If integrated with other plugins, such as WooCommerce, that helps you send transactional emails from your online store. However, these emails aren't customized on-brand. For that, you need a WordPress CRM plugin to level up your marketing effort and increase sales.
2. What to look for in the best CRM for WordPress?
There are many features to look for in the best WordPress CRM plugin, such as unlimited contacts and unlimited emails, contact segmentation and filtering, detailed customer insights, drag and drop builder to design on-brand emails, in-depth analytics, A/B testing to analyze and improve your marketing campaigns, and more.
3. How to integrate CRM with a WordPress website?
To establish the WordPress CRM integration, you just need to sign up for the CRM of your choice. Once done, install and activate it on your WordPress website. Some of the WordPress CRM plugins don't need additional add-ons to work. For example, FunnelKit Automations is built for WordPress and WooCommerce to manage all your business processes from one place single-handedly.
4. Which CRM works best with WordPress?
FunnelKit Automations is the best CRM that works with WordPress. It's designed to handle all your business processes on WordPress. You can send unlimited emails and store unlimited contacts without having to pay extra for add-ons. It offers tons of features that we have listed in this article.
Are You Ready to Deploy the Best WordPress CRM Plugin?
FunnelKit Automations offers you all the useful features that would assist you in managing and growing your customer list.
From unlimited contact space to in-depth campaign analysis, FunnelKit Automations is the first WooComerce-centric CRM that is designed to run smoothly from within WordPress.
Segmenting contacts based on their first order date or the product category they bought from, among many other parameters, helps in sending relevant promotional broadcast campaigns to the users.
This is one of the many unparalleled features of our WordPress CRM that assists you to manage and grow your contact list.
That's not all; there is no limit on the number of campaigns you run in your store.
There is so much more than the WooCommerce CRM for WordPress - FunnelKit Automations has to offer. It's time for you to try and experience it for yourself!