Wishlist Member is one of the oldest and most reliable platforms for creating your membership site, protecting premium content, and selling digital courses.
We've been working on its integration with FunnelKit Automations for quite some time now and it's finally here.
In this post, we'll look at what you can achieve with the combined power of FunnelKit Automations and Wishlist Member.
We'll also see how you can make your marketing work harder for you by targeting the thoughtfully created segments of your members.
Here's a quick video on what to expect from the FunnelKit Automations-Wishlist Member Integration:
Importing WishList Members with Deep Insights
Let's get started.
You can import contacts into FunnelKit Automations with a single click. Apart from WordPress and WooCommerce, you can now also import your Wishlist Members.
Simply click on Import to start the process.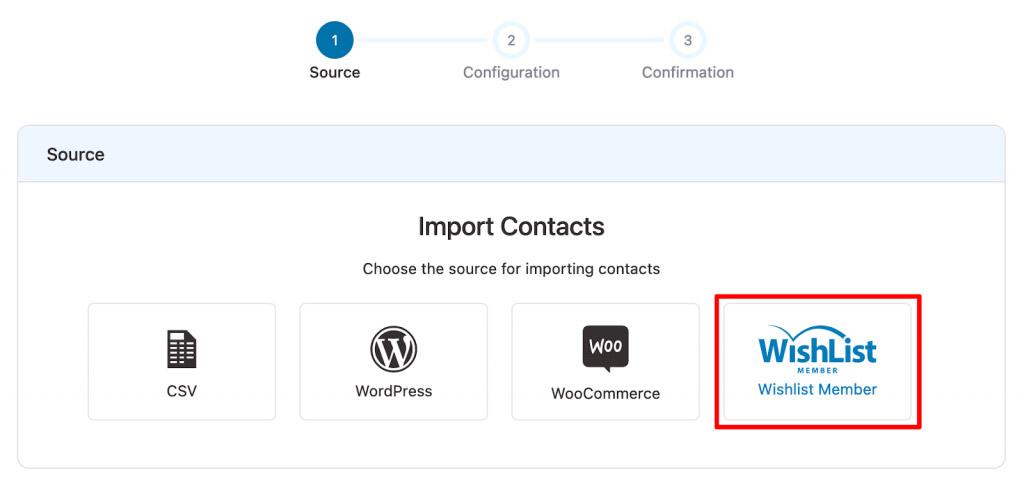 Keep in mind that importing Members into FunnelKit Automations is a one-time process.
This means you don't have to hit import again and again as new members join. Do it once and then FunnelKit Automations will communicate with WishList Members to keep your members list updated with the latest information.
You don't have to manage your members, add tags on expired and canceled members, or update your CRM with the new members.
Imagine how much time and effort you would save on just making WishList Member and your CRM communicate with each other?!
No other CRM provides the kind of ease that comes with using FunnelKit Automations, all because it's engineered keeping your WordPress use cases in mind.
Rich Profiles of WishList Members
Can you imagine the hassle of looking up different WooCommerce orders to understand what all products a single person ordered?!
That's just a small part of the problem.
There's no single interface where you can see all your members along with their membership status, their WooCommerce orders, average order value, and more.
Having this can make your life a lot easier as a marketer as you can connect the dots and make decisions that matter.
FunnelKit Automations allows you to access all the details about every member by simply clicking on the Wishlist Member tab like this: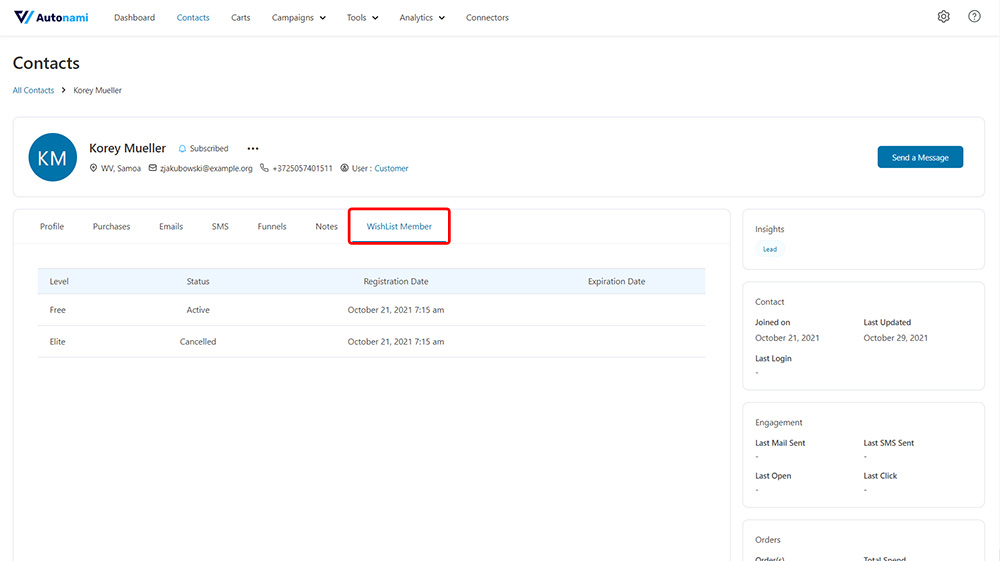 Building Meaningful Audiences
FunnelKit Automations allows you to build audiences and create segments that you can market to.
Creating dynamic segments allows you to send relevant emails. For example, people who purchased product X or people who bought from Canada, and more.
You can even use a combination of these rules to create your audience.
Now with Wishlist members, you can create segments by:
1. Member's status
2. Member's level
3. Registration date
4. Expiration date
Go to Contacts and click on Audiences.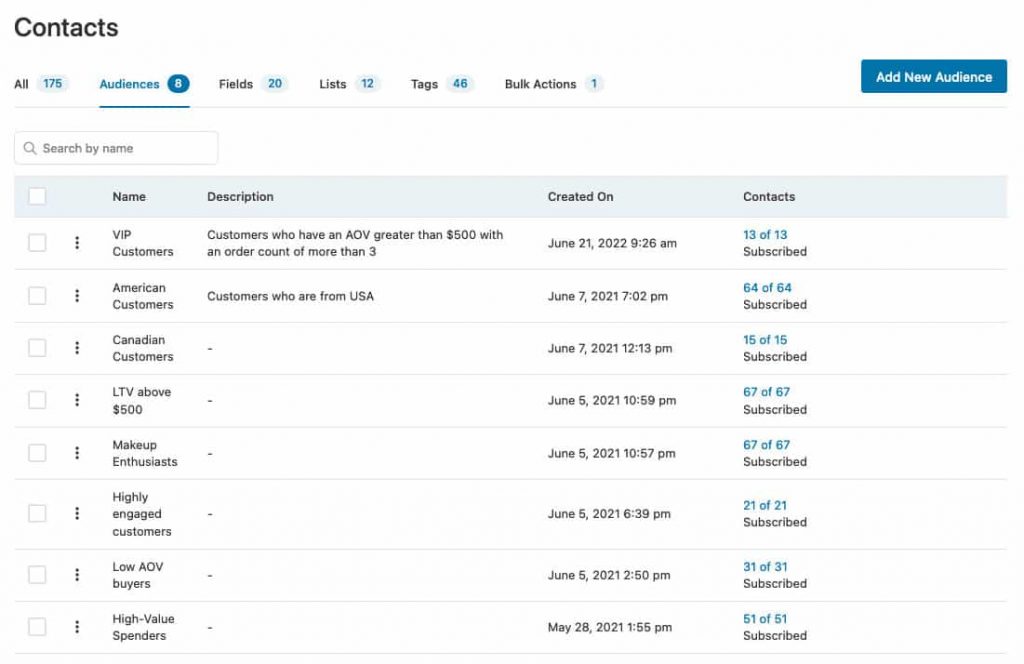 Similarly, you can build upon these audiences, here are a few ideas to create audiences:
Cancelled members
Active members at a particular membership level
Members at a particular level with expired status
Members who registered after a specified date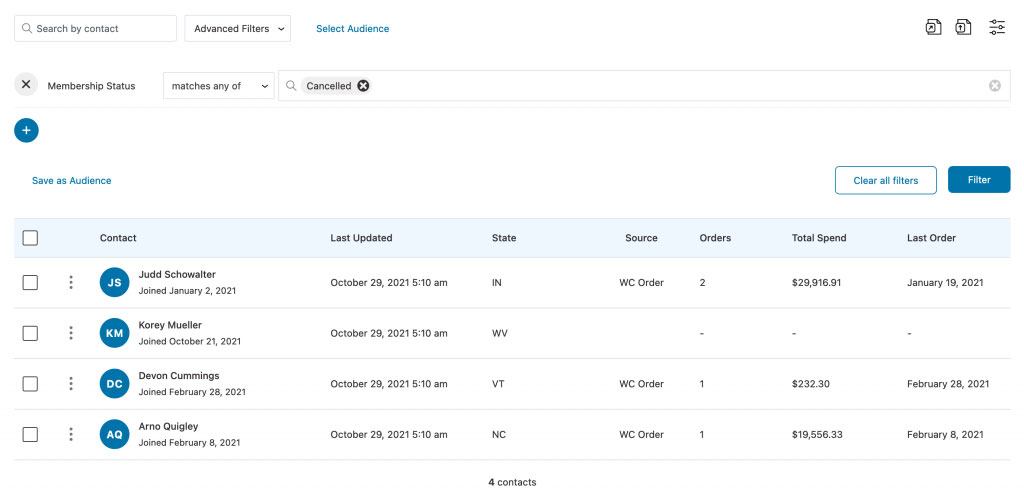 After you have created an audience, you can create your broadcast campaigns and send marketing emails to that particular audience.
For example, you may reach out to members with expired status with a special offer for Black Friday.
Creating Useful WishList Member Automations
Now that we've done a quick overview of the integration of Wishlist Member with FunnelKit Automations, it's time to dig deep and look at the workflows that we can create.
Let's look at some of the workflows that you can build.
1. When a user submits a form, add them to a specific membership level
This is an incredibly effective use case. When someone submits a form on your website, you can add them to a membership level.
Let's say you want people to get a taste of your teaching style and want them to become free members, you can add them to your free membership program.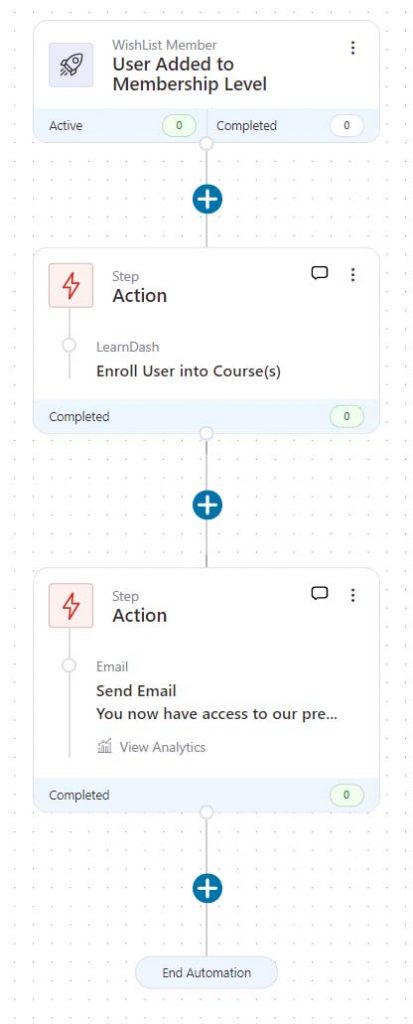 Of course, if they like the content, they can always upgrade themselves to the Premium level.
FunnelKit Automations integrates with various form builders such as WPForms, Ninja Forms, Gravity Forms, Contact Form 7, and more. You can use any of these plugins to build your automation: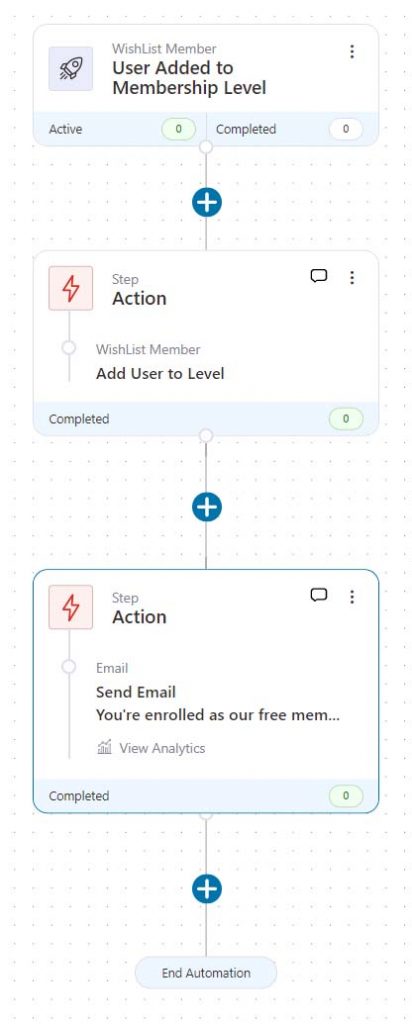 2. When a user cancels membership, send email for feedback
How convenient would it be if you just had a system in place following up with members that cancel their membership?
38% of membership site owners never collect feedback from their lapsed members. Make sure you don't make the same mistake.
Follow up with members who've canceled their membership.
Here's the simple workflow that you can set up for the same: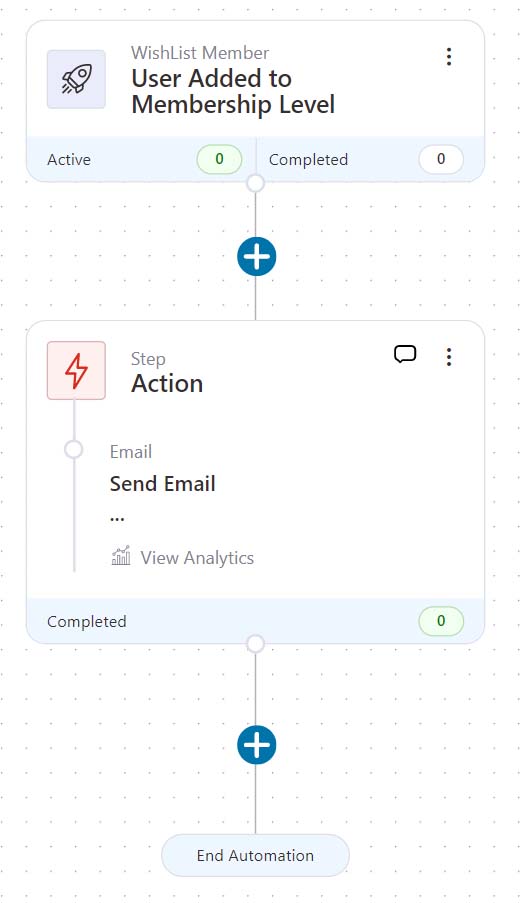 3. When users purchase a particular product then add them to 'Pay per Post'
Pay per post is a wonderful feature of Wishlist Member. It allows you to protect a particular page or post by simply locking it.
You can grant access to specific members who bought a product.
To enable pay per post, you can follow this guide on their website's homepage.
With FunnelKit Automations you can set up a workflow such that when a user purchases a particular product, they can access the post behind the paywall.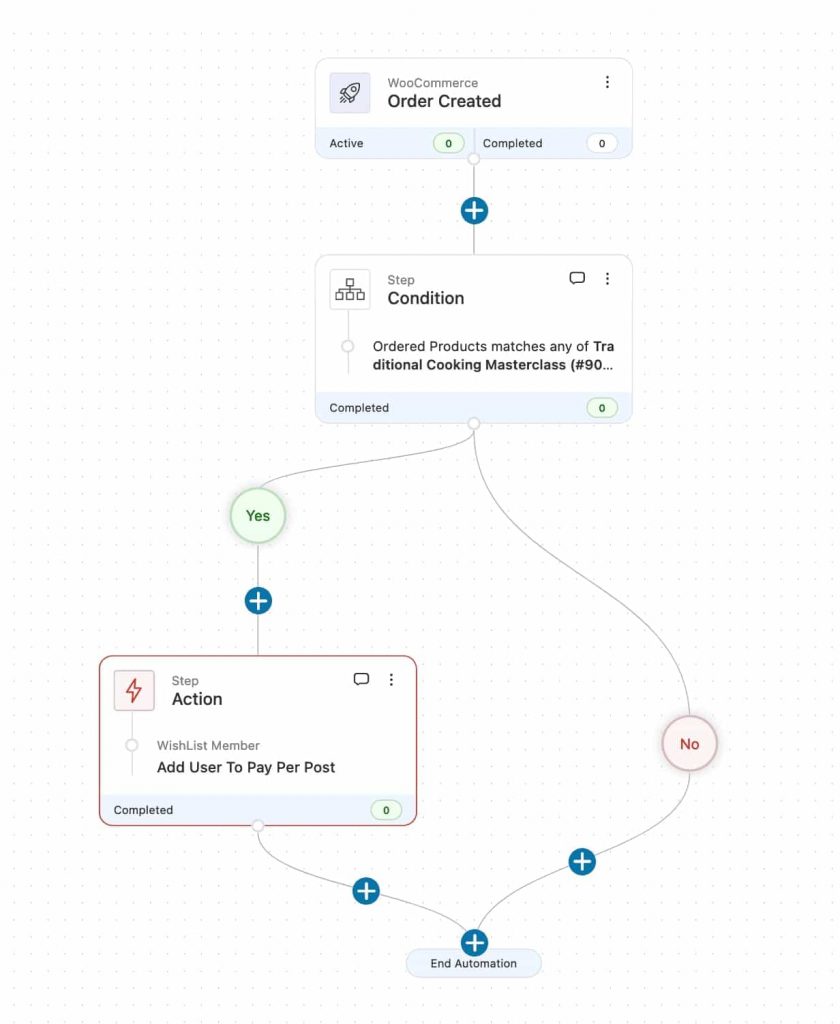 4. When a user is added to a new WishList member level, remove them from the previous level
Managing tags is a hassle. Most marketers get stuck in self-created tag rabbit holes.
While another marketing automation plugin would let you automate the process of removing a tag to remove a person from a level, FunnelKit Automations offers a smarter approach.
You can set up a workflow in a way that if a Wishlist member goes from free to Pro level, they can be automatically removed from the free level without tags.
Similarly, if they downgrade from say, Elite to Pro - they will be removed from the Elite level.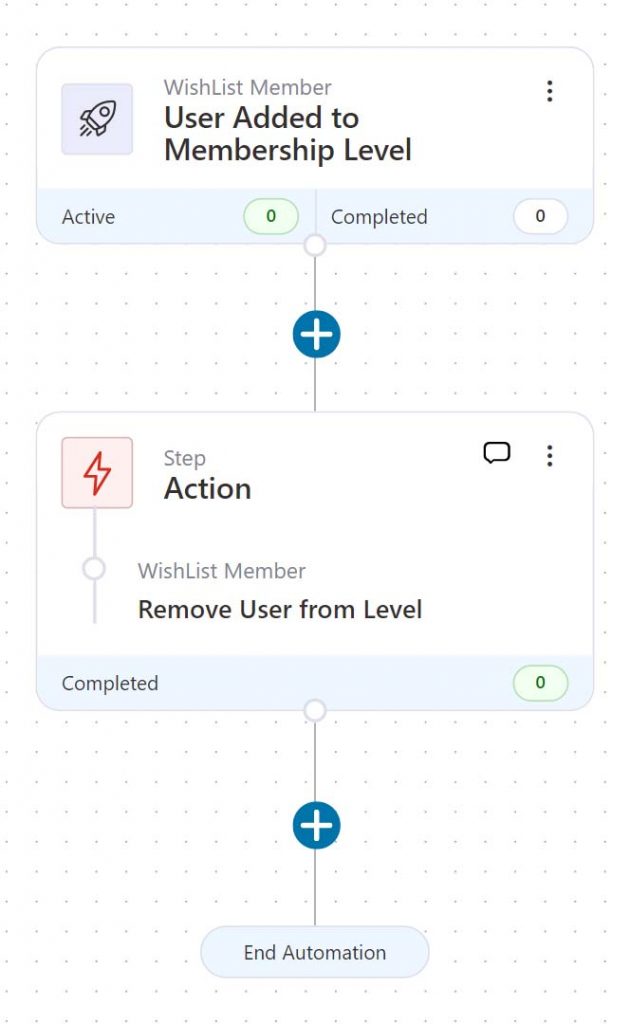 5. When a WishList member's membership expires, send a personalised coupon
If you're selling membership plans that have an expiration period built-in, this use case makes a lot of sense for you.
So assume that you're selling 6-month or 12-month membership plans. When a user's membership expires, you must incentivize them to come back into your system.
Here's the simple workflow you can use to do that with Wishlist Member and FunnelKit Automations: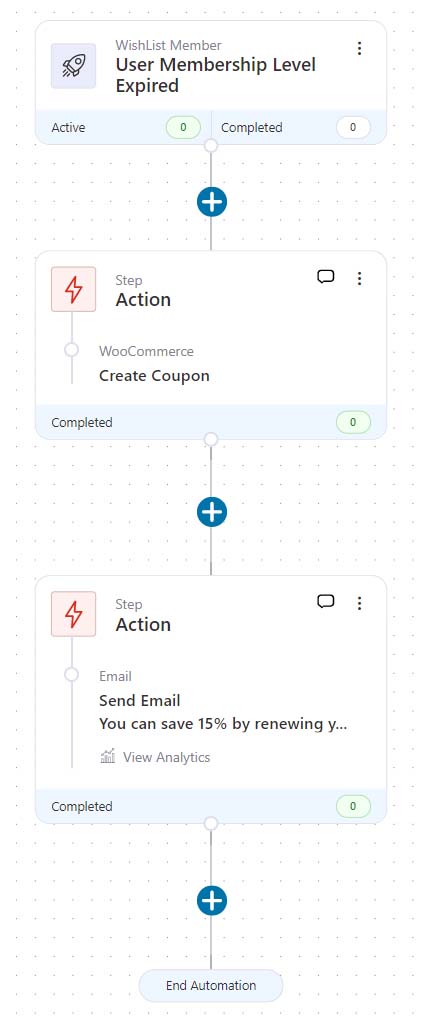 You can go through our documentation to find out more about Wishlist Member integration with FunnelKit Automations.
Ready to Experience the Combined Power of FunnelKit Automations and WishList Member?
Alright! So that's a wrap! We looked at how FunnelKit Automations deeply integrates with WishList Member and speaks to them like a friend.
You can see the power of the integration from the time you import contacts into FunnelKit Automations.
The fact that you don't have to run the import process again as new members join you, is a relief.
We looked at the rich members' insights tab. You can view all the details of a member at one convenient spot, this includes their WooCommerce orders.
That's an ability that no other marketing automation engine promises!
Building audiences and being able to send them targeted broadcast campaigns is another brilliant feature.
And when you combine plugins like WPForms, LearnDash, and WooCommerce Subscriptions with FunnelKit Automations and WishList Member, the sky becomes the limit.
So use your imagination and leverage the combined power of the two tools.
If you don't have FunnelKit Automations yet, click here to get FunnelKit Automations.
And if you do, just update yourself to the latest version and be sure to have WishList Member installed and activated on your site.