Are you looking for ways to boost your customers' lifetime value?
If yes, then let us ask you a question: have you created your post-purchase experience for your customers?
An experience that minimizes buyer's remorse, maximizes customer satisfaction and lays the groundwork for future sales.
A well-thought WooCommerce post-purchase email sequence can help you generate repeat purchases and boost your revenues significantly.
So, let's dive right into the article.
What Are Post-Purchase Emails?
Post-purchase emails are the emails that are sent to the customer after they make their purchase.
You can create a strong bond with your first-time customers by giving them a wholesome post-purchase experience.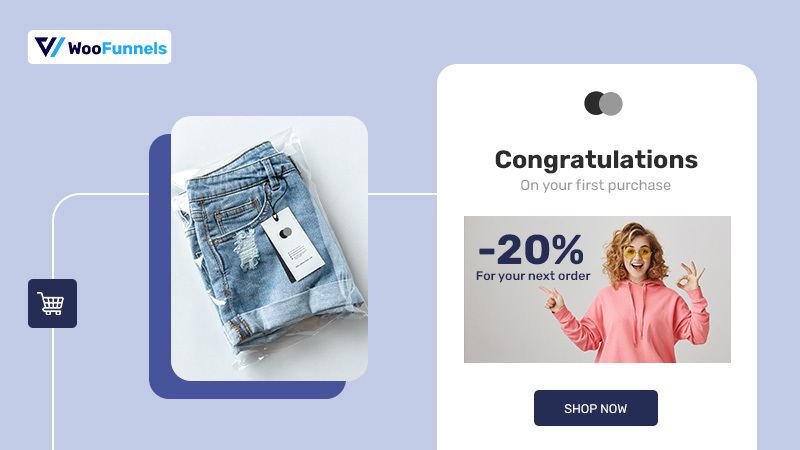 Your post-purchase email sequence can include transactional emails (order confirmation, shipping confirmation), promotional emails (cross-selling, product recommendations), and even retention emails (discount emails).
You can go a step further by incorporating purchase review emails, product education emails, and winback emails as well.
If you want to do all these to retain your customers and increase repeat purchases, then a WooCommerce post-purchase emails sequence is one of the most effective eCommerce automations you should try.
Why Is a Post-Purchase Campaign Important?
It is proven that sending post-purchase emails can help you retain customers better, generate repeat purchases, and save you customer acquisition costs.
Don't trust us? Then see what Harvard Business Review says about how much post-purchase experience matters.
"What we found: after controlling for other factors that drive repeat purchases in the transaction-based business (for example, how often the customer needs the type of goods and services that the company sells), customers who had the best past experiences spend 140% more compared to those who had the poorest past experience."

Harvard Business Review
A study done by Medallia confirmed that a good customer experience could lead to higher sales in a transaction-based business.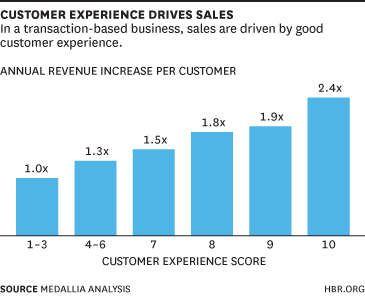 It has been noted that WooCommerce follow-up emails are among the most engaging emails, with higher open rates and conversions.
Apart from that, it is expensive to chase a new customer now and then. Some studies have shown that it is 5X more expensive to chase a new customer than retain an existing one.
And even if you spend that much money to acquire new customers, keep in mind that 80% of them will never buy anything from you.
This is where a WooCommerce post-purchase emails sequence can help you engage with your existing customers and churn out repeat purchases from them.
This will lead to higher lifetime value for your customers and benefit your WooCommerce store in the long run.
How to Create a WooCommerce Post-Purchase Emails Sequence?
Whenever a user buys from your WooCommerce store, you need to send them some transactional emails like order confirmation, shipment confirmation, and more.
Today, we are going to show you how you can create an automated post-purchase workflow that can engage with your customers even when you are asleep.
Just set it up once, and it will keep driving those repeat sales. We are going to use FunnelKit Automations to build our email sequences.
FunnelKit Automations offers ever-growing library of pre-built recipes that can be imported with a single click. Our library includes abandoned cart recovery, review collection, turning subscriber into customer, welcome sequence, and much more.

The minimalist Canvas interface simplifies the workflow creation for you. You can also send broadcast campaigns, other nifty features include advance delay options, adding myriad of actions, setting goals to automation, and much more.

FunnelKit Automations is a game-changer for your WordPress marketing automation.
So, first, you need to install and activate FunnelKit Automations on your website.
Install FunnelKit Automations
In your WordPress dashboard, click on Plugins >> Add New >> Search FunnelKit Automations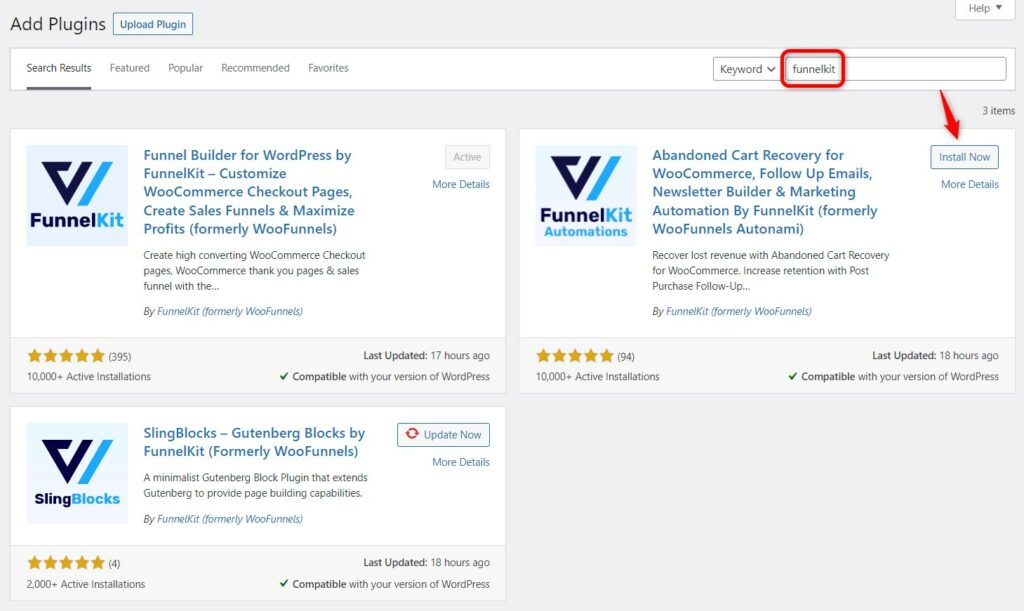 Install the plugin and activate it. You can see them in your plugin dashboard.
FunnelKit Automations is available in two versions - the lite version and the pro version.
While the lite version gives you enough resources to start building your abandoned cart recovery sequence, welcome sequence, winback campaigns, and much more, the pro version unlocks broadcasting features and even more triggers.
If you decide to purchase the pro license, then follow these instructions to download the install FunnelKit Automations Pro.
Now, let's do the first step for WooCommerce post-purchase email sequence.
2. Add New Automation and Select the Trigger
After installing FunnelKit Automations, head to the dashboard and click on Campaigns >> Automations.
Click on Add New Automation, and you will see a pool of pre-built automations that you can import with just one click and kickstart your email marketing right away.
However, we are going to build ours from scratch.
Click on Start from Scratch and assign a proper name to your new automation.
Click on Select Trigger, and a pop-up window will appear that will illustrate various triggers for your automation.
An event triggers your automation. In our case, we are going to select WooCommerce >> Order Created.
Now, configure the order statuses. This will depend on when you want to run the automation.
Completed: The amount has been paid, and the order has been delivered.
On hold: Payment is awaited
Partially paid: When the payment has been partially paid
Processing: When the order has been placed and shipped, but the payment has not yet been processed
We are going to keep our Order Status as Completed.
We have illustrated three unique WooCommerce post-purchase email sequences for you.
You can use any one of the three as per your requirement, or you can club them all and create one wholesome post-purchase experience for your first-time customers.
Now, let's move on to build our first automation.
Welcome Email Sequence for First-Time Buyers
According to Omnisend's eCommerce Statistics Report 2020, welcome emails are opened the most (31%), clicked 5X more than other emails, and have one of the highest conversion rates (52%).
Welcome emails are a great way to greet your customers and pave the path for their next purchase.
If you need to welcome your new email subscribers, follow this article.
Let's build an effective WooCommerce post-purchase email sequence to welcome your first-time customers.
After implementing the common step above, add a condition.
Click on Add New Condition.
Now you have to set the condition for the first-time buyer. If their order is 'First Order', the subsequent automation will run on them. If it is not their first order, they won't be a part of this automation.
Click on Order, and select 'Is First Order?'
Configure the condition and set 'Yes'. Save it.
Now, if the condition is True, you send an email welcoming the first-time buyer and showing them around your store. You can add your best sellers and encourage new buyers to try them out.
If the condition is not true, you can email them and thank them for buying from you again.
After you add the condition, do add a delay. You can add delays in minutes, hours, days, weeks, or even months. We are going to set a delay of 30 minutes.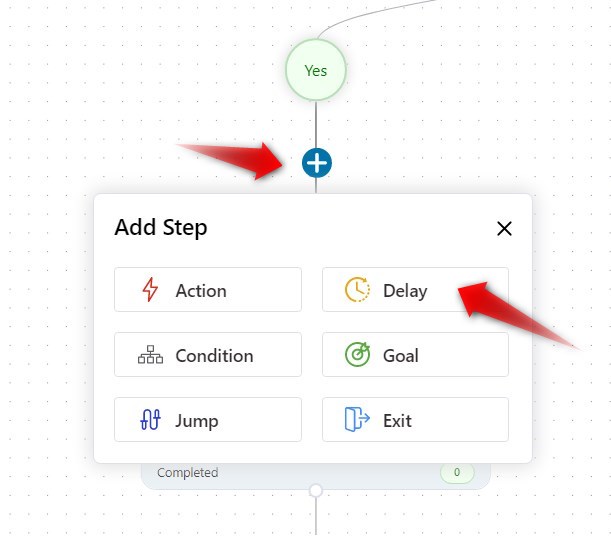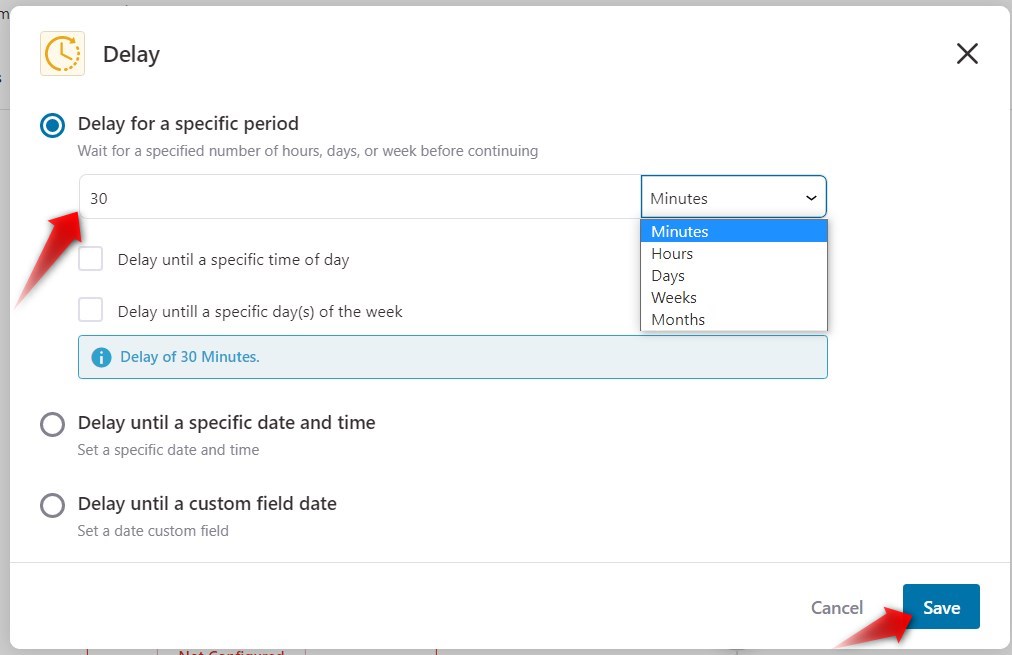 Click on the '+' icon to add an Action. Go to Messaging >> Send Email.
Now, put your copywriting skills to the test and craft a good email to greet and welcome your new customers.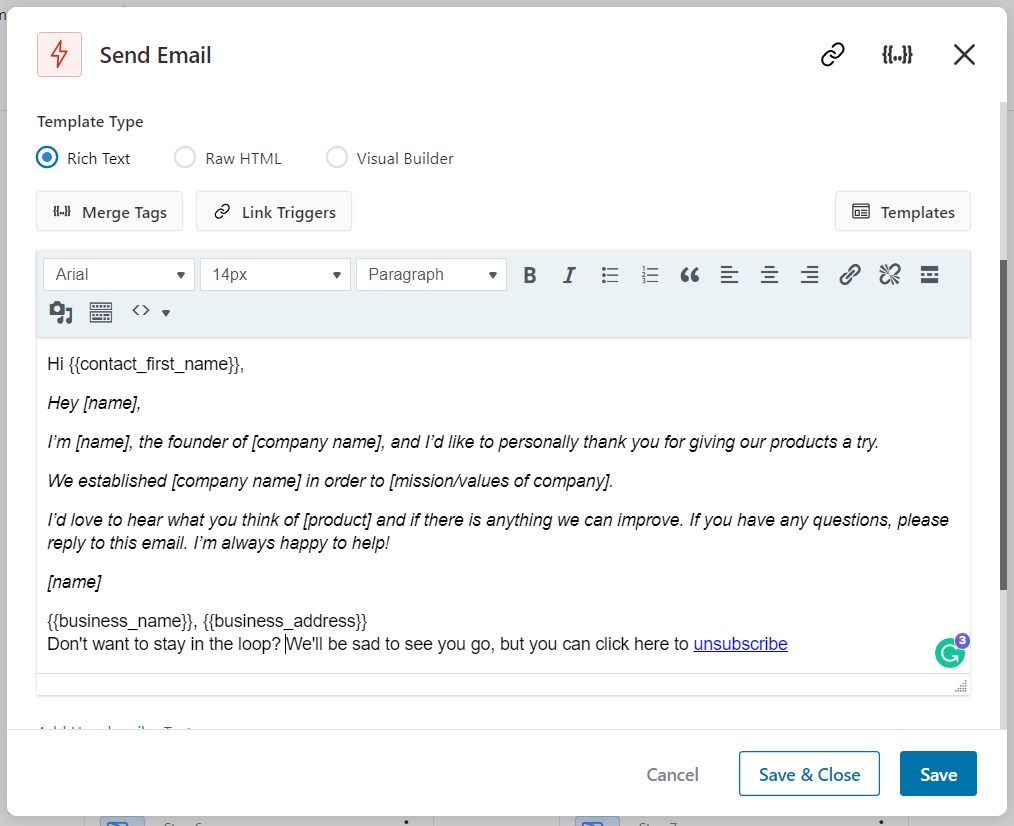 This is what the final email sequence would look like.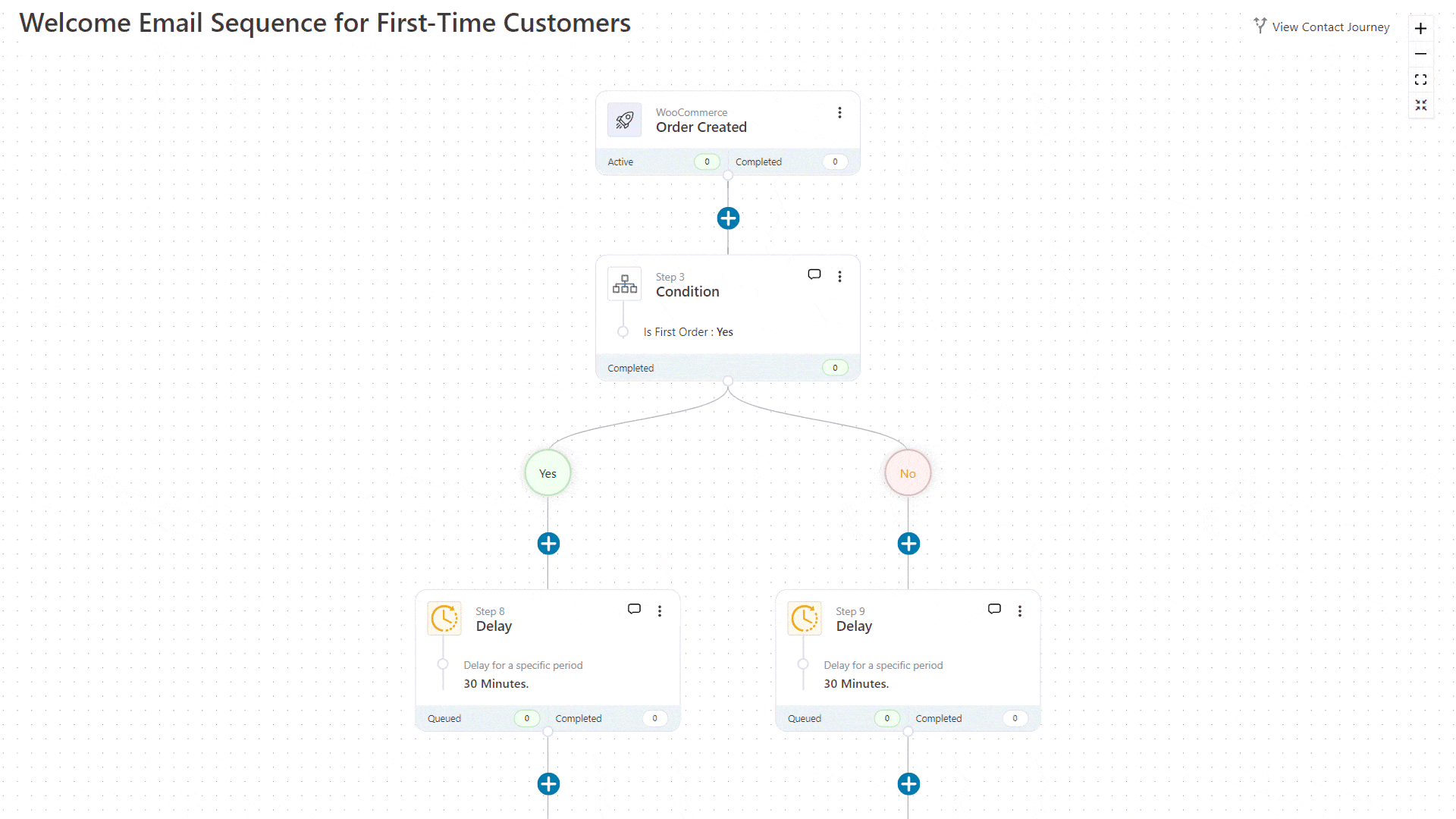 Looking for ideas to design your welcome emails? Check out our 15 best examples.
Next-Purchase Incentive Email Sequence (Discount Email)
92% of US shoppers used discount coupons last year when buying something.
Most marketers use discount coupons as an attraction. Instead, you can use this strategy as a reward as well.
Let's design a discount email sequence to incentivize your new customers with a discount coupon.
Add new automation and select your trigger - Order Created - as discussed above in the common step.
Now, just like we did above, we will add a Condition.
Configure your condition just like we did above.
Set the condition as 'Yes'.
If it is the buyer's first order, we will offer them a discount coupon; otherwise, a simple email with a thank you note would do.
You can either send the subsequent emails immediately or keep a delay of, let's say, 24 hours.
To add a delay, click on the '+' icon and add a delay.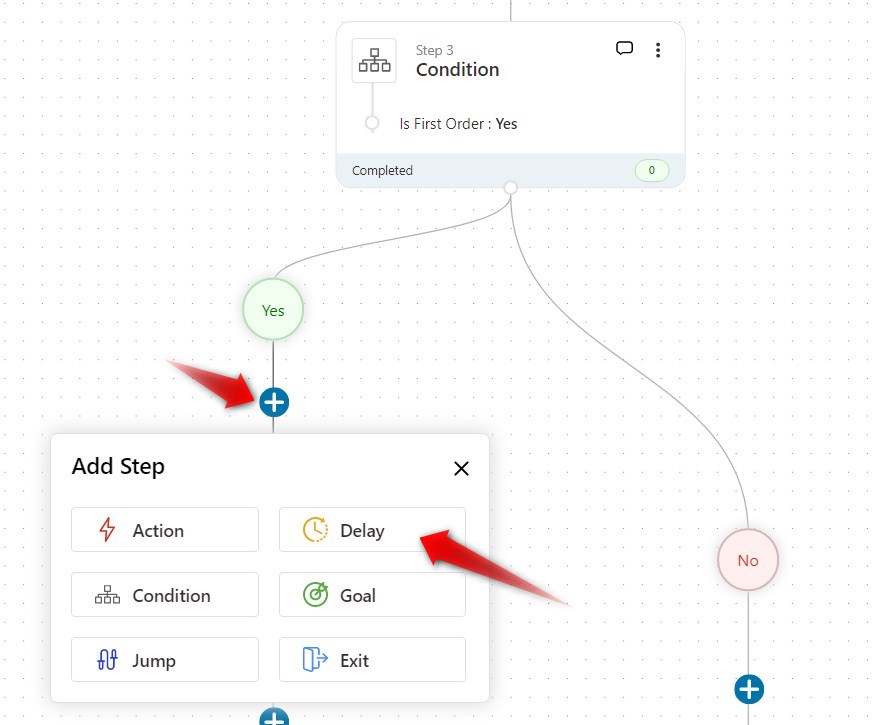 Set the delay to 24 hours.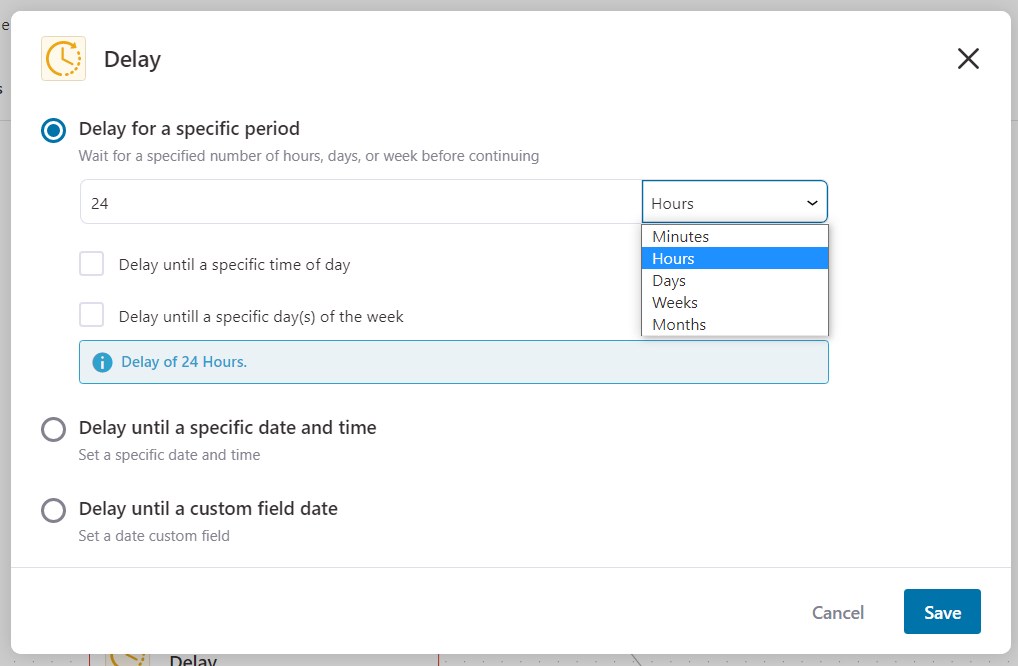 To create a discount coupon. Add an Action.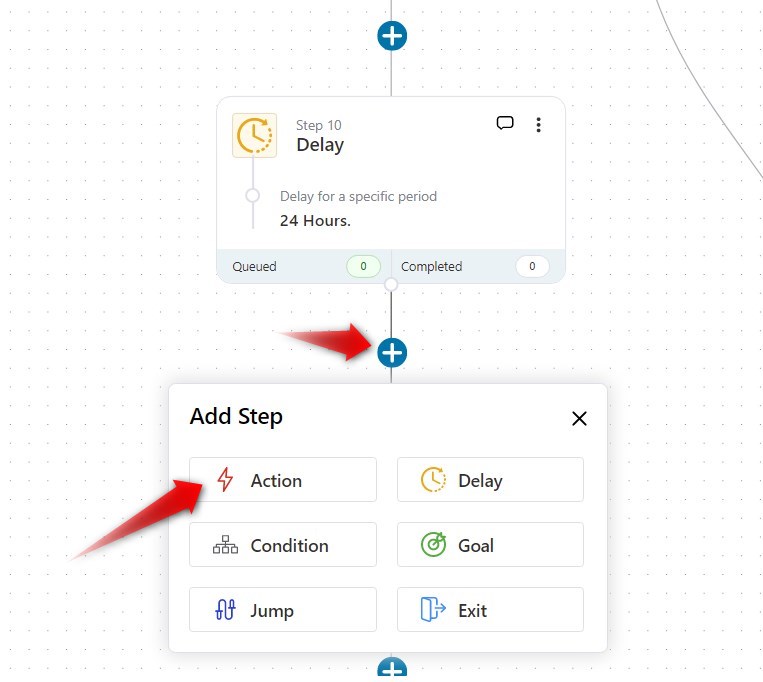 In the WooCommerce section, click on Create Coupon.
Now, configure the coupon settings.
Coupon Title: Assign a suitable name to your coupon, for internal uses only.
Discount Type: Type of discount you want to give - percentage discount, a fixed cart discount (ex: $10), fixed product discount (ex: $10 off on product x, $20 off on product Y, etc.).
Amount: The amount of discount you want to give. We are allowing a 10% discount irrespective of the customer's cart total.
Coupon Code Prefix: Add a custom prefix which will be followed up by a 6-digit auto-generated code
Coupon Expiry: Create urgency with time-bound coupons.
Allow Free Shipping: You can give free shipping along with your coupon code.
Once you have saved your coupon settings, copy the coupon code highlighted in the blue line.
Click on '+', add an Action, and select Send Email in Messaging.
Paste it into your email.
If the condition is false, you can set up another email in the same way.
This is how the workflow will look when completed.
To learn how to create dynamic coupon codes, do follow this comprehensive article.
First-Purchase Anniversary Email Sequence
First-purchase anniversary email is one of the most effective ways to build a bonding with customers!
These emails show your customers that you don't see them as just buyers but as actual human beings that like to be greeted. You can take it a notch up by offering special discounts for them.
This email sequence is available to import with one click. However, if you want to build your own, follow the steps illustrated below.
So, let's build a WooCommerce post-purchase email sequence to greet your customers on their first-purchase anniversary.
After following the common step discussed above.
Add a Condition.
Configure your condition. Order >> Is First Order?
Set the condition as 'Yes'.
Now, you have to set a delay. To do that, click on the '+' icon and add a Delay.
Set the delay to 365 days or 12 months.
After you set the delay, you need to create your email to congratulate the buyer on their first purchase anniversary.
You can also create a coupon code to urge them to buy from your store.
Click '+' and select Action.
Under WooCommerce, click on Create Coupon.
You can configure the coupon settings as we have discussed above. On such a special occasion, you can give them an exclusive coupon code discount of 25% OFF.
Copy the coupon code from the blue highlight line, and paste it into your email.
Click on Send Email under Messaging.
Write a kick-ass email copy and insert your coupon code. Instigate your audience to use the coupon code and make a purchase to celebrate their first purchase anniversary.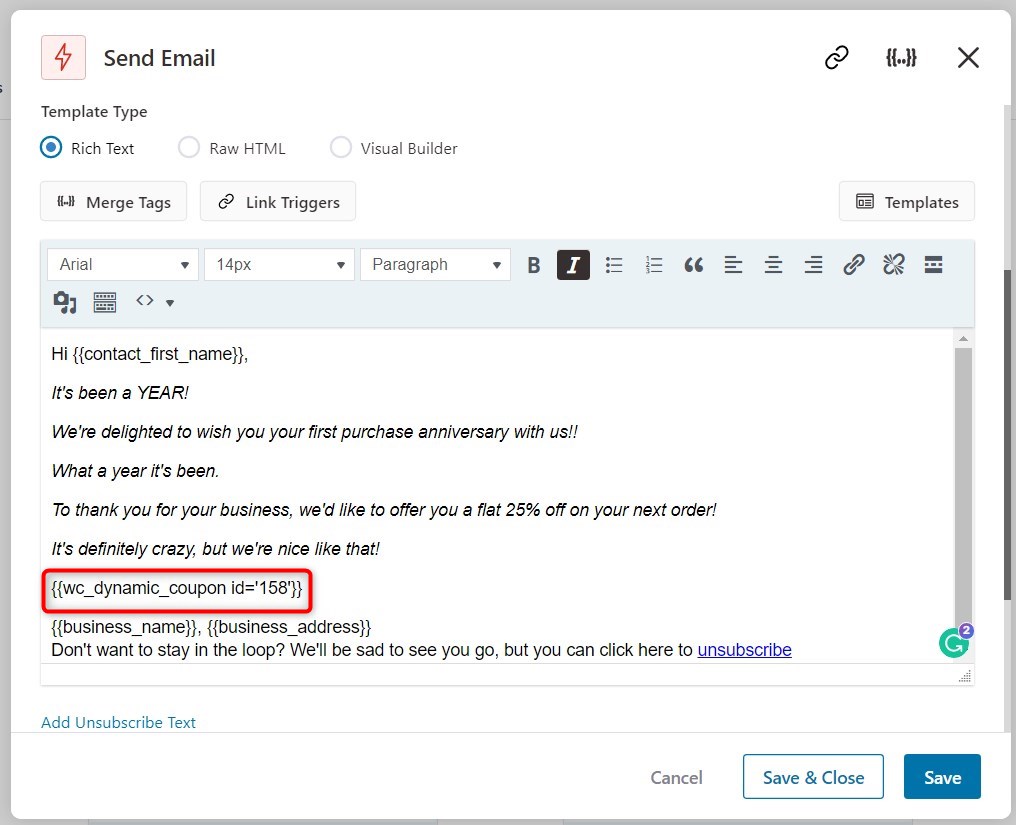 For those who do not fit your condition, you can simply end the automation for them.
This is what the final workflow would look like.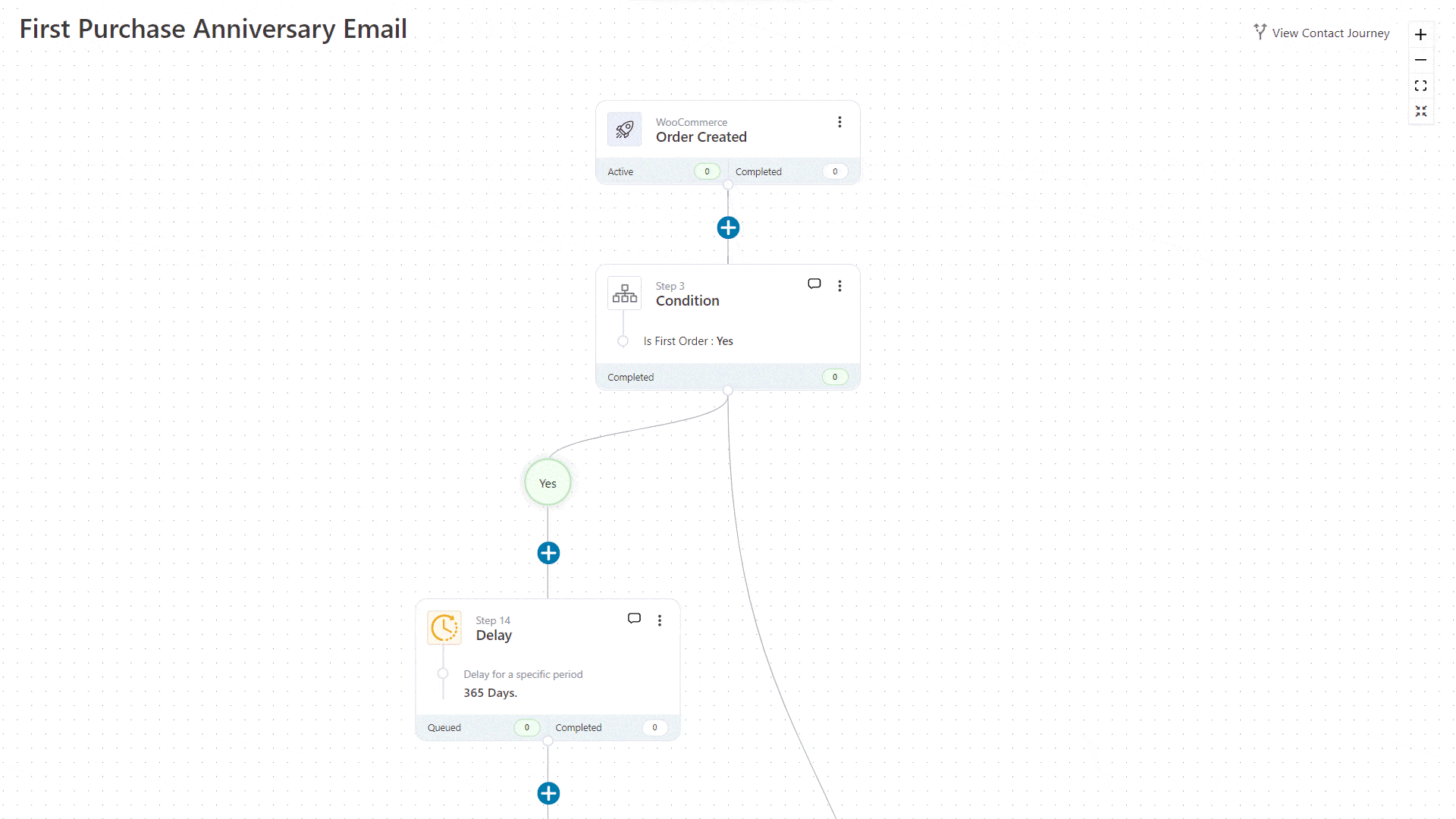 Best Practices and Some Examples of WooCommerce Post Purchase Emails
There are some proven best practices that all marketers should follow when designing their WooCommerce post-purchase emails.
Here are the four most-effective tips to remember when designing yours.
1. Be grateful and offer assurance
Do you know when humans part with their hard-earned money, their stress level rises?
It might be due to second thoughts about their purchase, doubts about the product's quality, or something else. So, it's important to thank your customers for their purchases and assure them that they have spent their money wisely.
Assure them about the value and benefits that they are going to derive from your products.
2. Schedule your emails correctly
WooCommerce post-purchase emails bring the best results when you nail the timing of your emails.
It is essential that you create appropriate delays between your emails so that the right emails go out at the right time.
3. Educate your customers about the product and offer recommendations
Welcome emails boast some of the highest open rates and conversions, and thus it is a good practice to recommend your other products in these emails.
You can send them follow-up emails with tips and tricks to get the best out of the product. For example, if someone buys a hair gel from your store, recommend the best hairstyles that they can do with it.
You can also cross-sell by recommending complementary products to the one they've just purchased. For example, if someone has bought a shirt from your store, recommend a trouser to them.
4. Request a review
A review lets you know what your customers like about your product and what they don't.
Asking for a review makes your customer feel valued. It assures them that you care about their opinions and are open to their suggestions.
A review email can be a crucial part of your WooCommerce post-purchase email sequence.
If you want to see more WooCommerce post-purchase emails that you can automate, head to this article.
So, Are You Ready to Build Your WooCommerce Post-Purchase Email Sequence?
Today, we discussed how you could design three unique email sequences to give your new customers a great post-purchase experience.
BUT THAT'S NOT IT!
There is so much more you can do to create one wholesome WooCommerce post-purchase email sequence.
As we said, it's not just important to minimize buyer remorse but also to maximize repeat sales.
Customer acquisition costs are soaring, and it is crucial to have these automated sequences do all the magic for you, even while you sleep!
So, what are you waiting for?
Get, set, and automate with FunnelKit Automations - the most powerful WordPress marketing automation engine that can handle all of your CRM needs.