What comes to your mind when you hear email marketing analytics?
"Umm… open rate, click-through rate, and conversion rate."
Yes, these are important email marketing metrics, no doubt.
However, you need to dive deeper into your tool's dashboard and churn out these 7 email marketing metrics that are the lifeblood of your business.
Without these analytics, all you're doing is - GUESSWORK. Now, that's a waste of time, budget, and resources.
The most crucial email marketing analytics help you create effective marketing strategies and run successful email campaigns.
So, let's jump in.
Why Email Analytics is Important?
Email marketing analytics help you analyze the performance of your email campaigns. Furthermore, you can assess these analytics and eke out a plan to improve performance.
Whatever email marketing tool you use, its dashboard comes with powerful analytics - but not all of them are primary to your strategies.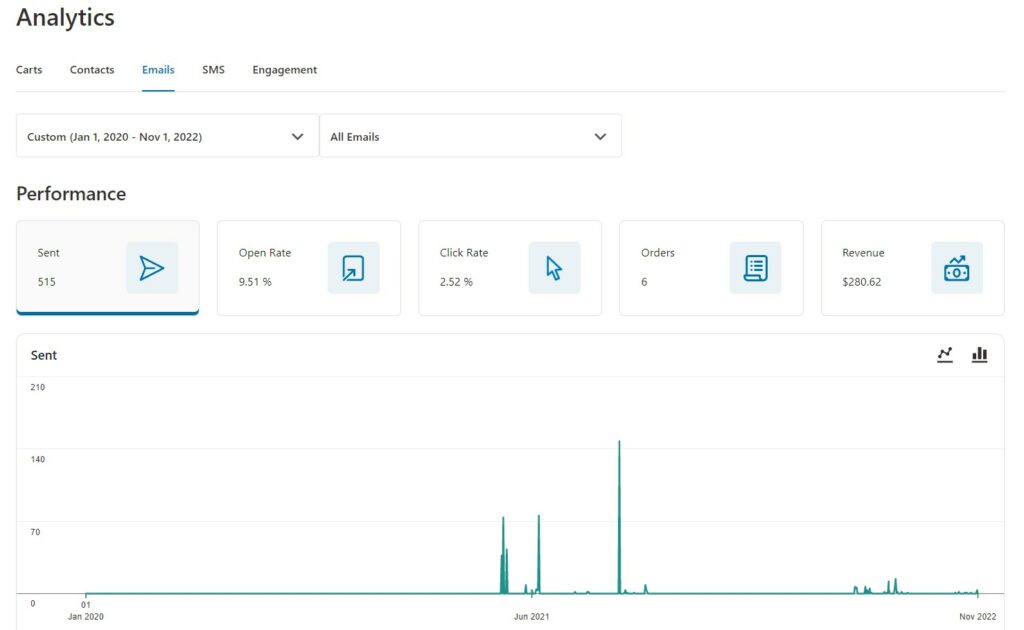 You should pick out a few essential ones - such as open rate, unsubscribe rate, revenue per email, etc. - and create a strategy to get better results.
With the right email metrics dashboard, you can take a deep dive into your marketing performance and clearly see what's working and what isn't.
By testing different strategies and tweaking ones where necessary, you can reach your goals more effectively.
7 Email Marketing Metrics That You SHOULD Track
To get the right analytics for your email marketing report, you need the right tool too.
Good email analytics tools give you the convenience of adding filters and extracting a KPI report, but the most powerful ones enhance your email marketing by letting you incorporate these analytics into your strategies.
With FunnelKit Automations, you get the most powerful WordPress email marketing engine to:
Track your email campaign performances
Obtain powerful insights for better decision-making
Get all the contact-related information at your fingertips
FunnelKit Automations comes in both Free and Pro versions.
With the Free version, you can import essential pre-built automated email sequences such as abandoned cart reminders, review collection sequences, and more.
But unlock more automations and powerful email-related analytics with the Pro version.
Install FunnelKit Automations today and get all of these juicy insights at your fingertips.
1. Open Rate
Your open rate can tell you a lot about your email campaigns. Such as:
Is the timing of your emails right
Are your subject lines effective
Is the frequency of your emails right
And so much more.
Open rate is the ratio of the number of opened emails to the number of emails sent. The higher, the better.
In FunnelKit Automations, go to Analytics and click on Emails.
You can find the open rate right on your dashboard. You can customize the date to get the open rate for a particular time period.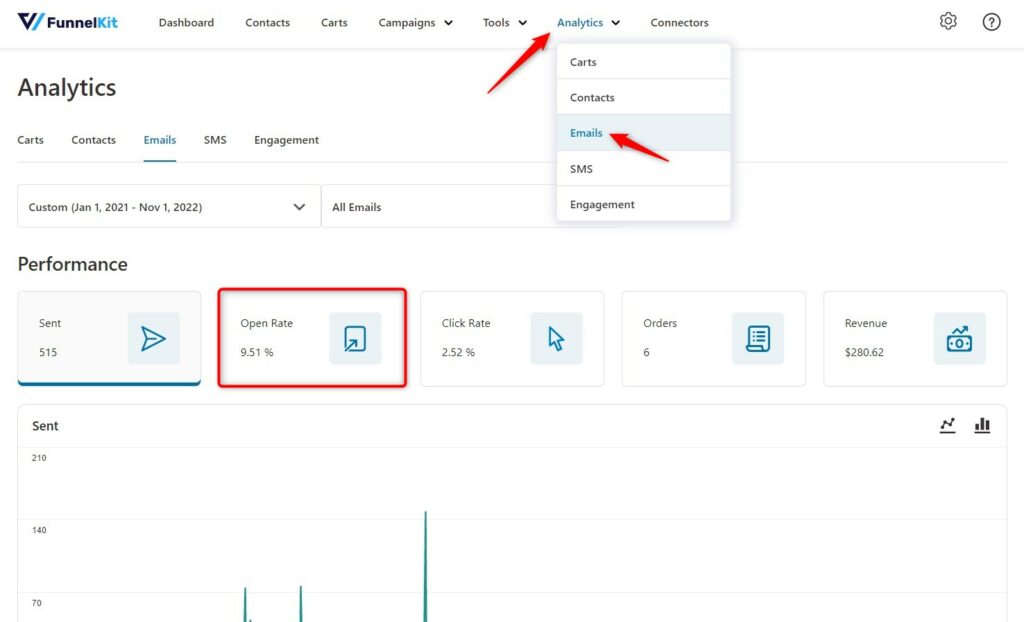 In recent scenarios, some email providers, for example - Apple, have modified their data privacy laws. Such laws prevent you from tracking your users' actions on your emails.
But even if in the future you're not able to track this email marketing analytics, you should ALWAYS devote your time to crafting compelling subject lines.
Catchy subject lines will always lead to a high open rate - whether you can track it or not. In addition to that, persuasive preview text will help you get more opens too.
With FunnelKit Automations, you can see the open rate - and other email marketing analytics in this list - of a particular email sequence or a broadcast campaign.
Just click on All Emails and select the filter.
Further, type the email sequence that you want to see the metrics of.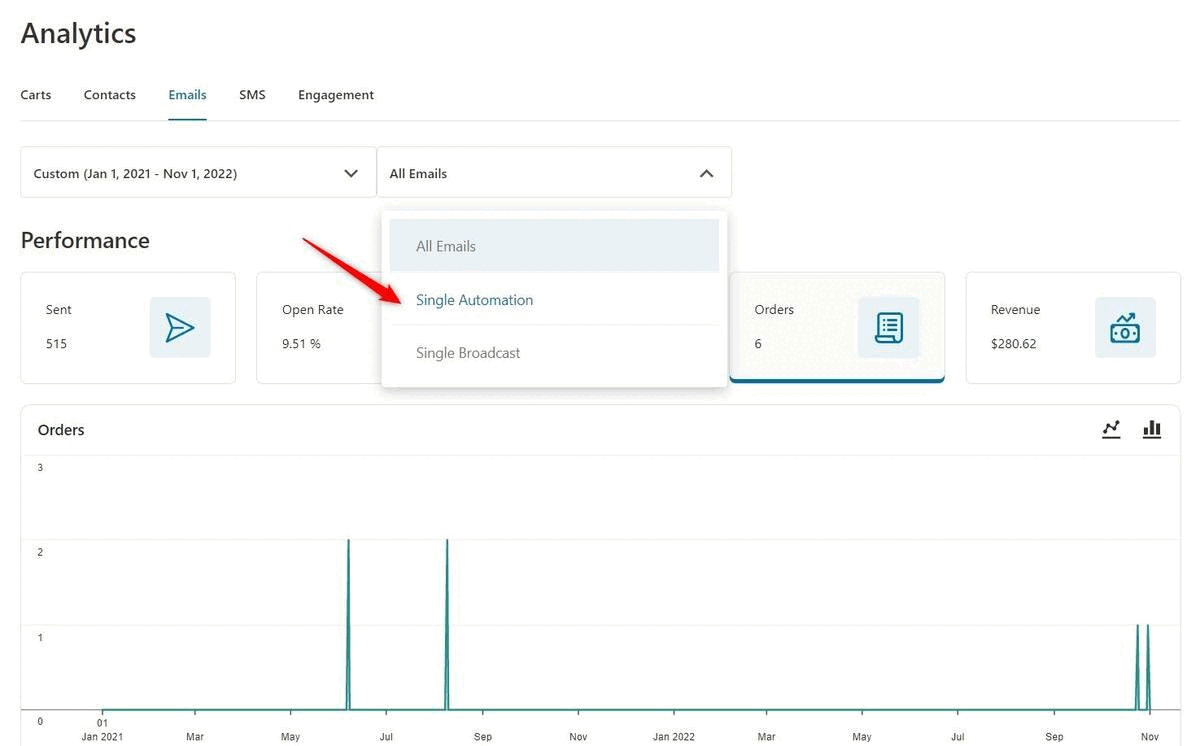 In the Engagement tab, you can also see the best-performing days for your emails. You can customize the date to get more accurate results.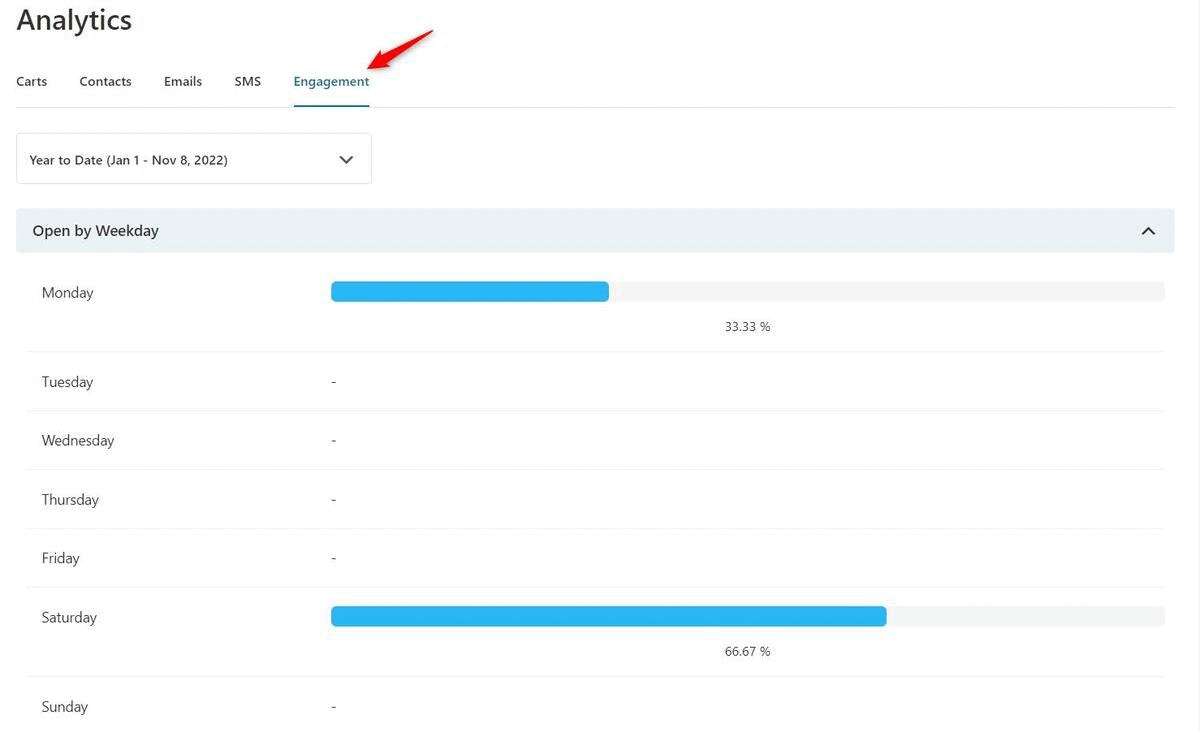 Not just days, but FunnelKit Automations also shows you at which hour of the day your audience engages the most with your emails. This helps a lot in scheduling your broadcast campaigns and future email automations.
2. Click-through Rate
Click-through rate, also known as Click Rate, is as important an email metric as the open rate. Click Rate means how many people click on the CTAs inside your emails.
Many times, marketers get a good open rate, but their click-through rate tends to suffer because of:
Unclear message
Confusing links
Lackluster CTAs
These CTAs could be a button, an image, or another link. Click Rate gives you a deeper insight into whether the email was able to convince the user or not.
Here are some email marketing benchmarks for some of the most popular industries.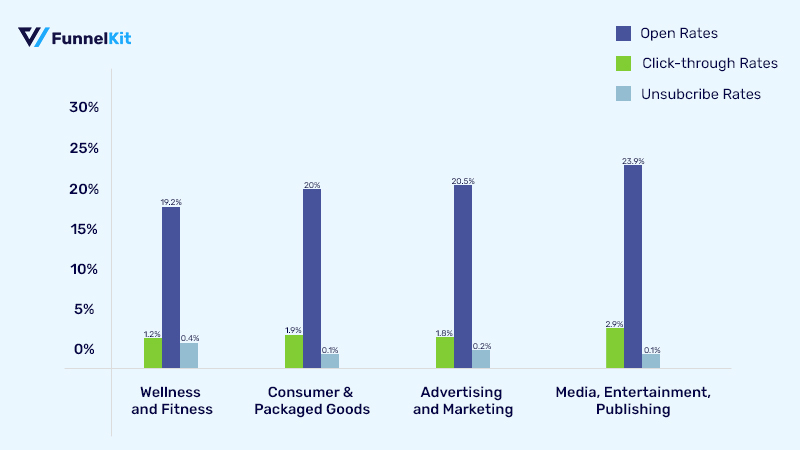 Source: Campaign Monitor
So, you need to keep your CTAs bold and clear. Write compelling emails that make the user click the CTA. And modify the CTAs that are inefficient.

In FunnelKit Automations, you can go to Analytics and then click on Emails.
Under this, you will find the Click Rate.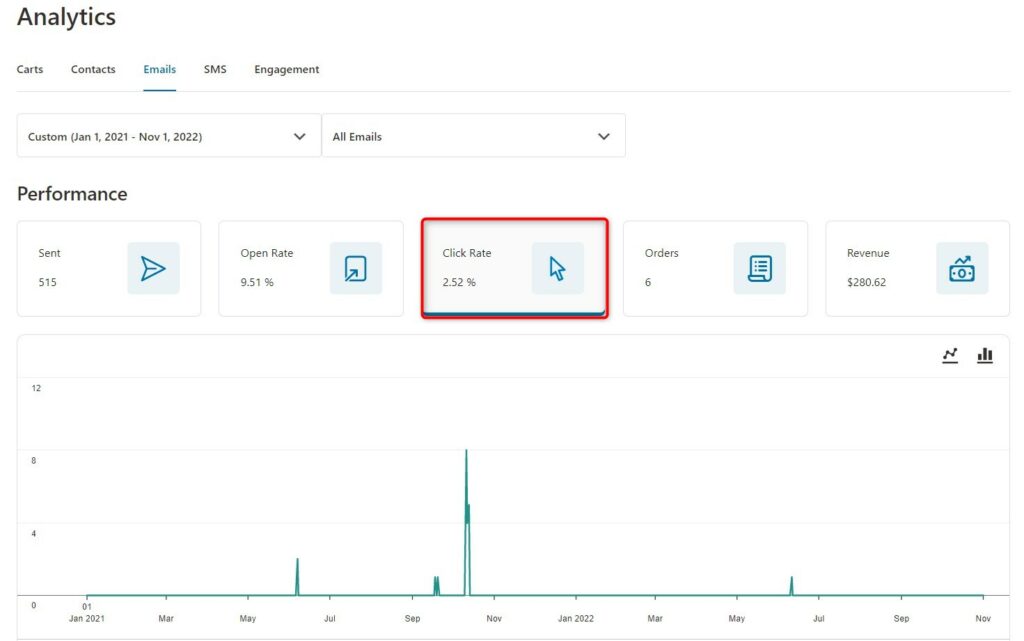 You can adjust the date to see this email marketing analytics of a different time period, or you can toggle between a line graph or a bar graph.
Designing beautiful custom emails can also lead to a higher click-through rate.
3. Orders Placed
Orders Placed is an email marketing analytic that denotes the number of successful orders you get from your email campaigns.
This metric can tell you whether your email copy is convincing enough or not to encourage the user to place an order.
If your email campaign hits the right note with your audience, you will undoubtedly get more orders. Just replicate these campaigns or emails.
With FunnelKit Automations, you can easily see the Orders Placed metric right on the dashboard.
Click on Analytics and go to Emails.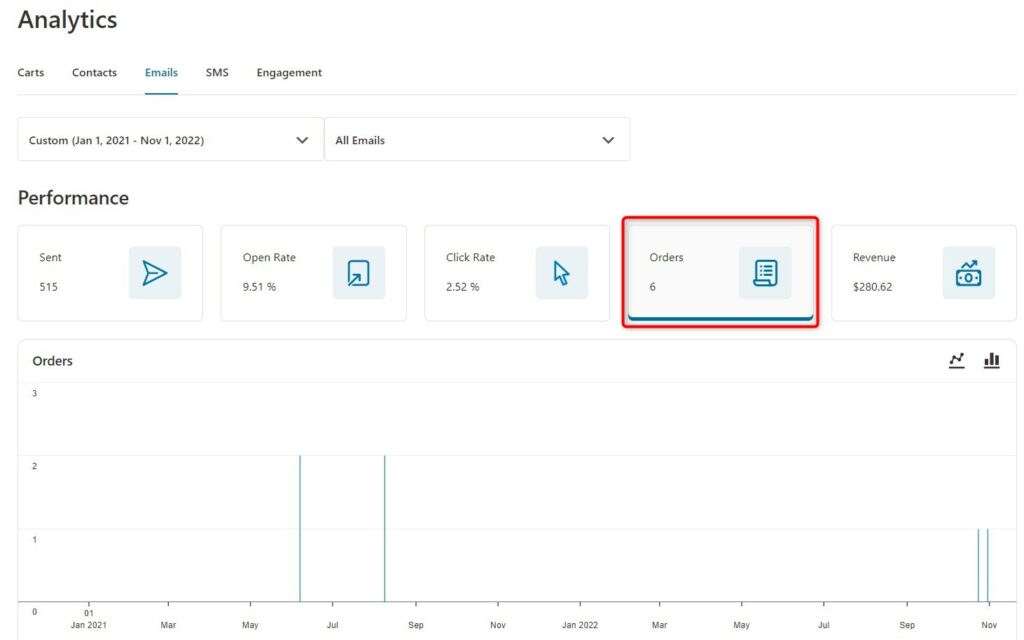 Under Emails, you can see the orders for a particular time frame. However, if you want to see orders from a particular automation or a particular broadcast.
Click on All Emails, and select the criteria.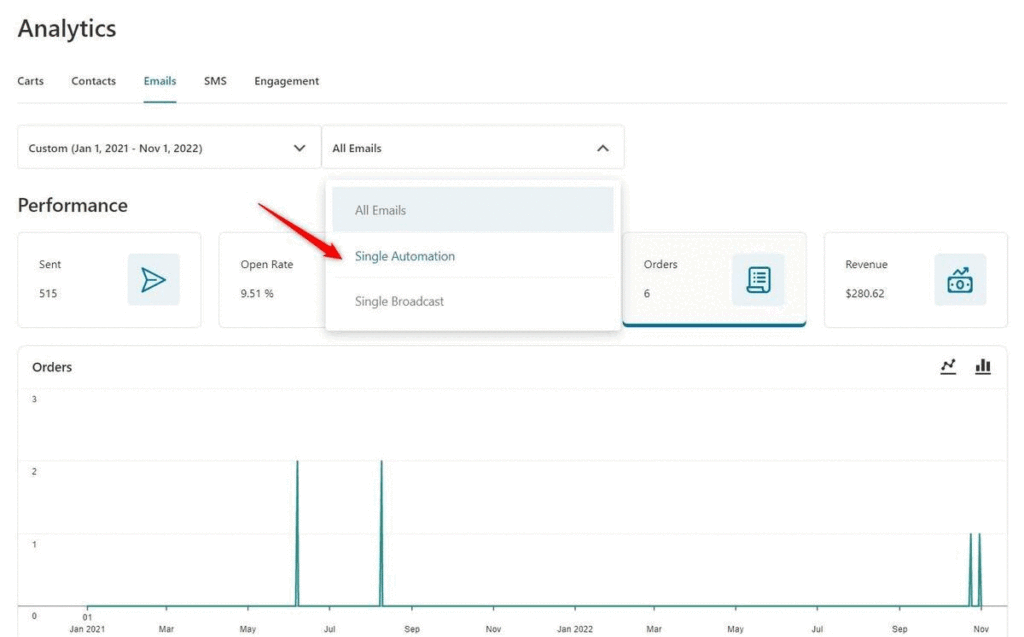 This nifty trick can help you filter out your best-performing email campaigns and broadcast campaigns with high interaction, and thus you can replicate them with ease.
You can try WooCommerce per product emails to send relevant emails to new buyers and get more sales.
4. Total Revenue (Return on Investment)
Revenue is the amount of money you make from your email campaigns. You can see this email marketing metric right on your dashboard itself.
Your revenue metric tells you how profitable your email campaigns are.
The total revenue is the overall ROI of your email campaigns. In other words, total revenue is divided by the total spending.
Under FunnelKit Automations, you can see the total revenue made. You can adjust the date and even see revenue made from a specific campaign or broadcast.
Not all emails give a pecuniary ROI. Some have a different kind of return, such as an improvement in brand awareness. But if you only care about financials, then this is the metric that defines your email marketing strategy.
After all, total revenue is the metric that any marketer cares the most about in their email marketing report.
5. Conversions
You send an email with a motive in mind - to get conversions, in other words, to get sales.
Sending newsletters is a great way to get in touch with your audience. But also, it's a great medium to suggest products to your audience and eke out a few sales.
Conversion simply means a sale made from a broadcast email.

In FunnelKit Automations, click on Campaigns, and go to Broadcasts.
Select the Broadcast of which you want to see the conversions metric.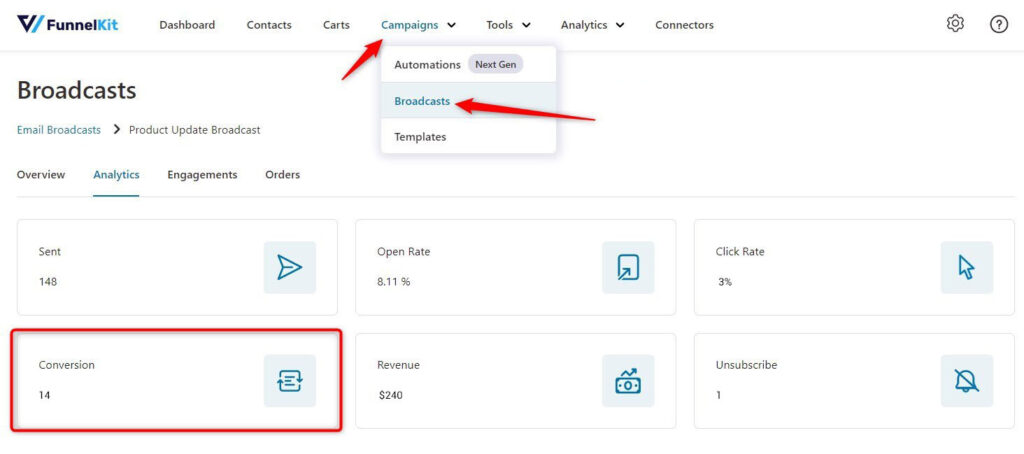 Conversions can be combined with other email marketing analytics like Open Rate to come up with a precise marketing strategy.
For example, if an email has a high open rate but a low conversion rate, then you know that users are opening the email but are not convinced to place an order.
So, here you need to edit the email copy and make it more persuasive.
Another trick to increase conversions is to send dynamic discount coupons in your emails. After all, who doesn't like discounts?!
6. Unsubscribers
One of the most commonly tracked email marketing analytics is Unsubscribers.
Unsubscribers are the audience that opted out of your email list. This can happen after a particular email or a particular email campaign.

The reason for unsubscription can be anything. In fact, according to a study done by Hubspot, the top 3 reasons for unsubscriptions are:
Too many emails (34%)
Spammy or over-promotional emails (17%)
Emails are no longer relevant (9%)
Unsubscriptions mostly occur after a particular email campaign, and that's why you need to study each campaign individually and get to the roots of what went wrong.
In FunnelKit Automations, go to Campaigns >> Broadcasts, and select any broadcast that you want to analyze.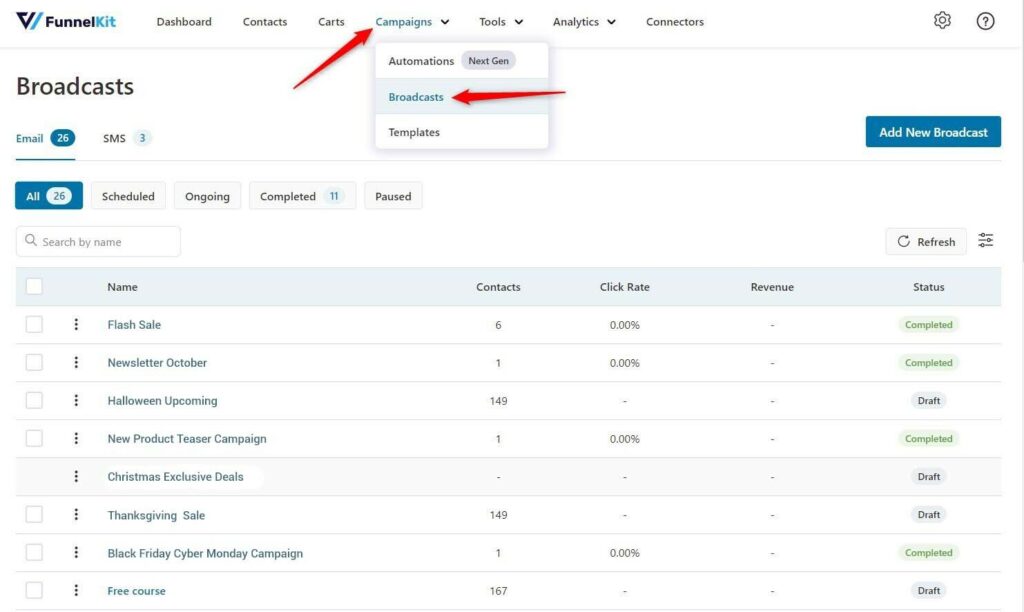 When you open any automation, you get a host of crucial email marketing analytics at a glance; one of them is the Unsubscribes.
Go to Analytics and select the time range to understand where there was a spike in Unsubscribes.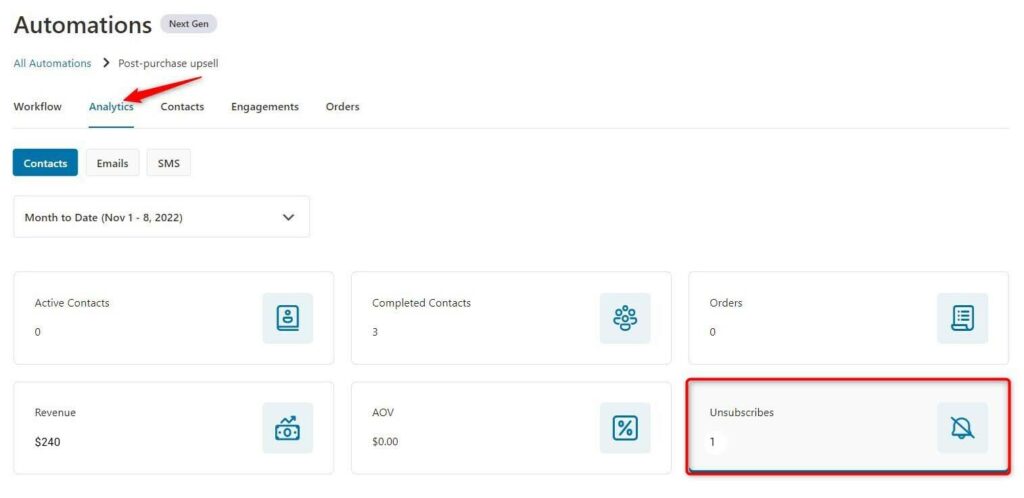 You can use interesting or helpful content to vary your emails. Just make sure it's catered to your audience's interests.
7. Revenue Per Email
Not many email marketing tools show this metric, but it is as important as any of the aforementioned metrics.
Revenue per email gives you a clear insight into which emails are performing the best. The emails that bring the most revenue are important, and that's why you need to replicate the template in your other emails.
In FunnelKit Automations, you can see this metric right on the performance dashboard.
Click on Analytics and go to Emails.
Now, scroll down, and you will see a list of your most popular emails and the Revenue Per Email.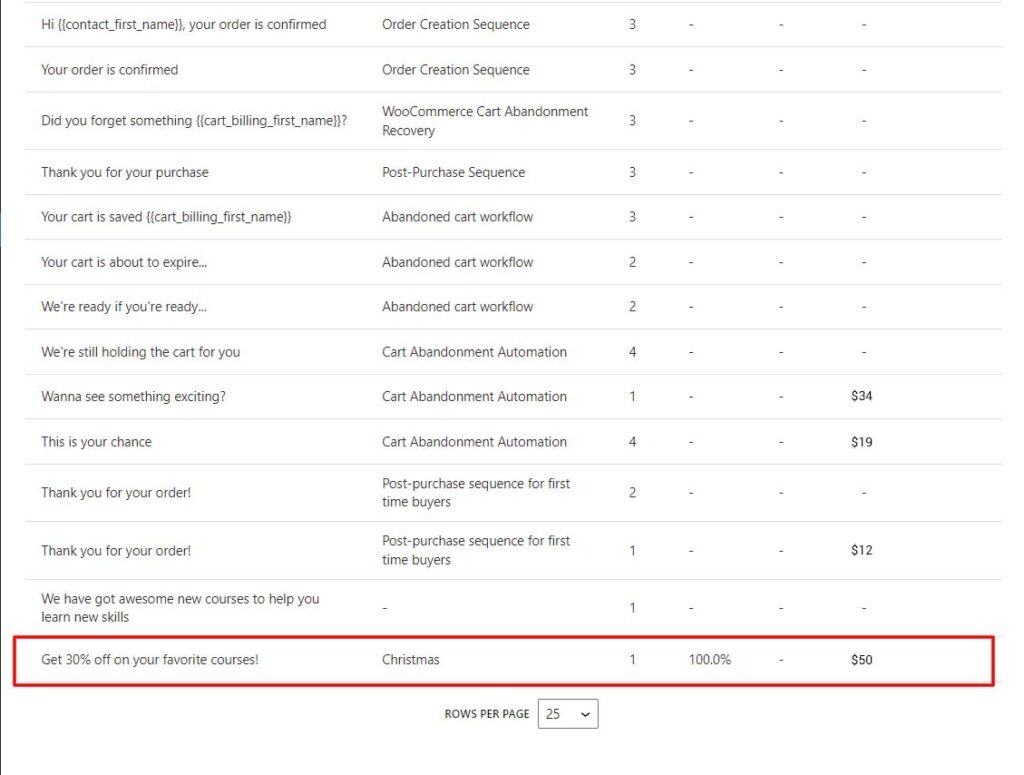 Study these money-making emails, and try to understand what's so unique about this email. Maybe it's the catchy subject line, the content of the email is persuasive, or the CTA buttons are placed optimally.
Understand why this email is connecting with the users, and replicate the formula.
Are You Ready to Enhance Your Next Email Campaign?
Having the right analytics in your email marketing report is like having your finger on the pulse of your email performance.
Track all your important metrics with FunnelKit Automations in one glance and understand your analytics better with line and bar graphs - right on your performance dashboard.
FunnelKit Automations gives you the powerful arsenal to collect all the crucial email marketing metrics and plan your next email campaign successfully.
Import essential pre-built email sequences in one click and tweak them as per your email marketing report.
So, get on the bandwagon and grab your copy of FunnelKit Automations today.
Start tracking your emails and make more effective strategies.