Do you want to create a high-converting landing page for your Facebook ads?
This platform offers an advertising audience of 2.14 billion+ people, making it more effective than other social media channels.
There is no doubt that putting a robust and well-thought idea is crucial for your ads.
However, ad creation is just half of the task!
The other half is to have a high-converting landing page that makes your marketing campaigns a resounding success.
In this post, you'll see a Facebook ad landing page example, the secret techniques they use to convert higher, and finally, we'll see how to set up a landing page for your Facebook ad within minutes.
Let's dive in.
What is a Facebook Ads Landing Page?
A Facebook ad landing page is a dedicated page that the users land on after clicking your Facebook ad.
It's the place where the magic happens.
Depending on the action you want your users to take on your Facebook ad landing page, they will be able to:
Download a resource
Signup for your event or product
View a product for a possible purchase
Schedule a consultation or appointment, and so much more.
For example, let's look at an amazing example of a Facebook ad from Amy Porterfield.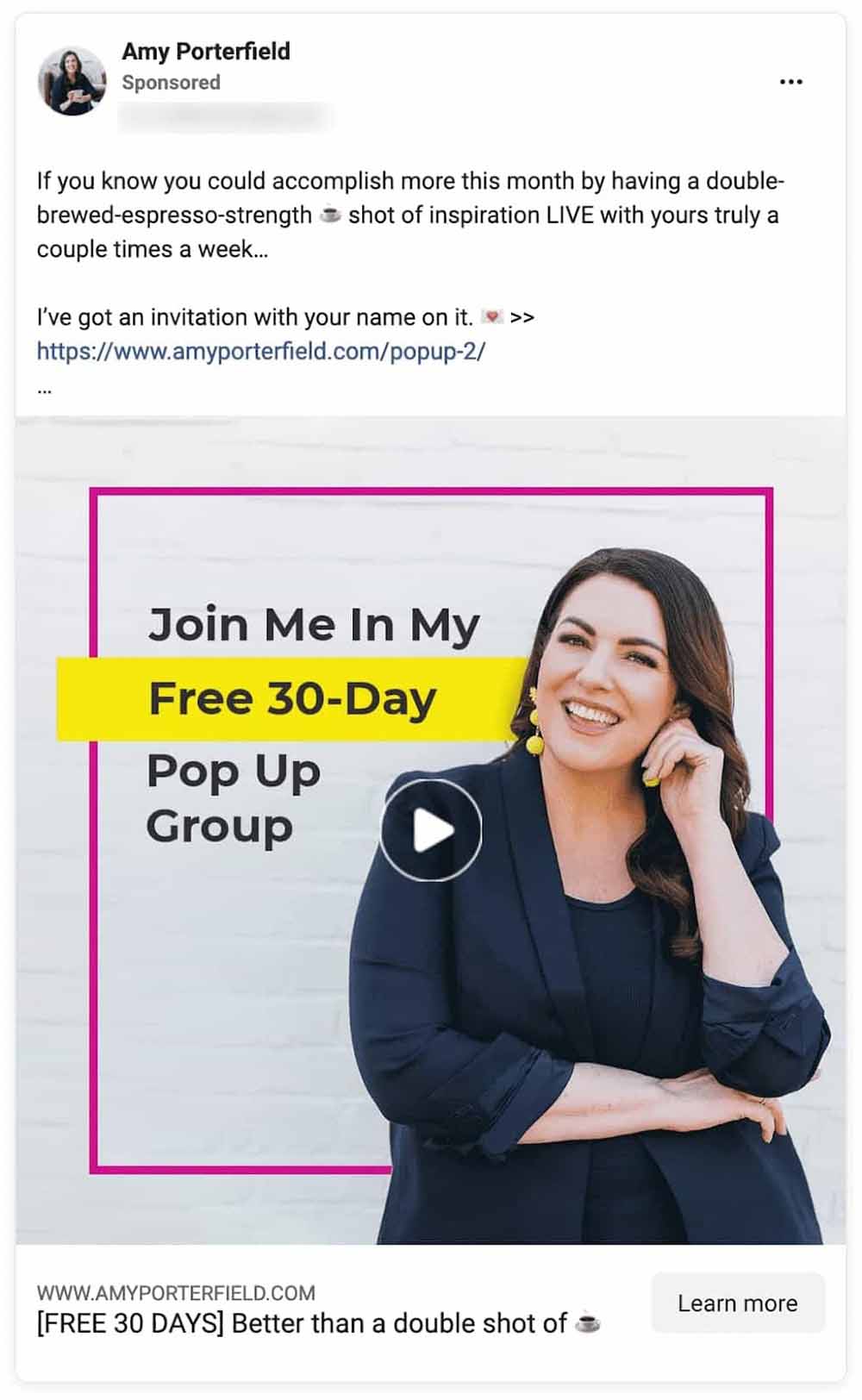 This Facebook ad is simple and captures the attention.
It says - "Join Me In My Free 30-Day Pop Up Group"
As the user clicks on this ad, it takes them to the following Facebook ads landing page: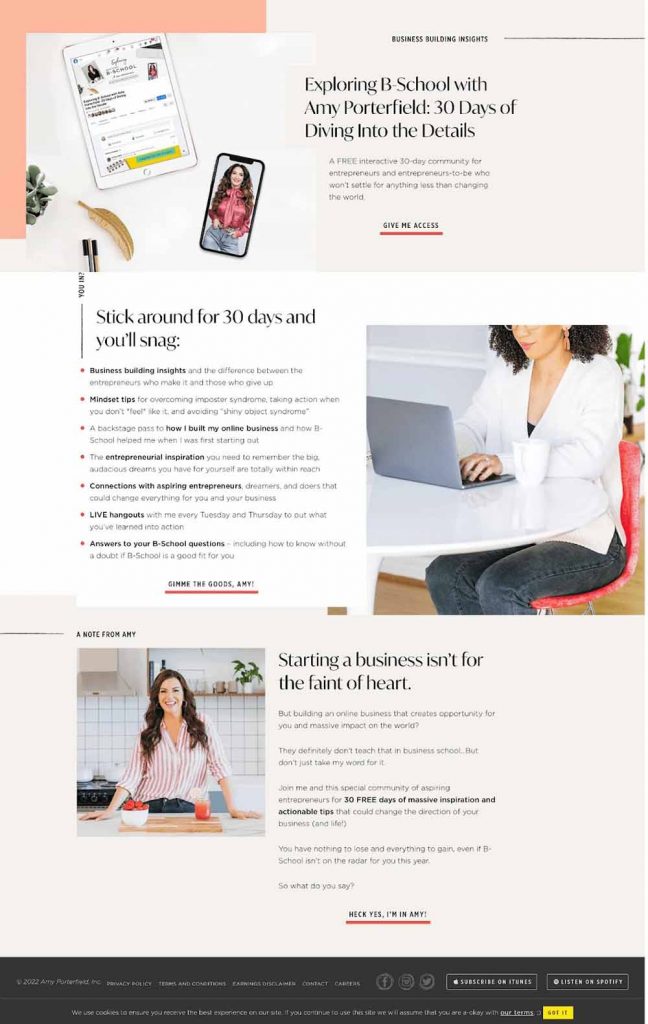 The landing page builds upon the idea and lets people explore more about the offer.
The offer is a free 30-day challenge and gives people the opportunity to sign up for a popup group.
Why Do You Need a Dedicated Landing Page for Facebook Ads?
Let's say an online marketer sees your ad about the free Pay-per-click Marketing webinar that you're conducting.
The offer appeals to them and captures their attention.
But upon clicking your ad, they land on your homepage.
Ouch!
You have lost the golden opportunity to make him enter your funnel that could lead to purchasing your paid product.
That's why you need a dedicated landing page that pitches you offer, be it free or paid.
Most marketers continuously keep tweaking their ads but don't focus much on their landing page.
We recommend you don't make the same mistake.
So what are the elements of a Facebook ad landing page that smashes your conversion goals? Let's find the answer in the next section.
The Anatomy of a Facebook Ads Landing Page
In this section, we will look at all the crucial components that make a perfect landing page for a Facebook ad.
Here we'll be taking the above example from Amy Porterfield's Facebook ads landing page and break down the essential elements:
1. Above the Fold Section
The secret to creating your above-the-fold section on your landing page lies in your unique selling proposition (USP).
Simply answer the question - How you're different from your competitors?
Landing pages convert effectively when you tell your prospects immediately understand your offer.
For example, let's look at the landing page of Amy: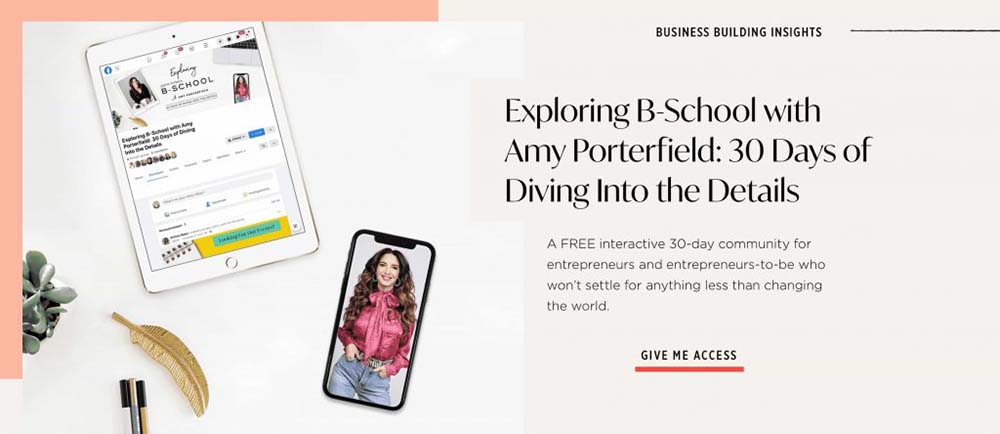 You can follow these elements to create an appealing offer:
Heading and Subheading
Keep the headline of your Facebook ad closely aligned with the headline of your landing page.
On average, 80% of people just read the headline on a landing page.
That's why the headline is a crucial element on your Facebook ad landing page.
As you can notice, Amy has made the offer:
consistent with her Facebook ad
urgency evoking because of the limited time period
desirable because it talks about bringing a community of like-minded people together
You're instantly clear about the offer by reading the heading and subheading.
Hero Image
The hero image is likely the first visual element of your Facebook ad landing page that your visitors will see.
As humans process visuals 60000 times faster than text, make sure to add a consistent hero image.
As you see, the landing page has a hero image that contains an image of the popup group on an iPad along with her image.
CTA Button
A CTA button lets people take the desired action.
You may position your value proposition well but you need a CTA button to convert your prospects into leads.
You should be authoritative when directing the users to your CTA button.
This is where personalizing your CTA buttons happen to be more effective than generalized text like "Submit" or "Sign Up".
Personalized CTAs convert 202% better than the regular, untargeted CTAs.
Amy has followed the same technique and used personalized CTA buttons on the entire page.
2. Benefits of the offer
Writing the big bold benefits will help you reinforce the value your prospects will find in your offer.
Here are a few tips to highlight the benefits on your Facebook ads landing page:
Promise to share your wins and the learnings - As per Dr. Robert Cialdini's Authority Principle, we follow people who are successful in their field or know what they're doing. Authority persuades people!

Talk about any community that you'll be putting together - 94% of people find communities an ideal source of inspiration and new ideas.

Highlight any live sessions that you might be doing to help people - As per Forrester, live sessions hold the users' attention 20 times longer than pre-recorded content.
For instance, let's get to the benefits section of Amy's landing page: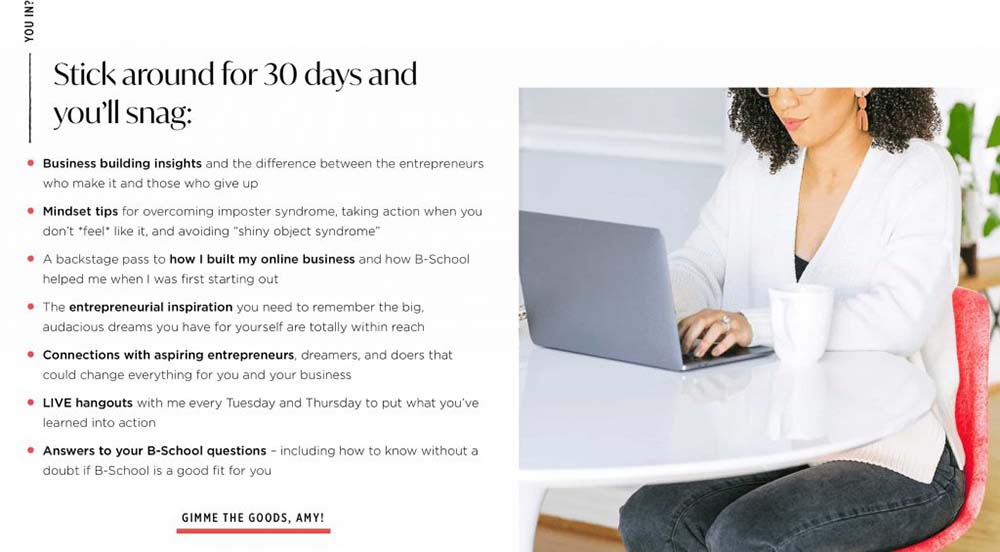 Amy really showcases her authority in this compelling copy for her 30-day workshop.
This is exactly how you can craft the benefits section for your Facebook ads landing page.
3. Note from the creator
People should know the concerned person behind this offer.
This section tells your prospects that you are the right person to learn from.
Highlight all the points why this offer is the perfect resource for them, and they won't find it elsewhere.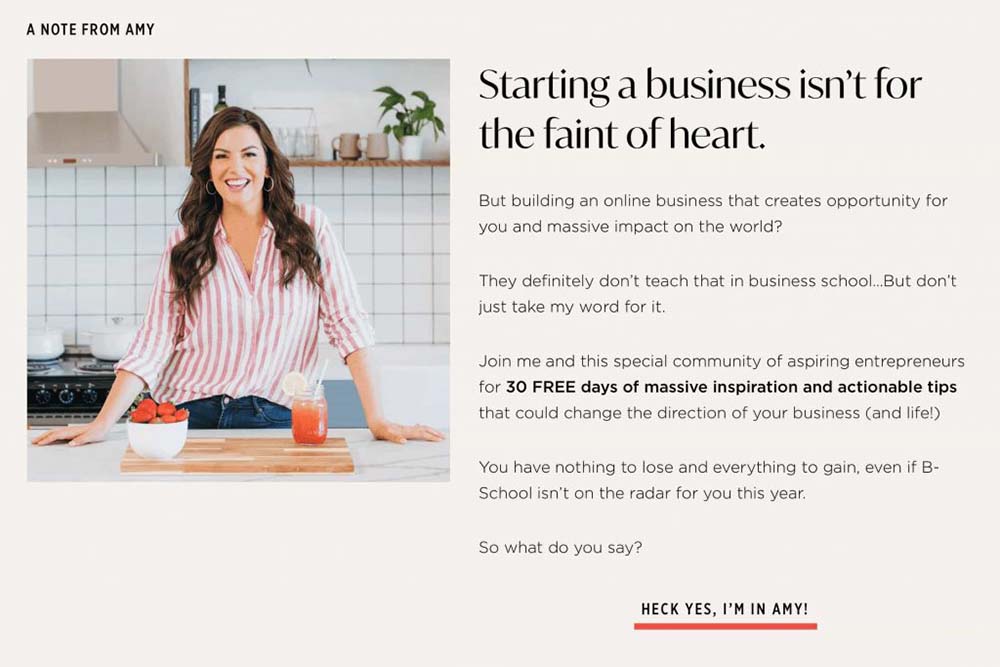 As you can notice, Amy has once again emphasized the end goal of this offer.
She has talked about "you have nothing to lose and everything to gain" because this offer is available for free!!
This section helps you establish your credibility and how your expertise can help people achieve their goals.
4. Social proof
97% of consumers say that online reviews have an impact on their buying decisions.
Therefore, social proofs are a good addition to your Facebook ad landing page.
Your customers should be able to tell the stories of what goal you helped them achieve or how your offer turned out to be a success for them.
Since Amy is promoting the group as an affiliate, she doesn't have any social proof here.
However, we recommend you add them to your landing page.
Testimonials are small yet powerful indicators that define your trustworthiness and experience in the industry.
Pro Tip: Optimize your landing page for mobile
According to Statista, over 98% of monthly users are active on Facebook via their mobile devices.
It means most people who come to your landing page from Facebook are on their mobiles.
And they will not keep scrolling through your page if you're giving too much on it.
Therefore, keep your landing pages short and concise.
Make every element on your Facebook ad landing page optimized for mobile devices.
How to Create a Landing Page for Facebook Ads (Step By Step)
In this section, we have provided you with step-by-step instructions on creating a Facebook ad landing page.
For this, we will be using the Funnel Builder by FunnelKit (formerly WooFunnels).
But first, let's look at why we prefer Funnel Builder above other tools out there.
Why Use Funnel Builder to Create your Facebook Ad Landing Page?
There are many reasons why the FunnelKit Funnel Builder is better than the SaaS-based builders. 
For starters, it's quite affordable.
Plus, it's built inside WordPress, which makes it integrate perfectly with WooCommerce.
Let's look at a few more - here are the six reasons why you should choose Funnel Builder for creating your Facebook ad landing pages.
1. Pre-built templates
We have an ever-growing library of customizable templates for all your use cases.
These include templates for physical products, health and wellness coaches, digital courses, membership sites, and many more.
2. Works with every page builder
The FunnelKit Funnel Builder integrates with Elementor, Divi, Oxygen, Gutenberg, and WordPress Customizer.
You can use other page builders like Beaver, Thrive, or others using shortcodes. We're constantly adding new page builders to our list.
3. Thoughtful features
Funnel Builder has some amazing features that get you explosive conversions.
It has the ability to use smart fast pay checkout options, set multiple order bumps, and create complex upsell/downsell funnels. You can also implement one-click optin popups for distraction-free lead capturing, visualize your funnels with the all-new canvas mode, and more - the list is just endless!
4. In-depth analytics
The Funnel Builder allows viewing and analyzing your metrics from the same plugin.
For your Facebook ad landing page, you get the number of views, conversions, contact details of every person signed up, etc. at your disposal!
5. Built-in pixel tracking
Funnel Builder connects with Facebook, Pinterest, TikTok, Snapchat, and more to track pixels on your website. We have events those fire pixels when any lead gets generated from these platforms.
You don't need any external plugin for tracking your pixels - everything you need is right here!
6. A/B Testing
The in-built A/B testing feature lets you split test every element on your page.
View detailed insights for each of your variants, declare the winner to direct future traffic, and so much more without installing any separate module.
Having said that, let's look at how you can create your Facebook ad landing page with the Funnel Builder by FunnelKit.
Step-by-Step Instructions on Creating a Landing Page for Facebook Ads
Follow the instructions below.
Step 1: Install and activate the Funnel Builder
The first step is to get a copy of the FunnelKit Funnel Builder.
Once you have made the purchase, go to your FunnelKit account and download the following two files:
Funnel Builder
Funnel Builder Pro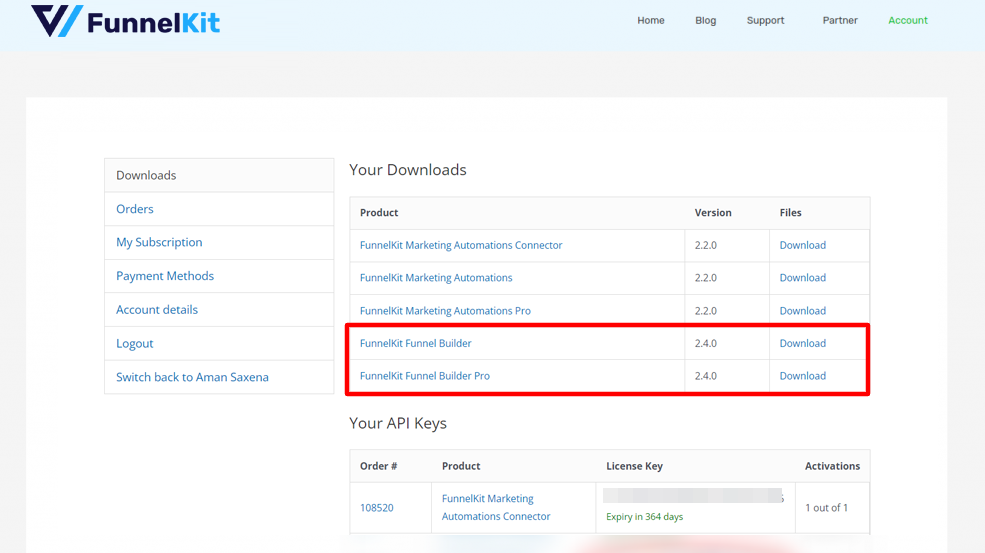 Install and activate both the plugins on your WordPress website.
Now, go to your account and copy the license code.
Paste the license in the settings section to activate the Funnel Builder.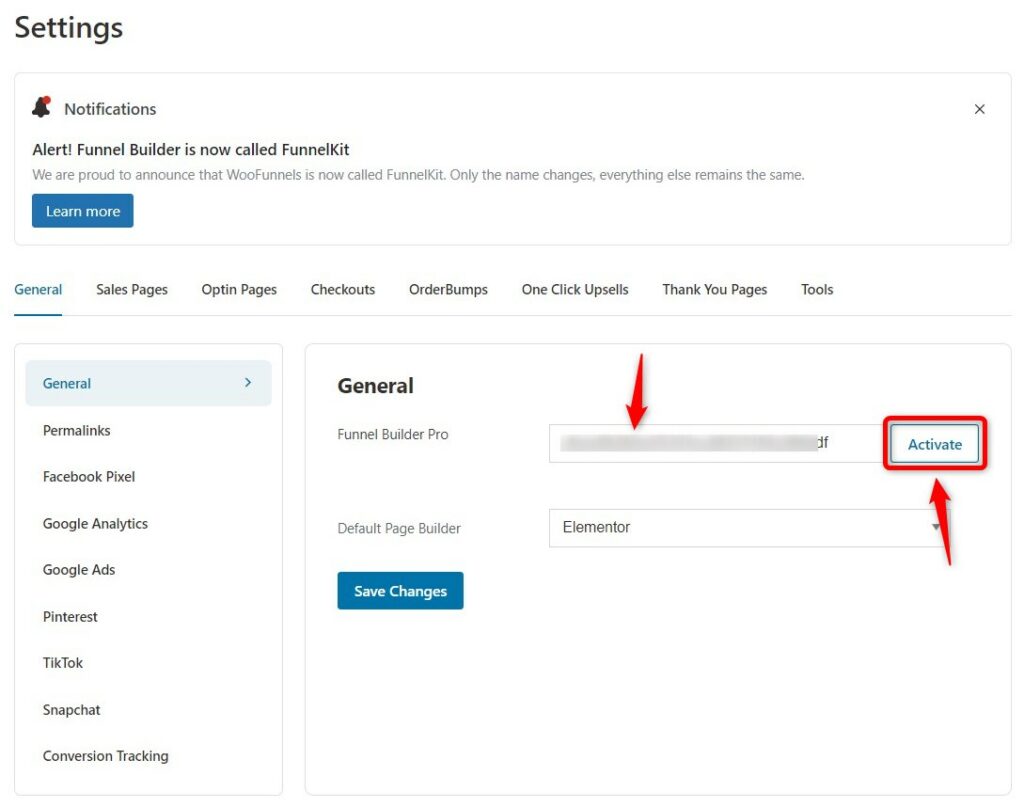 Step 2: Add a new funnel
Go to Funnels and click on 'Add New Funnel'.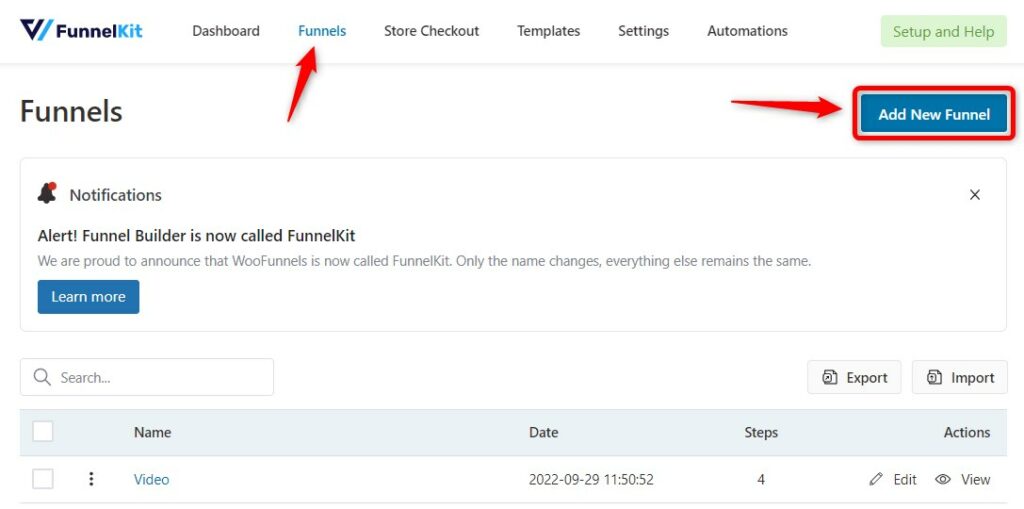 You'll get directed to the templates page.
The FunnelKit Funnel Builder gives you templates to create compelling pages in your sales funnels such as:
Optin Page
Optin Confirmation Page
Checkout Page
One-Click Upsell
Thank You Page
From there, you can choose to import the templates on your pages or start from scratch.
FunnelKit (formerly WooFunnels) deeply communicates with popular page builders such as:
If you want to use Beaver or Thrive page builder, select Other and proceed.
Select the page builder and import the template you like.
Here, we have selected the Lead Generation templates and clicked on Allure (Optin) template.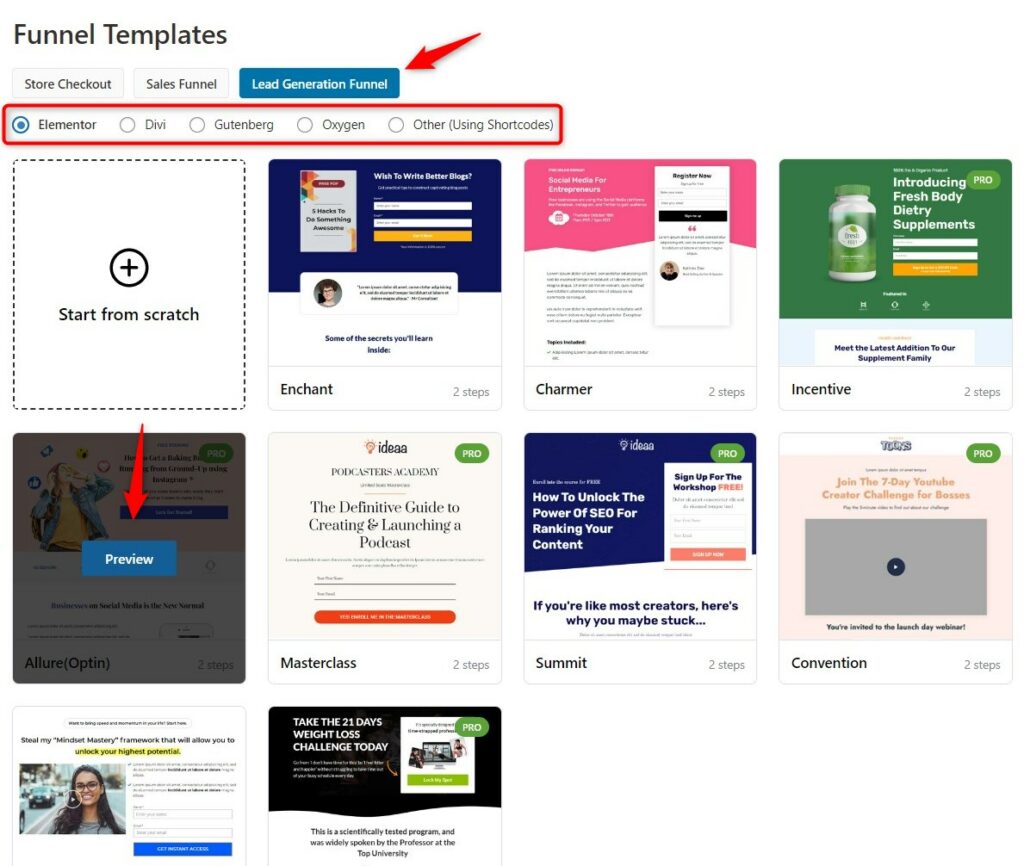 You'll now be able to see the full preview of the template.
Select the type of page/form you want: Inline or Popup. Once you're satisfied, click on 'Import This Template' and name your funnel as Facebook Ads Landing Page Funnel.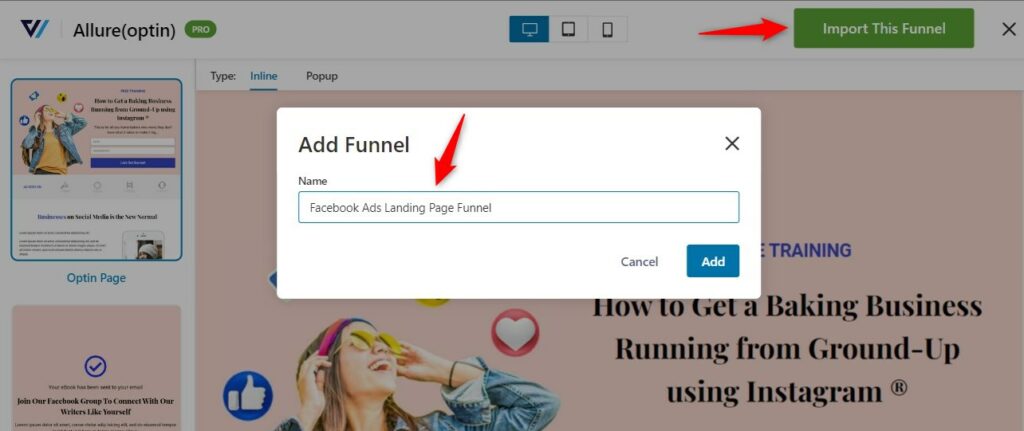 You have successfully created your funnel with Optin and Optin Confirmation pages already imported.
Now let's customize this page.
Step 3: Customize the landing page
Start editing your opt-in page template.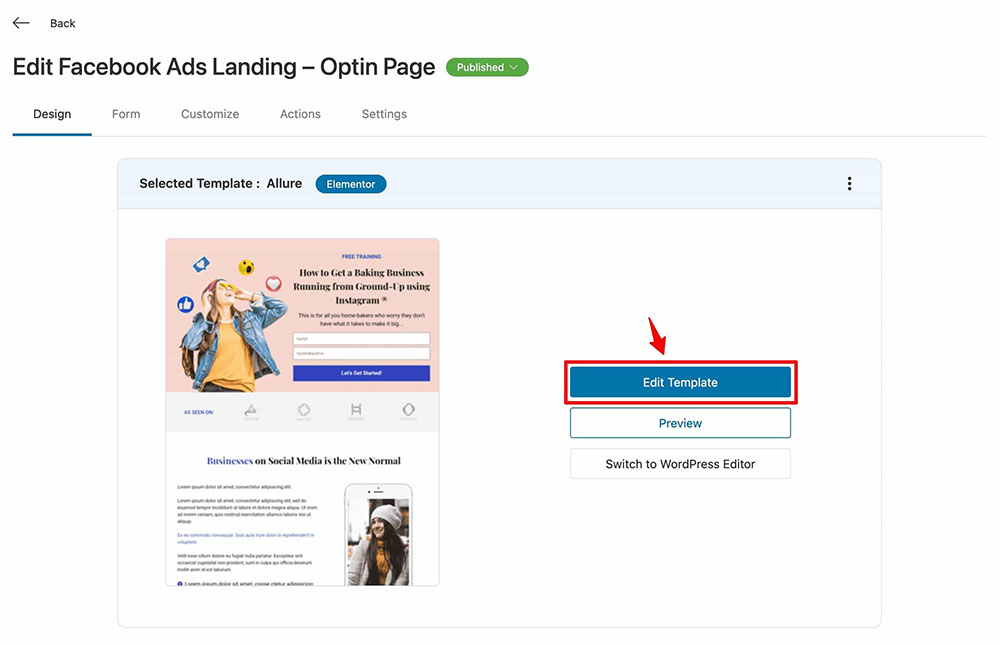 All of the FunnelKit (formerly WooFunnels) templates are highly customizable and optimized for mobile devices.
You can edit each of the elements to create a perfect landing page for your Facebook ads:
Content
Buttons
Borders
Background
Images
Typography
Padding, and much more.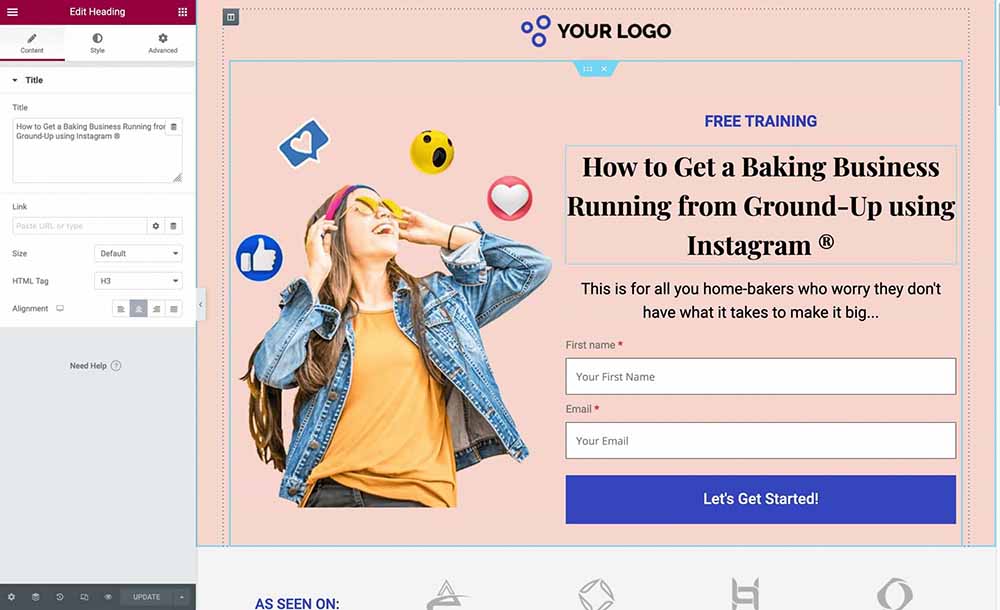 Furthermore, we have created two modules/widgets to help you design your opt-in forms:
Optin Form - Customize the opt-in form that is embedded on your page
Optin Popup Form - Customize the opt-in form that opens in a popup when the CTA button gets clicked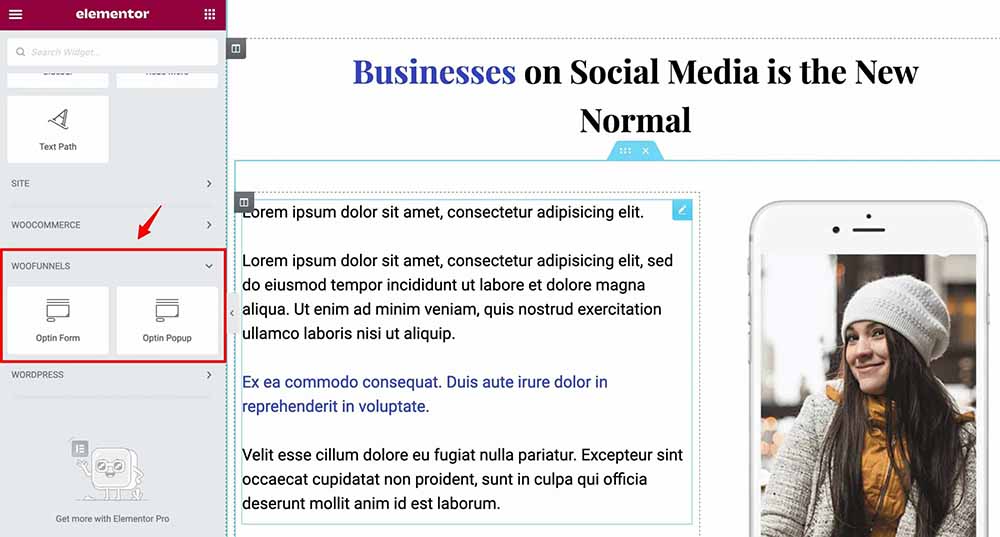 Simply drag-drop these widgets onto your page and start customizing them.
You get some great styling options to design your opt-in forms.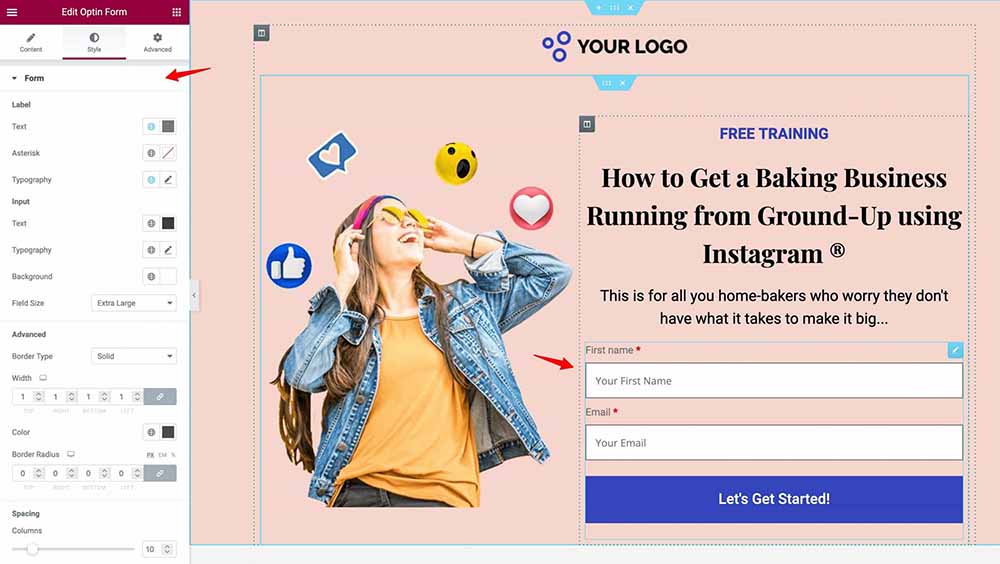 Click on the Update button when you're done customizing your page.
The landing page for your Facebook ad is now ready:

Step 4: Configure your email to notify leads
You can send a welcome email to your newly added subscribers right from the Funnel Builder itself.
To do that, go to your Optin Page.
From there, enable the Lead Notifications under the Actions tab.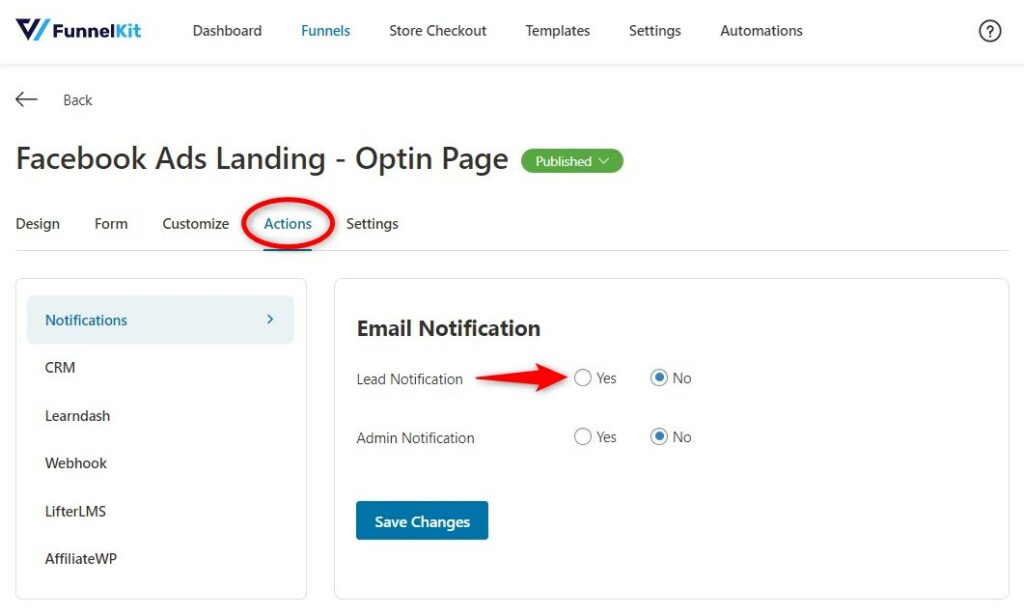 Write the subject line and create the content of your welcome email.
Give the link for the freebie that you want to provide. Or, simply send an email giving the roadmap for the next few days on how you intend to provide your offer.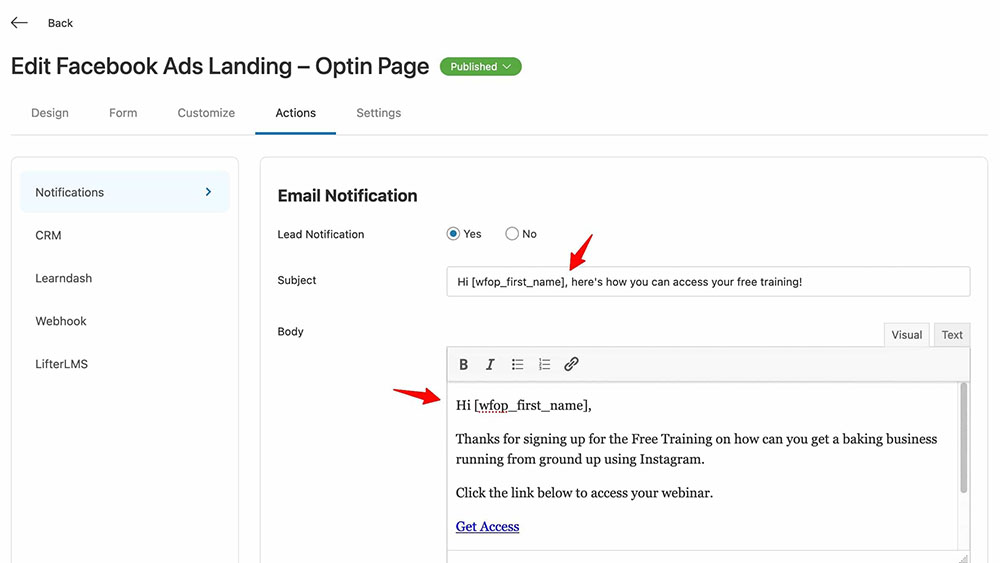 Test run this email by sending it to yourself and ensuring you're not missing anything.
We also have integration with Learndash and LifterLMS.
That means you can auto-enroll your new leads to specific courses within the Funnel Builder.
In the next section, we will look at how can you set up welcome email sequences for your new leads.
Build a Welcome Automation
Welcome emails get 4x more open rates and 5x more click-throughs than other promotional emails you send out.
When your new leads sign up for your offer, take this opportunity by interacting with them effectively.
A sequence of emails would really help you do that.
To set up your welcome sequences, you can use FunnelKit Automations (formerly Autonami) - the most powerful email marketing automation engine for WordPress.
Not just emails, you can even send SMS-based broadcasts and automated campaigns.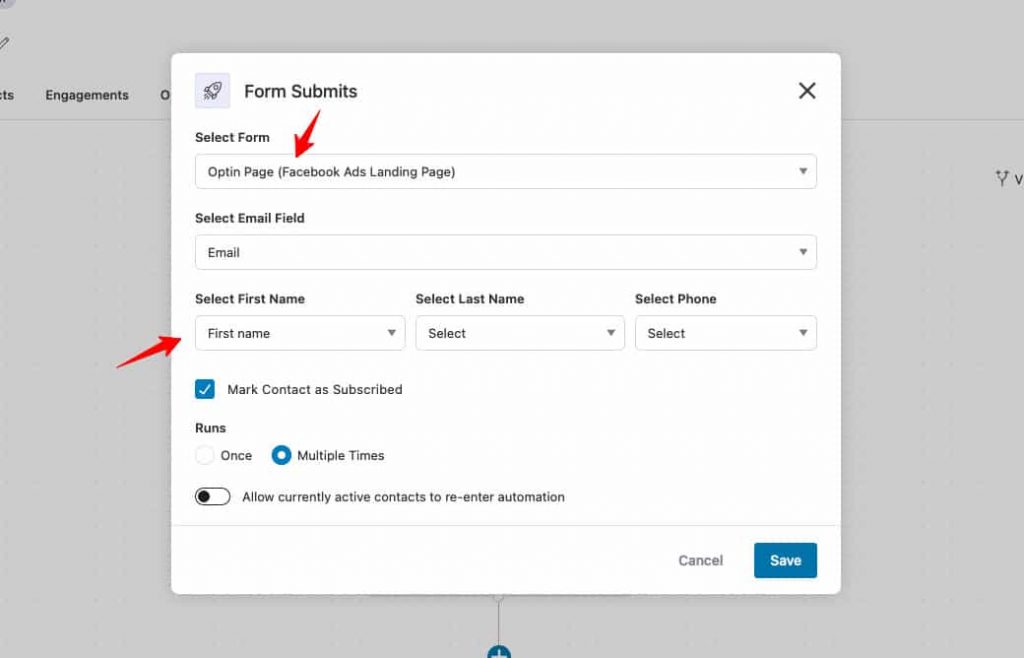 Here the event is "Form Submits" and the form is FunnelKit (formerly WooFunnels) Optin form which we created previously.
Add the Send email action and set up your sequences with delays.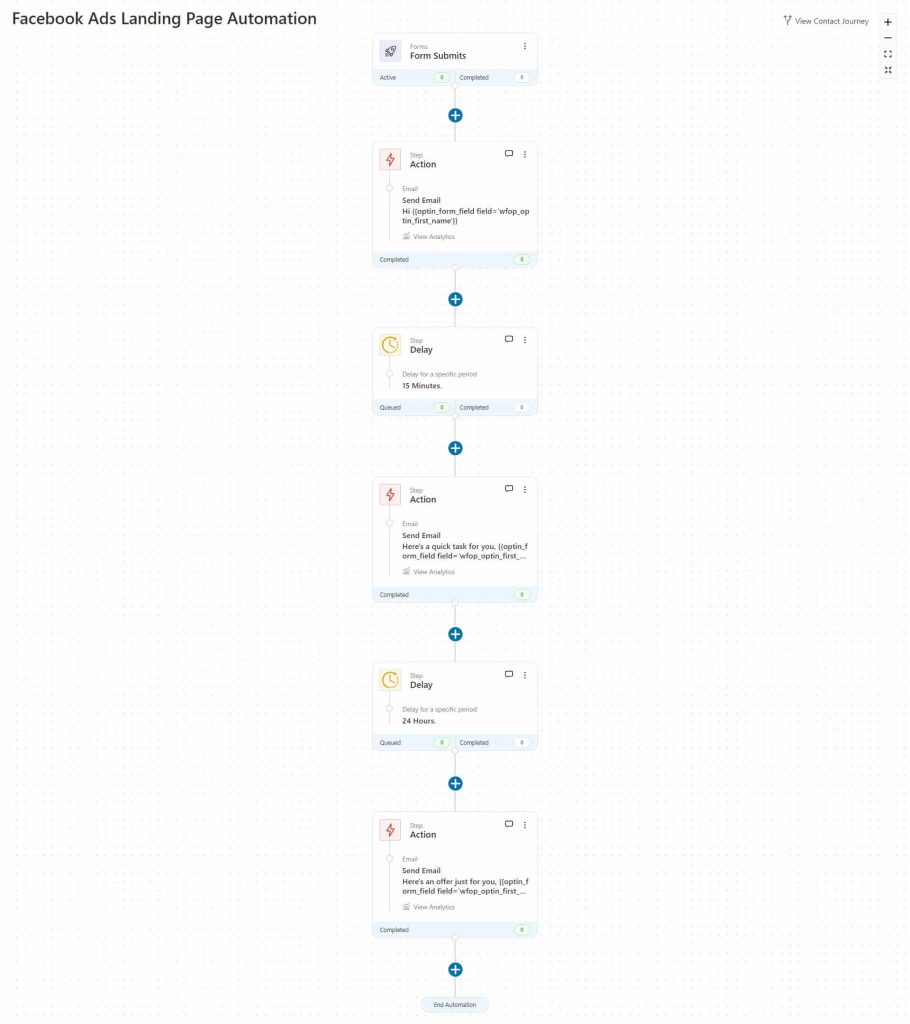 Once you're all set, make your automation live.
This is how you can successfully set up welcome email sequences using FunnelKit Automations.
It's just this simple!
Your Ideal Facebook Ad Landing Page is Just a Few Minutes Away!
We looked at how creating a Facebook ad is just half of the task.
The other half is to create a perfect Facebook ad landing page that crushes your conversion goals.
You learned how to hook people with a compelling headline, have a strong value proposition, and design beautiful landing pages that convert.
Use the Funnel Builder by FunnelKit (formerly WooFunnels) to design compelling pages for your sales funnels by putting all these elements together.
Be sure to create a welcome sequence for your new leads with FunnelKit Automations.
It's a perfect, full-fledged tool that you were looking for!
So, what are you waiting for?