If you are a WooCommerce store owner, you've probably heard about email marketing - maybe even tried a few WooCommerce email marketing plugins!
For some, it works like magic; for others, it doesn't.
Why? Because no matter how fabled emails are in the world of online marketing, it is not just about the right strategy anymore.
It is about the right sequencing, timing, and, most importantly… RELEVANCY!
In this article, you will learn how to personalize your email marketing campaigns and reach out to your buyers at every stage of their buying journey - with FunnelKit Automations.
You will also learn how to entice your audience with lucrative discounts and swap the default WooCommerce transactional emails with beautiful on-brand emails.
Let's dive in.
What is WooCommerce Email Marketing?
According to Statista, WooCommerce is the most popular eCommerce platform, with 36.68% of the market share. (July 2022)
Even though WooCommerce is one of the most popular eCommerce platforms, it has NO native email marketing functionality - which is the backbone of a successful eCommerce store.
WooCommerce lets you sell products/services to customers, but what after that?
Will you rely on new customers sale after sale?
According to a study done by Invesp Consulting, it is 5 times more costlier to acquire a new customer than to retain an old customer.
Additionally, selling to an old customer has a success rate of 60%-70% compared to 5%-20% for a new customer.
In the same study, they discovered that by increasing customer retention by just 5%, you can shoot up your profit by 25% to 95%!
Email marketing lets you DO JUST THAT.
This is why as a WooCommerce store owner, you need to invest in email marketing and start connecting with your customers with strategic emails.
WooCommerce email marketing helps you in:
Interacting with your customers during their buyer's journey
Communicating with your subscribers about new products
Engaging your audience with newsletters and promotional offers
Retaining your customer base (and profits) by frequently being in touch with them
How to Do WooCommerce Email Marketing the Right Way?
FunnelKit Automations is a WooCommerce email marketing plugin that lets you communicate with your customers right from your WordPress dashboard.
FunnelKit Automations comes in two versions - Free (Lite) and Pro version.
The Free version comes with an ever-growing library of pre-built automations such as abandoned cart recovery, post-purchase email sequence, winback campaigns, and more.
However, you need the Pro version to unlock more pre-built automations, advanced customization options, and to create newsletter campaigns for your email subscribers.
Follow this document, where we've illustrated how to install FunnelKit Automations Pro step-by-step.
FunnelKit Automations uses WordPress SMTP services to send emails right out of WordPress. We are compatible with popular SMTP services such as:
SendLayer
SMTP.com
Sendinblue
Mailgun
Amazon SES
SendGrid
Google Workspace (formerly G-Suite)
You just need to ensure that you have one of these plugins (services) installed and activated on your WordPress website.
1. Capture Subscribers at the Checkout
With FunnelKit Automations, you can add an opt-in checkbox (GDPR-friendly) to your WooCommerce checkout page to collect emails and drive repeat purchases.
Subscribers will automatically be added to a pre-built WooCommerce customers' email list, making it even easier to start tailoring your newsletter campaigns.
After installing FunnelKit Automations Pro, head to Settings >> Checkout Consent.

Under the Checkout Consent, enable the Marketing Consent as shown below.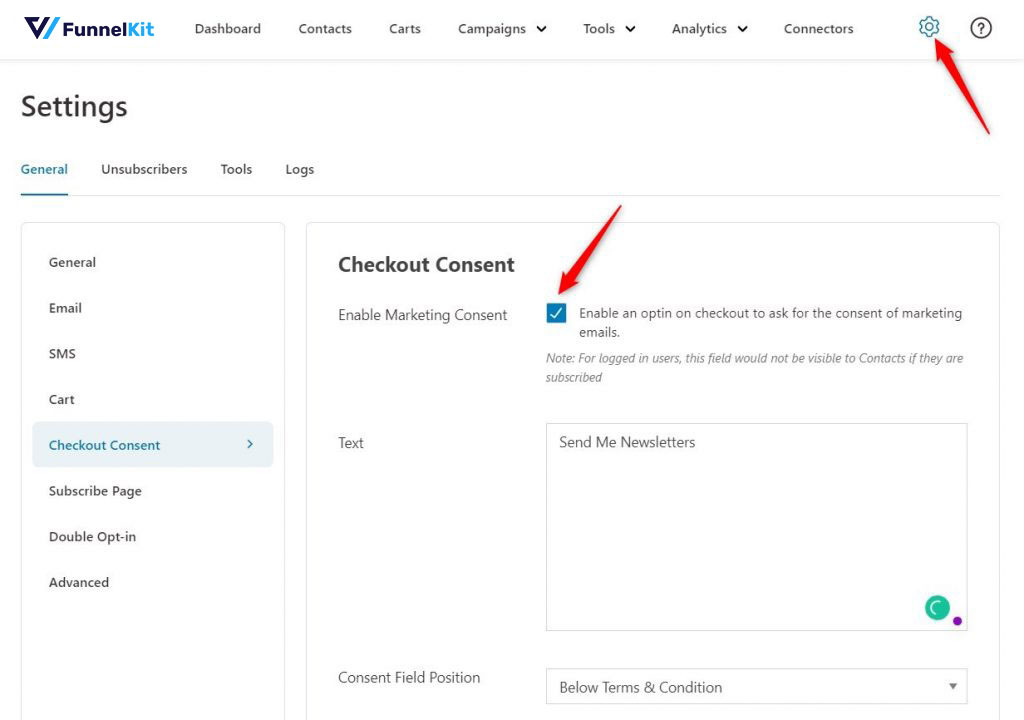 Now, edit the text that shows beside the checkbox - here, we want to capture emails for our newsletter, so our text is "Send Me Newsletters".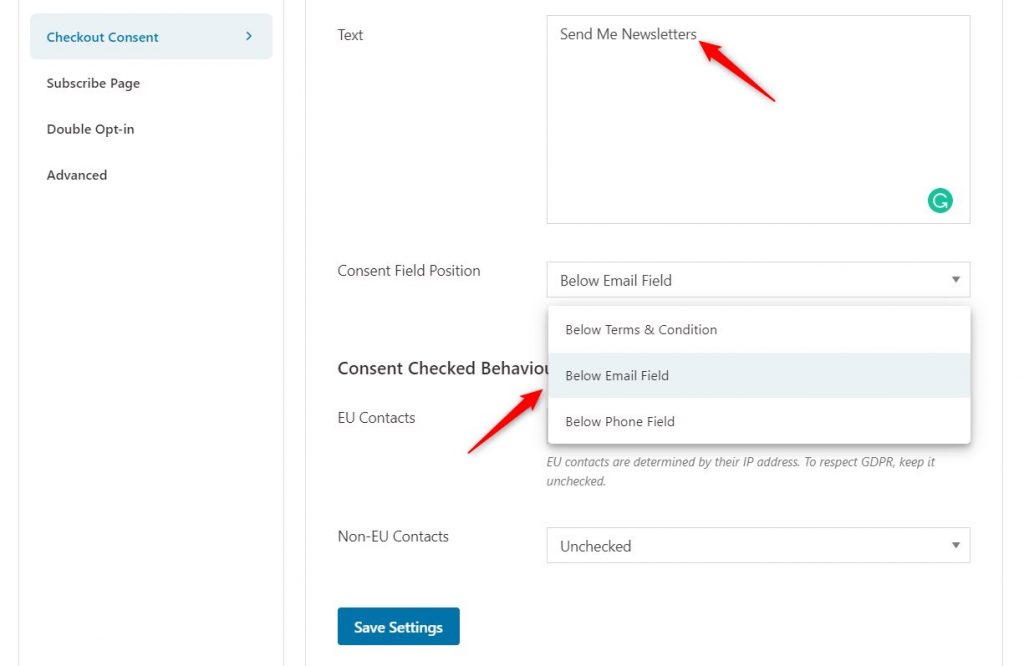 Decide where you want to display the checkbox. Our recommendation is below the email field.
The General Data Protection Regulation (GDPR) laws define how the data is handled. For any business registered in Europe, or settled elsewhere in the world but deals with European citizens' data, it is mandatory to comply with the GDPR regulations.
Go through this article to read more about GDPR compliance.
This is how the checkbox will look on your Checkout page.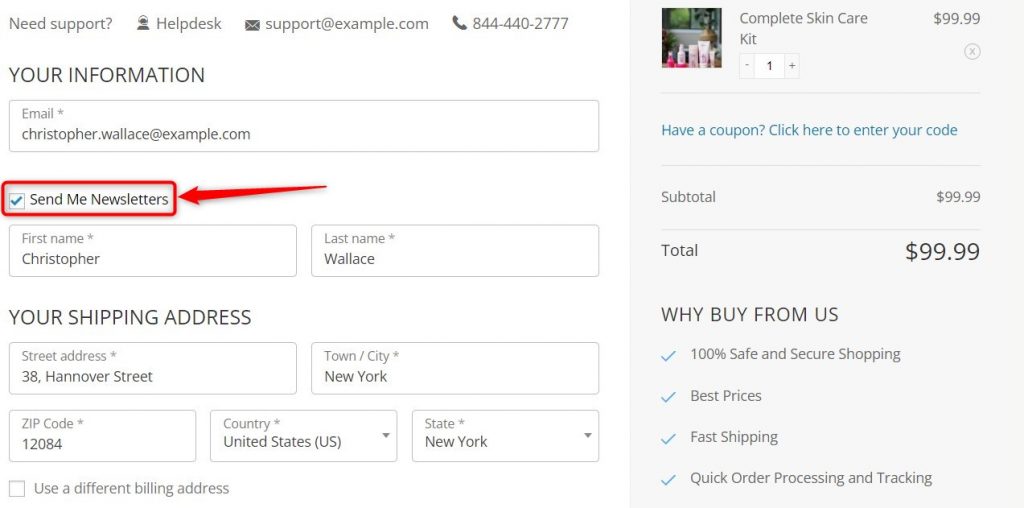 2. Create a List of New Opt-ins
Now, head to Campaigns >> Automations (Next Gen), and create an automation that will directly add users to the defined WooCommerce customers' email list.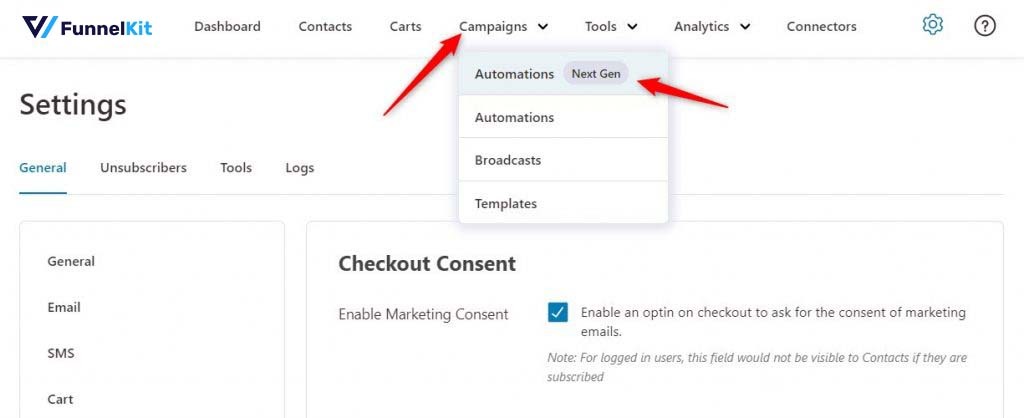 Click on Add New Automation.

With FunnelKit Automations, you get pre-built automations like Abandoned Cart Reminders, Welcome Email Sequence, New Customer - First Order, and more.
But today, we will create a simple and quick automation from scratch.
Click on "Start from Scratch".

Assign a suitable name to your new automation.

On the Canvas interface, click on Select Trigger, and then head to WooCommerce and select Order Created.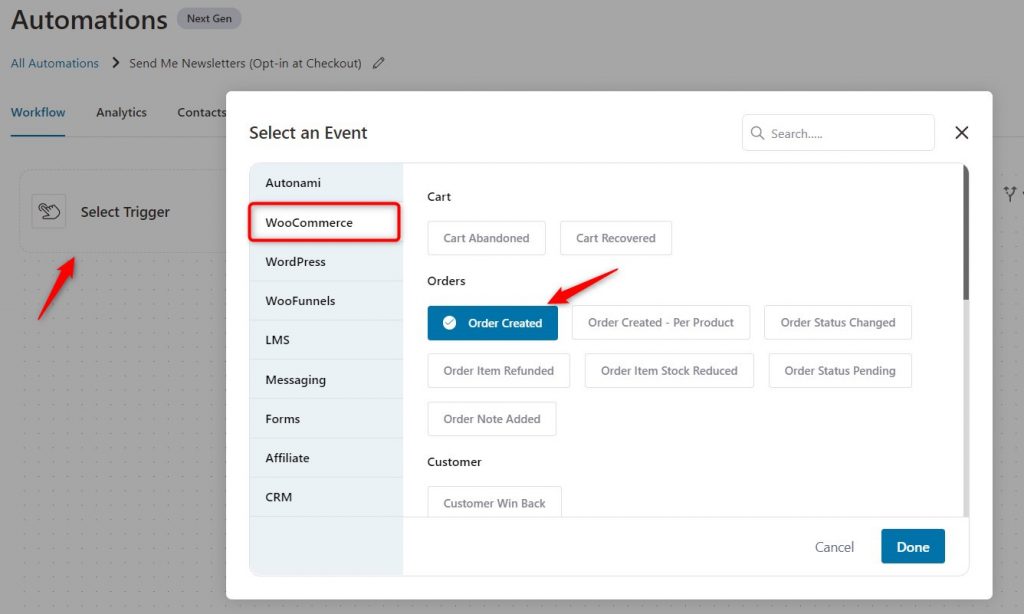 Once the trigger is set, click on it and configure the trigger settings. This way, the email will be captured even if the order is not completed.

3. Grow Your Audience List with Advanced Conditions
Now, click on the "+" icon and add a Condition.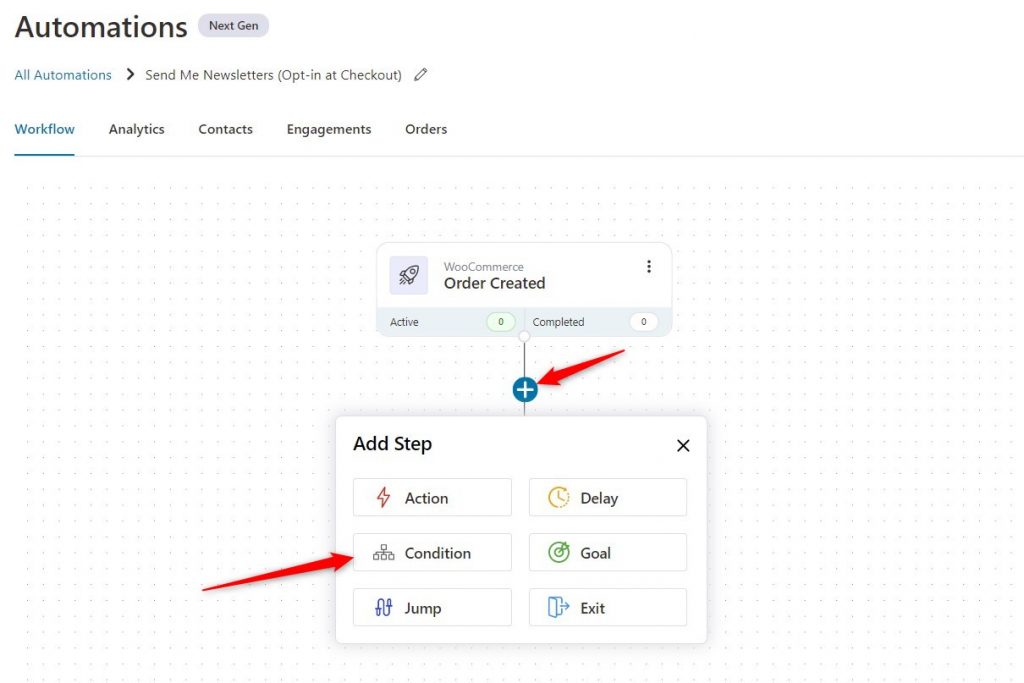 Configure the condition - Add New Condition >> Order.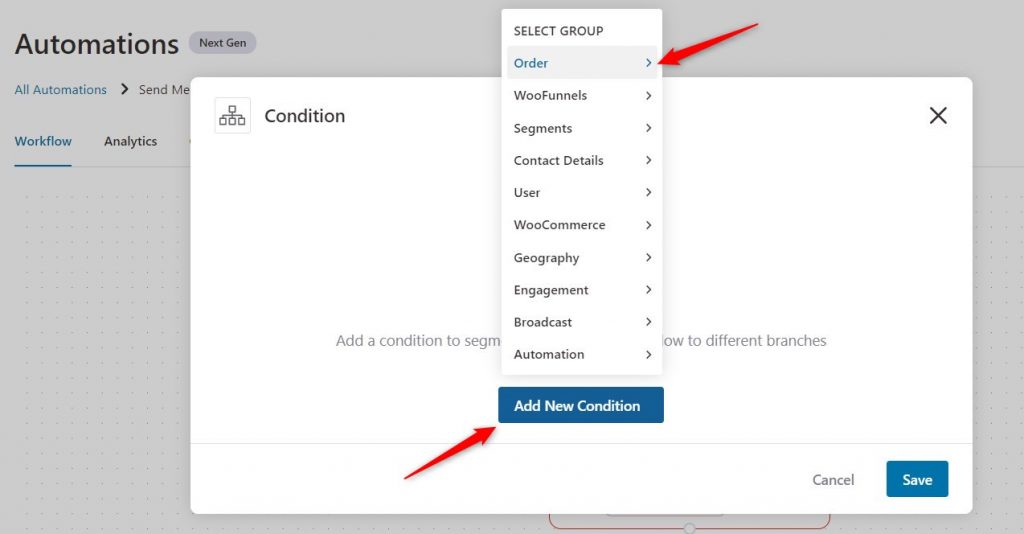 Under the Order group of conditions, select Order Custom Field.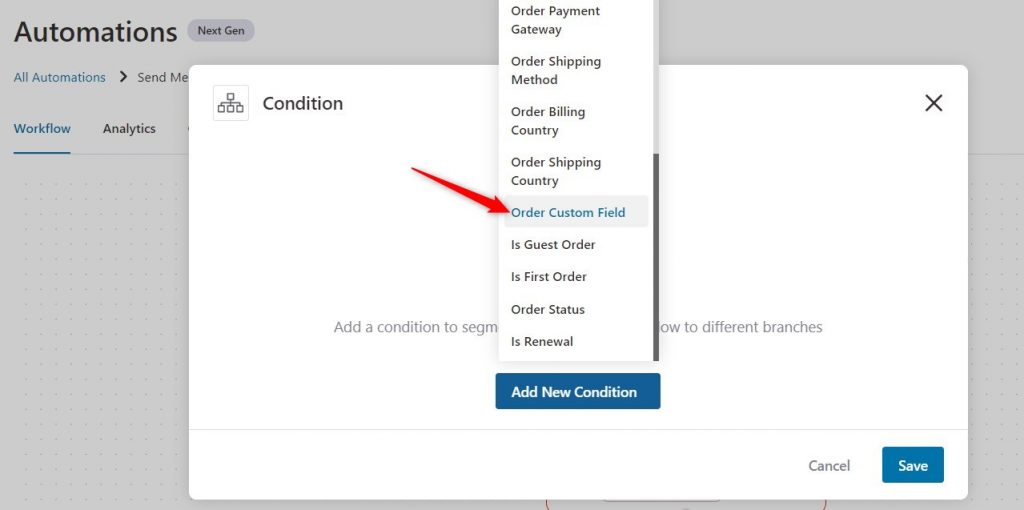 Under the Order Custom Field, add the checkbox key "marketing_status" and set the Operator as "is" and Value as "1".
1 means the checkbox is clicked, and 0 or empty means the checkbox is not clicked.
Add 1 in the Value field, FunnelKit Automations will detect if the checkbox is left unclicked.
Note: you have to add this checkbox key manually.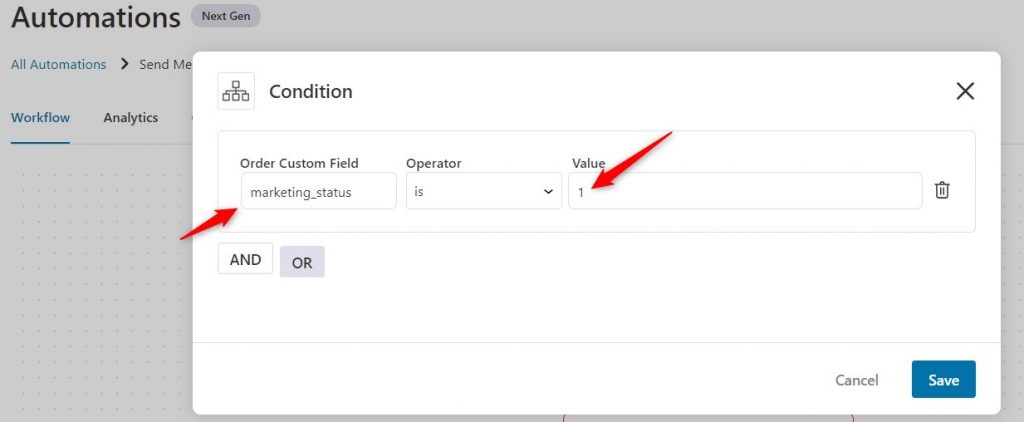 Next, click on the "+" icon and set up what happens if the condition is met. Click on Action.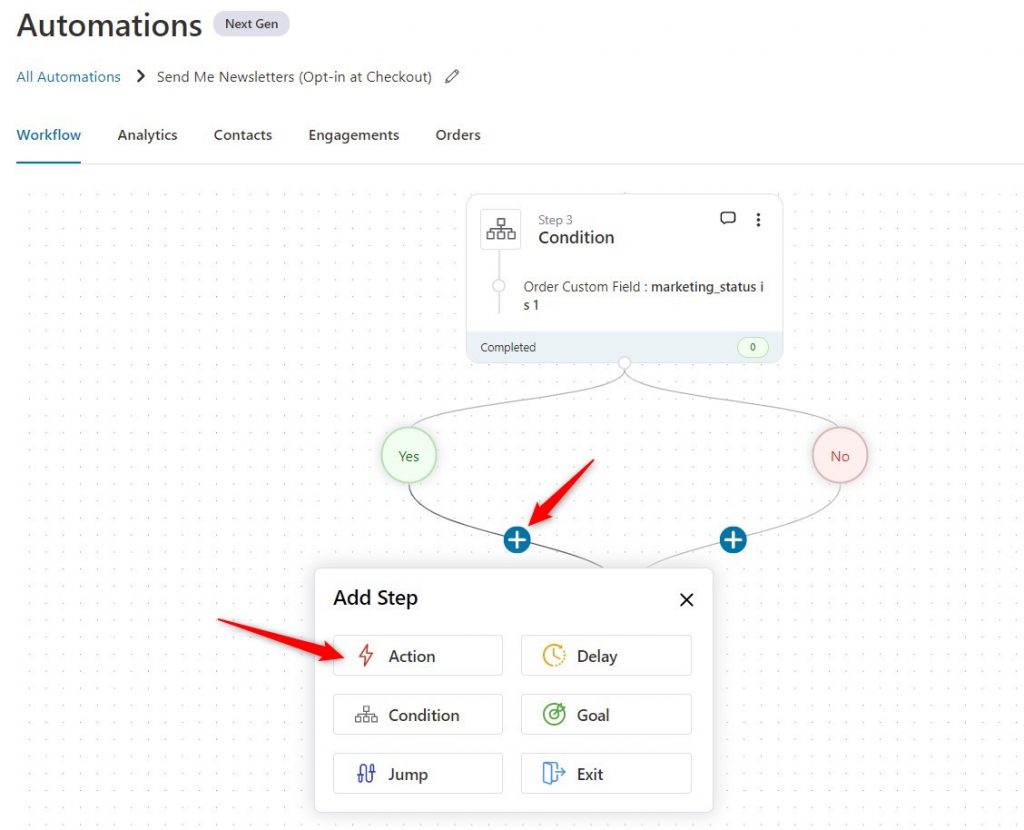 Under FunnelKit Automations, select Add Contact to List.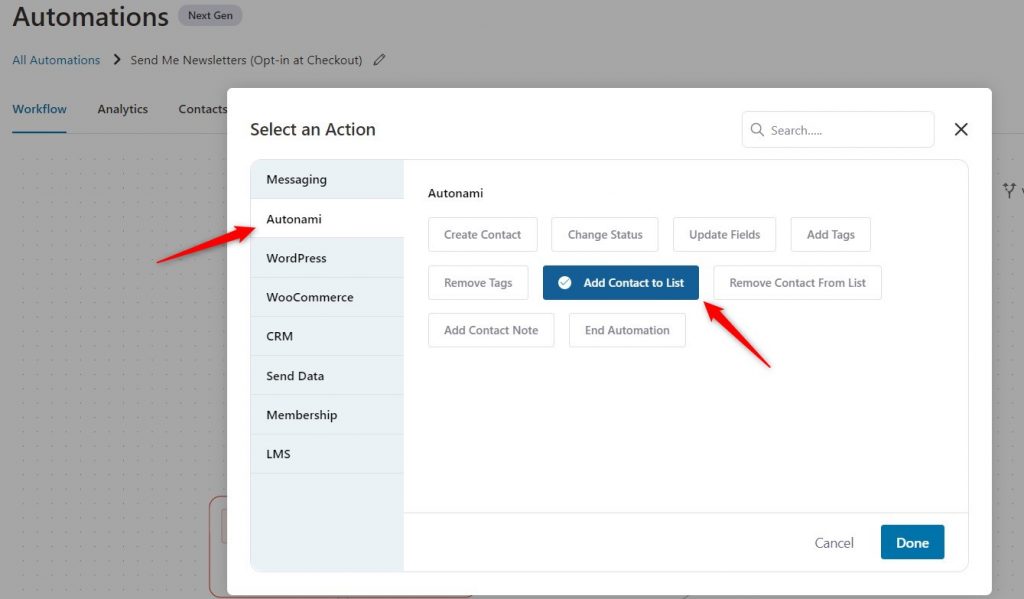 Type the list's name and add them to your audience list.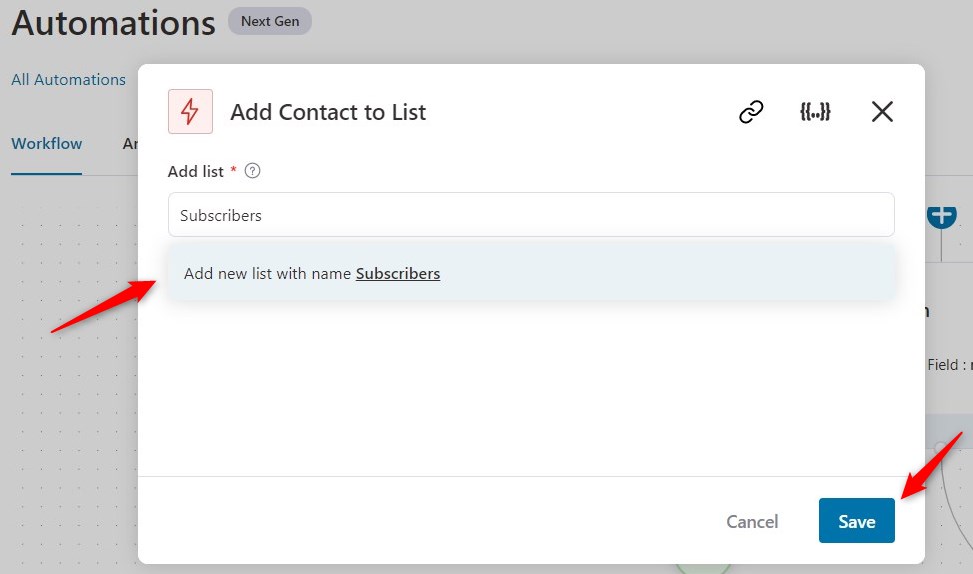 Click on the toggle on the right and turn it to Active. Now, the automation is all set.
If the customers check the opt-in box, their contact profile will be marked as Subscribed.

In case they left the box unchecked, their contact profile would be marked as Unverified in FunnelKit Automations.
4. Engage Your Audience with Newsletter Campaigns
With FunnelKit Automations, you can set up your broadcast/newsletter campaigns and send interactive emails to your audience.
You can even create a newsletter campaign and schedule it for later.
The purpose of the newsletter campaign might be to interact with your leads, promote your new products, roll out an update, or create a buzz about an upcoming sale.
To run a successful WordPress newsletter email campaign, you first need to collect high-quality leads with the help of an opt-in page - which we already have done.
Now, create a newsletter campaign and interact with these new leads and set the tone for their experience with your brand.
Reach Out to Buyers at Different Stages with Automated Emails
FunnelKit Automations comes with a host of customization options that let you add advanced triggers, actions, delays, and goals. You can even integrate your lead capture forms and connect them with third-party tools.
FunnelKit Automations lets you take your WooCommerce email marketing up a notch with its ever-growing library of pre-built automations. Just import, tweak the automation, and go live in minutes!
These WooCommerce workflows empower you to get in touch with your buyers at each stage of their journey.
Yes, WooCommerce can send emails to your customers, but it lacks customization and limits you to only its native email triggers.
With FunnelKit Automations, you get a troop of nifty triggers that let you build automations for any events you want - reaching out to abandoned users, new customers, new subscribers, winback lapsed customers, and more.
There are triggers available for just about every event that occurs.
Further, in FunnelKit Automations, you get a lot of Actions to modify your WooCommerce email marketing campaigns and perform the right actions on your users.
With FunnelKit Automations, you can add multiple actions to your email sequence and automate emails in WooCommerce.
You can:
Send Email/SMS
Add/Remove Tag
Add/Remove to/from a List
Create Dynamic Coupons (we will discuss this in detail in the next step)
And much more.
FunnelKit Automations comes with POWERFUL conditional logic.
You can get in touch with a user who's bought a certain product, or you can create a separate email sequence for users whose cart value is more than $100 and another one for users with a lower cart value.
Personalize WooCommerce Transactions with Beautiful On-Brand Emails
"How do I send custom email notifications in WooCommerce?"
Well, you need a WooCommerce email customizer like FunnelKit Automations.
Our WooCommerce email marketing plugin enables a drag-and-drop visual email builder that lets you create personalized, on-brand emails WITHOUT ANY CODING!
WooCommerce comes with some native transactional emails for new orders, failed orders, orders on hold, and more.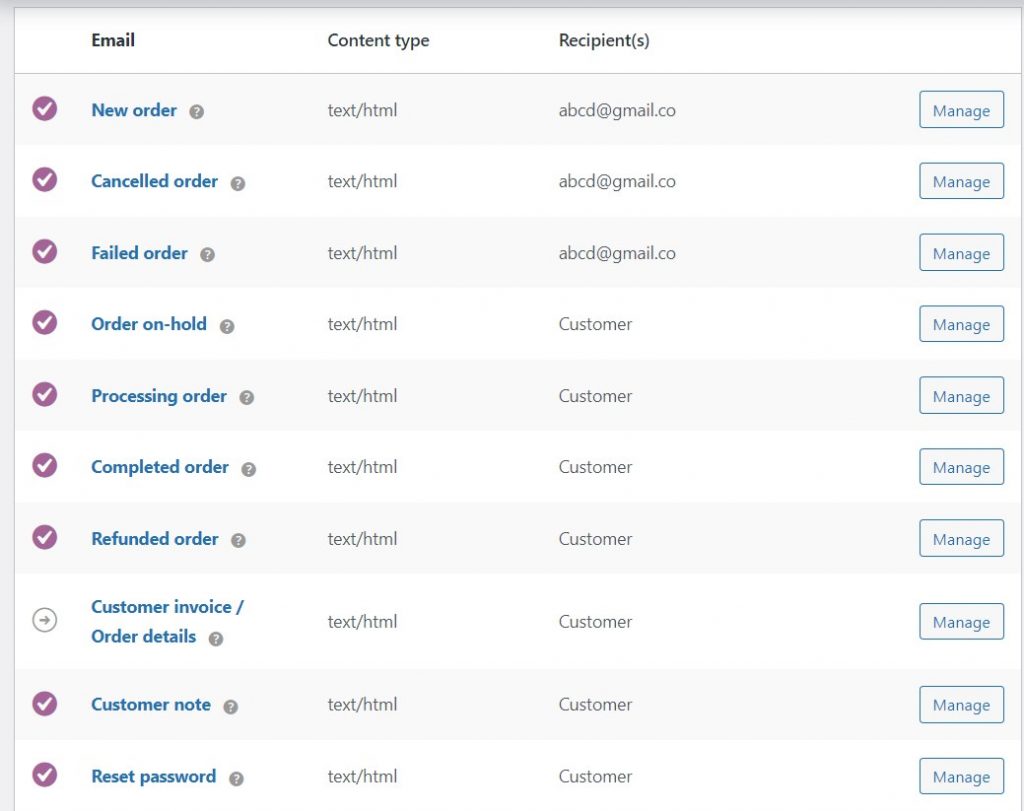 However, you cannot add more events/triggers to your WooCommerce emails. Also, you need to know HTML to edit these emails.
There is not much you can do to customize these email notifications and align them with your brand colors.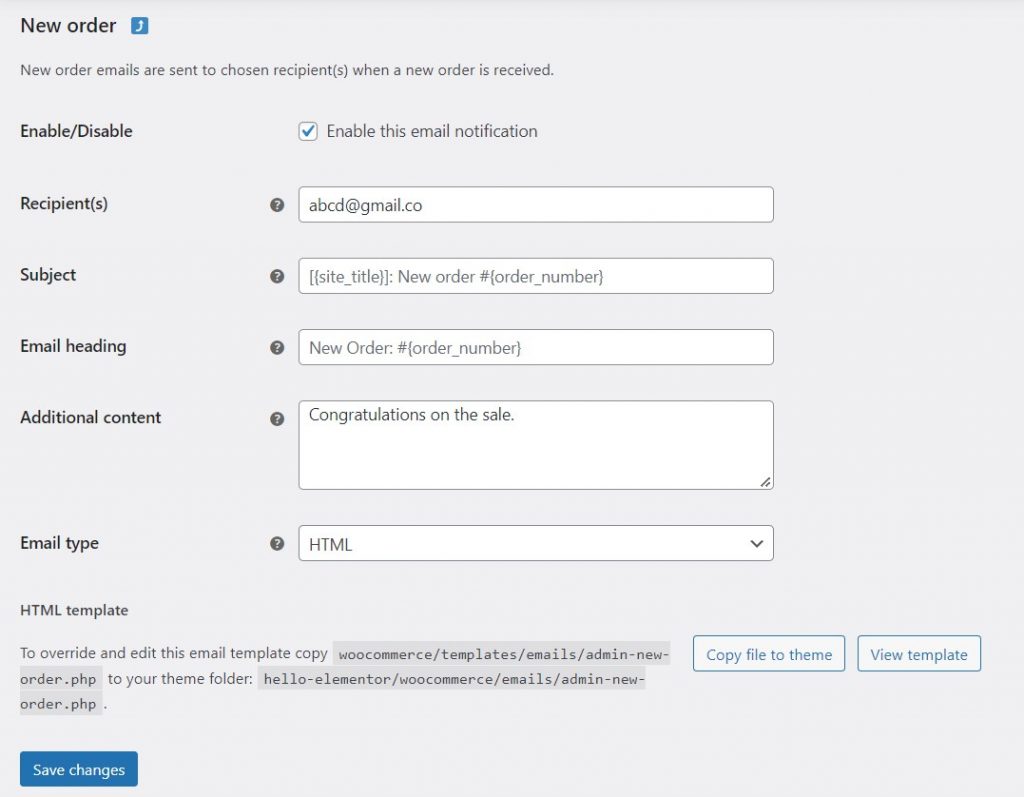 Create a new automation in FunnelKit Automations and transform your mundane WooCommerce transaction emails into an aesthetic, on-brand communication medium.
FunnelKit Automations lets you customize your WooCommerce emails and create workflows around various important events like Order Created, Order Item Stock Reduced, Subscription Created, Subscriptions Before Renewal/End, and more.
For example, let's say you want to create a custom transactional email for the new orders placed.
Create a new automation and set up the trigger.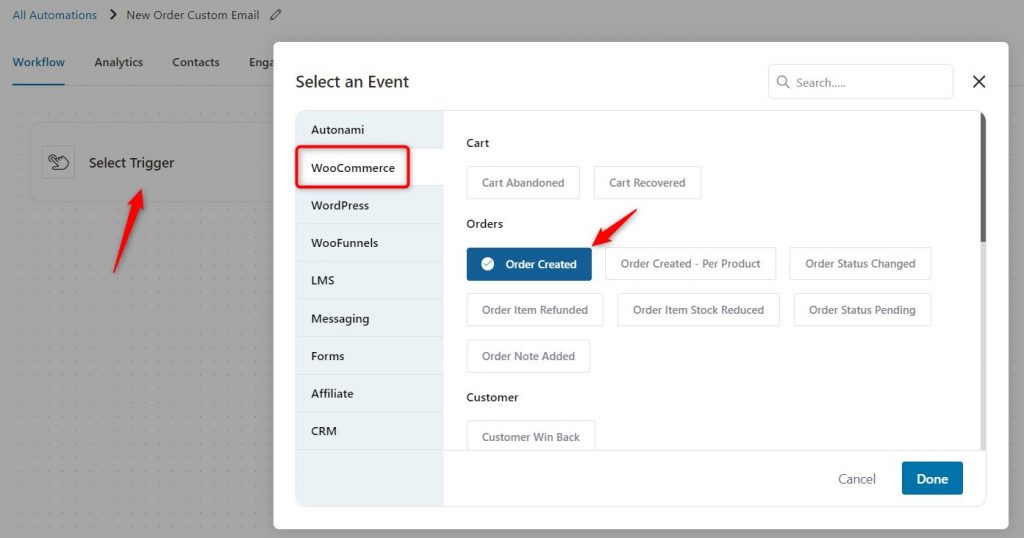 Configure the Order Created settings.

Add an Action and select Send Email under Messaging.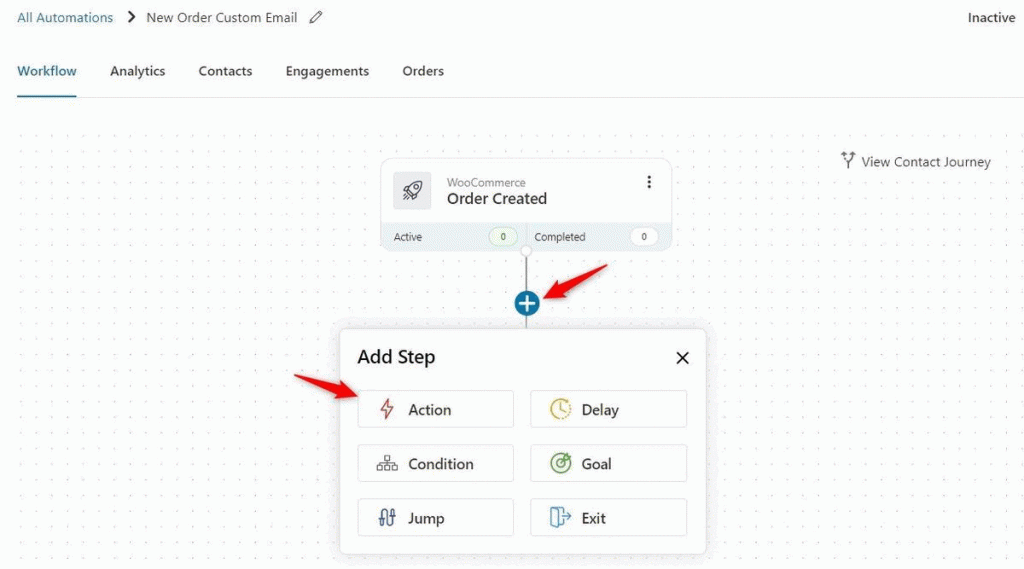 Customize your email's subject line and the preview text.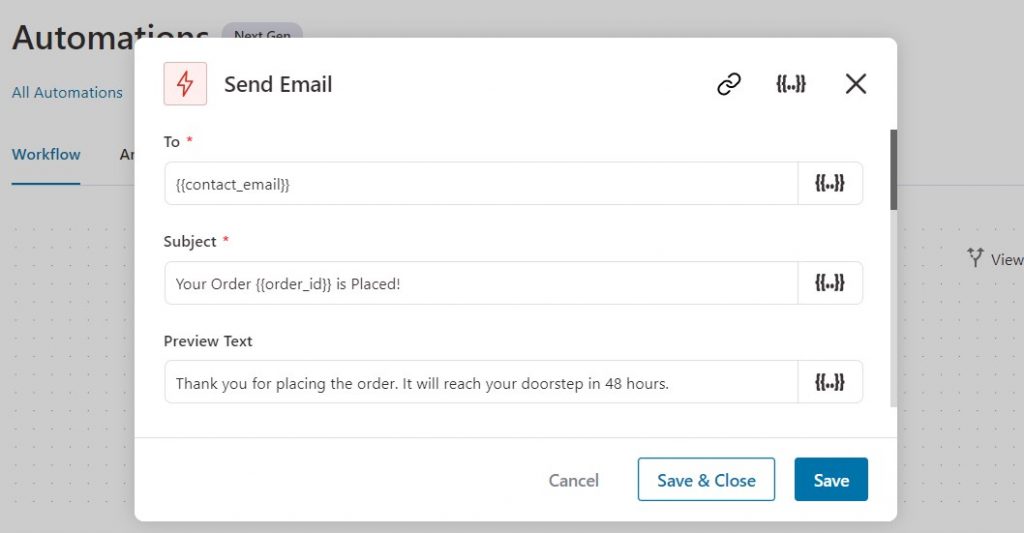 To use the Order ID in your subject line, head to Merge Tags and copy the Order ID merge tag.

FunnelKit Automations comes with an in-built drag-and-drop email builder that lets you create beautiful on-brand emails. However, simple text emails work better than most marketers tell you!
So, today, we will stick with a simple text email. Select Rich Text.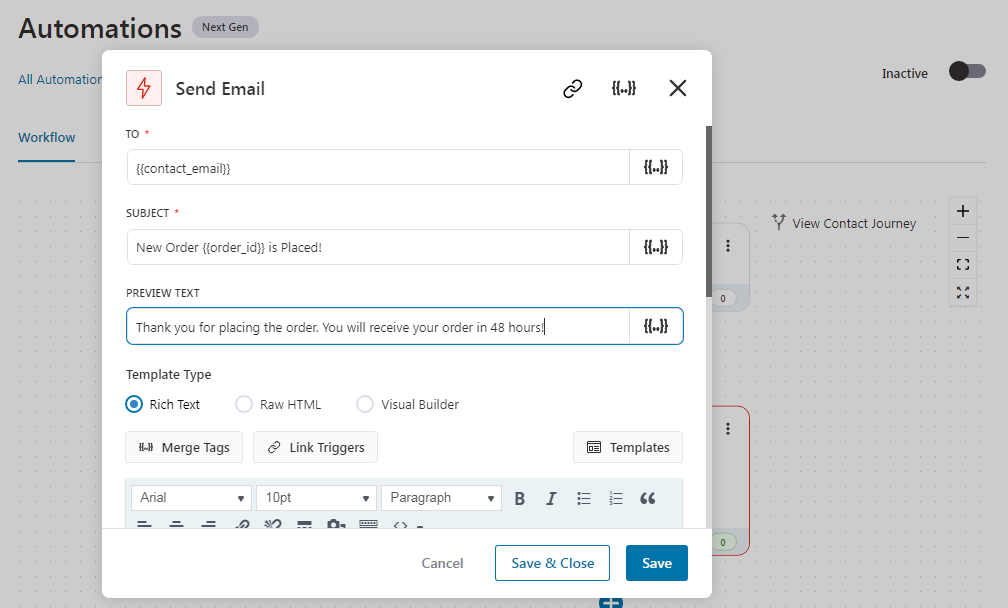 After adding a compelling subject line and a persuasive preview text, add your email text.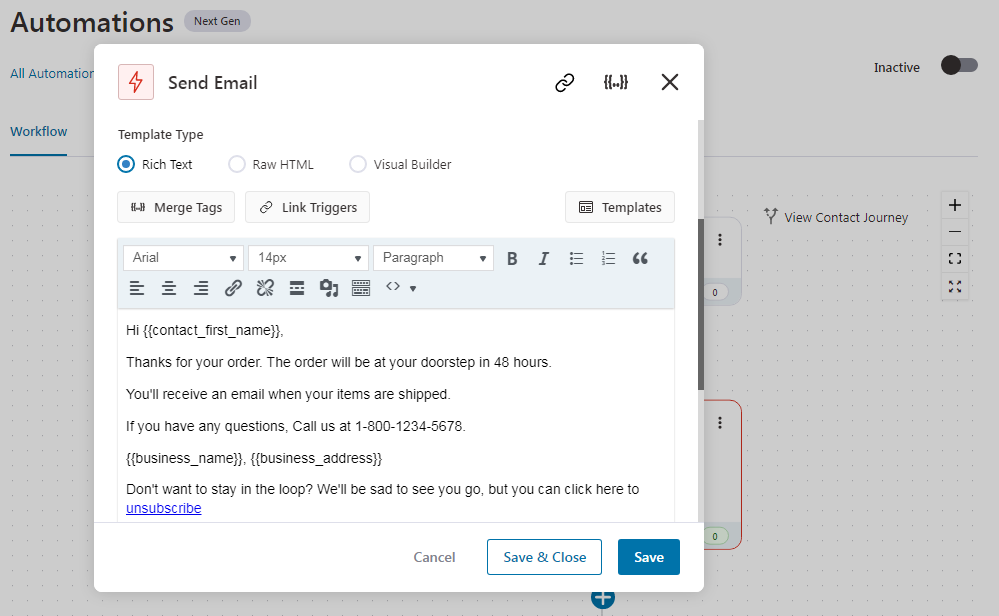 Drive Sales with Lucrative Discount Offers
Sending personalized, time-bound WooCommerce dynamic coupons is a sure-shot way to drive sales.
As a WooCommerce store owner, while you're on the lookout for ways to increase sales, your customers are also consistently looking for the opportunity to save money on new purchases.
Hence, offering discount coupons acts as a win-win situation for you and your customers.
Now you no longer have to create WooCommerce coupons separately and then sync them with your automations later. With FunnelKit Automations, you can create them right within your WooCommerce workflow.
When creating an automation, click on the "+" icon and select Action.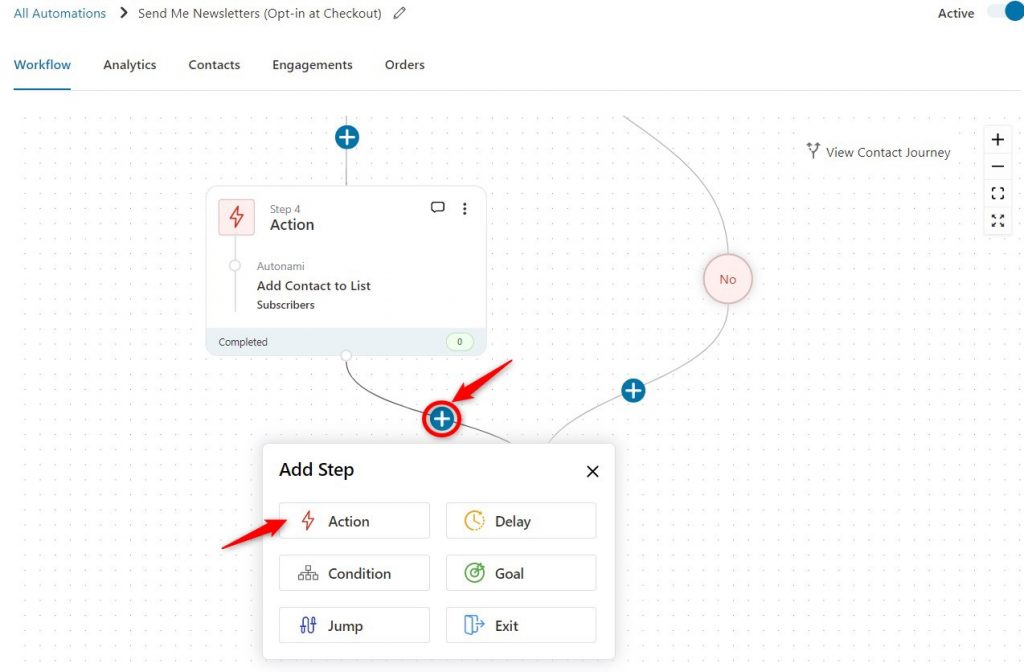 Now, under the WooCommerce group, select Create Coupon.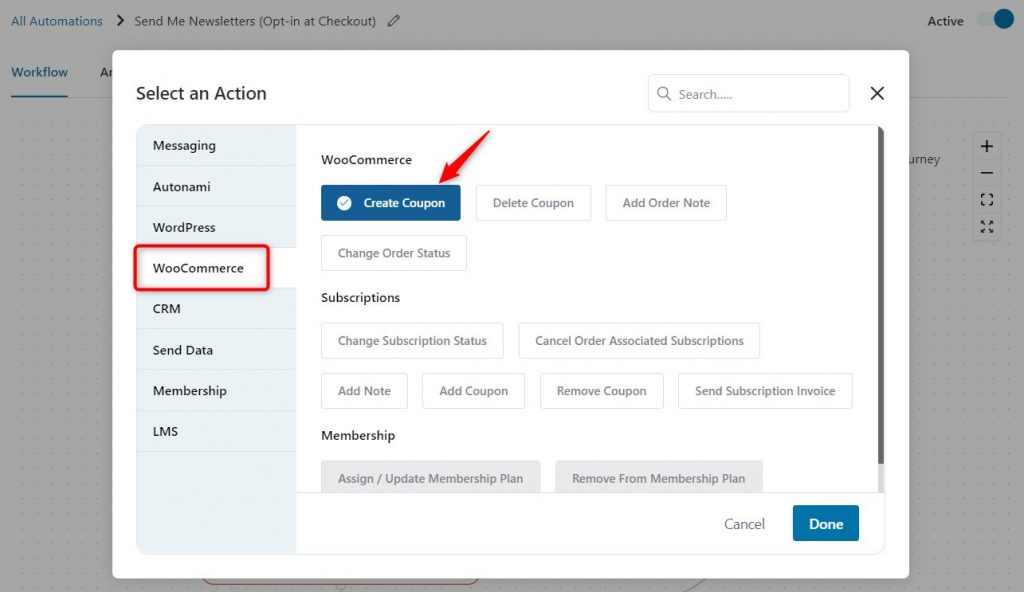 Here you can customize the dynamic coupon code. Add a coupon title for easy distinction and start creating your coupons.
Discount Type: Select what kind of discount you want to give - percentage discount, fixed discount, discount on a specific product, and more.
Amount: Select the discount amount - we are giving a 25% sitewide discount.
Coupon Code Prefix: A prefix that will be followed by a random discount code. For example, THANKSGIVING965G512.
Coupon Expiry: Create urgency and instigate quick actions with time-bound coupons.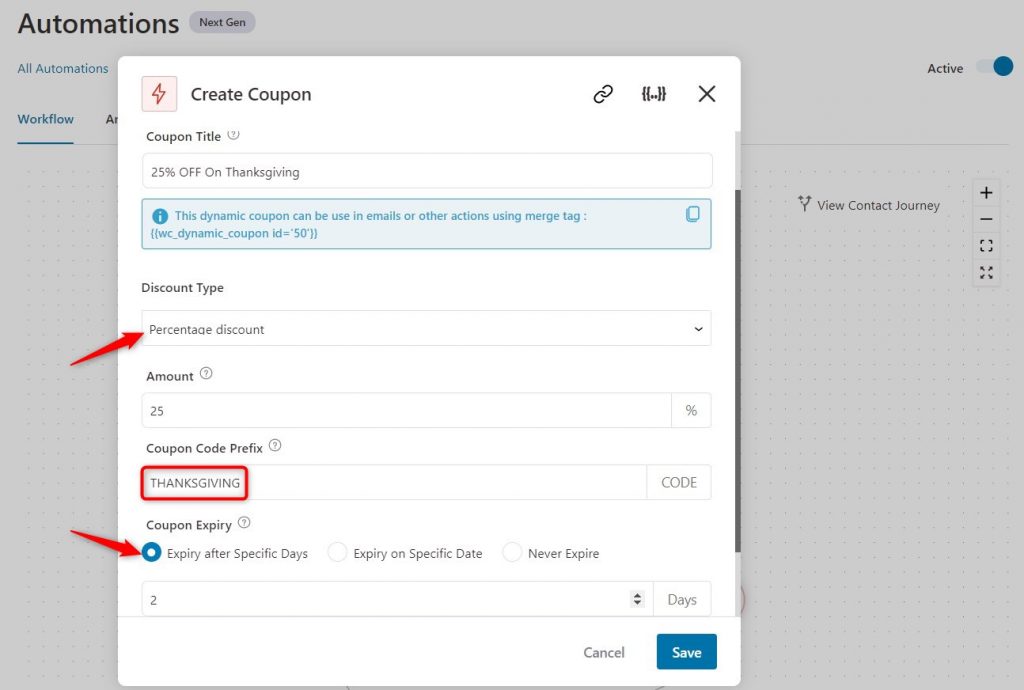 Additionally, you can even allow/disallow free shipping. If you have deep pockets, go for it. And then click on Save.
Once done, just copy the discount merge tag highlighted in the blue box and paste it into your email body.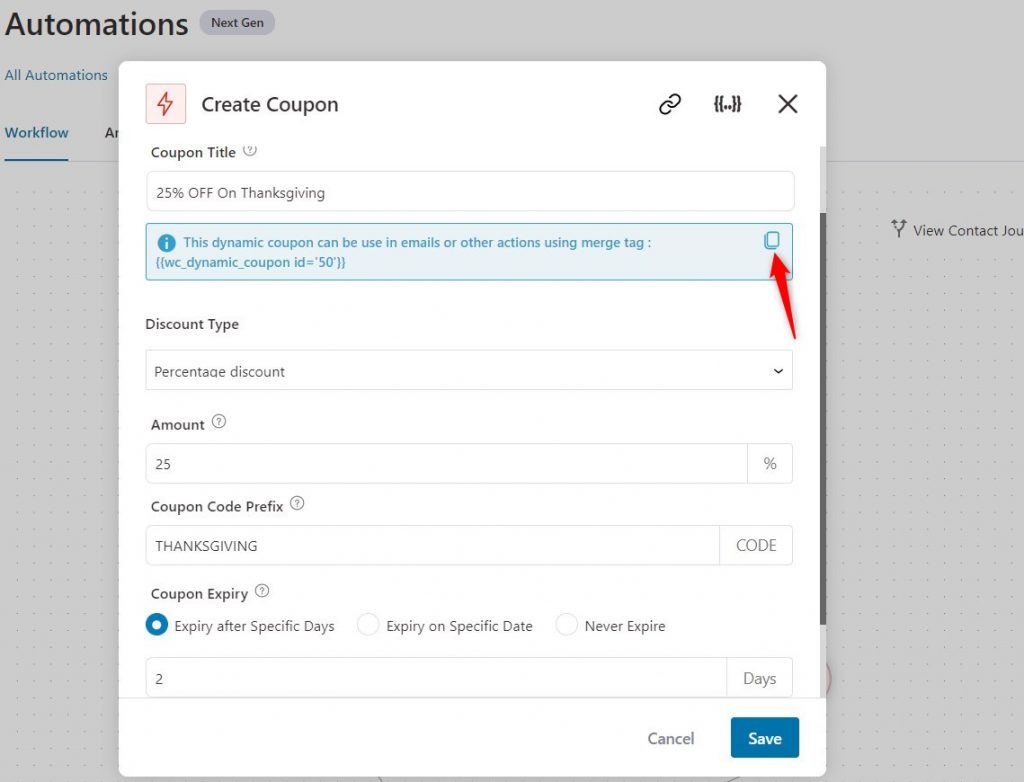 Paste it into your email body, as shown below.
When creating an email with the Visual Builder, you can add a Button and paste the coupon code on the Button.
Track How Your Email Marketing Campaigns are Performing
Having actionable data at your fingertips helps you in analyzing your email marketing campaigns and get a wholesome view of what is working your way and what isn't.
FunnelKit Automations is not just the most powerful WordPress email marketing plugin but also comes with the most powerful dashboard that gives you detailed information about your emails, campaigns, carts, and more.
On the Dashboard, you can get a quick overview of your contacts, emails sent, SMS sent, total orders, and total revenue.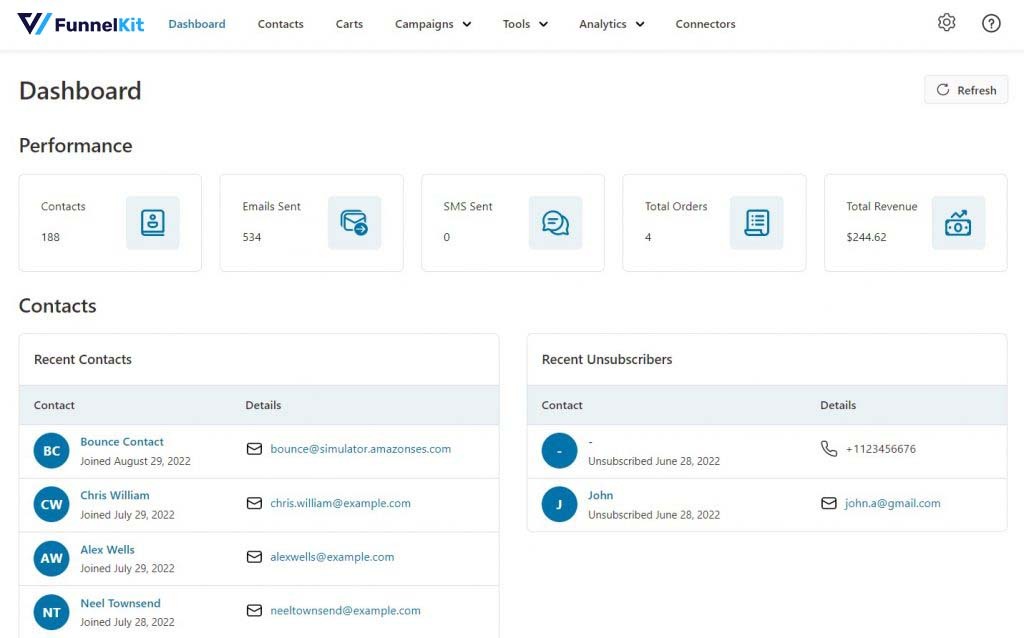 You can also glance at cart-related information, your top automations, and top broadcasts.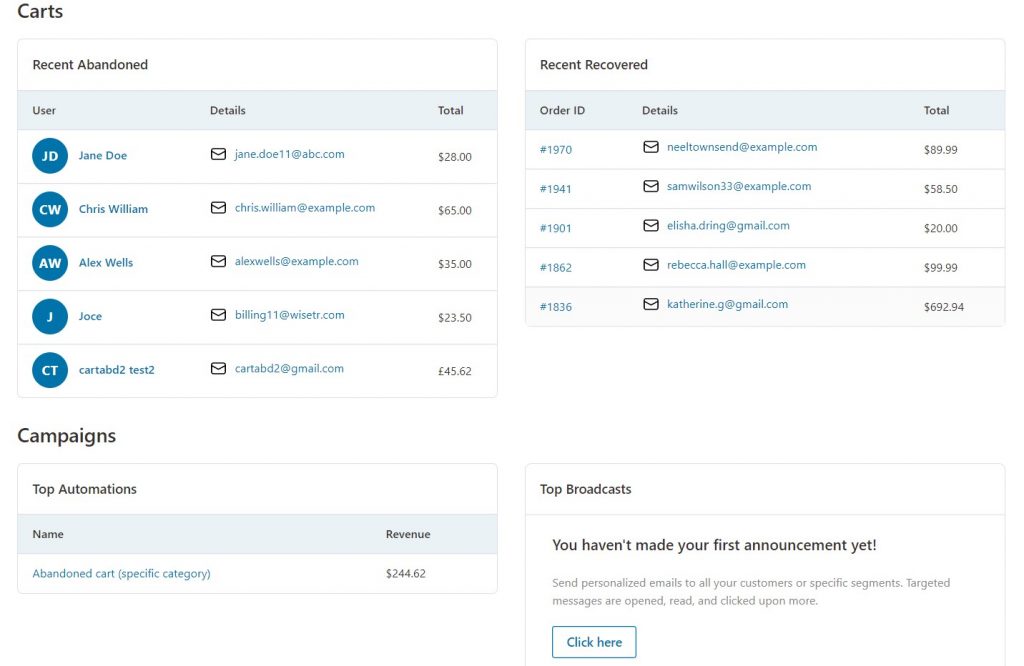 But, here are the most crucial analytics that can take your WooCommerce email marketing game a level up - email analytics.
Click on Analytics, and then select Emails.
You can set up the time frame to get the most precise data.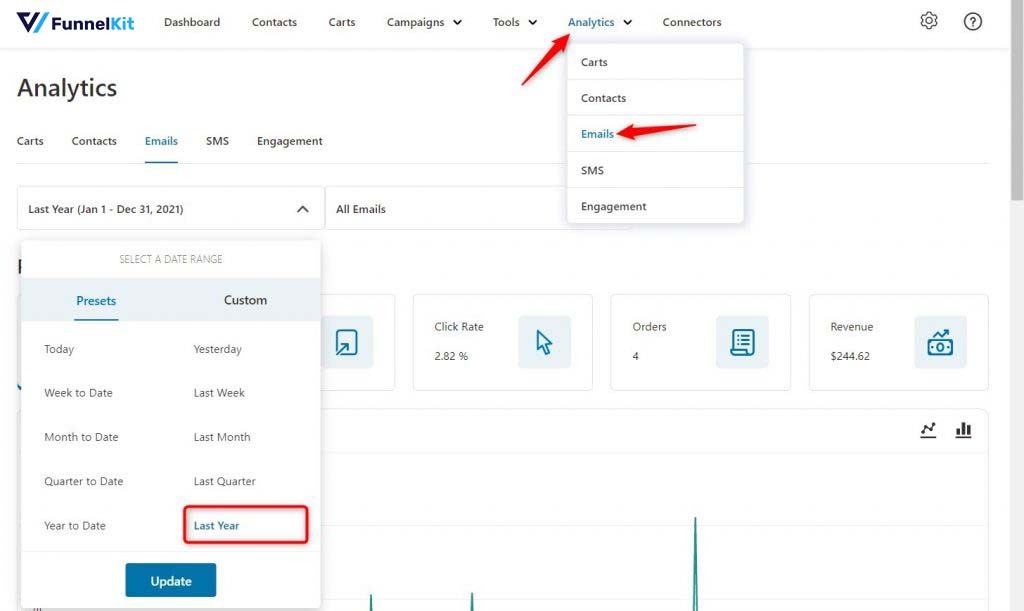 This graph + numbers give you wholesome information about how your emails have performed in the past year.
You can see sent emails, open rate, click rate, orders, and revenue.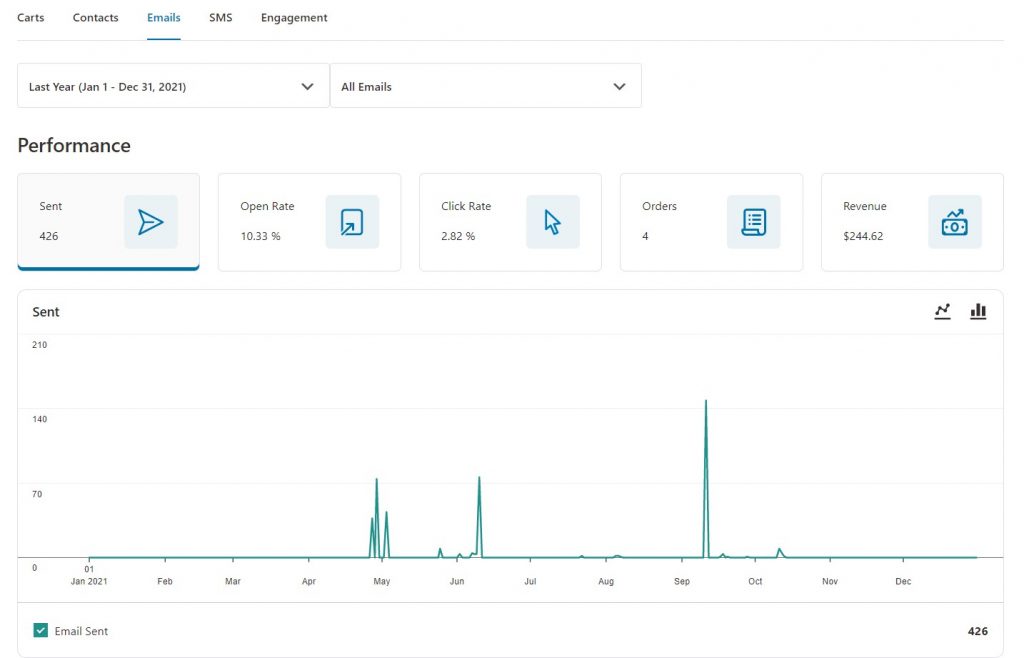 But, here's where it gets more interesting. You can see your most revenue-generating emails.
So, now you know which email (or email design) works best with your customers, replicate that email and multiply your revenue.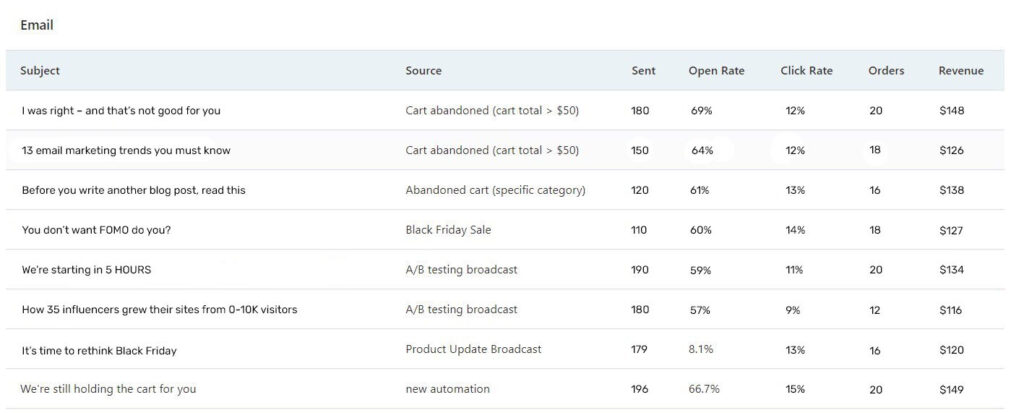 It's not just about what you send in the emails, it's about when you send them. FunnelKit Automations studies your email campaign thoroughly and gives you the days and hours where your emails perform the best.
According to the data, Monday and Saturday are your best days.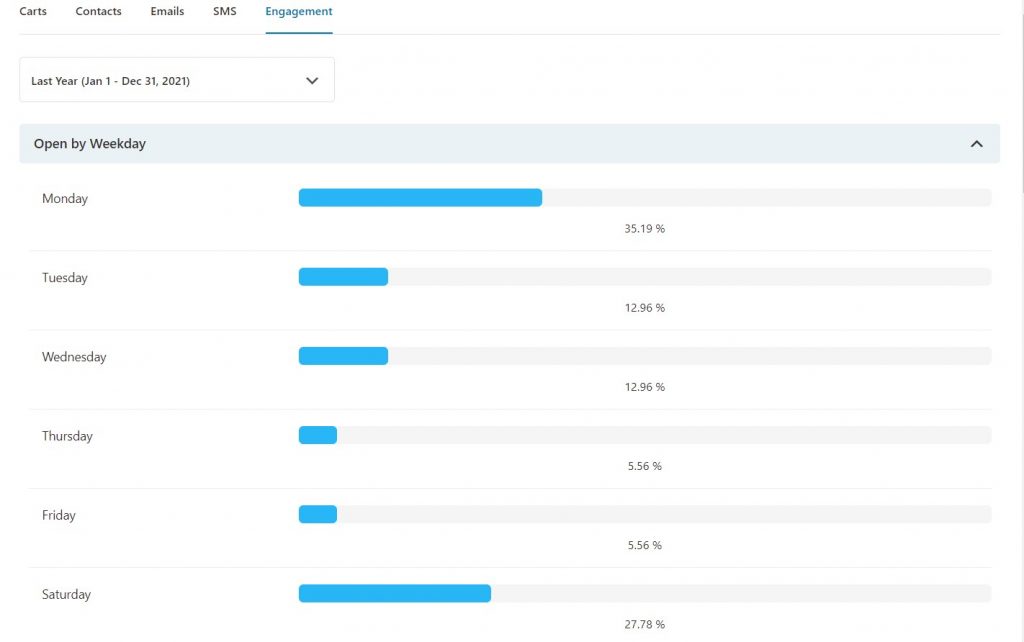 What about hours? As per the data, 1 pm is your best hour.
So, from now on, schedule your emails at 1 pm on Mondays and Saturdays, and get the best results.
So, Are You Ready to Modernize Your WooCommerce Email Marketing?
Now that you know how to set up email marketing in WooCommerce, automate your emails and send them right from your WordPress dashboard.
FunnelKit Automations is the most powerful WooCommerce marketing engine that lets you get in touch with your buyers at each stage of their buyer journey - imagine guiding them to the cashier in an organized checkout queue.
Turn mundane WooCommerce transactional emails into stylish, on-brand emails that can be used to cross-sell or upsell.
You can even throw in a dynamic discount coupon to create urgency and convert quicker.
Most importantly, FunnelKit Automations's powerful dashboard ties it all together and gives you the most actionable insights to make proactive business decisions.
So, what are you waiting for?
Jump on the bandwagon and enjoy a smooth sail in the world of WooCommerce email marketing with FunnelKit Automations.