Leveraging WooCommerce email marketing efficiently can help you to skyrocket your sales and revenue.
With over 64% of businesses already utilizing email marketing to connect with customers, it's clear that this approach holds immense potential for those seeking success in customer communication and getting sales.
Email marketing isn't just a trend; it's a tried-and-true method that gives you the ability to directly reach a targeted audience and convert them through personalized conversations.
If you want to keep thriving in this competitive world of digital marketing, then you should also utilize the power of email marketing.
In this blog, we will share everything you need to know to start utilizing WooCommerce email marketing to grow your business.
What is WooCommerce Email Marketing, and What Are The Different Types of WooCommerce Emails?
WooCommerce email marketing is a powerful strategy that leverages the strengths of both the WooCommerce platform and email communication to effectively engage customers, drive sales, and nurture long-term customer relationships.
WooCommerce, by default, sends many emails to users depending on their interaction with the online store, such as opening a new account, placing a new order, requesting a password reset, etc.
Here are the default events for which WooCommerce sends an email:
New order
Cancelled order
Order on-hold text/HTML
Processing order
Completed order
Refunded order
Customer invoice / Order details
Customer note
Reset password
New account
Updated order
As you can see, many of the emails are about informing users about the fulfillment status of their orders. If you want, you can create a custom order status and send a custom email for that status as well.
In addition to these default ones, you can send many additional emails to form a strong bond with your users and increase sales based on users' past purchase history, browsing behavior, demographics, and more. Some of the emails you can send to your WooCommerce customers include:
Product Recommendations
Promotional email with upsell/cross-sell product
Newsletter Email
You will need an additional plugin along with WooCommerce to send the latter emails, and we talk about the WooCommerce email marketing plugins later in this blog.
Why Do You Need Email Marketing for WooCommerce?
Here are some of the reasons why you must leverage email marketing for your WooCommerce store:
Direct customer communication: With email marketing, you can directly communicate with your customers and form a strong relationship with them. Moreover, you can personalize the emails based on their interaction with your online store, making them more impactful.
Enhanced conversion rates: According to Stat, email marketing drives 4.24% of e-commerce conversions, surpassing both search and social media. So, to enjoy a higher conversion rate, you should opt for email marketing for your WooCommerce store.
Repeat customers: With email marketing, you can continue communicating with your customers with follow-up emails even after they make a purchase and convince them to purchase repeatedly with the right messaging.
Higher Revenue: In 2023, email marketing revenue was estimated at more than 10 billion U.S. dollars. You can also grow high revenue for your WooCommerce store if you properly leverage your email marketing strategy.
5 Best WooCommerce Email Marketing Plugins
Here, we have put together 5 of the best WooCommerce email marketing plugins based on their ease of use, features, and pricing plans.
1. FunnelKit Automations
Funnelkit Automations is the most potent and highest-rated WooCommerce email marketing tool. This tool allows you to create, run, and monitor automated email campaigns right from the WordPress dashboard.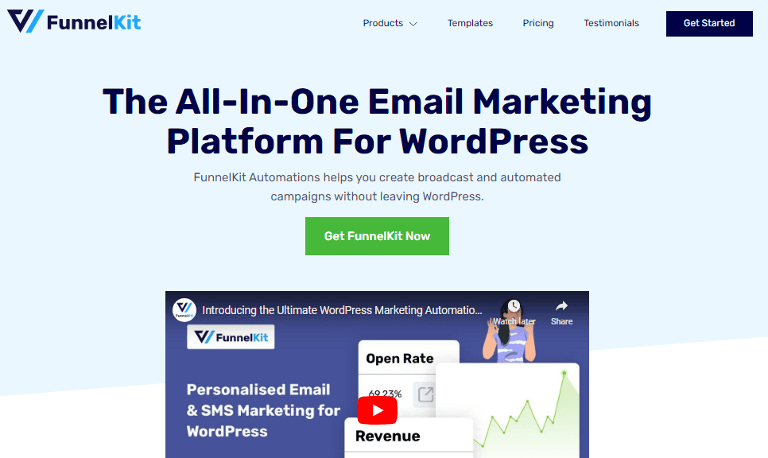 Here are some of the key features:
Automated campaigns: With FunnelKit automations, you can automate your email campaign so they run even when you are away. If you want to turn off the campaign, you can also easily do that.
An array of action triggers: You get a huge range of action triggers that you can use to set up WooCommerce email marketing campaigns, such as order created, order refunded, cart abandonment, etc.
Email/SMS broadcasts: Along with triggered emails, you can also send broadcast emails and SMS to your audience using this tool for different marketing purposes such as product promotion, product updates, etc.
Visual email builder: Funnelkit Automations has a built-in visual drag-and-drop email builder that you can use to create beautiful customized emails by dragging and dropping elements.
Segmentation: You can segment your email list based on users' demographics or purchase history and send them super-relevant content.
Personalized email: FunnelKit has a merge tag feature that allows you to send personalized emails with dynamic customer information. You can also send personalized discount coupons.
In-depth Analytics: You get in-depth analytics from active contacts, completed contacts, orders, revenue, AOV, etc.
3rd party integrations: FunnelKit Automations integrates with popular CRM such as ActiveCampaign, Drip, ConvertKit, etc.
Price: You can get started with FunnelKit Automations for free. The pro version starts from $249/Year. The paid plans also include FunnelKit Funnel Builder.
2. MailChimp
Mailchimp is one of the most popular general email marketing tools. Not just WooCommerce users but any eCommerce store owners, bloggers, or website owners can use this tool for effective email marketing.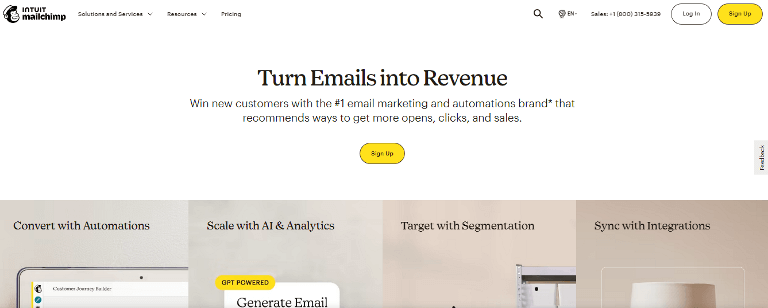 Here are some of the few key features:
Ease of use: The UI of MailChimp is pretty intuitive, making it extremely easy to use for email marketing.
Pre-built templates: You get many distinctive and industry-specific email templates and automation journeys that you can import and use easily.
Integration with AI: MailChimp's generative AI tool can write email subject lines, headlines, body content, and more for you based on your ideas.
Segmentation: You can segment your audience using tags to create an organizational structure and personalize the process of email marketing.
Reporting and Analytics: You get real-time data for all your marketing campaigns–including email automations, so you can easily identify what's working and make informed decisions about the next steps.
Price: Mailchimp offers a free plan with limited features. The pro starts from $6 to $175, based on the feature you want.
3. MailPoet
MailPoet is one of the best email marketing platforms for WooCommerce. This tool does wonders in driving engagement, conversions, and recovering abandoned carts.

Here are some of the key features:
Segmentation option: You can segment your audience easily using MailPoet based on customers' purchase history and behavior. This way, you can create more personalized email campaigns.
Recover abandoned carts: Send reminder emails to users who abandoned their carts to remind them to return to the store and complete the order.
Drag and drop email editor: MailPoet has a built-in drag-and-drop email builder that empowers users to create beautiful emails with minimal effort.
Analyze email campaigns: You will get data like open rate, the number of clicks, and the revenue earned from each email campaign to help you easily analyze their performance.
Price: A free plan is available where you can send emails to up to 1,000 subscribers. The paid version starts from $8/month.
4. AutomateWoo
Another great tool for email marketing is AumateWoo. This amazing tool allows ecommerce businesses based on the WordPress platform to convert and retain customers with automated marketing tools.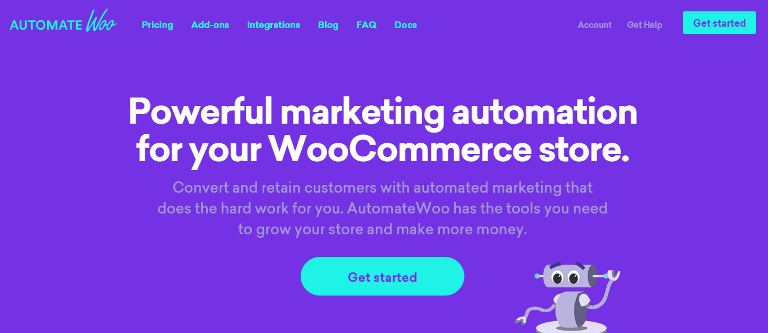 Here are some of the key features:
Custom follow-up emails: You can send customers follow-up emails after they make a purchase on your WooCommerce store. You can automatically email customers asking for a review or suggest other products they might like based on their purchase.
Personalized coupons: You can generate dynamic discount coupons for customers to encourage them to buy more products. This helps to increase sales and boost revenue.
Refer a friend: You can utilize the AutomateWoo Refer A Friend add-on to boost sales using the power of word of mouth. However, this is a separate purchase.
Effortless setup: With AutomateWoo, you can create emails right in the familiar WordPress editor, enhanced by variables that let you insert products and dynamic content.
Price: No free version is available. The paid version starts at $9.92/month.
5. AWeber
One of the popular WooCommerce email marketing tools is AWeber. The thing that contributes to this tool's popularity is its extensive library of pre-made email templates.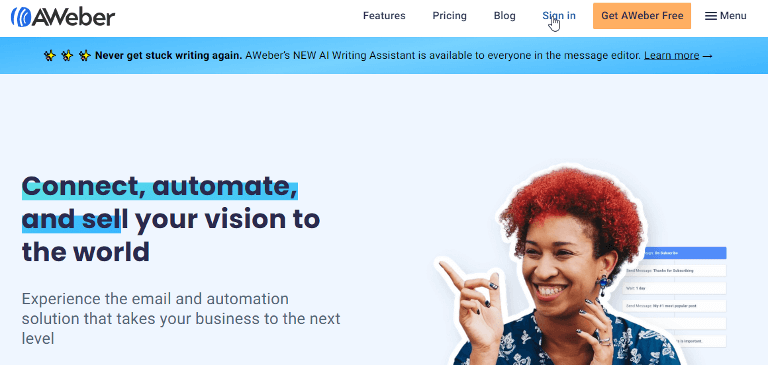 Here are some of the key features:
Prebuilt email templates: AWeber comes with 700+ ready-to-use email templates. You can easily import, customize, and use these templates.
Segmentation: You can segment your audience by adding tags on them based on various aspects of their purchases and cart abandonments.
Recover lost cart: You can send a sequence of emails to users who abandoned their cart to convince them to complete the order and recover lost carts.
Sign up newsletter: You can offer customers an opportunity to sign up for your newsletter when they make a purchase on your WooCommerce store.
Price: A free version is available. The pro version starts from $16/month.
Out of all the plugins in our list, we recommend you go for FunnelKit Automations because this is the complete email marketing tool for WooCommerce users.
Best Email Marketing Practices for WooCommerce
While setting up your email marketing strategy, you need to keep these things in mind to get maximum results.
Make use of double opt-in
You must ask users to confirm that they want to join your mailing list. This way, you will only attract recipients who are genuinely interested in the emails you send them. This will result in better open rates and click rates.
With FunnelKit Automations, you can easily configure double opt-in emails. This tool comes with a prebuilt double opt-in automation workflow.
Send targeted emails
Don't just send every email to everyone on your email list. Segment your audience based on their past purchase history, browsing behavior, demographics, etc., and send them personalized, tailored emails.
For example, you can recommend someone's relevant product based on their previous purchase this way, people with different purchase histories will receive different emails.
FunnelKit allows you to segment the audience based on demographics and purchase history. Under WooCommerce, you can create audience segments based on last purchase, first order, last order, average order value, total order count, etc.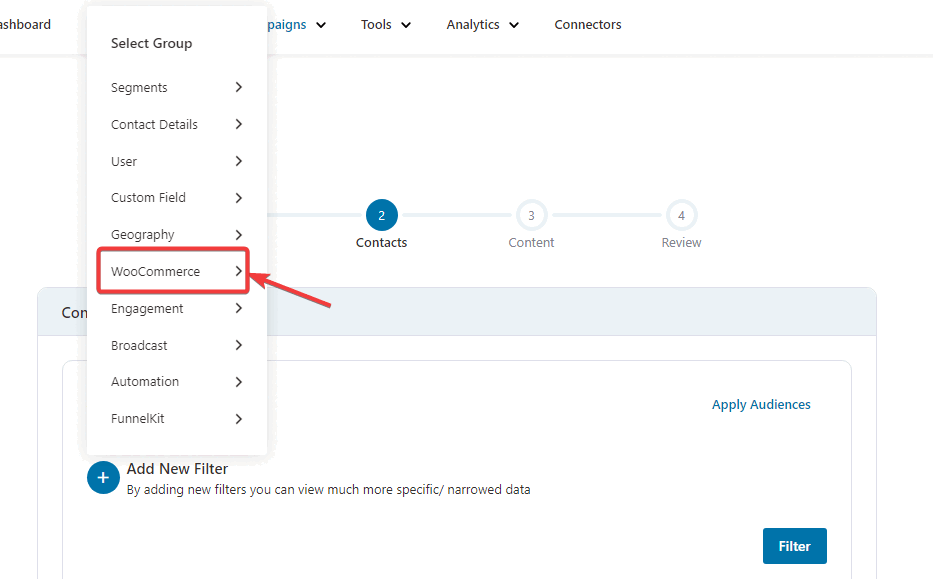 Personalization
Personalized emails have higher open and click-through rates and deliver 6 times higher transaction rates than generic emails. So, it's a good practice to personalize your emails. You can address recipients by their names and customize emails with product recommendations or content relevant to their interests.
FunnelKit Automations allows you to personalize email content with Merge tags. With this feature, you can add dynamic information such as customer name, address, order details, etc.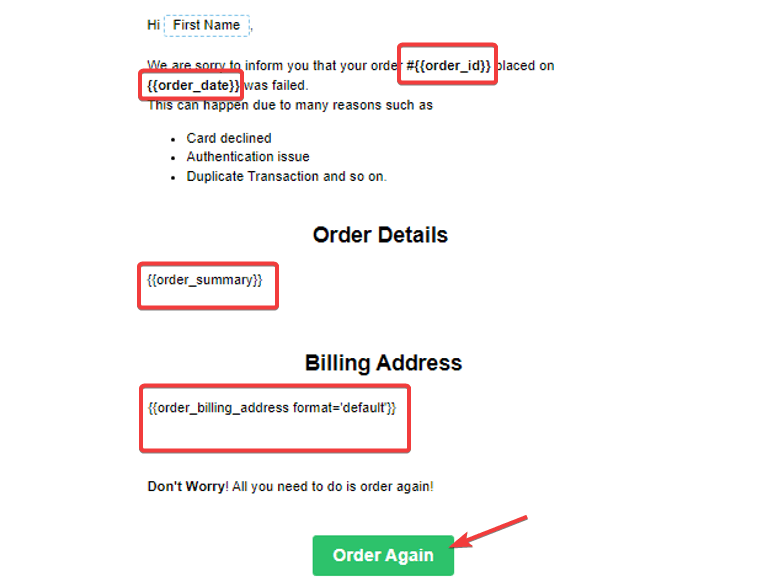 Device responsive design
According to Stat, 42% of emails are opened and read on a mobile device. So, make sure your emails are mobile-responsive, as many recipients open emails on mobile devices. In fact, not just mobile, you should design emails that are device responsive and look good on all devices.
With FunnelKit, you can ensure your email looks great on all devices.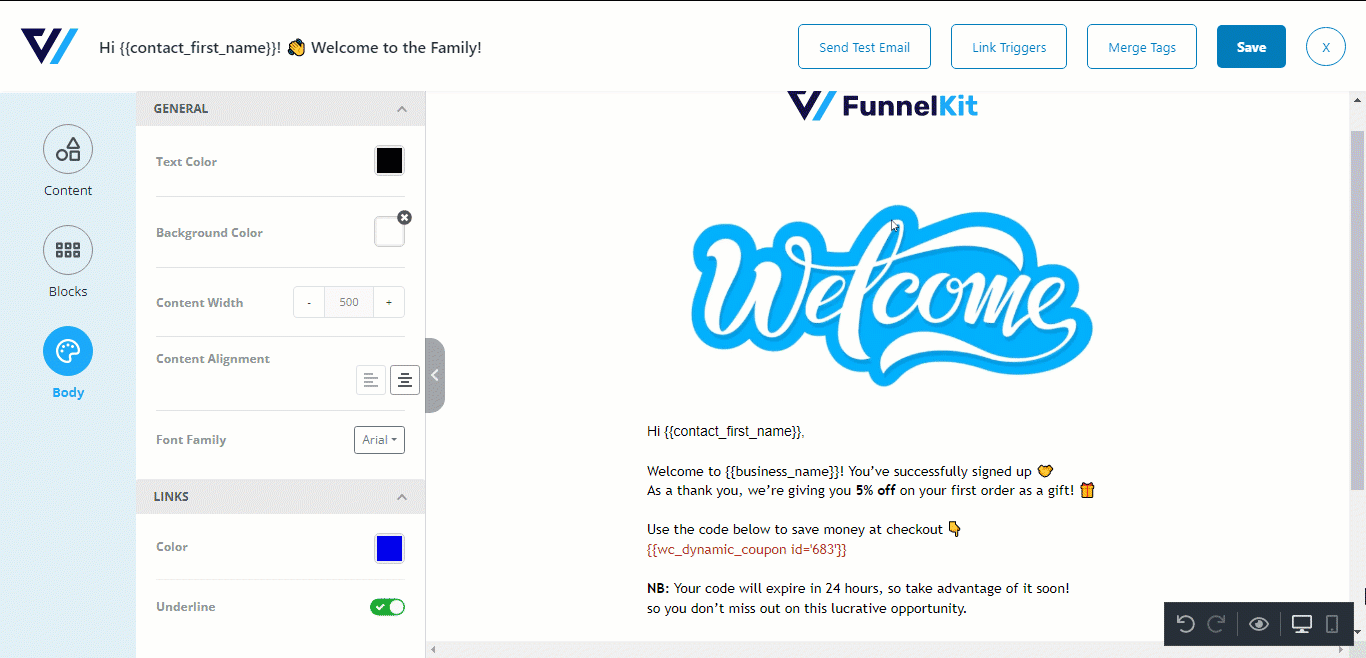 Clear Call to Action (CTA)
Every email should have a clear and compelling CTA that directs users about what to do. Add a CTA that stands out visually and place it prominently to guide readers toward the desired action.
FunnelKit Automations allows you to create a catchy action button and gives you all the customization options to help you create a CTA that goes with your brand.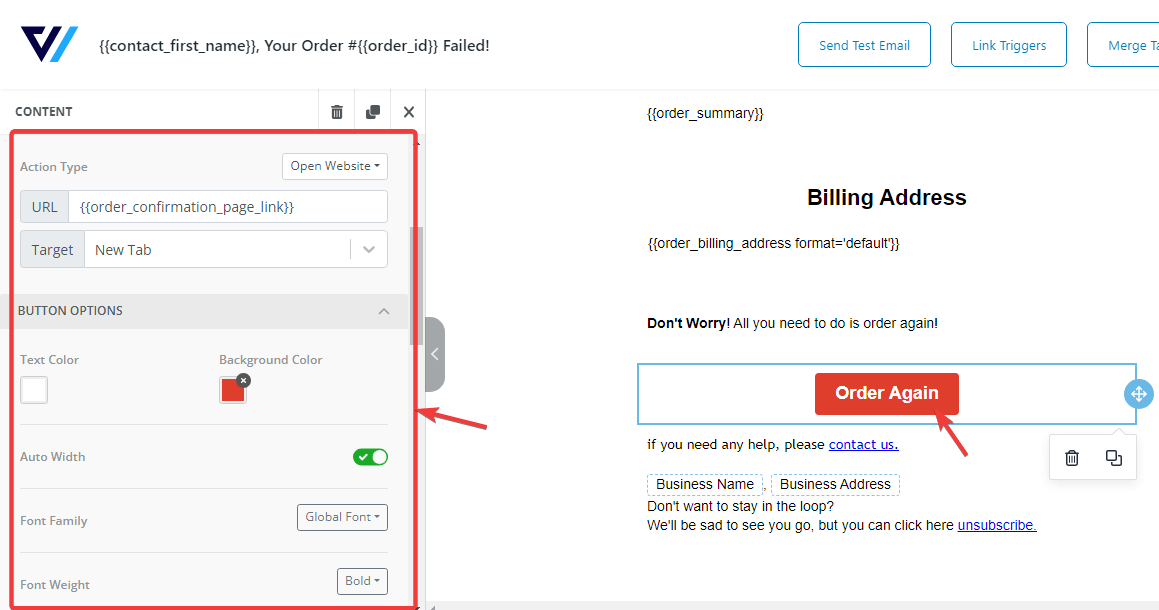 Engaging subject lines
47% of email recipients will open an email based on the subject line alone, and 69% will report spam based on the subject line. So, it's important to craft an engaging email subject line. You can use emojis to make it stand out.
You can use FunnelKit's merge tag to personalize the email subject lines to achieve better open rates.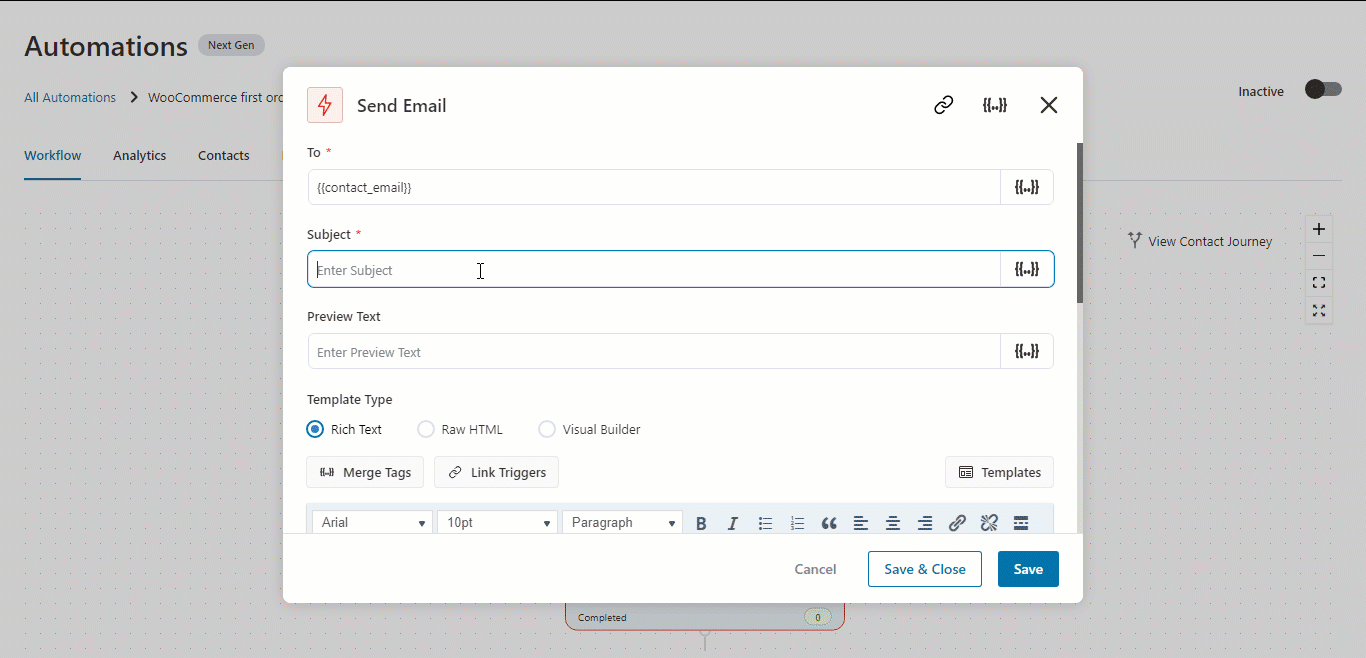 Lucrative discount offers
Sending personalized, time-bound WooCommerce dynamic coupons is a sure-shot way to drive sales. As a WooCommerce store owner, while you're looking for ways to increase sales, your customers are also consistently looking for the opportunity to save money on new purchases.
You can create dynamic discount coupons using FunnelKit easily. You can personalize the coupon code by appending customer information and setting an expiry date. For more details, read our blog on "WooCommerce first order discount."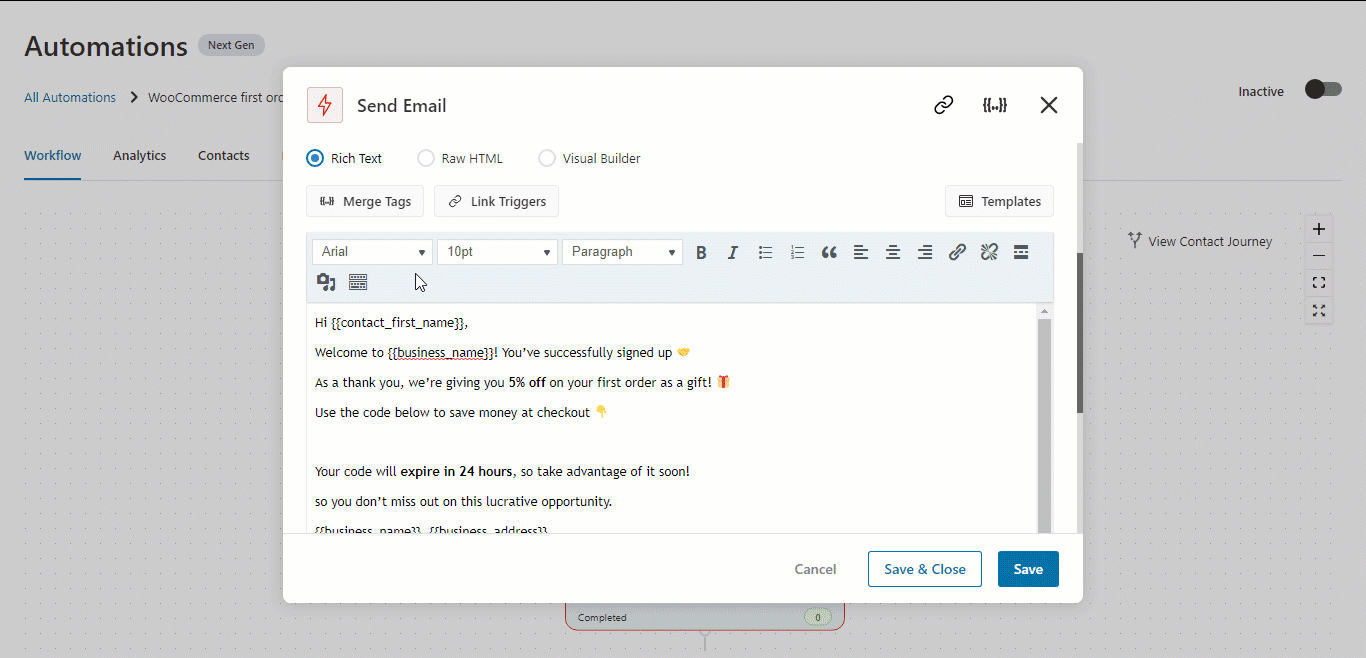 Automated workflows
The last but most important thing you need to follow while doing email marketing is to automate the workflow. While the default WooCommerce emails are sent automatically, you need to automate the process for others like abandoned carts, birthday emails, etc.
With FunnelKit, you can easily set up automated email campaigns. To set up trigger emails, this tool offers a vast range of actions related to WooCommerce orders, cart abandonment, winback, reviews, etc.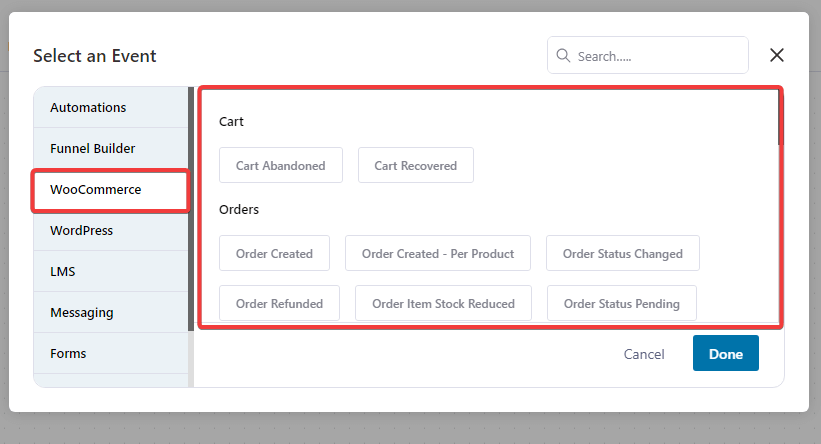 For more details on the automated campaign, check our blog on "How to set up WooCommerce automated emails."
Ready to Start WooCommerce Email Marketing?
WooCommerce email marketing equips your business with a potent tool to engage customers, drive conversions, and foster lasting relationships.
To help start your email marketing journey, we shared with you some of the best WooCommerce email marketing tools.
Out of the tool, you can go for the most complete one- FunnelKit Automations.
FunnelKit Automations is the most powerful WooCommerce marketing engine that lets you get in touch with your buyers at each stage of their buyer journey - imagine guiding them to the cashier in an organized checkout queue.
Turn mundane WooCommerce transactional emails into stylish, on-brand emails that can be used to cross-sell or upsell.
You can even throw in a dynamic discount coupon to create urgency and convert quicker.
Most importantly, FunnelKit Automations's powerful dashboard ties it all together and gives you the most actionable insights to make proactive business decisions.
So, what are you waiting for?
Jump on the bandwagon and enjoy a smooth sail in the world of WooCommerce email marketing with FunnelKit Automations.