If you've just arrived here, this post is a part of 5-part series on 'How upselling can help combat high customer acquisition costs'.
In the last post, we looked at high acquisitions costs and their impact on small business's bottom line.
We discussed...
Increasing ad spends helps only till the competition catches up
Improving targeting can only take you so far...beyond that you cannot reduce the pay per click for your industry
And finally increasing product prices is a risky experiment and it may backfire
The only strategy that can actually help combat high acquisitions costs is this:
Make people spend more on your business.
One of the proven ways to do that is deploy upselling techniques in your business.
"The probability of selling to a new prospect is 5 to 20%. The probability of selling to an existing customer is 60 to 70%." - Business.com on upselling tips.
In this post, I'll dive deeper and look at the upselling techniques adopted by world's most respected business.
And we'll cover how these techniques increase average order value and what you can learn from them.
Let's get started.
First up...What is Upselling Exactly?
Upselling is a sales technique aimed at persuading customers to purchase:
A more expensive version of the item
Related upgrades that enhance the purchase
Other add-ons for the purpose of making a larger sale
The simple idea behind upselling is to stretch your prospects' expenditure.
If they came to spend, let's say $10 on your business, how can you make them spend $20 or $50 or $100?
The best part about upselling is that it generates revenue that you don't have to work for.
When Amazon implemented upselling, their revenues went up by a massive 35%.
Meet the Business That Made Upselling Popular: McDonald's- "Would you Like Fries with that?"
A regular burger at Mc Donalds costs about $2.
Ever thought what makes it that cheap?
It's not that they don't have expenses.
They pay for staff, machines, electricity, rent, overheads etc. then how come they're not declaring losses.
In fact, in the quarter that ended on March 31, the company said net income rose to $1.38 billion.
How do they do this?
They've mastered the art of upselling and cross selling. 
They use low dollar burgers to bring visitors into their outlet.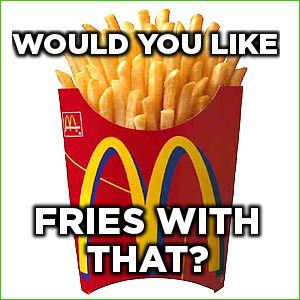 And once at the checkout, he's cross sold fries and drinks, up-sold a bigger, juicier burger or even upgraded to a happy meal box.
What makes Mc Donald's profitable is their systematic approach to upselling and cross-selling.
It brings in additional revenue at relatively low costs and effort.
It's what keeps McDonalds in business.
More importantly:
It's a win-win strategy because doesn't the burger always taste better with fries and a drink?
Interestingly lower the upfront costs, healthier the sales report!
Here's the proof: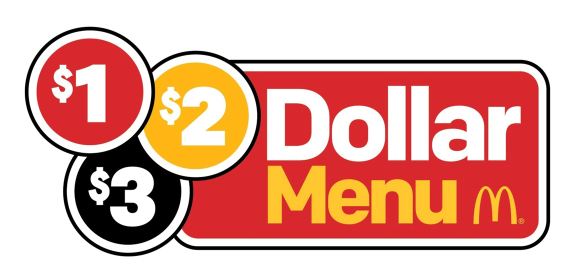 McDonald's introduced $1, $2, $3 menu in their outlets.
A number of franchisees raised red flags saying they expected the Dollar Menu and related promotions to lower the AOV.
On the contrary, people who used the dollar menu checked-out with a higher cart value than those who didn't!
Can you believe that?
After lowering their initial prices they made more profits. It's because people approached the menu with the notion of 'affordability' and bought more stuff.
That's the power of upselling done right.
Upselling Technique #1: Upsell Bundles to Increase Your AOV just like Best Buy
The fundamental psychology behind bundling is to show a prospect the importance of buying a complete set over an individual item.
Here's how Best Buy shows the option to build a bundle on the product page:
When you click on 'Build a Bundle', it allows you to add a bunch of extras to your cart:
Notice how the AOV goes up from $199 to $254!
It allows you to add up to 10 items like this:
Notice the AOV has increased from $199 to $254.
Upselling Technique #2: Upsell Protection Plan & Replacement Items like Office Depot
Let's say you're buying an expensive office printer. You sure want to protect your purchase.
And that's why OfficeDepot.com offers you the chance to add a 2-year protection plan to the cart.
Take a look:
At an extra $29.99, go ahead and protect your purchase.
Further, after you press the Add to Cart button, it shows a pop-up with compatible replacement cartages:
Notice the bottom section of the pop-up. You can press the arrows on the sides to browse more of those!
Upselling Technique #3: Offer Them a Chance to Upgrade to a Premium Version just like Apple & Pro-Flowers
So you're considering the Apple iMac.
Maybe you want to do some high-end work on it. Run some memory-intensive editing software like Final Cut Pro/ Photoshop or Garage-band etc.
You want it to be fast, serve all your needs and provide a great experience.
Apple knows that and that's why it offers you the option to get a better and a more powerful version of the computer:
You can shell out $250 extra to upgrade the configuration to Intel i7 and also, upgrade the RAM.
The customers, who'll agree to the upgrades can end up paying $3850. That's a straight $850 lift in AOV.
Pro-Flowers upsells upgrades on the product page too.
The prospect came to buy a Birthday Spectacular worth $29.99 but he's being pitched the deluxe at $39.99 and premium at $59.99.
Also, ProFlowers lets you upgrade the vase for the flowers, here's how: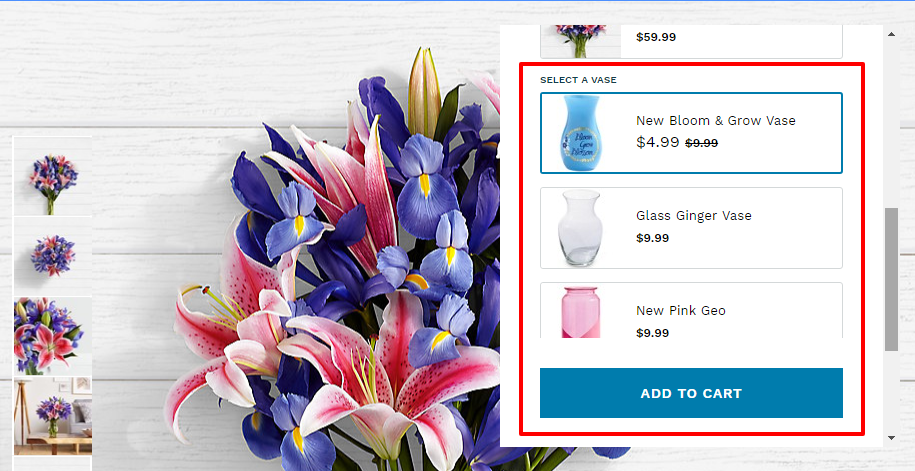 Premium Version of the Flowers + New Pink Geo Vase = $70.
This can boost their AOV by $50!
Upselling Technique #4: Upsell 'Frequently Bought Together Items' or Add-Ons like Amazon
Looking for a mic on Amazon?
You obviously don't need a mic in isolation.
You'll need a smart-phone holder and a lightweight tripod to place the phone.
Amazon's recommendation engines suggest complementary items to boost AOV:
The frequently bought together items are great upsells.
Notice how the upsells have bumped up the original purchase from $22 to $52!
That's $30 lift right off the bat for the customers who'll agree.
Let's look at another example of an information product selling add-ons on the sales page: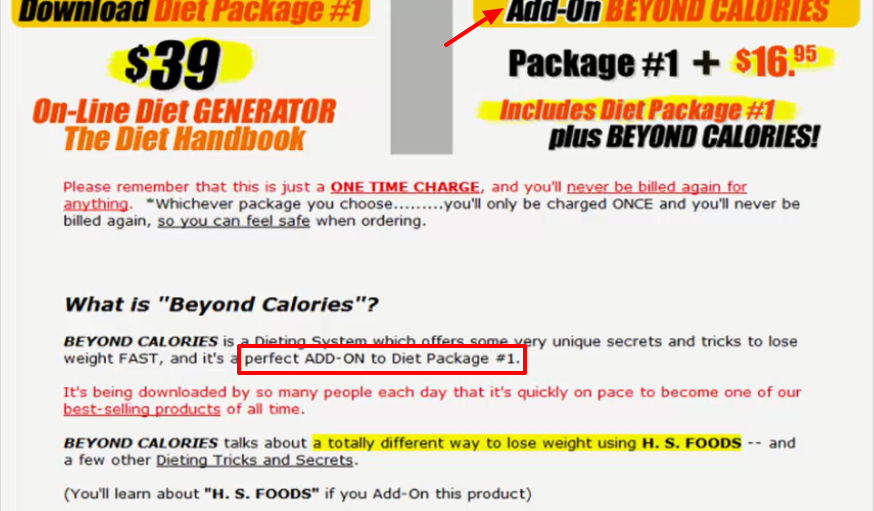 So along with the 'On-Line Diet Generator the Diet Handbook', you can add 'Beyond Calories', another information product at $16.95 to the cart.
It complements the main purchase but competes with it too!
Upselling Technique #5: Offer 'Subscribe and Save' 
Subscriptions are insanely effective AOV-boosters.
You can offer them on products that people use frequently, run out of and need a replacement on.
Take a look at how Poopouri does it:
There are two competing options:
Make a one-time purchase
Subscribe for a chosen time period and save 10%
The

Hidden Perils

of Upselling That No One is Talking About
Upselling is great.
We saw how it can increase a business's revenue potential.
After all, big brands like Amazon, Apple, Office Depot, ProFlowers are all doing it.
So can you...
You can pitch some upgrades, premium versions and add-ons to increase your revenue.
You can implement a bunch of these techniques and increase your AOV.
Am I right?
Maybe or maybe not...
Upselling can be hugely annoying too.
Because don't forget...
You haven't sealed the deal yet- Your products are still in their consideration set and they're still on the fence! They haven't paid yet.
Your add-on offers can confuse them- Choice is anyway hard. Not being able to decide the right add-ons can leave them feeling muddled about their initial choice.
Your upsells may escalate their expenses beyond their budget- - They came to shop with a budget in mind. Suddenly with all the extras added, they can see that budget explode.You can be interrupting the checkout flow- Pop-ups/sidebars distract users and spoil the experience. They can be so intrusive that they may make people rethink their decision.
You don't have enough data point to make a relevant offer- They haven't bought anything yet. You don't know what they eventually will buy and if they will at all! They may have multiple product pages open on different tabs.
Think again about how McDonalds does it.
No seriously...think again.
They don't practice upselling but systematic upselling because they don't disturb the checkout flow.
Neither do they interrupt or interject while you're deciding your burger and say 'Hey how about the Fries with whatever you're considering...'
In fact, MacDonalds upsells when it's the best time to upsell i.e. when you're at the checkout with your wallet in your hand.
You're very sure of what you're buying by this time, there's no way you're going to change your mind now.
You will not get confused or leave the counter.
You're in a captive state and are best placed to listen to their offer and make a decision.
The timing is the key here.
SO DO NOT UPSELL...until...
You've secured the initial purchase- they either have their wallets out or have paid already
You can make a highly specific offer that's well-aligned with their main purchase
The risk of losing a customer is at its lowest
Because your primary goal is to make the sale...
And the secondary goal is to maximize the revenue through an upsell.  
For some customers, this (pre-purchase upsell) is a pure, salesy turnoff. The number one reason that customers abandon shopping carts is because of added or increased prices. Upsells before checkout are risky at best.

As a simple alternative, I suggest upselling customers after they've made the purchase. To make it even easier, don't require customers to input their payment information again in order to complete their second transaction.- Neil Patel on upselling in an article on Forbes. 
Meet Post-Purchase Upsells: The Undercover Upselling Technique That Boosts Profits without Annoying, Distracting or Confusing Prospects
Post-purchase or One-Click upsells are back-end offers.
They're one-time special offers that you show to the customers, right after they've submitted their credit card details for the main offer, but before they're shown on the thank you page.
So you're basically high-jacking them midstream.
One-click upsells combat all the perils of pre-purchase upselling that we discussed above.
It's the undercover strategy your business needs to get a competitive edge.
So what makes one-click upsells more compelling than generic upsells?
What should you one-click upsell in your business?
What should you never one-click upsell?
How can you put in place a slam dunk offer that customers can't resist?
All this and more in my next blog post. Stay hooked...>>