Have you heard of the Tripwire funnel?
It's a compelling way to get new buyers through the door using a low-ticket offer. They may have never done business with you before.
Tripwire sales funnels help you grow your list of buyers by lowering the barrier to entry and making it insanely easy to do business with you!
You may be selling physical products or online courses, tripwire marketing is for everyone.
In this post, we'll see how to create compelling tripwire offers to get micro-commitment and set up a profitable and scalable tripwire funnel in WordPress.
Bingo! Let's get started.
What Is a Tripwire Funnel Offer Exactly?
Tripwire offers are low-dollar offers, intentionally priced low to make visitors convert into instant buyers.
They're well-aligned with your core offer and help you convert a percentage of these buyers into high-ticket clients.
The best part? Creating a successful tripwire offer doesn't require long and complicated sales pages. A short persuasive argument to sell a product under $50 is enough to seal the deal!
Once you've got the prospect's foot through the door, increase their order value systematically.
You can make relevant post-purchase upsell offers to get better returns on your ad spending.
Take a cue from the masters of conversion, Starbucks, who have executed the tripwire strategy brilliantly.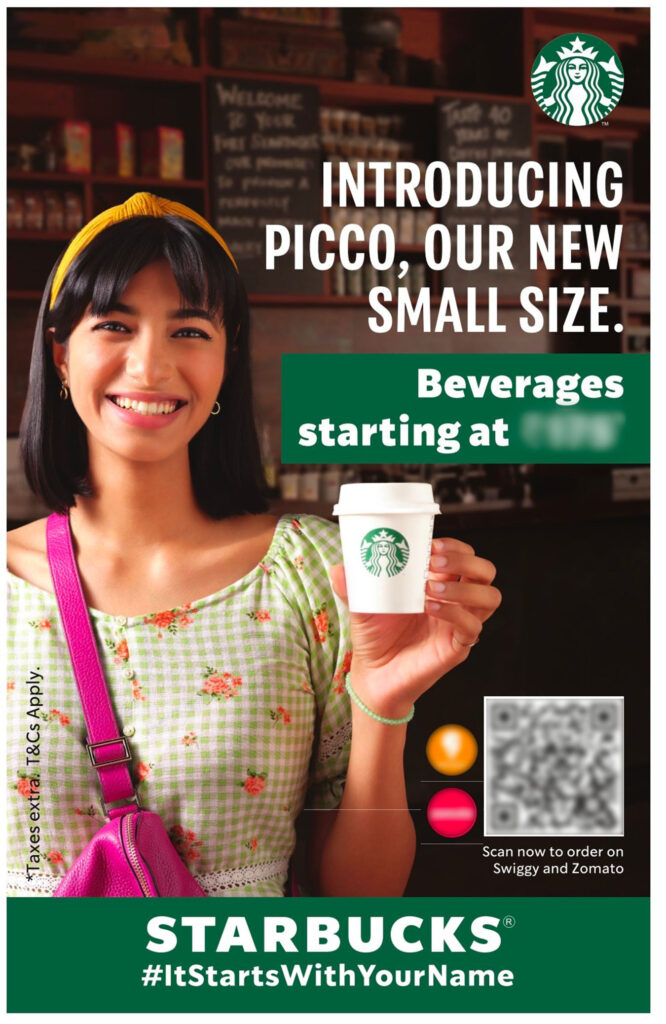 They introduced a new size called Picco for all their beverages. It's the smallest size at a super low introductory price.
This offer advertised on the door front, allows them to attract new customers, those who've probably never bought from Starbucks before!
Once inside, these new customers end up complementing the purchases with brownies or sandwiches, hence checking out at higher order values.
Thus, tripwire funnels also called break-even-funnels help qualify buyers instead of leads.
Foot-in-the-door is based on the principle of commitment and consistency.
It means when a person commits to something, they're more likely to follow through.
Two scientists conducted a study at Stanford University to understand the usefulness of the technique.
A group of women received a request to answer questions about their soap usage.
This small request was followed by allowing a group of men to enter their houses and review the products they owned.
When the request to enter the house was preceded by the short questionnaire about their soap usage, it had a way higher acceptance rate.
But when it wasn't preceded by a small request, it had a low acceptance rate.
Hence the scientists concluded that making a small request before a bigger one, also called the foot-in-the-door technique, is a great way to persuade people to say yes.
Two Ways To Implement the Tripwire Funnel in Your Business
Here are the two ways to create the tripwire funnel:
Start with the tripwire offer: This funnel starts with a paid offer. You can have a two-step order form and capture the emails on the first step.

If the prospect converts, great, you have a sale. And if they don't, you can follow up using emails with a good marketing strategy.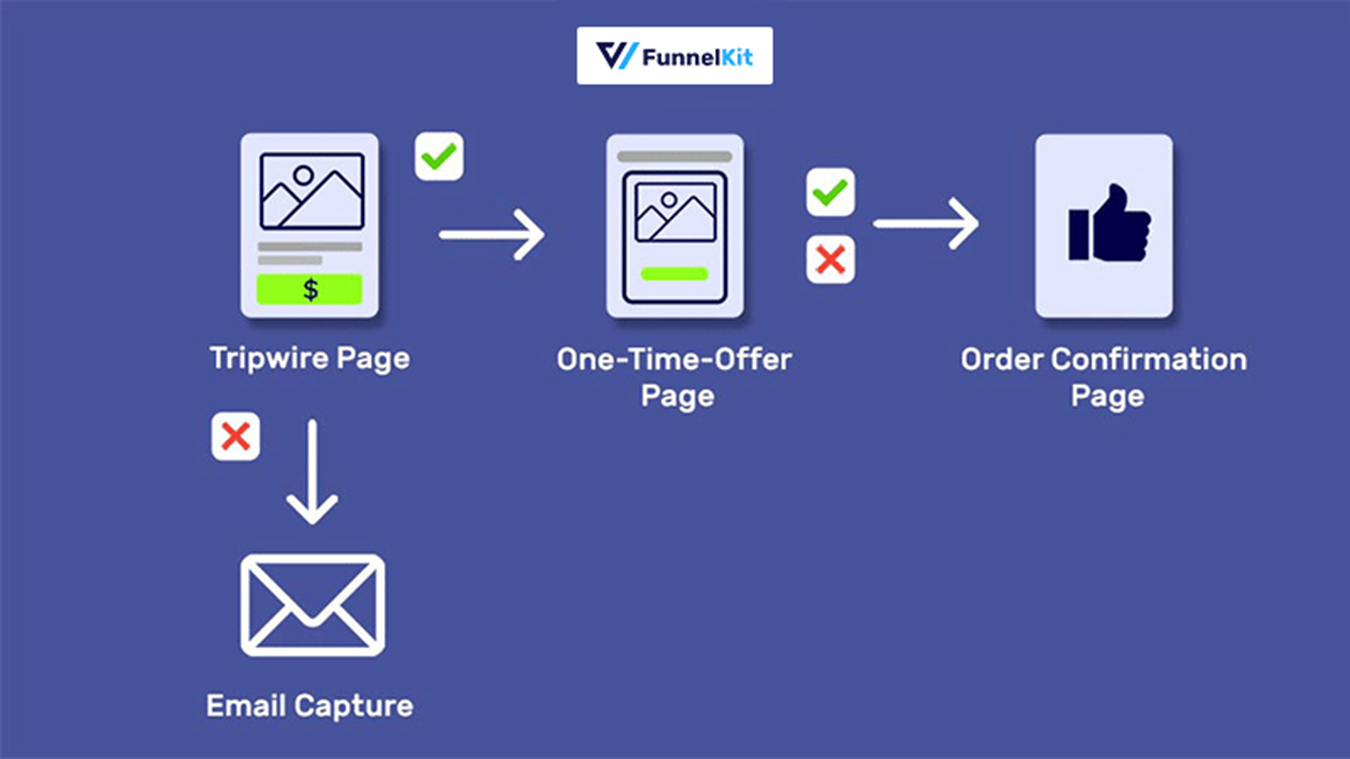 Start with the lead generation: A tripwire offer isn't a replacement for a lead magnet. You can always start with a free offer and advertise it well.

Once someone signs up for the freebie, they'll see the low-dollar offer which is the tripwire! If they choose to buy, great, otherwise you already have the lead and can sell them through well-planned marketing automation.

A good tripwire offer sure needs an abandoned cart recovery strategy.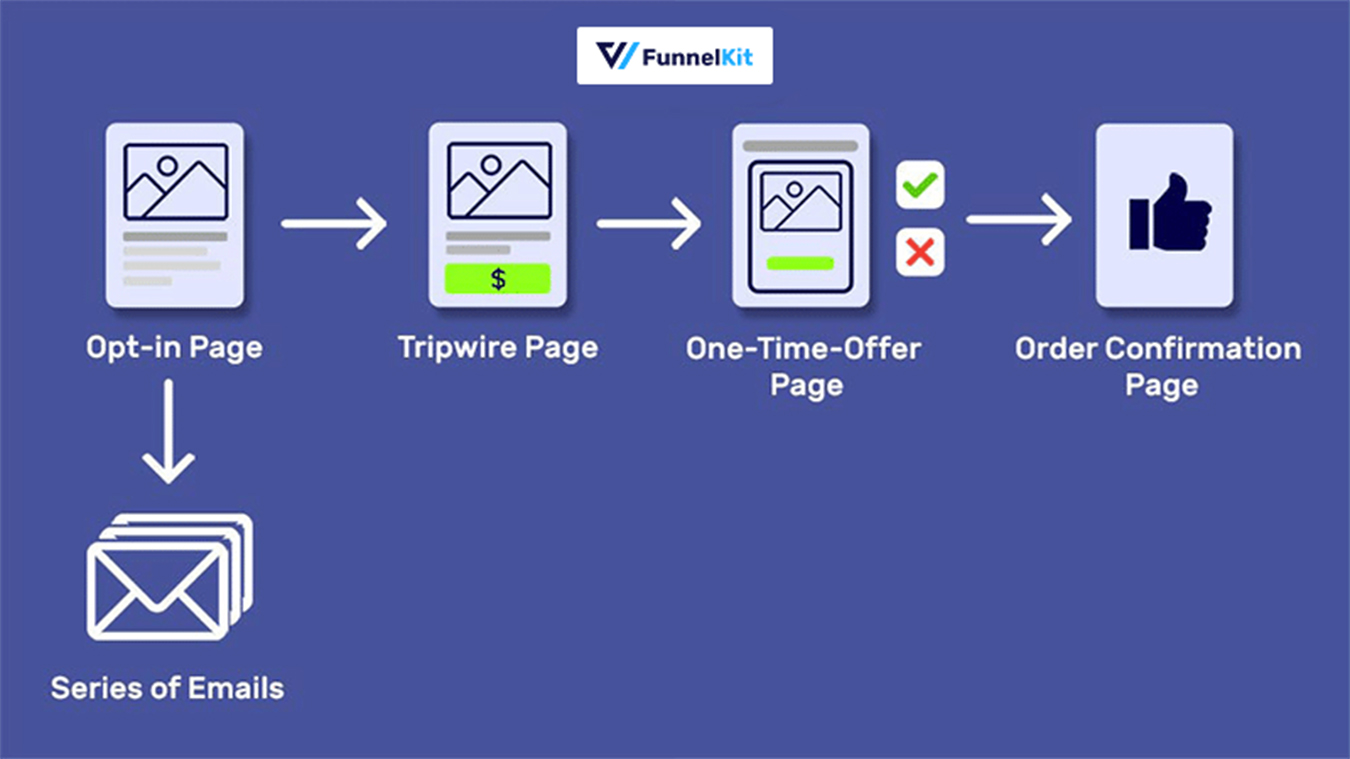 Both methods work equally well. It's only a matter of testing to see which of these converts higher for the products and services you sell.
Make sure your free tripwire offer is related to your opt-in and provides a ton of value to your ideal customers and set up retargeting ads for best results.
Tripwire Funnel Real-World Examples: Three Incredible Examples of Tripwire Done Right
Let's take a look at some incredible examples of Tripwire funnels.
Frank Kern's $27 Tripwire Offer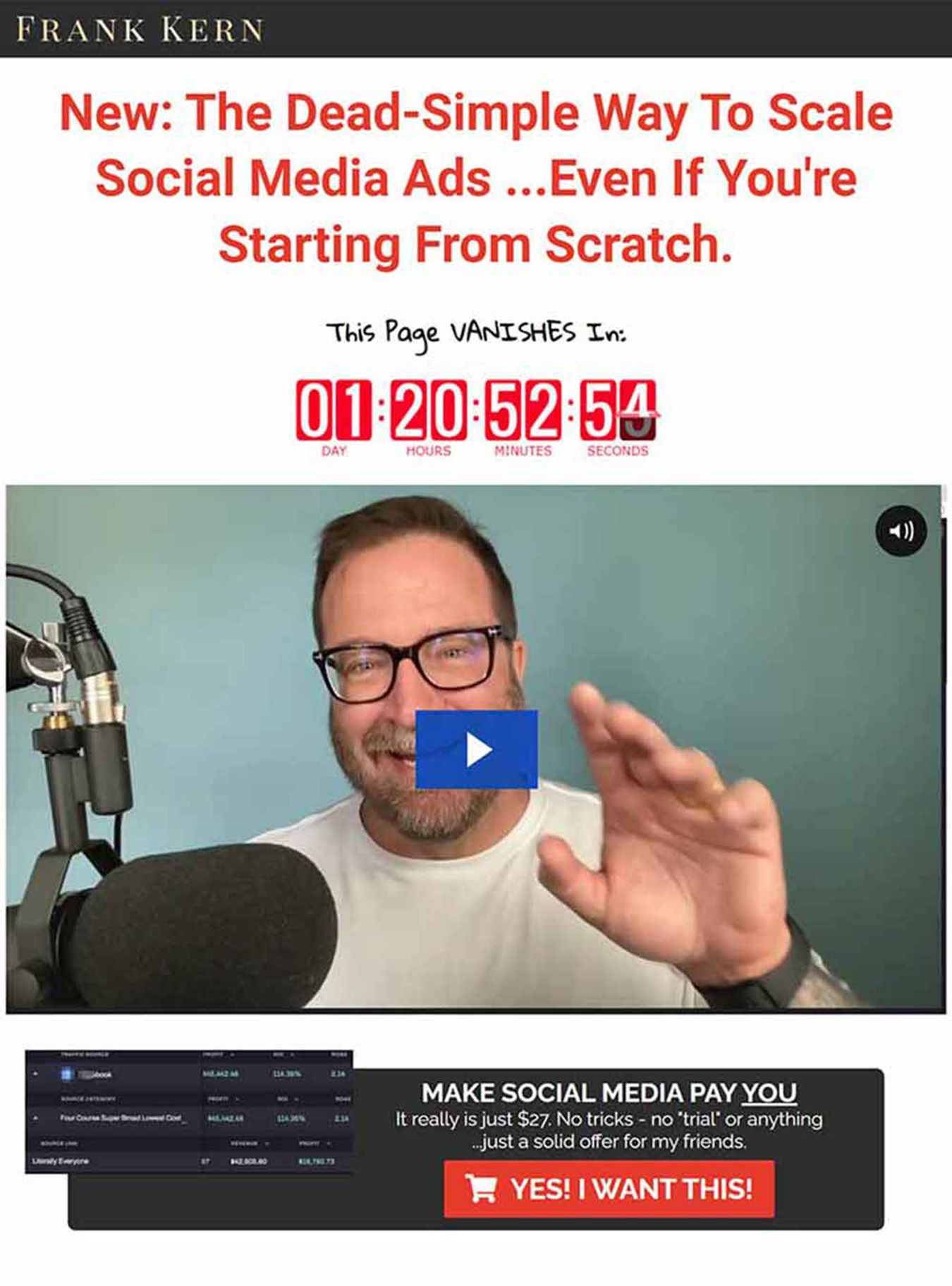 A promise in the headline: Your tripwire offer sales page needs a compelling headline that makes a definitive promise. Be sure to fulfil this promise through your offer.

Explicitly state the offer's validity (countdown timer): Kern has got a countdown timer on the sales page. Studies show that timers are effective, even in 2023.
Headshot video: The video here is the star of the page- it takes the centre stage. Also, the thumbnail shows him talking, and as a viewer, it makes you want to know more.

State the price early: The tripwire offer price is stated early on the page. Right below the video, you can see the offer price of $27.
Kim Garst's Mini Course Creation Plan (Tripwire Funnel)

This one isn't a one-time offer and one can buy anytime through her website.
The idea is to make people familiar with Kim's paid products through this irresistibly priced tripwire offer.
Here's what stands out about it:
The language appeals to its audience: 'Mini digital product', and 'Quickly and easily'- such phrases resonate with the audience that wants to create courses.

State the number of days for achieving the goal: Garst makes a bold promise by stating that one can create their own course in a short period of 7 days.

Always create and highlight bonuses: Bonuses are crazy-good ways to get sales. The sales page spotlights the bonuses along with their individual prices. Pack more value than the prospect expects!
Gaby Bernstein's Low-Cost Challenge Funnel
Challenge funnels are a big hit these days! People feel motivated to act when there's a community of like-minded individuals trying to achieve the same goal.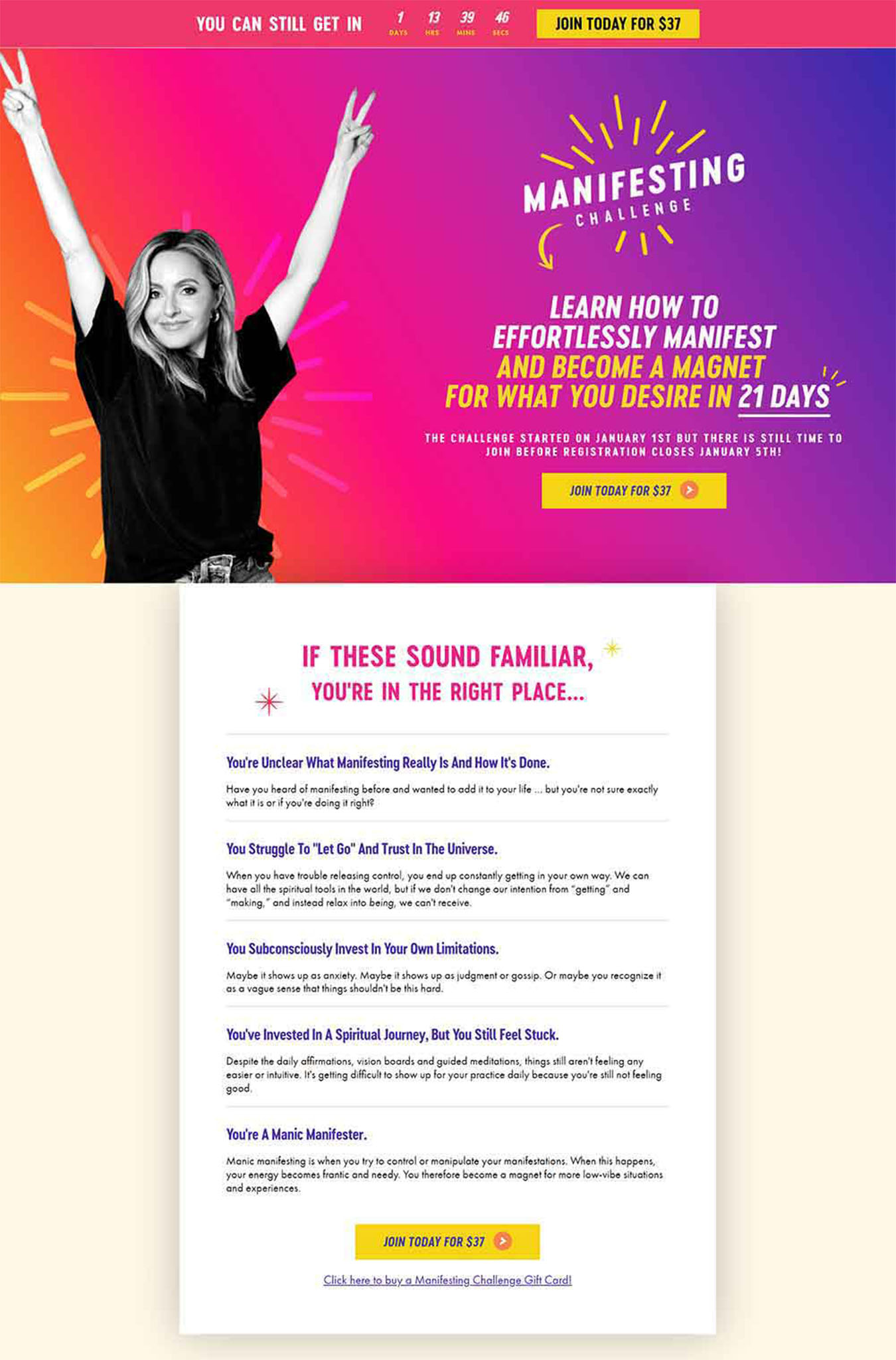 Even in niches like weight loss where everyone's specific goal can be different, the process is the same and hence people feel more empowered when treading the same path with others.
Create a deadline-based challenge: Go ahead and figure out what the right challenge will be for your business. Create the challenge, set a start date, build an execution plan and go live.

State the problems people face: On the tripwire offer's sales page, Bernstein highlights why people aren't able to manifest their life dreams on their own.

Reinforce the call to action: The CTA button is highlighted well throughout the page. Almost after every section, there's a button to take action and move over to the checkout page.
Hydrant's Variety Pack/Sampler for Different Flavours
Hydrant is a lightly flavoured and real juice-powered, refreshing electrolyte mix that helps you hydrate.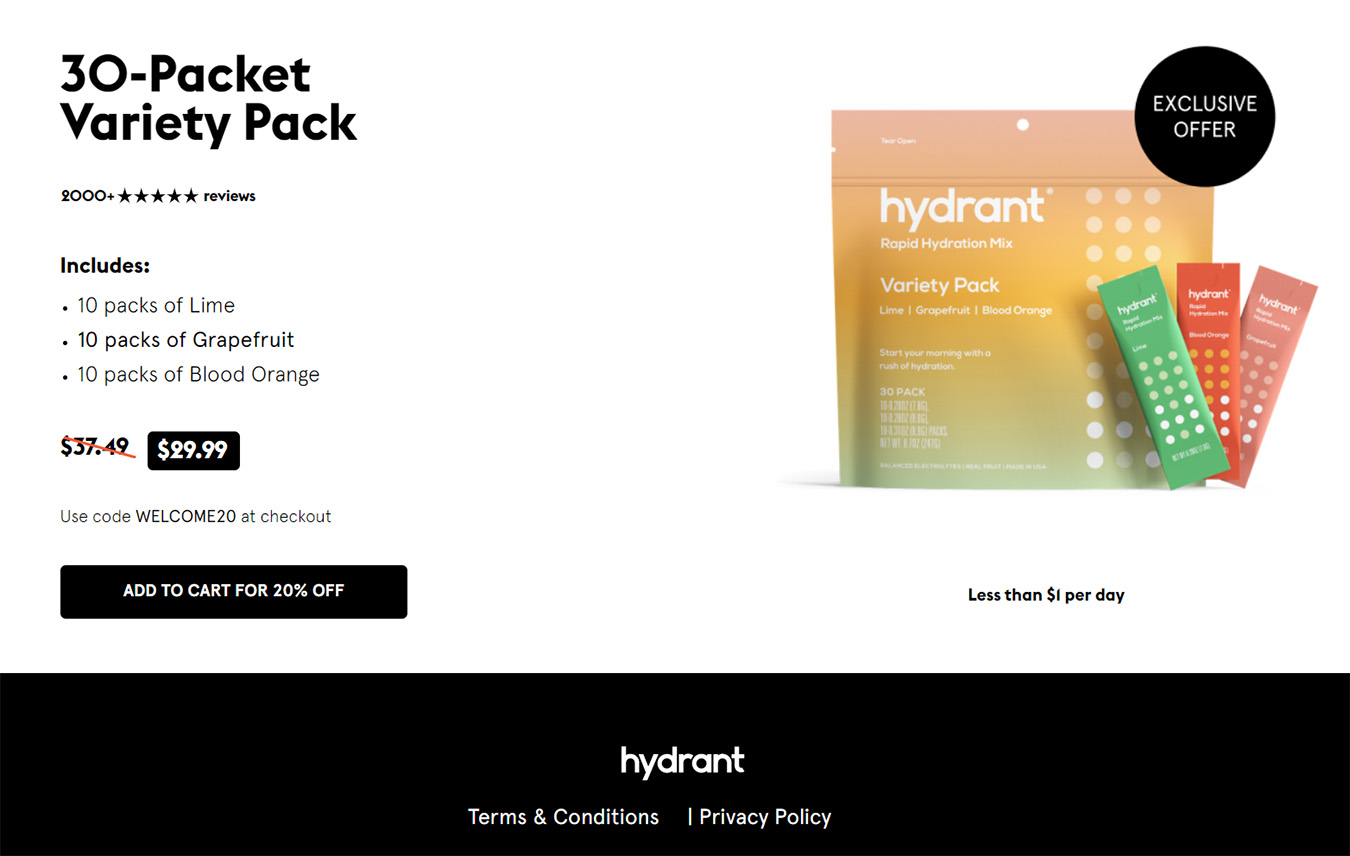 Here are the key takeaways from its tripwire offer sales page.
Create a variety pack: If you sell physical products like Hydrant, it makes a lot of sense to create a variety pack or sampler for different flavours. Here, Hydrant has grouped three of its flavours- lime, grapefruit, and orange- to create a special combination pack.

Break the total amount into a daily equivalent: The offer is priced at nearly $30 a month, and they've advertised it as 'Less than $1 a day'. Now that helps the human mind process the price better, it does sound like a steal!

Infuse your tripwire page with social proof: Not only have they highlighted social proof from popular magazines in the domain, but also from regular customers. The reviews are written in simple language and sound relatable!

Here's what Nik Sharma, a marketing consultant for DTC brands:
Someone who's higher in the funnel is keener to try a variety pack or a sampler with the least amount of dollars spent (i.e. a 3-can sampler with $5 shipping), whereas when someone is more educated through the funnel, they're open to spending more. - Nik Sharma.
Nik Sharma
Founder, Sharma Brands
See how Hydrant uses order bumps to cross-sell highly relevant items to the buyers: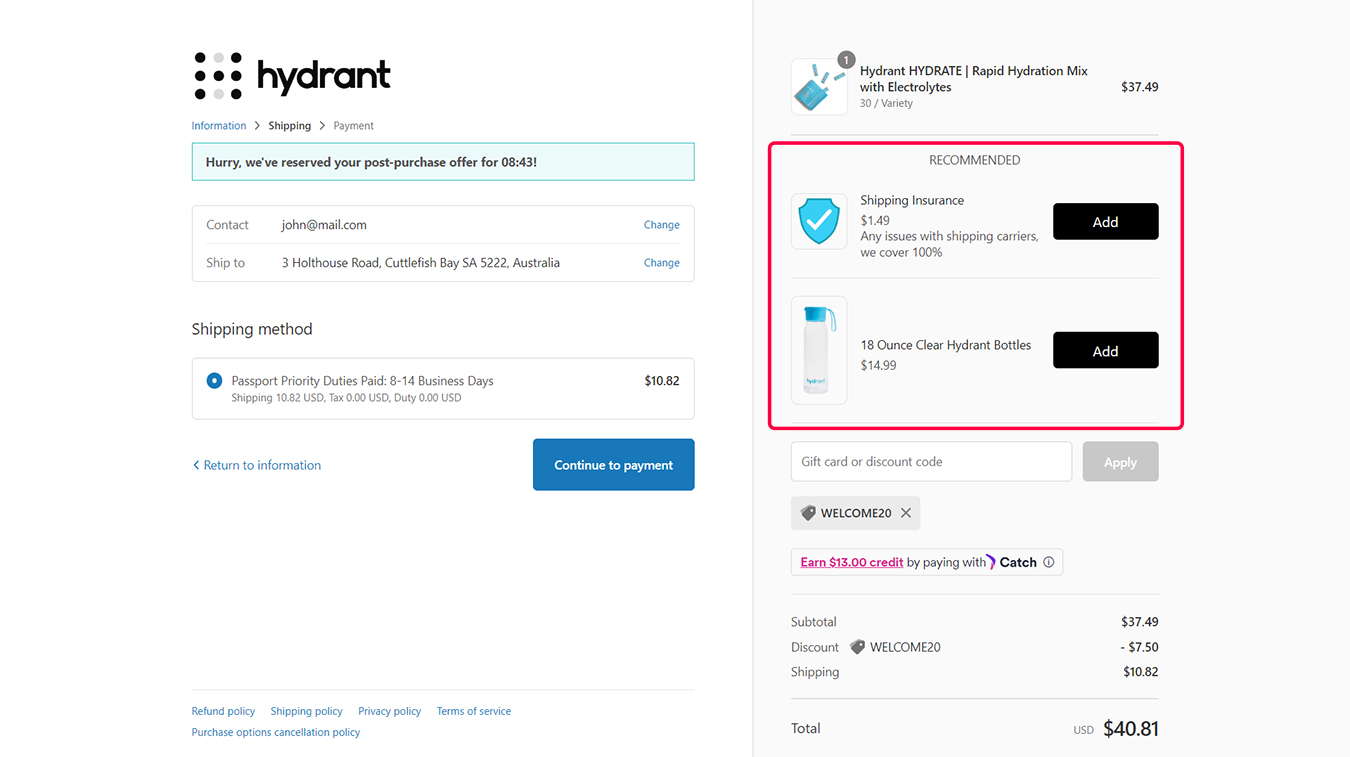 How To Set Up a Tripwire Funnel (Step-by-Step Guide)
Setting up a tripwire funnel is easy. We're going to be using FunnelKit to do that!
FunnelKit is a WooCommerce plugin that allows you to build beautiful lead generation funnels and sales funnels using pre-built templates.
With a robust rule builder to display right offers to the right people, built-in A/B testing, in-depth analytics, and more, you have a full package to build funnels that convert.
Step 1: Add a new funnel called 'Tripwire funnel'
To add a new funnel, simply hit the button on the top right. This will allow you to see all the pre-built templates that we have.


When you hit 'add new funnel', you will see a library of pre-built templates. These templates are designed for different purposes and for selling physical as well as digital products.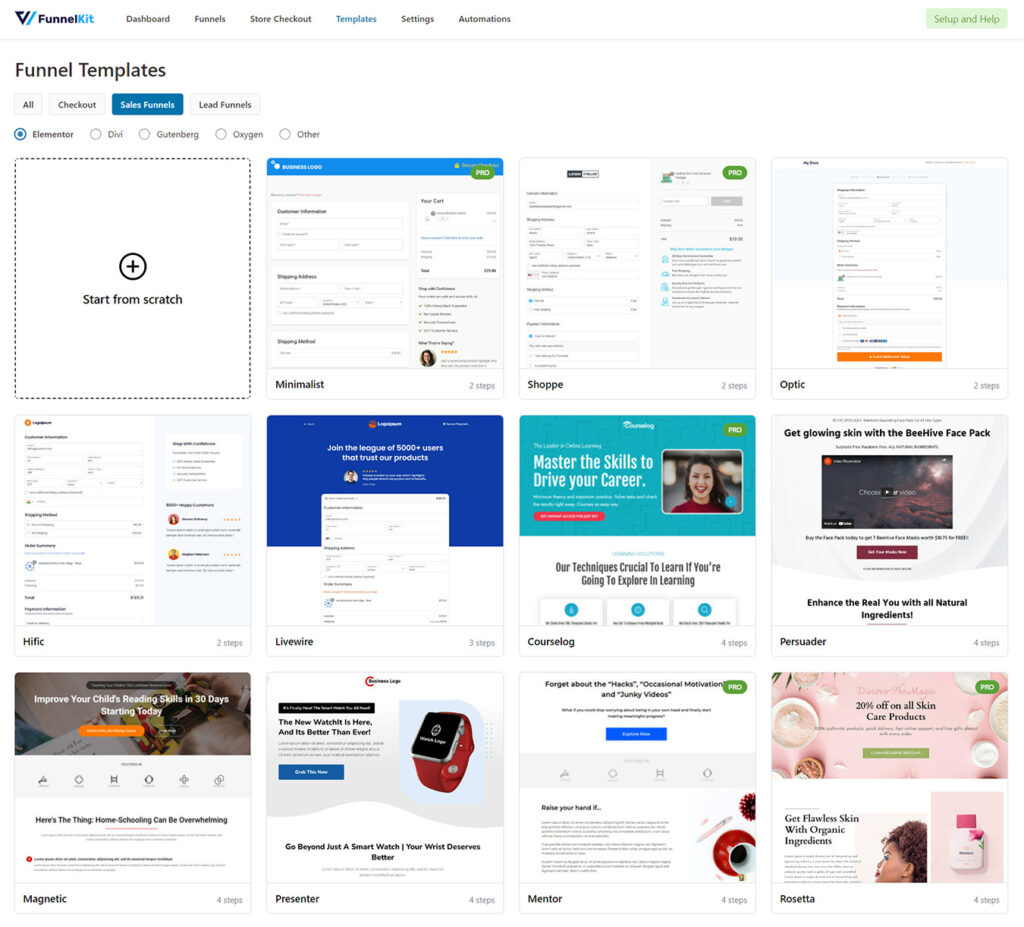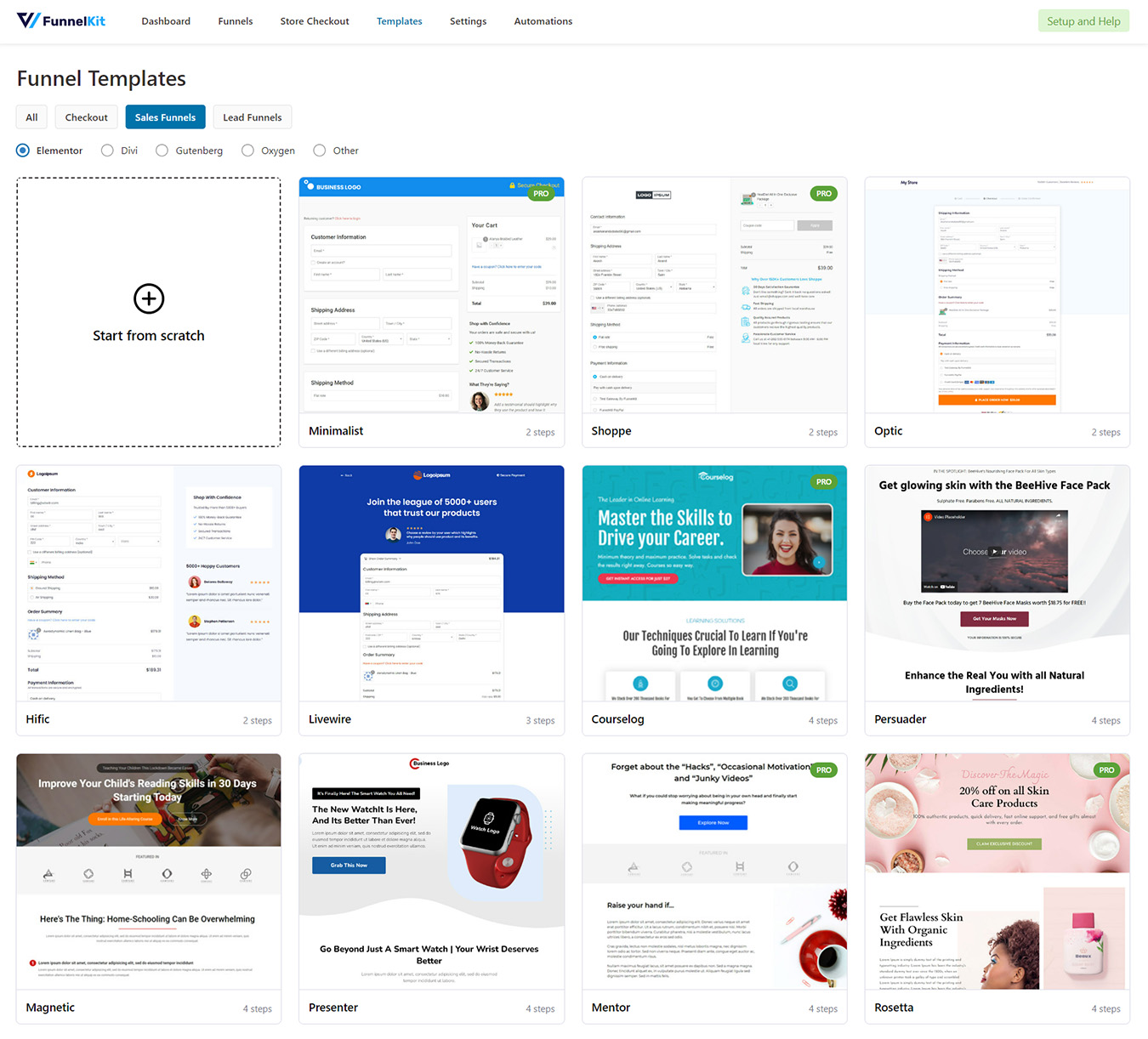 For our use case, we've chosen one of the templates called 'BestTaste'. FunnelKit is compatible with various page builders such as Divi, Elementor, Oxygen and others through short codes.
We're going to be using Elementor for customising our template. So let's import it: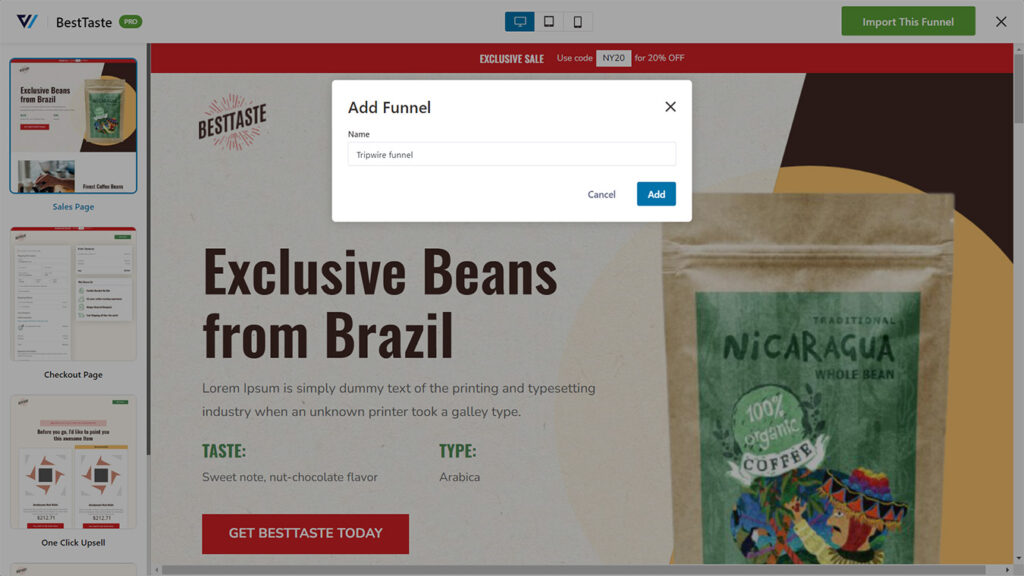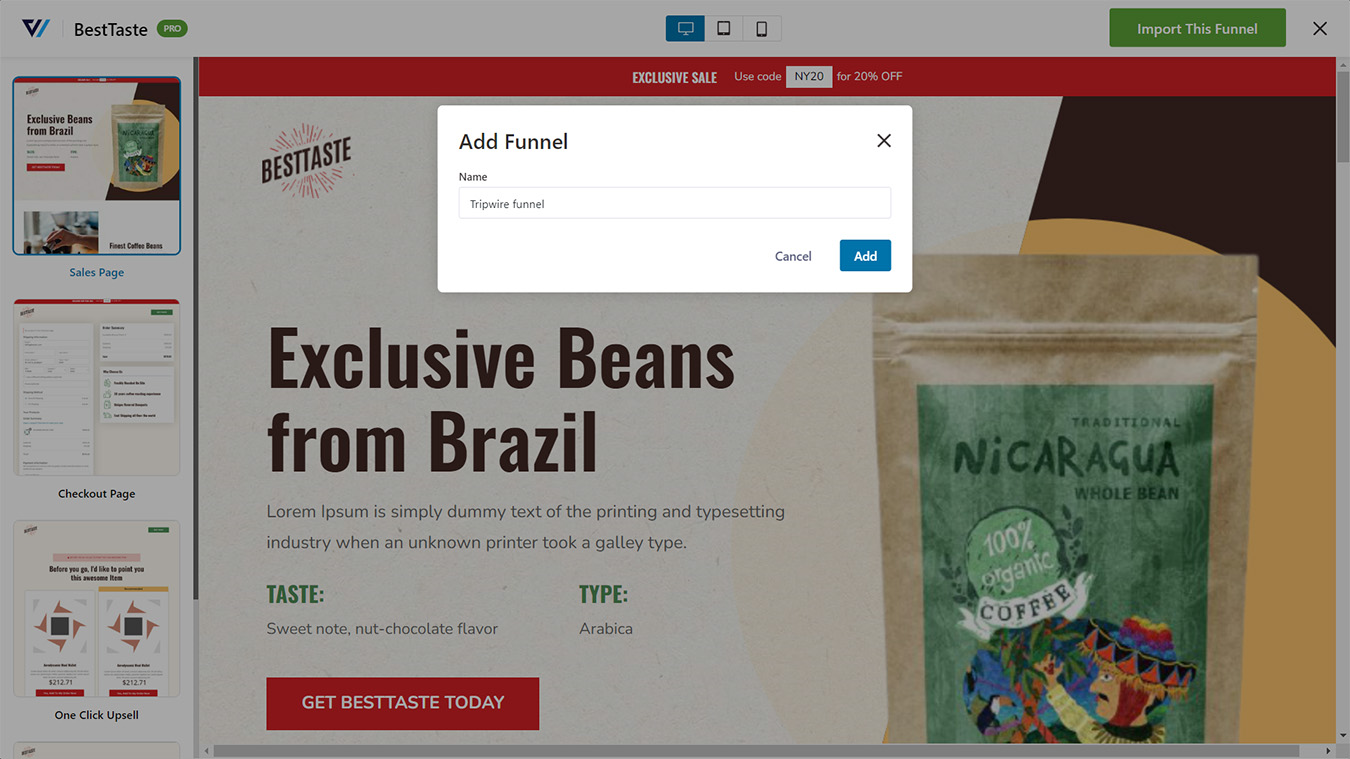 Step 2: Import a template and start editing the pages
Once you import the funnel, you'll find a template for every page in the funnel already pre-selected.
Here's how the backend interface with the pre-built funnel looks like: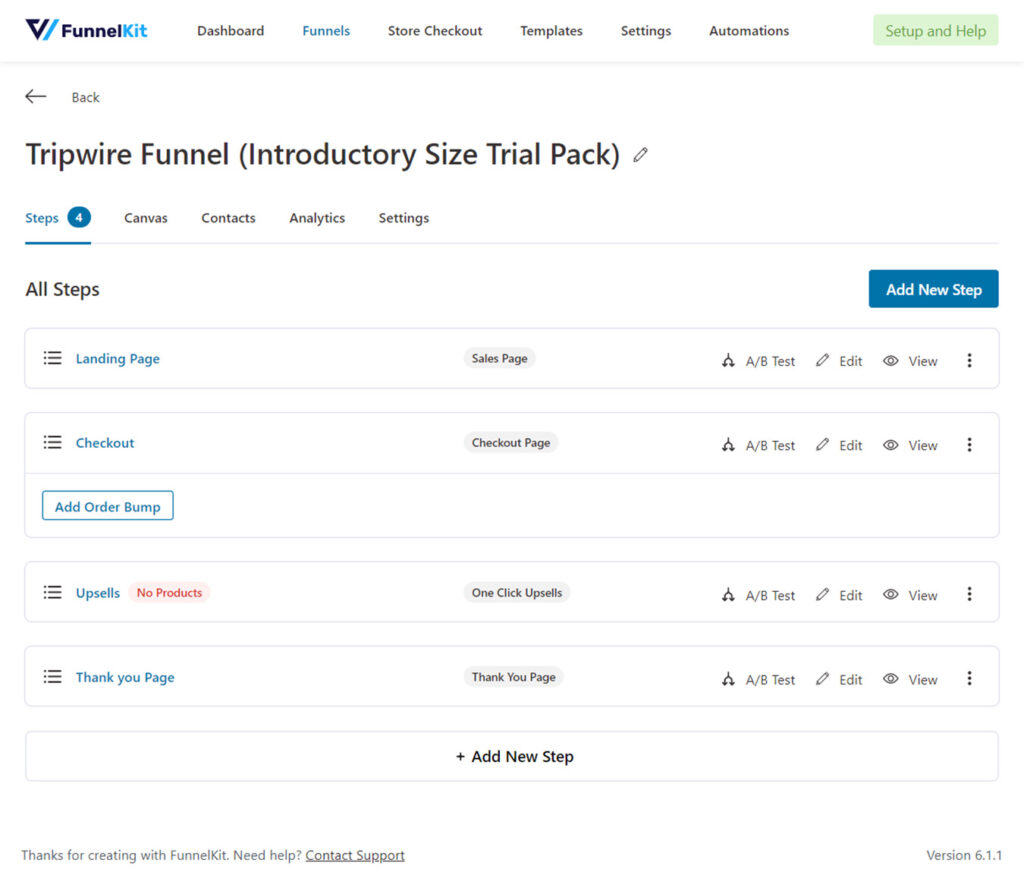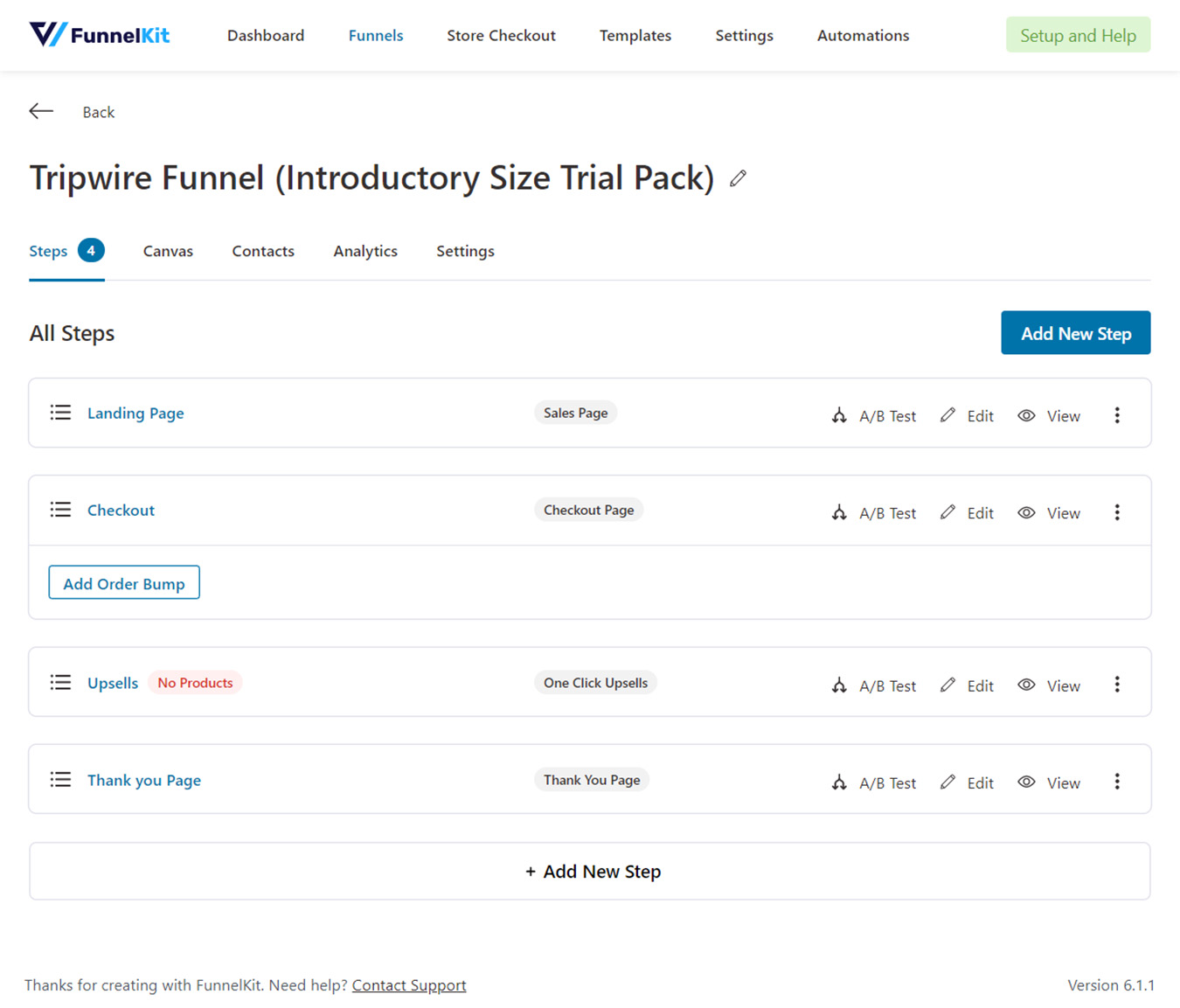 The next thing, you want to do is edit the landing page for the tripwire offer.
A high-converting landing page has the following sections:
A compelling headline
Problems faced by your audience (Your messaging should hit the nail on its head)
Benefits of your offer
Social proof
Bonuses (if any) with their individual values
Final CTA section
Since we have imported a Pre-made template, all we got to do is edit the text and add our own images.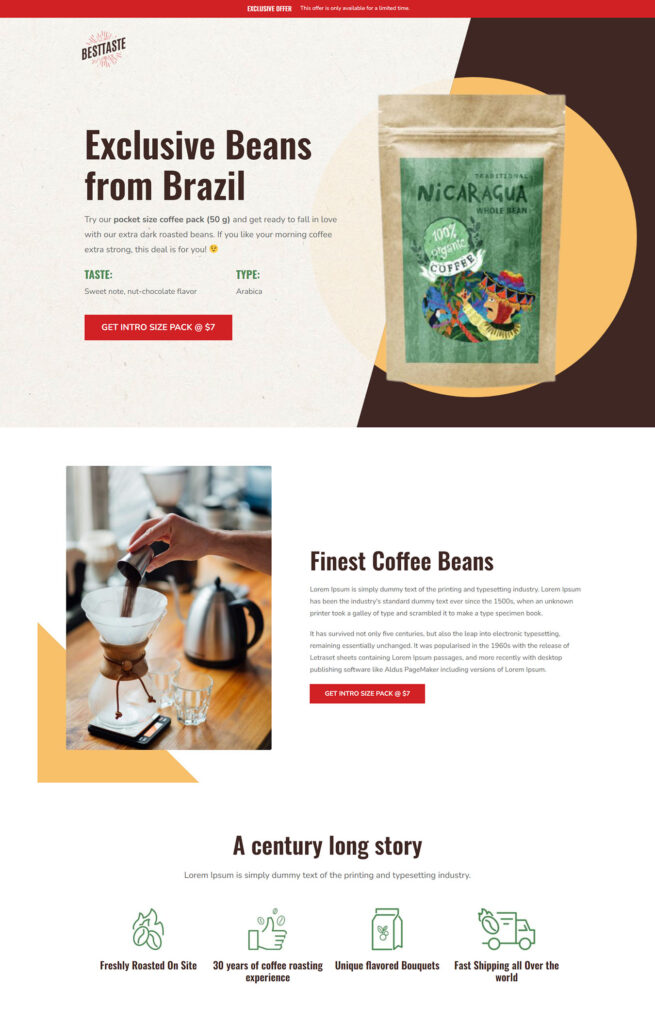 You can of course add your own sections and remove the ones you don't want.
Step 3: Customize the checkout page for your tripwire funnel
The checkout page is fully customisable. You can edit the fields that you want to show, split the checkout process into multiple steps, add new fields and more.
Here's the flexible field editor that allows you to do all this and more:
Take a look at the customised checkout page template: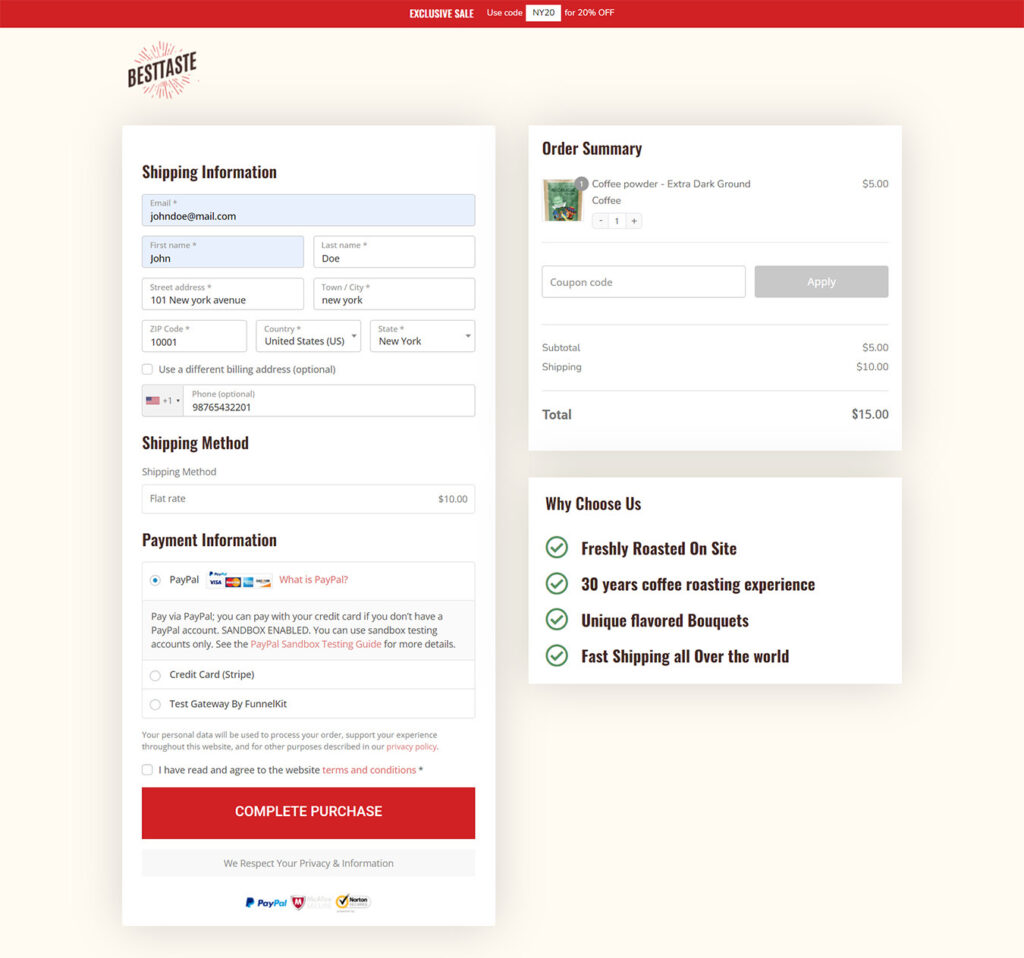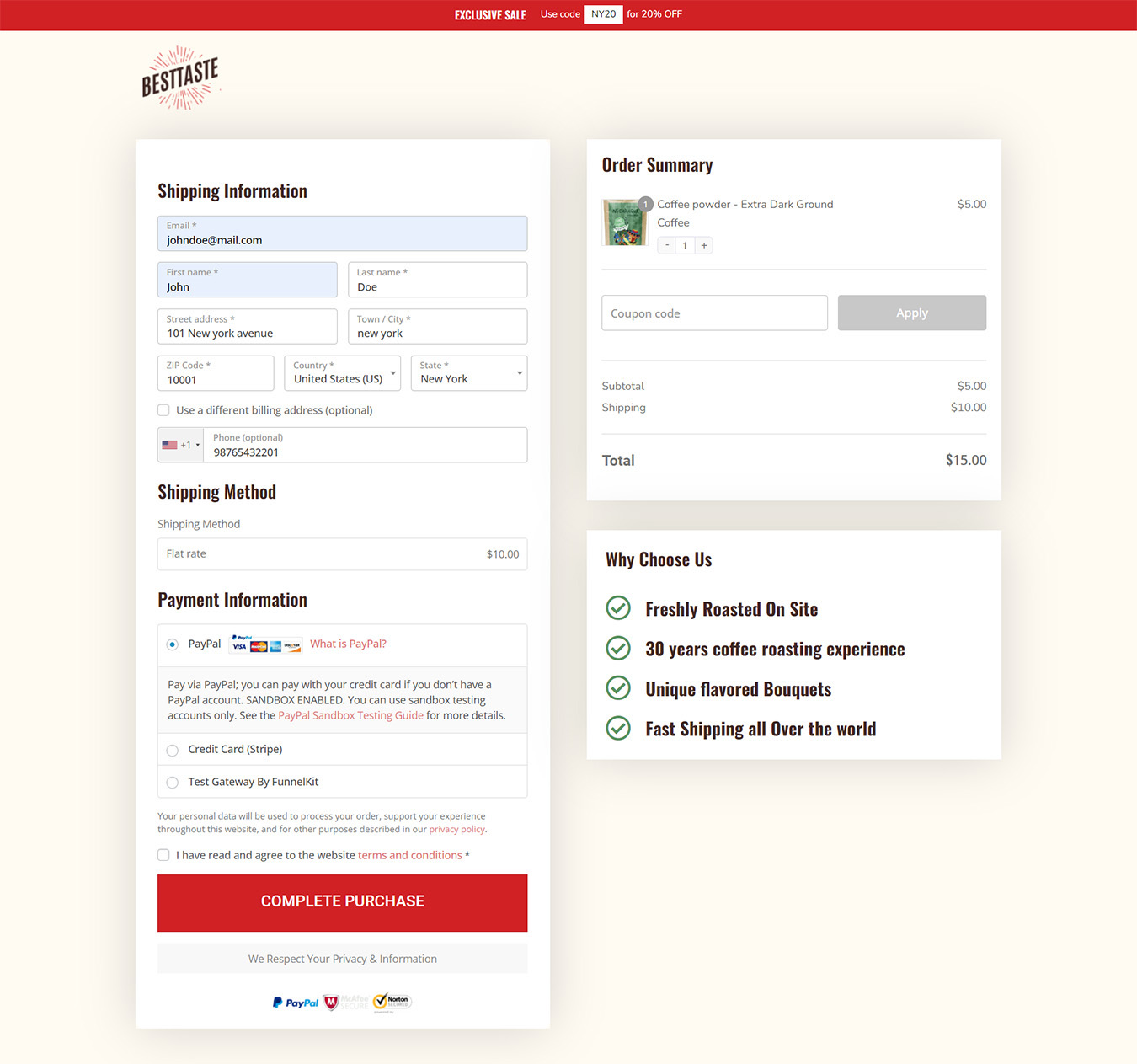 Step 4: Add order bump to your tripwire funnel checkout
Order bump is a meaningful offer that'll help you boost your AOV. To add a bump, make sure you have the relevant product already added under WooCommerce— Products.
The tripwire examples that we discussed above all use the power of order bumps to make more dollars per transaction.
And why not! You have nothing to lose here. Adding order bump in FunnelKit is really easy.
You can select the product to display as an order bump: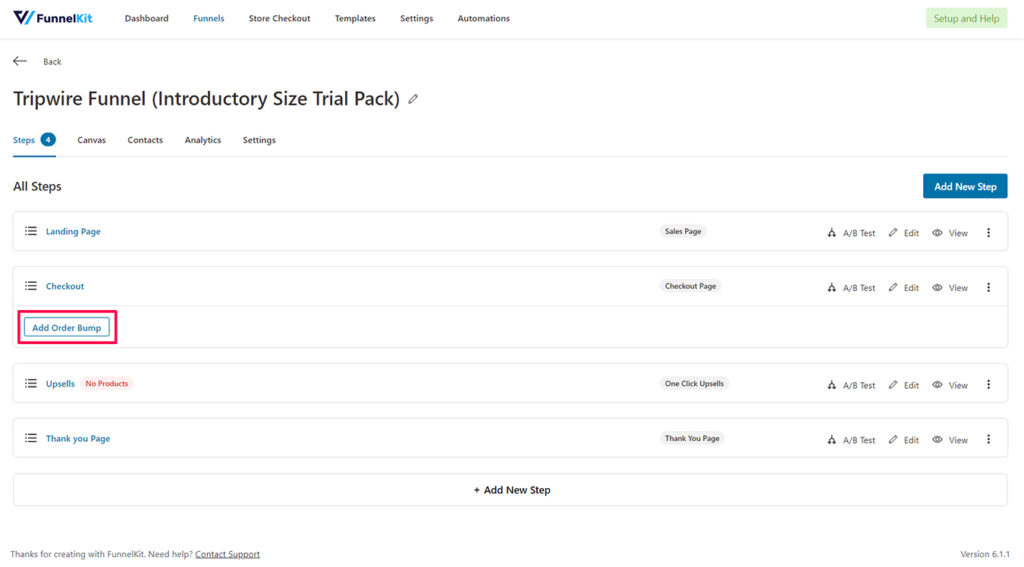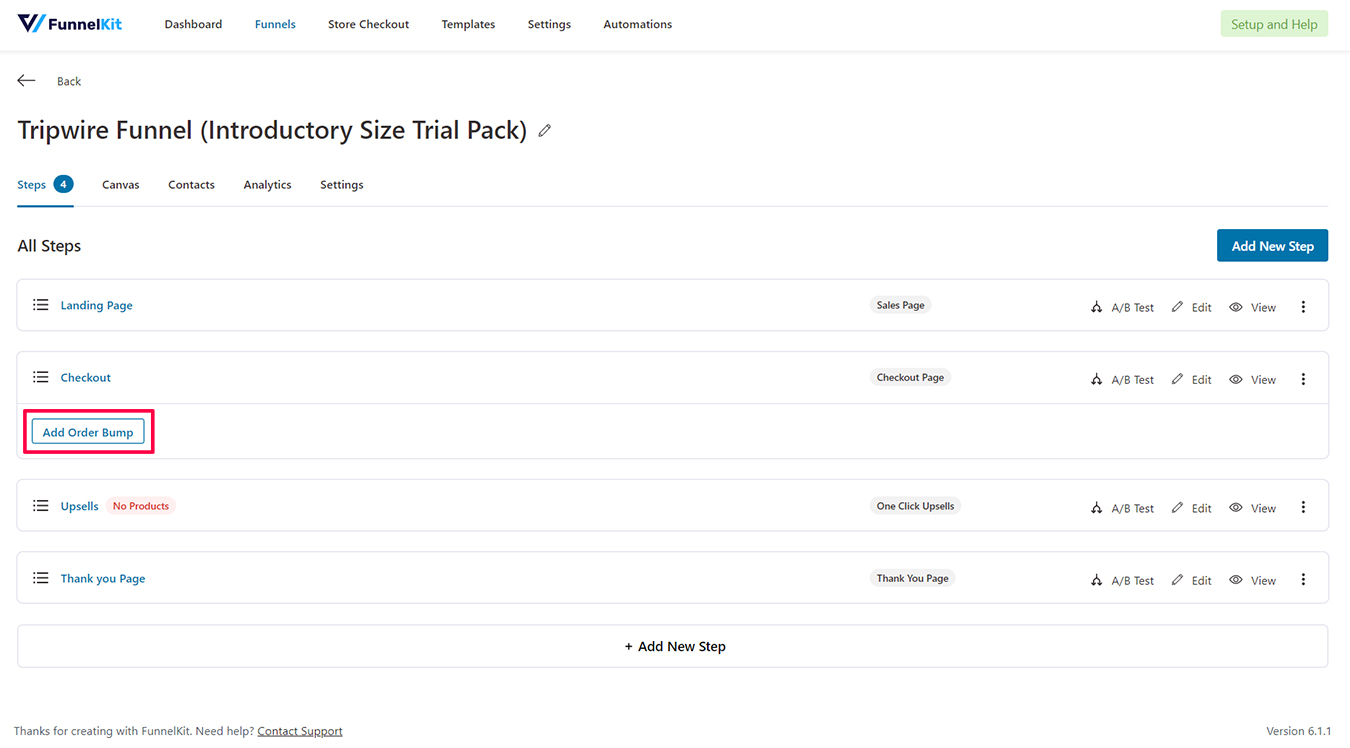 The first step when setting up order bump is to choose the product. You will need to add the product that you'd like to cross-sell as order bump under WooCommerce --> products.
Once you do that, select the product in the products section of order bump. Select the quantity and configure the discount amount (if applicable). Further stylise the order bump element.
Here you can add the title and description to match the product and make it sound desirable: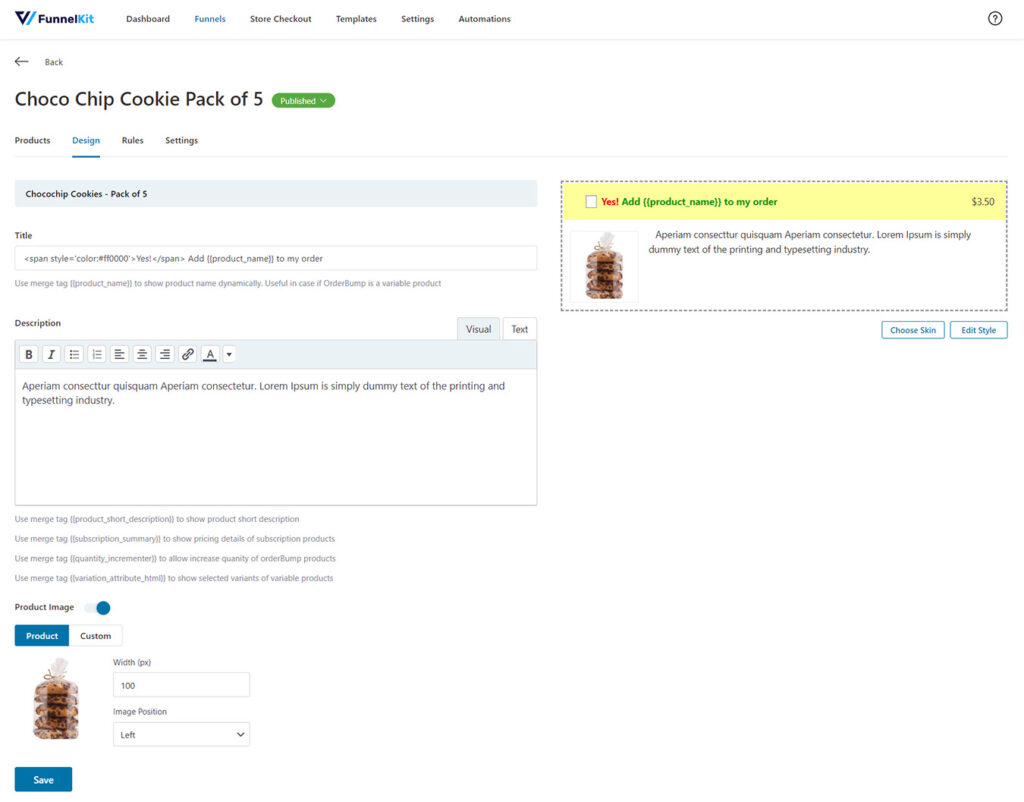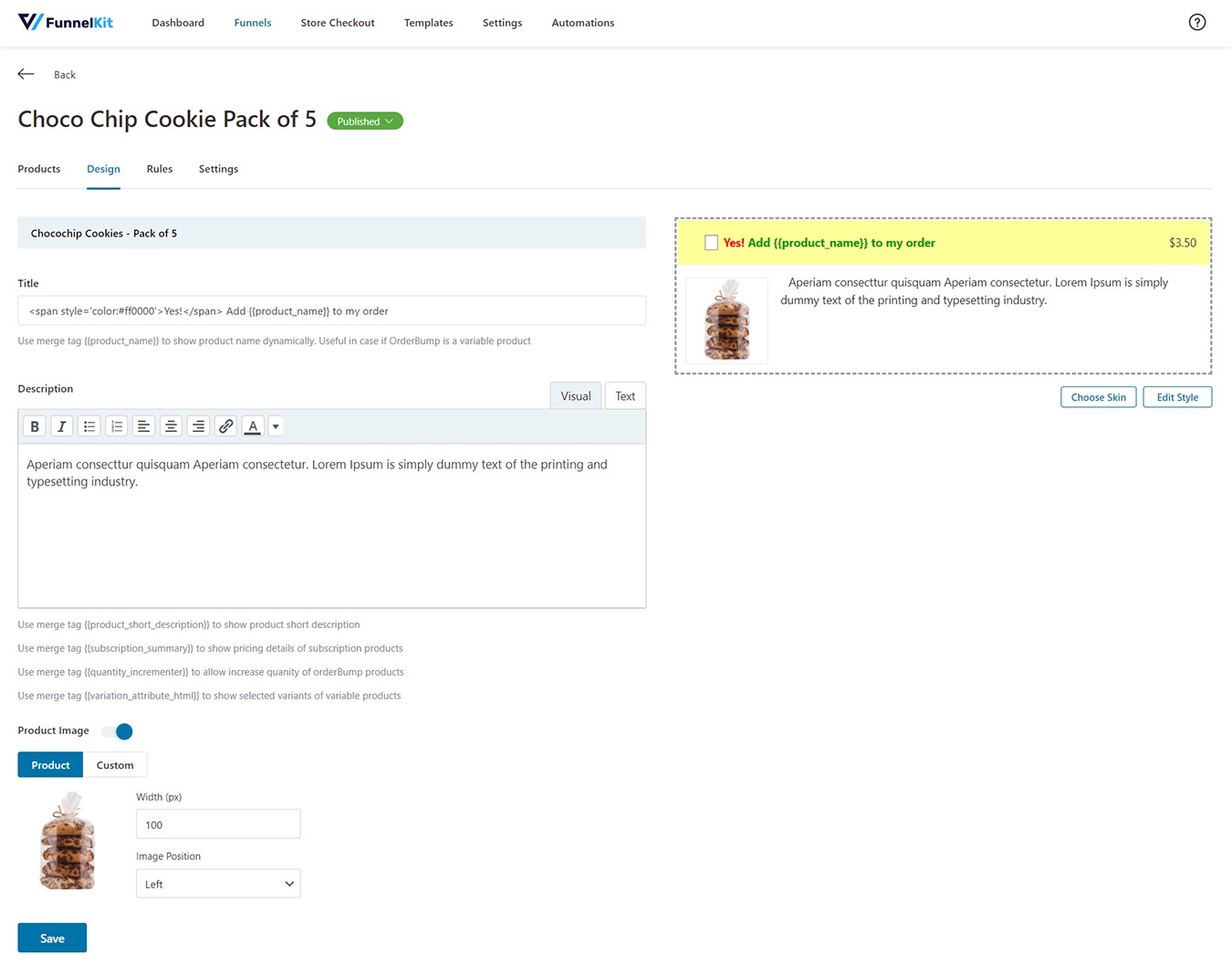 Keep in mind that everything is fully customisable, from the styling of the section to the text to order bump skin, colours and more.
You can even add more than one order bump using the same interface with ease.
Step 5: Add a one-click upsell page and thank you page
The one-click upsell template is pre-selected. So to add one-click upsells and downsells, you can simply hit 'edit'.
Here you'll be able to add post-purchase upsells and downsells. Further, dynamically link them, such that on acceptance of one offer you can show the other and on rejection of it, you can show another.
Next up, add a custom thank you page. Here's the template for our thank you page: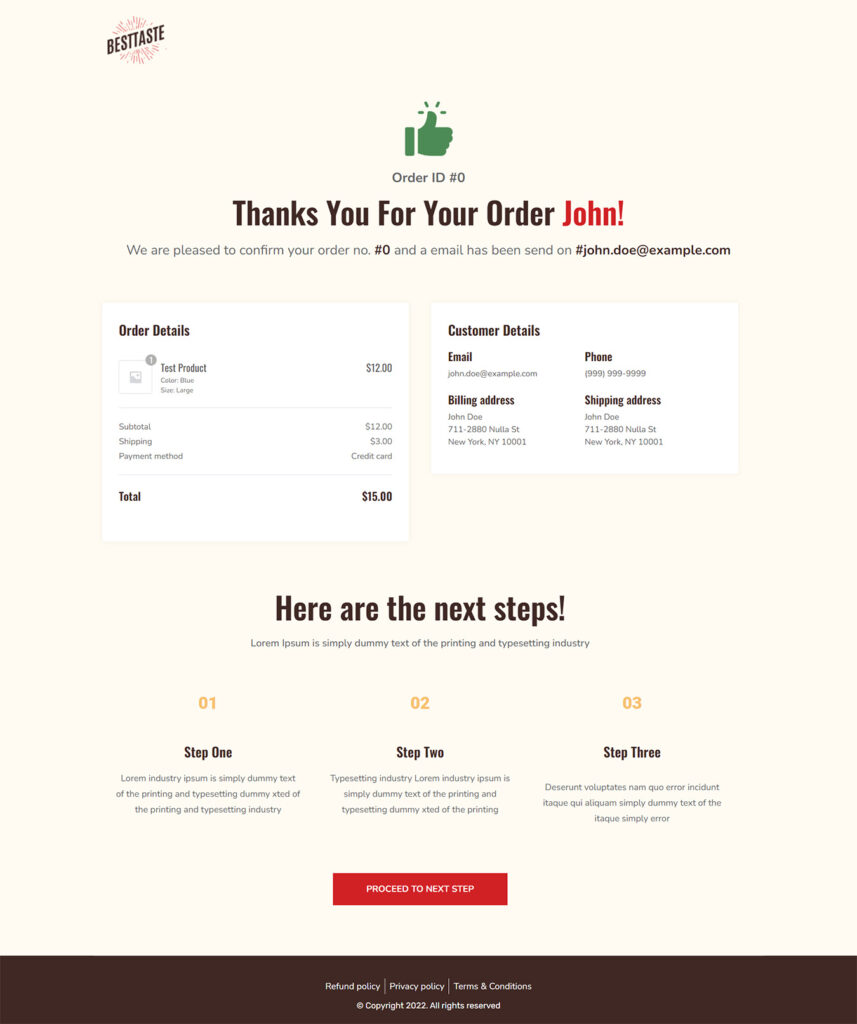 Best Practices for Maximizing the Conversion Rate of Your Tripwire Funnel
By now you've understood what tripwire marketing is and how it works. You've also seen some really good examples, executed well by top-notch marketers.
Let's study the best practices.
Never treat the tripwire offer as a standalone offer
Yes, tripwire offers aren't designed to make profits, they're the loss-leaders but profits can be made on the back end.
With paid ad costs going through the roof, it only makes sense to systematically boost a buyer's average order value.
What's the best part? You got nothing to lose here.
Add order bump to the tripwire funnel
An order bump is an optional offer on the checkout page.

You don't have to have it enabled by default. If a buyer is genuinely interested in what you got, they can add it to their order with a single click. If not, they make the main purchase and move on.
The UI is clean and compelling but not pushy. It's a subtle nudge, a simple reminder.
Add post-purchase upsell and downsells
Next up, show them one-click upsells. When it comes to one-click upsells, you've already secured the initial sale.
Plus let's not forget, it's five times more cost-effective to sell to the same buyer than acquire an absolutely new customer.
By choosing not to have these complementary offers in your funnel, you stand to lose the opportunity to make extra money per transaction.
Use marketing automation to make more profits
Tripwires are great ways to get people interested in your business. But how do you keep them engaged so that they may spend more? `
Automated sequences are the way to go about it! After you've got people through the door, nurture them and keep them engaged through automated sequences.
Based on your strategy, marketing automation can help you sell while you sleep! Take a cue from ace marketer, Jill Stanton's abandoned cart recovery email from her tripwire funnel: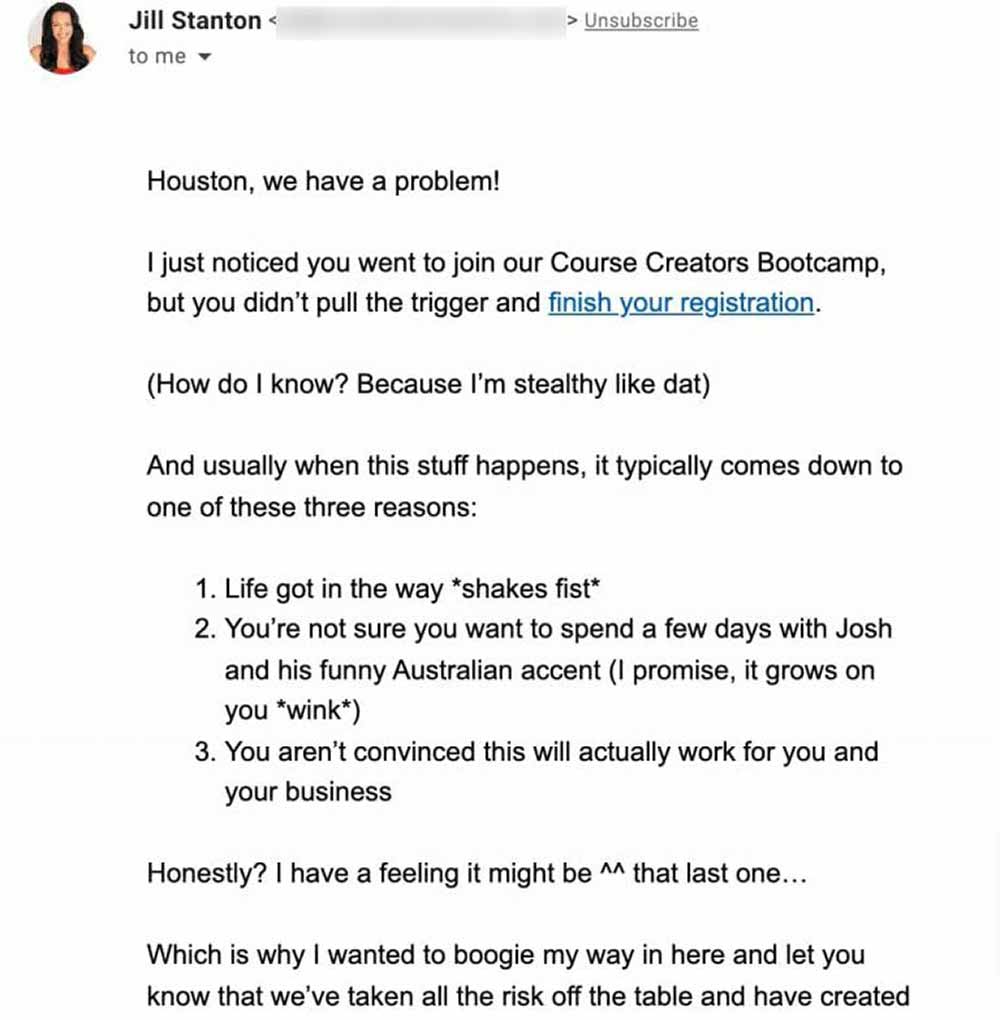 You can create an abandoned cart recovery strategy for free by using the FunnelKit Automations plugin for WordPress.
Go further by welcoming the new buyers using post-purchase emails. Nurture the new buyers and turn them into high-ticket clients gradually.
Get Ready to Drive Growth & Sales with a Tripwire Funnel
That's all for this post! We looked at how tripwire funnels work, and how you can use them to grow your email list and make profits on the backend.
A high-quality product with a high perceived value but priced irresistibly low is the way to go about it.
Place your tripwire offer right after the lead magnet or start with the tripwire offer itself, and test out different methods.
Make sure your tripwire aligns well with your core offer and represents your brand well. That's all!
Equipped with all the new knowledge about tripwire funnels and having learned from the various examples, you're all set to create a great offer yourself.
To learn more about FunnelKit's Funnel Builder, go here.
Happy selling!