A WordPress order form lets you collect payments effortlessly from your shoppers.
You can use it to sell info products, digital downloads, and even physical products.
You may split the order form into two or three steps to make the purchase process look simple and more user-friendly.
In this post, we will look at how to build an online order form in a few simple steps by importing a pre-built template for WordPress.
These order form templates are complete with placeholders for testimonials, trust seals, and other conversion-boosting elements.
So without getting ahead of ourselves, let's get started.
What is a WordPress Order Form?
An order form is a dedicated single or multi-step process designed to collect payments from your buyers.
You can direct traffic to your landing page and over to a dedicated order form or straight to an order form from an email or ad.
It's a distraction-free page that's built to enhance users' trust, and it minimizes the points of exit.
Having a high-converting order form in place is like winning half the battle. The other half is won by directing targeted traffic.
This is how a typical order form looks: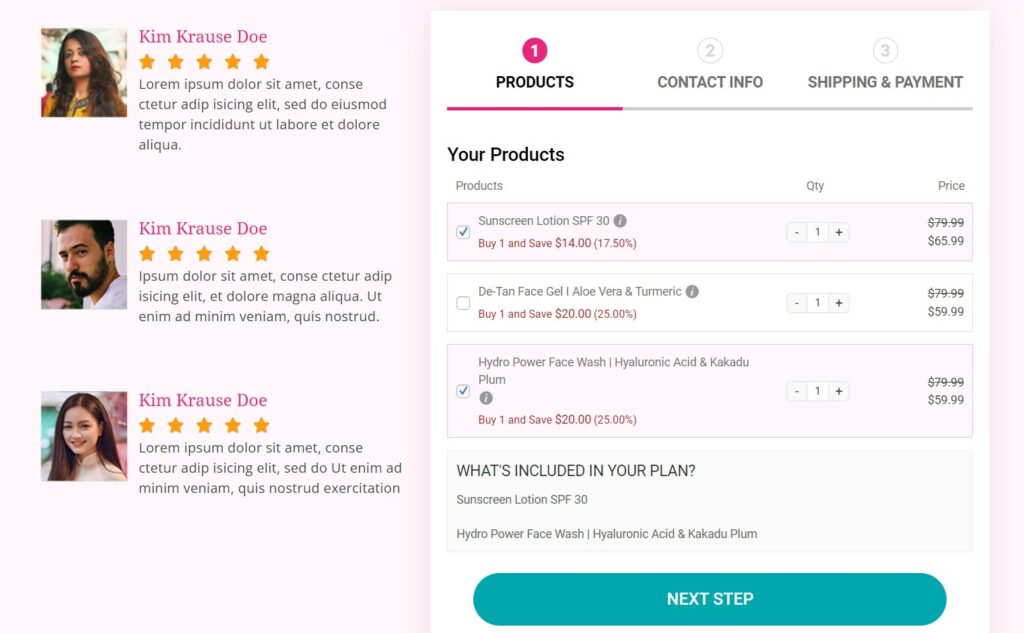 These order forms are highly customizable. You can have basic information or product selection as your first step.
The contact information can follow this, and in the last step, you could collect payment and shipping information.
Everything from design to content to colors, border, and margin - can be tweaked to suit your needs.
WordPress order forms can be used for multiple purposes, including:
Sell eCommerce Products
A WordPress order form lets you be useful when you only have specific items to sell.
Example: For a t-shirt business, you can sell 2-3 different varieties of t-shirts or sell them as a discounted bundle.
You can even sell digital products.
Event Registration
If you are conducting an event, a workshop, or classes, you can send an event registration WordPress form to your audience and allow them to register for the event.
Service Bookings
Service providers like Freelancers, Influencers, etc., have a few variants of their services.
For example, a freelance content writer can create an online WordPress form on their portfolio site and sell their content plans.
Subscription Sign-ups
WordPress order forms can be used to allow users to sign up for newsletters, membership programs, or other types of subscriptions.
How to Create a WordPress Order Form in Under 10 Minutes?
To create your WordPress order form, you need a form builder plugin like FunnelKit.
With FunnelKit, you get a beautiful pre-built landing page with all the sales-boosting elements already placed optimally - including an order form - right at your fingertips.
FunnelKit integrates with your favorite drag-and-drop page builders such as Elementor, Divi, Oxygen, Gutenberg, and more.
So with FunnelKit, you can simply import a pre-built order form template, tweak it with your favorite page builder, and start collecting orders.
Curious to know more?
Let's install FunnelKit Pro first and create an amazing WordPress order form.
1. Install FunnelKit and Import an Order Form
FunnelKit comes in two versions - Free and Pro.
FunnelKit Pro unlocks premium templates, lets you create Shopify-style multi-step checkouts, add one-click upsells and order bumps to your sales funnels, AND SO MUCH MORE!
You also get a powerful analytics dashboard that lets you analyze your sales funnels, get actionable insights at your fingertips, and make proactive decisions.
Installing FunnelKit Pro
Today, we use FunnelKit Pro to create our WordPress order form.
Follow this step-by-step guide to install FunnelKit Pro on your WordPress website.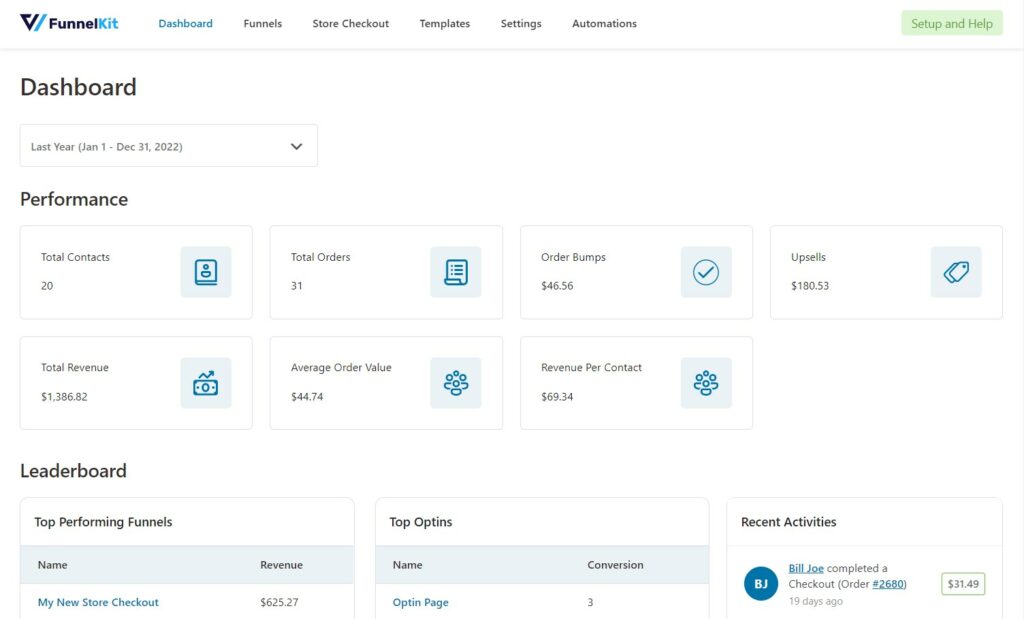 Importing a WordPress Order Form Template
As we mentioned, FunnelKit has beautiful pre-built order form templates you can import and customize.
To customize, you can use your favorite page builders. FunnelKit integrates seamlessly with popular page builders like
Elementor
Divi
Oxygen
Gutenberg
This powerful integration allows you to edit your entire online order form with a drag-and-drop interface.
Nifty, isn't it?
If you want to use shortcodes, FunnelKit works well with Beaver Builder, Brizy Builder, Thrive Architect, Spectra Website Builder, Bricks Builder, and others.
In the FunnelKit dashboard, click on Funnels and then Add New Funnel.

You will see premium sales funnel templates to choose from. Go to Checkout, select your preferred page builder, and then import the template you like.
Now, assign a suitable name to your WordPress order form template and import it.
You can add your WooCommerce products to your online order form.
2. Displaying WooCommerce Products
FunnelKit lets you display your selected products on the checkout page. You can either display a single product or multiple products.
The buyers can easily choose a single product or multiple products and place their order.
Note:
You must have WooCommerce installed and set up on your WordPress website. In WooCommerce, you need to add the products you intend to show on the WordPress order form.
If you need help adding products to your WooCommerce store, refer to this WooCommerce guide.
In the funnel dashboard, go to the Checkout page and click on Edit. Then head to the Products section to add a new product.
You can even click on "No Products" beside the Checkout page to go directly to the Products section.
Click on Add Product, search for the product you want to add, and hit Enter.

To add multiple products, click on Add New Products again, and repeat the steps.

You can add as many products as you want.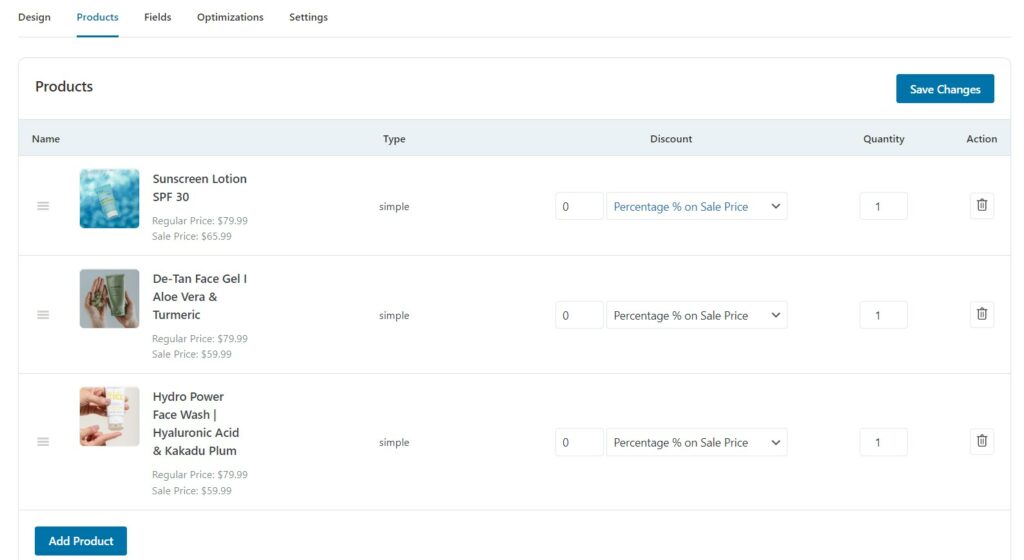 Customizing the Product Settings
You can allow your customers to choose any of the multiple products or only one product (a single product with multiple variants or prices).
Or, you can even force sell all the products. All the products will be automatically added to the cart when the customer lands on the checkout page.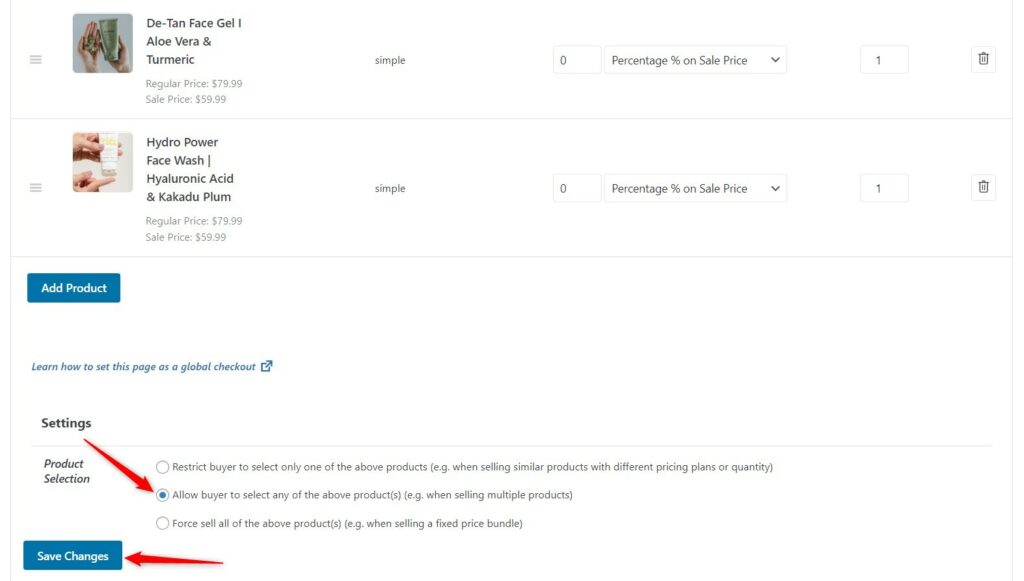 Save the changes when you have set up your products.
3. Adding the 'Products' Field to Your WordPress Order Form
Now that you have decided which products you want to sell via this online order form let's add the products field to the form.
Switch to the Fields section, just beside the Products section.
Drag the Products field to your checkout page in step 1. You can drop the field in any section to display the products wherever you want.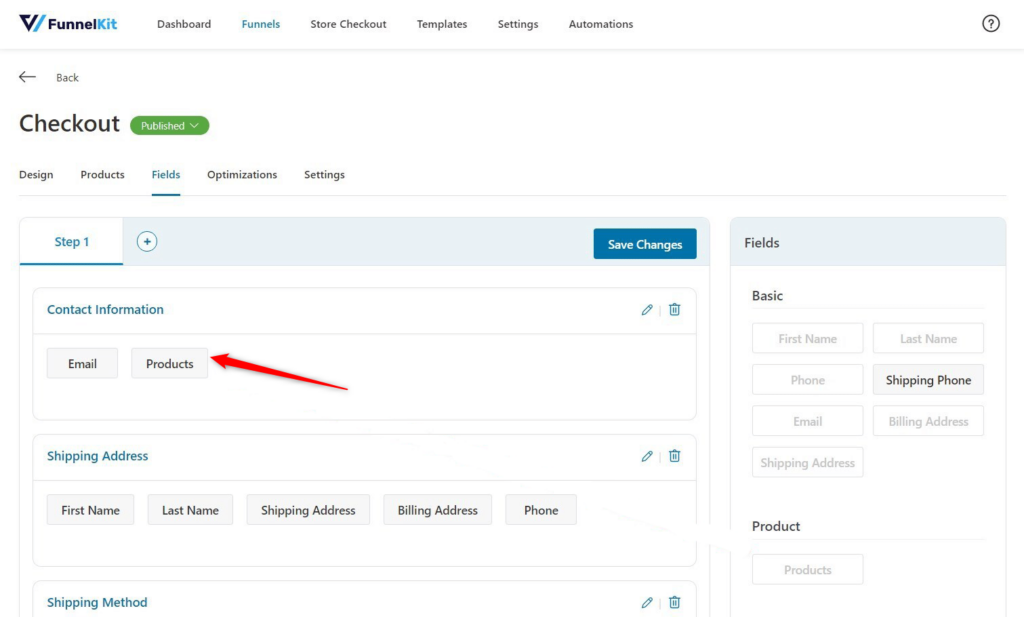 With FunnelKit's advanced field editor, you can shuffle the sections and add/remove/manage the fields with the convenient drag-and-drop interface.
In the first section, display products. In the second section, ask for contact information. And so on.
Breaking down your online order form into sections simplifies the filling process for the users.
This is how the multi-product WordPress order form will look on the checkout.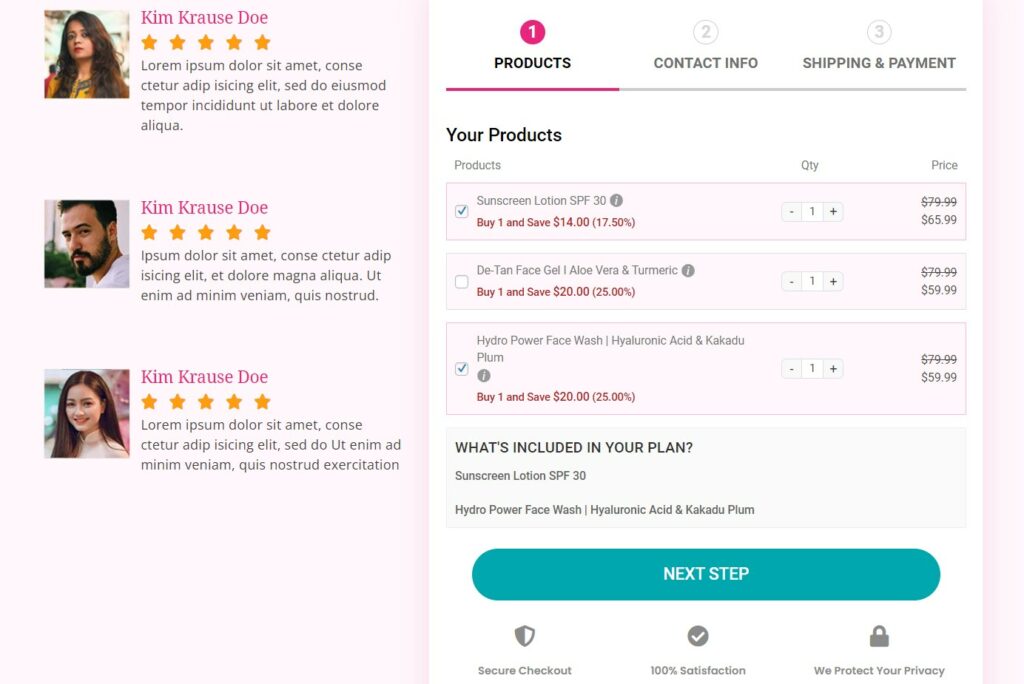 Your customers can even adjust the quantity of a product with FunnelKit's mini cart quantity switcher.
Now that you have added the products to your WordPress order form let's customize the form to make it look on-brand.
4. Styling the WordPress Order Form
Now that you have added products to your online order form, let's customize the order form with Elementor to make it look appealing.
To design the WordPress order form, click on the Design tab, and hit Edit Template.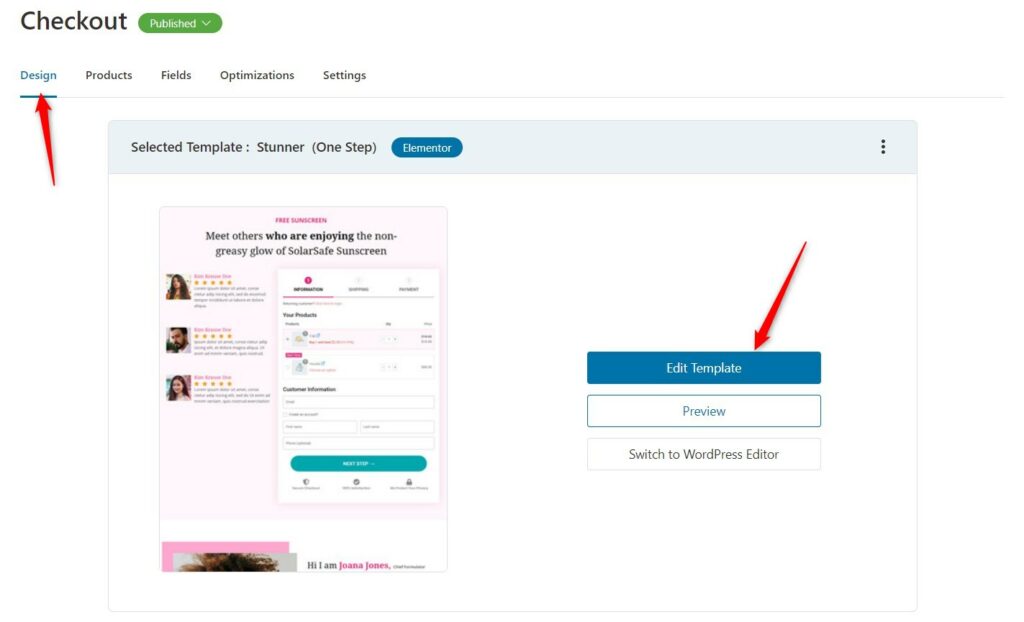 Changing the Logo
75% of consumers say a logo is the most important brand identifier. Hence, you need a good logo on your WordPress order form to make your brand recognizable.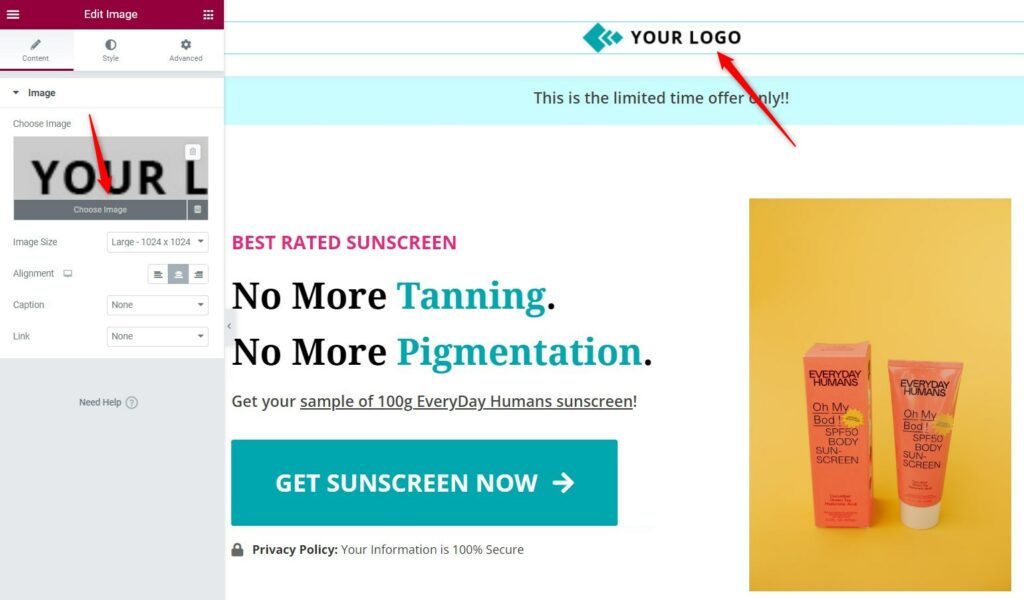 Just click on the logo icon and add a new logo.
Changing the Text
With Elementor's drag-and-drop interface, you can change the text, add new icons, and play with the colors and size of the text - all with ease!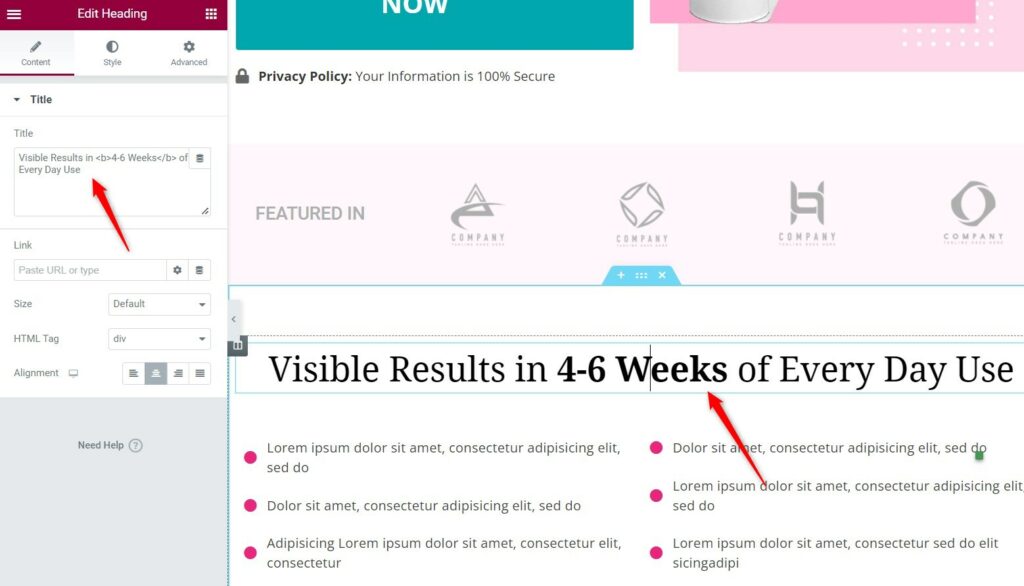 Editing Checkout Page Sections
If you want to customize certain sections of the checkout page, you can do that too!
Just click on the section you want to edit and make the customizations under the Edit Checkout Form section.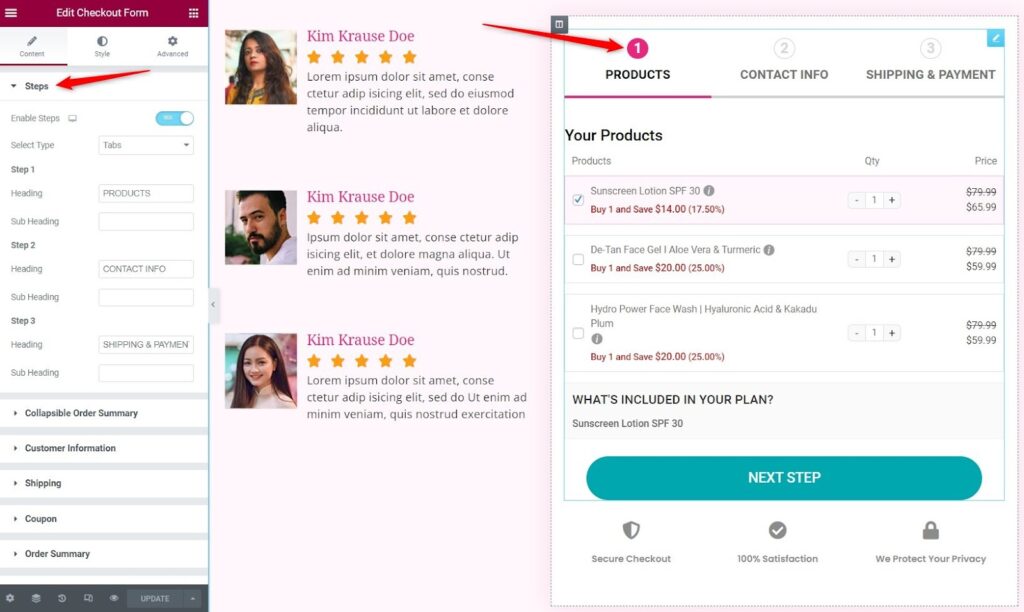 5. Customizing the Thank You Page
Most marketers do the mistake of underestimating the potential of how a thank you page can add more value to the buyer's journey.
You can show a conditional thank you page to a different set of customers or a thank you page with a video where you thank the customer for their purchase.
Go to the Funnels dashboard, and click on Edit the Thank You Page.
Inside the Elementor editor, you can change the text, add more sections, insert videos or images, or even play with the design of the thank you page.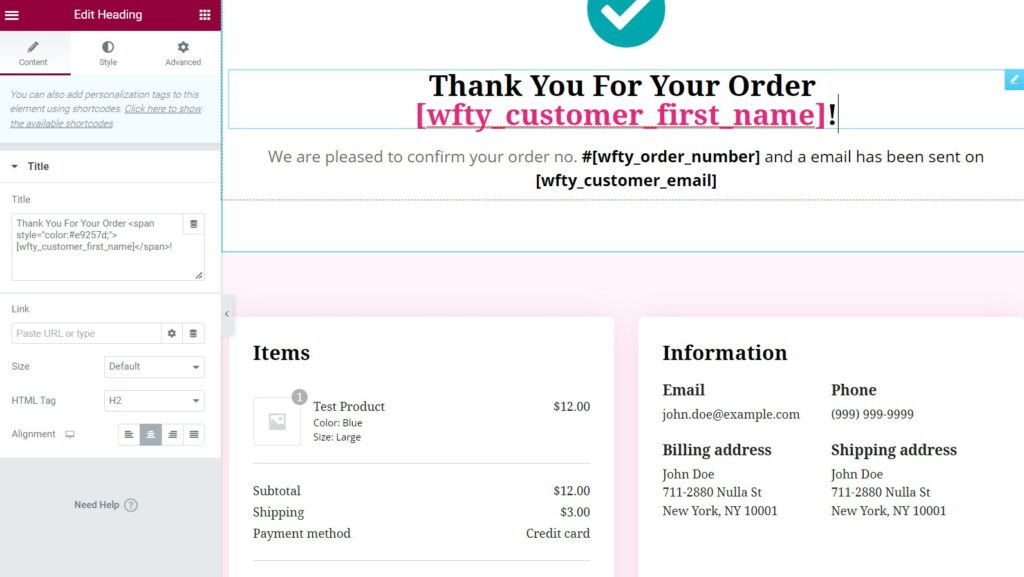 If you want to know more about how you can design rule-based thank you pages and add more value to the buyer's journey - refer to our thank you page guide.
6. Enable Payment Gateways in WooCommerce (skip if already configured)
FunnelKit Checkouts support all the gateways that WooCommerce supports, most popular are PayPal and Stripe.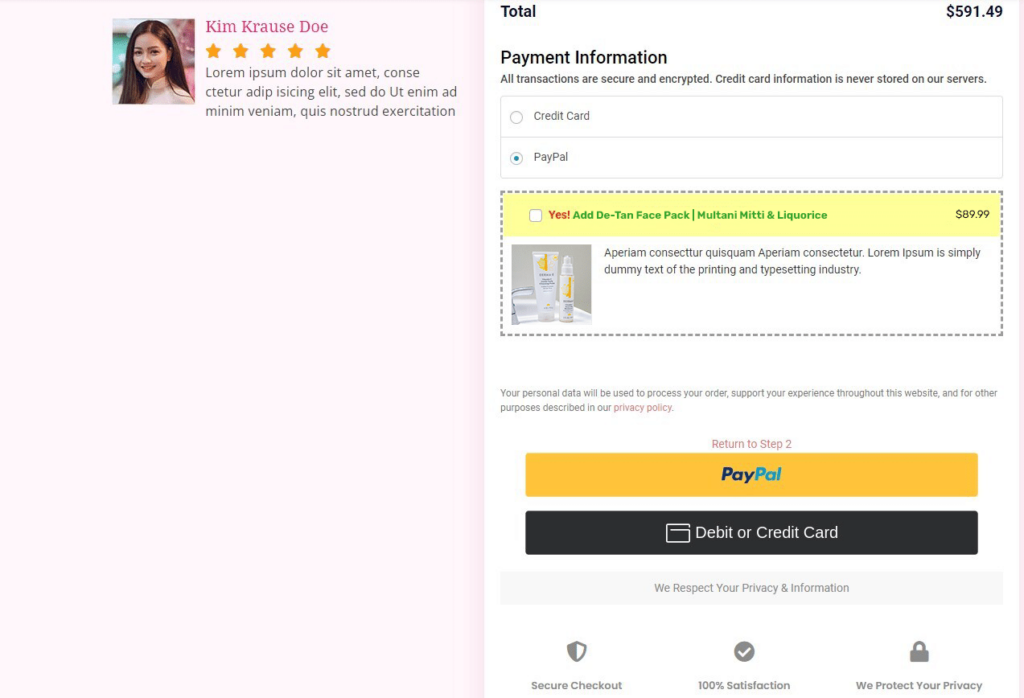 You must have configured WooCommerce payment gateways while setting up your WooCommerce store. Now you can easily configure payment options for your order form.
Now start collecting orders and payments easily.
Now that you have set up your WordPress online order form, it's time to share it.
Go to your order form dashboard and click on "View".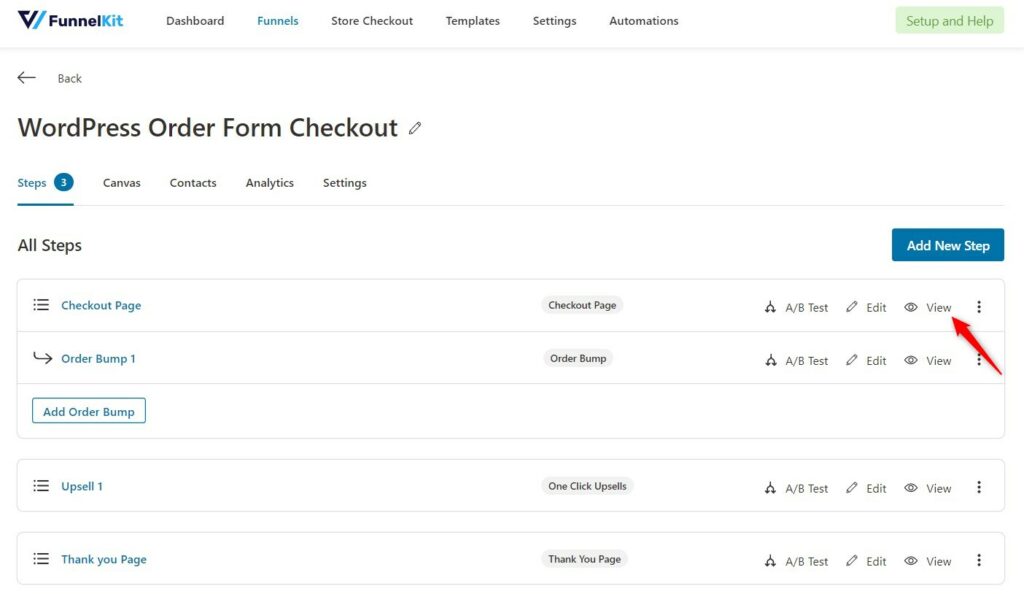 Your WordPress order form will open in a new tab, copy the URL and share it in your Facebook groups or other social media profiles like Instagram, Twitter, Pinterest, and more.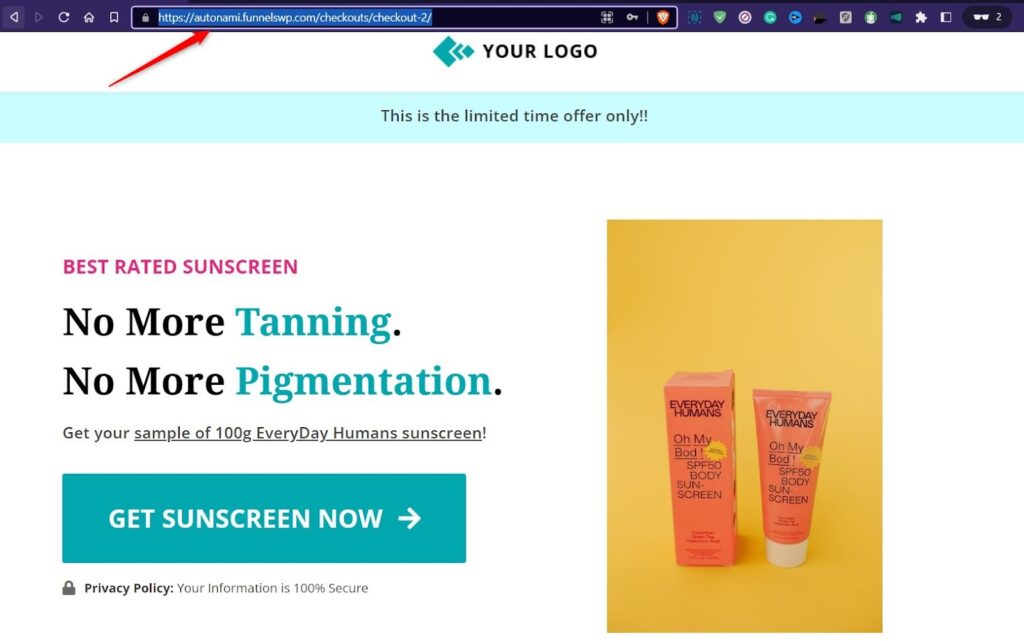 You can even bring in paid traffic via Google Ads. Or, you can share the link with your audience directly in emails or SMSs.
The beauty of an order form is that the user will directly land on the checkout page, and they can complete their payment in minutes.
You also minimize the risk of users browsing through your store, getting lost, and abandoning the purchase.
5 Bonus Tips to Optimize WordPress Order Forms
You have set up your online order form without leaving your WordPress dashboard and are ready to see the orders and profits roll in - but wait!
We have 5 powerful bonus tips to boost conversions and profits from the order form.
1. Add Order Bumps, and Upsells
Order bumps are complementary suggestions to your customers that the buyers can add to their carts with just a click!
Relevant order bumps can significantly boost your AOV.
This is how one-click order bumps look on your checkout page. The item is added to the buyer's cart with just one click.
Along with an order bump, you can always add a pre-purchase or a post-purchase upsell offer. This way, you can pitch your premium products to a buyer who is highly interested in your products.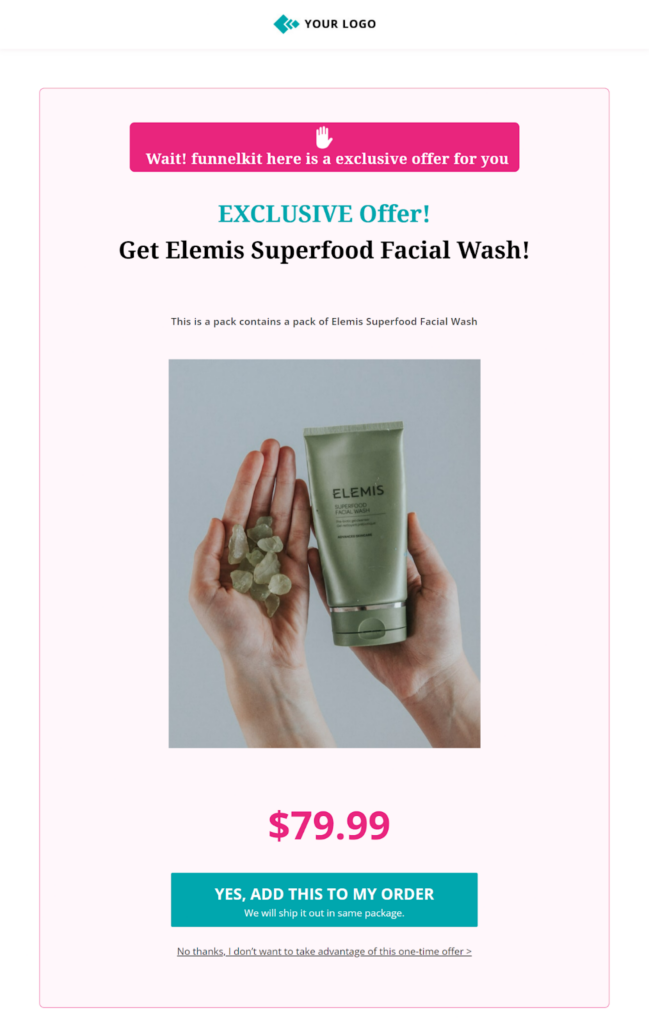 You can even add post-purchase upsell offers, giving new buyers a special offer or a discount bundle.
This way, you can take advantage of the customer's buying momentum and squeeze more sales and profits from the same sale.
You can implement order bumps and upsell offers to squeeze more profits from the same sale. However, if you want to go with only one, refer to our guide on upsells vs. order bumps.
2. Keep the Checkout Form Simple With Important Fields First
Refrain from overwhelming the buyer with too many fields to fill. Break down the form into multiple sections.
In the first section, display products.
In the second section, only capture email and phone number.
And in the third section, ask for shipping information and payment information.
FunnelKit's advanced field editor can help capture emails early and retarget the users in case of cart abandonment. (More on cart abandonment below.)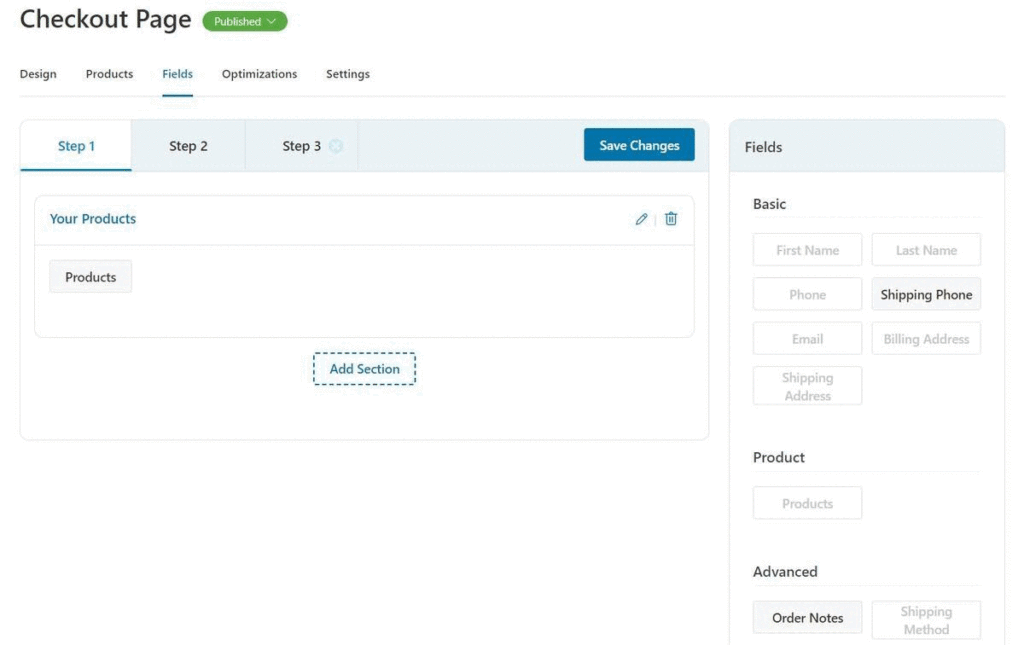 The advanced field editor lets you shuffle the checkout fields on the WordPress order form and enable a quick checkout with minimum fields.
3. Follow-up Users Who Abandon the Order Form
Most WooCommerce marketers have an abandoned cart recovery email sequence in place to follow up with users who've left the store after adding items to the cart.
Similarly, for WordPress order forms, you must follow up with users with a form abandonment recovery email sequence.
Thus, we mentioned above that you need to capture their email early. So, even if a user abandons the form, you can follow up with an email.
Well-timed emails work wonders in recovering abandoned forms, but SMSs work amazingly well too.
According to studies, SMSs have an open rate of close to 90% and a click-through rate of nearly 19%.
If the first two emails or SMSs do not work, try sending a dynamic time-bound discount that catches the shopper's attention and makes them complete the sale.
With FunnelKit Automations, you can automate your abandoned cart recovery emails and SMSs to recover the profits that you otherwise would have lost!
4. Add Express Payment Options and Facilitate Quicker Checkout
According to Baynard's study on cart abandonment, 9% of shoppers abandoned their carts because their preferred payment methods were unavailable.
Plus, 4% abandoned their carts because their credit card was declined.
Thus it is crucial that you present express payment options such as PayPal, GPay, Amazon Pay, Apple Pay, and more.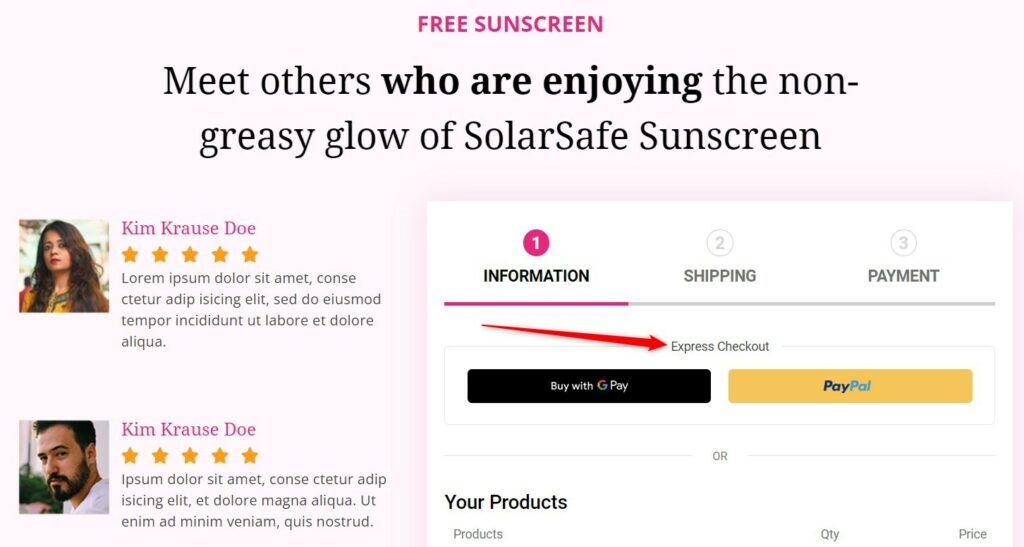 You can even let your buyers pay in installments. This way, buyers can afford to pay if they buy in bulk.
Providing multiple payment options can boost your customer's shopping experience and overall satisfaction. Thus encouraging your buyers to complete their purchases and prevent cart abandonments.
5. Create a Post-Purchase Email Sequence
WooCommerce does send order form notifications to the user, but with FunnelKit, you can customize your order form notifications and make them look sleek.
You can use the visual email builder to create beautiful notification emails - change colors, insert media, show product suggestions, and so much more!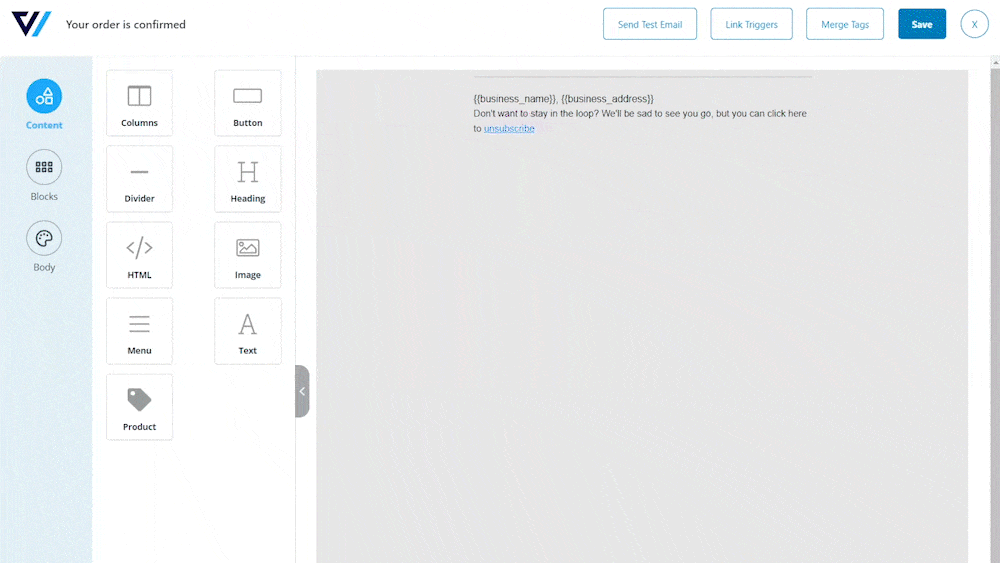 Your post-purchase email sequence can include transactional emails (order confirmation, shipping confirmation), promotional emails (cross-selling, product recommendations), and even retention emails (discount emails).
You can go a step further by incorporating purchase review emails, product education emails, and winback emails.
To know more about how to set up the post-purchase email sequence that clicks with the shoppers - refer to our complete guide on post-purchase email sequence.
Ready to Create Your Own WordPress Order Form?
Today, you learned how to create an online order form right inside your WordPress dashboard and start collecting orders without setting up a full-fledged eCommerce store.
Now, we turn it over to you:
Which bonus point will you use to boost your order form conversions?
We recommend having an abandoned cart recovery system and a post-purchase email sequence.
So, what are you waiting for?
With FunnelKit's checkout funnels, you can set up your WordPress order form in under 10 minutes - try it yourself!