We're super excited to reveal that UpStroke 2.1 is finally out and available for download. In this post, I am going to take you behind the scenes and show you everything that is new in the latest version.
Version 2.1 sets the foundation for dynamic funnels and breaks the patterns of linearity.
Let's dive right in.
The Story so far...
Since we released UpStroke on June 18th, 2018 - there have been several version upgrades, here's the timeline plotted with the major milestones:
In between these milestones, there have been several fixes, improvements, and additions that we could not cover here.
But thanks to your support, we've come quite far since the time we launched UpStroke!
UpStroke 2.0 Introduced Buyer-Behavior-Based Funnels
UpStroke 2.0 was a major milestone for us. We rolled out deep integration with Elementor- giving you the capability to roll out gorgeous upsell pages using pre-built template and UpStroke powered widgets.
There was one request that repeatedly came from our users.
They wanted UpStroke to become smarter and skip offer if the product was purchased by the user in the past. Yes, ever in the past.
That feature request really aligned with our DNA at the core of being buyer-behavior centric. And that's why we rolled out the indexing feature.
It allows you to:
Make upsell offers based on what customers have purchased in the past

Skip the offer if the customer has already purchased it in the past

Now we're furthering our mission and strengthening our DNA, by making upsell funnels even more behavior-based - that's the UpStroke version 2.1.
UpStroke 2.1 Carries the Legacy Forward
Let's look at what changes with the introduction of the latest version.
The Dynamic Offer Paths Lets You Build Flexible Funnels
What if I told you… you could direct people to a sequence of offers based on their response to the first upsell offer?
Because, their acceptance/rejection of the offer, tells you a lot about their preferences (what they want and what they don't).
First, let's just step back and understand what you can do right now:
If they accept the upsell, you can send them to upsell offer #2 and if they reject it then you can send them to downsell offer #1.
Then, whether they accept or reject the downsell offer #1, you can only send them to the next offer in the pipeline, which is U2 in this case. The downsell cannot have it's own upsell(s) and downsell(s).
Though you can have more upsell and downsell offers structured in this way or even terminate the funnel at any step, but the flow is still very linear here.
Well….that's not the case anymore! Take a look at what you can do now:
You can now direct customers to two independent paths (with its own upsells and downsells) based on whether they've accepted or rejected the first upsell offer.
It's more like an offer tree with its own branches.
Also, you can terminate the funnel at any step and send them to the Thank You page right off the bat. It's all about establishing connections between different offers.
To set this up, go into the offer section and you'll see the option to set the dynamic offer paths.
So here, you can decide the next offer that should show up when they accept this offer and when then reject it.
Take a look:
Follow these steps to set up your first dynamic upsell funnel using UpStroke:
Step #1: Add all the offers at once between checkout page and thank you page
Step #2: Go to each of the offers and establish the connection (what do you want to show on its acceptance and rejection)
Here's the 'Strategy call' offer which leads to the thank you page in both the cases: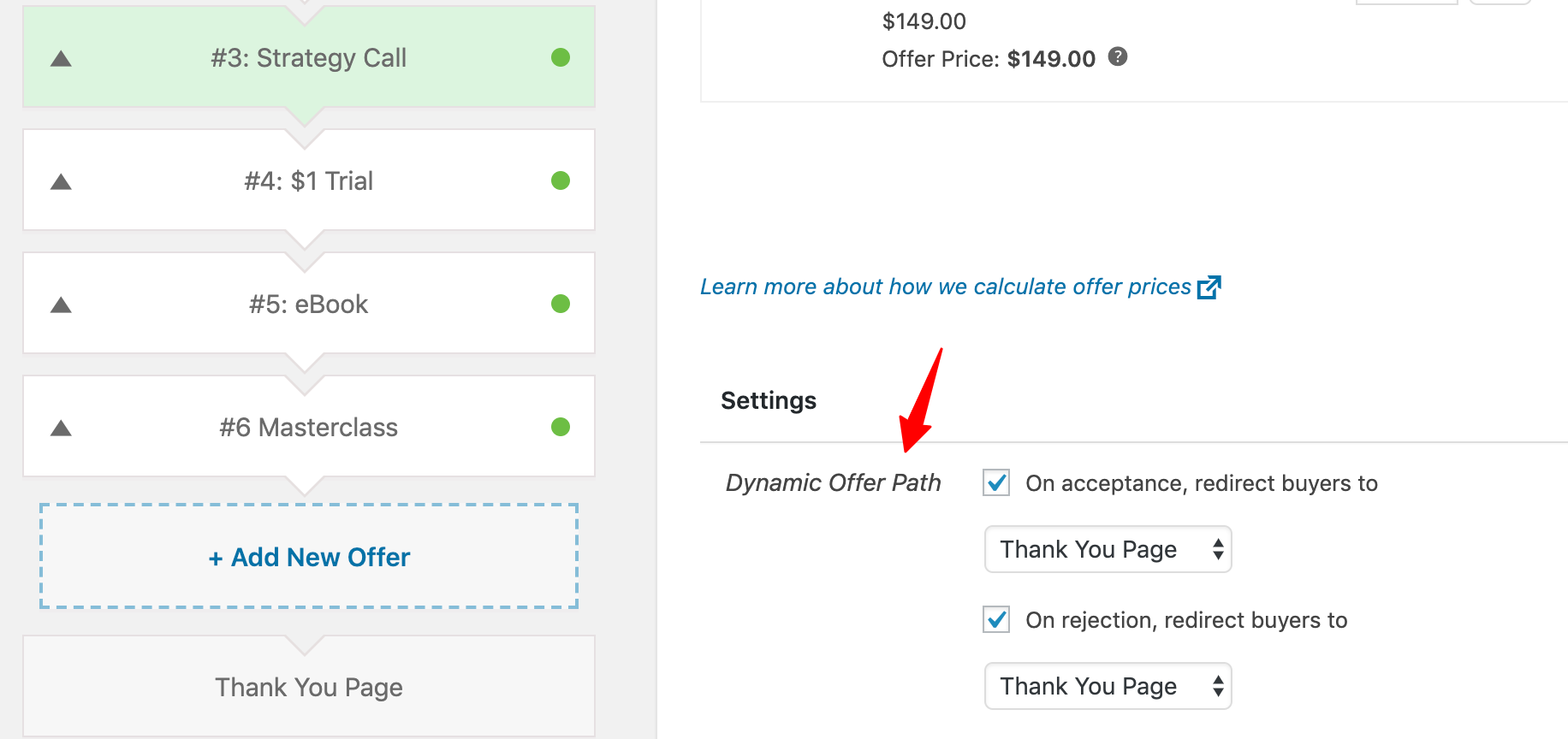 There are also subtle UI changes in 2.1
Before I jump in to show you the demo, there are some UI changes that have been made to the UpStroke's interface. Take a look:
#1: Earlier, the 'Rules', 'Products', 'Design', 'Settings' tab were set vertically, and now they're presented horizontally.
#2: Everything is now within the WordPress interface – so you'll always see the top bar and the sidebar.
The decision was taken to maintain our brand consistency and give you better user experience
Get Ready to Build Even More Targeted Buyer-Behavior-Based Funnels
With the rule builder, you already have the ability to create buyer-behavior-based upsell funnels but now with dynamic offer paths - you can make your funnels even more targeted.
By establishing connections between different offers, you can get more relevant.
So get ready to put dynamic offer paths into play to start increasing your upsell conversions and average order value.
Download the latest version from your dashboard, and if you still don't have UpStroke - get it here.