Updates! Updates! Updates!
It's that time of the year when we're really excited about launching new features, you've been asking us to release in FunnelKit Automations.
We do have a list but this post is all about link triggers!
Link triggers allow your contacts to tell you what they like and what they'd like to hear more about.
This gives you an opportunity to make your emails more effective and relevant to every segment.
So let's dive deeper and understand what link triggers are, their use cases, how marketers leverage them, and how you can set them up.
Start by watching the video below:
What is a link trigger?
A link trigger is more than just a URL. It's a link that you embed which when clicked, triggers a previously designed automation.
Here are the actions that you can perform with link triggers:
Adding/removing a tag
Adding the contact to a list/removing them from it
Ending an automation
Updating a custom field
Why Use Link Triggers?
The more conventional way to do email marketing is to send promotional emails to your list. But modern marketers prefer to involve people and gauge interest before promoting their offers.
Imagine that you teach homeschooling to young parents and have a course launch coming up.
Instead of emailing them a link to the sales page of the course, you first send an email asking if they are interested in the upcoming launch.
If they click on the "yes link", they are added to a specific list. After that, whenever you send your course's promotional emails, you only send them to contacts added to this list who are truly interested in the launch.
This practice will increase your open & click rates because people who expressed interest in the course will actually be looking forward to hearing from you.
It will also lower your unsubscribe rate and boost your conversions in comparison to the subsequent sales emails.
An absolute win-win!
Now let's discuss how you can set up link triggers for your WooCommerce store, using FunnelKit Automations.
Six Brilliant Use Cases of Link Triggers
There are many different ways you can use link triggers. In this post, we will cover five of the most important ones.
1. To Identify the User Persona for Tailoring Your Future Content
If you want to learn more about your users, you can send them a survey form and ask them to fill it up.
But in reality, how many survey forms get filled out?
There's an inertia in the process and most people flinch away from filling out surveys.
The other more convenient way is to send a question in the email and give options to choose from within the email copy itself. The users can choose the option that's most relevant to them from the list.
For example, here's an email from Brennan Dunn that asks users to choose where they're on their journey of freelancing: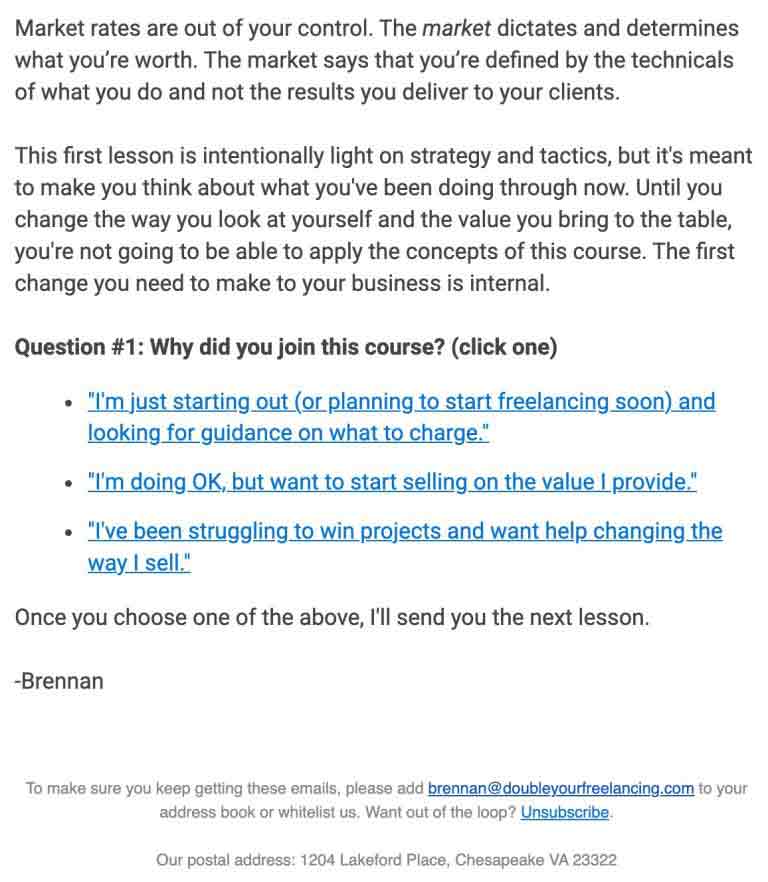 In the backend, the custom fields related to these links are updated.
2. To Gauge Customer Interest in an Upcoming Launch
Got a flash sale or a new product launch coming up?
Rookie marketers make the mistake of sending out promotional emails with a link to the sales page. But smart marketers, first gauge the interest areas of their contacts.
They send an email asking their list if they'd want to learn more about the upcoming event. On opting-in, the contacts are added to a special list, and the subsequent emails about the launch are exclusively sent out to them.
If they click on 'no' they're added to another list and receive no further emails about the event.
Here's an example of an email from Joanna Weibe of Copyhackers.com: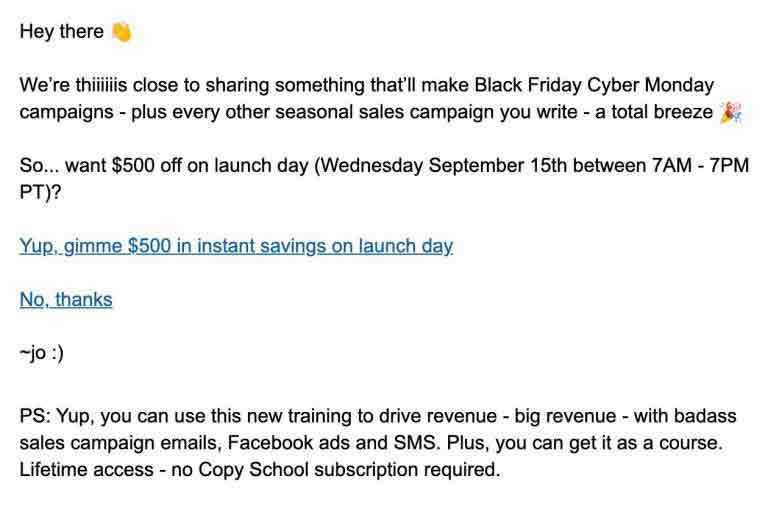 This email is brilliant because:
States the benefit of opting in up front - It's a short and snappy email with a very clear objective of getting people to click on one of the two links

Incentive associated with clicking the 'yes' link - The email just doesn't ask them to click yes, but also offers a discount of $500 the new product

The reject link - There's also the option to opt-out and reject the offer. This would remove the user from the automation.
3. To Gather Information About the User's Needs and Expectations
Let's assume that you want to know the option that is most popular on your list, you can find out using the link triggers.
FunnelKit Automations lets you view the number of clicks each option got - hence allowing you to view the winner. This in turn gives you more information on your contacts and their interests.
For example, if we want to ask our users which page builder is most popular with them to roll out our future integrations, we can simply send them an email with link triggers embedded for each product option.
Later, we can view the number of clicks each option got and pick the winning product.
Content Bistro's email is the perfect example of the same: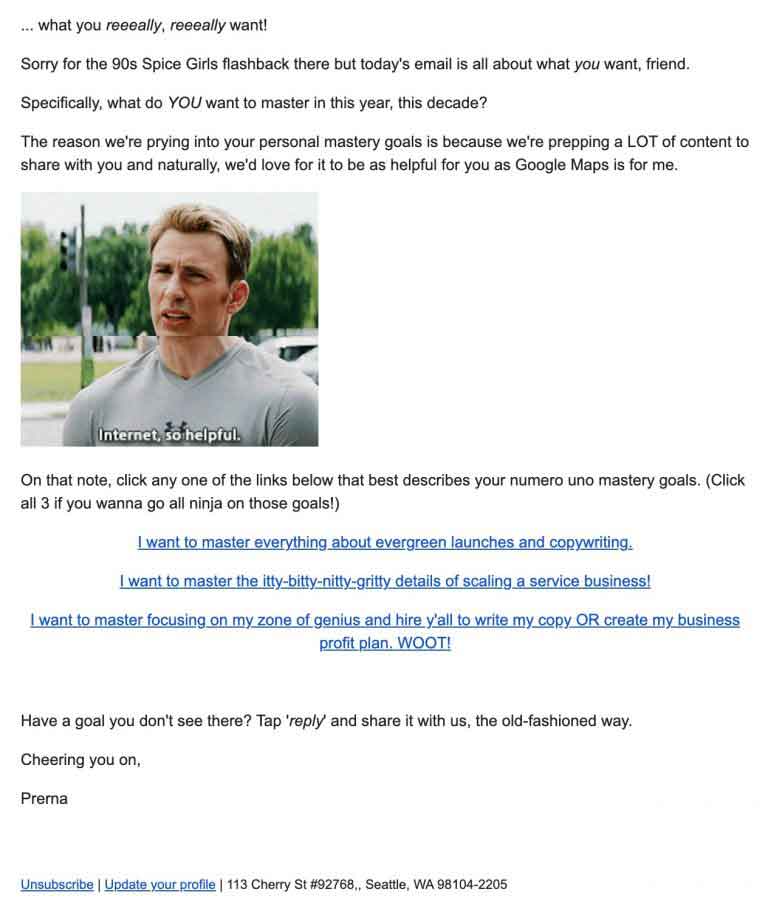 This email inquires the reader about the topic they'd love to master, from the options provided. This helps them identify their contacts and plan their content accordingly.
4. To Provide a Freebie or a Coupon Code to the Customers
Want to have a build-up even for a freebie you plan to offer? Well, a link trigger can help you do that.
Induce desire among your contacts about the product by telling them what you've created, the story behind it, and how they can use it.
You may send the users an email informing them of the progress of the product.
In the email, you urge them to click on the link to sign up and be informed when the freebie is finally launched.
Check this in-house email that we have designed to reach out to our contacts for a view training series: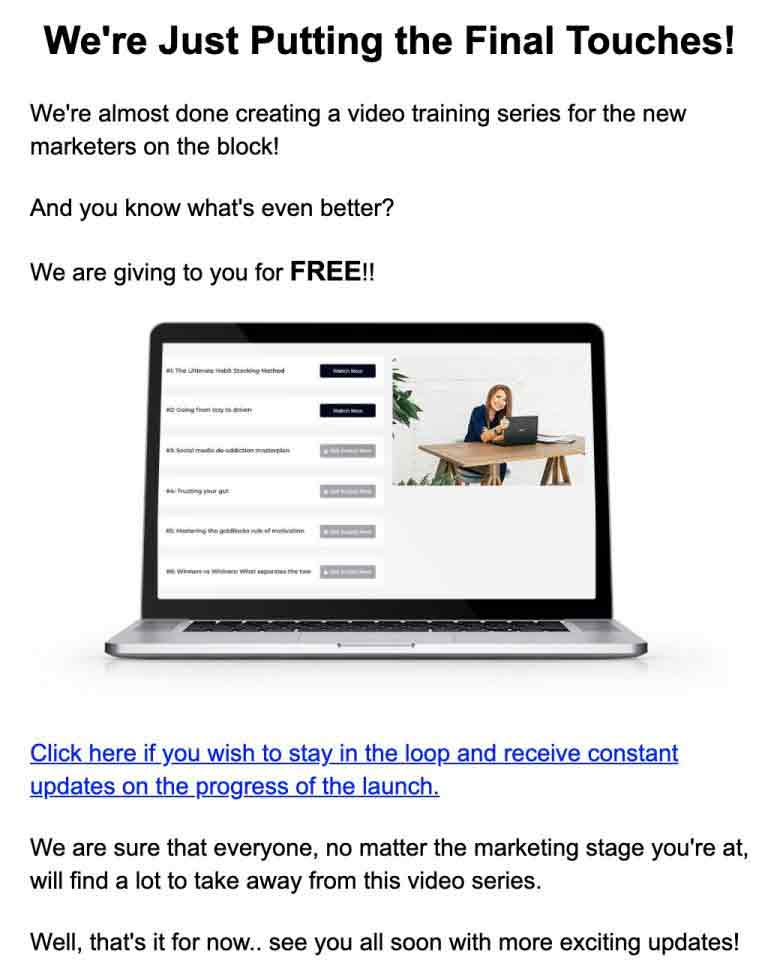 5. To Remove Someone From a Specific Automation
If you're launching a new program or have an affiliate offer coming up, you can give an option to the users to opt-out of getting promotional emails for those.
This would still allow them to continue receiving other updates like newsletters and product updates, but they won't hear more about the offer they opted out of from you.
It gives the power to the contacts about the content they engage in.
This email from Email Stars Digital does just that. it highlights the link trigger to unsubscribe at the very beginning of the email copy.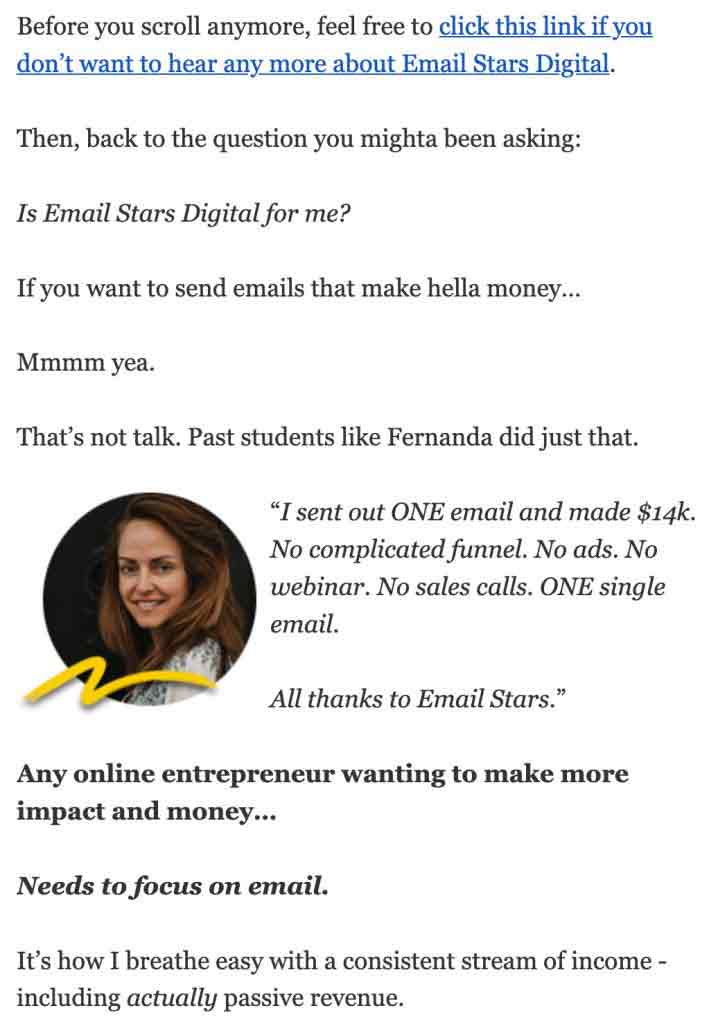 You can do that, or add it at the end as we do with our emails.
This again lets you in on what your contacts prefer to receive information about, and the topics they don't want to bother with.
6. To Track the Number of PDF Downloads
As we have discussed above, the link triggers in FunnelKit Automations even tell you how many times a URL has been clicked. You can use this to find the most popular product sold by you, what topics interest your audience, and so much more.
But what if we tell you that you can track conversion (number of clicks) too?

Now, let's imagine that you've already got users to sign up for a product launch, and now you are sending them learning material for the same, as a PDF file.
Like, this email from Jon Morrow at Smart Blogger. Here Jon gives out links to download the PDF that will make the user a better writer.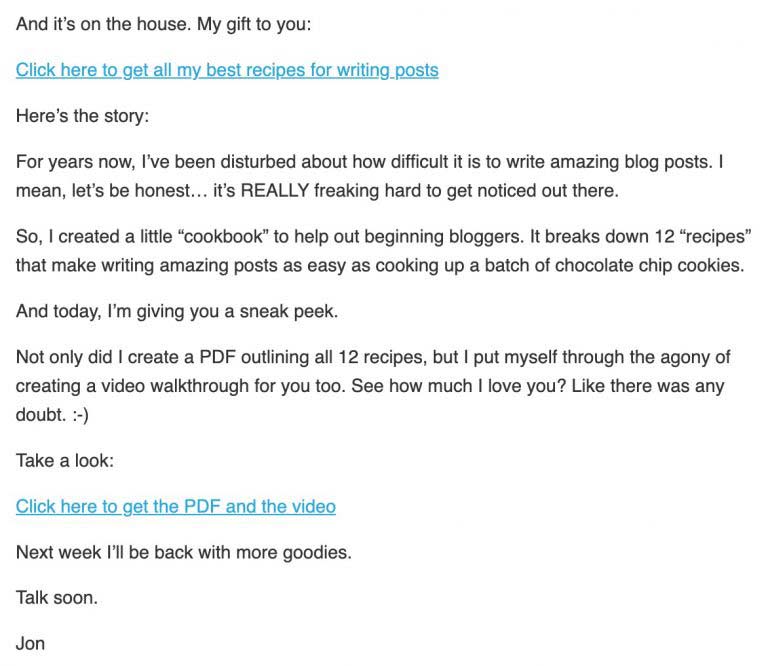 With link triggers, you as a store owner can actually track how many people clicked on the given link to download the sent PDF file.
These were some of the many use cases out there that you can use to achieve with link triggers.
How to Set Up Link Triggers Using FunnelKit Automations
Setting up Link Trigger in FunnelKit Automations is an extremely simple process. You don't require any external plugin to assist you in creating a new link trigger, as it is all built-in in FunnelKit Automations.
To create a new link trigger, follow the steps mentioned below:
Step 1: Add a new link trigger
First, go to FunnelKit Automations > Link Triggers from the WordPress menu, or Tools > Link Triggers from the FunnelKit Automations Dashboard to open the window of Link Triggers.

Next, click on Add New or Create Link Trigger and name the Link Trigger.
Add a description if you want and hit the Add button.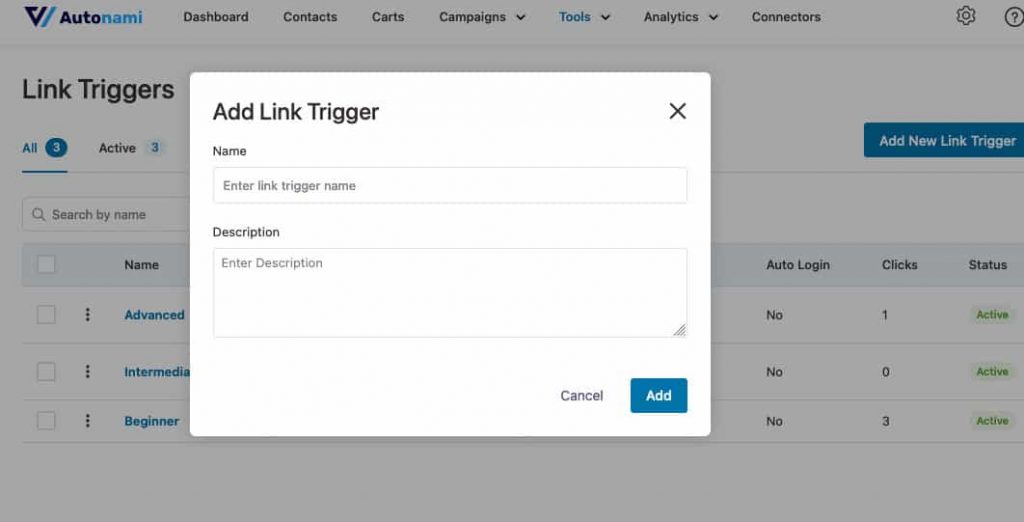 Step 2: Set up the link trigger
Next, mention the Redirect URL. It is the page users would be taken to once they click on the trigger link in the email.
Here we are creating a link trigger to know the stage of marketing our contacts are at - Beginner, Intermediary, or Advanced. In this example, we are working on the Beginner stage.
Also, specify the action you wish would take place when the user clicks on the link trigger.
You can choose from the following options to set up action on your link triggers:
Add/remove a tag
Add the contact to a list/remove them from it
End an automation
Update a custom field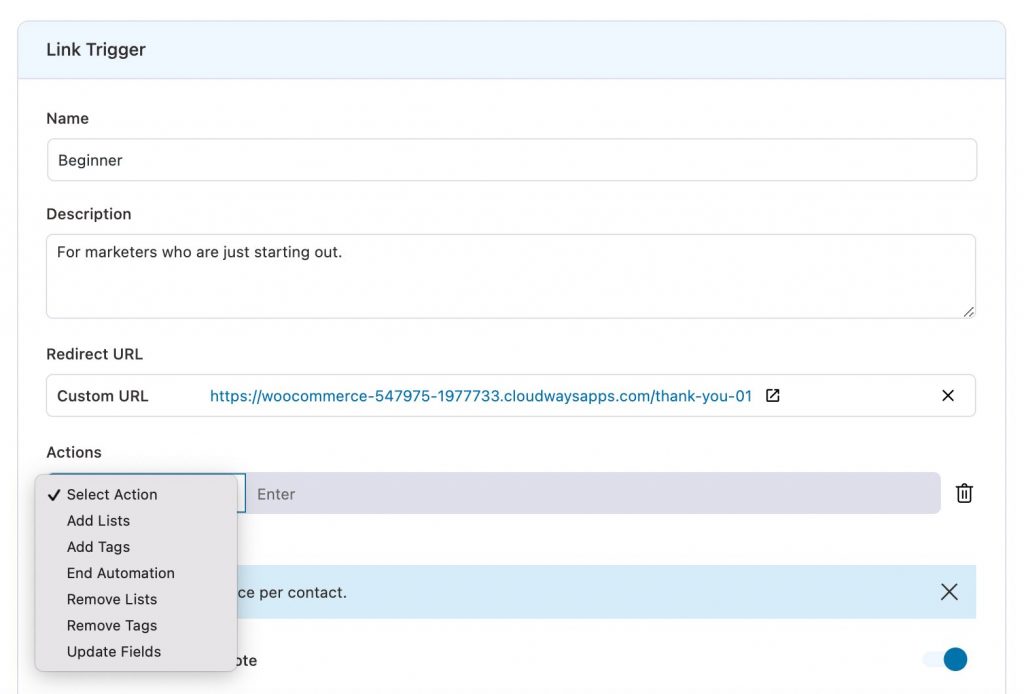 For this trigger, we have added the "Update Fields" action and used a custom field 'Marketing Stage' that we'd created before.
We chose to update fields instead of adding tags because when a user clicks on two or more links, all the tags associated with the links are added to the contact.
But that is not the case for fields. A field gets updated every time a link is clicked.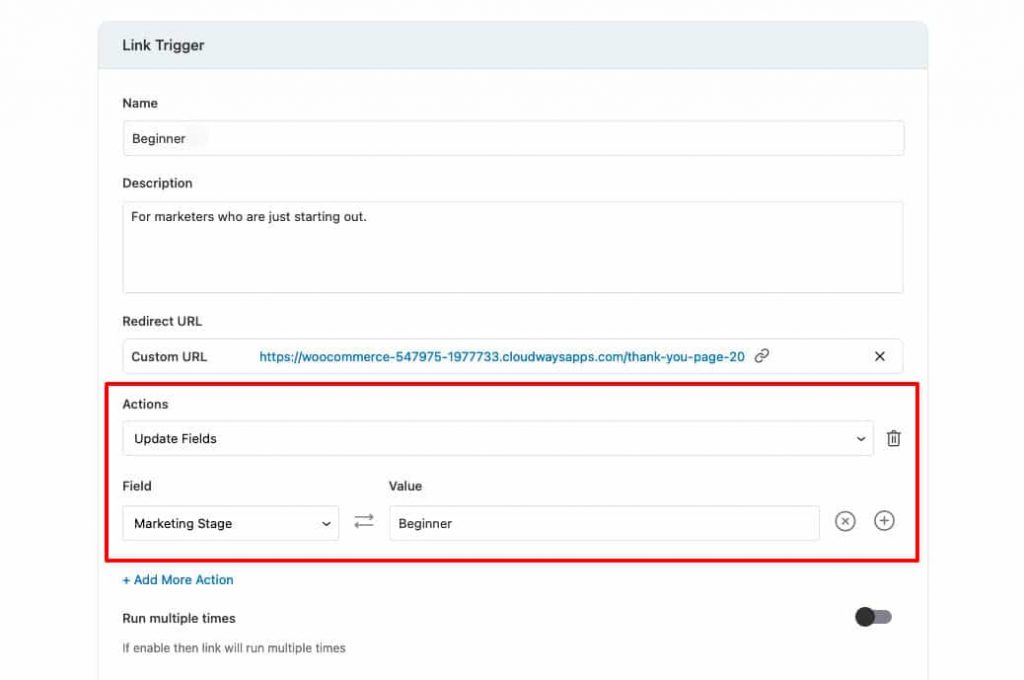 Here we used a custom field called 'Marketing Stage' where only three values can be added - Beginner, Intermediary, and Advanced.
Read our documentation to learn how you can add a new custom field to your contacts.
There are a few more settings available:
Run multiple times: Allow link trigger to run multiple times.
Log Actions as Contact Notes: Enable this if you want to log actions in the notes section of a contact's profile.
Enable Auto Login: This would automatically login the users into their accounts when they click on the link trigger.

Once done, click Save to generate the Trigger URL that you can copy and paste into the emails as the link triggers.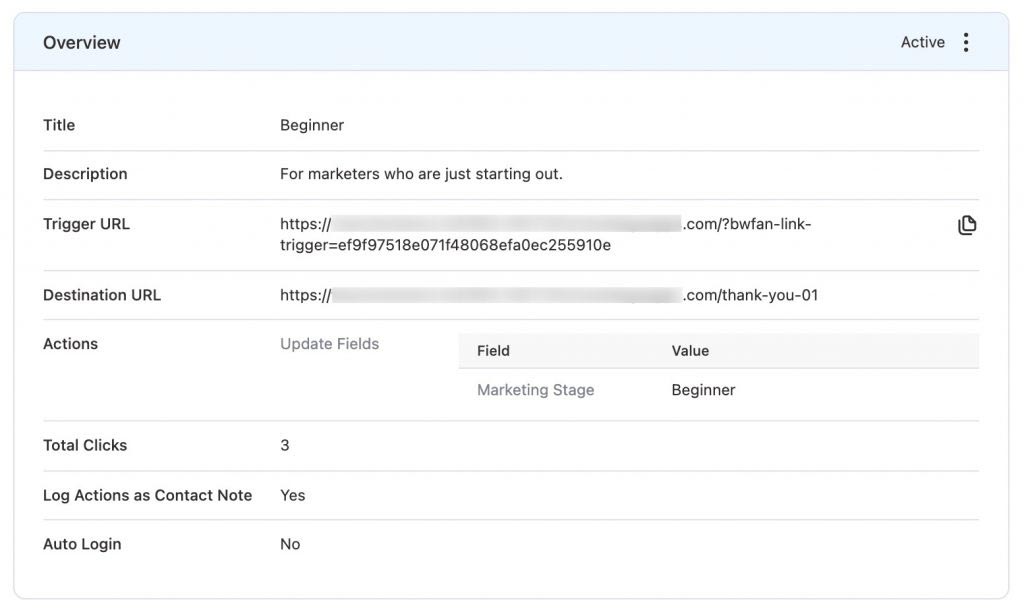 Similar to this one, we have created 2 other link triggers, each for Intermediary and Advanced levels.

How to Use Link Triggers in Broadcast & Automation
Now that the link triggers are created, let's create a welcome email that you can send to the contacts that have just subscribed to you.
Keep in mind you can use link triggers in broadcast emails as well as automated emails.
This email copy will have these three link triggers added and sent to the subscribers.
So first, we need to create an automation for the welcome email. For that, go to FunnelKit Automations > Campaign > Automation, and add new automation.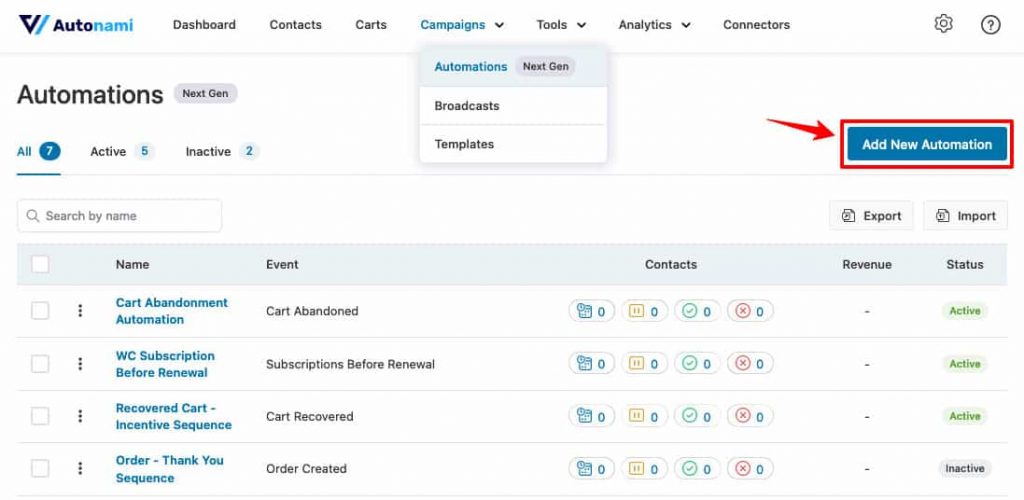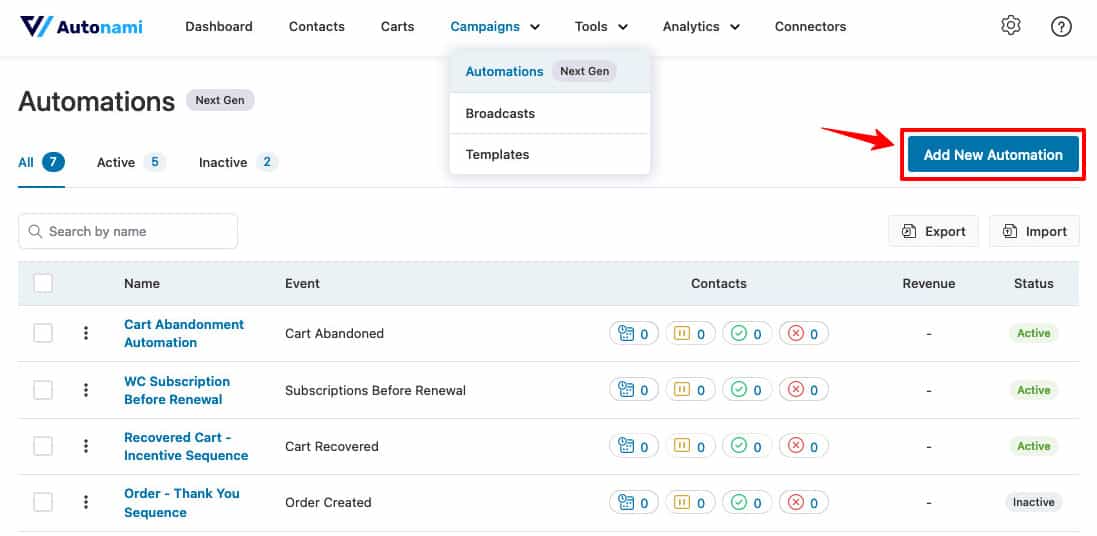 In this automation, select the trigger event: 'Tag is Added':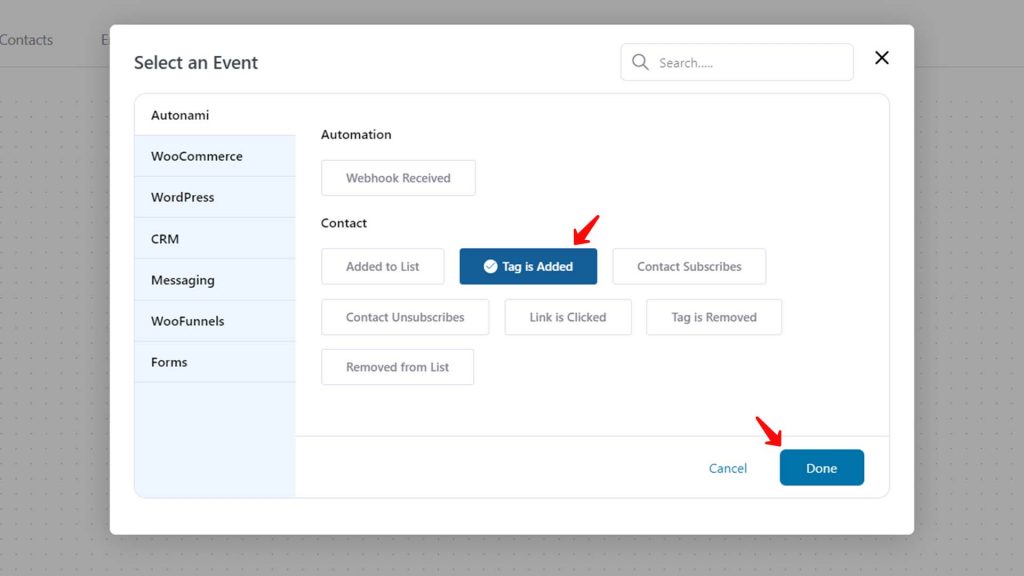 Next, specify the tag that will set the automation in motion.
This tag can be added to users when they submit a form or make a purchase at your store.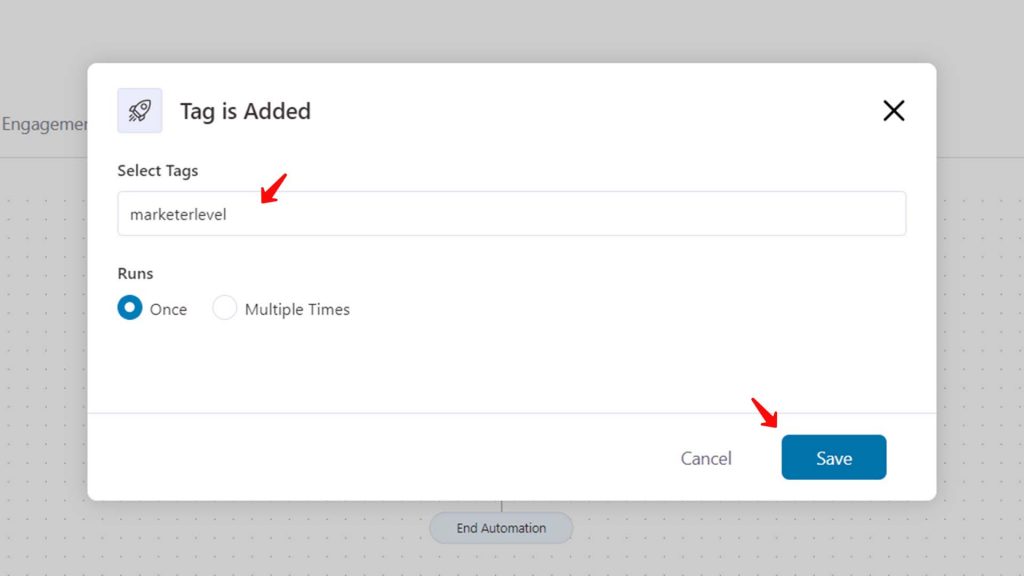 Then add the Send Email action to this event.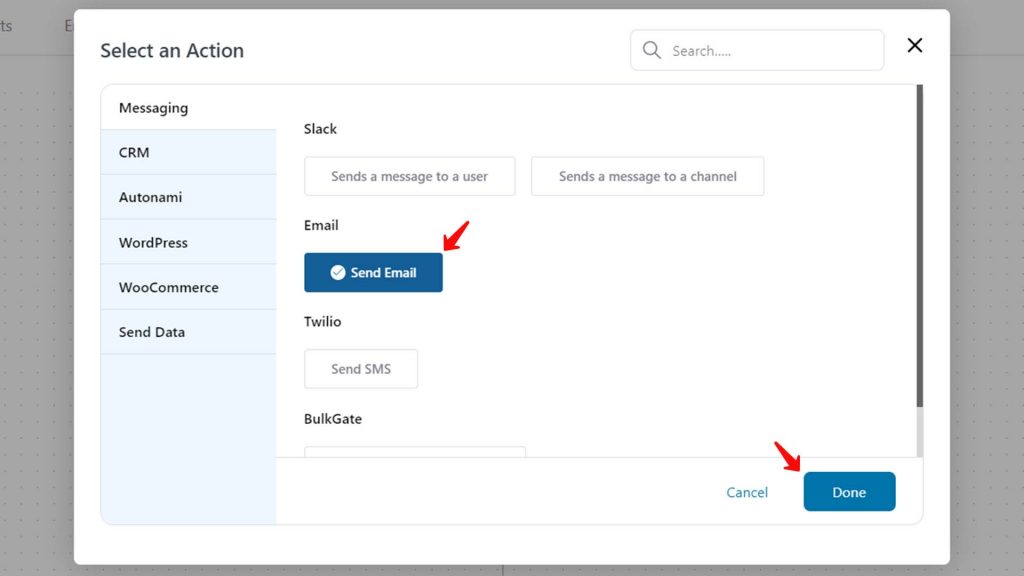 Design the welcome email you wish to send your users. FunnelKit Automations allows you to design emails with Rich Text, Raw HTML, and Drag & Drop Editor.
We used Rich Text for this example. Just create an email copy, and paste the copied link triggers to create links in the emails.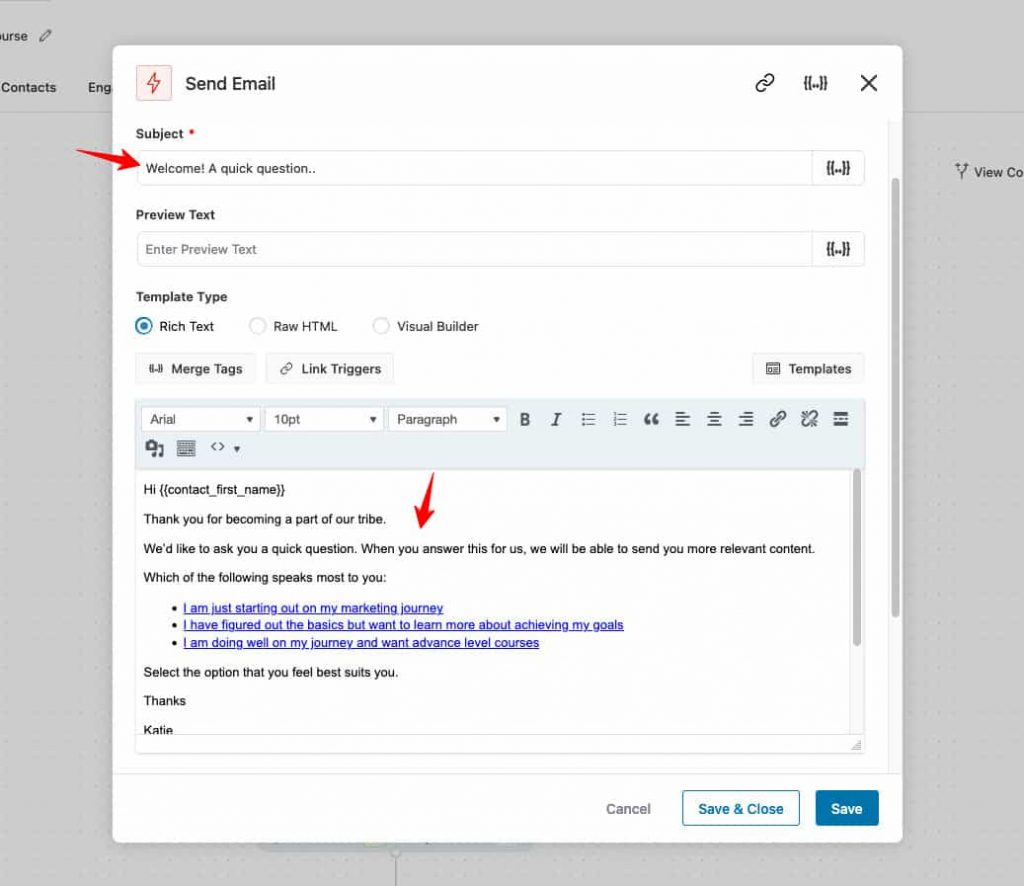 Once done, just make the automation live and send this email to every new user that subscribes to you.
Once Use Clicks On the Link, The Action Gets Initiated Automatically
Now you've not only created a link trigger but also designed automation around it. Now all that's left is to watch the automation run and the contact fields get updated.
When the contact gets updated with the specified tag, they receive the previously designed email with link triggers embedded in the copy.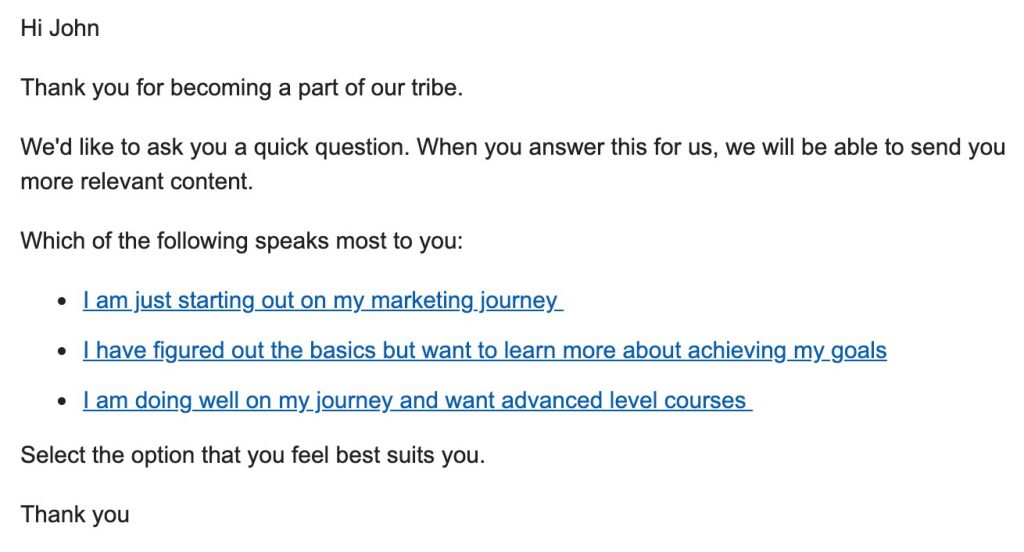 Once a user clicks on one of the links, the contact field gets updated as was set.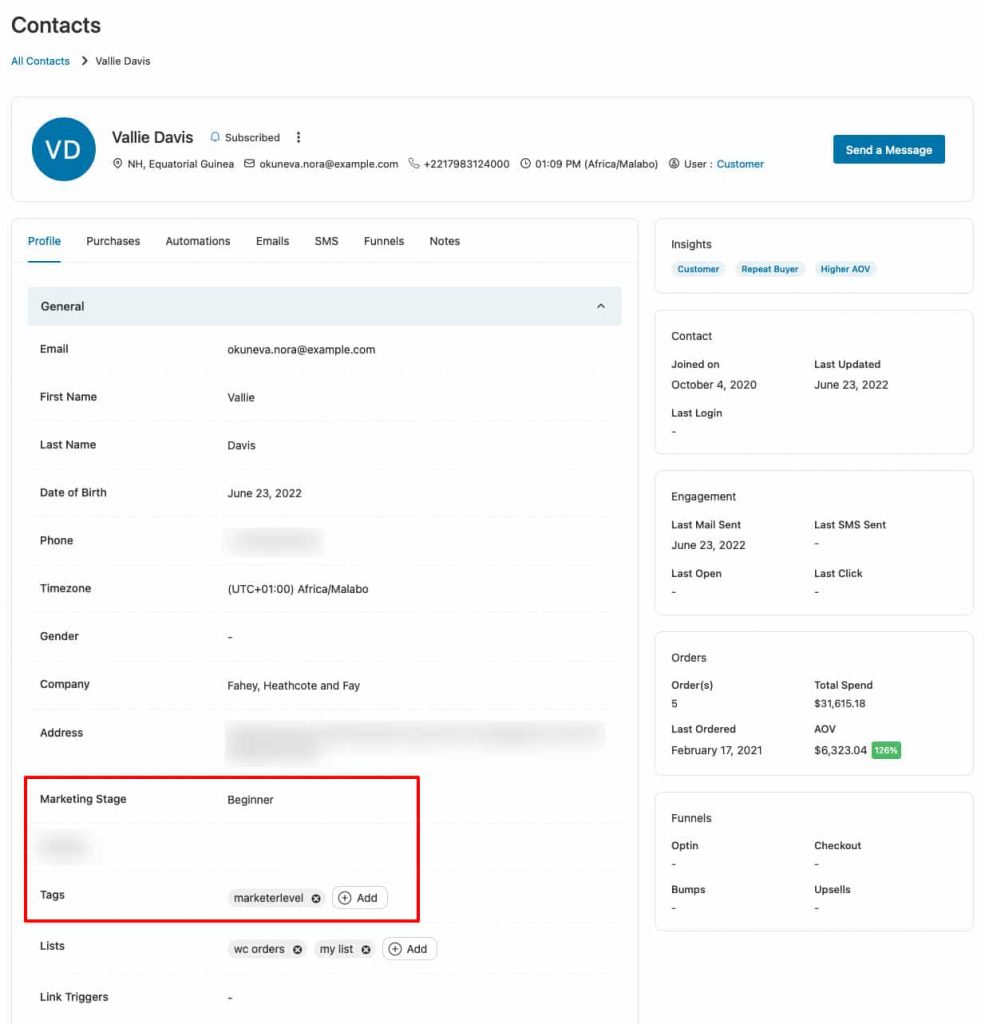 And also a note gets added with the link trigger logs.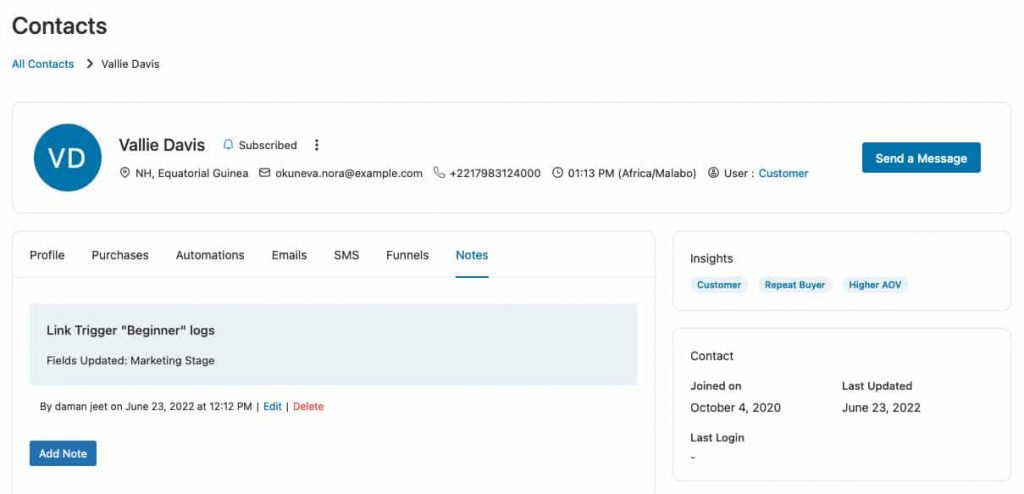 And that's it! You're all set with your link triggers and related email automation.
Ready to Make the Most of Link Triggers?
In this post today, we looked at what link triggers are, why you need them, and of course, discussed some incredible use cases for you to use.
The use cases we mentioned, are just the tip of the iceberg. There is so much more you can do with link triggers!
Link triggers enable you to go beyond an email or a piece of content and engage with the users on a more dynamic level with the automation.
Pro marketers use them to know and understand their contacts better. They use the information gathered from the triggers to plan their future material and pitch it only to the interested audience for maximum conversions.
Witness the customer engagement improve by setting up link triggers for your store with FunnelKit Automations today!
Read the latest updates for FunnelKit Automations here.