Are you looking for the best Stripe Payment Plugins for WordPress to streamline your online payment process and enhance the user experience?
3.5 million websites use Stripe around the world, making it one of the most popular payment gateway.
This secure payment system reduces customers' time and effort in placing an order. It's the perfect payment gateway for WooCommerce store owners to sell all kinds of physical or digital products online.
But with so many plugins available, it's important to go for the best Stripe payment plugin that matches your specific needs.
In this post, we'll explore 6 of the best WordPress plugins you can use to integrate Stripe with WooCommerce.
Why Use Stripe to Accept Payments on WordPress?
Stripe is a payment processing platform that accepts online and mobile payments on eCommerce websites. Some of the reasons why you should use Stripe to accept online payments include:
Multiple payment options
You can offer multiple payment options to users of your eStore. Customers can pay using credit and debit cards such as Visa, Mastercard, American Express, Discover, JCB, etc.
Stripe also provides express checkouts, such as Apple Pay and Google Pay. Moreover, you can also add local payment methods such as SEPA, iDEAL, P24, Bancontact, and many more.
Secure transactions
Stripe is PCI DSS Level 1 certified. This certification ensures the highest level of security regarding online card transactions.
Moreover, Stripe uses real-time machine learning to protect businesses from fraudsters. So, if you integrate Stripe, you won't have to worry about security again.
Increased conversion rate
The inability to find a preferred payment is one of the top reasons why users leave their cart and abandon the shopping completely.
Stripe can solve this problem as it offers multiple payment options. This way, you can minimize the cart abandonment rate by letting your shoppers choose their preferred mode of payment. And thus boost conversions in your store.
Customer satisfaction
Stripe ensures a customer doesn't face any issues while making online payments on your website. Of course, shoppers don't need to open any bank account. They can just use their credit or debit card to make hassle-free payments.
Moreover, not all payment methods are available everywhere in the world. That's where Stripe can solve these issues because it supports various kinds of local payment methods.
Multiple currency support
Along with dozens of payment methods, Stripe supports over 135+ currencies. As a result, you can grow your business globally without any struggle, even if your customers are from different parts of the world and use different currencies.
Now that you know how useful it is to use Stripe on your website, let's have a look at some of the best WordPress stripe payment plugins.
6 Best Stripe Payment Plugins for WordPress
Here is the list of the top 6 Stripe payment plugins for WordPress that'll help you streamline your payment process and enhance your user's shopping experience.
1. Stripe Payment Gateway for WooCommerce by FunnelKit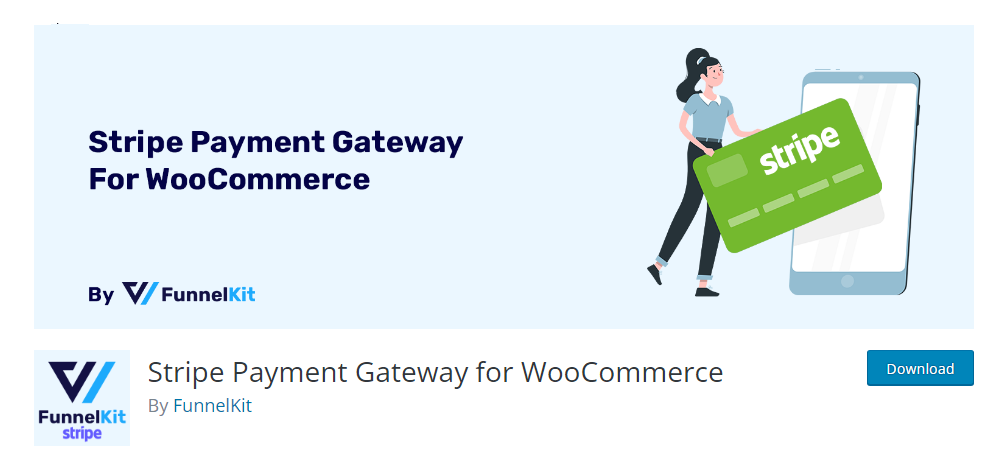 Stripe Payment Gateway for WooCommerce is a part of FunnelKit's expanding ecosystem. The best part is that it's available for free.
It offers an integrated solution to accept online payments on your store for the web and mobile.
FunnelKit's Stripe Payment Gateway for WooCommerce plugin has a quick onboarding process that needs no manual work. Once you connect to Stripe, it automatically fetches the live and test keys to run your transactions. Moreover, it instantly syncs webhooks from your Stripe account without requiring manual copy-paste.
Using this plugin, you can accept all the popular cards, such as Visa, MasterCard, American Express, JCB, and more. Moreover, it integrates with express payments, such as Google Pay and Apple Pay. It also supports local payment gateways such as iDEAL, SEPA, P24, BanContact, and many more.
This Stripe gateway plugin from FunnelKit also works if you sell subscription-based products. It allows you to collect both one-time and recurring payments effortlessly for your subscription-based products.
🔔 To learn how you can connect Stripe with WooCommerce using FunnelKit, check the guide here: How to Integrate Stripe with WooCommerce (Step-by-Step Guide)
Please note that Stripe Payment Gateway for WooCommerce by FunnelKit is available for free.
2. WPForms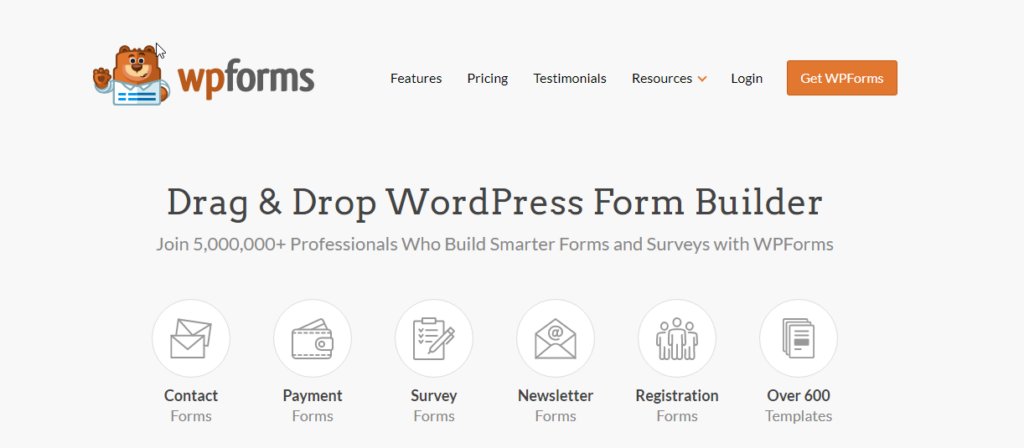 WPForms is one of the most popular drag-and-drop form builders on WordPress. The Pro version of WPForms lets you integrate your WordPress website with the Stripe payment option via Stripe Addon.
With the WPForms Stripe addon, you can easily collect online payments, including one-time as well as recurring payments and donations, without leaving your website.
You can also set conditional notification emails for completed payments by adding a delay in sending the notification until payment has been successfully completed.
Furthermore, you can also create contact, payment, survey, and registration forms along with the payment forms.
To use the Stripe Addon, you'd have to purchase WPForm Pro, which will cost you $199.50 a year.
3. WP Simple Pay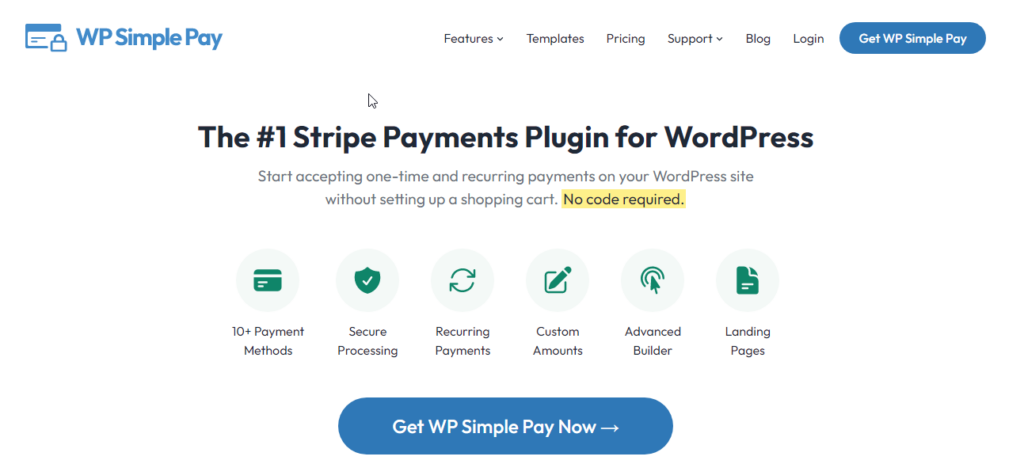 WP Simple pay is a simple, easy, and powerful WordPress Stripe payment form plugin.
This plugin allows you to accept one-time and recurring payments on your store.
Not just that. You can accept payment in 10+ methods, including Credit cards, Debit Cards, US Bank accounts, SEPA Direct Debit, Afterpay, Klarna, and more.
Moreover, you can offer users the option to pay interest-free installments with free financing through Klarna or Afterpay.
Another useful feature of this WordPress plugin is you can create payment forms with its drag-and-drop form builder without writing any code.
It allows you to add text fields, checkboxes, dropdowns, etc., to help you capture additional information along with the payments or donations on your website.
The most basic plan of WP Simple Pay starts at $49 a year.
4. WooCommerce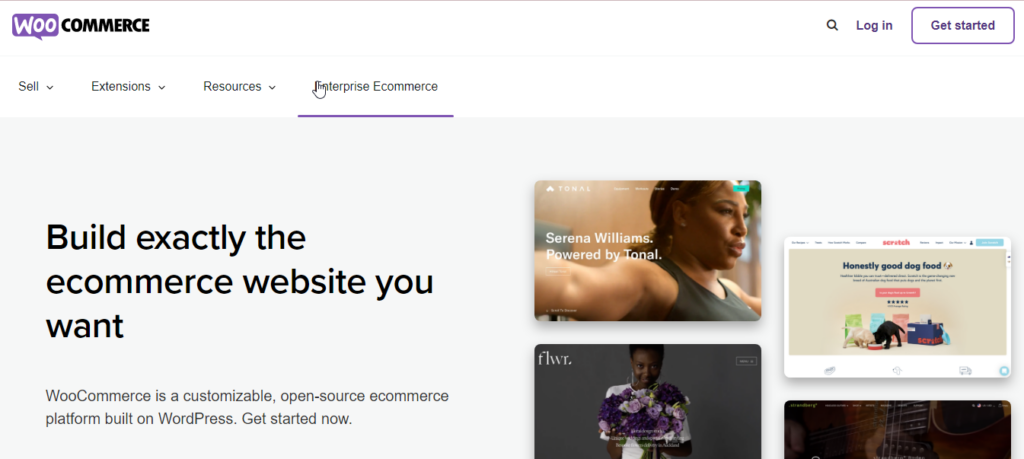 E-Commerce site within a few minutes. More than 6.3 million websites use WooCommerce making it the most popular E-Commerce platform.
WooCommerce comes with a Stripe Addon that allows you to accept payment with all major debit and credit cards as well as local payment methods.
Moreover, the addon has built-in support for express checkout options such as Apple Pay and Google Pay.
Note: We recommend using the FunnelKit Stripe plugin to connect WooCommerce with Stripe instead of the Stripe addon. That is because FunnelKit makes the onboarding process super quick and eliminates all the manual work needed to sync webhooks.
5. Easy Digital Downloads

Easy Digital Downloads is a top-tier WordPress eCommerce plugin that lets you sell digital products on your website.
The plugin works exceptionally well with Stripe, Paypal and other payment gateways.
Furthermore, It allows your customers to make secure purchases with extensive support for both one-time and recurring payments.
This is a highly popular plugin with 50,000+ happy customers. If you sell only digital products, then you can surely go for the Stripe payment plugin for WordPress.
To use Stripe payments, you need to purchase its premium version, which starts at $99.50 a year.
6. MemberPress

MemberPress is an all-in-one membership plugin for WordPress that enables you to build a perfect membership site. You can easily sell online courses and digital downloads with this plugin.
MemberPress comes with a Stripe integration for WordPress that allows you to accept payments on eCommerce sites easily. No coding is required for this integration.
The Stripe add-on is available for all MemberPress membership levels. This plugin supports recurring payments and has complete subscription management options.
Which WordPress Stripe Payment Plugin Should You Choose?
Stripe allows users to pay on the checkout page without being redirected to the externally hosted checkout page. This has been proven to result in a higher conversion rate.
That's why we have put a list of the best Stripe payment plugins for WordPress.
These top-notch Stripe payment plugins for WordPress cover a wide array of features and functionalities to enhance your online store.
Whether you're selling physical items, digital products or services, or a subscription element, integrating Stripe with your store will ensure a secure transaction for your customers.
We highly recommend using the Stripe Payment Gateway for WooCommerce from FunnelKit as it's absolutely free and super easy to integrate with Stripe.
It's a plugin that is fully aligned with the best features to take your WordPress website to the next level.
Along with the Stripe plugin, if you go for FunnelKit Funnel builder, then you can create a strategic sales funnel with high-converting checkouts within minutes to boost your sales.
Start using FunnelKit Today!