Track and measure the performance of your sales funnels in the Analytics tab.
Please note that all of this data is funnel-specific.
We've added some new tabs to carefully analyze the performance of your sales funnels in the Funnel Builder.
You can now see the revenues generated from Bumps and Upsells separately.
Besides this, you can also view contacts and average order value for a specific funnel.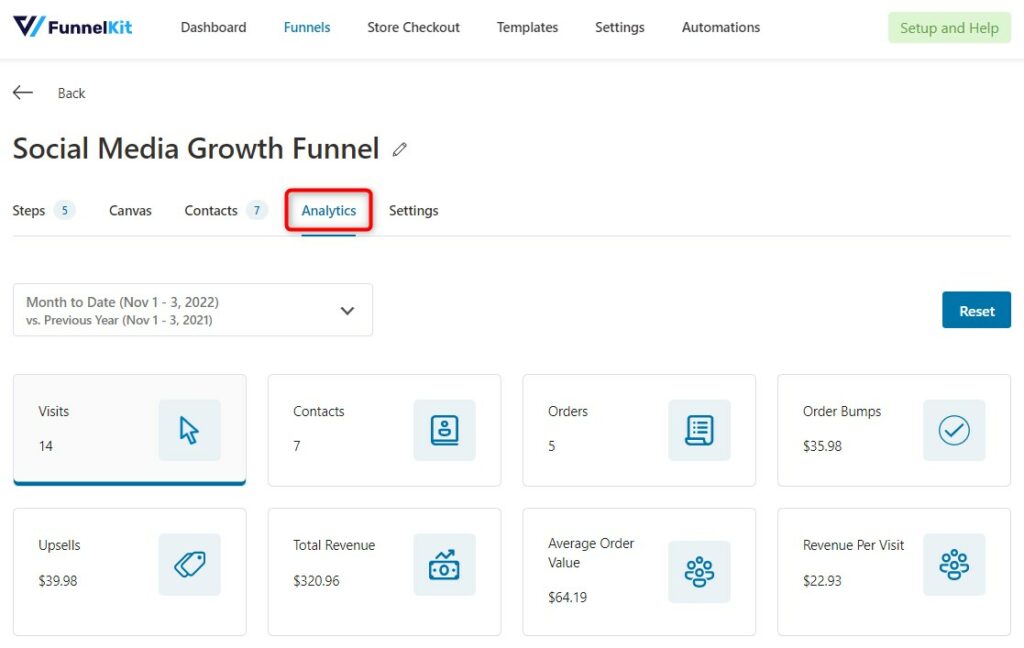 Select a date range from the top to view the stats from a specific funnel.
You can even compare the performance in the current month/year of your sales funnel with the previous month or year.
All you need to do is select the date range.
There are some preset ranges for you, or you can set your own date range. You can define a custom date range for better comparisons: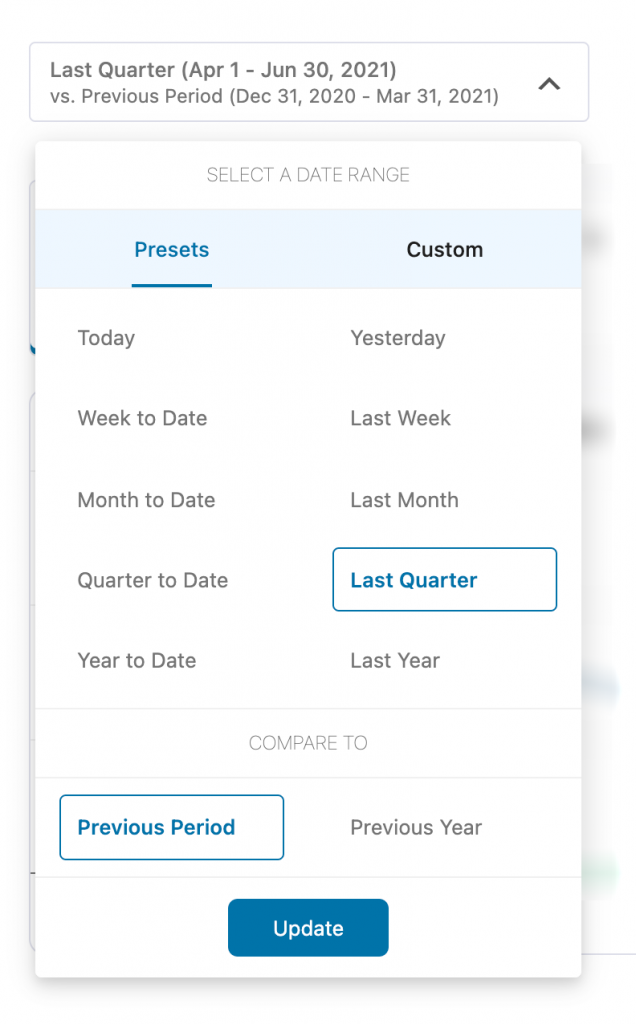 You'll be able to view the following stats for any specified date:
Visits: This shows the total traffic your funnel received in that time duration.
Contacts: Number of contacts who successfully got converted.
Orders: This signifies the number of orders placed for your product.
Order Bumps: Revenue generated from the order bumps.
Upsells: Revenue generated from one-click upsell offers.
Total Revenue: Revenue tells you about the total income generated by the funnel. It includes the revenue earned from all the additional offers as well.
Average Order Value: AOV specifies the average revenue generated from an order.
Revenue per Visit: It's calculated by dividing the total revenue by the number of visitors.
You can view the analytics in conjunction with the stats plotted on the graph.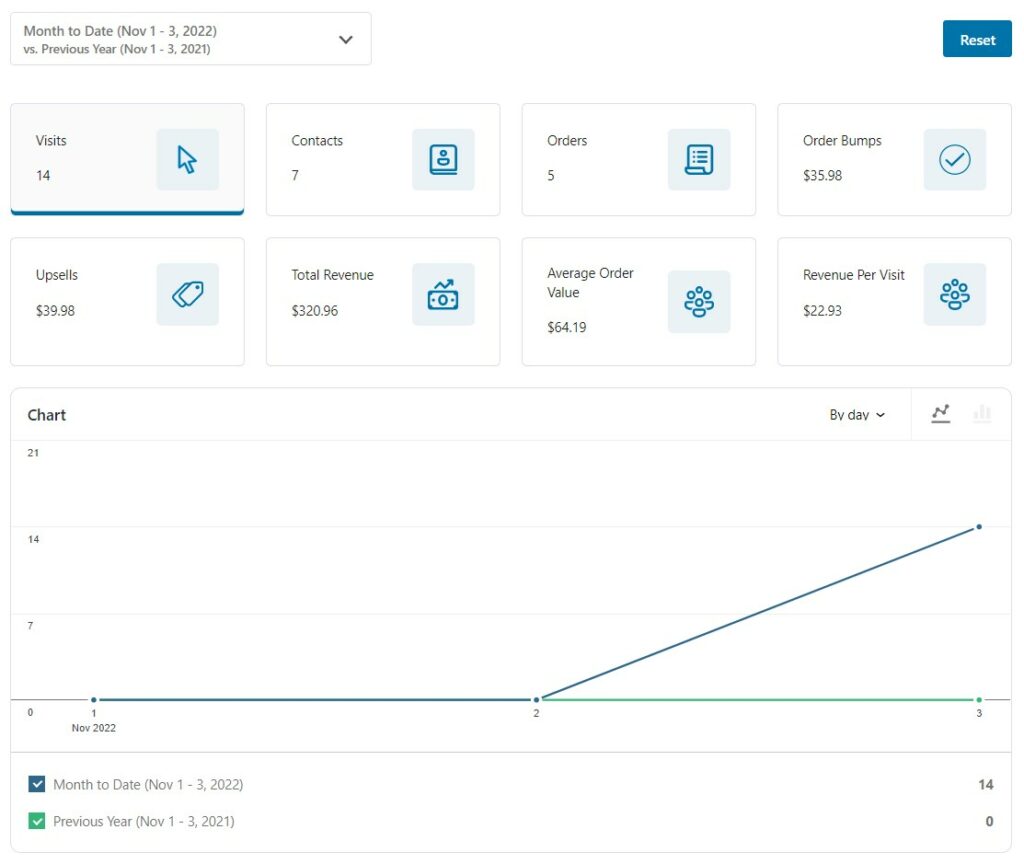 As you scroll down on the same page, you can see the data for various components of your sales funnel: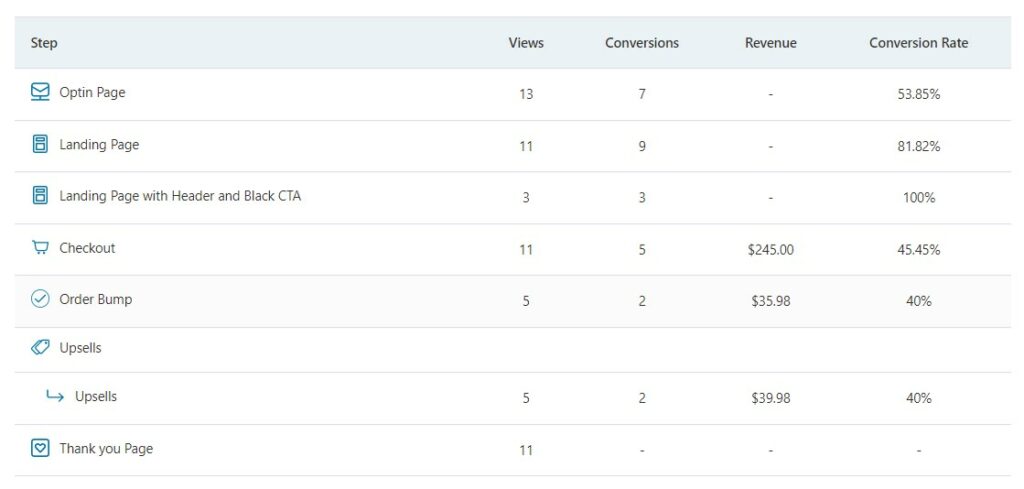 Here, you can see the number of views, conversions and revenue for each step.
Since the Optin, Sales and Thank you pages do not generate any revenue; therefore, it doesn't have any stats there.
Rest, the Checkout, Order Bumps and One-Click Upsells shows the revenue.
This is how you can use analytics to measure the performance of your sales funnels in real time.