In this section, you'll learn how to create product-specific checkout pages.
Product-specific checkout pages let you highlight and promote a specific item.
You may sell one or more products using this checkout page.
Let's see how to set up a product-specific checkout page.
Step 1: Add a New Checkout page
> If you're using the Funnel Builder, add a new funnel >> click on 'Start from Scratch' and add a new step.
From the steps given, you can choose the checkout page.
> If you're using FunnelKit Checkout, click on 'Add New' and enter a title. After you enter the title, you'll land on the page to design the checkout.
Step 2: Choose the Design template & Customize it
You'll get a few different ways to build your checkout page - Elementor, Divi, Gutenberg, Oxygen, Customizer, and others using shortcodes.
Based on the method you choose, you'll be able to see different templates to pick from.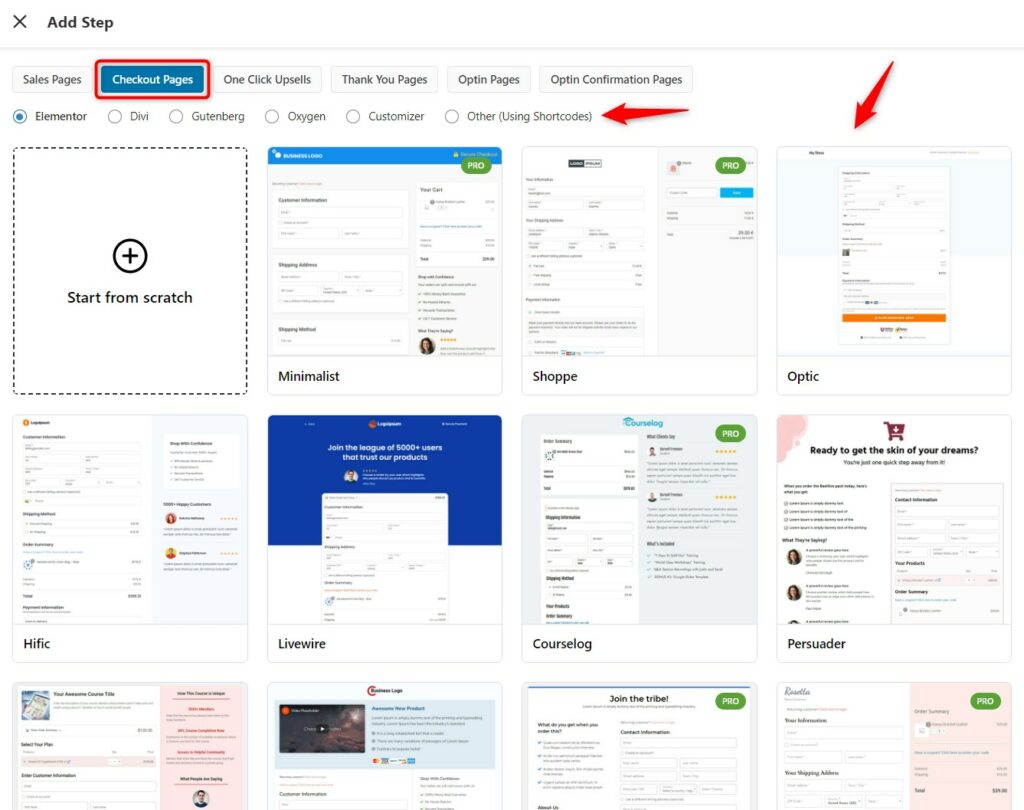 Click on any template to see their previews.
Once you're satisfied with everything, hit the 'Import This Template' button and name your checkout page to import.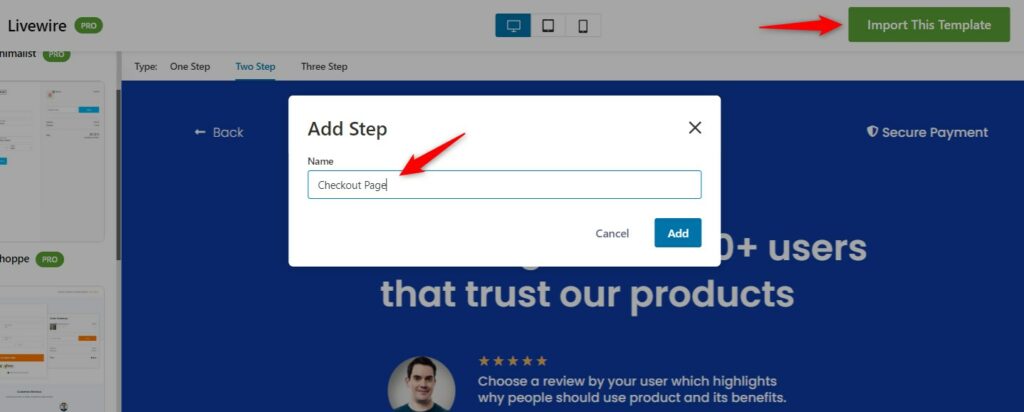 Click on the Import button to start editing any template.
To customize your checkout page, go to our Design documentation.
Step 3: Add Product(s)
Once you've selected a design for your product-specific checkout page, navigate to the 'Products' tab.
Here add the product(s) that you want to sell through this checkout page.
Drag and drop the products in case you wish to change the order to display them on the checkout.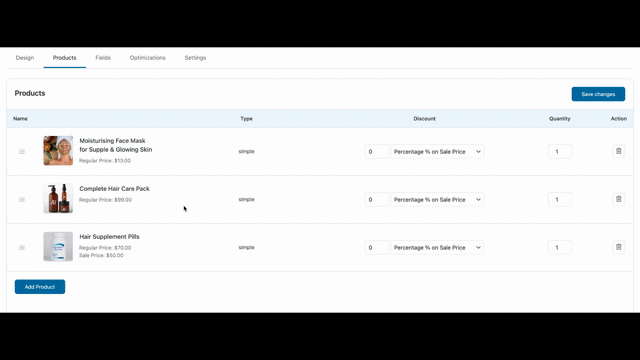 Step 4: Customize your Checkout Form Fields
The Funnel Builder Checkout provides you with a full-blown checkout form builder.
Go to the 'Fields' tab: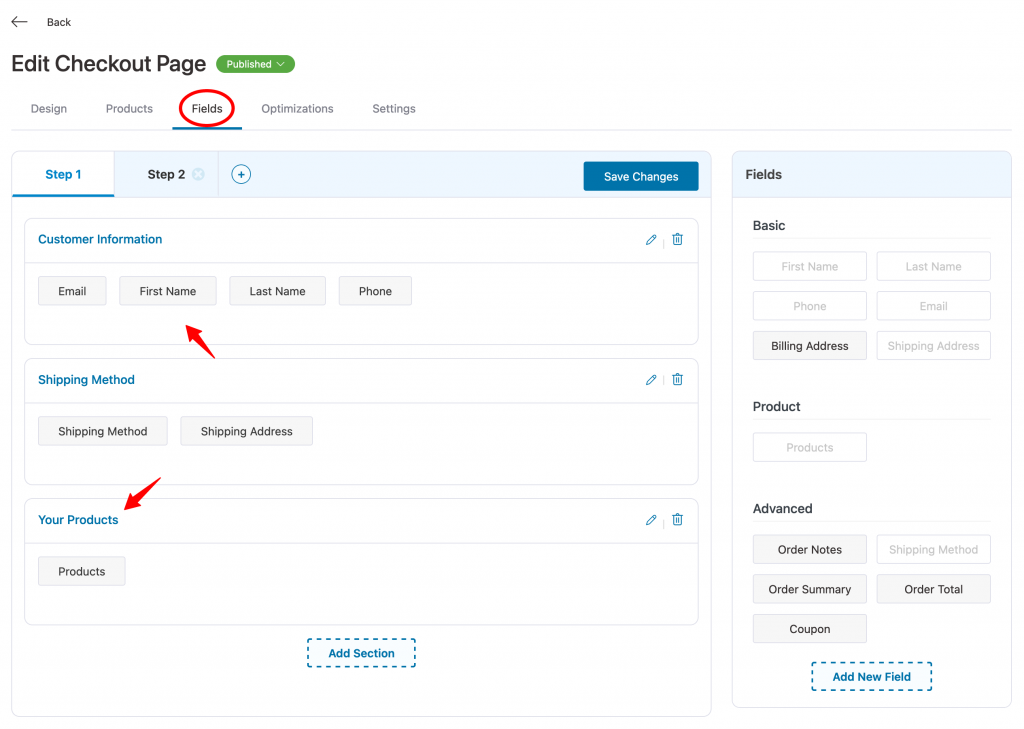 Here you can customize the checkout form fields.
Add new sections, drag and drop fields in them, edit, re-order or delete them based on your requirements.
When you're adding a new field there are 12 input field types to choose from that include radio button, checkbox, and many more.
In addition, you can use the drag-n-drop functionality to place your fields under any section you want.
Hit the 'Save changes' button and proceed further.
Step 5: Optimize your Checkout for Higher Conversions
In the dedicated 'Optimizations' tab, there are several options to optimize your checkout page for more conversions.
Click on the 'Optimizations' tab: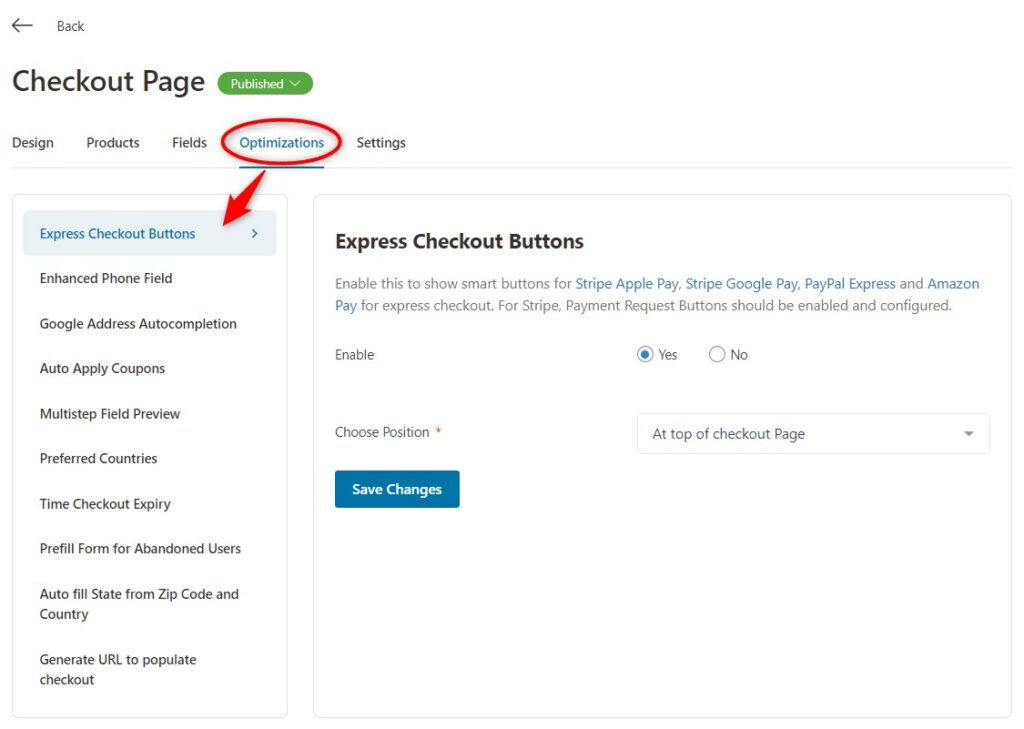 Here you'll find interesting optimization options like Google Address Autocomplete, Auto-Apply Coupons, Express Checkout Buttons, and lots more.
They help make your checkout pages frictionless and high-converting.
Once you've enabled optimizations for your checkout page, hit the 'Save Changes' button.
There you go your product-specific checkout page is ready to collect orders!