Audiences can be created in FunnelKit Automations to help you save time.
You can use multiple filters to define your audience to use them without having to set them again and again.
For example, if you want to select all the customers who have purchased the "printed coffee mug" in India, then you've to make use of two filters.
1. Contacts who purchased the printed coffee mug
2. Their Geographical location was India
Whenever you want to reach out to them using broadcasts, you will not have to apply the same filters again, but just click on the saved audience.
You can create and save dynamic Audiences based on the following conditions:
Segments
Contact Details
User
Custom Field
Geography
WooCommerce
Engagement
Let's look at how can you create a new audience.
How to Create a New Audience?
Let's create an audience named 'VIP customers', who have an average order value greater than $500 with an order count of more than 3.
Step 1: Add a new audience
Go to Contacts ⇨ Audiences and click on "Add New Audience".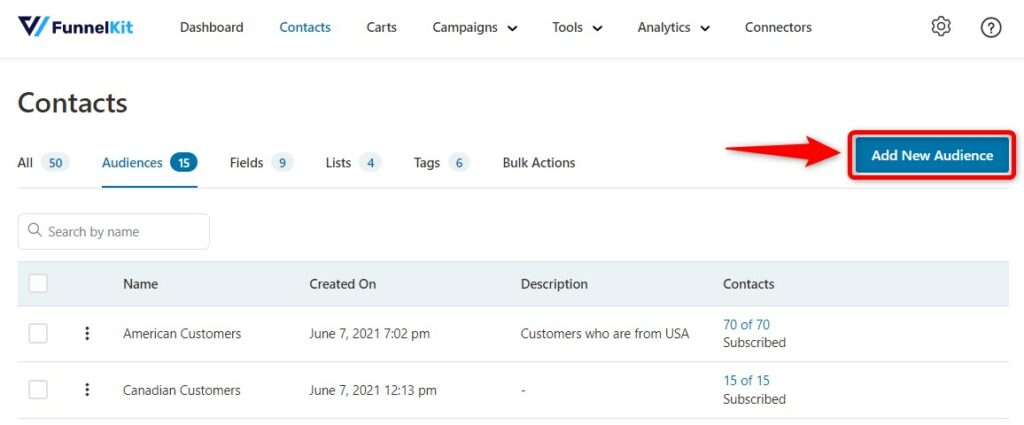 Step 2: Name your audience
Enter a name and description of your audience.
Please note that the description is optional.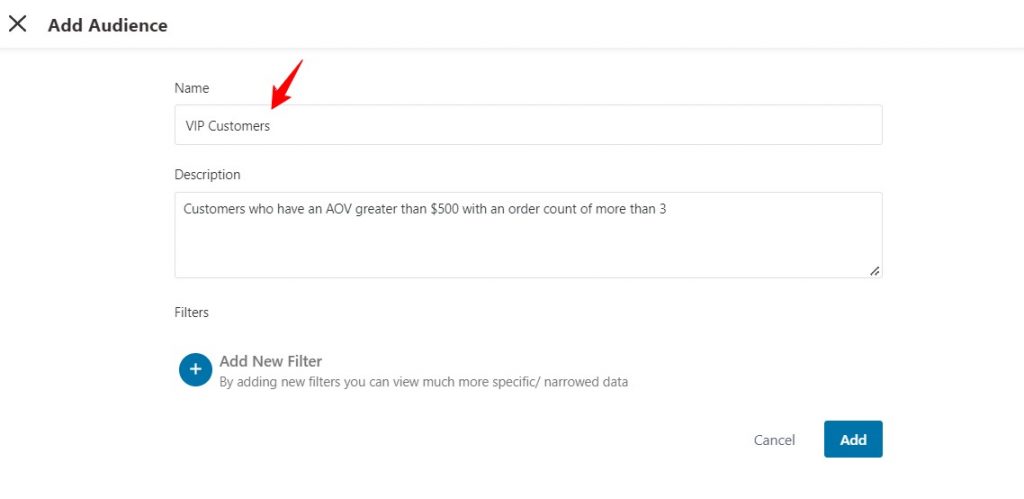 Click on Add.
Step 3: Add filters
Our first filter will be customers with an average order value of more than $500. Therefore, we will be picking WooCommerce and then selecting the AOV.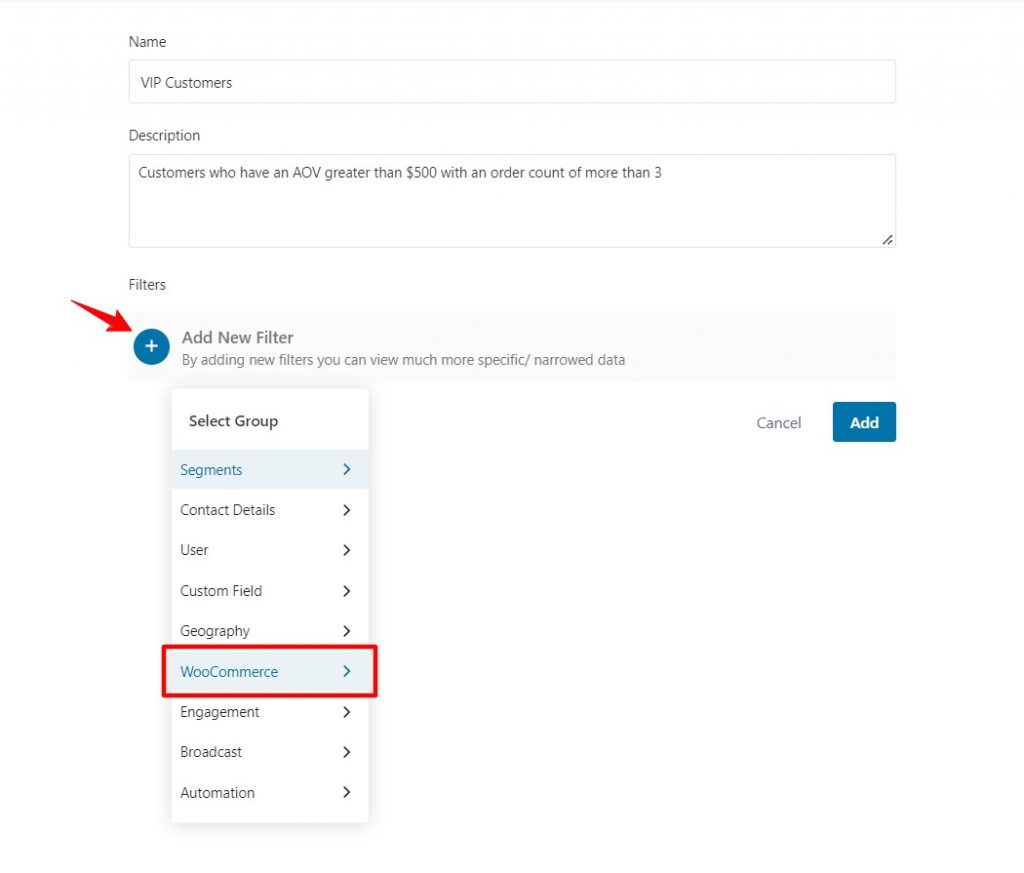 Now, add the Average Order Value of more than $500.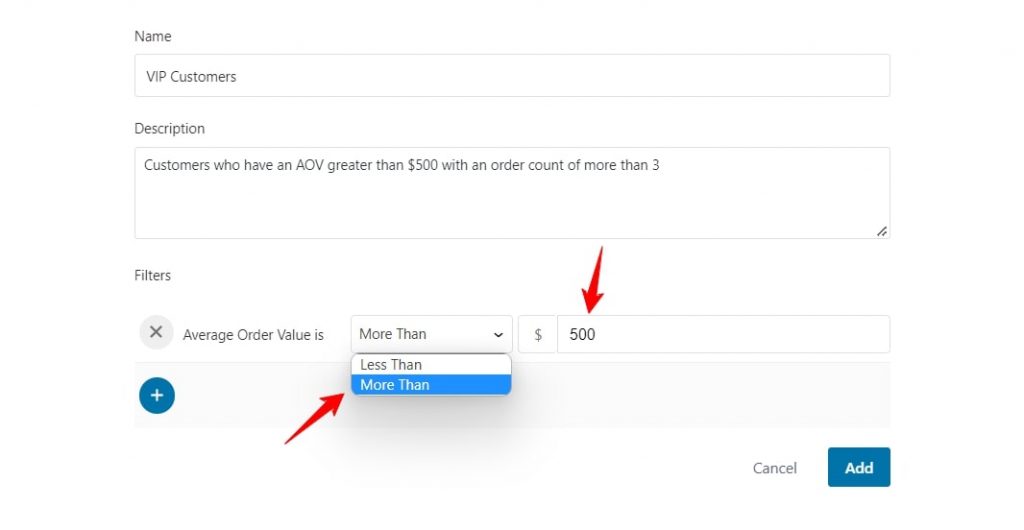 Apply the second filter for Total Orders Count more than 3.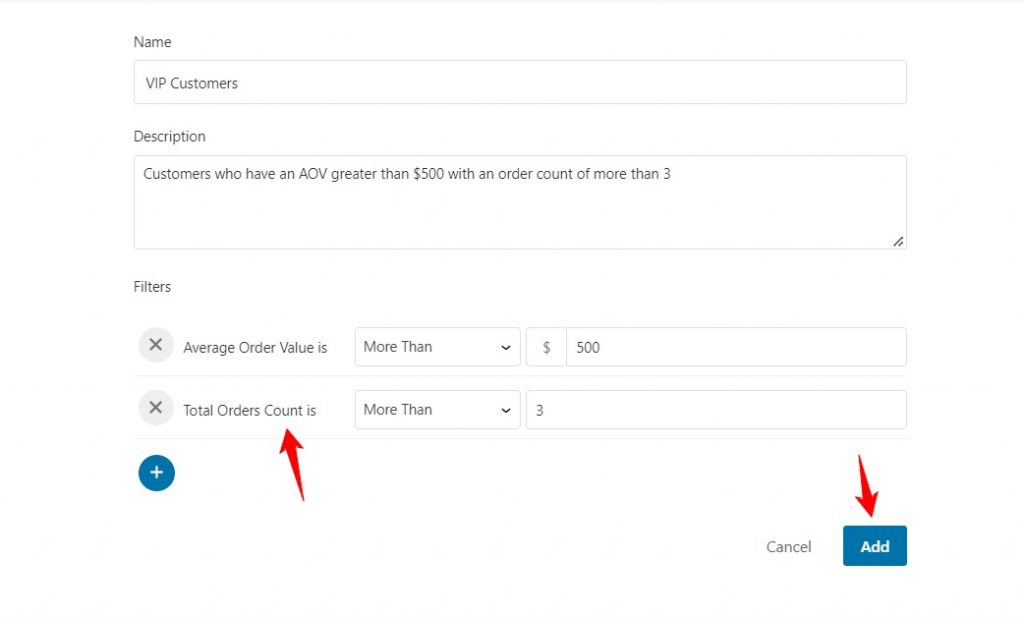 Click on Add when you're done.
Congratulations! Your audience will get created.
How to View Contacts under an Audience?
To see your contacts under an Audience, go to Audiences under Contacts in FunnelKit Automations.

Now hit the Action button and click on View Contacts.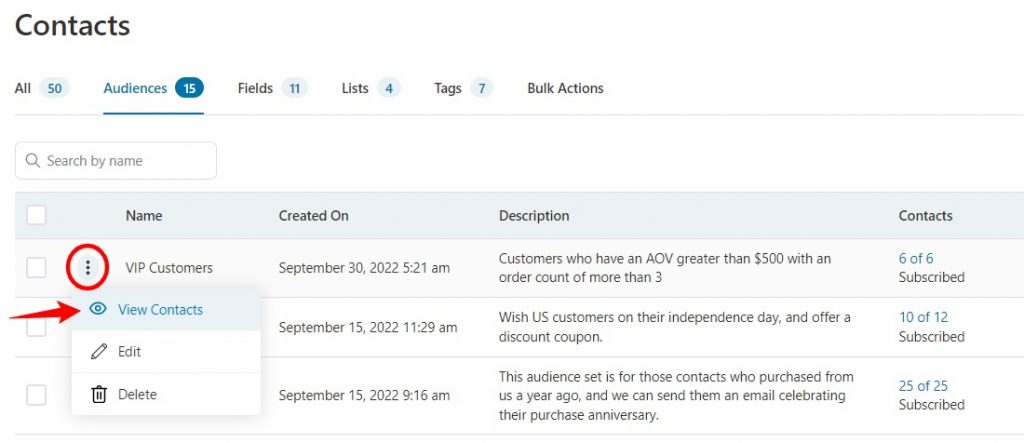 You can now view the contacts under this audience.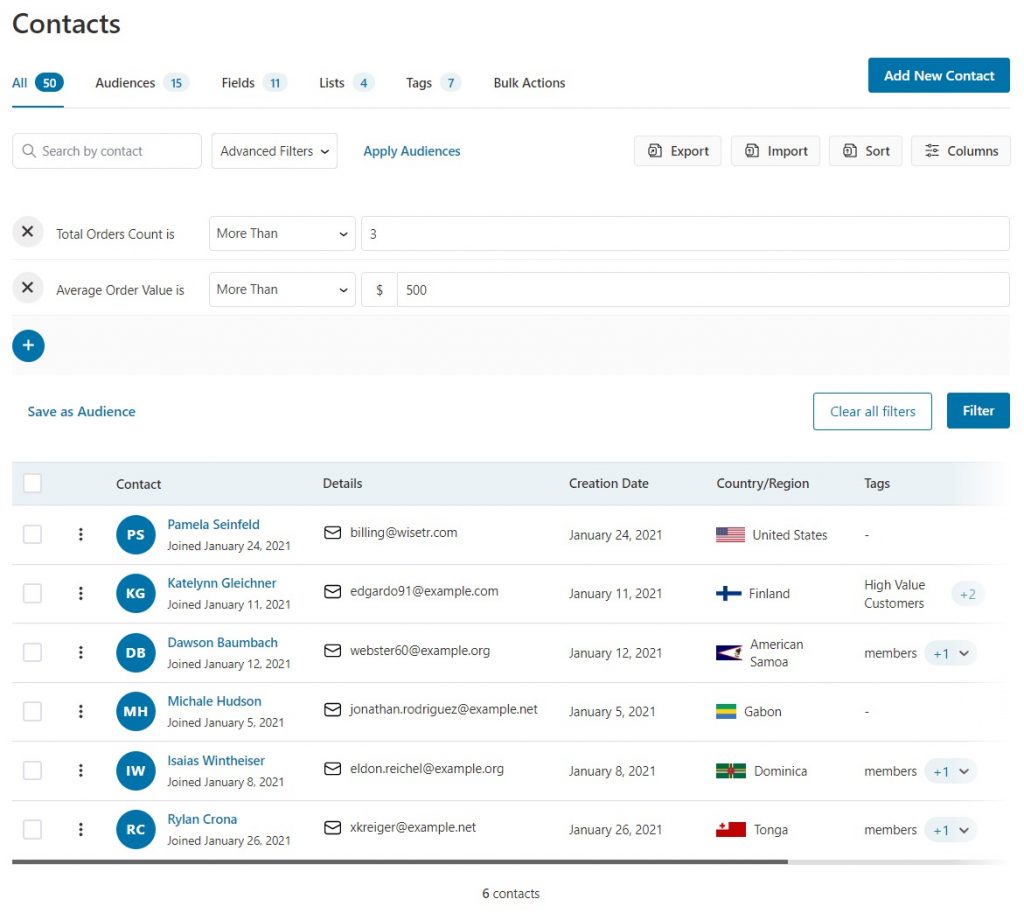 This is how you can view each contact under an Audience in FunnelKit Automations.
How to Edit an Audience?
To edit an already existing audience, go to Contacts ⇨ Audiences. Then, click on the Action button and hit Edit.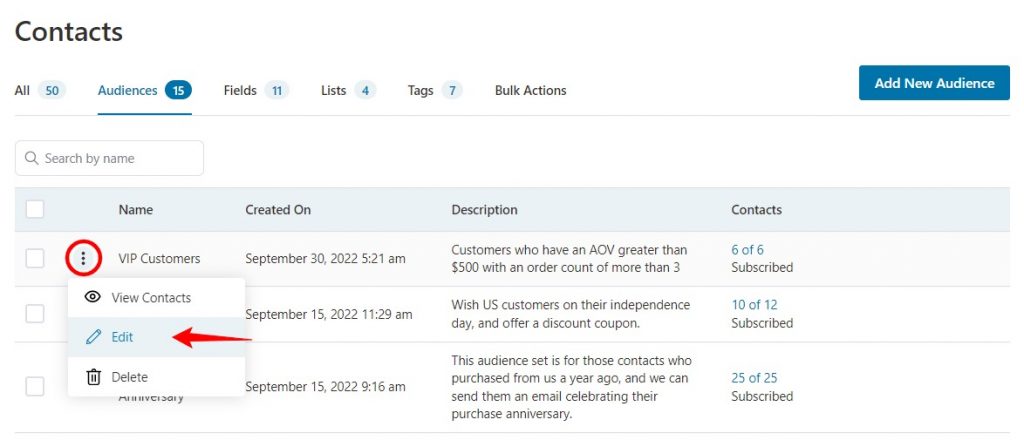 You can change the name, description, and even the filters of this audience.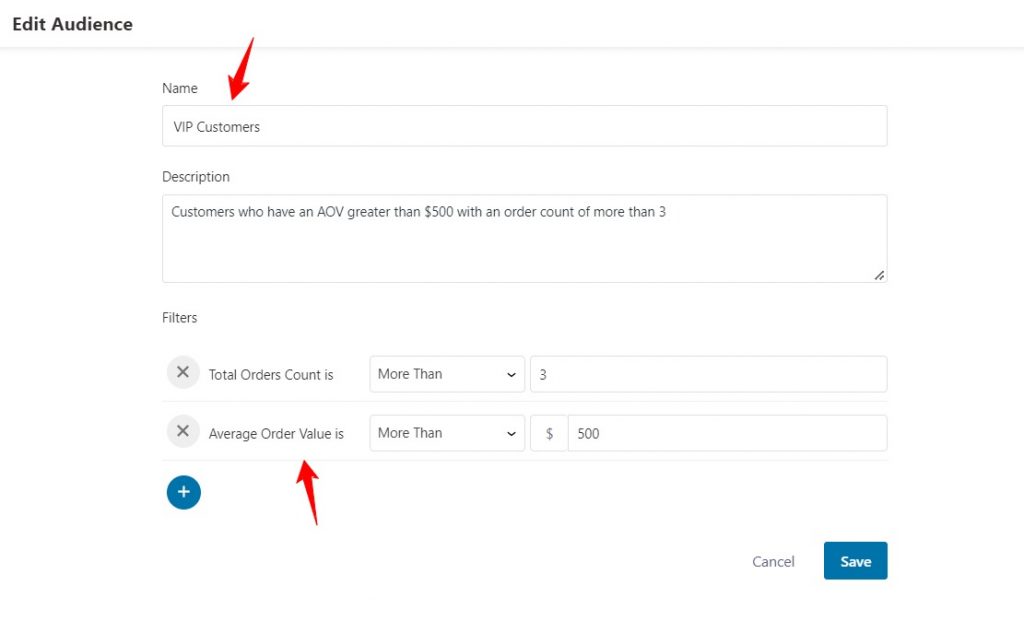 Make the changes and when you're done, click on Save.
How to Delete an Audience?
To delete an audience, go to Audiences.
Now, click on the Action button and hit Delete.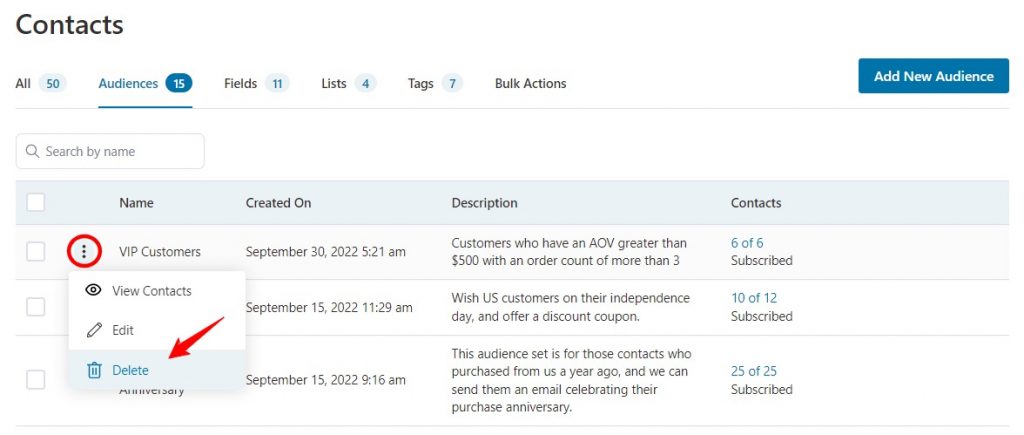 It'll ask for your confirmation to delete this audience.
Clicking on confirm will delete your audience permanently.
That's it! This is all about audiences in FunnelKit Automations.