The SMS tab in Analytics keeps track of the performance of SMSs you sent to your contacts through FunnelKit Automations. You'll be able to check the number of SMS sent, click-throughs, orders placed and revenue generated, along with the graphs/charts.
To view this data, go to Analytics → SMS

Similar to Emails, you'll see two sections here. Let's look at these sections one by one.
Performance
This section will show how your SMS performed when you sent it as a part of automation or broadcast. You can keep track of the following numbers:
You'll see the graphical representation of the data (as per the data range) you select from above. Your SMS performance section will look like this: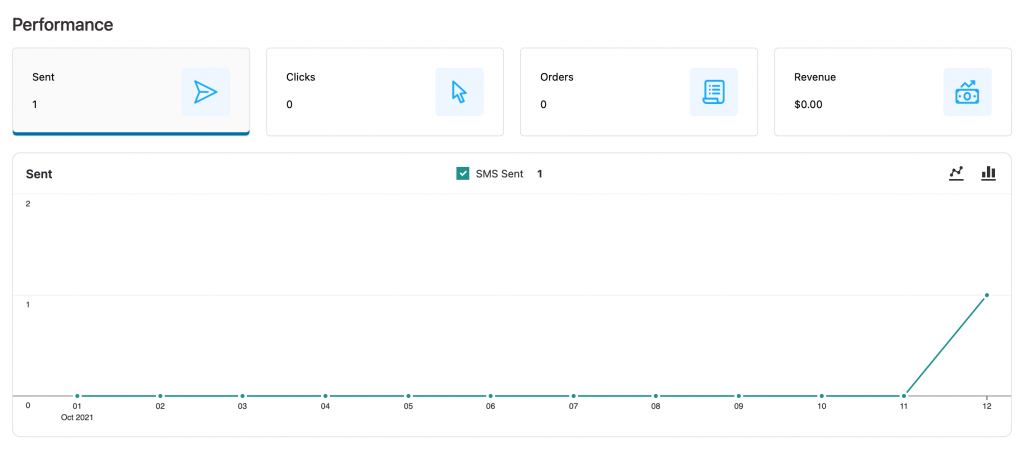 SMS
As you scroll down, you'll see a section SMS. You can see the last six SMS campaigns you've created through FunnelKit Automations.

These details will be mentioned there:
Subject - Subject line used.
Source - Name of the SMS campaign.
Sent - The number of contacts you've sent this SMS to.
Click - Click rate of the SMSs sent.
Orders - Orders placed using these SMSs.
Revenue - Total revenue of the orders placed.
This is all about the SMS analytics section in FunnelKit Automations.