If you want to view a contact's details, you can do so by clicking on their name. This will show an enriched profile of your contact.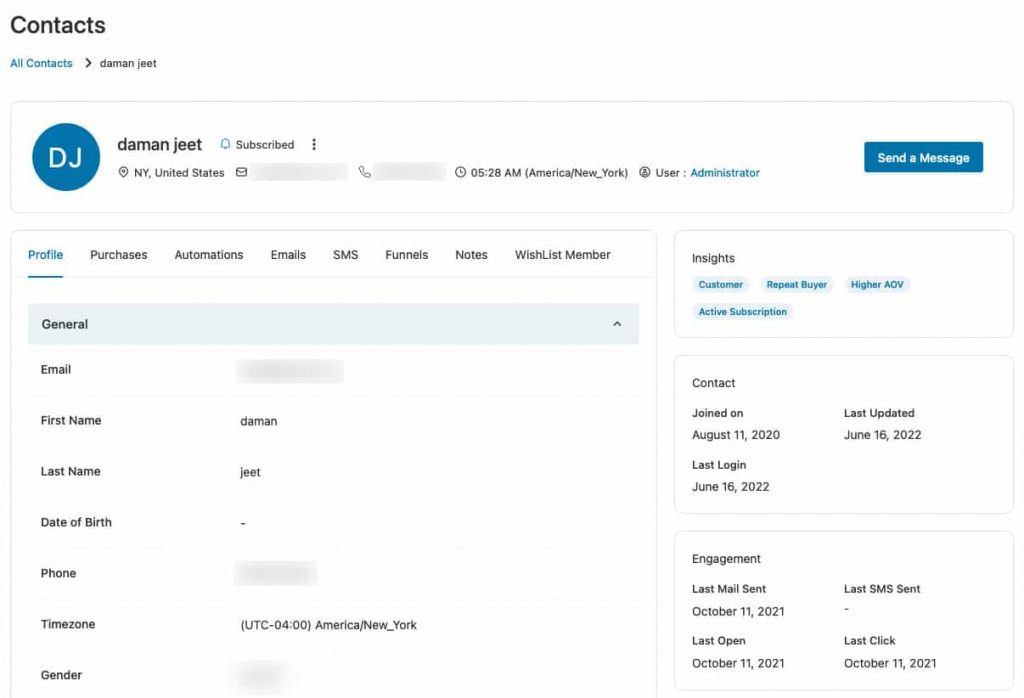 At the top, you'll see your contact's full name, subscription status, and action button to change their subscription status and even delete their contact.
Please note that manually unsubscribing them will remove them from getting promotional messages. However, they'll still receive transactional messages.

Beneath their name, you can check their location, email address, phone number, and time zone. This time zone will be helpful if the support team wants to connect with the contact.
You can even send them a personalized message from here by clicking on Send a Message. Choose the type - Email or SMS, enter the subject line and message. Then, click on Send to send the message to this contact.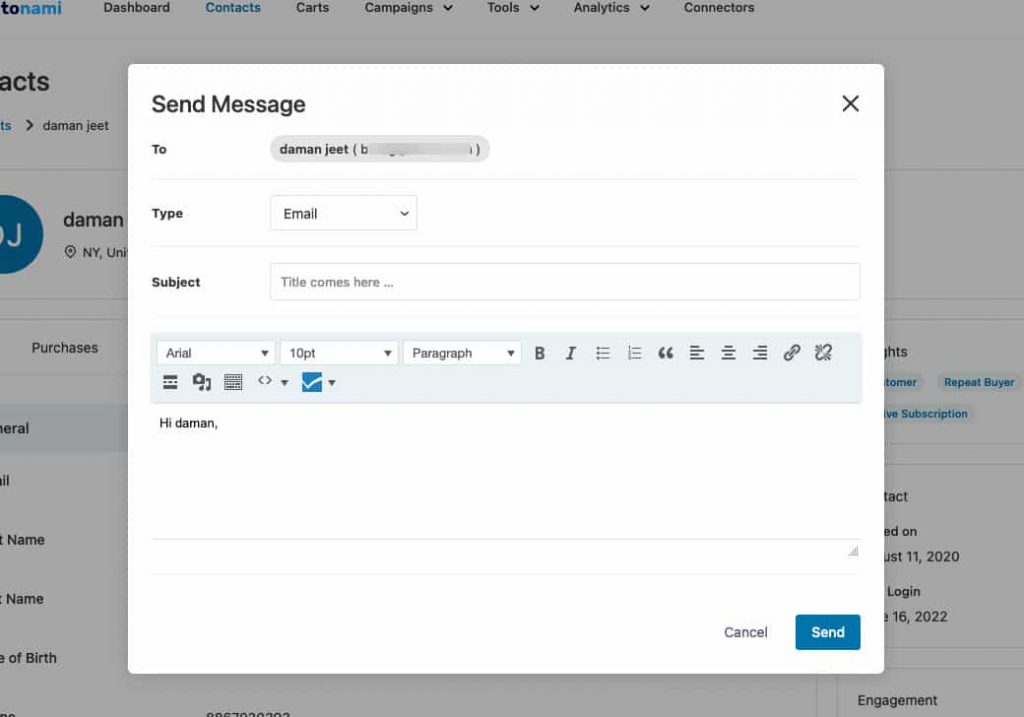 Now you'll see two sections - the first on the left and the other on the right. The right side will contain an overview of the information such as:
Insights - Quick points about the contact's behavior on your site
Contact

Joined date - When this contact was added
Last Updated - Date of the last time any update was made on their profile

Orders - Lists the number of orders they've placed and the total money they've spent. You can also see the date of their last order along with the average order value.
Messages - It shows the date of the last email and SMS sent to them. You can also check the details of when they'd opened your last email.
Funnels - The number of opt-ins, checkouts, bumps, or upsells they have accepted will show up here.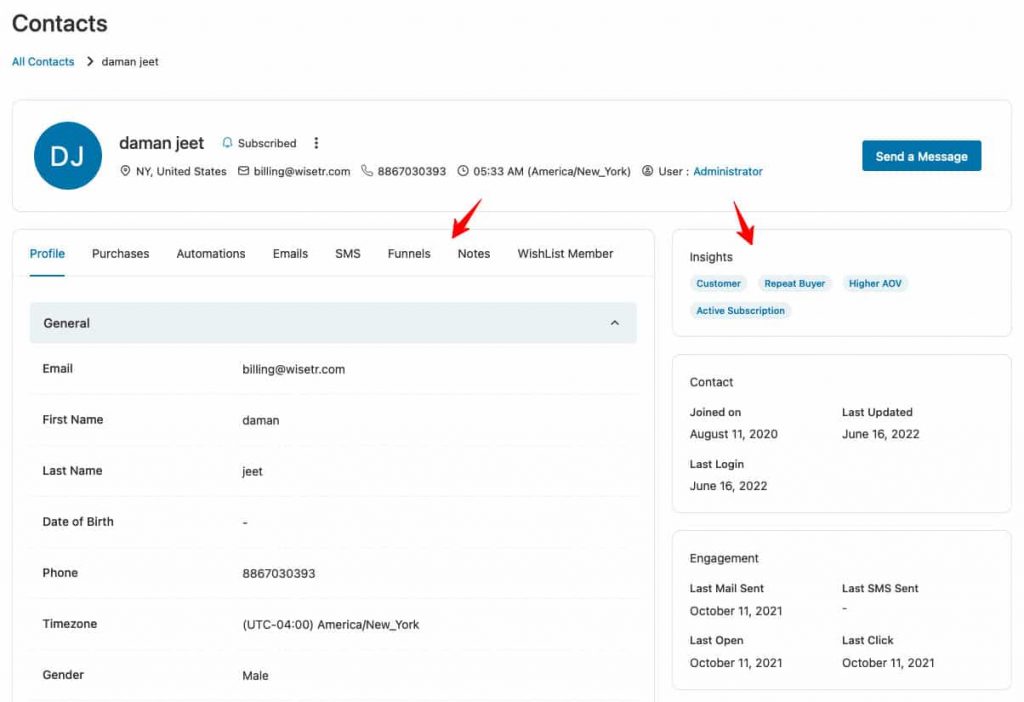 FunnelKit Automations deeply integrates with Wishlist Member. Once you successfully installed the plugin, you can see the Wishlist Member tab on your contact's profile:

On your left, you'll see descriptive information about the contact. You can see details such as Profile, Purchases, Emails, SMS, WhatsApp messages, Funnels, Notes, and Wishlist Member (as per your requirement).
Let's go through every section now.
Profile
This section will show the basic information of your contact. This will include important details including tags added to them or lists they're a part of.
Here are some data under the contact's profile section:
General - You'll see the basic information about your contact here. Information such as an address, timezone, first and last name, phone number, gender, company name, date of birth, tags, and lists.
Affiliates - It shows through which of your affiliates, the customer made a purchase.
Field groups - It'll show all your custom fields and groups created.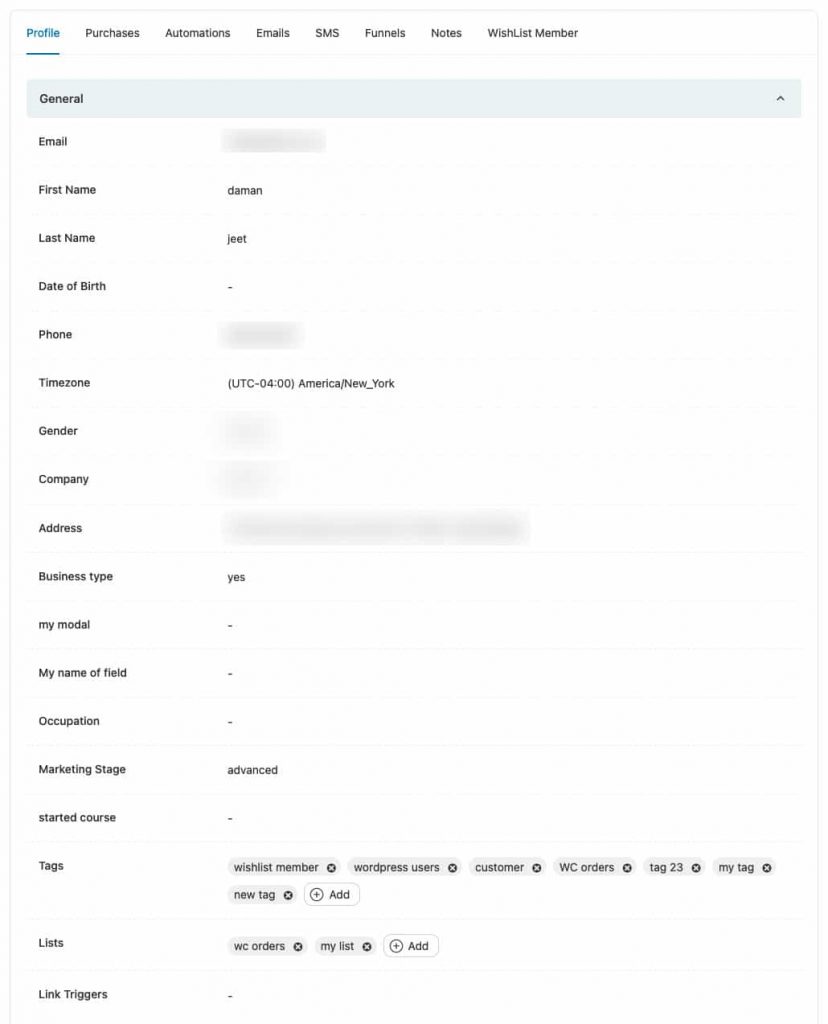 Please note that you can add any number of tags and assign them to any list from here in FunnelKit Automations. You can see +Add buttons on both the tags and lists to create any tags/lists on that particular contact.
Moreover, you can create additional fields and groups to know all the information about them.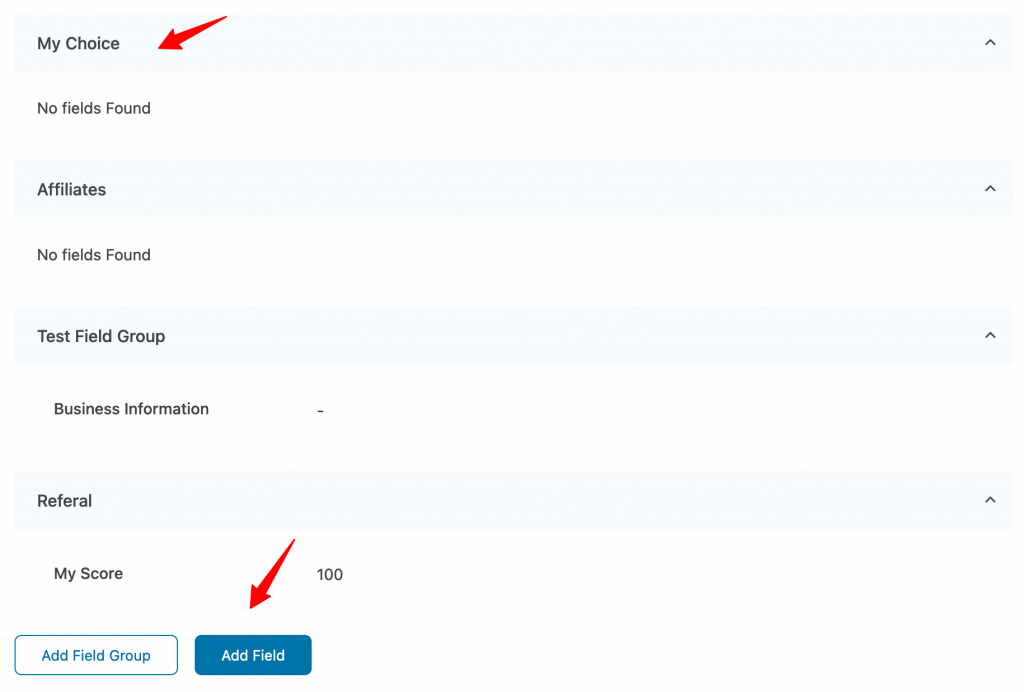 Purchases
FunnelKit Automations is a WooCommerce-focussed CRM, thus, you'll be able to see all their purchase details here.
Products - Details about the products purchased by the contact.

Items - Name of the product this contact bought from you.
Categories - Categories these items belong to.
Tags - Tags associated with these products will show up here.

Marketing - Any coupons that this contact applied while placing the order.
Orders - Details about the orders placed by the contact.

Total Spend - Total amount of money that this contact has spent on purchasing the products from you.
AOV - Average ordering value of this contact will appear here.
Details - The descriptive component of this contact's order history (date, order ID, order status, products, revenue, etc.) will show up here.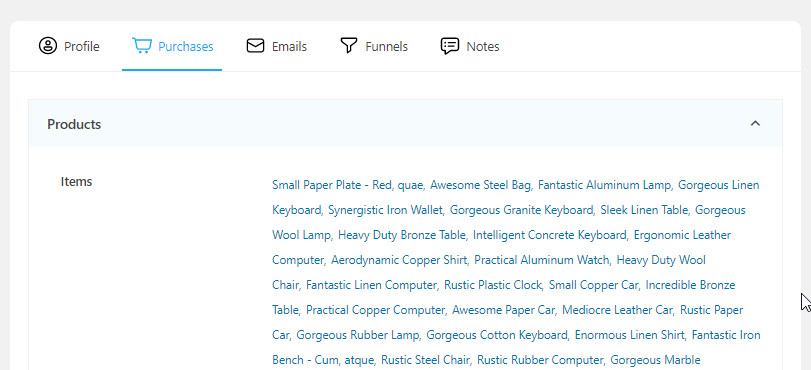 Automations
Here you'll be able to details of automations that this contact was a part of.
Automations - The name of the automation created in FunnelKit Automations
Event - The event trigger of this automation
Started On - Date of the automation ran for the first time
Last Run - Date and time of the automation that ran recently
Next Time Run - It signifies the scheduled run of this automation if they're in any active workflow
Status - Status of the automation (whether still active, completed, paused, or failed)
Emails
This area will show the emails that you've sent to your contact. These emails will get displayed in the format of:
Subject - The subject line with which this contact has received an email.
Sent On - The date you've sent the email
Last Activity - Date of any activity (whether they've opened or clicked a link)
Opens - Number of times they've opened a particular email
Clicks - Number of times they've clicked on a particular email
Preview - Preview these emails by clicking on the Preview button

Similarly, you can see the same stats for SMSs (text messages).
Funnels
You can see insights about the sales funnels that this contact has been a part of.
Funnels - Total revenue made from this contact in all the funnels combined. The details section will show whether they have opted for it or not. Also, how much money they've spent at each step.
Optin - The details of the opt-ins they've subscribed to will show up here.
Checkouts - Total revenue made from the checkout pages under specific sales funnels.
Bumps - Total revenue made from all the order bumps combined.
Upsells - The amount of upsells converted from all the sales funnel combined.

Notes
You can add any notes for this contact here. You can choose the note type among billing, shipping, refund, subscription, feedback, and more.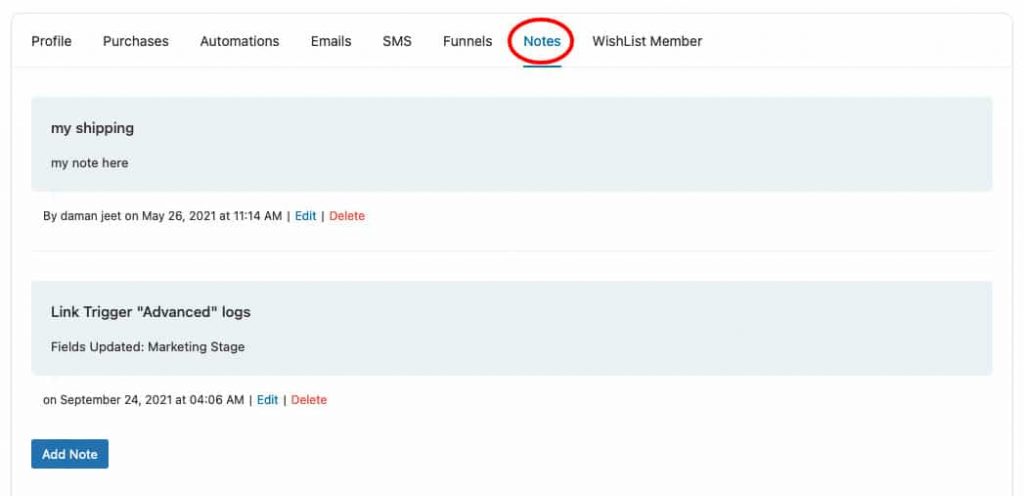 This is all about the Contact's profile section.