FunnelKit Automations integrates with the most advanced one-click upsell solution in the market - FunnelKit's One Click Upsells.
You can design compelling offers with One Click Upsells and set automations here to drive maximum profits.
In this documentation, we will help you set up automations using One Click Upsells in FunnelKit Automations.
#Our Use Case
We have created a one-click upsell offer for Digital courses. If a user wants to buy another popular Content Marketing master course, then we will show them an upsell - Social Media growth course.
If the user rejects this offer, we will send them an email after 3 days about another best-selling digital course - Linkedin posts writing course.
Let's create this automation with FunnelKit Automations.
Step 1: Create an upsell offer with FunnelKit One Click Upsells
It's quite easy to create your upsell offer. Make sure you have installed FunnelKit One Click Upsells or the Funnel Builder on your WordPress site.
Learn more on how to create attractive upsell offers in your store.
Here, we have created our one-click upsell offer.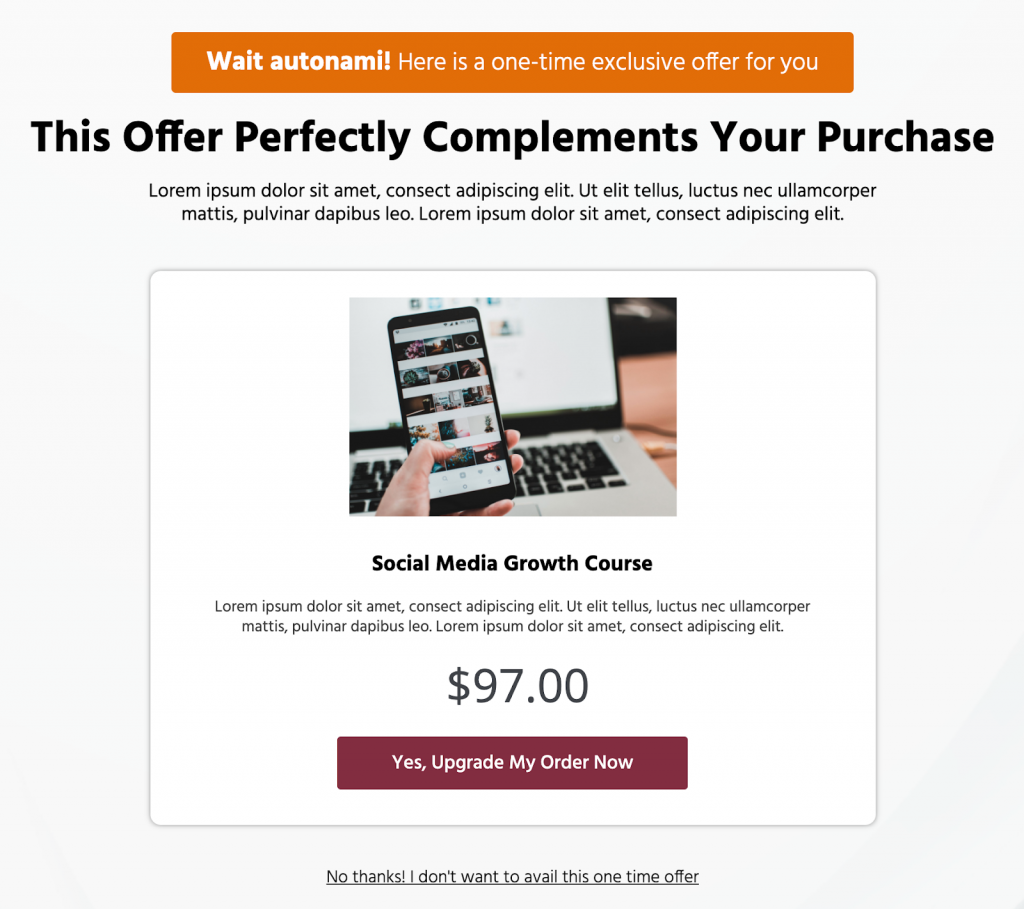 Step 2: Create an automation
Go to Campaigns ⇨ Automations (Next Gen) and click on Add New.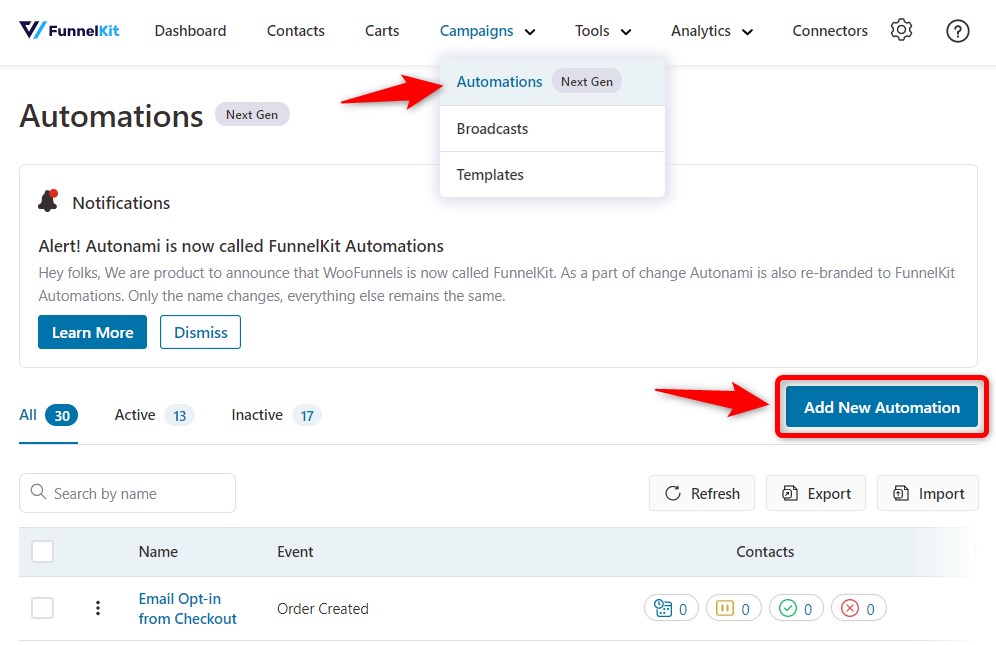 Click on Start from Scratch.
Next, enter the name of your automation.

Click on Create.
Step 3: Select an event
As per our use case, we will select an event - Offer Rejected.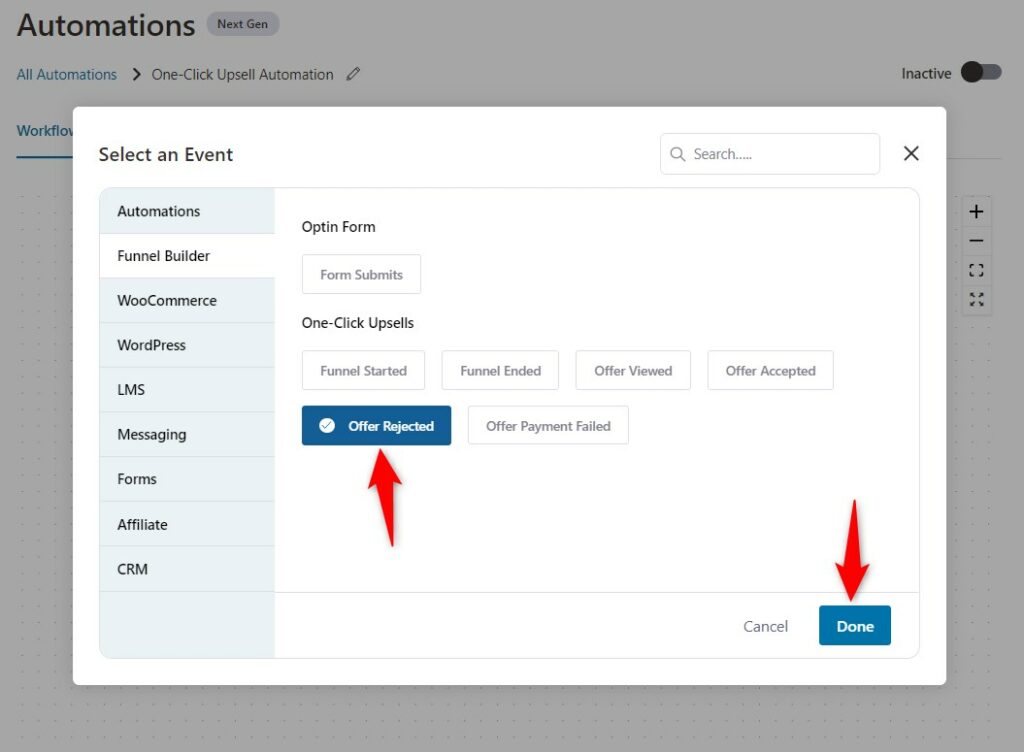 Click on Done.
Step 4: Define your rule
Click on Add New Condition. Then, click on Upsell Offers under FunnelKit.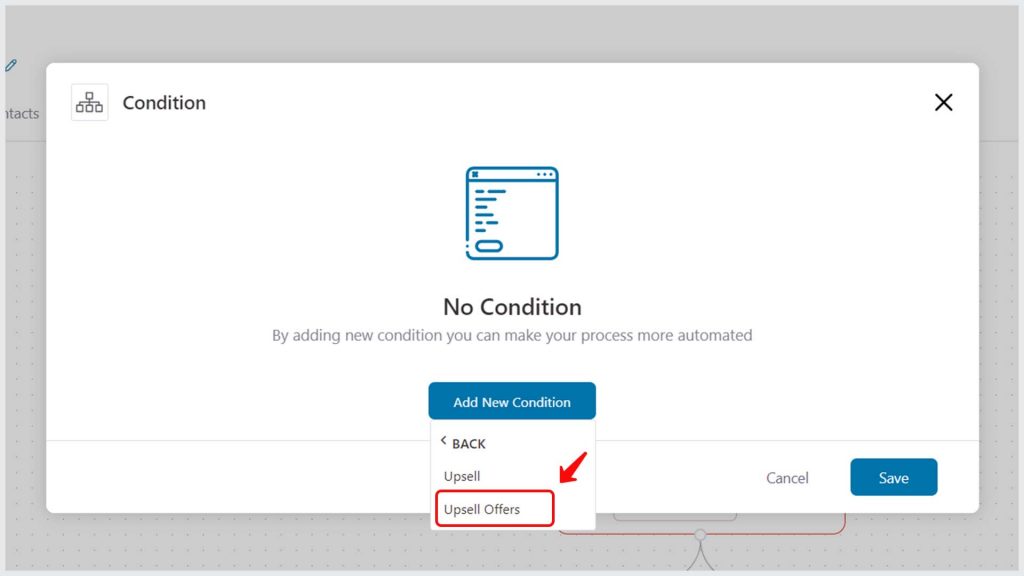 Now, select the name of your offer.
Click on Save when done.
Step 5: Select your action
Click on Send Email as your action.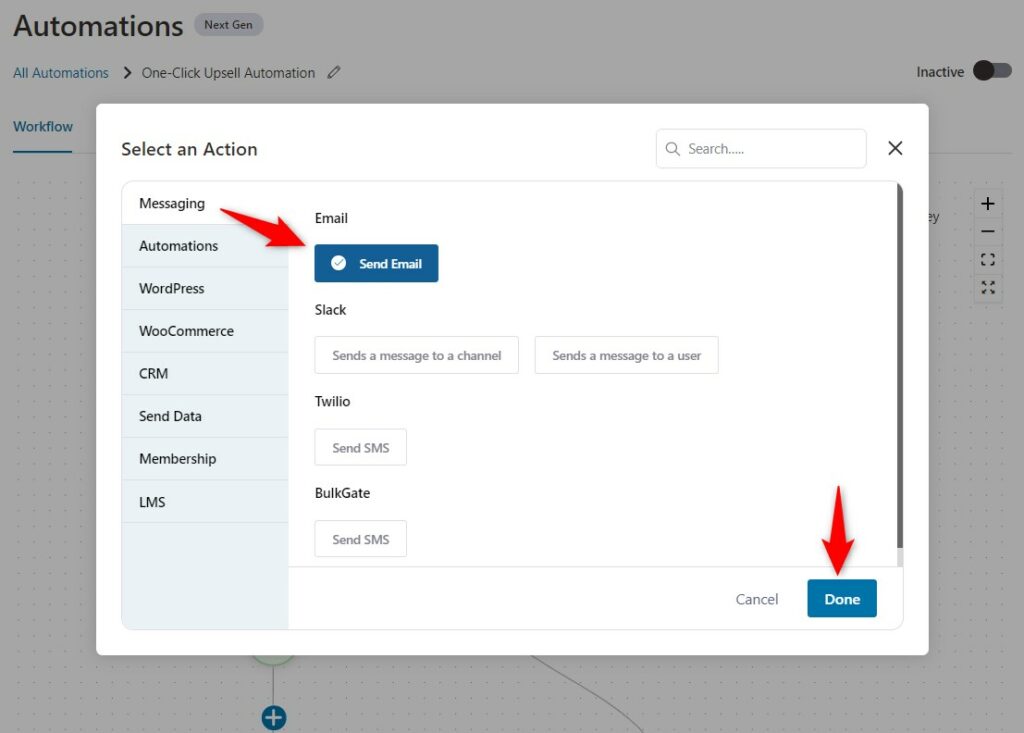 Click on the Done button.
Step 6: Compose your email
Compose your email body and introduce your offer.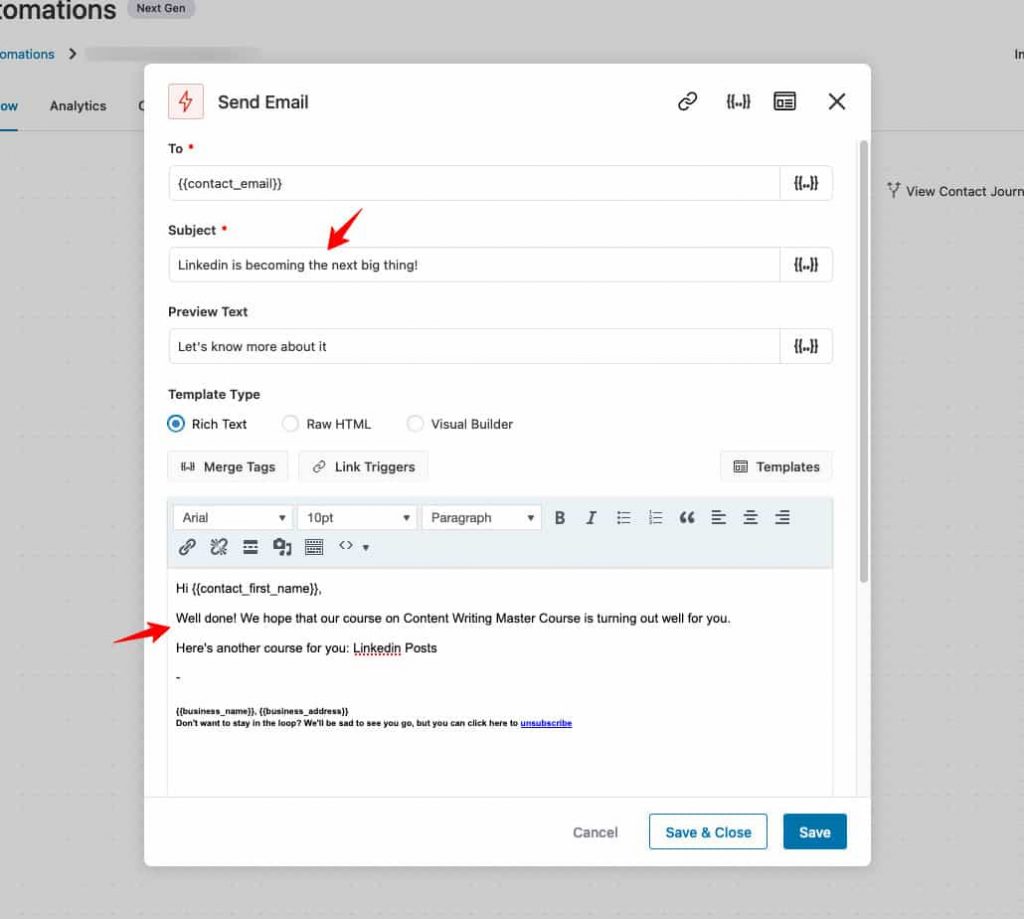 You can even set the 3 days delay before the condition.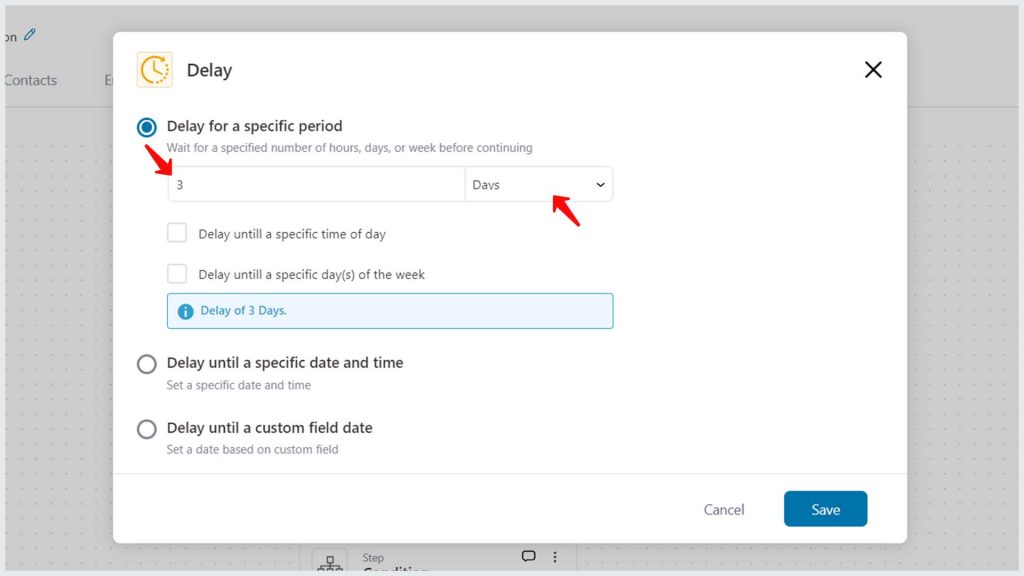 Click on the Save button to lock all your changes.
Step 7: Make the automation live
Turn the toggle to active.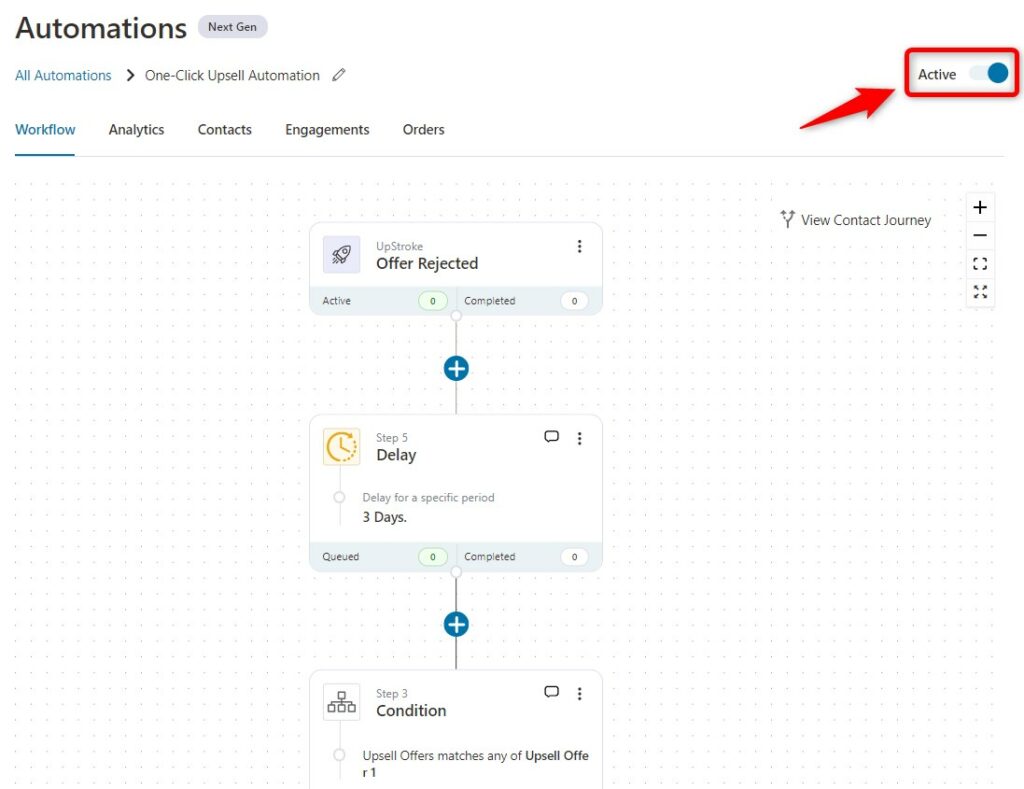 This will make your automation up and running.
Now when a user purchases the social media course and rejects your upsell offer, this automation will send them an email about another product related to the course.
Well done! You have successfully set automation using FunnelKit's One Click Upsells in Automations.